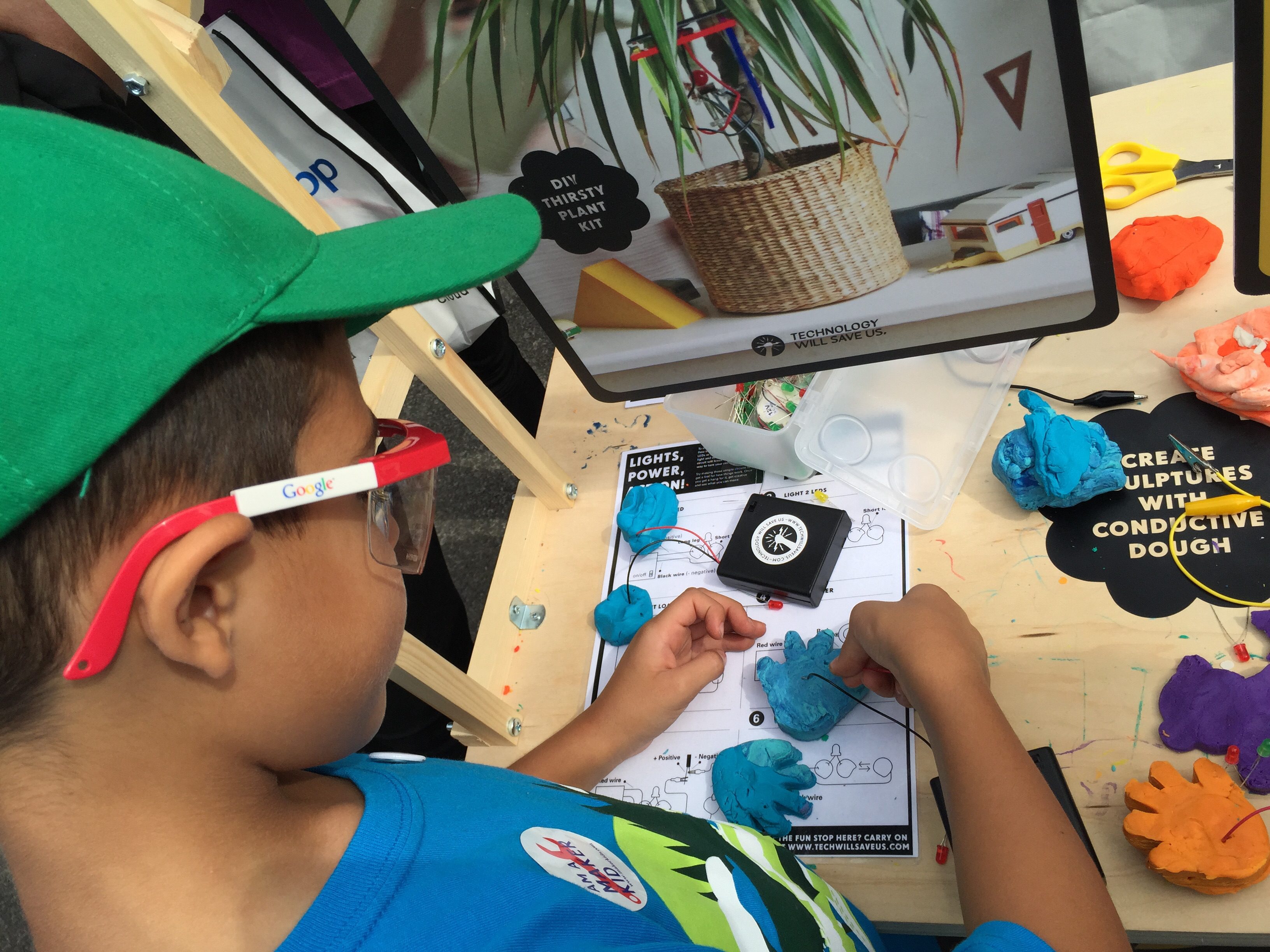 The Ultimate Guide to Planning a Summer of STEM
Science, Technology, Engineering and Math (STEM) is a great way to create interesting, engaging, and FUN learning experiences for kids this summer and avoid the summer slide! To help you plan a great summer of STEM learning I've put together the Ultimate Guide to Planning a Summer of STEM.
What we learn with pleasure we never forget. – Alfred Mercier
Did you know that kids can lose up to 3 months of reading and math skills over the summer months. From my own experiences as a teacher I know that that this is true. Teachers can spend weeks reviewing previously taught material at the beginning of each new school year. That's why it's so important for parents to use summer as an opportunity to give kids a head start. Engage them in learning, and develop a better sense of their interests by exposing them to new ideas and subjects. Summertime also gives families a great change to spend quality time learning and having fun together!
There are so many great resources you can tap into when planning a summer of STEM. From fun activities to do at home and day trips the entire family can enjoy. There are also Maker Spaces and online summer camps, coding and educational tech toys, Maker boxes, and more. But don't worry. My Ultimate Guide to Planning a Summer of STEM has got you covered!
Don't forget to PIN THIS so you can come back to these STEM resources throughout the summer!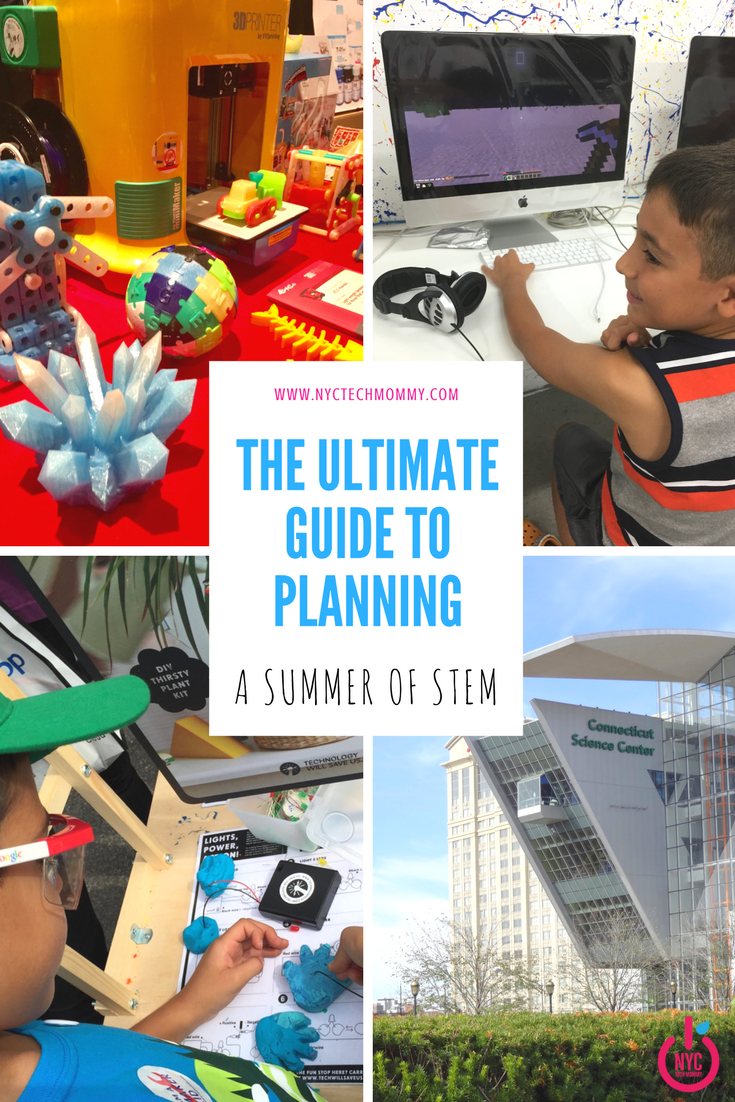 FYI: In case you were wondering, all of the resources highlighted here are ones I myself have tapped into over the years (both as a parent as and educator). They're are also the resources and programs I'll be using with my own kids this summer to prevent the summer slide. Hope you'll find them useful when planning a summer of STEM for your own kids. Happy summer of STEM learning!
This post may include affiliate links for your convenience in finding the best products when planning your summer of STEM. I may receive a small commission when you make a purchase without it affecting the price you pay. Thanks for supporting NYCTM!
The Ultimate Guide to Planning a Summer of STEM
Online Resources for Planning a Summer of STEM
Code.org
You may recognized Code.org from their popular annual Hour of Code campaign. But did you know that Code.org offers a wide variety of FREE online courses too? Kids of all ages can participate in online Computer Science Fundamentals courses. The Hour of Code tutorials are always available too! Teens who are ready to take the next step in coding can even go on to learn how to code their own apps, or develop their own games.
Connected Camps
Connected Camps offers week-long Online Tech Camps for kids in a variety of topics such as Game Design, Architecture, Engineering, and more. There's even a Minecraft camp just for girls! How about a Creative Coding In Scratch class that will turn your kiddo into a bona fide "Scratcher" by the end of this summer? They offer that too! What's fun about these online courses is that most are based on the game kids already know and love — Minecraft!
Isn't your kid already asking to play Minecraft all summer long anyway? Mine is! So why not make it educational and safe for them to enjoy the game they love this summer? Connected Camps offers online tech camps for kids 8 and up.
Maker Camp
Maker Camp provides a simple, fun way for kids to get involved in making. A collection of cool projects are always available online! Kids can take on these fun assignments by themselves or work on them with friends. Maybe even form their own Maker Camp group! What's great is that in addition to a cool collection of projects, kids can also access an entire Maker community, share projects, swipe ideas and make friends with other campers from all around the world.
There's also an entire network of Maker Camp affiliates which means you can actually locate Maker Camps happening near you. These take place in public libraries, community centers, makerspaces, and even other Maker homes within your own neighborhood. Go here to find a Maker Camp near you!
Tynker
Tynker is designed for kids to learn programming in fun and intuitive ways. These online programs allow students to explore the language of coding within their own interests (Minecraft, games, coding drones, etc.). Tynker provide a series of games where kids have to move through levels by solving different computational programs, learning more in depth, and making stuff in ways they love.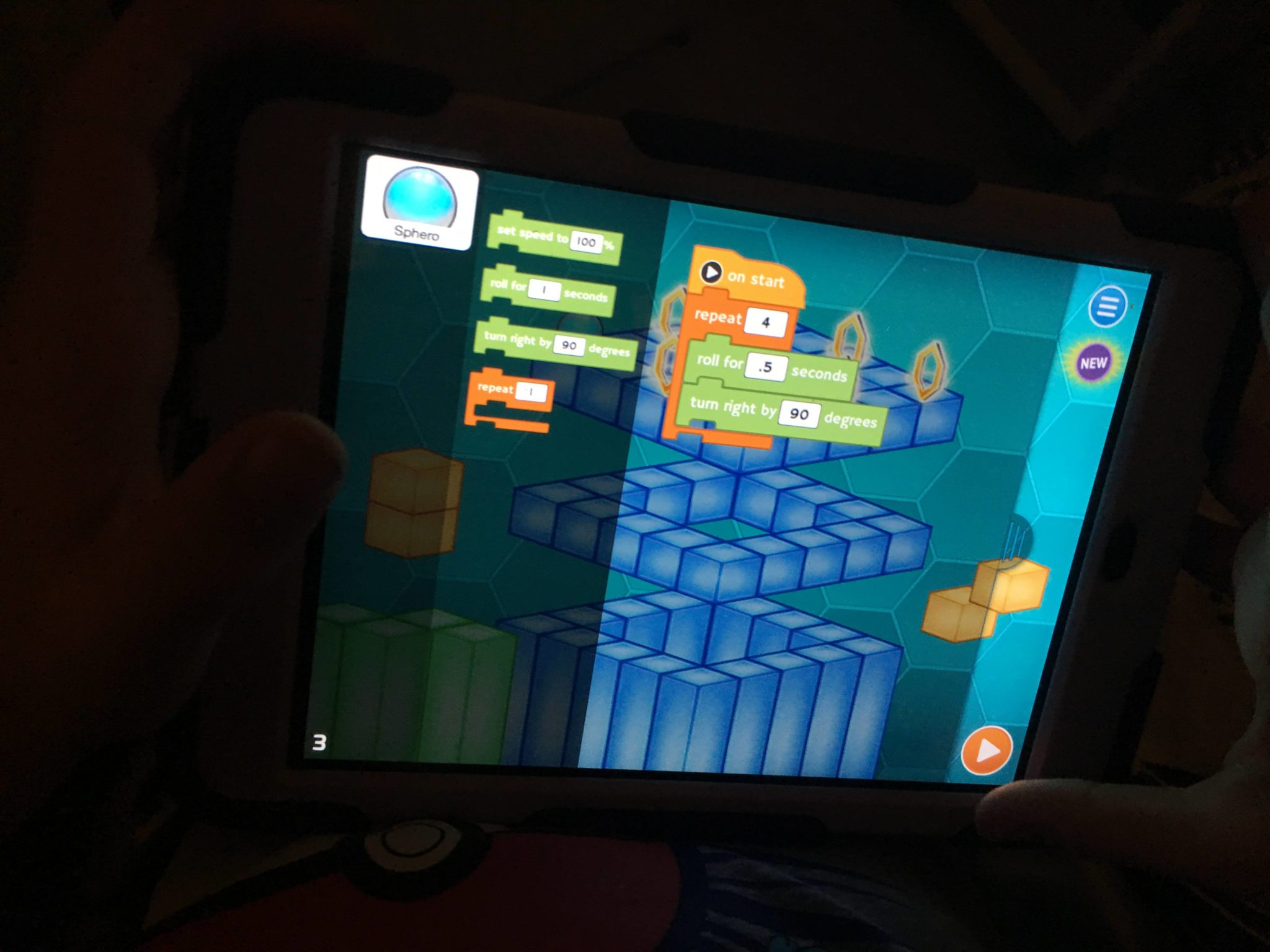 In addition, Tynker offers a great mobile app that introduces kids to coding through immersive game-like courses where kids solve puzzles to achieve a goal. The Space Cadet and Dragon Spells courses map directly to the elementary curriculum in Everyone Can Code program from Apple.
This summer Tynker is also offering a Summer Code-a-thon, a FREE 10-week series of code-based projects and challenges to keep kids engaged in learning over summer break. This fun coding program is open to kids of all ages (7 and up) and can be accessed via the Tynker app or on your computer. Now through August 25th Tynker will introduce a new themed challenge each week. These activities challenge and build upon kids' own creativity and analytical skills.  Participants have a chance to win weekly awards and prizes for their best projects. You can learn more about it by visiting the Summer Code-a-thon website.
codeCampus
codeCampus is the coolest and funnest way for parents to learn coding with their kids! codeCampus for Families empowers families to learn to code together through hilarious (and highly educational) storybooks and cartoons, building incredible programs like games and animations with the help of step-by-step tutorials, and bringing coding to the kitchen table through printable games and activities. This summer you can unleash your child's potential (and the entire family's) by building, learning, and laughing along with them, and creating incredible, beautiful, hysterical things with code.
RELATED: 8 Educational Websites for Summer Learning FUN
STEM Summer Camps Near You in NYC
Apple Camps
Apple offers a super fun camp for kids who love tinkering around on their laptops and iPads. Held at an Apple retail store near you, kids can attend Apple Camp over the course of three days and expand their digital creativity through hands on projects lead by experts at Apple. Campers can choose from three tracks and spend 90 minutes a day for three days immersed in the subject of their choice. Campers learn to create characters and compose music, make movies, design storybooks, code robots and more! This FREE summer camp is recommended for kids ages 8 to 12.
NYSCI  Design-Make-Play Innovation Camps
These fun summer camps offered by the New York Hall of Science are designed to empower kids to explore concepts in scienc, technology, engineering, and math, build problem-solving and communication skills and inspire innovators. Each camp includes interactive activities, exhibit exploration, a student certificate of completion and a free 6-month NYSCI student membership. How awesome is that?
iPlayTek Summer Camps
These tech summer camp offerings are the perfect combination of learning and fun, featuring many engaging programs that nurture school-aged kids' love of tech. iPlayTek is located at the Atlas Park Mall in Middle Village, Queens, and offers half-day weekly camps. Topics of study include 3D Printing, Minecraft Exploration, Game Design, LEGO Robotics, Intro to Animation and more! These classes are perfect for school-aged boys and girls.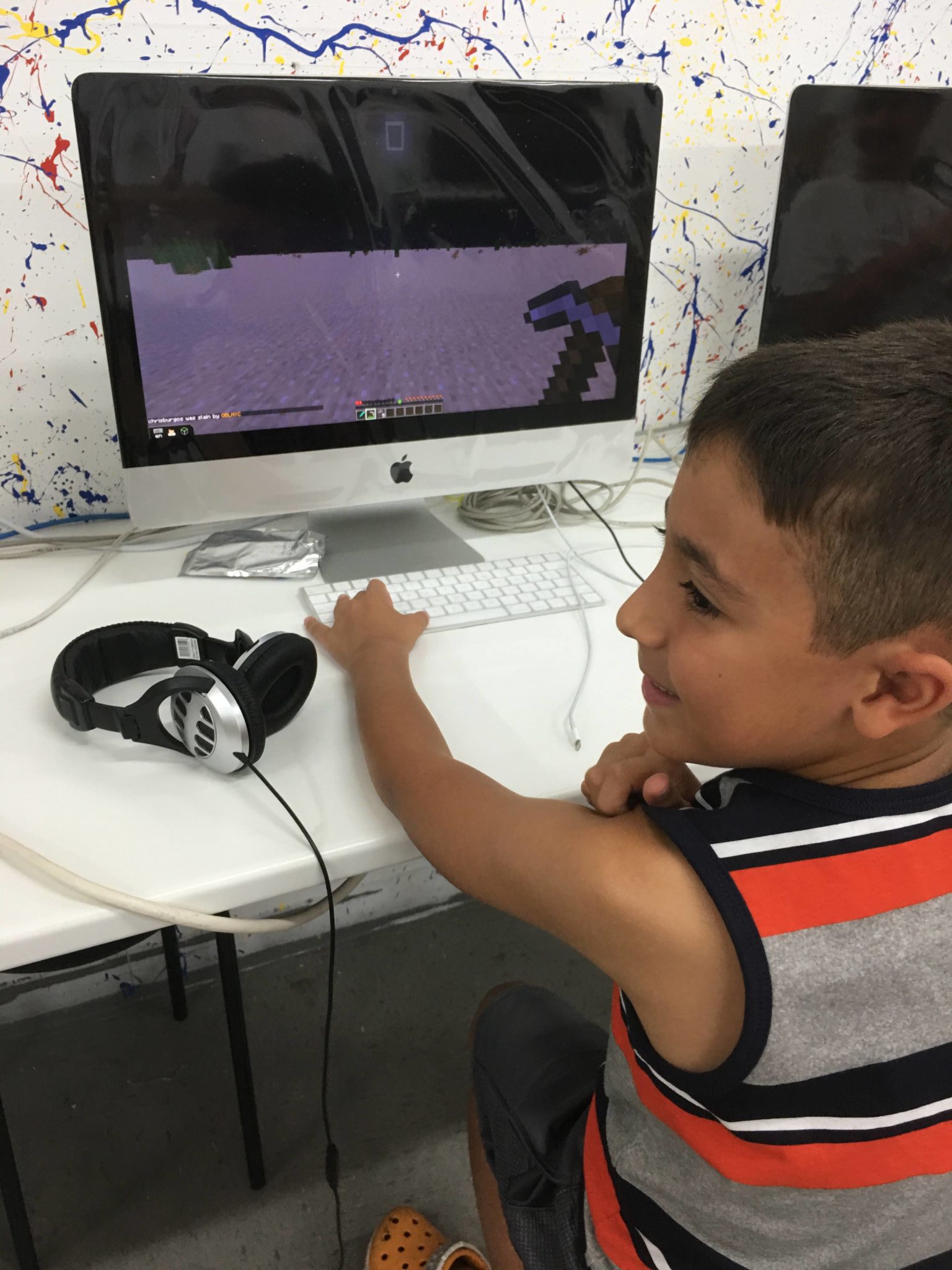 Maker Spaces & Upcoming  NYC STEM Events Near You
Submerge NYC Marine Science Festival
Get your science on at the Submerge NYC Marine Science Festival — a fun NYC festival that celebrates NYC's coastal waters by bringing marine science to life for kids and families. Kids particpate in citizen science, FREE hands-on activities, kid-friendly entertainment and presentations by renowned scientists. Activities also include kayaking and fishing! This FREE event takes place on Saturday, September 16th between 11am-4Pm at Pier 26th and N. Moore street in Tribeca.
Hudson River Park Pop Up Maker Spaces
Head on out to Pier 84 in Hells Kitchen every Sunday (at 4PM) this summer and have fun tinkering, testing, and learning. This FREE weekly pop up Maker Space is not to be missed! Here kids get hands-on experience designing and constructing innovative solutions to marine-focused challenges. It's is the perfect way to spend a Sunday FUNday if you ask me!
MakerFaire
Every year NYSCI hosts the Greatest Show (& Tell) on Earth. It's a weekend filled with fascinating and curious people sharing what they can do, learning new things and getting creative in a wide variety of ways. We love attending every year and you can see all the fun we've had in past years by reading our post here.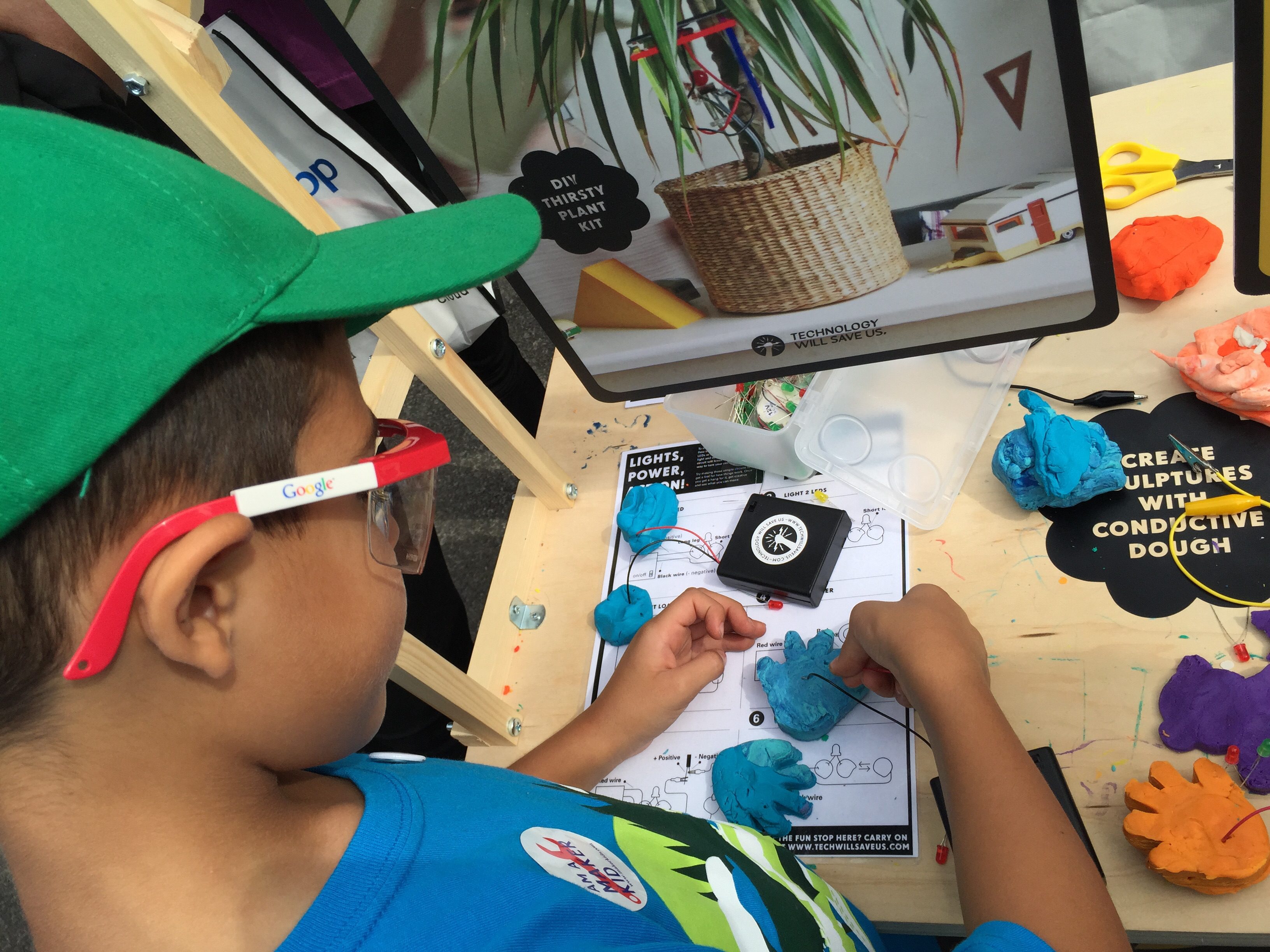 NYSCI Maker Space
NYSCI offers great Little Maker Workshops that foster creativity and fun for all young makers (and  young at heart). These fun Little Makers workshops held at NYSCI invite families with young kids to tinker, design, and create together. There is a materials fee (per session — $8 per family, plus NYSCI admission, $5 per family for NYSCI members).
Today at Apple
"Today at Apple is bringing new experiences to every Apple Store. Now you can find 4,000 different FREE inspiring and educational sessions happening daily in open spaces within an Apple store near you! These free workshops include a Kids Hour that offers fun tech activities for kids — Coding, Designing a fun Sphero Maze Challenge, Creating Movies, Designing Your Own Kicks, Creating Music, and Designing Your Own Character, and more. Check out what's being offered at an Apple Store near you!
Summer Learning with Maker Boxes
Teknikio STEM Kits
Teknikio creates gender-neutral engineering toolkits for kids. These little boxes are packed with FUN and empower makers of any age to build their own toys and gadgets. What I like is that kids can learn the fundamental concepts of STEM (science, technology, engineering, and math), design, and craft while trying new things. Beyond that, kids learn life skills — how to invent and engineer solutions for real-world problems!
Teknikio offers three different STEM sets that combine craft, technology, and FUN. Each set is meant to encourage open-ended exploration of technology and design. These little kits are perfect for learning at home this summer!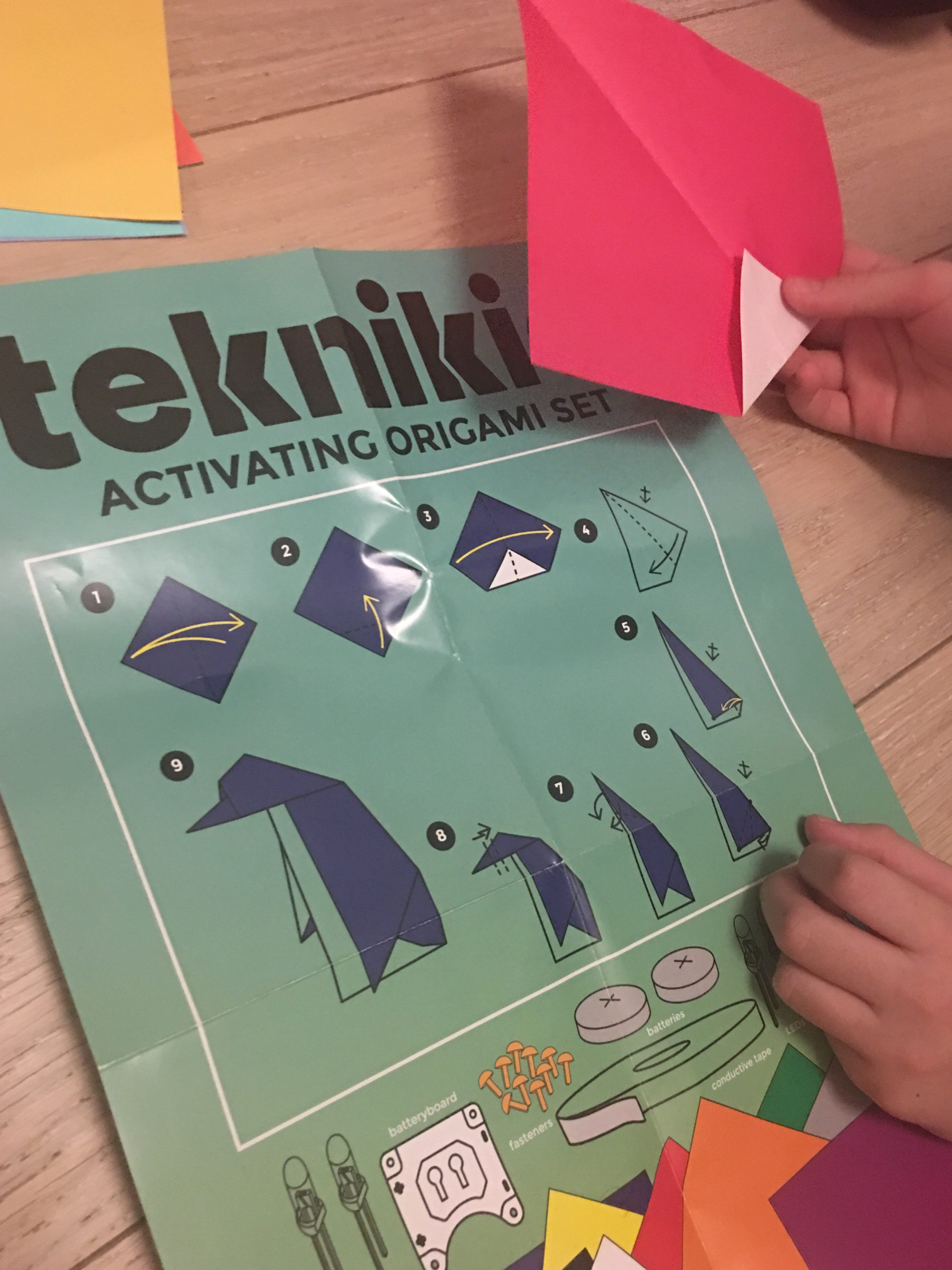 Make Crate
MakeCrate provides a monthly subscription to electronics and coding kits that make STEM education accessible and fun for kids. These high-quality kits include all necessary components, teacher-written instructions, video tutorials, and an online community for sharing project photos, posting mid-month challenges, and more. What's nice about MakeCrate is that kids can watch videos to learn how the parts in the kit work and use the video tutorials to help them learn to code step-by-step. Every month kids create something new and exciting while picking up useful new electronics and coding skills. The projects also empower kids to think analytically and solve complex problems.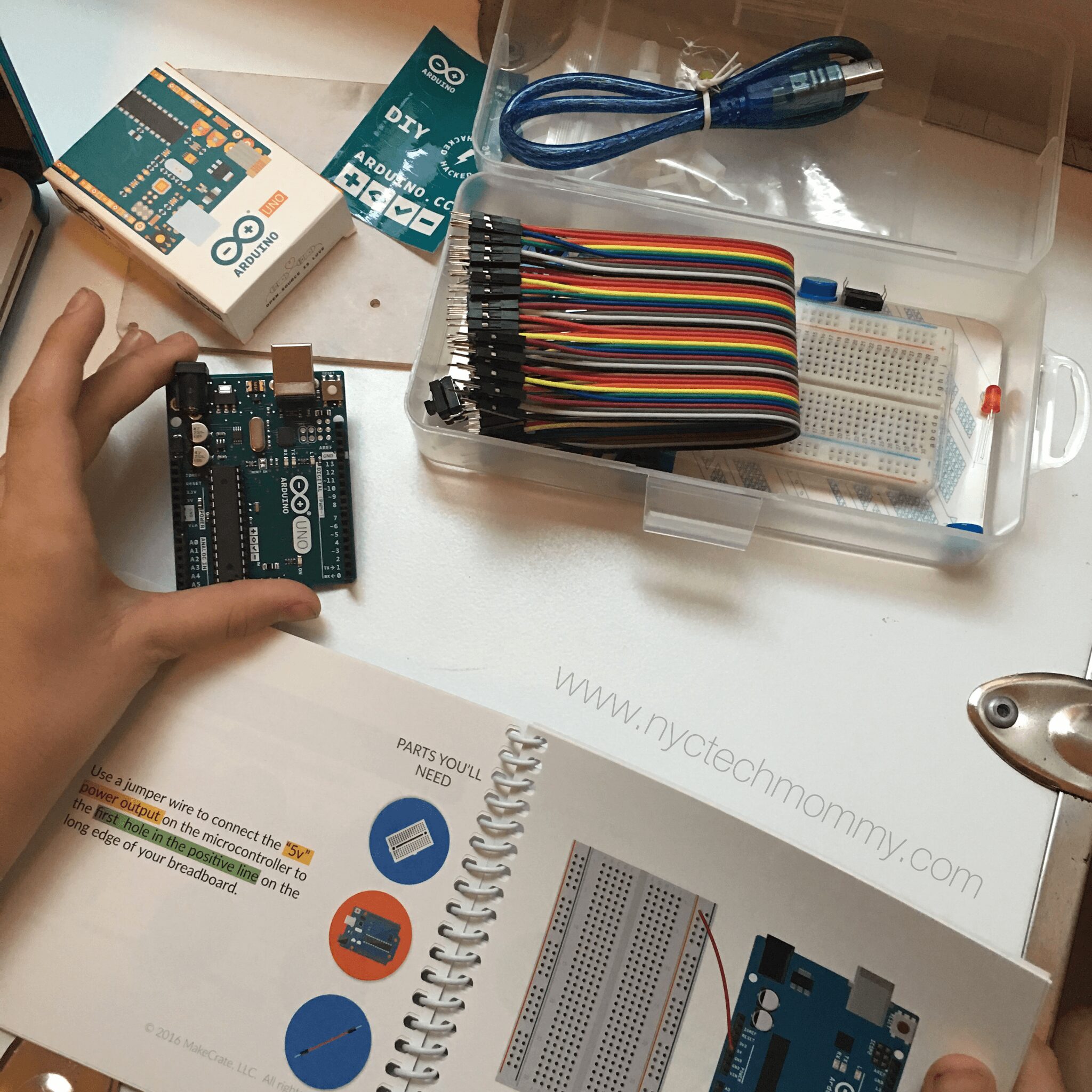 RELTED: Cure Summer Boredom with the Best Maker Kits
STEM Toys
Merge Virtual Reality Goggles
This is the toy of the future! Step into the future of education — just drop in your smartphone and let the Merge VR Goggles transport your kids to virtual worlds they might otherwise not have access too. This kid-friendly VR headset comes in a wide array of vibrant colors and is made from marshmallow soft material that is super durable and very easy to clean. Kids can use the Merge VR Goggles to access hundreds of curated apps and immerse themselves in virtual reality experiences that can transport them to places around the world and beyond. Wouldn't it be fun this summer to visit new places without actually leaving the house — from museum visits to trips into outer space, the educational possibilities are endless!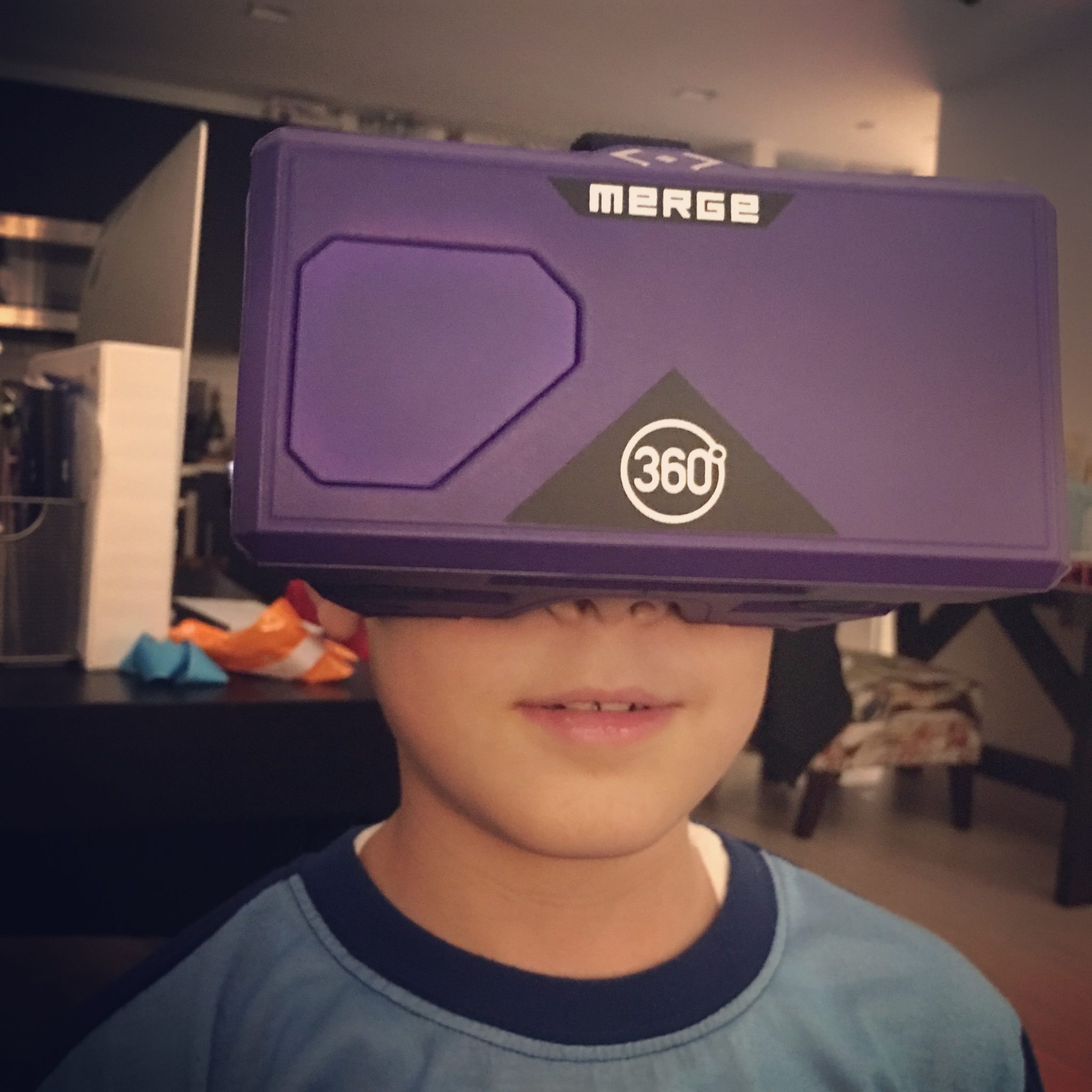 Da Vinci MiniMaker 3D Printer
By now you've probably heard about how education is influencing the 3D printing industry! Here's a perfect example. Wouldn't it be cool if your kiddo could 3D print their own creations this summer right at home! The Da Vinci MiniMaker 3D Printer from XYZ Printing is specifically made just for kids. It's the first 3D printer to use an intuitive auto-calibration system that makes it super easy for any kid to 3D print right at home (no experience necessary but you will need patience through the process). What's great about this fun lightweight 3D printer is how affordable and compact it is, making it easy to use and store just about anywhere.
To get started you simply download some of the 4,500+ free 3D models available in the online XYZ 3D Gallery — from toys and games to art pieces and educational items, there's so much to choose from. The free downloadable software makes it super easy for kids to create anything they can dream up! You can pick up your own Da Vinci MiniMaker on Amazon.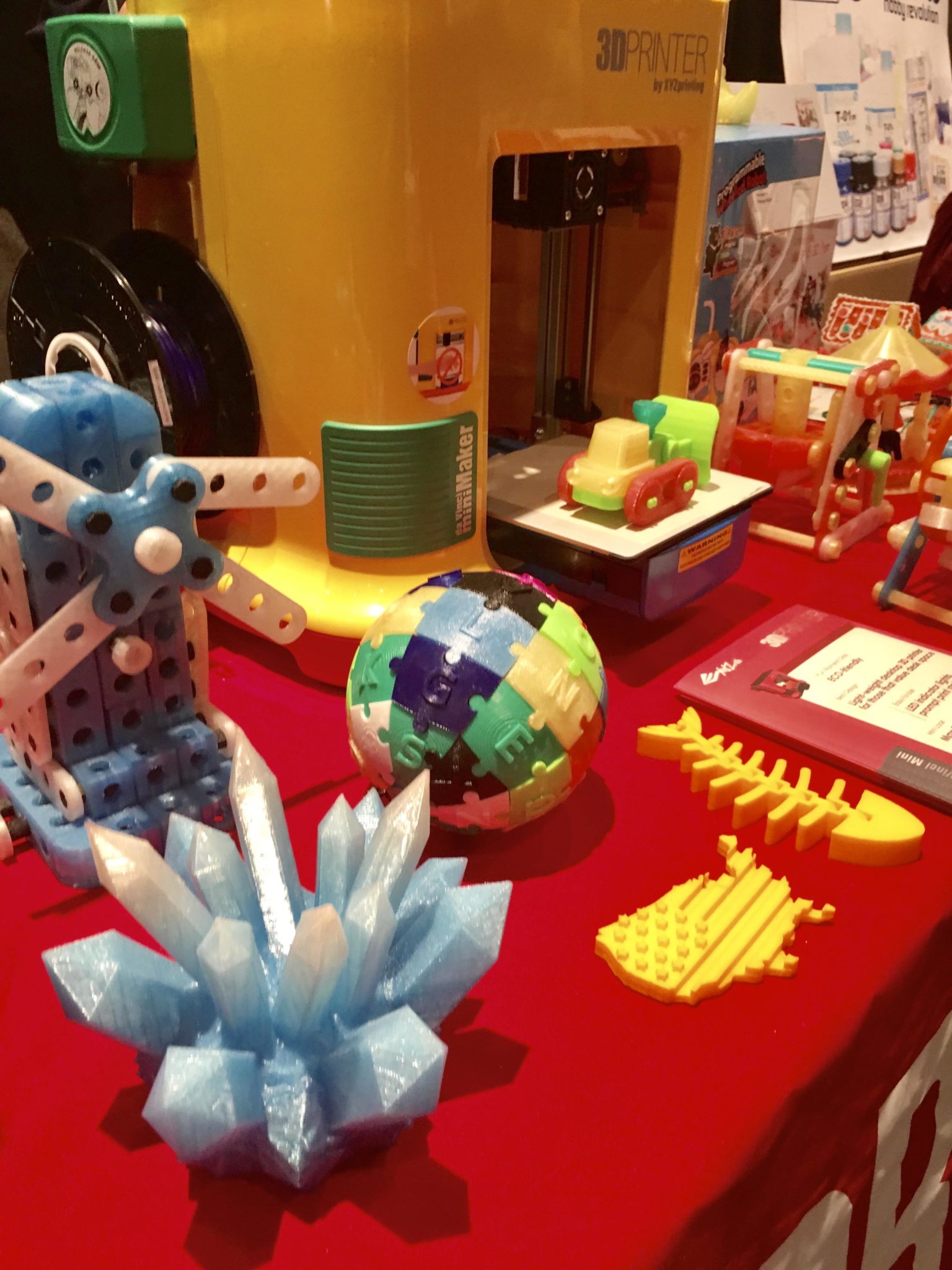 Jimu Robot
Jimu Robot kits from UBTECH empower kids to use their imagination and make their own ideas come to life with code. I can't think of a better way to spend a summer of STEM than to have fun learning to program robots? Jimu Robots are award winning interactive robotic building block systems for ages 8 and up. A blogger friend recently built a Jimu Robot with her son and now I'm thinking this is the STEM toy that I need to get for my own kid this summer! Wouldn't your kid like one of these too?
Virtual Aquarium with Pai Technology
What kid wouldn't love to create their own virtual aquarium with Ocean Pets? Ocean Pets from Pai Technology let's kids build ocean creatures out of putty and then bring them to life with a cool Augmented Reality app. But Ocean Pets isn't all fun and games! I love it mostly because it's a great learning tool for young kids. Once kids have created their personalized virtual aquarium they can go on to explore the underwater world and learn fun facts about marine life.
Ocean Pets also encourages kids to care for our planet and ocean environments with tips on how to keep our oceans clean and safe for the sea creatures that live in it. I think this makes Ocean Pets a great toy (and AR app) to introduce young kids to marine science and the importance of being kind to our planet. A great way to learn more about the oceans they'll be swimming in this summer! Don't you think?
RELATED: Super Cool Tech Toys That Will Have Your Kids Flipping Out
Plan a STEM Day Trip
NYSCI
The New York Hall of Science (NYSCI) is a fantastic place to visit with your #NYCKids this summer. Located in Flushing, Queens, this science museum is considered New York's center for interactive science experiences. It offers more than 450 interactive displays that explain science and demystify the world around us. NYSCi also includes some great outdoor science spaces like a Science Playground and their famous Rocket Park Mini Golf.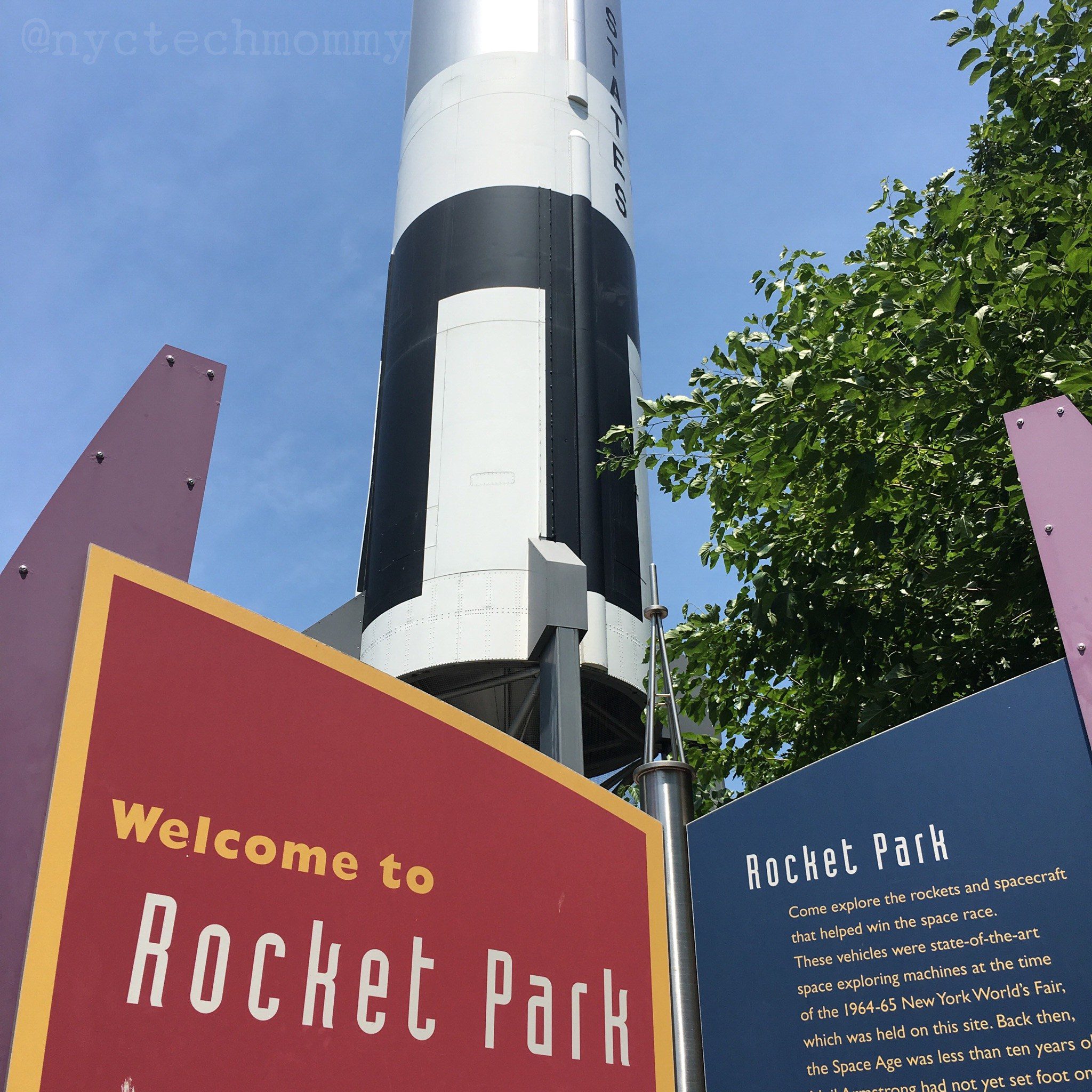 Liberty Science Center
The Liberty Science Center is a popular interactive science museum and learning center located in Liberty State Park in Jersey City, New Jersey. From Summer Science Camps to learning about the unique ecosystem in and around the Hudson River, hands on science exhibits for little ones as young as ages 2 to 5, a Dino Dig, and so much more! This outstanding science center has it all!
My kid particularly loves the Skyscraper exhibit where kids can learn all about engineering and even walk on a narrow steel beam high above the gallery floor. It's an exhilarating experience — there's no net, so just like real construction workers, kids wear a safety harness.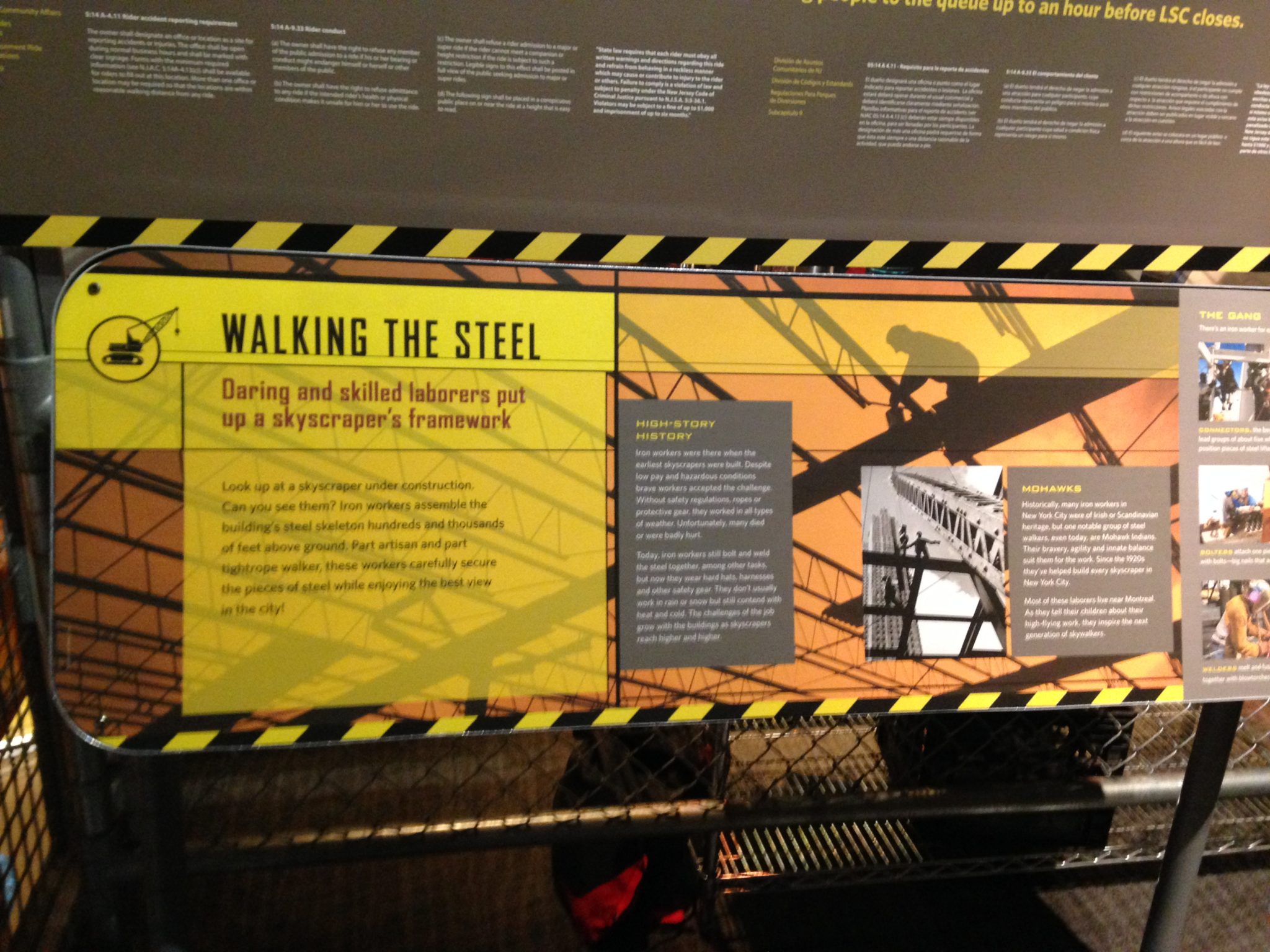 The Franklin Institute
Located in the heart of Philly, the Franklin Institute Science Museum is one of American's most celebrated museums and a renowned leader in science and technology. Here you'll find an endless possibility of hands-on exhibits and this summer their including new workshops and weekend offerings including their Summer of Space. During Summer of Space visitors can take their knowledge about the science of space to the moon and back through VR experiences, planetarium shows, hands-on activities and so more! It's out of this world and your kids will love it!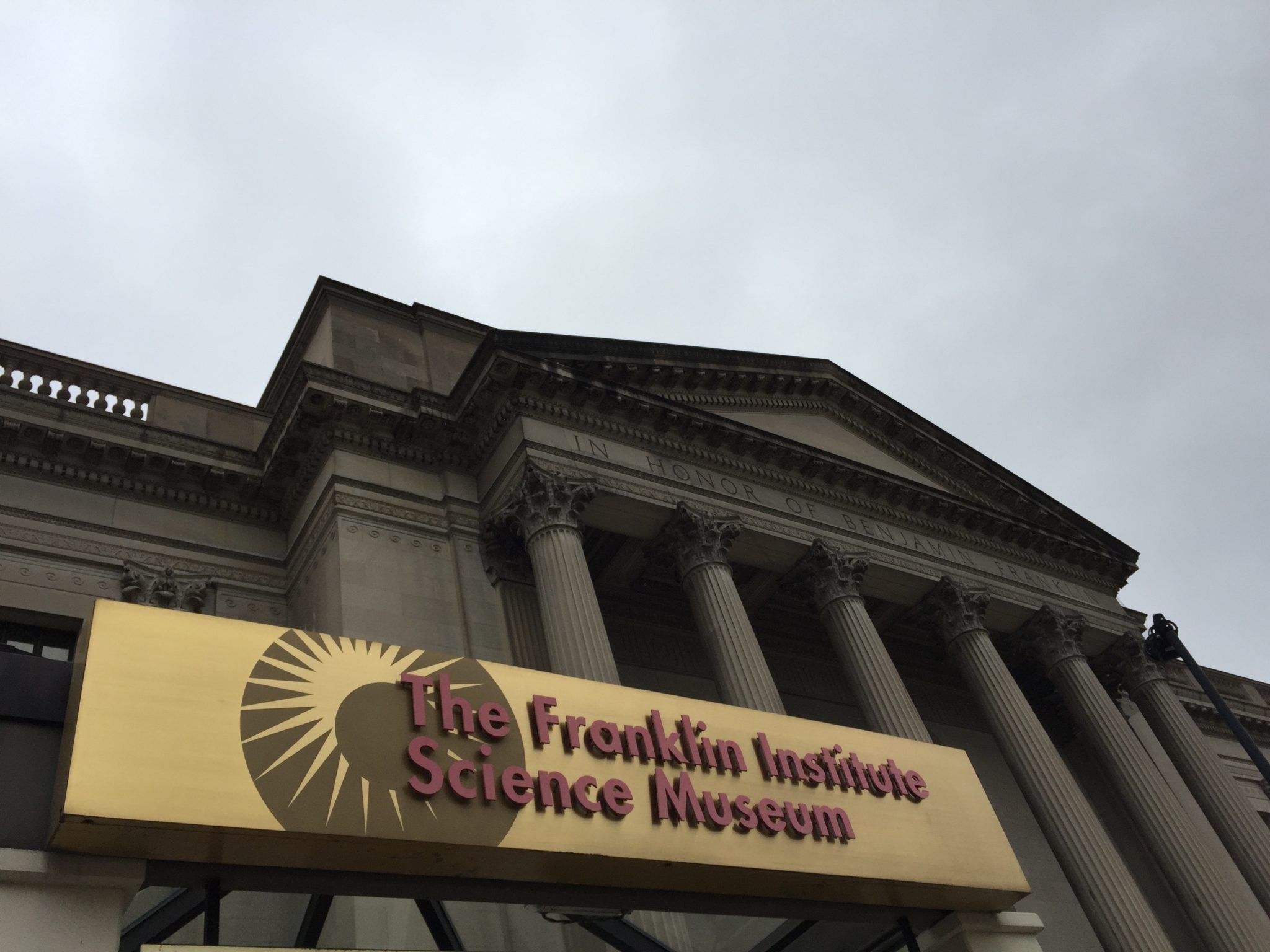 Connecticut Science Center
At the Connecticut Science Center kids will have a blast checking out 150 hands-on exhibits, a state-of-the-art 3D digital theater, four educational labs, plus daily programs and events. This place is huge and offers endless exploration and informal science learning opportunities for kids making it a great STEM resource. We haven't been there in a couple of years and are really looking forward to going back this summer!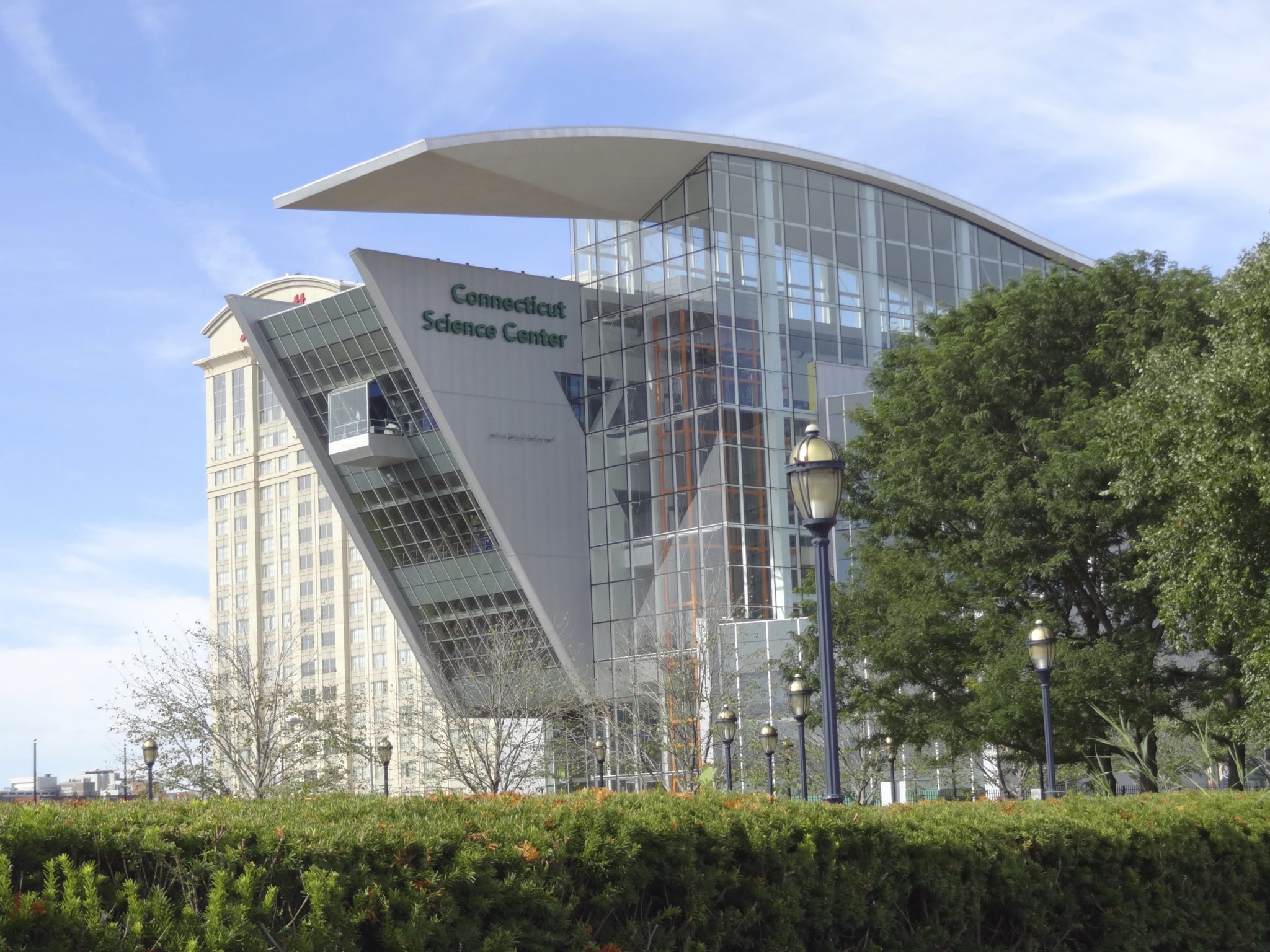 Some Other Super-Cool Summer STEM Activities to Try at Home
Keeping kids engaged in learning at home is a great way to combat summer learning loss. Project Lead the Way, the nation's leading provider of STEM curriculums, has a great list of Super-Cool Summer STEM Activities you can try at home this summer!
How are you planning to engage your kids in learning this summer? Do you have any STEM resources you could add to this list? We'd love to hear them!
You May Also Like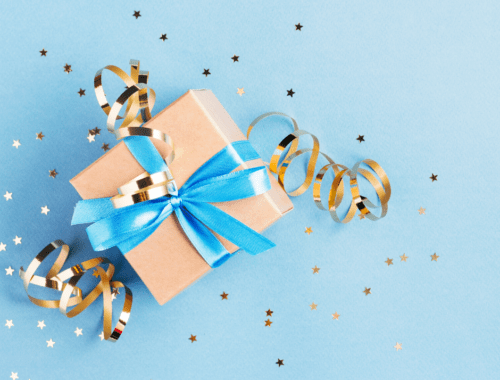 February 4, 2020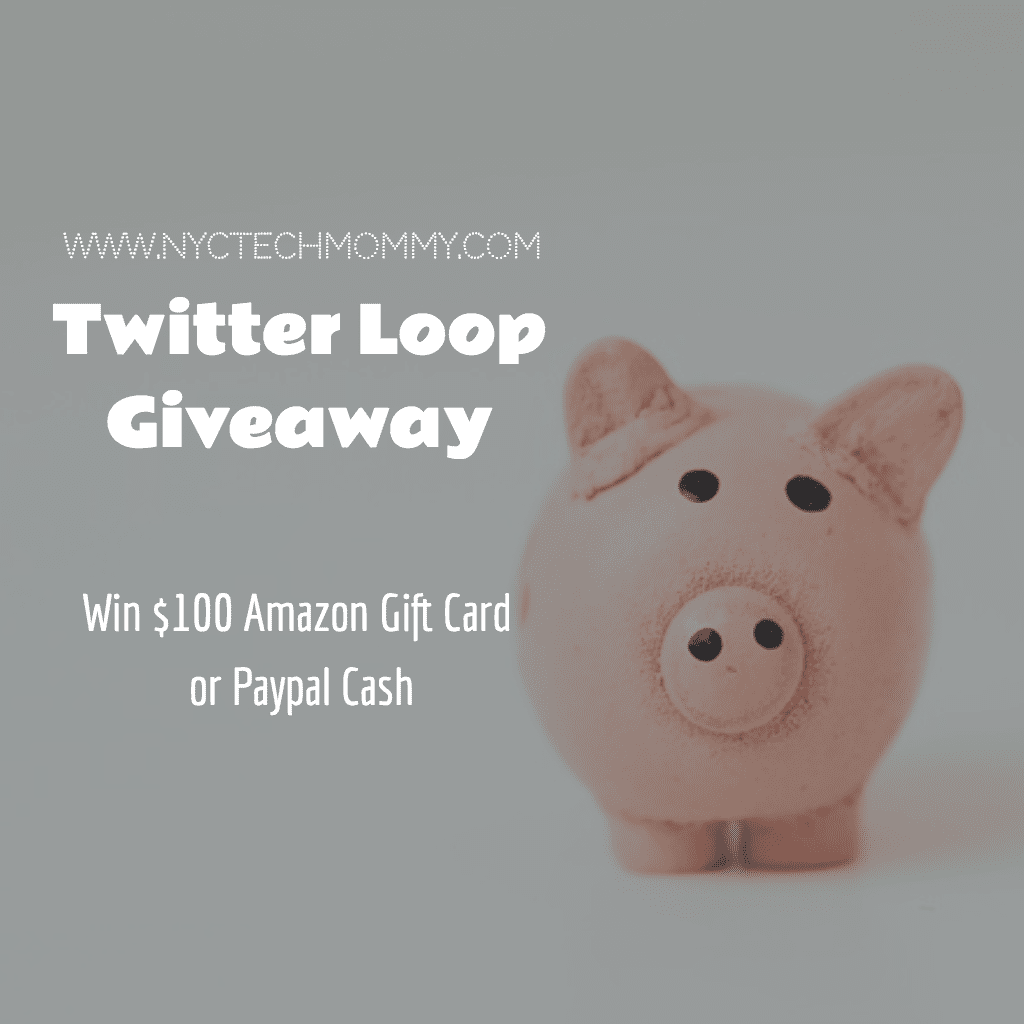 June 20, 2016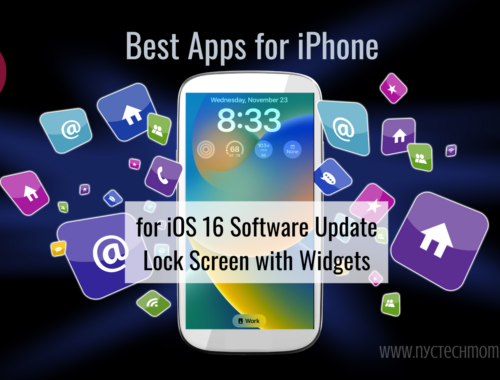 November 23, 2022