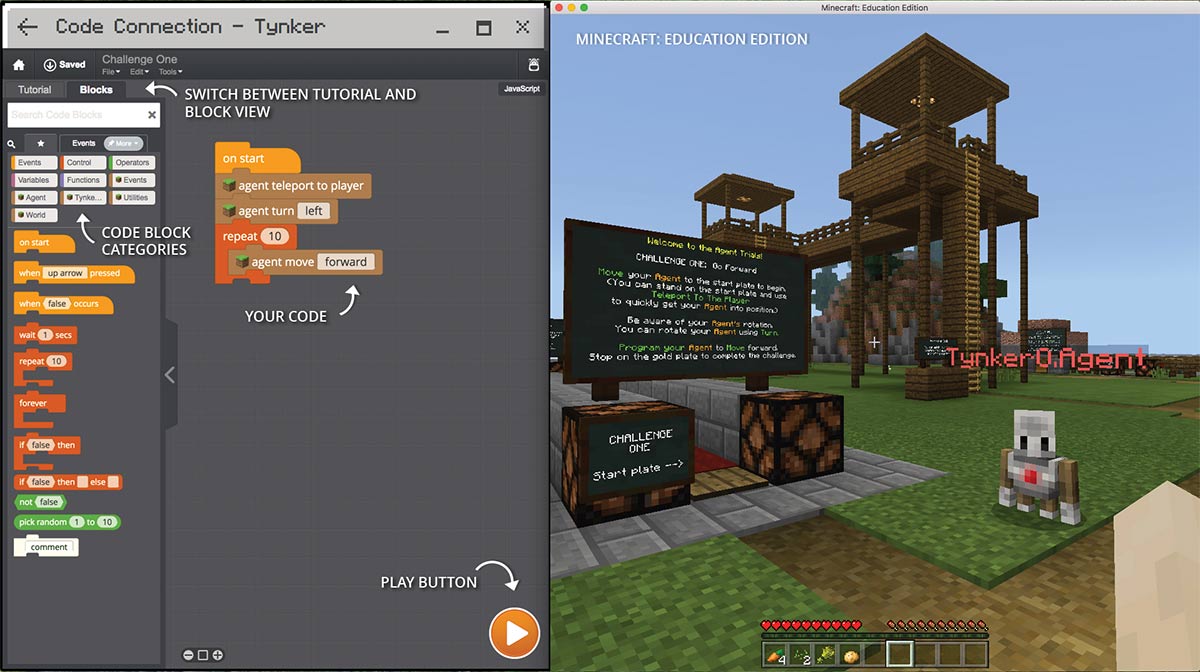 Learn to Code with Tynker and Minecraft Education: Everything You Need to Know!
Tynker officially announced that it has been selected as Coding Solution for Minecraft: Education Edition. What does that mean? As of today teachers and kids using Minecraft: Education Edition can easily learn to code with Tynker and Minecraft!
Code Builder, the new Minecraft: Education Edition extension is a game changer, my friends! Read on to learn more about this and other ways kids can learn to code with Tynker and Minecraft.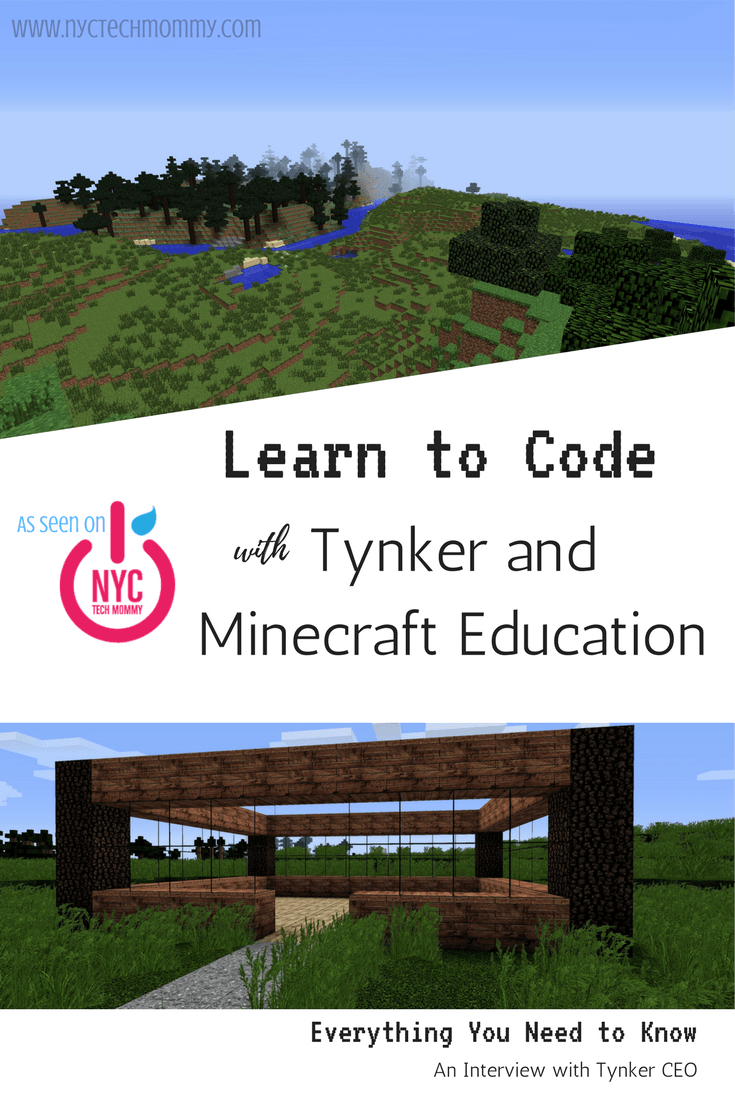 I recently had the honor of chatting with Tyner Co-Founder and CEO Krishna Vedati to learn more about all the great things happening at Tynker. Here's what he had to share with us.
What is Tynker?
Tynker is designed for kids to learn programming in a fun and intuitive ways. As parents, we created this to allow students to explore the language of coding with their own interests (Minecraft, games, coding drones, etc.). We provide a series of games where they have to move through levels by solving different computational programs, learning more in depth, and making stuff in ways they love.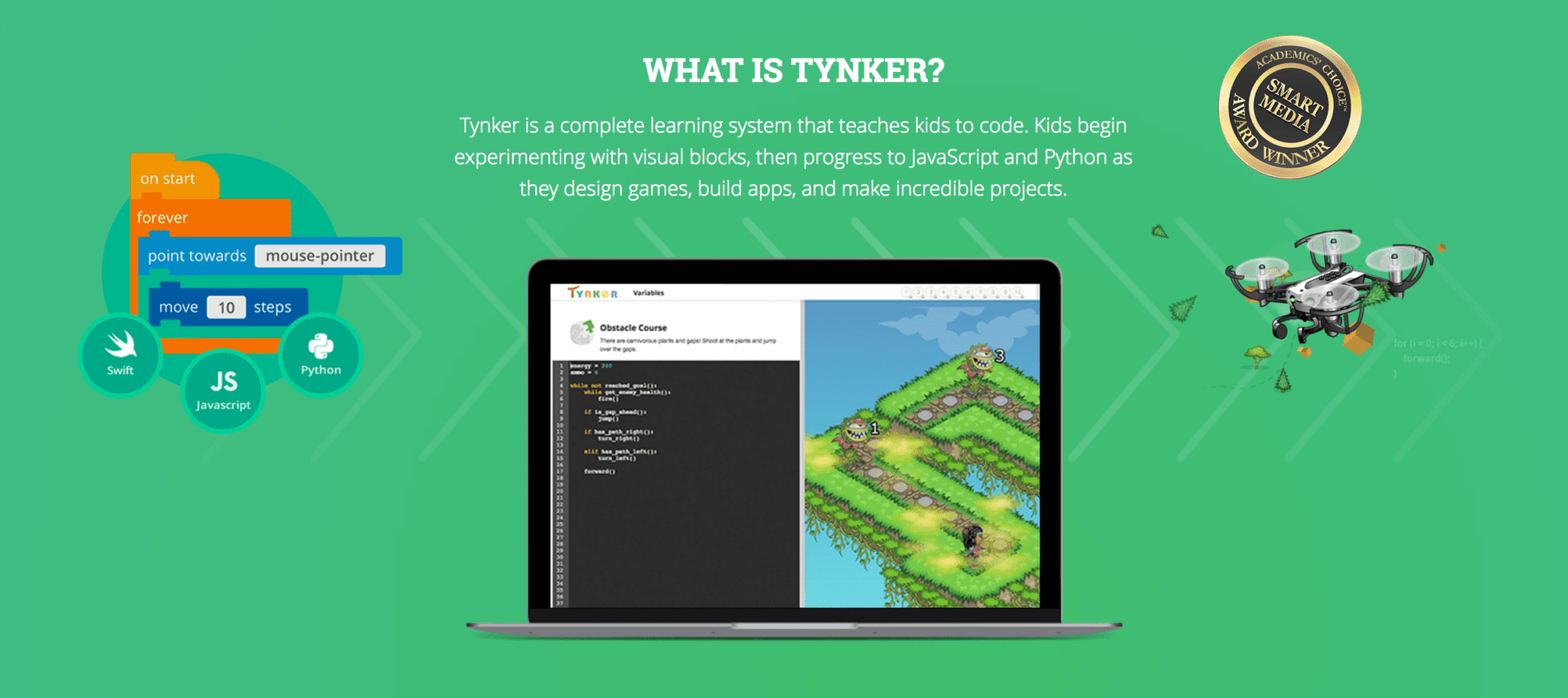 NEW Minecraft: Education Edition Extension, Code Builder by Tynker
As an educator, a huge supporter of EdTech, and Mom to a Minecraft obsessed kiddo, as you can imagine I was really excited to learn more about what Tynker is now bringing to the Minecraft experience. I asked Krishna to share some details about the newly released Code Builder extension for Minecraft: Education Edition.
Are you a teacher using Minecraft: Education Edition in the classroom? Maybe you're a parent whose kids are playing Minecraft at home and in the classroom?
Krishna had these details to share with me.
Today, is all about Minecraft – kids including my own – are obsessed with Minecraft. Microsoft has selected us as one of their coding partners to teach coding in the classroom.

While in the Minecraft: Education Edition students can choose Tynker, Code Builder to build things like rainbows, buildings, custom characters etc. with code. Step by step instructions walk students through visual language to create inside their Minecraft world. Code Builder extends Minecraft –kids are moving from learning about specific subjects through Minecraft to learning programming skills.
Hearing these great details about Code Builder, the new Minecraft: Education Edition Extention, I had to dig deeper and ask Krishna some more questions about everything Tynker is doing these days. Read my full interview below.
NYCTM Interview with Tynker Co-Founder and CEO Krishna Vedati
NYCTM:  As an educator who doesn't know much about coding or isn't very interested in gaming, how do you feel that the Code Builder extension will empower teachers like me, who may be hesitant to use Minecraft in the classroom because they don't understand how to play or who may be unsure of how to use it as a teaching tool?
Tynker CEO Krishna Vedati:  When we designed Tynker to teach coding in classrooms, we got the same reaction. We design our lessons so teachers take on more of a mentor role, rather than the role of a programming expert. Most of the learning happens in a self-learning way where students move through interactive tutorials, mini-games, DIYs. We introduce one or two concepts per lessons in a very methodical way. We provide detailed instructions to create and then students move on to trying it on their own. Tynker has tools that push students along and help them figure it out throughout. Even if they fail at first, they do eventually get it right!
Currently, 1 in 3 schools is already using Tynker.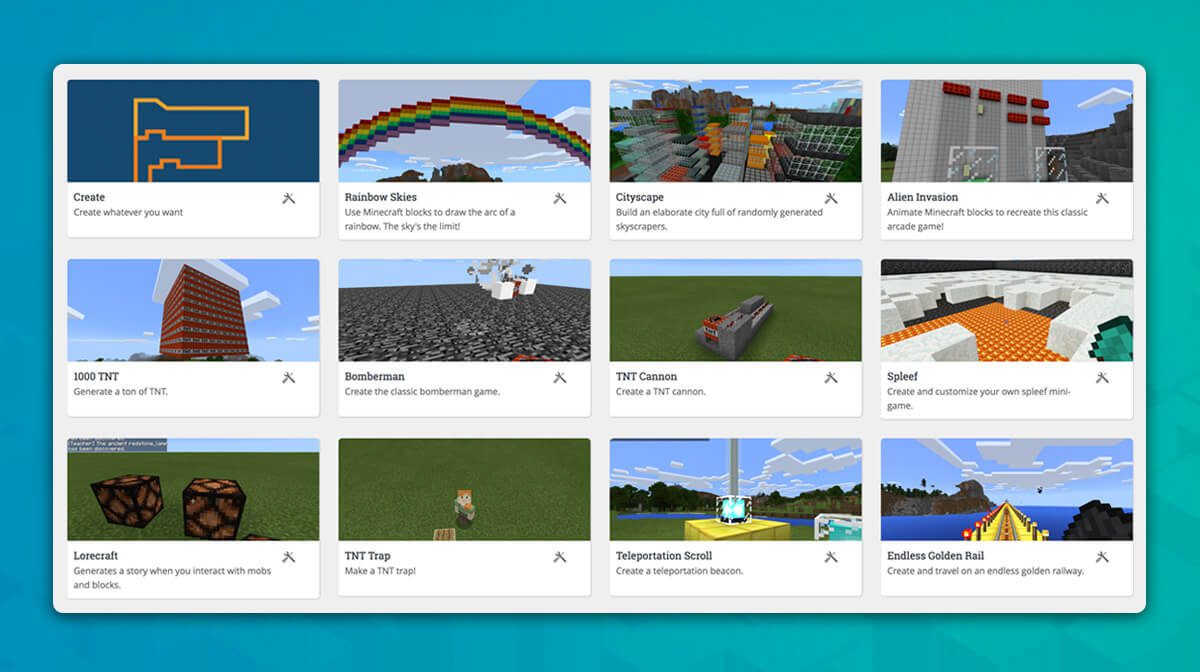 Now with Minecraft: Education Edition's new Code Builder extension we follow that same Tynker philosophy of making it simple for teachers to become mentors and students to learn coding — we give students easy bridges to learn to code and teachers have full insight into what they're doing. In addition, all of our stuff is free if they already have Minecraft Education: Edition
We support learning even further, for example, if students are stuck on a puzzle, teachers can see the puzzle in the lesson plan and help them figure it out or see for example seven students who are doing well and decide where they can pair off the class. We're doing more and more to eliminate that uncertainty and fear factor that teachers have — we go further to provide support and can easily fix most issues within 24 hours if they are brought to our attention.
NYCTM:  To give teachers a better idea, you mention that teachers get information about where the students are, there is a teacher dashboard where teachers can get reports? How are teacher's supported when they are using Tynker?
Tynker CEO Krishna Vedati:  Absolutely, teachers tend to join Tynker for free where they get 2 courses, there are webinars and lots of videos that teach teachers how to learn Tynker. Once they get comfortable, they can see what the student sees and they can see a detailed teacher notes portal with concepts, videos, data on student progression, etc.
With Tynker teachers get this support at a lesson level, at a course level and at a detailed metrics view (in real-time w/ paid version). On the free version of Tynker you can see what students have created (what projects), much more detailed analytics throughout lessons come with the paid version.
NYCTM:  We talked about the support teachers receive when using Tynker in the classroom. Are these detailed metrics available in Minecraft: Education Edition as well? What about Code Builder? 
Tynker CEO Krishna Vedati:  Minecraft: Education Edition lets teachers see outputs. An admin portal allows teachers to see where each student is and where they are in the Minecraft world (monitor, reset, refocus etc.). Code Builder allows them to create using code and build within the game.
NYCTM: Prior to launching Code Builder I'm sure you tested it in classrooms. What feedback have you received from classrooms that have been using it?
Tynker CEO Krishna Vedati:  Our current version has been running in beta and we've heard great feedback — very simple, intuitive and easy to use. Now all of the sudden with one command students can launch Code Builder and start building with codes. Users find the tutorials are helpful, etc.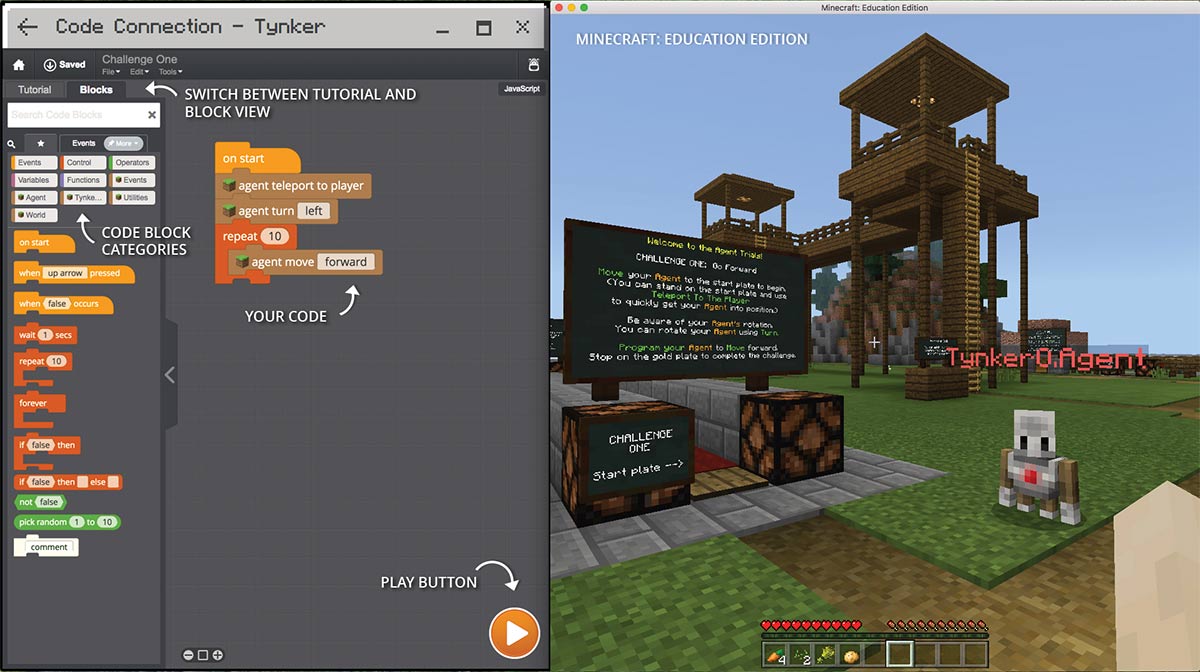 NYCTM: I'm sure teachers hearing about Code Builder want to know, how do they get it in their own classrooms?
Tynker CEO Krishna Vedati:  As of today, the product is available for every classroom that already has Minecraft: Education Education. Just update the client and the code edition will be available automatically.
NYCTM: This is exciting! A game changer. What do you see this bringing to the classroom? In launching the Code Builder extension, what do you see it doing to transform Minecraft: Education Edition?
Tynker CEO Krishna Vedati:  I agree that it is a game changer. At Tynker we're believers in interest-based learning. As we know all of our kids are obsessed with Minecraft. Now to learn code they don't have to play a separate game, they can just experiment and build in Minecraft. We've always believed that students need to learn coding, it can be used in any field when they grow up. We partnered with Minecraft because kids already love it.
NYCTM:  As a parent and educator, I get asked all the time what can parents can do over the summer to support learning when all kids want to do is play video games. I find that because parents don't understand Minecraft, they don't always know how to support their kids learning in the best way when it comes to playing the game. How can parents help their kids learn through gamification at home? How can they empower kids to learn to code with Tynker and Minecraft?
Tynker CEO Krishna Vedati:  With Tynker, that's exactly the problem we're solving. Parents don't have to understand how coding works, Tynker takes kids step by step in each game (ex. can program Minecraft chickens' behavior). We provide Minecraft as well as a broad catalog of courses through our monthly Tynker subscription. Not all parents and kids have access to Minecraft: Education Edition but they can still turn their Minecraft time into coding time.
[Tweet "Turn Minecraft time into coding time! Kids learn to code with @GoTynker #Minecraft #CodingForKids"]
Tynker helps parents set up a secure server where kids can play safely with their friends. Parents and kids can control how many friends they play with etc., by only adding their friends' IDs. Then they can collaboratively play with each other and learn coding together.
NYCTM:  I must tell you, you've simplified my life as a parent because my kid has been asking for this forever. Now he can learn to code with Tynker and Minecraft, have his own server, play with his friends, create his own mods etc. Do parents have control over which friends they can invite?
Tynker CEO Krishna Vedati:  Parents can have their own dashboard (for free) once they get a subscription, kids can get pathways to learn to code and then set up their servers to add other kids. Parents can log in as kids and see who's on the server with one click. Parents also get emailed reports, have a full view of where in the computational learning kids are. Parents have full control of security and progress!
People invited don't need an account, just need Minecraft client access.
NYCTM:  Looking through details on the Tynker website I noticed that a Premium account gives users 480 minutes a month of access to their own private server, so it is limited?
Tynker CEO Krishna Vedati:  Yes, it is limited. They code outside the world and then enter the world to test and see their code in access. We help parents if more time is needed.
NYCTM:  To set up an account do kids also need a student account that is different from the parent verified Tynker account parents will have to set up to begin?
Tynker CEO Krishna Vedati:  Yes, and there are two ways to get one:
Sign up through Tynker with a parent account and create an account for the kids
OR
Student accounts from classroom can also be used at home, they just have to add a parent guardian

On student accounts, two parents guardians – teacher or parent – can help with resetting passwords, tracking progress etc.

Teachers see class programs, parents can see home progress

Parents can also see project progress
NYCTM:  Tynker is doing great things to bring coding and programming skills to kids! Have anything else to share with us?
Tynker CEO Krishna Vedati:   Today, Minecraft is a big focus but we've also launched a big partnership with iPads for Apple's Everyone Can Code Program. 
Apple's Everyone Can Code is separate from Minecraft. Courses are designed by Apple and Tynker using Tynker games to keep learning completely gamified. Apple has two iBooks that are written with Tynker code and content in two lesson plans. As students work through these courses, they learn coding. It's already available in the Tynker iPad app, you just need the iPad and the latest version of the app (red icon).
The Everyone Can Code program from Apple is designed to help anyone learn, write and teach code, and we are thrilled to help students on their journey from no coding experience to building apps… Space Cadet and Dragon Spells were purpose-built to enable kids unfamiliar with coding to learn using visual code blocks and then 'toggle' to the Swift programming language as they progress in their development. We hope these new courses inspire an even greater number of students and teachers to embrace coding as a way to enhance early learning and future careers.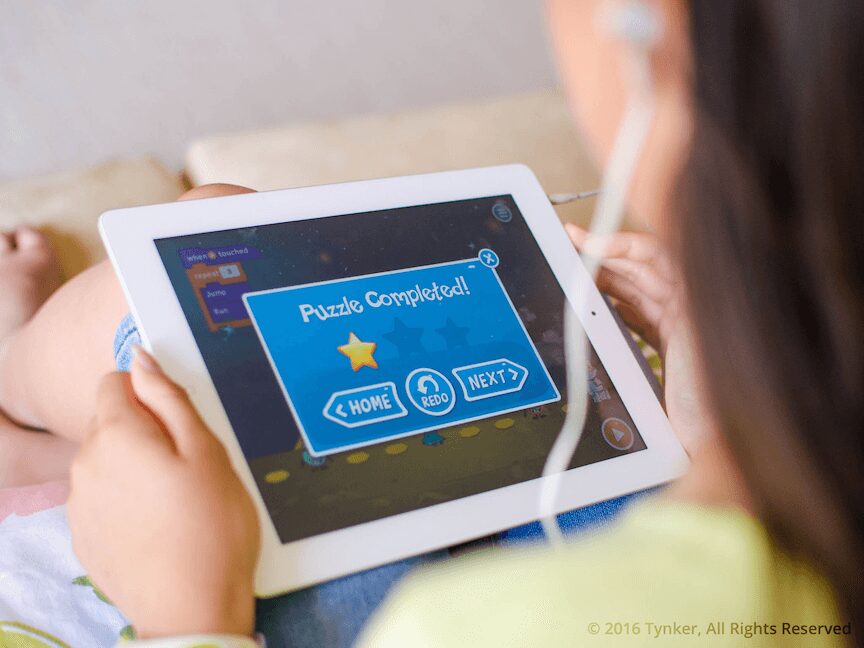 NYCTM:   I also noticed that the Tynker website mentions exciting things coming to the Pocket edition of Minecraft. What can you share with us? Are other gaming systems possibly in the future as well?
Tynker CEO Krishna Vedati:  Yes, coming soon to Pocket edition — Millions of kids already have this version of the Minecraft client so Tynker is working on a solution for kids with this type to learn coding.
After Pocket edition, we'll work on simple solutions for other gaming systems.
NYCTM:  Krishna, thank you so much for chatting with us today! I'm really excited about all the ways kids learn to code with Tynker and Minecraft.  Tynker is just bringing so many great opportunities for kids to learn 21st Century programming skills. I'm sure these will make them better equipped for a brighter future. Thanks for sharing all the details with our NYCTM readers today and keep up the great work that you do!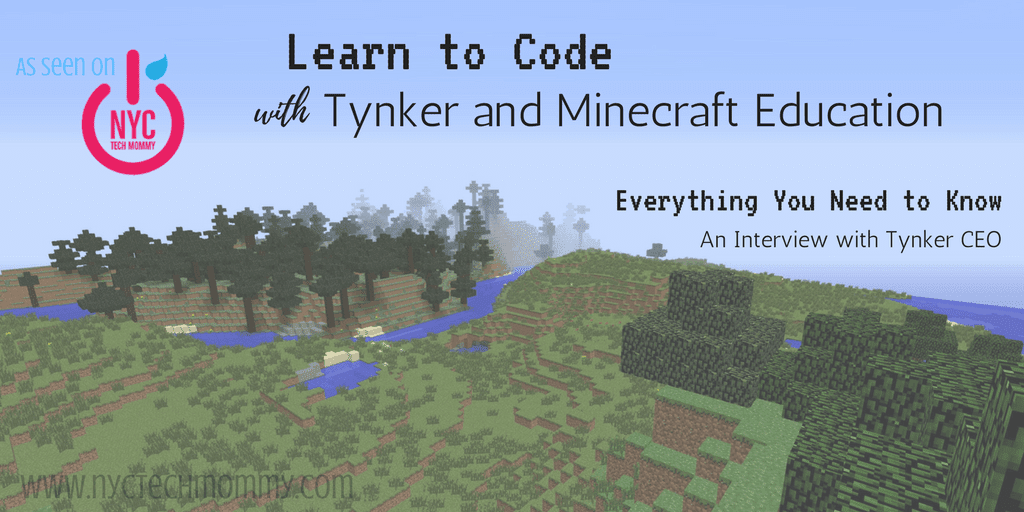 ---
You May Also Like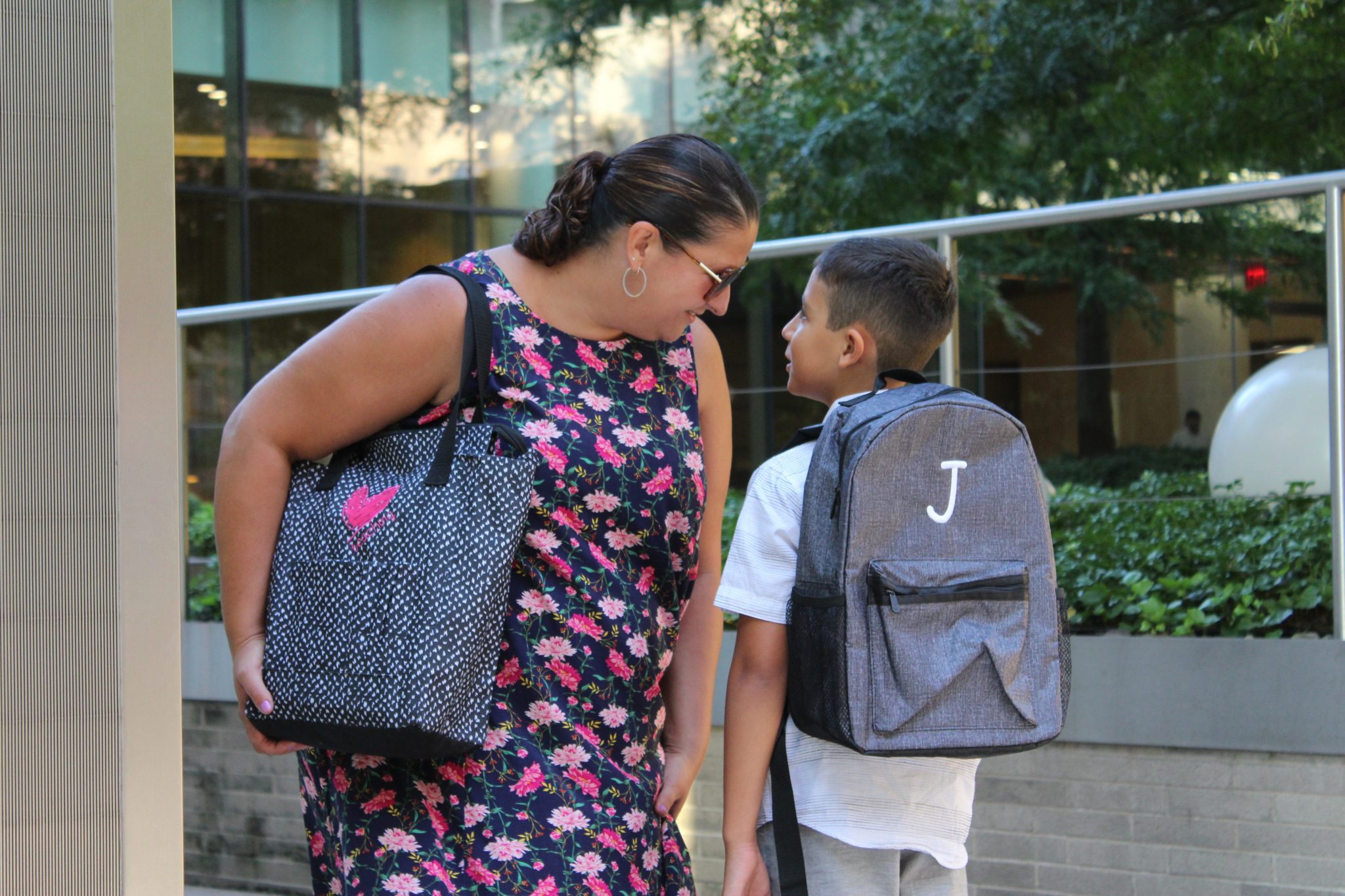 August 22, 2017