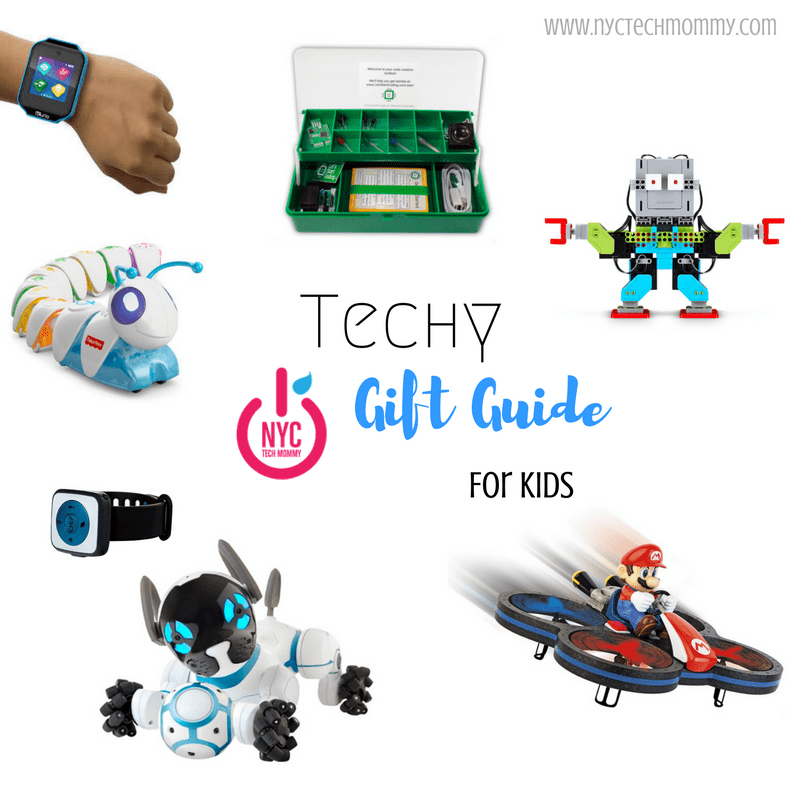 Techy Gift Guide for Kids – Super Cool Toys That Will Have Your Kids Flipping Out
December 1, 2016
I can hardly believe Christmas is almost here! Can you? In the past, I've shared gift guides for moms but this year as the holidays roll around, the new tech products I'm most excited to buy and gift are those for my kids. After all, isn't that what the holidays are all about? There's nothing like seeing their little faces light up with joy when they open that much-anticipated gift! It's magical, to say the least! Plus there are so many neat techy toys out there this holiday season that just the idea of sharing a Techy Gift Guide for Kids with all of you makes me all warm and fuzzy inside. Sorry, I'm such a geek!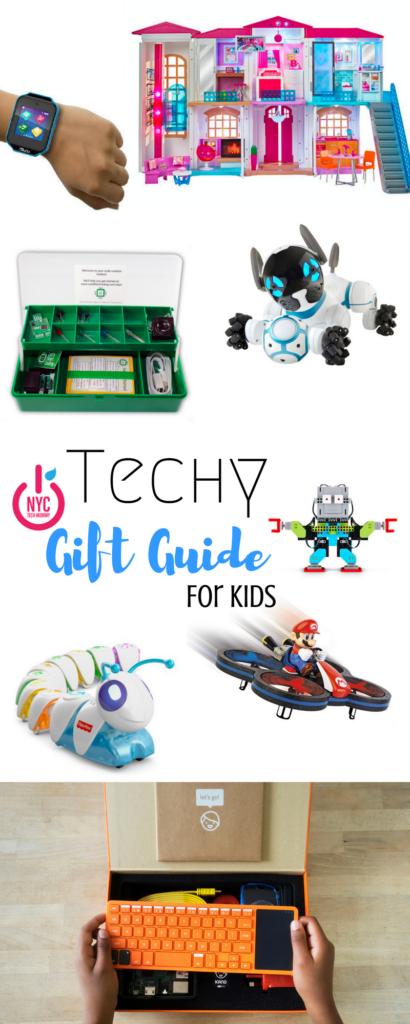 Are you ready? Here are my top pics for techy toys for kids this holiday season! There's no question that there are thousands of cool techy toys out there but I had to keep it to just a few, obviously. It really was so hard to pick! I decided to go with toys that my own kids have asked for (big Super Mario fan in this family) and others that I know they would totally flip out over. Hope you'll agree that these are all super cool!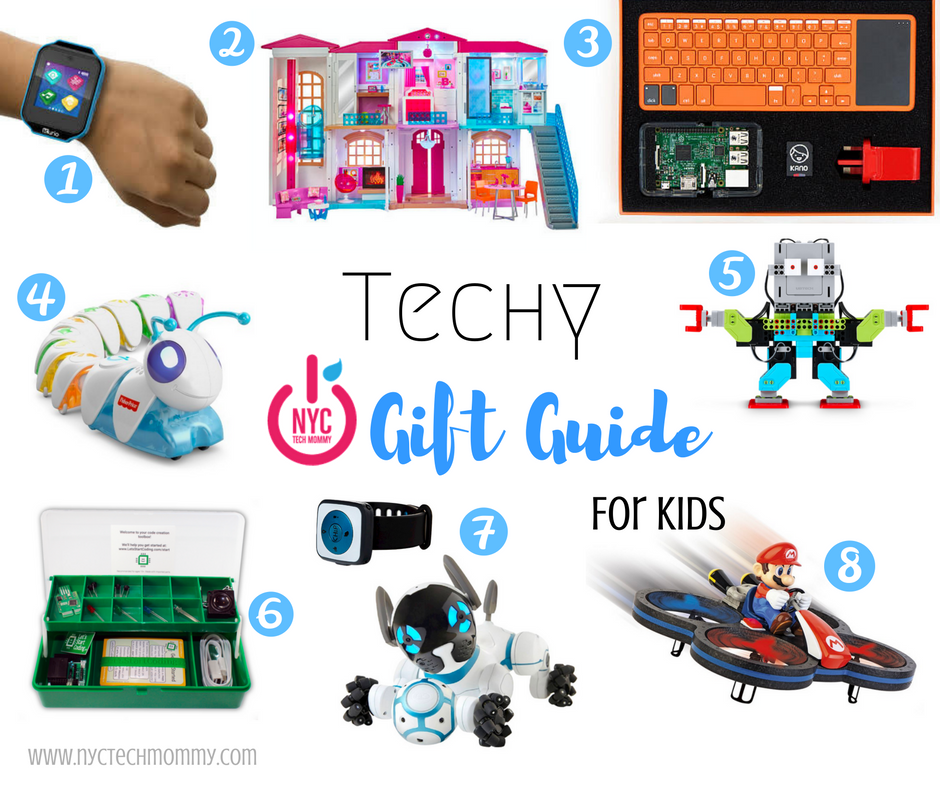 Disclosure: This post does include affiliate links — that means I could receive a small commission if you make a purchase, without it affecting the price you pay.
As always, I only share what I love and think you will too! Thanks for supporting NYCT. 🙂
NYCTM's Techy Gift Guide For Kids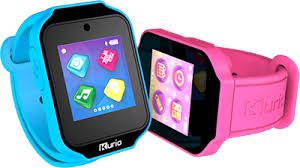 1. 
The Kurio Watch – What kid wouldn't love their very own smartwatch? Especially if they see mom and dad wearing one! The Kurio Watch is a real smartwatch with a high-res touch screen, 256MB internal memory, plus an extra 32Gm of memory with the micro sadhu card slot, USB cable and a Rechargeable lithium-ion battery. Includes productivity tools too — alarm clock, calendar, contacts, calculator, an activity Tracker and lots more! Kids will also love the entertainment features such as a music player, camera and video recorder. Even includes messaging options and photo editor.
Plus, the Kurio Watch is packed with over 20 games and apps perfect for playing solo or in 2-player mode. A built-in motion sensor to also makes it possible to play active games. This neat little smartwatch for kids uses Bluetooth technology to send messages and make phone calls to other Kurio Watches and Android devices. Even the youngest kids will love sending pictures, emojis, Doodles, texts and more through the Kurio Watch's messaging features! What's nice about this watch is that it also features an emergency (I.C.E.) app, where parents can enter their child's critical Data – from emergency contacts to medical information – so that it's all right there in case of an emergency. Age: 6-8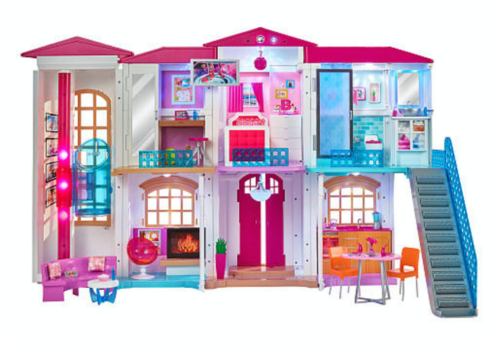 2. Barbie Hello Dreamhouse – Voted one of The Toy Insider Top Tech 12, Barbie has moved into some pretty cool and very high-tech new digs! Barbie has now joined the high-tech world and the Hello Dreamhouse uses Wi-Fi-enabled speech recognition to respond to more than 100 commands! In addition, it features four motors, an automatic elevator, and electronic staircase that turns into a slide (what little girl won't love that), a spinning chandelier and doors that open by voice command! The features within the six rooms can be changed by just telling the house what to do! And there's even an app for that! Use the Hello Dreamhouse app to customize the sounds in each play space — even record your own sounds for use in any of 15 locations. There are thirteen switches located throughout the house that bring each room to life — like a fireplace that crackles in the living room! This is a huge upgrade to the Barbie Dreamhouse of my childhood! Age: 6-10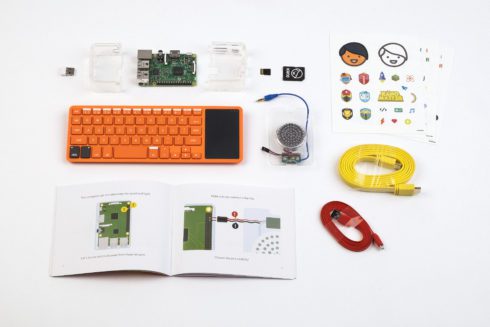 3. Kano Computer Kit – My 8-year-old recently asked me to buy him his own computer. I'm thinking why not just let him build his own. The Kano Build Your Own Computer Kit is a fun and simple way to get kids learning about computers and coding. The kit comes with everything kids need to get started — pieces, bits, boards, cables and more. No tech experience is needed! An easy to follow storybook is included that allows kids to follow instructions on their own with pictures that walk them through the complete process of building their own computer — step by step and bit by bit. They just put it all together as they would a Lego. Kids learn physical computing through play. Connects to any HDMI screen and kids are ready to start coding and creating their own games in no time at all. The easy to follow on-screen instructions walks kids through everything they need to do to start coding. Age: all ages (6 and up)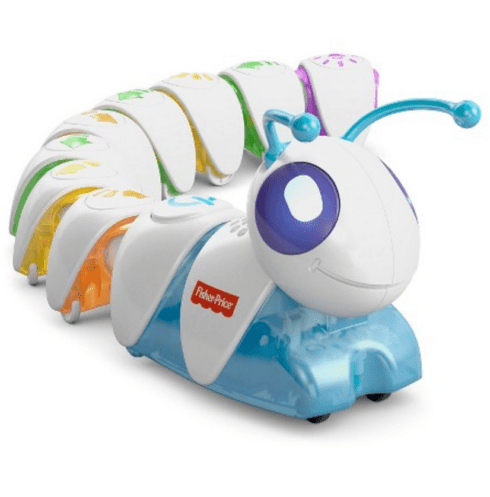 4. Code-a-Pillar – This is one of the new Think & Learn toys from Fisher-Price that goes beyond ABCs and 123s to help kids learn how to think independently. I love that this little caterpillar fosters 21st-century skills like curiosity, experimentation, and problem solving in ways kids haven't seen before. The Code-a-Pillar engages kids in hands-on, open-ended discovery that helps them become lifelong learners. This fun little toy inspires little learners to be big thinkers by encouraging preschoolers to arrange and rearrange the easy-to-connect segments in endless combinations, sending Code-a-Pillar on his path. It encourages experimentation while developing important skills like problem-solving, planning, sequencing, and critical thinking. There's no end to the combinations kids can make – mix up the segments and put them back together to send Code-a-Pillar in a different direction every time! What's great about this toy is that through play little ones discover that their actions make things happen —  cause and effect. Each segment lights up as the action happens! Each Code-a-Pillar includes one motorized head, 8 easy-to-connect segments, and 2 destination targets. Three expansion packs — Think & Learn Master Moves Expansion Pack, Think and Learn Basic Expansion Pack,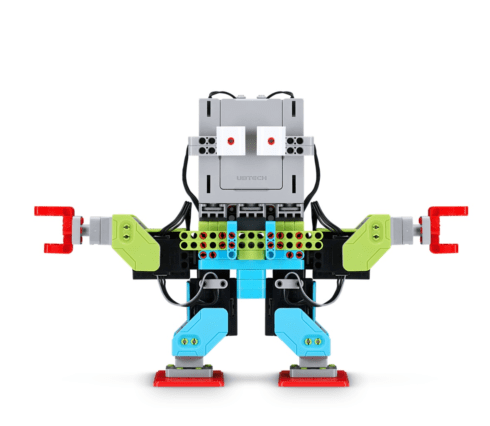 5. Ubtech Jimu Robot  – How cool would it be for your kid to build and program their own humanoid robot? The Jimu Robot Kit is a do it yourself, robotics building kit — easy to program with the free Jimu Robot app right on your iPhone or iPad. This kit includes six smooth-motion robotic servo motors, 201 snap-together interlocking parts and connectors, a main control box, quick-recharging Lithium-ion battery, a recharging power adapter, free Jimu Robot app, and a quick start guide. The Jimu App shows you how just how to build and program easily through easy-to-follow 3D animated instructions. The models provided in the App will help your kid learn how to build all the robots, from beginner to advanced robots. There are pre-programmed actions to choose from, manipulate, and make uniquely your own. The App also gives you access to the Jimu worldwide community where users can share designs with friends. This cool toy makes a great addition to any STEM curriculum, teaching kids highly relevant skills in programming and robotics to better prepare them for the world of tomorrow. Great for use at home and even in the classroom. You gotta love that! Ages: 8 and up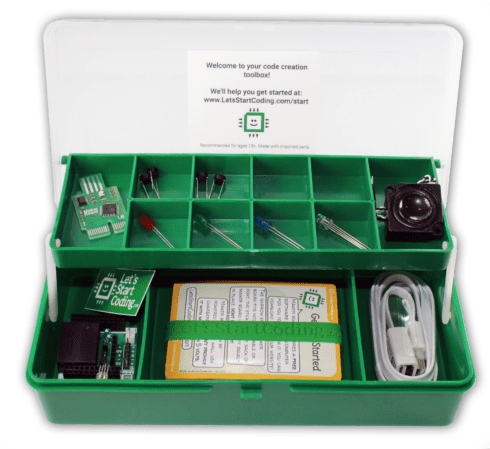 6. Let's Start Coding Base Kit – We recently had a chance to check out this cool coding kit from Let's Start Coding and you can read more about it here + enter for your chance to win one of your own (Contest ends on 12/19). This unique coding kit for kids combines physical gadgets with real, typed computer programming so that your child is building something fun while learning about concepts that apply to all coding languages. This kit don't assume any prior programming or electronics knowledge and include handy reference cards so that your kid is never lost about how to plug in a component or place a curly brace in your code. Learners plug components into little ports on a circuit board, then write code to control those ports:- sending signals, taking readings and combining actions to make gadgets like a light and sound show. The components are safe (operating at only 5V of power) and inexpensive to replace or supplement with extras. When your beginning coder goes online, they'll find tons of resources at www.letsstartcoding.com to help them get started. Users can write and run programs directly from the web with a 5-minute setup for a Windows, Mac, or Chromebook computer. Plus, there are over 50 example programs that already work, so your kid can get right into building something cool. Along with the working code you'll find challenges and suggestions to tweak the code; these experiments are where your child can really start to learn and get creative! Kids can build over 20 hands-on projects as they learn to code with this neat little kit that keeps all pieces neatly in one little handy box when kids are done exploring and making. Ages: Targeted for Middle Schoolers (but younger kids could use it too with a little help)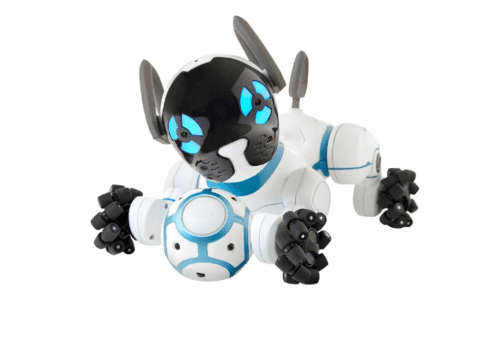 7. WooWee CHiP Robot Dog – Maybe your kid has been asking for a new pet? This robot dog could be the perfect solution! CHiP Robot Dog is a smart, affectionate, and trainable robot dog. He will quickly become your kid's new best freind! CHiP responds to kids through touch, the included SmartBand, and the CHiP app. CHiP has GestureSense and BeaconSense awareness, letting him respond to situations and gestures such as claps, swipes, and touches. Voice recognition technology lets you send auditory commands to CHiP, and this WowWee robot dog gets to know you via artificial intelligence algorithms. What's really cool is that when CHiP is low on battery he automatically knows to return to his SmartBed to recharge himself. When getting started with CHiP, be sure to download the latest CHiP app (free) from the App Store or Google Play to take advantage of the latest features! Ages: 8 and up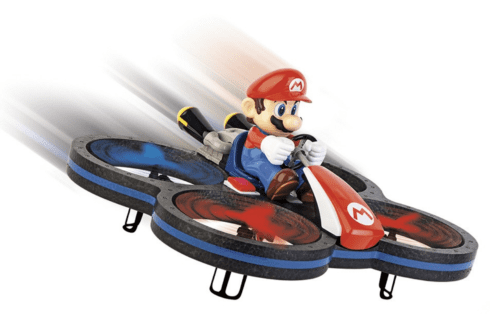 8. Nintendo Mario Kart 8 Quadcopter by Carrera – This one is on my little gamer' request list to Santa and I don't blame him! Kids can join their favorite video game character on his quadcopter adventure. Kids can fly Mario's radio-controlled quadrocopter with ease — with anti-gravity mode, featuring a six-axle gyro system for flight stability, a protective cage for the rotors, and 2.4 GHz technology for up to seven minutes of flight. It has beginner and advanced modes, and even includes a rechargeable battery. Your kid will have so much fun as he maneuvers his favorite video game character through the skies! It's basically ready to fly the minute you open the box. Included in the box a fully-assembled quadcopter, a remote control, six AA batteries, a rechargeable LiPo battery, and a USB turbo charger. Ages: 9 and up
Hoping the ideas in this Techy Gift Guide for Kids make it a bit easier for you to choose some super cool toys that will have your kids flipping out this holiday season!
Which one would your kid flip out over? Let me know in the comments section below.
Happy Holidays!
You May Also Like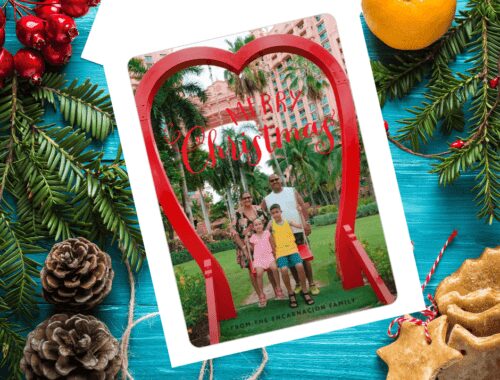 December 13, 2019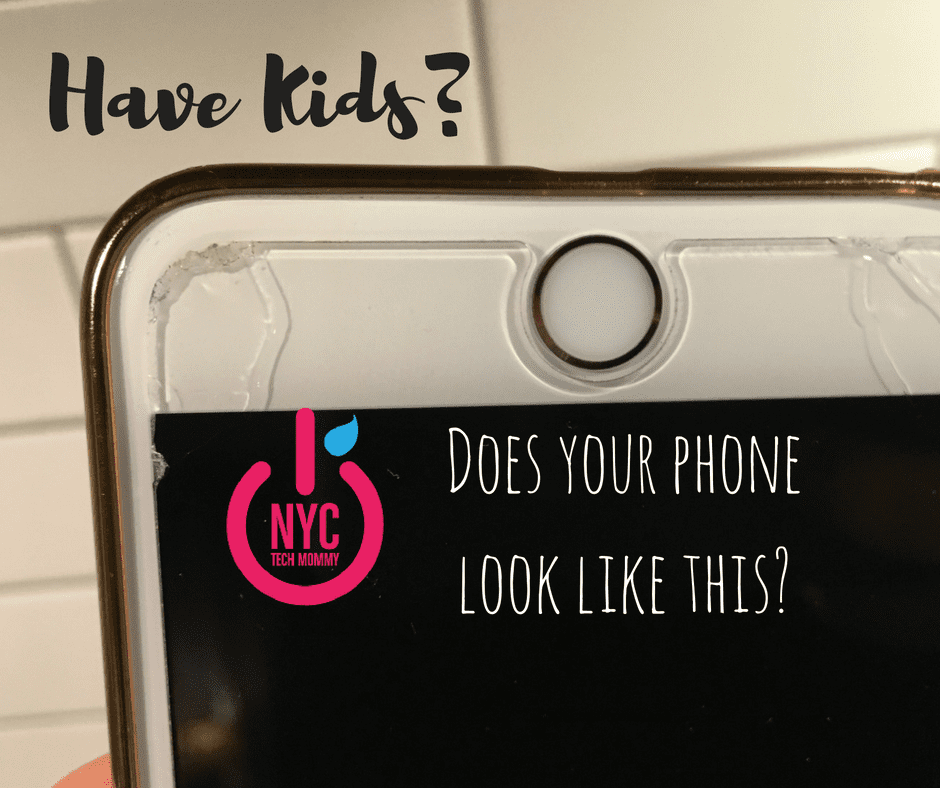 October 18, 2016