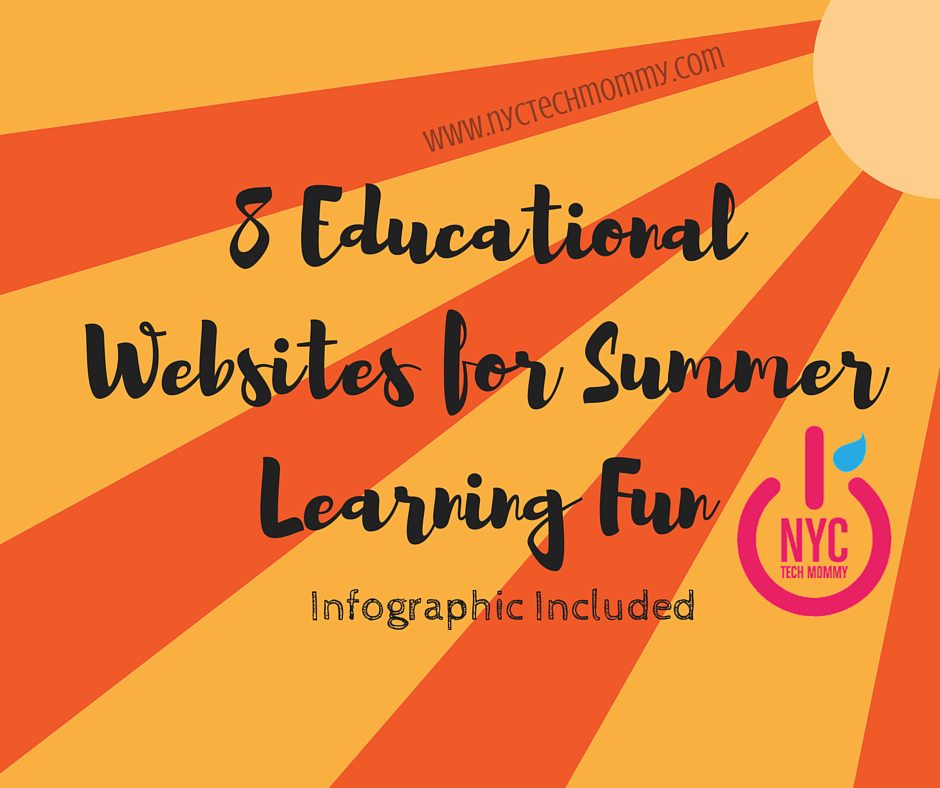 8 Educational Websites for Summer Learning FUN
Now you may be asking yourself, but how do I keep them learning through the summer? One way you can do this is through online education. It's no secret that today's kids love technology and they're so tech-savvy too! So why not go ahead and engage them in learning through the 8 Educational Websites I'm about to share with you today. They're not only guaranteed to keep them learning this summer, but they'll also make learning FUN!
Why Summer Learning?
It's important that we start thinking about how we'll engage our little ones in learning this summer. As excited as they are about the carefree days of summer, it's still important to remember that learning cannot cease to exist once school lets out. It would be a huge disservice to our kids!
Studies have shown that students exhibit an academic regression, known as the "summer slide" during the summer months when they are not attending school. During this time, students may fall back or regress the equivalent of two school months (or more). Studies have also shown that this is less likely to happen to students who are occupied in summer learning, making them more likely to retain the academic progress made during the previous school year. If you want to find out more about what research tells us about summer learning and 'What Happens to Children During the Summer' click here. Get informed so you can help your kids avoid the "summer slide"!
Great Resouces for Summer Learning
As a parent, I think you'll find my list of educational websites useful in supporting your child's learning throughout the summer, and beyond.  Just remember, learning isn't over once schools out! Make it FUN and your kids will never even realize that you're helping them prepare for the coming school year.
And if you're a teacher, these are also great websites for you to recommend to the families of the little learners that you teach!
Don't forget to pin the infographic below to your favorite educational Pinterest board so that you'll have these educational websites handy this summer! Then read on to learn more details about each of my favorite educational websites for summer learning FUN.
And by the way, these are all websites I myself have used in the classroom and now continue to use with my own kids at home. Enjoy!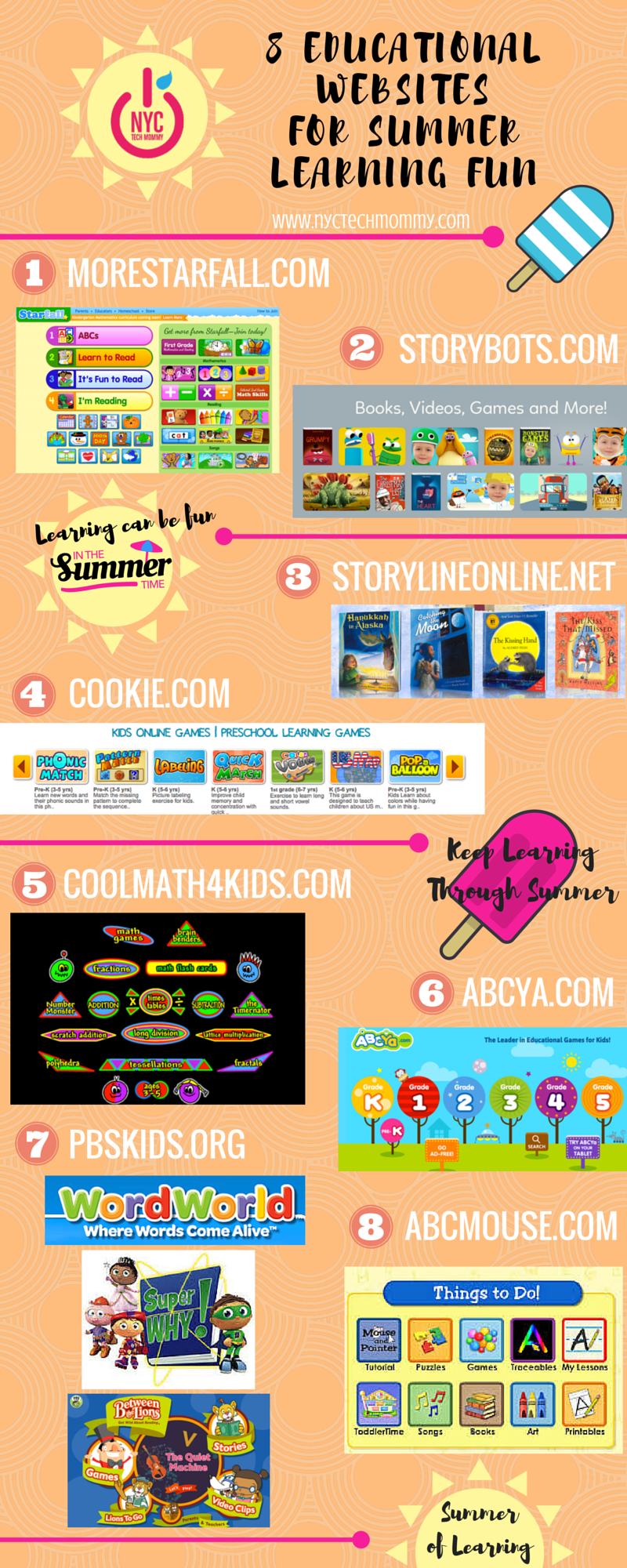 Share this Image On Your Site
Please include attribution to www.nyctechmommy.com when sharing this infographic.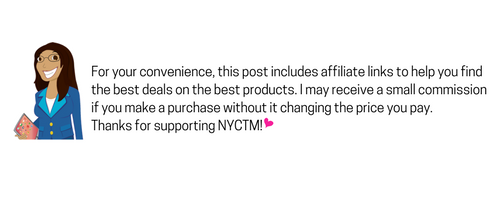 8 Educational Websites for FUN Summer Learning
---
MoreStarfall.com – A continuation to Starfall.com. This website offers even MORE targeted learning activities, games, and books for the school-aged learner. This website offers so much FUN that the $35 yearly subscription fee is well worth it!
---
Storybots.com –  For a $4.99 monthly fee, $19.99 for a yearly membership or $36 for a lifetime membership, you can get unlimited access to all books, videos, games and more on StoryBots.com, as well as on the StoryBots apps available for iPhone and iPad. The StoryBots robots star in an extensive variety of FUN videos that your kids will absolutely LOVE, from ABCs to topics in math, science and everything in between. Kids can also become the star of their own books and videos. Great for kids of all ages and well worth the money!
---
StorylineOnline.net – Here you'll find video read alouds of all-time favorite children's books read by a variety of favorite celebrities. Great for both readers and non-readers and FREE!
---
Cookie.com – This website offers a variety of FREE educational videos, games, stories, worksheets, arts and crafts and more for pre-schoolers and kids through age 7.
---
CoolMath4Kids.com – Cool math 4 kids is an amusement park of math, games and more for school-aged kids – specially designed for FUN and it's FREE!
---
ABCYa.com – This website is FREE and offers tons of FUN educational games for kids in grades K through 5th Grade. Math, Science, Social Studies and Literacy topics included.
---
I love everything about PBSKids.org but below are three of their sites that I love most for young learners.
Between the Lions @ PBSKids.org – This website offers FREE early learning activities, videos, and games that will make your young readers wild about reading. Featuring the beloved lions of this popular PBS Kids series, it will have your kids roaring for more!
Word World @PBSKids.org – Lots of FREE and FUN literacy activities and videos based on the popular Word World cartoon series. FREE
Super Why @ PBSKids.org – Another favorite cartoon series that fosters a love of literacy. This website offers tons of FUN games and videos that your little readers will love! FREE
---
[eafl id="6046″ name="ABC Mouse" text="ABC Mouse"] – This FUN learning website is geared towards kids age 2 through 7. Take a virtual field trip to the Zoo or Farm. Read books about science, math, social studies and more. Practice literacy skills and so much more! Also included is a step by step learning path where kids complete six levels containing over 450 lessons and more than 5,000 individual learning activities. Try it FREE for the first month and pay only $9.95 per month after that. Your kiddies will love this site!

---
Related Posts
10 FUN Apps to Keep Kids Learning All Year Long
10 Read Alouds (and some fun websites and apps too!)
Do you have your own list of educational websites that your kids love? We would love to hear about them!  Please share them in the comments section. 🙂
Wishing you and your kiddies a great FUN-filled summer of learning!
You May Also Like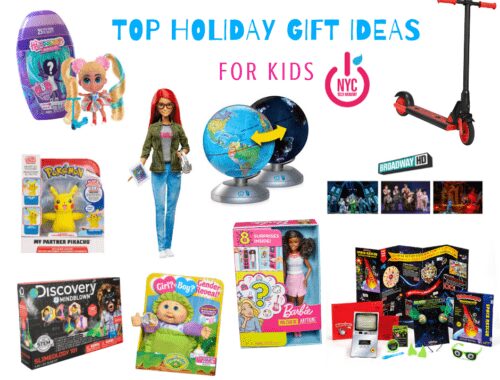 November 13, 2019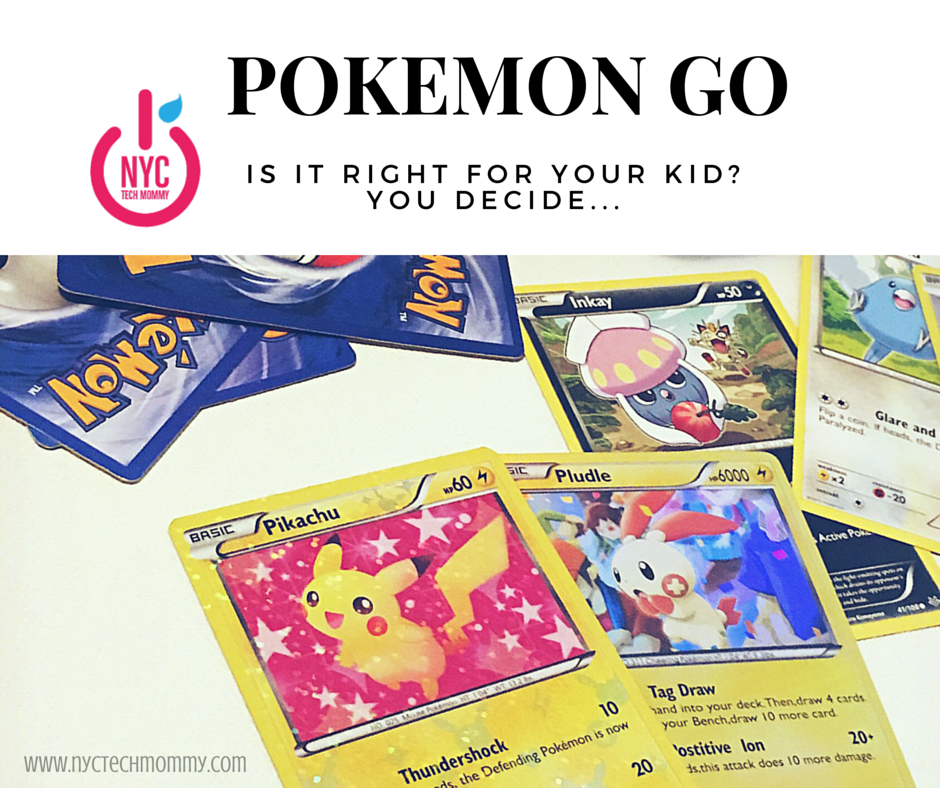 July 26, 2016