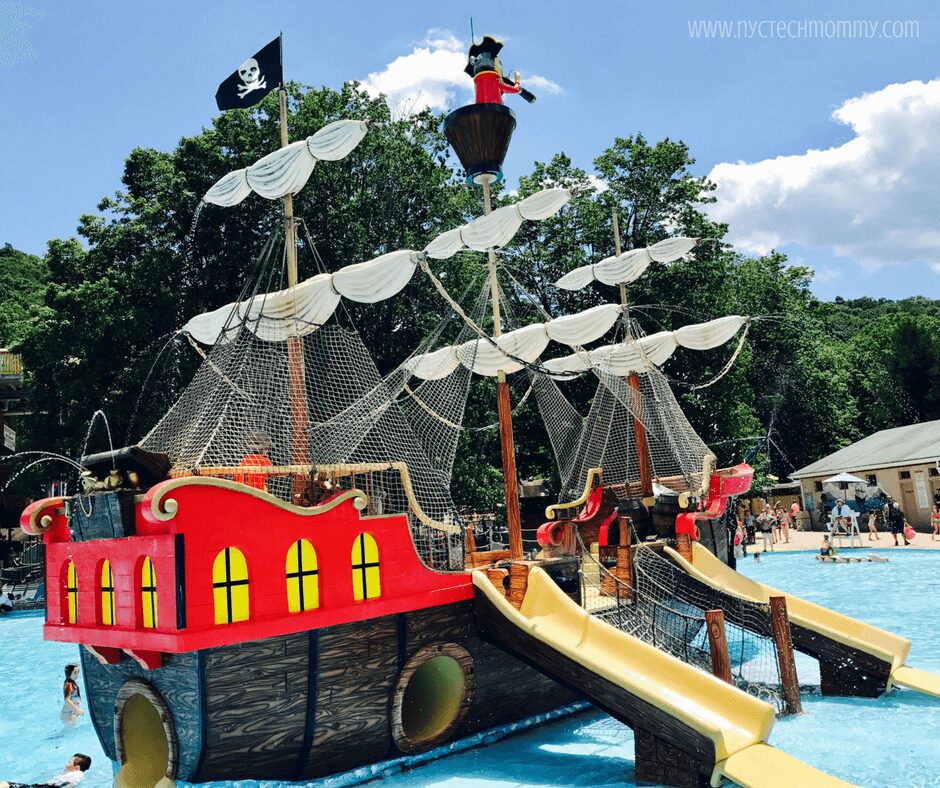 Taking the Kids to The Land of Make Believe and Pirates Cove
September 1, 2017
Summer is all about fun and making new summer memories together! This year we kicked off summer by taking the kids to the Land of Make Believe and Pirates Cove. It's a summer memory we won't soon forget!
I know. Summer is almost over! Still I wanted to tell you all about how our summer started. We've been having so much summer fun this summer that I'm just now getting around to writing this. Hopefully, you've been following along on Instagram so you haven't missed all our summer fun!
The Land of Make Believe is just a short ride from NYC and we had been wanting to go forever!
If you're an 80's kid like me and grew up in the trip-state area you probably remember seeing this on TV. Probably as you munched on your favorite sugary cereal during Saturday morning cartoons. 😉
I was obsessed with this place but never had the chance to go as a kid! So when my own kid asked to go to the Land of Make Believe this summer I was like heck yeah! Let's go!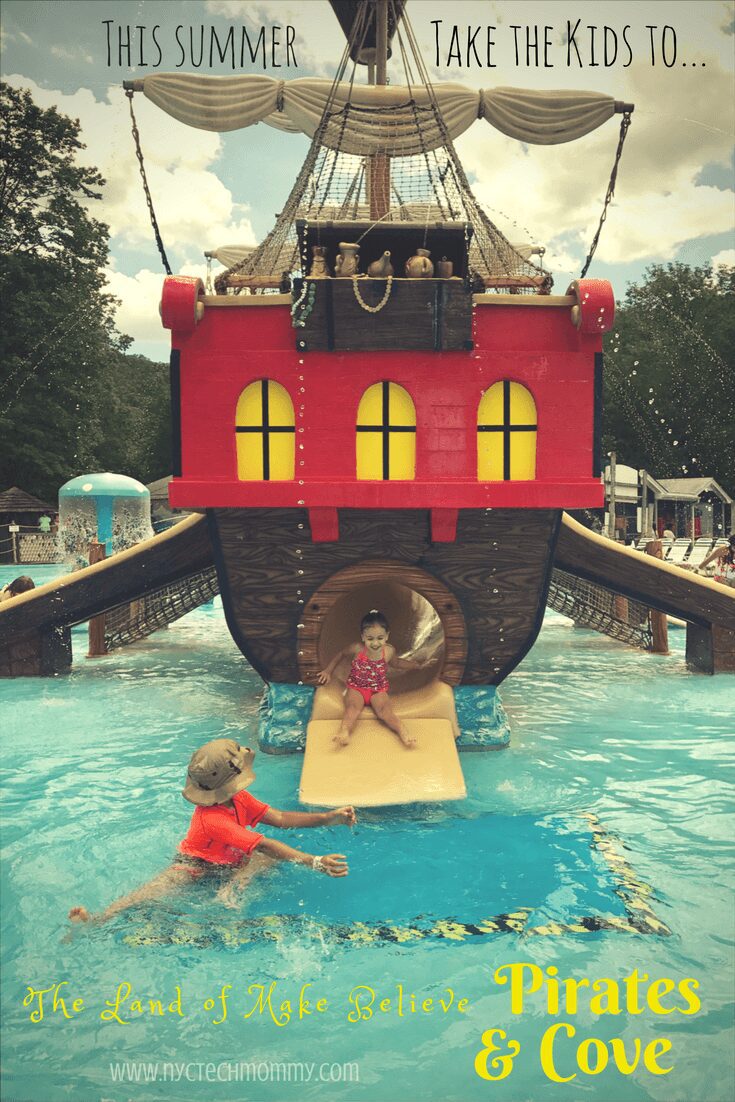 Taking the Kids to the Land of Make Believe
We'd seen the sign for the Land of Make Believe at exit 12  on Route I-80 many times during our rides up to see grandma and grandpa who live up in Pennsylvania. Big Boy (always the observant child) would point out the brown sign every single time we passed it and say "this summer we're going!"
He really didn't have to twist my arm much! Once the warm weather arrived we hit the road! And since his birthday falls during the last week of June, which also happens to be the last week of school, a trip to the Land of Make Believe was the perfect way to celebrate both his birthday and summer's arrival!
As soon as we arrived we saw the famous train rolling by the front entrance. This 80's kid almost died! I had always wanted to ride that train, but I tried to keep my cool. For the kids sake. Lol! But I did had to snap a few pics.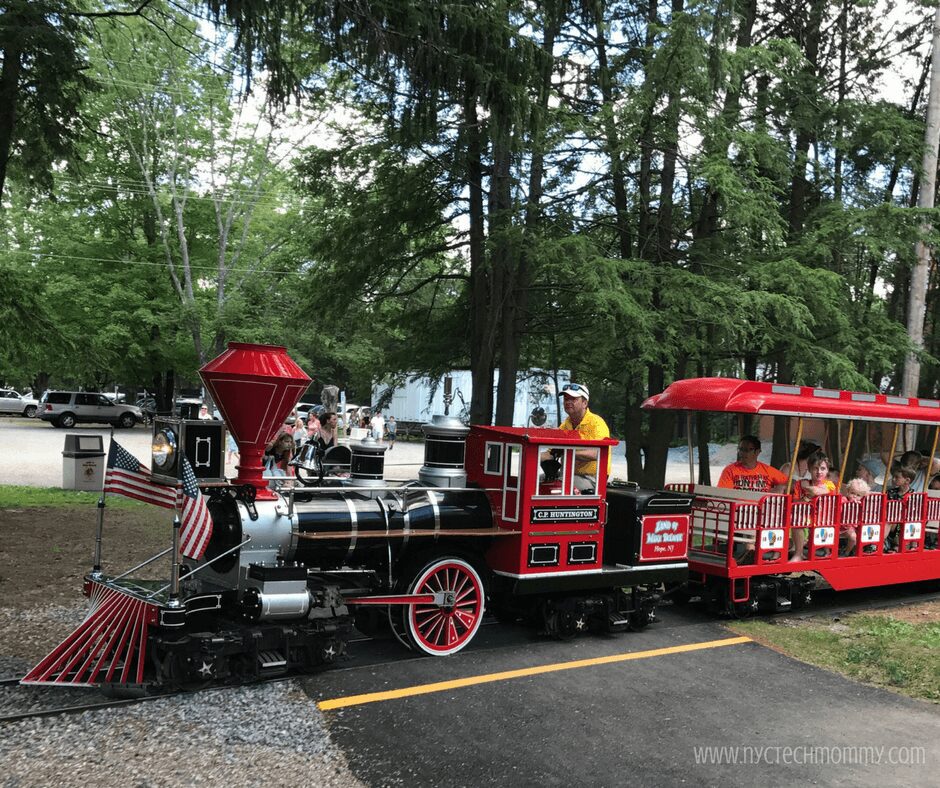 We were also greated by Captain Ricky. OMG! I remembered him from the commercials too! Ok, I promise this trip was for me the kids! We had to snap a pic with him!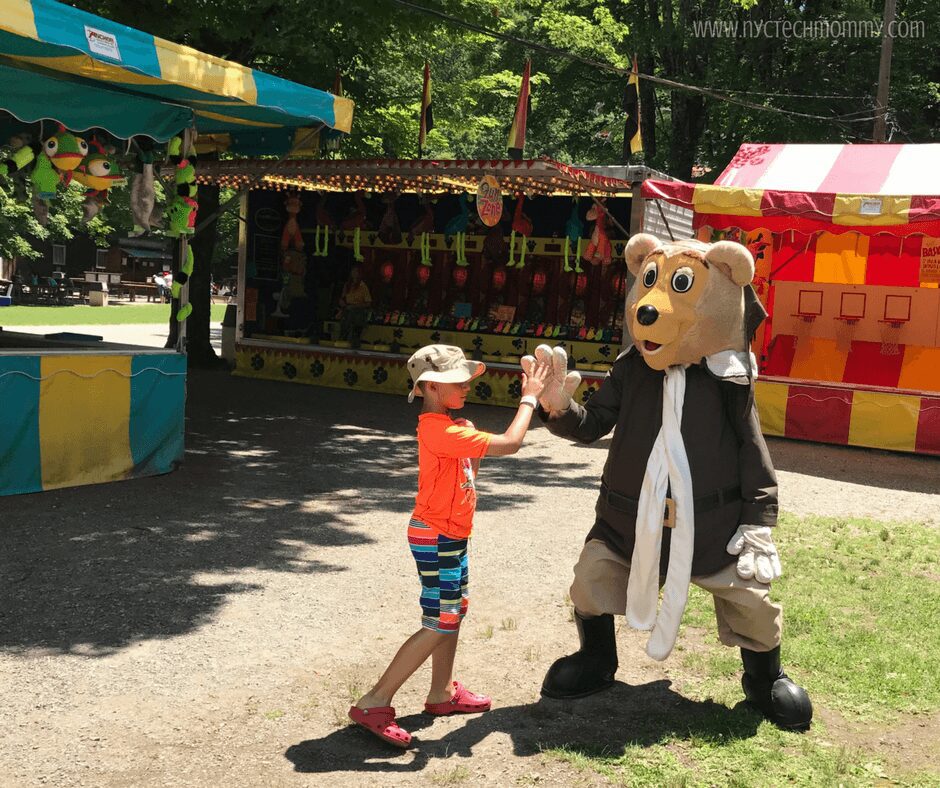 The one thing I didn't realize from the commercials is how much there actually is to do at the Land of Make Believe.
Pirates Cove at the Land of Make Believe
We decided to hit up Pirates Cove first. Surprisingly this fun little water park wasn't crowded at all. I guess crowds are much smaller on weekdays. We were there on a Monday. NYC kids were off from school so I expected it to be pretty crowded. It wasn't.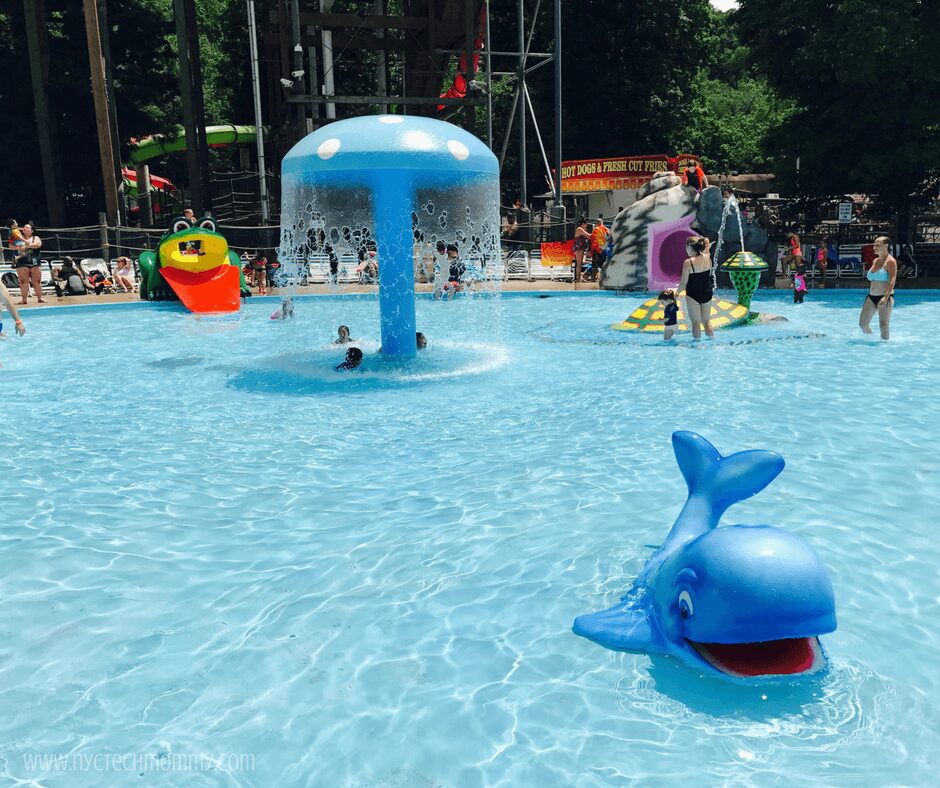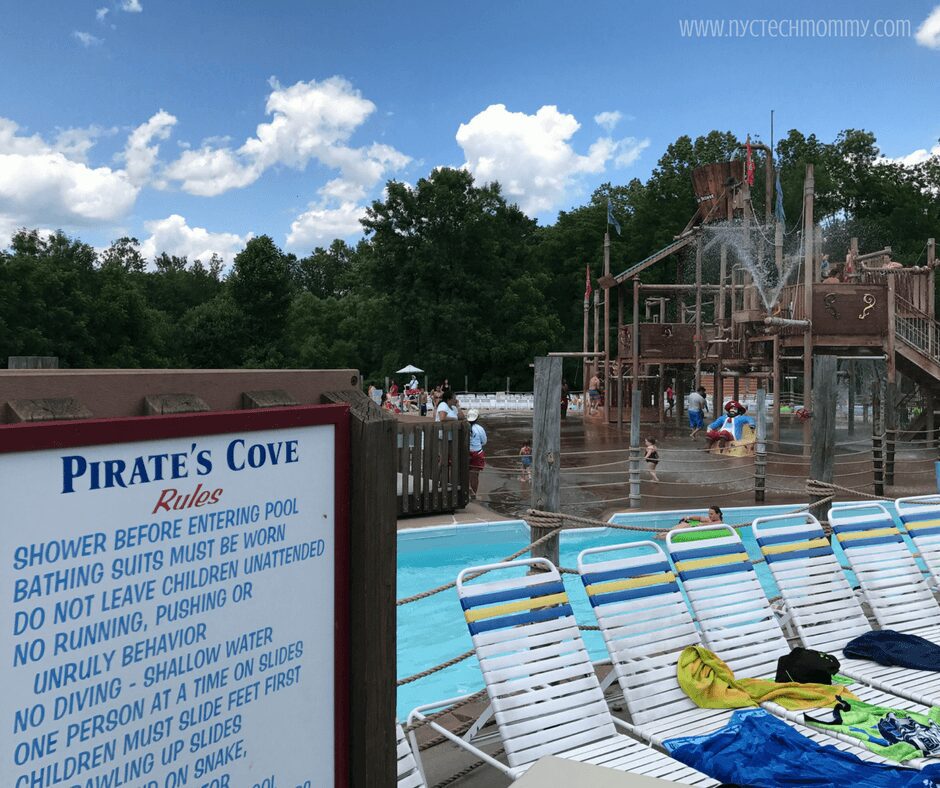 I loved that the place was nicely spread out. The water was shin deep. Safe for the littlest ones. I could sit back and let the kids explore while still having a clear view of them, even when sitting in one of those close to the floor little beach chairs lined up by the side of the pool.
The kids had a blast! The photos speak for themselves.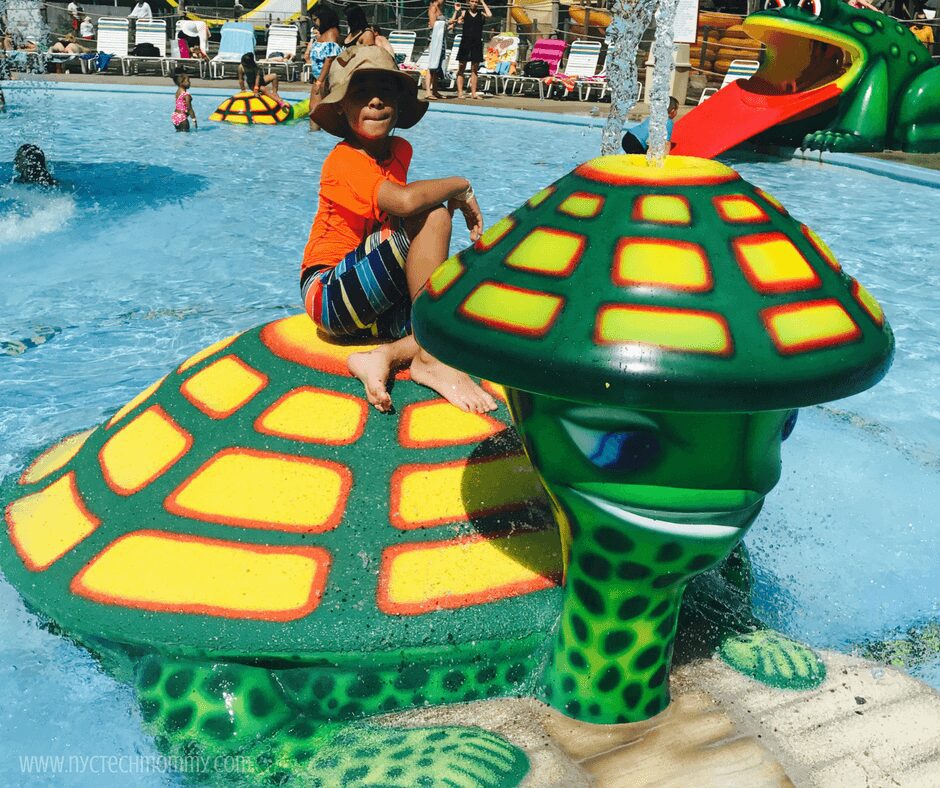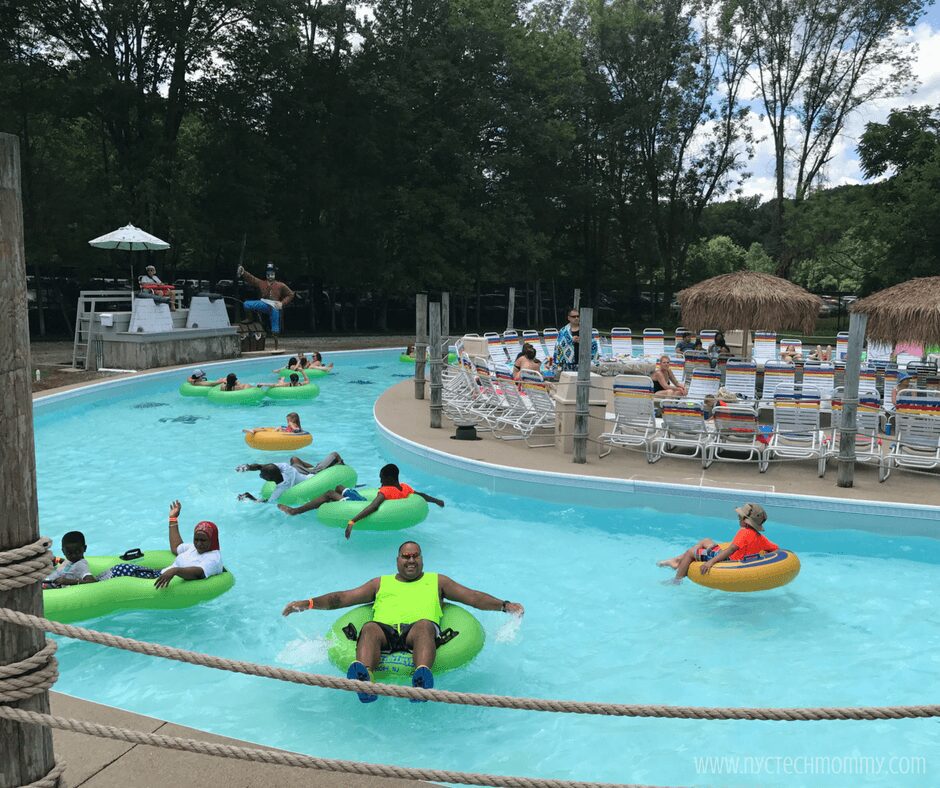 Blackbeards' Action River lazy river ride and Blackbeard's Pirate Fort waterpark play area, complete with giant water bucket, were loads of fun. But they couldn't beat out the big ol' pirate ship which I knew would the favorite!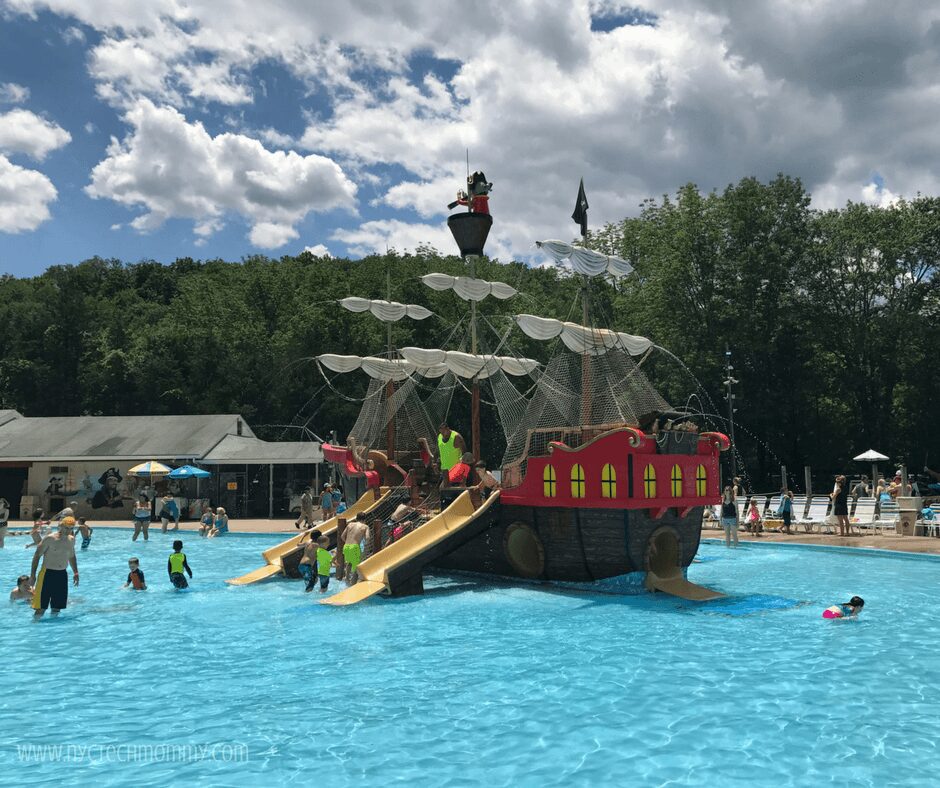 What can I say? I'm raising pirates! Arrgh!
There's a Pirate Ship!
As I expected, the Buccaneer Pirate Ship was a huge hit! The kids loved climbing up the nets and sliding down the water slides. A great place to spend your days when you're living that pirate life. 😉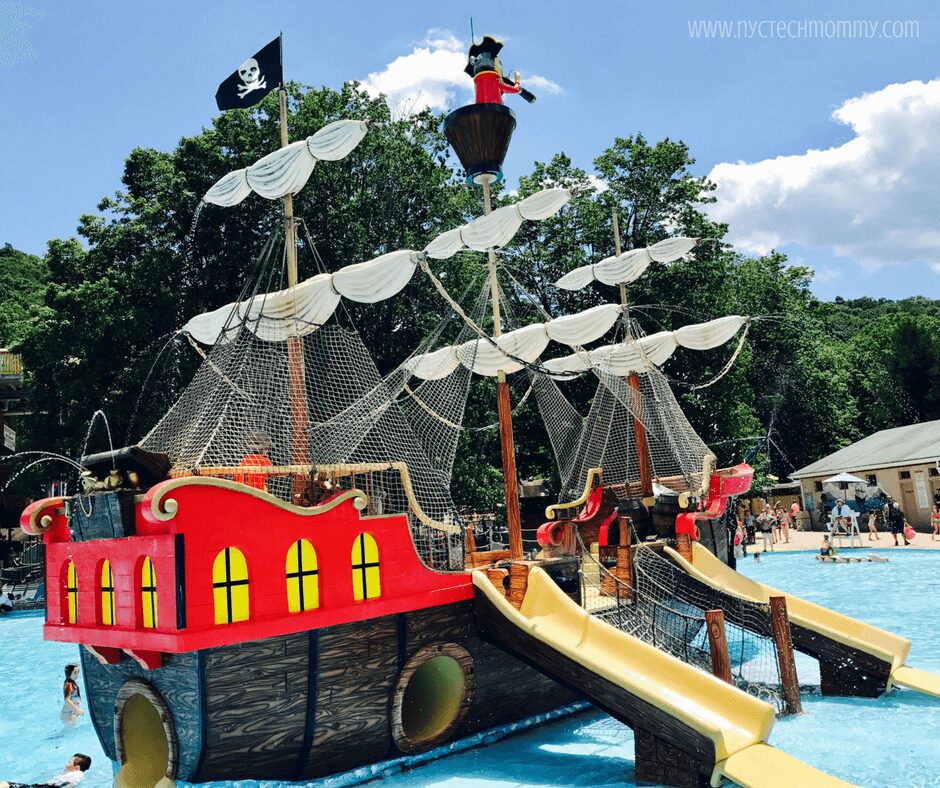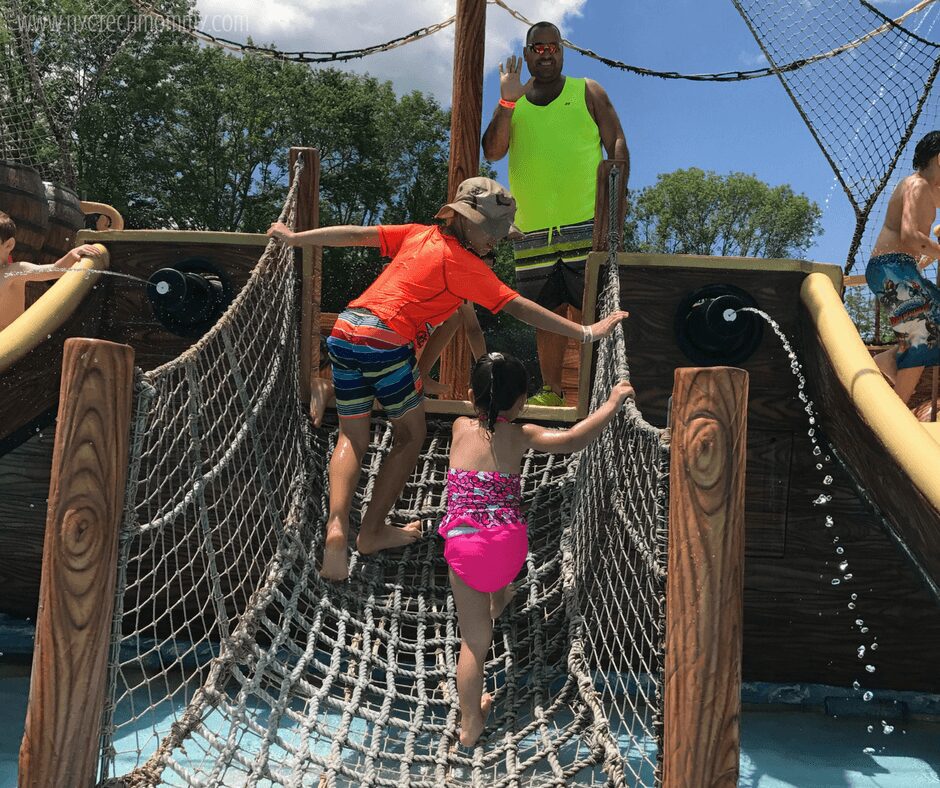 And to tell you the truth, it set the tone for the rest of our summer. As it turns out, this would be the first of many more pirate ships we would explore this summer. Arrgh!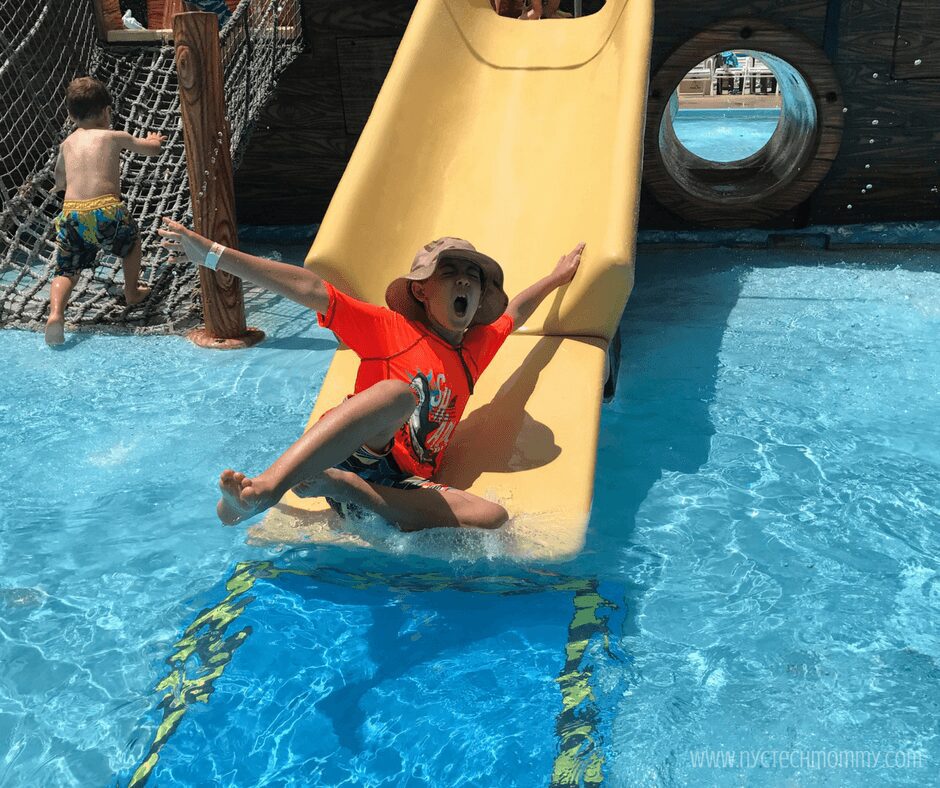 Lunch? That's Easy, Even on the Pocket!
We enjoyed lunch by the pool and found that this amusement park's food prices are pretty reasonable. Not as inflated as most amusement parks. We had burgers and fries. An order of fries was just $2 bucks or so. I've been to places where you're paying $5 and $6 for a small order of fries. Crazy!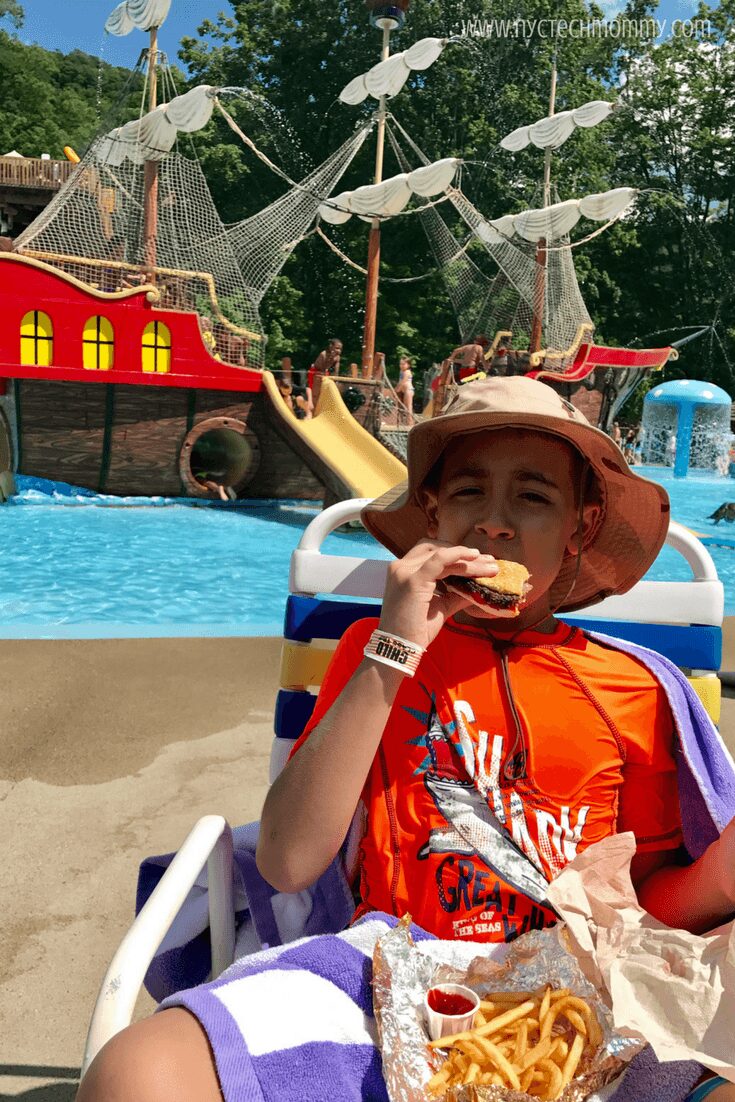 We did bring a cooler with our own snacks and drinks but had to leave that outside the water park as they don't allow you to roll in with your stroller or wagon. We left it parked right by the enterance and that was fine.
Changing Rooms on Site
Once all the water fun was done we changed out of our wet clothes and were ready for some rides. You'll find changing rooms right by the water park entrance and near the rest rooms on your way out of the Pirate's Cove.
Family Picnic Grove
The Land of Make Believe also offers great picnic area where you're sure to find a shaded picnic table to share with your family. Whether you bring your lunch or purchase it from one of the park's vendors you'll enjoy a nice lunch here. I loved the fact that there were plenty of shaded picnic tables available. We didn't get to use one because we ate lunch by the pool this time but it was nice to have that option.
Kiddie Rides for All
Now time for some rides. The kids were having so much fun running around from one place to the next that I didn't actually capture many pics of them on the rides. I would say most rides are geared towards the younger kiddies. Still my 9 year old had a blast and went on pretty much every ride.
There are a few attractions that all ages can enjoy and none are extreme enough that the little ones won't want to join the fun. There's a carousel, a junior sized roller coaster, a Titl-A-Whirl, and even a small ferris wheel.
One important thing to note is that if you have a toddler who wants to go on the rides you must purchase ticket for them. Baby girl is only two so technically she didn't need a ticket. We didn't buy her one. But once we went to line up for her to go on a ride we were told she could not ride without a wrist band.
In other words, if your kiddo is under three and you don't purchase a ticket for them, they can have all the fun at the water park, ride the train, check out the petting zoo, Santa's Barn, but can't go on the rides.
If I would have known this we would have gotten her a ticket. It sucked that big boy got to go on all the rides and she didn't. Luckily there were other ways to entertain her and she didn't really notice that he was having all the fun without her. Thank goodness for ice-cream cones!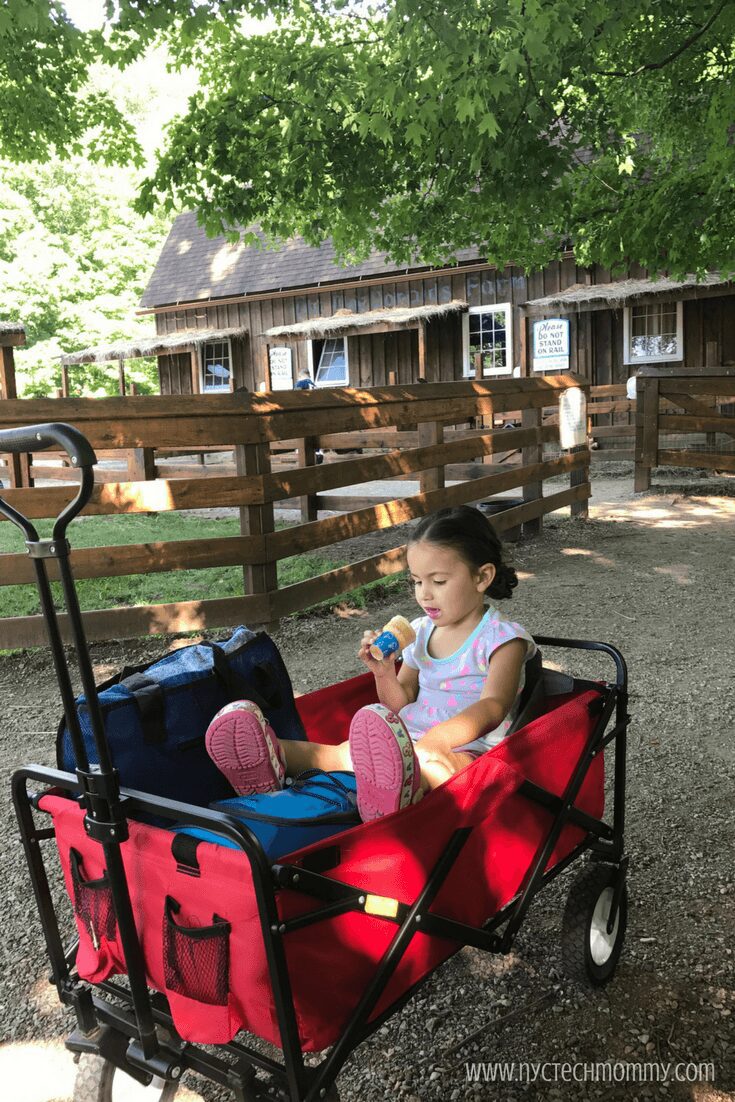 So don't say I didn't tell you, buy your toddler the ticket if you're expecting that they will want to go on rides. Riders under 36″ have to be accompanied by an adult on most rides, so keep that in mind too!
Ride the Iconic Civil War Train
And guess what? We got to ride the train! It was awesome! The train takes you around most of the park and it's a great way to see all that there is to do before you actually do it!
It's Christmas in July at Santa's Barn
We also loved visiting Santa. The kids thought this was something pretty cool to do in July! And I was surprised that there was actually a guy in a suit. At first I thought he was a manaquin. He wasn't. Lol! We had to grab a pic with him because it's never too early to tell Santa your Christmas wishlist.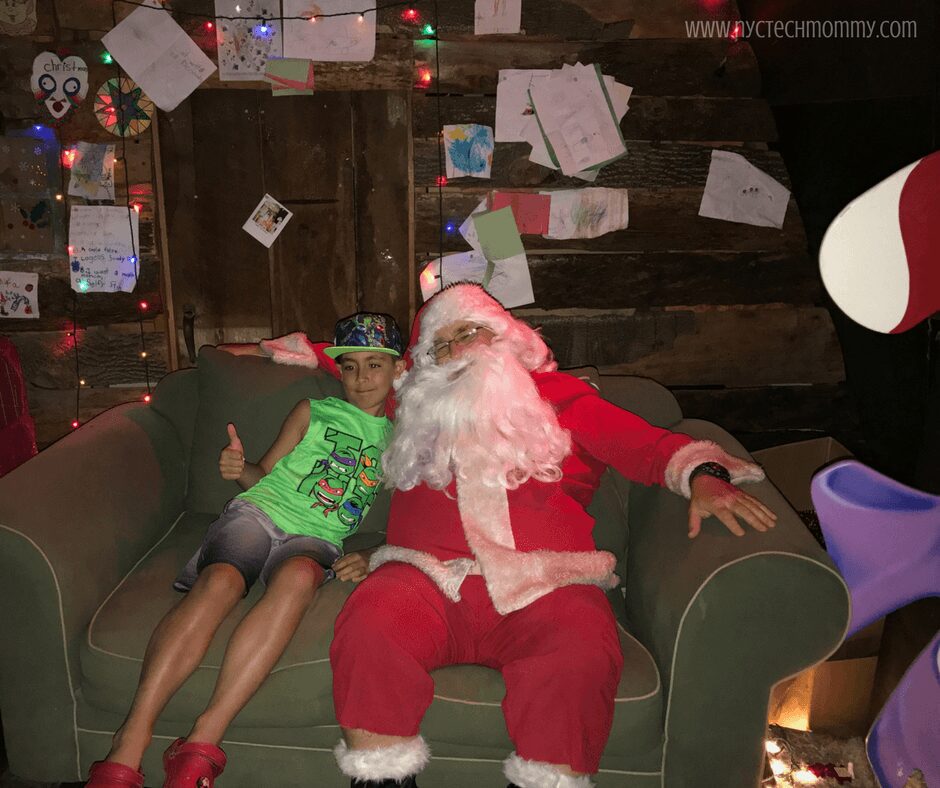 Santa's Barn is an enchanted Christmas forest which is portrayed as Santa's summer home. Here guests get to tell Santa what they want for Christmas ahead of time and walk away with a free cookie cutter, which I thought was super cute!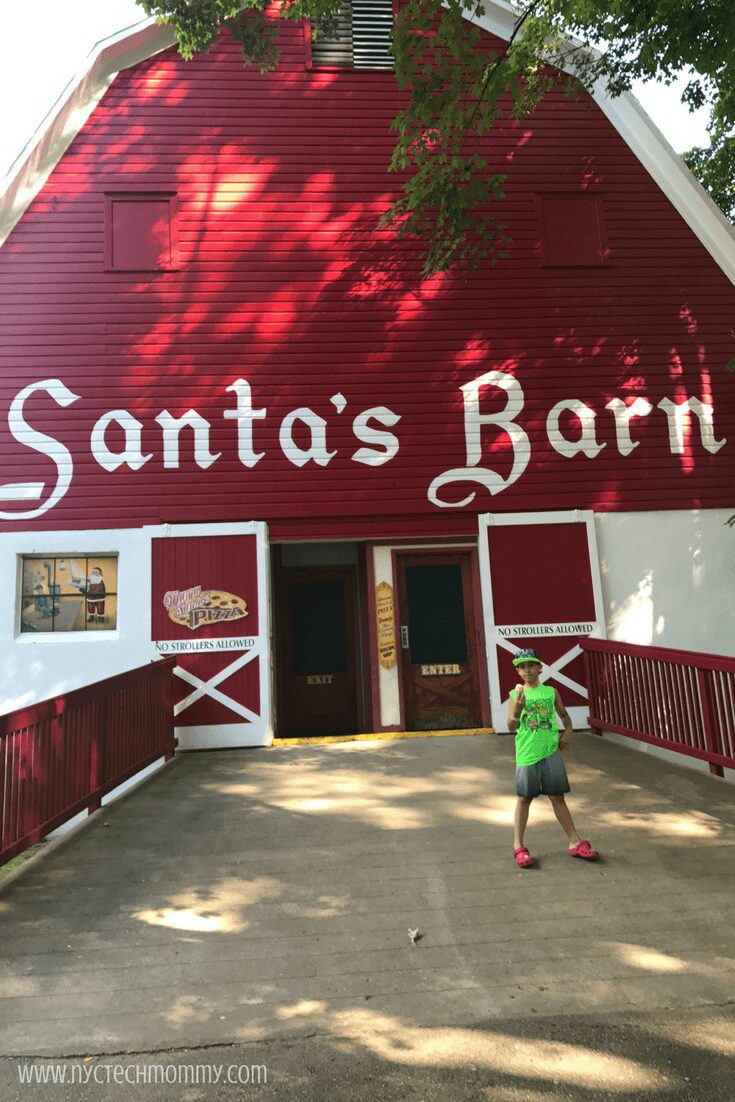 In Santa's Barn you'll also find a couple of concession stands. There's Mama Santa's Pizza, Rudolph's Ice Cream, and a small gift shop too!
It's a Petting Zoo at Old MacDonald's Farm
The kids also enjoyed checking out Old MacDonald's Farm. Of course we had to sing the song. Lol! Here you'll find a petting zoo complete with live farm animals. The kids loved spending time here and found the chickens particularly interesting and unique.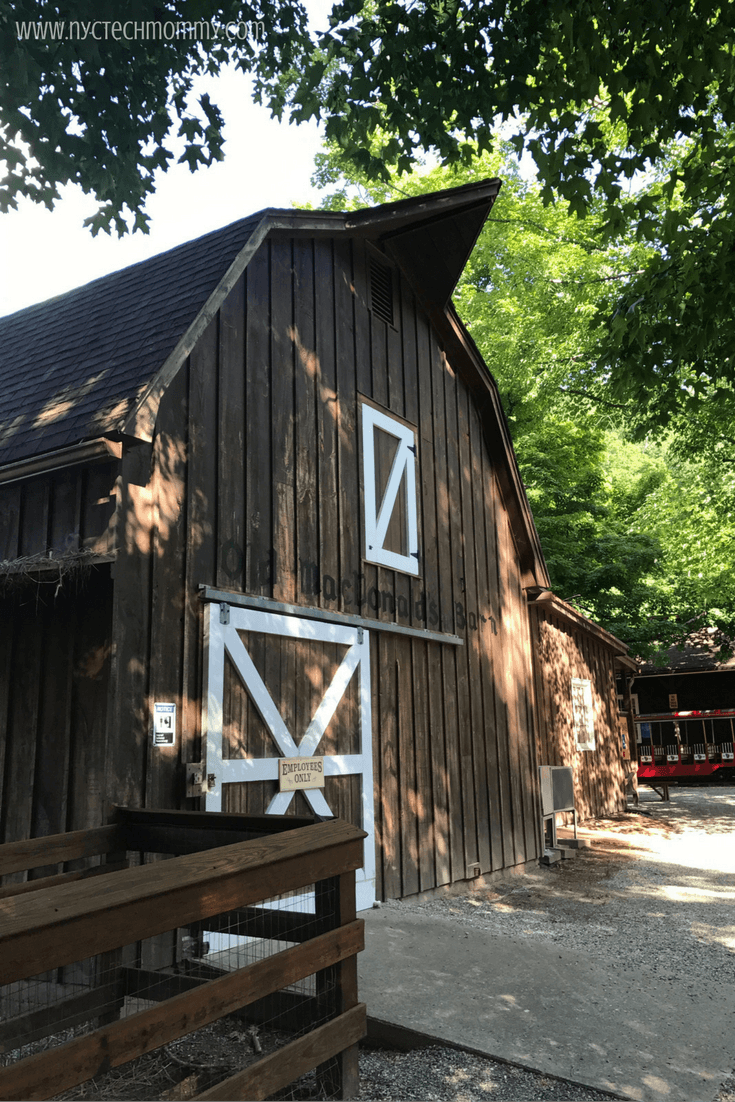 The Land of Make Believe was a great way to kick off our summer, make some new memories, and make childhood dreams come true! (I was really excited about that last one. lol)
Although we were there for an entire day there were a few attractions we didn't get to — the Hay Ride, the Haunted House & Cemetery, the World War II Airplane Cockpit, and Middle Earth Theater. We also bypassed the Carnival Midway that's filled with a bunch of boardwalk carnival-like games. Guess we'll have to go back next year!
The Land of Make Believe season ends on September 4th. After that they'll be open the weekend of September 9th & 10th. That means you still have time to squeeze in one more adventure before fall arrives. Have fun taking the kids to the Land of Make Believe! 🙂
---
Check Out More SUMMER FUN Ideas!
All the Reasons You'll Love Sesame Place
One Beautiful Adventure at the Queens Botanical Gardens
A Walking Tour of 34th Street & How to See the Best of Midtown Manhattan
5 Things to Know Before Taking a Summer Road Trip With Kids
Family Fun Road Trip: 5 Tips to Make it the Best!
4 Outdoor Activities to Do with Your Family This Weekend
5 Tips for Planning the Perfect Summer Birthday Party
You May Also Like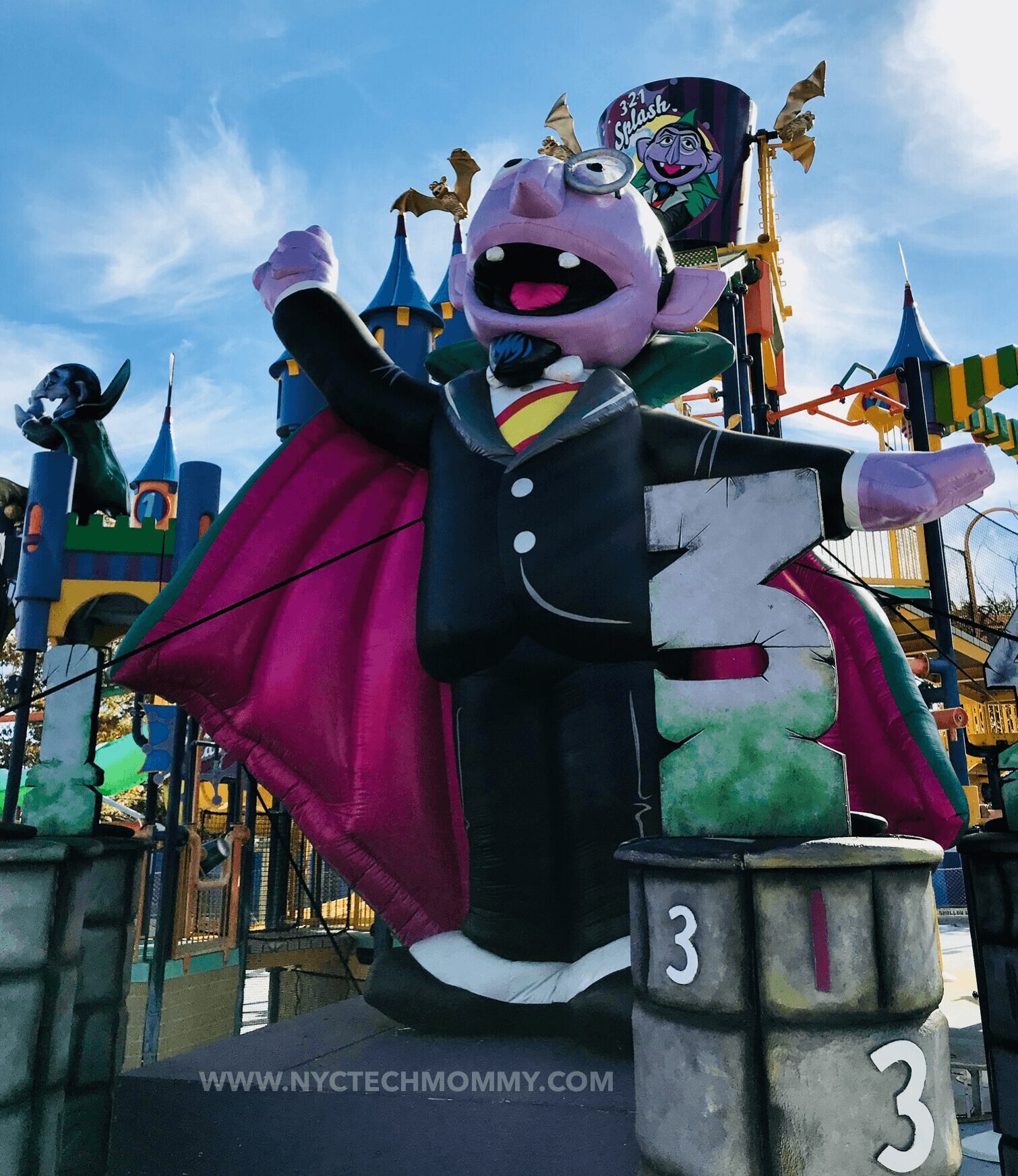 October 31, 2017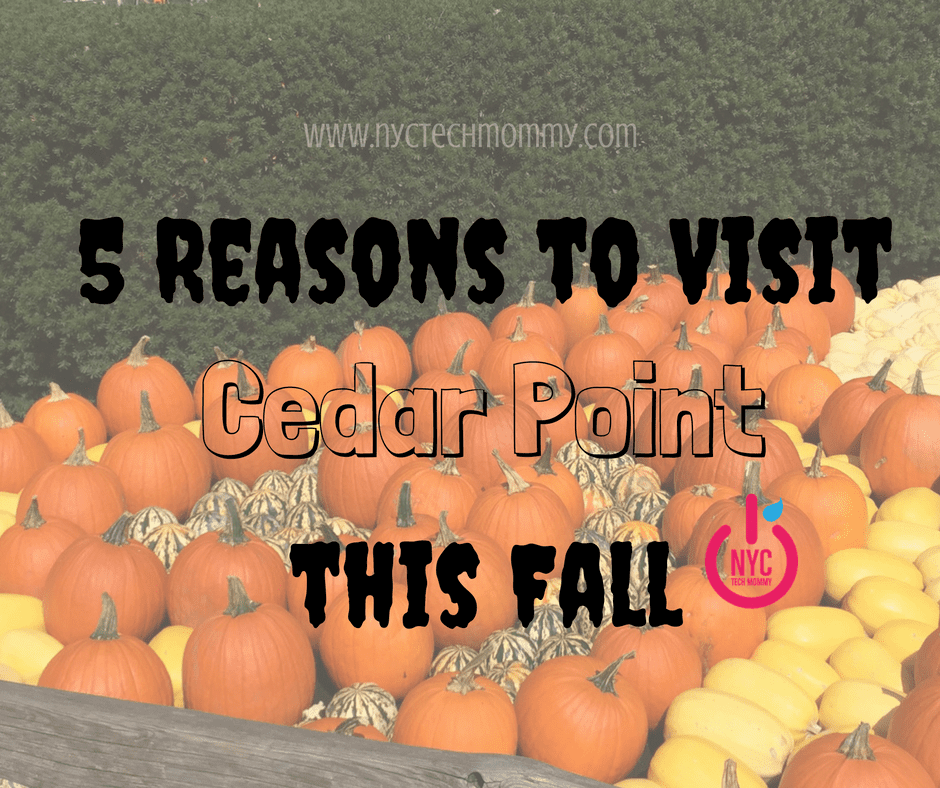 September 14, 2016