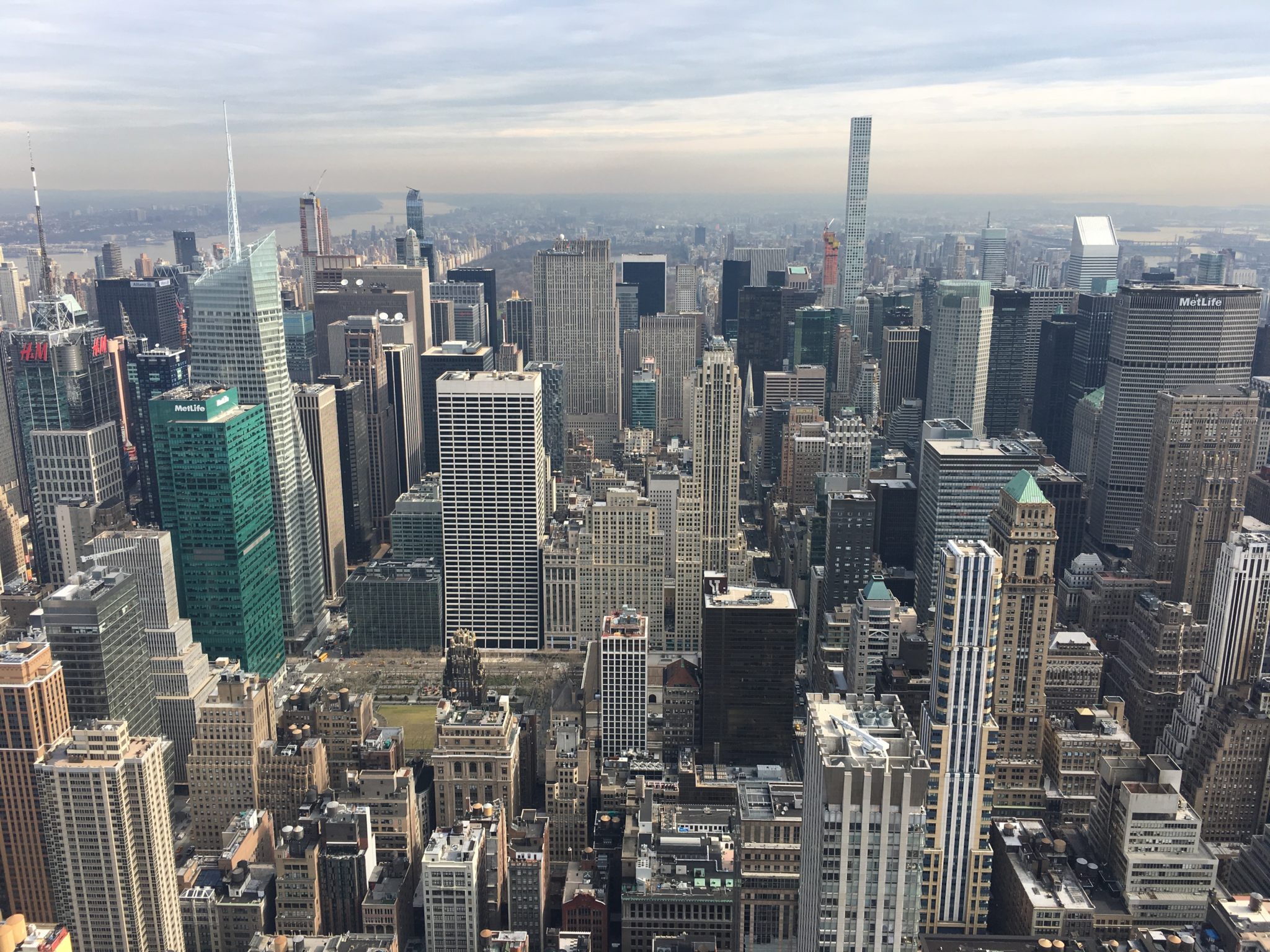 A Walking Tour of 34th Street & How To See the Best of Midtown Manhattan
As one of the most visited cities in the world, New York City offers an incredibly diverse range of things to see and do — but how does one get it all in? I, myself have lived in The Big Apple my entire life and can't say I've seen it all, not even close! Today I want to show you how to see the best of Midtown Manhattan with one neat little app.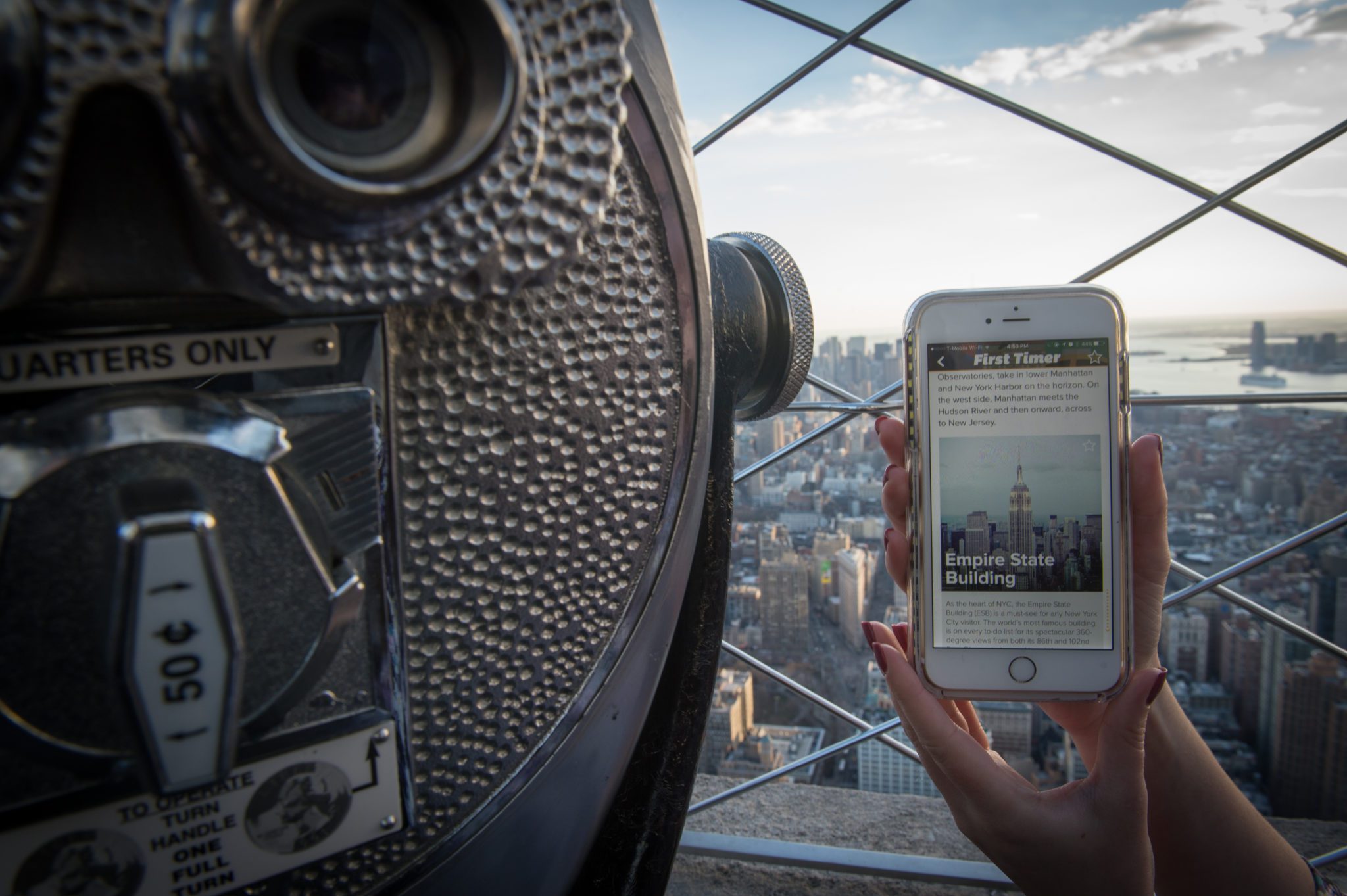 The name of the app is Destination Midtown, available for iOS and Android devices. We were recently invited to experience this new app first hand by taking a Walking Tour of 34th Street — one Midtown's Manhattan's liveliest streets and home to the iconic Empire State Building! We quickly discovered that Destination Midtown is how to see the best of Midtown Manhattan.
Read on to see all the NYC fun we had, and learn how to see the best of Midtown Manhattan with the new Destination Midtown app.
Don't forget to pin this so you can find these tips the next time you're exploring Midtown Manhattan.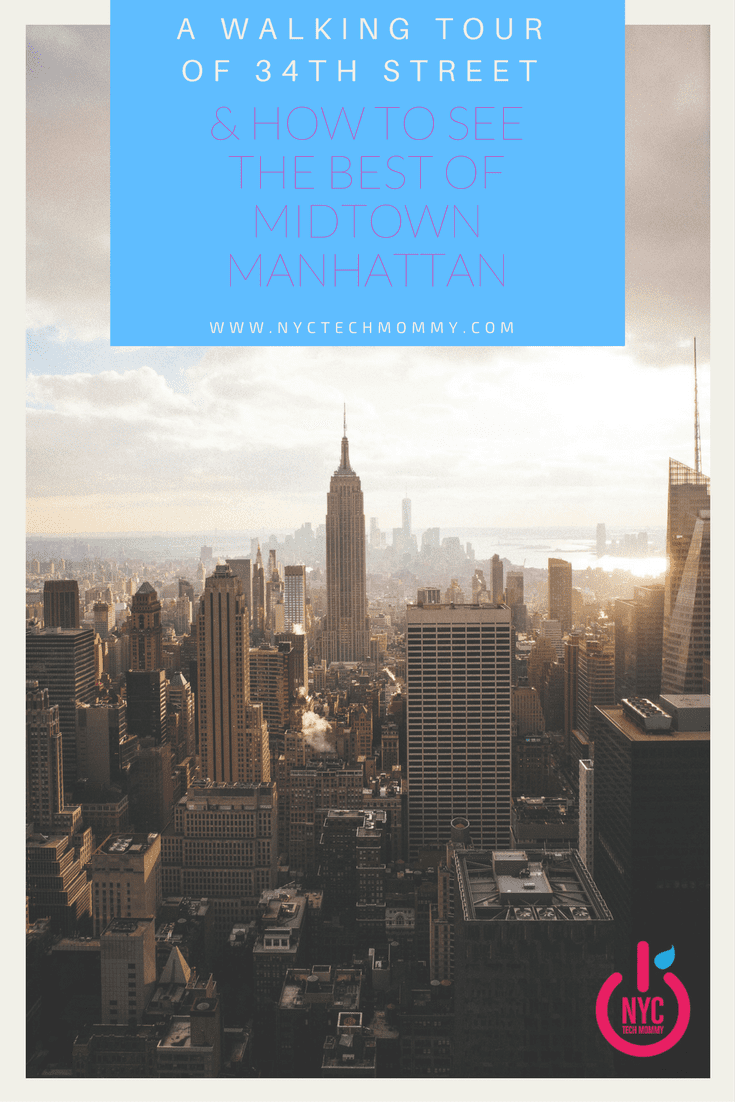 Disclosure: We were invited to this media event and received a gift bag during the event. No other compensation was received. As always, all thoughts and opinions are my own and I only share what I love and think you will too!
See the Best of Midtown Manhattan with Destination Midtown
We started our day by meeting the Destination Midtown team over breakfast. They told us all about their new app and how to see the best of Midtown Manhattan through its curated walking tours.
What I really appreciated learning about this app is that is that it includes curated content for Family Fun as well as things to see and do on a Rainy Day in NYC. These aren't just perfect options for tourist visiting our city. They're also great for local families like my own. We enjoy getting out and exploring our own city every chance we get. Don't you?
What's nice is that Destination Midtown provides a wide variety of options for how to see the best of Midtown Manhattan. Included are a wide variety of interactive itineraries that highlight midtown's best sightseeing, dining, shopping, and entertainment, making it easy to find something for everyone!
[Tweet "See the best of Midtown Manhattan #NYC with Destination Midtown #midtownapp"]
A Walking Tour of 34th Street
State Grill & Bar
Our first stop was the State Grill & Bar. It's one of the suggested stops on the Destination Midtown app's 34th Street Walking Tour.
Echoing the Empire State Building's striking aesthetics, this dining room and bar provides an art deco feel with modern touches. Here you'll enjoy a delectable menu of American dishes, inspired by New York ingredients and style.
On this occasion, we enjoyed a hearty breakfast, complete with the most delicious cheesy potatoes I've ever tasted. And I wish I would have snapped a pic but I was enjoying the meal so much that I simply forgot. There was delicious coffee too!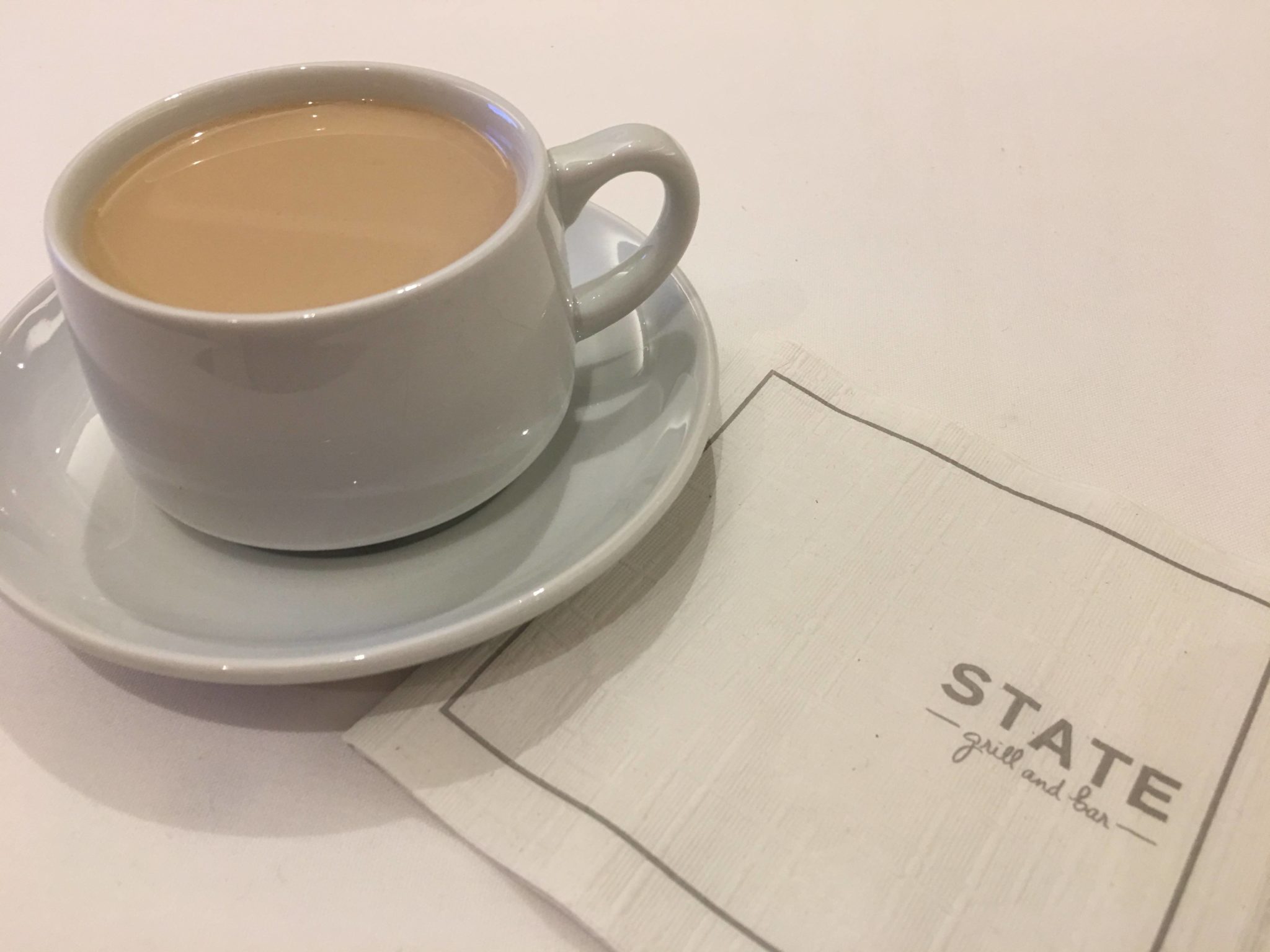 Empire State Building
Since we were already here, our next stop on this walking tour was the top of the Empire State Building. I was super excited to venture up to both the 86th and 102nd-floor Observatories and catch spectacular 360-degree views of our city.
Did you know that on a clear day you can see five states from the Empire State Building Observatories: New York, New Jersey, Pennsylvania, Connecticut, and Massachusetts. That's pretty exciting, don't you think?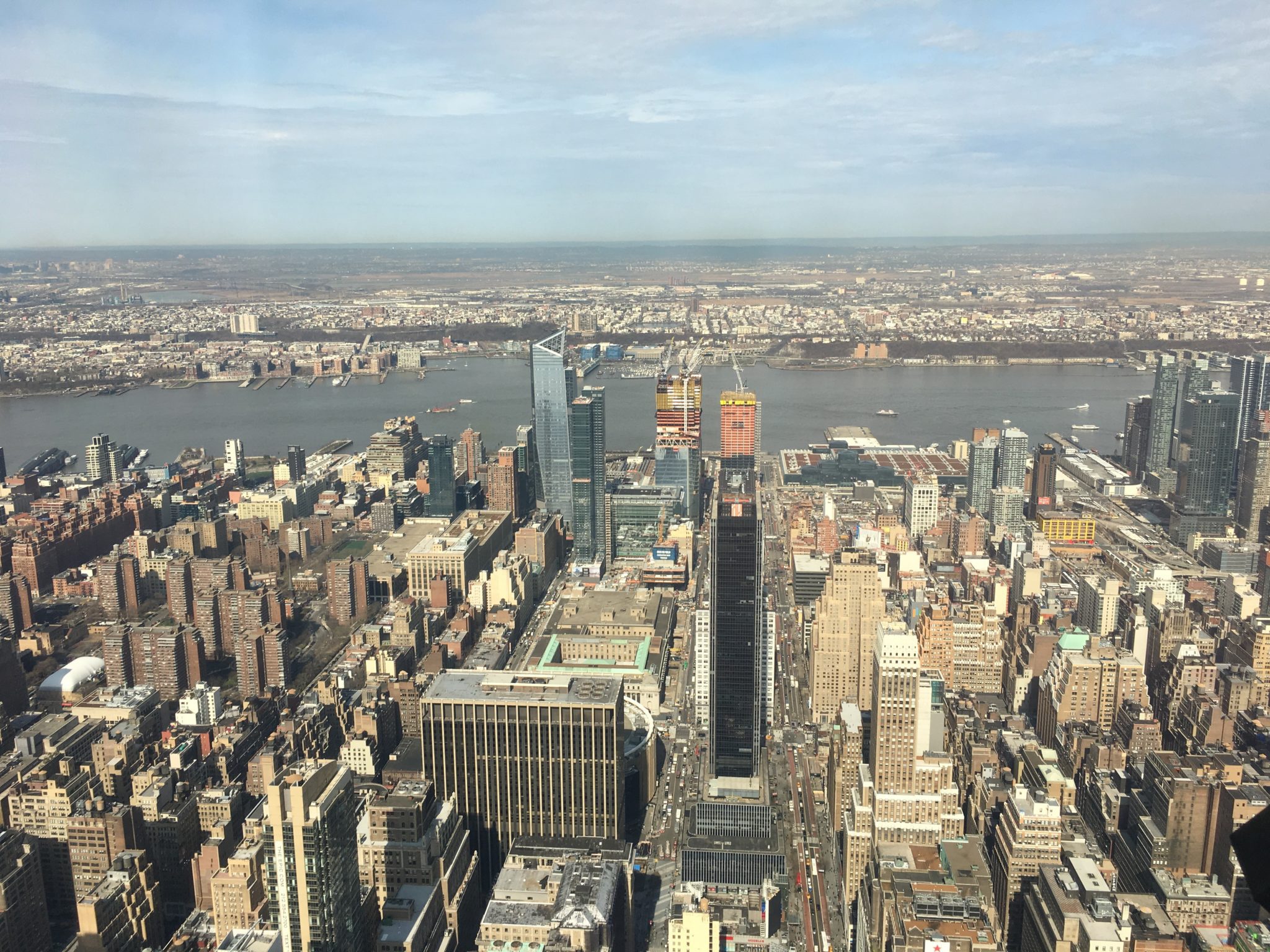 And I wasn't the only one excited to travel to the top of the "World's Most Famous Building". My big boy was my little companion on this walking tour of 34th Street.
He's been asking to visit the Empire State Building for as long as I can remember. I had promised we'd visit this summer but his dream came true a little early. Lucky him! He was beyond excited to learn all about the Empire State Building and travel to the top for the very first time!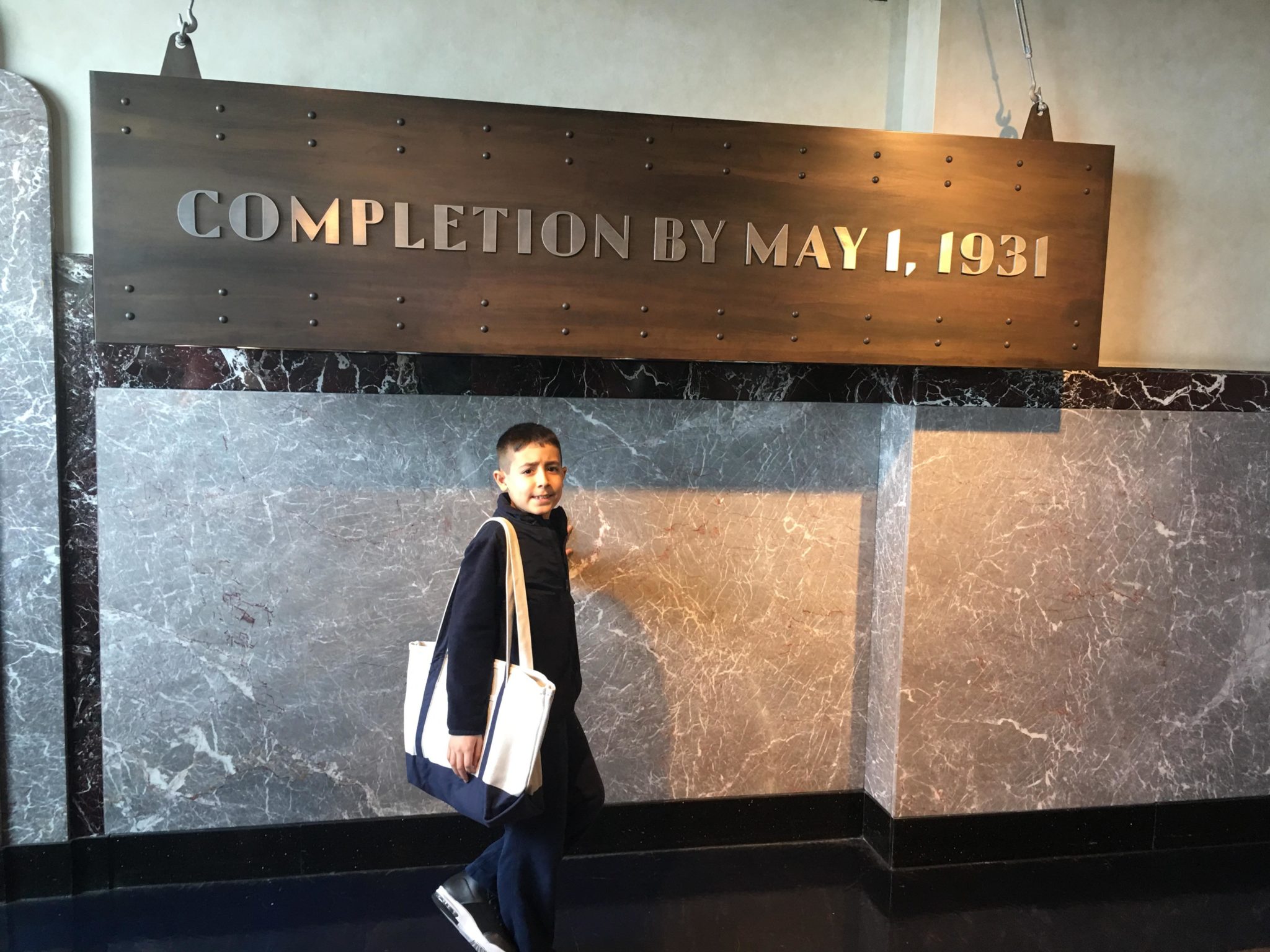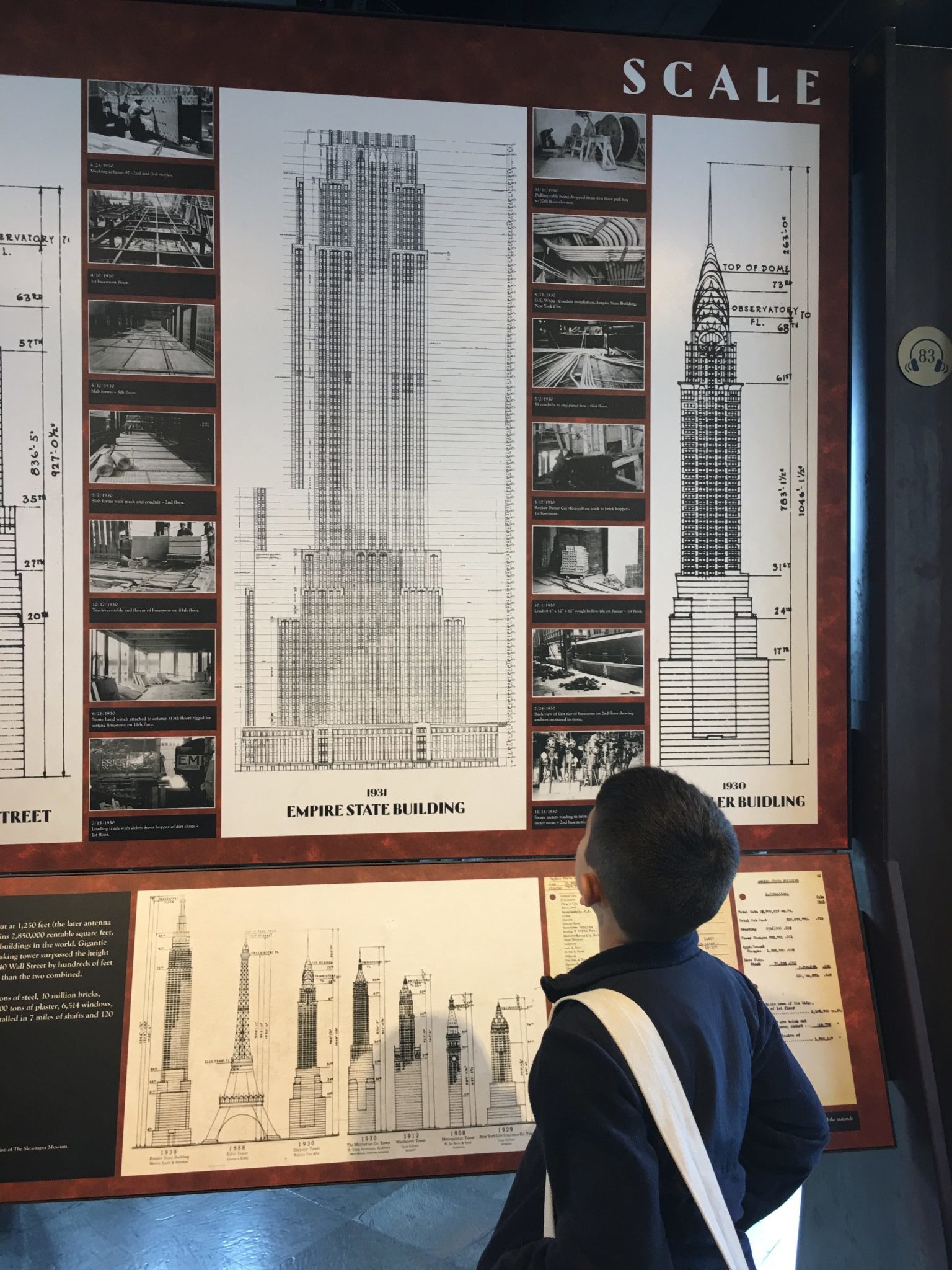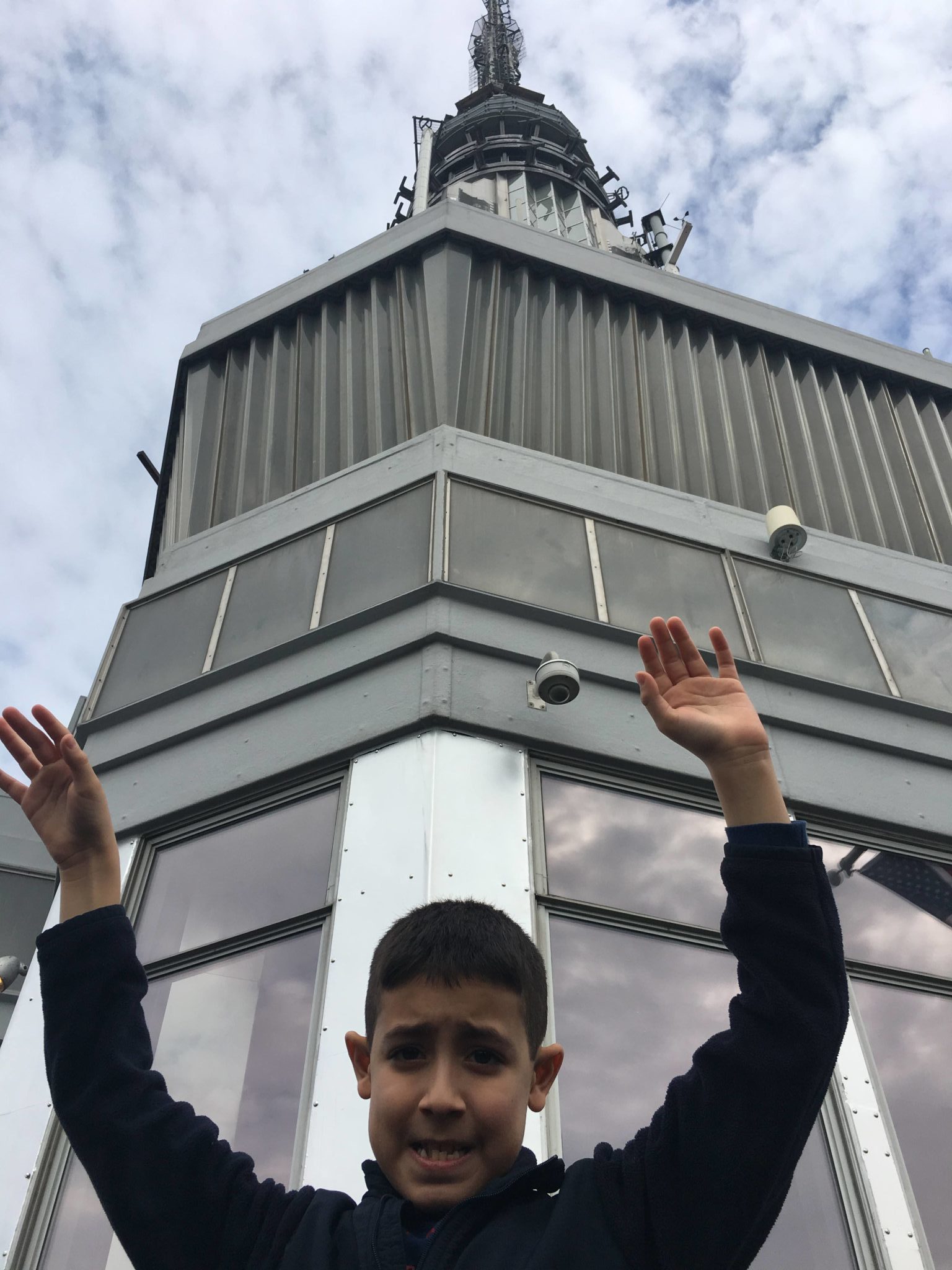 Views from the Top of the Empire State Building
The views from the top of the Empire State Building are not to be missed! Whether you're in NYC for a day, a week, or a lifetime, no NYC experience is complete without taking a trip to the top of the Empire State Building. From up here, you can catch spectacular views of NYC and beyond.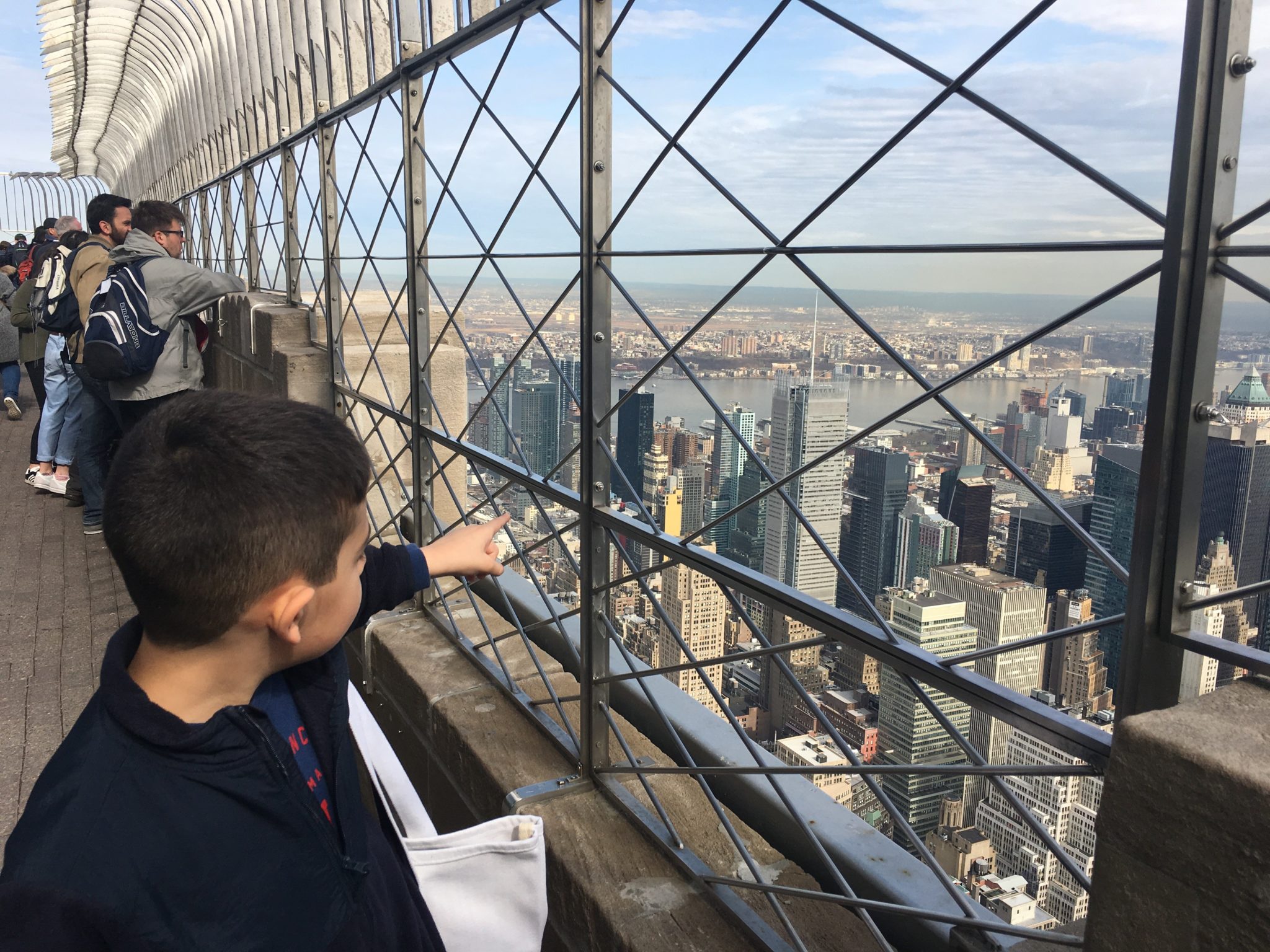 Most amazing to me is how clearly you can see the grid of New York City streets. The breathtaking views actually allow you to appreciate the brilliant design of this spectacular city.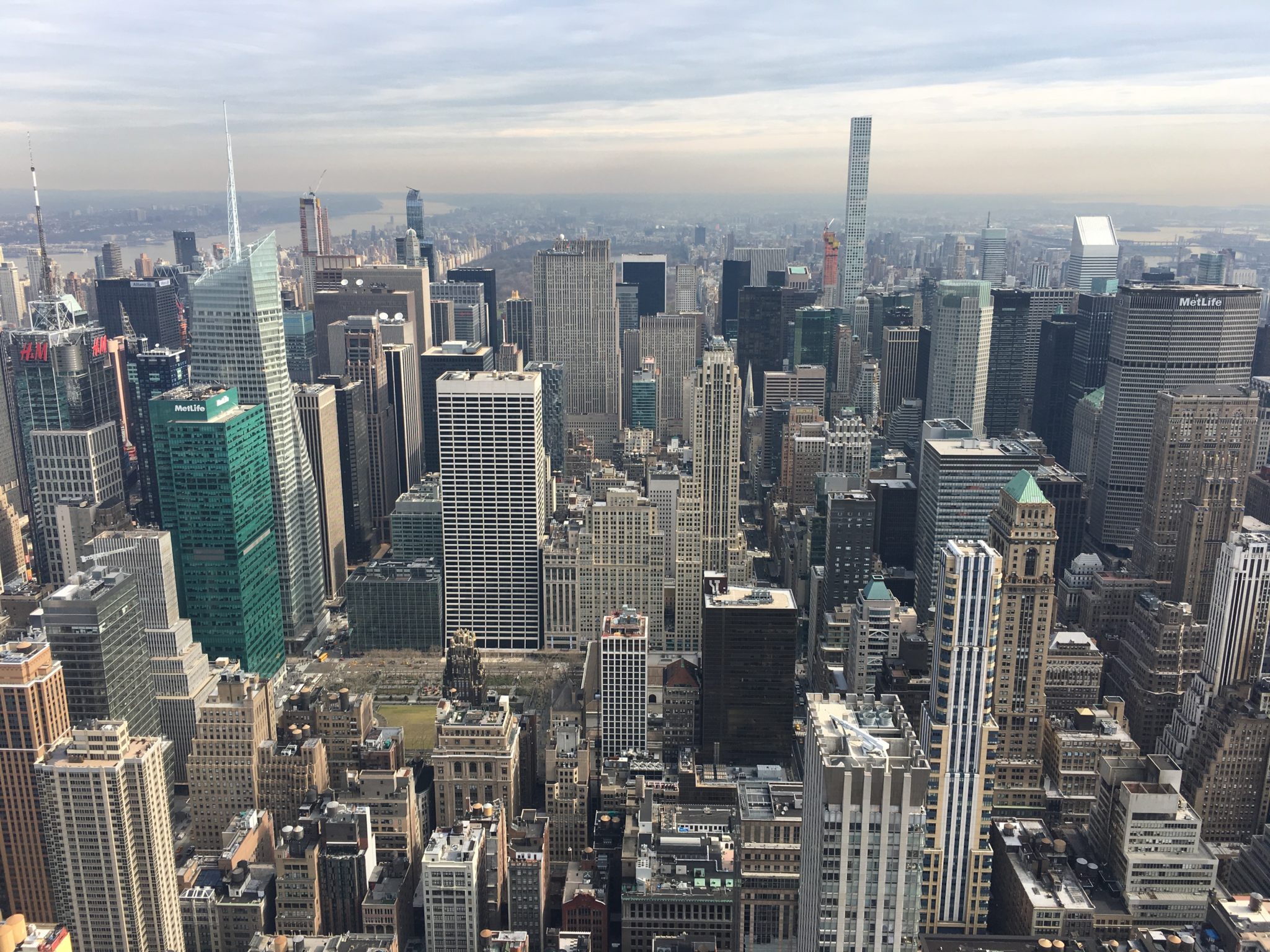 Also amazing is how you can see beyond the skyscrapers for up to 80 miles away. That was my big boy's favorite observation during our visit to the top of the Empire State Building!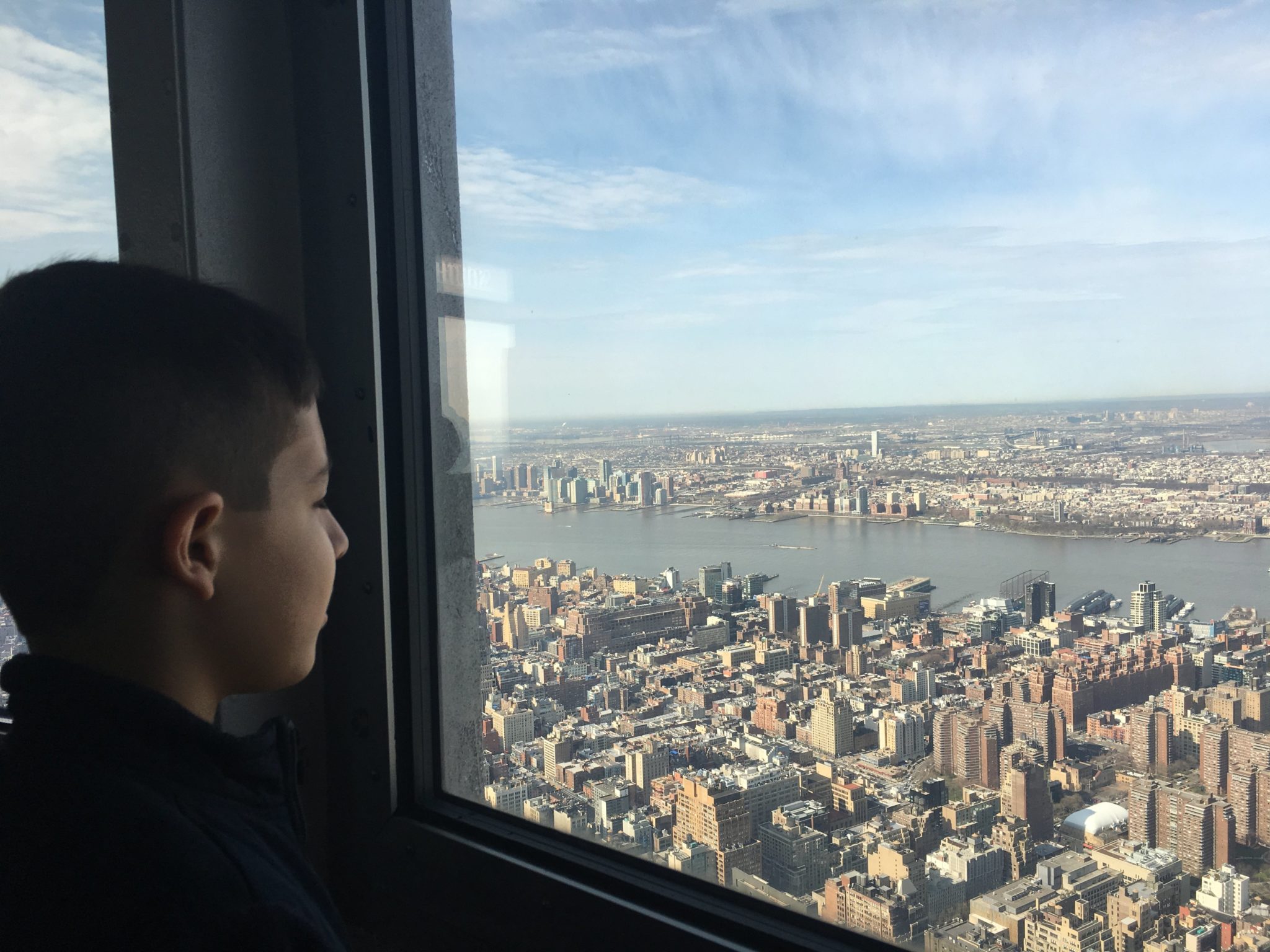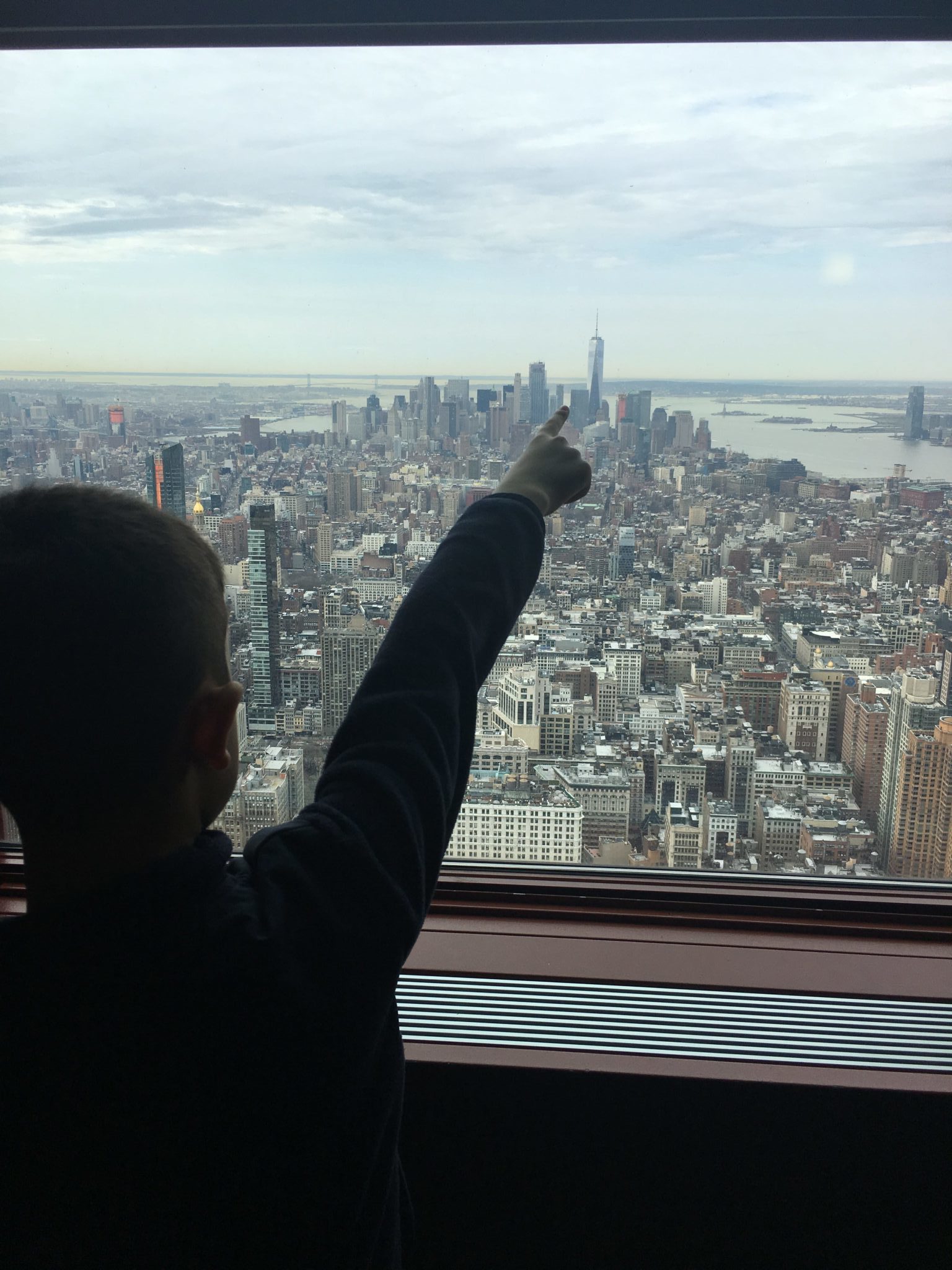 You can visit the Empire State Building 365 days a year! They're open every day from 8AM to 2AM. To beat the crowds I suggest visiting as soon as they open.
Madison Square Garden
Next stop on our Walking Tour of 34th Street was Madison Square Garden.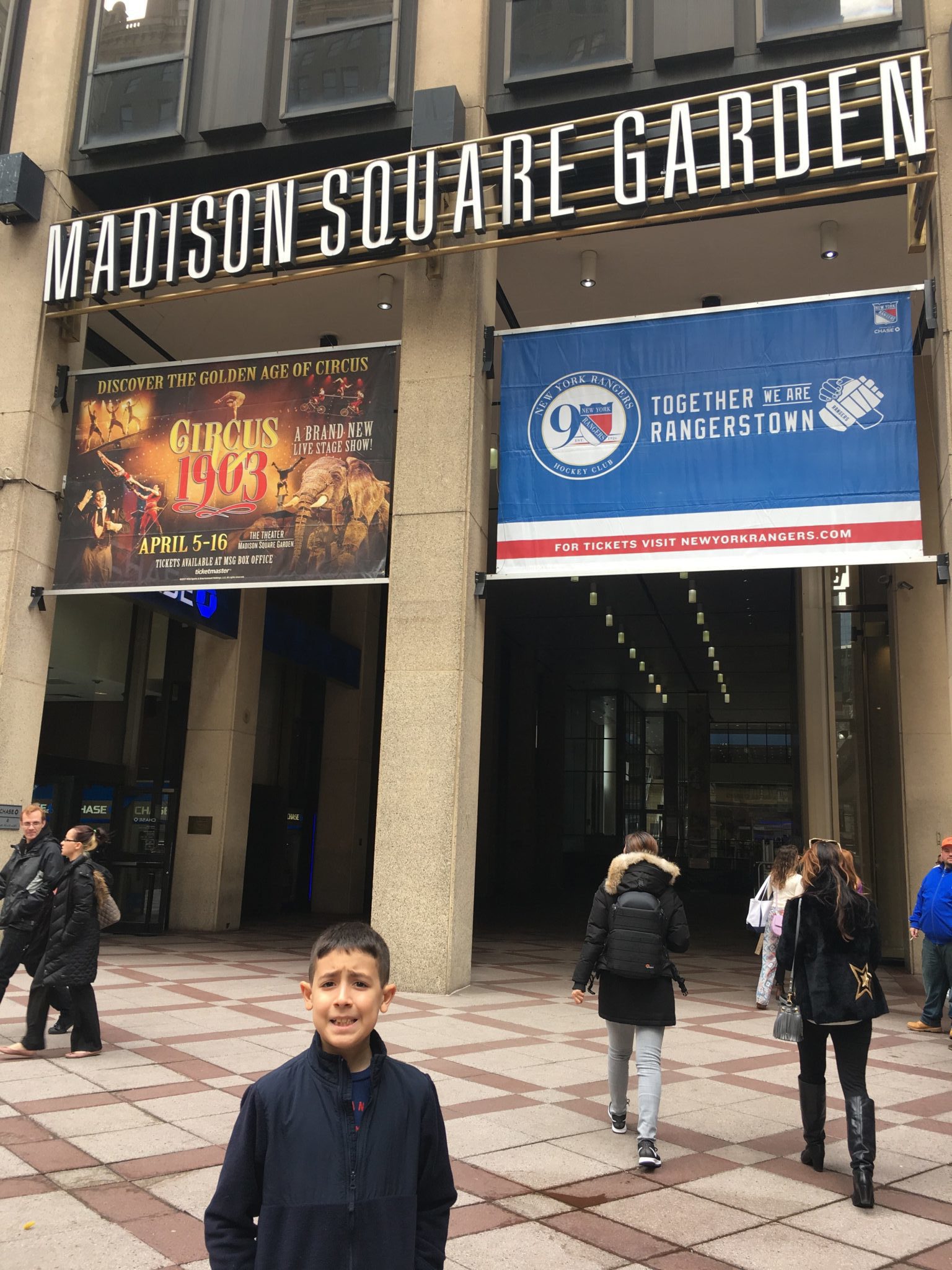 Madison Square Garden, is a multi-purpose indoor arena, often called "MSG" or simply "The Garden" but I'm sure you're already familiar with it, no matter where you live. It's located right in the heart of Midtown Manhattan, only a couple of blocks from the Empire State Building. It's home to the New York Rangers, The New York Knicks, The New York Liberty, and numerous concerts and big scale events take place here throughout the year.
And as you can imagine my #NYCKid — ultimate Knicks fan — was thrilled about this stop!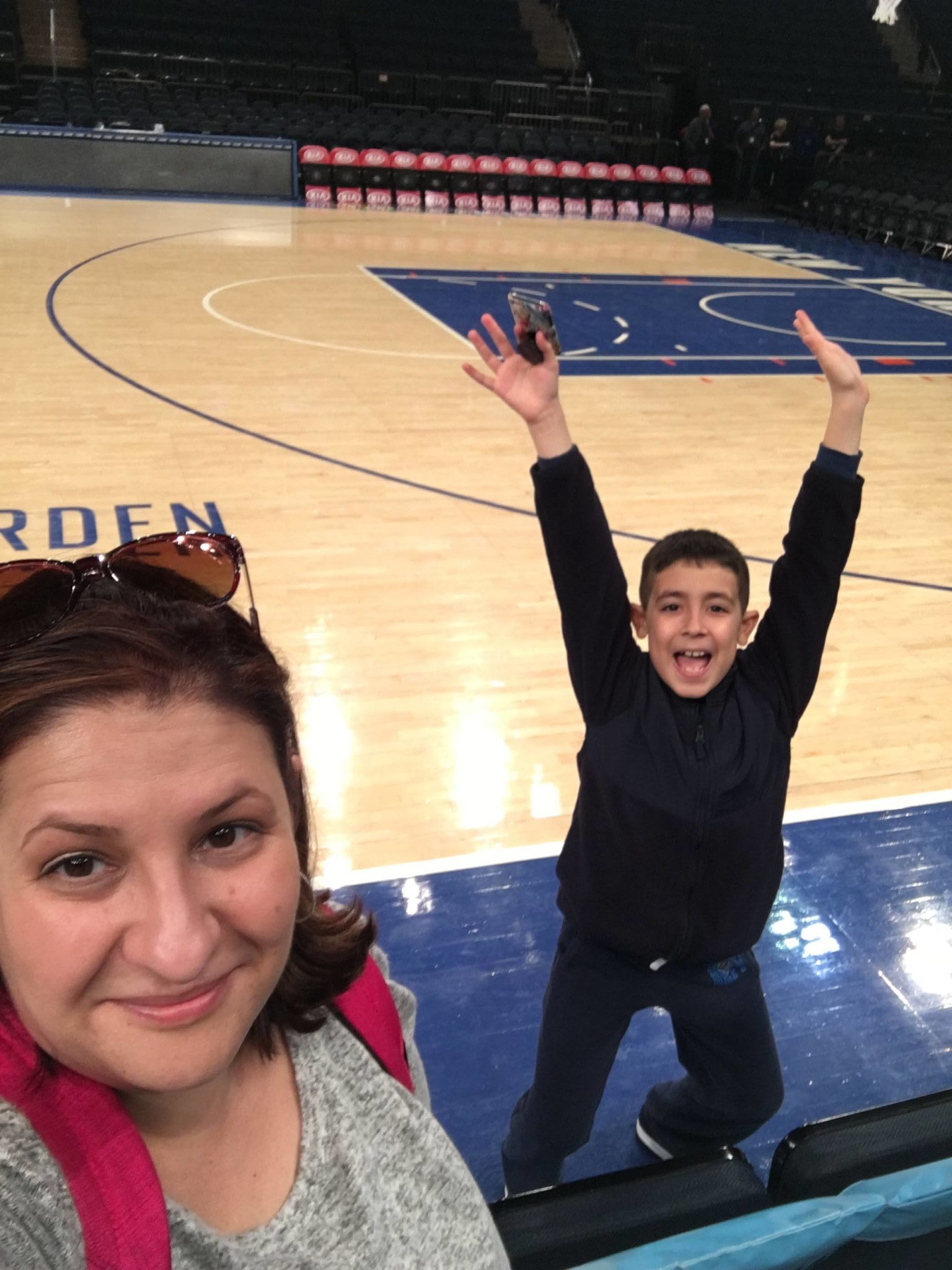 You should also know that MSG has undergone a top to bottom renovation and now includes a beautiful new lobby, along with other state-of-the-art upgrades and amenities.
As you enter The Garden you are now greeted by the beautiful Chase Square entrance. A wider variety of food stations have also been added throughout the concourse levels. New food options include Gluten Free, Kosher, and gourmet options from chefs like Jean-Georges.
During our behind the scenes look of The Garden we got to set foot on the Knicks court (which scored me a ton of mom points with my kid).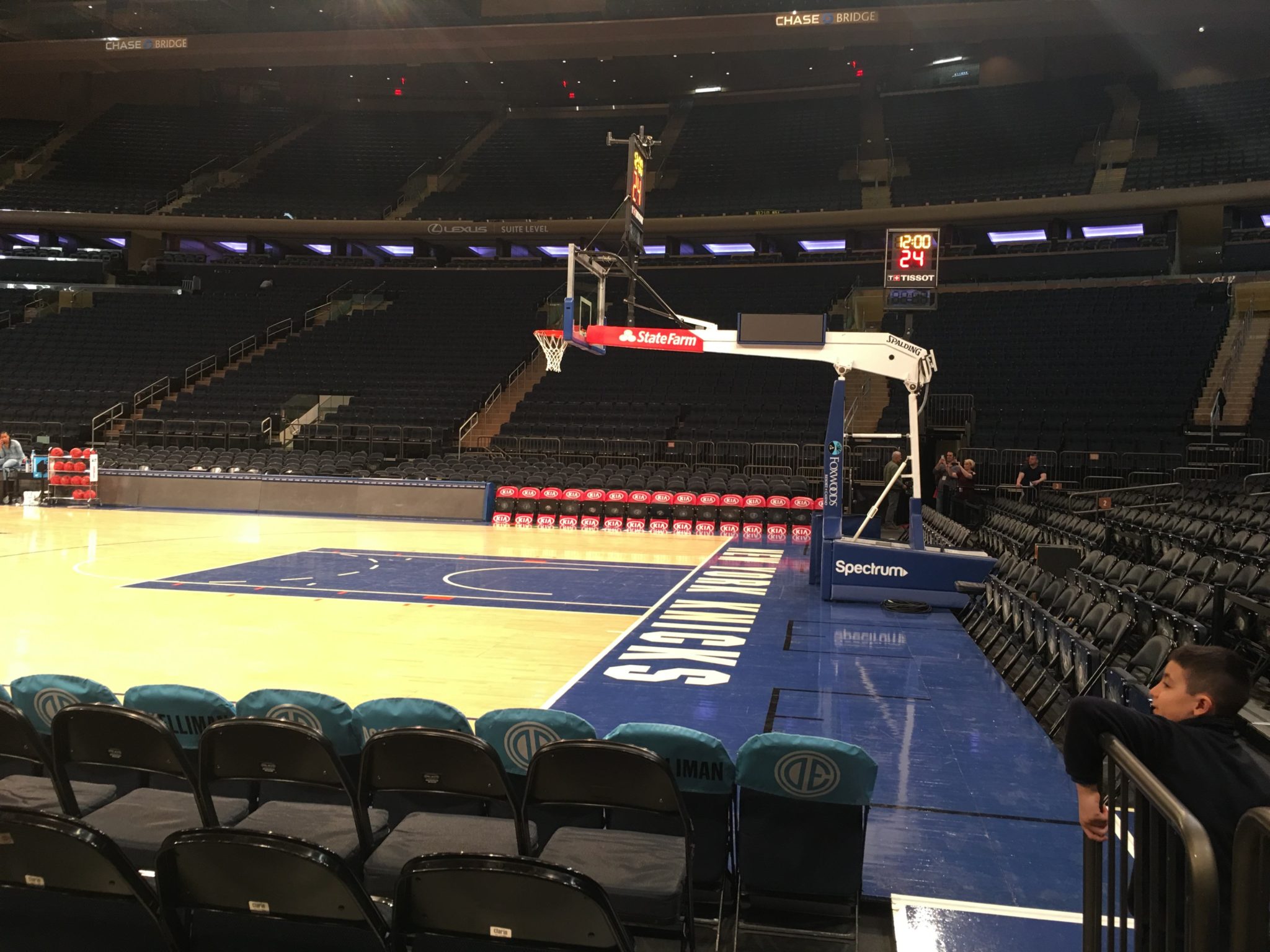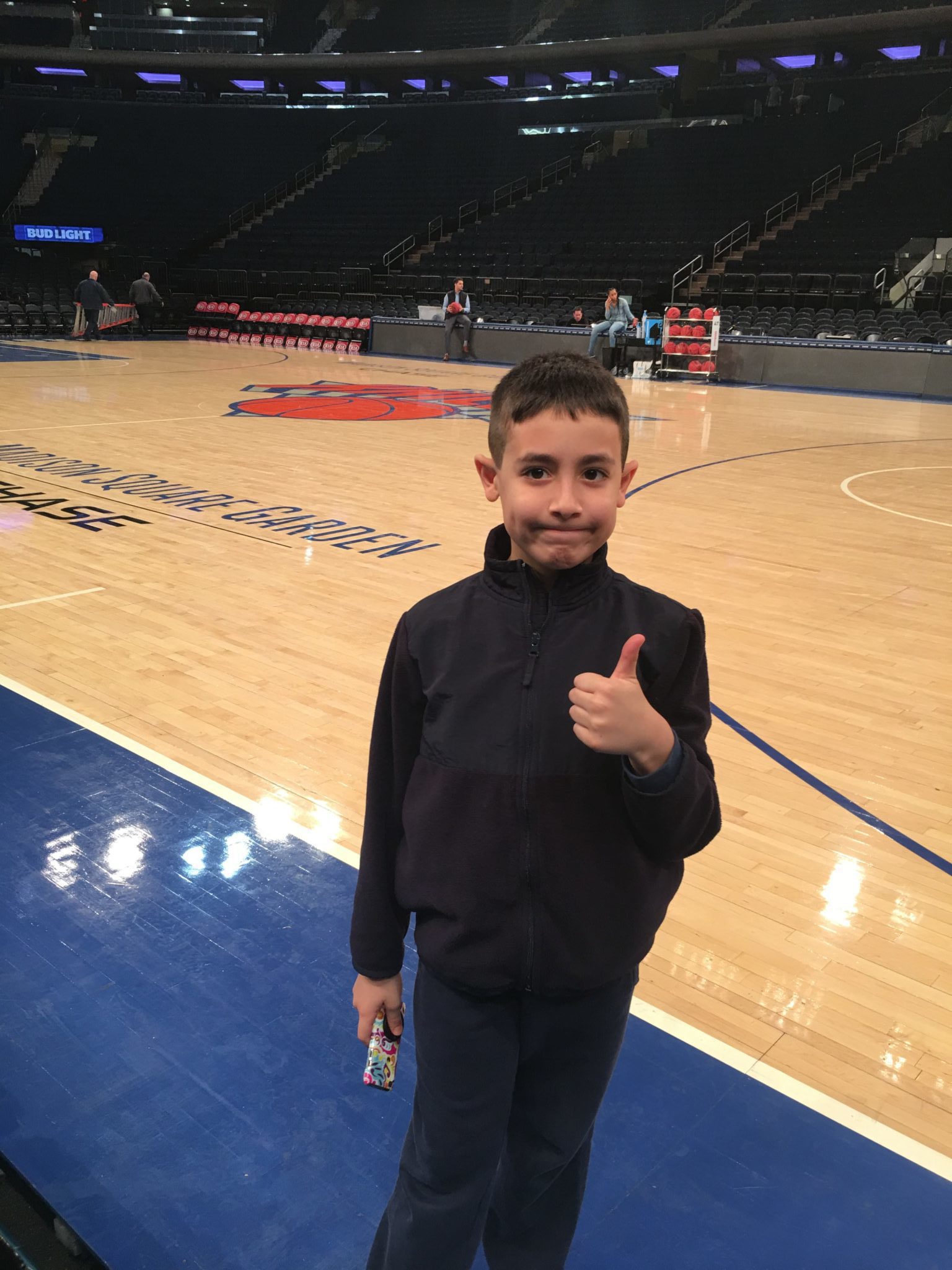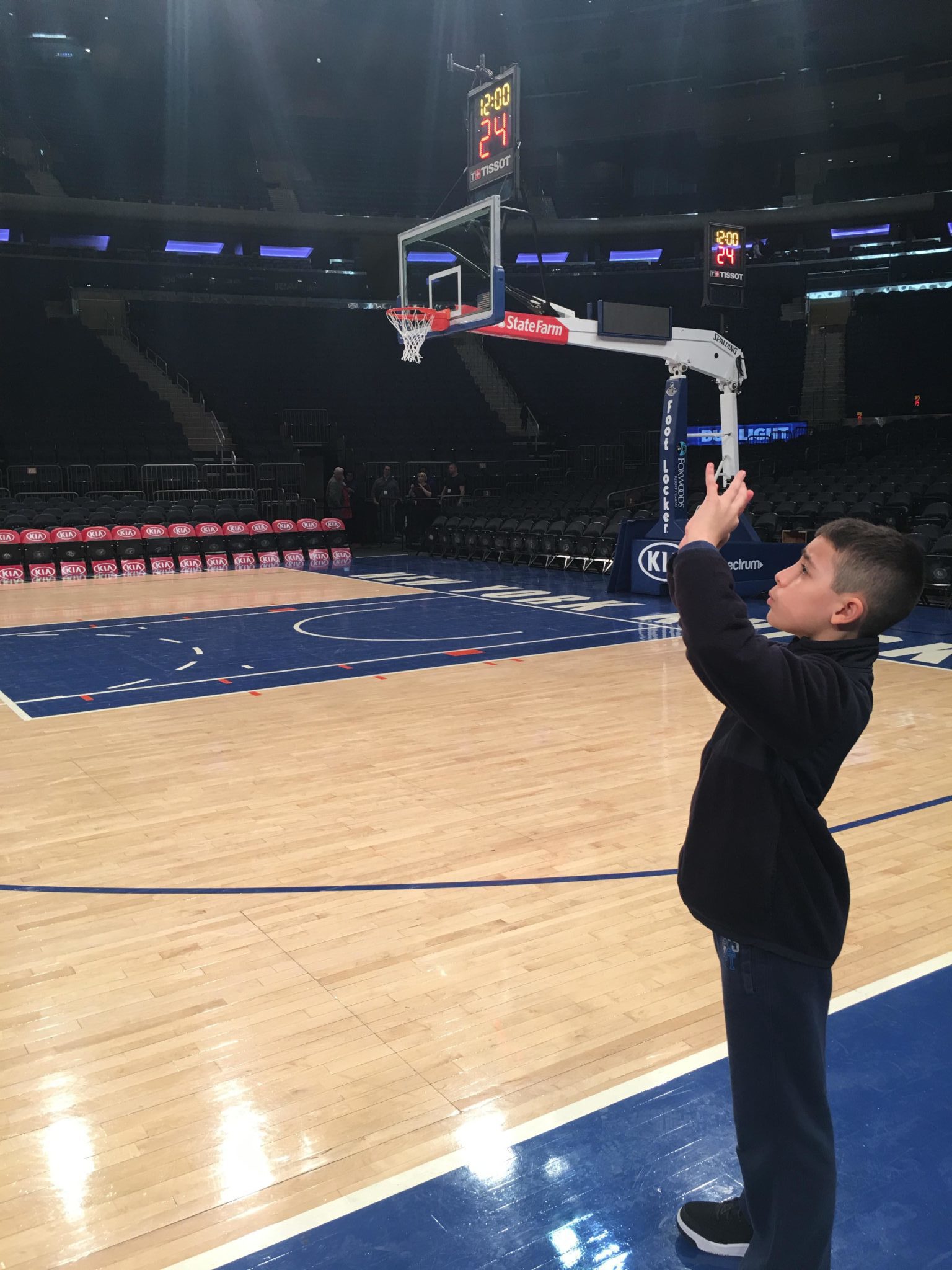 We visited the Delta Sky360 Club and even got a behind the scenes look at event staging areas.
We then walked along the concourse levels and got to see the Garden's 360 visual retrospective exhibit titled "Memorable Moments Everyday" honoring the incredible 132-year-old history of this arena. Also interesting to see were the Top Defining Moments in Garden History that are celebrated throughout with amazing photos and artifacts displays that showcase the incredible history that has made MSG the World's Most Famous Arena.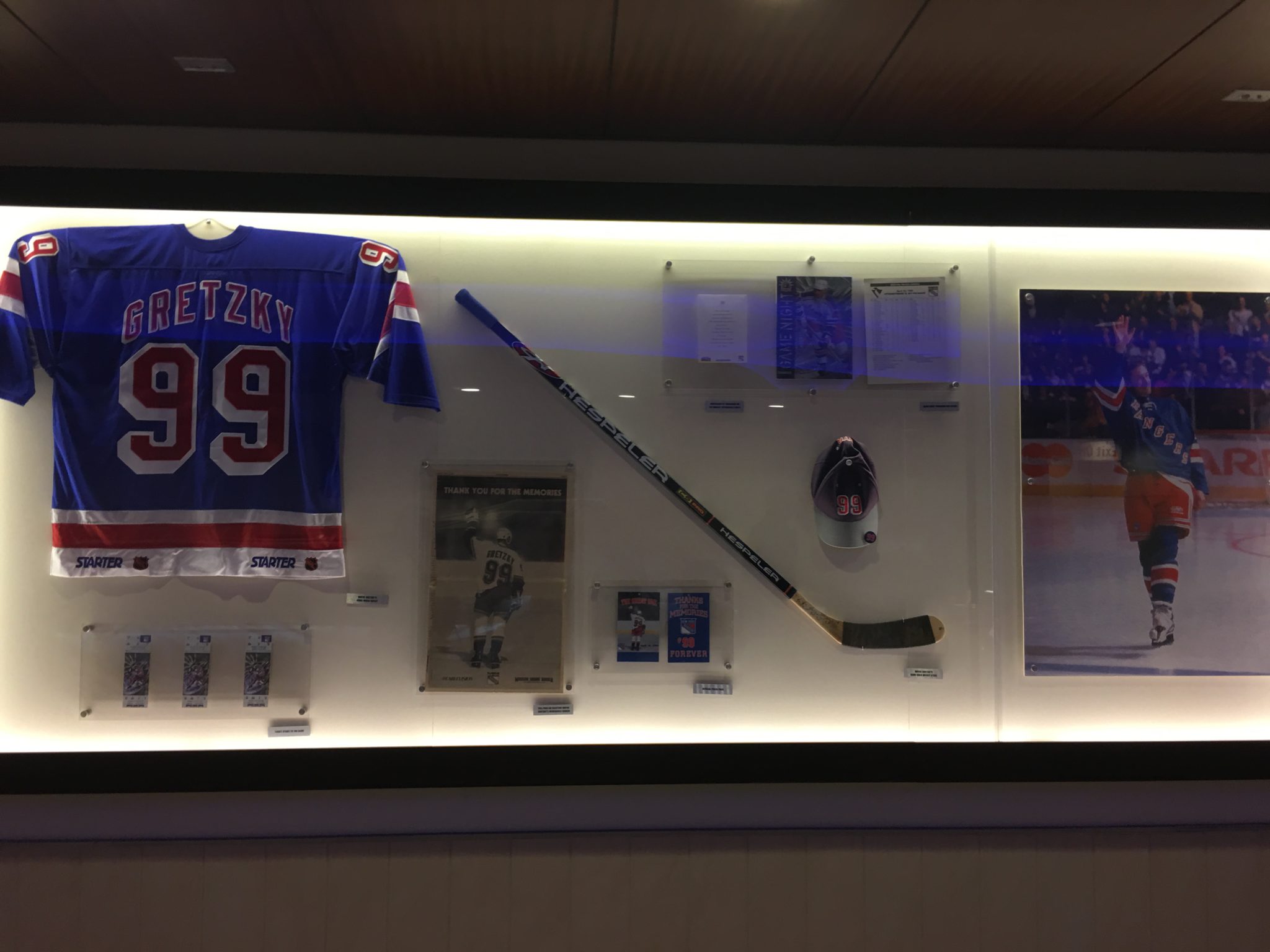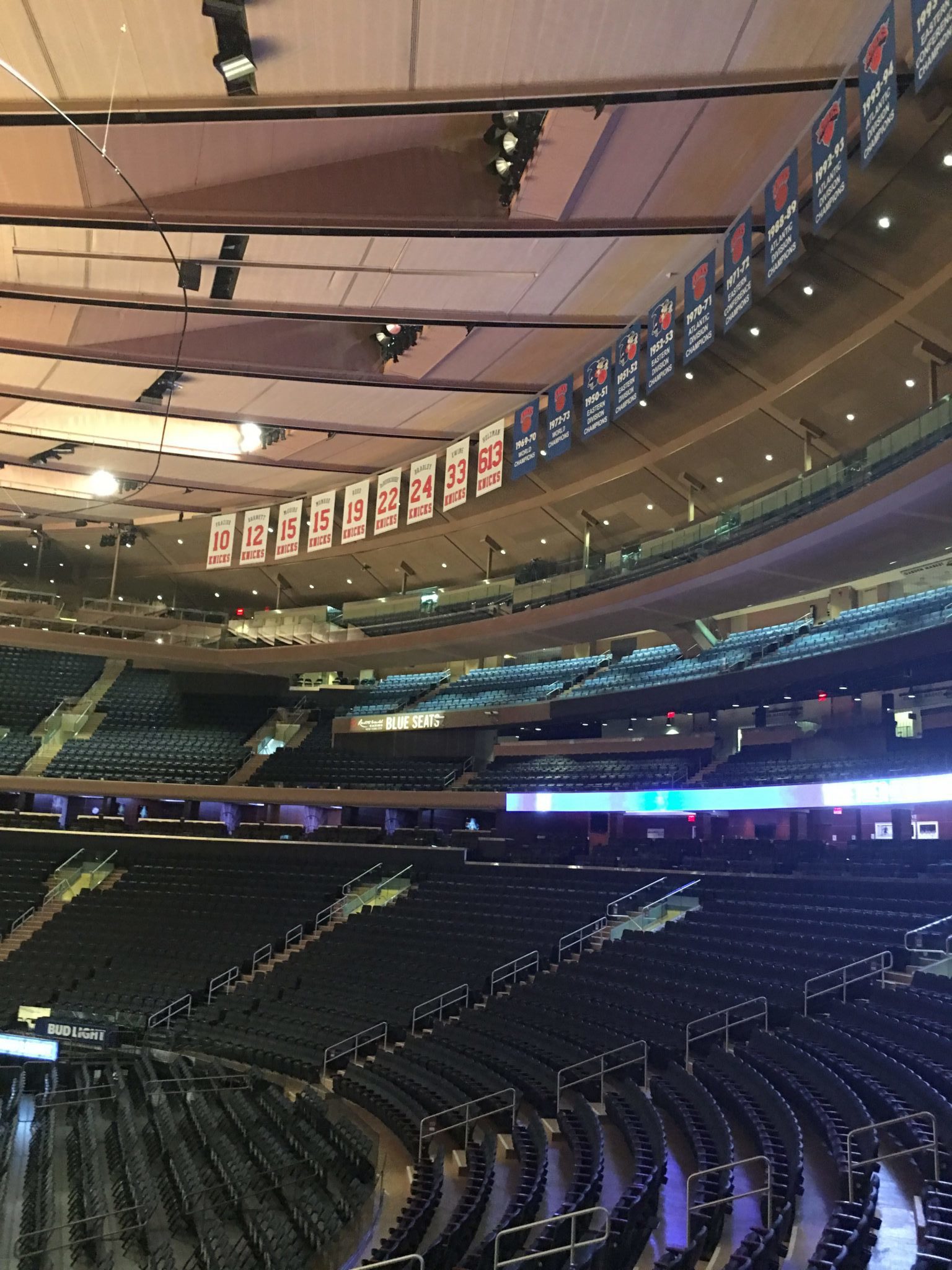 An All Access Tour and behind the scenes look of Madison Square Garden is just perfect for any sports lover exploring NYC!
B&H Photo
The last stop on our Walking Tour of 34th Street brought us to one of NYC's most impressive specialty stores.
A stop at B&H Photo and Video is a must for any camera or technology lover.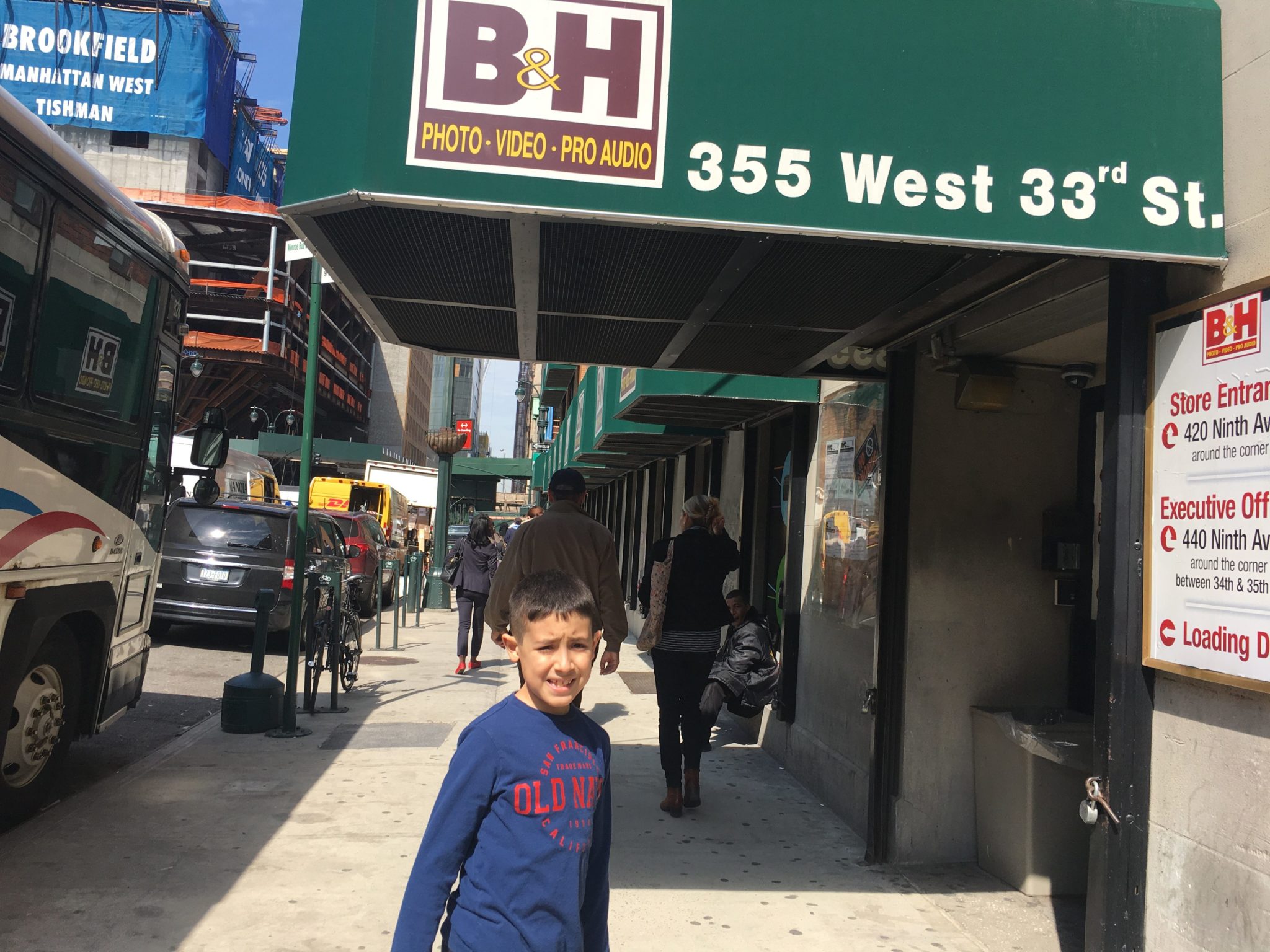 This iconic NYC shop opened it's doors in 1973 and is currently the largest non-chain photo and video store in the entire United States. Here you'll find over 300,000 products! You'll also be mesmerized by the checkout process as your purchased product gets delivered to you at check-out via an overhead zipping trolley system.
Even if not making a purchase at this photo and video superstore, it's worth a visit just for a chance to check out and play with the latest in tech and gadgets.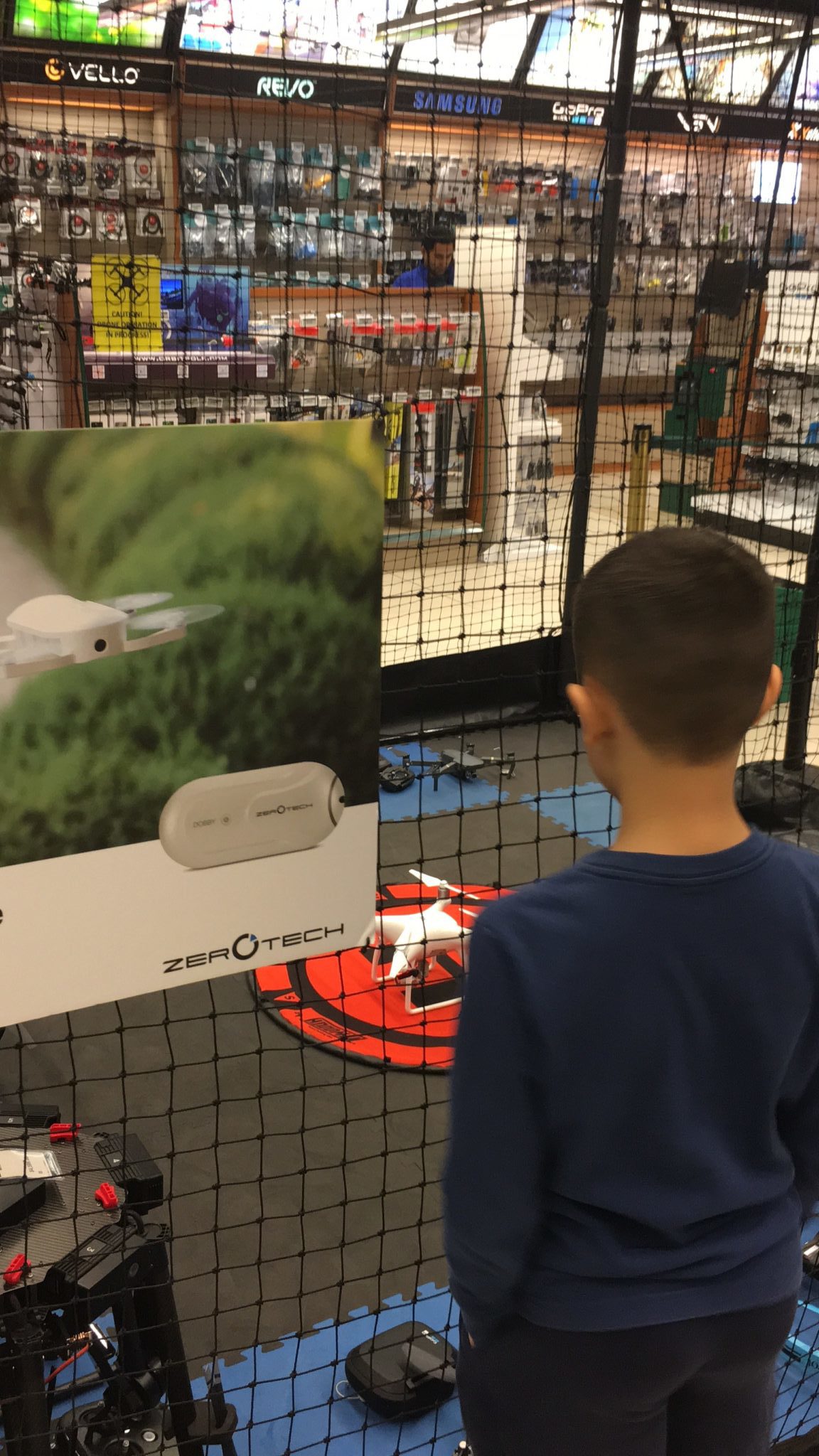 During our stop by B&H Photo and Video we got to experience their drones first hand and enjoyed flight demonstrations of some of their most popular models.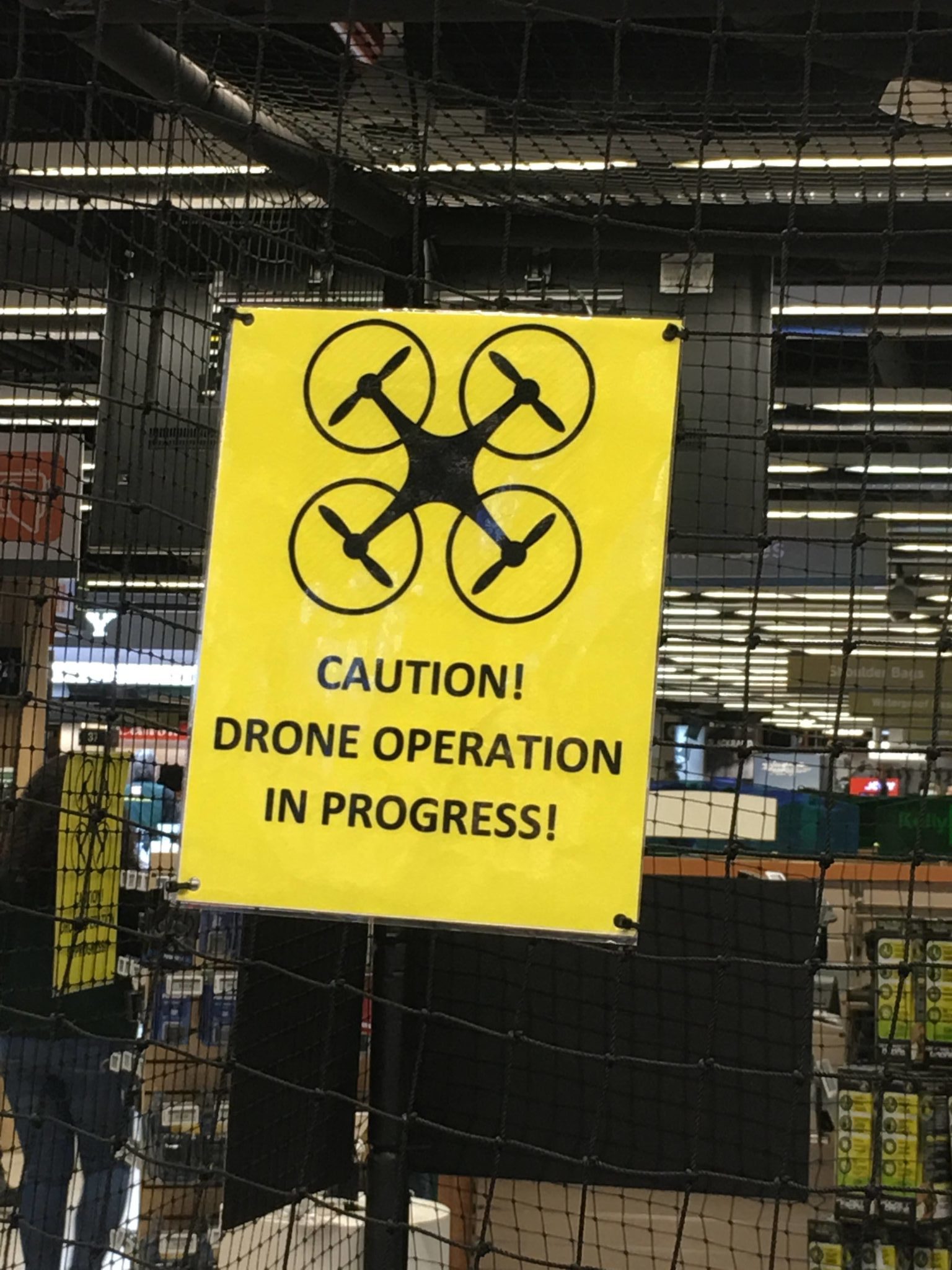 We also spent some time in the VR lounge checking out the latest in VR headsets. You know I was loving this part of the 34th Street Walking tour.
The techy kiddo loved it too! 🙂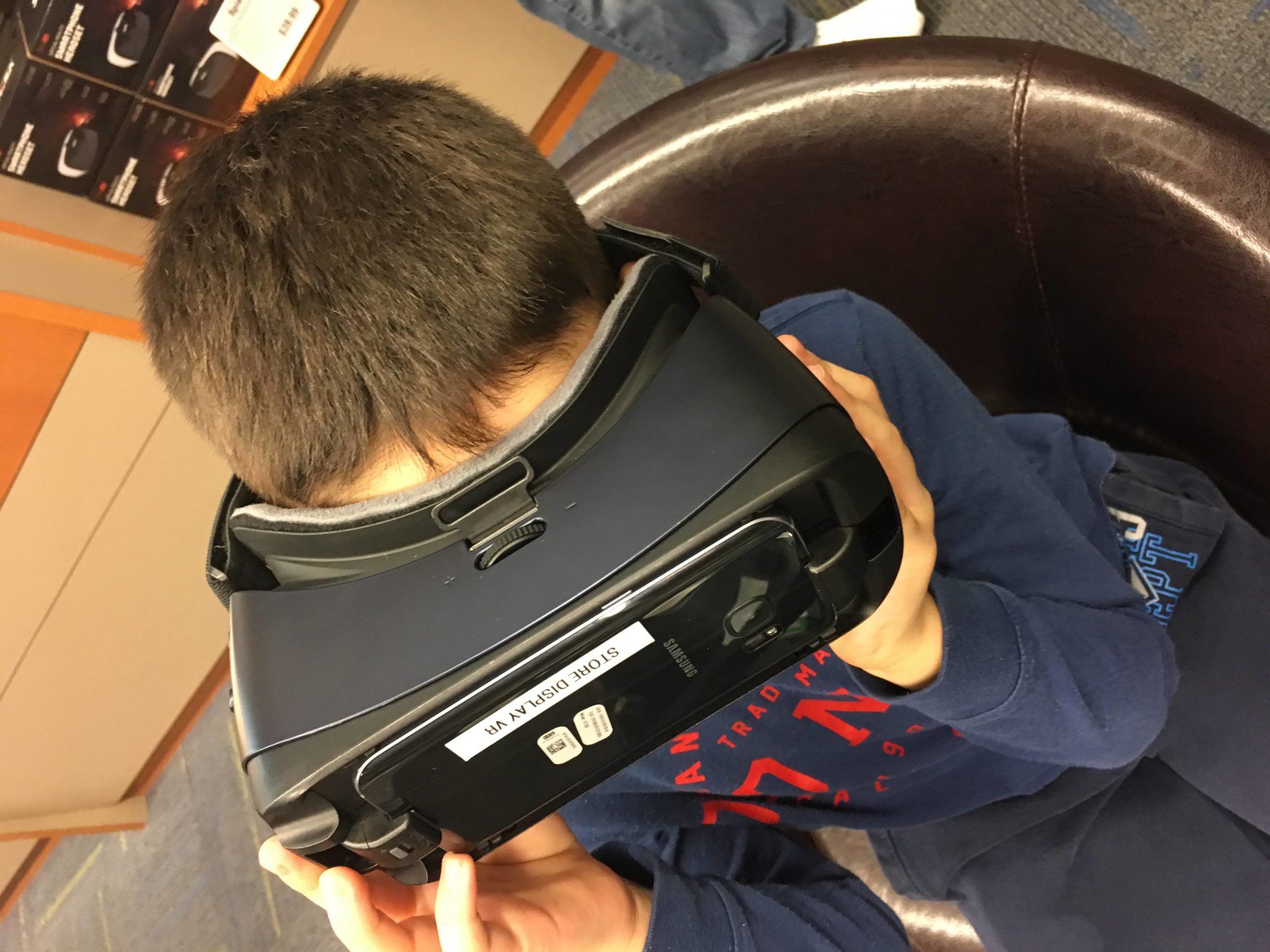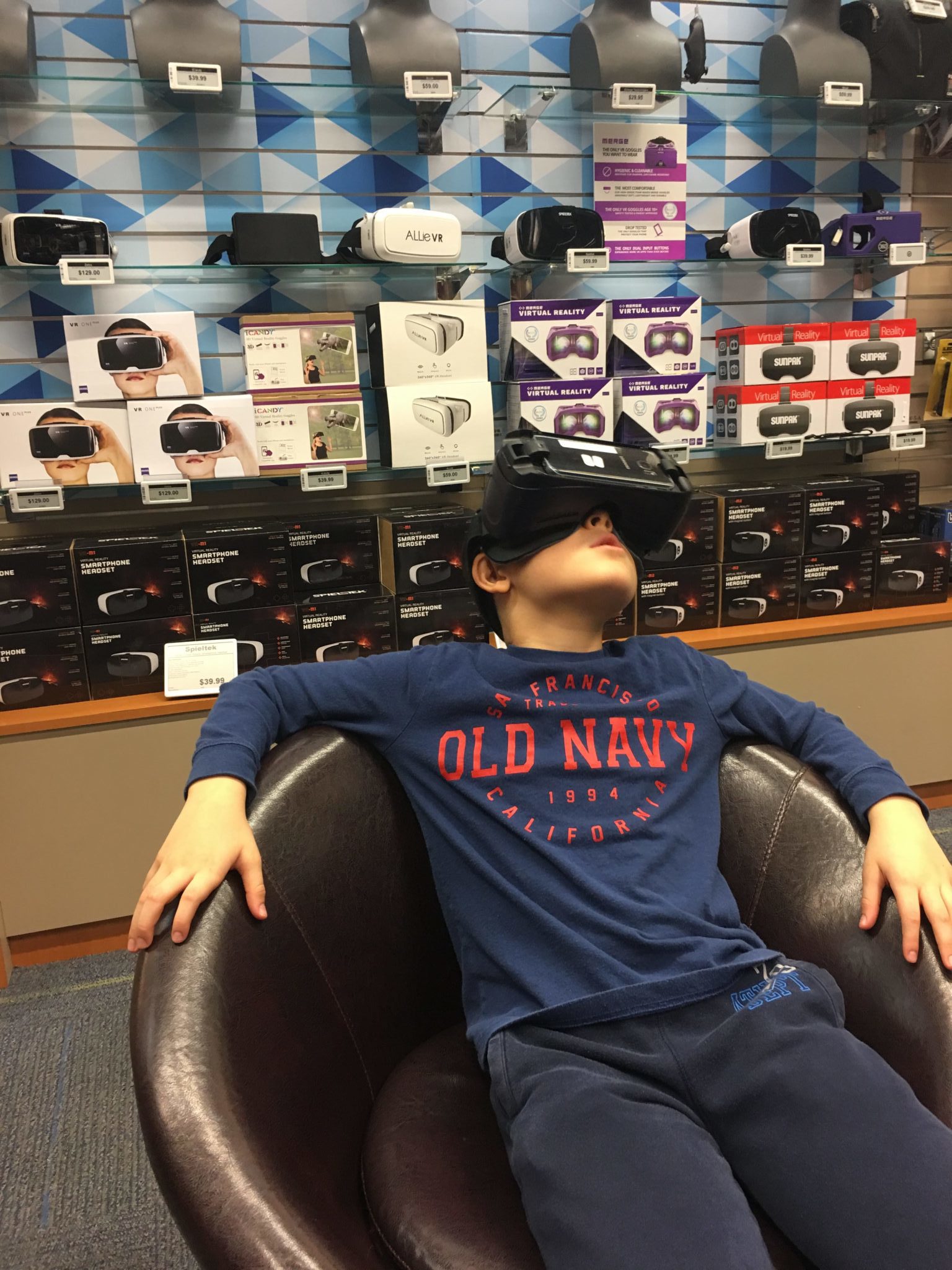 Other Great Stops Along the 34th Street Walking Tour
Macy's Herald Square
Herald Square
Penn Station
James A. Farley Post Office
The High Line (elevated park)
After our Walking Tour of 34th Street with the Destination Midtown team was over, we decided to explore a few more of the suggested stops listed on the app.
What I love most about the Destination Midtown app is that users have the ability to access curated walking tours at any time and can complete them at their own pace. Doesn't even have to be all on the same day! That's what makes this app experience such a unique and personalized way to see the best of Midtown Manhattan.
Since NYC is warming up we decided to take advantage of the Spring-like weather and went for a stroll along the High Line. It offers great city views!
See some of our pics below. 🙂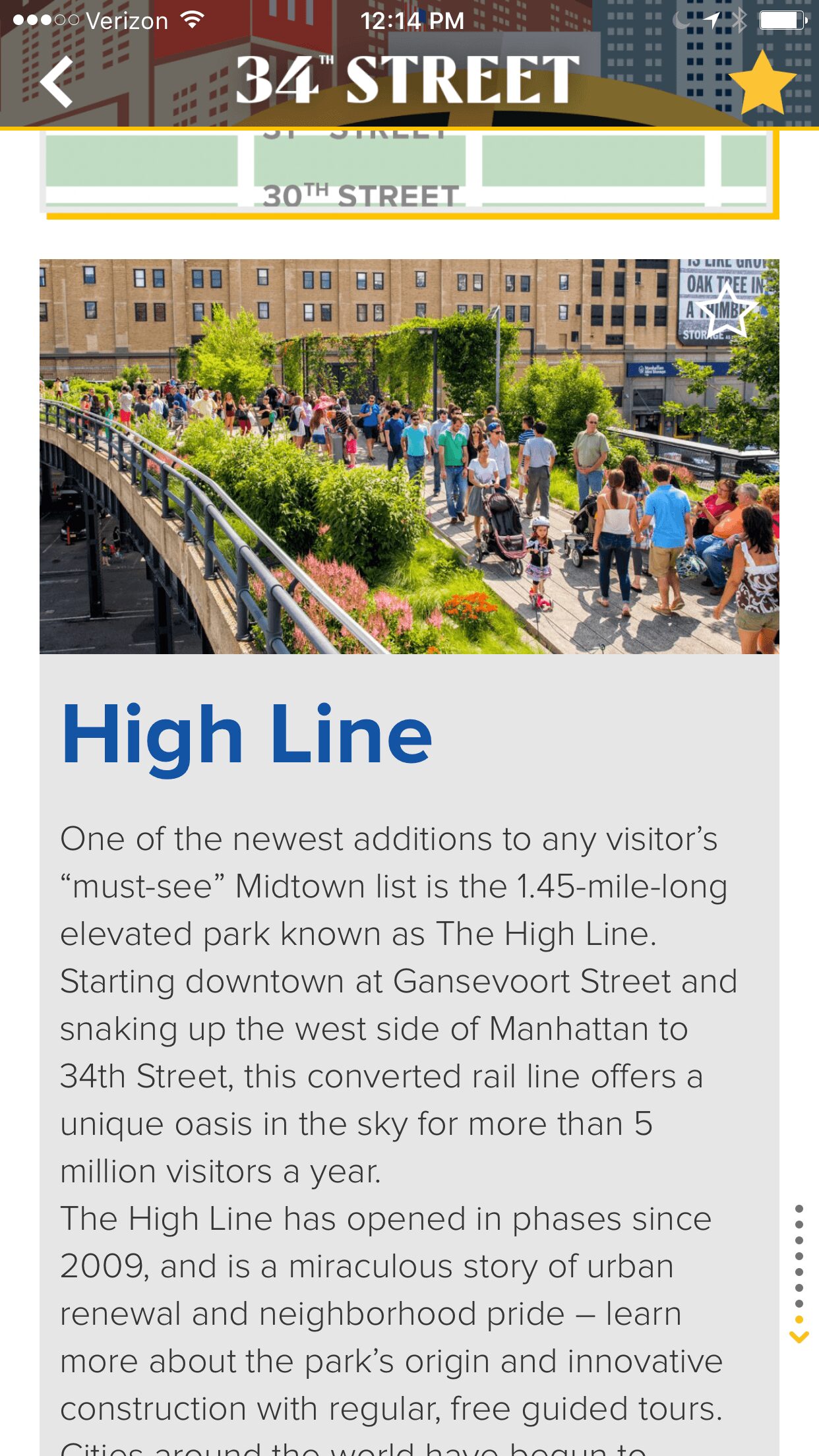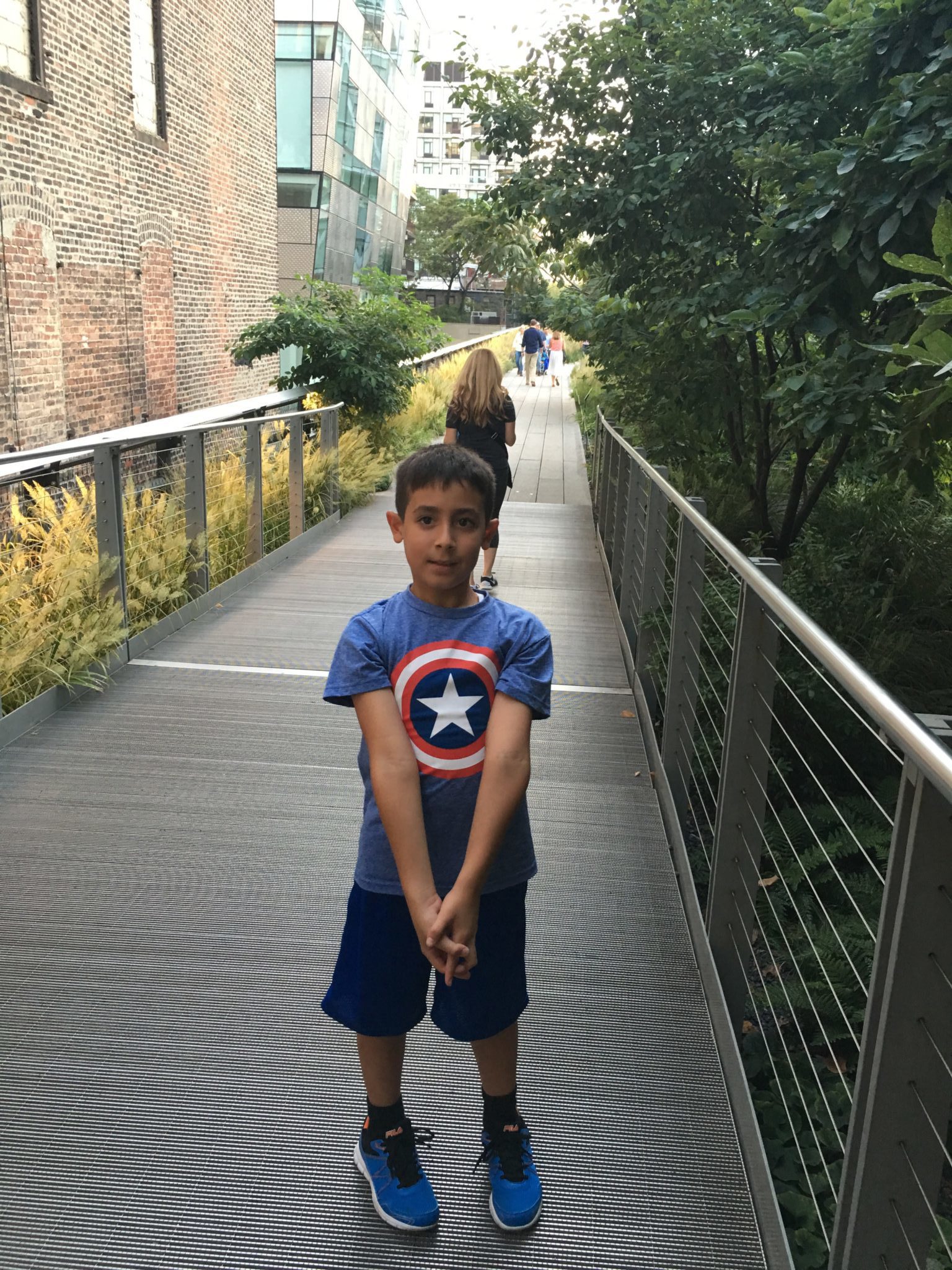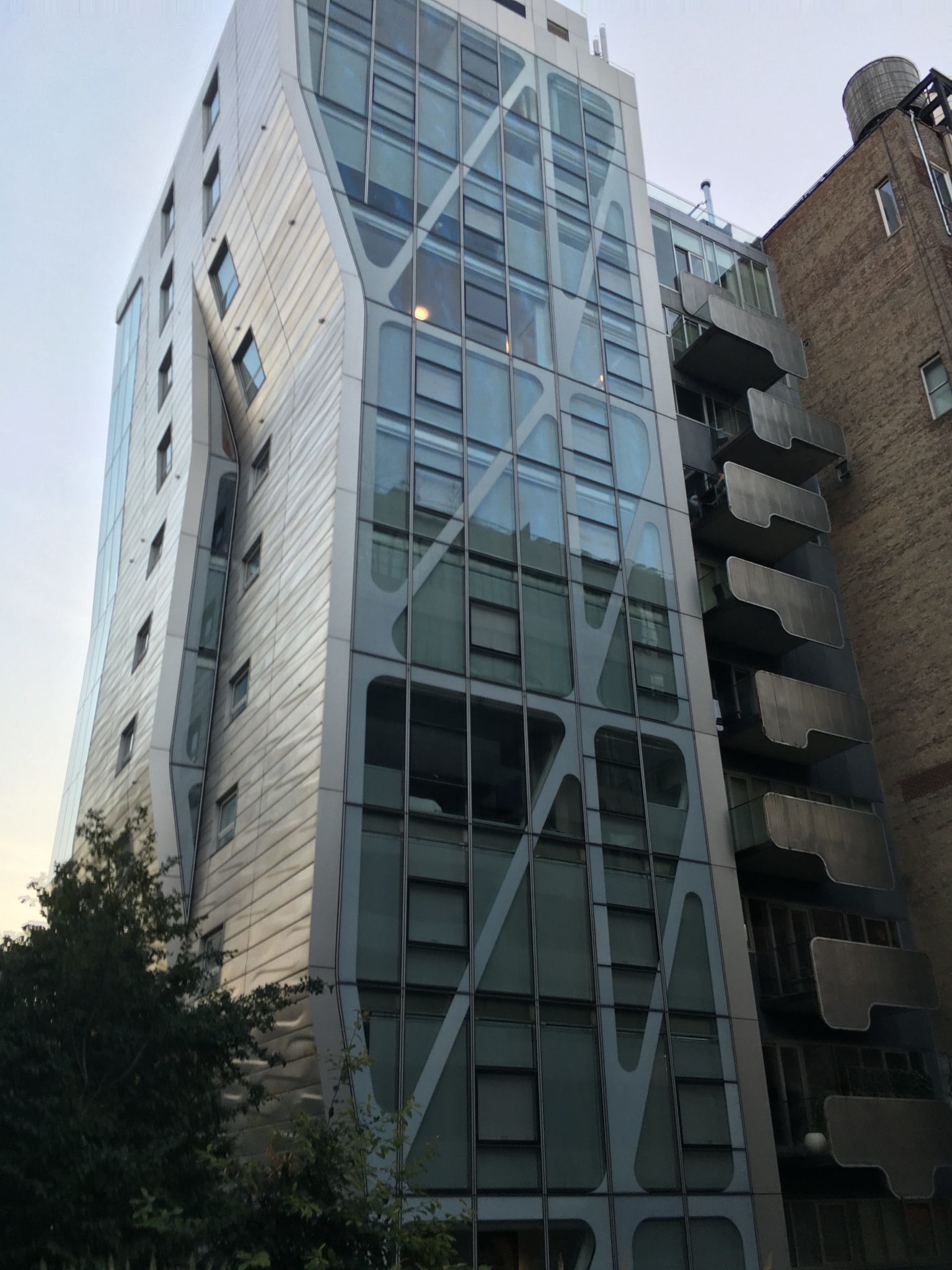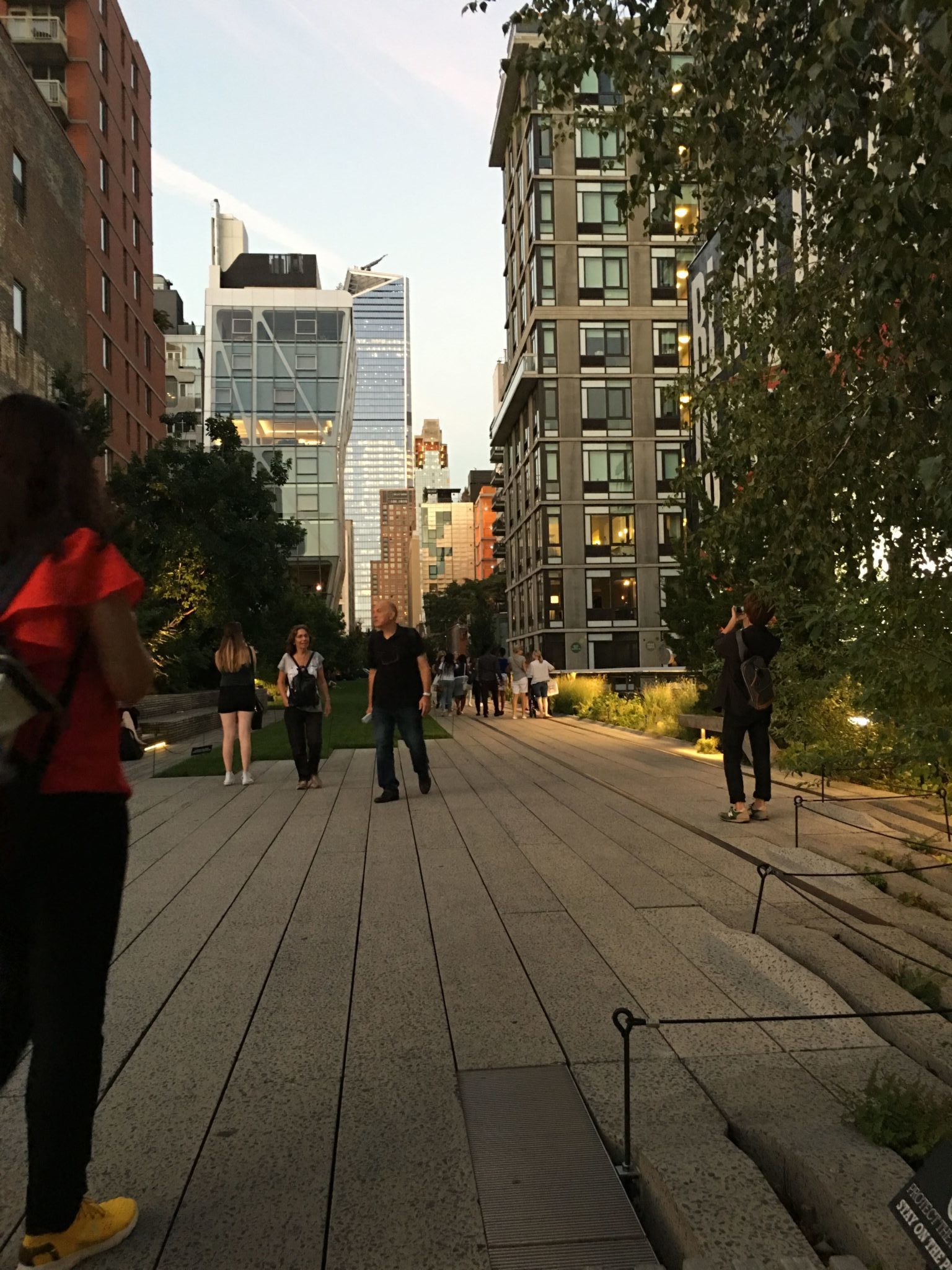 Destination Midtown Isn't Only for Tourists
Since learning about the Destination Midtown app, we've continued to use it every time we venture out to explore our city. I find it to be a great way for grown-ups and kids alike to explore and learn key facts about New York City.
Best of all, it doesn't matter if your visiting for the first time or are a native New Yorker. Either way, I'm sure you'll appreciate the guidance from this app and all the insider tips to help you learn even more about each of the suggested destinations. My kiddo can't get enough of it! And I've already learned a few things myself that I didn't already know about our city.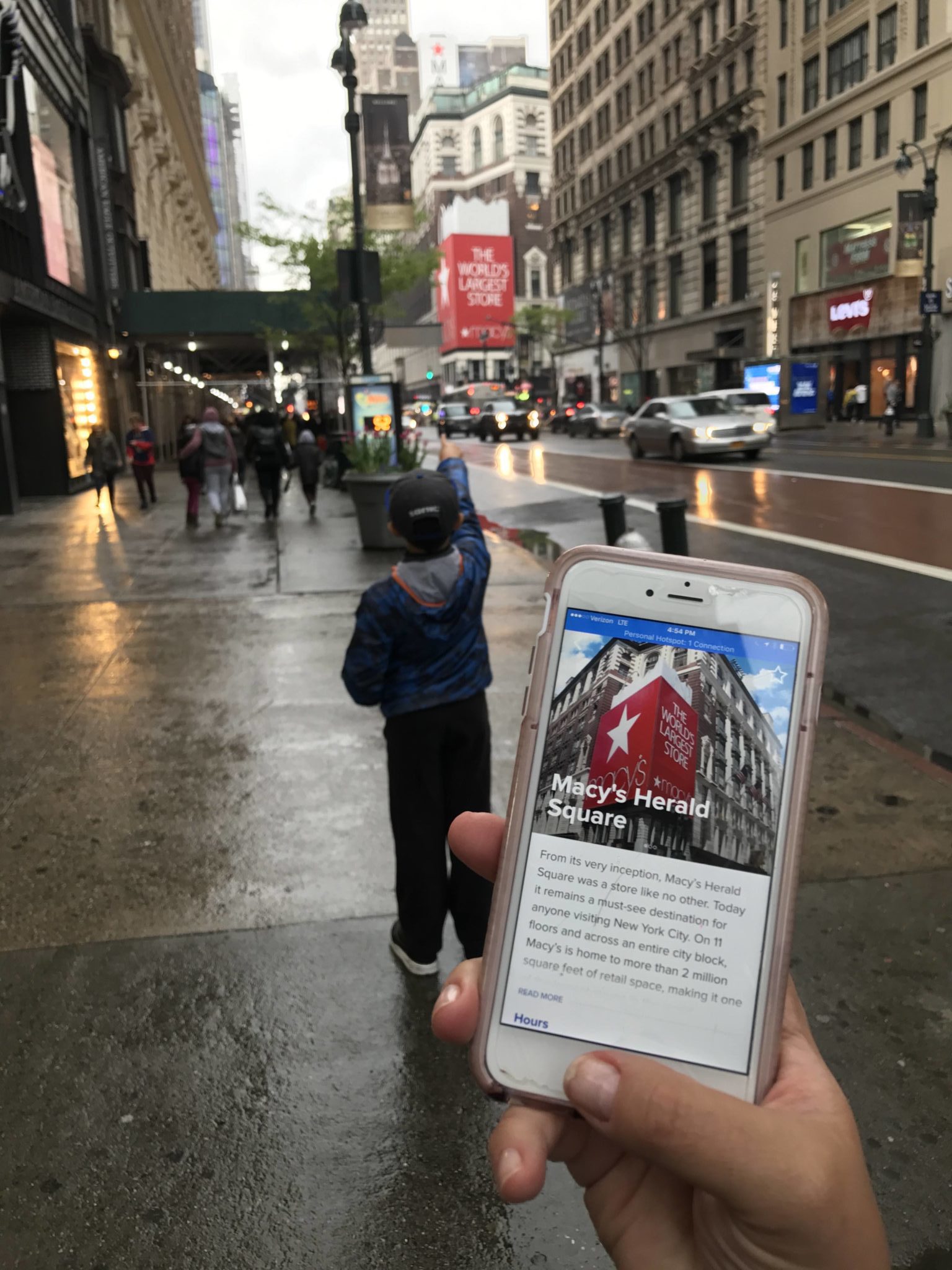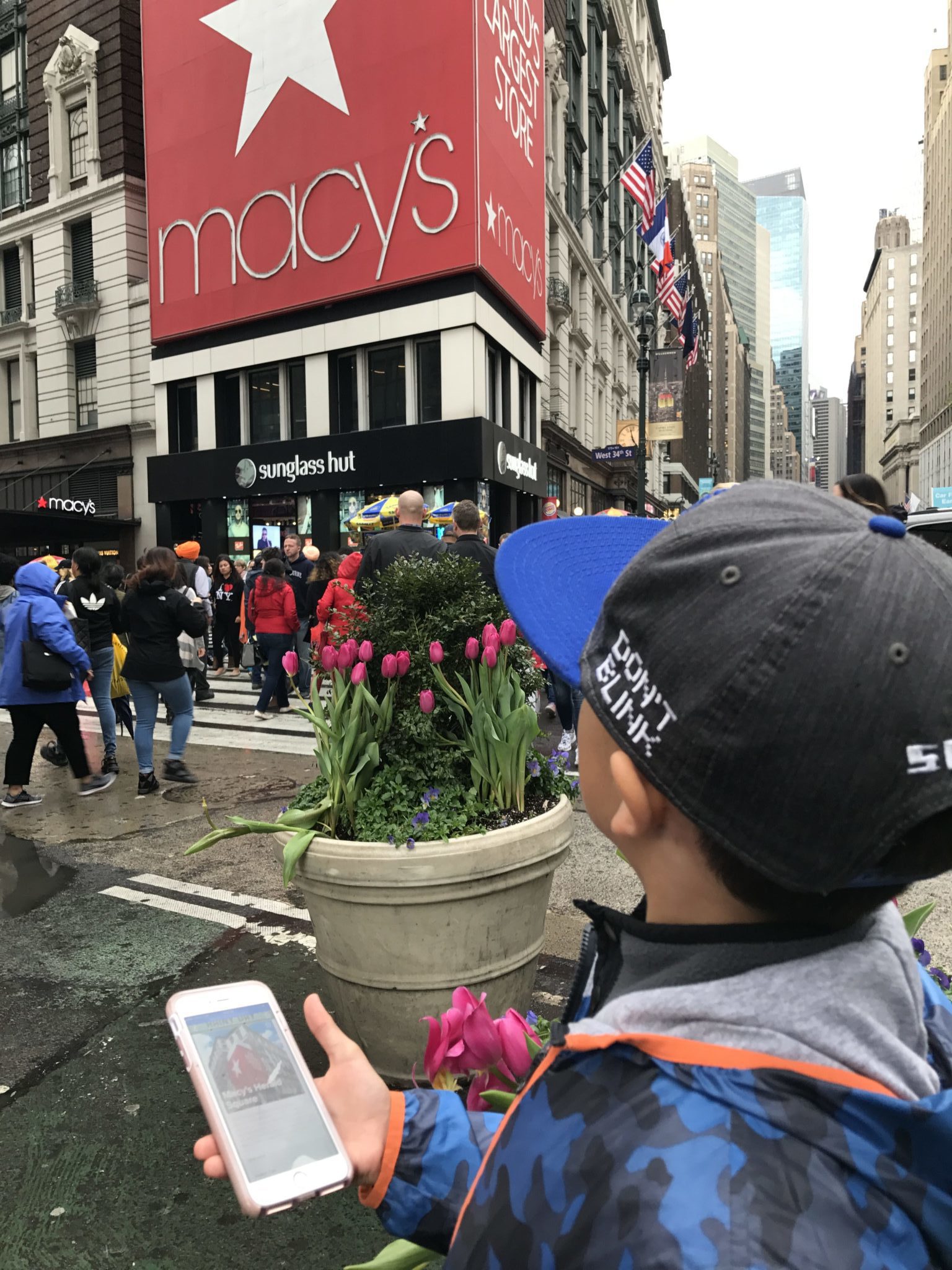 We also recently checked out the fabulous Macy's Flower Show which was lots of Spring fun!
There's so much more to do at Macy's than just shopping. Although who can pass up on a little retail therapy! Right? 😉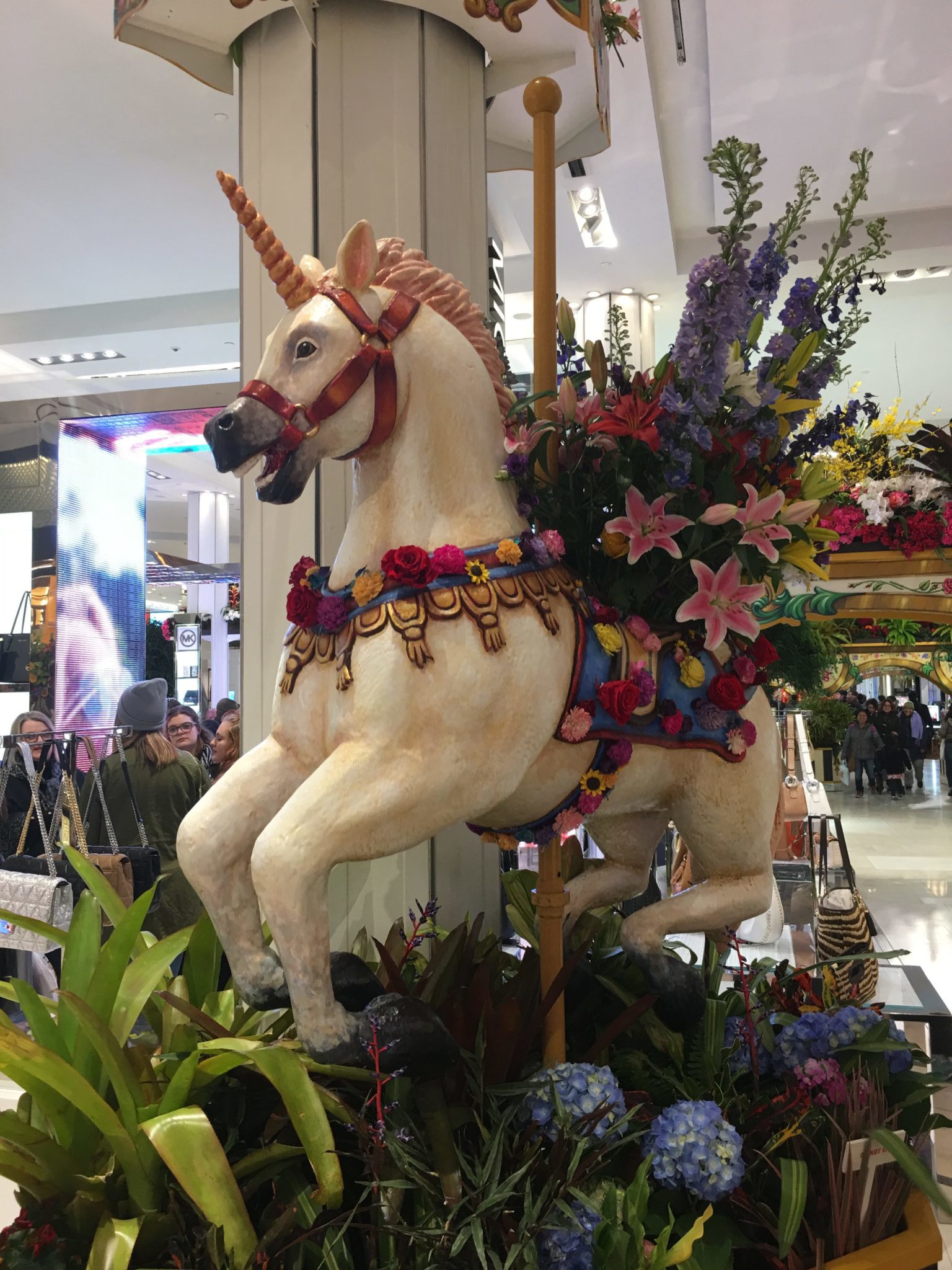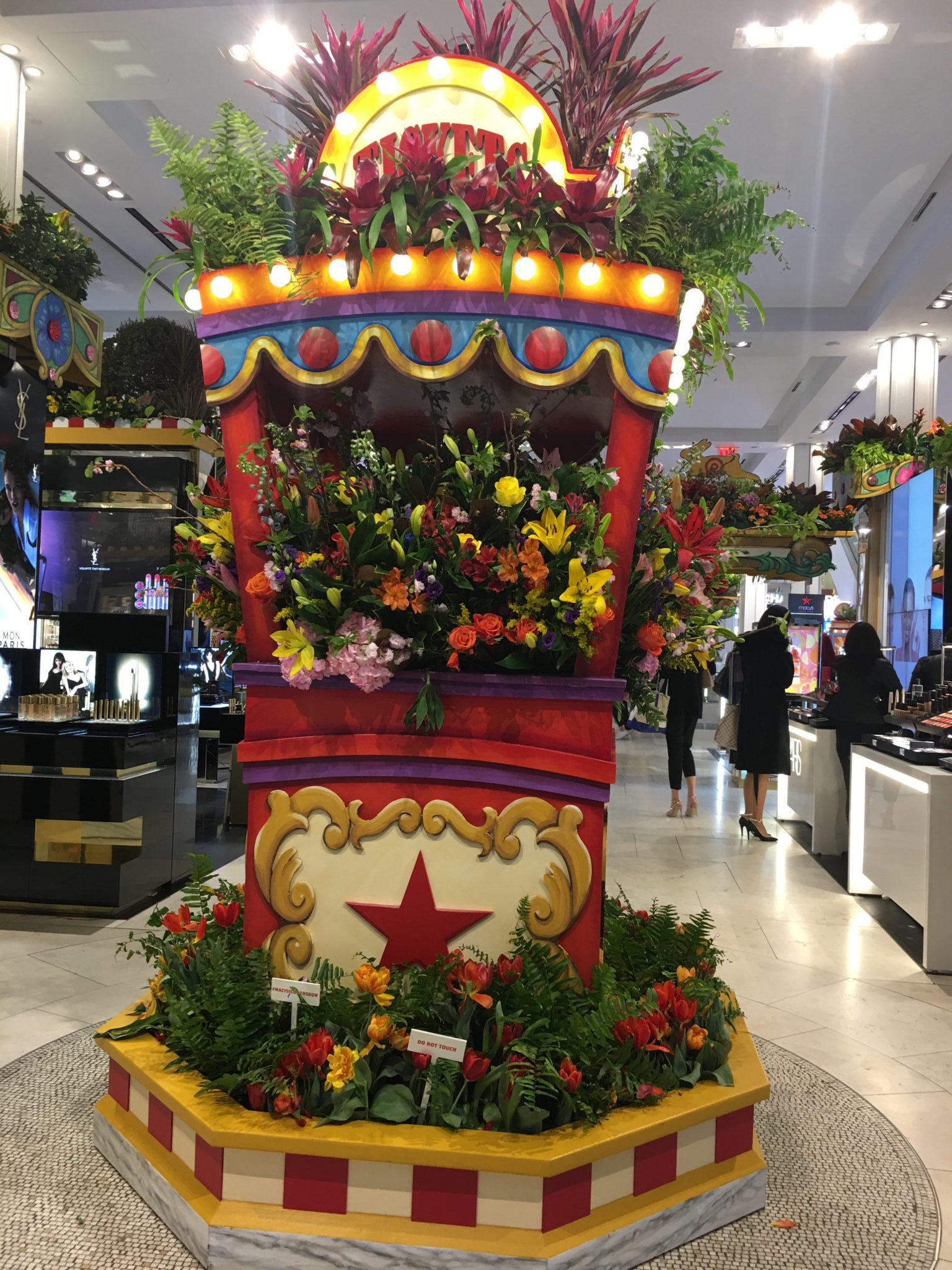 How to See the Best of Midtown Manhattan
You'll want to download the Destination Midtown app today to learn all about the great Midtown Manhattan destinations you can explore at your leisure! I know you'll agree, it's how to see the best of Midtown Manhattan.
More About the Destination Midtown App
The Destination Midtown Alliance, a coalition of partners from the most iconic businesses and attractions in Midtown Manhattan, created the Destination Midtown app to provide NYC visitors with an opportunity to access selectively curated itineraries. This curated content will help you discover iconic attractions and hidden gems located in Midtown Manhattan.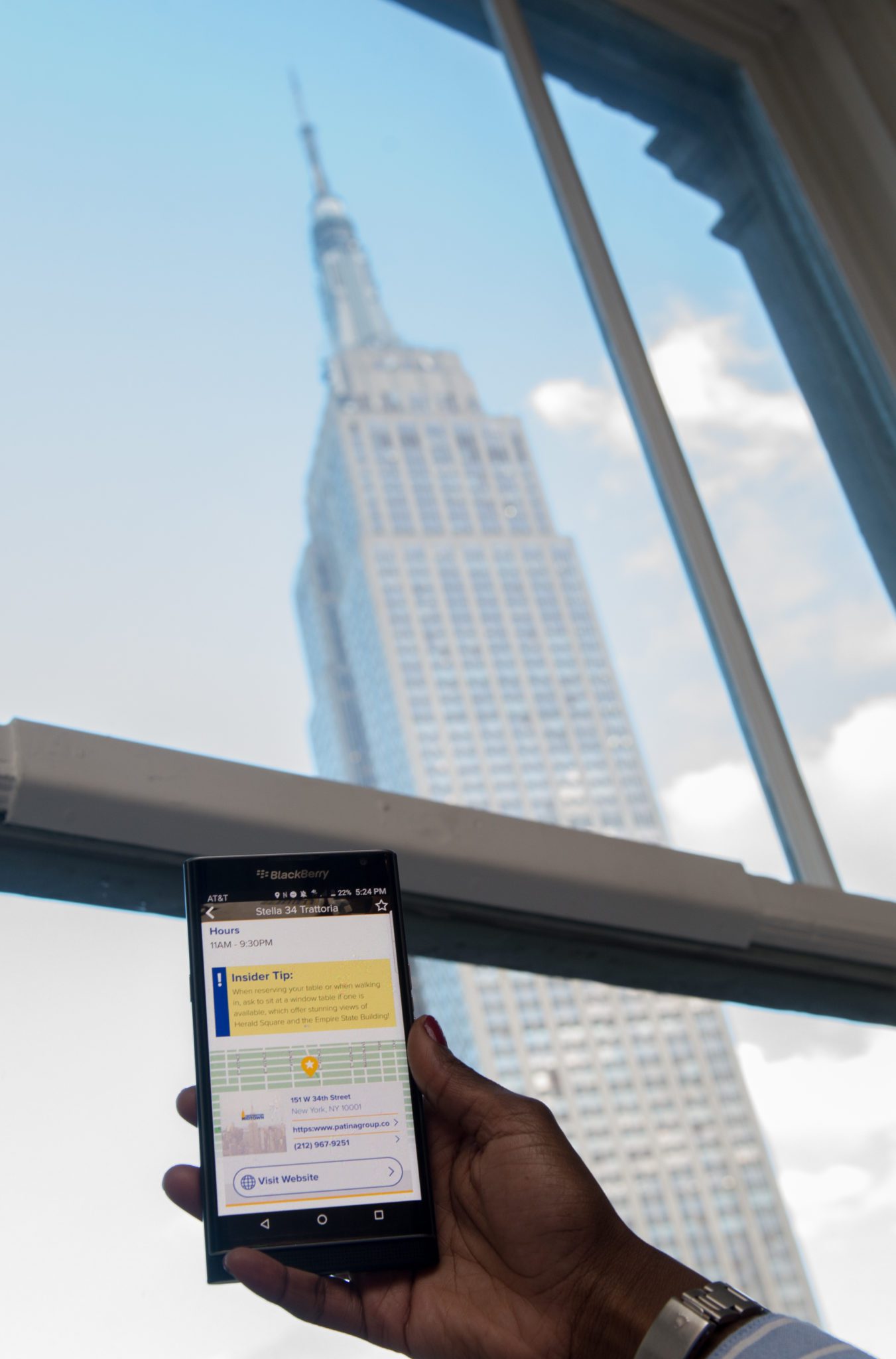 This interactive app is super user-friendly and features great insider tips, suggested itineraries, events, and themed walking tours such as "Fashion Intro", "Family Fun" and "Night Out", just to name a few. A "Rainy Day" themed walking tour is even included which makes it the perfect way to not miss out on all that Midtown Manhattan fun, even when it rains.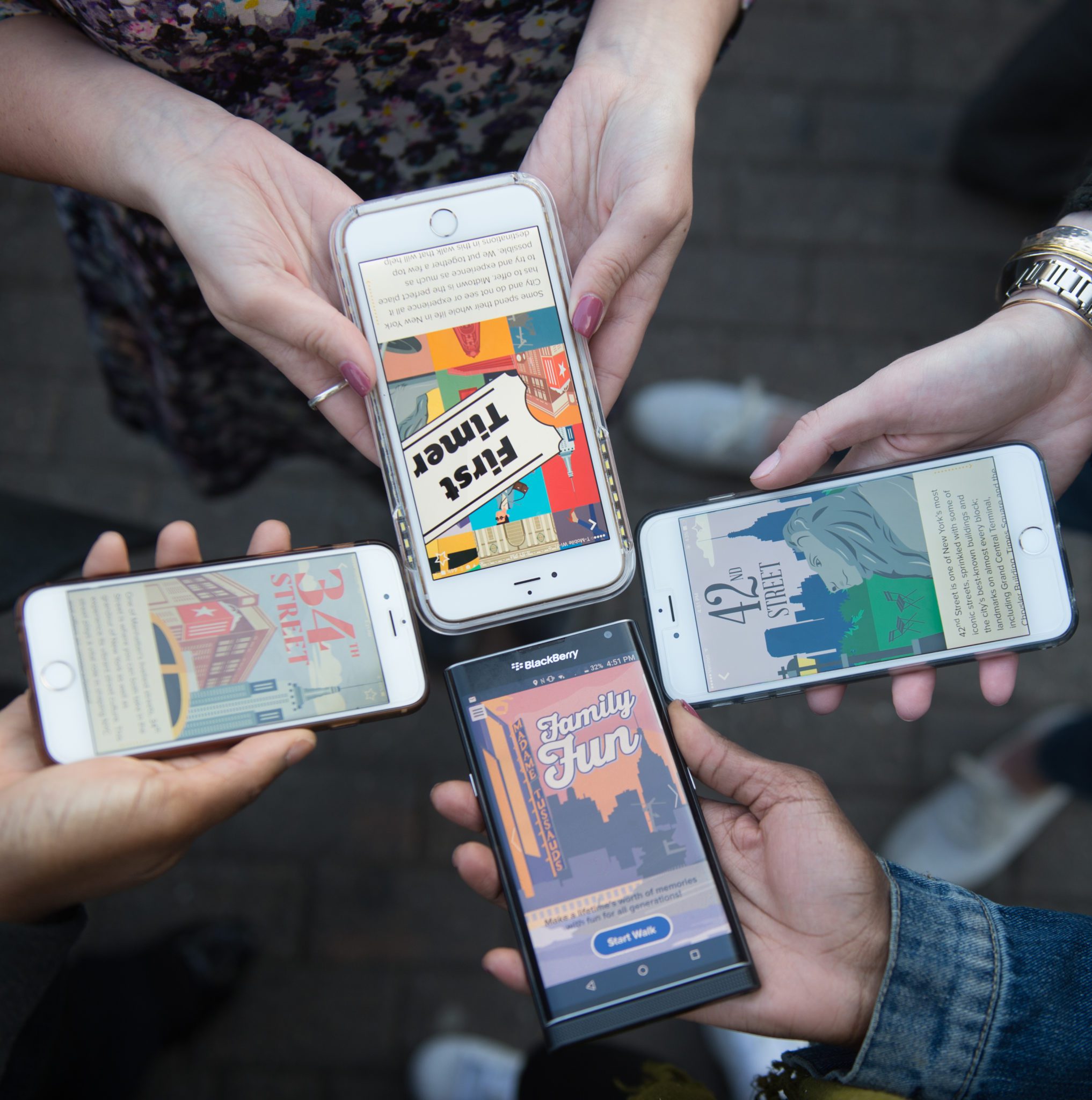 I think it's great that the Destination Midtown app enhances the visitor's experience by allowing users to take their own self-guided tours of the best that Midtown Manhattan has to offer. Plus it's FREE!
Now don't say I didn't tell you how to see the best of Midtown Manhattan! Head on over to the Destination Midtown website to learn more and watch a great video of the app in action. Then download the app for FREE on iTunes and Google Play today!

---
RELATED NYC CONTENT YOU MAY ENJOY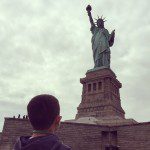 Five Tips for Visiting the Statue of Liberty and Ellis Island with Kids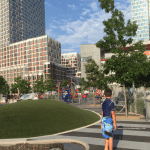 Visiting Long Island City – Gantry Plaza State Park & Hunters Point South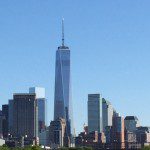 You May Also Like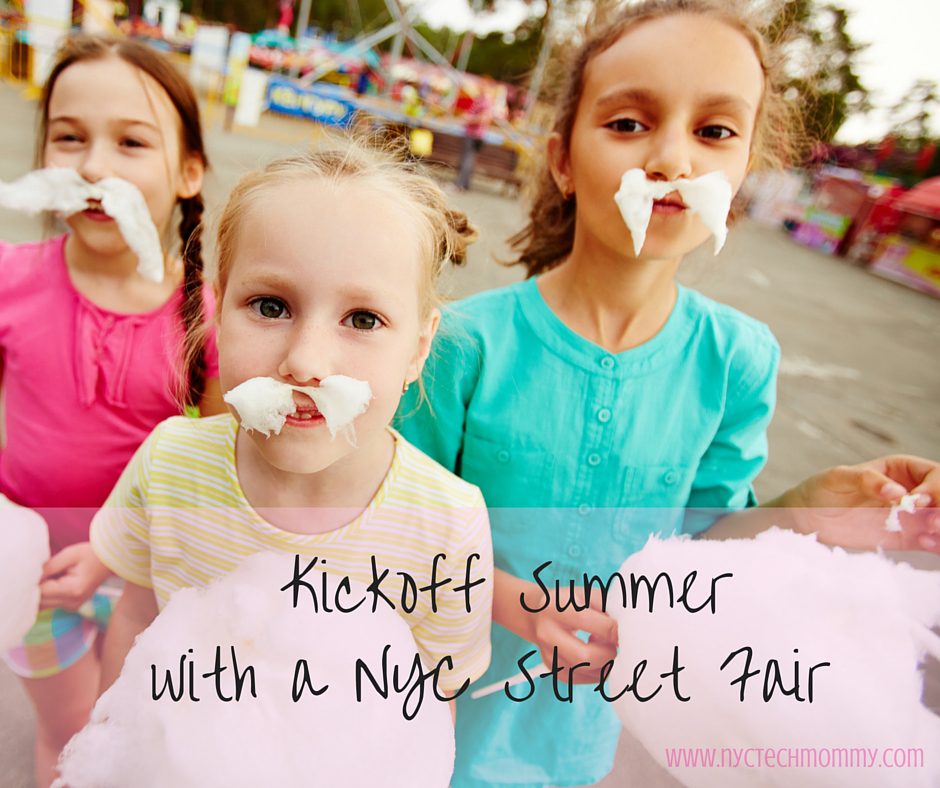 June 2, 2016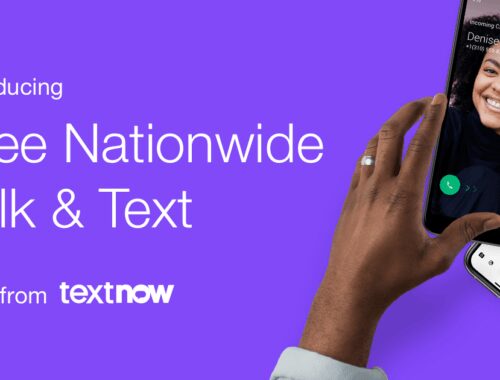 January 31, 2020