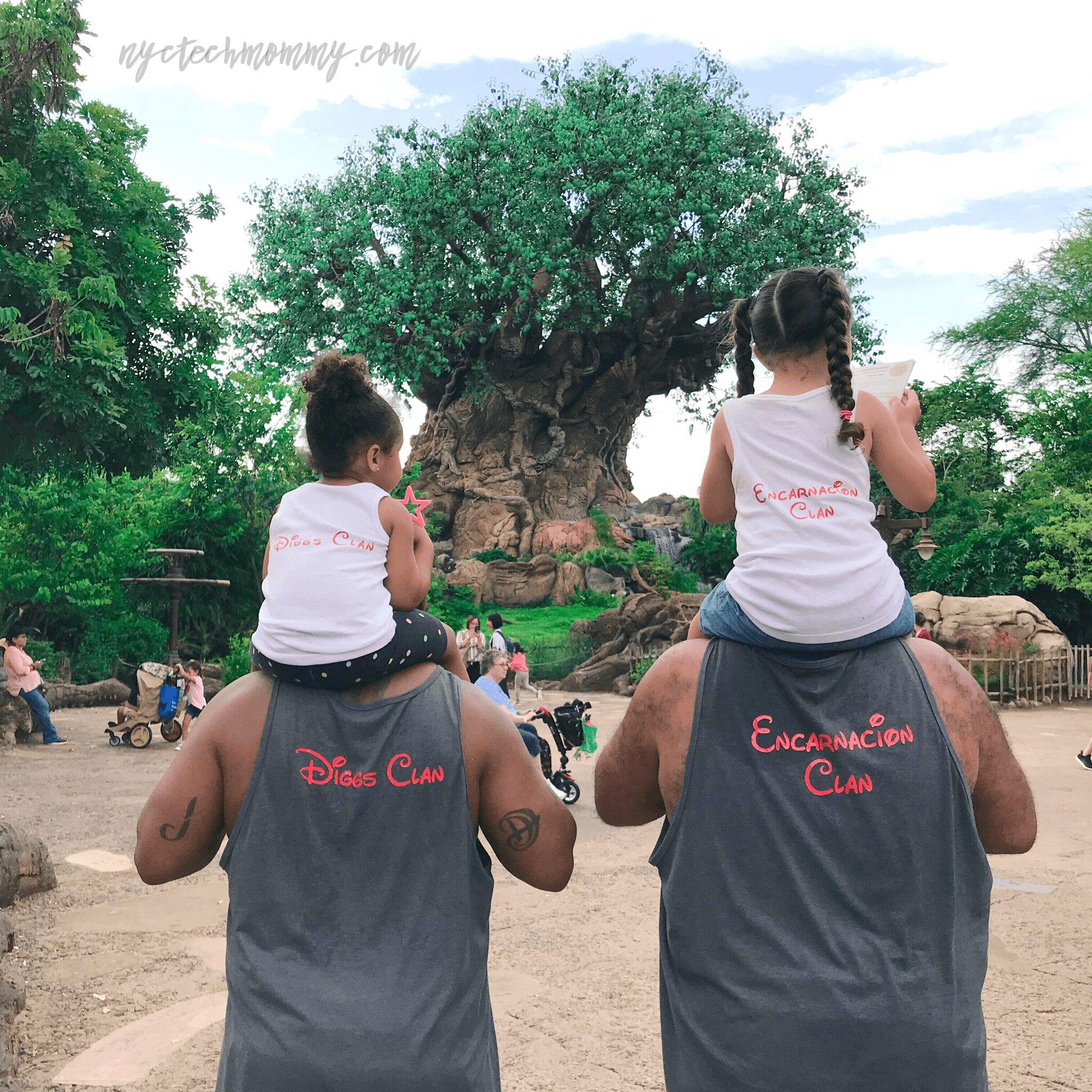 8 Tips for a Stress-Free Multi-Generational Trip to Disney World
A multi-generational trip to Disney World is usually a once-in-a-lifetime experience so you'll want to make it a really good one. My entire family took a vacation to Orlando and spent a couple of days exploring Walt Disney World before the pandemic. We had an extra fun time and experienced some really magical moments. However, there were a few things to consider and some specific things we did to do to make sure everyone enjoyed a stress-free multi-generational trip to Disney World. 
Disclosure: I received media passes that granted me complimentary admission to Walt Disney World Parks. As always, all thoughts and opinions are my own and I only share what I love and know you will too!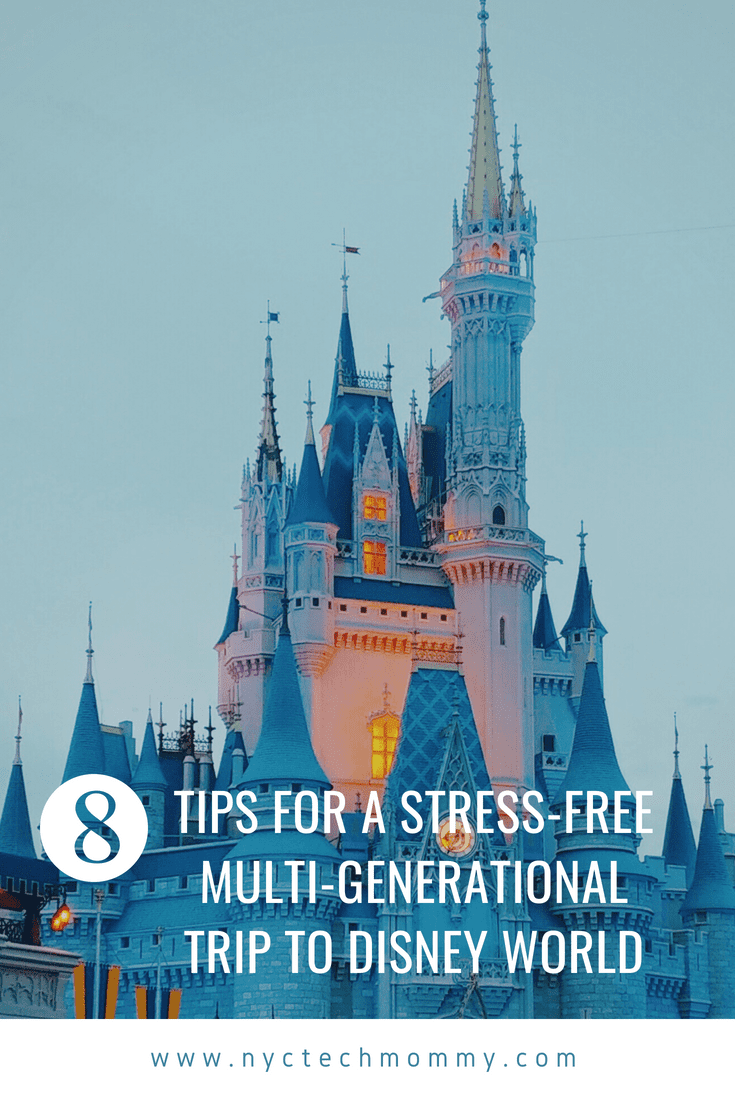 8 Tips for a Stress-Free Muli-Generational Trip to Disney World
I'll warn you, the post is long but totally worth the read. It includes everything you need to know and loads of tidbits about what my family did during our Walt Disney World family vacation, including new things we tried, and what I would do different next time. Not to mention some pretty fun family photos! Feel free to read, scroll, find the tips that best suit you. Go on and have a fun and stress-free time at Disney World!
If you are visiting Disney World in the near future, you might want to consider this complete guide to visiting Walt Disney World during the pandemic.
1. Download the My Disney Experience app
I suggest you go ahead and download this app the moment you start planning your trip — use it to purchase your theme park tickets, connect your magic bands, plan your days, browse attractions and identify character greeting spots you want to visit, secure and modify FastPass reservations for your group (you can plan 3 FastPass reservations in advance, per day, per park, then after you've used those you can plan one at a time while you're at the park), plan your dinning, add your family members, make reservations and plan your vacation together. Prepare for your trip and keep your reservations and activities organized in the My Plans part of the app. The My Disney Experience app makes it so easy to share your itinerary with others through Family & Friends and you can even manage your Disney reservations if you're staying on site at a Disney Resort.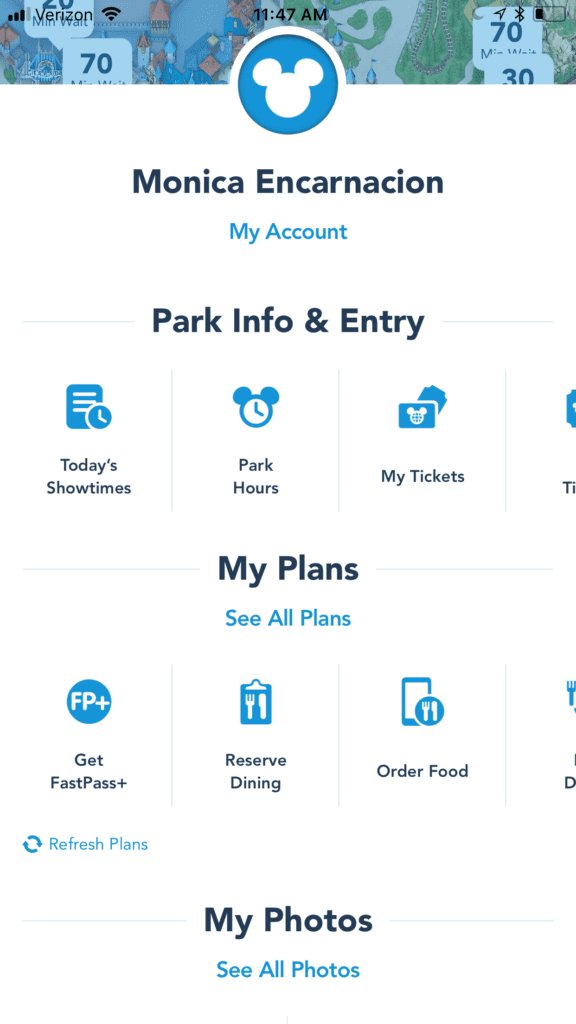 How Our Family Used It
This is by far one of the most practical tips! During our time at Walt Disney World Parks (we visited 3 out of the 4) we used the My Disney Experience app to check on wait times, find our way around the parks (it helped us navigate the park with turn-by-turn directions in the Get Directions part of the app), make FastPass selections, and even place food orders so we did't have to wait on long lines. #Winning
Order Your Food Right From the App
I had never used this particular app feature before but found it to be a life saver during our stress-free multi-generational trip to Disney World. To keep things simple and within our budget, we grabbed quick meals and snacks while exploring the Disney parks. I could not believe how easy it was to place food orders for everyone in our large group, make one easy payment, and pick up our food or snacks at the counter when ready. This kept us moving easily around the park, avoided kid (and adult) long line meltdowns and kept the entire family well fed and hydrated our entire trip.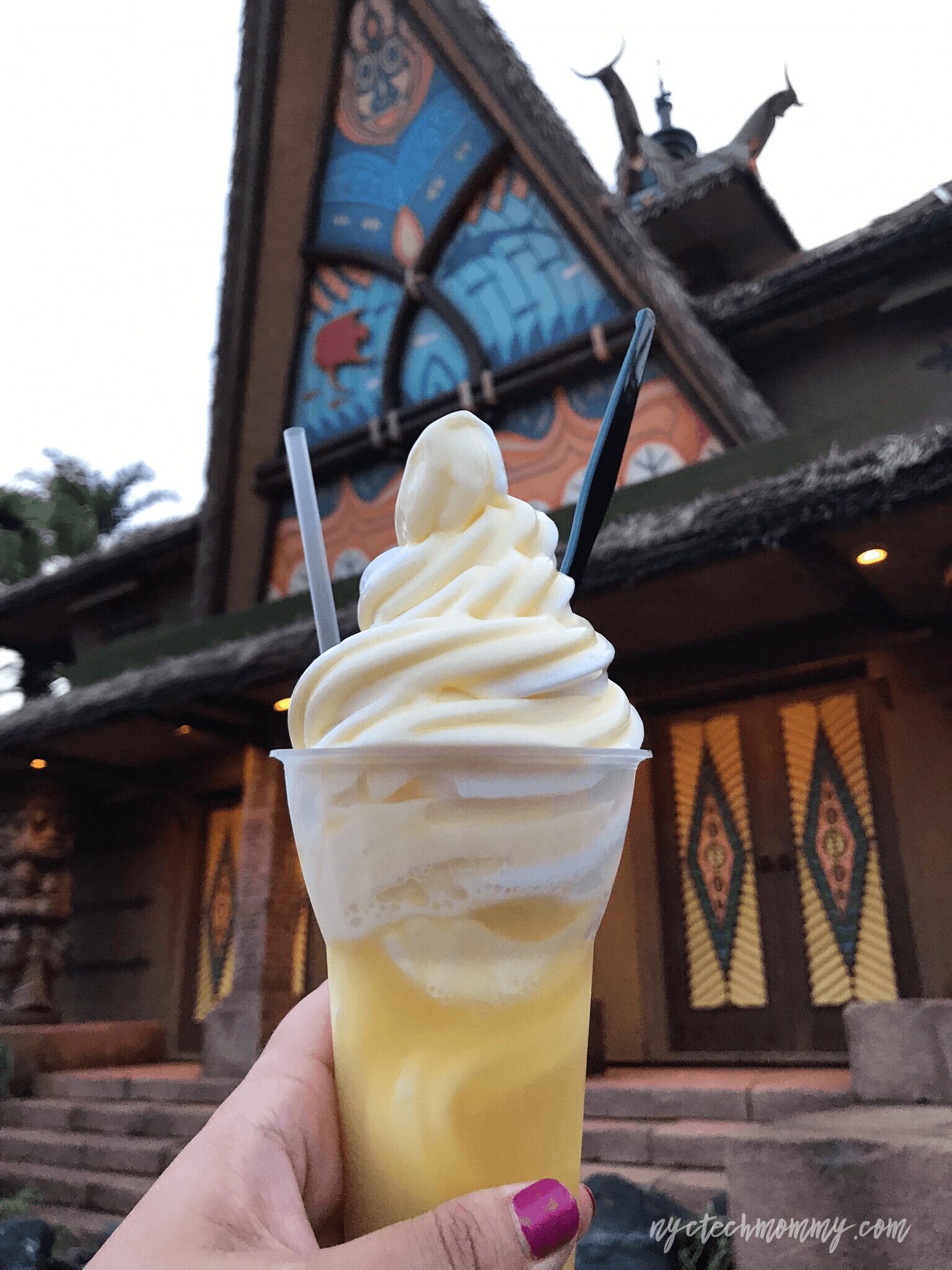 My winning strategy was ordering snacks while getting off a ride and then walking right over to pick them up at a nearby concession stand. For example, while checking out Walt Disney's Enchanted Tiki Room I ordered a DOLE WHIP for each family member and picked it up at nearby Aloha Isle as soon as the show was over. Refreshing and oh so easy!
2. Purchase Memory Maker – It's Totally Worth Every Cent!
Since we're talking about the My Experience Disney app, let's move right along to Memory Maker. You can make your Memory Maker purchase right on the My Disney Experience app and enjoy unlimited digital downloads of all you Disney PhotoPass photos and videos for one price.
Here's how it works — Disney PhotoPass Photographer's take your pic, scan your MagicBand or PhotoPass card and link all your photos to your Disney account. What's great is that when using the My Experience Disney app you can view your pictures almost instantly and download them onto your phone with ease.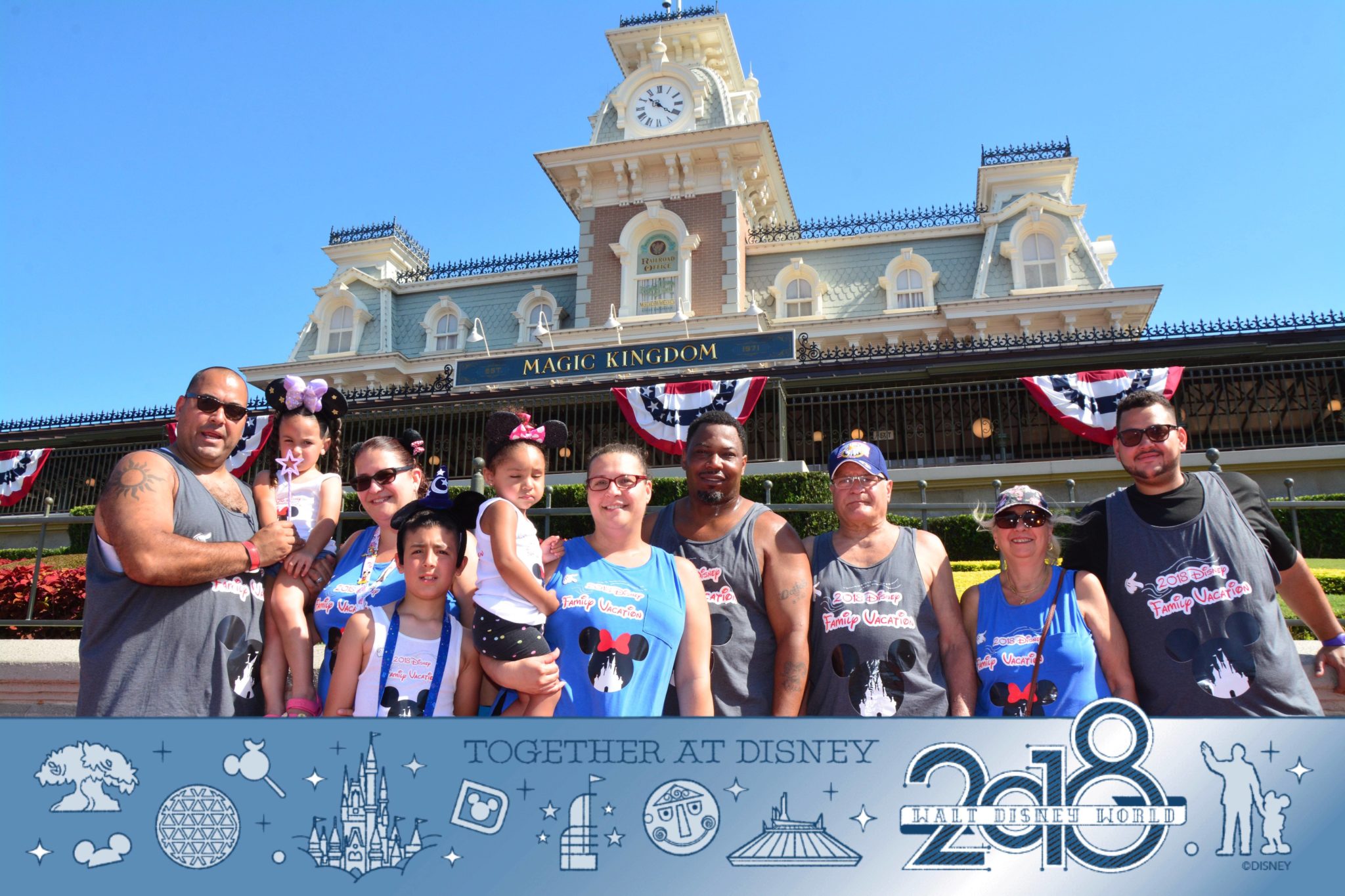 Memory Maker makes it so much easier and cheaper to keep all your Disney photos in one place and share them with the entire family. You can also download them online from the Disney website (if you prefer) when your return from your trip. You may be wondering if the hefty price tag is worth it. I'll tell you that it totally is! Here' why…
How Our Family Used it
We didn't stress so much about capturing family photos during our time at Disney because we knew we could walk up to any Disney PhotoPass Photographer and have them click away for us. Each time we saw a photographer nearby (without long lines) we jumped right in front of the camera, smiled for our family photo, and then just had them scan one of our MagicBands. Almost immediately all members of our family could check out their favorite pics right on the My Disney Experience app.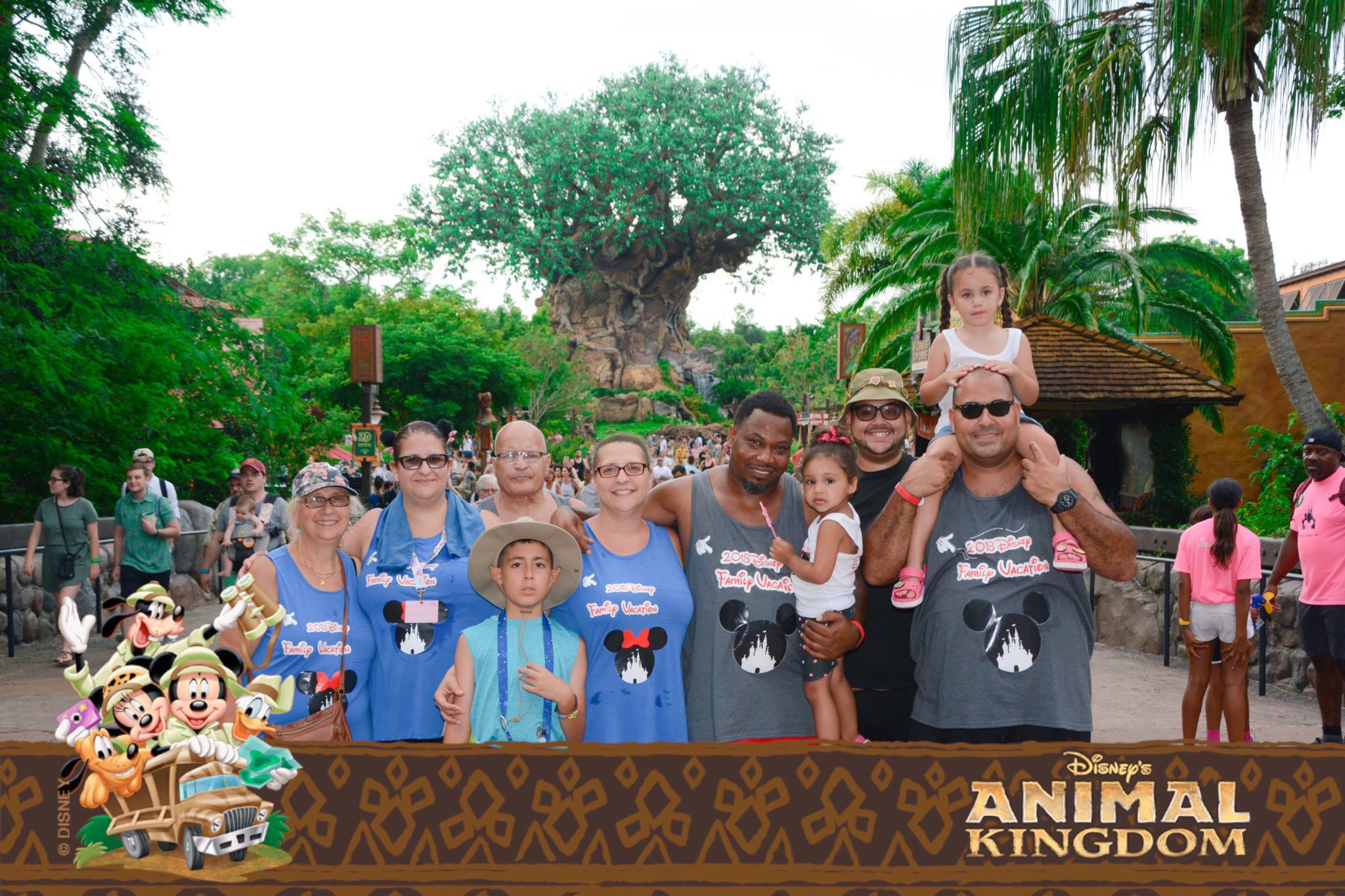 Special Features and Customizations
We didn't have any of our photos printed at the parks but if you decide to, Memory Maker will grant you discounts on prints. However, my favorite feature was being able to add digital borders and stickers to further customize our photos. I was able to do this right on the My Disney Experience app prior to downloading a chosen photo. I also did a few online when I returned home. This gave our family photos an extra touch of Disney magic and made our photos a bit more memorable.
3. Stop in at Guest Relations
Guest Relations provides a wealth of handy services that are designed to make your Disney vacation as stress-free as can be. Stop in to grab a Guide Map, available in 6 different languages: English, Spanish, French, Portuguese, German, and Japanese. Guest Services Cast Members can also help you book Disney dining, make FastPass selections, upgrade your existing tickets, and more. Also don't forget to ask for some of those fun Disney buttons!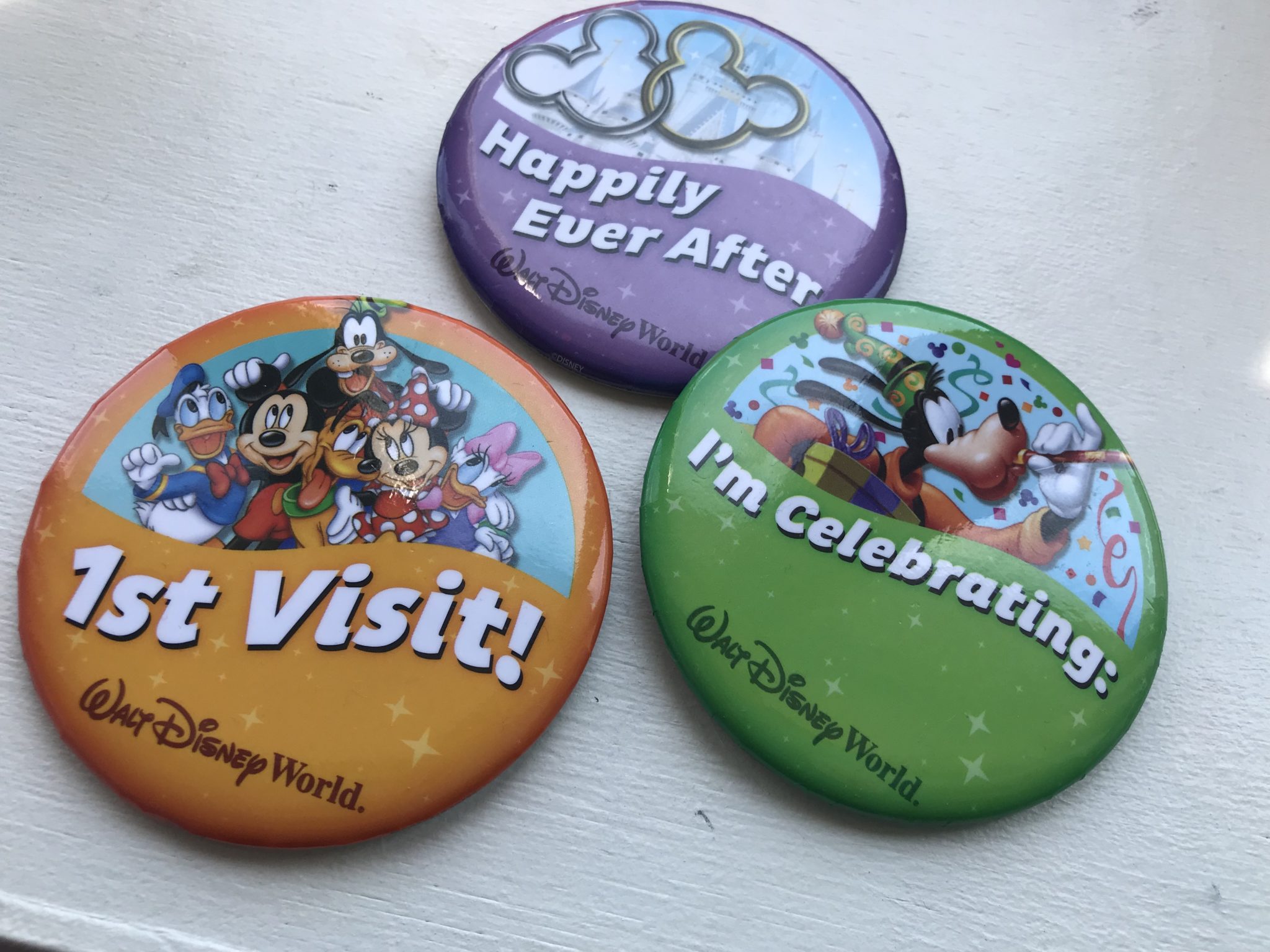 How Our Family Used it
We were a big group and because we didn't stay at a Disney Resort, we purchased our MagicBands at Disney's Pin Traders at Disney Springs prior to visiting the parks. This meant that we needed them linked to our purchased tickets. To keep it simple and stress-free I just walked up to Guest Relations with all our MagicBands on the first day of our visit to Disney's Magic Kingdom and had a very helpful Cast Member set them all up for me prior to entering the park.
Disability Access Service
While visiting Guest Relations we also requested Disability Access Service for my mom (aka Abuela). This is a super useful service when traveling with a disabled family member. This service is granted to guests who are not able to wait in a conventional line due to a disability. DAS is issued at Guest Relations main entrance locations. Disabled guests will participate in a registration process, which also includes having their photo taken. Make sure all family members are present because each of their MagicBands will need to be scanned so you can all ride as a group. I had no idea and ended up having to round up the group while poor grandma waited on line.
We also found that most of the rides we went on had alternate entrances for wheelchair or scooters. Make sure to pay attention to the Attraction Access Category for the rides you select when traveling with a family member with limited mobility. This makes it stress-free and easy for everyone to participate and enjoy a magical time without being limited by their disabilities.
Mommy Tip: If you're traveling with little kids but didn't bring a stroller, no worries! Just rent one while at the park. Single and double strollers can be rented near the main entrance to each Disney park (at the same location where you can rent a wheel chair or EVC). If you're visiting multiple days make sure to ask for the Multi-Day pricing so you can save a few bucks. Also, make sure to save your receipt if you're visiting more than one park on the same day as you'll be able to return a stroller at one park and then pick up another at the next park. Same applies if you're renting a wheel chair or ECV (Electronic Conveyance Vehicle) for a member of the family.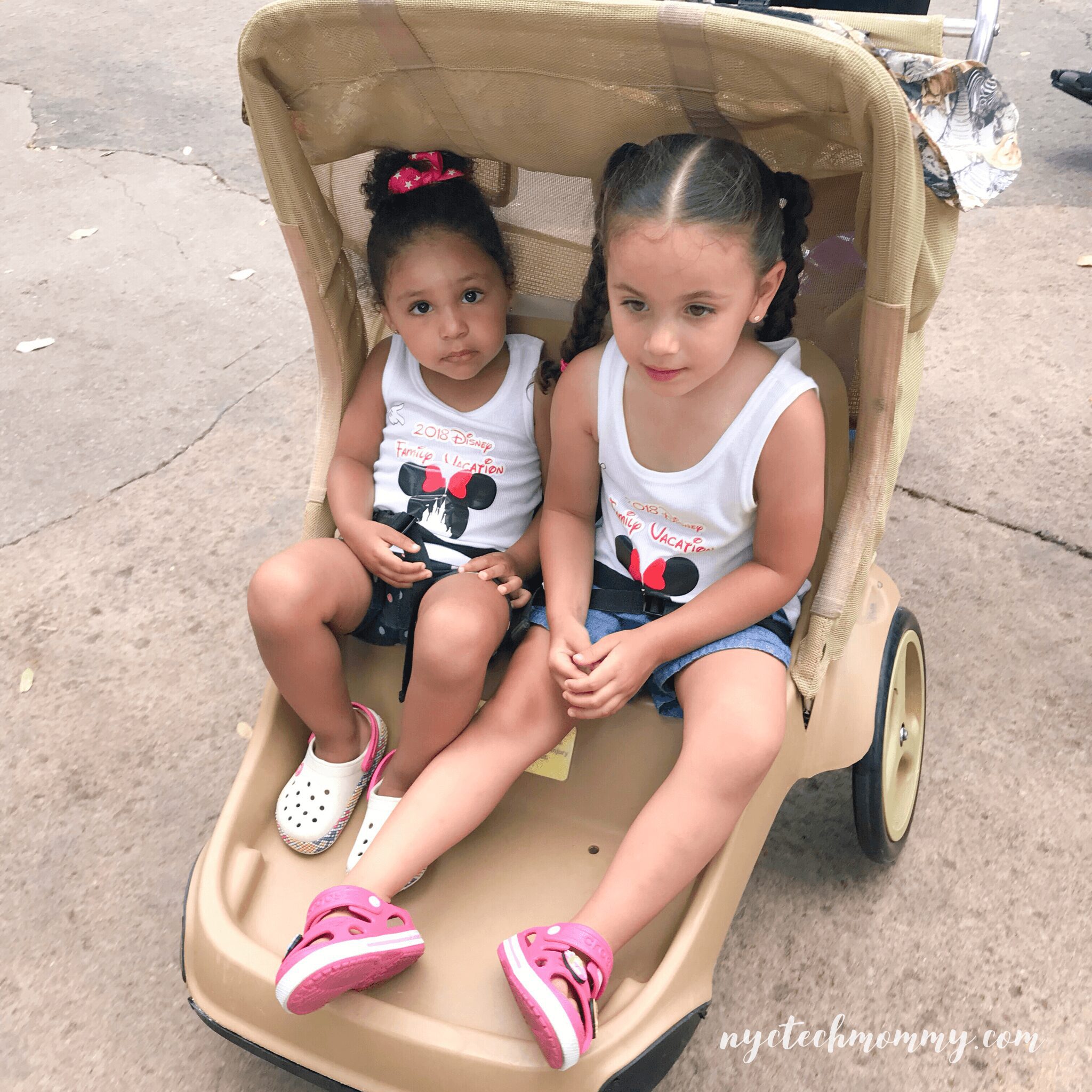 4. Pace Yourself
It makes no sense to run around and try to see it all in one day. The truth is that you won't get to ride every ride, meet every character or see every show. Especially, when you're wandering around the park with a large group like we did.
[Tweet "With family members of all ages, each person's needs may be different #DisneyTips via @nyctechmommy"]
Keep in mind that even a simple bathroom break for a large group can take as long as 30 minutes when you consider lines and time spent replenishing water bottles at nearby water fountains. With a large group it's also important to be aware of each family members needs. With family members of all different ages, each person's needs may be different. Make sure to slow down and allow time for those who may need it. Don't rush, take breaks, and take some deep breaths (traveling with a large group can get a little chaotic). And most importantly enjoy your time together!
What Our Family Did
We didn't stress about doing and seeing everything. We took breaks when we needed them — including a couple of ice-cream breaks a day!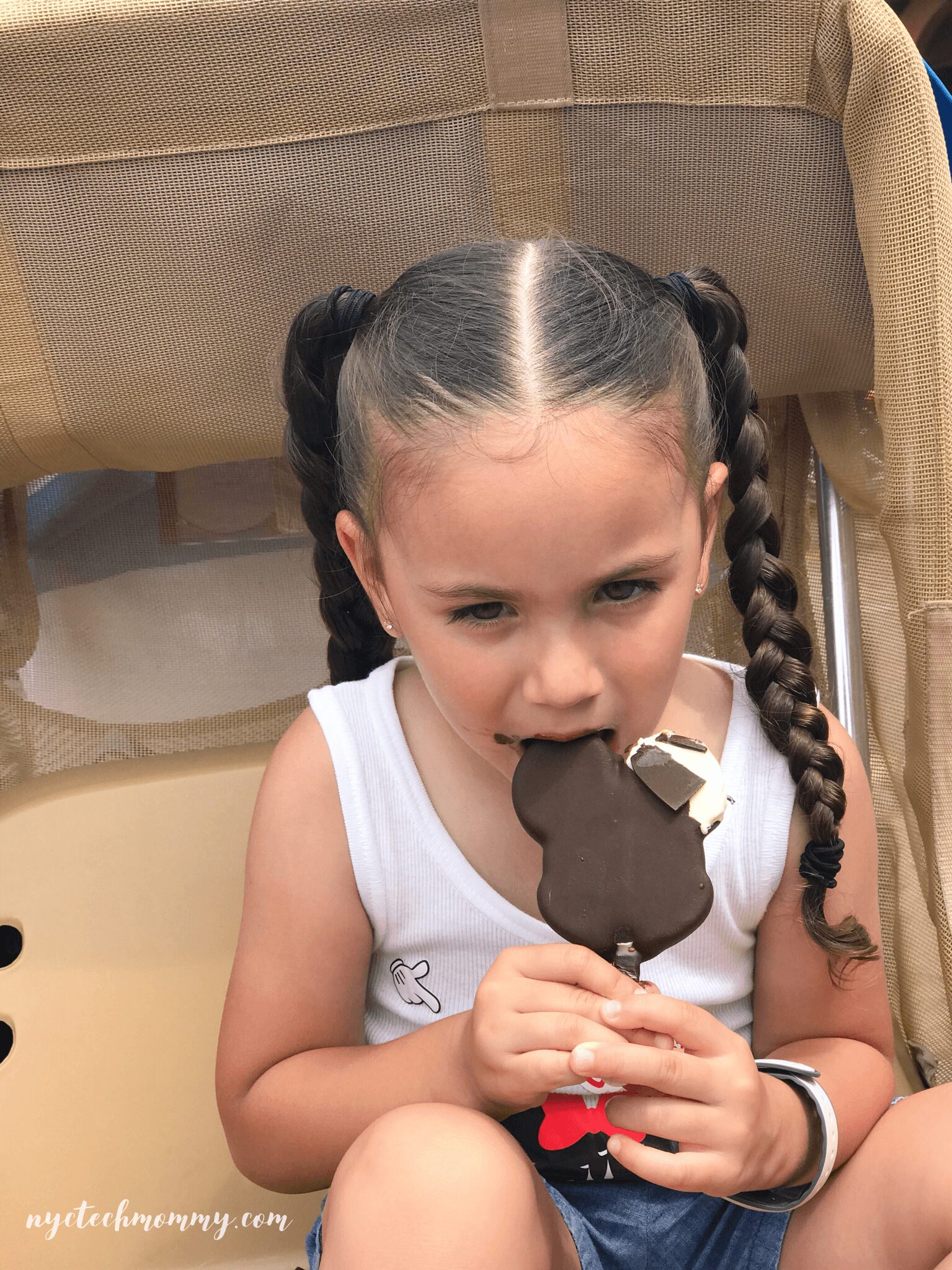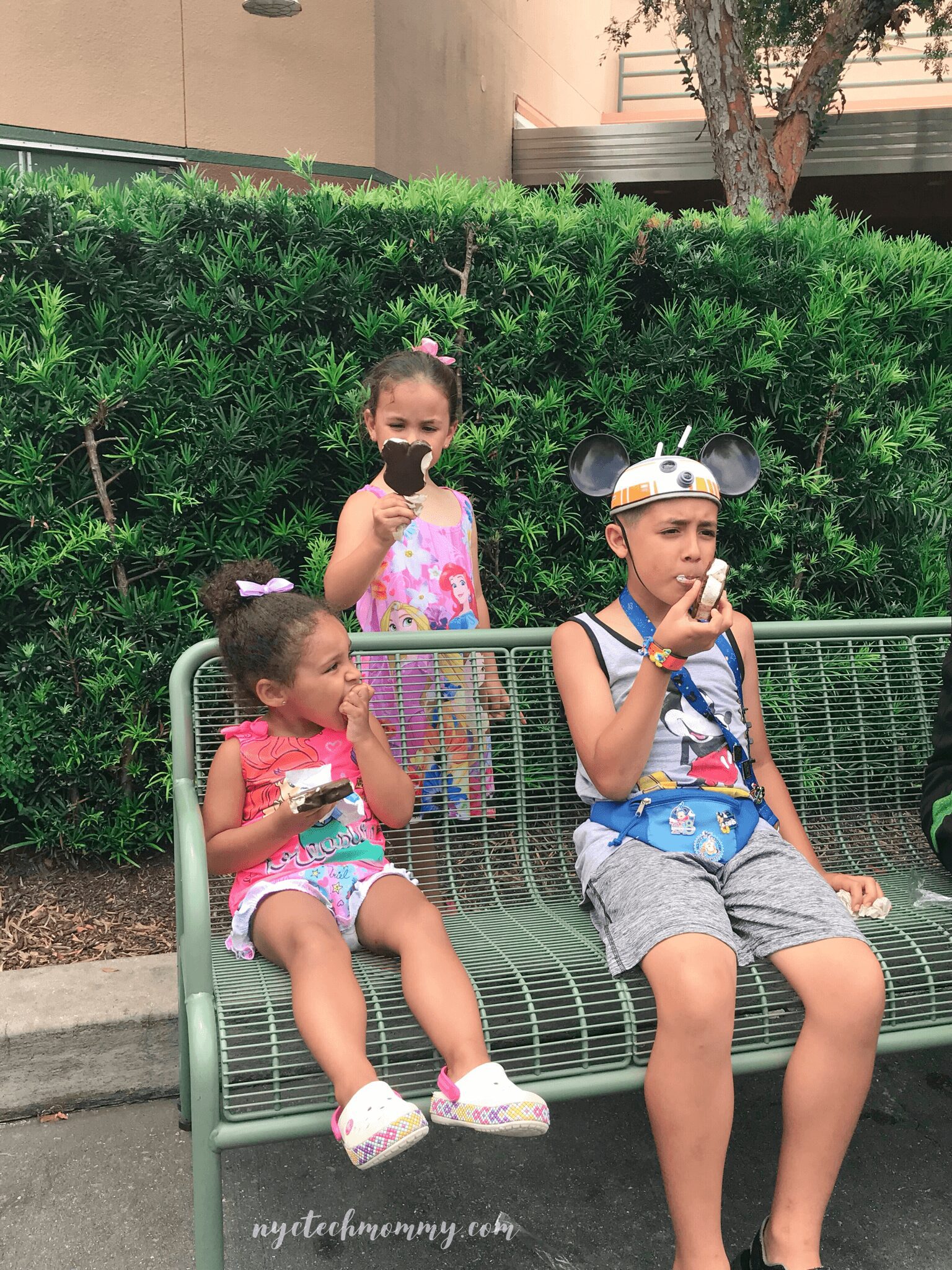 We also found fun places to take a break and cool off! For example, between Dumbo the Flying Elephant rides and meeting Daring Disney Pals as Circus Stars at Pete's Silly Sideshow, we spend time enjoying the whimsical circus train-themed water play area located right in the center of Storybook Circus in Fantasyland. Casey Jr. Splash 'N' Soak Station is a magical place for kids to play and cool off — and a special spot for the adult family members to relax and enjoy a cool break from all the Disney excitement.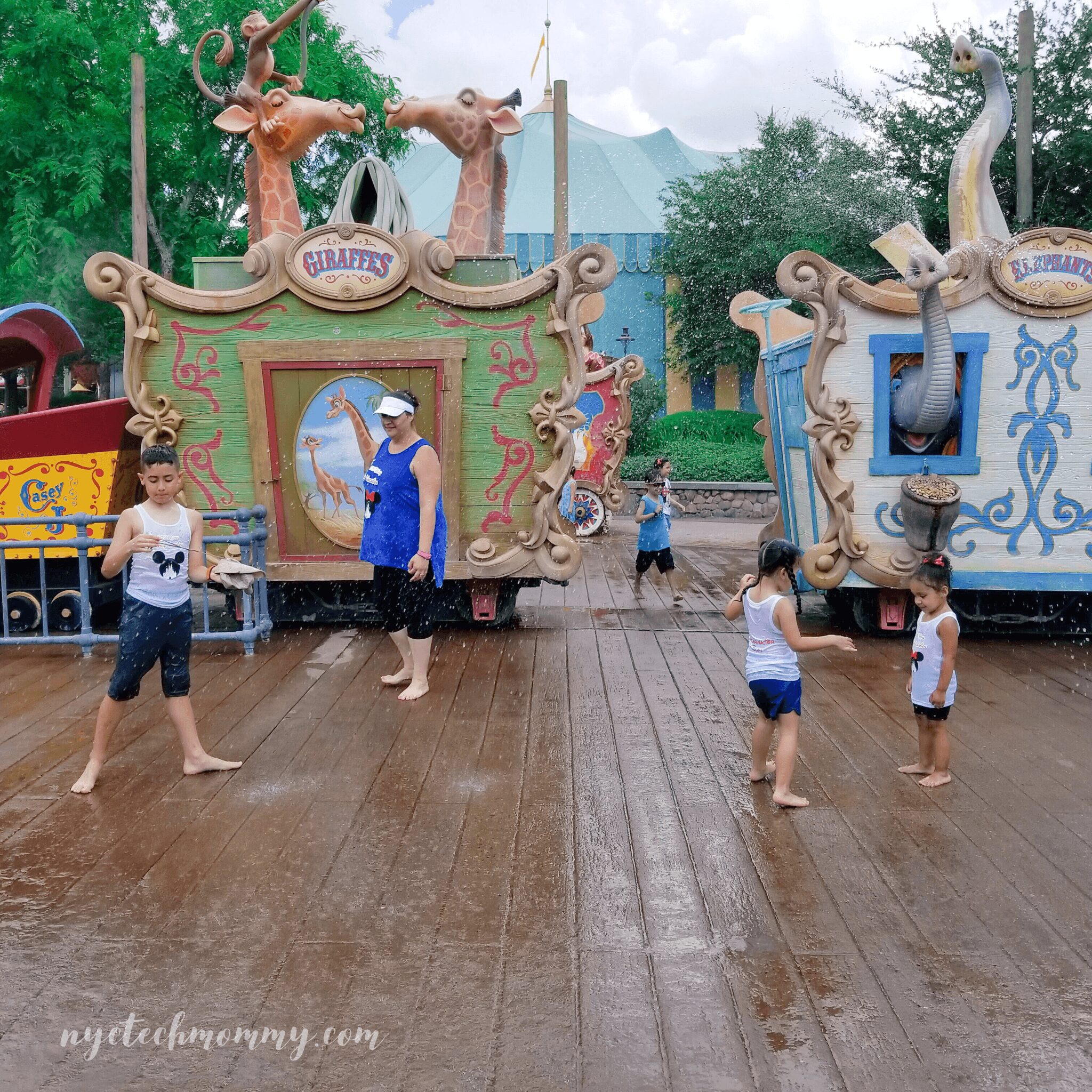 [Tweet " Casey Jr. Splash 'N' Soak Station is a magical place for kids to play and cool off! Learn more tips for staying cool on your #DisneyVacation via @nyctechmommy "]
Another great break spot can be found nearby, within the Dumbo the Flying Elephant queue. While waiting on line to ride Dumbo you'll come upon a fabulous indoor play area. I highly suggest you make a pit stop at this fun circus-themed play area because the kids will love it, especially when there are long waits. Theres's a designated play area for toddlers as well as one of those large indoor climbing playgrounds for the older kids.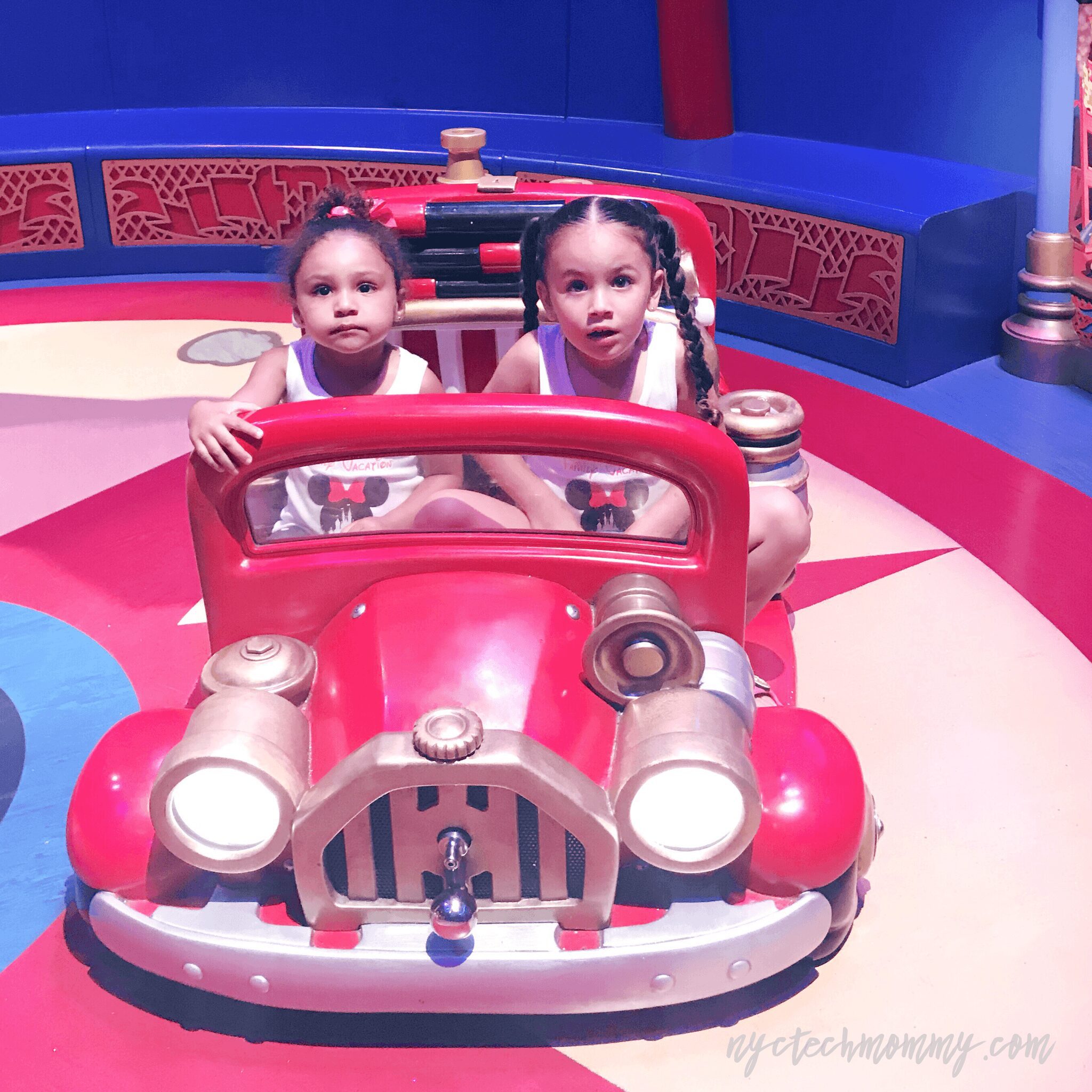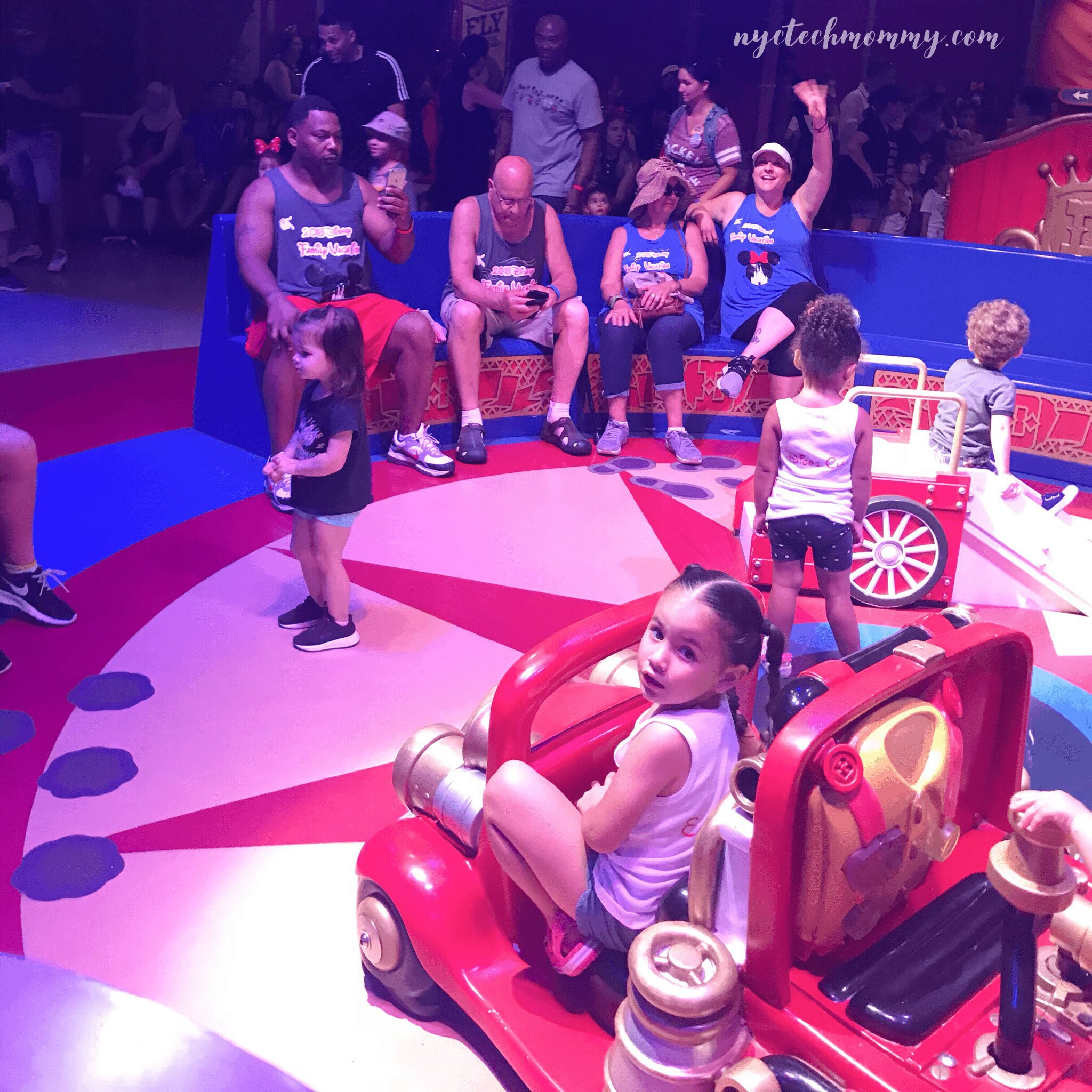 Here's how it works — upon arrival you'll receive a pager that will "virtually" hold your place in line while you step inside the big-top tent and enjoy the air-conditioned playground. There's ample seating so grown ups can rest up and enjoy a break from the heat too! The pager will ring when it's your group's turn to ride and you'll return to your spot on the line. It's easy and so convenient so make sure to take advantage of this little gem of a break spot!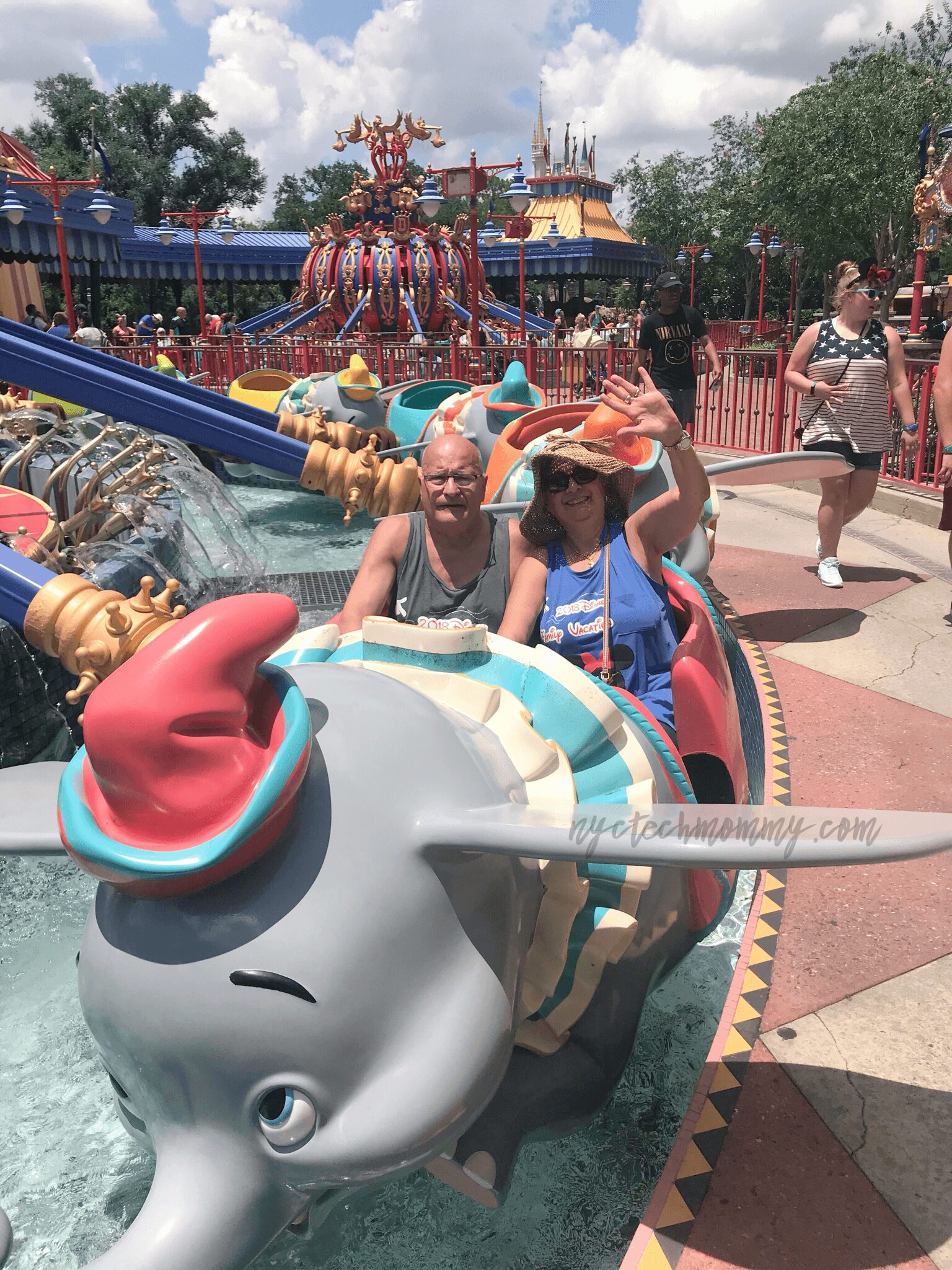 5. Take a Mid-Day Break
A mid-day break is necessary! I can't stress this enough. Especially when visiting Disney World in mid-summer like we did. An afternoon break will make your time together less stressful and help you dodge the hottest and most crowded time of day at the parks. It will allow you to rest, cool off, and fuel up before returning to the parks for a magical evening. Trust me when I say that it will make the second half of your Disney days so much more enjoyable. A mid-day break may also give you a much needed break from each other! Because let's face it, you'll probably be craving a quiet moment to yourself after spending day in and day out on vacation with your large family. #justsaying
What Our Family Did
Previously, each time we've visited Disney we've always made sure to take a mid-day break — return to our hotel for a nap, or at least a refreshing dip in the pool. However, this time around we decided to skip nap time at the hotel. In retrospect, this probably wasn't the smartest choice and to be completely honest if I had to do this multi-generational trip all over again, I'd insist that we take a mid-day nap break. Not a choice, but a necessity! Especially once you add grandparents and other extended family members into the mix.
A mid-day break guarantees a stress-free multi-generational trip to Disney World. The little kids will need the rest for sure, and the older family members will appreciate it. Also, I found that without nap time our day turned out to be really long (and uncomfortable due to the heat). By the evening time the kids were exhausted and the adults were ready to call it quits before the fireworks even went off. I'm pretty sure this wouldn't have happened if we had taken a nap!
Switch it Up
Although we didnt' take a mid-day nap break, we did make sure to take an off-site mid-day lunch break each day. And since we had Park Hopper tickets (that allowed us to visit more than one Disney park per day) we used lunch as our exit strategy and an opportunity to switch it up. Before visiting we had already decided to visit two Disney parks each day. We enjoyed our morning at one park, then left that park mid-day to go to another park. In between we took the opportunity to enjoy a mid-day lunch break before returning to a different park for the afternoon/evening. A change of scenery is always a good way to keep everyone engaged!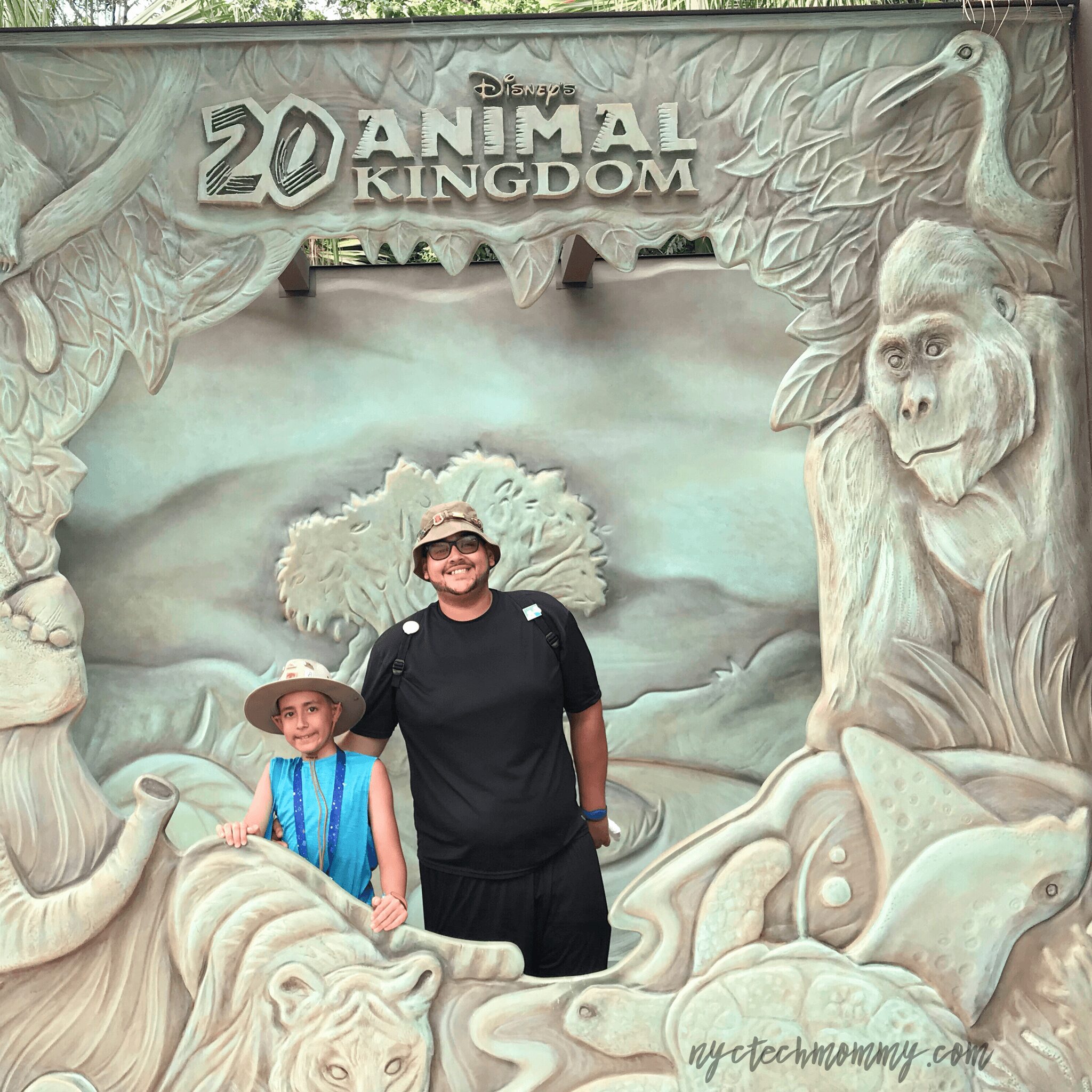 6. Choose Disney Family-Friendly Fun for All
There's no doubt that everyone will have different preferences but you'll want to stick with family-friendly attractions that cater to all ages. Choose rides and experiences that the entire family will enjoy. Also find attractions and experiences that have short lines or indoor queues (under air-conditioner) to keep everyone happy. We also found that sometimes just meeting characters and stopping in for a show was fun enough as long as we were all together!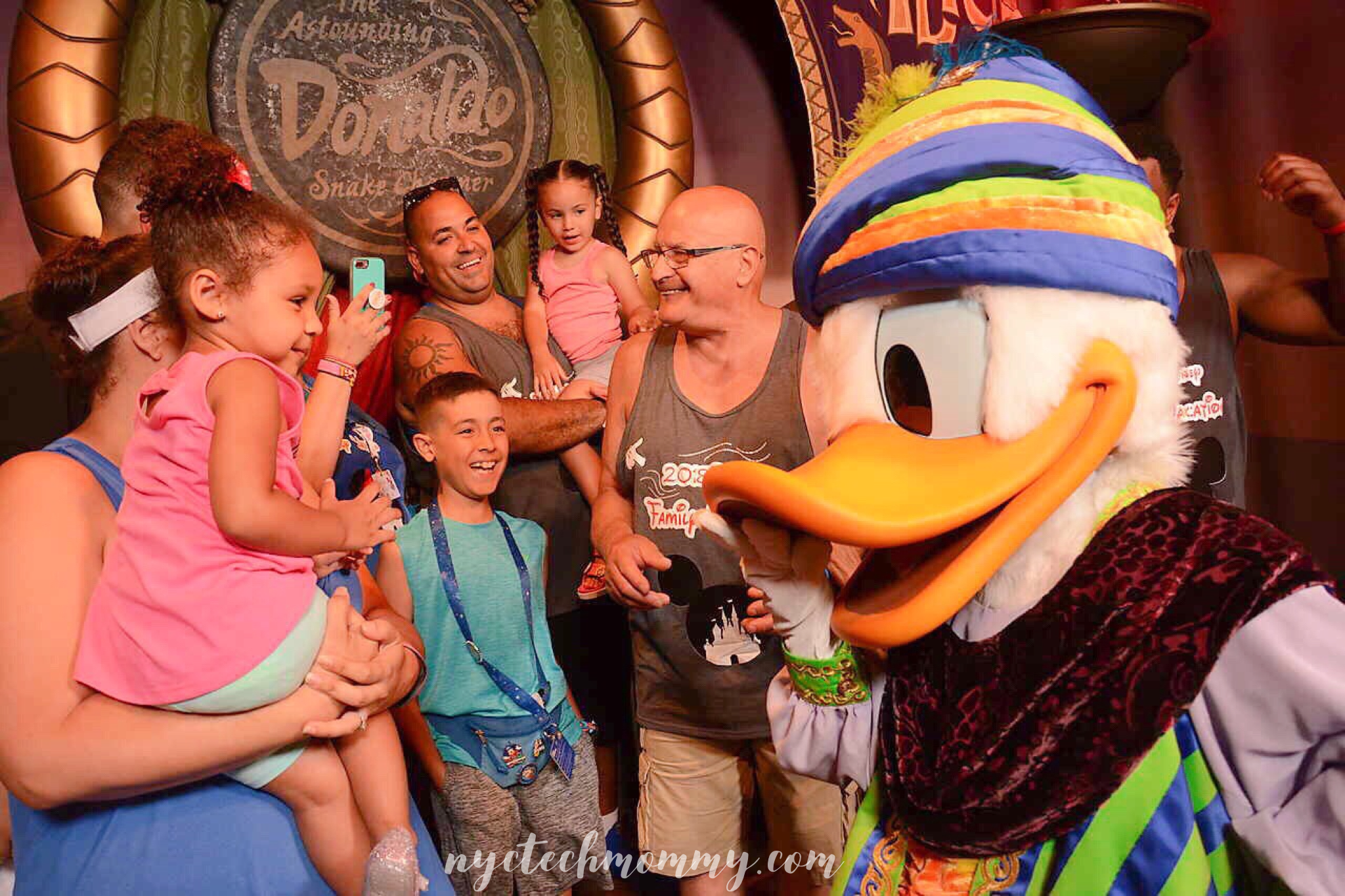 What Our Family Did
I wanted to make sure that everyone in our family enjoyed some of their Disney favorites while choosing experiences we could all enjoy together. Here's a little break down of our choices by Walt Disney World Park. We visited three out of the four Disney Parks at Walt Disney World. We skipped Epot because although my son really wanted to go, we knew that the two toddler girls in our family would enjoy the other parks much more. Not to say Epcot isn't great, because it totally is! We've visited Epcot before and this was just our family's personal choice this time around since our time at the parks was limited.
Disney's Magic Kingdom
At Magic Kingdom we found that the following attractions allowed our multi-generational family to satisfy their need for adventure while still enjoying Disney magic no matter the age — and while staying cool too!
 "it's a small world"
Dumbo the Flying Elephant
Under the Sea – Journey of the Little Mermaid
Jungle Cruise
Walt Disney's Enchanted Tiki Room
Pirates of the Caribbean
Tomorrowland Transit Authority PeopleMover
Buzz Lightyear's Space Ranger Spin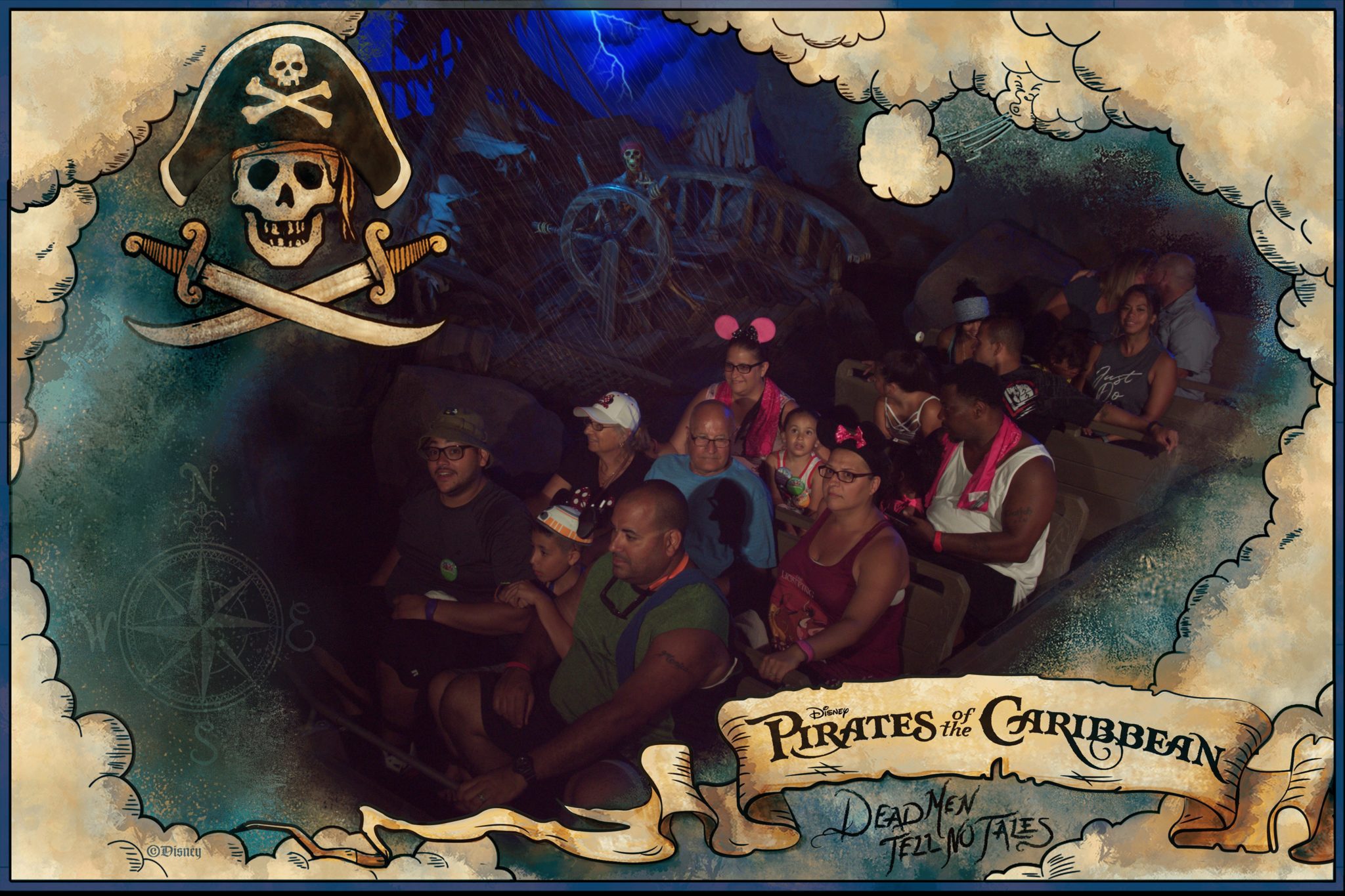 Disney's Hollywood Studios
At Hollywood Studios we did something a bit different. We split up — a bit more about that later. Still we did enjoy a few fun experiences together.
Beauty and the Beast-Live on Stage
Toy Story Land – Thanks to a passing thunderstorm we only got to ride Toy Story Mania! The entire family loved it (and the grandparents claimed it to be their favorite). However I'm sure that the Slinky Dog Dash and Alien Swirling Saucers are also a perfect choice for the entire family!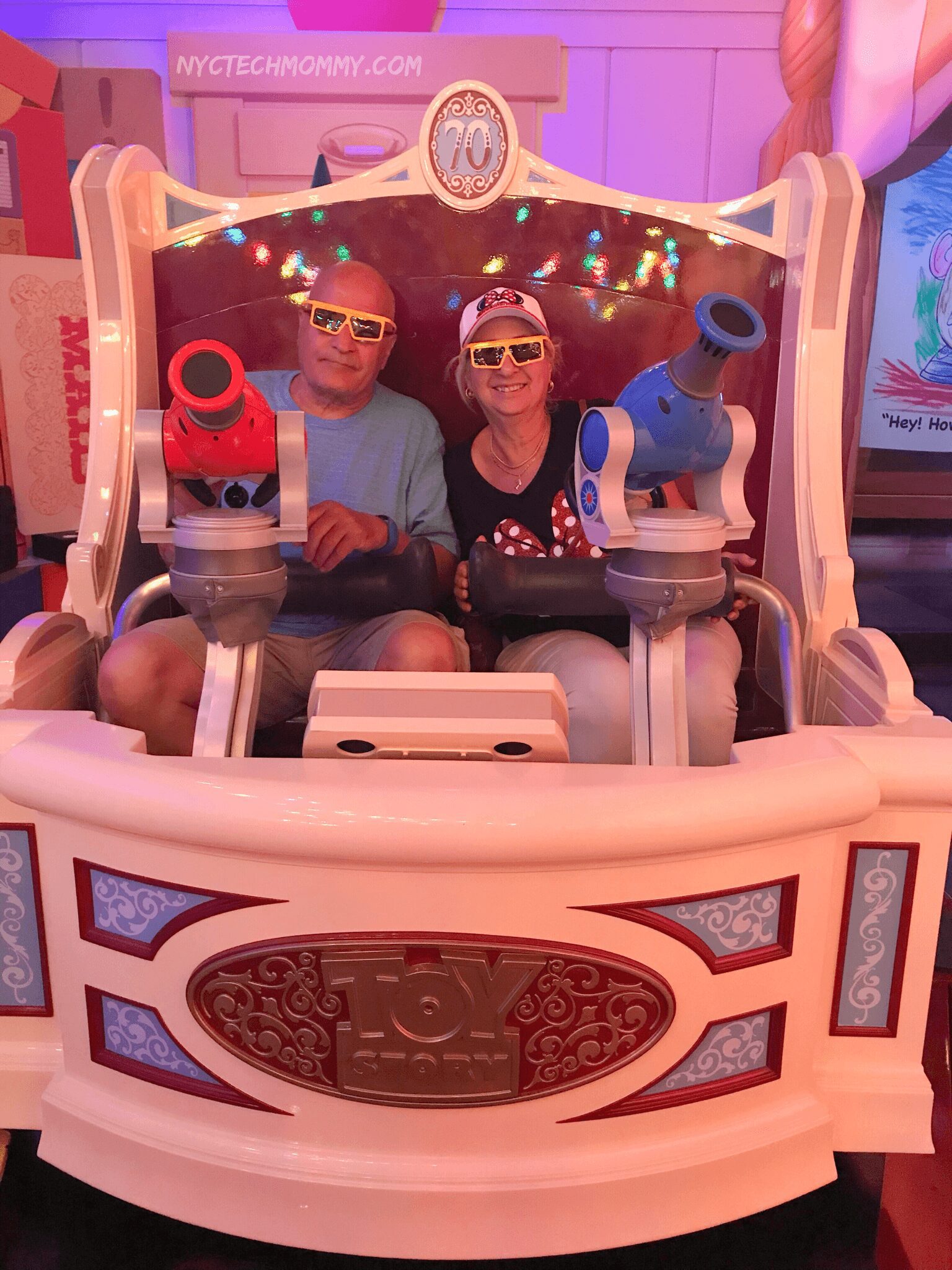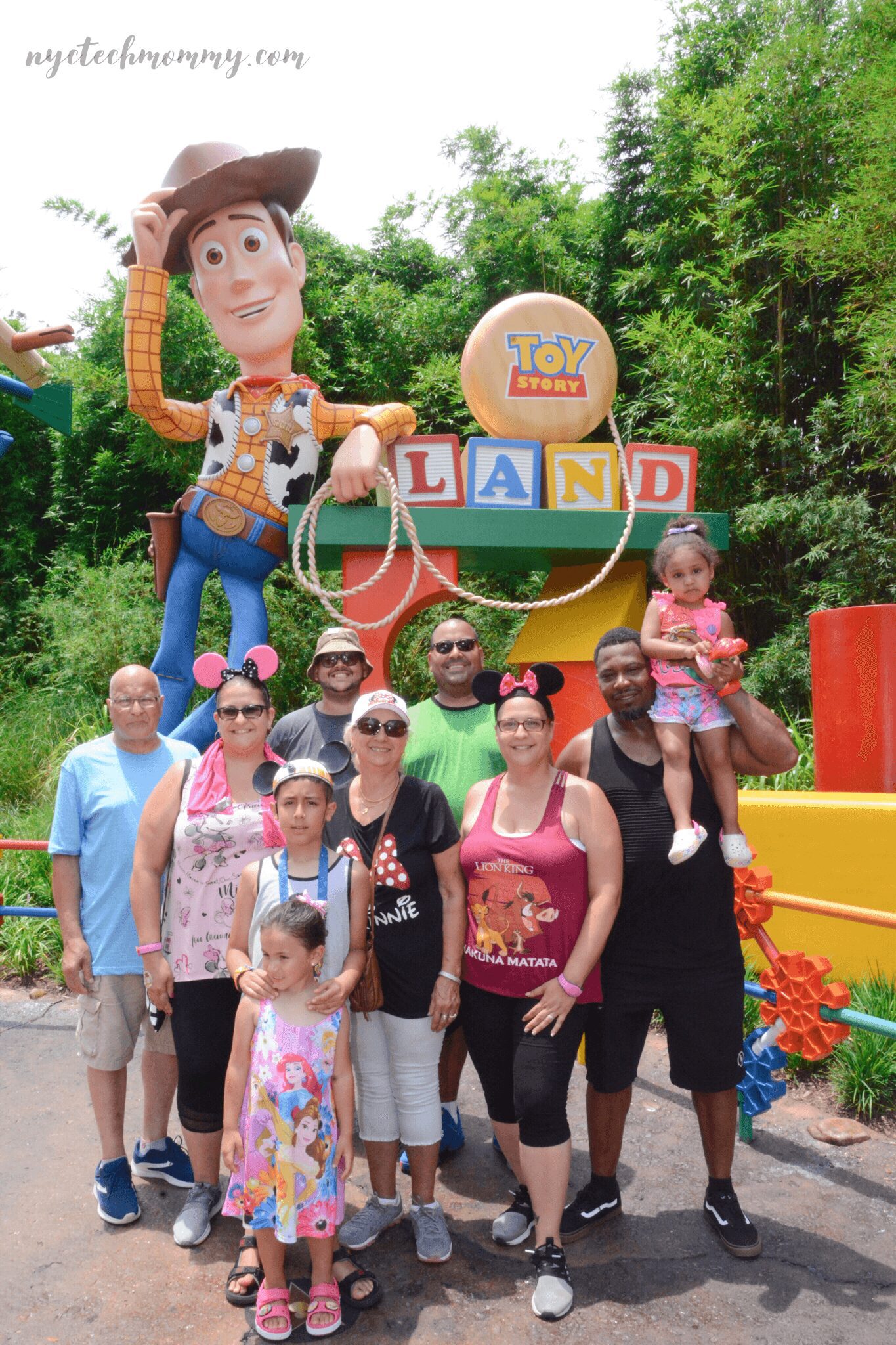 Disney's Animal Kingdom
We knew we had to spend some time at Animal Kingdom because our family is full of animal lovers and self-proclaimed explorers. We had so much exploring the wilderness together by becoming Wilderness Explorers!
Did you know that Animal Kingdom offers a fun family-friendly program where kids complete challenges and earn badges as they work their way around the park? The program is called Wilderness Explorers and following it allowed us to roam freely around the park, learn interesting animal facts, and have loads of family fun together.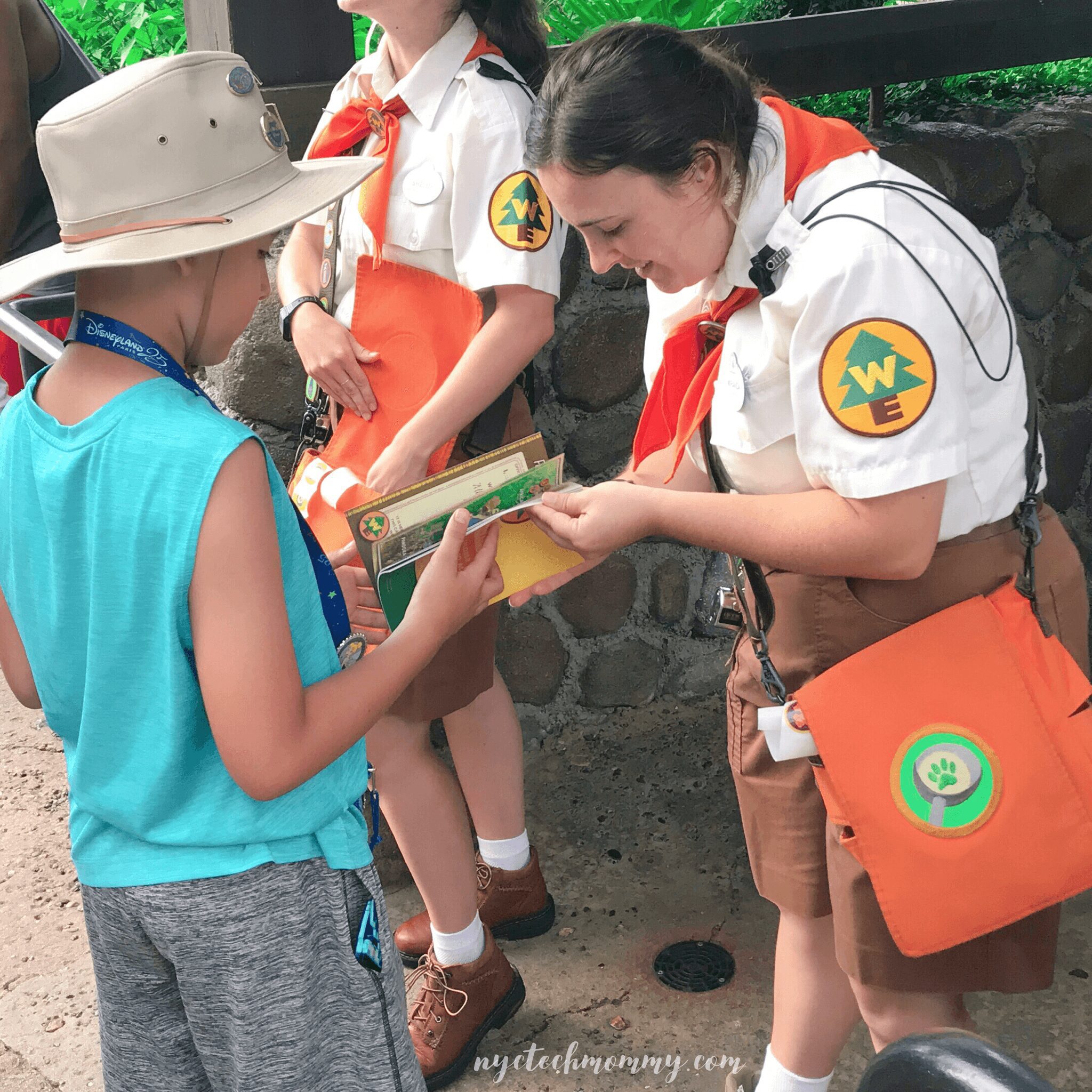 Make sure to pick up an official Wilderness Explorers Field Guide to begin your quest across Animal Kingdom and collect over 30 badges. There's even a Wilderness Explorer chant! Plus the Wilderness Explorers Field Guide makes a great keepsake from your stress-free multi-generational trip to Disney World.
We also truly enjoyed the following family-friendly attractions and entertainment at Animal Kingdom.
Kilimanjaro Safaris
Tree of Life Awakenings
Rivers of Light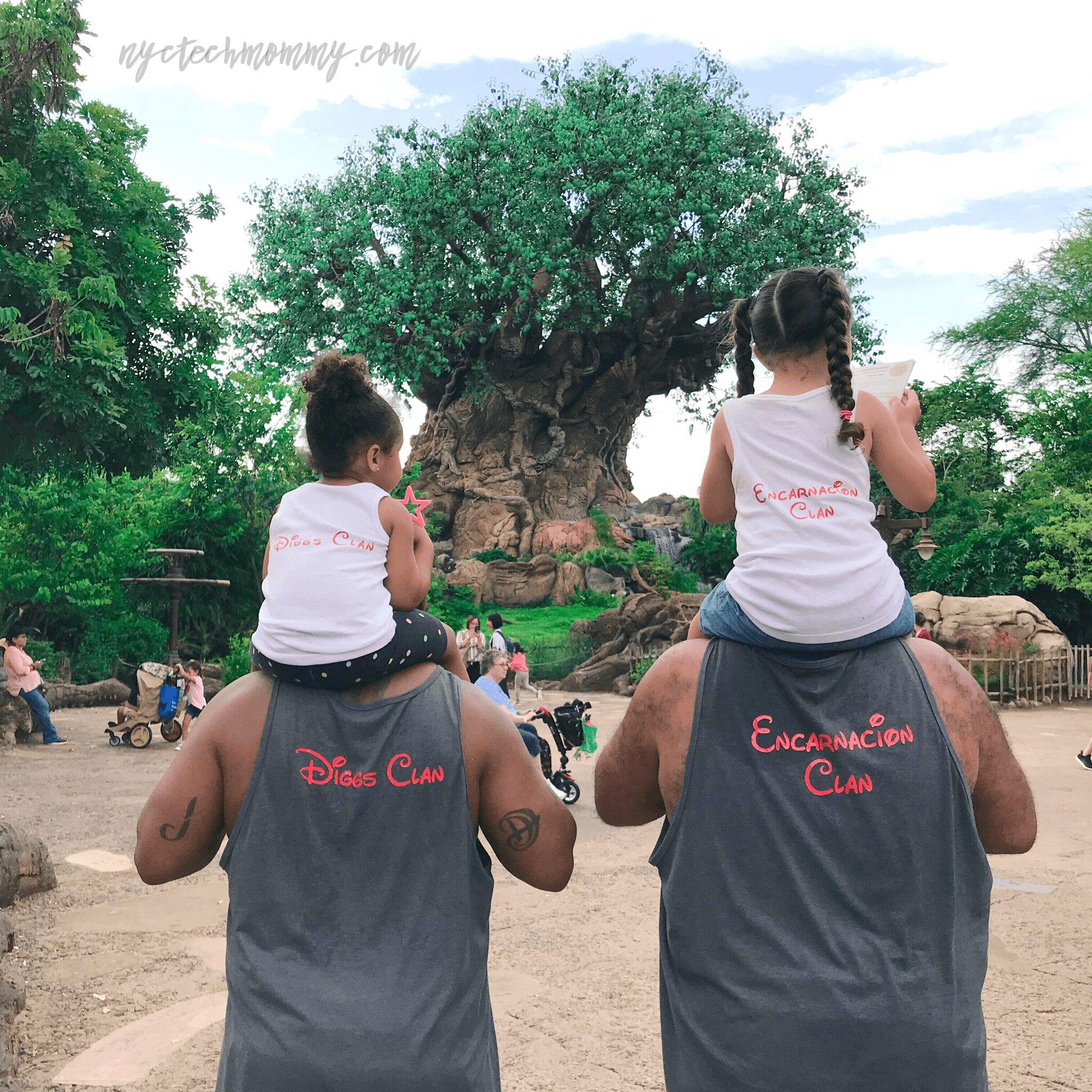 7. It's Okay to Split Up
I know it's a family vacation… but it's OK to go in different directions while on a stress-free multi-generational trip to Disney World! The truth is that you'll probably want to allow some time to let different members of the group do their own thing while visiting the parks. It's a great way to accomplish must-do's on everyone's list. Otherwise there's no way you'll be able to squeeze it all in and keep everyone happy.
What Our Family Did
By the time we arrived at Disney's Hollywood Studios we had already decided that we would split up. For this day I made sure to customize our FastPass reservations and made sure the different groups got to do what they really wanted to do at the park. The guys decided to check out Star Wars Launch Bay and the Indiana Jones Epic Stunt Spectacular. While the girls went off to check out Disney Junior Live On Stage and Voyage of the Little Mermaid.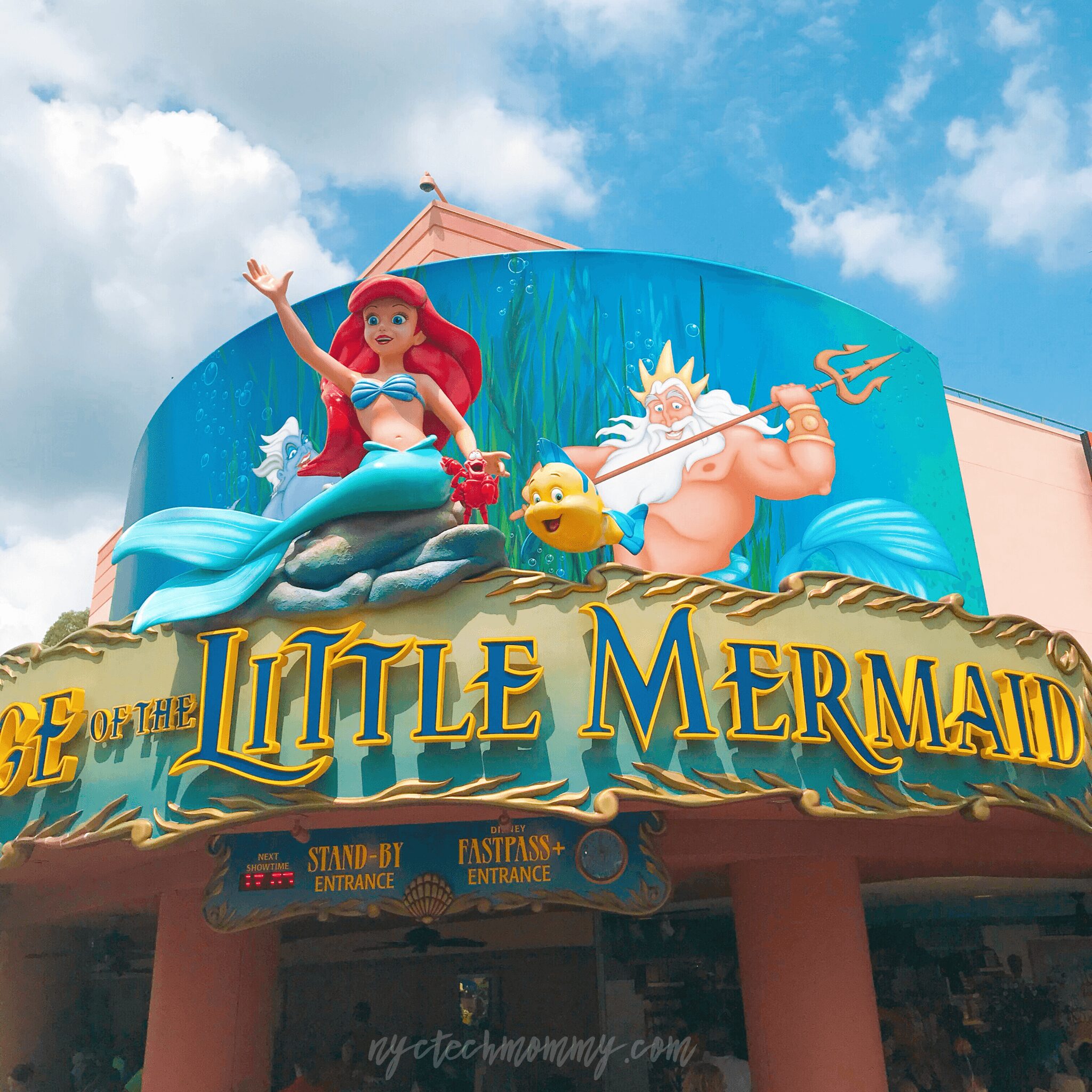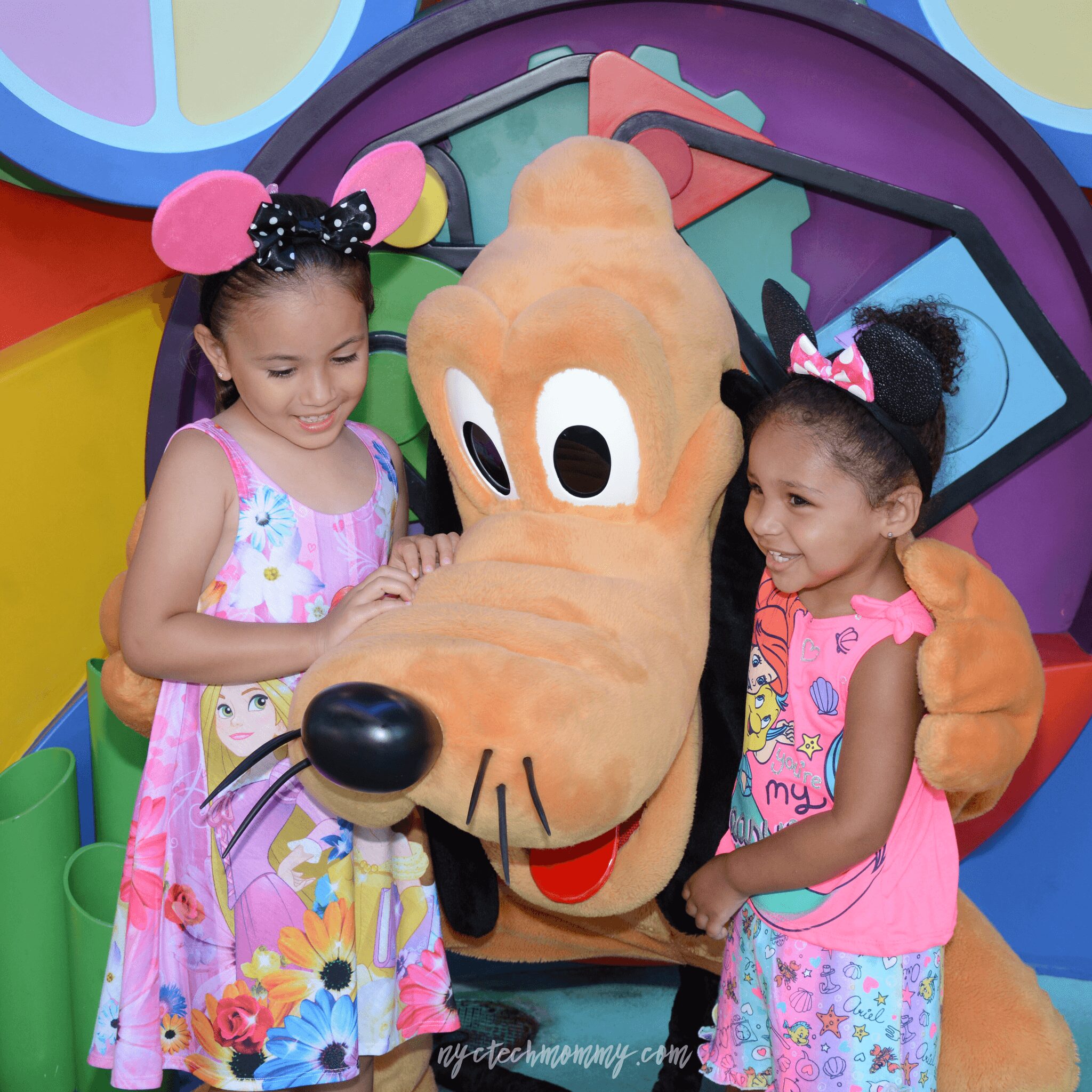 FYI: Disney Junior Live closes on September 2018. After that you'll be able to check out Disney Junior Dance Party — Opening Fall 2018!
8. Stay Cool
I love summer but the Florida summer heat can get unbearable at times. Especially in a crowded park on a sunny day. Trust me! You'll especially feel it when traveling with kids or older family members who may find the heat a bit much to handle. That's why you'll need a plan to stay cool on your stress-free multi-generational trip to Disney World.
Get out of the heat and under the air-conditioning when the heat becomes too much to bear. Keep in mind the needs of all in mind as kids and older family members may be most affected by the heat. Also take advantage of water sprinklers or mist stations — there's one right across from the Magic Carpet ride in Adventureland in Magic Kingdom.
You may already know that large coolers are not allowed in at Walt Disney World Parks. However, you should be fine bringing in a small lunchbox size cooler or insulated bag filled with frozen water or juice boxes and small snacks for the kids. Also keep in mind that most concession stands and restaurants provide FREE cups of ice water. Just walk up and ask for a cup of water!
What Our Family Did
We made sure to have some essentials on hand to ensure everyone stayed as cool as possible while exploring the Disney Parks – frozen water bottles are a must! We wore super light clothing, tank tops, shorts, and sandals, mostly. We also brought a change of clothing in case we got too sticky and sweaty. Also so we wouldn't have to shy away from some water fun. Of course you can always just air dry as you walk around the park. Summer months are so hot that you might actually feel relief from walking around in wet clothes.
Also a must is a reusable Disney Parks Cooling Towel that you can use to wipe down sweat and keep you cool and comfortable. This reusable cooling towel will be a lifesaver!  You need one!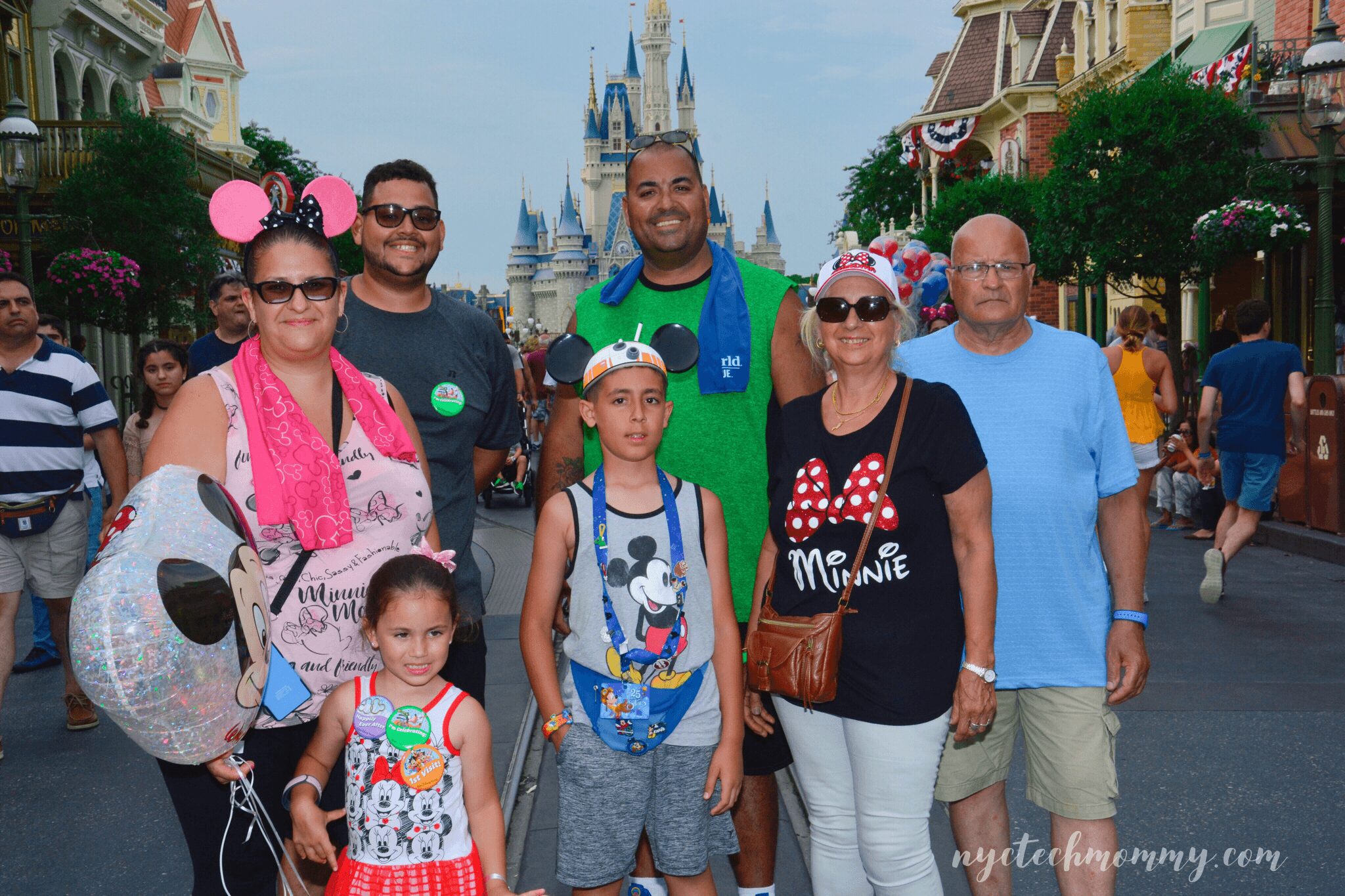 Bring a Cooling Towel
I snatched one up at The Disney Corner at Disney Springs. When my sister saw the awesomeness of this towel she wanted one for herself. She found the very last one at one of the shops at Hollywood Studios. If I were you, I'd buy one far ahead of your own park visit because they sell out fast.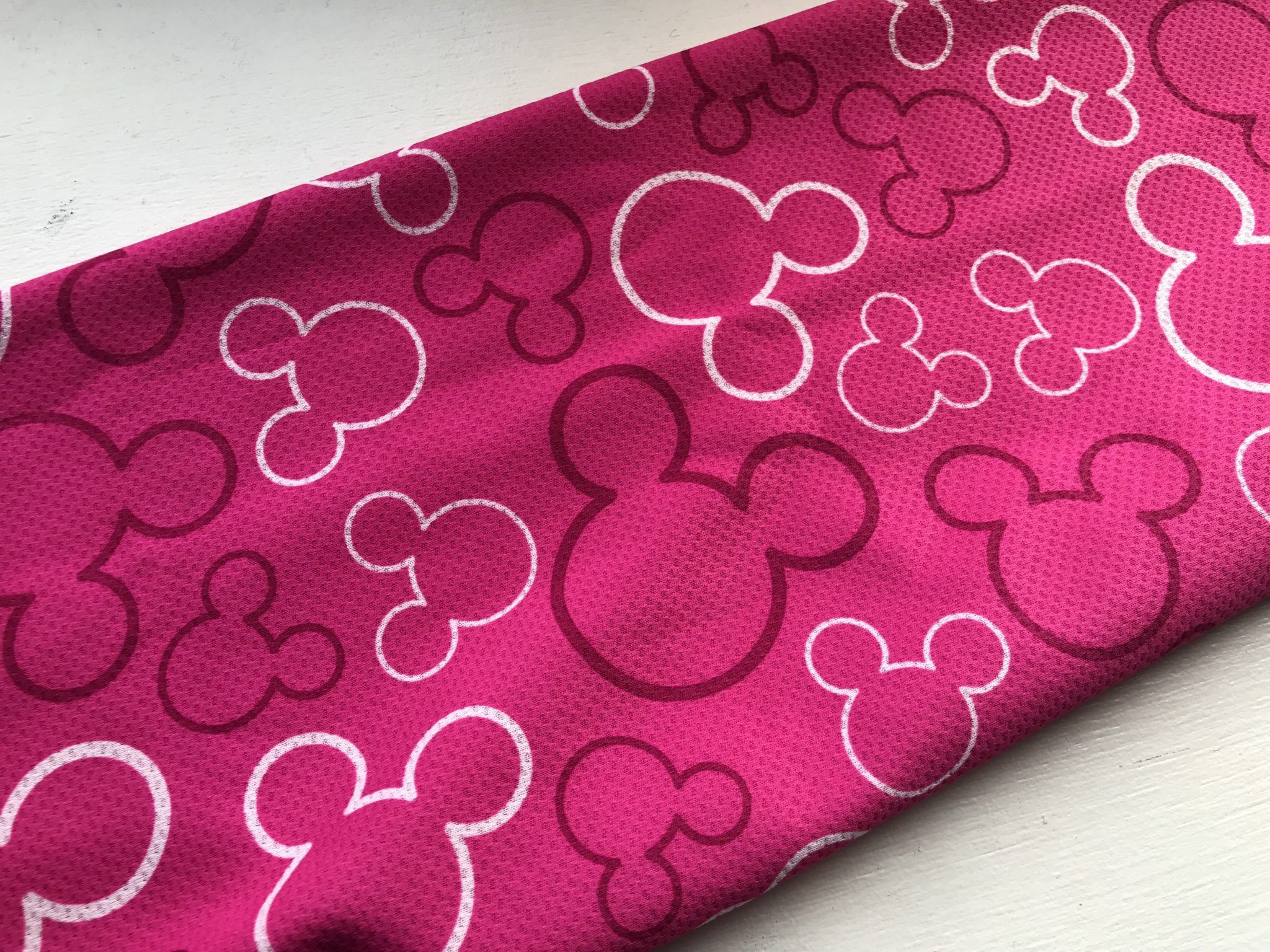 Luckily, Walmart.com sells the exact same Disney Parks Mickey Mouse Cooling Towel but at a steeper price. We bought ours for about 17 bucks at Disney. Walmart sells it for almost $24. You may also find one at the local Walmart in Lake Buena Vista. If all else fails, another option is Amazon. They sell a variety of (non-Disney) cooling towels at a much lower price. Just whatever you do, bring a cooling towel with you. You'll thank me you did!
Some Final Thoughts About Our Disney Family Vacation
Our family vacation was for the most part a stress-free multi-generational trip to Disney World! Thanks in part to a bit of planning, considering the needs of others, and just making sure to have loads of fun together. Sure there were times when I wondered if we would ever get to the next ride or wish everyone would just agree on something to eat but all in all we did pretty good. Magical memories were made and I can truly say that it's a family vacation we won't soon forget!
From our family to yours, happy travels!
Don't forget to "Pin" this so you can find access these tips later.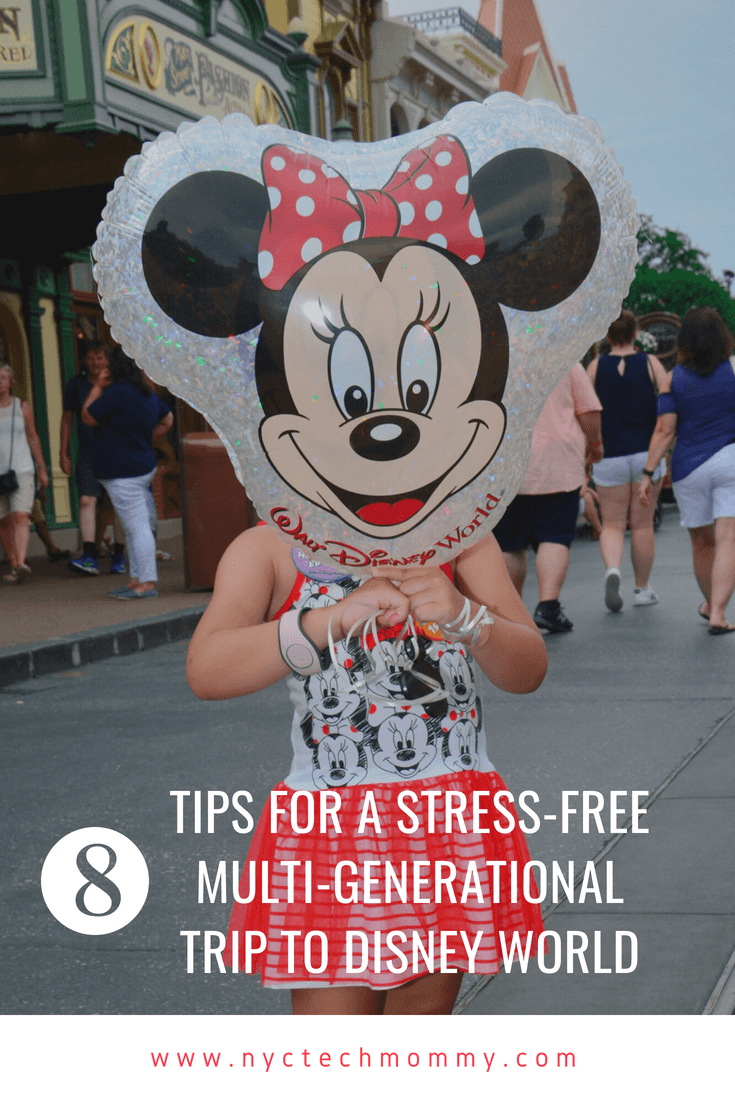 Wishing you and yours a magical time on your next Disney family vacation! Which of these tips for a stress-free multi-generational trip to Disney World did you find most helpful? Let us know in the comments section below. Also feel free to share some of your own Disney tips if you have them.
You May Also Like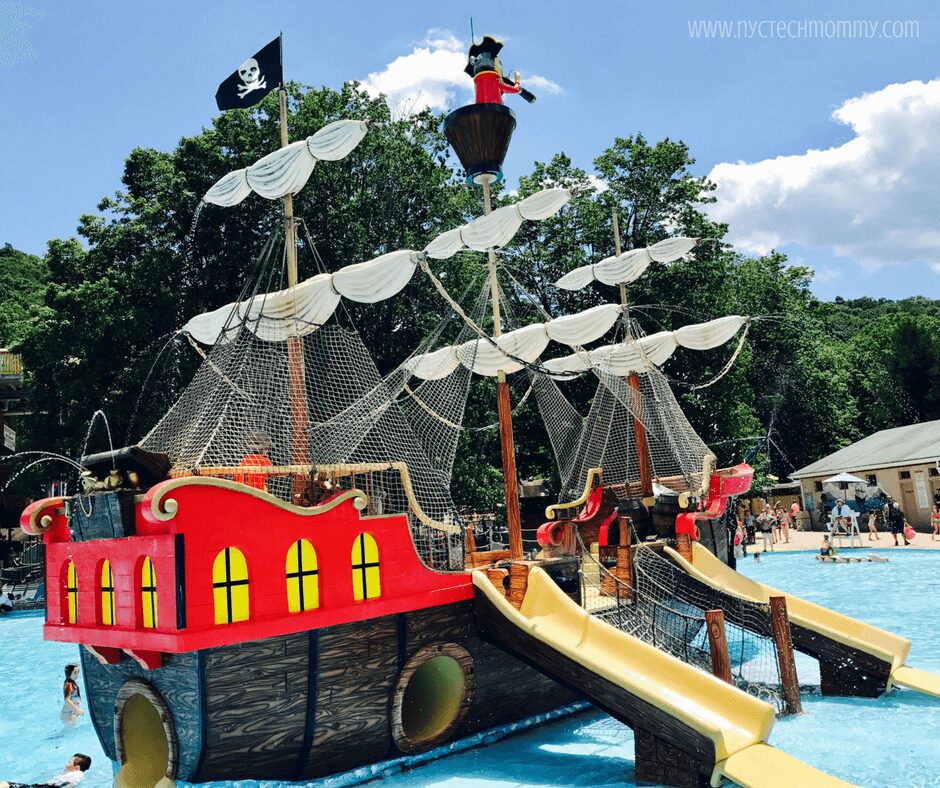 September 1, 2017