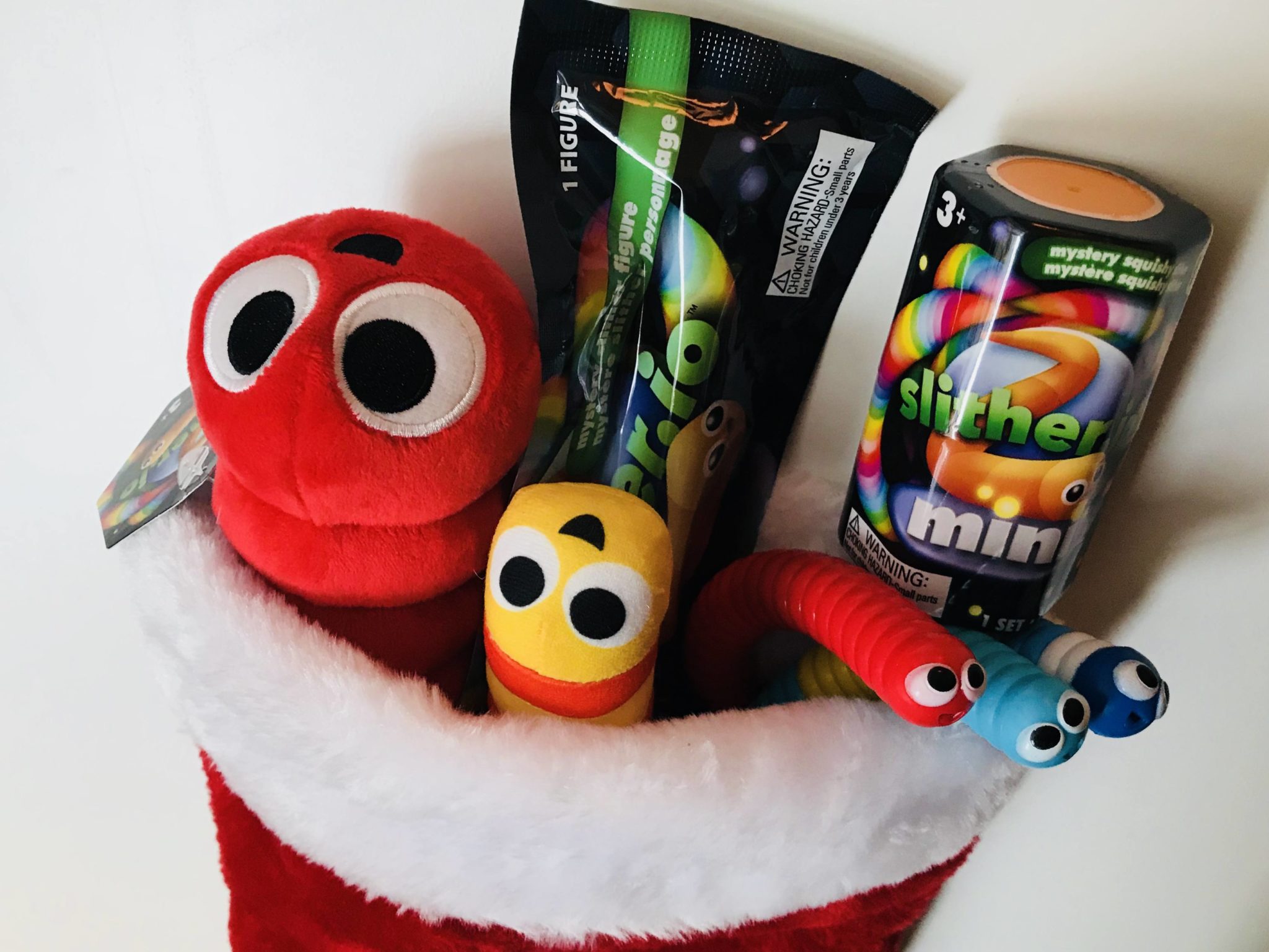 The Ultimate Holiday Gift Guide for Little Kids
The holiday toy shopping season is here! Can you believe it? Back Friday came and went and some of us still have toys to buy. And little kids are often the hardest to shop for. Wouldn't you agree? This task always keeps me running through the toy aisles trying to decide on the best toys to buy. As a toddler mom, I know that shopping for little kids can be challenging. They already have tons of toys and they can never make up their mind on which new toy they REALLY want. That's why today I'm sharing the Ultimate Holiday Gift Guide for Little Kids to help you choose some fun new toys that are just right for your little ones. Plus I'm sharing all the links with you so you can buy them all online, avoid the toy aisle altogether! I'm also throwing in a few cool stocking stuffer ideas + giving you a chance to enter to win some of these for your kiddo. You're welcome and make sure to read to the end to enter our Stocking Stuffers Giveaway!
THIS GIVEAWAY HAS ENDED BUT YOU CAN STILL READ ON TO LEARN MORE!
Thank you to all our great sponsors who provided us with free product samples to facilitate this holiday gift guide + a great holiday giveaway for our readers. As always, we only share what we love and think you will too! All thought and opinions are my own. Also thought I'd let you know that this post does include affiliate links. What that means is that if you make a purchase, I'll receive a small commission without it changing the price you pay. Thanks for supporting NYCTechMommy and happy holiday gift shopping!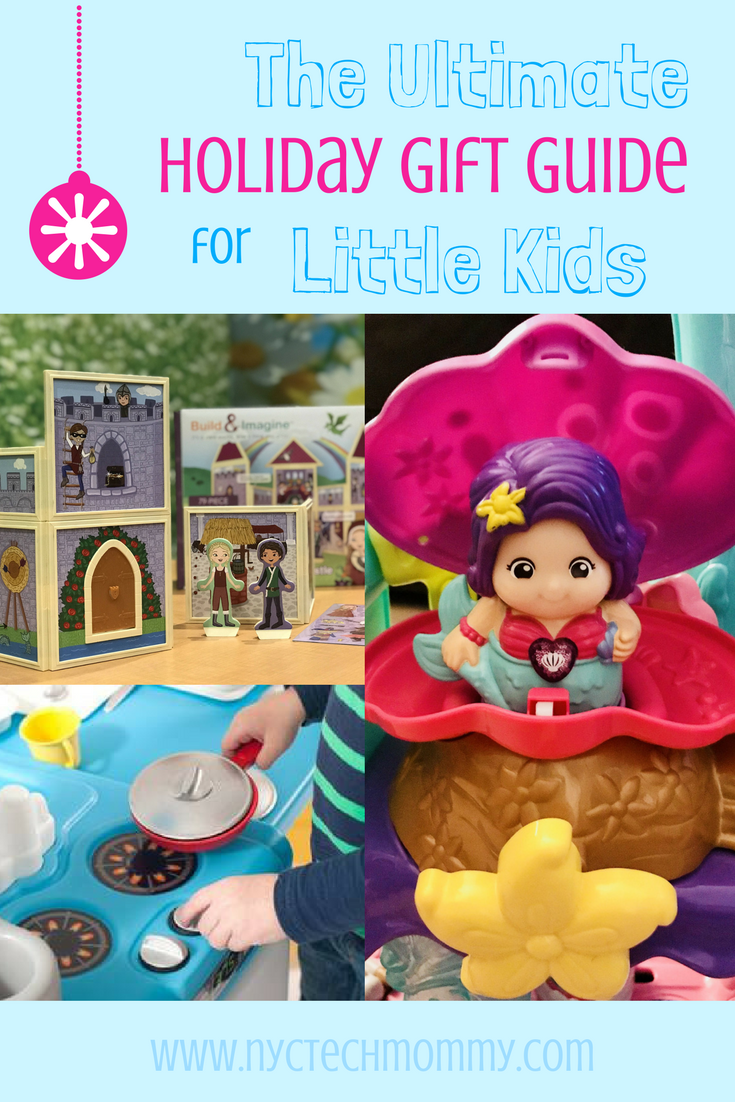 Ultimate Holiday Gift Guide for Little Kids
In this Ultimate Holiday Gift Guide for Little Kids you'll find everything from adorable plushies to fun playsets, cute character-themed little kids apparel, techy toys your little kids will love and even recommendations for fun stocking stuffers. Plus there's also one cool GIVEAWAY at the end of this post so you can win some of the fun stocking stuffers for your own little kid's stocking.
I often make toy choices based on the things my kids are really into, for example, the shows or cartoons they love to watch. That said, all the toys you'll find in this Ultimate Little Kid Holiday Gift Guide are based on what my littlest ones really loves and/or has been asking for. I'm sure these are also toys your own little kids would love too!
[Tweet "Check out this Holiday Gift Guide for Little #Kids via @NYCTechMommy"]
Cars Pillow Pets
This Lightning McQueen plush version will rev any young fan's imagination as a stuffed animal for creative daytime play and a pillow for sweet racing dreams. This Lightning McQueen Pillow Pet is also the perfect addition to any racing themed room. It's a super-soft chenille plush folding stuffed animal. So cuddly your kiddos never want to put it down! I love that it starts out as your pal, then un-velcro its belly, and it quickly becomes your pillow. Perfect for traveling and long road trips too!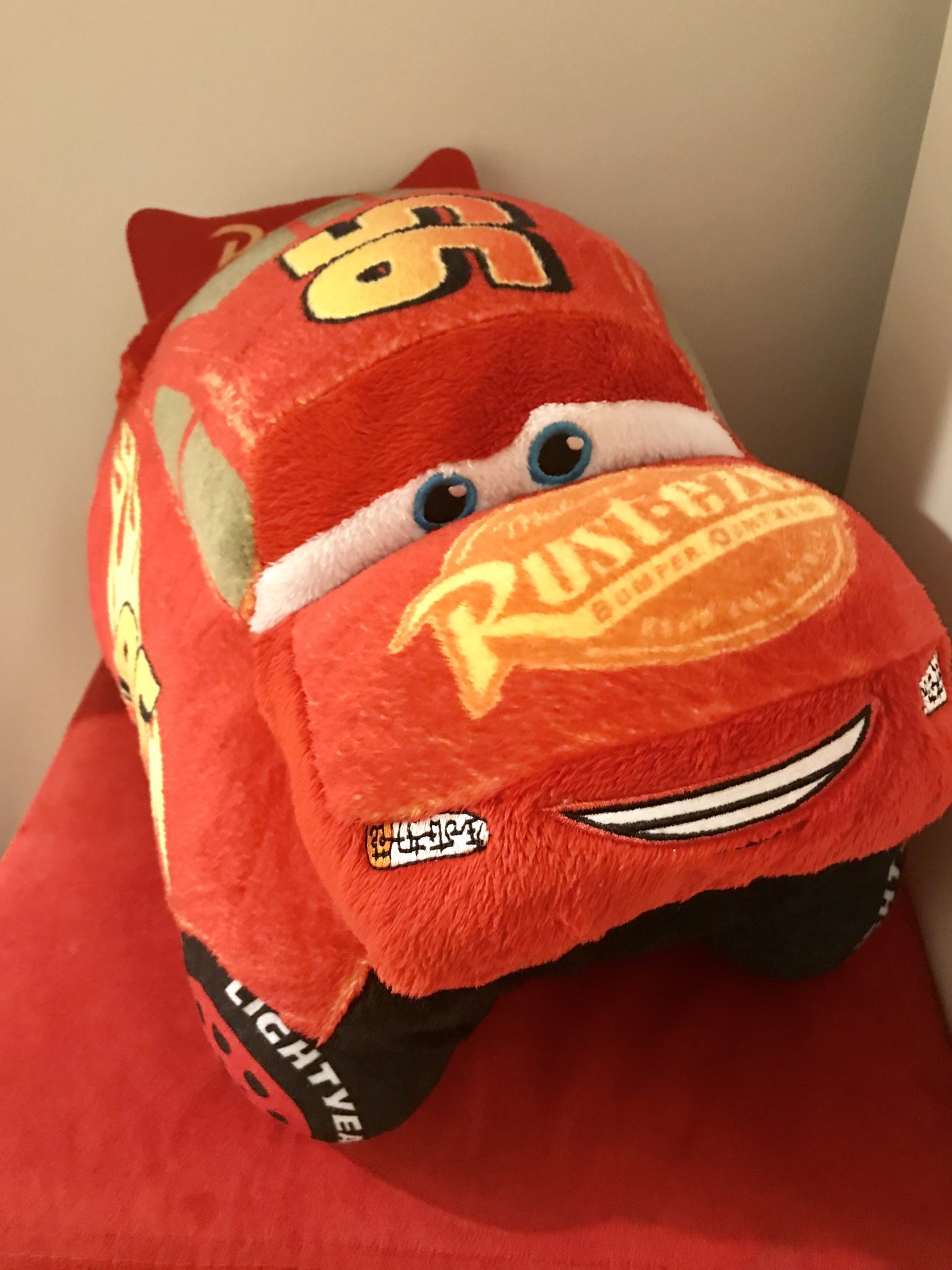 The Lightning McQueen Pillow Pet is a favorite at our house but your kiddos may also enjoy other Cars characters — there's also Cruz Ramirez, Jackson Storm, Tow Mader. Pillow Pet Dream Lites are also great, especially for bedtime and they come in a variety of favorite Cars characters too! Ages 3 and up – Retail: $24.99 and up
Beat Bugs Toys and More
Are your kids obsessed with the popular Netflix original animated series Beat Bugs? Mine are! But if you haven't heard of the Beat Bugs you should check it out on Netflix. This loveable kids series is based off songs made famous by the Beatles — which I absolutely love because my kids have been listening to the Beatles since they were born. The main characters are five friendly bugs that learn big lessons about the world around them — all from the safety of their own backyard.

Any Beat Bugs loving kiddo will love singing along with the [eafl id="7113″ name="Beat Bugs Musical Submarine" text="Beat Bugs Musical Submarine"]. This fun toy plays the songs Yellow Submarine, All You Need Is Love, and Sgt. Pepper's Lonely Hearts Club Band and lets little kids enjoy role-playing adventures with their favorite Beat Bugs friends. It includes the exclusive Jasper 3-inch Fab Figure and fits up to five Beat Bugs Fab Figures (sold separately) altogether. Ages 3 and up – Retail: $24.99 We recently unboxed the Beat Bugs Musical Submarine and if you watch you can see just how excited my toddler was about this fun toy!
In addition to the Beat Bugs Musical Submarine, you can add to the fun by purchasing additional [eafl id="7111″ name="Beat Bugs Fab Friends" text="Fab Friends"]. Adventure awaits with these colorful 3-inch scale bug figures. Each figure is designed with fine detail and articulated for posing, storytelling, and other creative play. Ages 3 and up – Retail: $17.99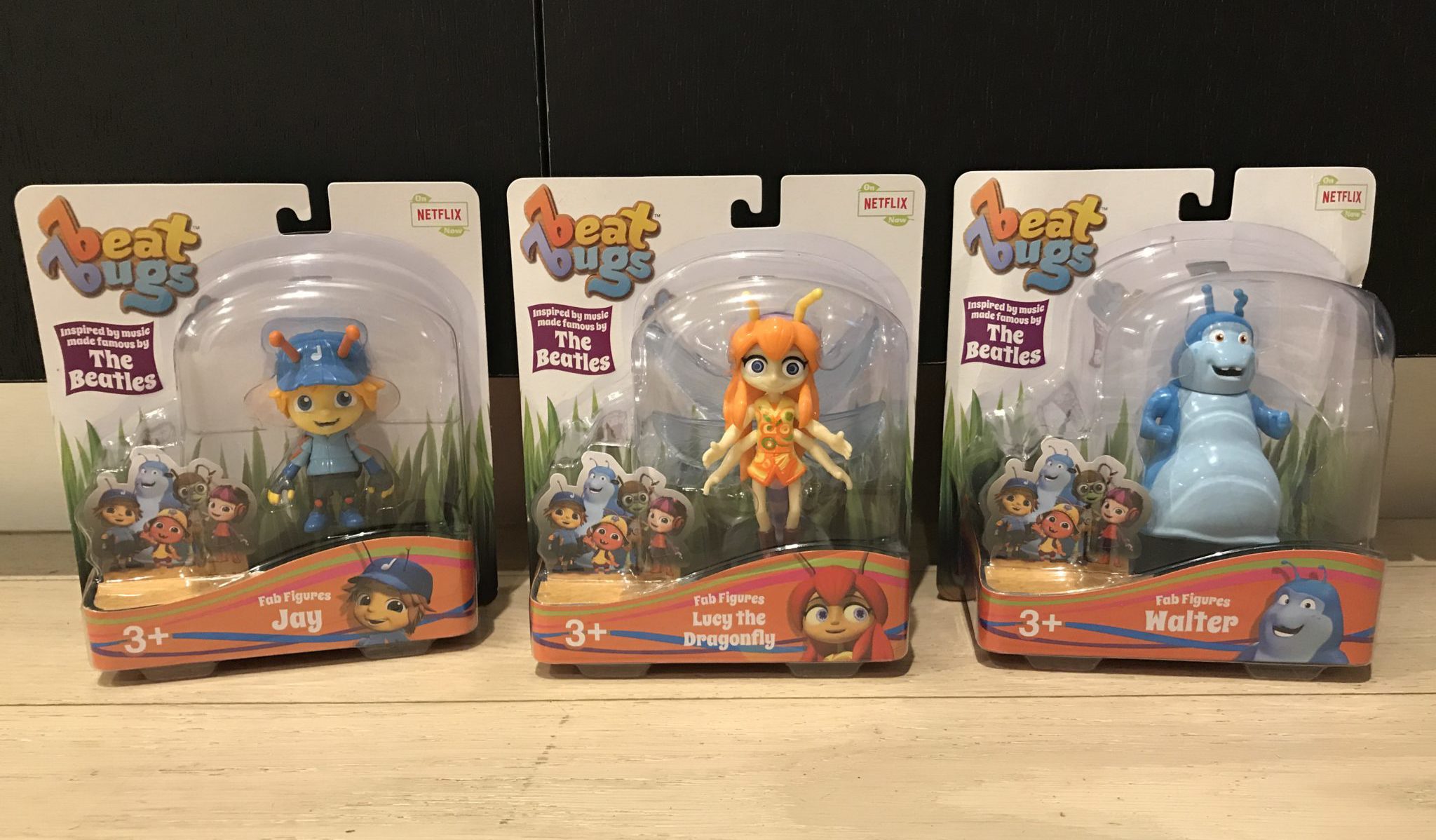 And if your kiddos are really into Beat Bugs you may also want to check out their entire line of [eafl id="7112″ name="Beat Bugs Apparel at Target" text="Beat Bugs Apparel at Target"]. You'll find everything from activewear to PJs, and an adorable selection of cute little dresses, all featuring favorite Beat Bug characters.
Paw Patrol Sea Patroller
"Paw patrol, paw patrol, will be there on the double." Doesn't your toddler run around the house singing that tune? Mine does! That's why I thought this would be the perfect toy — with an amazing sea-to-land transformation, the Paw Patrol Sea Patroller is prepared for wherever the rescue leads. It's equipped with a boat-load of features including lights and sounds, a working crane, a life-saver launcher, and storage for basic vehicles. It comes with an exclusive Ryder figure and his ATV, an exploration cage, and a baby octopus.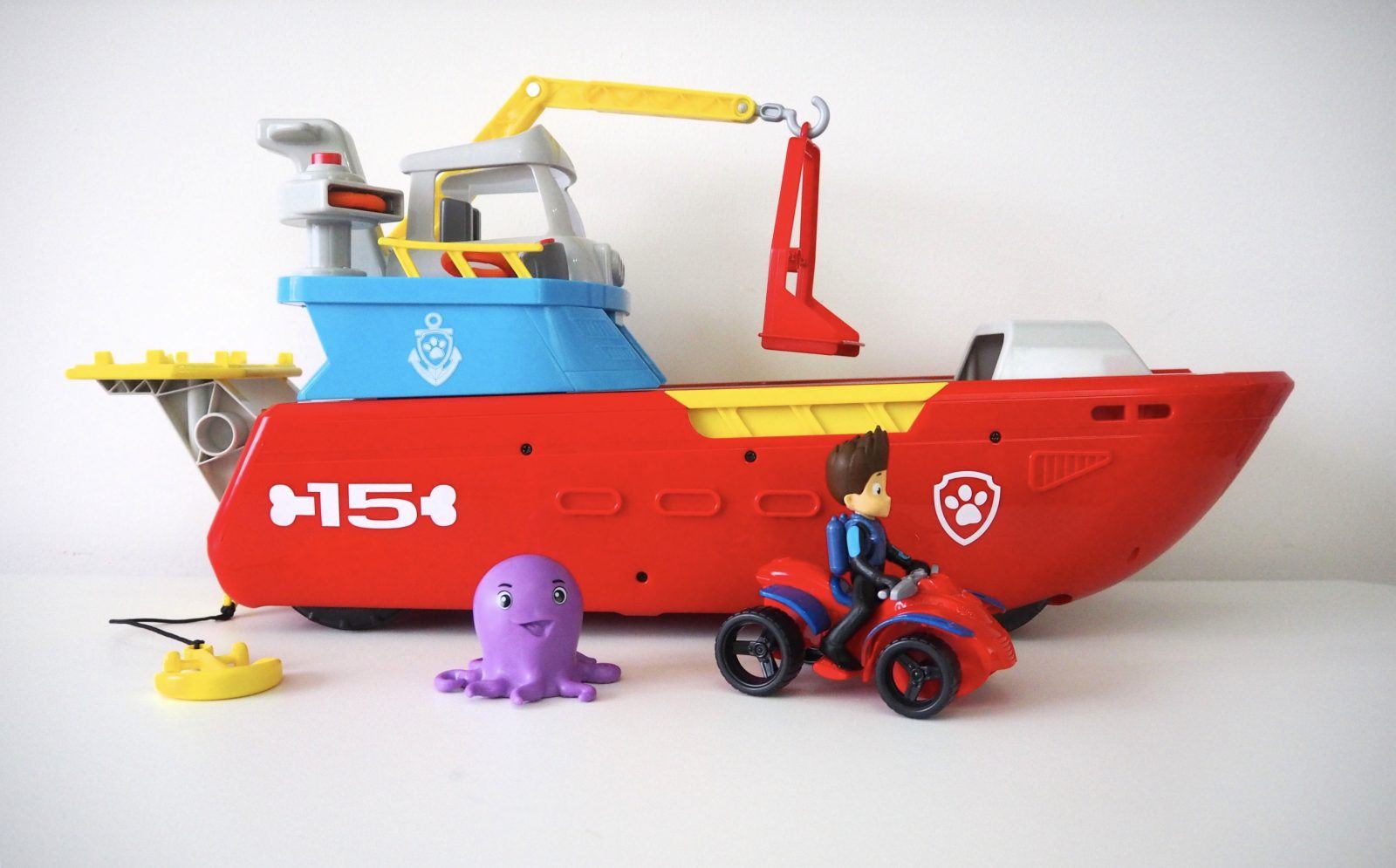 Little kids will love getting in on the action as they help Ryder save Baby Octopus by jumping aboard the [eafl id="7119″ name="Paw Patroller Sea Patroller" text="Paw Patrol Sea Patroller"]. No wonder it's nominated for a Toy of the Year Award — that's like the "Oscars" of the toy industry. This is one cool boat that transforms into a land vehicle and can easily tackle the rockiest of roads. Just slide the bridge forward and the wheels drown so you can drive it over any terrain. Ages 3 and up – Retails: $59.99
What's really cool is that there's even a helipad for Skye to land her High Flyin' Copter. The helicopter isn't included but it would make a great addition if you wanted to add a little extra to this gift for your little kid.
Teletubbies Talking Plush
Did you know that this year the Teletubbies celebrated their 20th Anniversary? Hard to believe that it's already been 20 years since these huggable, lovable Tubbies made their first appearance.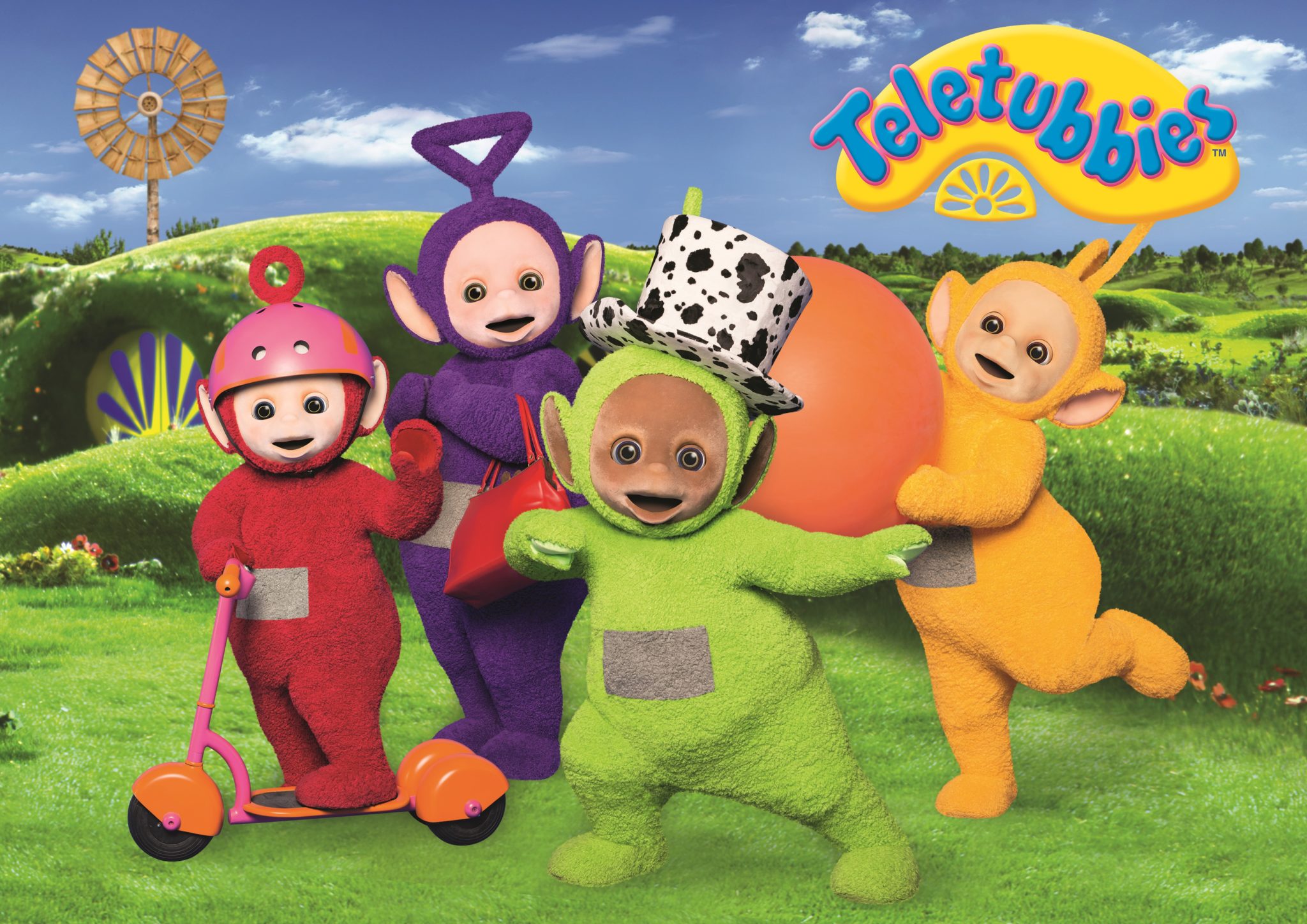 Kinetic Sand Magic Molding Tower
We love [eafl id="7127″ name="Kinetic Sand" text="Kinetic Sand"]! Did you know that it's the #1 sand brand globally? Kinetic Sand is the original squeezable sand little kids can't put down. I love how it stimulates creativity and imagination, allowing kids to mold it and shape it to create incredible sand art over and over. What's also great is that Kinetic Sand never dries out and it sticks to itself, not kids, for long-lasting play with easy cleanup. We recently discovered that Kinetic Sand now makes play sets like this magical [eafl id="7128″ name="Kinetic Sand Magic Molding Tower" text="Kinetic Sand Magic Molding Tower"].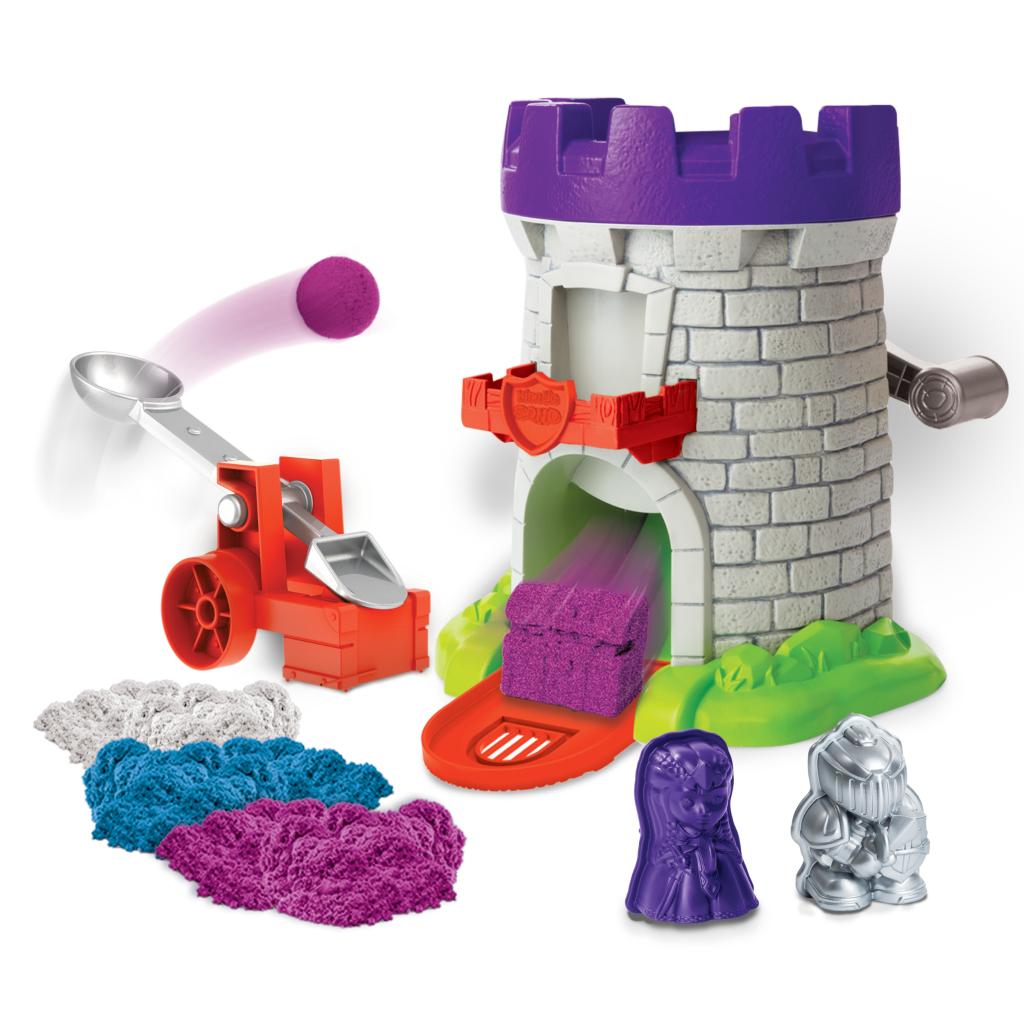 Play-Doh Kitchen Creations Magical Oven
My little one loves cooking up some fun with the [eafl id="7131″ name="Play-Doh Kitchen Creations Magical Oven" text="Play-Doh Kitchen Creations Magical Oven"]! Whether it's Play-Doh pizza or whacky strawberry cupcakes, little kids can press out their favorite dishes with all the play food attachments included in this playset. They can then top off their culinary creations with pretend toppings and side dishes using the included half molds.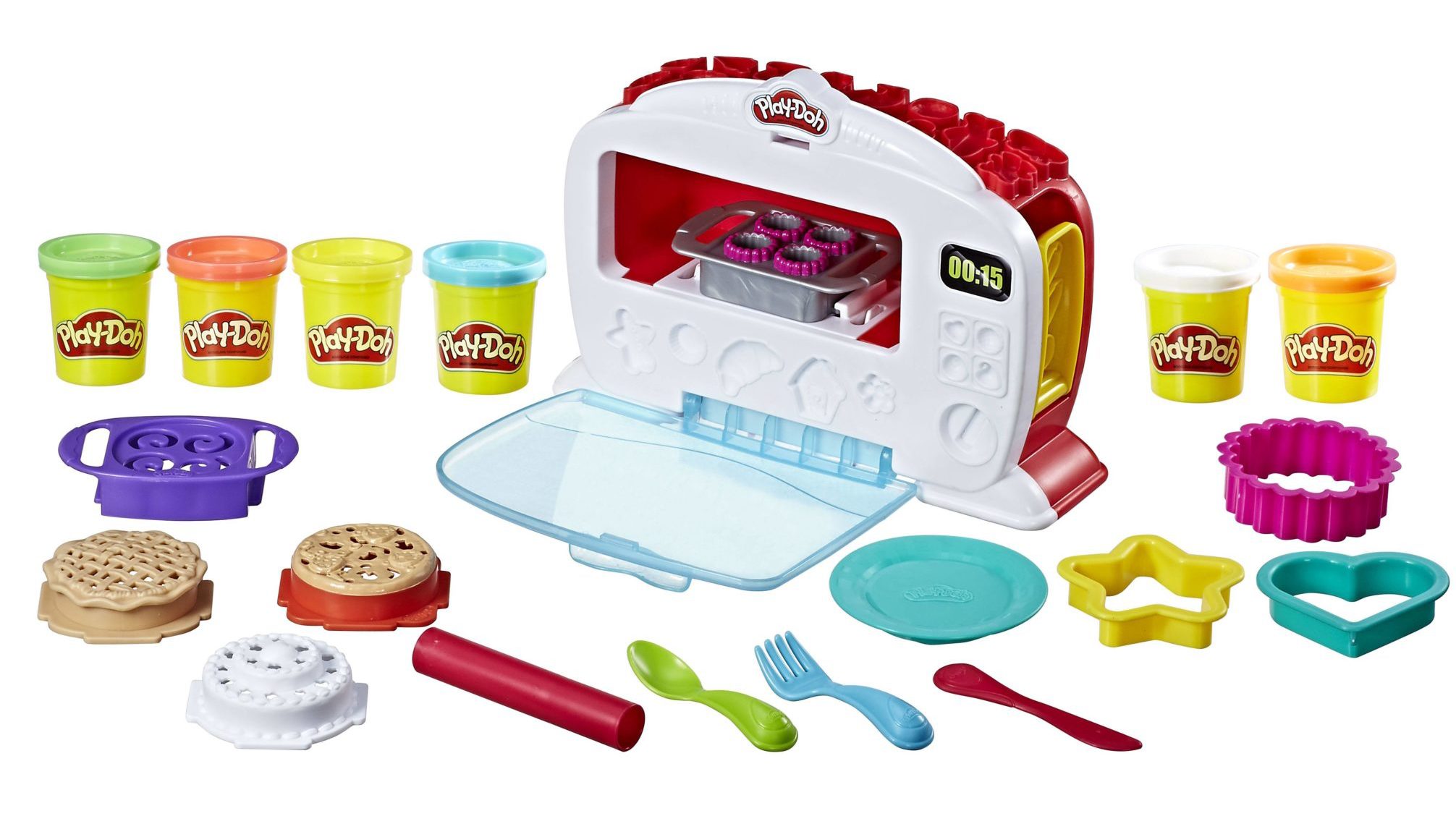 LEGO DUPLO My Town
LEGO DUPLO is another favorite at our house! And since little kids are always eager to explore the world around them I thought the [eafl id="7133″ name="LEGO DUPLO My Town" text="LEGO DUPLO My Town"] would be the perfect way to play out real-life scenarios. Toddlers will love showing you their preschool day with this colorful DUPLO set, from playtime on the mat, lunch, and toileting routines to tidy-up time. This is a great playset to help reinforce your little kid's learning and encourage early role-play skills.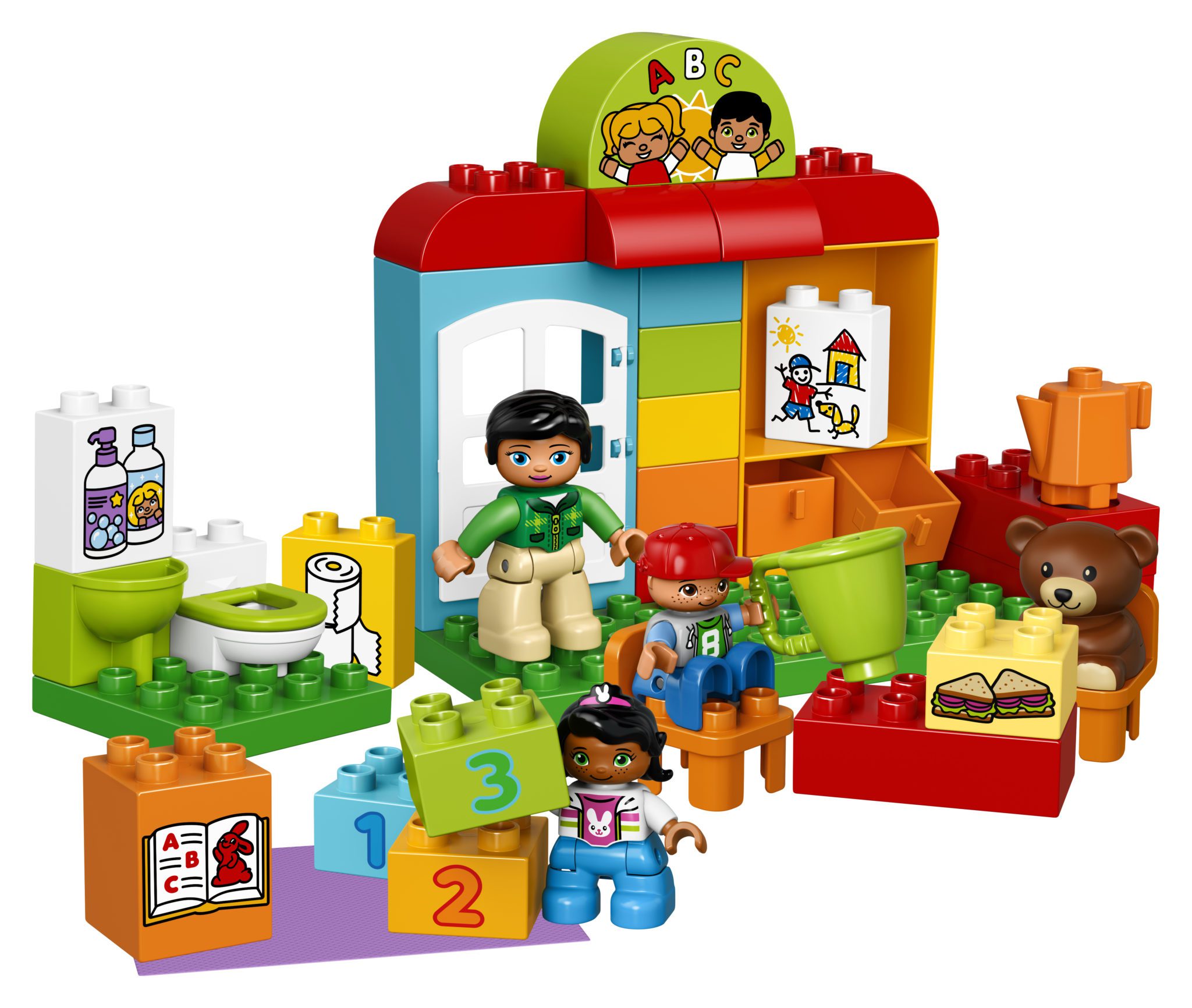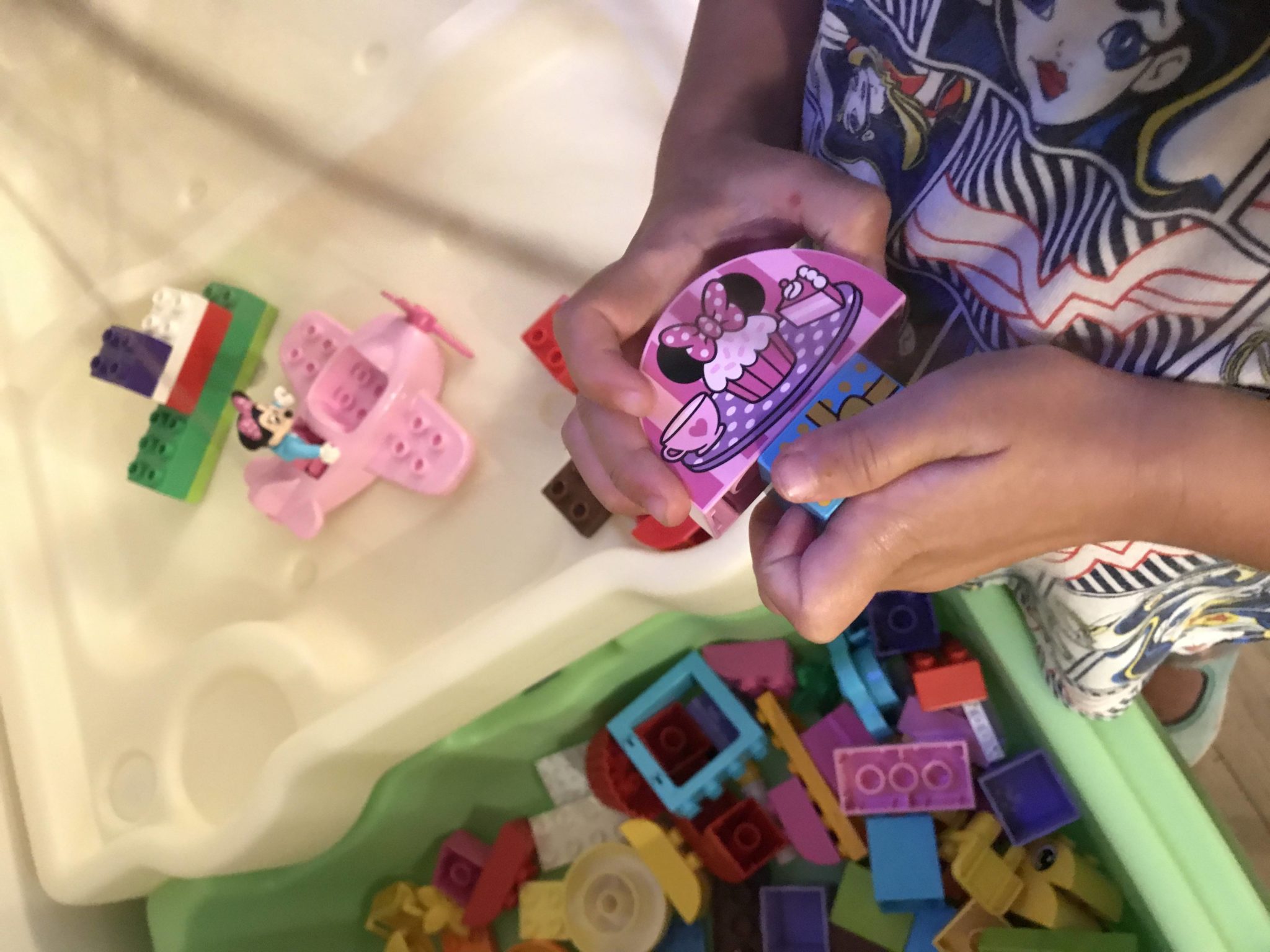 Build & Imagine Magnetic Castle Building Set
Watch your little kid become a designer, builder, and storyteller right before your eyes with this unique building set from Build & Imagine. These colorfully illustrated StoryWalls connect magnetically to build a world where dress-up characters work and play. It's like having the fun of a dollhouse with the enrichment of a building toy.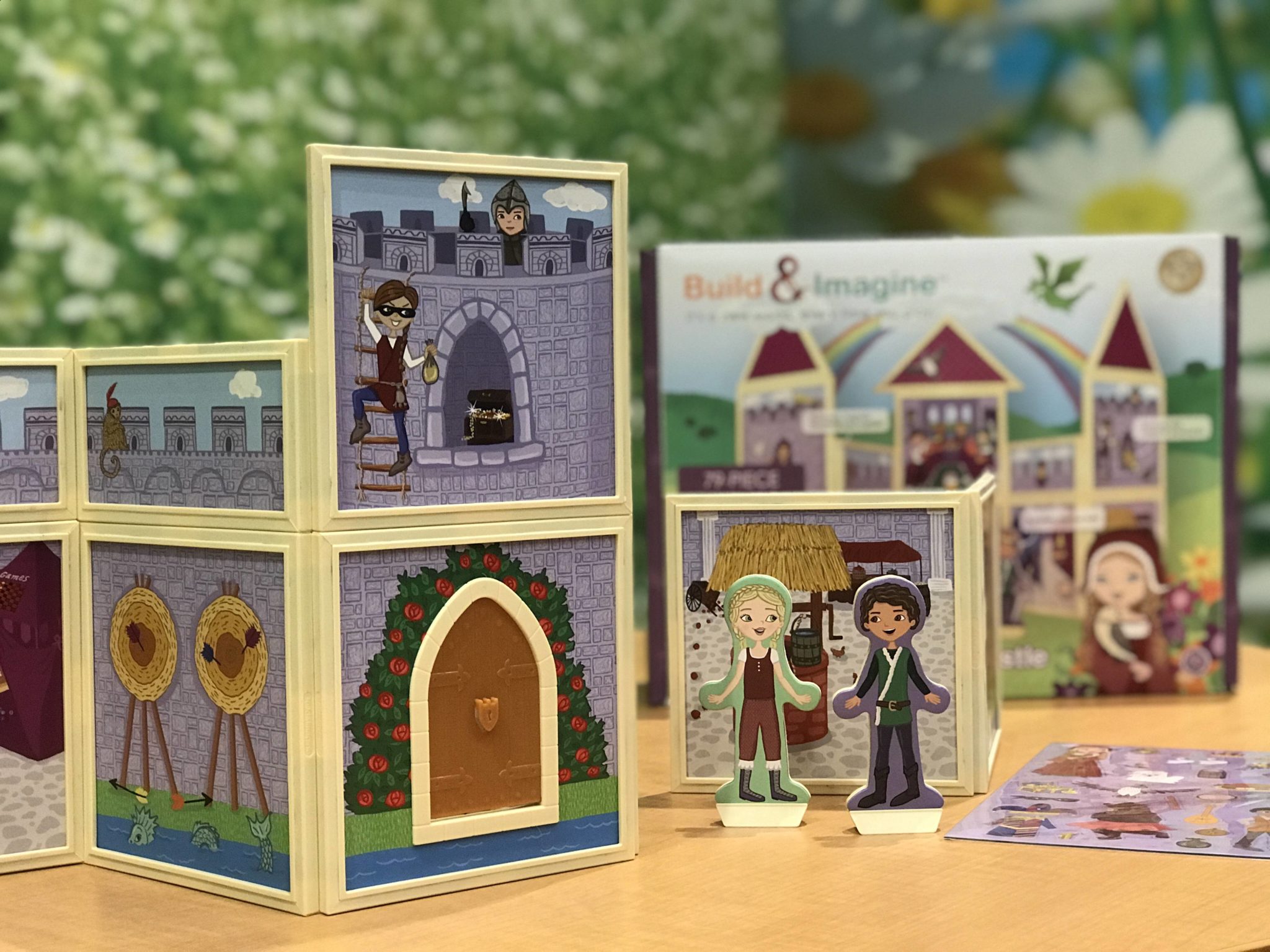 Simplay3 In & Out Activity Table
The Simplay3 In & Out Activity Table is a versatile children's activity table that extends for sand and water play, then compacts nicely for easy storage. It's immediately apparent that this would make a great table for toddler sensory play and even for building and imaginative play. It can easily be used indoors or outdoors. Use it outside for picnics or to splash and make sand castles. Move it inside to draw, paint, or color. Two colorful side bins provide ample storage and serve as a base to support the table. For easy storage, simply slide the sides together. It's so compact and fits perfectly in the smallest of spaces. Ages — and up – Retail: $69.99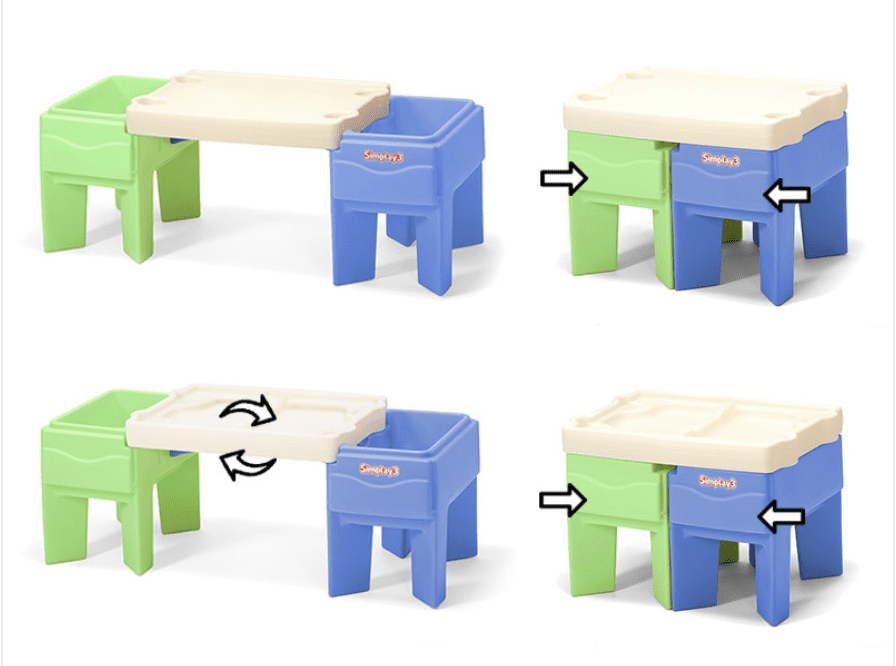 Simplay3 Play Around Kitchen and Activity Center
Simplay3 makes toys that are so perfect for little kids. That's why I couldn't just include one. The Play Around Kitchen and Activity Center is another great playset that encourages imaginative play. This adorable Kitchen and Activity Center not only inspires hours of imaginary culinary fun, It's also super functional as an all-in-one activity center for little kids. It features a drop leaf table for meals, snacks, or even coloring and drawing. A play oven, stove, sink with faucet, cupboard and 18-piece cooking set are all included and will make your little kid feel like the chef of the house.
This is another playset we recently unboxed and I love because of it's functionality and ability to easily fit into small spaces (like our tiny NYC apartment). It's compact and can fold down to store when not in use. It's also so much more than just a little kitchen! It can double as a table and activity center too.  That's why I think it makes makes the perfect holiday gift not only for little kids but for parents too! Ages — and up – Retail: $89.99
Go! Go! Smart Friends Shimmering Seashell Castle
What little girl doesn't love mermaids?! My little one recently opened up this playset surprise for her birthday and it quickly became one of her favorite toys. That's why I know it would also make a perfect holiday gift. The Go! Go! Smart Friends Shimmering Castle is a splashtastic castle that features discovery, adventure, and an adorable Mermaid Pearl figurine. Little kids will love to play with the sandcastle, dance with Pearl and her sea friends, the seahorse and dolphin, or pretend to play dress up at the vanity.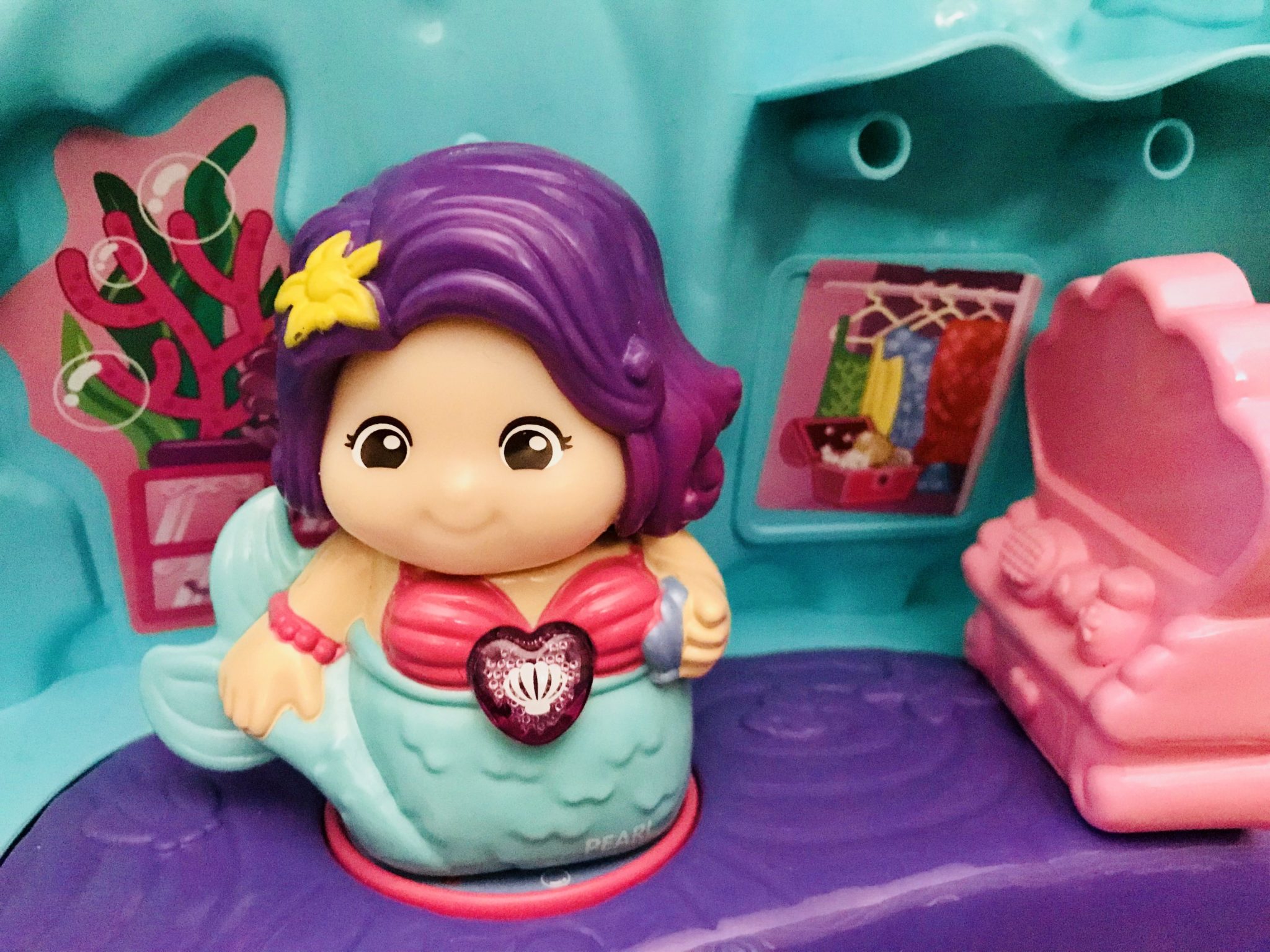 Hatchimals Glittering Garden
Here's another fun toy baby girl got to unwrap for her birthday. It was a huge hit with her so I know it will be a huge hit with your little kids too! Hatchimals Glittering Garden is one of the newest hatch batch straight out of Hatchtopia! Whose insiders a surprise! Each sparkling Hatchimal egg contains one of two interactive toys, each with twinkling wings and soft, shimmering fur. What's cute is that little kids begin to love and care for their little Hatchimal while it's still inside the egg. Even inside it's egg, it's eyes will light up as it makes cute sounds that tell how it's feeling! Once little ones have played with the egg enough, they'll see rainbow eyes shinning through the egg shell. That means it's time to hatch! Hatchimals can't hatch on their own. They'll need a little touch to encourage them to peck their way out of the egg! Just imagine the excitement on your little kid's face! It's amazing to watch them hatch these interactive little pets. And once hatched, little kids get to raise their glittering Hatchimal through 3 stages, from baby to toddler, to kid. My little girl has really enjoyed raising her [eafl id="7163″ name="Sparkling Penguala – Hatchimals Glittering Garden" text="Sparkling Penguala"].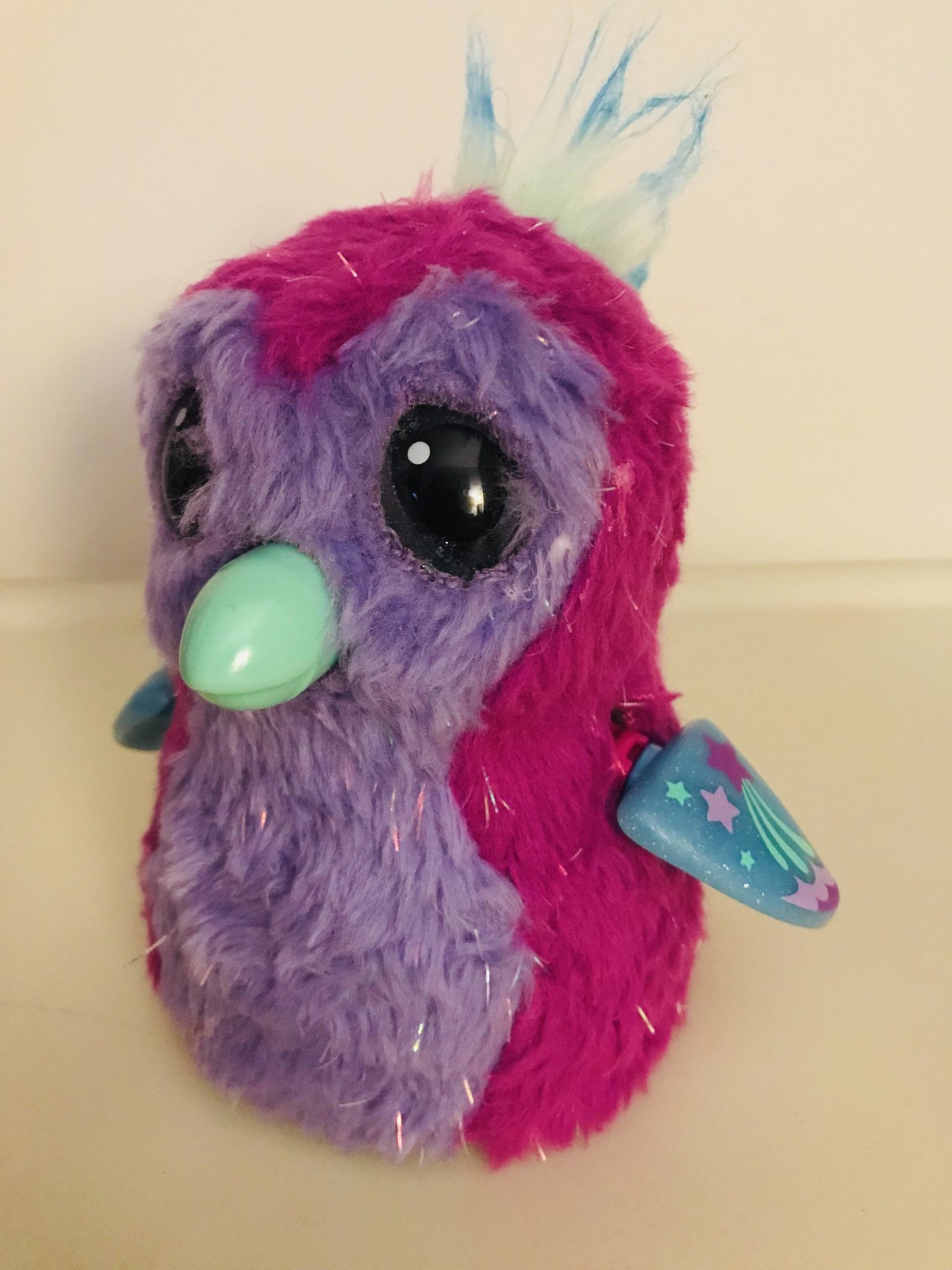 ZURU Hamsters in a House
Like mine, maybe your little kid has been asking for a pet of their very own. Luckily I found the perfect solution to getting her a live pet. ZURU Hamsters in a House are perfect! These Adorable hamsters come alive and are full of surprises. Little kids can watch them as they buzz, scoot, scurry and zoom! What's also fun is that there is so much to do in the world of Hamster in a House! You never know what they'll do in their ever-growing world — so really it's pretty much like having that pet she's been asking for without all the care of a real live pet. #Momwin
Check out the newly released Hamsters in a House Food Frenzy Play sets. Little kids will love collecting them all. Hamsters in a House have multiple play sets and tracks that little kids can connect together for endless combinations and hours of fun.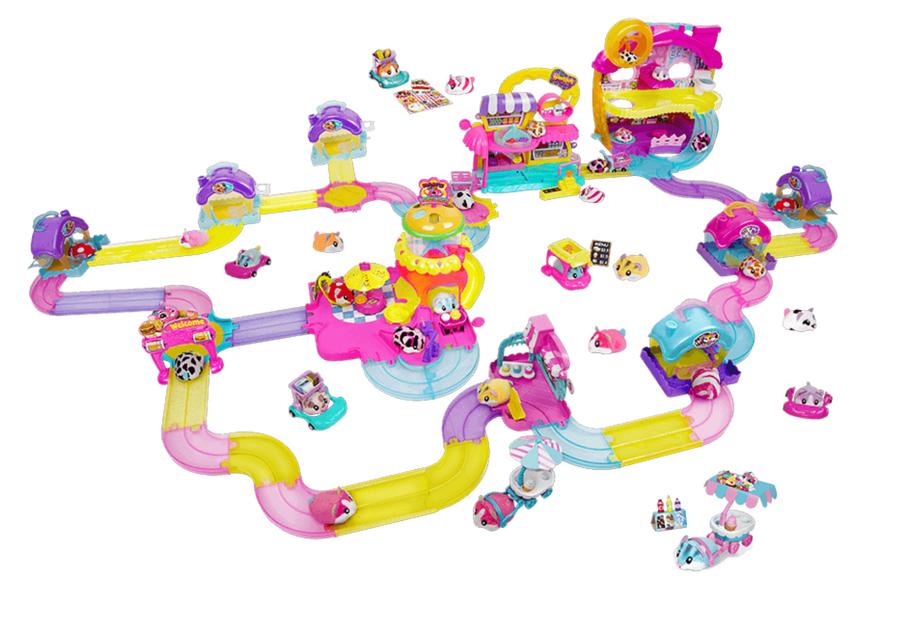 Original play sets and the new Food Frenzy play sets work together so you can keep adding to your growing collection! These are great gifts for little kids that love imaginative play, collectible toys, mini toys, and/or food! Also the mini hamsters are so cute and fun, little kids will have so much fun collecting them all! There are 11 new hamsters to collect in the Hamsters in the House Food Frenzy toy collection.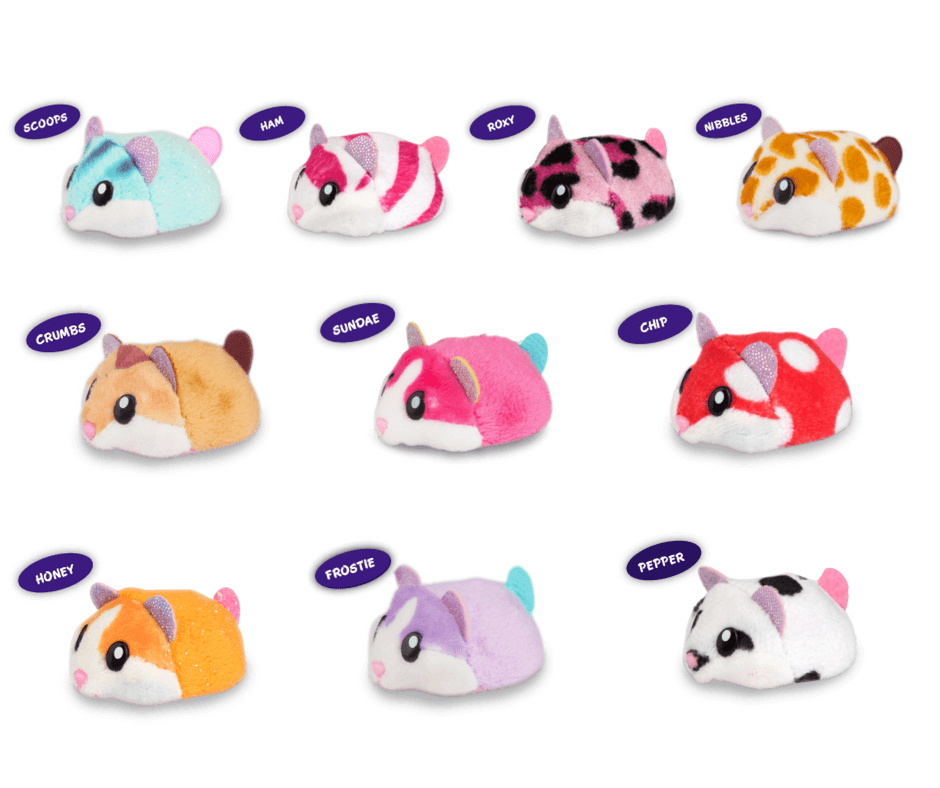 Find these adorable little pets at Target, Walmart, Toys R Us, and Amazon. Ages 4 and up – Retail: $5.99 and up
Step & Learn Scout
My little kids have grown up on Leap Frog toys! You can probably relate. I love Leap Frog because they're not only some of the funnest toys for little kids but so also educational too. Now even the littlest kids can learn while taking a walk with Step & Learn Scout. It's always fun to learn letters and counting with Scout!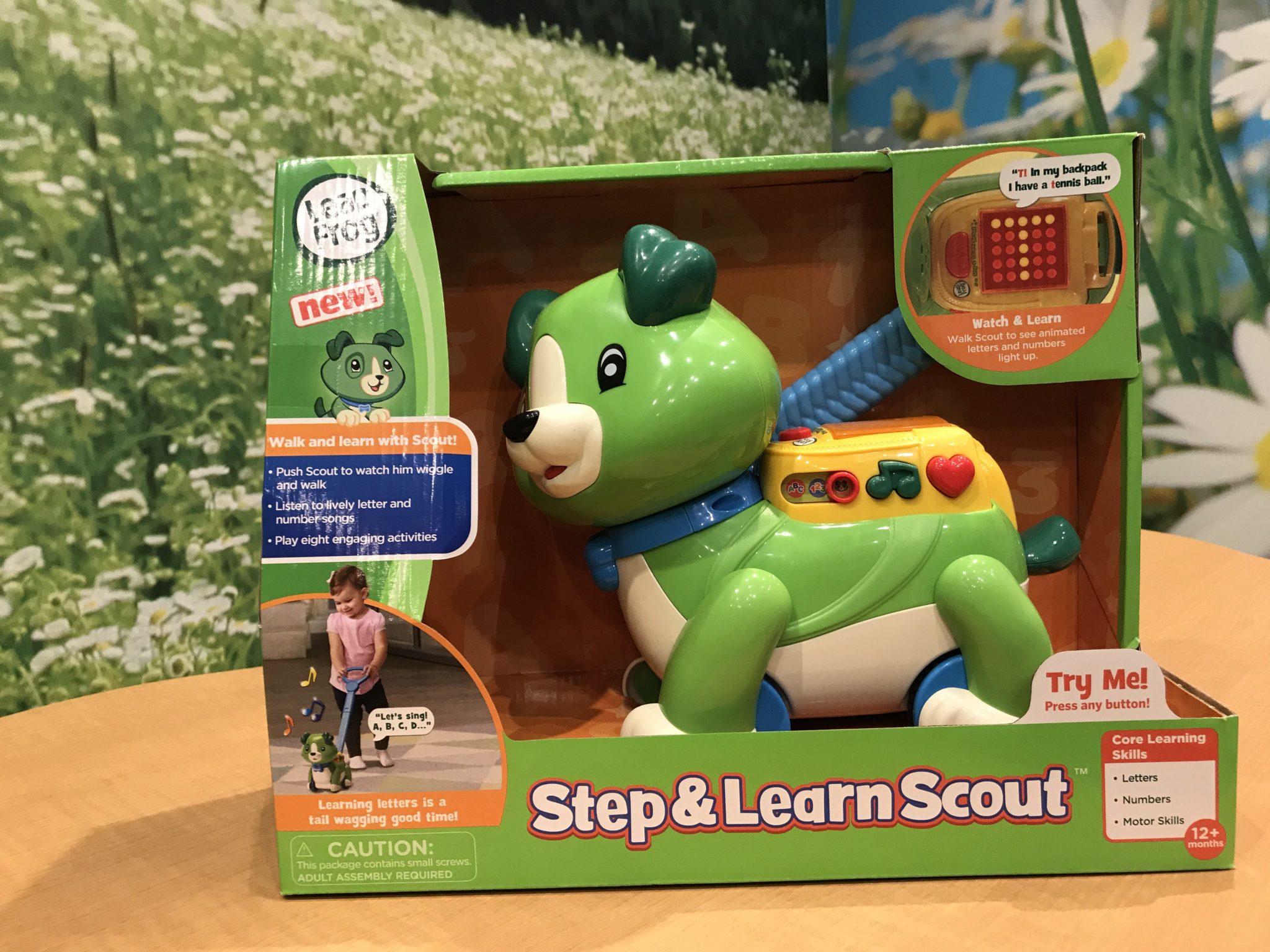 Fisher Price Learning Tablet Powered by nabi
Fisher Price is another big learning toy brand at our house. The Fisher-Price Learning Tablet delivers a truly unique and engaging learning tool for little kids. This fun little tablet comes loaded with dozens of Storybook Rhymes and videos featuring popular Fisher-Price friends like the lovable pups Eddie and Sophie. And it comes preloaded with 35 Fisher-Price apps and games that introduce letters, numbers, colors, and shapes. There's even a wide variety of Little People videos included. My toddler loves Little People and has really enjoyed watching the videos while playing with her favorite toys.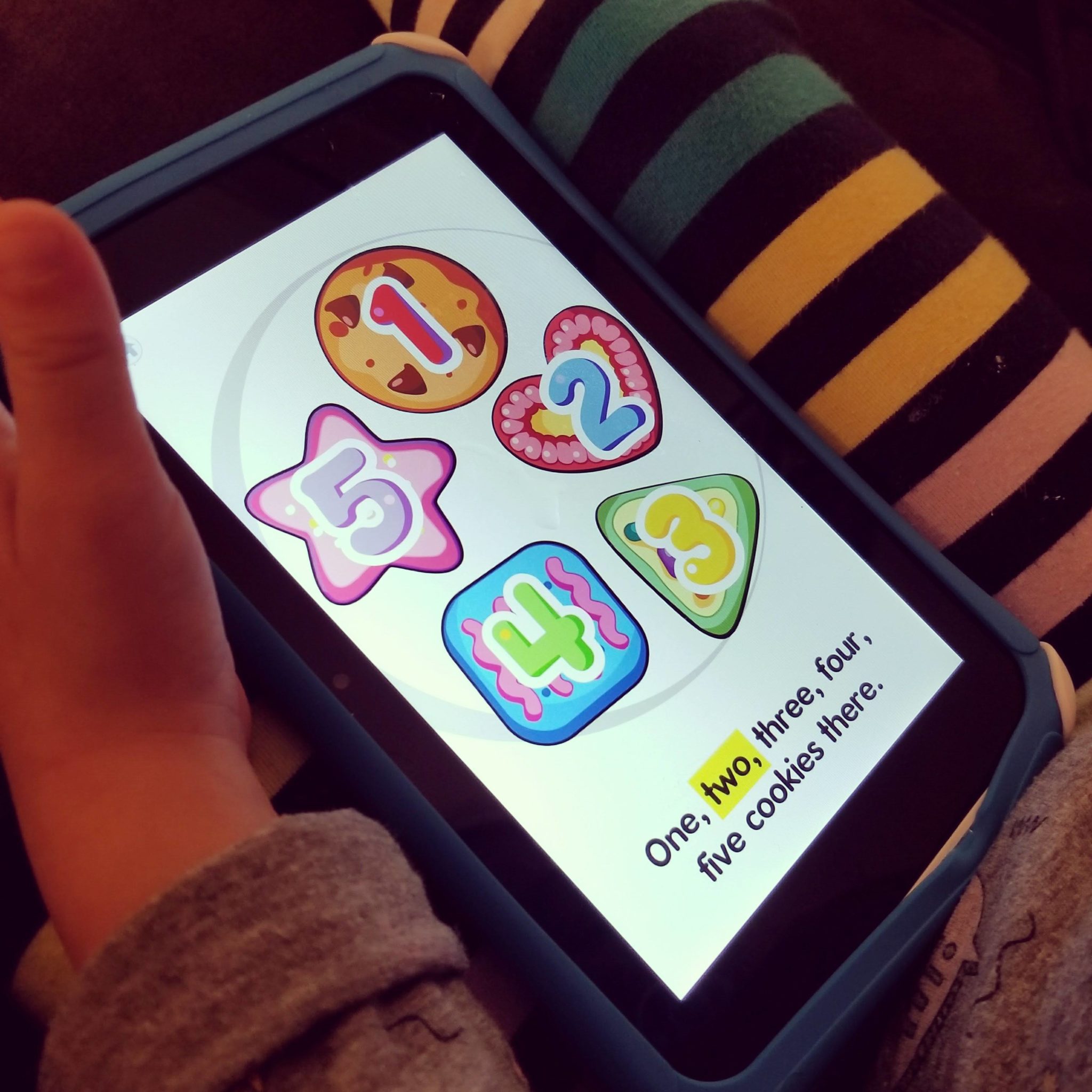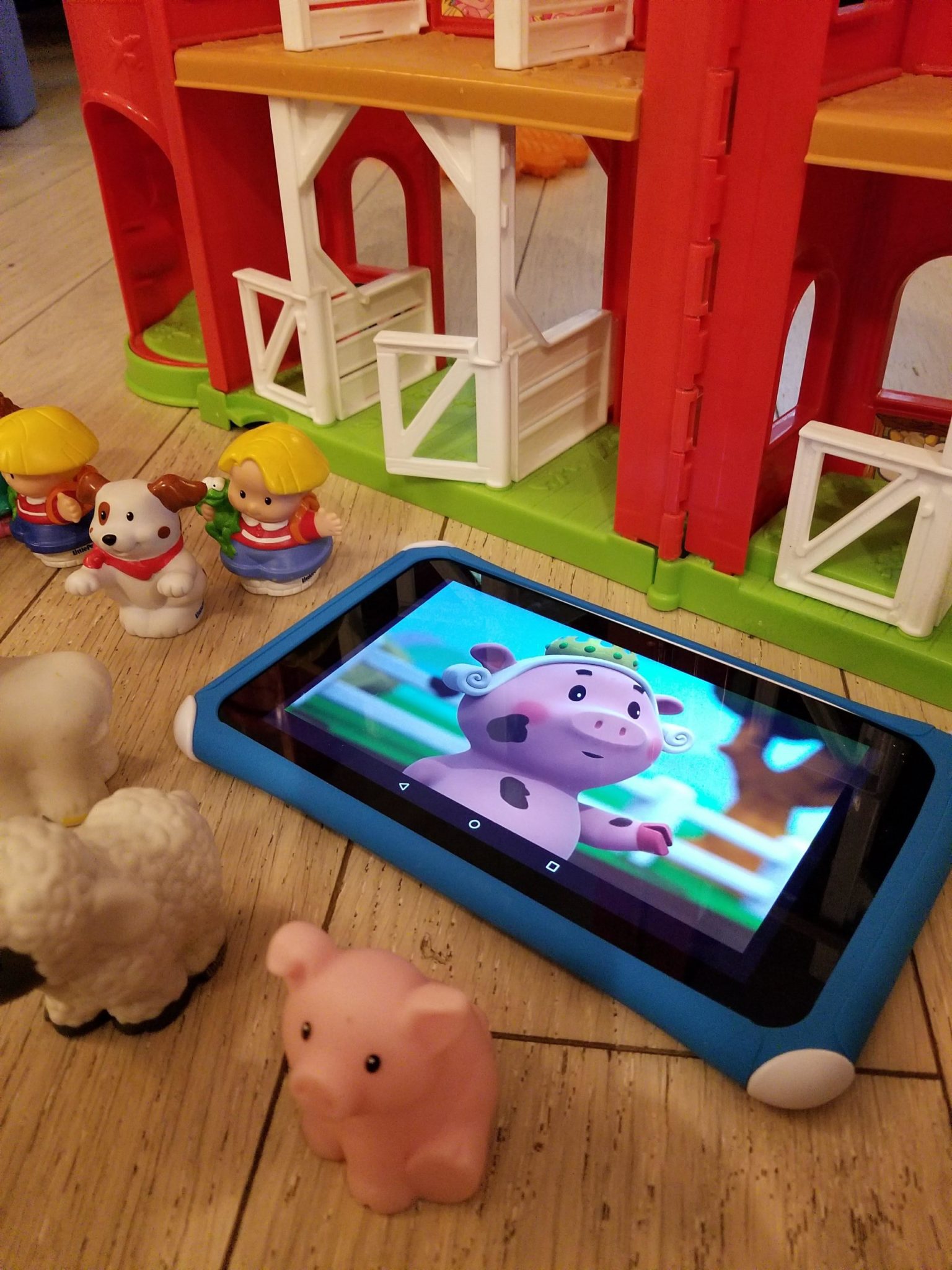 Cubbeto Code and Colour
It's never too early to get little kids coding! CUBETTO is the award-winning wooden robot that teaches coding to preschoolers, with logic packs that take coding to a whole new level. This is a Montessori-inspired playset and was designed to help children of all cultures learn the basics of programming using hands-on blocks, instead of text on screens. I love it! The educational wooden toy breaks down tasks into a logical sequence of steps to reach an end result, encouraging computational thinking. What's nice is that this is an open-ended educational toy that helps little kids learn the basics of sequencing while building confidence as they play.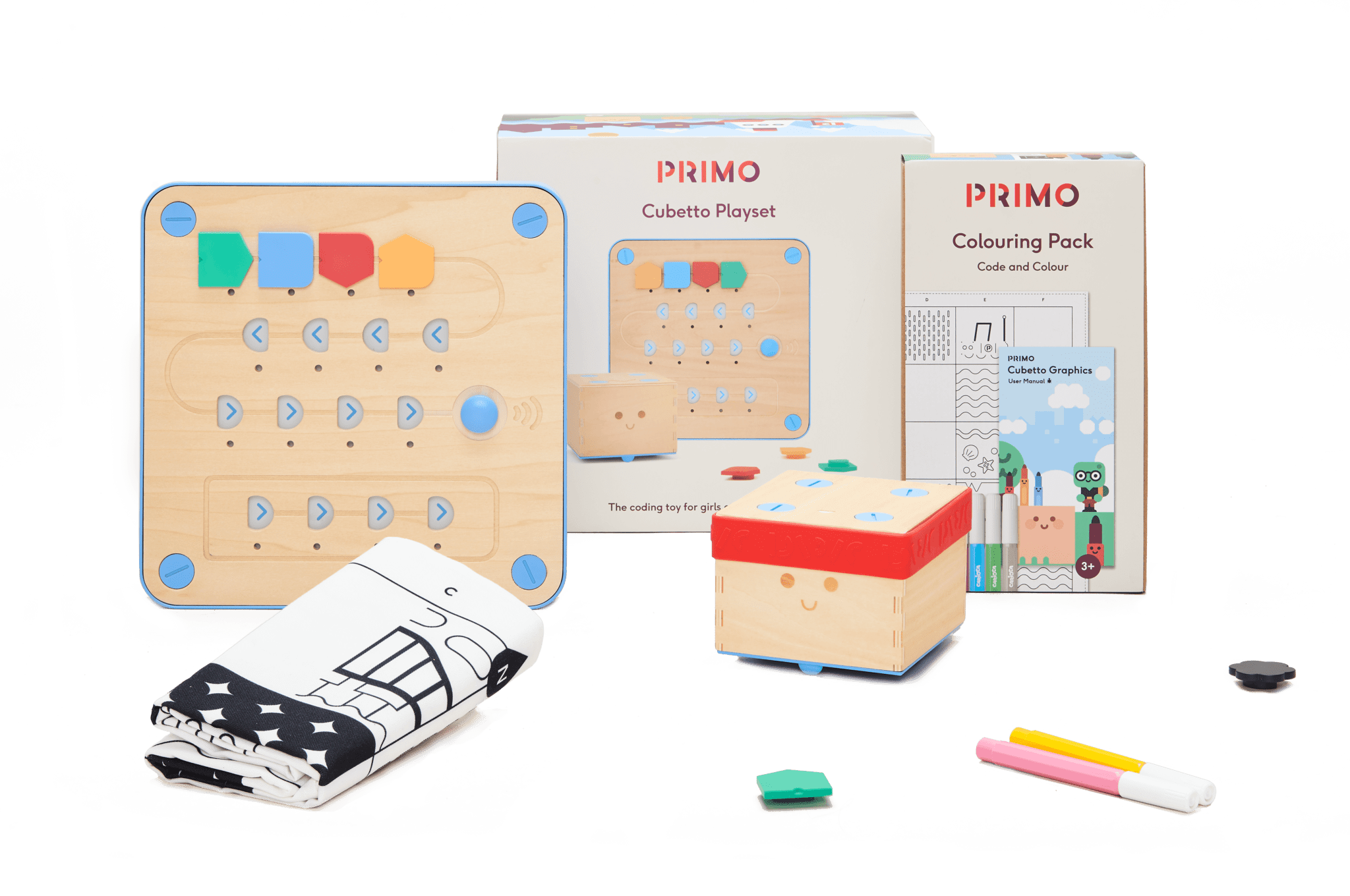 I really am impressed with the fact that Cubetto Code & Colour unlocks the power of hands-on play, while demonstrating that learning to code has just as much in common with arts and crafts as with computer screens. Pretty cool! Right? And coloring with code couldn't be easier, simply attach pens to Cubetto using the Doodle Band, and the robot will draw line graphics in response to different sequences on the Control Board. The washable markers mean less mess for you to clean up, and the washable map allows little kids to start over and over again, opening up the possibility of an endless number of graphic design masterpieces. Ages 3 and up – Retail: $240 [Tweet "Check out this list of Stocking Stuffers for little #kids via @NYCTechMommy"]
Stocking Stuffers Little Kids Love
I'm always looking for fun stocking stuffer toys for my kids. You probably are too! That's why I thought I'd add a few fun stocking stuffers ideas to this Ultimate Holiday Gift Guide for Little Kids. I mean, we can keep it boring with the usual things like candy canes, stickers and coloring books but I like to make it a little more fun. Below I'm listing a few of the little toys my own kiddos are obsessed with. These are the fun little toys that will be filling their stockings this year. I think your little kids will love these too!
Num Noms
My little girl has such a big sweet tooth which is probably why she's so in love with these adorable little collectibles. And I don't mind her having all this sweetness! 😉 A cupful of cuteness and a spoonful of surprise make Num Noms the perfect little treat!. To create your own flavor fusion, mix a Num and a Nom. It's a recipe for sweetness with so many scented combos. Num Noms are the cutest, mini dishes!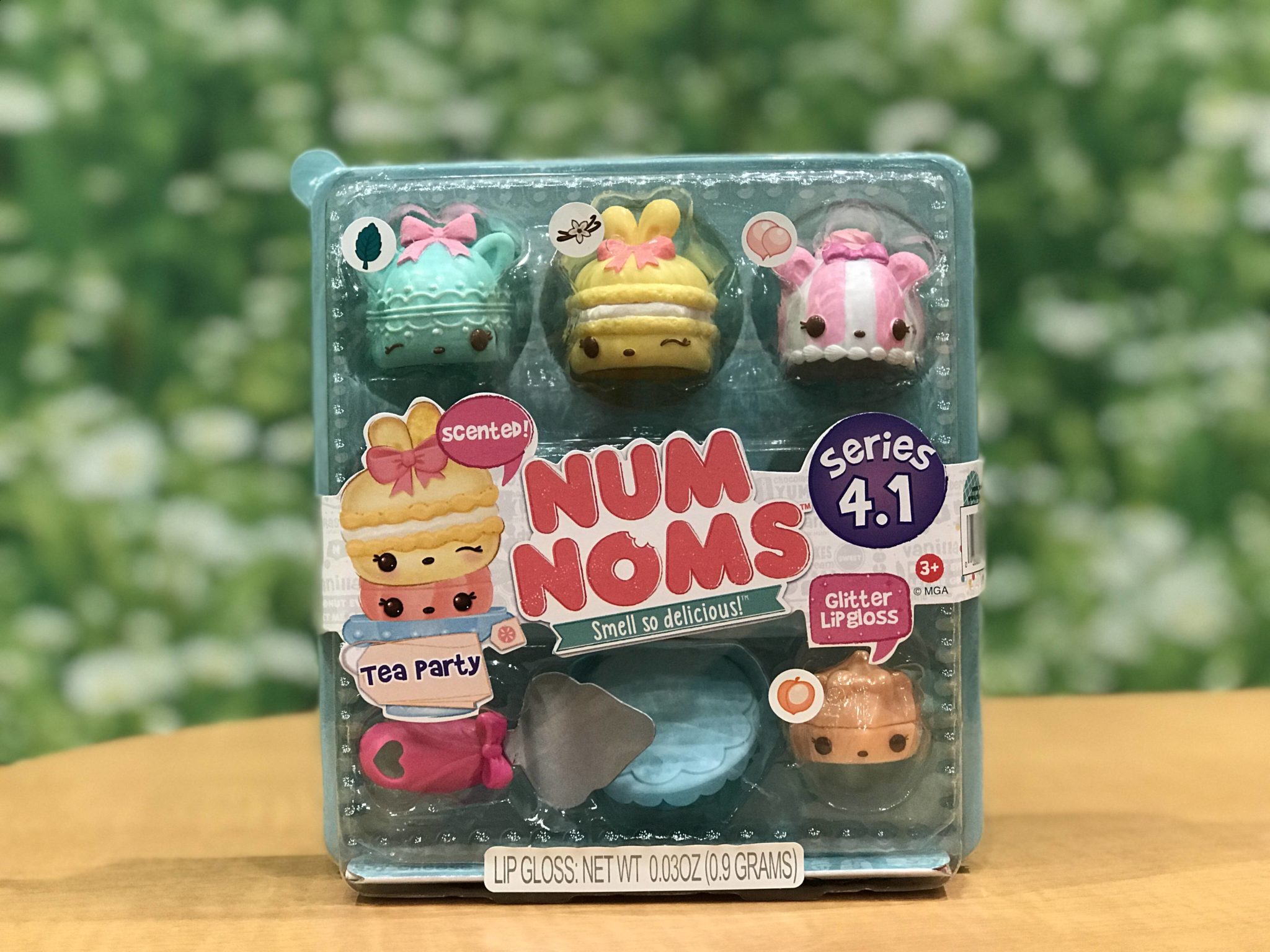 I love these adorable little Series 4 starter sets. The Tea Party set is perfect for a sweet little tea party! Because what little kid doesn't love playing tea party? The included scented nums are adorable, squishy little character that look like mini little cakes. The accompanying Noms are flavored, glitter lip gloss! It's so much fun to stack the Nums (outer) on top of the Noms to make your own sweet scented combinations. This set also includes a cake server and cake stand. And I think this little set is the perfect little treat. Ages 3 and up – Retail: $9.99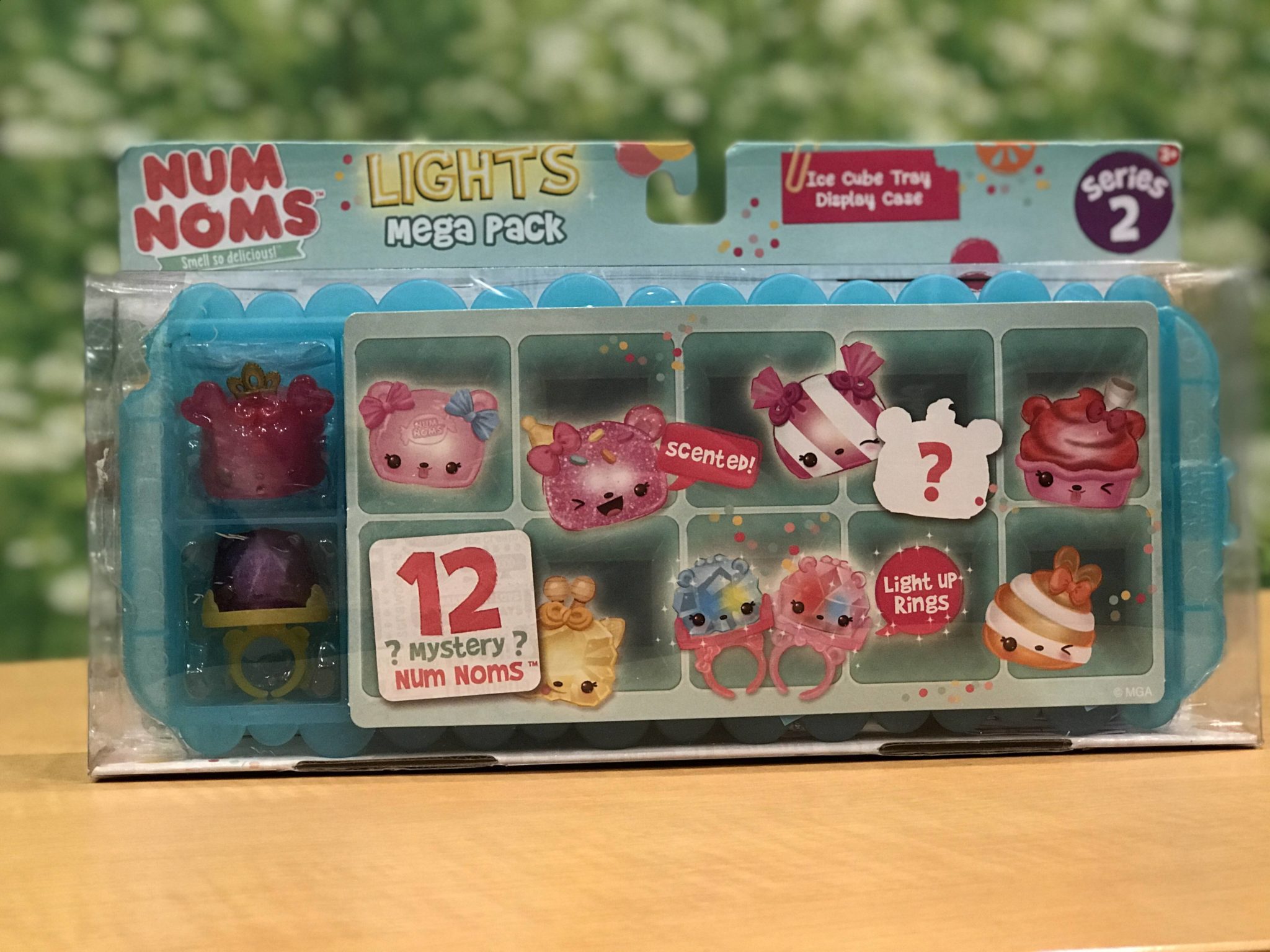 You can also purchase Num Noms in individual packs and add just add one or two to your kids' stockings.

Mini Pickmi Pops
It's not a lollipop, it's a Pikmi Pop! Little kids will be delighted to find these little collectables in their stocking on Christmas morning. Pickmi Pops are just perfect for unwraping. When little kids unwrap a Pikmi Pop they'll find cute surprises inside! Pikmi Pops are packaged in blind bag packaging that's shaped like a lollipop. And what little kid doesn't love lollipops?! Once little kids remove the packaging they reveal cute little surprises inside. And these little surprises aren't only adorable they smell delicious too!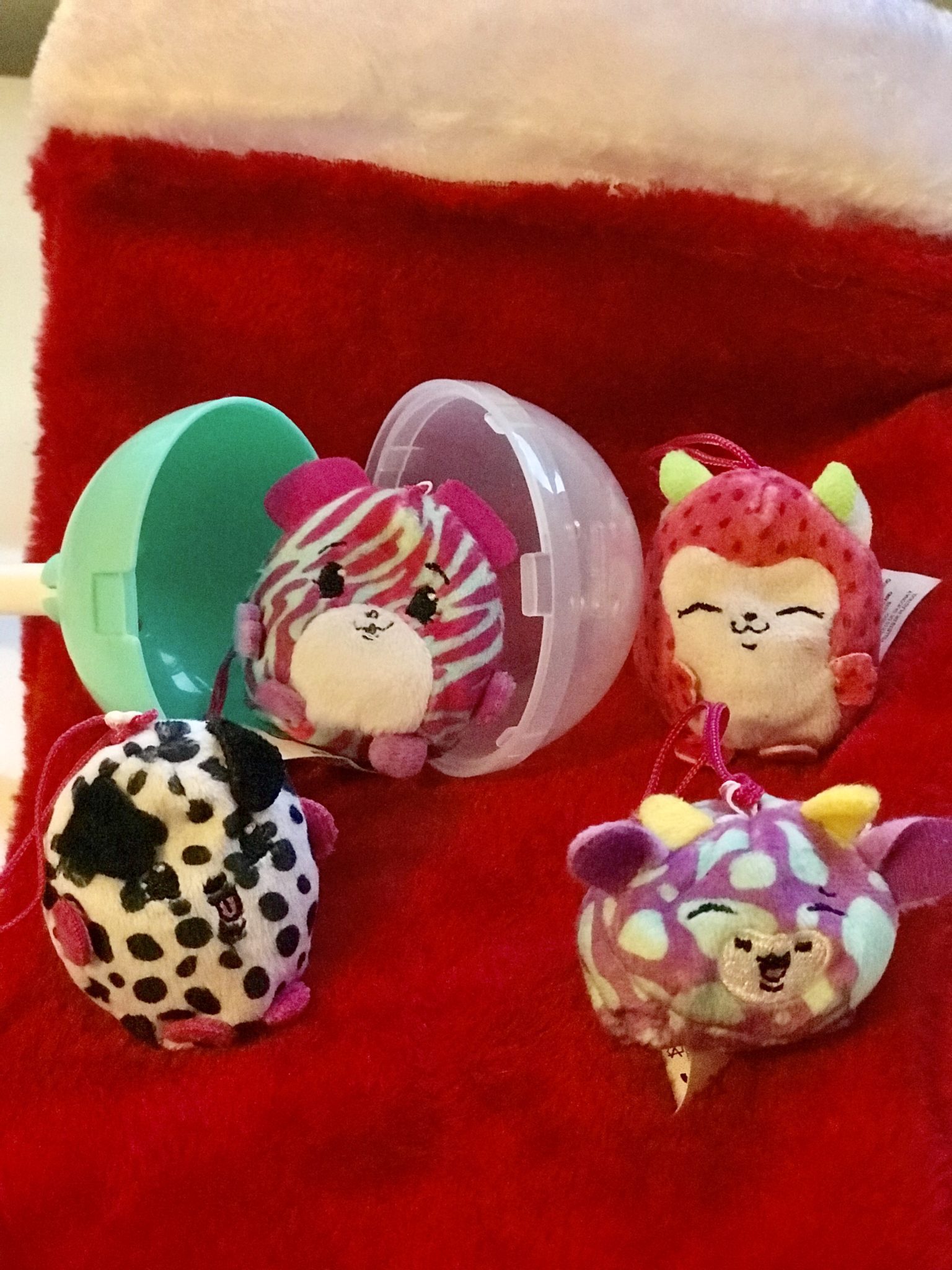 Whiffer Sniffers  
Here' another set of fun little collectibles that little kids will love finding in their stockings! Whiffer Sniffers are fun yummy-scented plush characters that little kids can clip from backpacks or lunch boxes. They're not only perfect as back to school gifts. They fit right in as a fun and delicious (because they smell so yummy) stocking stuffer treat! Ages 3 and up – Retail: $7.99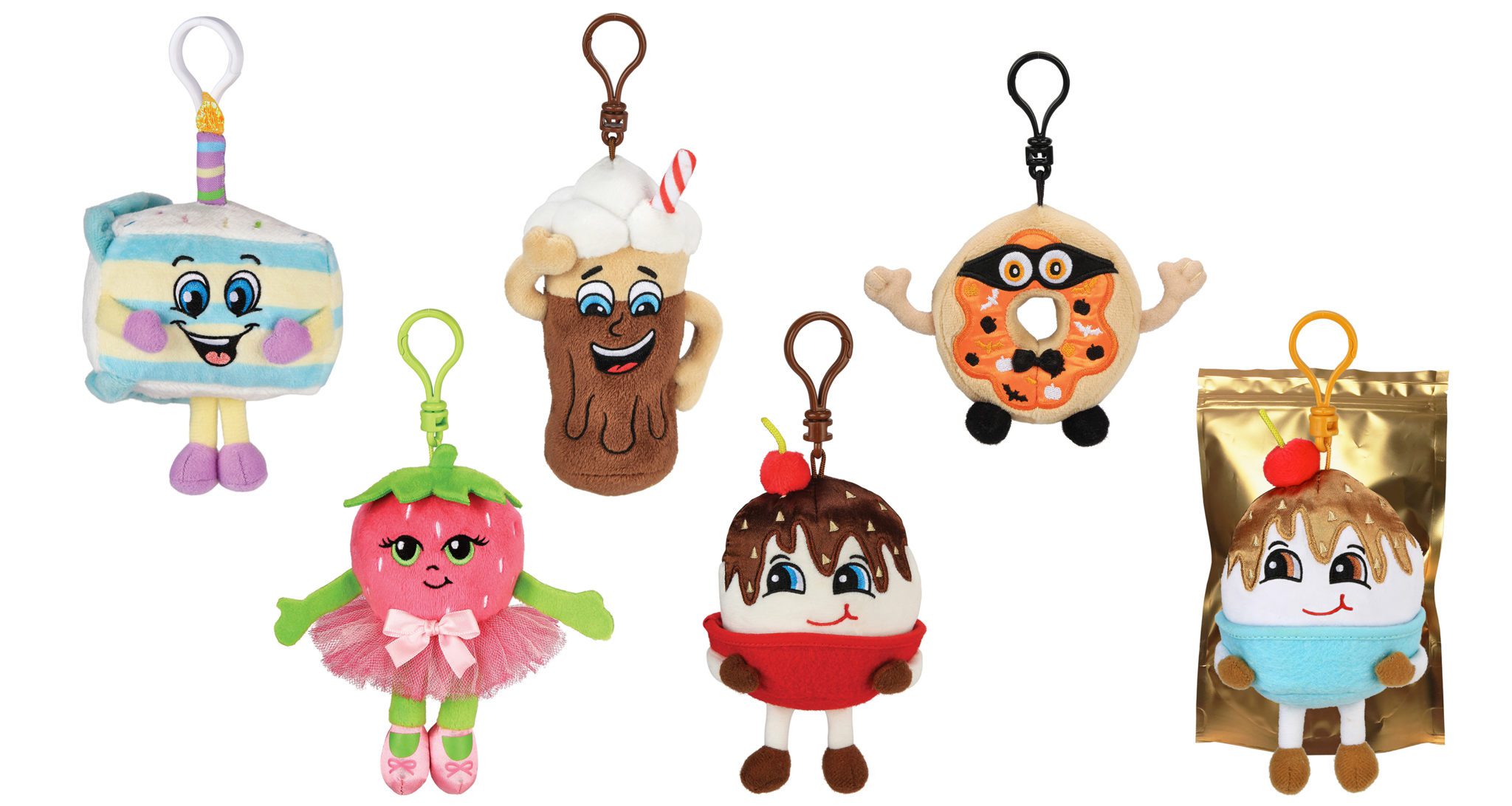 Sliter.io Blind Bags and Minis
Maybe your kid is obsessed with this game! After all the The slither.io game had 12 Billion game plays the first half of 2017. That's why I'm sure that these make great stocking stuffers. Little kids will absolutely love finding these wiggly, bendable, squeezable little collectables in their stockings. What I really like is that there's also such a wide variety of products to choose from when it comes to Slither.io — blind bags, plushies, mini squishy, spinners, backpack clips and more. Which one will you chose? All of them? Ages 3 and up – Retail: $7.99+ Slither.io Minis and Fidget Spinners will be available exclusively at Walmart December 1st to December 14th. Visit the BonkerToys website to learn more.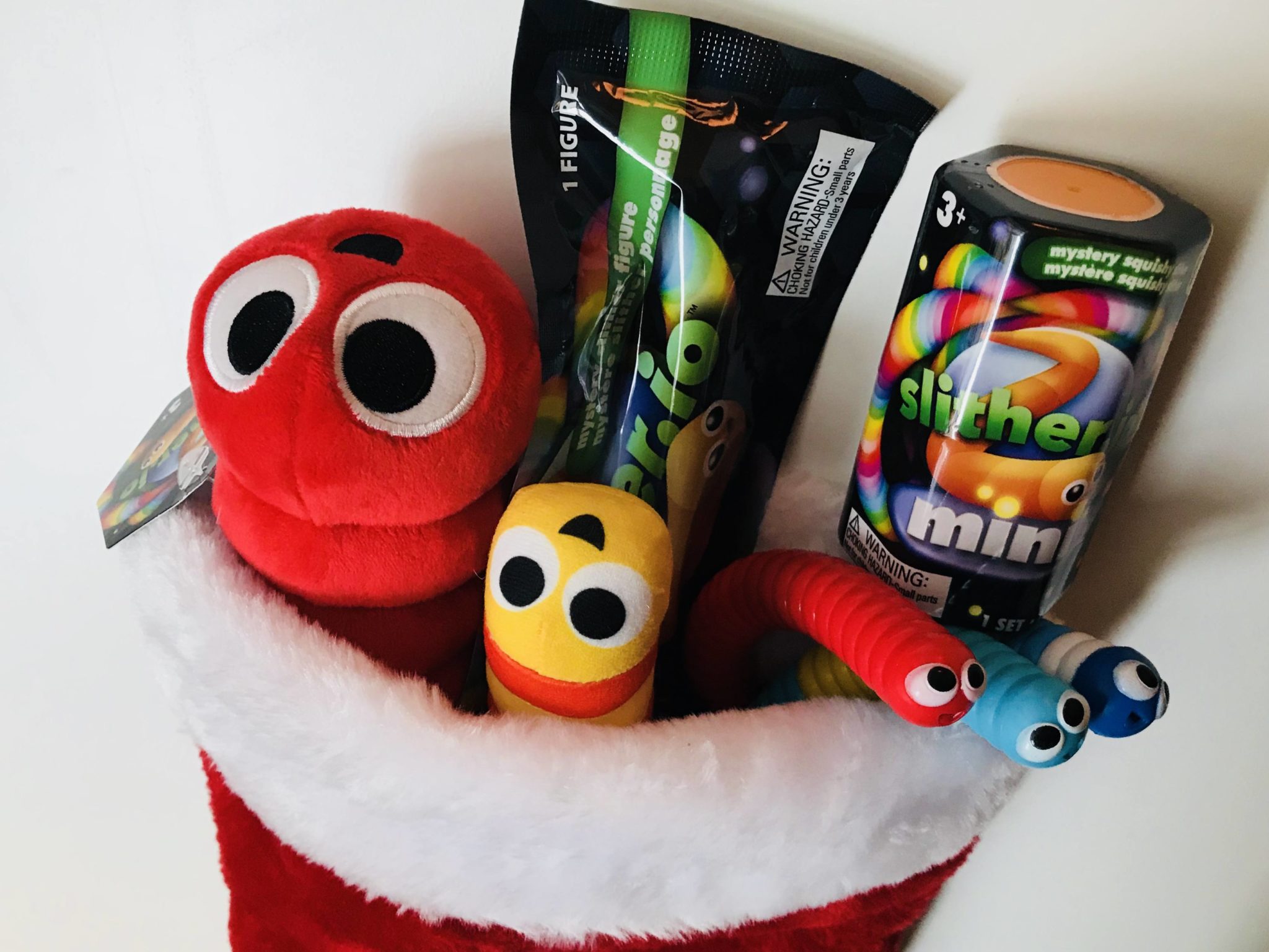 Mayka Toy Block Tape
To round off this list of great stocking stuffers, I have to mention a huge favorite at our house — Mayka Tape! Mayka tape is the original toy block tape that you can cut, shape, and stick just about anywhere to instantly transforms any surface into a building area for those toy blocks your little kids love so much. Stick it on walls, ceilings, furniture, anywhere and let imaginations go wild! I love it because it removes restrictions of where kids can build. That means it also their imagination isn't restricted. If they can imagine it, they can build it with Mayka tape! And it fits perfectly in any stocking! Ages 3 and up – Retail: $12.99+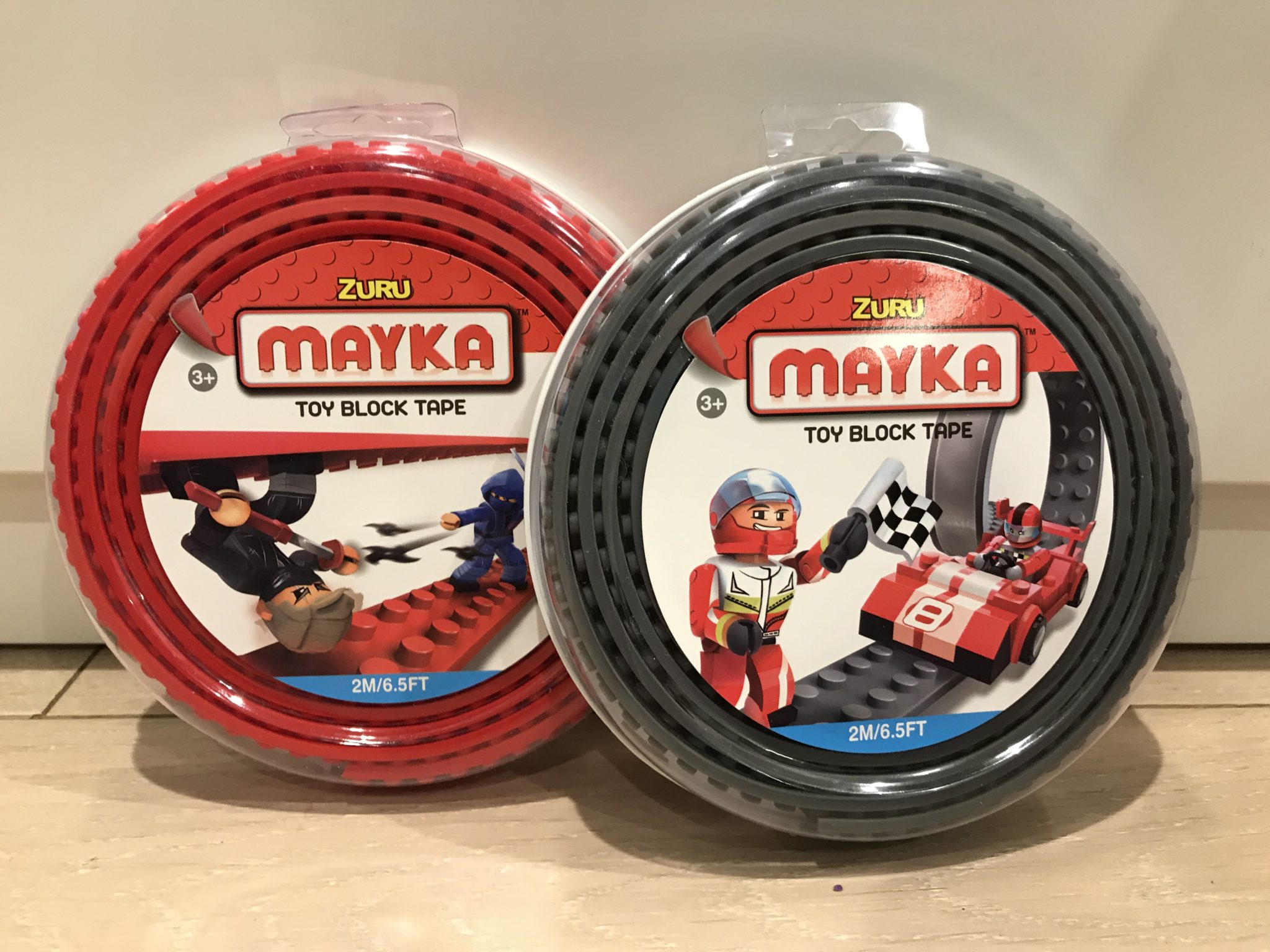 ---
Now as promised here's a fun giveaway to help you stuff those holiday stockings with some fun little toys. Forget those boring coloring books and candy canes. We ve got you covered!
** THIS GIVEAWAY HAS ENDED **
Stocking Stuffers for Little Kids Giveaway
As promised, now here's your chance to win a few of the fun stocking stuffers featured in this post. To help celebrate the gift giving season we are giving away a variety of the stocking stuffers for little kids from this gift guide to one lucky NYCTM reader! Our Stocking Stuffers for Little Kids Giveaway includes: (2) Num Noms Lights ($20) (2) Slither.io Blind Bags and/or (2) Mini Squishy Slither Mystery Packs ($20) (1) Teletubbies DVD – Title: Big Hugs ($9.99) [Tweet "I just entered to win this #stockingstuffers #giveaway via @NYCTechMommy & you should too!"]
How to Enter to Win Stocking Stuffers for Little Kids
Leave a comment letting me know why you would love to win this Stocking Stuffers for Little Kids Giveaway! Comment must be completed before other entry options are counted. This giveaway starts November 28th at midnight EST and ends December 5th at midnight EST. Entrants must be USA residents and at least 18 years old. One winner will be randomly selected by rafflecopter.com from all qualifying entries and contacted via the email they provide. The email will come from [email protected] The winner has 48 hours to respond or a new winner will be chosen. Good Luck! Enter to win using the rafflecopter below. a Rafflecopter giveaway