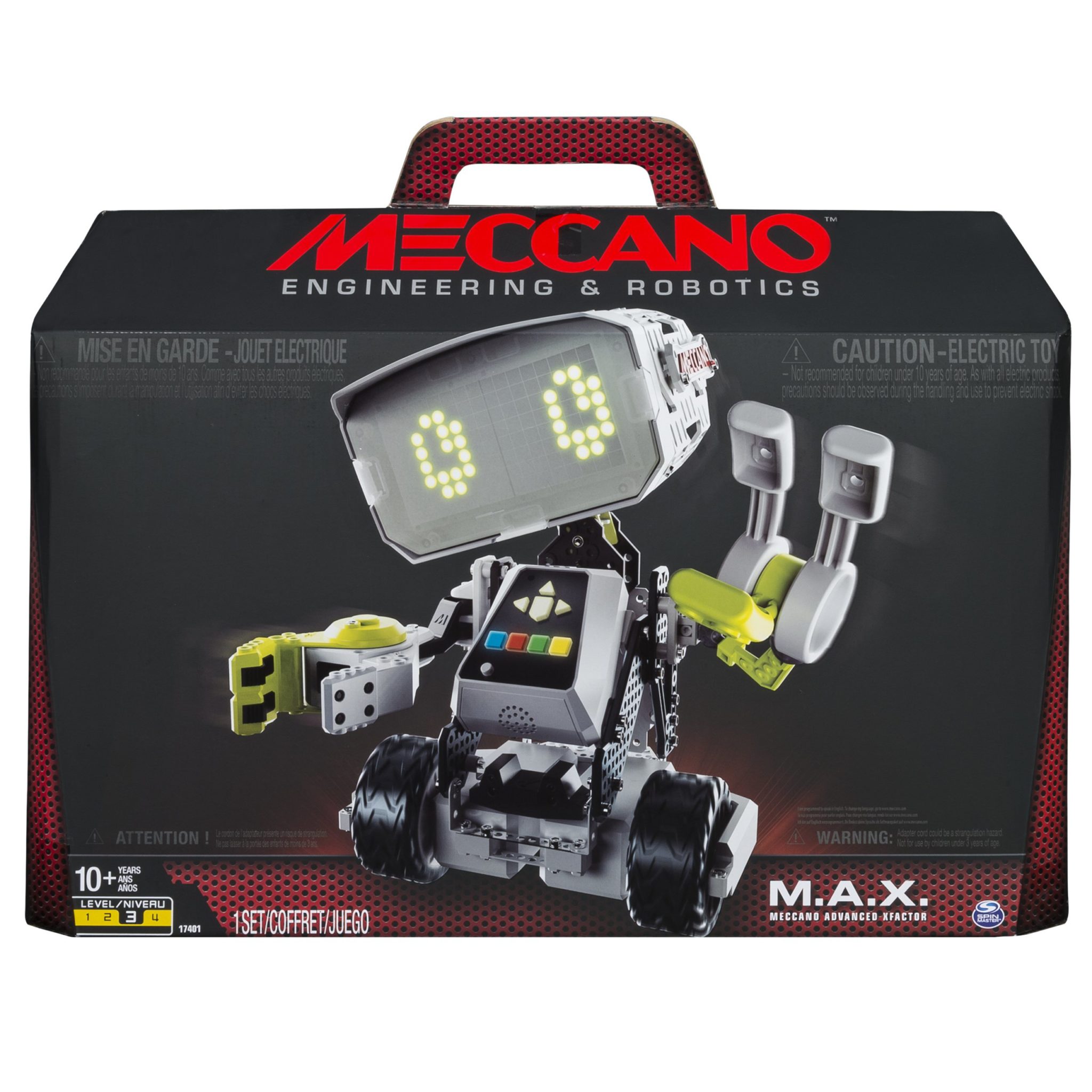 10 Top Techy Toys for Kids – 2017 Holiday Gift Guide + Giveaway
November 18, 2017
Are you raising techy kids? Of course you are! In today's technological age there's no way you're not. Our kids are what we consider digital natives and their digital games and techy toys are here to stay. To help you figure out the best techy toys for your kids this holiday season I thought I'd share our 10 top techy toys for kids, plus a cool holiday giveaway to help you get your hands on a few of these. Read on to learn more about our favorite tech toys and make sure to enter our giveaway at the end of this post.
THIS GIVEAWAY HAS ENDED BUT YOU CAN STILL READ ON TO LEARN MORE.
Thank you to our sponsors who provided us with free product samples to facilitate this holiday gift guide + a great holiday giveaway for our readers. As always, we only share what we love and think you will too! All thoughts and opinions are my own.
Also thought I'd let you know that this post does include affiliate links. What that means is that if you make a purchase, I'll receive a small commission without it changing the price you pay. Thanks for supporting NYCTechMommy and happy holiday gift shopping!
Read on because I've also included discount codes for select products. And don't forget to enter the holiday giveaway at the end of this post!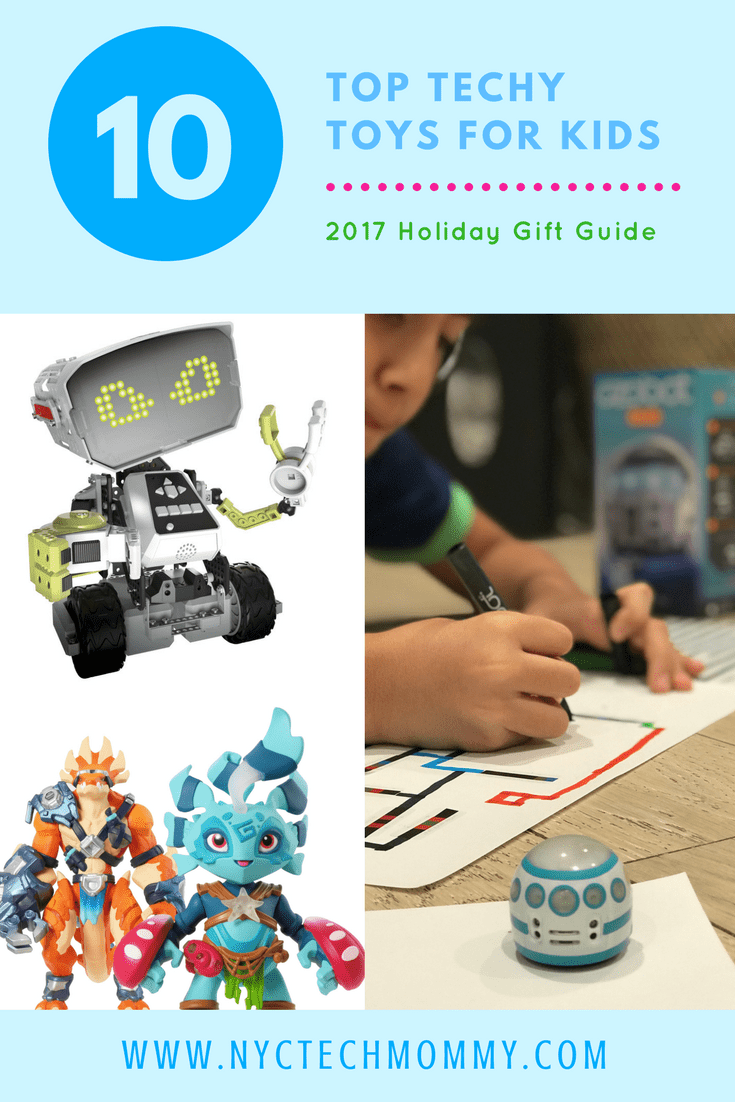 Top Techy Toys for Kids
Here's a list of our favorite top techy toys for kids — ones we've played with ourselves and absolutely love, plus a few that are on my kids' wishlist this Christmas. I'm sure your techy kids will be asking for these too! We've compiled a great list of coding toys, robots, augmented reality toys, tablets and just all-around-fun techy toys perfect for the little techie in your life.
Coding Toys & Robots
Ozobot Evo
We love [eafl id="7057″ name="Ozobot" text="Ozobot"] because it's a company built around the idea of blending creative thinking with business disciplines to bring new ideas to market. They focus on introducing new ways to combine social interaction with digital apps. We recently tried out their new Evo and loved everything about it — it's a smart, small, social robot that teaches coding and inspires creativity.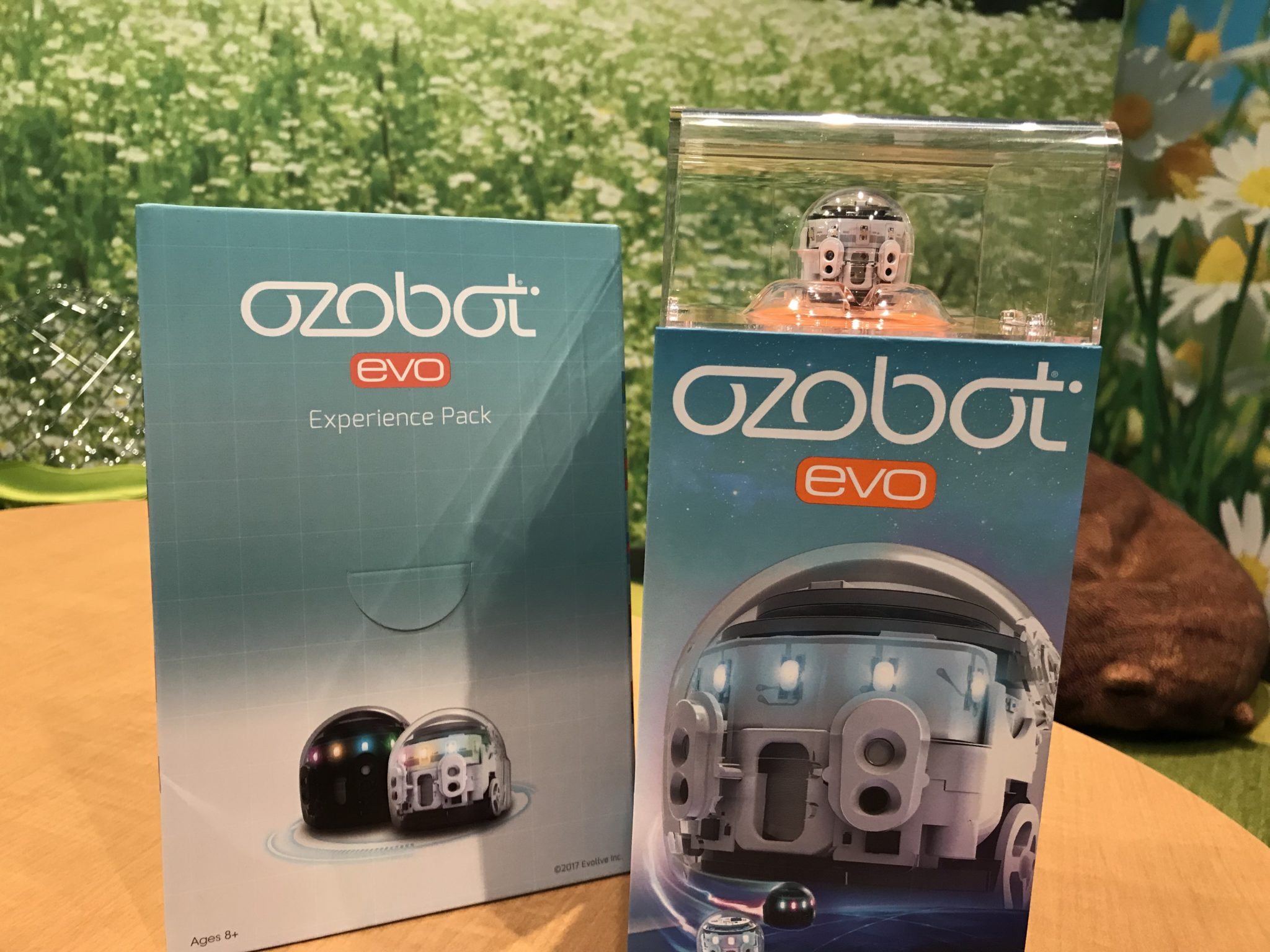 Evo is the only connected smart robot of it's kind! He's a smart little bot with BIG personality. Kids will immediately love Evo right out of the box. With autonomous LED lights, sounds and movements he's guaranteed to entertain. Evo uses Infrared Proximity Sensing to avoid obstacles and App-Enabled RC Controls to explore the world around you.
The possibilities are endless and kids can spend hours personalizing and interacting with their Evo — use colored markers to draw a path for Evo or use OzoCode stickers to code faster, drive your Evo or play OzoBlocky games using the app, personalize your Evo with skins and stickers, and even share your creations with the #OzoSquad community. And because Evo is a social bot he'll interact with other Ozobots if you own more than one. Build your own #OzoNation!
Check out this video to learn more about Evo and see how he works. You can also learn more about it from our own Ozobot Evo unboxing video. Watch it below and see all the fun we had with our Evo right out of the box.
Play, learn, share and let Evo guide you along the way! I recommend Ozobot for kids ages 8 and up. It was just perfect for my 9 year old who personalized and coded his Evo all on his own.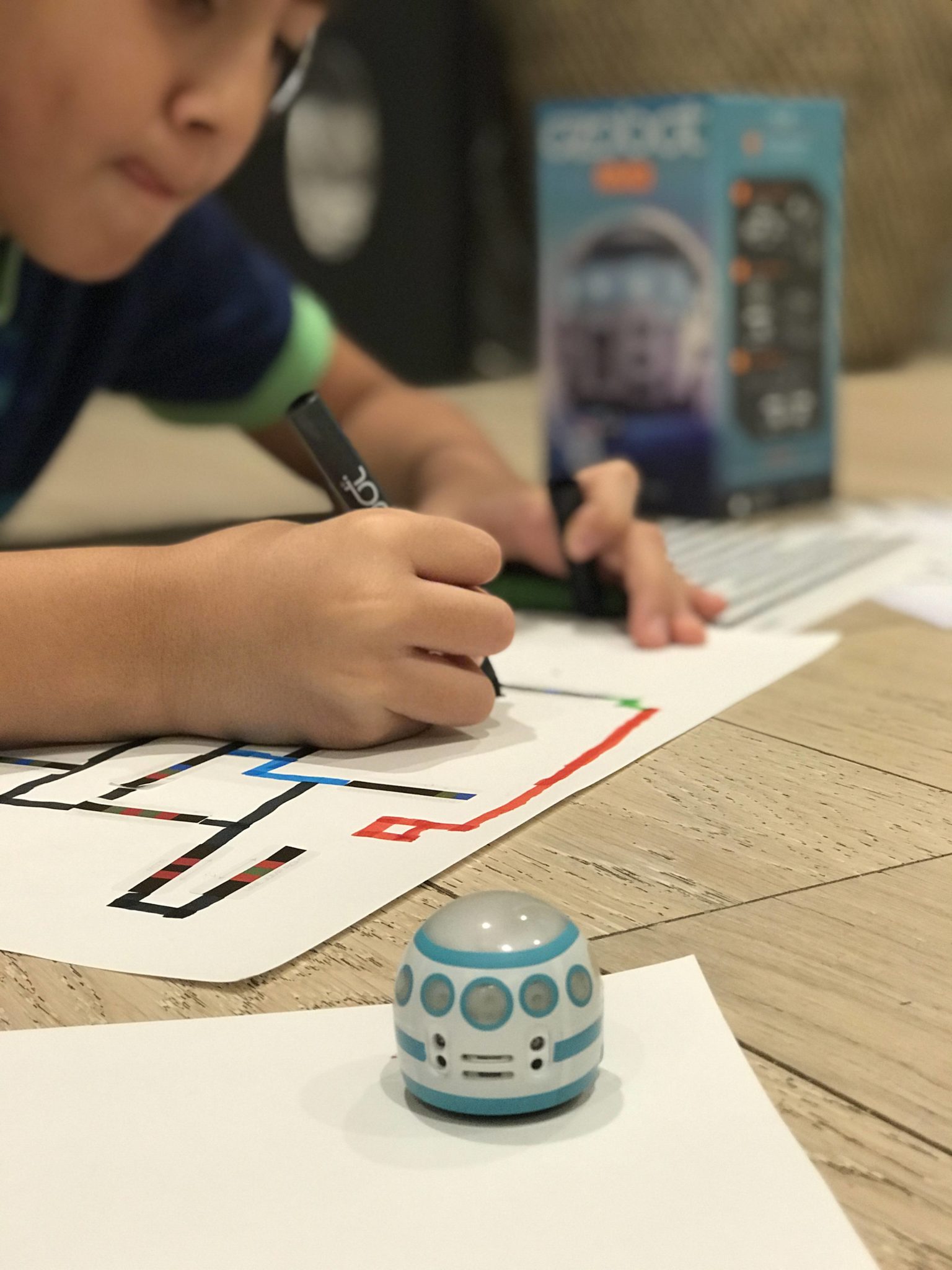 BONUS SAVINGS: I'm granting you early access to Ozobot's holiday promotion when you purchase through my affiliate link and use HackTheHallsBots at checkout to save 20% OFF sitewide on the [eafl id="7047″ name="Ozobot" text="Ozobot website"] & receive FREE shipping on all orders. This offer is available through Christmas Day, Monday 12/25/17. Happy shopping!
Dance Code featuring Disney Princess Belle
Staying on the topic of kids and coding, which is a hot one these days, here's another little coding toy that seems like a real gem. We recently experience this beautiful coding princess at MakerFaire and were not only impressed by her beauty but also her awesome dancing skills — kids code her dance moves!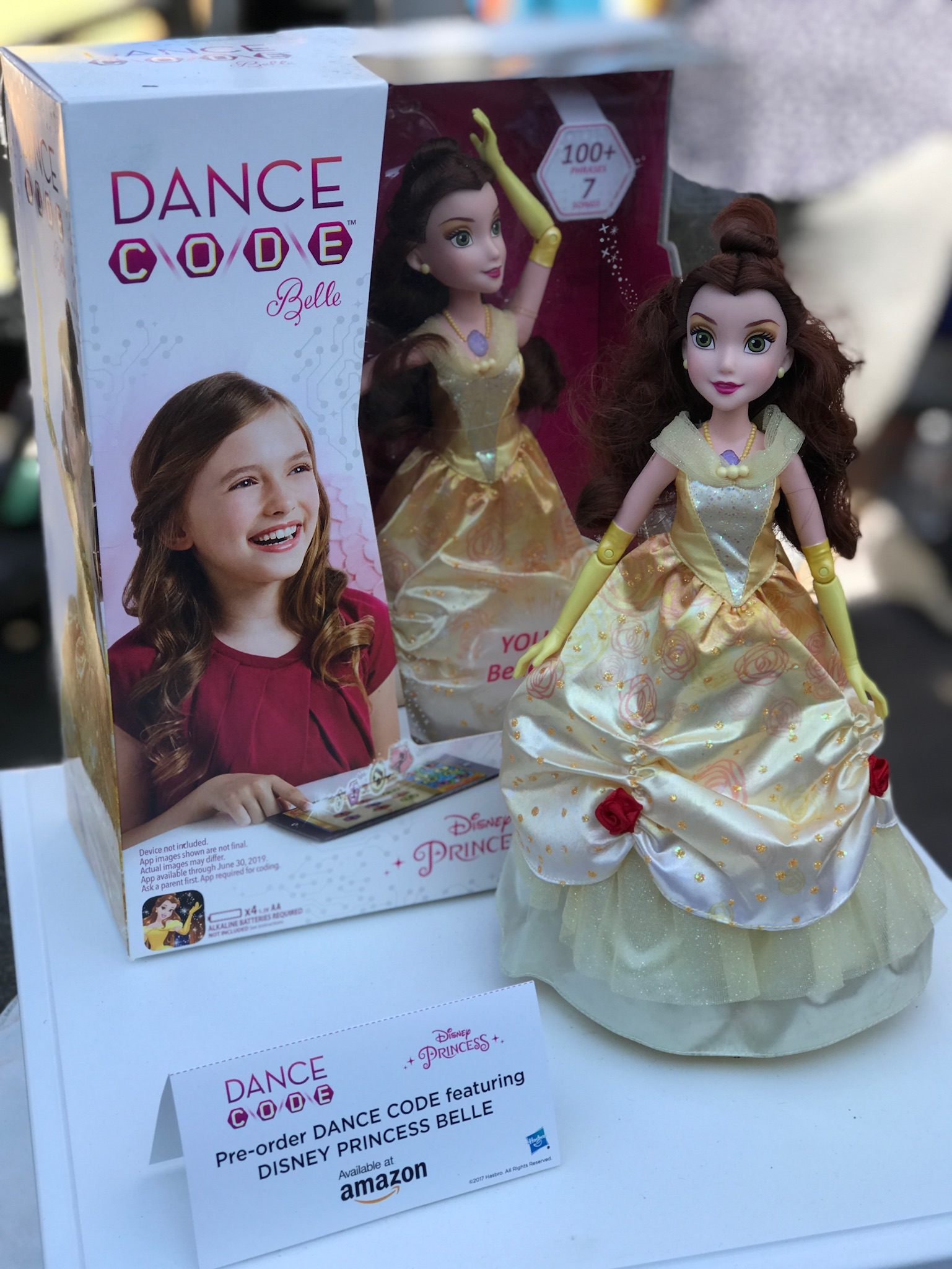 DANCE CODE featuring DISNEY PRINCESS BELLE empowers and encourages kids to create dances with BELLE in a realistic and magical way, including an interactive app with three kid-friendly activities. Using the app, kids can create dances using interfaces that resemble block coding, 'connect-the-dots', and drawing to create and choreograph unique dance sequences for their BELLE doll to move before their very eyes. You can see how it works in this review by the Toy Insider.
This Disney Princess DANCE CODE doll also features three standalone modes of play, independent from the app. BELLE can instruct kids to dance, hold BELLE's arm to lead her in a dance or simply press BELLE's necklace to watch the doll dance to choreographed dance routines. With over 100 phrases and 7 different songs, kids will love interacting and twirling along with BELLE!
The DANCE CODE doll comes wearing a gown inspired by BELLE's iconic gold gown, and is a great addition to any young DISNEY PRINCESS fan's collection! Download the Dance Code app available for iOS, Android and get ready to dance like a Disney princess.
Dance Code featuring Disney Princess Belle is loads of fun for kids ages 5 years and up. It's exclusively available on Amazon and I think your little girls will love coding (and dancing) with Belle.
[Tweet "Check out these TOP TECHY TOYS FOR KIDS #HolidayGiftGuide #Toys"]
Meccano M.A.X
We love Meccano robots and the Meccano M.A.X is the most advanced Meccano robot yet. He draws on advanced robotics technology and combines Artificial Intelligence (AI) learning and customizable programming to become your one-of-a-kind personal robotic companion. M.A.X is like that robot we all dreamed of having when we were kids!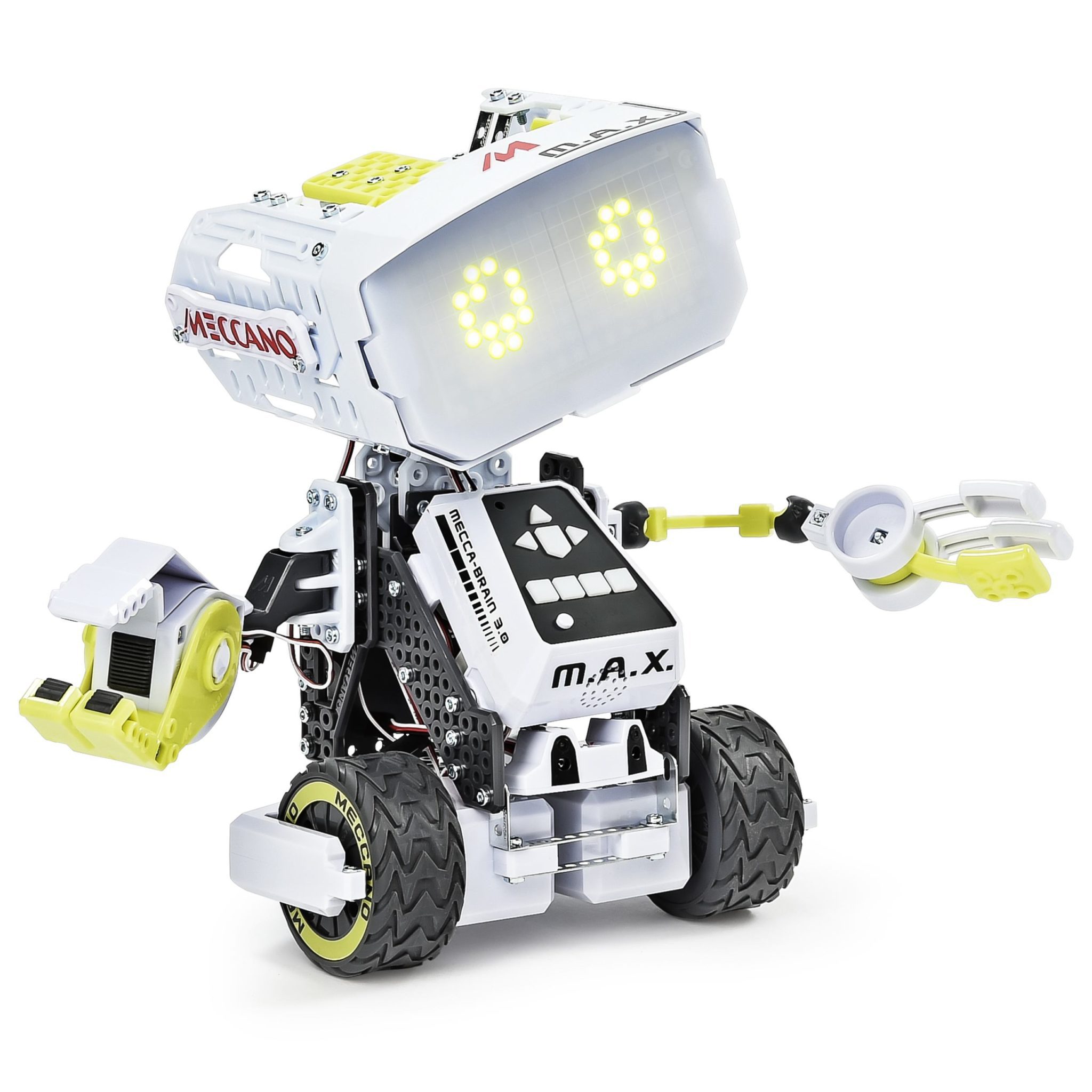 What's great is that Infrared (IR) navigation and customizable apps bring M.A.X to life with almost limitless potential for personalization and interactivity. Great for challenging young minds and perfect for budding engineers, little builders, and visionaries. M.A.X engages kids in critical thinking. He's an intermediate complexity robotic toy recommended for kids 10 and up.  Still, I think little makers as young as 8 would enjoy building their own robot with the help of an adult. 
Quick Building Tips: This STEM toy Includes 332 parts so make sure to have a large enough table top or floor space to lay everything out while building. It may also help to have small ziplock bags on hand to separate pieces and store small parts when you need to take a break from building. Total build took us 4 to 6 hours although packaging may indicate 1 to 3 hour total build time. After that M.A.X is guaranteed to engage kids in hours of techy fun!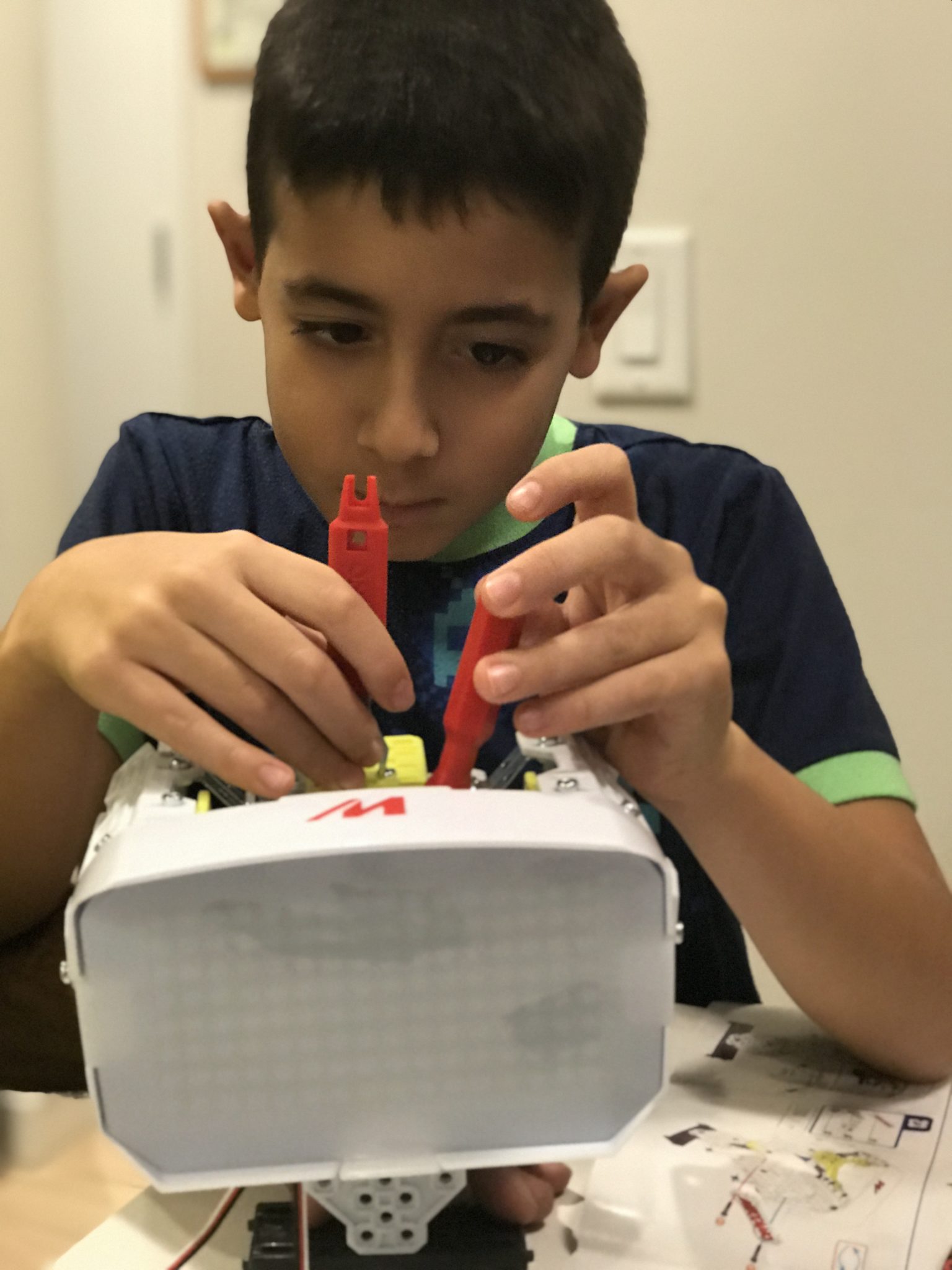 Kids are sure to love interacting with M.A.X! Talk to M.A.X and he responds. He plays games, tells jokes and even mixes up some cool beats! M.A.X also has the ability to patrol your room and detect intruders, give you reminders, and so much more! And the fact that he includes a built-in gaming platform is a big plus for little gamers like my own kid! M.A.X provides hours of fun and entertainment plus promotes critical thinking and empowers kids to learn 21st Century skills. The more kids interact with M.A.X, the more he learns and interacts with them! What techy kid wouldn't love their very own interactive robot?! Go ahead and order one for your kiddo on Amazon today.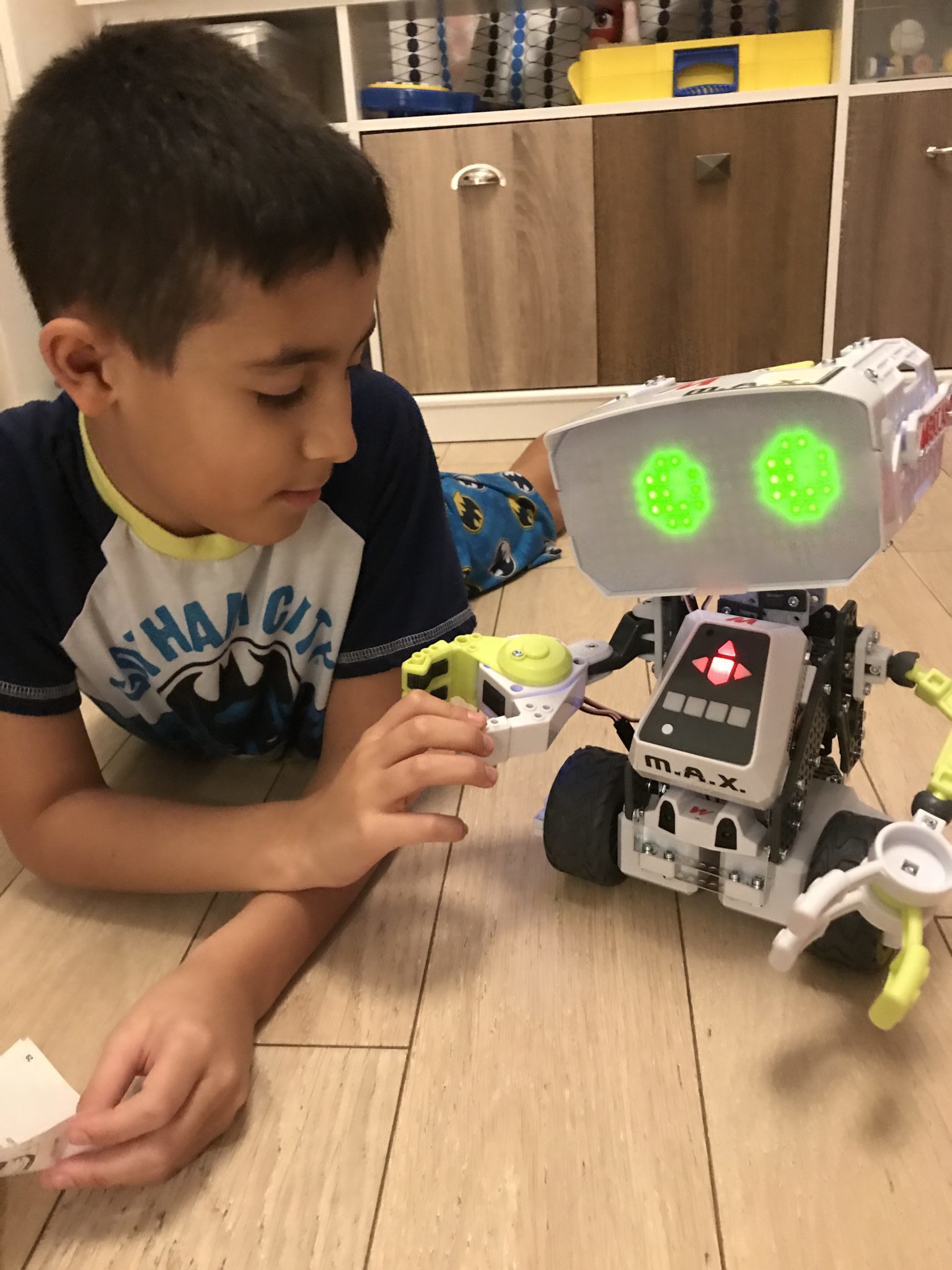 Code Car
If you've been following along, you already know we love getting techy with Let's Start Coding kits! Our friends at Let's Start Coding recently released their newest product, just in time for the holiday season. This neat little techy toy is called Code Car and it's an excellent introduction to coding, for kids ages 8 and up.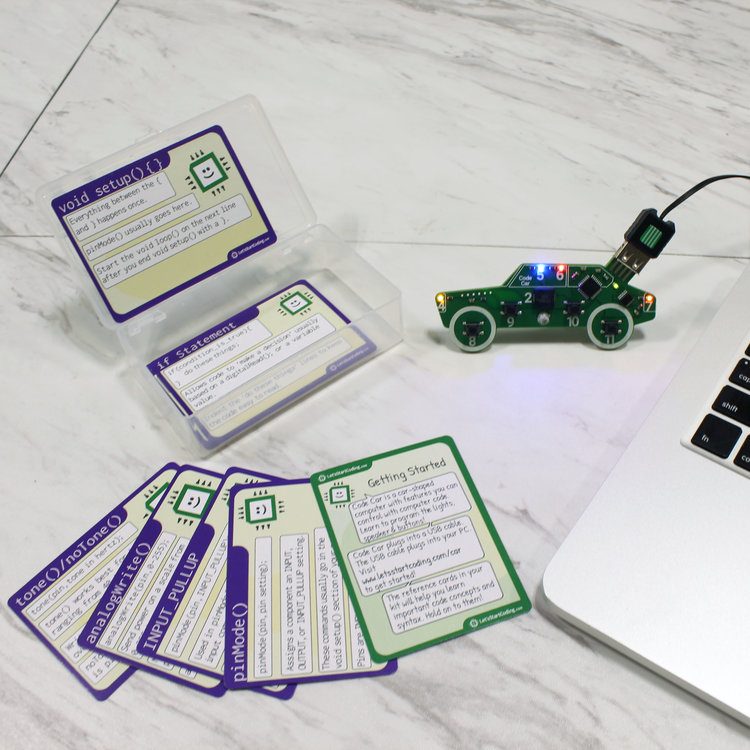 It includes a simple set up and all kids need to do is plug Code Car in, download the free software, and get started learning! Code Car comes with 14 guided, online lessons that allow kids to learn the basics of real, typed coding. These lessons go from turning on a headlight to creating a backup alarm. Code Car even comes with an activity named "Hack the Code Car" that allows kids to work with all of Code Car's features and really dig into how each feature works.

I really love that everything needed to run Code Car is in a small clear case and kids can have hours of fun even when working on their own. In addition, kids will gain skills in computer coding and an understanding of the underlying concepts of technology. They'll learn troubleshooting skills and improve their logical thinking by addressing coding challenges that they'll actually want to solve. That makes this one of our top techy toys!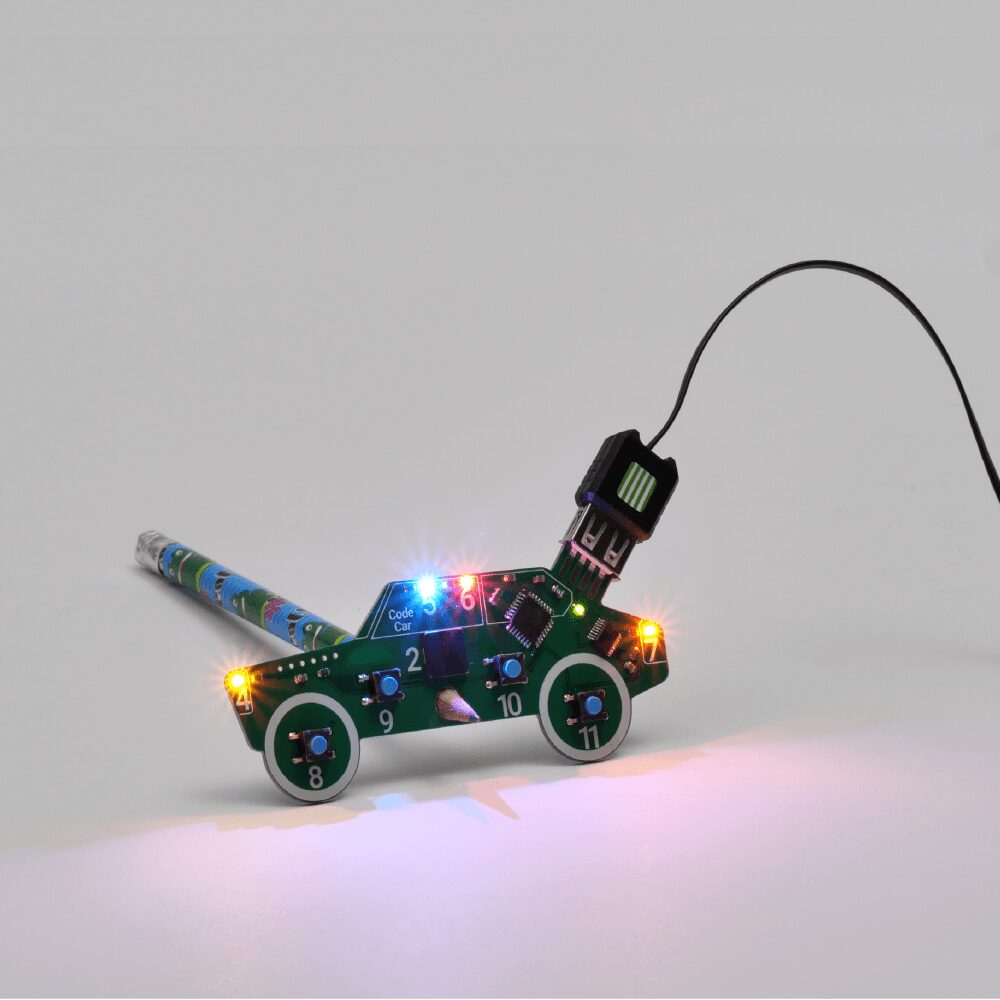 Bonus Savings: For a limited time, from now until Tuesday, November 21st, you can get your own Code Car at a special 15% discount just for our NYCTM readers. Use discount code NYCTECHM and receive 15% OFF when you purchase from Amazon. Run don't walk! Remember the code is only good until Tuesday, November 21st. Happy coding!
Augmented Reality Toys
Augie Augmented Reality Robot
You already know we love Pai Technology augmented reality toys and we are excited about their newest techy toy. They recently released their new augmented reality robot. His name is Augie and he's the first children's robot that supports augmented reality, coding, and creative play. Through coding, kids can control Augie's movements, play Augmented Reality (AR) games and record their own funny sounds. I think Augie will keep kids playing and learning for hours – while having fun too!  
You can view Augie in action in this video.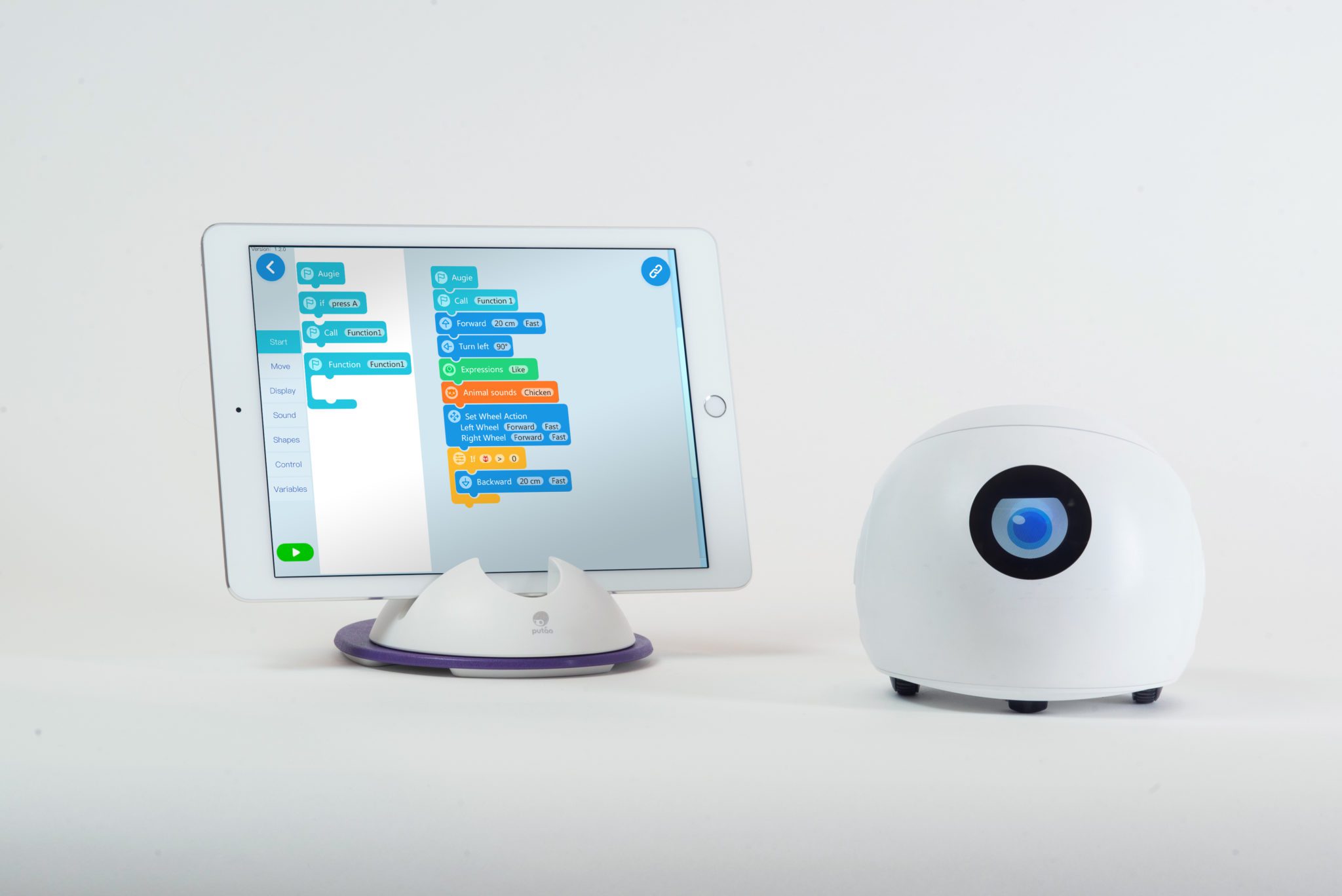 Although we haven't gotten our hands on Augie just yet, he is on our holiday wish list. I'm sure he will not disappoint! We've already had other great experiences learning with other Pai Technology toys. And we are excited about this new robot from Pai Technology.
Did you know that Pai Technology is a new company dedicated to creating new lifestyles for families by using technology to help kids grow, develop, and play. And we're on board! The new Augie Augmented Reality Robot from Pai Technology seems like fun for kid ages 5 and up. You can get your own Augie on the Pai Technology website.
Lightseekers
Lightseekers is a new tablet-based game which brings together role playing, augmented reality trading cards, smart action figures and interchangeable accessories. Using Bluetooth, the fully-articulated 7" smart action figures connect in real time to your smart device, and give you options and controls we used to dream about as kids.
What's nice about these toys is that no gaming console or portal is needed. The figures themselves connect wirelessly to mobile and tablet devices via Bluetooth Smart. Also nice is that the Lightseekers trading Card Game is a standalone physical game that includes 385+ augmented reality trading cards. And the 7″ fully articulated, smart action figures are so fun to play with even without the Lightseekers game.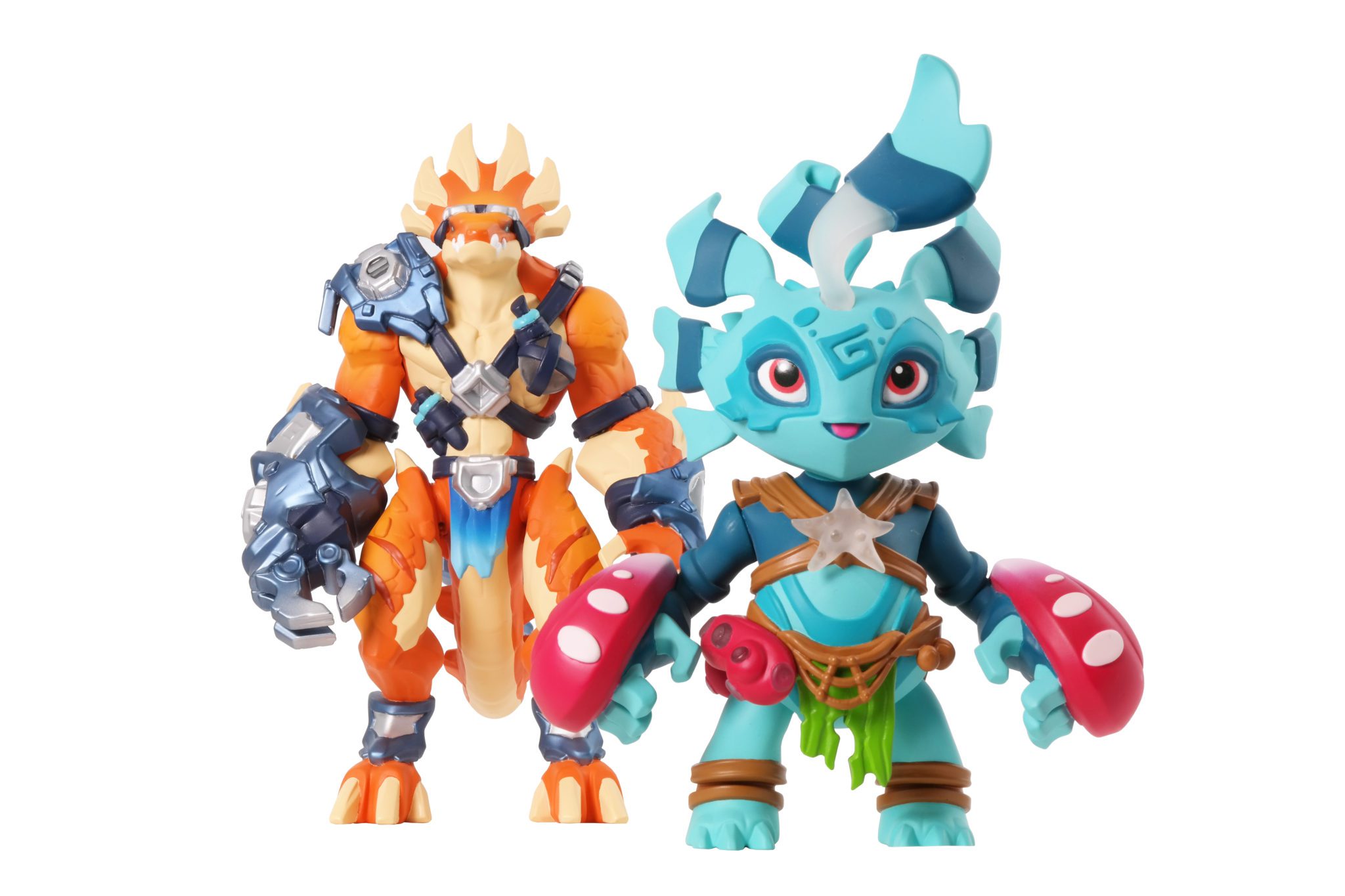 This video explains the game, action figures, and cards.
Download the FREE Lightseekers game app, available for iOS, Android, and on Amazon devices, and you're ready to begin your adventure. Recommended for ages 8 and up. You can find Lightseekers on Amazon or at most toy retailers. Kids will love these techy action figures and want to take them everywhere they go!
Dr. Panda Plus: Home Designer
Did you know that Dr. Panda is the #2 largest paid kids' app developer, with over 30 open-ended play games that encourage kids ages 3 to 8 to learn about the world? Now they're enhancing learning through play with their new app-connected Dr. Panda Plus: Home Designer toy which allows kids to be imaginative, have endless FUN and create through coloring and story-telling activities.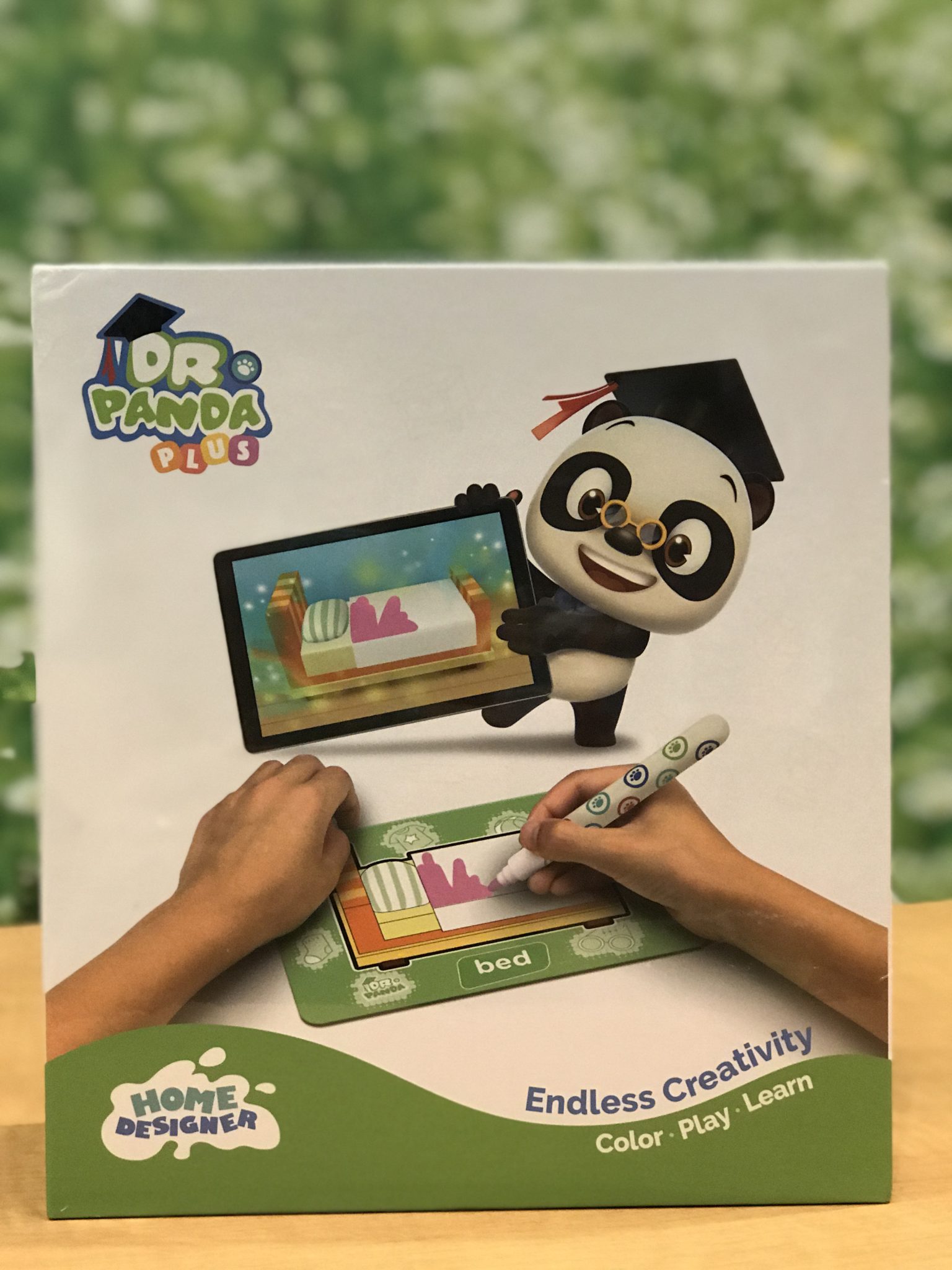 Dr. Panda Plus: Home Designer empowers creativity and also includes a learning component for kids to practice literacy skills. Last but not least, it includes a neat feature that brings the designs and characters kids create to life in 3D through Augmented Reality (AR) technology!
Dr. Panda Plus: Home Designer is like the creative canvas for kids to create the home of their dreams! Kids color and customize the included flashcards. Scan them in using the app, available for iOS, Android, and Amazon devices. Then see their creations magically appear in 3D! Even the youngest kids (3 and up) will enjoy hours of fun decorating their digital home, telling their own stories, and learning new vocabulary too!
I love how creative kids can get with this interactive toy. My kids loved seeing their creations appear on-screen and interacting with them in different fun ways. Plus everything is included in the box (except the tablet of course) and all materials are durable and made to withstand play.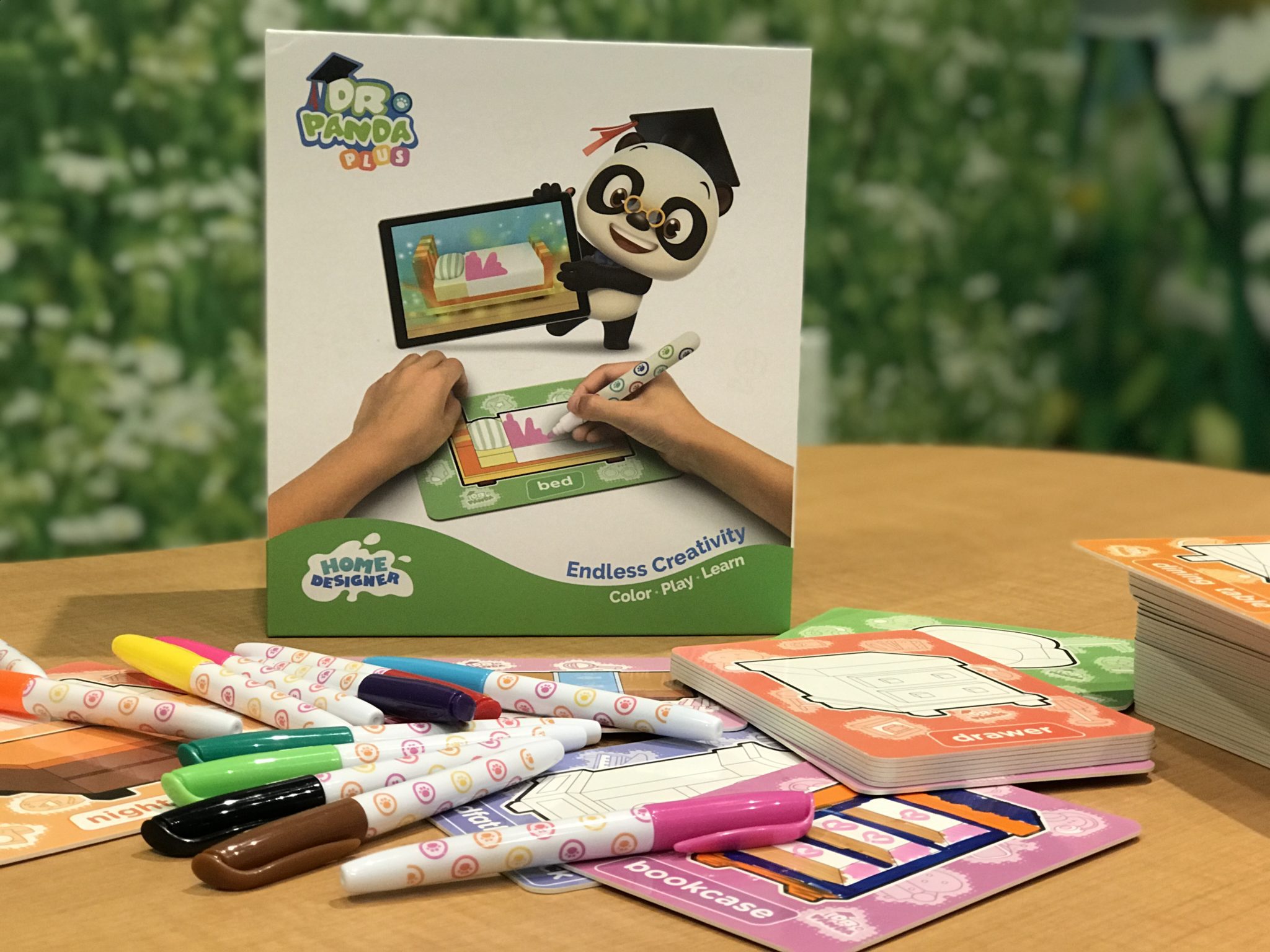 This video shows how Dr. Panda Plus: Home Designer works. Fun and magical learning experience guaranteed!
Find Dr. Panda Plus: Home Designer on Amazon to unleash your kid's creativity and tap into their imagination.
Dr. Panda Plus: Home Designer is also available at Apple.com and just recently became available at your local US Apple retail store, just in time for the holidays!
Get Qurious Space Explorer Box
Subscription boxes are the hot new thing these days! And guess what? Kids love them too! Here's a perfect box for techy little kids. It's not a subscription box exactly but close enough. GET QURIOUS offers a great range of creative boxes that inspire young learners to engage with things around them while using technology to engage in fun learning experiences that spark the imagination.  
We particularly love GET QURIOUS' new Space Explorer Box. Paired with their Augmented Reality (AR) app it provides a fun learning experience that combines physical game pieces with an interactive world. And I love how It encourages curiosity and imaginative play.  
The GET QURIOUS SPACE EXPLORER BOX and Augmented Reality (AR) app brings to life the adventures of Manu and his friends as they blast off into space together. My kids loved wearing the included four masks to pretend that they were the characters in the story.
This cool Explorer Box lets kids create their own stories, build different spaceships and maneuver them within 3D space animations, discover artifacts hidden inside of four brilliant 3D animated space worlds, and have loads of fun learning. It's great for kids ages 4 and up, although I think kids between the ages of 6 and 8 would probably enjoy it the most.
You can get your GET QURIOUS SPACE EXPLORER BOX on Amazon. And it makes a great gift if you want to send a little something to a kiddo that may live far away.
Some Other Techy Toys We Love
Kidizoom Action Cam 180
Now kids can capture their own adventures wherever they go with the Kidizoom Action Cam 180. We've been traveling a lot in the past year and thought this would be a perfect way for our kiddos to get behind the camera too!
This 180° rotatable camera lets kids take photos and selfies from all angles, plus shoot videos with fun features like slow and fast-motion. Kids can even use the included accessories to mount the camera to a bike, skateboard and more while taking great action shots anytime, anywhere.

What's great is that you can add the all-weather, waterproof case and take it for a dive up to six feet underwater. That's perfect for splashing around at the pool or at the beach the next family vacation.
And because my kids are little gamers — and I'm sure yours are too! For even more fun, kids can play one of the three included games.
The included micro USB cable makes it easy for kids to upload photos and videos as well as recharge the battery. Since it's easy to use and kid-friendly, now kids can become little photographers themselves, just like mom and/or dad! Great for little ones as young as 4 years old. Grab your own Kidizoom Action Cam 180 on Amazon.
LeapFrog Epic Academy Edition
We also recently checked out the LeapFrog Epic Academy Edition kids tablet during our time at PlayFair and were so impressed that we added it to our holiday wish list.

Explore, play, imagine, and create with the LeapFrog Epic Academy Edition. This kids tablet is packed with kid-appropriate on-board learning content including 20 learning games that explore a range of subjects and skills and a free trial of LeapFrog Academy. Included is a 3 FREE month trial of LeapFrog Academy — an interactive learning program for kids ages 3 to 6-year-olds. This program is great at guiding little kids on a variety of fun Learning Adventures. And I love that it provides a well-rounded curriculum that will have little ones exploring a blend of traditional school subjects with creativity, problem-solving, and social-emotional skills.
This kid-friendly tablet also includes the LeapFrog Learning Library with hundreds of games, apps, videos, and music. Plus, the included exclusive Just for Me learning technology personalizes select games so kids can learn at the right level. What's also nice is that the LeapFrog Epic is kid-safe with the LeapSearch web browser that lets kids safely surf the Internet. Included parental controls allow Mom and Dad to set time limits, manage apps and services, and add features such as additional Android apps once each child is ready.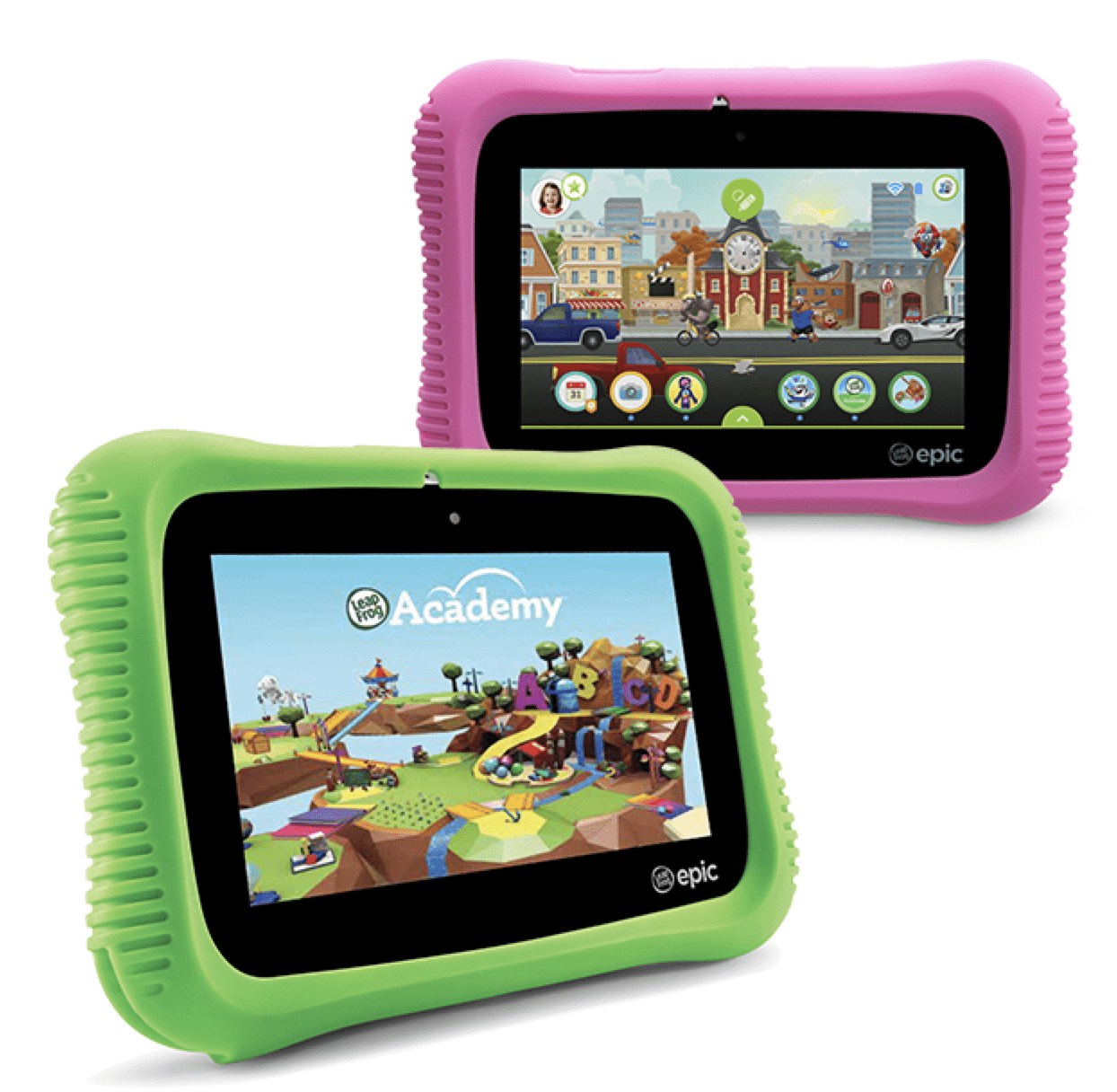 In addition, what I love about this little kids table is that it's uniquely designed to grow with kids. It offers endless learning and creative play. It's a great choice for kids as young as 3 and as old as 9. You can find the LeapFrog Epic Academy Edition tablet on Amazon.
I know I said 10 but here's one more…
Project Mc2 Dolls
In my opinion, there's nothing more powerful than encouraging girls to get involved in tech and science. Maybe it's because I myself never understood much about tech or science as a kid. I didn't really have role models that looked like me that were into that kind of stuff. Know what I mean? I guess that's why I now make it such a big point to encourage my own kids when it comes to all things S.T.E.A.M.
And that's also probably why I love these dolls so much! They're the Project Mc2 Dolls that come with experiment kits.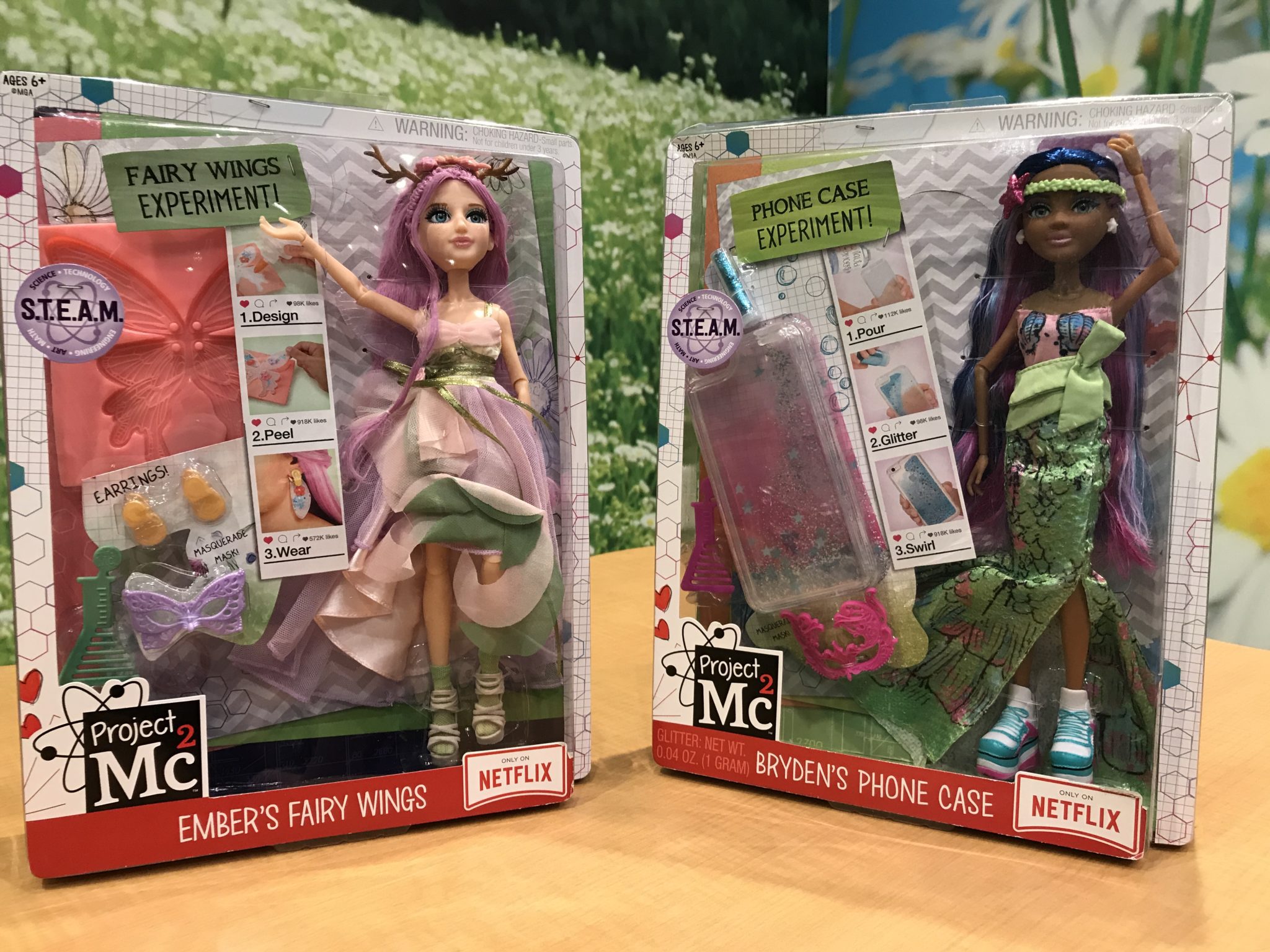 Have you heard of Project Mc2 — the Netflix series about four super-smart teens that band together to use their science skills to save the day? This cool series is popular with the preteen crowd and I love the message it brings to girls!
Now girls can not only watch the show but also perform cool S.T.E.A.M. experiments at home, just like their favorite Project Mc2 characters, with these fun dolls and experiments kits from Project Mc2.
I thought the Phone Case Experiment with Bryden Doll fit right into our techy toy gift guide and any girl would love a doll and experiment kit like this — can't wait for my little girl to get older so she can play with this kind of stuff!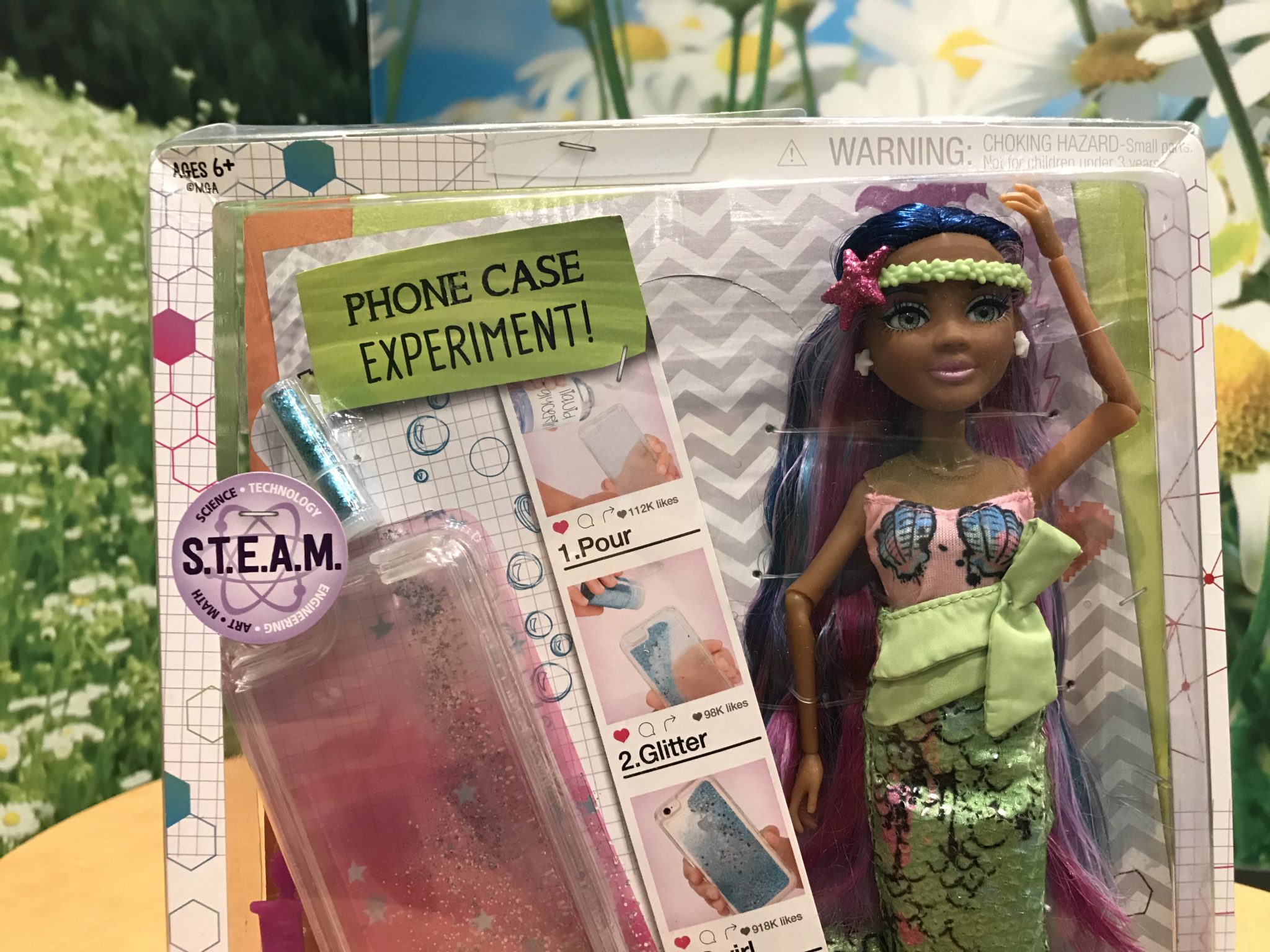 I'm sure you know a tween who'd love to perform a cool S.T.E.A.M experiment at home just like tech guru, Bryden Bandweth, and make her own glitter phone case using household ingredients. Way cool! Right?
What's even cooler is that we are giving away one of these fun S.T.E.A.M dolls as part of our Techy Toys Holiday Giveaway! See below and make sure to enter for your chance to win. You can also pick up your own Project Mc2 Doll on Amazon.
[Tweet "Enter to win your own @ProjectMc2 Doll and perform your own cool #STEAM experiment via @NYCTechMommy #HolidayToyGiveaway"]
---
Need even more gift ideas for top techy toys for kids? Check out last year's Techy Gift Guide for Kids.
You may also find some other cool top techy toys for kids in our Vehicle Toy of the Year Nominee Reveal blog post. Plus you might want to enter for your chance to win your very own vehicle toy!
AND MAKE SURE TO ALSO ENTER TO WIN STOCKING STUFFERS by checking out our Holiday Gift Guide for Little Kids!
---
** THIS GIVEAWAY HAS ENDED**
Techy Toys Holiday Giveaway
As promised, now here's your chance to win a few of the top techy toys for kids featured in this post. To help celebrate the gift giving season we are giving away a variety of the top techy toys from this gift guide to one lucky NYCTM reader!
Our Top Techy Toys Holiday Giveaway includes:
(1) Dr. Panda Plus: Home Designer ($39.99)
(1) Space Explorer Box from Get Qurious ($19.99)
(1) Project Mc2 Doll from MGA Entertainment ($26.99)
(1) Code Car from Let's Start Coding ($40.00)
[Tweet "I entered to win this Top Techy #Toys #HolidayGiveaway via @NYCTechMommy & you should too!"]
How to Enter to Win Techy Toys
Leave a comment letting me know why you would love to win this Techy Toys Holiday Giveaway! Comment must be completed before other entry options are counted. This giveaway starts November 18th at midnight EST and ends December 4th at midnight EST. Entrants must be USA residents and at least 18 years old. One winner will be randomly selected by rafflecopter.com from all qualifying entries and contacted via the email they provide. The email will come from [email protected]. The winner has 48 hours to respond or a new winner will be chosen. Good Luck!
Enter to win using the rafflecopter below.
DON'T FORGET YOUR STOCKING STUFFERS! Check out the Ultimate Gift Guide for Little Kids and enter to win some fun stocking stuffers for your kiddos!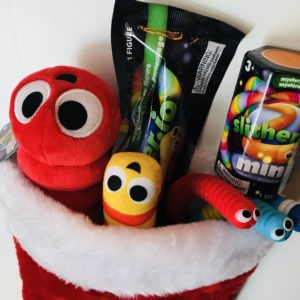 Clik to Purchase Your Own Ozobot Evo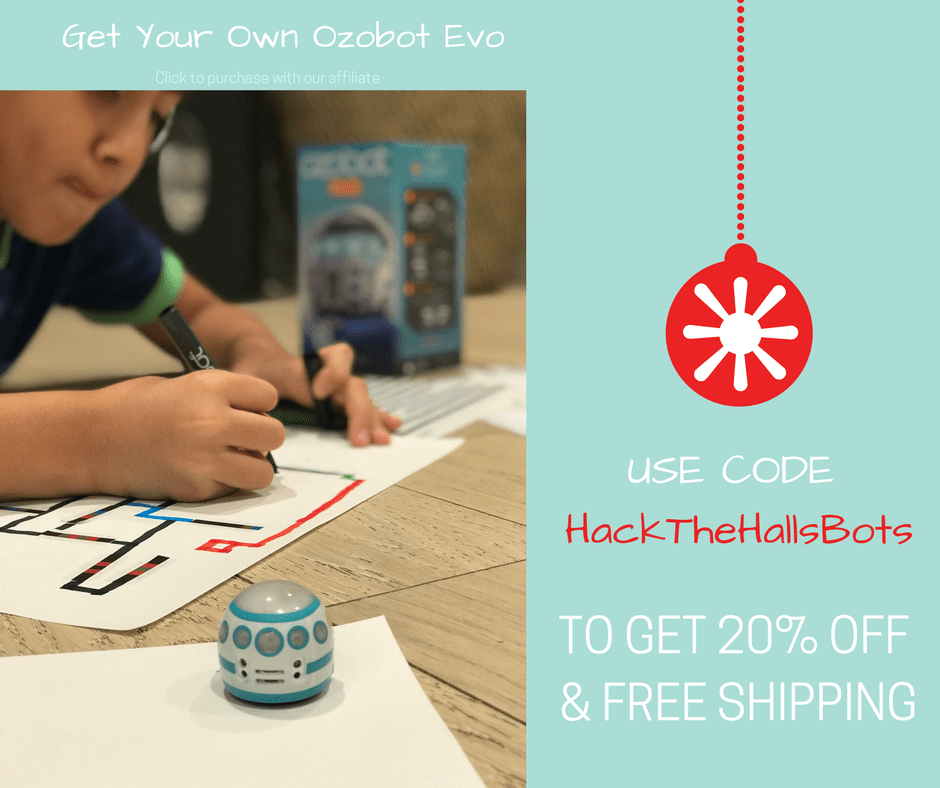 Ozobot
You May Also Like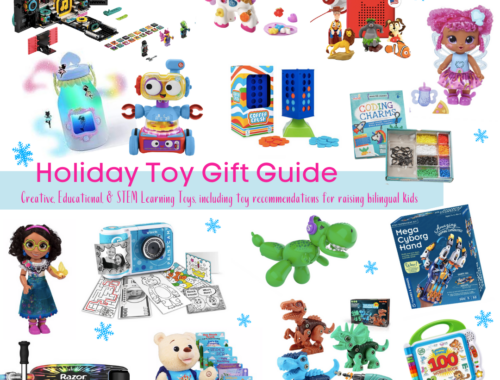 November 15, 2021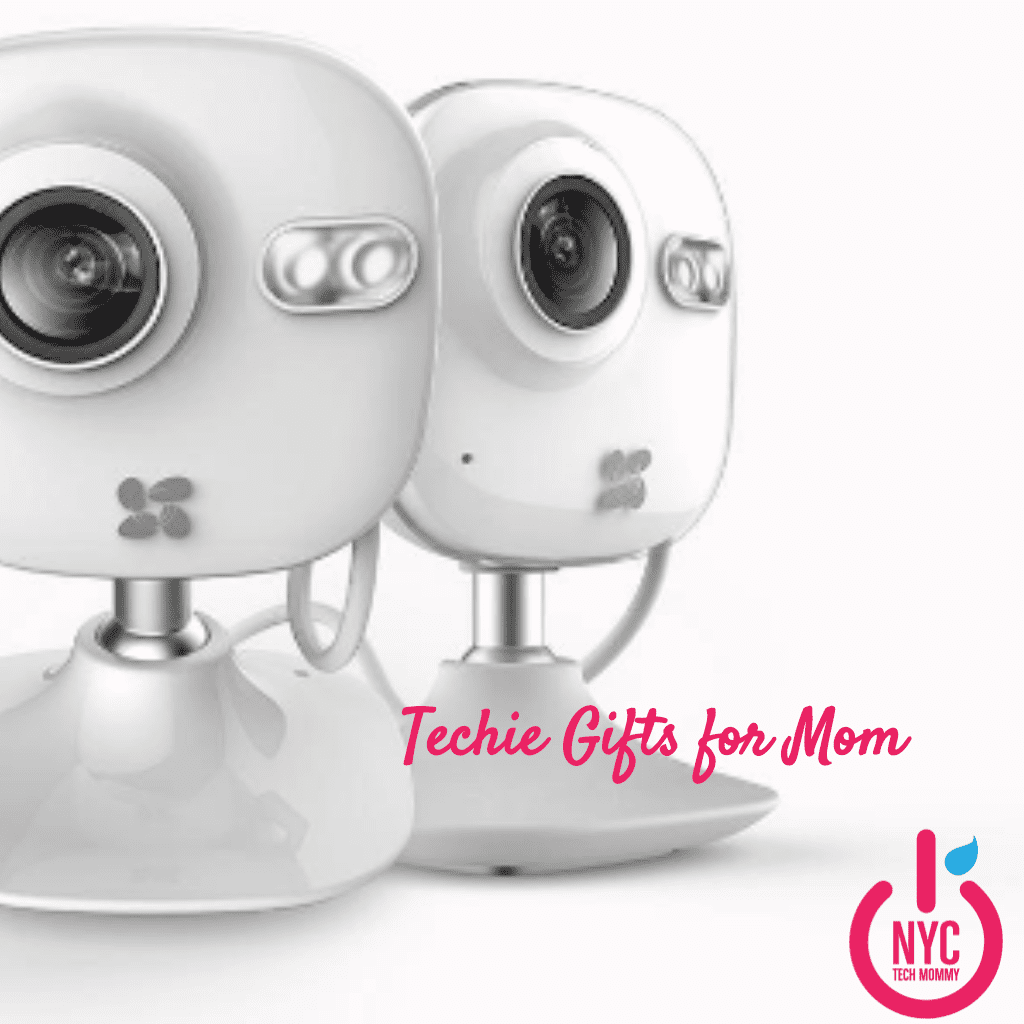 May 1, 2016