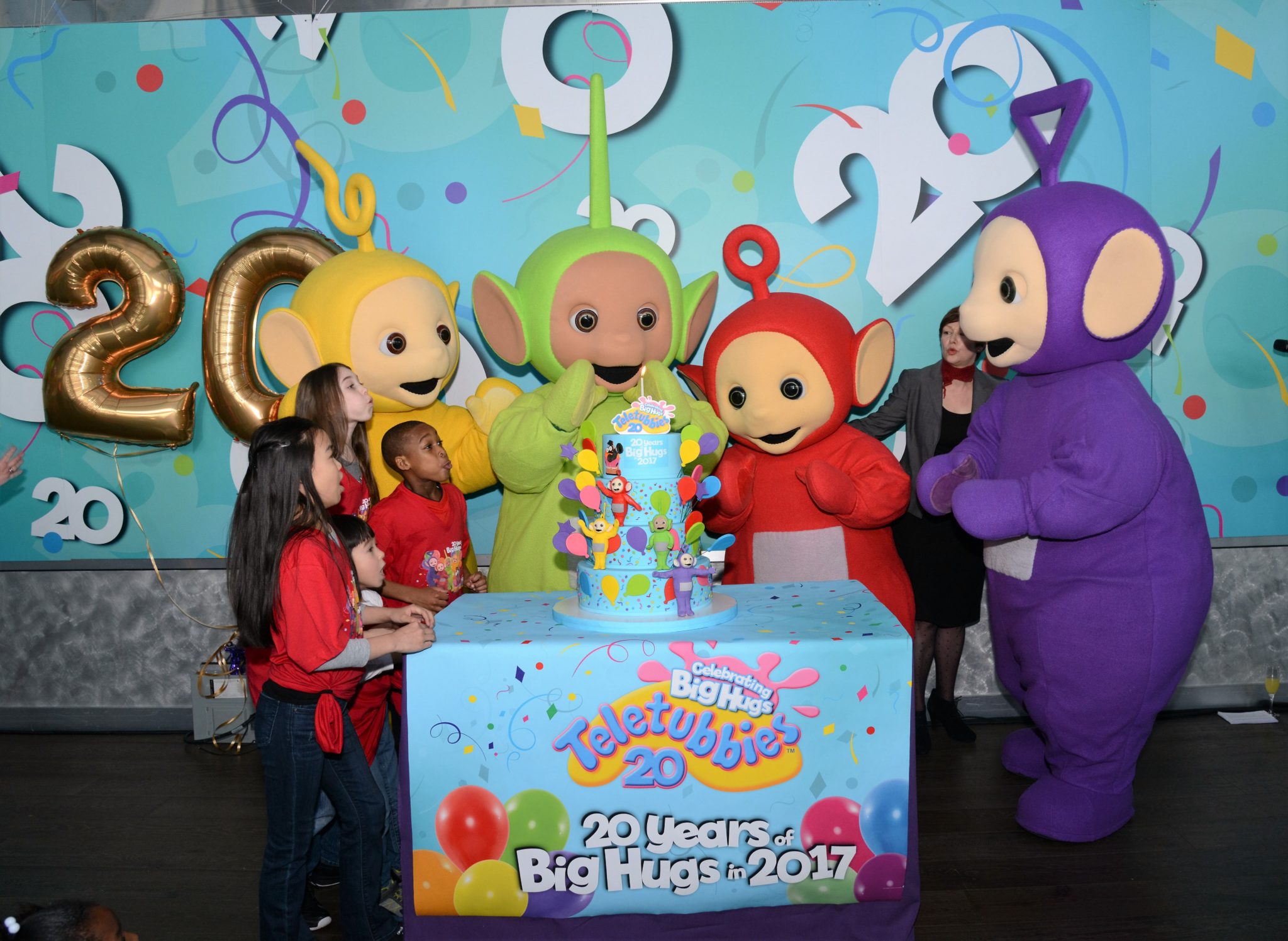 Celebrating 20 Years of BIG HUGS with Loveable Teletubbies
April 3, 2017
Did you know that back in 2007 Mayor Michael Bloomberg declared March 28th "Teletubbies Day" and to celebrate their 10th Anniversary, presented the Teletubbies themselves with a key to New York City? This year the Teletubbies returned to NYC to celebrate their 2oth Anniversary! Yes, can you believe these huggable, lovable Tubbies have been around for 20 years?
Teletubbies: Celebrating 20 Years of Big Hugs
This year the Teletubbies kicked off their 20th Anniversary celebration with a tour of New York's best-known sights, including the Brooklyn Bridge, Flatiron Building, Time Square and Central Park. Maybe you were lucky enough to catch them as they traveled around the city?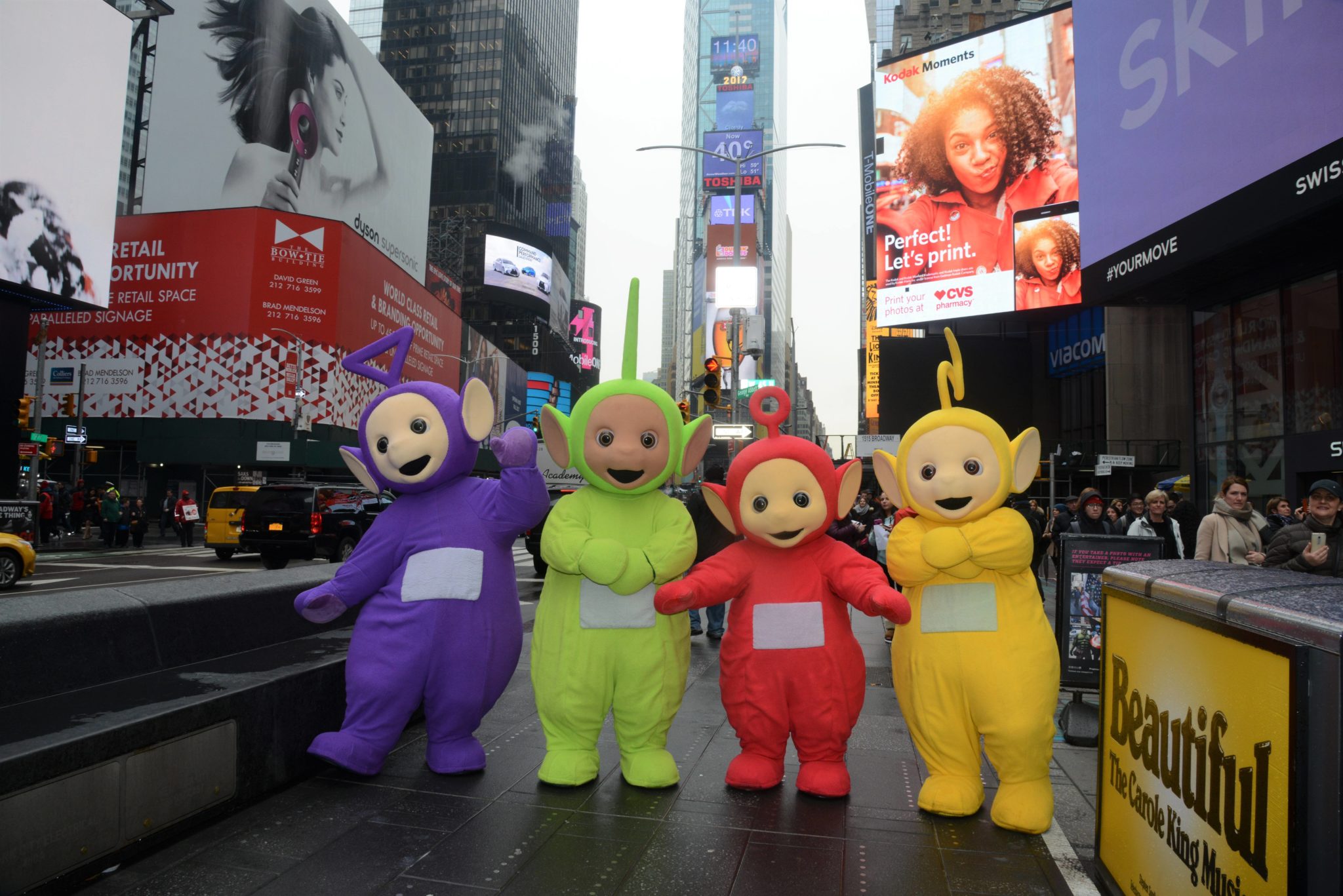 The day's activities formally launched the huggable foursome's 20th Anniversary tour, which will bring our loveable pre-school friends to cities across the country. If you're not in NYC, Teletubbies may be heading to your city next!
20th Anniversary Celebration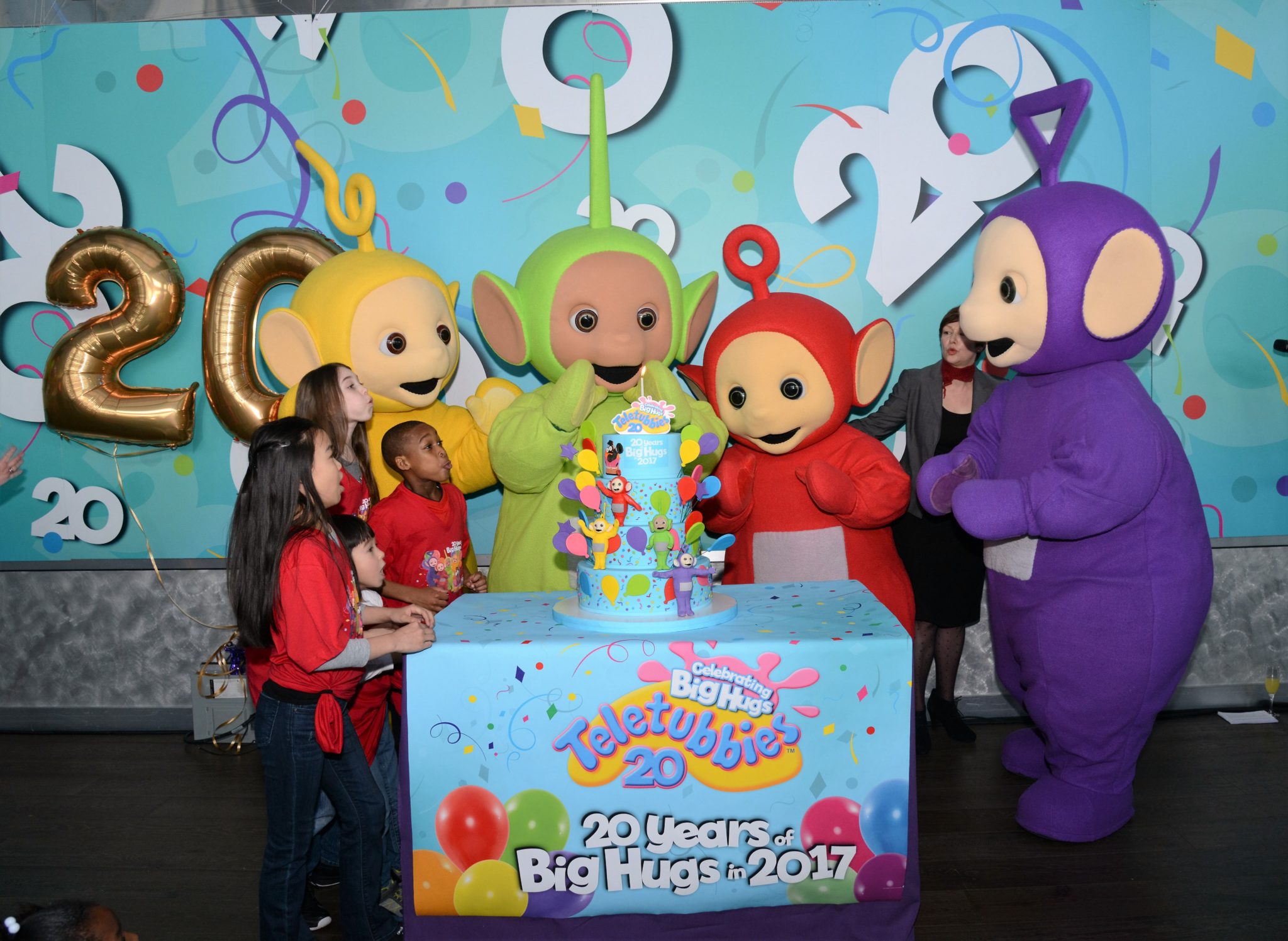 The Teletubbies 20th Anniversary Celebration kick-off included a big birthday bash held at the Current in Chelsea Piers. The event was filled with lots of BIG HUGS and kid-friendly activities. We were so excited to be invited to celebrate with our favorite pre-school friends — let me tell you all about the Tubby-rrific time we had at their big birthday bash!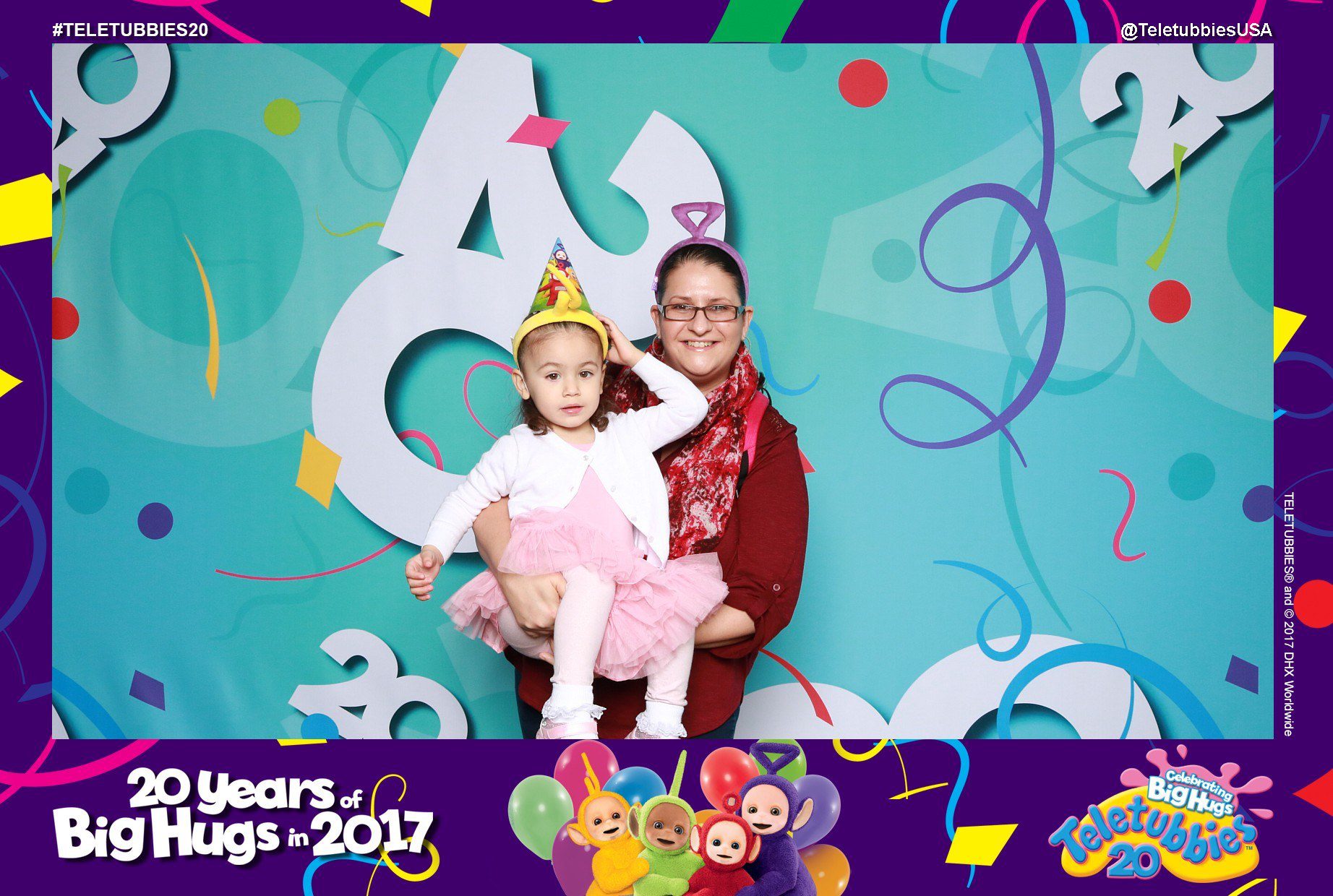 Teletubbies Season 2 – Coming Soon!
The highlight of the event was an exclusive preview of the all-new Teletubbies series' season 2.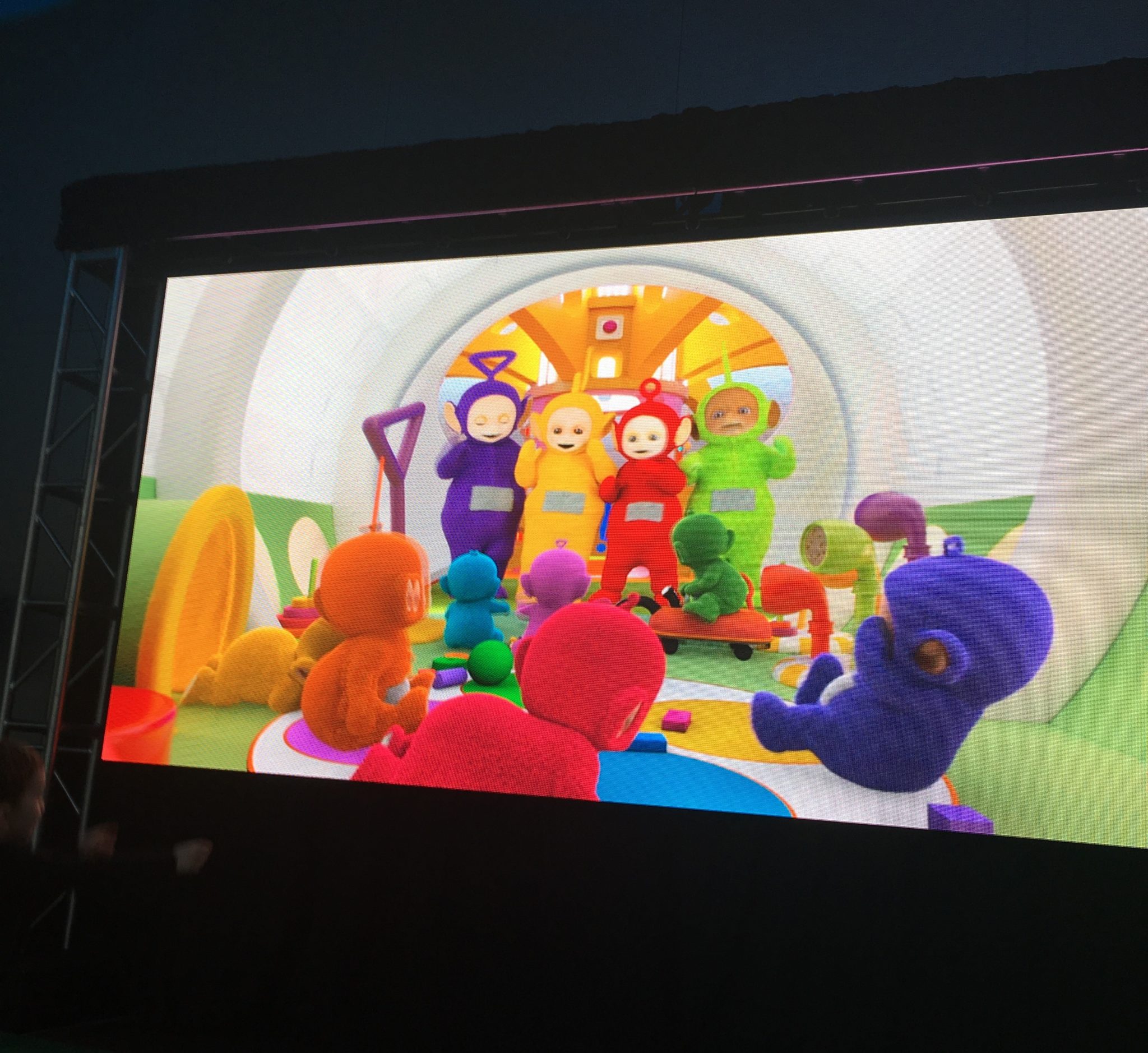 You might recall that the original Teletubbies launched in March 1997 and quickly became a global phenomenon.
The reimagined Teletubbies of today are designed to appeal to today's tech-savvy toddlers and the new episodes present relatable storylines and new techy features like Touch-Screen Tummies and a Tubby Phone smartphone.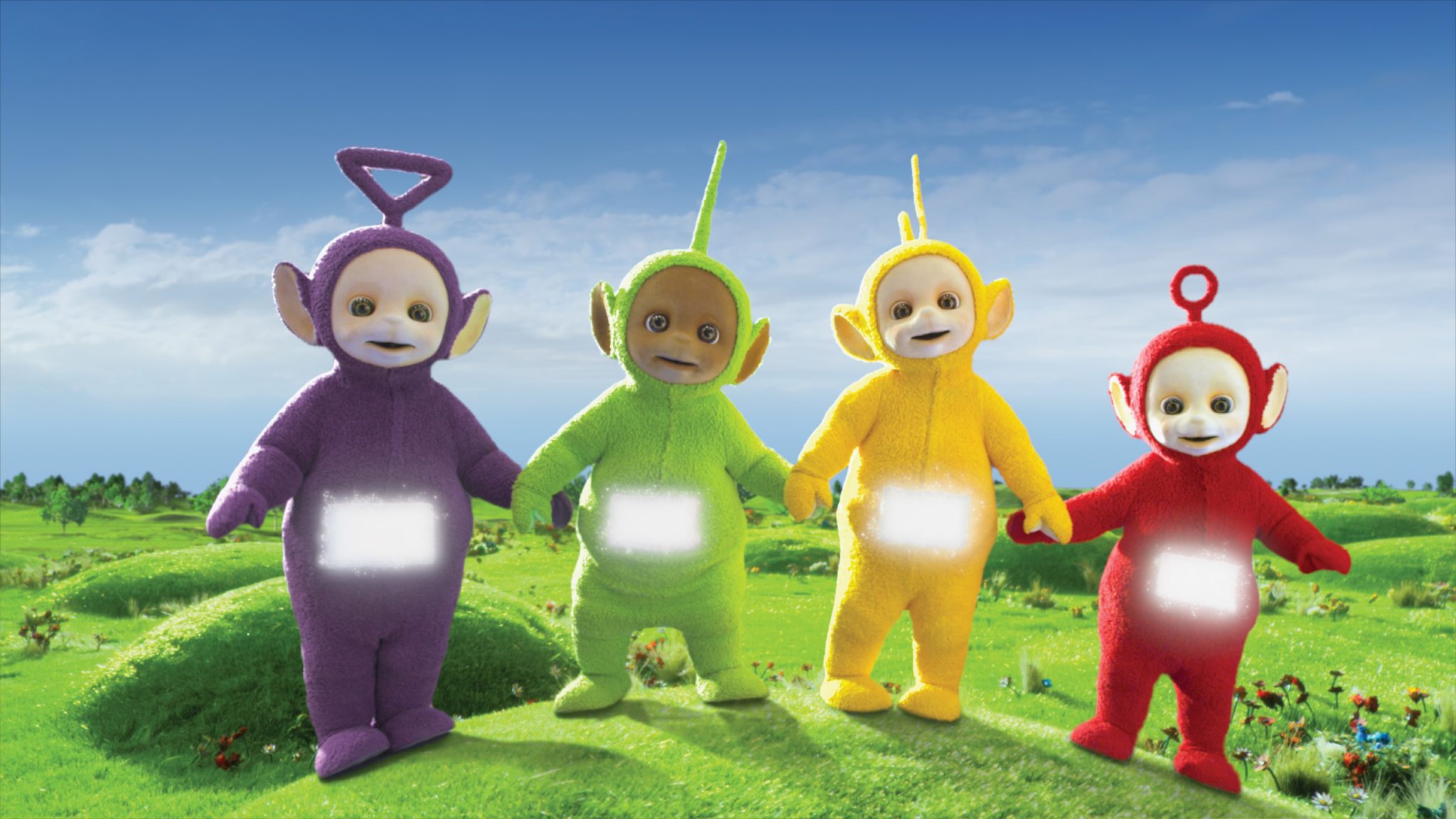 Produced by DHX Media, Teletubbies airs on Nick Jr. weekdays at 9:47am. Have you been watching with your toddler? Season two is coming soon!
The new Teletubbies series features 60 brand new 12-minute episodes that are visually-enhanced, bringing a refreshed, colorful and contemporary look and feel to one of the world's best-loved pre-school series. The four huggable loveable Teletubbies — Tinky Winky, Dipsy, Laa-Laa and Po — are still sporting their bright colors and distinctive antennae, but the stories and the world around them have now been updated to appeal to today's tech-savvy preschoolers.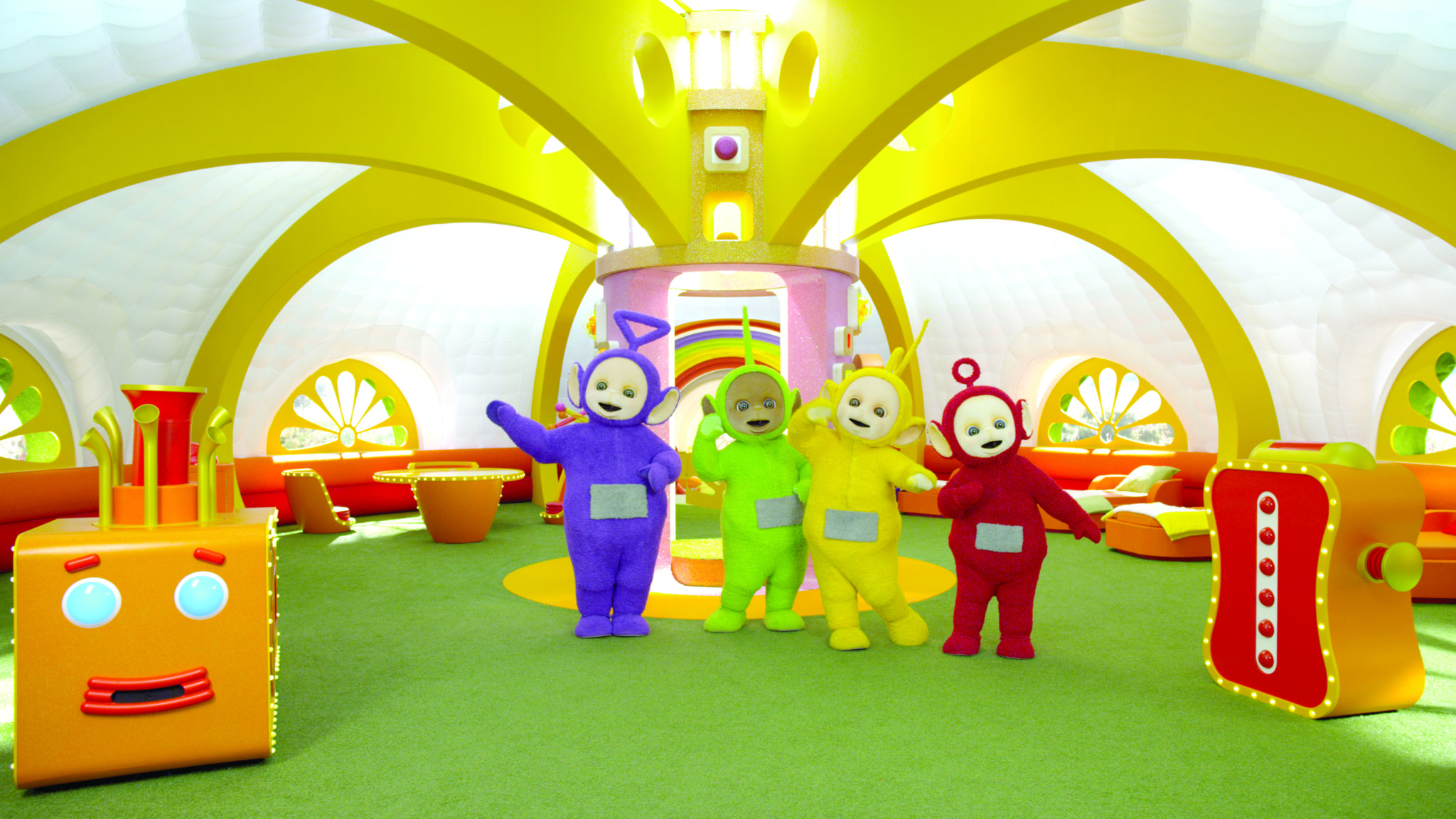 Meeting the Tubbies
Needless to say, my little Teletubbies fan was super excited to celebrate with her favorite lovable, huggable, Tubby friends! And she even got to hang out with her very favorite Tubby — Po.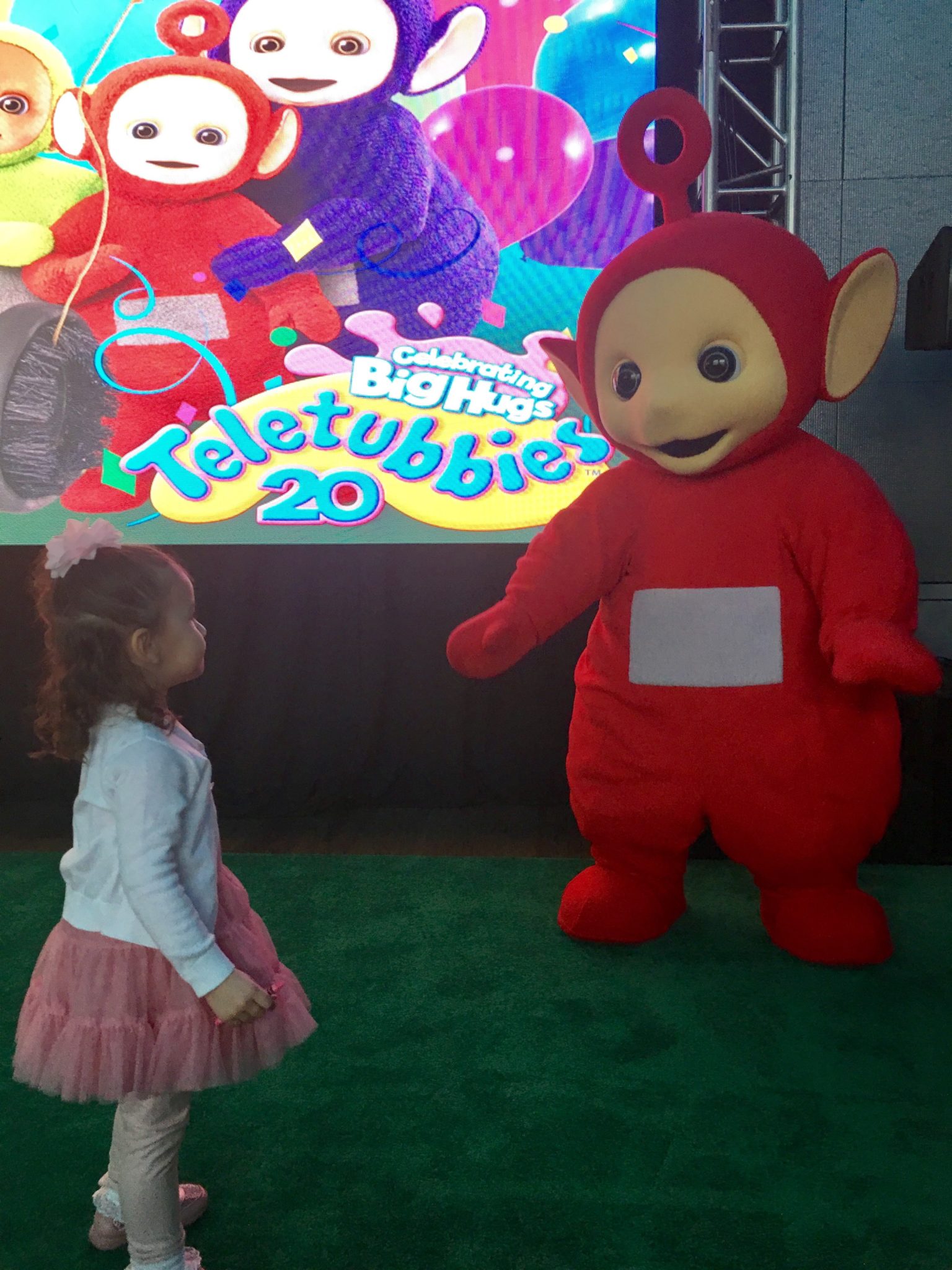 We watch Teletubbies every weekday morning on Nick Jr. and my little one can never get enough of them! Are you also a toddler mom whose little one loves the Teletubbies?
She was, however, a little taken aback a bit by how BIG these life-size Teletubbies were. See her face! Hahahaha!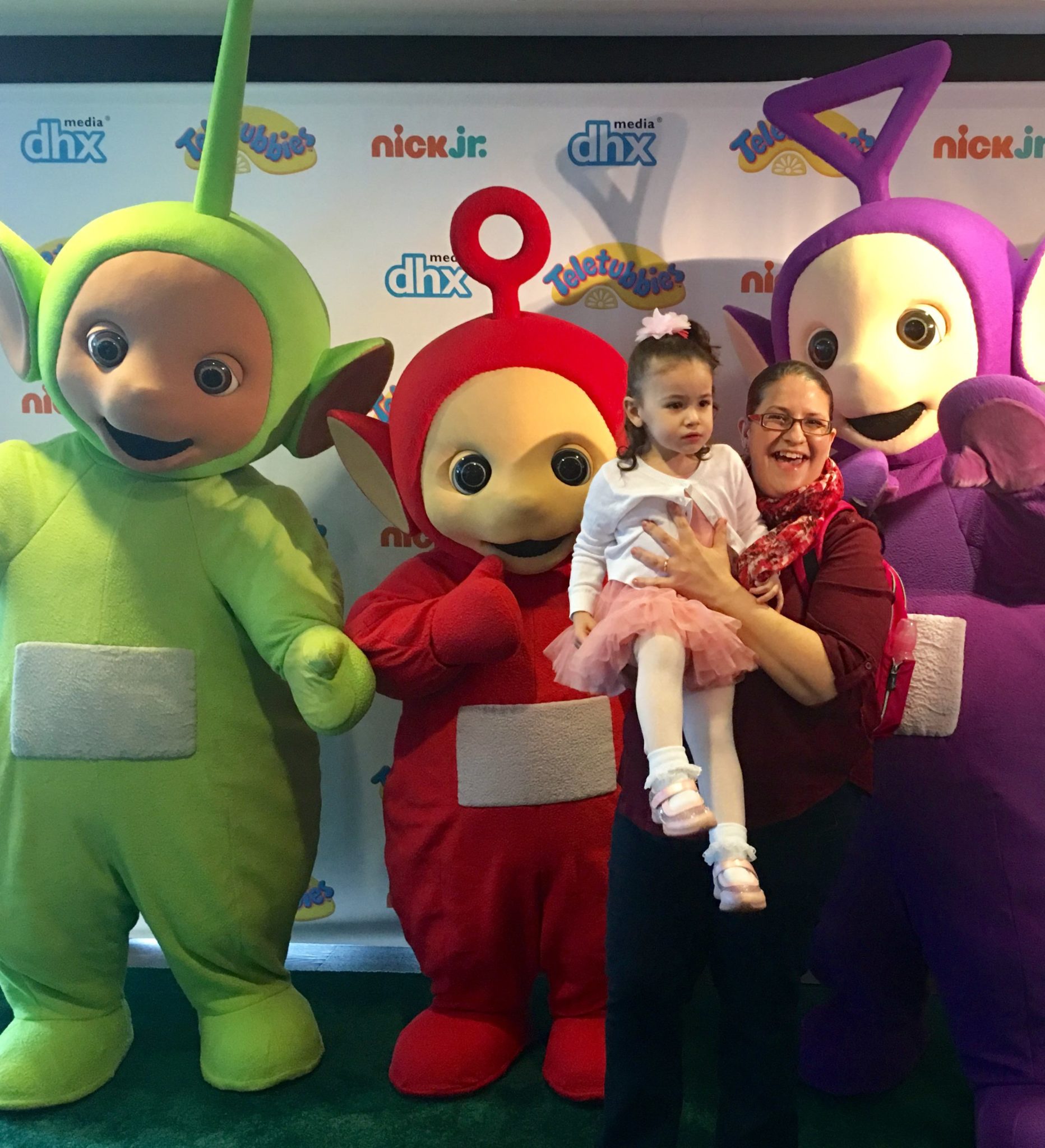 In this case, I think she preferred the life-size cut outs. Go figure, toddlers!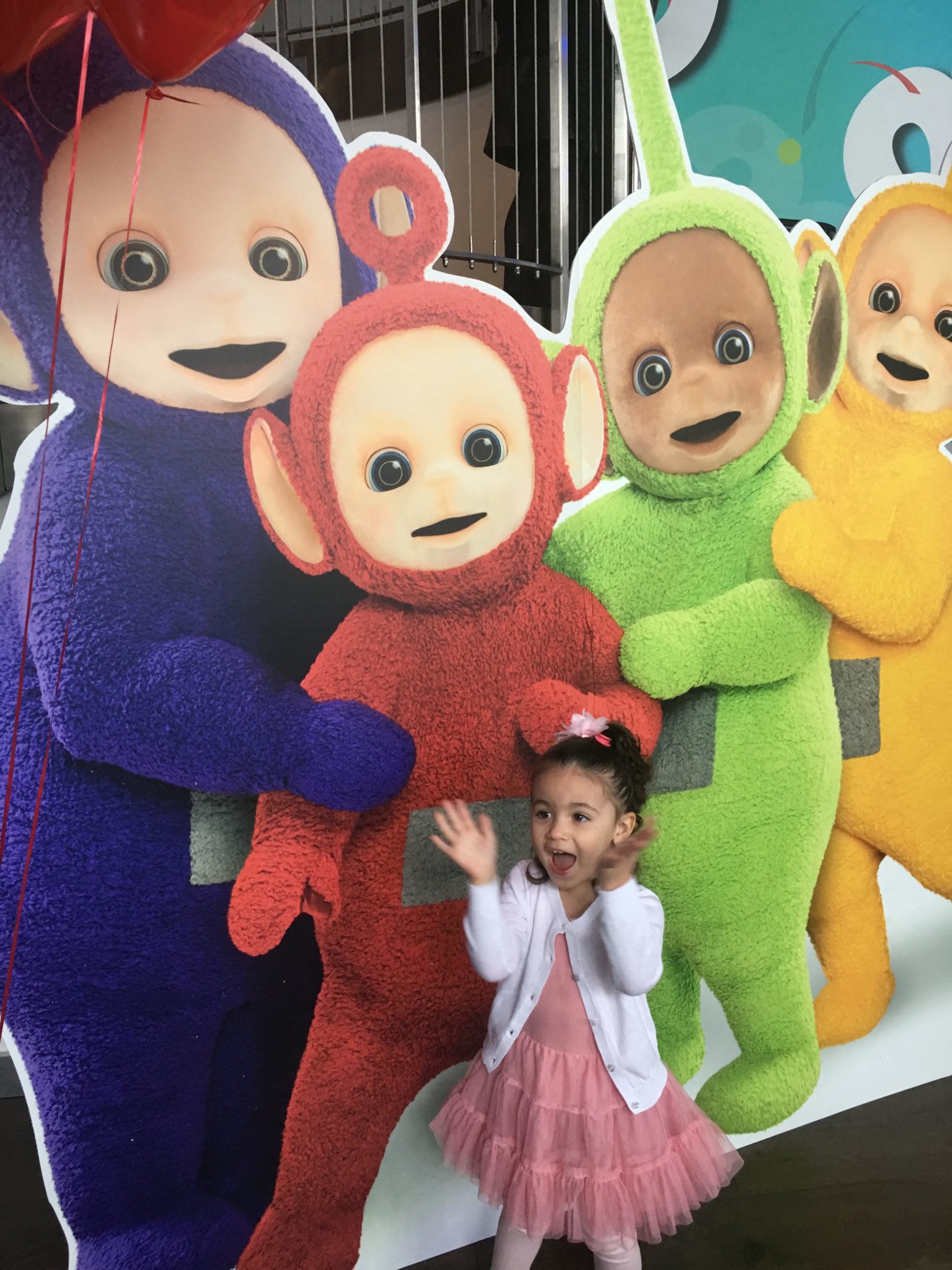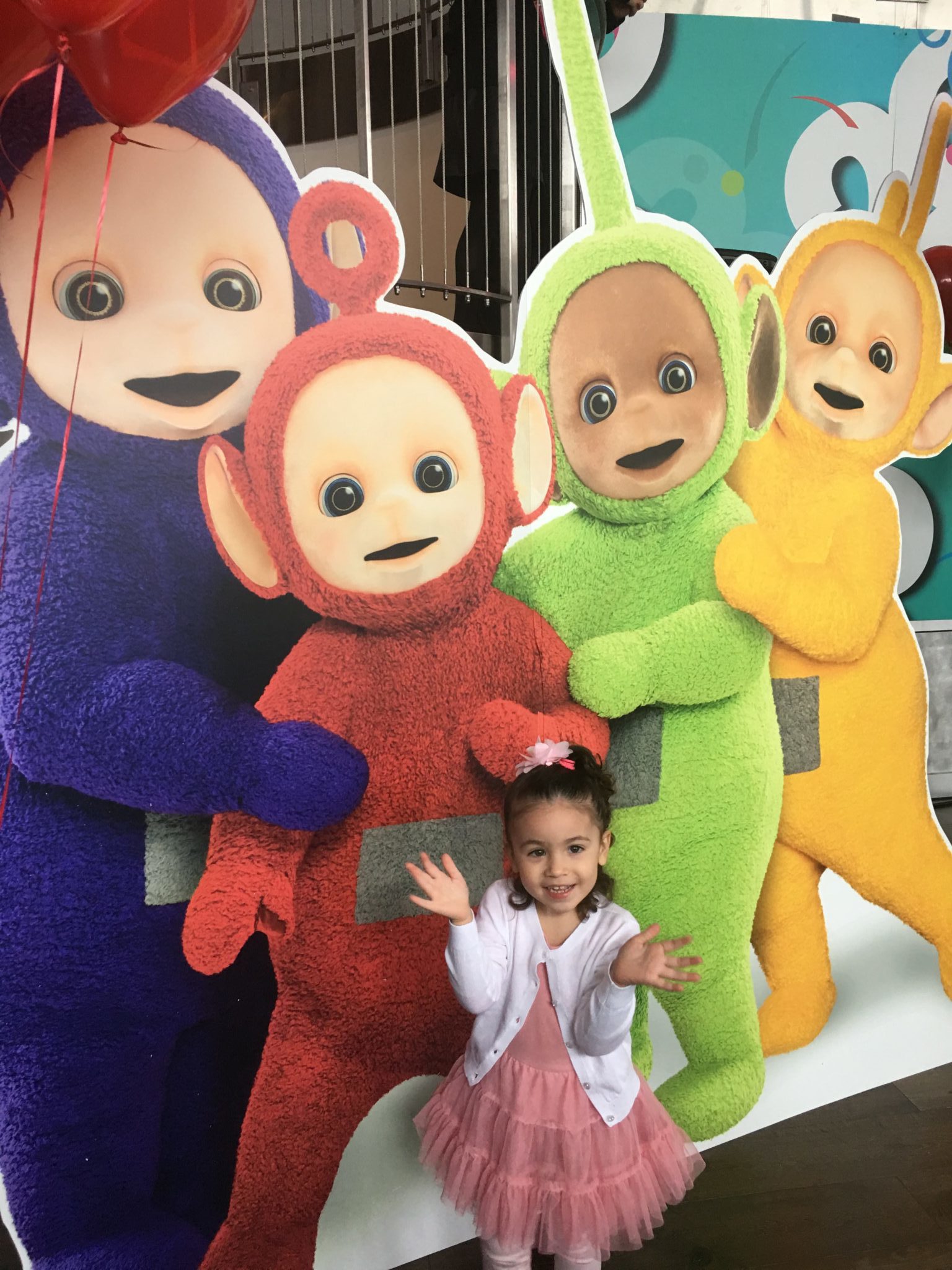 The expression on her little face was priceless! Baby Girl was super excited to celebrate 20 years with the Teletubbies, regardless of her little run in with the GIANT Tubbies. She kept singing "Happy Birthday Teletubbies"! It was super cute!
A Tubby-riffic Birthday Party
And I must tell you, the Tubbies surely do know how to throw a Tubby-rrific party! Just look at this spread!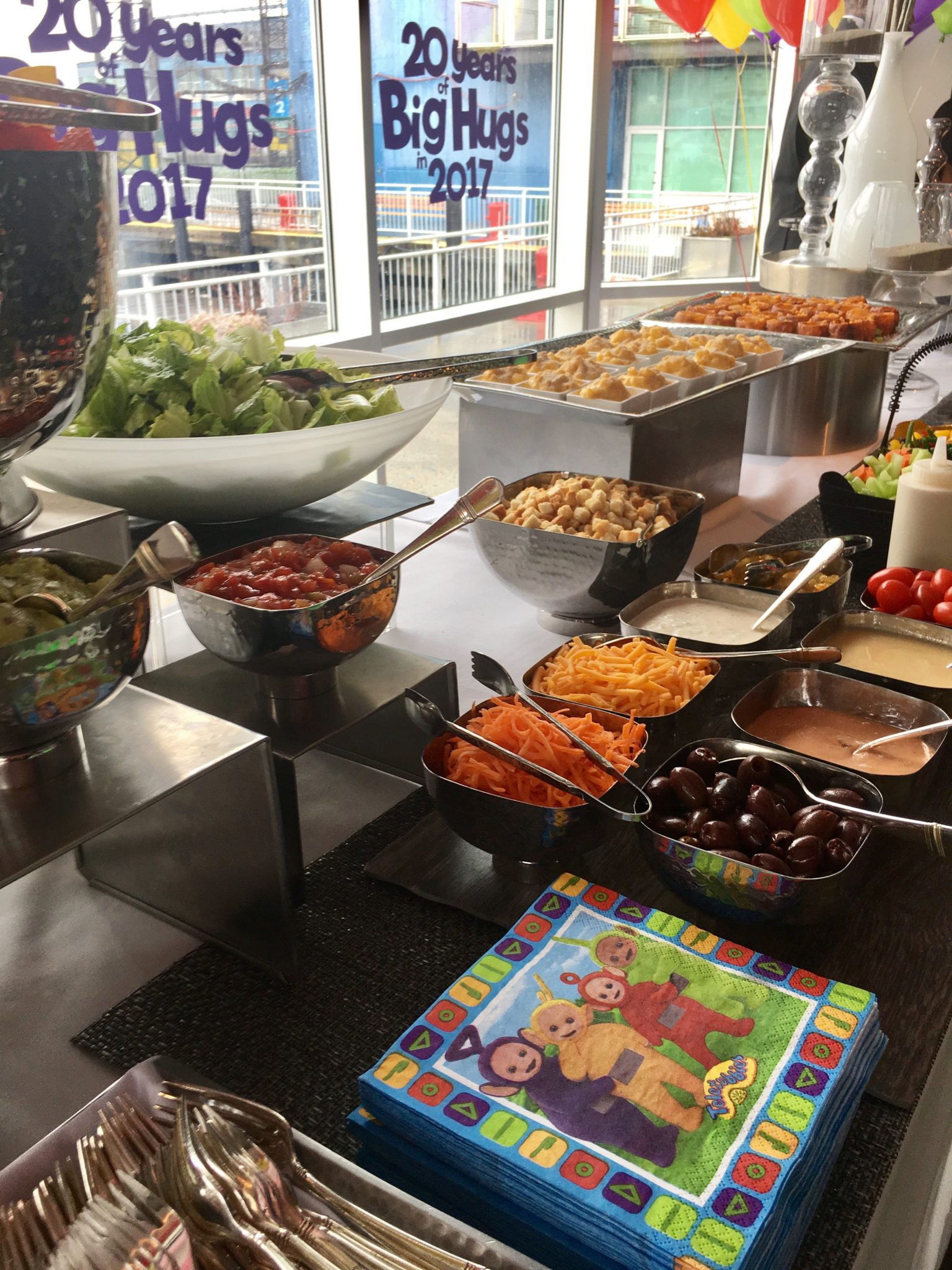 There were all kinds of yummy Tubby treats, including Tubby custard and even Tubby Toast…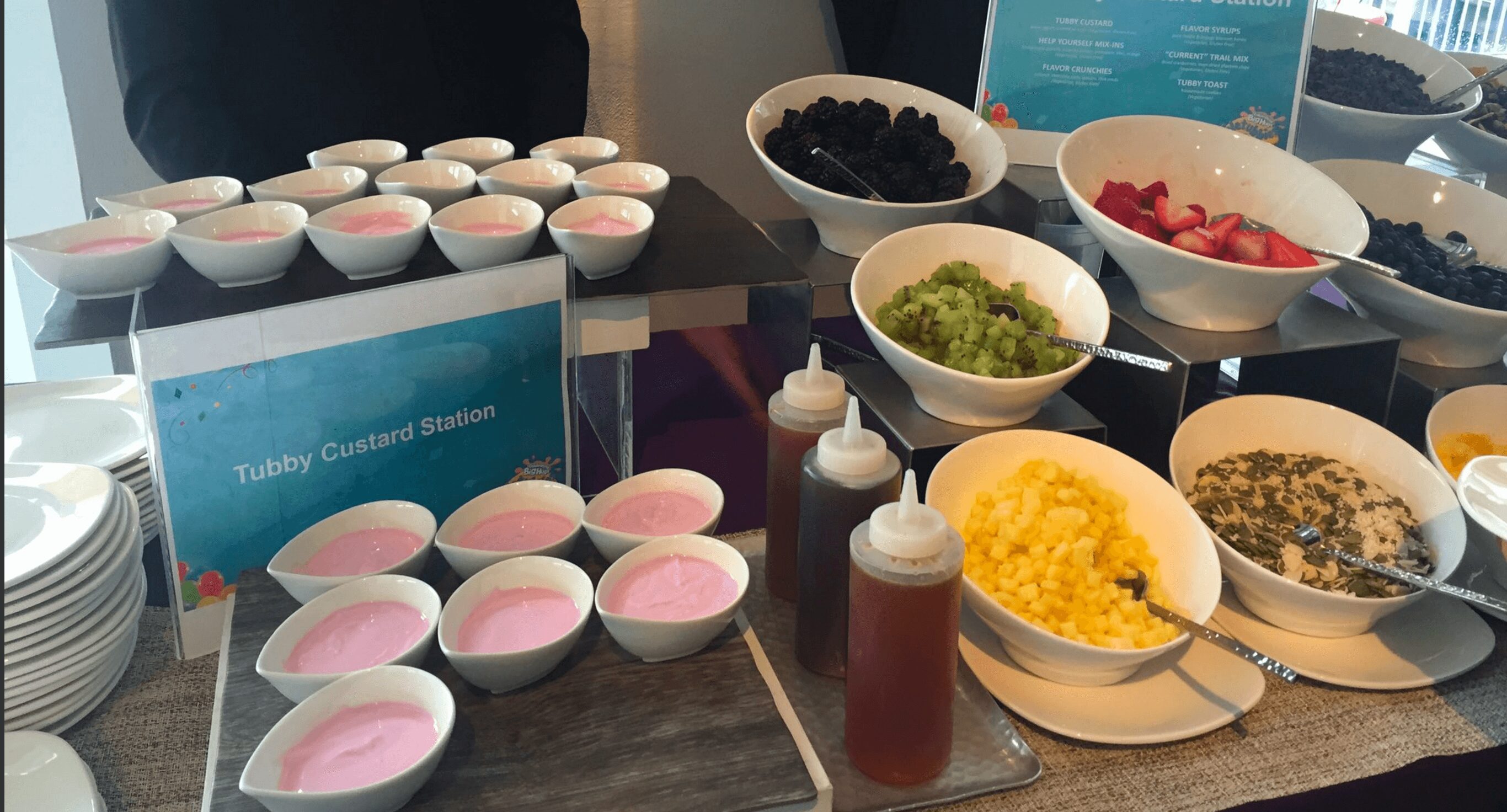 tons of sweet treats too and this amazing Tubby cake!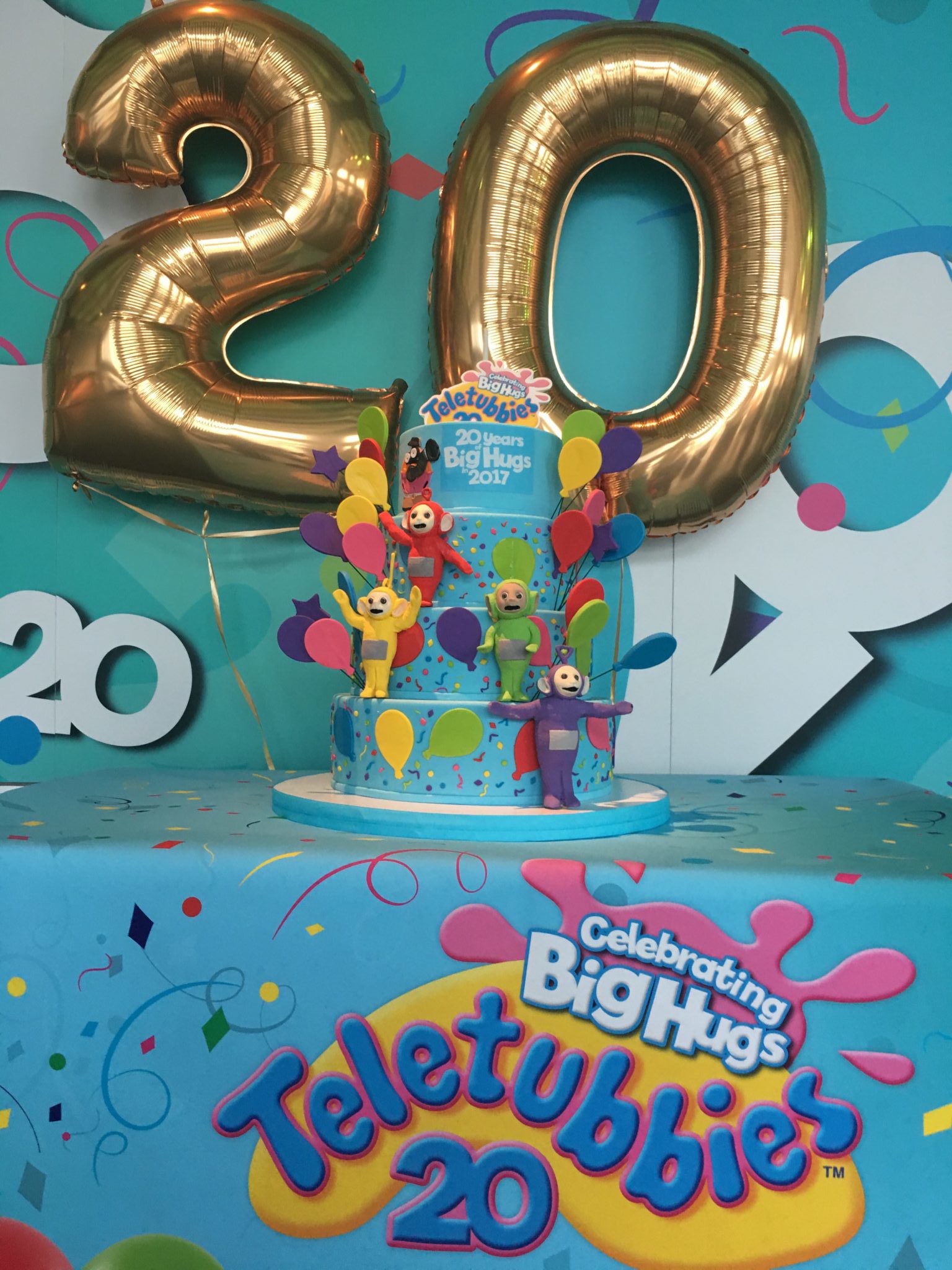 New Tubby Toys
During this 20th Anniversary celebration, we also got to check out the fun new line of Teletubbies products for babies and toddlers, recently released to coincide with the launch of the new Teletubbies show.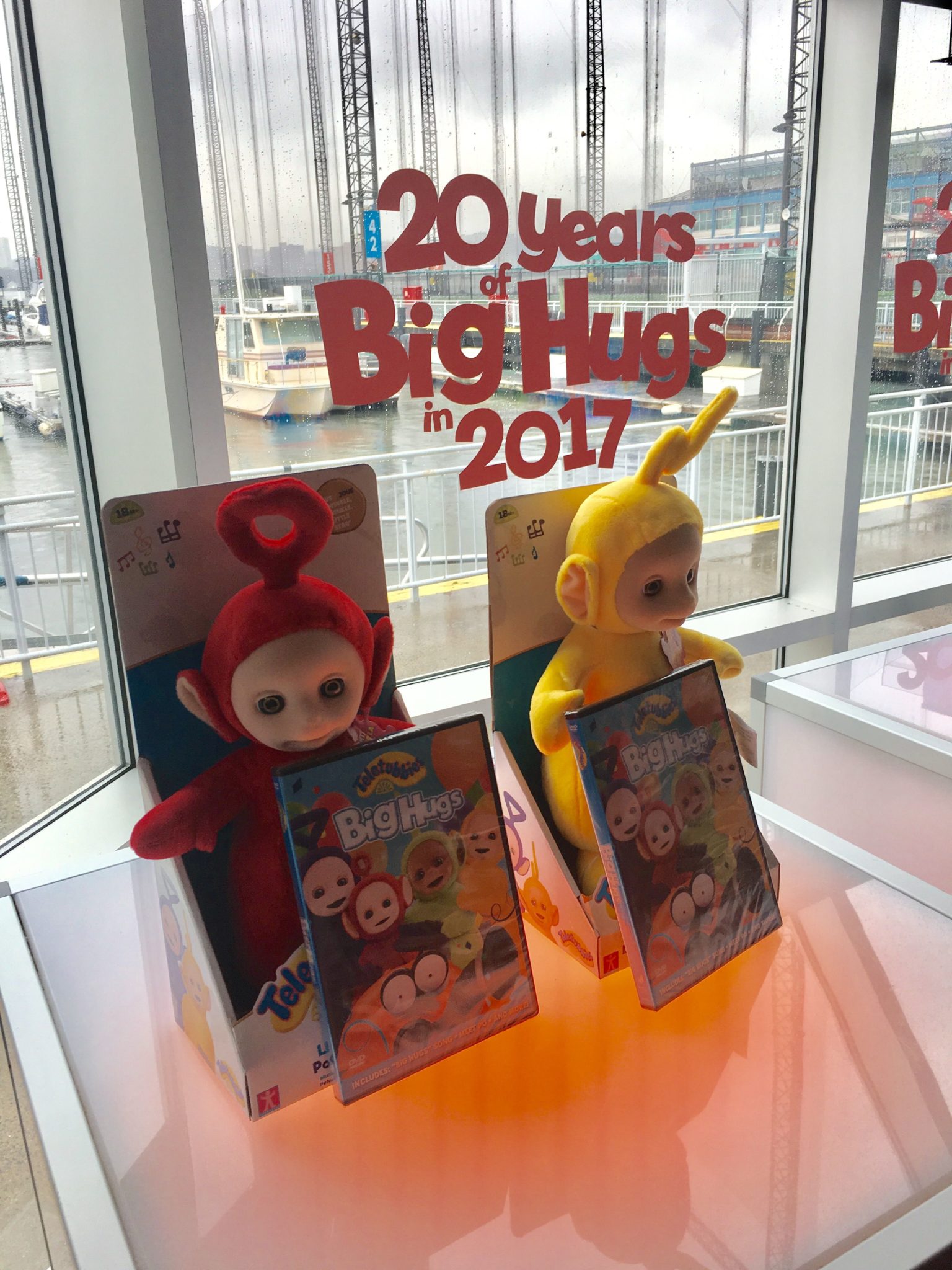 This includes a line of cuddly, soft plush toys from Spin Master and a series of DVDs from Sony, including the most recent, "Big Hugs".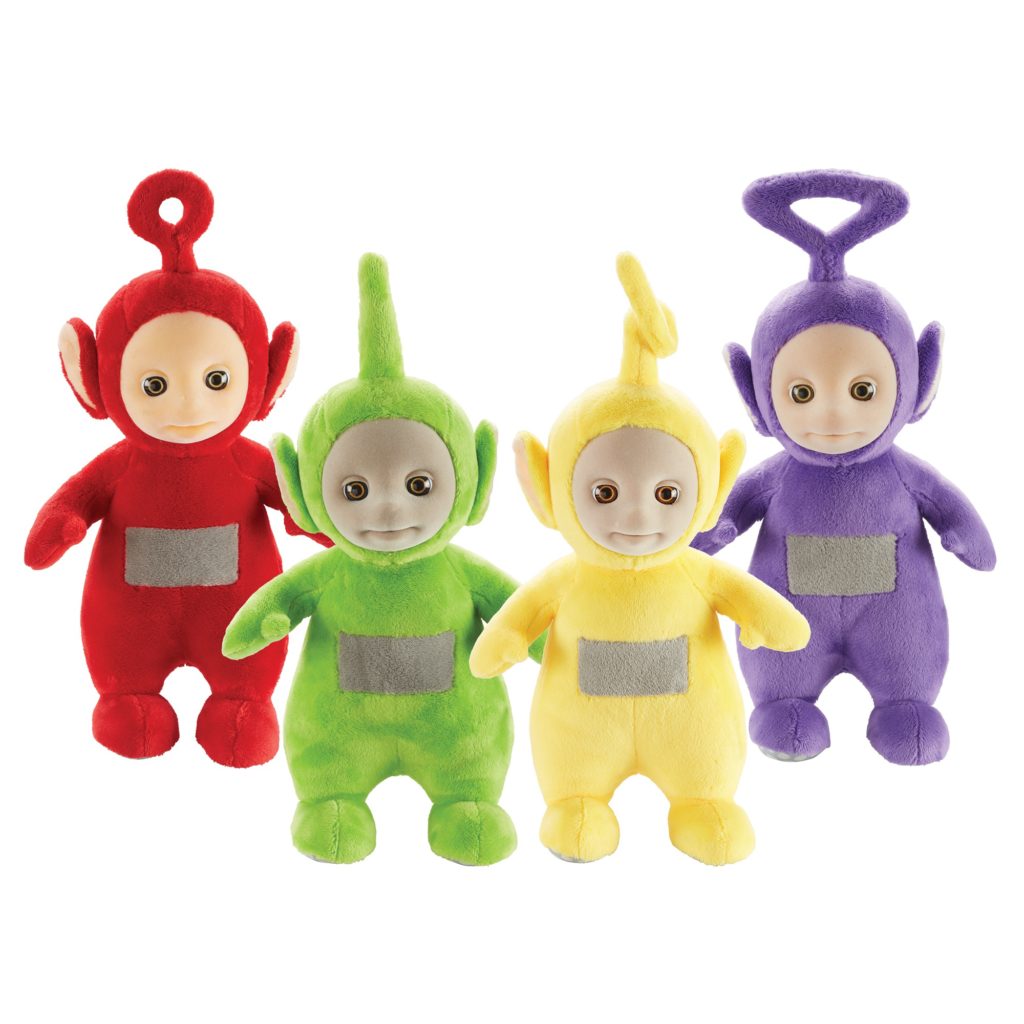 This adorable, huggable, loveable toy line from Spin Master includes plush toys that talk, and giggle, and even light up and play lullabies. Super cute and oh so loveable and huggable — just perfect for Big Hugs!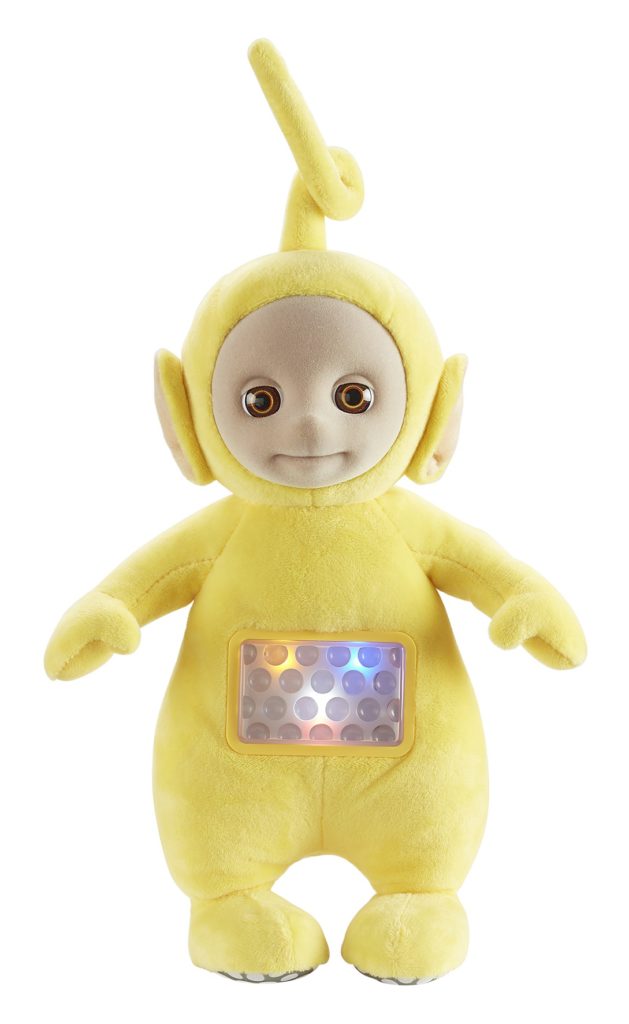 Baby Girl was in love with these adorable plush toys and had so much fun playing with them!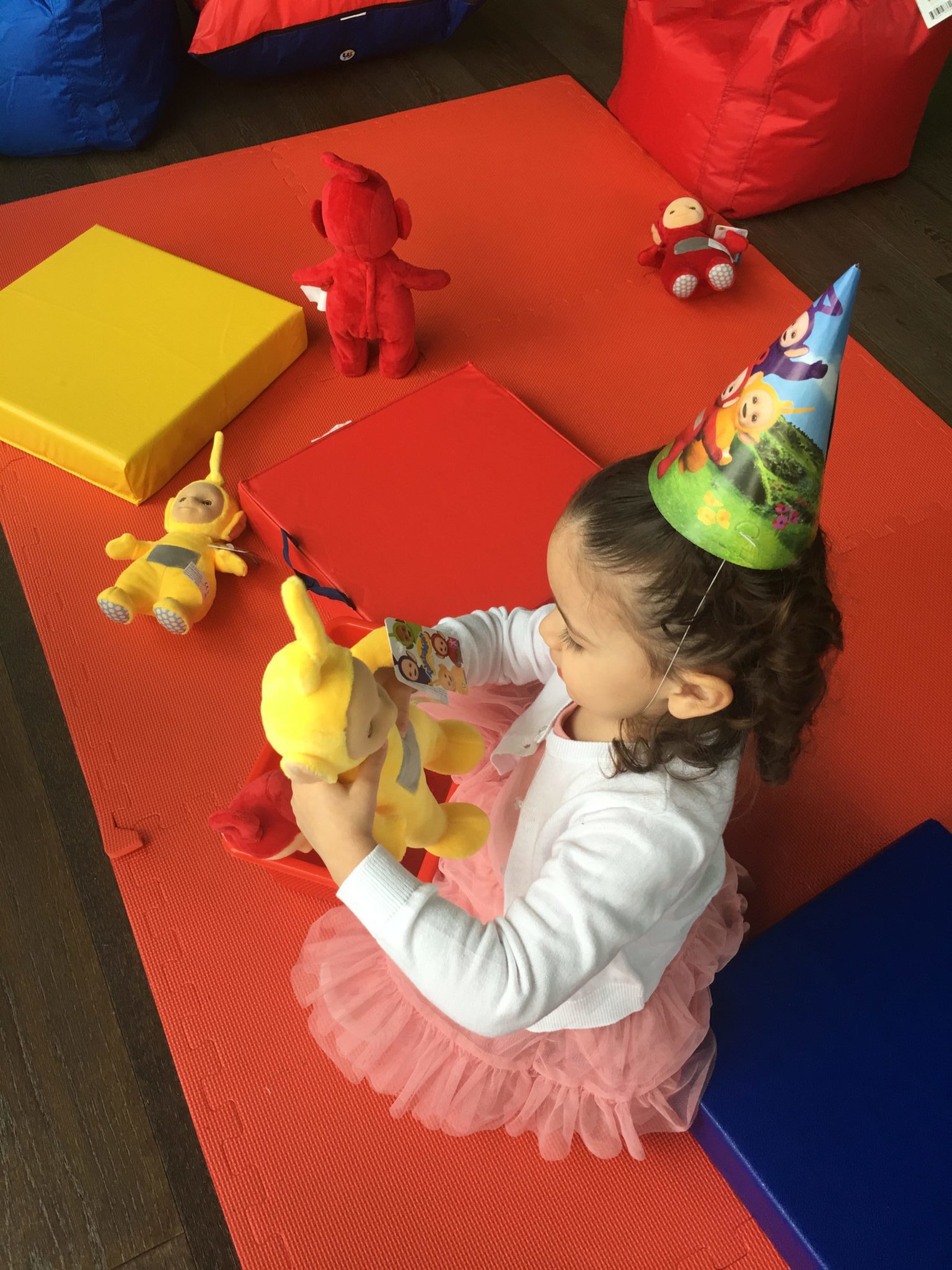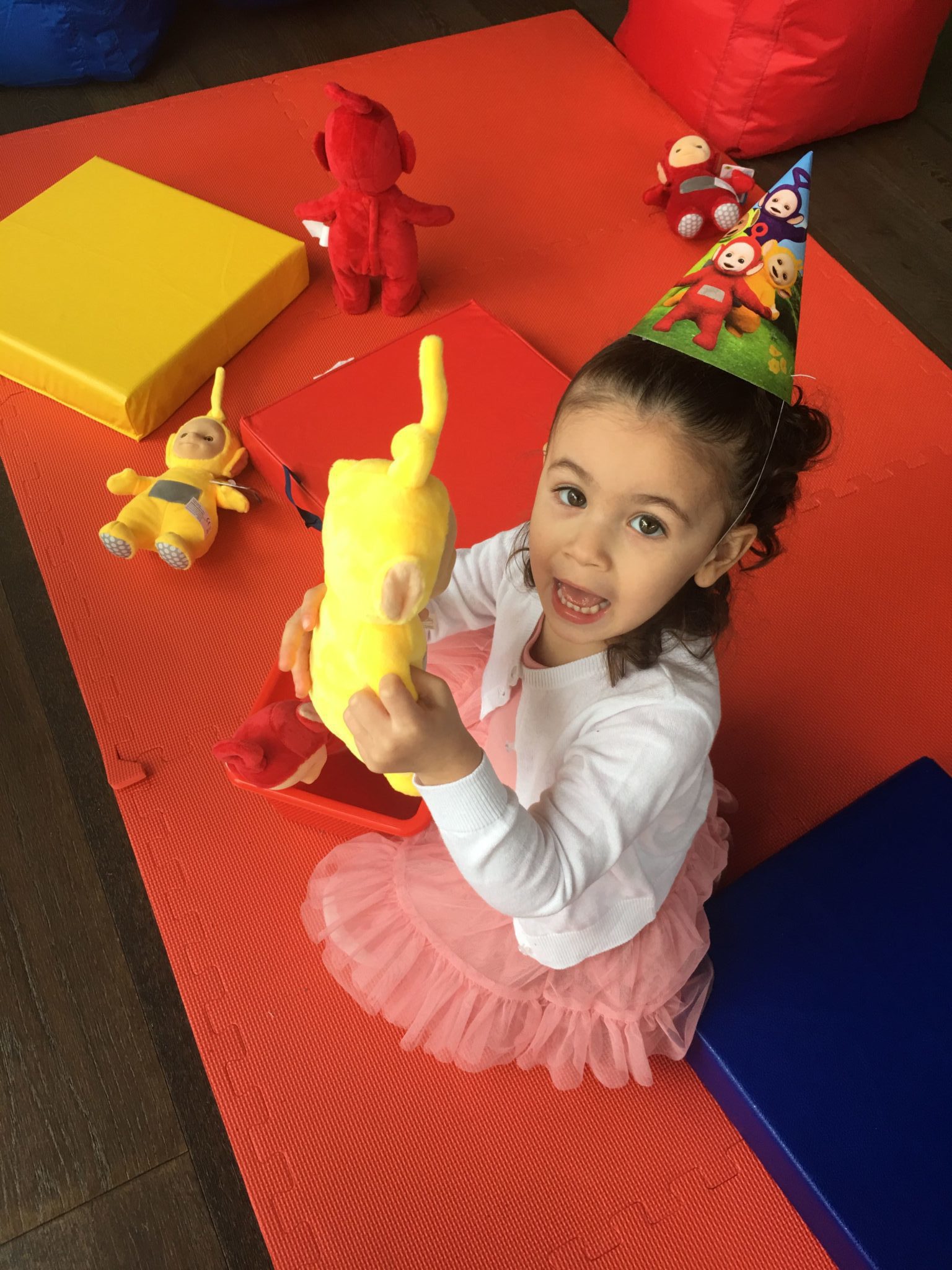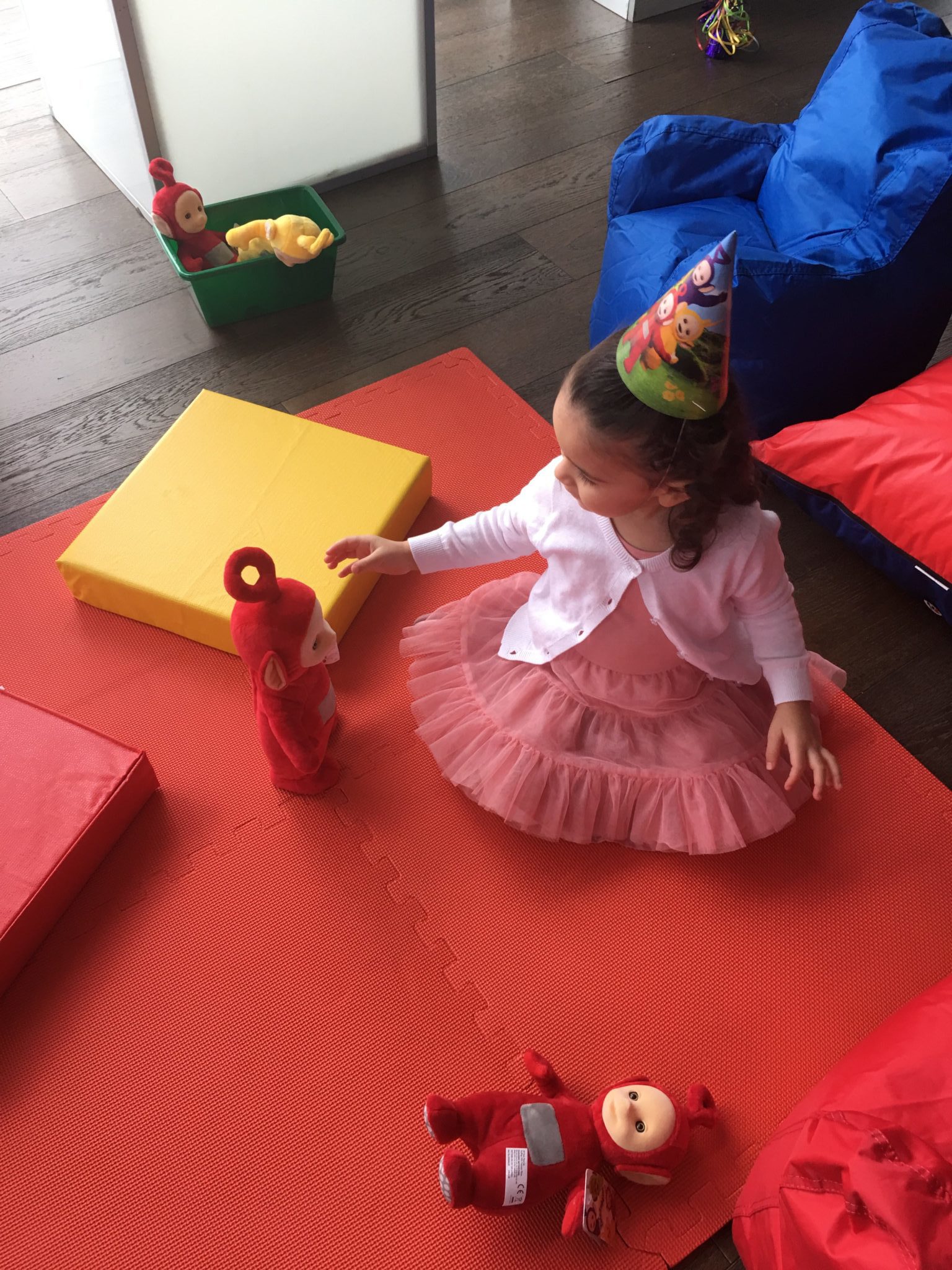 New Teletubbies Play Time App
During the Teletubbies 20th Anniversary Celebration event, we also got a first look at the new Teletubbies Play Time learning app from Built Games.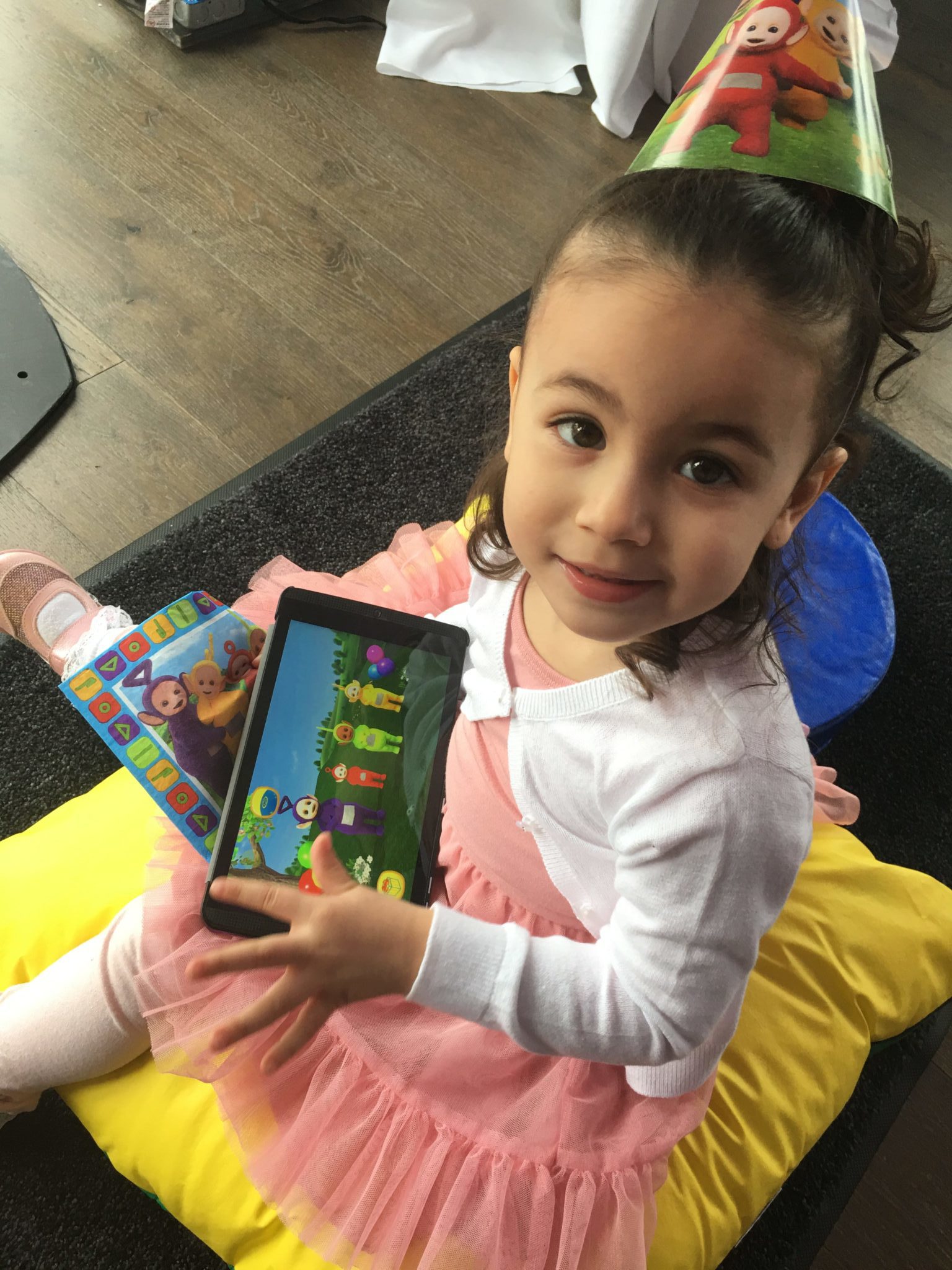 This FREE learning app lets toddlers interact with their favorite Tubby friends and complete play activities that will engage and help develop their senses, motor skills, and language. What's nice is that the app is designed to help little ones develop language in a fun and non-intrusive way through practice and repetition. The app also includes lots of opportunities for BIG HUGS and Tubby Custard Bubble-popping fun!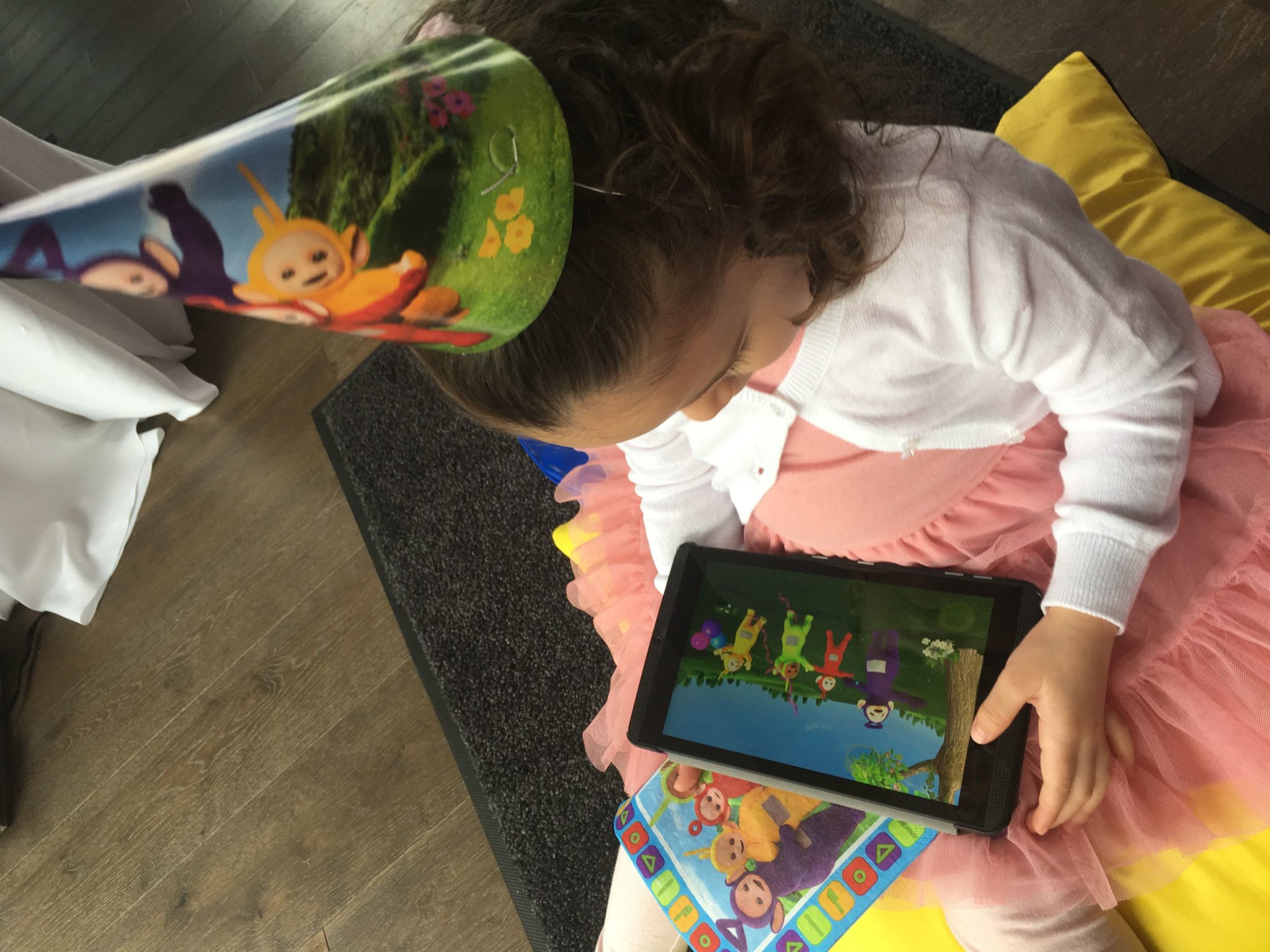 As a parent, what I particularly liked about the new app is that there are plans to eventually offer a Tubby Club subscription option that will allow subscribers to receive fresh monthly content on their app, including new scenes, additional characters, other ways to play, and more! Be on the look out because the Teletubbies Play Time app launches this Spring!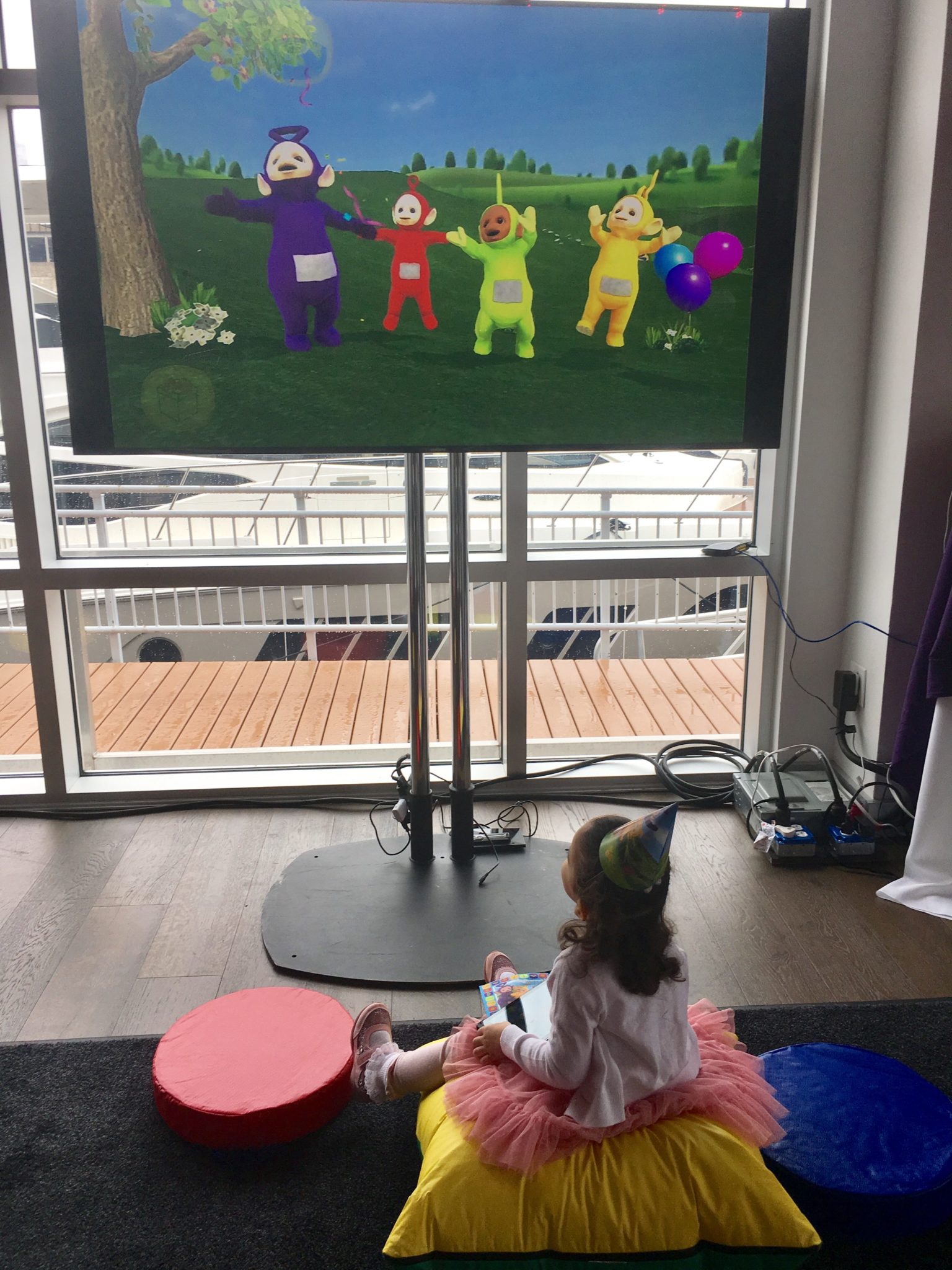 Tubby-rrific FUN!
Thanks Teletubbies for all Tubby-rrific FUN! The event featured a wide array of kid-friendly activities — face painting, balloons, bubbles and fun coloring activities!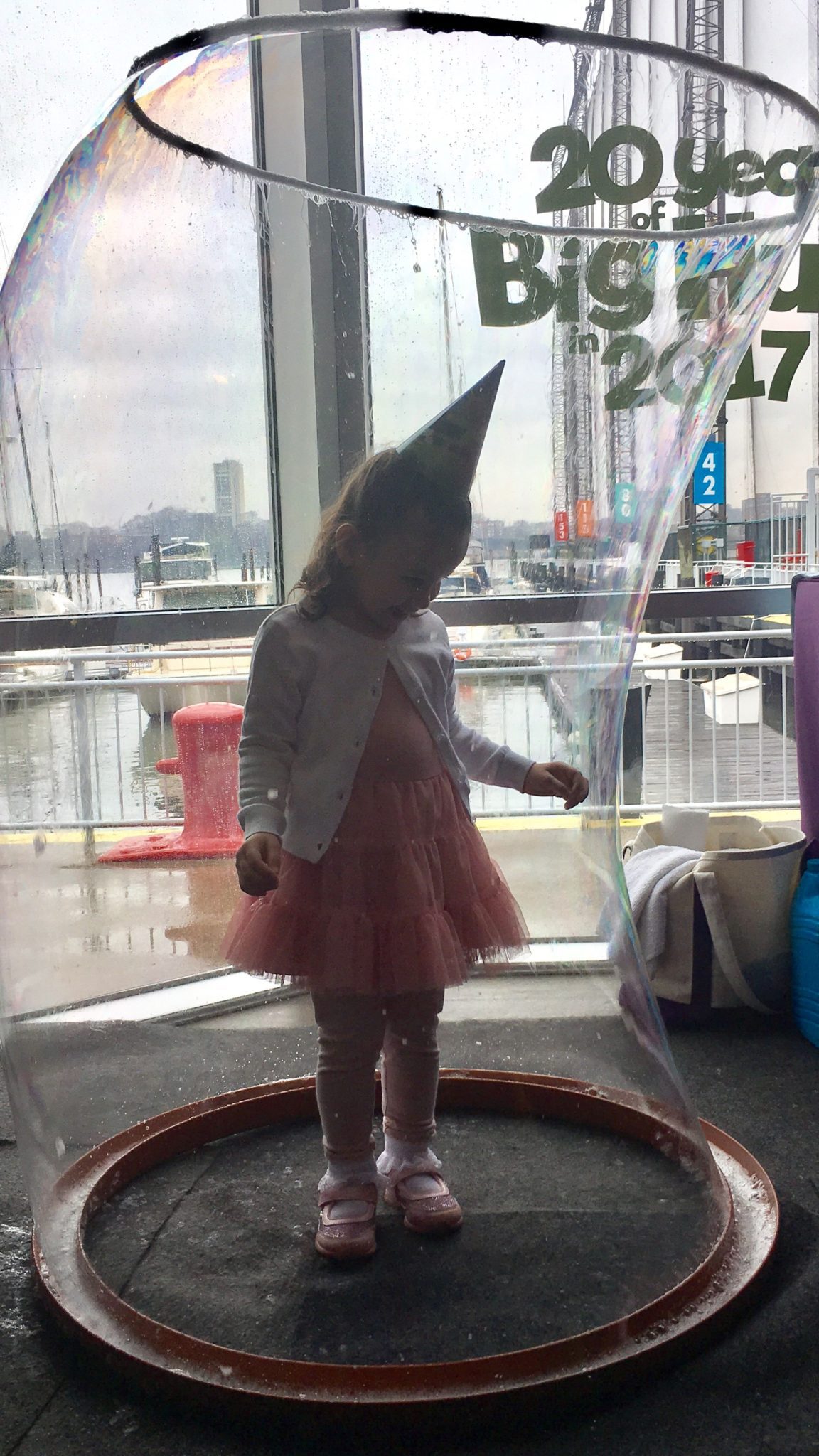 She loved the giant bubbles! And I was surprised she stood still long enough to have this BIG bubble blown around her. So cute!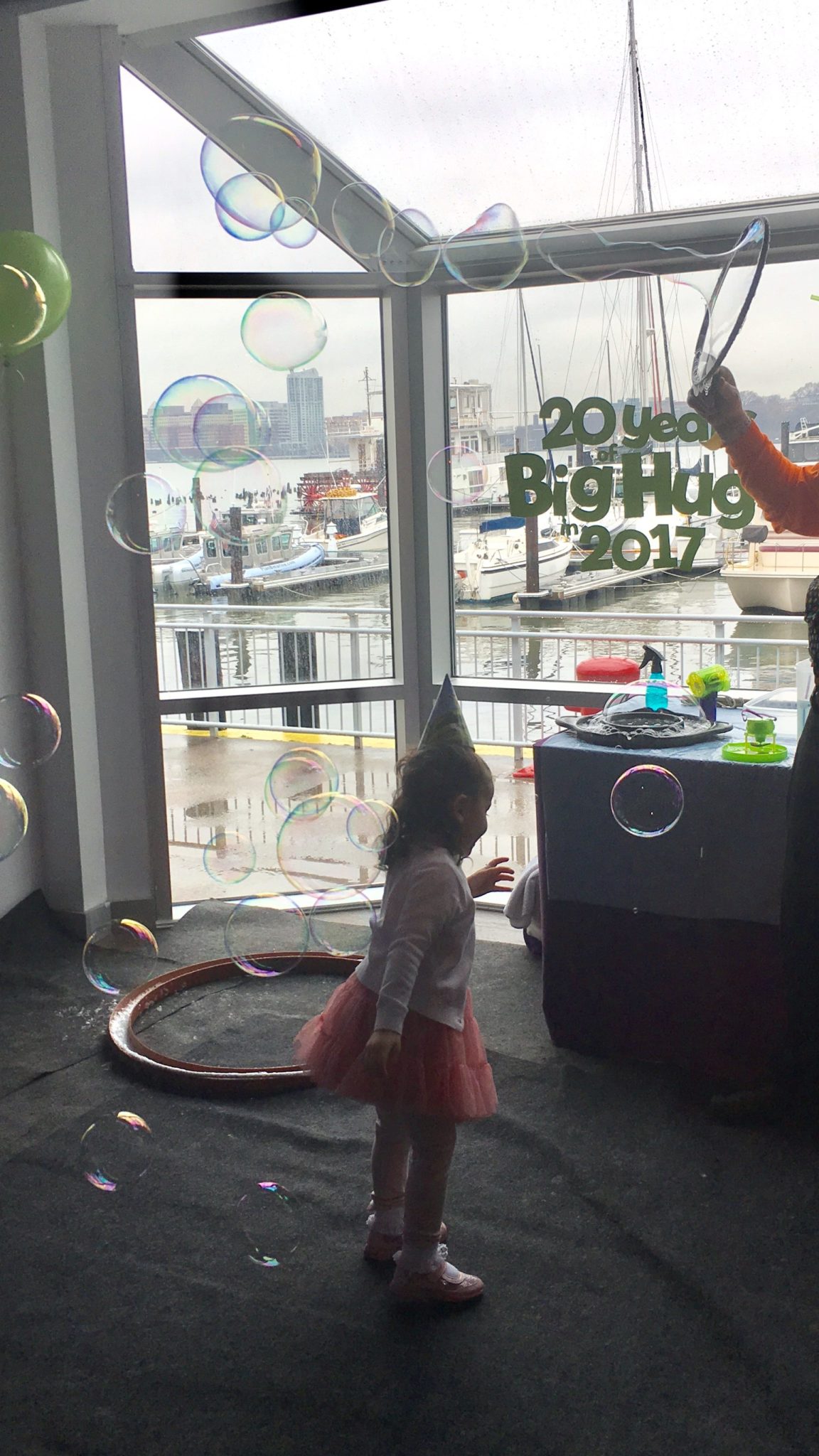 But these days she's pretty obsessed with crayons and colors so she was super happy coloring on these totally adorable Teletubbies coloring pages.
Do your toddlers love coloring?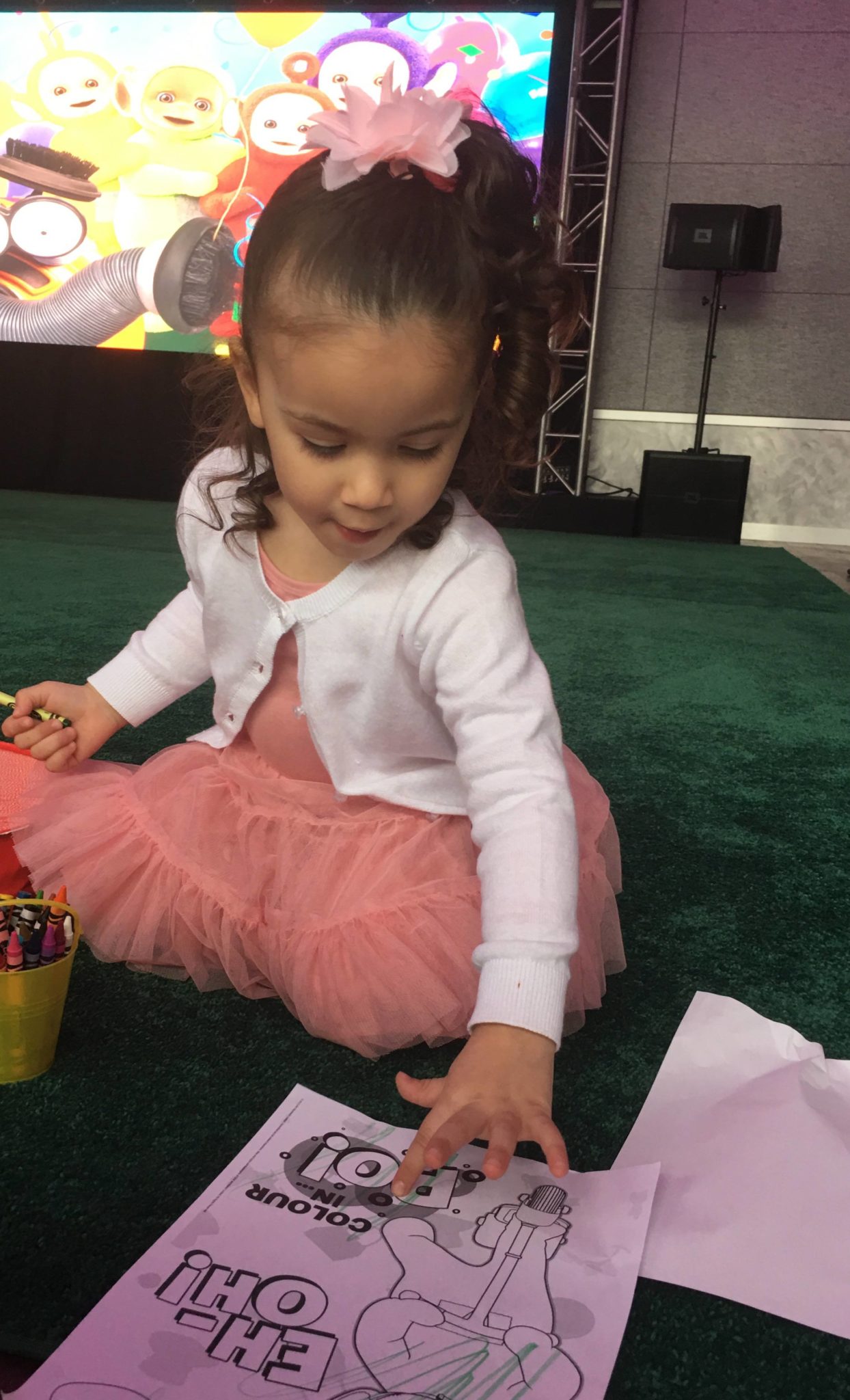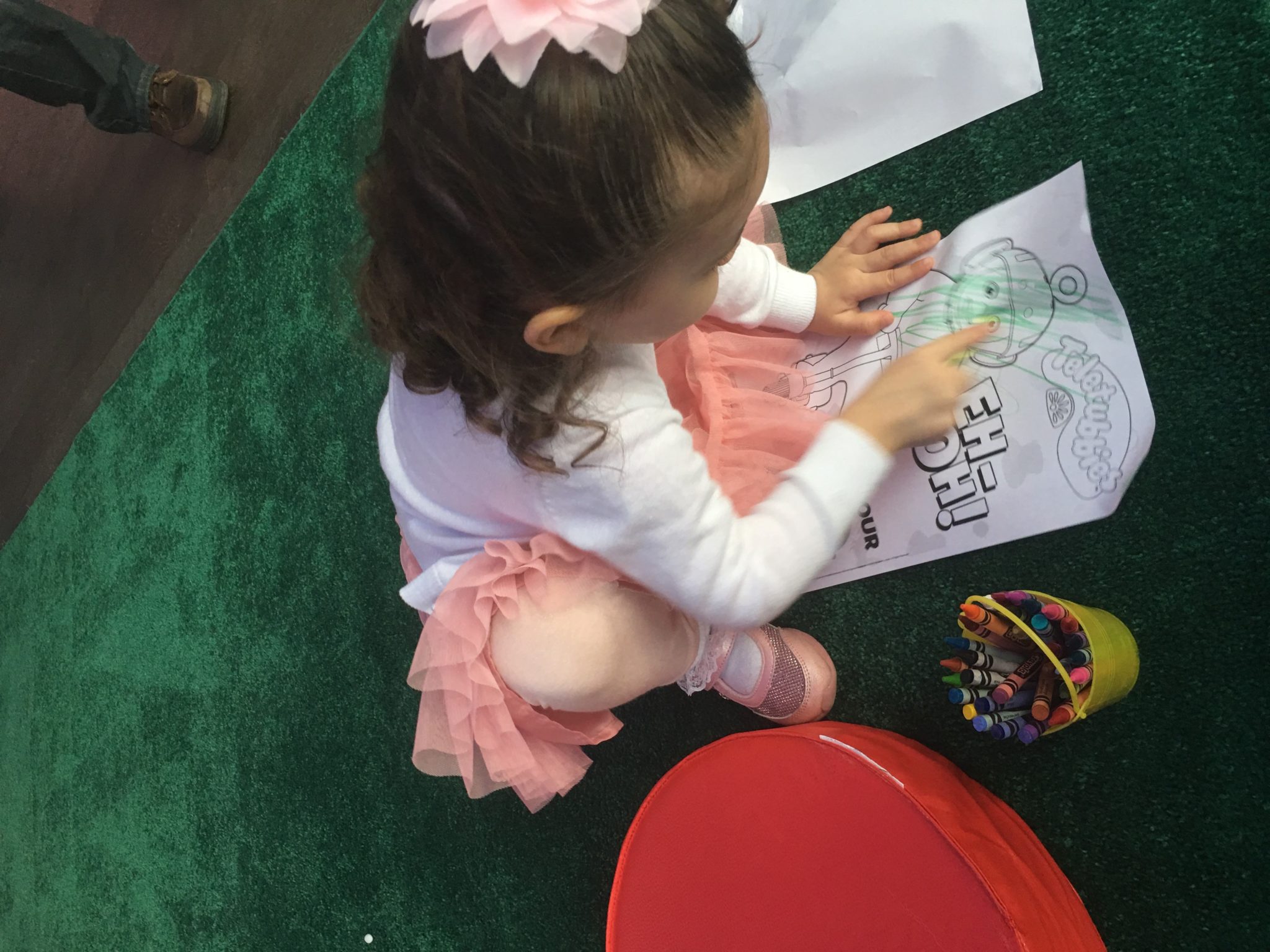 Celebrating 20 years with our lovable friends was lots of fun! Baby Girl hasn't stopped singing "Happy Birthday Teletubbies" ever since. 🙂
Disclosure: I was invited to this media event and received a gift bag after the event. No other compensation was received. As always, thoughts and opinions are my own and I only share what I love and think you will too!
---
RELATED: Cool New Toys Make This the Best Year to Play
You May Also Like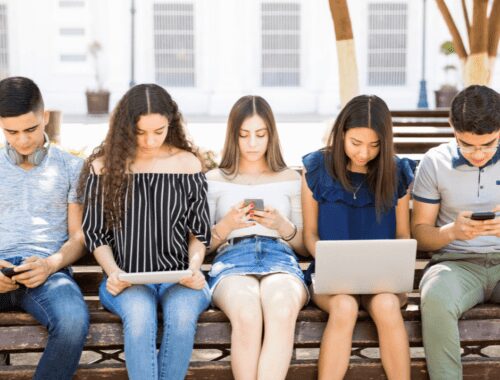 October 15, 2019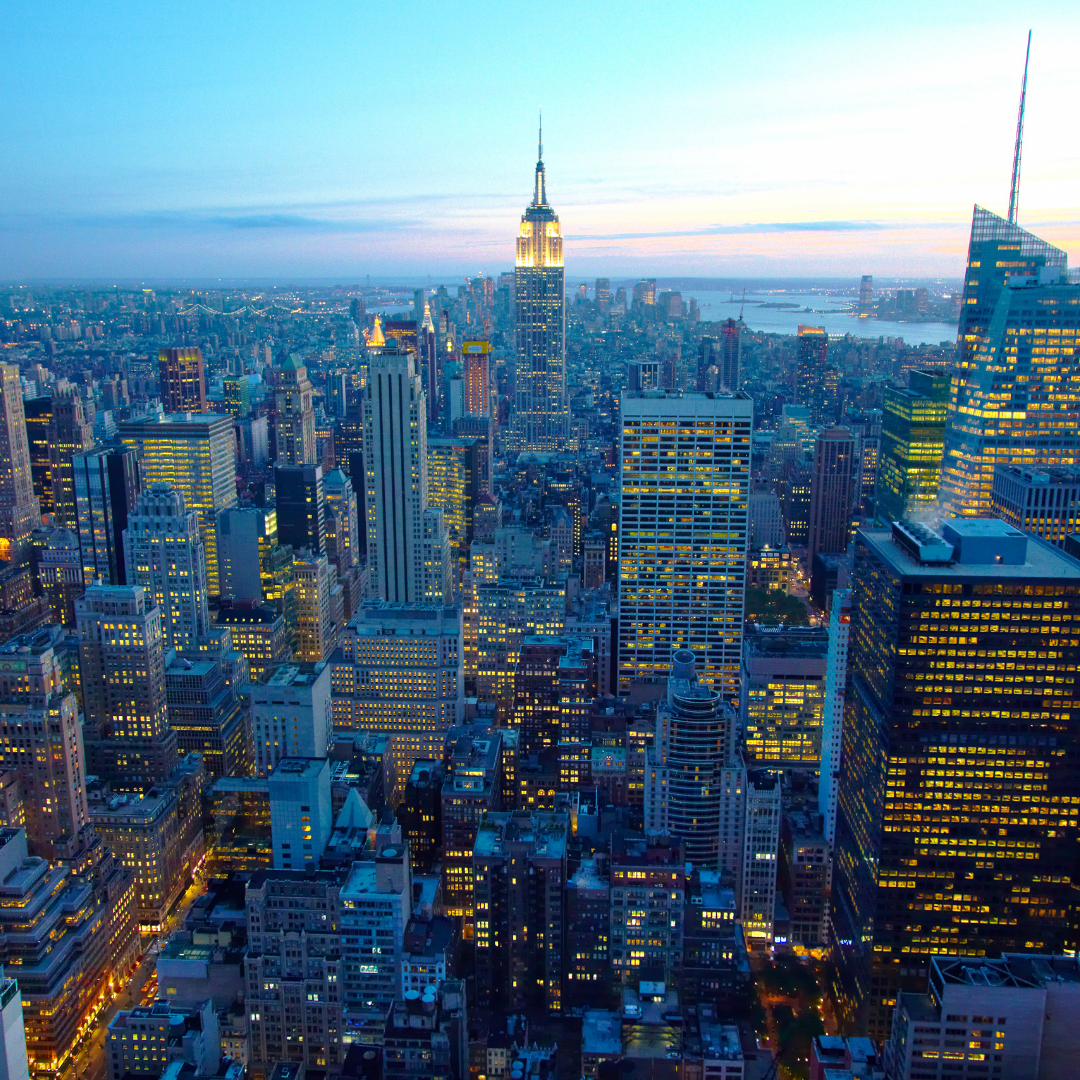 February 13, 2019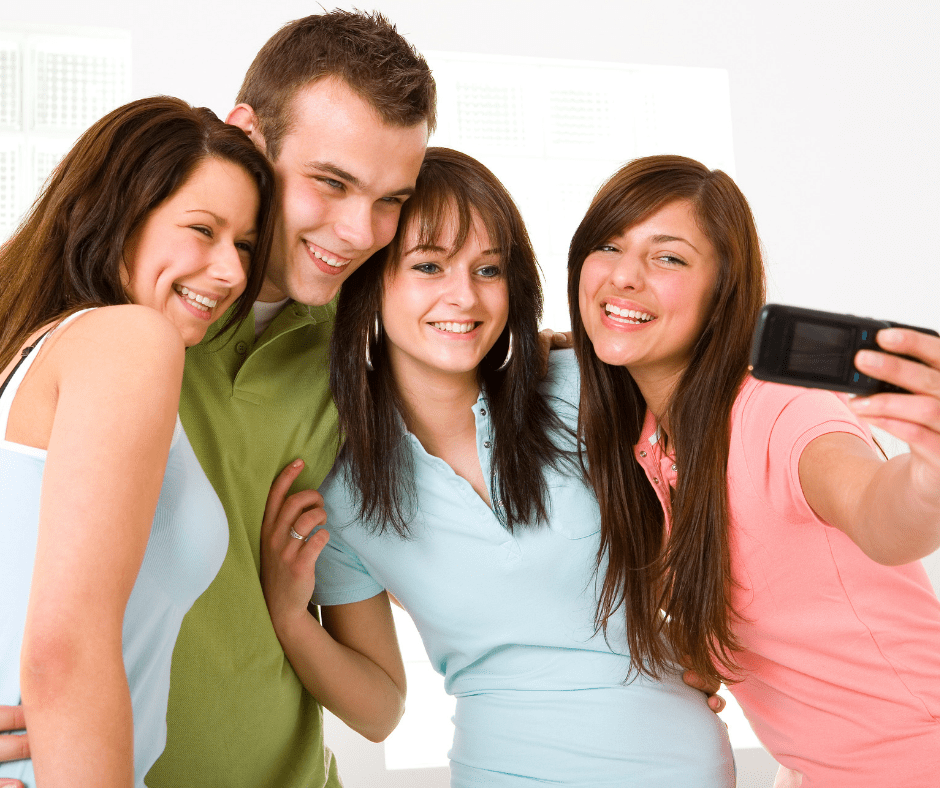 March 6, 2019