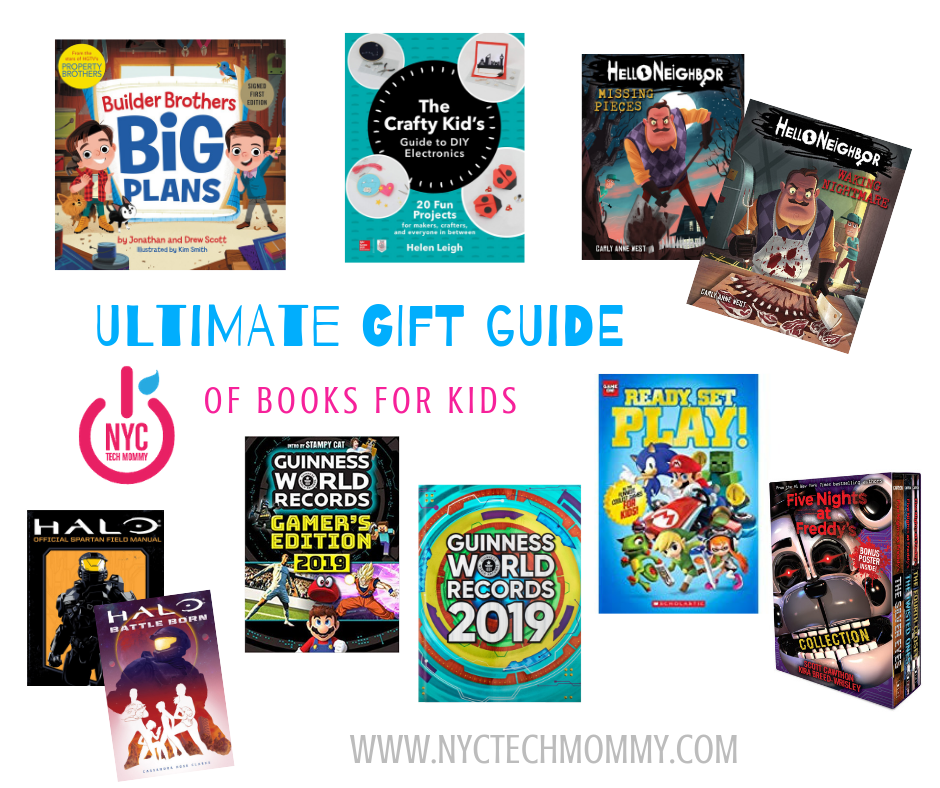 Ultimate Gift Guide of Books for Kids + GIVEAWAY
December 4, 2018
Today I'm sharing with you my Ultimate Gift Guide of Books for Kids. The kids may think that Christmas is all about the toys but truth is that the holidays are the perfect time to give the gift of reading! Reason why I've compiled a list of our favorite books and today I'm sharing them with you in this gift guide of books for kids. Also, read on for your chance to win a book prize pack from Scholastic at the end of this post.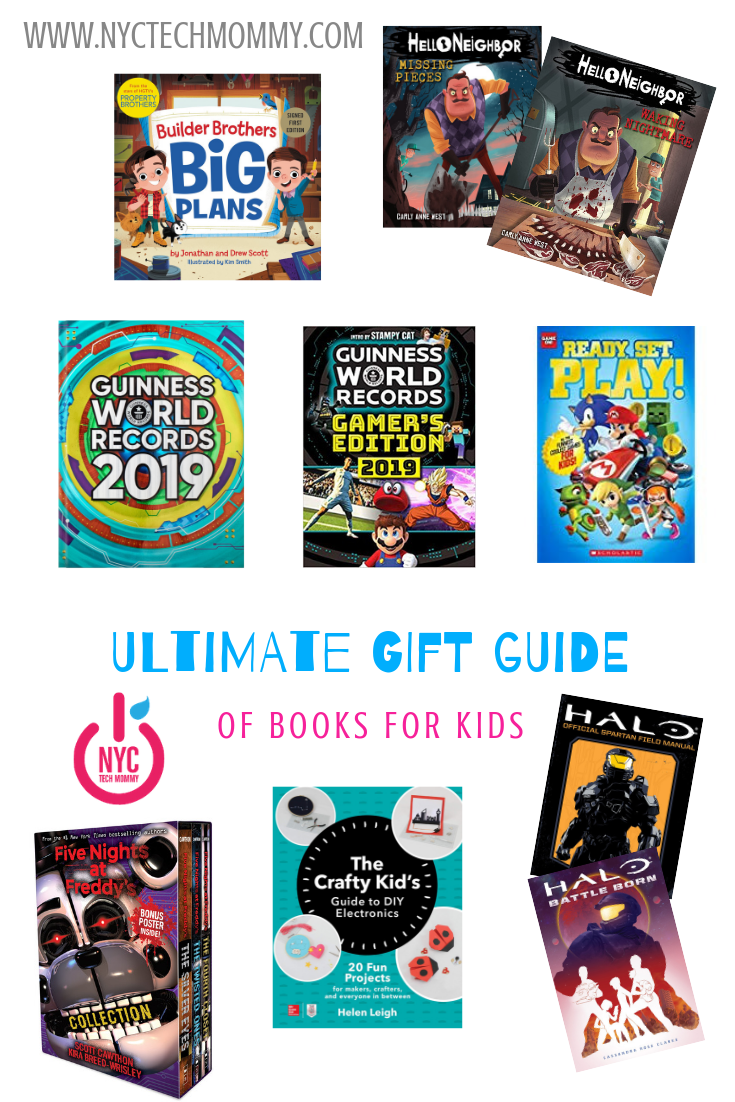 Ultimate Gift Guide of Books for Kids

Builder Brothers: Big Plans
You're probably no stranger to
Drew
and
Jonathan
Scott, the hosts of multiple top-rated HGTV series, including the Emmy-nominated Property Brothers, Brother vs. Brother, and Property Brothers at Home. They're also New York Times bestselling authors and have written several books for adults. Now they've written their own book just for kids. It's adorable and perfect for your creative kids! #BuilderBrothers
You can purchase your own copy of Builder Brothers
here
. It's a great read for kids ages 4 to 8.
The Crafty Kid's Guide to DIY Electronic: 20 Fun Projects for Makers, Crafters, and Everyone in Between
Helen Leigh
's new book The Crafty Kid's Guide to DIY Electronics: 20 Fun Projects for Makers, Crafters, and Everyone in Between provides an entertaining, hands-on introduction to electronics and making. Inside kids will find 20 DIY projects that teach electronics and craft skills using inexpensive, readily available materials. What I love the most is that it also includes interviews with other amazing makers that are sure to inspire your kids.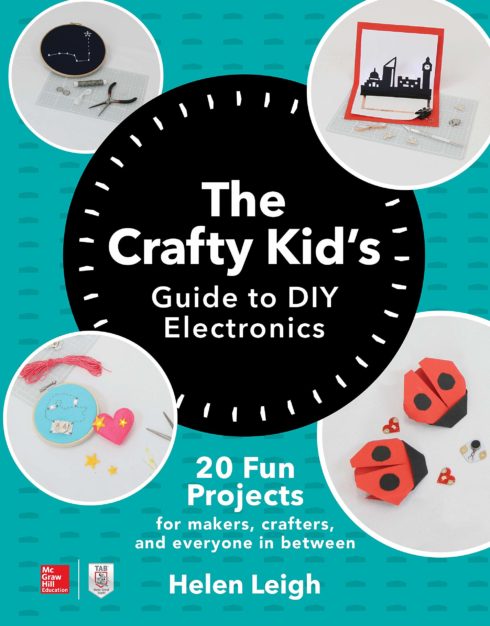 Written by a dedicated hobbyist, The Crafty Kid's Guide to DIY Electronics focuses on paper circuits, soft circuits, wearables, and robots. Designed for kids interested in exploring, this book is also ideal for established hobbyists with senses of humor. In other words, this book would make a great gift for the young and older makers too! Ideal for readers ages 4 and up (with a little help from mom and dad to complete these fun projects).
Give the Gift of Reading
If you kids are into video games, chances are they will be craving screen time during the holiday time off from school. However, you probably won't want them sitting in front of a screen for hours on end. So why not encourage them to loose themselves in a book. Give them the gift of reading and they can still enjoy the topics and games they love but in the pages of books. Here are a couple of great titles your little gamer is sure to enjoy reading.
Guinness World Records Gamer's Edition 2019
The Guinness World Records Gamer's Edition 2019 is the must-have guide for everything related to gaming records and fun facts! The 12th edition of this best-selling video games annual is packed with exciting new records and trivia from popular games including Overwatch, Super Mario, Splatoon 2, Cuphead, Fortnite, Roblox, Dragon Ball FighterZ and many more.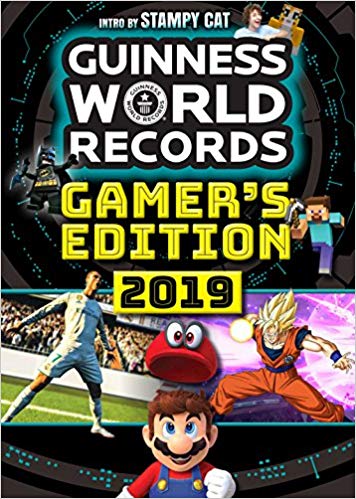 Kids can discover a bunch of fun facts like which was featured in Monster Hunters: World is the largest, how high of a score you'll need to beat to the highest Xbox Gamerscore, who the top 10 most followed Twitchers are, or how the Nintendo Gameboy has evolved, plus many other incredible gaming feats and history.
Minecraft gamers are also in for a treat as popular YouTuber and now Guinness World Records title holder, Joseph Garrett, aka Stampy Cat, provides an exclusive guest foreword and interview. Readers can join the ranks of Stampy Cat and other gaming record holders by attempting the Minecraft record challenges featured in the brand new "Reader Challenges" chapter. Build rockets and igloos in Minecraft at record-breaking speeds to join the ranks of Guinness World Records gaming elite. Available in stores and online now!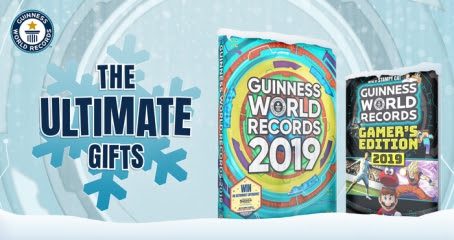 You may want to also add in the Guinness World Records 2019 edition if your kid is into breaking records. Combined with the Gamer's Edition this make a super fun and educational gift pack to add to your holiday gift list for readers of all ages.
Guiness World Records 2019
The colorful pages of the 63rd edition of the globally beloved best-selling annual are filled with thousands of never before seen records kids are sure to love. Explore technology, our universe, pop culture, incredible human feats, sports and much more through new jaw-dropping photos and trivia in the Guinness World Records 2019 edition.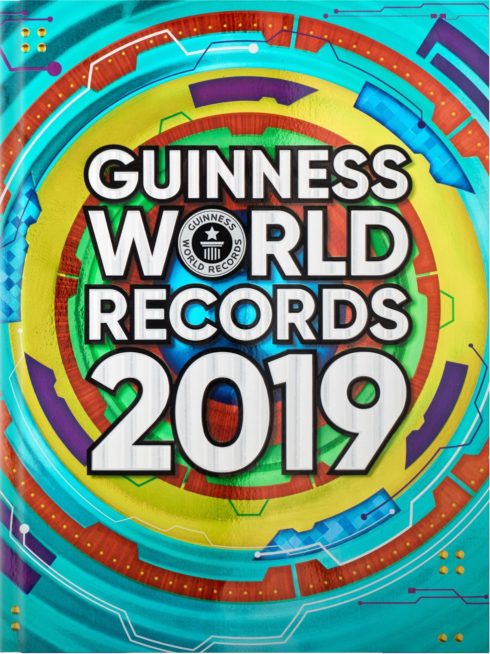 Readers can delve into the world of some notable Makers and check out the workshops of the masterminds behind larger than life yo-yo's, and toy wagons, top speed jet-powered go-karts, and a massive hamburger in the new section, "Meet the Makers!"
Plus, see the world through LEGO® within the "Making History" spreads as new record-breaking objects are re-imagined using the world-renowned interlocking plastic bricks.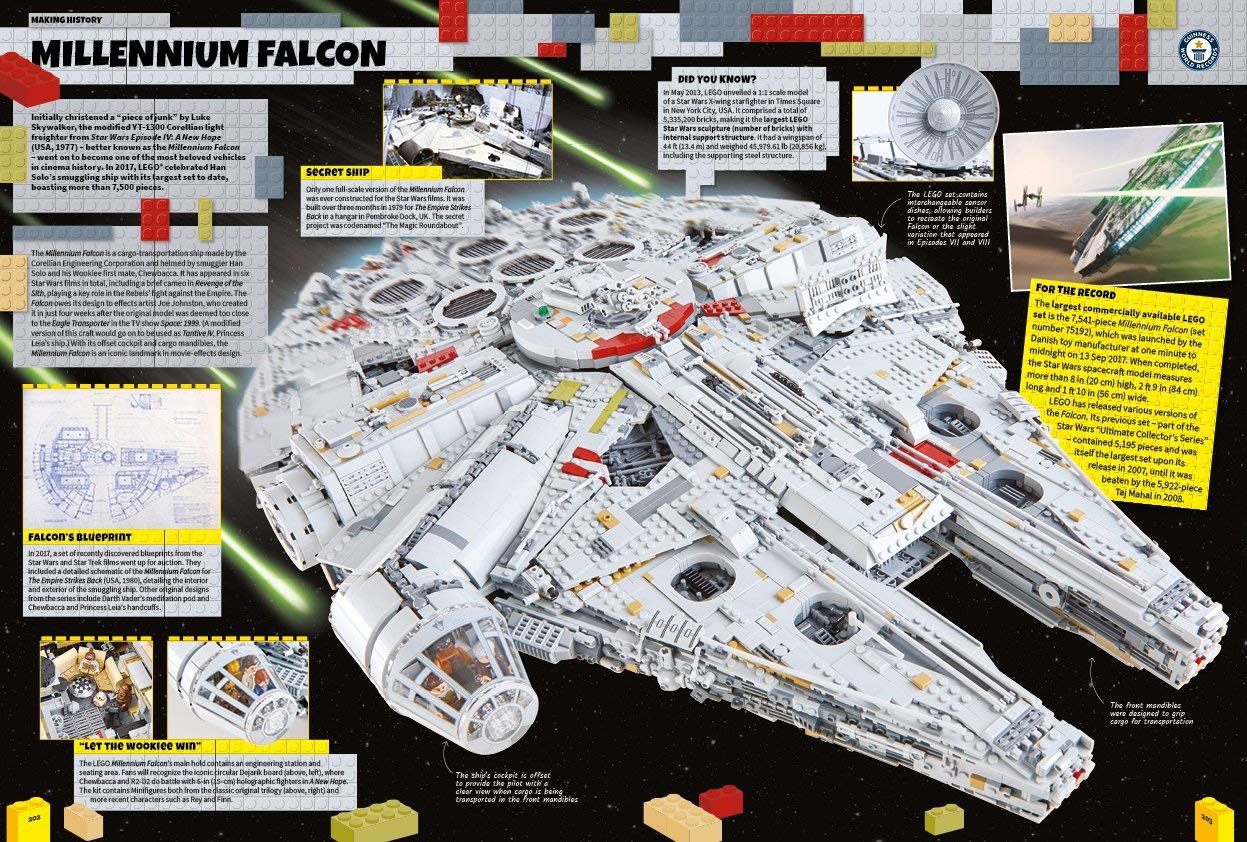 Serving as a global snapshot of history-making news and achievements, find out how many paper clips make up the Longest paper clip chain, what's the Most searched-for TV show on the internet, or who now holds the title for Most body modifications.
Then, gather the entire family to try the fun activities and record challenges featured in the "Do Try This at Home" section. Create record-breaking balloon dogs, ring-pull necklaces, or origami cubes using common household items to try and earn your spot in Guinness World Records history! You just have to love this and it makes a great gift for any curious kid ages 4 and up.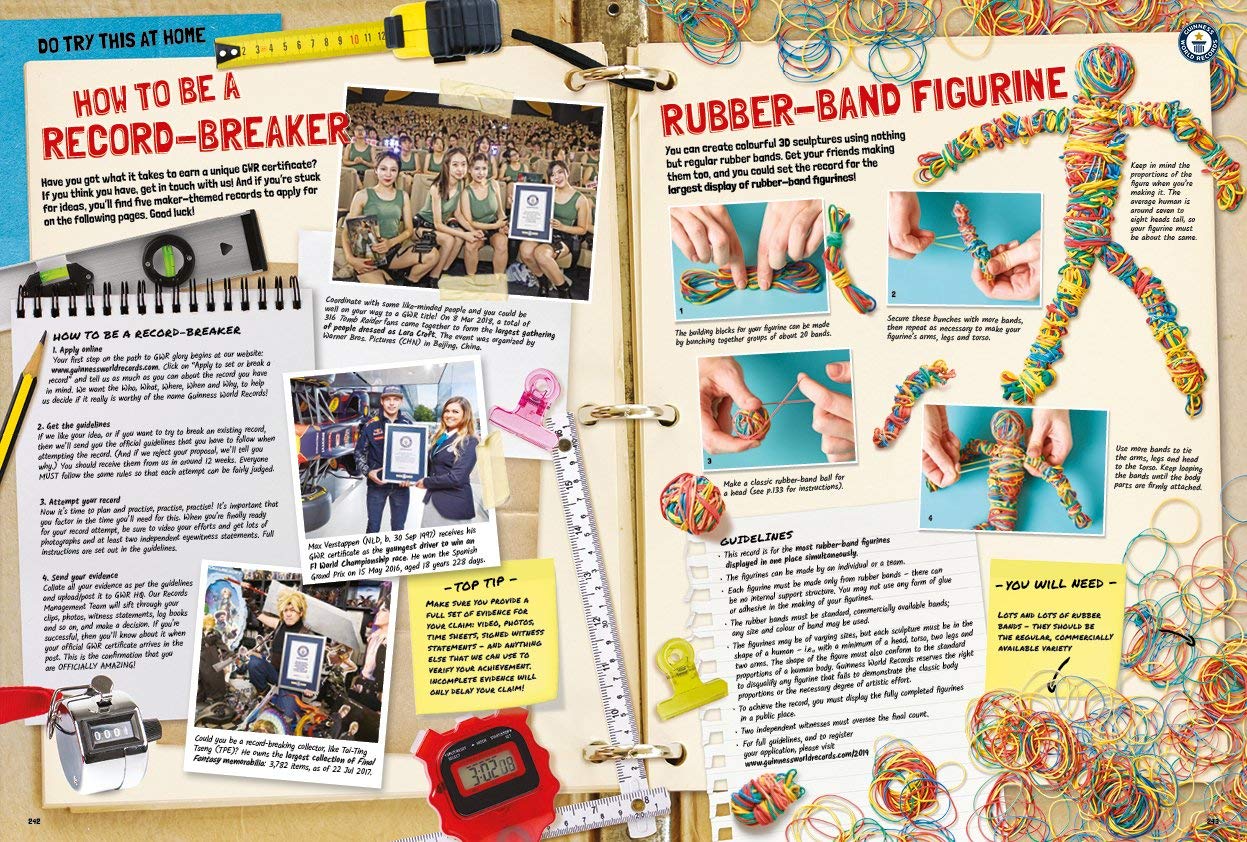 Ready, Set, Play! by Scholastic
Here's another great reading selection for your little gamer. Ready, Set, Play! is the essential guide to all the funnest and coolest games, appropriate for gamers ages 5 to 8. In this guide, readers will learn all the best tips and tricks for their favorite games, including Minecraft, Zelda: Breath of the Wild, Mario Party Star Rush, Splatoon, LEGO Dimensions, and so much more. They'll also learn some gaming basics, discover new games worth playing on console and mobile, and even be introduced to some of the cutest characters they can expect in the games they play, including Kirby, Yarny, and more.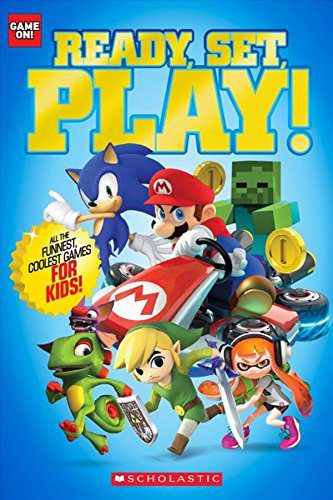 I love that this guide only features games rated E for everyone. Ready, Set, Play! also includes bios of some of the world's biggest gaming stars, expert opinions tips from pro players, and awesome facts making it the perfect game guide for new and budding gamers. Your kiddos will love this one! My kiddo is already reading it and can't put it down.
RELATED CONTENT: Gaming Holiday Gift Guide for Little Kids
Give the Gift of Reading with Scholastic AFK + GIVEAWAY
If you're looking for even more great book titles to entice your kids away from the screen, check out this collection of scholastic books that are part of the AFK (away from keyboard) initiative. Read on for your chance to enter to win your very own collection of books at the end of this post, just in time for the holidays. This holiday, give the gift of reading! These books are great for kids ages 10 and up.
HALO: Official Spartan Field Manual by Jenneth Peters and Kiel Phegley
For the first time ever, Halo fans of all ages can join the ranks of the most powerful super-soldiers in the galaxy with this in-world military handbook.
Spartans. Humanity's first—and last—line of defense in a hostile 26th-century galaxy. You have been selected to join their ranks.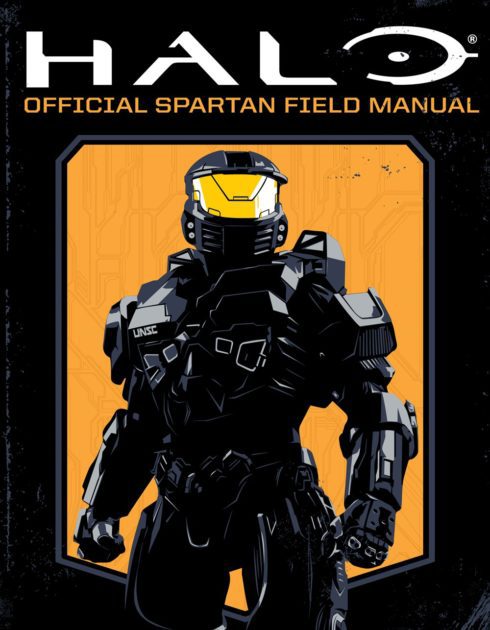 What's the Story
The Official Spartan Field Manual is a guide to every element of the United Nations Space Command (UNSC) SPARTAN-IV program, disseminated to all newly augmented Spartans. Inside these pages is the guidance you'll need to put your enhanced strength, speed, and skills to use in both War Games training simulations and, ultimately, joint combat operations. This manual is essential for getting to know the weapons and vehicles you will be using on the battlefield, as well as the allies and enemies you can expect to encounter.
Compulsory reading for all Spartan-IV Fireteam Leaders and Commanders!
Parents, you can learn more about the HALO: Spartan Assault video game here.
Don't miss the first-ever young adult fiction novel based on the megahit Halo video game series!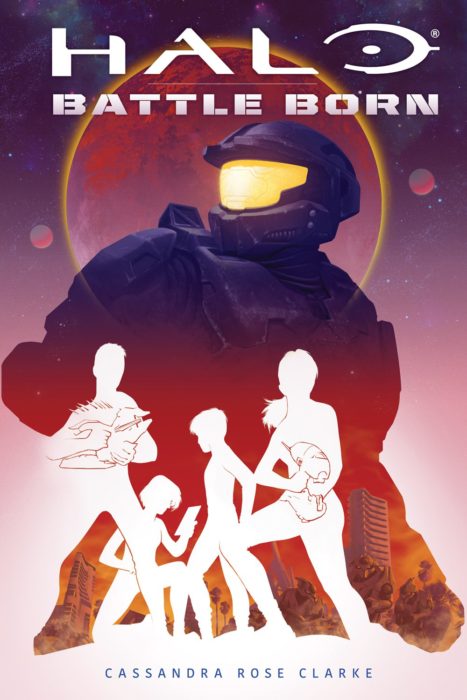 What's the Story
Saskia, Dorian, Evie, and Victor aren't exactly friends at their small high school on the middle-of-nowhere colony world of Meridian. Each has their own problems, from absent parents to supporting their family, getting into a good college to making the next hit holo-film. But those problems were nothing next to the threat now facing their world: The alien alliance known as the Covenant is laying siege to Meridian, for reasons that aren't so easily explained.
With their village in flames, the four teens find themselves stuck aboveground, locked out of the town shelter where the rest of the survivors are gathered. Together, Saskia, Dorian, Evie, and Victor are thrust into battle with nothing but a few scavenged weapons and an injured Spartan, one of the UNSC's super-soldiers. What's forged from the destruction will determine the fate of Meridian, and tilt the battle for humanity's survival.
Hello Neighbor: Missing Pieces by Carly Anne West 
Lock your doors! From the creators of the blockbuster horror video game Hello Neighbor comes the story that started it all. Unravel the mystery in this gripping prequel novel!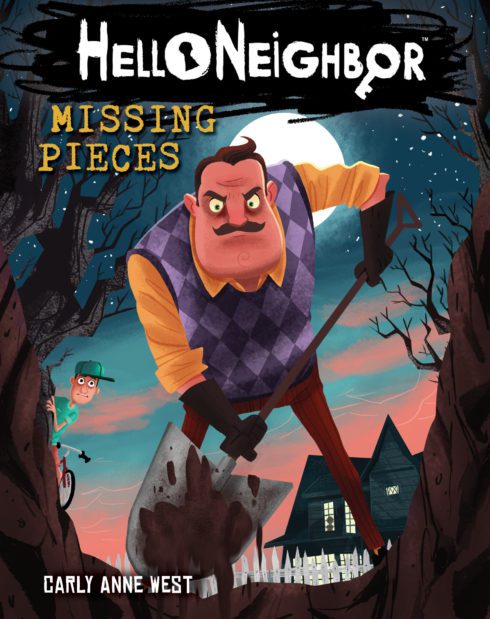 What's the Story
Nicky Roth has always been a lonely kid. But that all changes when he and his family move to Raven Brooks and meet their eccentric neighbors, the Petersons. Nicky befriends the Petersons' son, Aaron, bonding over their talents for tinkering. Soon the boys are inseparable and using their skills to pull pranks on the townspeople.
But something about Aaron bothers Nicky—people seem almost afraid of him and his family. Through snippets from Aaron and a lot of sleuthing in the town's archives, Nicky discovers a dark past haunting his neighbors, a streak of bad luck they can't seem to shake. Aaron thinks that's all behind them now, but Nicky has a feeling the Petersons are fated for another tragedy…
This pulse-pounding prequel novel to the hit video game Hello Neighbor includes two-color illustrations throughout, to help readers unwind the mystery at the heart of the game.
Hello Neighbor: Waking Nightmare
Don't miss this pulse-pounding original story, the sequel to Hello Neighbor: Missing Pieces, based on the hit video game from tinyBuild!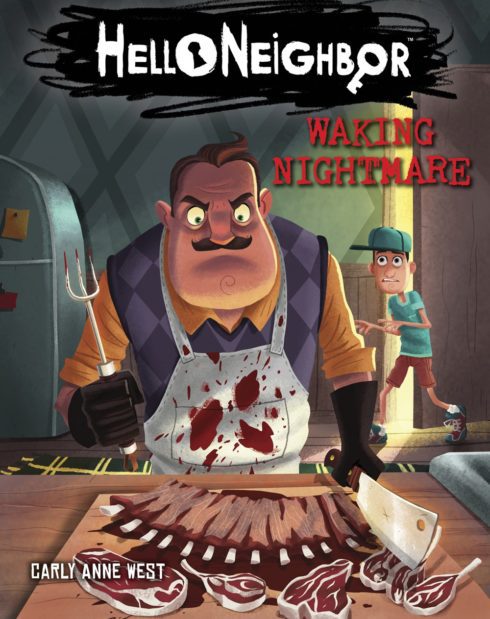 What's the Story
It's been four months since Nicky Roth has seen his best friend and neighbor, Aaron Peterson. Aaron's father, a reclusive theme park designer, told the town that Aaron and his sister Mya are living with a relative far away, but Nicky can't seem to accept it.
Plagued by terrifying nightmares of robotic mannequins, rotting theme parks, and a dark basement, Nicky teams up with his friends from school to find out what really happened to Aaron and Mya. Together, they start piecing together a picture more disturbing than they could have imagined. The screams coming from the neighbor's house can't be nothing, and Nicky is determined to get to the bottom of where his friends went, and what-if anything-can be done to save them.
This pulse-pounding prequel novel to the hit video game Hello Neighbor includes two-color illustrations throughout, to help readers unwind the mystery at the heart of the game.
Five Nights at Freddy's Collection by Scott Cawthorn and Kira Breed-Wrisley
Collection includes: The Silver Eyes, The Twisted Ones, The Fourth Closet
From the #1 New York Times bestselling author and creator of Five Nights at Freddy's, don't miss this three-book boxed set, which includes an original print inspired by the trilogy!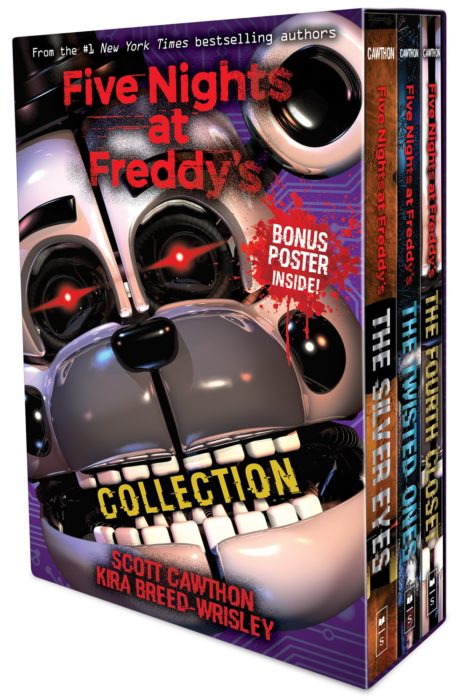 What's the Story
It's been 10 years since the horrific murders at Freddy Fazbear's Pizza tore the town of Hurricane, Utah, apart. Charlie, whose father owned the pizzeria, reunites with her childhood friends on the anniversary of the tragedy, and together they revisit the abandoned pizza place. After they discover a way inside, they realize that things are not as they used to be. The four animatronic mascots that once entertained patrons have a dark secret…one that sets Charlie and her friends on a path to unravel the many mysteries her father— and his twisted partner—left behind.
HOW TO ENTER TO WIN – AFK BOOK GIVEAWAY
Now that you've reviewed this Ultimate Gift Guide of Books for Kids, here's what I promised — your chance to enter to win a book prize pack from Scholastic.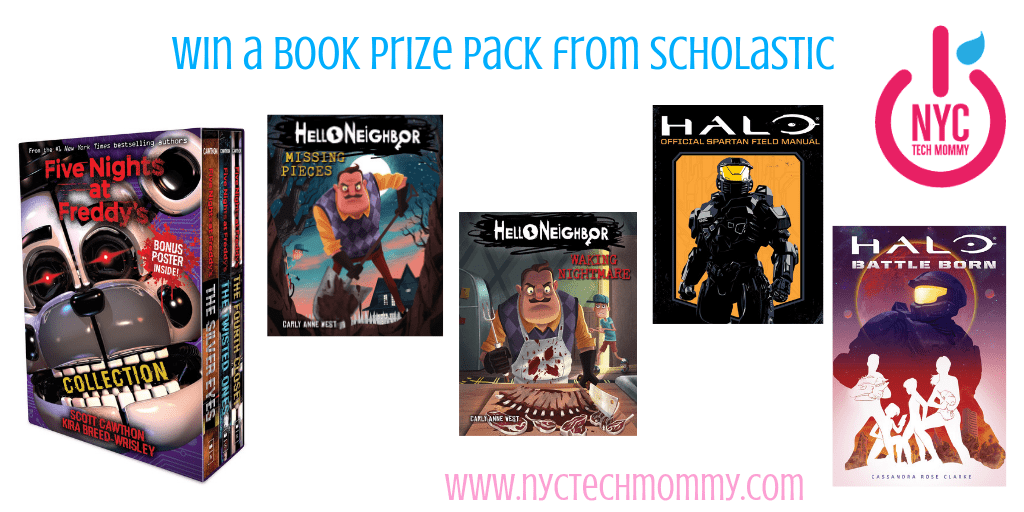 Giveaway Rules
Leave a comment letting me know why you would love to win these great prizes! Comment must be completed before other entry options are counted. NOTE that this giveaway is for (1) Book Prize Pack— Total prize valued at $65. This giveaway starts December 4th at midnight EST and ends December 11th at midnight EST. Entrants must be USA residents and at least 18 years old. One winner will be randomly selected by rafflecopter.com from all qualifying entries and contacted via the email they provide. The email will come from [email protected]. The winner has 24 hours to respond or a new winner will be chosen. Good Luck!
ENTER USING THE RAFFLECOPTER BELOW
---
Disclosure: This is not a sponsored post but I was provided complimentary products in order to facilitate this review + giveaway.
You May Also Like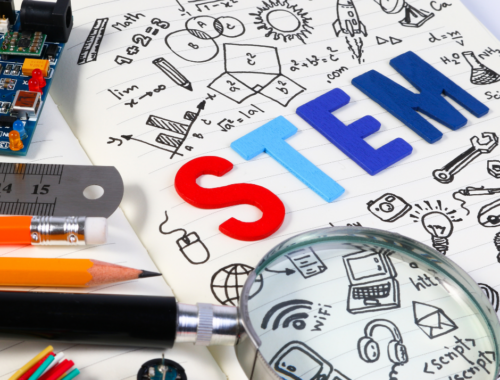 November 7, 2021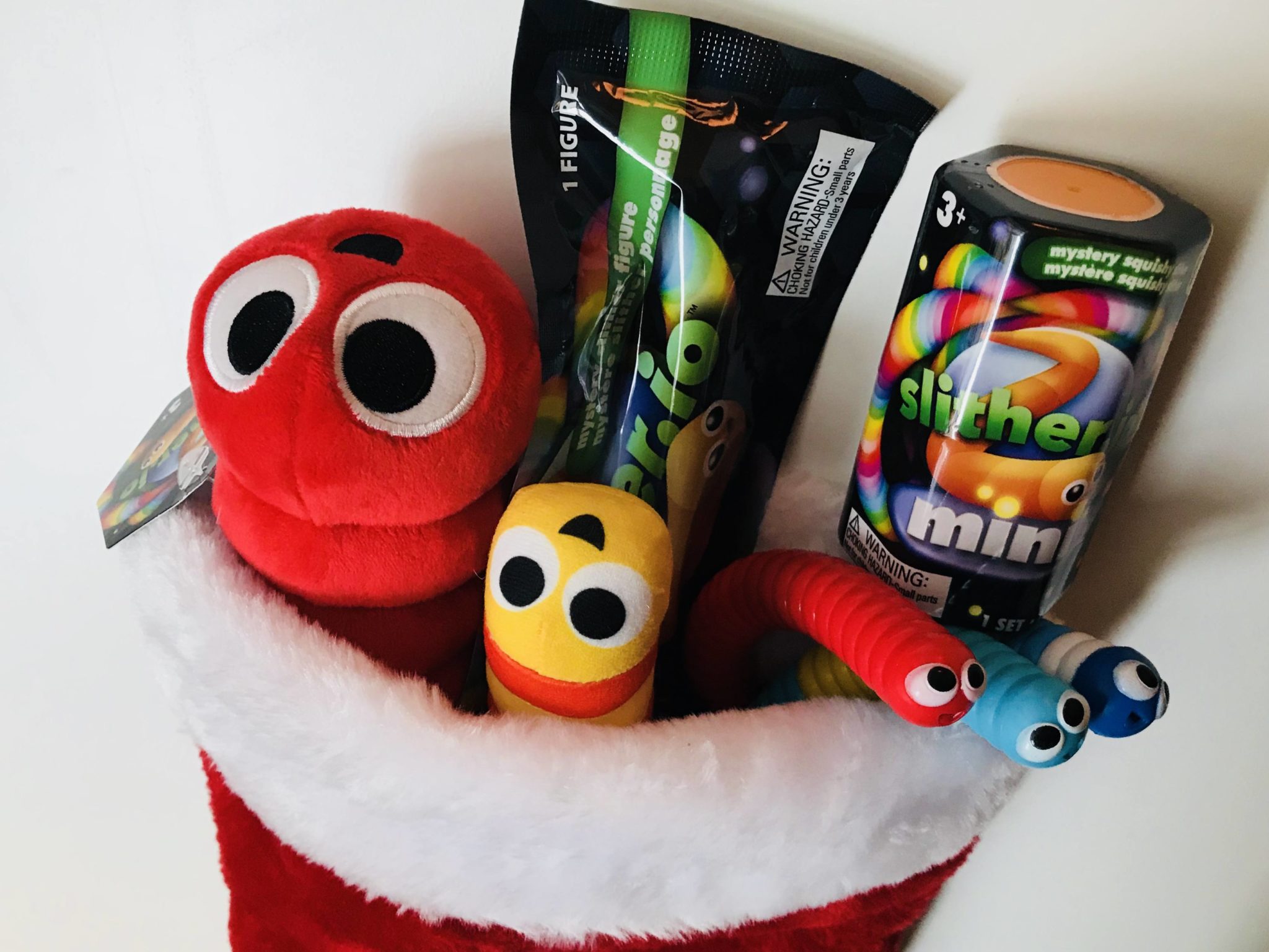 November 28, 2017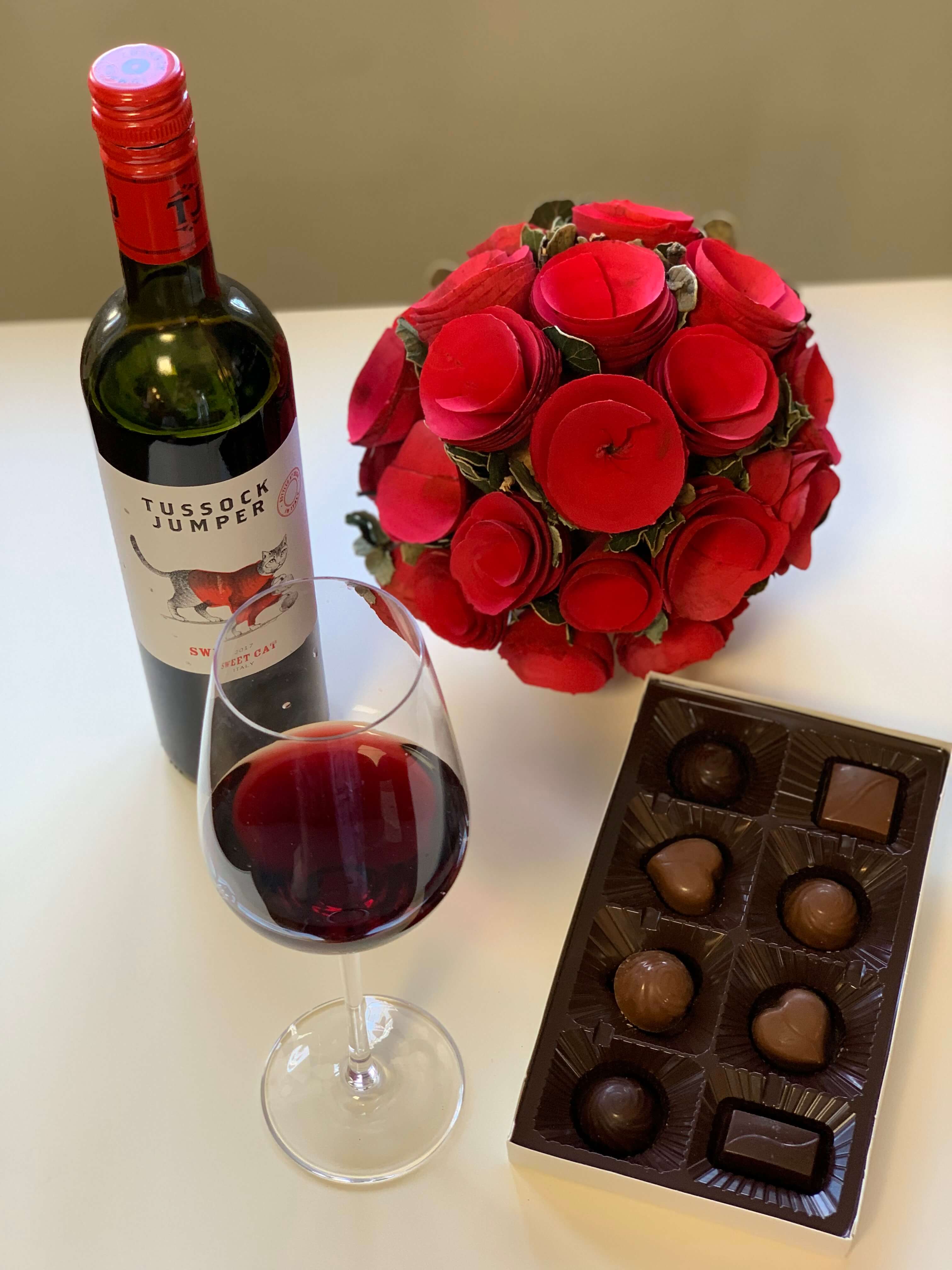 February 11, 2019