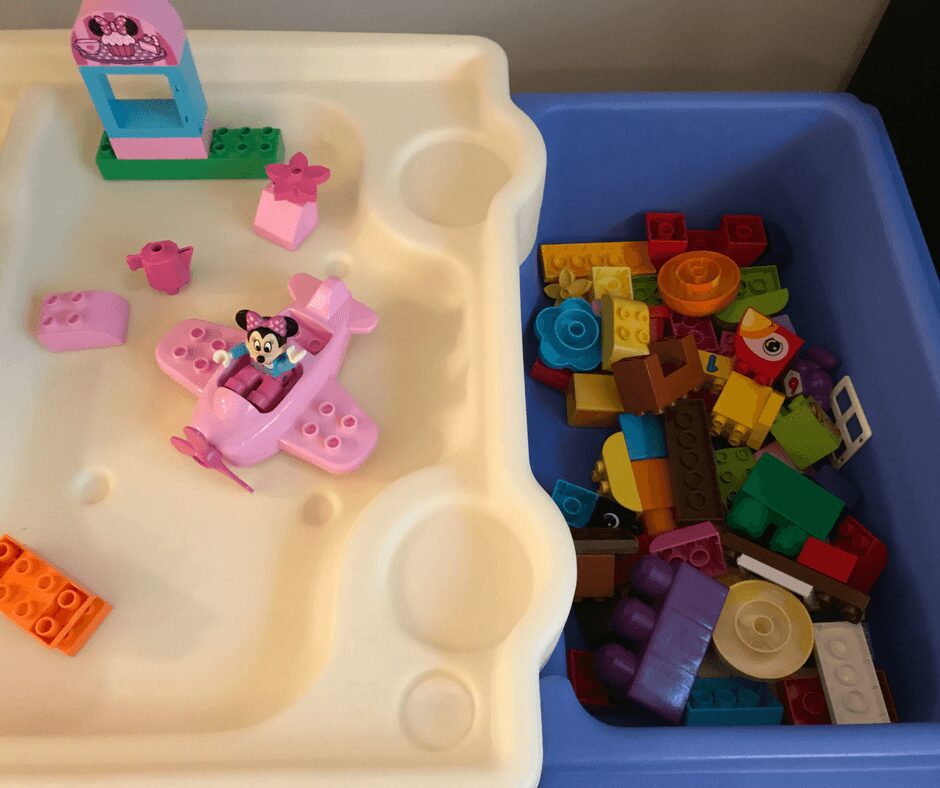 A Kids Activity Table That Offers So Many Ways to Play
October 13, 2017
As a NYC mom I'm always struggling to find enough space to store large toys in our small city apartment. The Simplay3 In and Out Activity Table is a great option for small spaces. Plus it's a kids activity table that offers so many ways to play. Read on to learn more.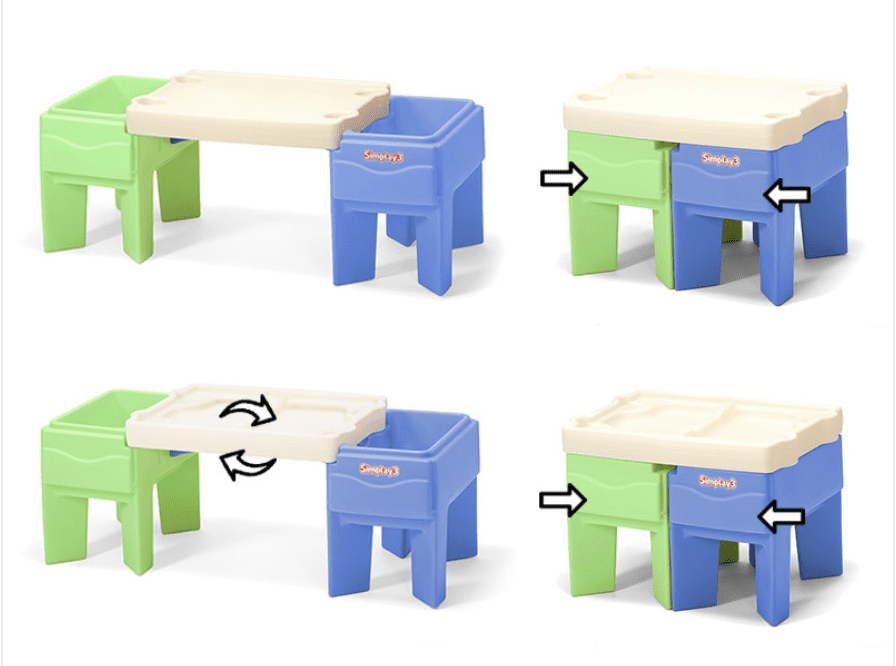 I was so excited when I came across the Simplay3 In and Out Activity Table at Blogger Bash's Sweet Suite event a few months ago. I was immediately impressed by it's versatility and how compactly it fits into small spaces.
I immediately imagined my toddler sitting at this activity table during snack time (because it includes 4 great cup holders), building blocks on it's durable surface, using it for sensory play as a water/sand table, and just simply storing all her little toys in it's deep side bins. Endless possibilities!
So as you can imagine we were super excited when this box arrived at our door!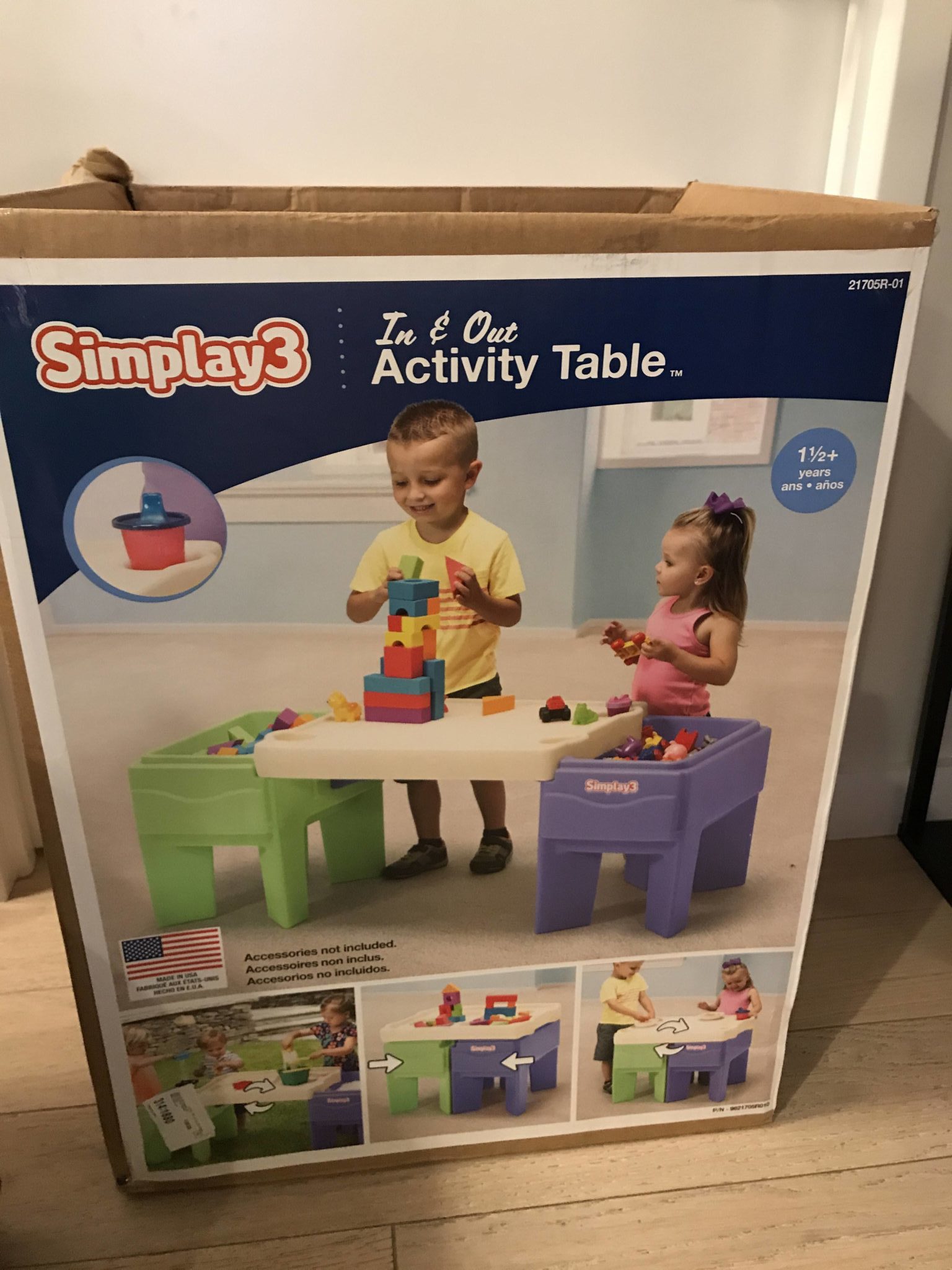 Disclosure: We received free product in order to facilitate this review. As always I only share what I love and think you will too! All thoughts and opinions are my own.
Needless to say the kids ripped right into this box right away. We shared our unboxing live in our Instagram stories. Later we decided to add it to our YouTube channel for all of see because this kids activity table offers so many ways to play. Check out our fun unboxing video of the Simplay3 In & Out Activity Table.
I often wish we had a dedicated play room just for all the toys. Once upon a time, when my son was a toddler, we actually did have one. But then my husband's job dictated that we leave our big house behind and move into our new, much-smaller, NYC apartment — no extra room to dedicate to a play room here. Actually the kids don't even have their own rooms anymore. They now share a bedroom. But that's fine. We get pretty creative with our limited space.
As you can imagine the sorting and storing of toys also requires a bit of creativity. It can get a little crazy when you have a toddler and a 9 year old sharing one bedroom. They're interested in different things and sharing a space gets a little tricky. Sometimes even chaotic. Especially with a toddler who loves throwing her toys all over the place. The mess eventually spills out into our small living room and clutters my bookshelves with everything she loves to play with.
A Kids Activity Table That Offers So Many Ways to Play
The Simplay3 In & Out Activity Table is a versatile children's activity table that extends for sand and water play, then compacts nicely for easy storage. It's immediately apparent that this would make a great table for toddler sensory play. It can easily be used indoors or outdoors. Use it outside for picnics or to splash and make sand castles. Move inside to draw, paint, or color. Two colorful side bins provide ample storage and serve as a base to support the table. For easy storage, simply slide the sides together.
Today I want to share with you the many other ways in which we've used the Simply3 In & Out Activity Table now that it's part of our small NYC apartment. It's allowed us to mix up play and brought tons of variety to how we play. Plus it's keep everything neat and tidy in one small space!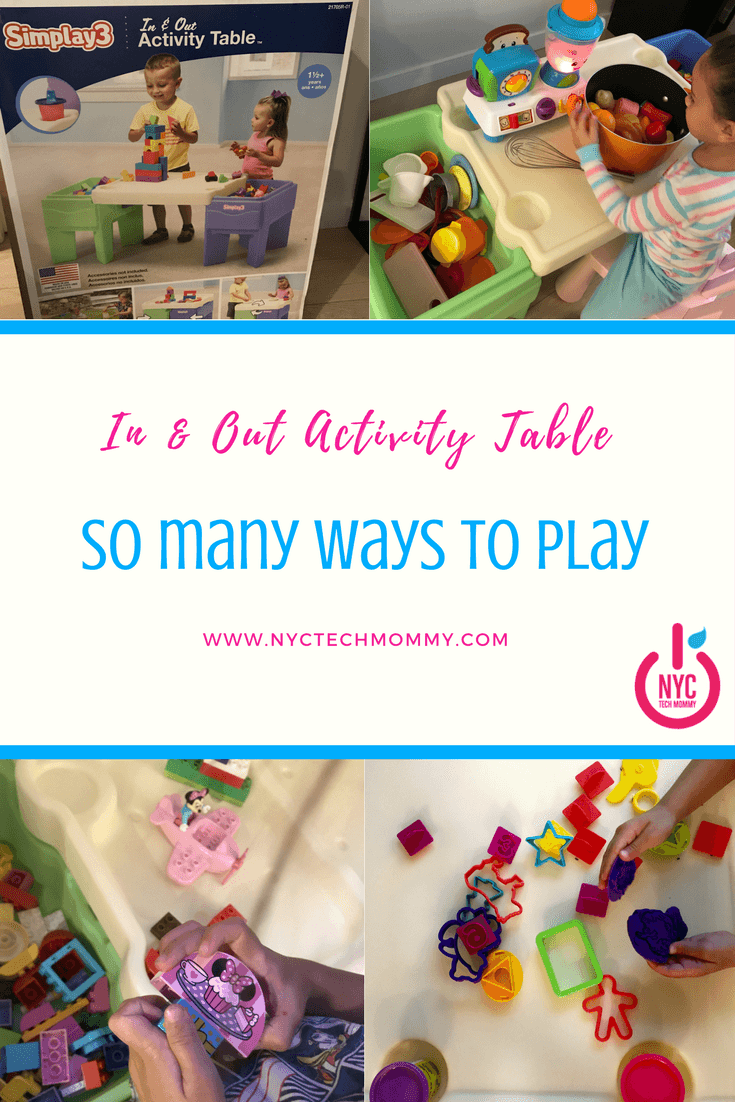 Limited Play Space NO MORE!
Until now we'd kept a small table in the living room because it makes snack time and meals a little easier. Also we tried to encourage our toddler to use it for play and keep her toys off the floor. That didn't really work! Toys were everywhere — on the floor, on the shelves, on the couches, everywhere except on the table!
Thanks to the fantastic Simplay3 In and Out Activity Table I've been able to reclaim my living room! Not only does the toddler now use it during snacks and meals but it's also great for storing ALL her small toys. She loves keeping them in the side bins and now prefers that over the floor and my bookshelves. I also love I can close the table when I want to keep the living room tidy. #MomWin
The Simplay3 In & Out Activity Table is now my toddler's new favorite place in our tiny apartment. It's her own little space. Her own little play area. Maybe not as big as a dedicated play room but let me tell you it's close enough. And she loves it!
So Many Ways to Play
The Simplay3 In & Out Table allows us to play in so many different ways! Sometimes it becomes part of my toddler expanded kitchen.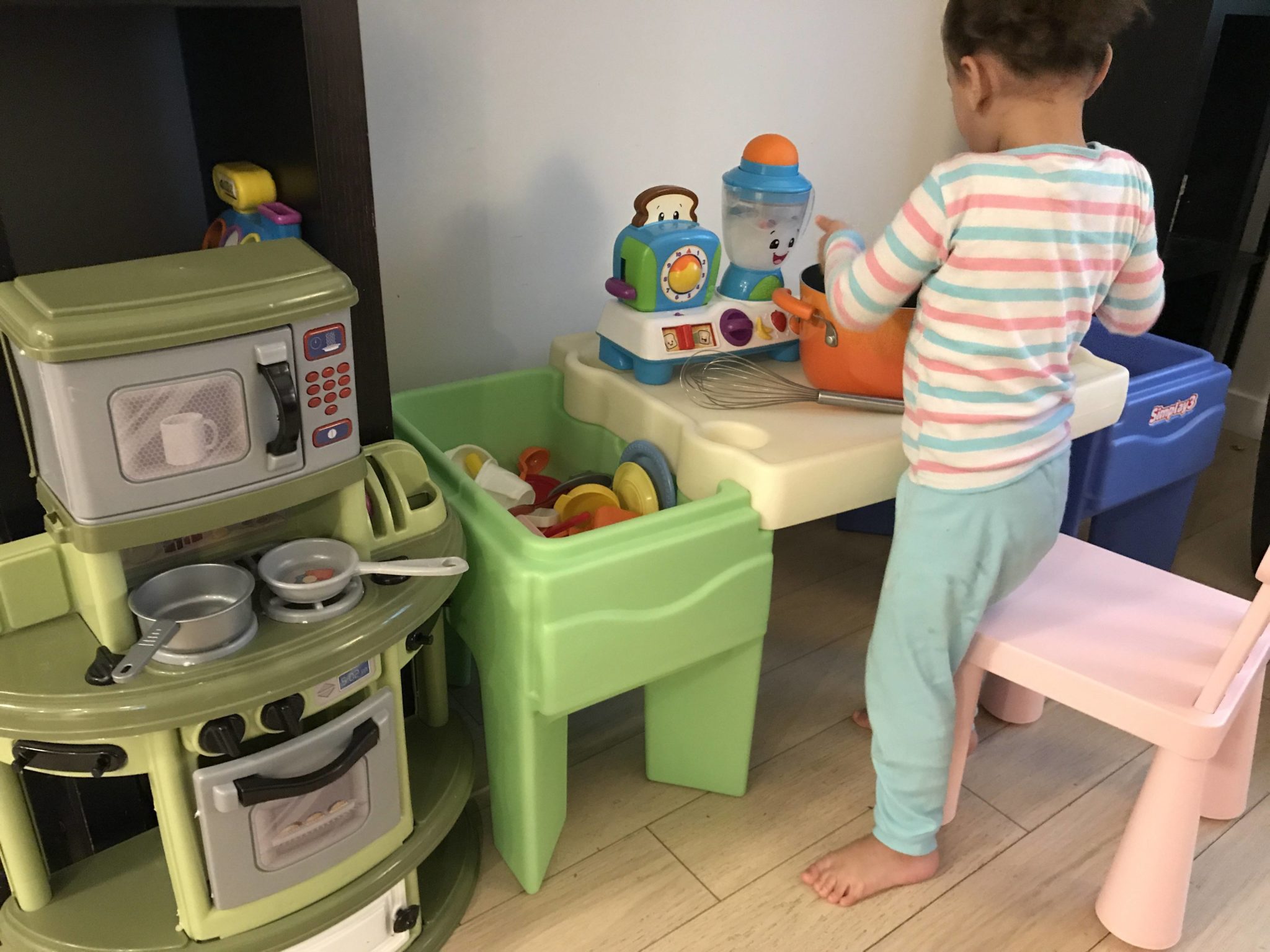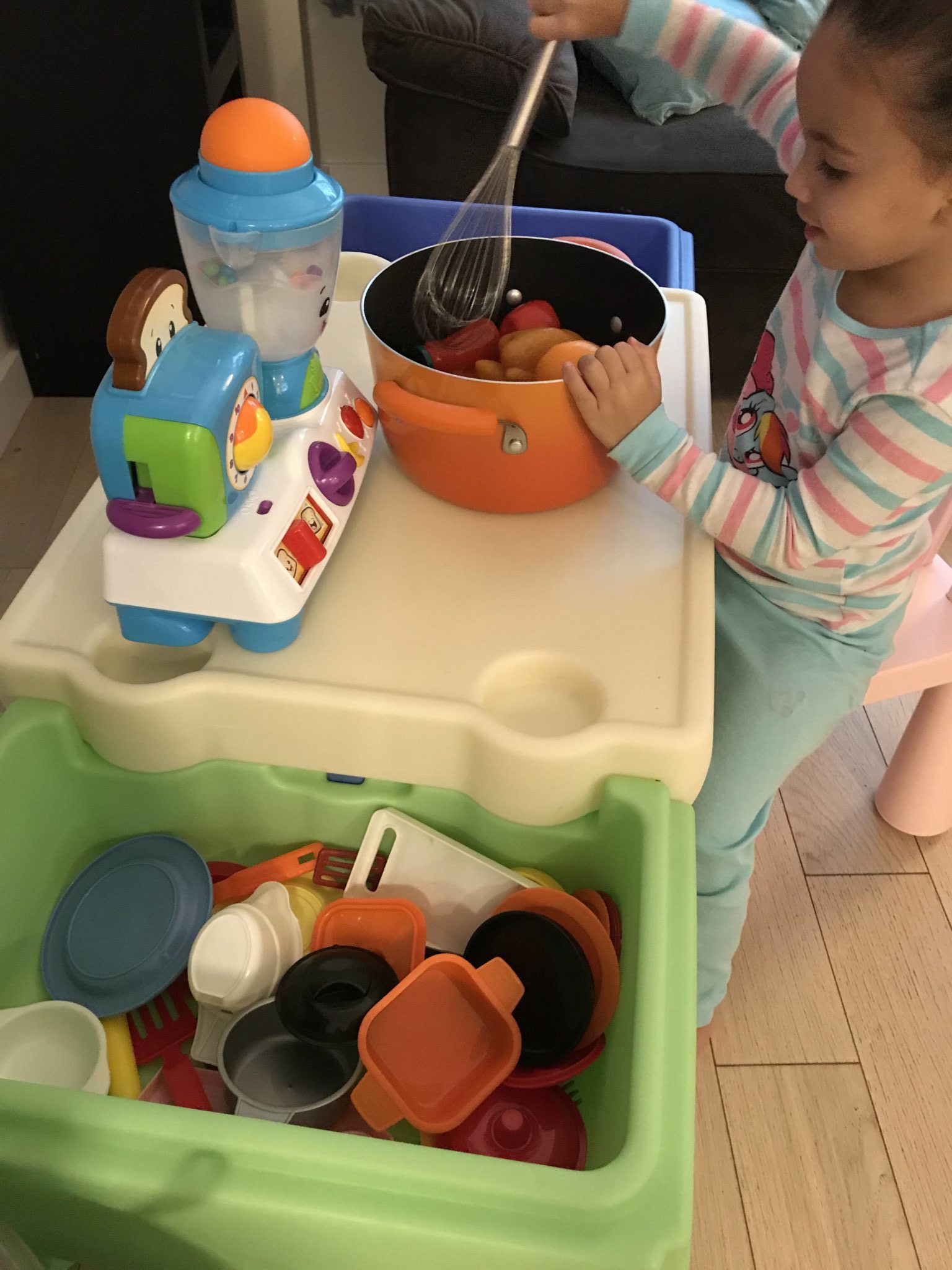 On other days she feels creative and use it for art projects or sensory play with her favorite play-doh toys – dumping all her needed supplies into the side bins.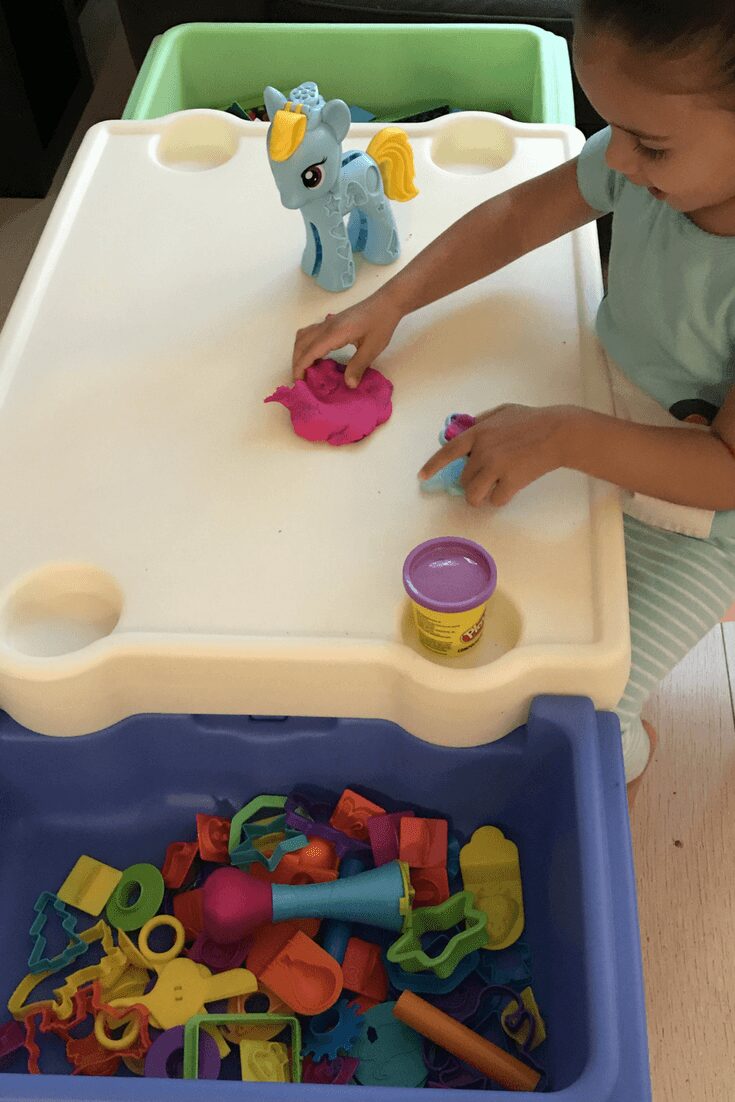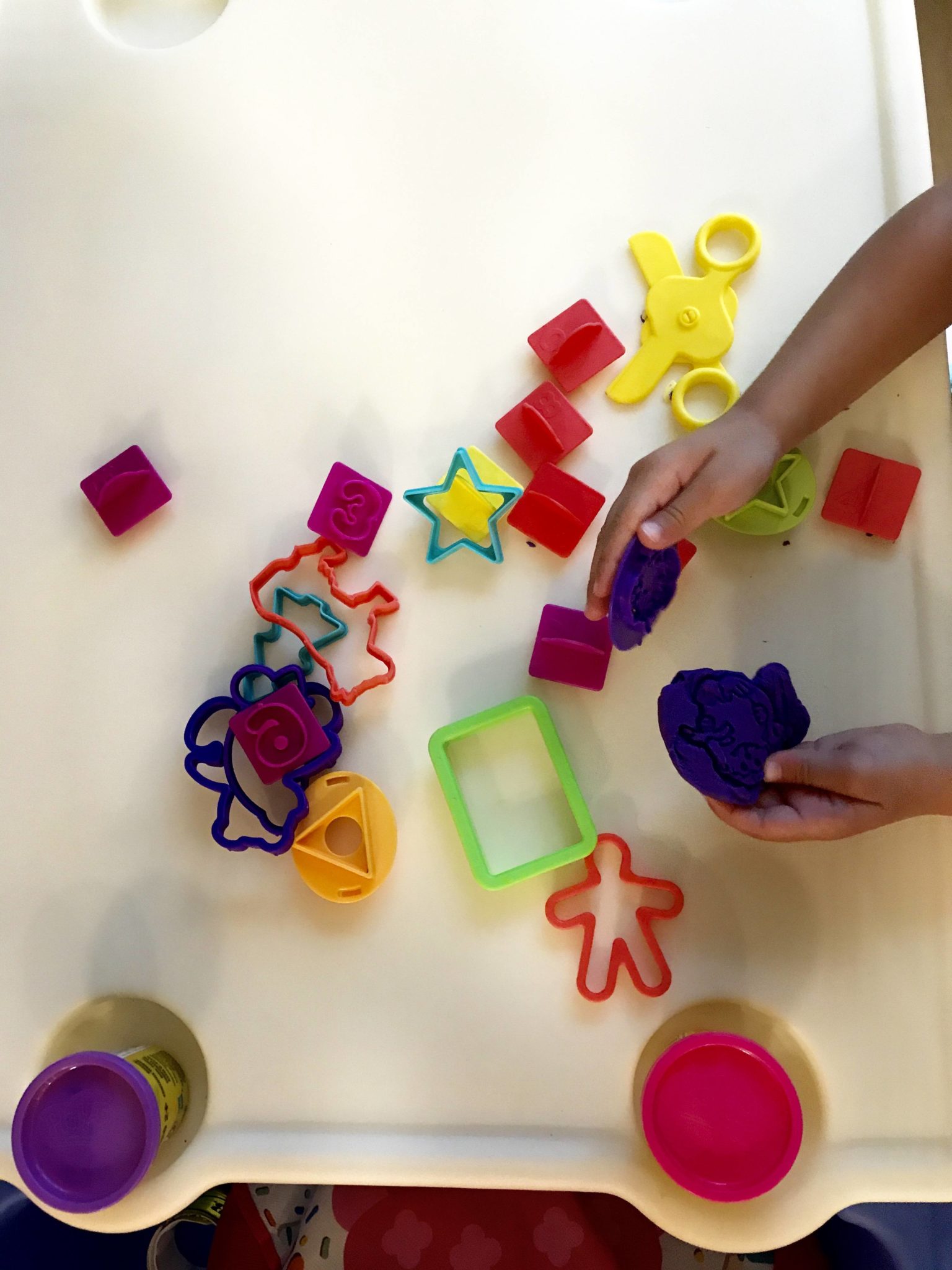 But her favorite way to play has to be using it as a building table. She loves building with her Legos! And I love that it keeps her blocks in one place while she builds. And not on my floor!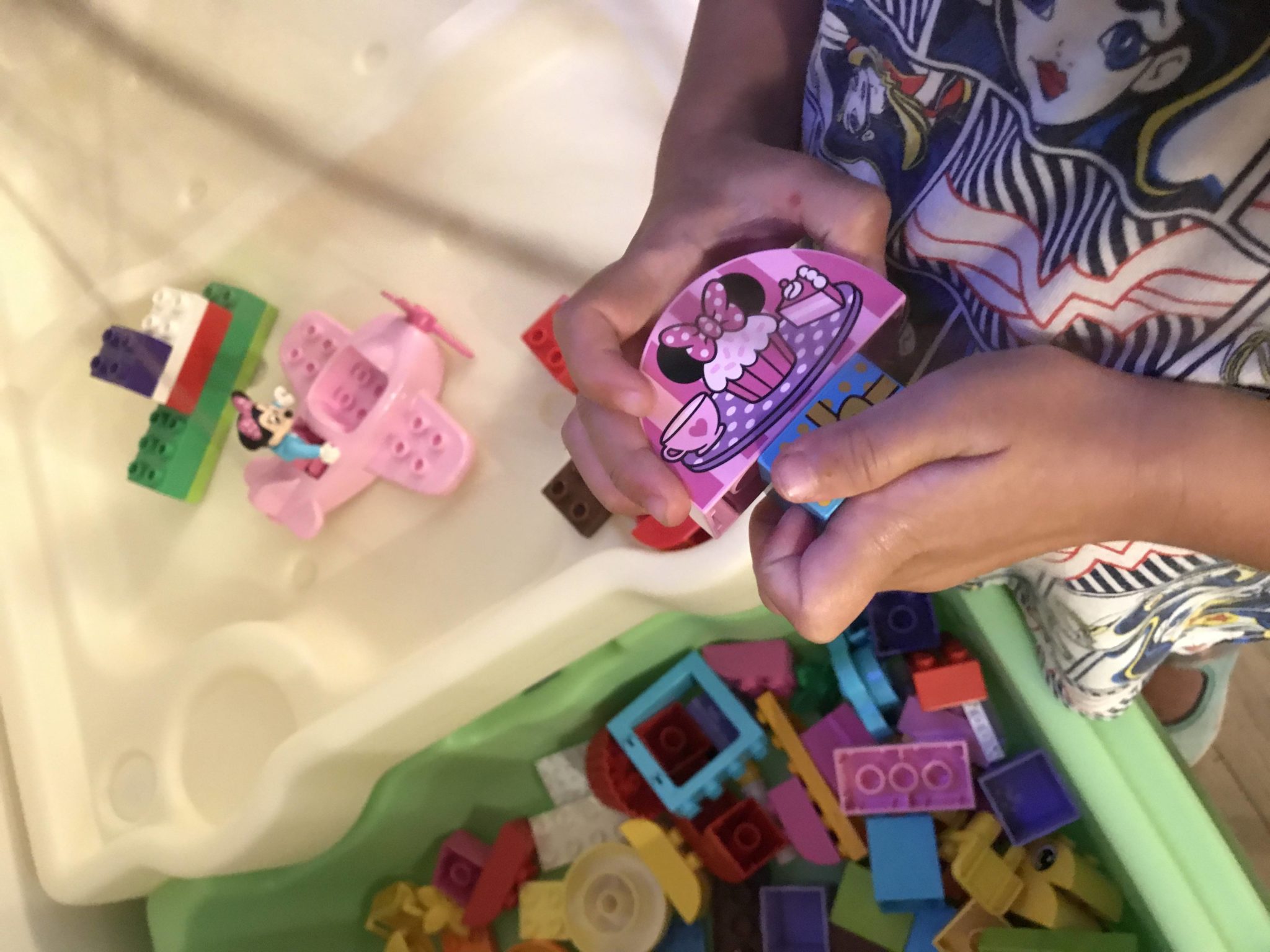 What's even nicer is when her big brother joins her in building. They enjoy different types of building and its so nice when they can build side by side without getting in each others way.
A Great Activity Table for Building with Legos
The Simplay3 In & Out Activity Table's has a reversible table top that is divided into two sections on one side. This makes it a great way to keep Lego bricks separate from each other as as my kids build together, but separately.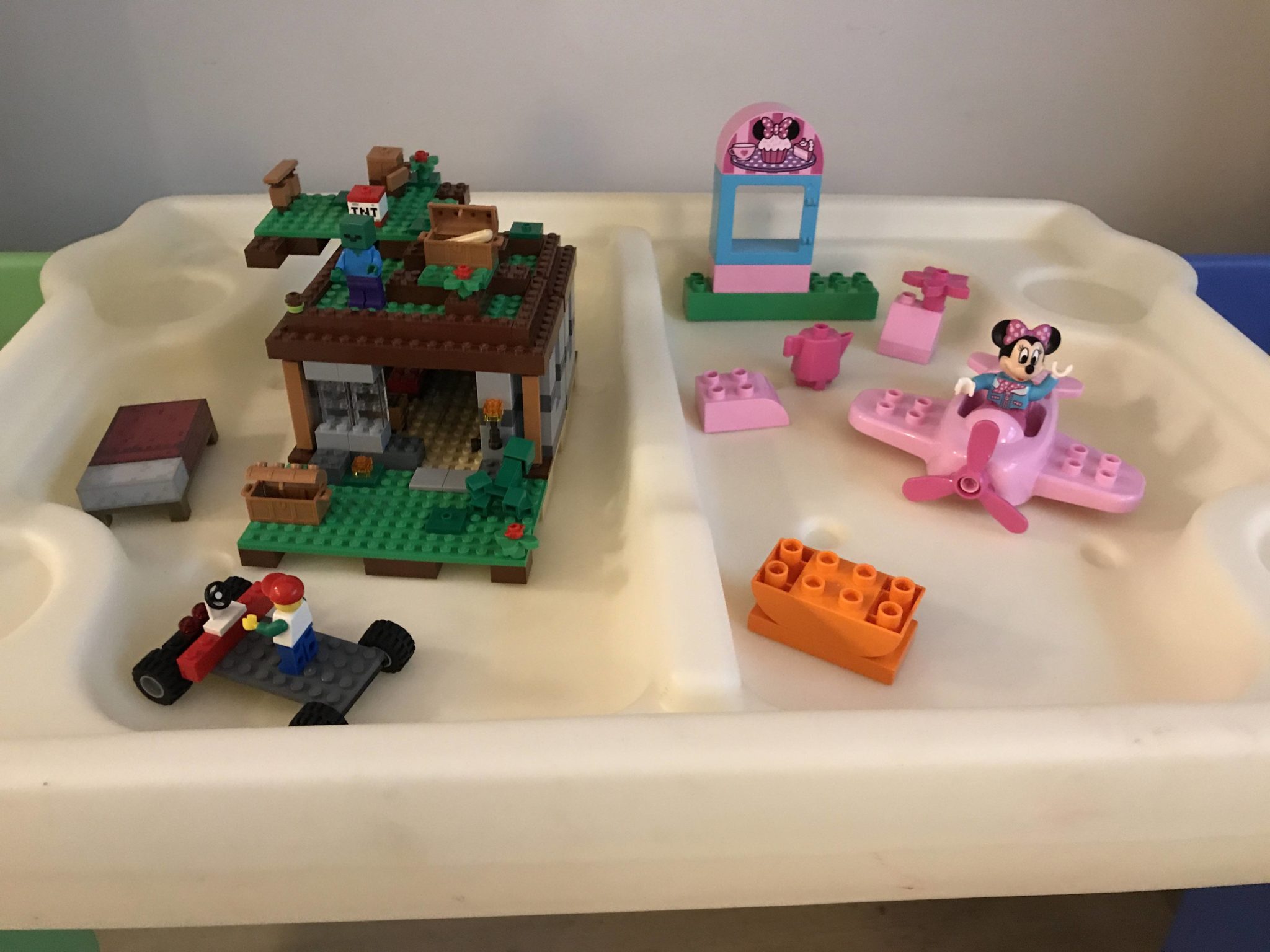 Before this activity table, playing and building with blocks was always a huge tug of war. Blocks would end up spread out across an entire table. Baby girl would try to snatch up her big brother's much smaller blocks or destroy his builds — causing bickering and headaches for this momma — and usually ending with the big boy being sent off to his room to build on his own. While baby girl built sepreately out in the living room.
The fact that they each now have their own dedicated bin and a space all their own to build on is great! Keeps the peace and gives this momma quiet moments to enjoy as they play with their favorite toys! Again #MomWin!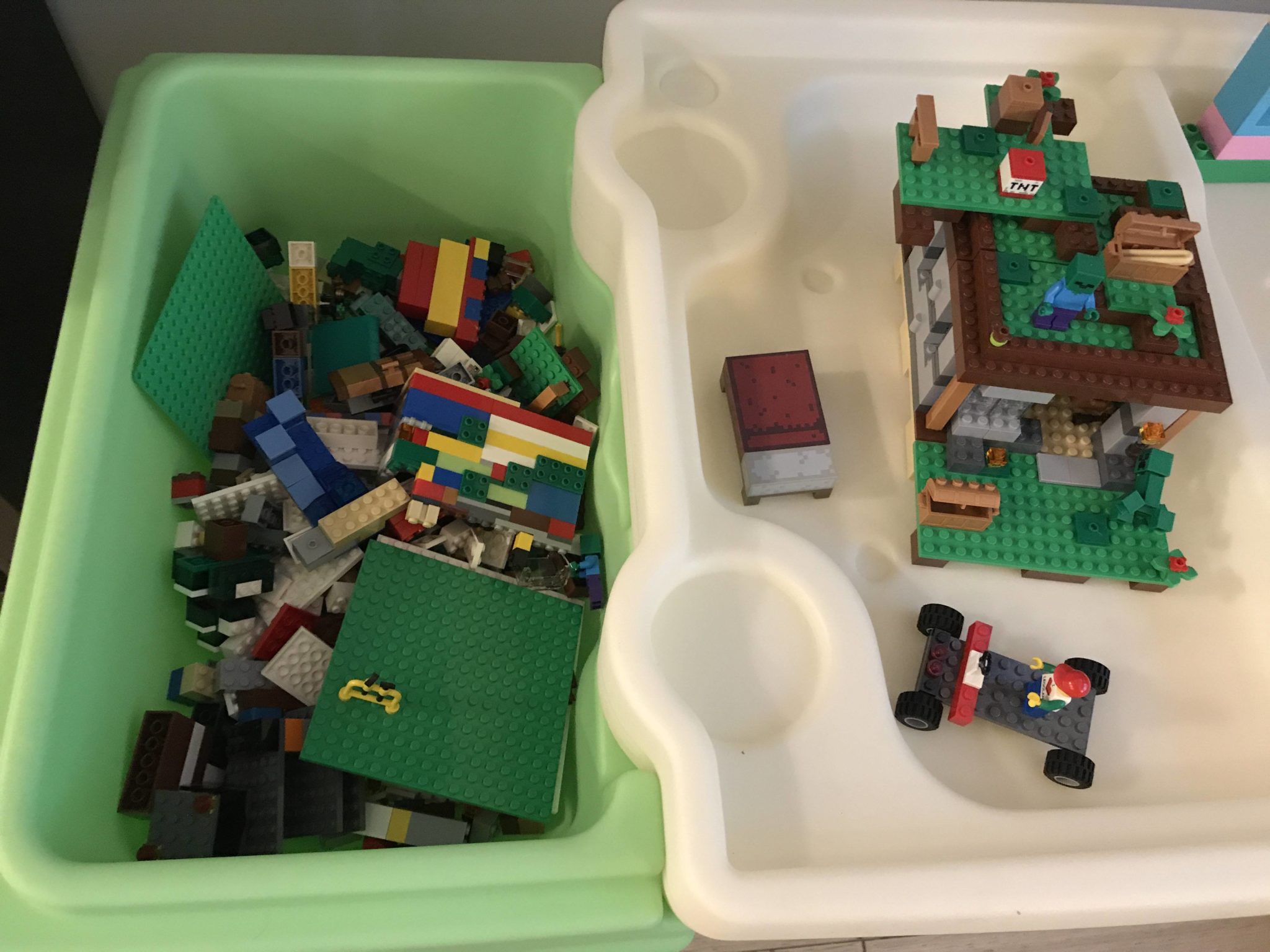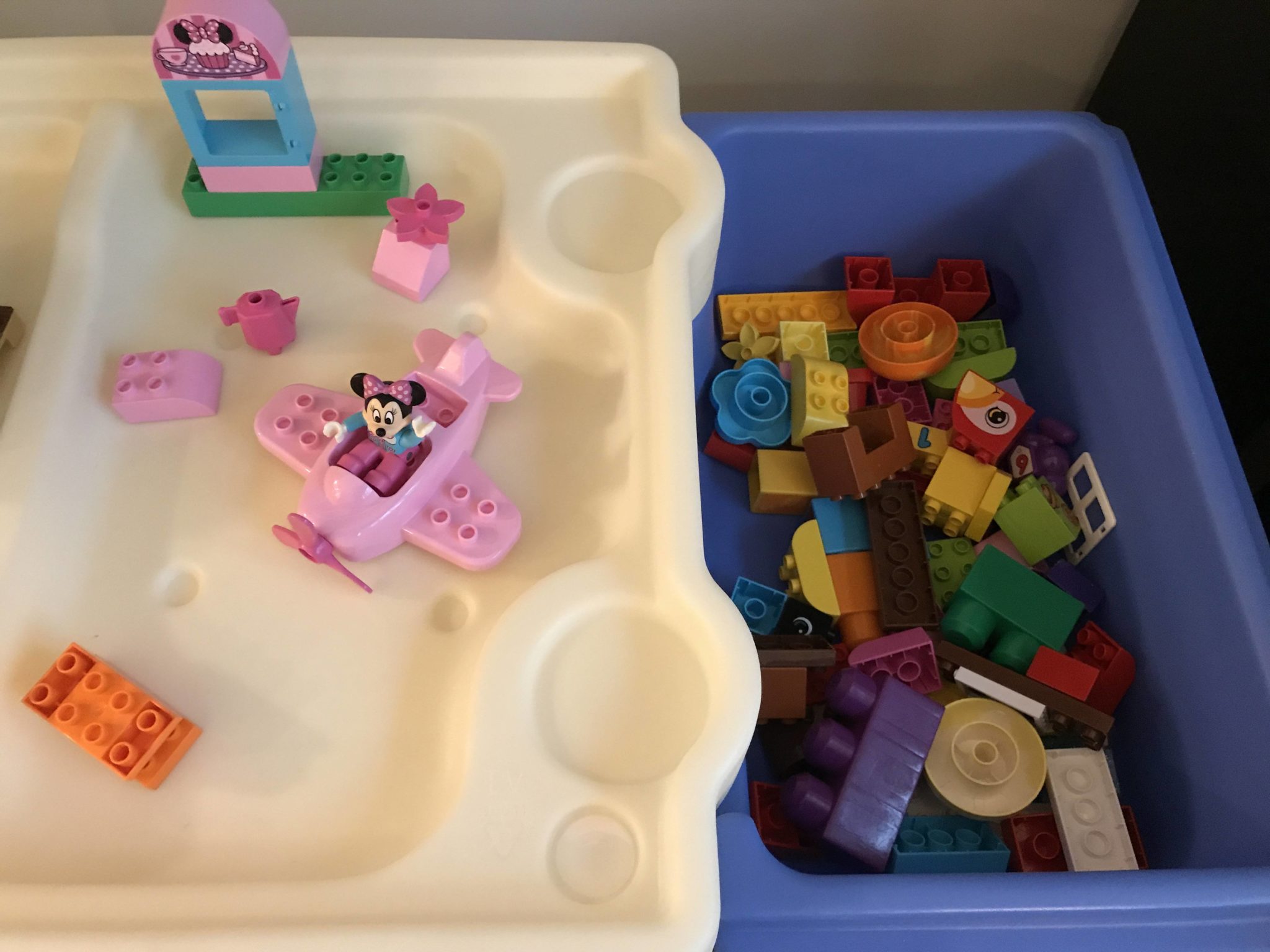 Can you say game changer?
That's exactly what the Simplay3 In and Out Activity Table is for us. It's a game changer! It offers so many ways to play. What's also great is that no matter how we play with it, there's no more mess — no more clutter and no more small toys spread out all over my living room floor!
Plus when we're all done, my toddler wants to clean up! She's able to quickly and easily put her toys right back in the side bins. All. By. Herself! I slide the two sides together and clean up is done!
The Simplay3 In & Out Activity Table is so durable and sturdy too! I can see us using it for a very long time. It lightweight and easy to mover from one space to another. Small, compact, and can fit just about anywhere, even in a small NYC apartment like ours.
Thanks Simplay3 for making such a versatile kids activity table that offers so many ways to play. We are in love!
You can visit the Simplay3 website to learn more and even get your own Simplay3 In & Out Activity Table.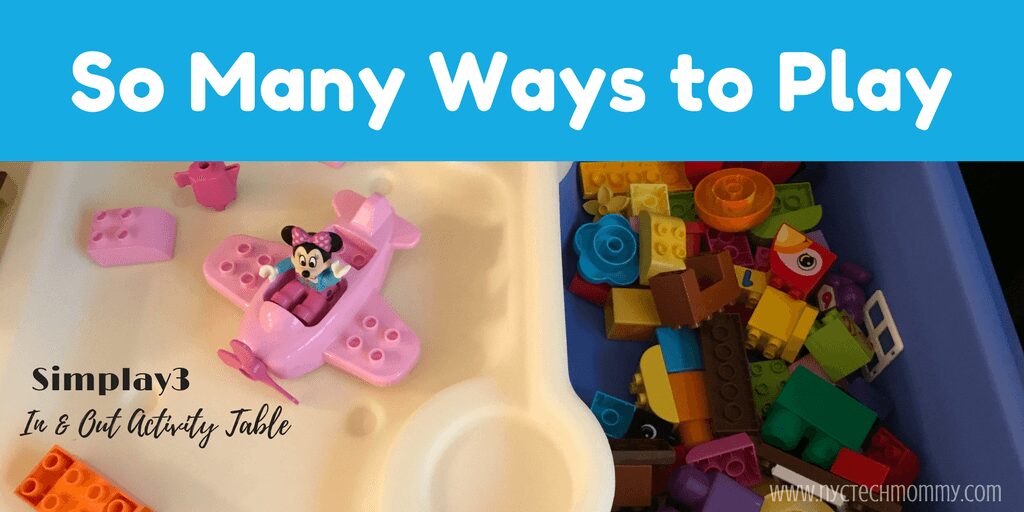 How do you empower your kids to play in different ways? And how do you keep it all neat and organized in one place?
You May Also Like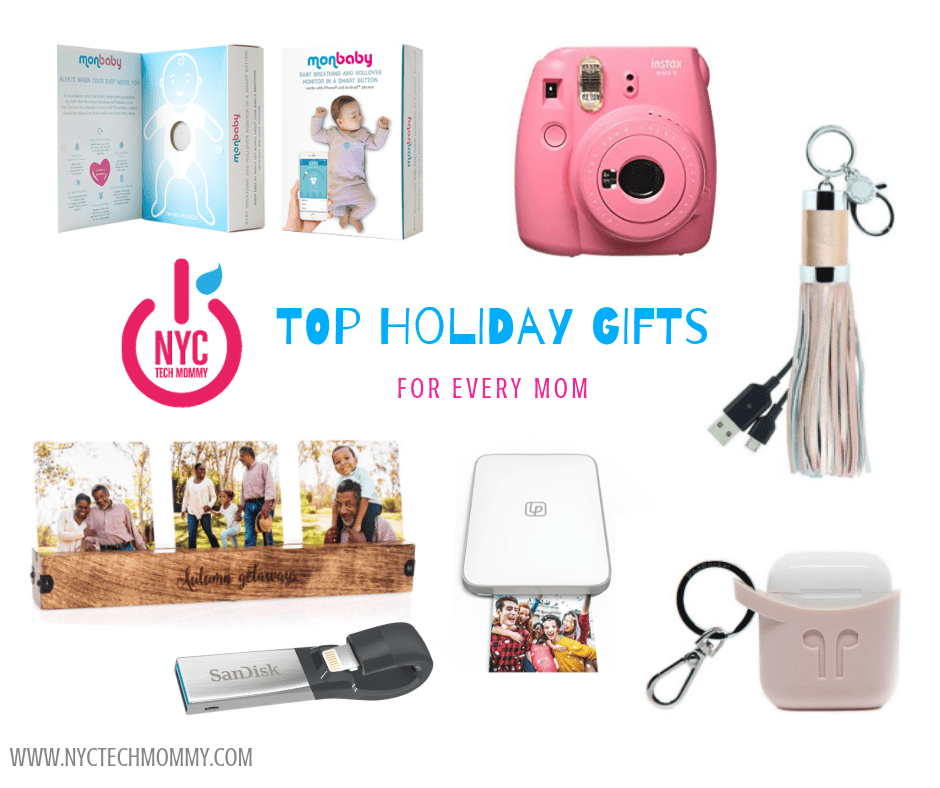 November 26, 2018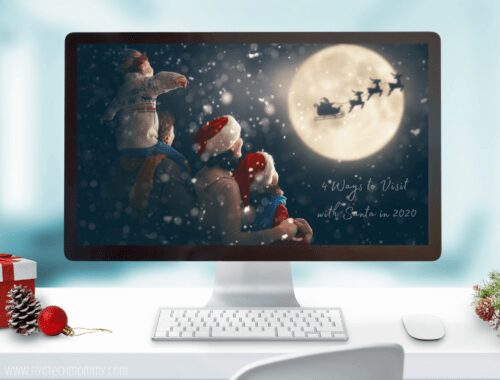 December 18, 2020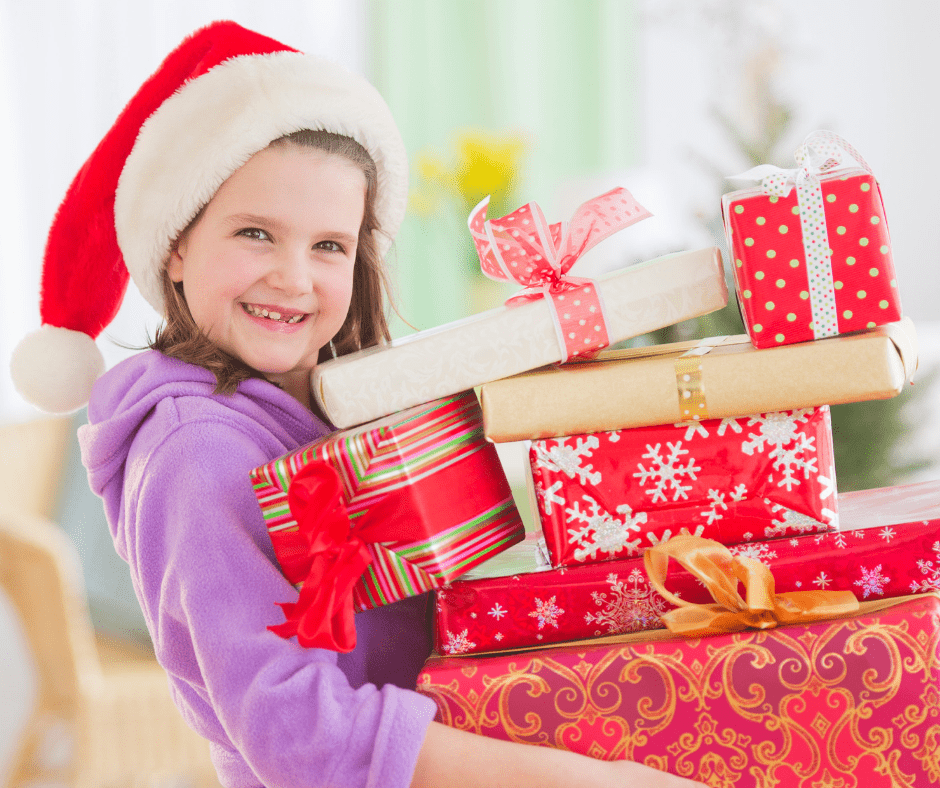 December 19, 2018