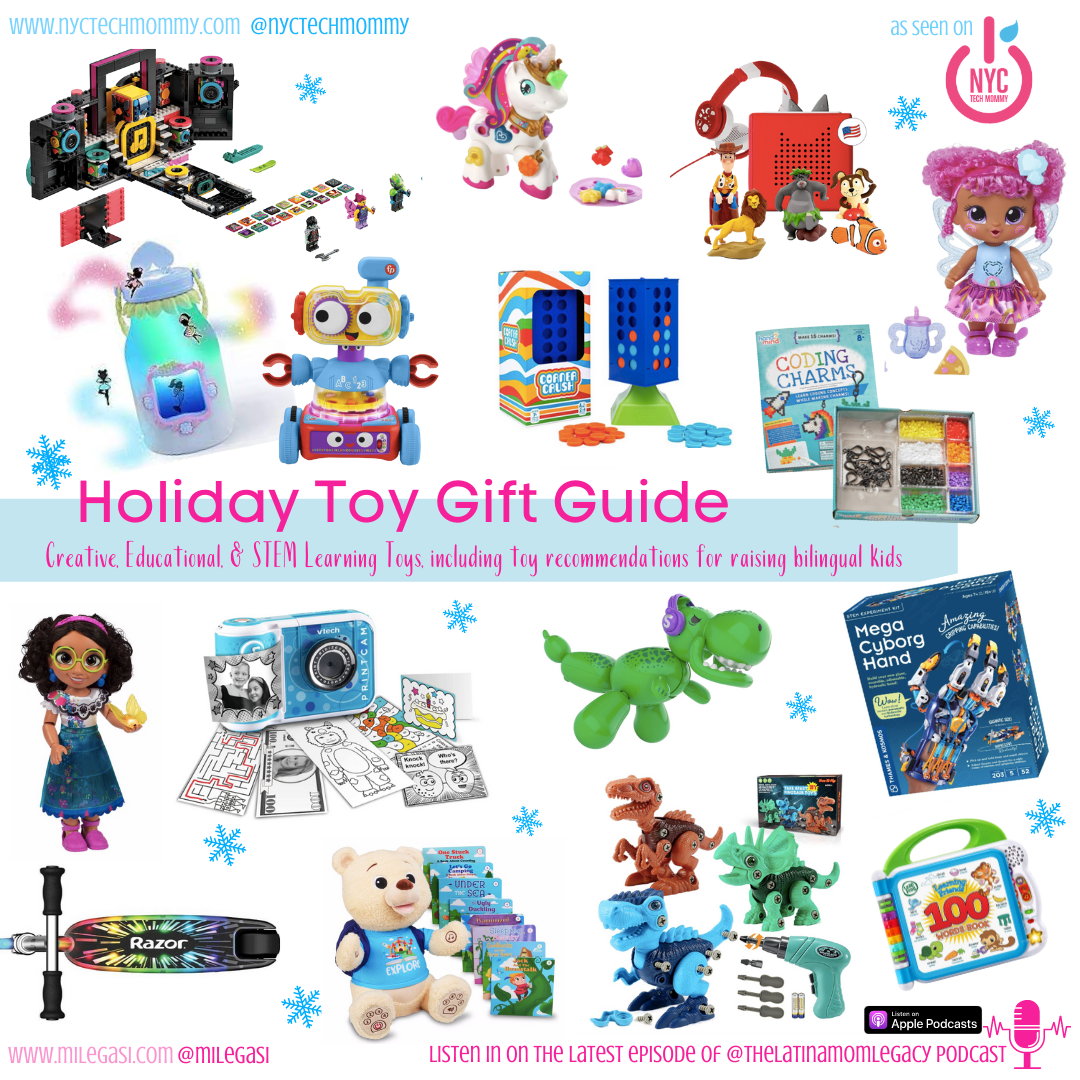 Best Toys for Kids Holiday Gift Guide From The Latina Mom Legacy Podcast
It's my favorite time of year again! Time for me to share with you my Best Toys for Kids Holiday Gift Guide. As in past years, this Holiday Toy Gift Guide for Kids includes fun toys that foster learning and language development (including in Spanish), fun games and dolls, great toys to foster creativity, plus STEM learning toys that I know your little kids are going to love. My picks are always based on current toy trends and include a few toys I personally reviewed earlier this year. However, if you're a regular here you know that many recommendations are simply based on the toys my own kids love and are asking for this Christmas. They're all FUN and I approve! Read on…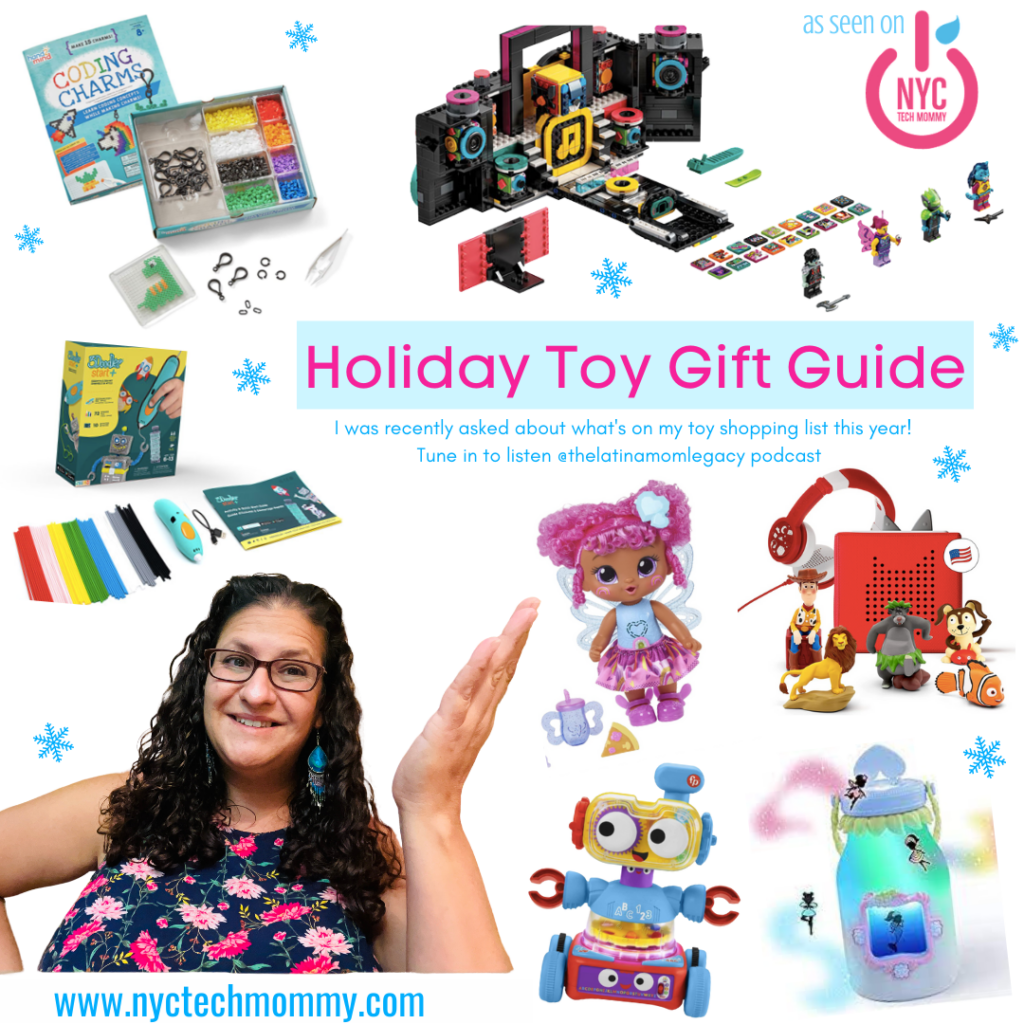 Like last year, I was honored to be invited by my good friend Janny Perez of the Mi Legasi website to be her special guest on her Latina Mom Podcast. Together we always have so much fun rounding up some of the best tech and non-tech toys! I invite you to head over to her Podcast to hear what we came up with this year. As always, we had such a blast chatting and sharing our favorite toys. Go ahead and listen in on the latest episode of The Latina Mom Legacy Podcast on Anchor.fm, Itunes, Google, or even Spotify. No te lo pierdas! Just click below.
Here's My List of Best Toys for Kids This Holiday Season
This colorful, interactive unicorn toy is perfect for toddlers and encourages interactive play with magical charms and activities. Place the charms on the three magic hearts to hear colors, objects and phrases in English and Spanish. Starshine's horn lights up in a rainbow of colors; press the blue heart button to hear questions, place the charms on the unicorn to answer. In Music mode, press the heart button to choose a melody, then place the charms on her to add sounds. Squeeze Starshine's tail to see her wings flap and hear phrases that encourage imaginative play. This magical toy is intended for ages 18 month to 4 years.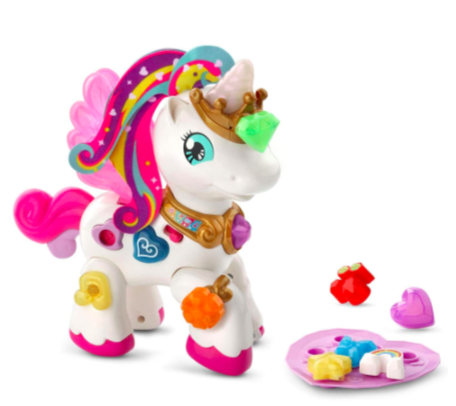 ---
Roybi AI Robot Companion for Kids
Meet Roybi! He's the first AI educational companion for your child that provides a private tutoring experience using Artificial Intelligence.
The ROYBI Robot is great for introducing kids to technology, math, science, and multiple languages, including English and Mandarin, with Spanish coming soon! Right now Roybi offers 50+ free lessons and 40 free stories and songs in 73 categories in topics such as astronomy, math, habitats, animals, creativity, senses, opposites, literature, continents, time, self-care, and geometry. We love Roybi because he offers great opportunities for language learning, supports STEM activities and can even help develop speech for children with speech delays. Interactions with Robi can even provide emotional support for kids and makes learning fun. In addition, parents can track learning and program Roybi by using a companion app that's available for iOS and Android. Roybi makes a great companion for kids ages 2 to 8.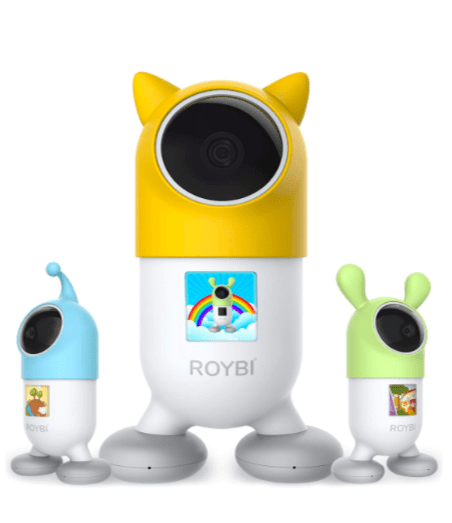 ---
This adorable little robot from Fisher Price is 4 toy in 1 and keeps playtime going as baby grows from infant to toddler to preschooler. Each individual toy piece is filled with fun activities for babies to explore. Put them all together to build an interactive electronic robot buddy that little kids will love. The Fisher Price 4-in-1 Ultimate Learning Robot includes 3 Smart Stages learning levels with more than 120 songs, sounds and phrases about numbers and counting, the alphabet, shapes, colors and more. Press any button on the motorized bot to send it zooming forward with music & lights, encouraging baby to crawl and chase. We love this cute little bot because he's filled with lots of hands-on activities for sitting babies, including press-down antenna, twist & flip gears, ball-popper, and spinning & clicking arms. A great toy for little kids 6 months to 5 years of age.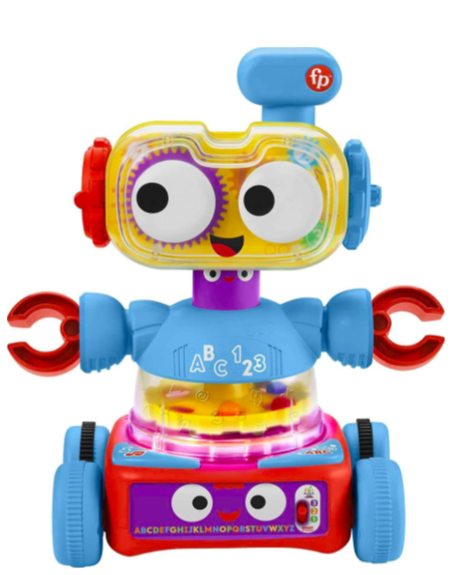 ---
The NEW Coding Critters MagiCoders are fun interactive playsets that introduces preschoolers to early STEM concepts through 100% screen-free activities. Coding Critters MagiCoders come in two different sets: Skye the Unicorn and Blazer the Dragon. Each set allows kids to acquire hand-on coding concepts, such as critical thinking and problem-solving skills without the need for a phone or tablet. Kids discover the fun of mythical creatures and early STEM adventures by using the magic wand to program the coding sequences found in the included MagiCoders spellbook. Kids can code MagiCoders Skye the Unicorn to the end of the rainbow and lauch shooting stars with the star launcher; or program MagiCoders Blazer the Dragon to storm the castle, launch the catapult and more! We think this is a great screen-free coding toy for kids ages 4 and up!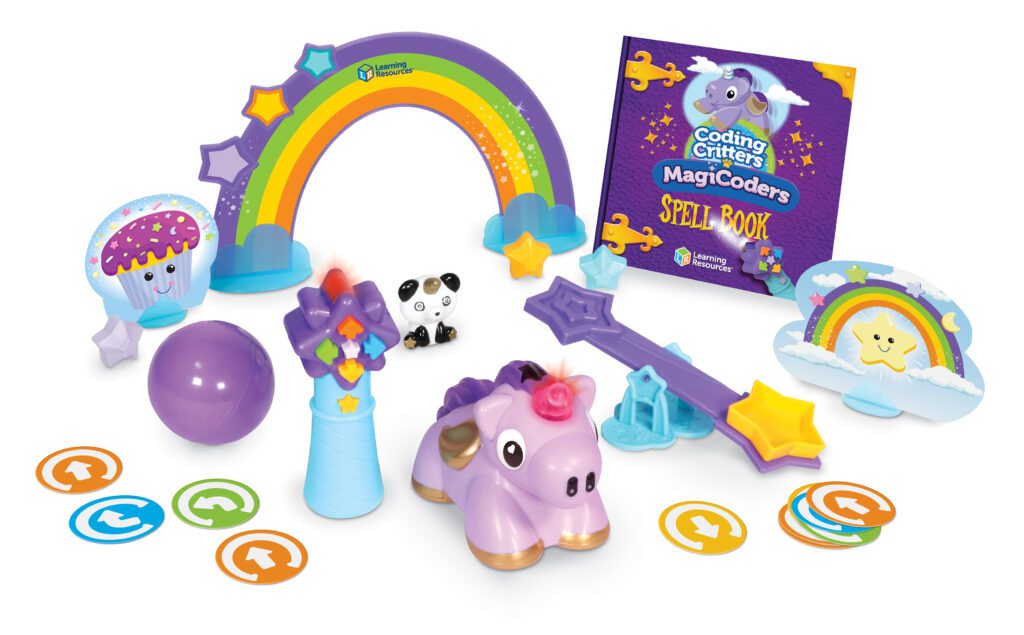 ---
You've heard me talk about the Tonies before, as it's one of my personal favorite toys of 2021! The Toniebox can be an ideal storytime companion at home, while traveling, and great for independent learning at home or in the classroom too! The Toniebox comes to life when paired with the whimsical collection of Tonies figures, hand-painted characters that come pre-loaded with stories and songs for easy listening. Individual characters include classic storybook fairytale characters like Pinocchio and Rupunzel. There are also characters from beloved stories your kids already love like Disney's The Lion King, Frozen, and Cars, just to name a few. There are Sesame Street tonies and even a Trolls Poppy tonie. So many cute tonies to choose from!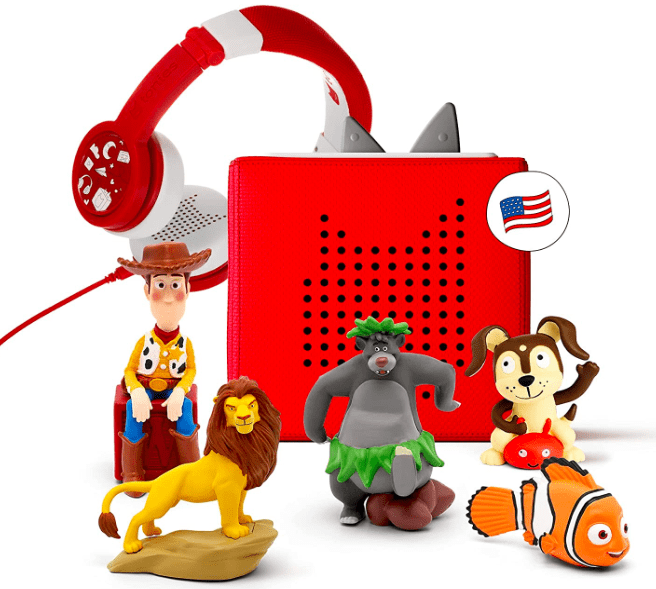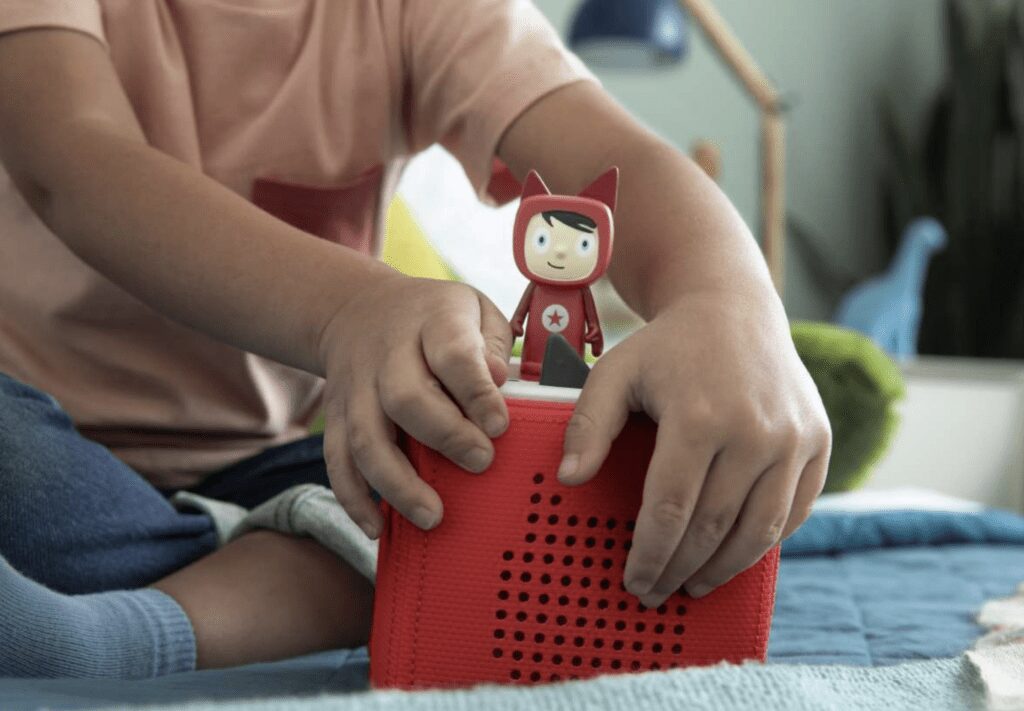 Do your kids love GoNoodle? There's even a GoNoodle Mindfulness Starter Set that offers a guided mindfulness and relaxation experience that's designed especially with little kids in mind. The GoNoodle x tonies Mindfulness Tonie gives kids the chance to participate in different GoNoodle mindfulness activities without using a screen.
Purchase a Creative-Tonie — no pre-loaded content on these cute figurines in the form of a fairy or even a pirate, (there are many others to choose from too) and you can store up to 90 minutes of your own content. Just upload audio files using your computer, smartphone or tablet. Creative-Tonies are a great way to encourage imagination and creativity, share stories and songs, and even strength family bonds by having loved ones like grandma or grandpa record themselves reading a bedtime story for your little one to listen to and enjoy at bedtime (or anytime).
The learning possibilities are endless! Tonies recently launched their NEW tonies blocks, a series of big learning adventures for curious little kids. When paired with your Toniebox, each set of tonies Blocks unlocks new worlds and learning adventures — become an expert on Marine Life to explore and learn about some of your favorite marine animals: Sharks, Dolphins, Sea Turtles, and Octopus, or become an expert on inventions and innovations and learn all about everything from The Printing Press and Electricity to Flight and The Internet, and more!
IMPORTANT RECALL UPDATE: Please note that tonies® Blocks are currently recalled. The recall was issued due to risk of magnet ingestion. tonies® has received one report of the magnet detaching from a tonies® Block. No injuries have been reported. We ask that you stop using the blocks immediately, take them away from children, and return them to tonies® by going to https://tonies.happyreturns.com/.
Toniebox pricing starts at $100 depending on the set you choose to purchase and how many Tonies are included.
---
LEGO fans can go on an exciting musical adventure as they direct, produce, and star in their own music videos with the new LEGO VIDIYO as they choose favorite songs, unlock special video effects and discover fun challenges. The new LEGO VIDIYO BeatBoxes (which serve as part built/ part storage) are all about combining physical LEGO pieces with augmented reality to make your own music videos come to life. You just download the free LEGO VIDIYO app, choose a favorite song from the app's music library, scan your Bandmate mini figure and included BeatBits (printed 2×2 tiles) from your LEGO VIDIYO set and start recording your own music video.
There's a fun variety of LEGO VIDIYO BeatBox sets to choose from. Personally, the LEGO VIDIYO Boombox Set is our favorite because it comes it's a complete starter set that comes with multiple Bandmate mini figures and several BeatBits to make even more of your own creations pop. There's also a series of collectible blind bag LEGO VIDIYO Bandmates that come with an accessory and 3 BeatBits. These make great stocking stuffers!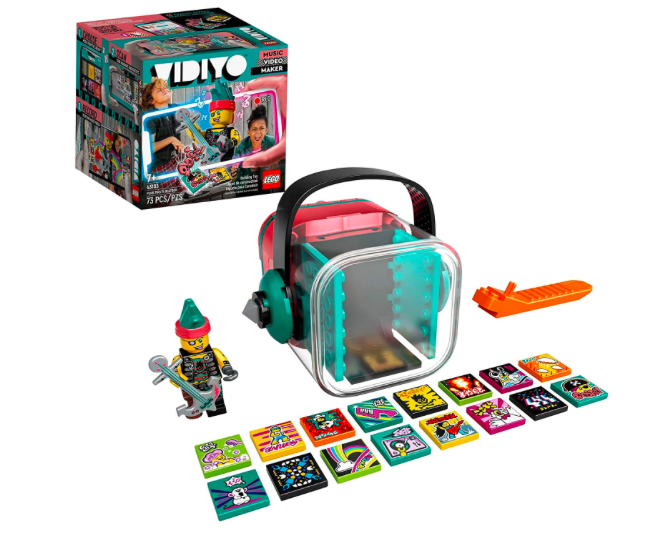 See all the options with LEGO VIDYO by checking out the LEGO Shop on Amazon.
---
Remember playing Connect 4 when you were a kid? Now the classic game gets an edge up on the competition with Corner Crush! Play head-to-head or play in teams as you drop tokens into the rotating tower. Play around the corners to score four in a row and crush your opponents! Corner Crush is the ultimate game of memory and strategy – with a twist. Great to play with friends or challenge mom and dad during family game night! Play with 2 to 4 players. This is a fun game for kids ages 7 and up.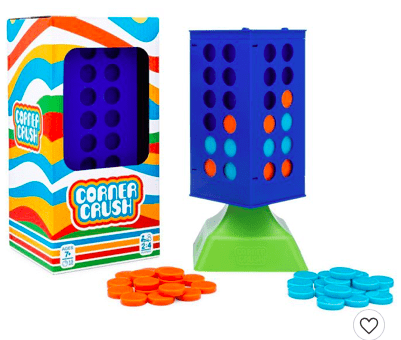 ---
The GloPixies Gabi Glitter doll reveals her special-colored glow as you pretend to feed her, or press her rainbow button! Where will she glow? What color is her glow? Kids find out as she pretends to eat her glittery cookie, or play drinks from her shimmery cup. GlowPixies dolls Include a cup and snack accessory. With play feeding, this interactive Baby Alive pixie toy doll lights up in different places — from her mouth, to her wings, to her tummy! Gabi Glitter has her own fantastical look with bright, sparkly doll fashions, and a signature Pixieprint on her cheeks! Kids can brush her hot pink curly hair with her included comb. Kids ages 3 and up will love discovering where she'll glow next!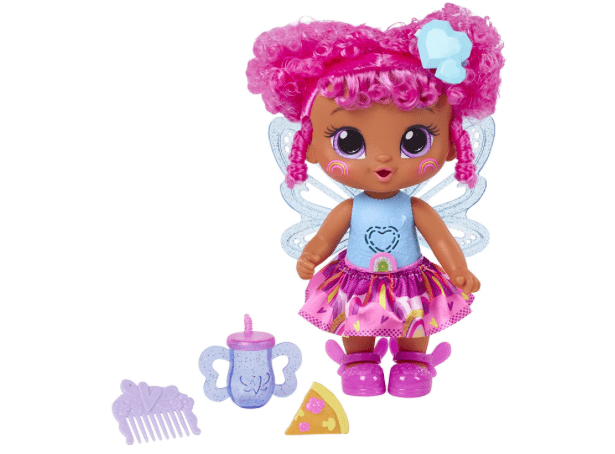 If your kiddos love dolls, they might even enjoy collecting all of the GloPixies dolls, including Siena Sparkle, Gigi Glimmer and Sammie Shimmer! (Each doll sold separately). The Gabi Glitter doll is an Amazon Exclusive.
---
In our opinion, this is the HOT new toy this Christmas! Search for fairies in your home, outside in the garden, and even upside down! There's always a fairy around when kids play with the Got2Glow Ferry Finder by WowWee. With over 100 virtual fairies to collect, finding fairies never ends. Just open the heart shaped lid on your Fairy Finder magical jar and watch a magical light show as a virtual fairy finds its home inside your jar. Increase your chances of collecting ultra-rare fairies by playing the mini game and bringing your jar to new locations. The more you play with your Fairy Finder, the more fairies you'll catch!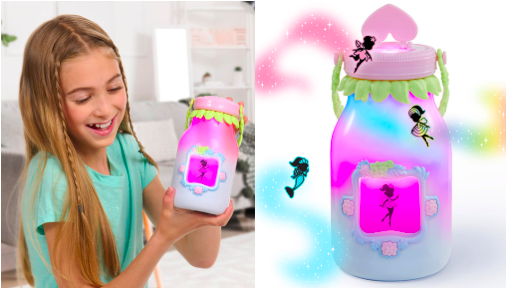 Because this is a HOT toy this holiday season so shop early! It might be hard to find in stock at your local store right now. We recommend buying on Amazon and checking Target to find your own Got2Glow Ferry Finder.
---
3D printing may sound like high-end technology that you'd only find in a lab or maker space, but I have good news! 3Doodler has been offering kid-friendly 3D printing pens for more than five years, and its latest pen set is a great introduction to 3D printing for kids ages 6 and up. The Start+ Essentials Pen Set comes with a pen and materials designed for kids ages 6-13. The 3Doodler is like having a colorful, wireless printing pen that's easy to use to create in 3D: Turn it on, let it heat up, insert a strand of colored plastic, then press the round button on the pen to start creating. A flow of melted plastic comes out of the pen's tip and kids can use to draw and create. To stop the flow of plastic, simply press that same button again.
The creative possibilities with this pen are truly endless: Kids can draw on shoes, trace an outline on paper, or even draw in the air! Kids can also create 3D structures by drawing multiple flat shapes and then welding them together with additional plastic. Because the pen is designed for kids, it's safe to use with no external heating elements on the pen, and the melted plastic is cool enough for kids to immediately touch and mold without having to worry about accidental burns. The 3Doodle essentials kit comes not only with that pen, but also with 72 colorful, BPA-free, plastic strands and an activity book with 10 project ideas.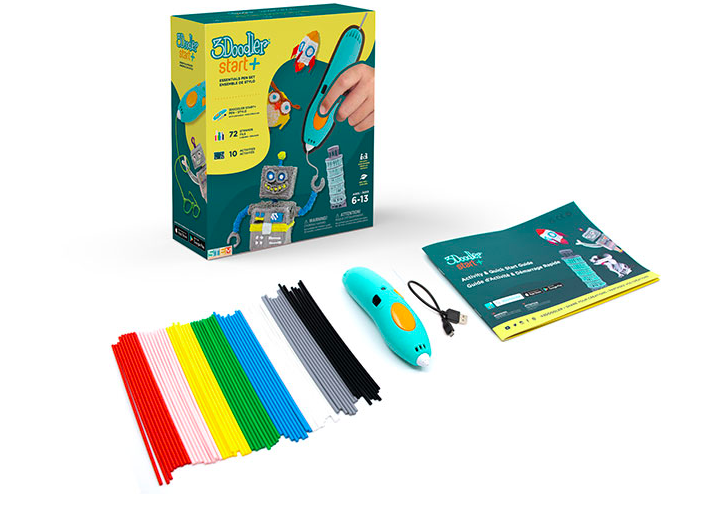 To learn more, check out the 3Doodler YouTube channel. It offers a variety of project tutorials, as does the free 3Doodler app.
---
We love Crayola and the new Scribble Scrubbie Ocean Pets Lagoon Playset is no exception! Great for little pet lovers looking to express their creativity and perfect for parents who are trying to avoid a big mess! This adorable Crayola Scribble Scrubbie Pets playset includes a set of six washable markers and four washable pet figures, each are inspired by different ocean creatures, including Walter the whale, Coral the Clownfish, Shelly the shark, and Ollie the Octopus.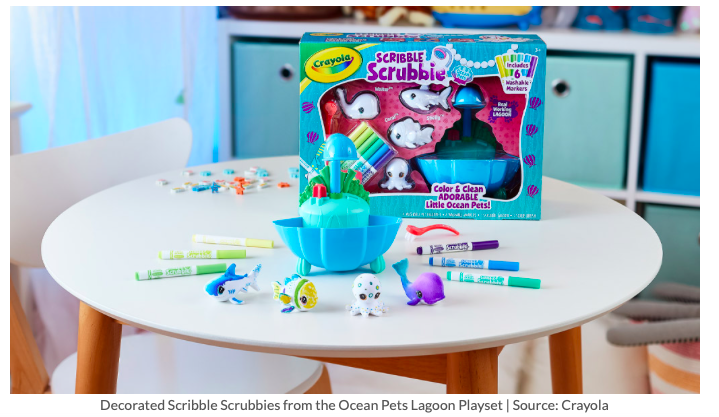 As with previous color and clean adorable pets and other Scribble Scrubbie kits, all pet figures are white to start. Little artists can use the washable Crayola markers to decorate their ocean pet figures however they envision but will want to let them dry for about five minutes and avoid inky fingertips before commencing imaginative playtime with their colorful Crayola ocean pets. This new Crayola Scribble Scrubbie Pets Lagoon Playset makes a great toy gift for kids ages 3 and up!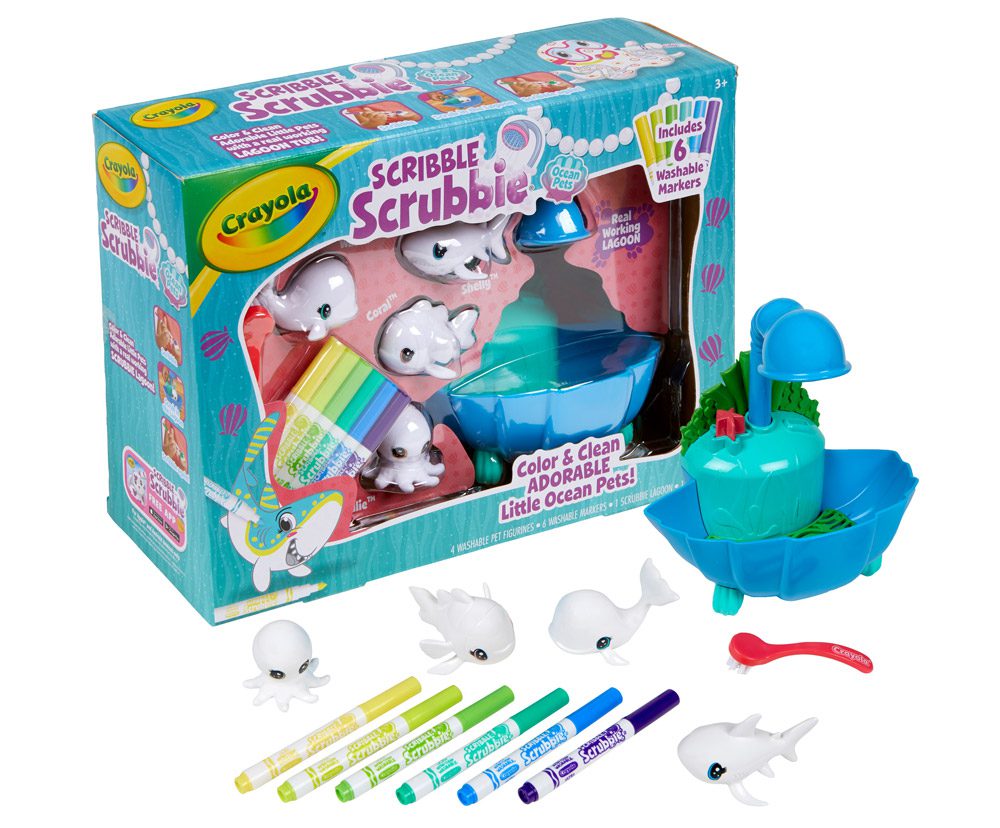 ---
Now it's possible to get creative and learn about coding without the use of a computer! With Hand2mind Coding Charms kids can choose from 18 designs and code 15 key chains using the included fuse beads. Hand2mind Coding Charms help kids can discover important lessons in science, technology, engineering, art, and math without the use of screens. This unique Fuse Bead Kit includes a step by step activity book with step-by-step illustrated instructions that let's kids to create their own fun charms as they think creatively and explore.
With each different project, kids will learn about algorithms, encryption, puzzling, sequencing, variables, puzzle, binary, and much more! We love this creative STEAM kit for kids because it challenges kids to practice important life skills such as problem-solving and critical thinking. All materials needed to complete activities are included and the kit components are easily refillable to design additional charms. A great STEAM toy gift for kids ages 8 and up!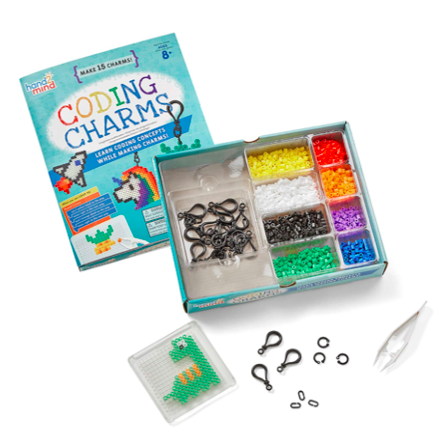 ---
Want Even More Toy Gift Suggestions?
Now that you've checked out all my suggestions for the best toys for kids this holiday season, head on over to my amiga Janny Perez's website and check out her best toys for kids recommendations. She has some pretty awesome toys on her list!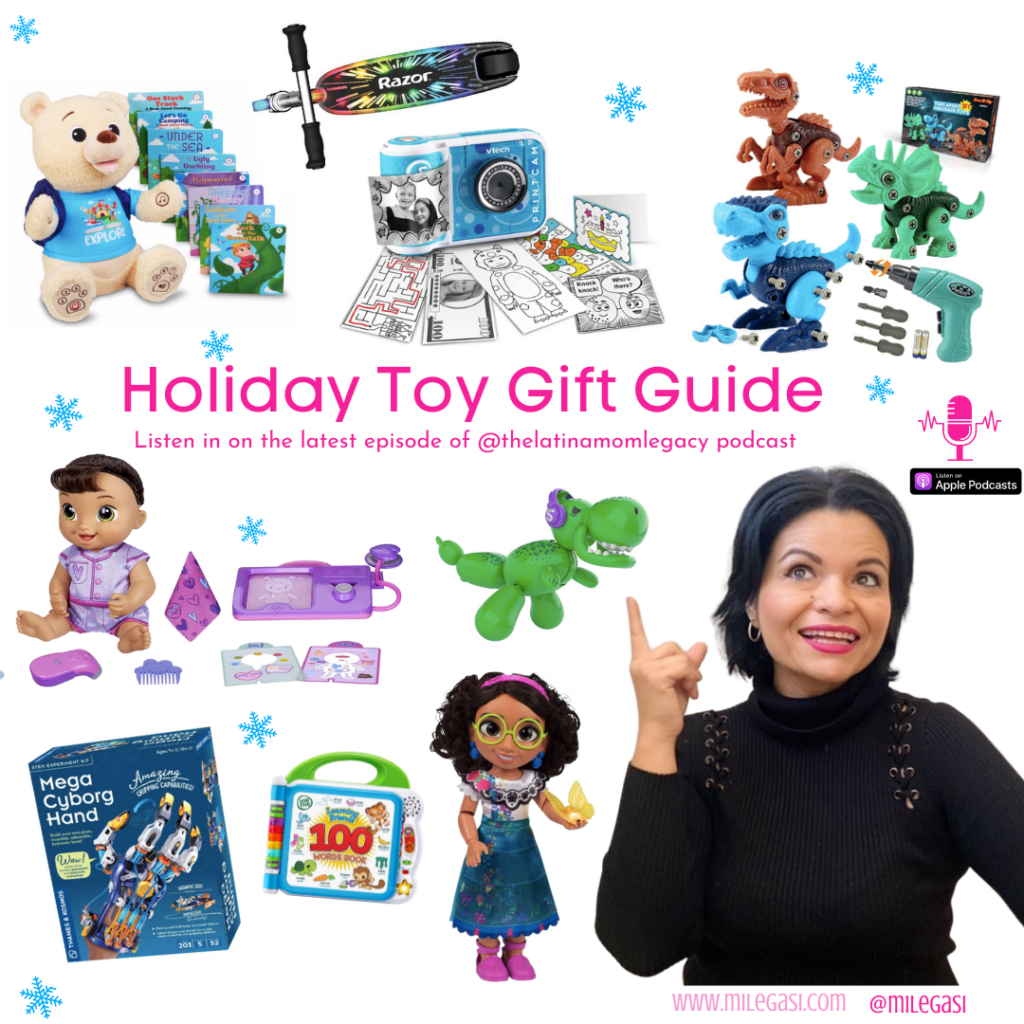 Even More Toys We Love!
It's no secret, we love toys! So here are just a few more suggestions you might want to add to your shopping list this holiday season. My kids love these and I think yours will too!
We love Jooki because it offers screen-free music and audio book entertainment for kids. The new Jooki screen-free speaker is the first kids' music/story player with Spotify music and audio book streaming featuring Jooki's patented NFC-enabled ToyTouch® Technology that lets kids use figurines or tokens to operate Jooki with no screens or parent supervision needed. We think Jooki makes a great holiday gift for any kid!
Guided by Montessori education principles, the award-winning Jooki connects through WiFi and Bluetooth, helping parents and loved ones empower kids to develop creativity and emotional awareness through their own access to a wide range of pre-selected songs, music, and stories. And the best part is that it's completely cordless and portable so kids can enjoy their most loved audiobooks, podcasts, or music playlists at home, and pretty much anywhere else they go!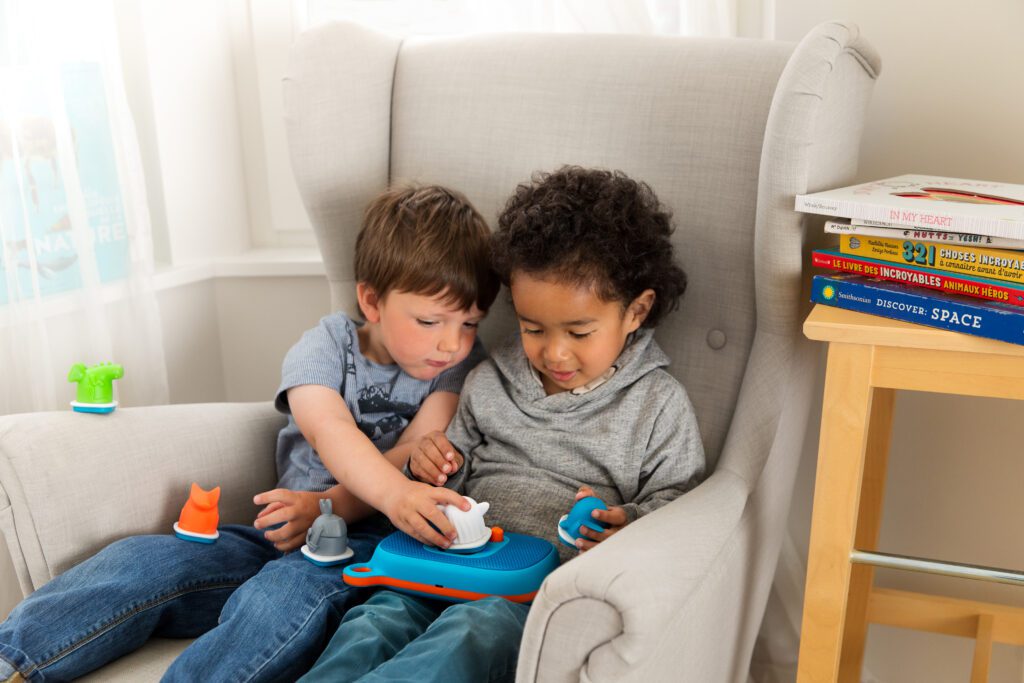 ---
Casio recently released an entire line of beautiful Casiotone digital keyboards. Our own favorite is the NEW Casiotone LK-S450 model. This neat digital keyboard is great for kids because it can help them learn to play the keyboard with ease. It's geared for beginners, with step-up lessons and a great key lighting system that guides kids to practice at their own pace. It comes with a song bank of 160 preset songs and options to choose from 3 different lesson types. Kids can practice playing with their left-hand, right-hand, or both. Plus, this cool digital keyboard for beginner comes with a long list of other cool features, including many connectivity options. You can check out our Top STEM Toys list to learn even more!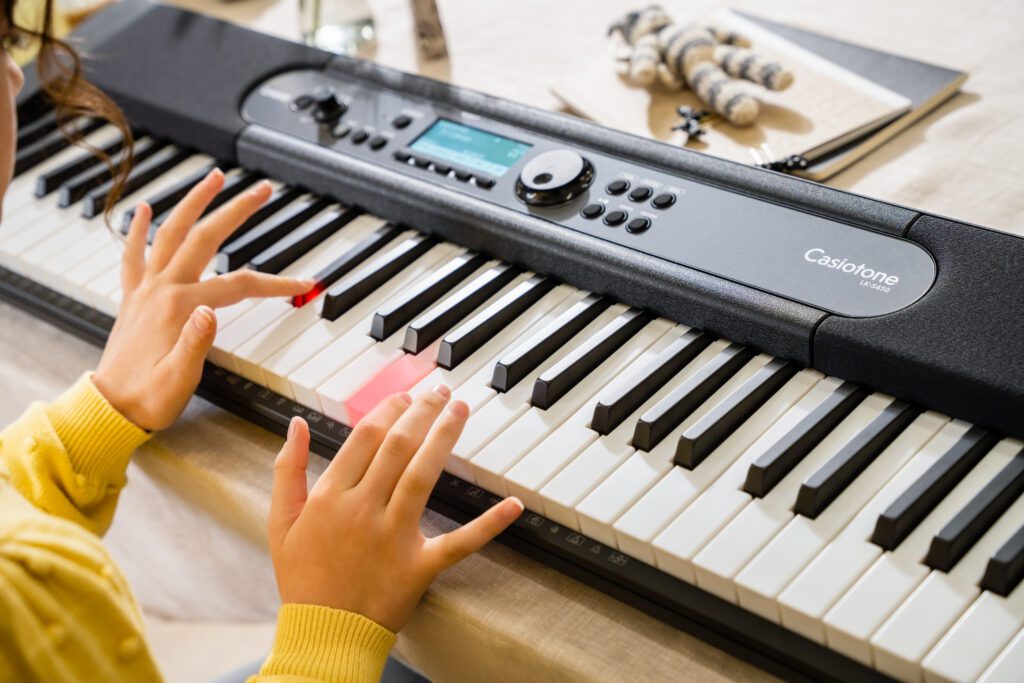 ---
The HiFive Inventor is a hand-shaped programmable coding board for kids, with guided lessons voiced by The Doctor herself, Jodie Whittaker. The board is an educational and fun way to learn to code for ages 7 and up, using lessons by online learning leader, Tynker and powered by SiFive. This is the first programmable mini-computer for kids designed around the IoT. SiFive, the BBC and Tynker aim to provide engaging STEM education to the next generation of coders to unlock the future potential of the IoT.
Unlike other kids coding kits – the HiFive inventor offers limitless opportunities to continue learning to code. The HiFive Inventor includes a robust SiFive open-source RISC-V processor, built-in Wi-Fi and Bluetooth technologies, an onboard suite of sensors, illuminated USB cable, and edge connectors. What's also great is that this kit includes lessons for all ages, including block coding for early learners and MicroPython for more advanced learners and coding lessons are set in the world of Doctor Who for game-based learning. This makes a great gift for any kid who wants to learn to code or is already into coding but wants to tinker and learn even more!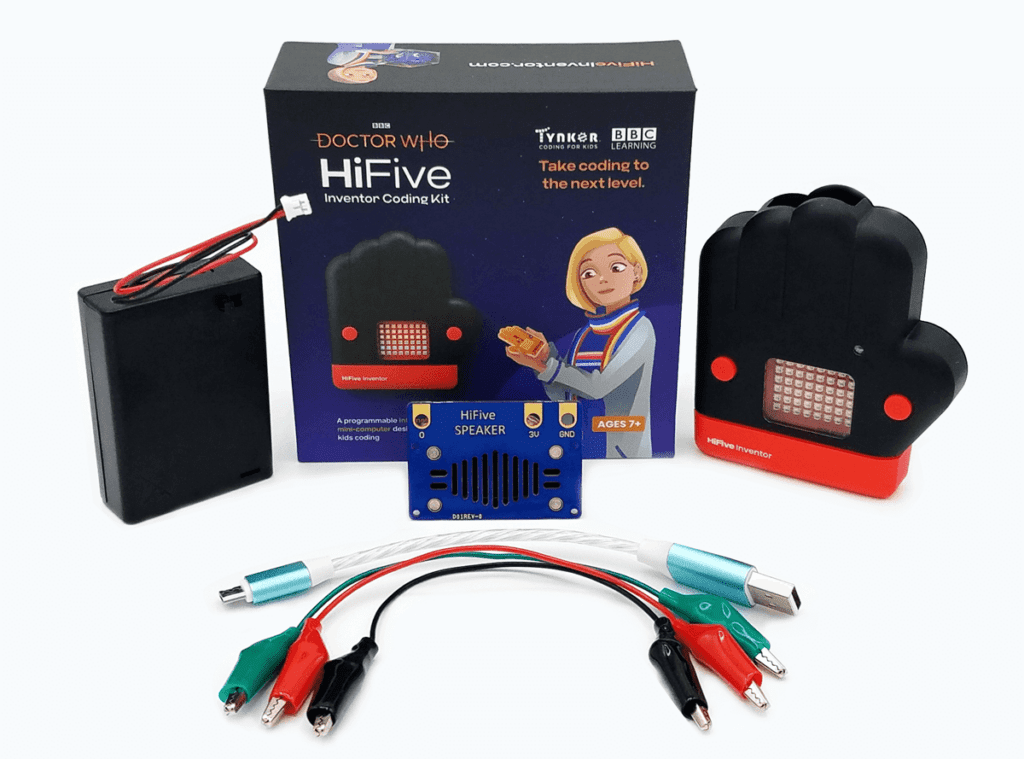 ---
Happy holidays and happy gift shopping!
Don't forget to PIN this so you can find all these best toys for kids recommendations later!
You May Also Like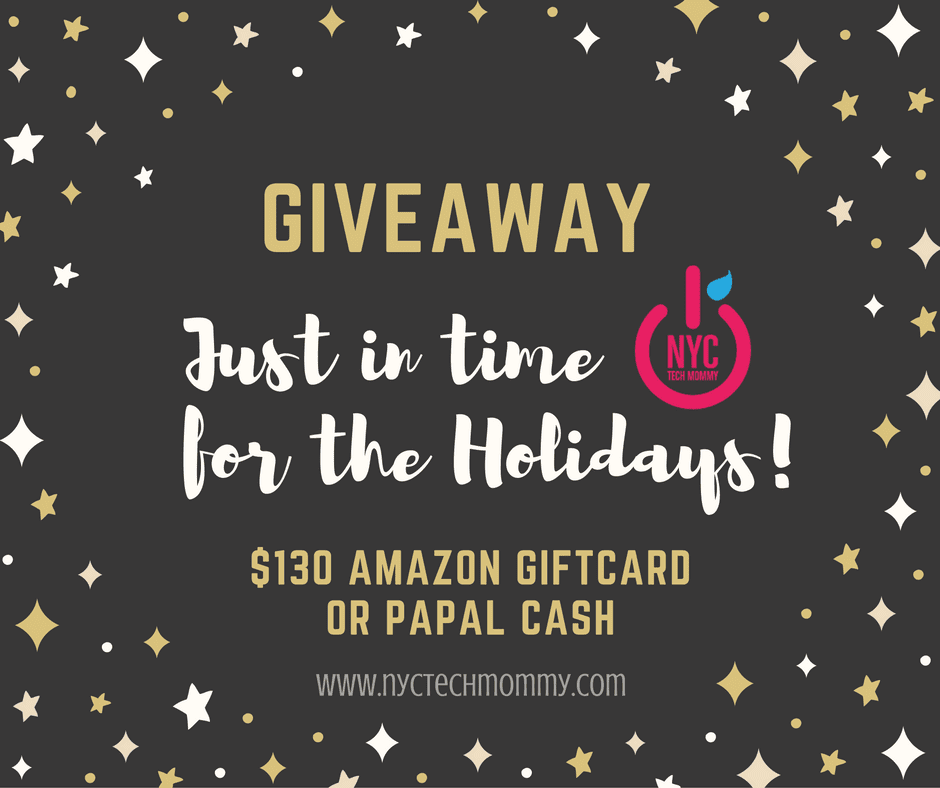 November 10, 2016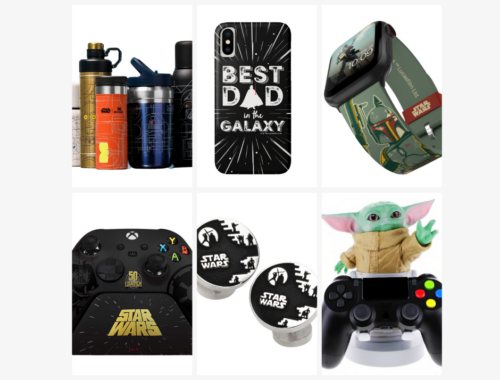 June 9, 2021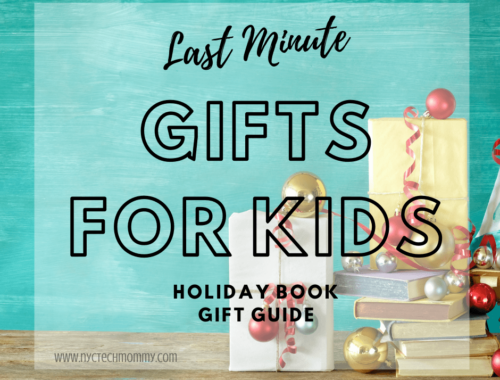 December 20, 2021