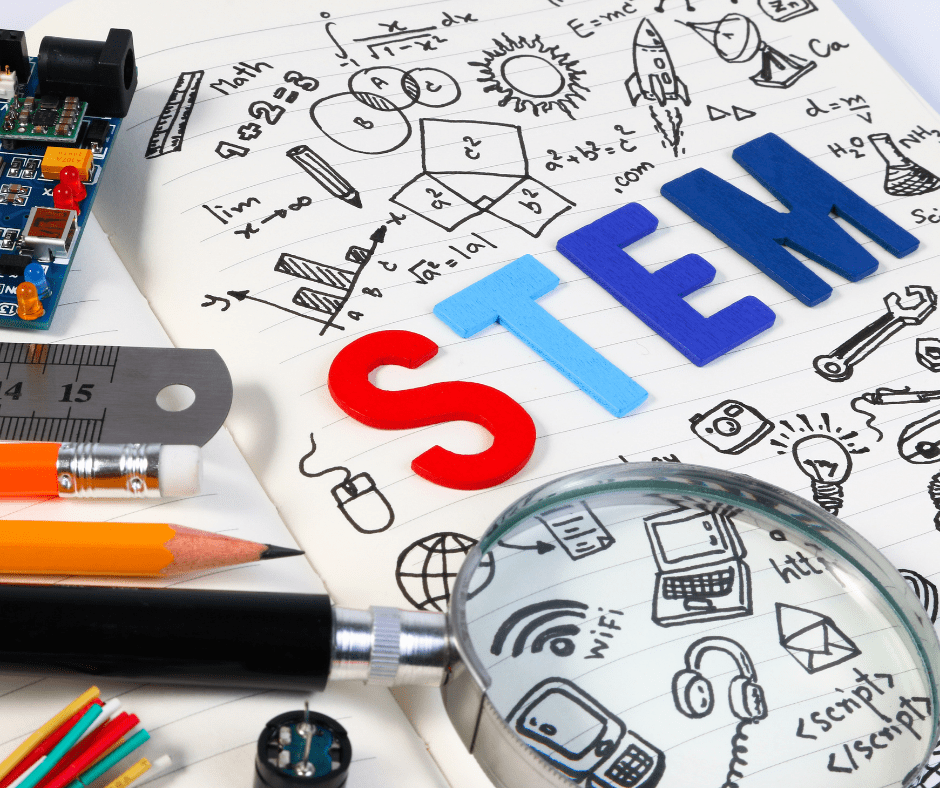 Top STEM Toys & STEAM Ideas for STEM Day 2021
November 7, 2021
November 8th is National STEM Day! A quick online search will produce many great STEM TOYS and fun ideas to help you celebrate S.T.E.M/S.T.E.A.M Day. I'm always looking for new ways to engage my kids in fun STEM activities. Not only because my kids eat this stuff up but because I know it's essential to building their bright future. Here's a list of STEM jobs and how much they pay. It's fun to celebrate STEM day once a year but it's more fun to make STEM part of our everyday lives!
Also, did you know that November 8th is also National Parents as Teacher Day? You are your child's best teacher so go, explore STEM/STEAM together and your kids will thank you for it!
Make sure to find our list of recommended STEM Toys at the end of this post!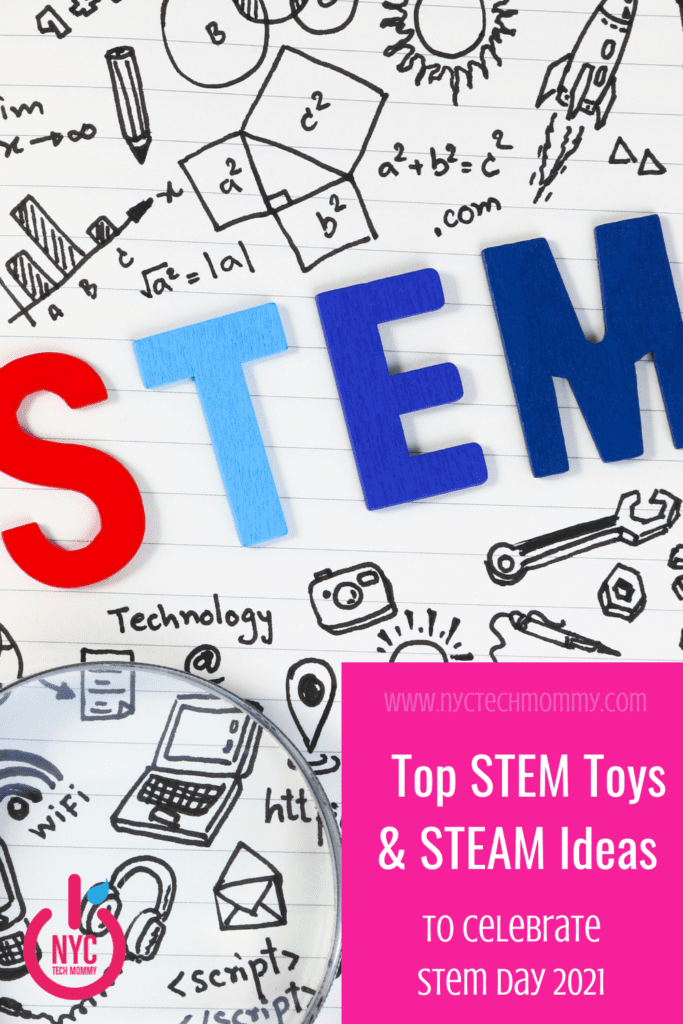 What is STEM and why is it important?
STEM-based education teaches kids more than just science and mathematics. STEM education focuses on hands-on learning and real-world applications and can help kids develop a variety of skill sets, including creativity and 21st century skills. STEM education also promotes problem solving, critical thinking, creativity, curiosity, decision making, leadership, entrepreneurship, and more. Regardless of the future career opportunities your kid might be drawn to, all of these skill will go a long way to preparing them for a bright future!
RELATED: Great Resources to Celebrate STEM Day Everyday!
What about STEAM?
STEAM stands for science, technology, engineering, art and math. And while some may scoff at the idea of art and design being in any way critical to STEM, it's become a key area of focus for many researchers, teachers and parents.
If you want to learn more, read our previous article about STEM vs. STEAM and learn all about the importance of Art in STEM education.
RELATED: STEM vs. STEAM: Is One Better For Girls?

Building STEM Skills with LEGO
LEGOs are huge at our home! My little engineers love building with LEGO. Construction play encourages creativity and helps kids build skills they'll need when working on larger STEM projects and activities, even in their future careers. LEGO building promotes problem solving skills and encourages perseverance. Building with LEGO can also help little kids develop logic and reasoning skills while working on fine motor skills and spatial awareness too.
There are just so many benefits to building with LEGO! Read our previous post that details the 5 skills for your child to learn from playing LEGO at home. You might also want to check out some of our other fun ideas to celebrate National STEM DAY, including how to build STEM skills with LEGO
Earlier this year LEGO launched an entire line of music inspired products that allows kids to direct, produce and star in their own music videos with LEGO VIDIYO. Not only are these new music inspired LEGOs tons of fun to build and create with. They're also great for building STEAM skills and encouraging creativity!
This fun new line of LEGO toys offers music inspired minifigures and creative building sets that are perfect for promoting STEAM learning at home. Just download the free VIDIYO app to scan the minifigure and special effect BeatBits and get ready to rock out with LEGO!

CASIO is a great choice for STEM and STEAM
Whether the kids in your life are celebrating National STEM/STEAM Day remotely or in-person, Casio's education products will keep students engaged like they've done for over forty years. From calculators and web-based mathematics software to portable keyboards for music class, Casio offers a wide range of products that support STEM/STEAM-friendly classrooms and kids advance in the fields of science, technology, engineering, art and math.
NEW Casiotones Digital Keyboards
Casio recently released an entire line of beautiful Casiotone digital keyboards that offer a minimalist design and are great for portability and versatility.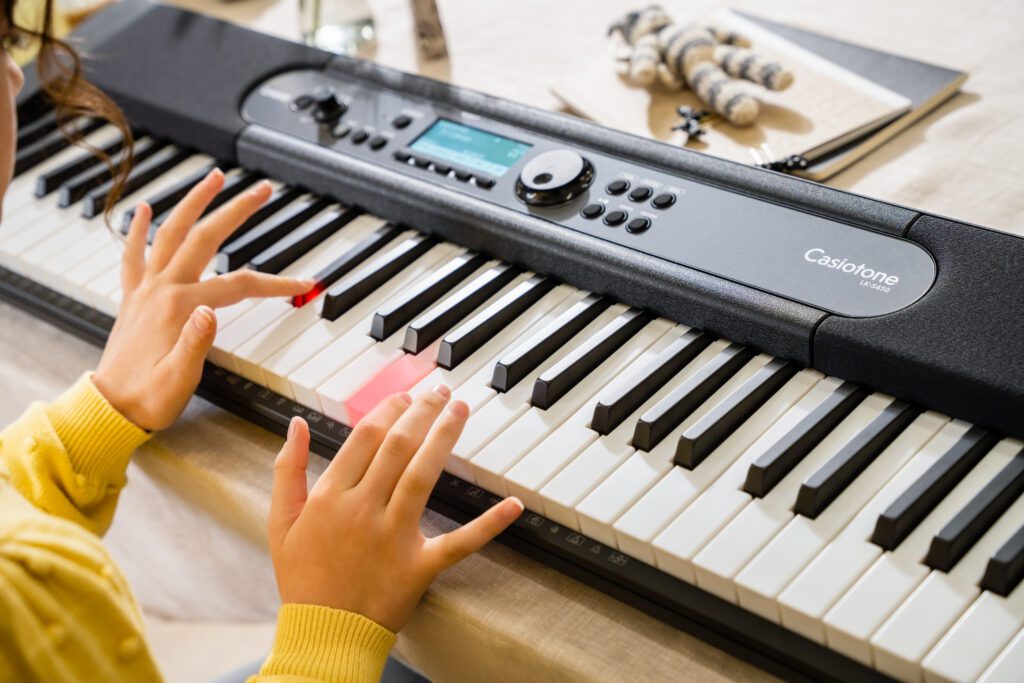 Our own favorite is the NEW Casiotone LK-S450 model. This neat digital keyboard is great for kids because it can help them learn to play the keyboard with ease. It's geared for beginners, with step-up lessons and a great key lighting system that guides kids to practice at their own pace. It comes with a song bank of 160 preset songs and options to choose from 3 different lesson types. Kids can practice playing with their left-hand, right-hand, or both.
Many other great features are included — easy recording and playback features and a wide range of connectivity options too, including a class-compliant micro USB MIDI port. A USB HOST port is available for the separately sold Bluetooth adapter (WU-BT10) that provides wireless MIDI communication and can transform the keyboard into a wireless speaker. Also great is the fact that players can easily hook up a pedal for even more expressive play, as well as use the headphone output to practice in private. In addition, we love that the new Casiotone models can be played anywhere since it comes with built in strap locks to equip a guitar strap and convert the sleek keyboard into a keytar for even more fun!

ClassPad.net 2.0 is an all-in-one web-based mathematics creation and discovery resource geared for the K-12 level and beyond. The software enables users to draw geometry figures freehand and input calculations as they would on real scratch paper, in addition to having the ability to plot data points, and add text labels, expressions, and pictures to graphs or geometry.
Designed by Casio as a one-stop shop for educators and students, ClassPad.net is a web-based mathematics creation and discovery resource geared for the K-12 level and beyond. As learning becomes increasingly dependent on technology and remote access, ClassPad.net is ahead of its time regarding versatility and customizability for teachers and students alike.
ClassPad.net includes hundreds of free, ready-to-use activities across a wide range of math subjects that educators can modify and share with students. Students can interact with and solve "Workspaces" on their own, or educators can bring interactivity to the lesson plan.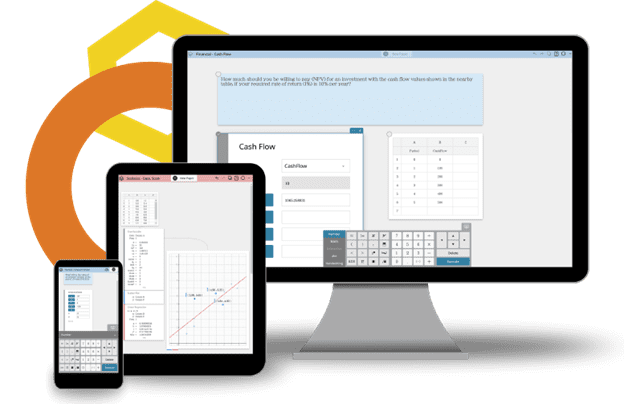 ClassPad.net helps students delve into mathematics and enhance their understanding of related concepts utilizing one program, where previously several pieces of software might have been necessary. Specifically, many schools require students to purchase calculators, and ClassPad.net eliminates the need to do that. It is one piece of software that can be accessed on various platforms, including Chromebook, iPad, PC and Mac.
Visit ClassPad.net to get all the details on how it works!
Perform an Easy Science Experiment at Home
Not too long ago I shared a list of easy science experiments to help you engage your kids in learning at home. Try these fun and easy science experiments with your kids — turn a potato into a battery, make magnetic slime, build a volcano, and more! Encourage active learning at home, convey concepts ranging from chemistry to botany, while also offering some old-fashioned, screen-free entertainment. Science experiments are always great hands-on activities to try with kids, especially as you celebrate STEM Day. Have fun!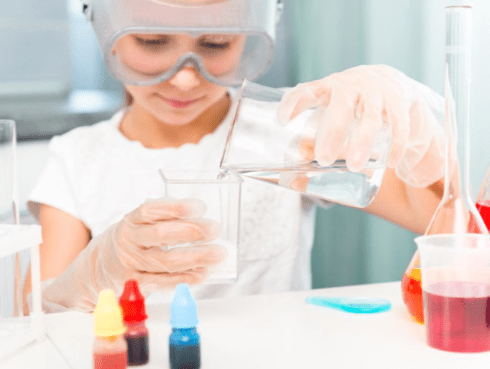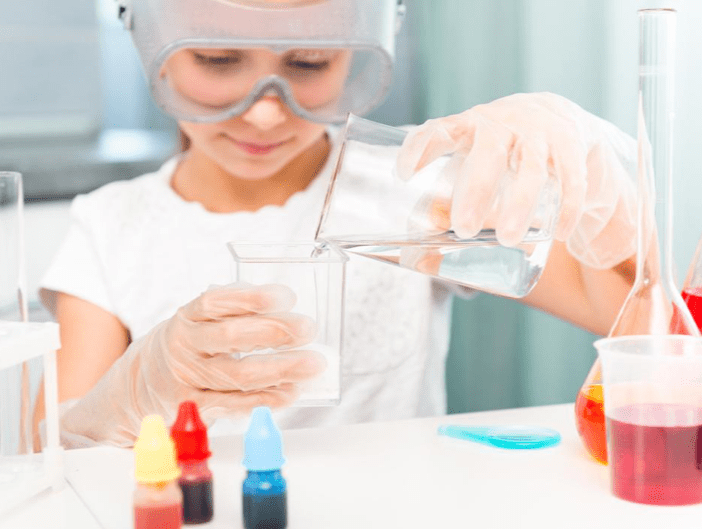 Which of these fun ideas to help you celebrate National STEM Day everyday will you try?
Are you celebrating STEM/STEAM Day on November 8th? How are you making STEM learning part of your kid's everyday experiences?
---
TOP STEM TOYS Your Kids Will Love
Meet Roybi Robot: The world's 1st smart learning toy for kids in language learning and STEM skills
Check out other TOP GIFT GUIDES & STEM TOYS
You May Also Like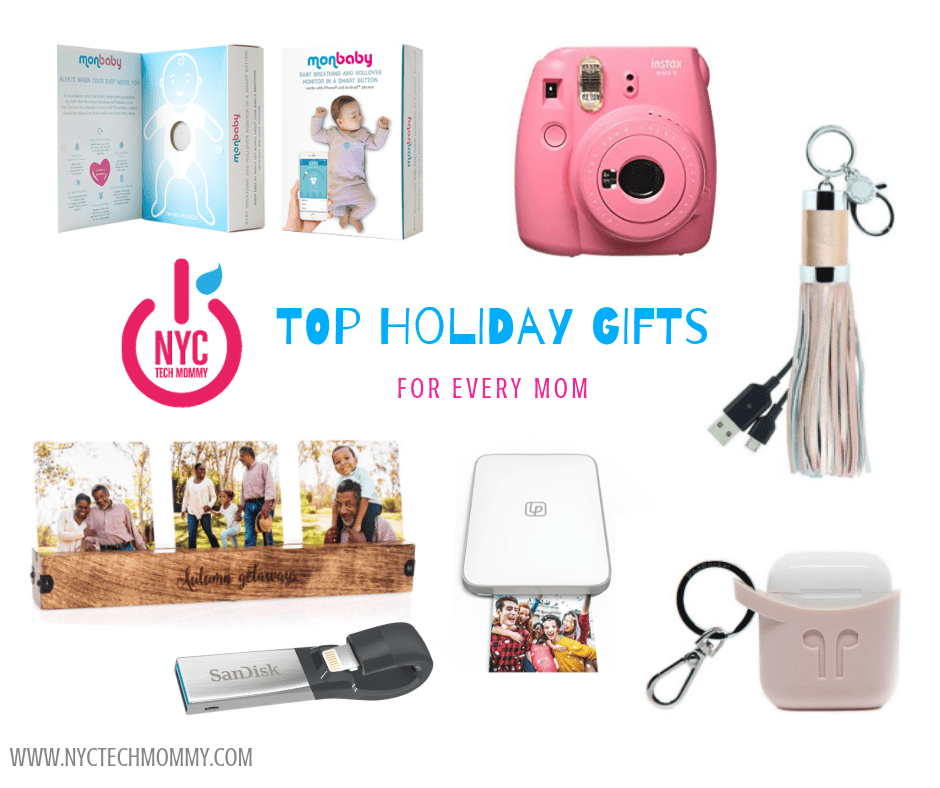 November 26, 2018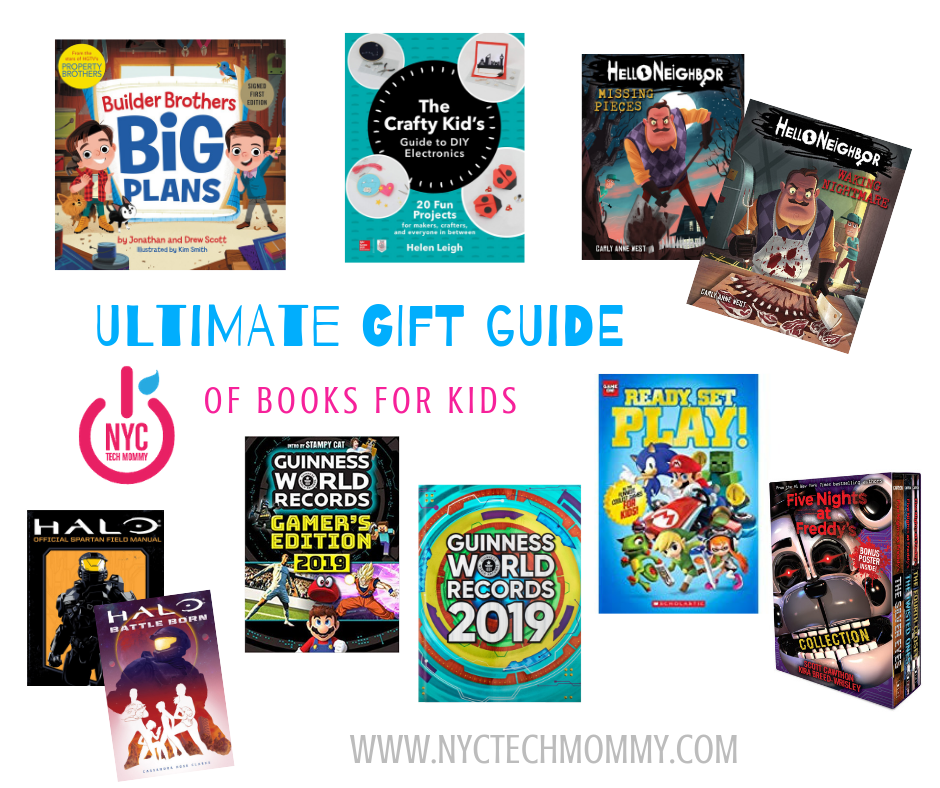 December 4, 2018