Holiday Toy Gift Guide for Kids — Creative, Bilingual, Gaming & STEM Learning Toys
November 23, 2020
My favorite time of year is finally here! Cue the Christmas carols and pour the coquito! It's also time for me to share with you my favorite toy picks for this holiday season. This year's Holiday Toy Gift Guide for Kids includes fun toys that foster learning and language development (including in Spanish), fun games and video game-themed toys, creative toys, plus STEM learning toys that I know your little kids are gonna love. My picks are based on current toy trends and include a few toys I reviewed earlier this year, but many recommendations are simply based on the toys my own kids love and are asking for this Christmas. They're all just FUN and I approve! Read on…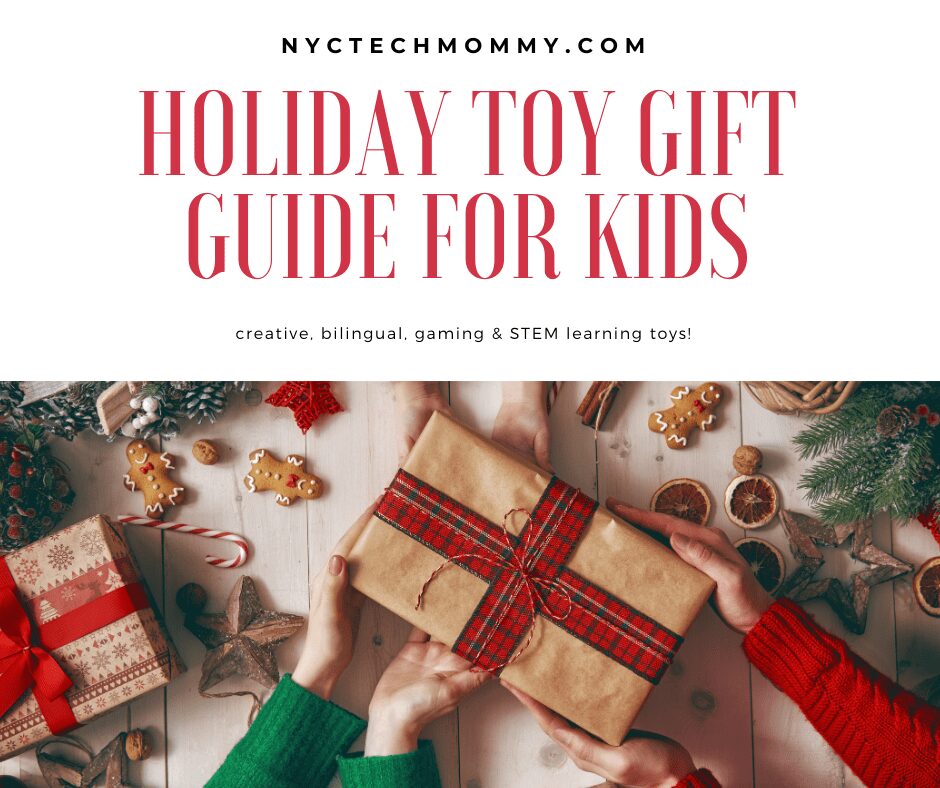 Before I share all the goods (aka the toys) in my Holiday Toy Gift Guide for Kids, I also wanted to share with you some exciting news! I was recently honored to be invited by my friend Janny Perez of the Mi LegaSi website to share some of my top toy recommendations on her Latina Mom Legacy Podcast. Together we rounded up some of the best tech and non-tech toys for kids this holiday season. I invite you to head over to the Podcast to hear all about it! We had such a blast chatting about our favorite toys and why they made our list. We also talked about familia, holiday traditions, and motherhood! Listen in on the latest episode of The Latina Mom Legacy Podcast on Anchor.fm, Itunes, Google, or even Spotify. No te lo pierdas!
Psst, psst, I also have a quick little holiday shopping tip for you — Check out Janny's Spanglish Shop where you can shop her newest bilingual/Spanglish fun t-shirts, face masks, printables, totes, baby onesies and more! I assure you, here you'll find the perfect gift for any of the Latinas in your life — fun gifts to help her Connect, Create, and Carry on her Latinx heritage! I love it!
And now without further ado, check out the top toy picks that made my Holiday Toy Gift Guide for Kids this year!

Happy holidays & happy toy gifting!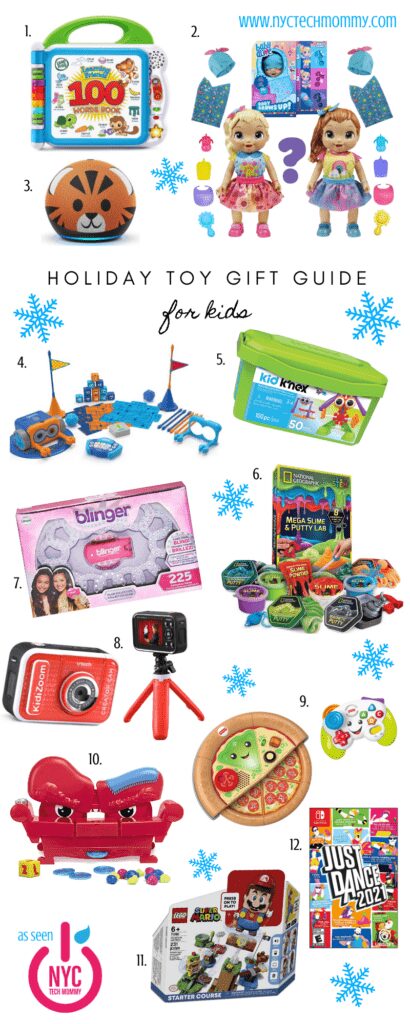 Holiday Toy Gift Guide for Kids
Below you'll find my list of top toys for kids this Christmas, separated into four different categories to make it even easier for you to find the best gifts for any, and all, of the kiddos in your life!
For Bilingual Kids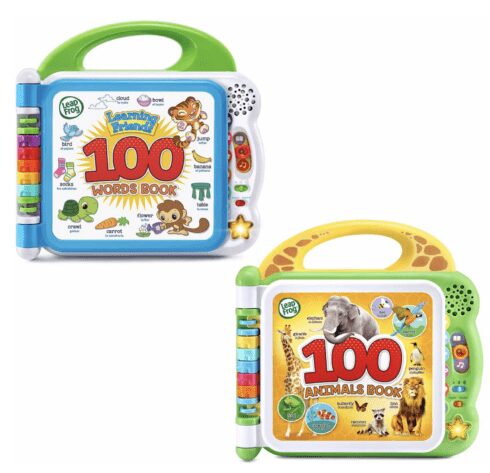 LeapFrog toys have always been my favorite got-to toys for bilingual learning — I even used to use them in the classroom when I was a teacher. Plus, my kids absolutely love any toy that's interactive. As toddlers, they were both totally obsessed with their LeapFrog toys. Since I love books, I absolutely love LeapFrog's interactive books the most — like the 100 Words Book and the 100 Animals Book that are great for little learners. The 100 Words Book covers 12 categories of words about colors, foods, activities, opposites, outdoors and more. In the 100 Animals Book kids learn about animals from 12 habitats and environments. These fully bilingual books let kids hear words and sing songs in English and Spanish. Each picture in the book is also labeled with the words in English and Spanish right under it. Just perfect for language learning!
This adorable growing and talking baby doll isn't the Baby Alive you might remember from your own childhood that could only eat, drink, and poop. In addition, this interactive baby doll really grows and transforms from newborn to baby to big girl, changes size 4 inches and has 75+ sounds and phrases, in English and Spanish!
Kids reveal one of two surprise dolls when unboxing Baby Alive Baby Grows Up + 8 accessories. Remove her from the package and she starts to wiggle! With her first bottle, she opens her eyes to reveal color. Remove her hat to see her hair color. After rocking and pretend bottle feeding, she kicks out of her newborn swaddle blanket! As a baby, Baby Alive Baby Grows Up talking doll sits up and says her first word. Kids can help her grow with pretend pouch feeding and bouncing movements. Hold her hands to help her stand. Now she's a big girl who loves dress-up! Her hair even gets longer when kids brush her hair and pull to extend it! Kids will love watching their baby grow before their eyes.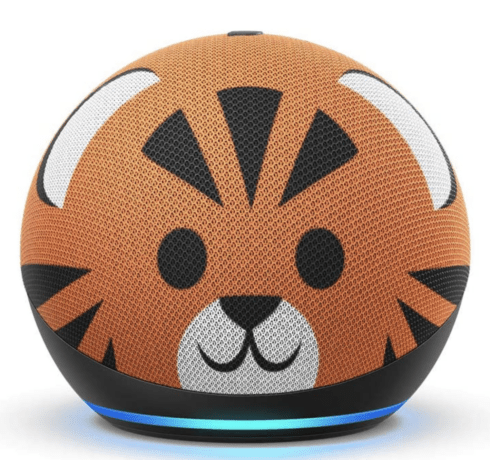 Alexa is huge at our house — The NEW Echo Dot (4th Gen) Kids Edition is a great option because you can set the language to Spanish and kids can talk to Alexa in Spanish, play music in Spanish, listen to stories in Spanish, a great way to learn and practice Spanish words! Even call abuela and other family members to chat it up in Spanish and keep the language learning going!
RELATED: Remote Learning Holiday Gift Guide for kids and teachers too!
For Kids That Love STEM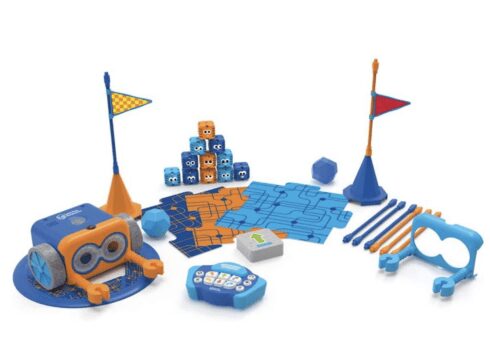 STEM toys are huge right now, and have been for a few years now. I especially love toys that get kids learning coding skills early because it promotes critical thinking and problem solving skills. Learning Resources is one of my personal favorite toy brands and they make a great little coding robot named Botley that's perfect for homeschool for kids ages 5 and up. One of the reasons I love Botley the Coding Robot 2.0 is because it's a screen-free coding toy! Our kids already get tons of time in front of screens now that everyone is learning remotely, so it's nice when you can find a toy that gets kids interacting, learning, and playing without the use of a screen. Botley is a fun little robot — great for learning early STEM skills, promotes critical thinking and problem solving skills too!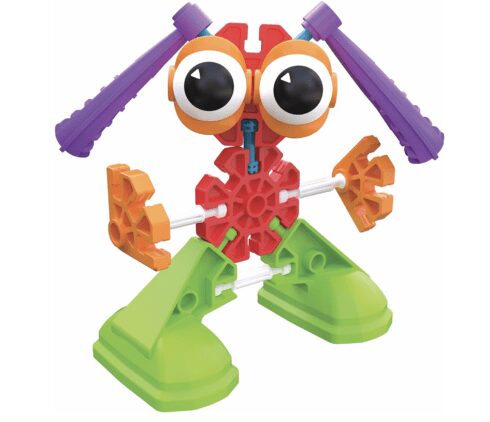 As kids click the different parts together and discover how the building system works, they're strengthening hand-eye coordination, fine motor skills, problem-solving skills, spatial awareness and exercising their imagination with this fun Kid K'NEX building set! My own kids love Kid K'NEX building sets and I love that this one comes in it's own reusable plastic tub for easy clean up and storage. Instruction sheet included to help kids build a variety of models. Tap into natural curiosity and creativity and make connections to STEM learning with this Kid K'NEX preschool education toy!
The National Geographic Mega Slime Kit includes 8 fascinating varieties of slime and putty. What kid doesn't love slime?!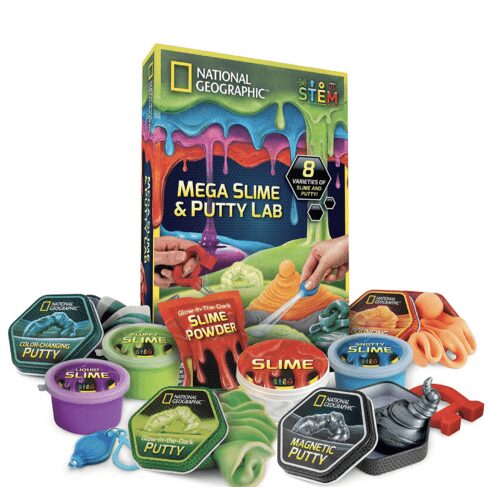 As a parent, I love that this kit includes pre-made slime and putty — magnetic putty, fluffy slime, glow in the dark putty, liquid slime, color-changing putty, snotty slime, bouncing putty, and 1 DIY glow in the dark slime lab. No mess to make and includes storage tins that make it easy to clean up and store away the reusable slimes and putties. Includes a full-color learning guide to help kids explore fascinating science behind slimes and putties, learning incredible facts about the obey and gooey world of squishy substances! The National Geographic Mega Slime Kit & Putty Lab is a fun STEM kids for boys and girls!
For Creative Kids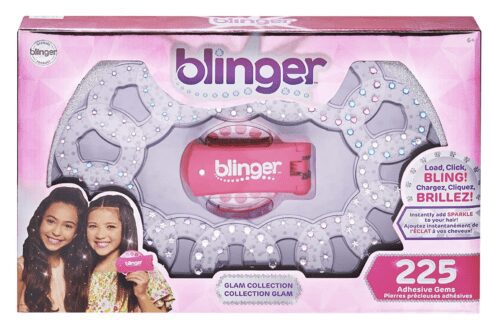 Have a little creative kid at home? A little fashionista that loves to sparkle? The Blinger Ultimate Set Glam Collection comes with all the bling needed to make any creation sparkle, including fashion and hairstyles. Included are 225 adhesive gems, in multiple colors. The Blinger makes it easy to load, click, and bling — and add a little sparkle to your life! This totally safe and easy to use styling tools allows creative kids to add a little bling to everyday life and create striking looks. There's no denying, we could all use a little sparkle these days!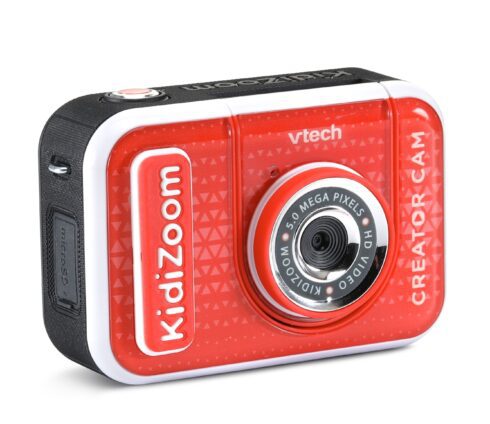 Empower your kids to become a kid creator with the VTech KidiZoom Creator Cam and make all their content creator dreams come true! Kids will have loads of fun shooting still photos and also creating awesome videos with this high-definition video camera kit for kids. It includes a built-in microphone, editing and creative tools, green screen features and more than 20 animated backgrounds. Kids can easily set up their own video shoot with the included tabletop tripod/selfie stick and use the easy on-screen editing and creativity tools to create trick shots and time-lapse videos to share with others. Photos and videos taken on the KidiZoom Creator Cam can only be uploaded to a computer via an included USB cable at a parent's discretion, which makes it kid-safe since there's not worry about them uploading pics and other content to social media without parent approval.
RELATED: VTech's Hottest Tech Toys Holiday Gift Guide for Kids
For Kids That Love Games & Gaming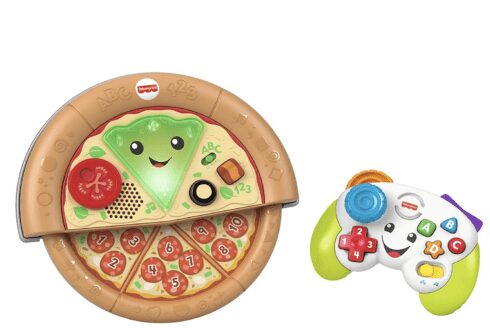 Fisher Price makes fun learning toys for little kids and right now I'm loving the adorable Fisher-Price Laugh & Learn Game and Pizza Party Gift Set, great for babies and toddlers! If your family is anything like mine, you're probably planning game night and pizza dinner nights more often now that we're all home. So here's a great opportunity for little ones to participate in the fun too! The Fisher Price Laugh & Learn Game and Pizza Party set comes with two game night-themed toys — a pizza pie full of push button lights, buttons to activate songs and phrases about shapes, opposites and counting 1 to 10. Included in the set is also a pretend game controller that has 2 play modes, multi-color lights, and buttons that activate songs and phrases about shapes, colors, the alphabet and more. It's a great little toy gift set for babies and toddlers ages 6 to 36 months. So cute and makes learning, and pizza game night, fun for the entire family, including the littlest members of the family!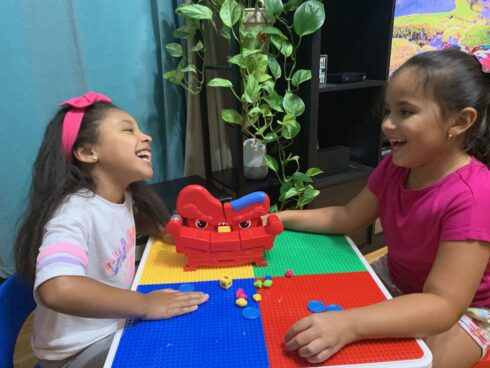 Ever wonder what happens to those little items that go missing in your couch? This fast-paced, wacky game is fun for kids and perfect for family game night! You never know when this grouchy couch will eat or spit out Lost Goodies. Press the remote-control on the arm rest to see how Grouch Couch will react. He might grumble, chomp, burp and (hopefully) eat your treats! When he does, he'll spit out the Lost Goodies and kids will want to collect them because the player with the most Lost Goodies when the Grouch Couch plays his victory song, wins!
This NEW interactive LEGO building set featuring Mario, Bowser Jr. and Goomba figures is perfect for the little Mario fan that loves building with LEGOs. Plus, this set includes more than just LEGO bricks! The LEGO Mario figure included in this set has a color sensor, plus LCD screens in his eyes, mouth and belly to display over 100 different instant reactions to movement. Also included is a speaker that plays iconic sounds and music from the video game.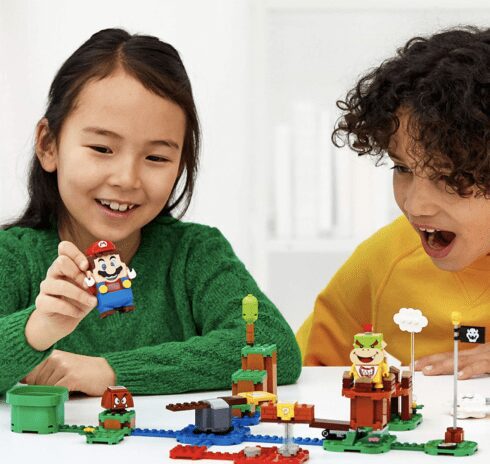 Little Mario fans can use the 231-pieces in this collectable LEGO Super Mario building set to imagine and build their own game level. LEGO Mario collects virtual coins as he runs and jumps from the Start Pipe to the Goal Pole via LEGO bricks, cloud platforms, the Question Mark Block and clashes with the Goomba figure and Bowser Jr., GAME ON!
Who doesn't love a good dance party?! Available for Nintendo Switch, X-Box One, and Playstation 4, Playstation 5. Just Dance 2021 is the ultimate dance game, with 40 hot new tracks from chart-topping hits. The perfect dance party for the entire family, now that we're all home. Including eight new kid-friendly songs and choreographies, perfect for a family-fun video game night! Get the kids, and the rest of the family, off the couch and just dance!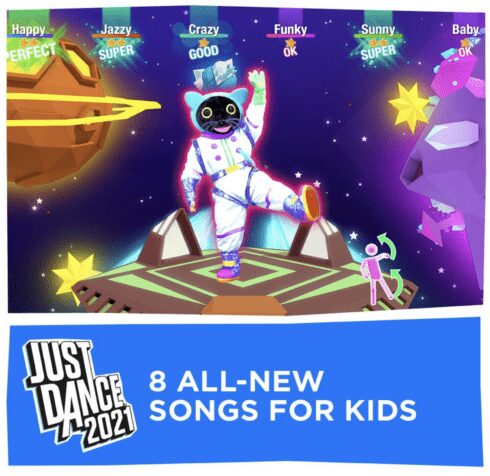 ---
What toys are you adding to your holiday shopping list? Which of these toys would your kids love to find under the Christmas tree?
Don't forget to PIN this Holiday Toy Gift Guide for Kids so you can come back to these recommendations later!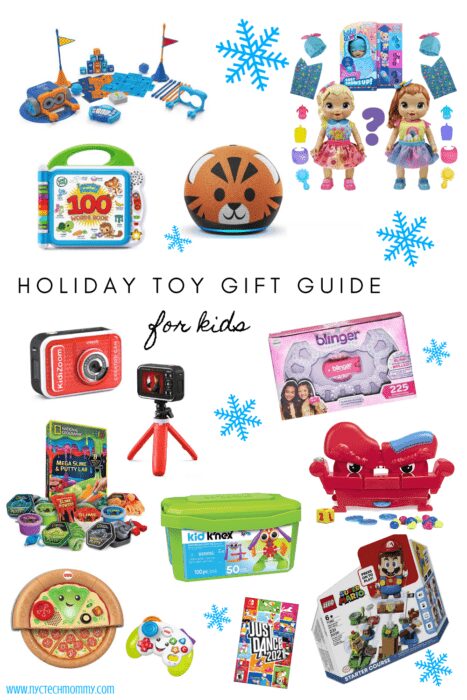 You May Also Like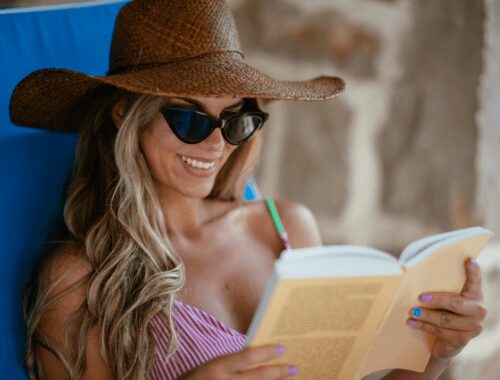 April 26, 2021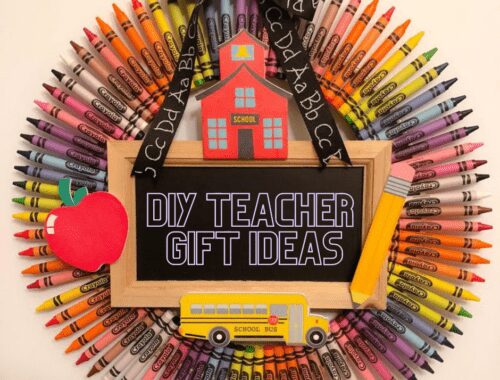 April 12, 2021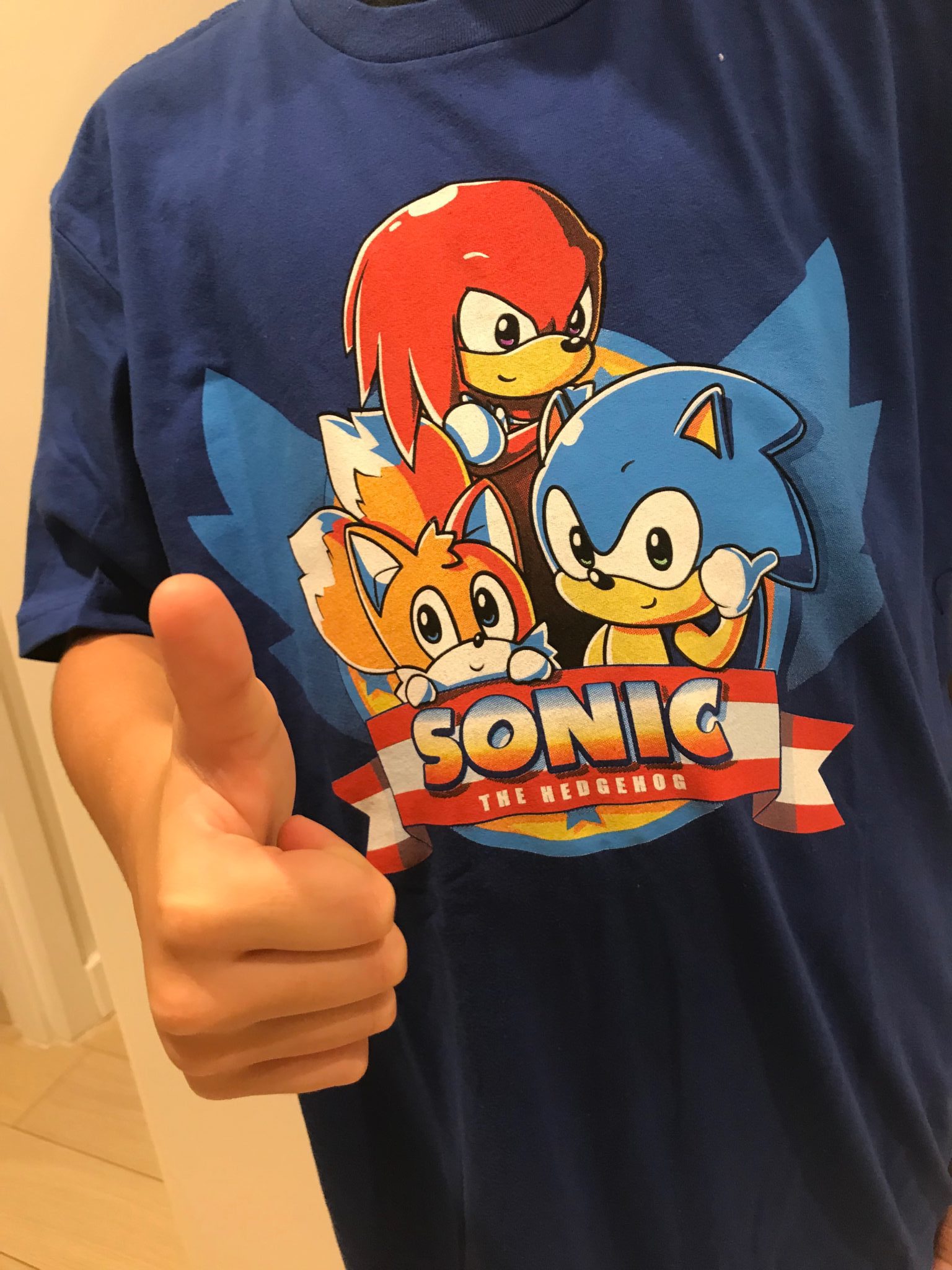 December 8, 2017