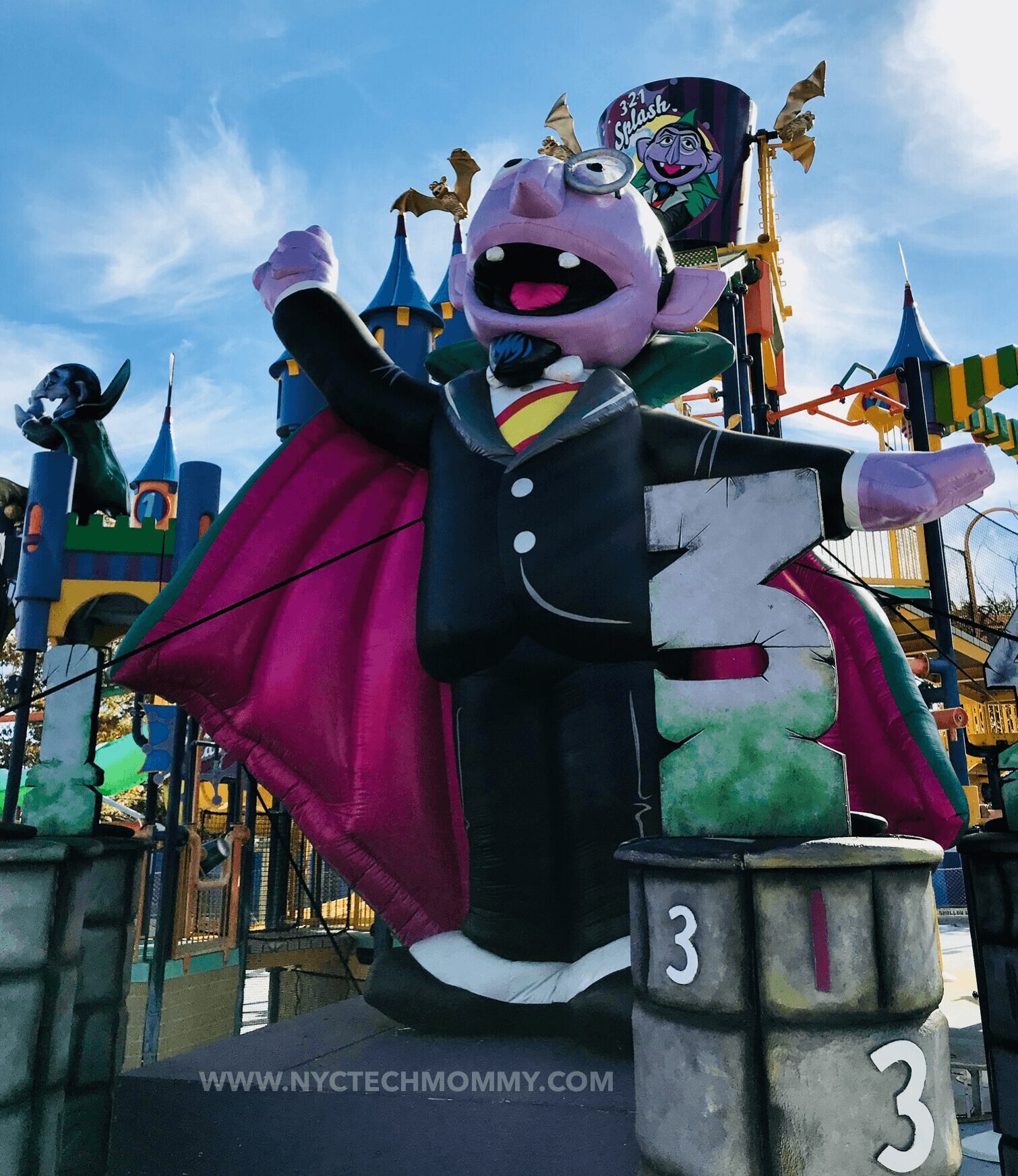 A Spooktacular Time & Tips For a Great Visit to Sesame Place
Looking for a fun way to celebrate Halloween? Why not head out for a fall visit to Sesame Place in Langhorne, Pennsylvania? It's just a short (under 2 hour) drive from New York City. Get your fix of Furry friends and Halloween treats during The Count's Halloween Spooktacular at Sesame Place.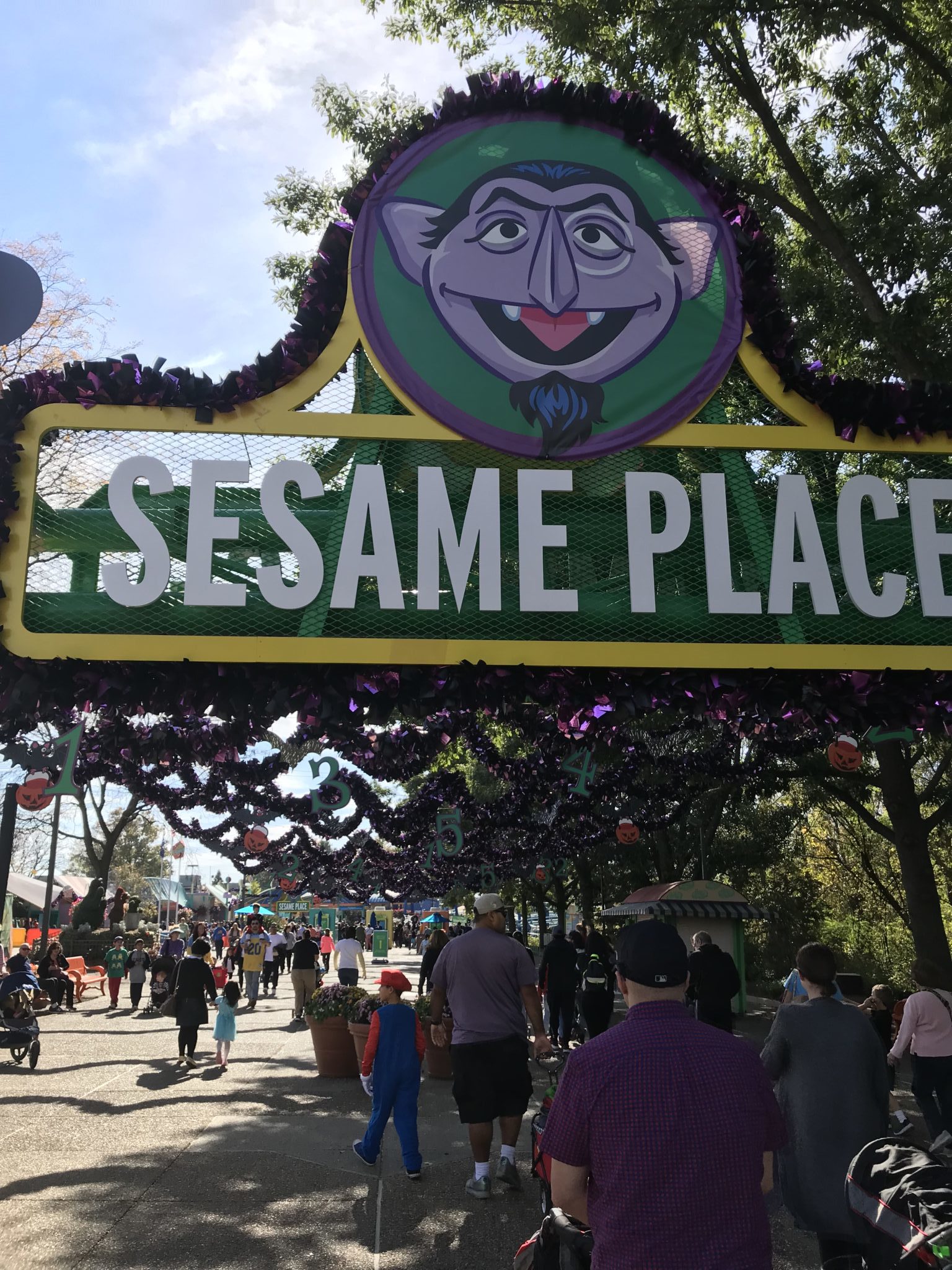 That's exactly what we did this past weekend and the kids (and adults too) had a great time! Let me tell you all about our fun halloween adventure at Sesame Place. Some of what I'm about to share with you is specific to Halloween weekends at Sesame Place but most of the information and tips can be applied anytime you go for a visit to Sesame Place — during summer and even during winter events. Read on!
Disclosure: We were provided with one day media passes to attend The Count's Halloween Spooktacular.
As always, I only share what I love and think you will too. All thoughts and opinions are my own.
If you've been following along you know that we celebrated baby girl's 3rd birthday just a couple of days ago. Because her birthday falls just a couple of days short of Halloween, we thought this year we would make it a Halloween themed celebration. We also decided not to have a full-on birthday party this year. Instead, as we did when her older brother turned 3, we celebrated her birthday with a fun family trip (with cousins) to Sesame Place.
The Count's Halloween Spooktacular
Every year Sesame Place holds the Count's Halloween Spooktacular during the fall weekends leading up to Halloween. The park is transformed into an un-spooky adventure for kids with lots of Halloween decorations and tons of good ol' family fun.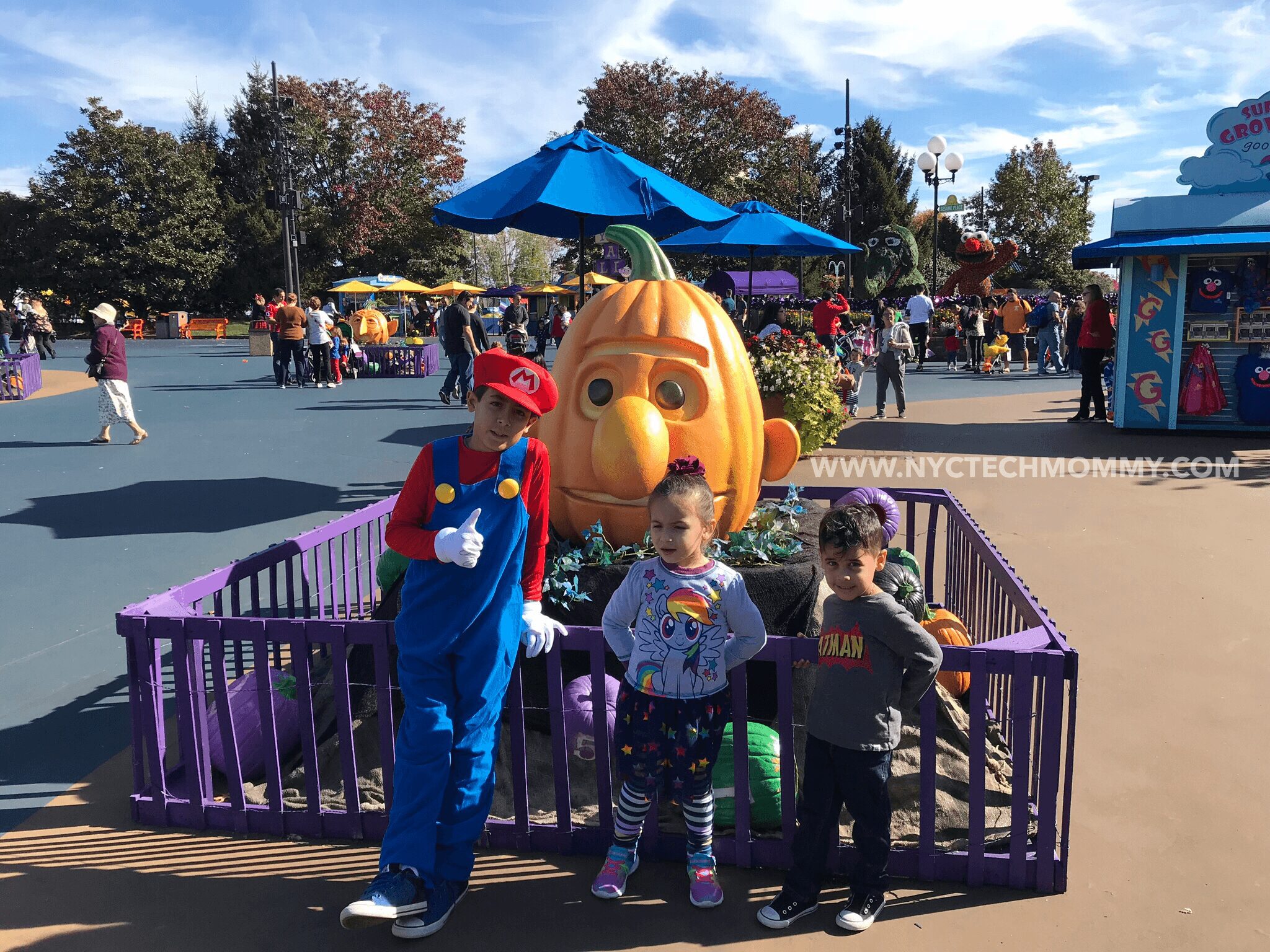 There are Halloween themed shows throughout the park — we skipped those this year because our kids weren't into waiting on the super long lines. There's a Halloween themed parade and trick or treating too! But what could possibly be more fun than snapping a pic with your favorite Sesame Street friends all dressed up in costumes themselves?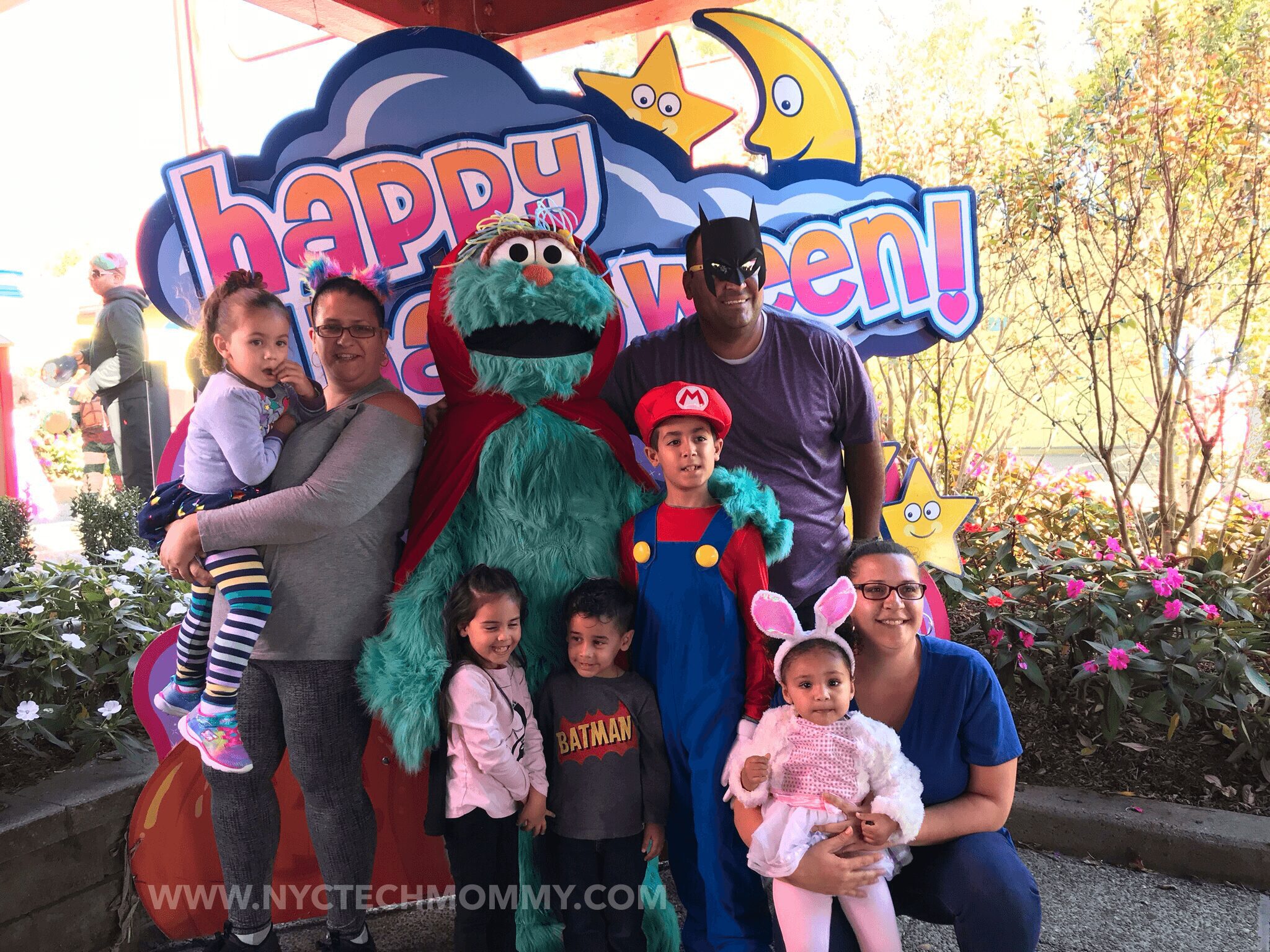 Every year the offerings during Count's Halloween Spooktacular may change a bit so make sure to visit the Sesame Place website before you go. This post details what we found at Sesame Place during the fall of 2017. Not sure you'll find exactly the same offerings next year, since you'll have to wait till then to go. We visited on the last weekend of this year's Halloween festivities.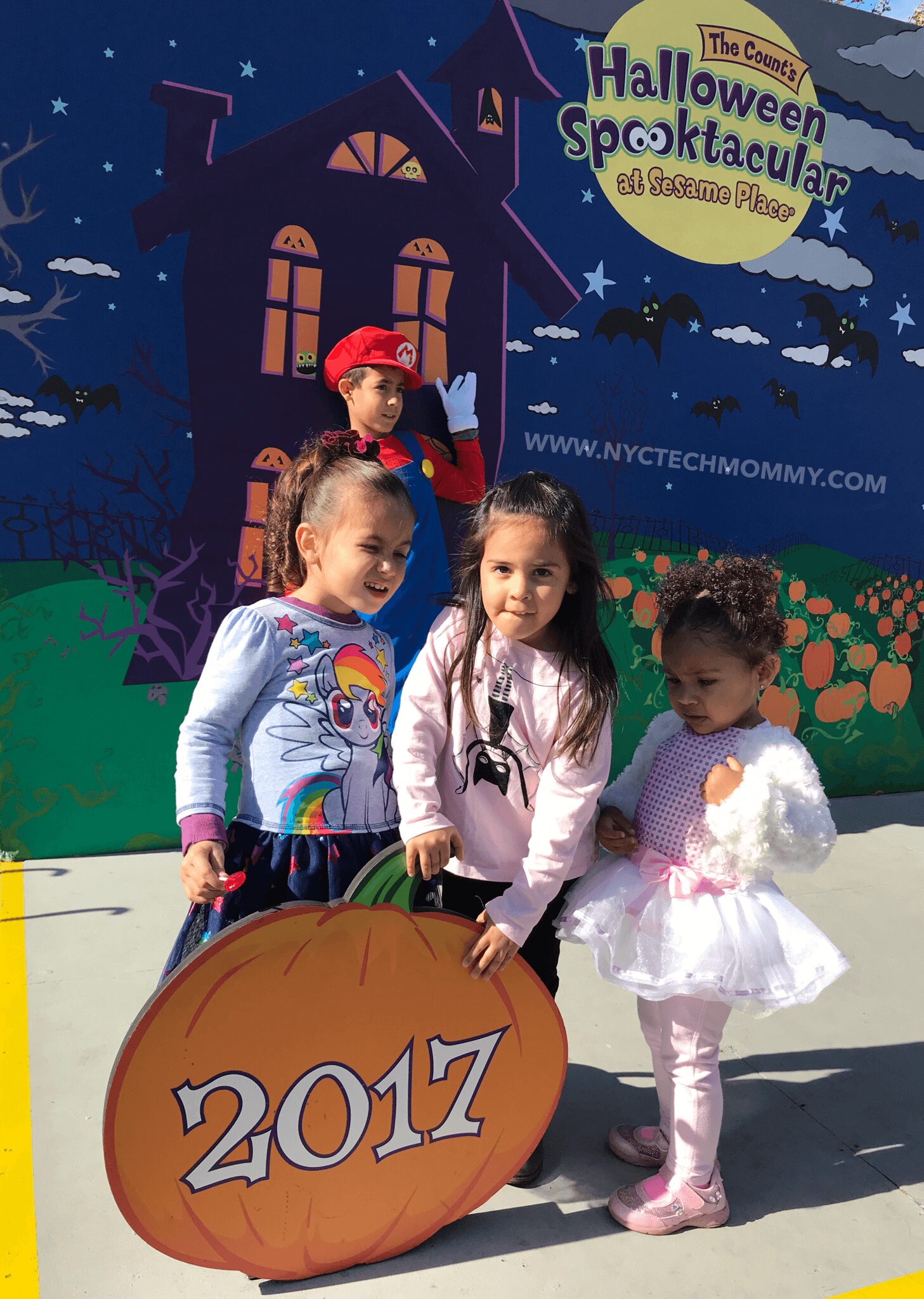 Trick or Treating
Don't forget to wear your costume and bring your trick-or-treat bag! The park will have trick-or-treating stations set up throughout the amusement park — kids can pick up tasty treats like fruit roll ups and bags of pretzels.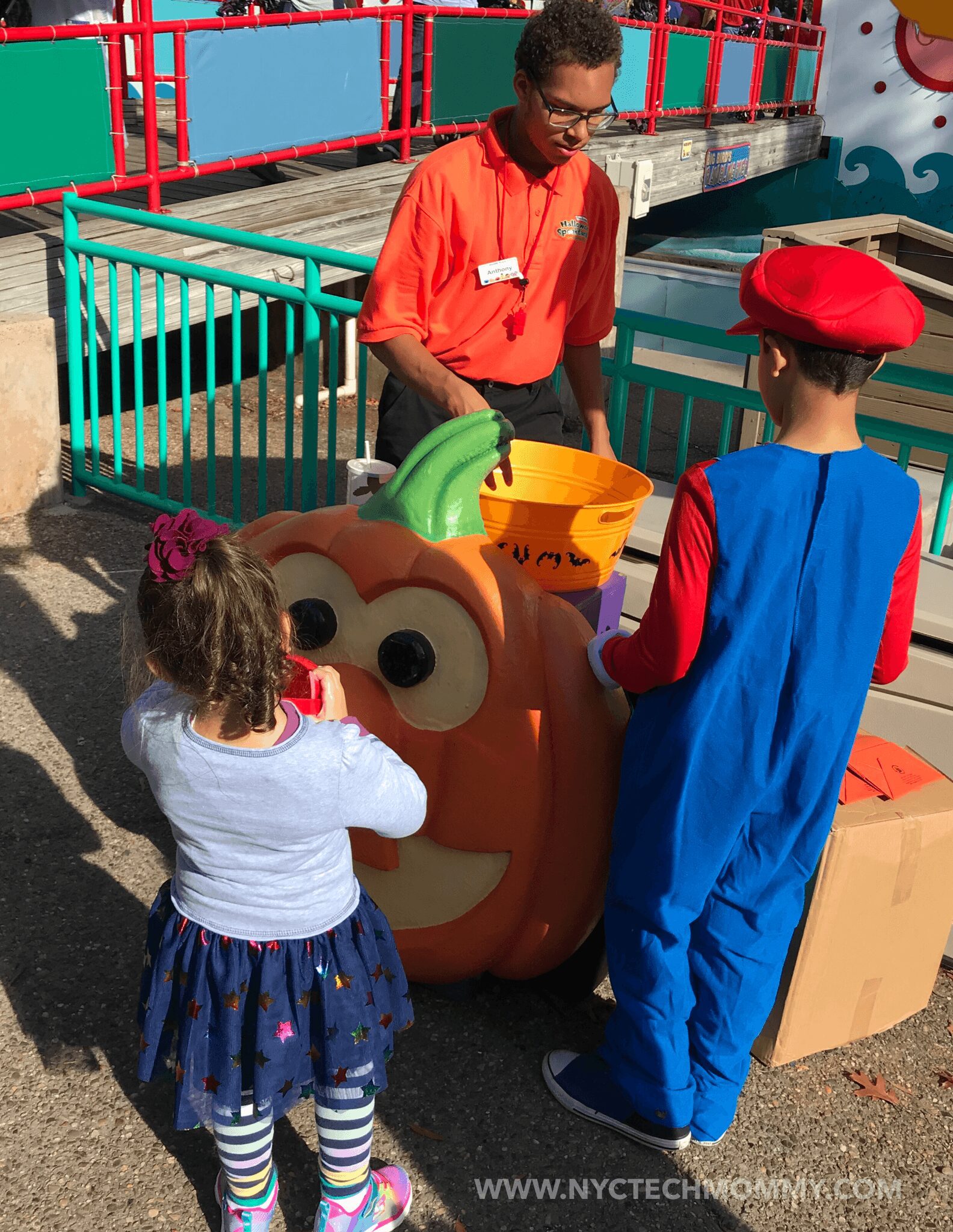 Count von Count Themed Rides
Once summer's done the Count's Splash Castle area closes and turns into a Count von Count amusement area. Here you'll find Count themed decor and special Count von Count-themed mechanical rides like The Count Around ferris wheel, The Count's Fly By, and the Castle Swing.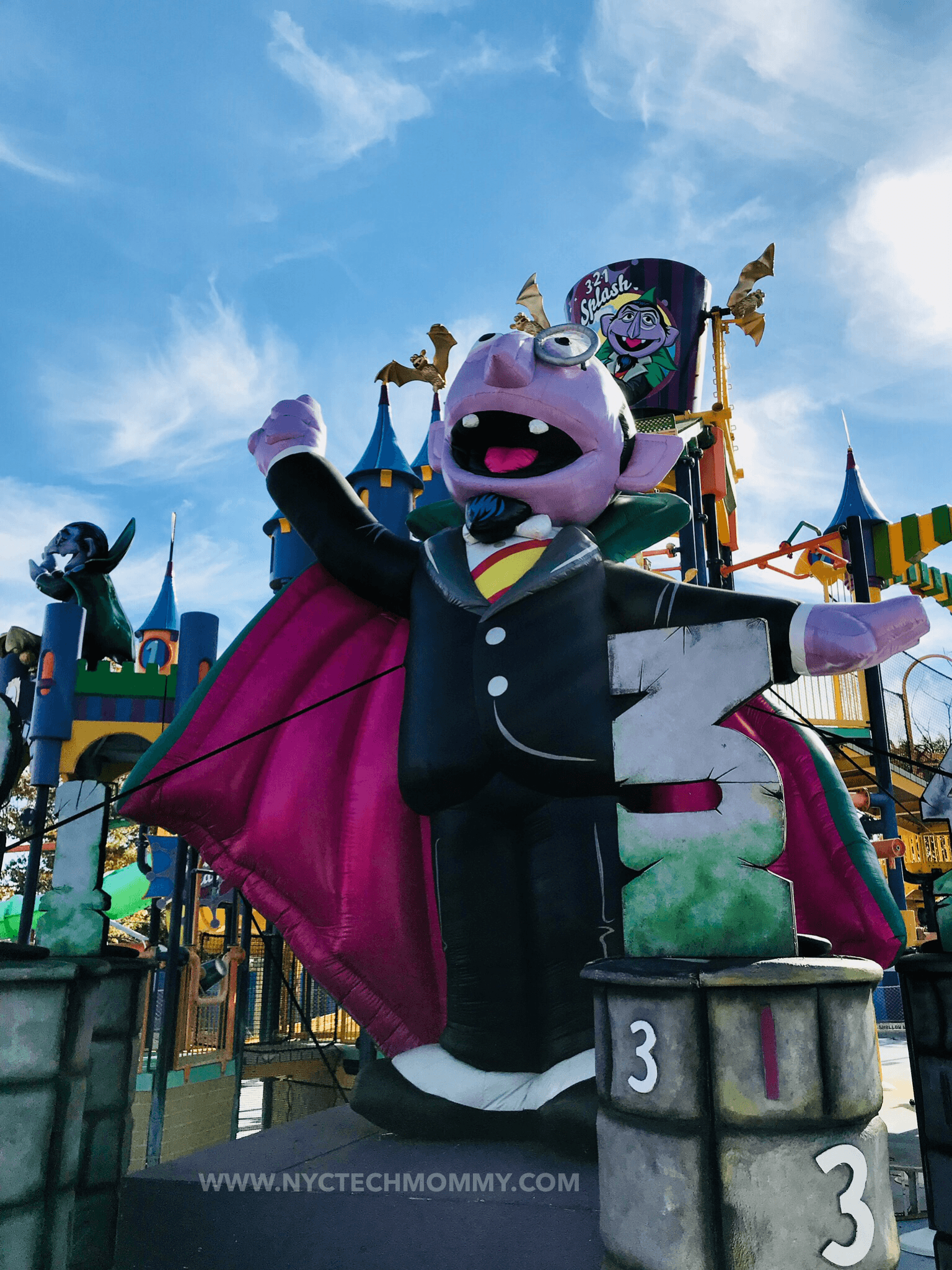 I think the count knew we were celebrating baby girl's birthday since the number of the day seemed to be 3! Ha!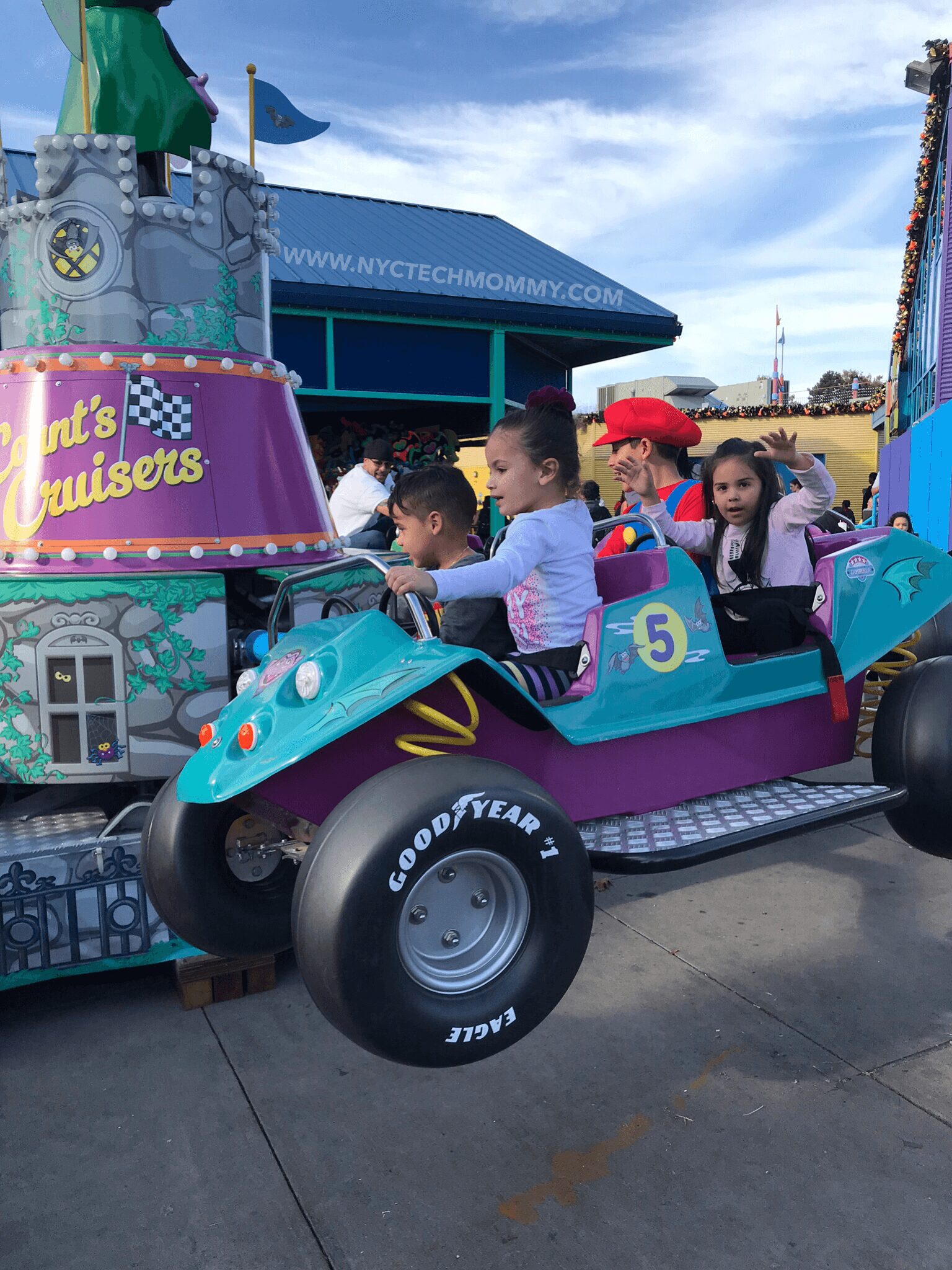 The Neighborhood Street Party Halloween Parade
The Neighborhood Street Party Halloween Parade is loads of fun! It features ten fantastic floats all decked out for the season with music and dancing that will have the entire family joining in the fun. The parade also features fun Halloween performances including trick-or-treating, dressing in costume and doing the "Jack-O-Lantern Jump"!  There are 2 parades throughout the day. The first one is in the early afternoon, usually at 4PM. We prefer to stay for the night time version that happens at 7:30PM. We love the not-too-spooky Halloween-colored lighting!
Parade Viewing Tip: Families will begin lining up to see the parade way before it begins. To secure a good spot you will probably want to head on over to the parade route on Main Street at lease 30 minutes (on busy days, as much as an hour) before the parade begins. Bring a blanket or two to set up on the floor once you are ready to claim your spot. Look for the circle markers on the floor along the parade route that indicate the street's edge where guests can sit or stand to watch the parade. Since we stay for the evening parade we usually will choose a spot closest to the main entrance to make a quick exit and beat the crowds once the parade is done. Sesame Place closes once the parade ends.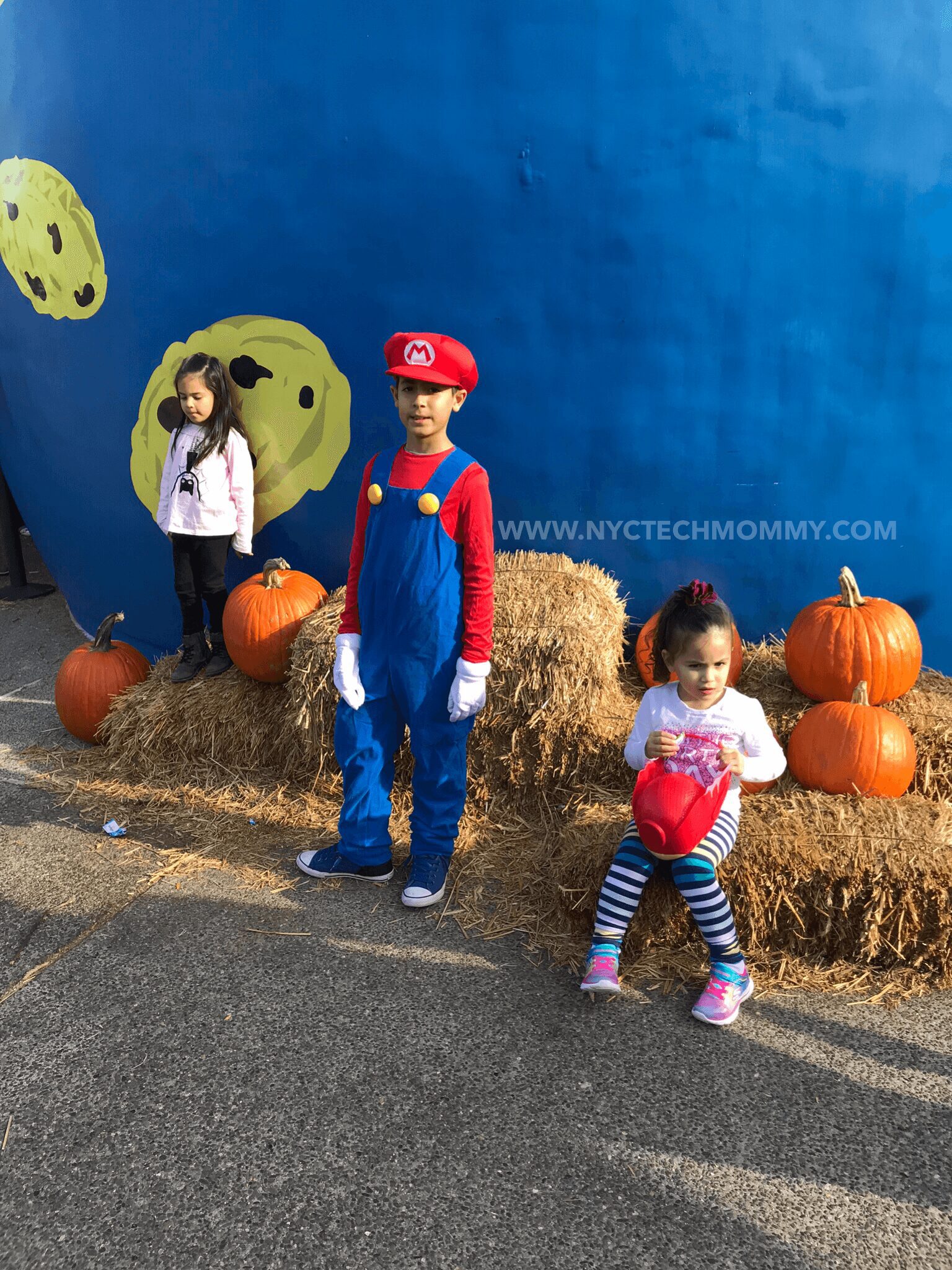 Fun Dinning Options
The park offers several dinning options, including character dinning and a Halloween themed luncheon with the Count and friends. If you are interested in character dinning (which sounds really fun) make sure to make a reservation far in advance. I tried to do this the night before our visit and it was totally sold out. #momfail
There are 5 dinning areas or restaurants scattered around the park. Many offer different character themed treats based on which character the eatery is themed after. For example, at Cookie's Cafe you'll find blue Cookie Monster cupcakes. Cookies and other crunchy treats are available at Cookie's Sometimes Anytime Food Market (located inside the giant blue cookie jar in Cookie's Monster Land).
Each dinning location offers a different menu so make sure to check Sesame Place restaurants and their menus before you go! We decided to enjoy lunch (and cupcakes) at Elmo's Eatery.
Elmo's Eatery
Elmo's Eatery is the largest restaurant at Sesame Place. It provides fast, casual table delivery service in a bright, colorful interior. It's located right by the Sunny Day Carousel and around the corner from Elmo's Theater. Since we couldn't get character dinning, we opted to have our meal at Elmo's Eatery because Elmo cupcakes — I thought they'd make the perfect treat to celebrate my little cupcake monster's birthday!
Baby girl loves cupcakes and because it was her birthday I gave into letting her have her cupcake before even eating her meal. Once she saw the cupcake she just had to have it! And to avoid the melt-down I just gave in.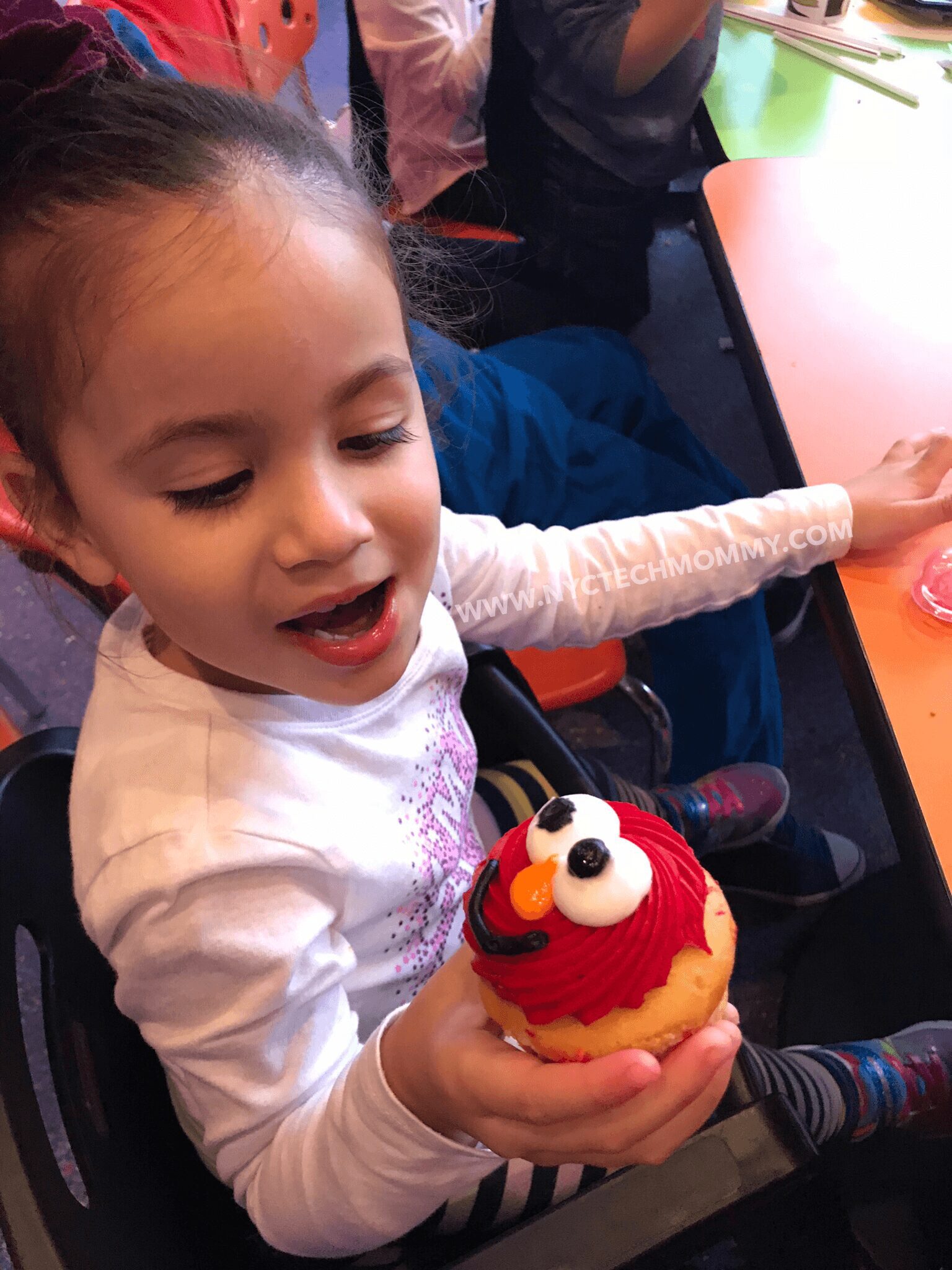 The food is a bit over priced so skip dinning at the park if you are trying to keep your visit light on the pocketbook. We spent a total of 60 something dollars on 4 meals (2 kids and 2 adults) and 5 Elmo cupcakes (I bought one for each of the kids). Needless to say the Elmo cupcakes were a huge hit with the kids! The price, not so popular with my pocketbook.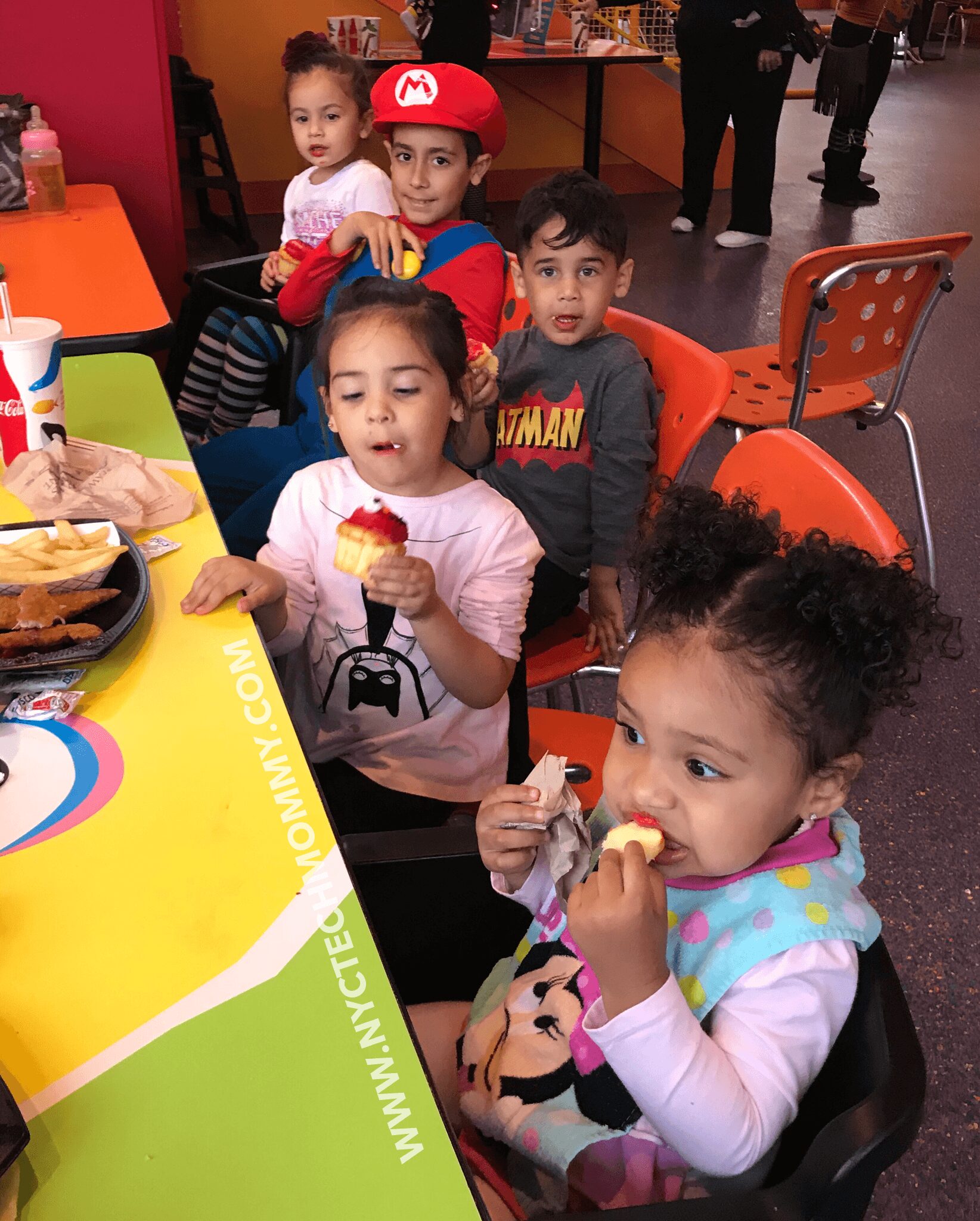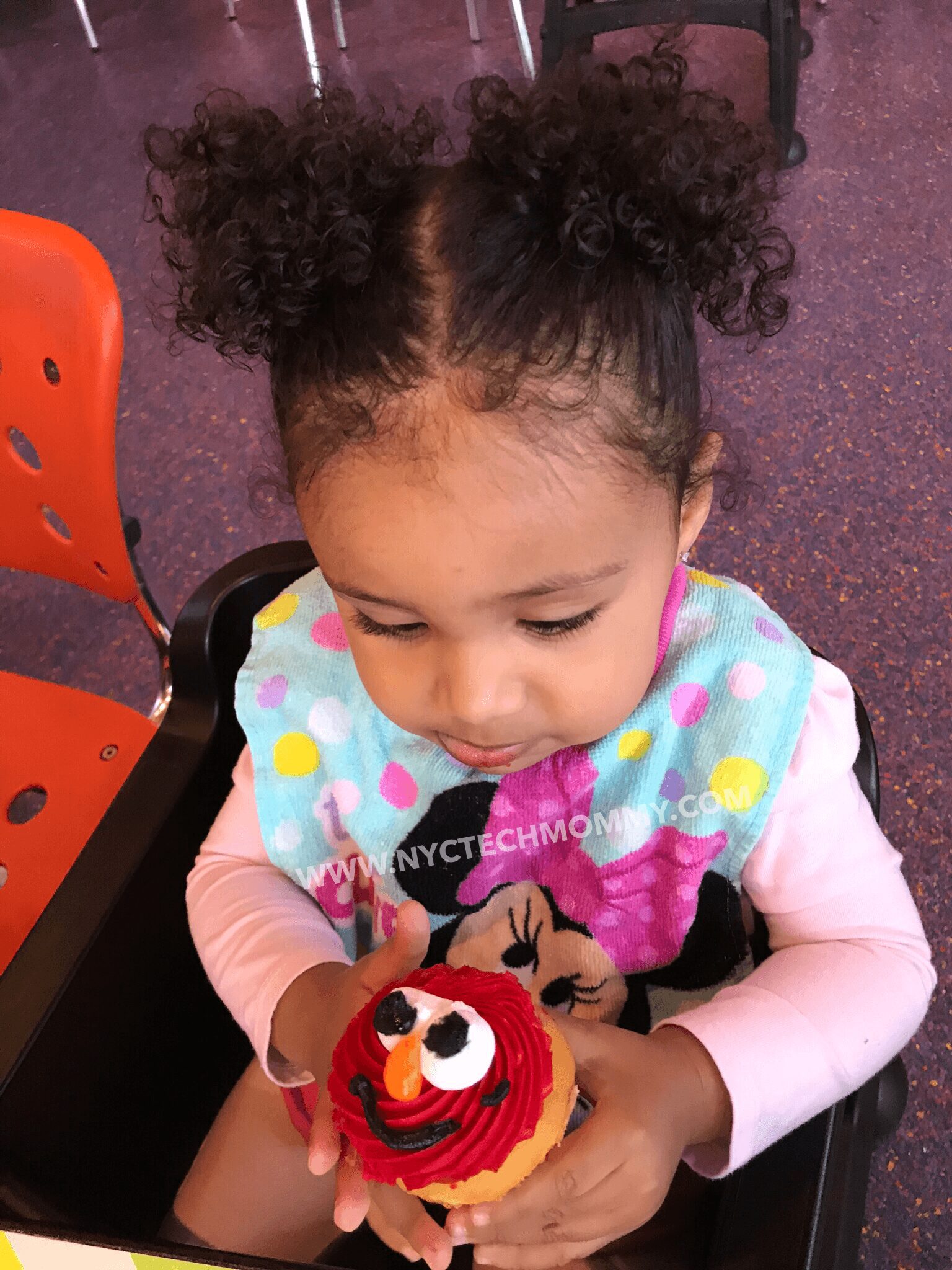 To give you an even better idea on pricing and the food options here, a kids meal will cost about $9 or $10 and includes foods like pizza, hot dog, or chicken tenders, french fries as a side, an apple sauce, and a kids drink. The kid's get their meal served on a keepsake Sesame Street plate. At different times during the season this eatery may offer Elmo themed plates (and cookie monster plates at Cookies' Cafe). Our kid's meals also included at Count's Halloween Spooktakular re-fillable take-home plastic cup which was nice and made me feel like I was getting a bit more for my money.
An adult meal will cost you in the range of $13 to $15. Choose from the usual pizza, hot dog, or adult chicken tenders (the portion is larger), or more adult options like a tomato and mozzarella sandwich, or a chicken sandwich. Other adult offerings include mozzarella sticks and a chopped salad.
Tips for Savings
You are allowed to bring in a small cooler into the park. And since there are also picnic areas with tables located near the parking lots, you can leave larger food items in your car until it's time for lunch. If you are looking to save, bring your own lunch!
Another way to save and still have meals at the park is by purchasing a Sesame Place Groupon. Other family members that came with us purchased a two-day park admission Groupon that included one meal coupon for just a couple of bucks more than what they you would have paid for the same tickets at the park (minus the meal).
You should also know that a two-day park ticket costs just about the same price as a one day ticket so you are better off getting the two day tickets and here's why.
We like to purchase a two-day ticket and use it to return to the park later in the season. If you purchase these tickets during The Count's Halloween Spooktacular, you can return to the park later during winter to check out A Very Furry Christmas. In previous years we've also purchased our tickets for summer visits to Sesame Place and then used our second ticket for either the Count's Halloween Spooktacular or to visit during A Very Furry Christmas. Last year we used our second ticket to visit on new year's eve and check out the New Year's Eve Fireworks.
Tips for Having a Spooktacular Time
There was no way you could possibly squeeze in everything there is to do during The Count's Halloween Spooktacular into one day. You will however want to make sure snap a couple of pics with your favorite furry friends in their costumes. There are several character photo options — you can find furry friends scattered around the neighborhood, on Main Street, and at the 1-2-3 Smile with Me photo station at Cookie's Monster Land.
The not-so spooky Halloween decor scattered around the park also makes for great photo ops.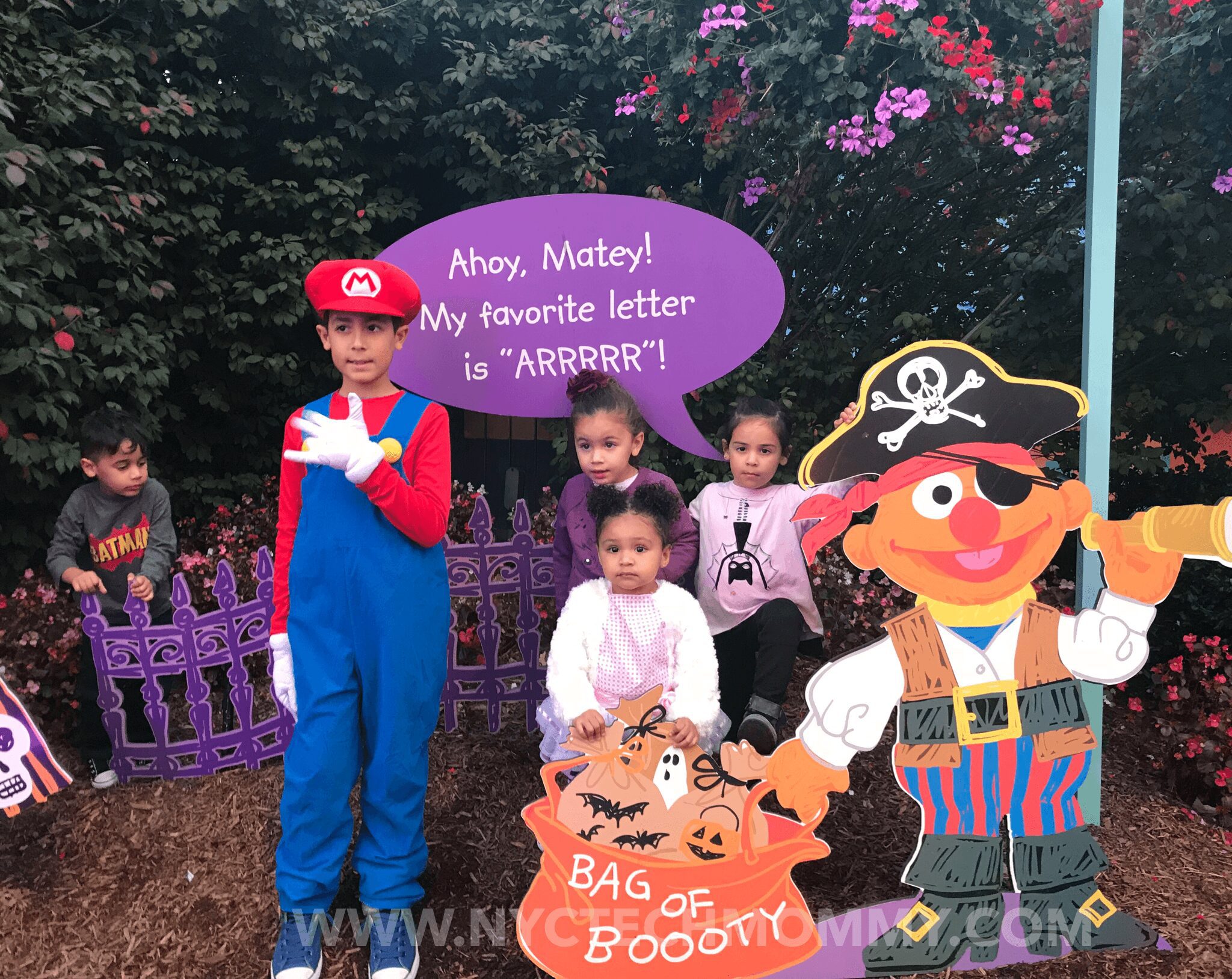 To ensure a Spooktacular time make sure to bring the kids' costumes, although most of our kids ended up stripping them off as soon as we arrived. Don't forget to hit up trick or treat stations. And last but not least, try to go with the flow. The crowds can be overwhelming and you won't get to do it all. And that's okay!
Since the lines were especially long on the day we were there, we tried to avoid them the best we could. We only let the kids pick a couple of rides they really wanted to go on. They choose the Count's Cruisers, The Count's Guess Who Express train, and the Sunny Day Carousel (of course).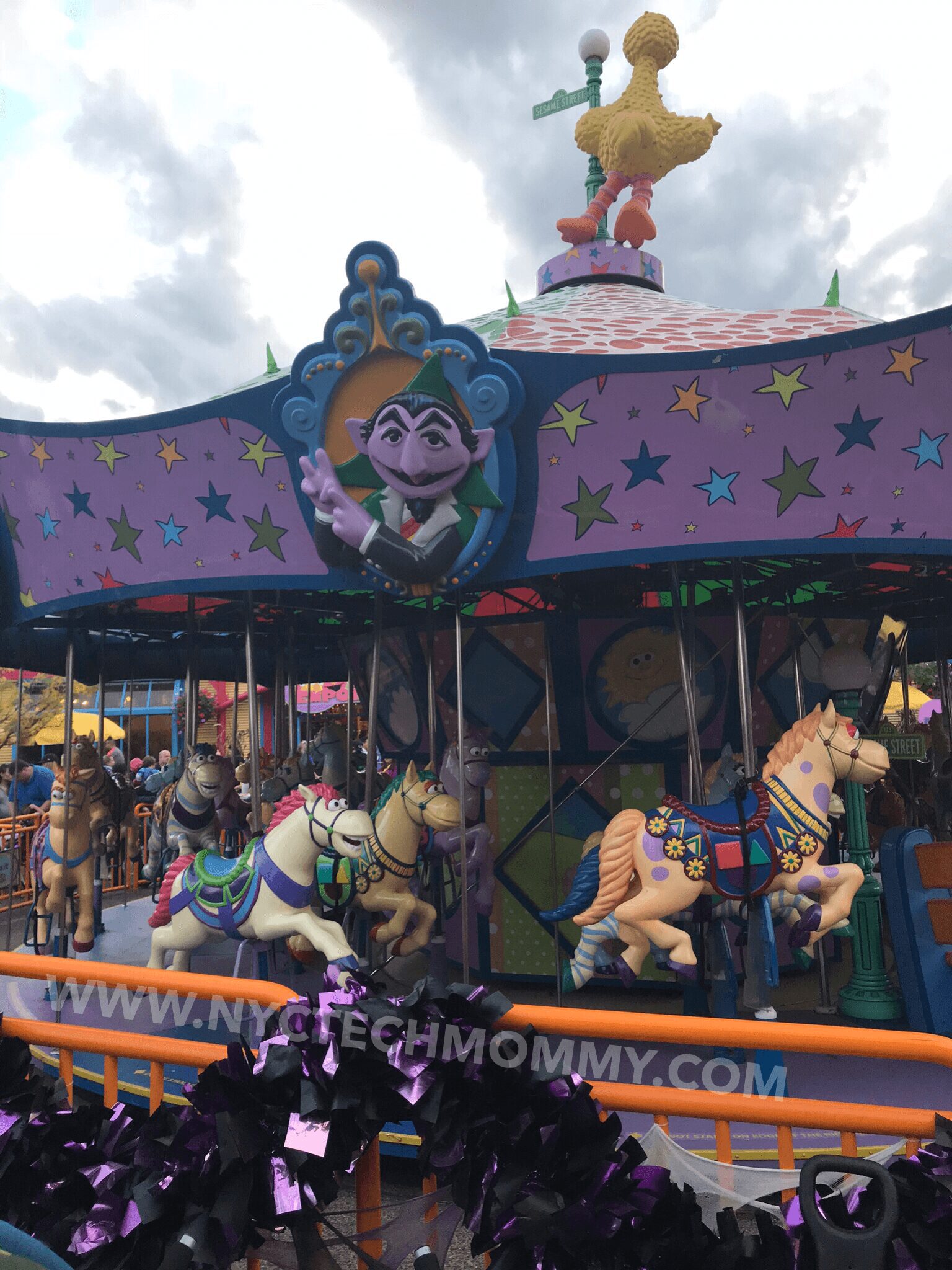 Once we felt a bit tired (and overwhelmed by the big crowds) we hung out at the Monster Clubhouse at Cookie's Monster Land. This is a big sky-high net play area for big kids. A smaller play area for younger kids is right below it. There are no lines here and picnic tables and ample seating (in the smaller kiddie area) is available for parents to take a load off. The kids had fun burning some energy here and us grown ups enjoyed the break!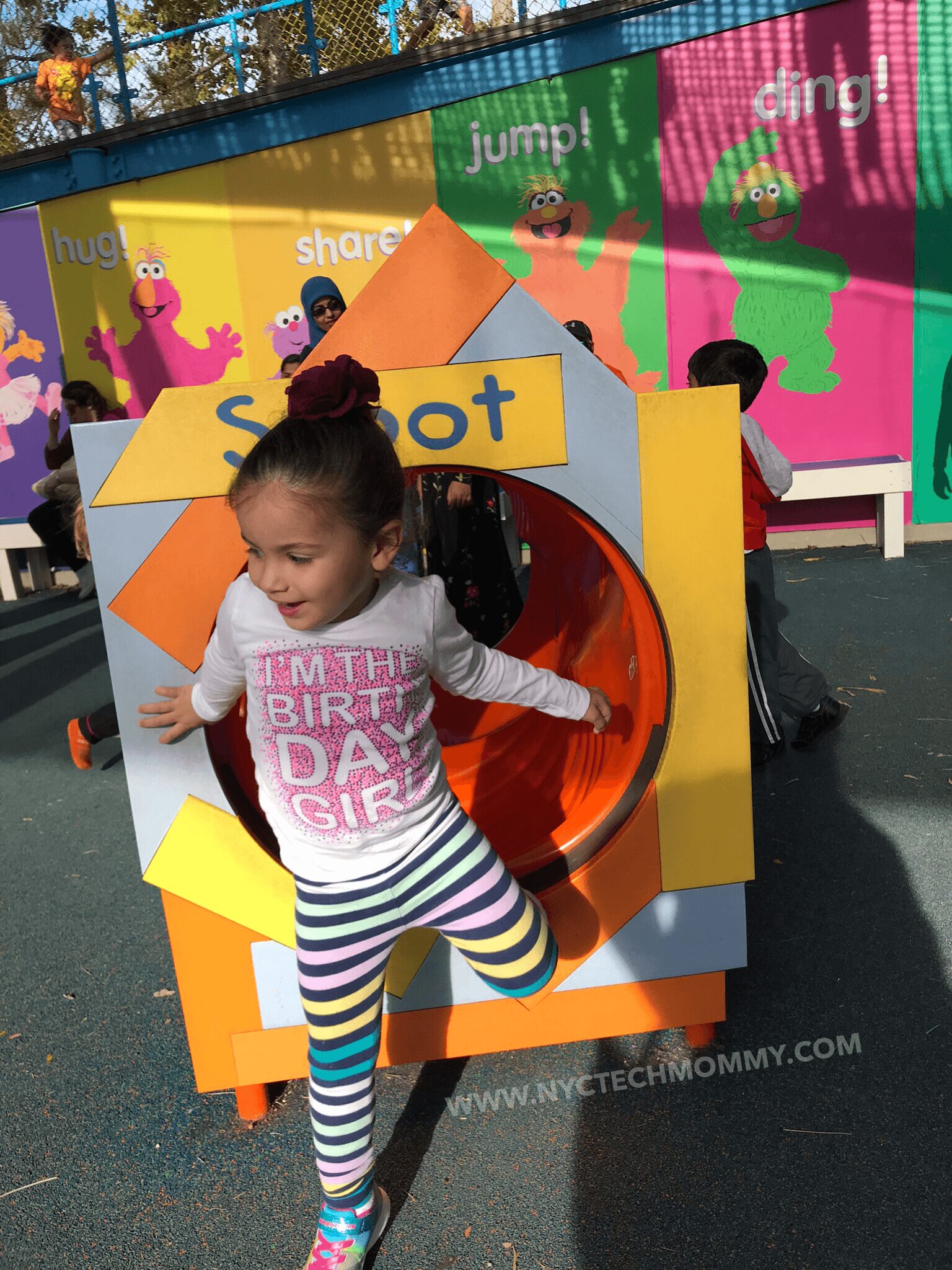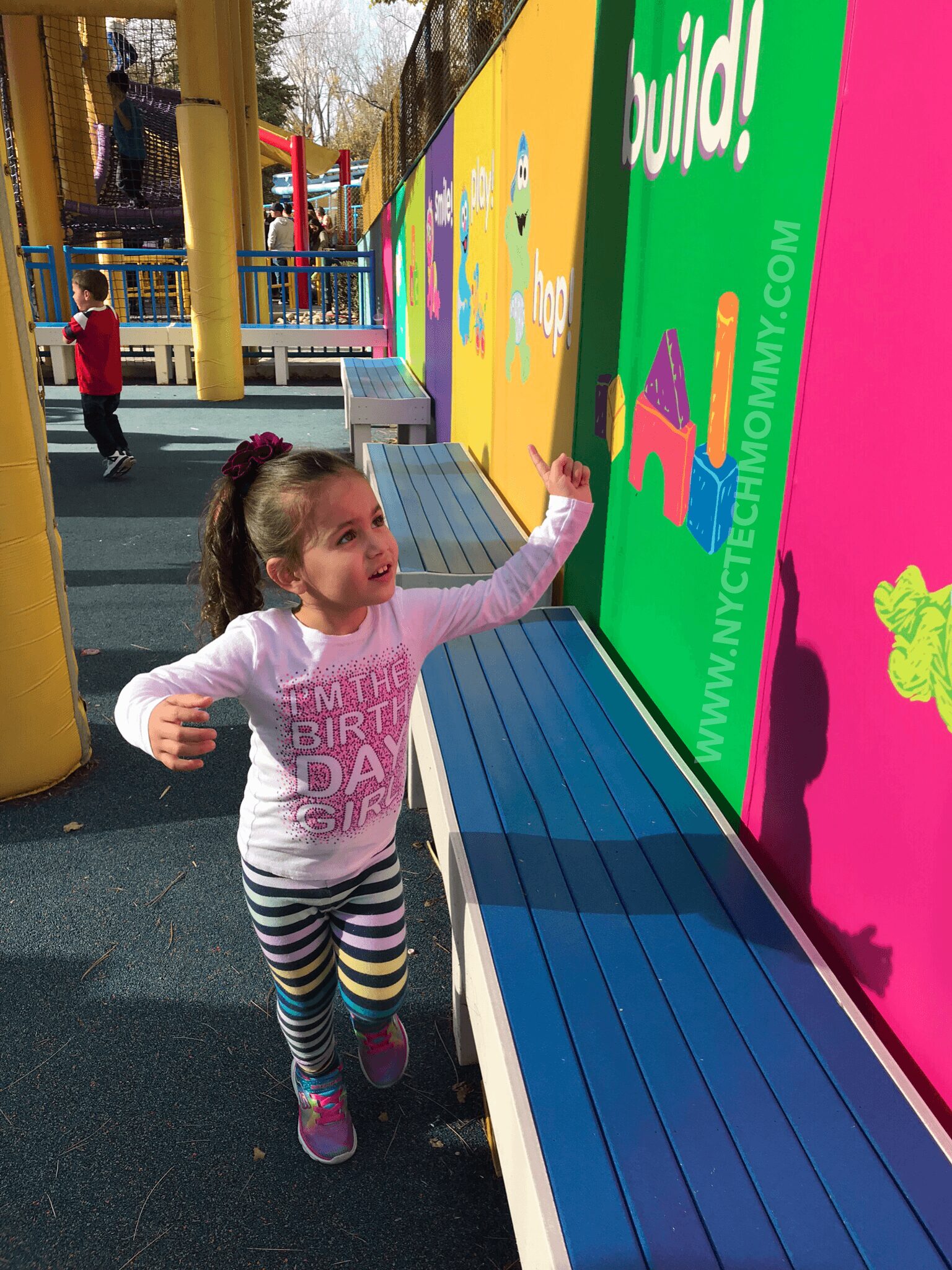 A visit to Sesame Place and enjoying The Count's Halloween Spooktacular was the perfect family-fun way to celebrate baby girl's 3rd birthday!
Have you visited Sesame Place? Do you have your own great tips for a visit to Sesame Place? Share them with us in the comments section below.
You May Also Like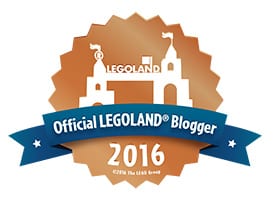 April 15, 2016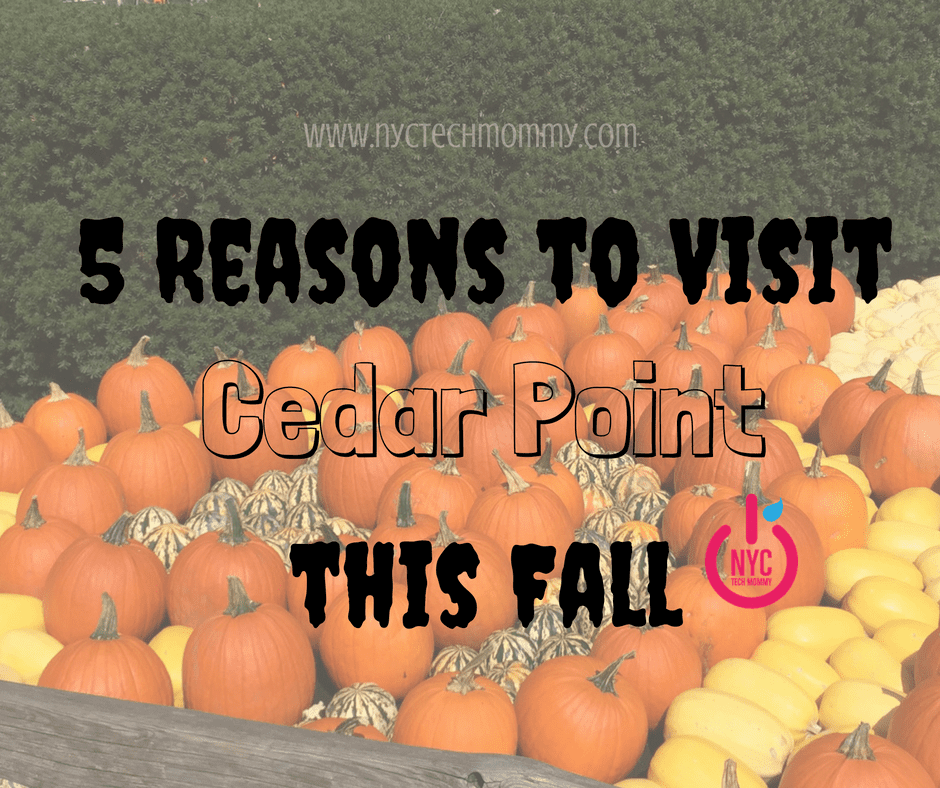 September 14, 2016