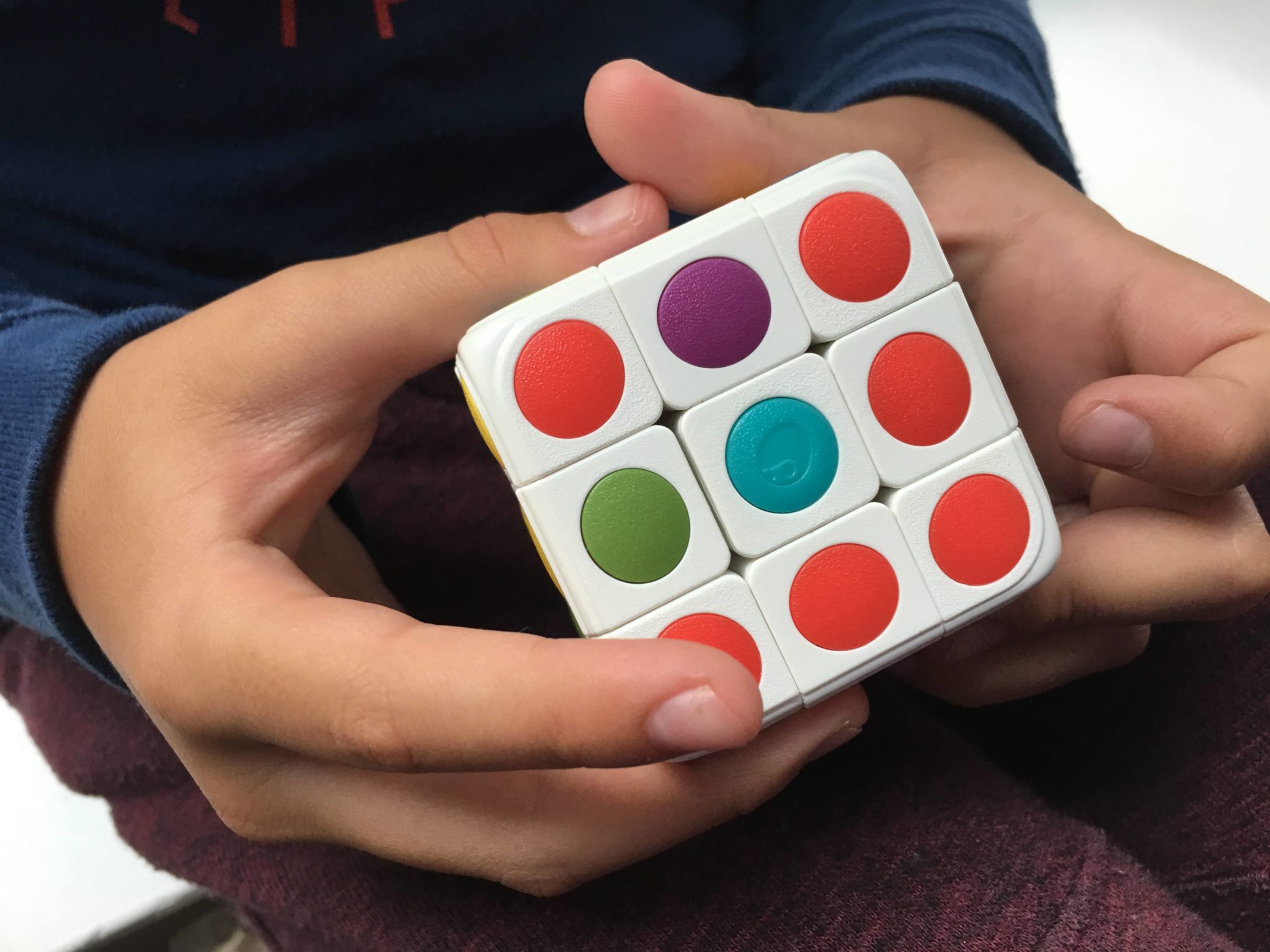 Cube-tastic! Now You Can Enjoy Solving the Rubik's Cube
Finally… now you can enjoy solving the Rubik's Cube, like never before! Today I'll tell you all about Pai Technology's reinvented 3D puzzle cube. It's called Cubetastic! and comes with a companion 3D Augmented Reality app that will have you whizzing through this puzzle like a pro!
We recently got to test out Cube-tastic! for ourselves. I must tell you we were quite impressed. Not only by how easy it was to solve this Rubik's Cube-like 3D puzzle cube but also by how much fun we had doing it!
Wouldn't you love to finally solve the Rubik's Cube once and for all?
Big thanks to PaiTechnolgy for providing us free product to facilitate this review and for sponsoring our Cube-tastic! giveaway. As always, opinions are my own and I only share what I love and think you will too!
THIS GIVEAWAY HAS ENDED BUT YOU CAN STILL READ ON TO LEARN MORE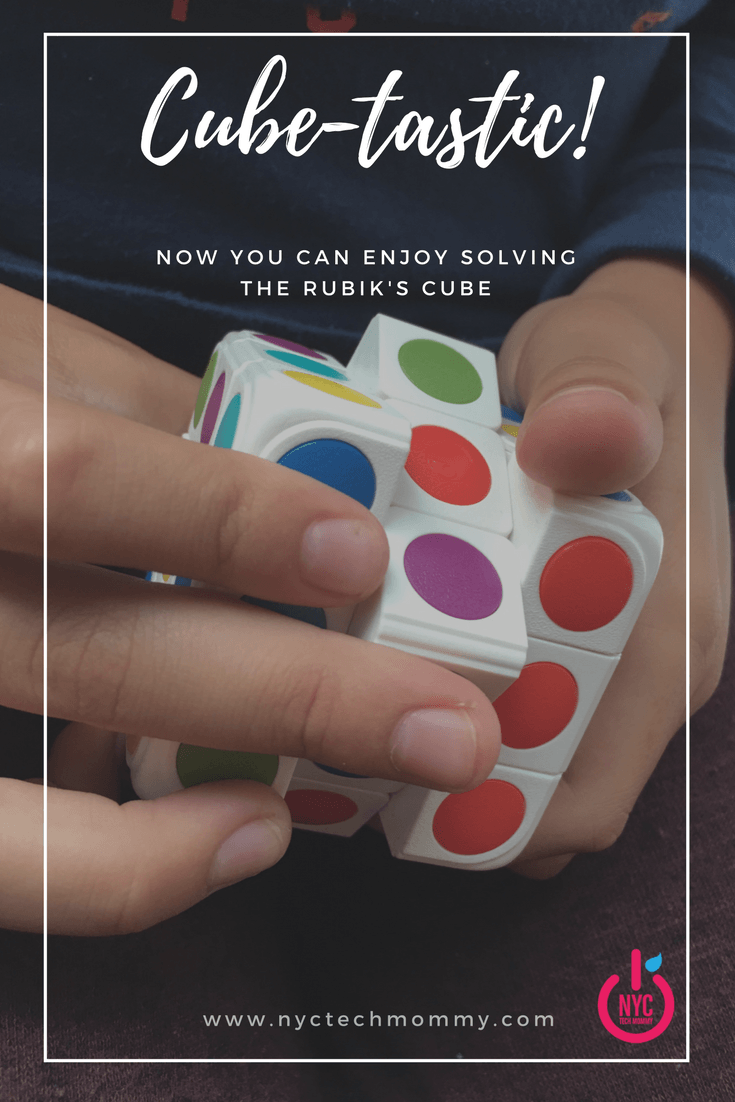 And don't forget to pin this because you'll want to find it next time you need to buy a really cool gift for the kid in your life. Trust me!
Now You Can Enjoy Solving the Rubik's Cube, Like Never Before!
If you're an 80s kid like me, I'm sure you'll recall the frustration you felt trying to solve the Rubik's Cube. You probably spent countless hours as a kid trying to solve it! Right?
Well, I brought Cube-tastic! home and my kiddo was able to solve this cube in a matter of minutes. Mind you I spent my entire childhood trying to solve the Rubik's Cube… and never did! Did you?
Thanks to the power of 3D Augmented Reality, Cube-tastic! combines the virtual and real world to teach kids how to solve a puzzle cube. The companion app gives kids access step-by-step tutorials and challenges that stimulate the brain and help kids master skills like never before. What's great is that Cube-tastic! enhances problem-solving skills, improves memory, and develops eye-hand coordination as kids work through the puzzle.
Watch this video to see Cube-tastic in action! Then read on to learn more about this reinvented 3D puzzle cube and how it works with the Cube-tastic app!
Cube-tastic isn't Your Mom and Dad's Rubik's Cube
As soon as you open the packaging you'll notice that this puzzle cube doesn't look exactly like the traditional Rubik's Cube you grew up with, although it is solved using the same problem-solving principles.
Cube-tastic! is a 3 x 3 cube puzzle with 6 sides, each side is made up of 12 cubes with colored circles. One of six different colors appears on each side.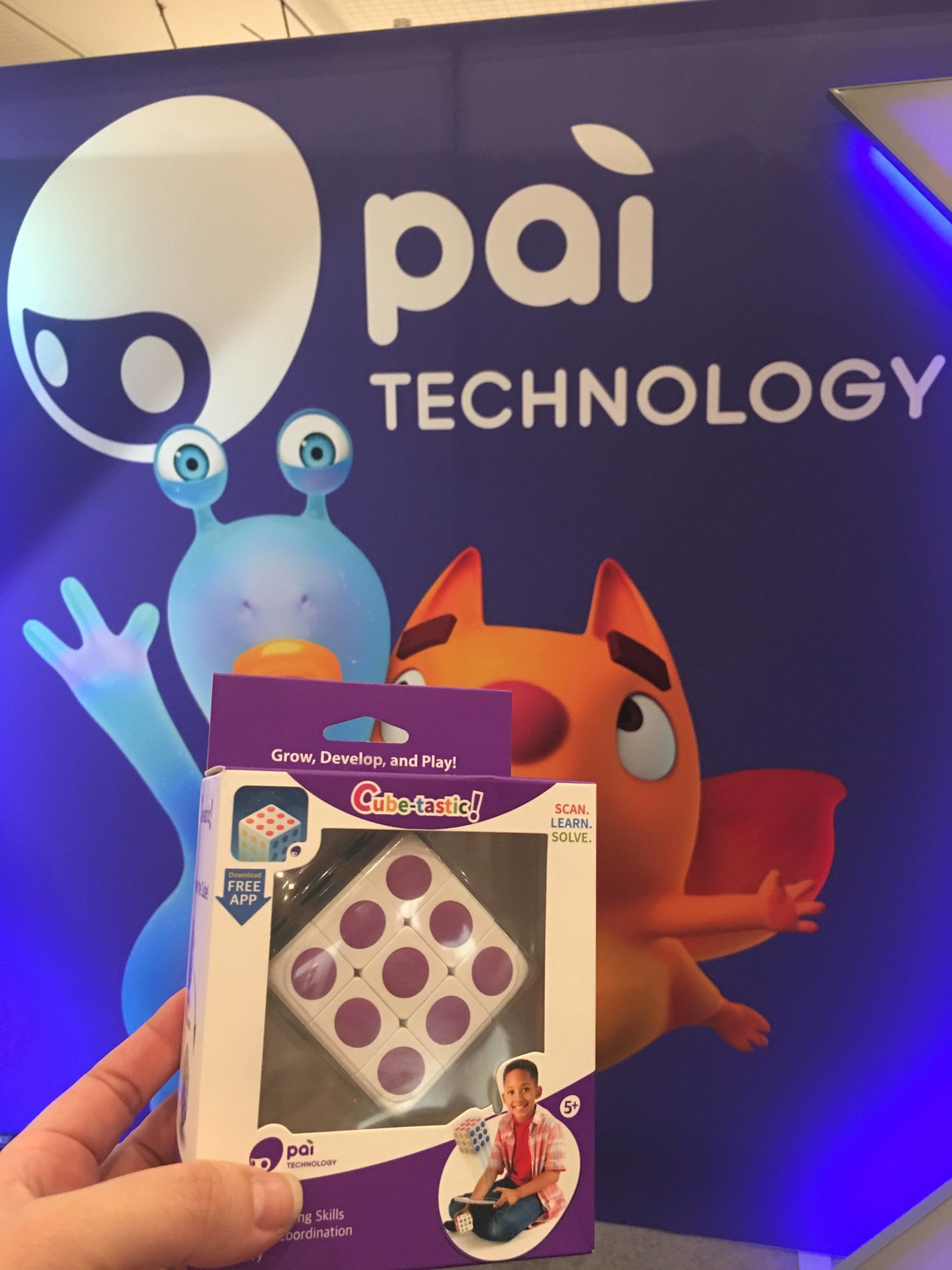 You'll also immediately notice that unlike the Rubik's Cube, the Cube-tastic! cube is largely white and the color on each square is actually a lightly textured plastic circle piece, not a sticker.
This unique puzzle cube also includes a great design — smooth edges that are perfect for little hands. It's also made with safe, non-toxic, BPA free, durable materials! And as soon as you open your Cube-tastic! box you'll notice how smoothly the segments move and how pleasantly unique and tactile this cube feels.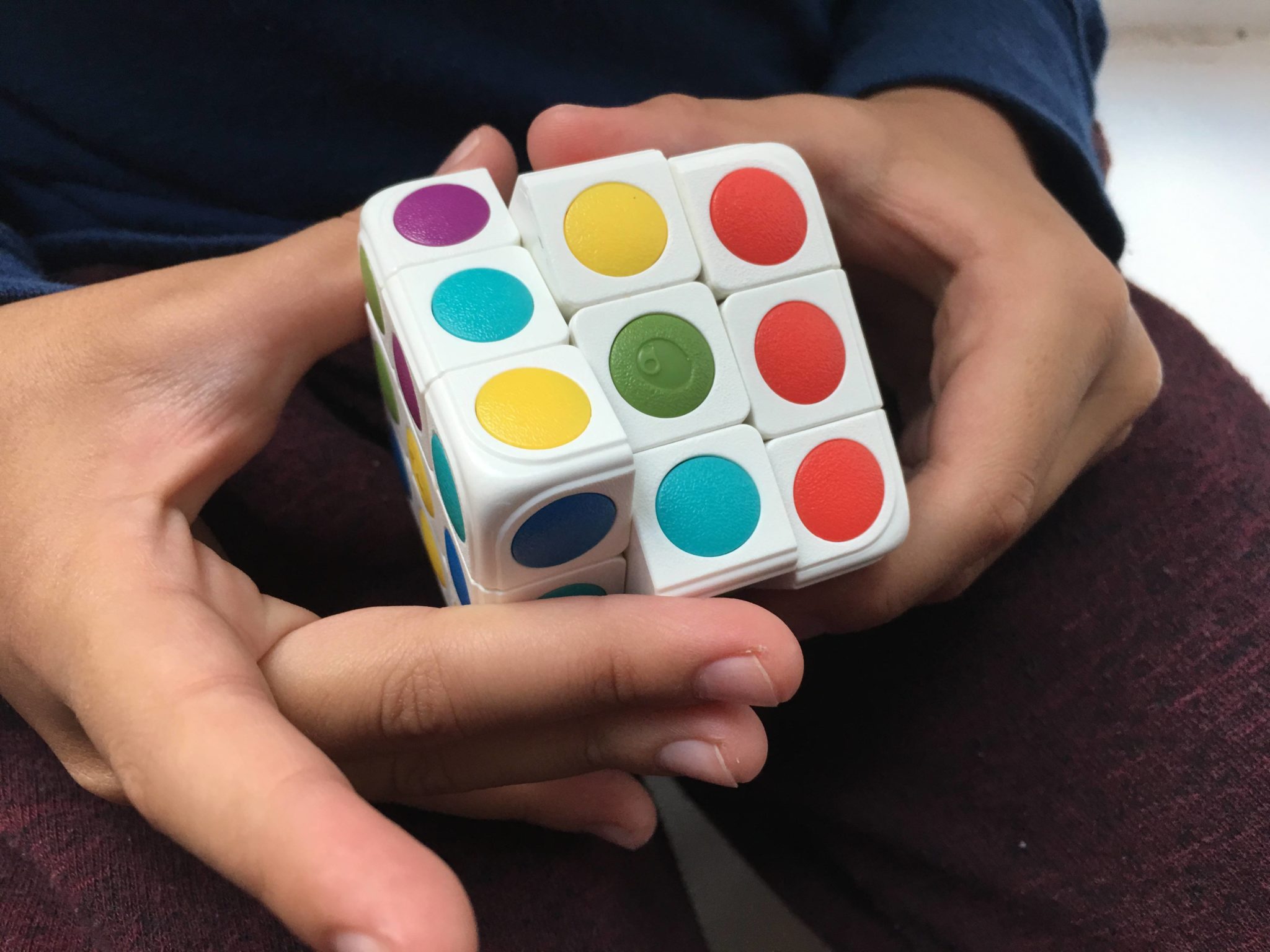 You can snatch up one of these fantastic cubes for your puzzle-loving kid on Amazon via our affiliate link (we might receive a small commission but it won't affect the price you pay). Cube-tastic! is suggested for kids ages 3 and up although I find it most ideal for kids between ages 7 to 9.
It's also great for any big kid (yes mom and dad, I'm talking to you) who wants to finally learn to solve a Rubik's Cube. Cube-tastic! really is a fun way to master one of the greatest puzzle challenges of all time! Whether you're looking to just get it solved once and for all! Or maybe you're interested in finally cracking into the thinking process behind the solution? Either way, now you can enjoy solving the Rubik's Cube with Cube-tastic!
Become a Pro with Cube-tastic!
As you move into using the Cube-tastic! companion app you'll appreciate the countless combinations that will help exercise both eye-hand coordination and brain function. What's also nice is that as you get better at solving this 3D puzzle cube, you can level up for less help in solving it.
The goal of the game is to eventually become so good at it that you'll solve the cube without any help. It's the perfect way for kids to work on critical thinking, sequencing and puzzle solving skills while having a good time and building self-esteem, ultimately becoming successful at solving the cube all on their own. Oh, how I needed this when I was a kid!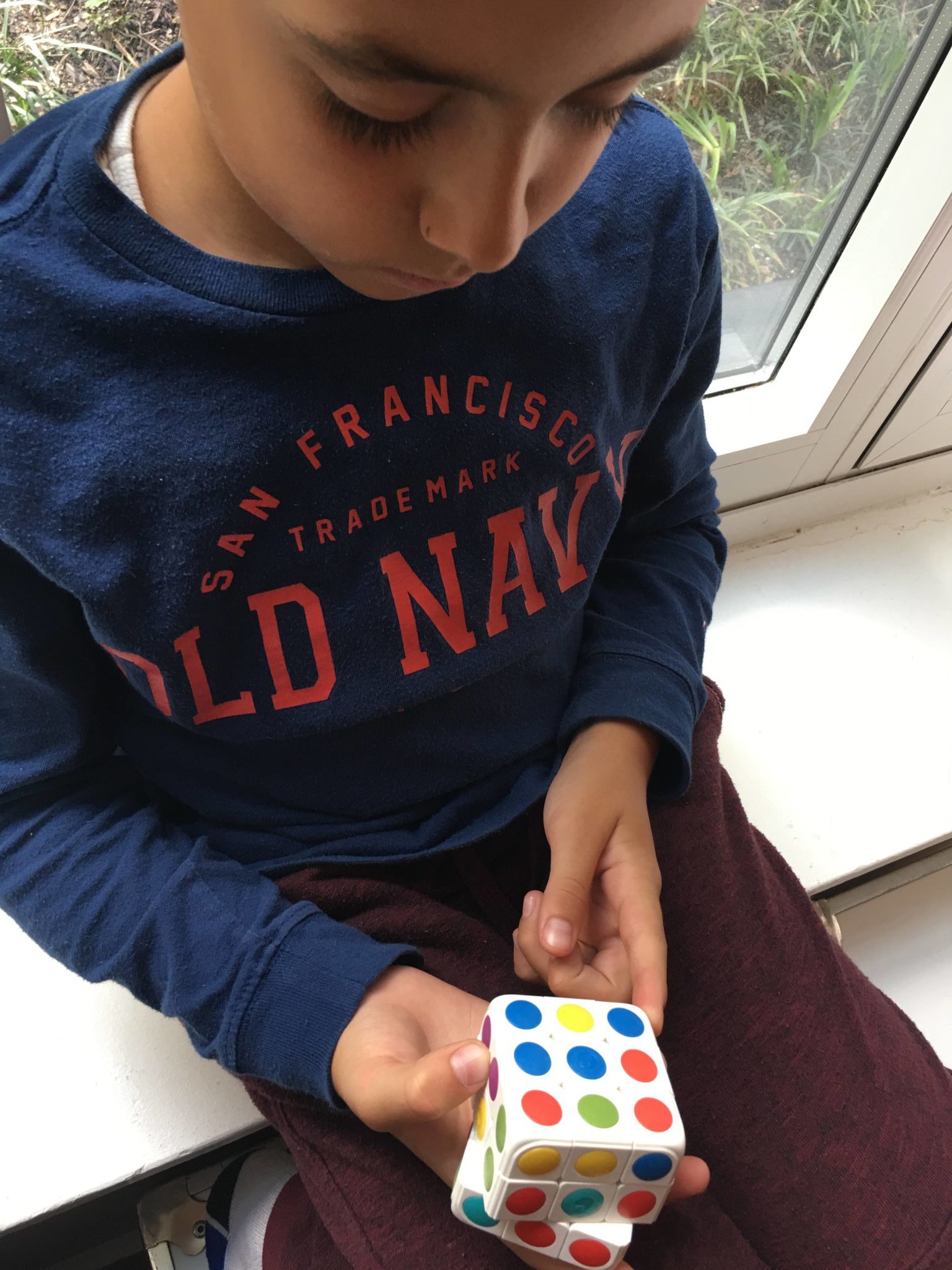 Solving the cube really is fun for all ages!
[Tweet "I spent my entire childhood trying 2 solve the #RubiksCube! Now @PaiTechnology helps kids solve it like never before! #AR #TechToys"]
Using the Cube-tastic App
To get started you'll have to download the Cube-tastic! app available for iOS and Android.
The Cube-tastic! companion app will guide you to solve this reinvented 3D puzzle cube with step-by-step tutorials and challenges to help you master the skill. Start play by scrambling the cube, then use the front-facing camera of your device to scan each side of the cube.
The app will clearly guide you through the entire process. However, scanning the cube may get tricky for younger kids and they might need some adult help. Make sure to keep a steady hand and scan your cube under good lighting. Otherwise, the app may have a hard time recognizing all six sides and will possibly ask you to scan again. As you can imagine, this can get a bit frustrating for young players so keep in mind that initially, they may need a bit of your help. Once you have ensured good lighting, go ahead and use the front-facing camera on your device to scan each side of the cube as instructed.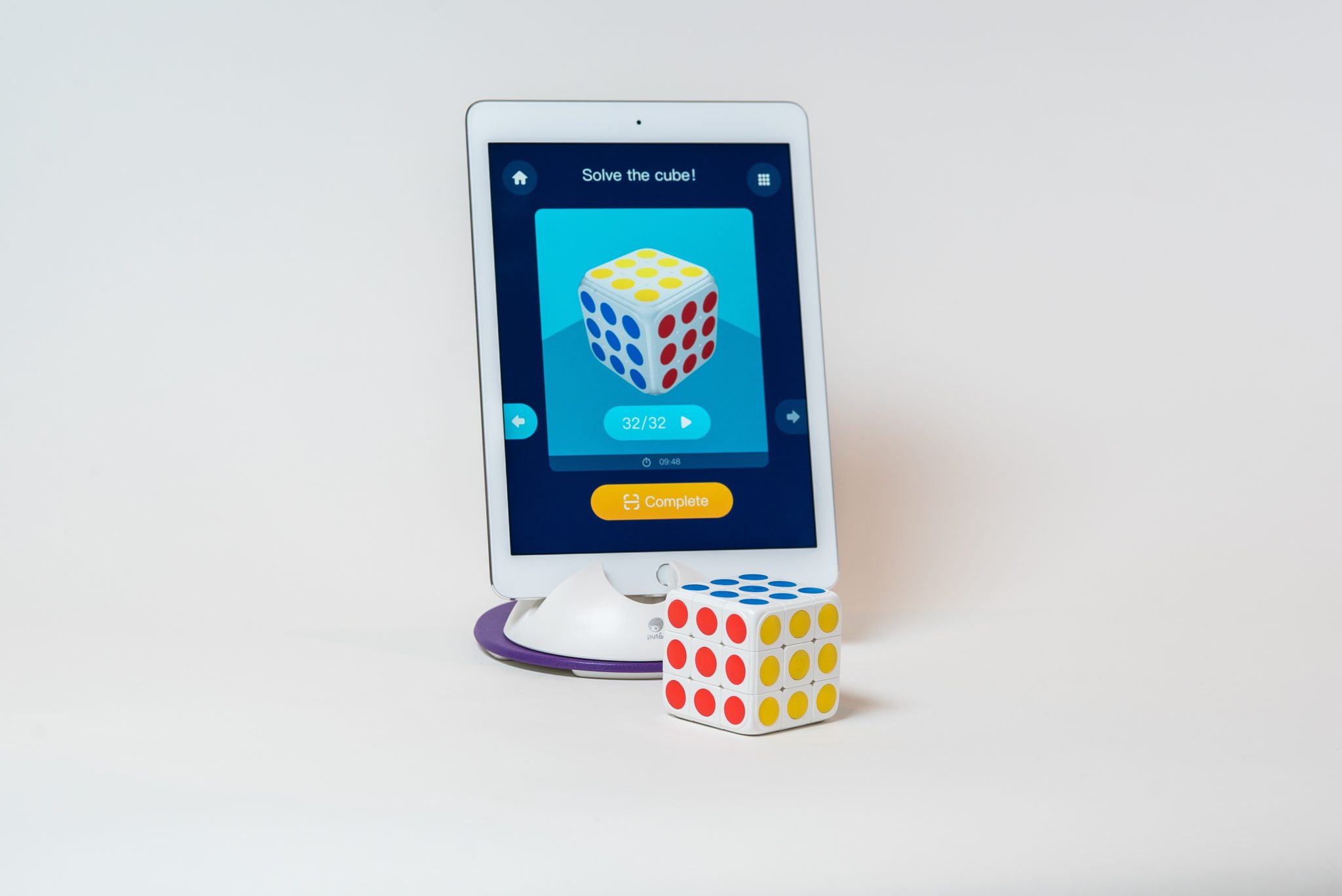 The "Play" mode takes you step by step through animations that will help you solve your own cube. This mode is timed, so move quickly because the quicker you get it done the better your award at the end of the game. You'll find several Trophies to unlock.
The app does include two modes — Play and Learn. Once you initially solve the cube in the "Play" mode, you'll unlock the "Learn" mode and here is where playing with this cube becomes really interesting and fun!
Playing Cube-tastic in "Learn" Mode
Once you have solved the cube for the first time you'll be able to access the "Learn" mode.
To begin you'll be asked to scan each side of your cube by turning it so that the colored circle shown in the middle of the cube on the screen is facing up on your cube. You'll be asked to do this six times, once for each side. Don't worry the app will guide you each step of the way!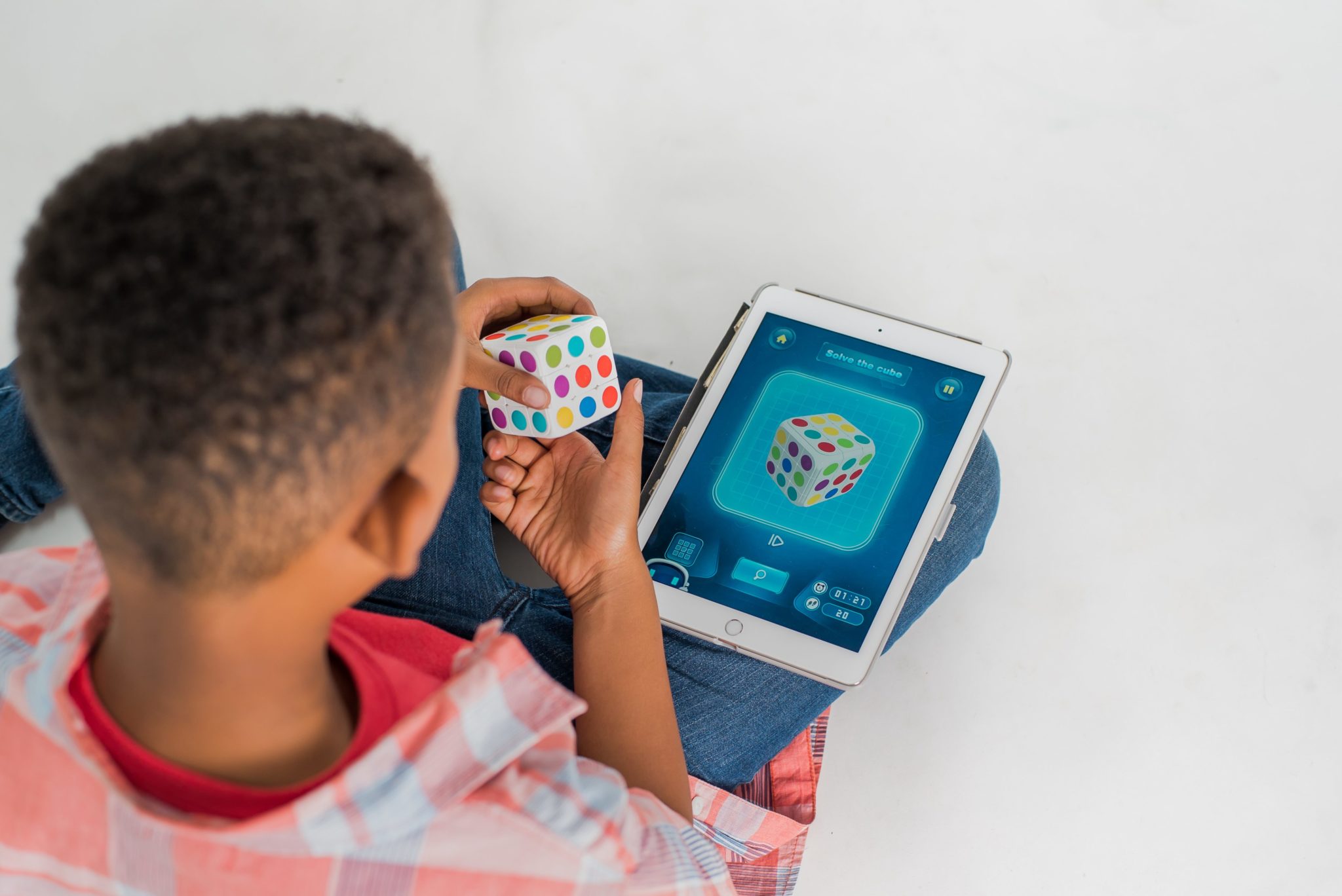 Next, comes the fun part; the app will guide you through the proper twists and turns to return your cube back to its original matching sides. You'll need to complete each stage to unlock the next. As you do this the app will show you several different options and you'll have to choose the one that matches your cube. From there just follow the instructions.
Once a stage is complete you will have to scan your cube again to verify that your cube looks like the one on screen and this will unlock the next step. After unlocking all steps, you'll be able to go back and practice any step in any order and now you can enjoy solving the Rubik's Cube!
Keep in Mind: Kids might find it a bit frustrating to follow some of the instruction on their own so remind them to be patient and provide a little parent support along the way. My kiddo did get a little frustrated a first (he's 8) but once he got the hang of it, he took off and no longer needed my help.
Why We Love Cube-tastic and Think You Will Too!
Solving this type of classic puzzle cube no longer has to be difficult and frustrating!
The Cube-tastic! 3D puzzle cube and it's companion app is a brilliant way to help kids develop problem-solving skills, hand-eye coordination, and critical thinking skills.
We also loved the tactile feel and design of this reinvented cube. The fact that the cube pieces turn so easily and have nice rounded edges makes it easy to play with and just perfect for little hands and big hands alike.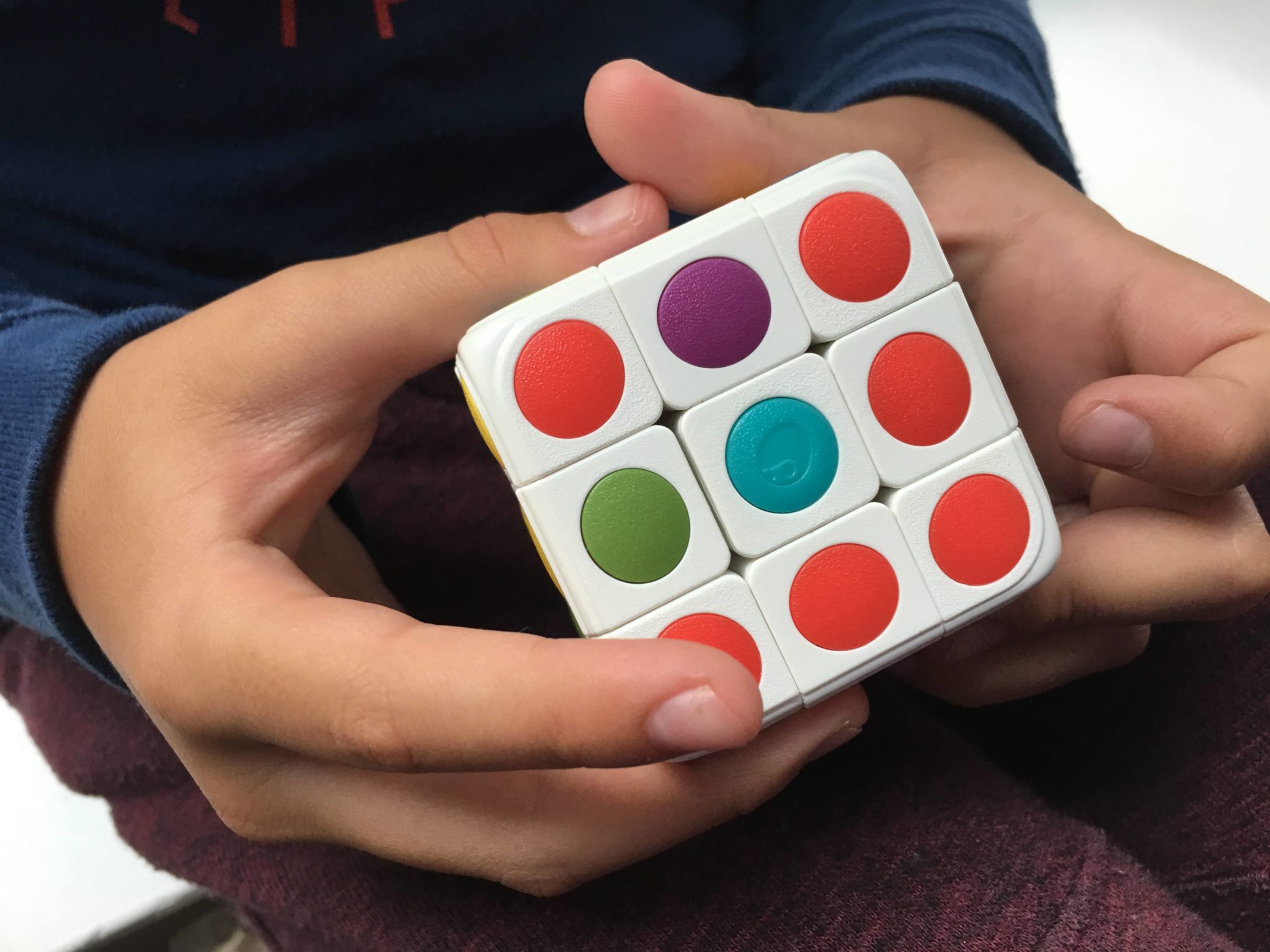 Also great is that this toy is lightweight and durable, easy to carry and store just about anywhere! Great for family game-night, perfect for some family fun anywhere, great to keep the kids busy during road trips and long flights, and pretty much any other time parents need a fun and productive activity to engage kids in.
In addition, I think it would make a pretty cool gift for any boy or girl (big kids included)!
Pai Technology
Pai Technology combines the latest advancements in technology and research to make family-friendly educational products. Not only great for learning at home but I believe they're ideal for classrooms too! They offer an entire line of techy toys that pair children's growth through all stages with technology, science, and art to strengthen imagination, problem-solving, critical thinking, and promote healthy lifestyles. I'm really excited about what Pai Technology brings to play in 2017!
RELATED CONTENT: Toy Fair 2017 – Classic Meets Tech and Makes this the Best Year to Play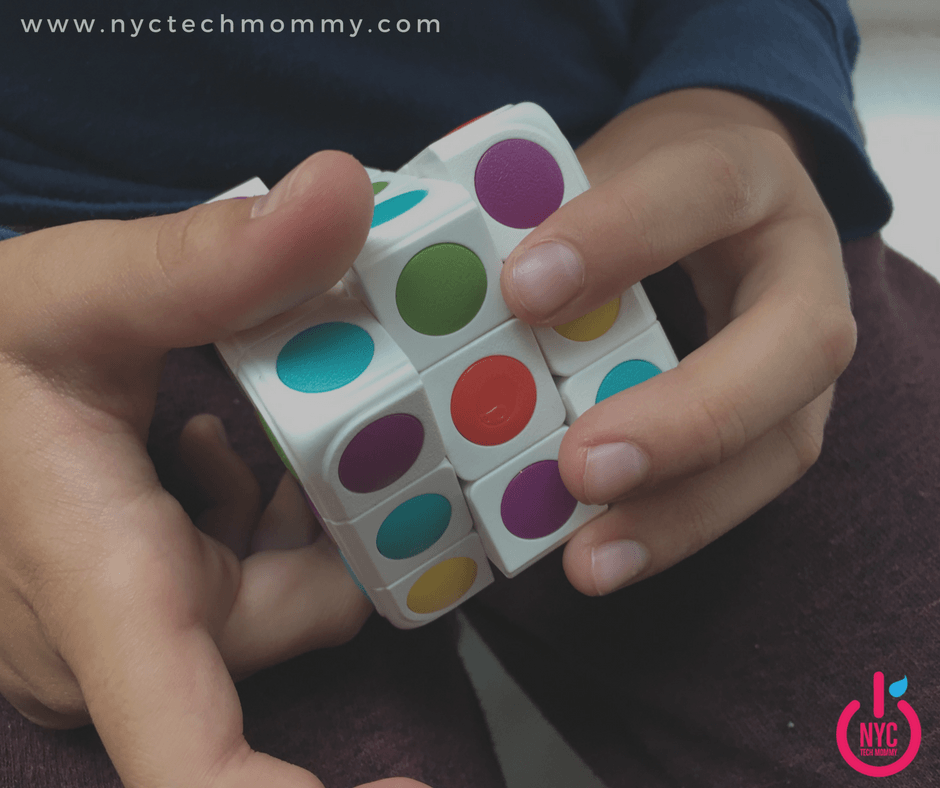 Cube-tastic! is fun and entertaining for all! Now here's your chance to win your very own cube. 
THIS GIVEAWAY HAS ENDED BUT YOU CAN STILL PURCHASE YOUR OWN CUBETASTIC! – scroll down and click on my Amazon affiliate link below.
Enter to Win Cubetastic!
Leave a comment at the bottom of this page and let me know why you would love to win your own Cubetastic! Comment must be completed before other entry options are counted. NOTE that this giveaway is for (1) Cubetastic! Puzzle Cube. This giveaway starts May 4th at midnight EST and ends May 24th at midnight EST. Entrants must be USA residents and at least 18 years old. One winner will be randomly selected by rafflecopter.com from all qualifying entries and contacted via the email they provide. The email will come from [email protected]. The winner has 48 hours to respond or a new winner will be chosen. Good Luck!
By entering a giveaway on the NYCTM website you agree to be added to our mailing list. See complete Official Contest Rules for NYCTM giveaways by clicking here.
You can also get your own cube today by purchasing it through our Amazon affiliate link  — we may receive a small commission from your purchase but it won't change the price you pay. Thanks for stopping by!
---
Click to Read Other Related Posts You May Enjoy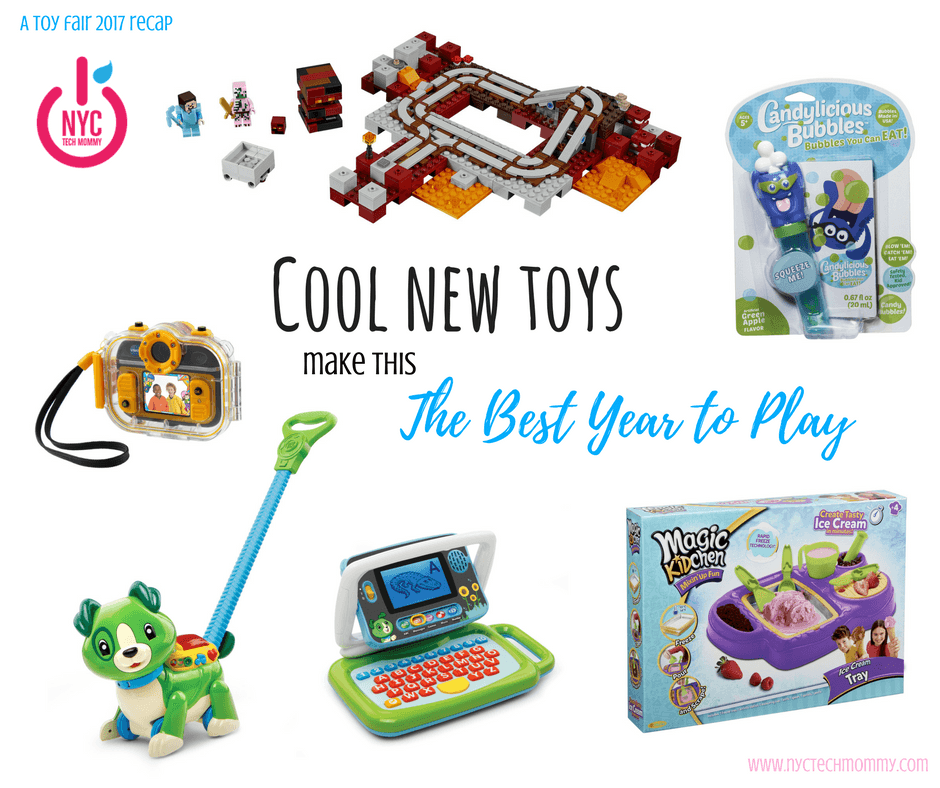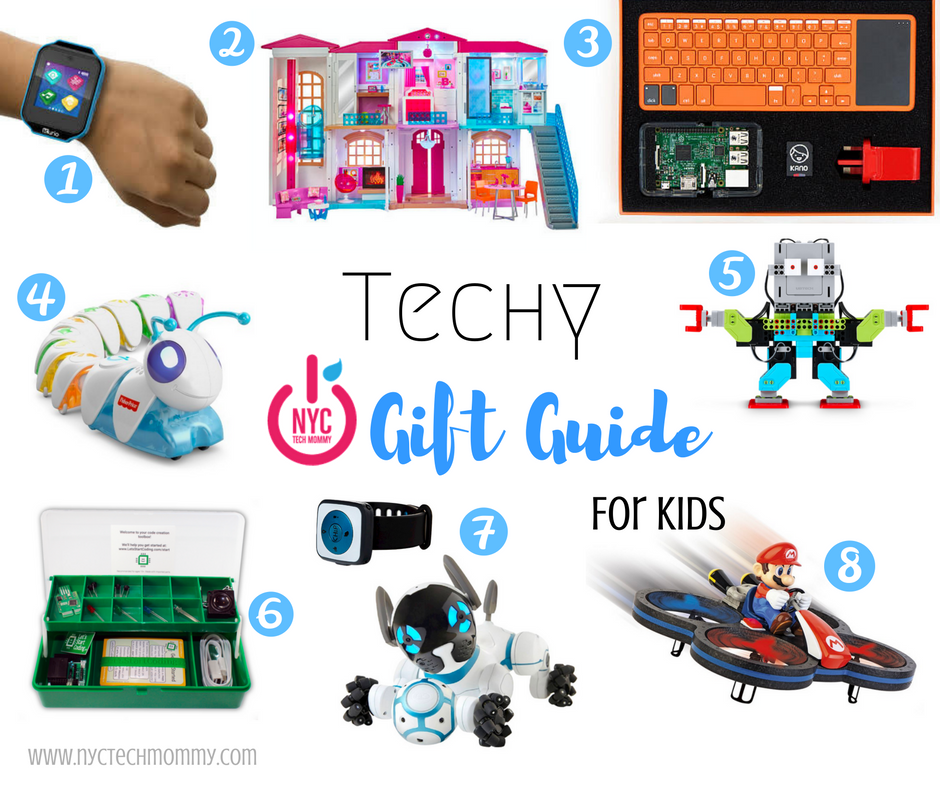 Related articles across the web
You May Also Like