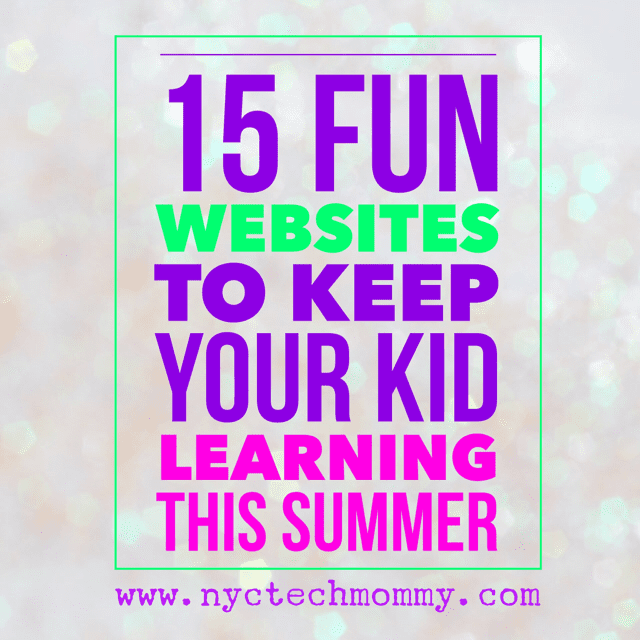 15 FUN WEBSITES to Keep Kids Learning This Summer
June 26, 2015
Today is the last day of school in NYC! Yay! We couldn't be happier! The carefree days of summer have finally arrived. But that doesn't mean learning has to stop. Below you'll find a list of 15 FUN websites to keep kids learning this summer.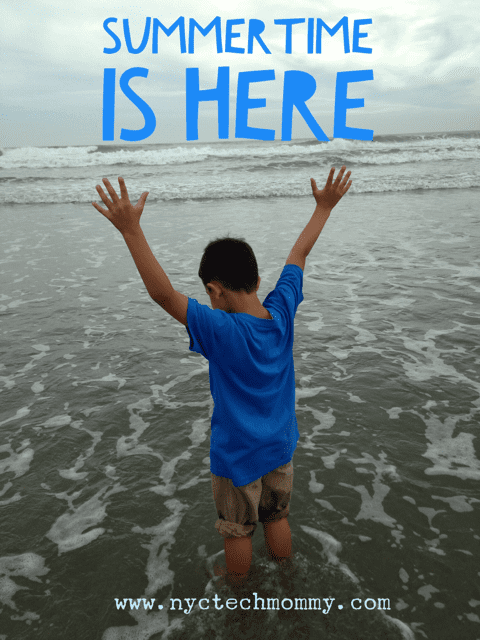 Still it's important to remember that learning cannot cease to exist once school lets out. It would be a huge disservice to our kids!  Studies have shown that students exhibit an academic regression, known as the "summer slide", during the summer months when they are not attending school.
During the summer months, students may fall back or regress the equivalent of two school months (or more). This is less likely to happen to students who are occupied in summer learning, making them more likely to retain the academic progress made during the previous school year.
If you want to find out more about what research tells us about summer learning and learn some facts about 'What Happens to Children During the Summer' click here and get informed so you can help your kids avoid the "summer slide".
No doubt that this summer my Big Boy will enjoy many carefree days playing outside, swimming at the pool, visiting local beaches and "just being a kid". But to keep up with his academic progress we also plan on taking some FUN trips to local museums, libraries and science centers. If you live in NY you can read about some of the places we'll be visiting to get a little inspiration.
I've also signed him up for Online Minecraft Camp which he cannot wait to take part in. In addition, we'll also make sure to carve out a little time for some online learning FUN whenever we're home.
Below is a list of 15 FUN websites to keep kids learning this summer. These are guaranteed to help make learning FUN this summer! I think you will find them useful in supporting your child's learning this summer, and beyond.
Just remember, learning isn't over once schools out! Make it FUN and your kids will never even realize that you're helping them prepare for the coming school year.
Wishing you and your kiddies a great FUN filled summer of learning!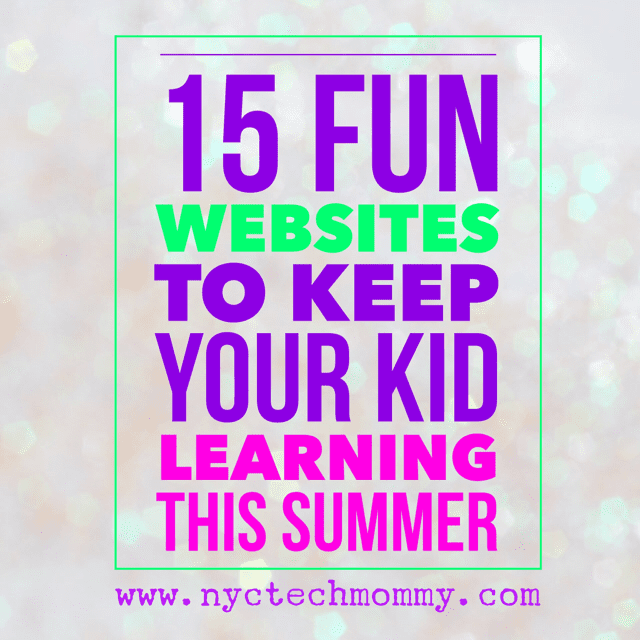 Don't forget to 'PIN' this so you can find these websites later!
or click the links below to visit each of our favorite websites.
15 FUN Websites to Keep Kids Learning This Summer
Storybots.com – For a $4.99 monthly fee, $19.99 for a yearly membership or $36 for a lifetime membership, you can get unlimited access to all books, videos, games and more on StoryBots.com, as well as on the StoryBots apps available for iPhone and iPad. The StoryBots robots star in an extensive variety of FUN videos that your kids will absolutely LOVE, from ABCs to topics in math, science and everything in between. Kids can also become the star of their own books and videos.  Great for kids of all ages and well worth the money!
---
The Cat in the Hat @PBSKids.org –  This FREE website provides a variety of games, videos, and activities based on the popular PBS cartoon The Cat in the Hat Knows A lot About That.
---
CoolMath4Kids.com – Cool math 4 kids is an amusement park of math, games and more for school-aged kids – specially designed for FUN and it's FREE!
---
StorylineOnline.net – Video read alouds of all-time favorite children's books read by a variety of favorite celebrities can be found here.  Great for both readers and non-readers and FREE!
---
Starfall.com – FREE website filled with games, activities and books for pre-schoolers and emergent readers.
---
MoreStarfall.com – A continuation to Starfall.com. This website offers even MORE targeted learning activities, games, and books for the school-aged learner. This website offers so much FUN that the $35 yearly subscription fee is well worth it!
---
Word World @PBSKids.org – Lots of FREE and FUN literacy activities and videos based on the popular Word World cartoon series. FREE
---
Super Why @ PBSKids.org – Another favorite cartoon series that fosters a love of literacy. This website offers tons of FUN games and videos that your little readers will love! FREE
---
ReadingIsFundamental.org – This FREE website for babies, toddlers, and preschoolers offers reading and learning through songs and play in English and Spanish. Plus it includes wonderful resources and tips for parents also in English and Spanish. PLEASE NOTE THIS WEBSITE BECAME UNAVAILABLE SOMETIME AFTER PUBLICATION OF THIS POST. ReadingisFundamental.org no longer exists. Too bad, because it really was a fantastic site!
---
ABCMouse.com – This FUN learning website is geared towards kids age 2 through 7. Take a virtual field trip to the Zoo or Farm. Read books about science, math, social studies and more. Practice literacy skills and so much more! Try it FREE for the first month and pay only $7.95 per month after that.  Your kiddies will love this site!
---
Between the Lions @ PBSKids.org – This website offers FREE early learning activities, videos, and games that will make your young readers wild about reading. Featuring the beloved lions of this popular PBS Kids series, it will have your kids roaring for more!
---
ABCYa.com – This website is FREE and offers tons of FUN educational games for kids in grades K through 5th Grade. Math, Science, Social Studies and Literacy topics included.
---
Cookie.com – This website offers a variety of FREE educational videos, games, stories, worksheets, arts and crafts and more for pre-schoolers and kids through age 7.
---
BrainPopJr.com – This FUN website is ideal for students in kindergarten through 3rd grade and offers standards-aligned movies, quizzes, games, and activities covering Science, Reading & Writing, Math, Health, Social Studies, and Arts & Technology. A yearly subscription costs $99 and includes mobile access. Don't worry if this price seems a bit too big for your pocket.  This website offers a FREE movie of the week that you can access at no cost as well as a select variety of activities and videos that you can also access for FREE.
Also, many NYC school subscribe to this website and if your kid is a student in a NYC school you might want to ask if they are familiar with this site. Chances are that if they've accessed this site at school, they probably have memorized their school's log-in information and may be able to use it to access all the content on this site for FREE over the summer months.  Just ask 🙂
---
GameUp by BrainPop.com – This site offers digital games that compliment many of the BrainPop video topics and captivate kids through game-based learning. Here you'll find games to help kids learn in a manner that is meaningful and FUN. You can access games for a wide variety of topics for kids in elementary grades through middle school .
---
Do you have your own list of educational websites to keep kids learning this summer? We would love to hear it!  Please share them in the comments section. 🙂
You May Also Like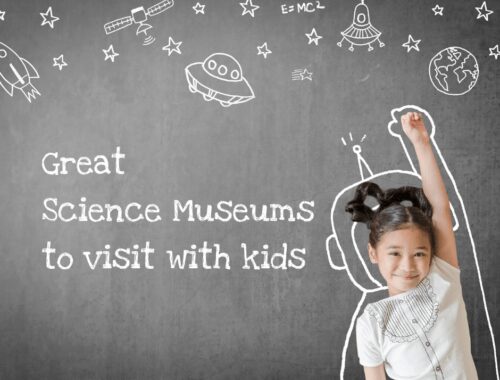 November 21, 2019