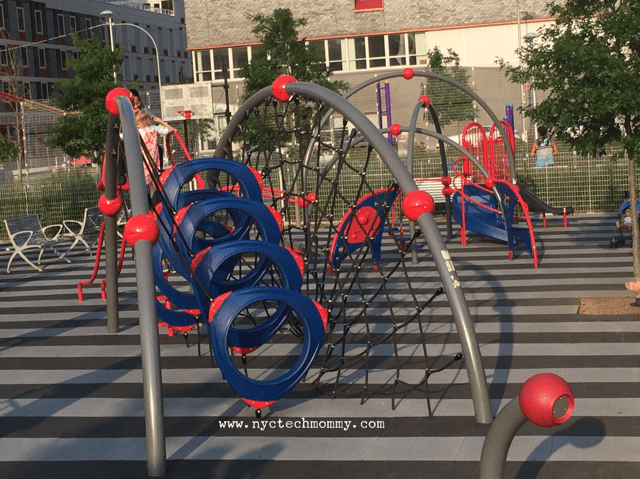 Long Island City – Gantry Plaza State Park & Hunters Point South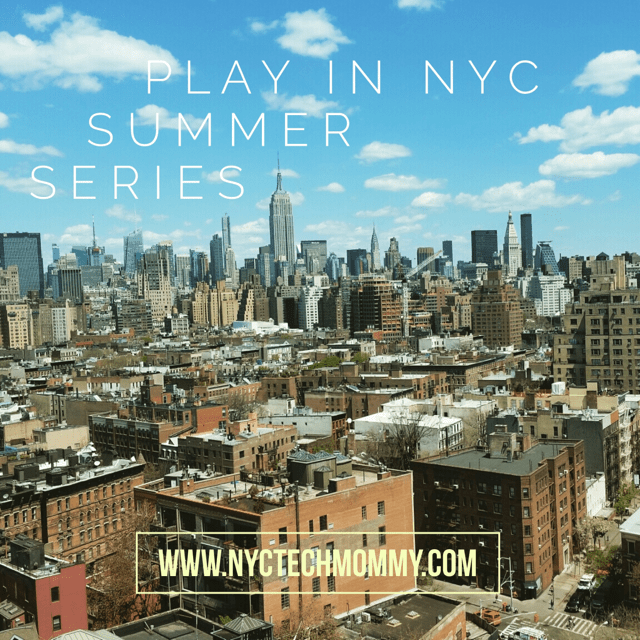 We call Queens our home and nothing is better than being able to take in breathtaking NYC views without having to leave our borough. Whenever we want to enjoy a NYC day right here in our borough we head out to Long Island City. It's the perfect place to enjoy a New York City vibe without having to actually venture into Manhattan. If you've never been here I highly recommend it and think you and the family will enjoy a day trip into LIC Queens. It's easily accessible by car, subway or the East River Ferry.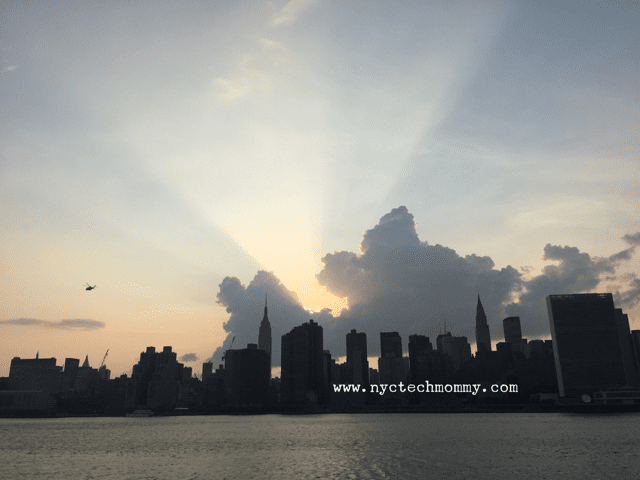 Born and raised in Queens, I can vividly remember the industrial Long Island City of my childhood (known simply as Hunter's Point back then). A place full of factories and narrow roads, and that famous Pepsi-Cola sign that stood above the Pepsi-Cola bottling plant and could be seen from miles away, from across the river in Midtown Manhattan or while driving over the 59th Street Queensborough Bridge (now known as the Ed Koch Queensborough Bridge). Much has changed since those carefree days of my childhood.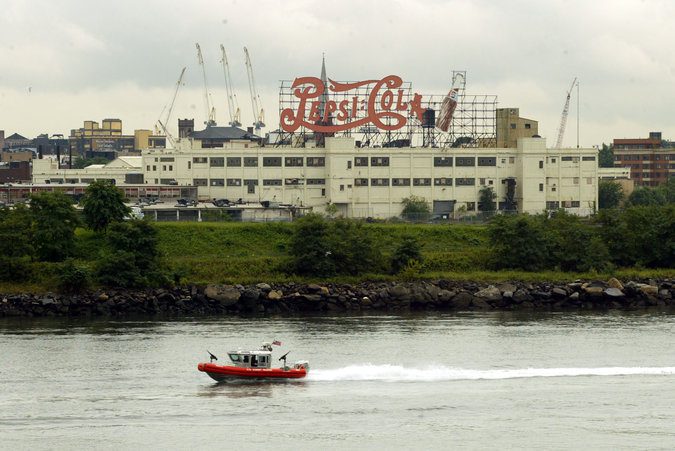 What to See Along Long Island City Water's Edge
In recent years Long Island City has become known for its rapid and ongoing growth. Some might consider it the next hip and happening NYC neighborhood – a now well-populated residential and commercial neighborhood with beautiful waterfront residential building towers, quaint little restaurants and neighborhood pubs, art studios and galleries, the LIC Flea Market, Gantry Plaza State Park  and Hunter's Point South Park.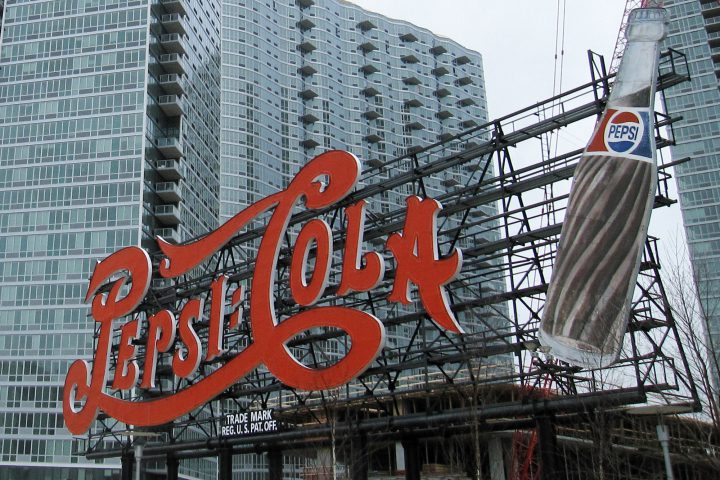 Gantry Plaza State Park
The only thing that still remains from my childhood memories is that big old shiny Pepsi-Cola sign, now considered a city landmark that sits within Gantry Plaza State Park. This park is the perfect place to kick up your feet and take in the NYC skyline. It's also a great place for some good 'ol family FUN.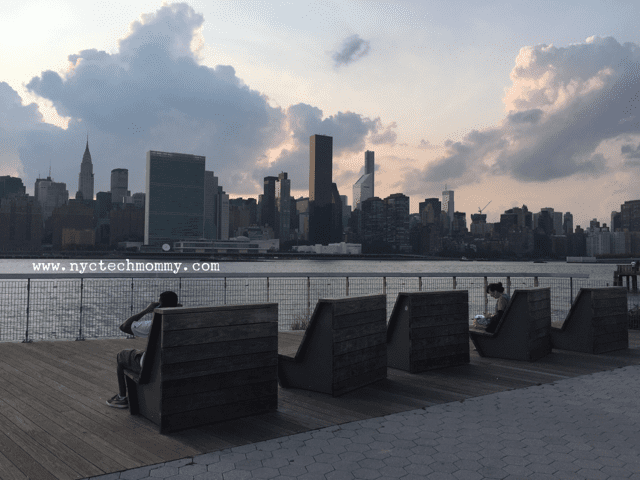 This 12-acre riverside park sits along the East River and provides spectacular city views. It also provides beautiful wooden loungers to kick your feet up after a long day, pretty manicured gardens set among old rail lines, beautifully appointed walkways with stepping stones that lead to the river, basketball courts, handball courts, FUN playgrounds that any kiddo will absolutely LOVE, beautiful waterside esplanade lounge areas, a large plaza (under the old gantries) perfect for taking in outdoor concerts and other events, four piers including one for fishing, and lots and lots of open green spaces to fly a kite, play a game of frisbee or soccer with the kiddies or just kick off your shoes and take in the breath-taking views. And the list goes on…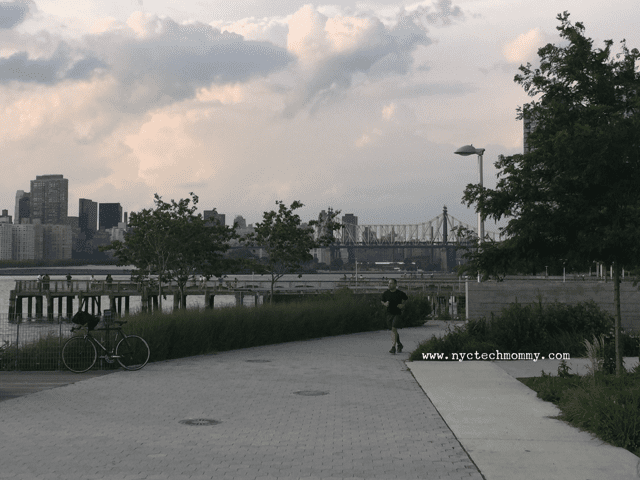 Hunter's Point South Park
Walk a bit further down past the gantries and you'll walk right into Hunter's Point South Park – a city park offering more fantastic outdoor spaces with spectacular city views, a large circular astroturf area great for playing soccer, and a HUGE sandbox area (you'll find it at the end of this LIC riverside park, behind the LIC Landing by COFFEED concession stand).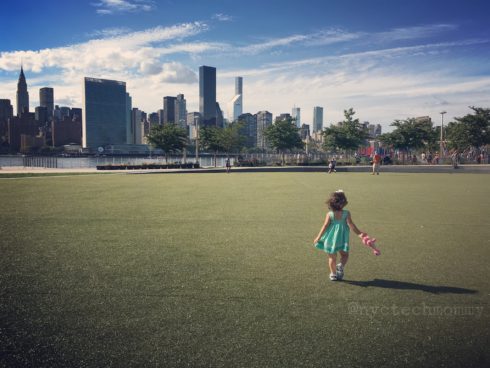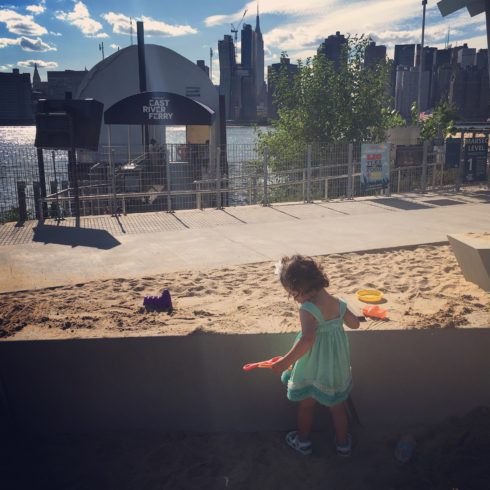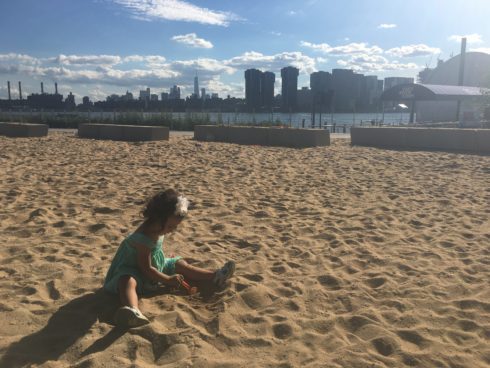 LIC Landing by COFFEED
Nestled withing Hunter's Point South Park you'll find a very comfortable and beautifully manicured picnic table area belonging to LIC Landing by COFFEED – a convenient concession stand that serves beer, wine, and refreshing glasses of Sangria (white or red). YES, you can get your vino on here while the kids play. It's fantastic! 😉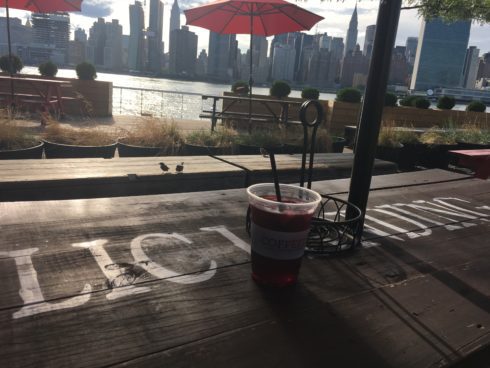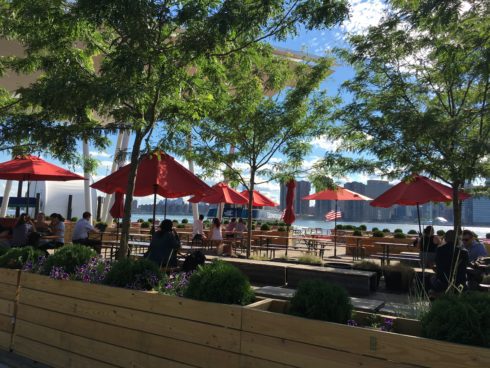 Historic Charm in a Hip New Landscape
This NYC playspace along Long Island City water's edge does a great job at retaining a bit of New York history and seamlessly incorporates it into the new hip landscape. Not only because it still preserves that old Pepsi-Cola sign (which I absolutely love). But it also maintains the old railroad car float cranes (the gantries) and makes pieces of the old railways that once carried cargo off boats here part of the unique character of this outdoor NYC space.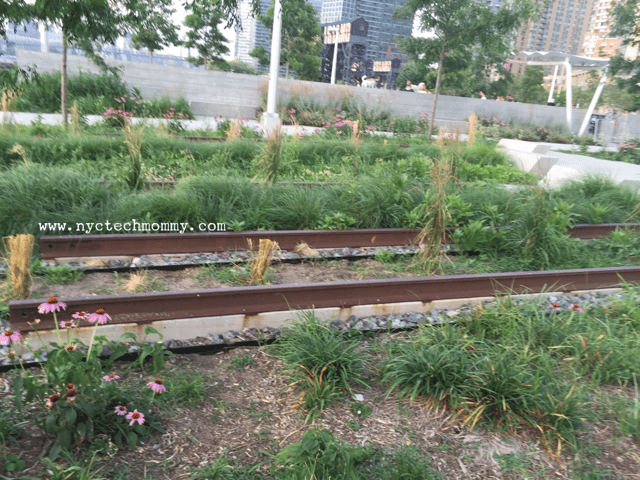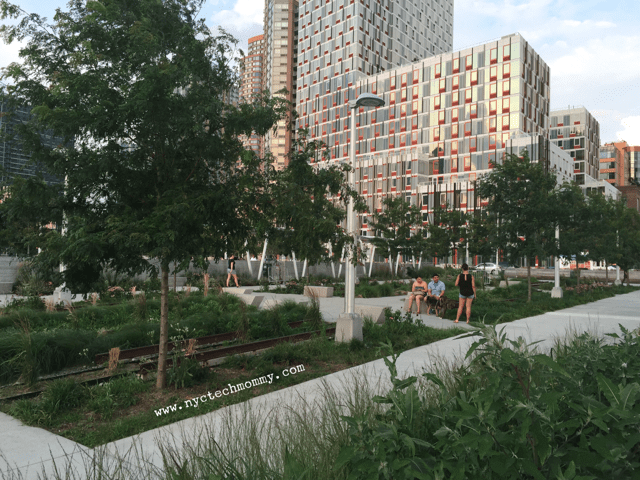 Below are photos from one of our latest LIC adventures. The Long Island City water's edge, Gantry Plaza State Park (sometimes simply called Gantry Plaza) and Hunter's Point South Park are the perfect places to play in New York City. Hop on the subway, the East River Ferry, or take a short car ride into Queens and check it out! I know you'll love it as much as we do 😉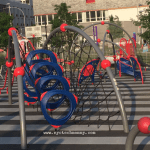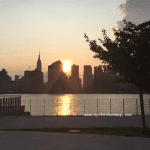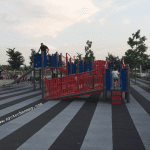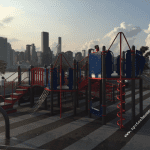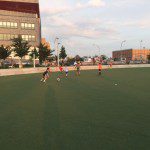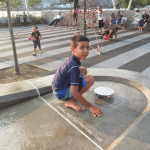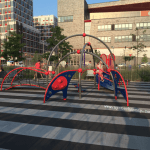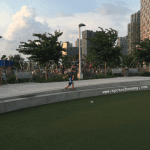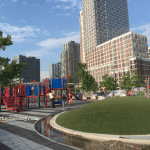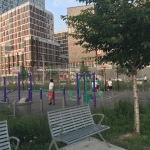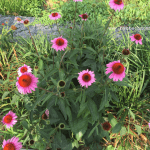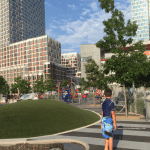 Visit the websites below to plan your next Long Island City adventure.
Gantry Plaza State Park – NY State Parks Dept.
For even more NYC FUN with Kids, check out my Pinterest board below.
Follow NYC Tech Mommy's board NYC FUN with Kids on Pinterest.
---
Also, checkout other posts in this series to learn more about other NYC places we LOVE to visit during the summer months.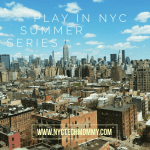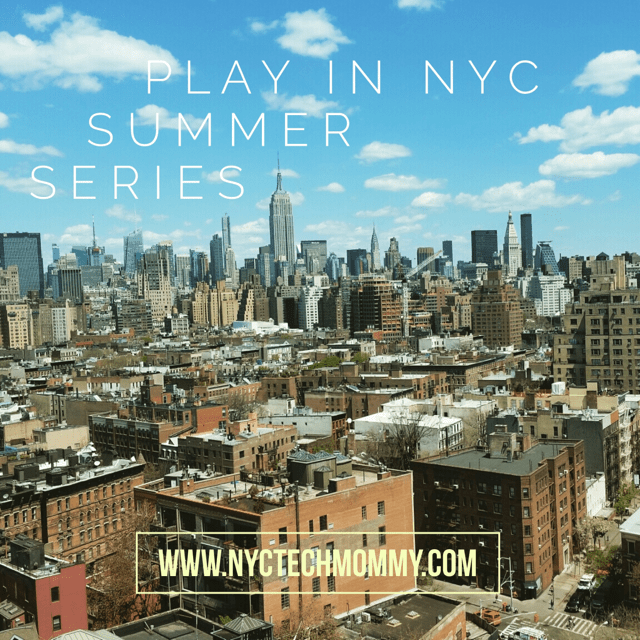 My City – Play in New York City Summer Series
Hudson River Park Pier 51 – Play in New York City Summer Series
The Statue of Liberty and Ellis Island – Play in New York City Summer Series
*This post was last updated on 6/12/2016
You May Also Like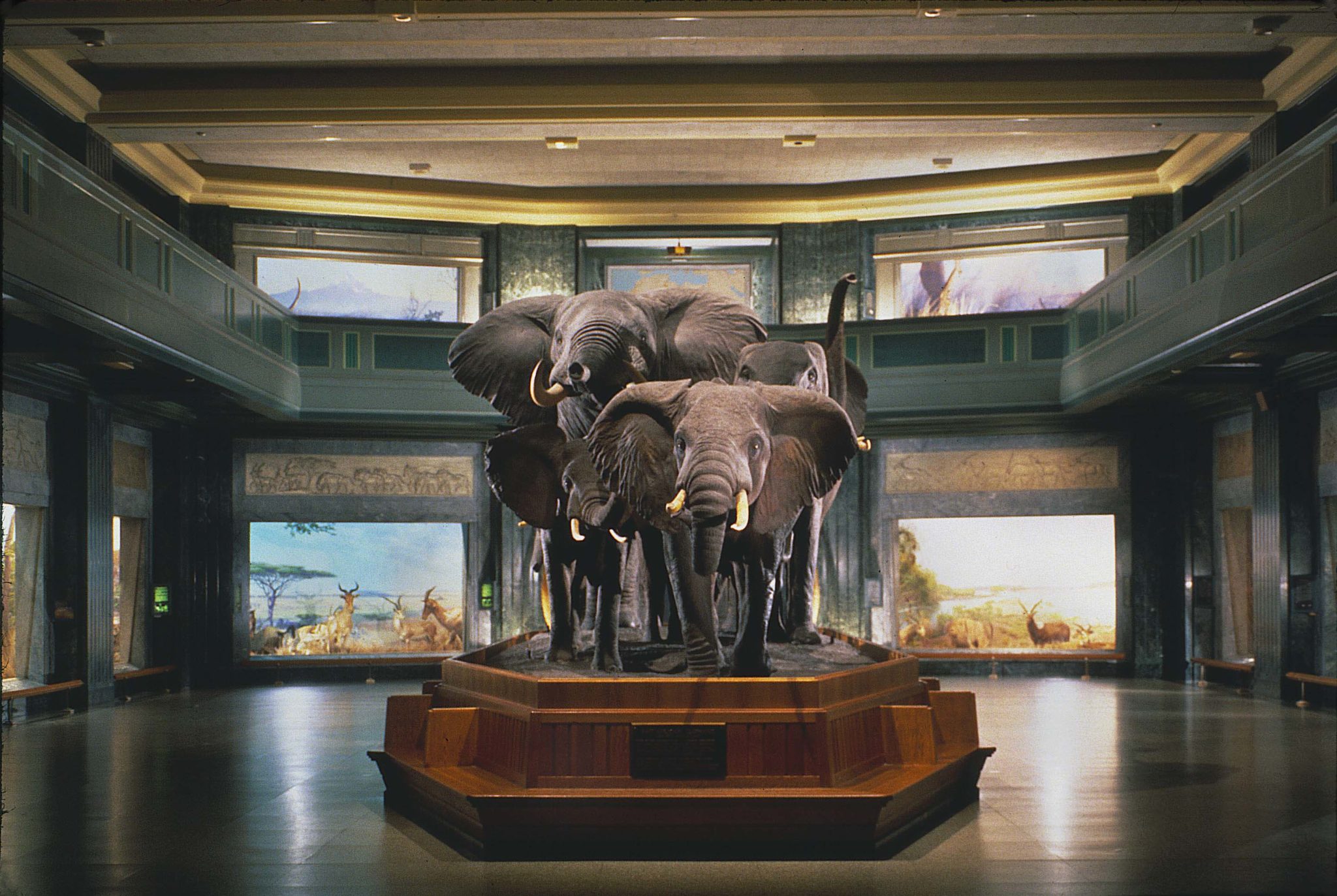 February 24, 2018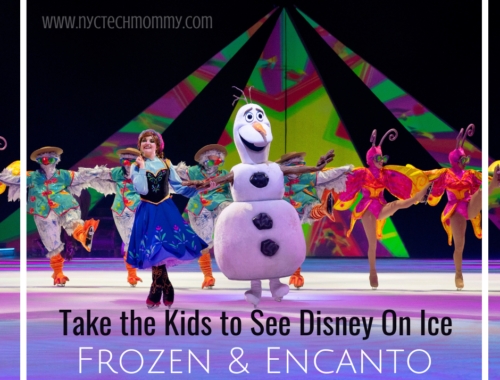 November 17, 2022