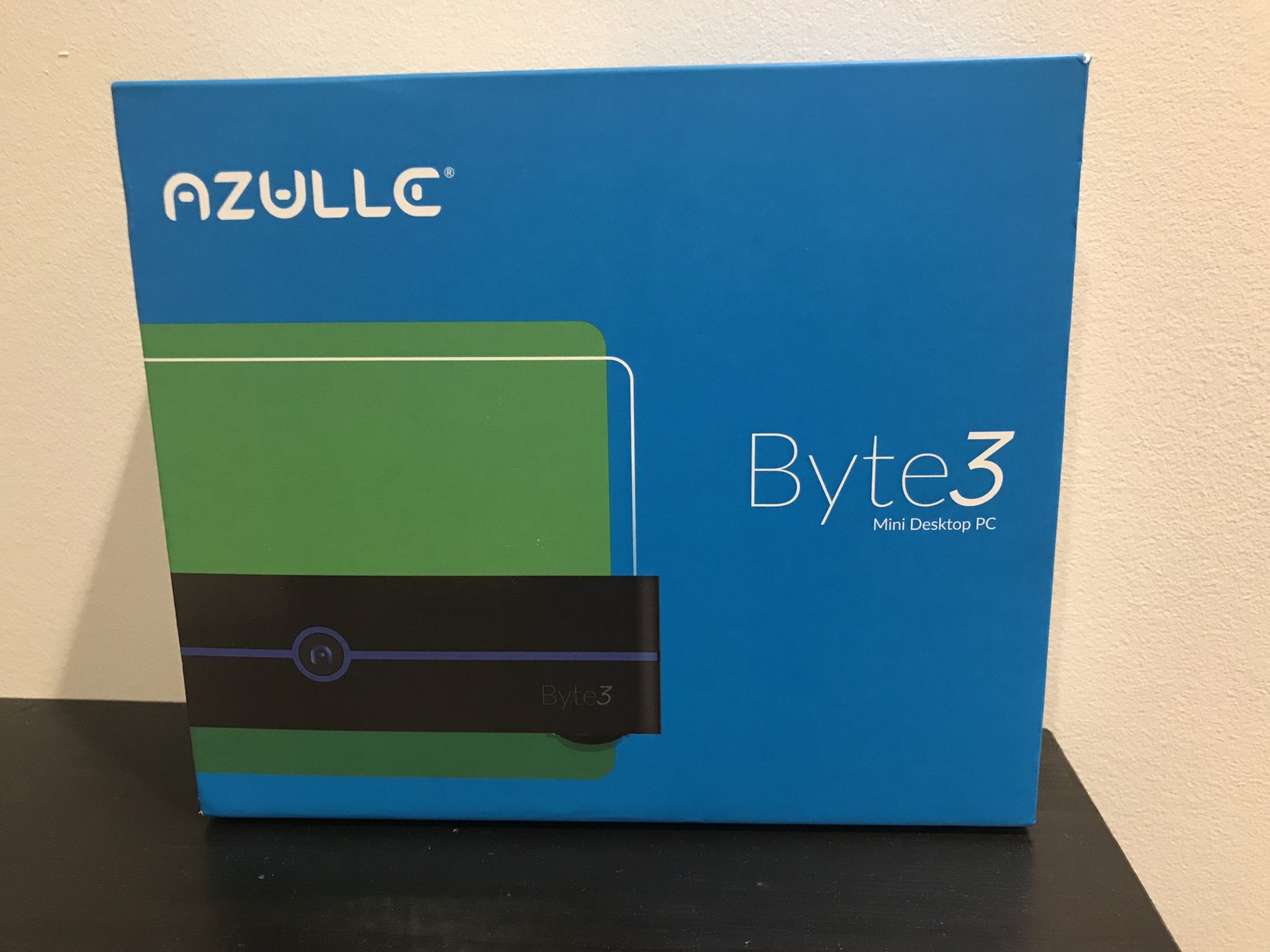 Byte3 Turns Your Old TV into the Ultimate Home Entertainment Center and MORE!
The Byte3 turns your old TV into the ultimate home entertainment center + so much more! It's the perfect new family home device and every family should own one! My living room will never be the same and today I'll tell you all about how this mini PC from Azulle has changed the way my family enjoys TV time together. Plus we get lots done without much fuss and most of the the time from the comfort of our cozy couch. Read on to learn more!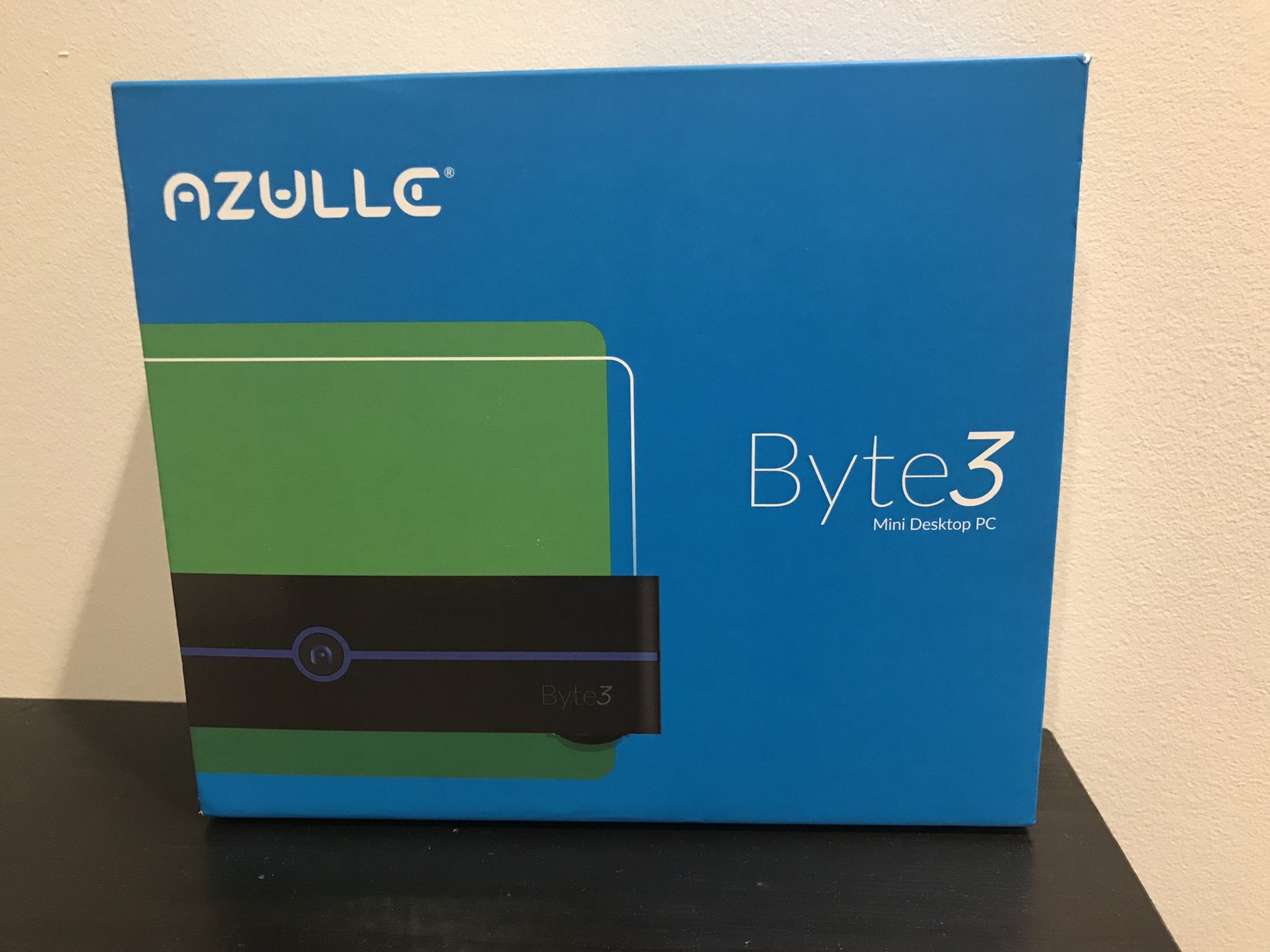 For a long time now I've been wanting to upgrade our living room's television to a SmartTV. Right now we have two much smaller SmartTV's in each of our bedrooms but replacing the 50 inch in our living room wouldn't come cheap — reason why I've been putting off. Until now the kids had been watch their Hulu cartoons in their bedroom. I've been binge watching Netflix in my bedroom. And using other favorite video apps on our iPads. Rarely did we watch TV together in the living room and when we did it was just something off the old cable box. Needless to say that didn't make for a very exciting family movie night.
Enter Byte3…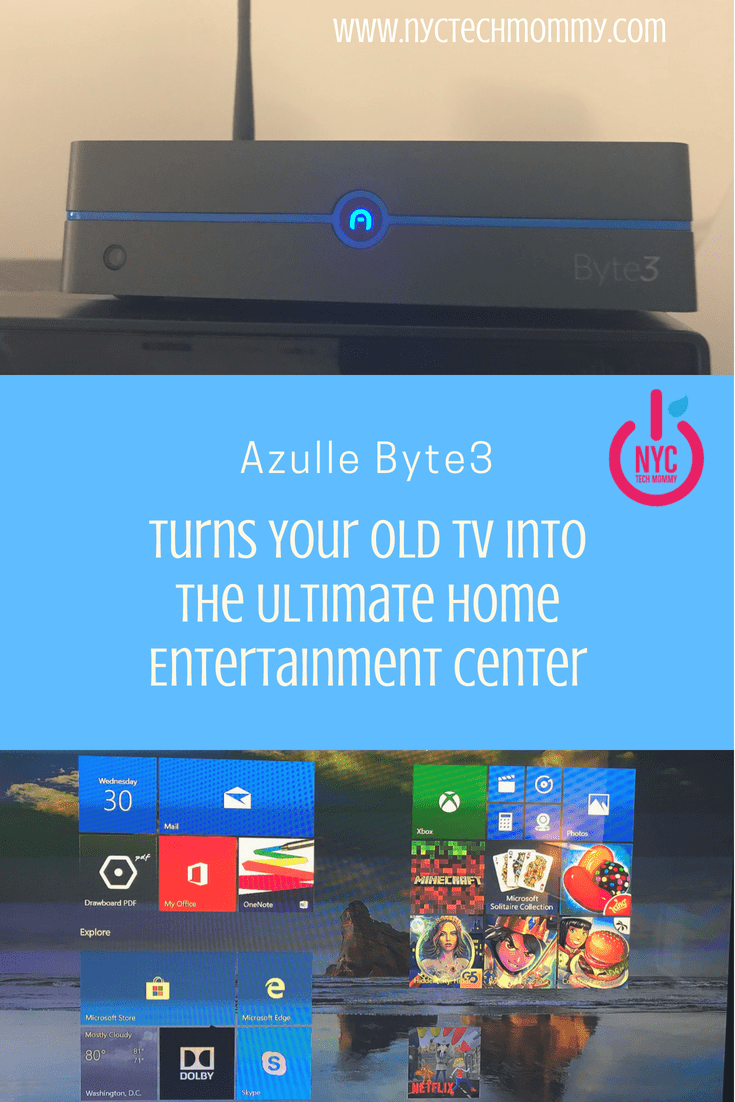 This is a sponsored post in partnership with Azulle Tech. However, all thoughts and opinions are my own.
Byte3 Turns Your Old TV Into the Ultimate Home Entertainment Center
When I was approached by Azulle Tech to test out their new Byte3 Fanless Mini Desktop PC I knew I had to give it a try! It connects to any TV (or monitor) and allows you to stream Netflix, Hulu, YouTube and AmazonPrime — that would bring some much needed variety to family movie night at our house. I was pretty excited to hear that Byte3 turns your old TV into the ultimate home entertainment center and I couldn't wait to check it out for myself!
Quiet Viewing & Gaming
I love that the Azulle's Byte 3 is Fanless meaning that when our family comes together to hang out on the couch and enjoy some TV together there isn't any of that annoying background noise. This makes for a great experience when watching our favorites on Netflix, Hulu, and AmazonPrime (Daniel Tiger is our newest best friend). We even pull up funny YouTube videos to watch together and enjoy reliving fun family moments as we stream our favorites videos from our very own YouTube channel. And that's not all!
You already know how much we love enjoying a good ol' family video gaming night! Now we are able to enjoy desktop games together on the big screen thanks to our new Byte3. Also my little Minecrafter won't be hogging up my desktop computer this summer when he takes part in Minecraft Camp . Now he can play right on our TV and we all get to watch him in action while laying around and relaxing this summer.
What's even better is that we now have a new family computer! No more having to share my "blogging" desktop with everyone.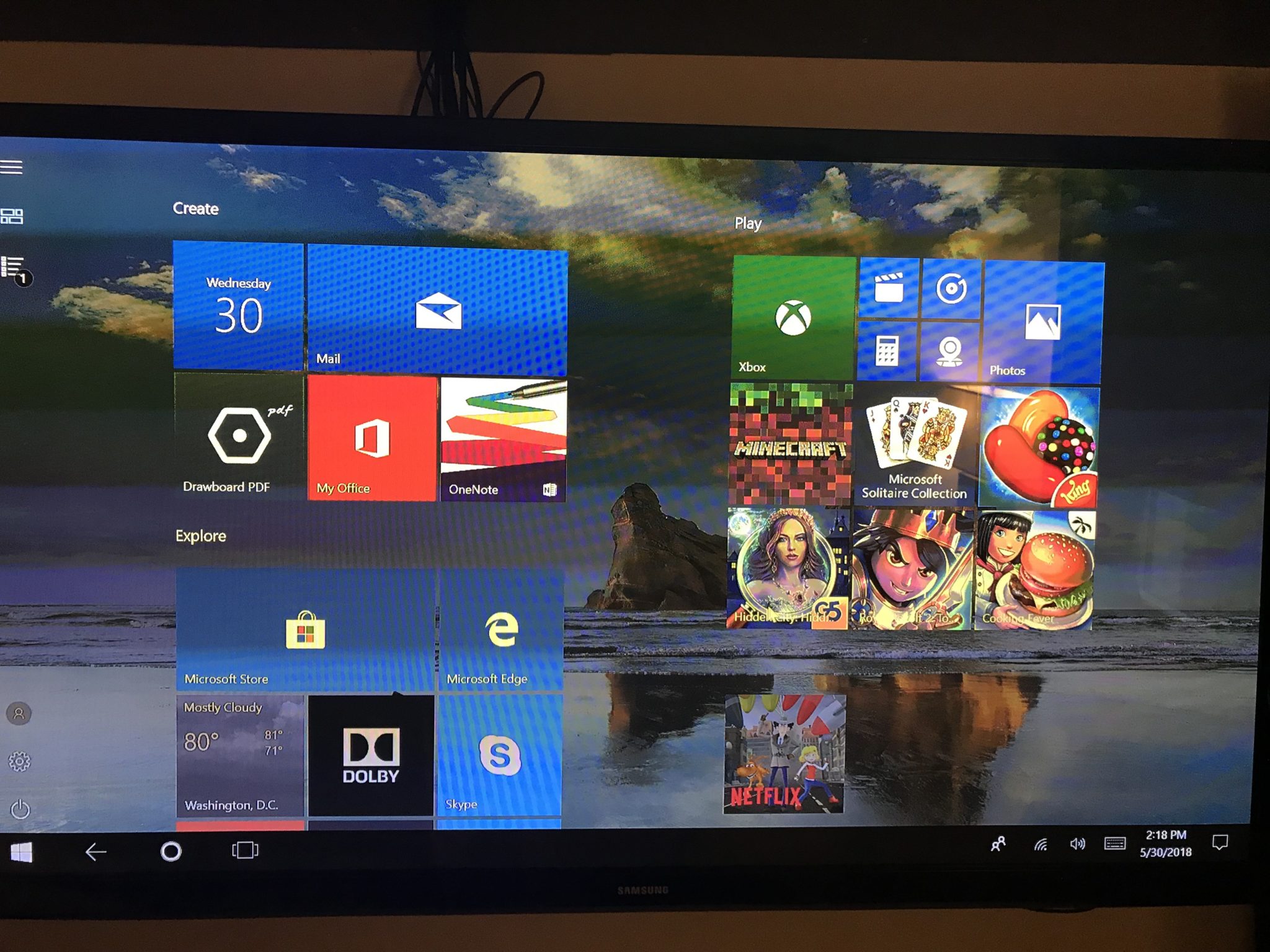 The New Family Computer
Now let's not forget that the Byte3 is a mini PC! What's great is that is comes pre-loaed with Windows 10 Pro operating system. This means you can use this neat little box just like you would your desktop computer. Access any of your favorite Windows Apps from the Microsoft Store right on your TV screen. Work on anything just like you would on your desktop computer — surf the web, check your social media, pay your bills online, put together that kick-ass PowerPoint. The posibilites are endless!
Now the hubs can check his work emails from our couch or work work on a PowerPoint for his next work meeting. We can Skype with far away friends and relatives. I can access One Note and continue working on my content. The kids no longer need to use my computer to get onto their favorite educational websites and my son can do research for school projects, type up his homework, and complete any other assignments that requires a computer.
There's even an SD card slot included in the back of the Byte3 so you can not only add more memory to your mini PC but you can access anything you might already have saved on an SD card. Our family has been busy going through old SD cards looking through our family vacation photos, even working together to organize all our photos using the Microsoft Photos app. We even downloaded Photoshop so we can take our travel photos to the next level with a little editing. I love that we can all sit together on the couch and work on this as a family! It makes for great laughs and it's a great way to relive great family travel moments spent together.
Easy To Connect – Easy to Use
The Byte3 was super simple to connect and set up. It came with easy to follow instructions and was super simple to connect to my existing living room TV. You can use the HDMI or VGA port to connect a TV (or monitor). Also easy to mount to your existing TV (VESA mount sold separately). Took me under 10 minutes to get it all set up and ready to go.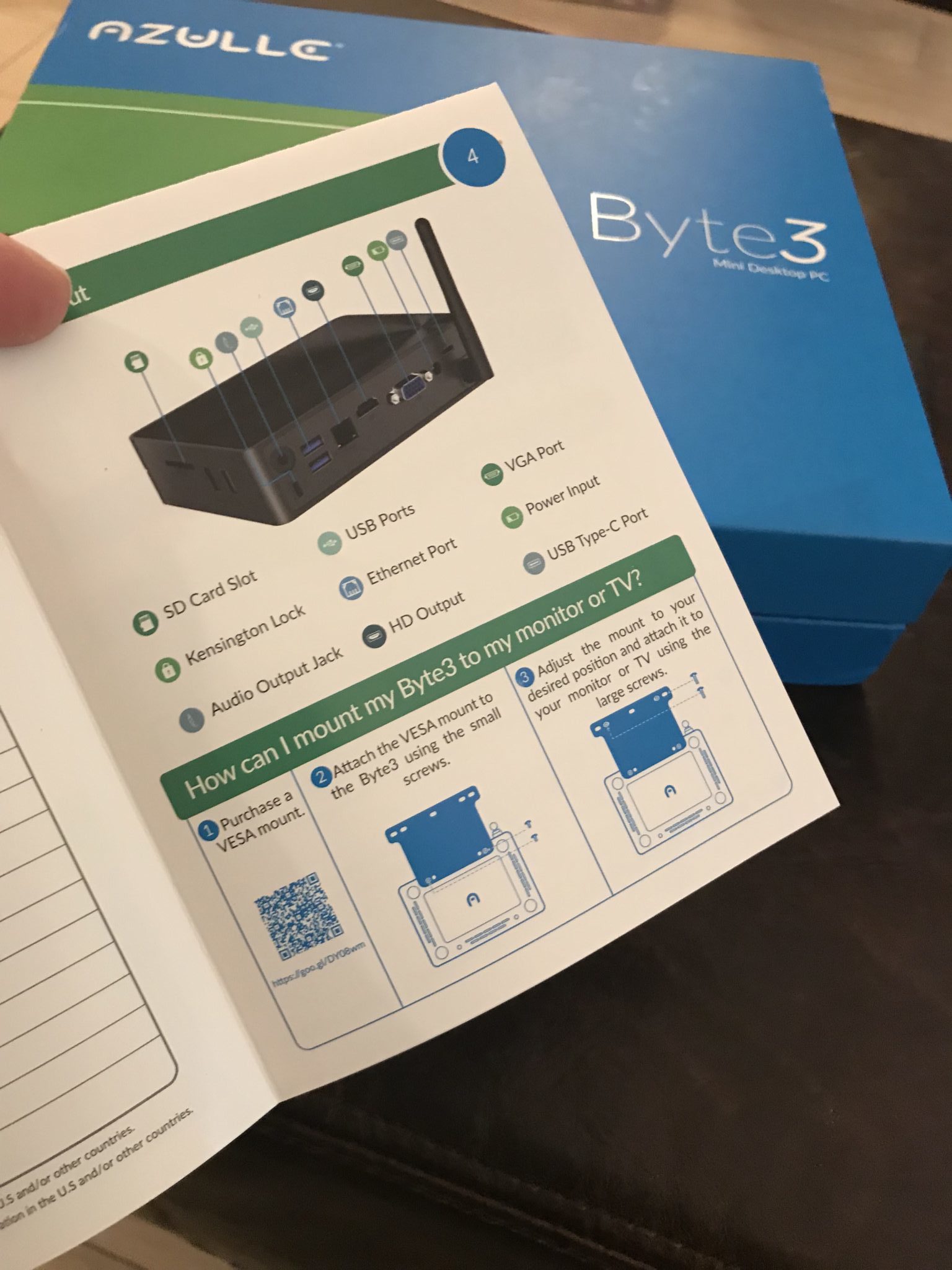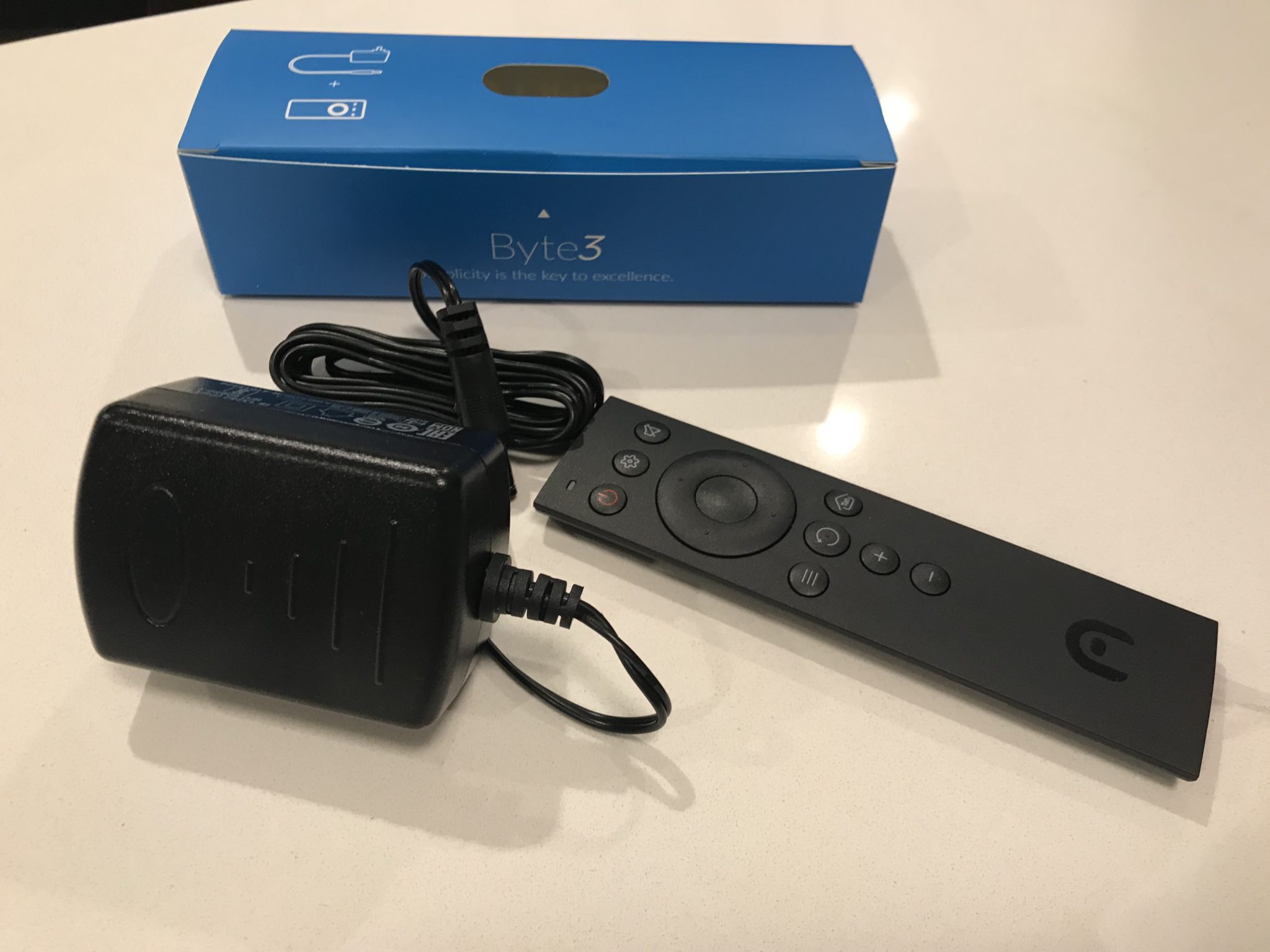 The Byte3 comes with an IR remote to switch the box on/off. You can also use the remote to navigate. However I found it easier to use with a keyboard.
This mini PC comes equipped with two USB ports and Bluetooth capabilities making it super easy to connect wired or wireless accessories like a keyboard, headphones, etc. I already had a wireless keyboard on hand and was able to easily connect that to my Byte3. Since it works just like a desktop computer, you can easily navigate and access controls by using a keyboard or mouse. My wireless mouse has a built in track pad so that makes it even easier to use.
Powerful, Compact, and Ready to Go Anywhere
The Byte3 is compact in size and may be much lighter than your average desktop computer but with a 64-bit Quad-Core Intel Apollo Lake processor it's just as powerful, if not more!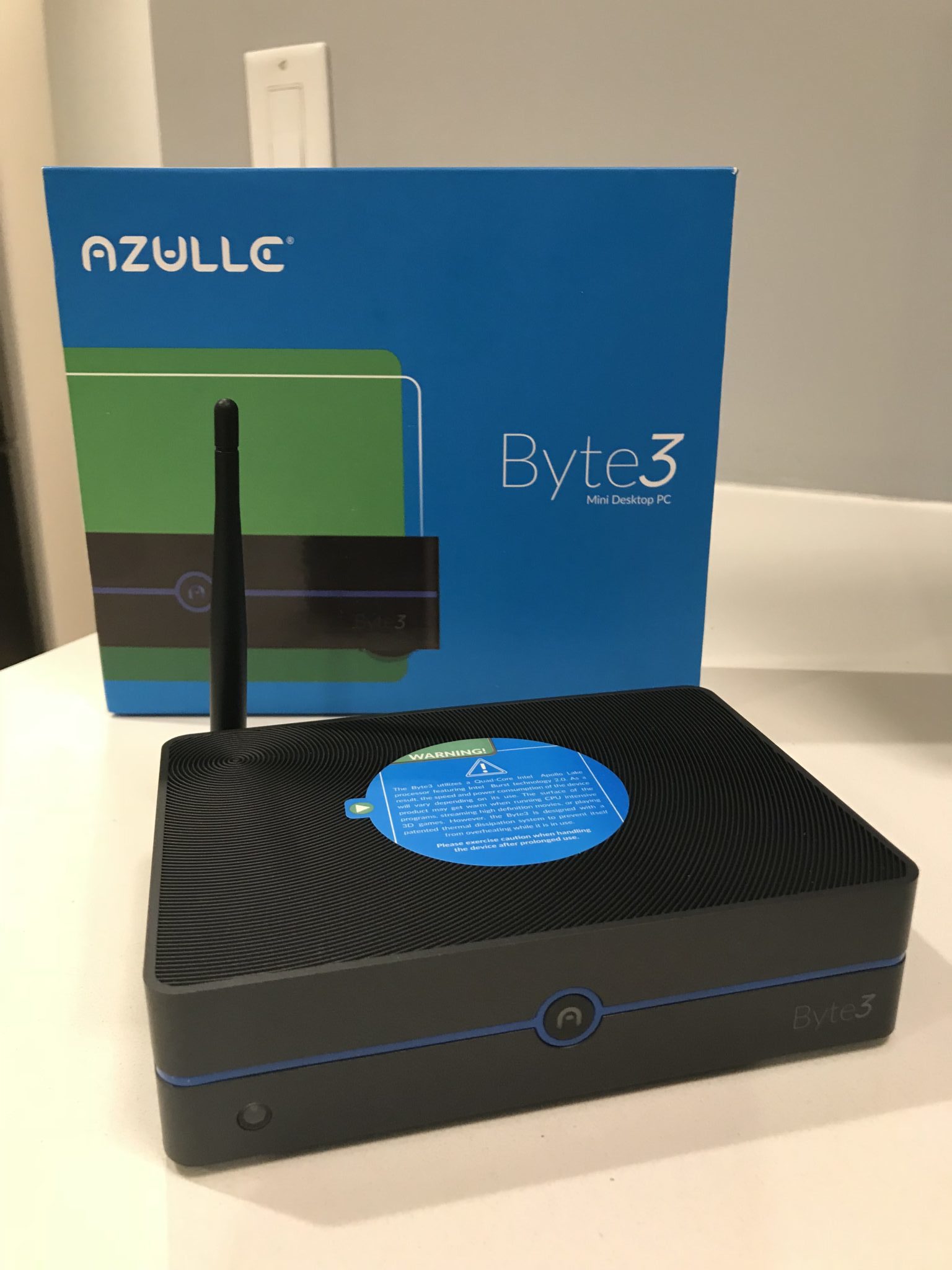 What's also great is that because the Byte3 is so compact and easy to use you can move it from room to room with out much fuss. This means my son can also take it into his bedroom and plug it into a monitor I set up for him on his desk when he needs to work quietly on a school project.
I also love that we can take the Byte3 on the road this summer. Most of our summers are spent away, traveling and enjoying time at Grandma and Grandpa's house (they don't own a computer). Blogging usually has me lugging my laptop around with me from place to place only to end up getting kicked off when the kids or the hubs need to use it for something. Now we can take the Byte3 along and everyone can have access to our family computer, without me sacrificing my work time on my laptop. #MomWin
All the Perks In One Little Box
With the Byte3, families can now enjoy the perks of computing from their TV, or pretty much anywhere really! For family night it could be hooked to the living room TV, but then switched to the kids room when they want to use it on their room TV or on a desk area for work/homework with a monitor. The Byte3 is a real game changer!
For me, what I appreciate the most about it is that is has transformed our old TV into the Ultimate Home Entertainment Center, bringing the entire family back to our living room. However, the possibilities are endless with the new Azulle Byte 3 Fanless Mini Desktop PC. Which is why it's the perfect new family home device that every family needs! Don't you think?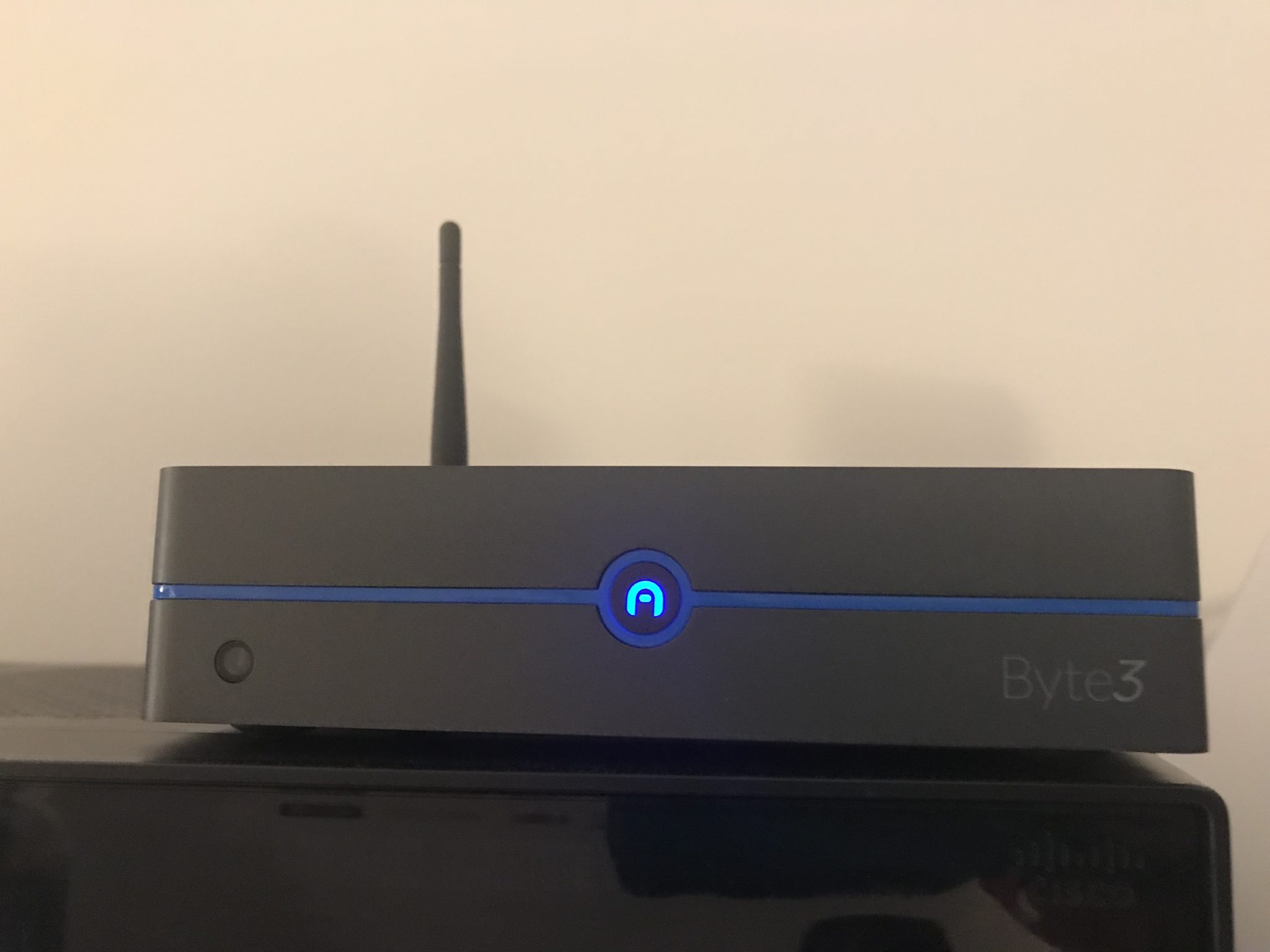 Learn more about how Byte3 turns your old TV into the ultimate home entertainment center by checking out Azulle's YouTube channel and follow them on Twitter, Facebook, and Instagram to stay up to date on all the latest from Azulle Tech!
You May Also Like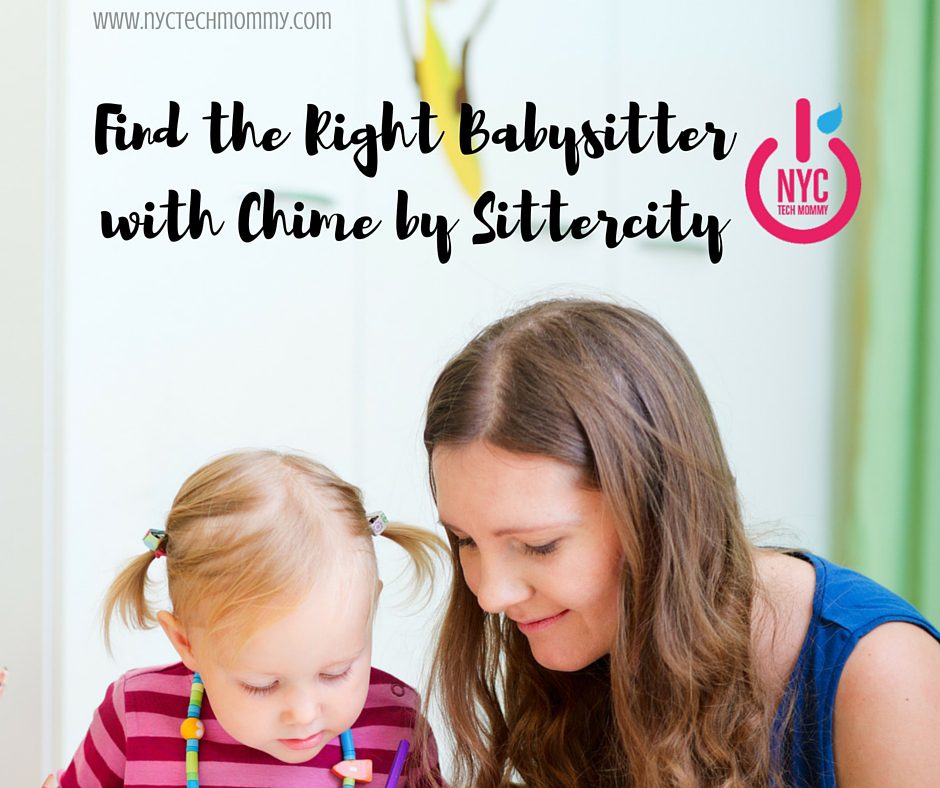 June 7, 2016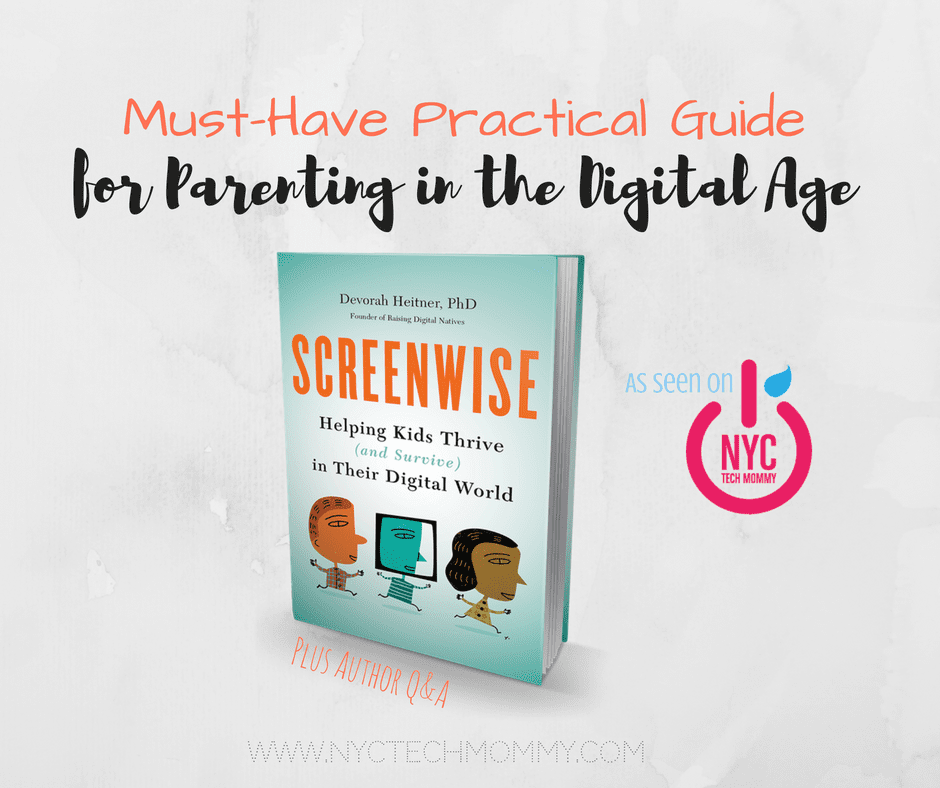 September 29, 2016