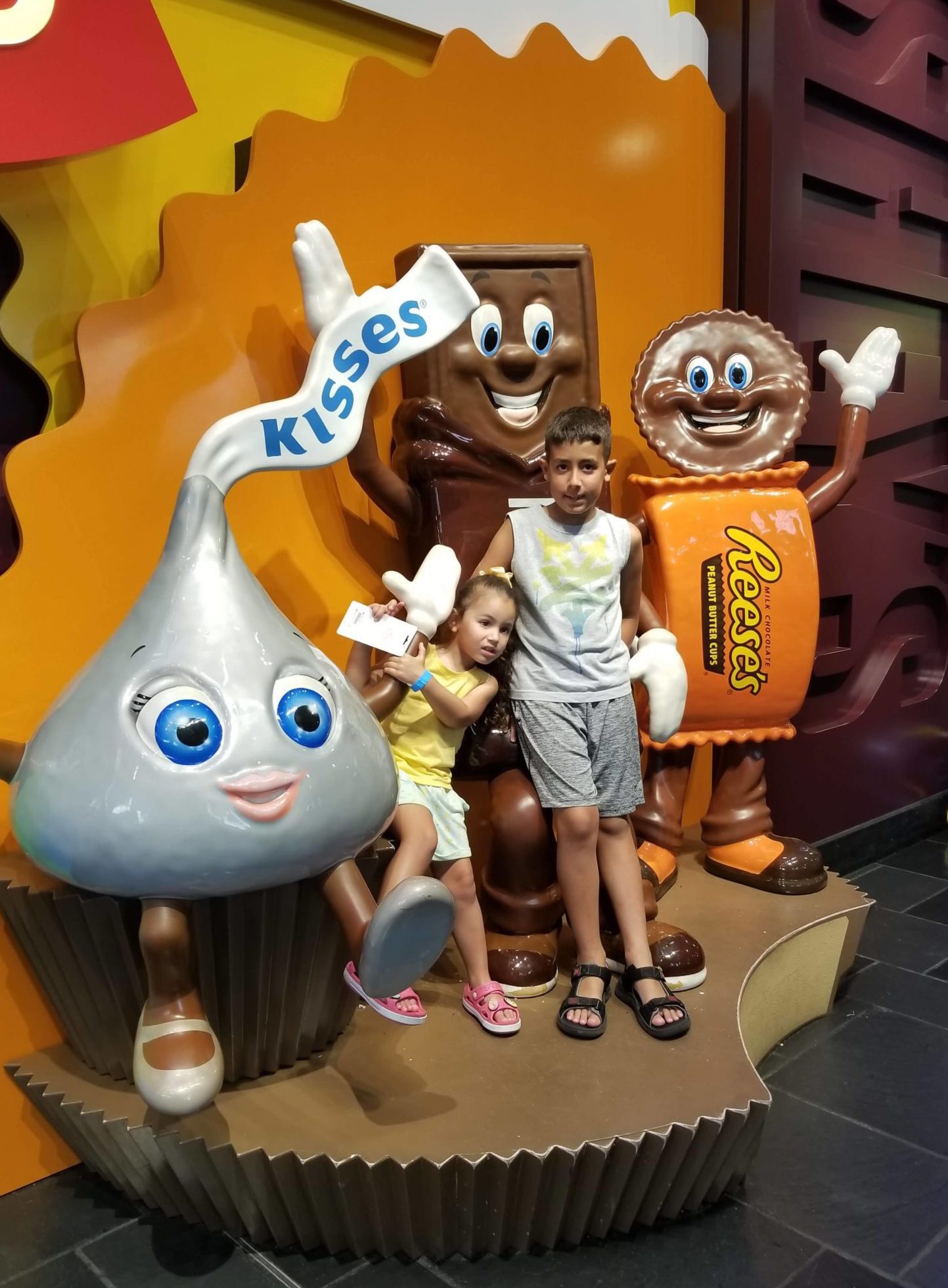 Our Family Road Trip to Hershey Park with Chevrolet
Nothing says summer like a fun family road trip! Recently our family took a summer road trip to Hershey Park with Chevrolet. Since we live for moments like this, I thought I'd tell you all about it!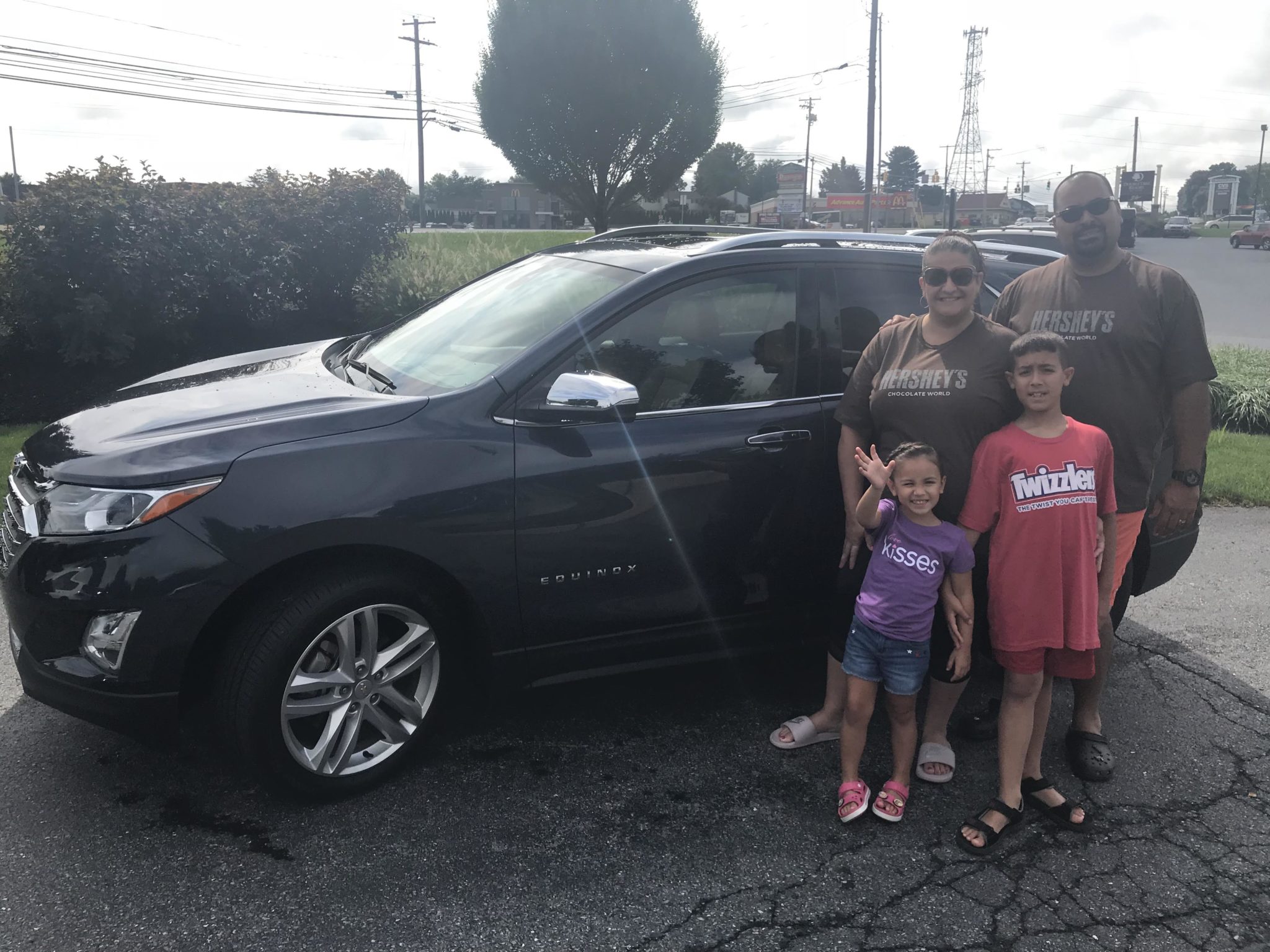 For this sweet adventure we partnered with our friends at Chevrolet and got to drive a 2018 Chevy Equinox for an entire week. You must know that I love Chevrolet vehicles! They make a great family ride. Our family owns a Chevy so we know first hand. Anytime we get to check out a different Chevy model, it's a real treat!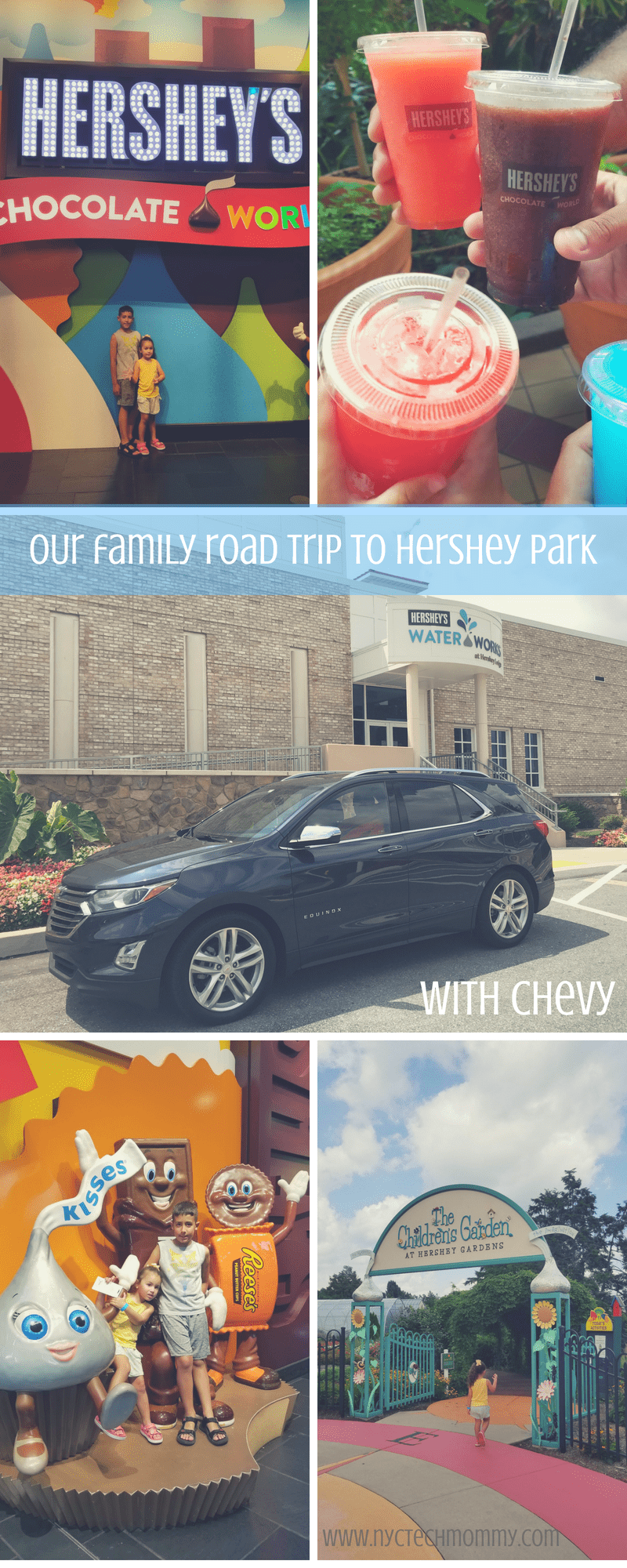 Our Family Road Trip to Hershey Park in the Chevy Equinox
We headed out for our weekend at Hershey Park on a Friday afternoon and piled into the 2018 Chevy Equinox. Immediately, I was impressed with how roomy this compact SUV was. I'm not gonna lie. I was a bit worried that our family of 5 would be a bit uncomfortable since we are accustomed to riding in a larger Chevy SUV. However, I was so wrong. The Equinox comfortably accommodated all 5 of us. There was comfortable leg room throughout, including in the back seat. The trunk was spacious too and we were able to comfortably fit in all our gear for the weekend. So we packed up and headed out!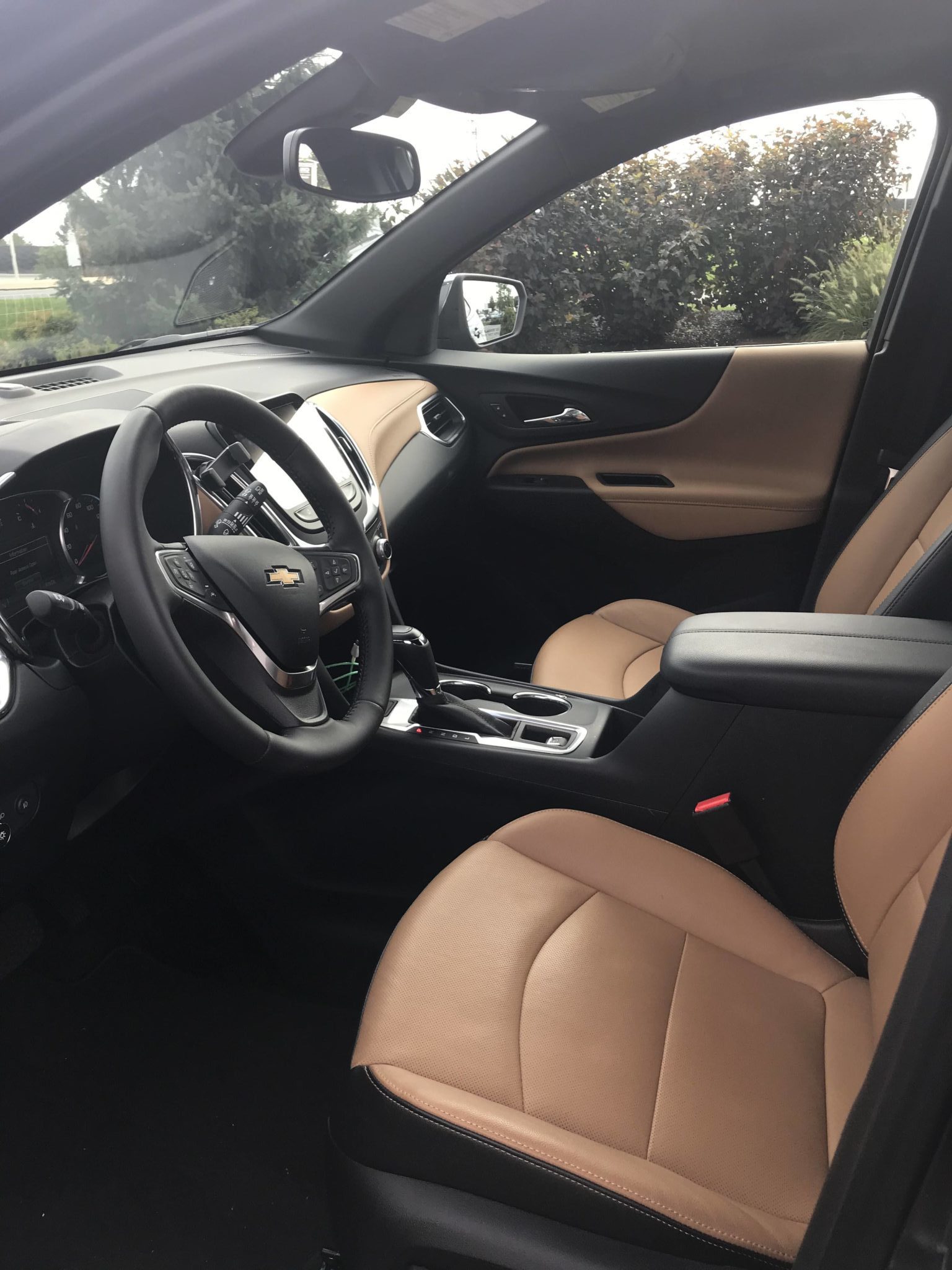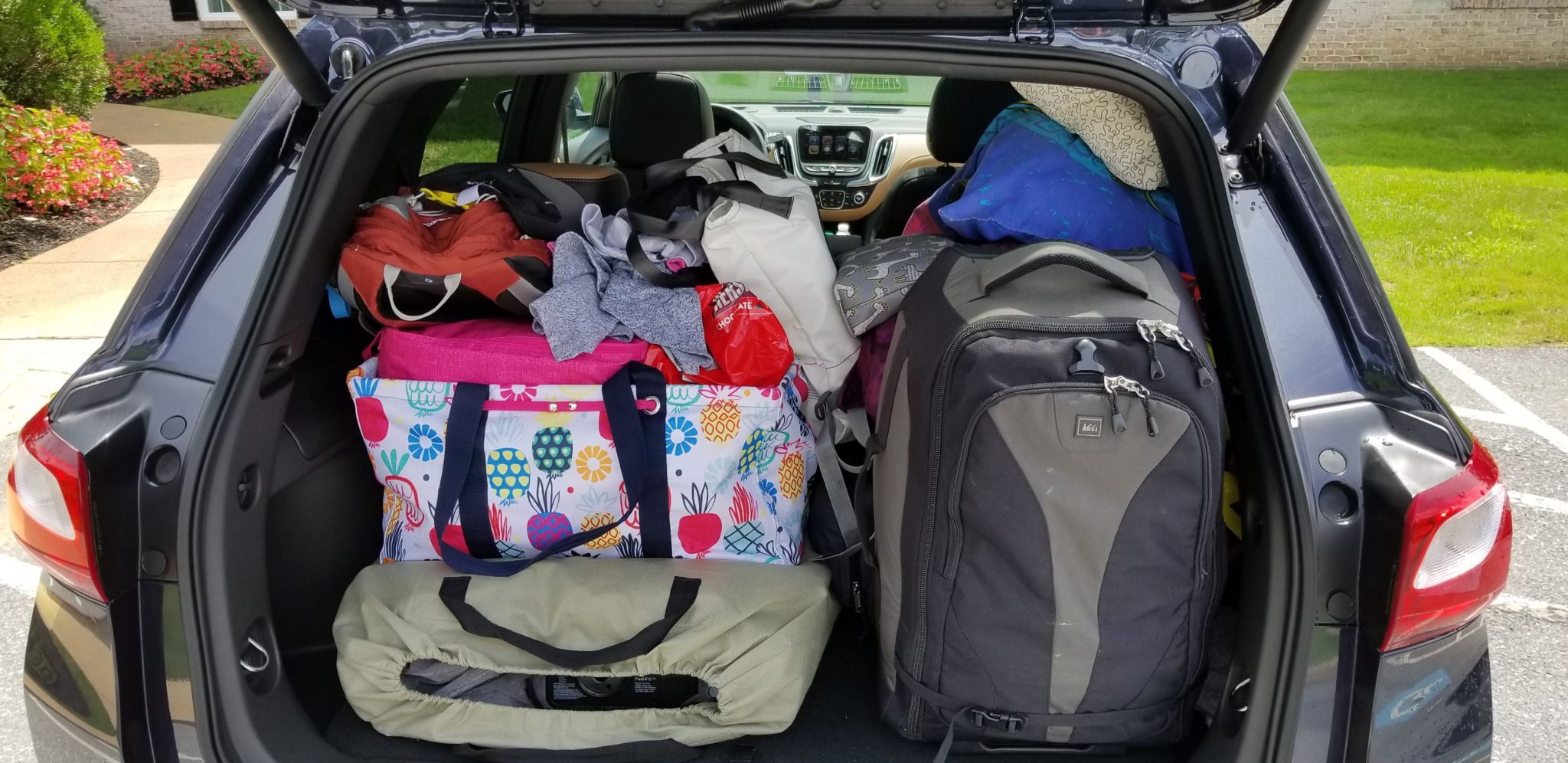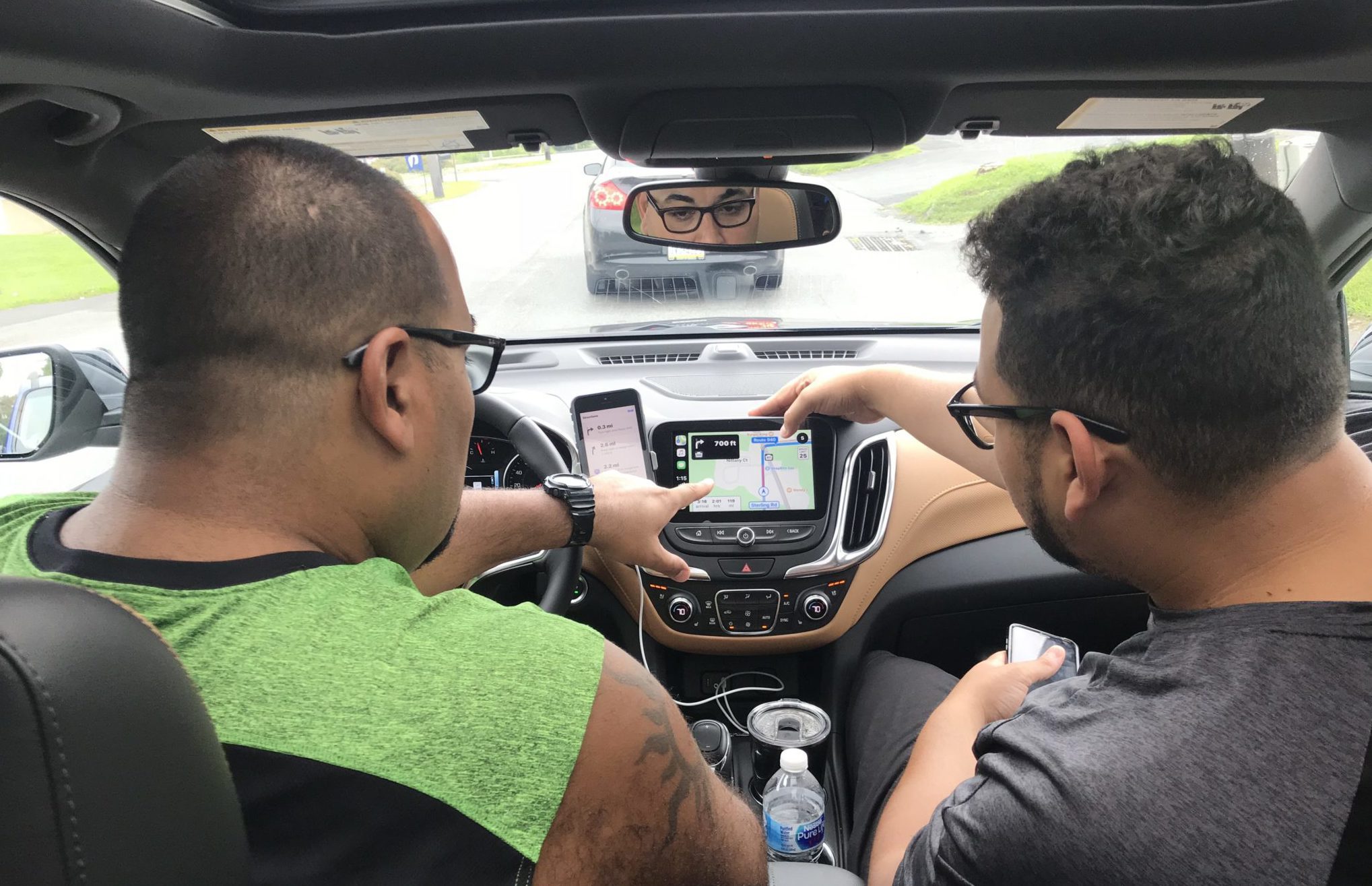 Hershey Park is about a three hour drive from NYC and we enjoyed the scenic sights along the way. I must say, the panoramic power sunroof was a family favorite. I'll tell you about a few other favorites later in this post so read on!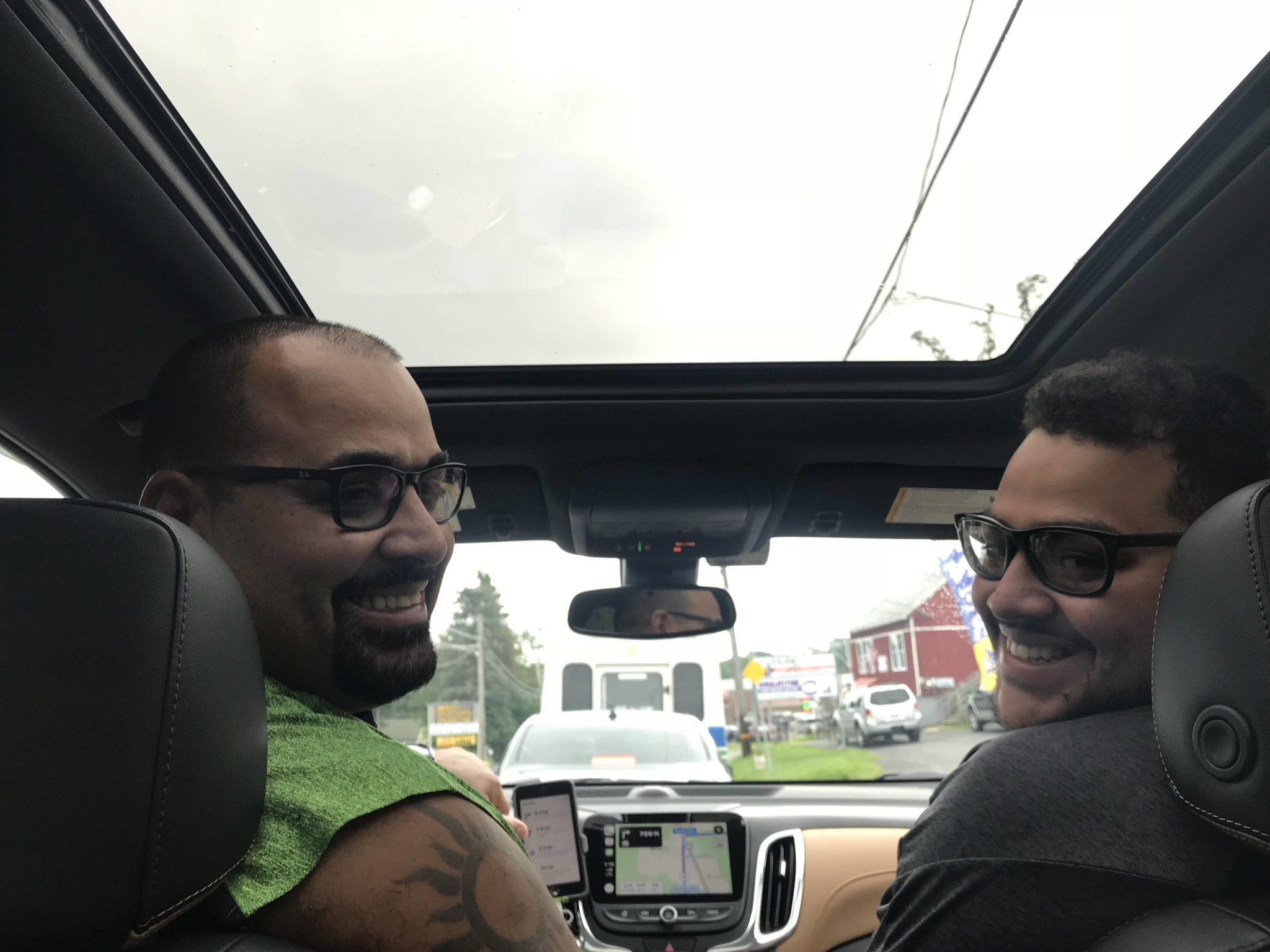 Check-In at Hershey Lodge
Our friends at Chevy had an entirely sweet weekend planned for us. Once we arrived at Hershey we checked into the Hershey Lodge. It was our first time staying at this hotel and right away I could tell that our family was in for a real treat.
The kids kicked off their stay with their very own check-in. Hershey Lodge offers kids their very own Kids' Check-in Table. My kids had fun signing the "Kids at Hershey Lodge" guest book, participating in a Hershey's candy guessing game and got to choose their very own chocolate treat. They even received a lanyard that was personalized with their name and contact information. What a great way to make sure that kids stay safe while in the park in the event that they get separated from parents and need to have contact info on hand.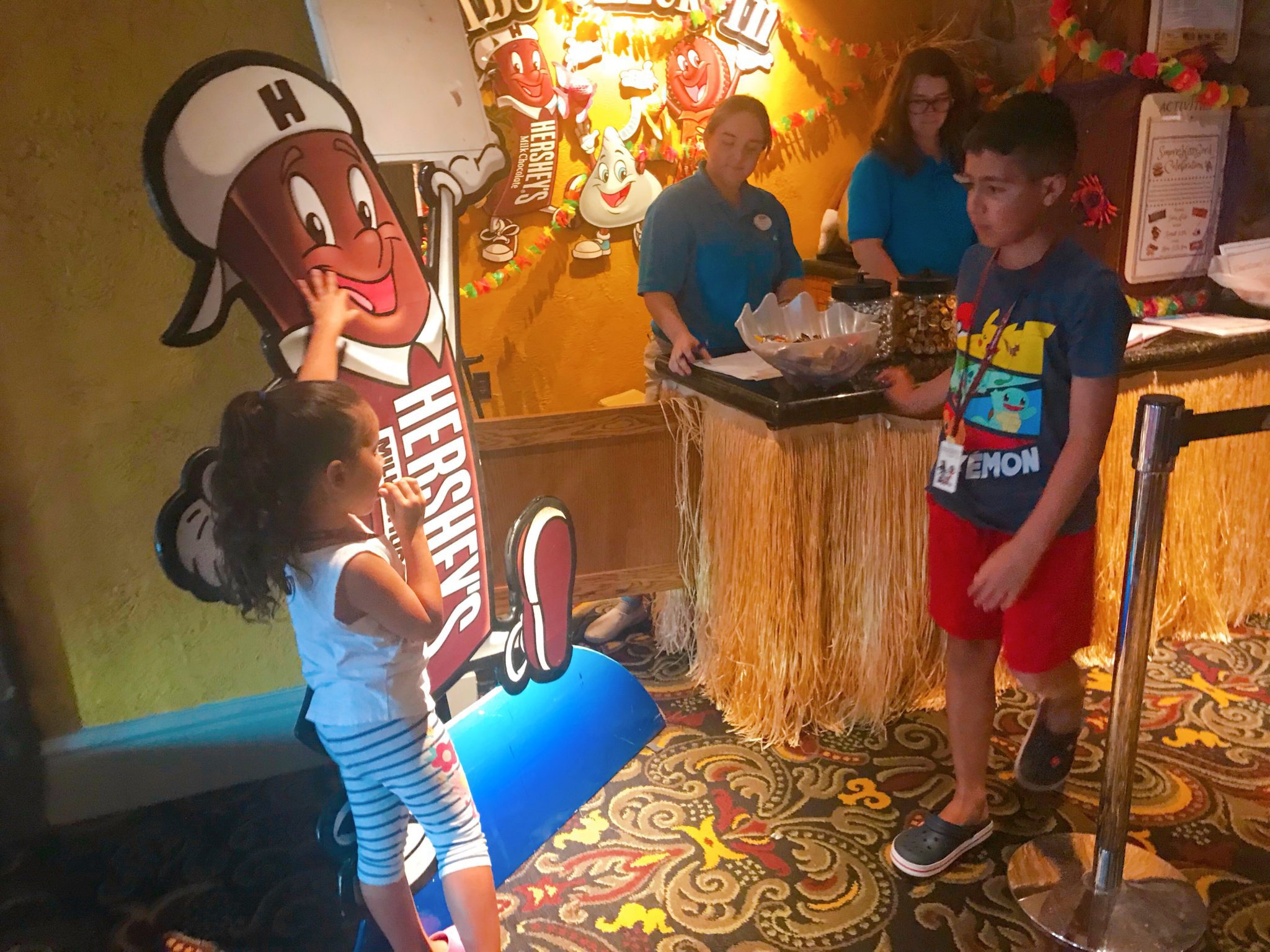 Once the kids were all checked in, we headed over to the official check-in desk. Once there, we checked in and each family member received their very own Hershey's Chocolate Bar. Sweet!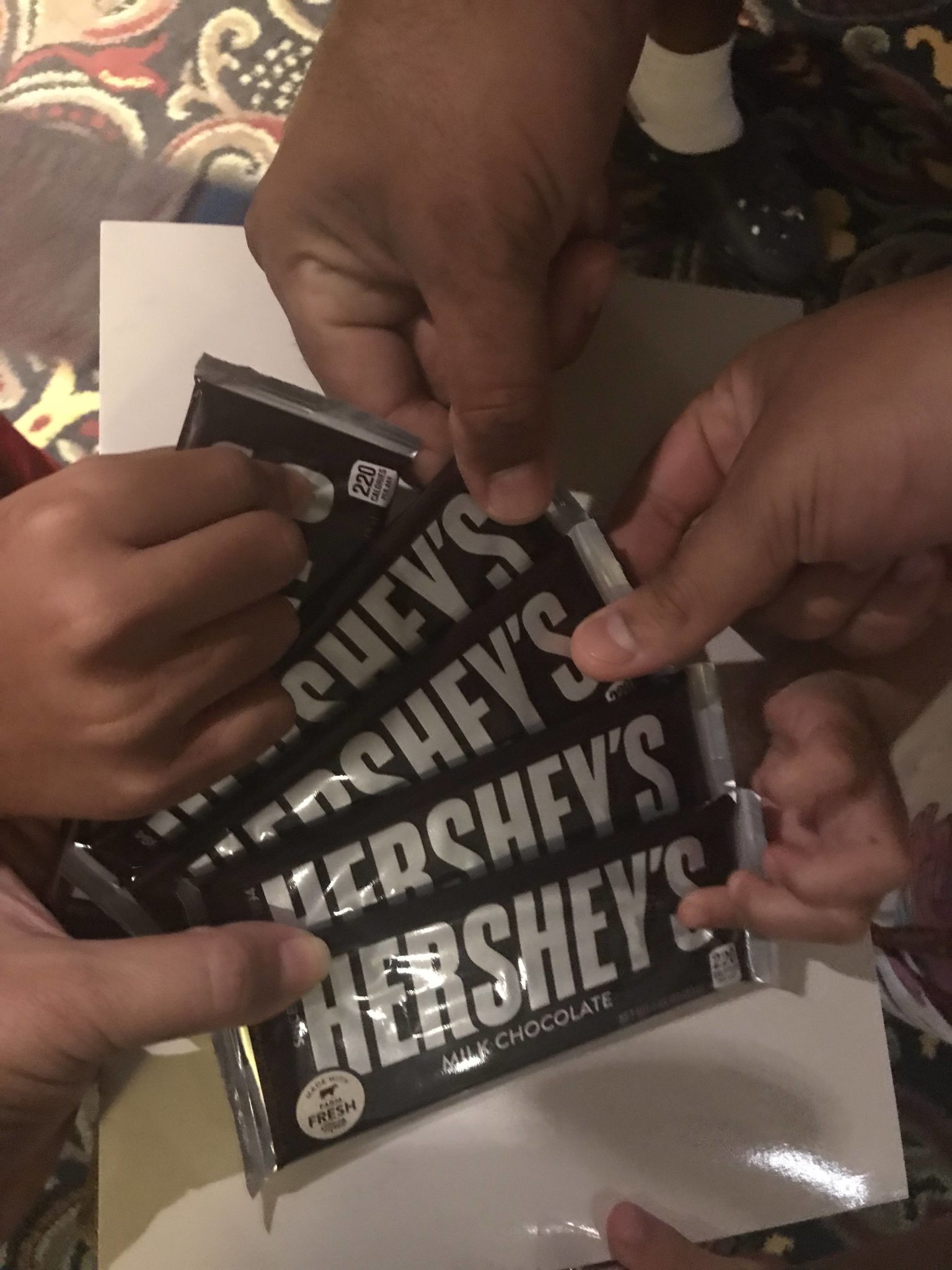 Hershey Lodge Accommodations
Our room at Hershey Lodge was very comfortable. You should know that up to 5 guests are allowed per room when staying in a double room. The hotel does not provide roll away beds or cots but they will allow you to bring your own inflatable bed. We brought our own to accommodate our 5th family member and the hotel kindly provided bedding when we called housekeeping and requested it.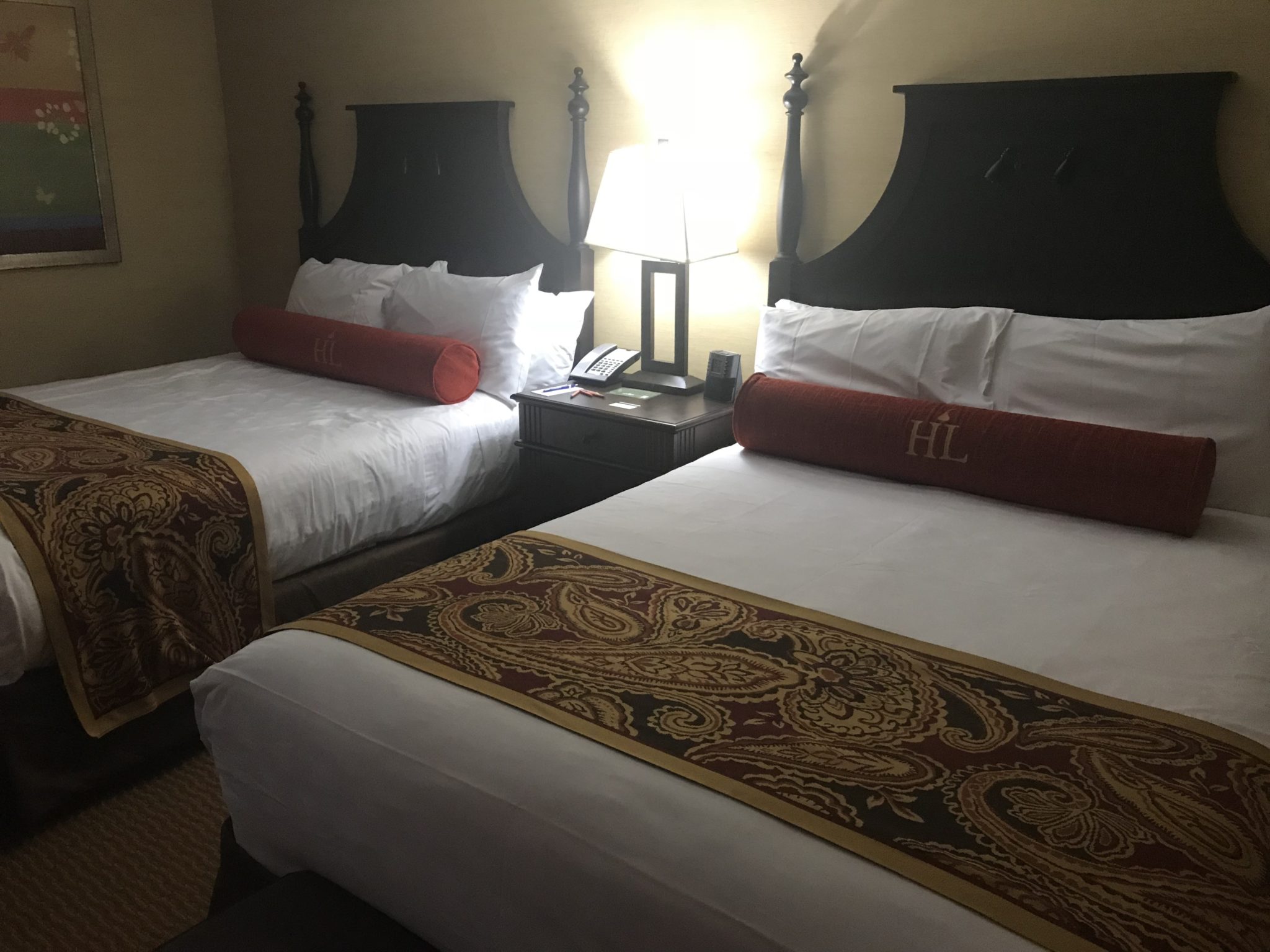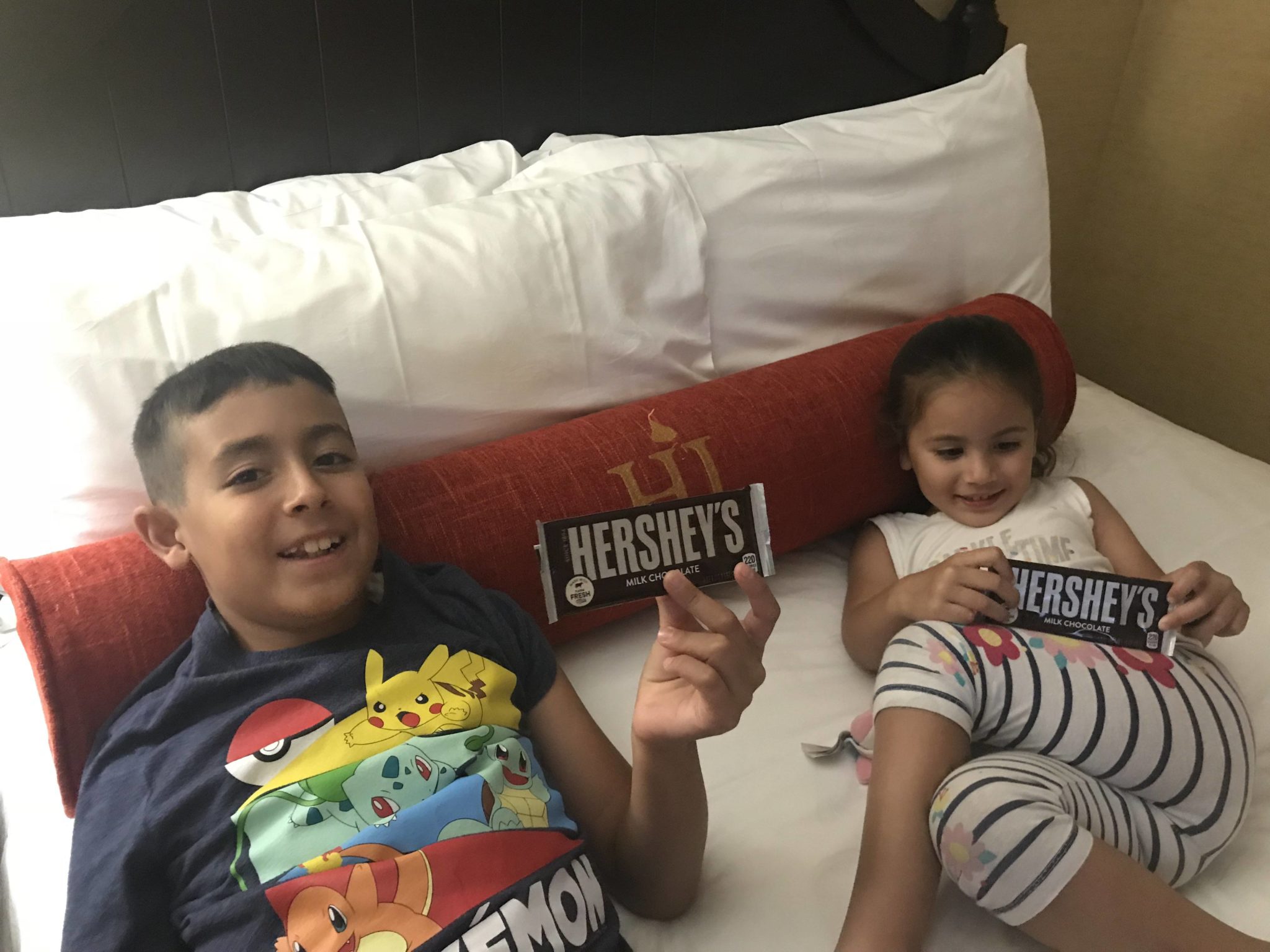 Our favorite part of our stay had to be all of the chocolate, for sure. We found Hershey's kisses on our pillows each evening, and pretty much found chocolate everywhere else we went. Hershey Lodge offers great accommodations and loads of family fun too! More details on that in just a bit. For now let me tell you all about our day at Hershey Park since after a good night's rest we headed to the park for some sweet family fun.
Our Visit to Hershey Park
On our second day at Hershey we got up bright and early and headed to Hershey Park. The kids were beyond excited since this was their first time there.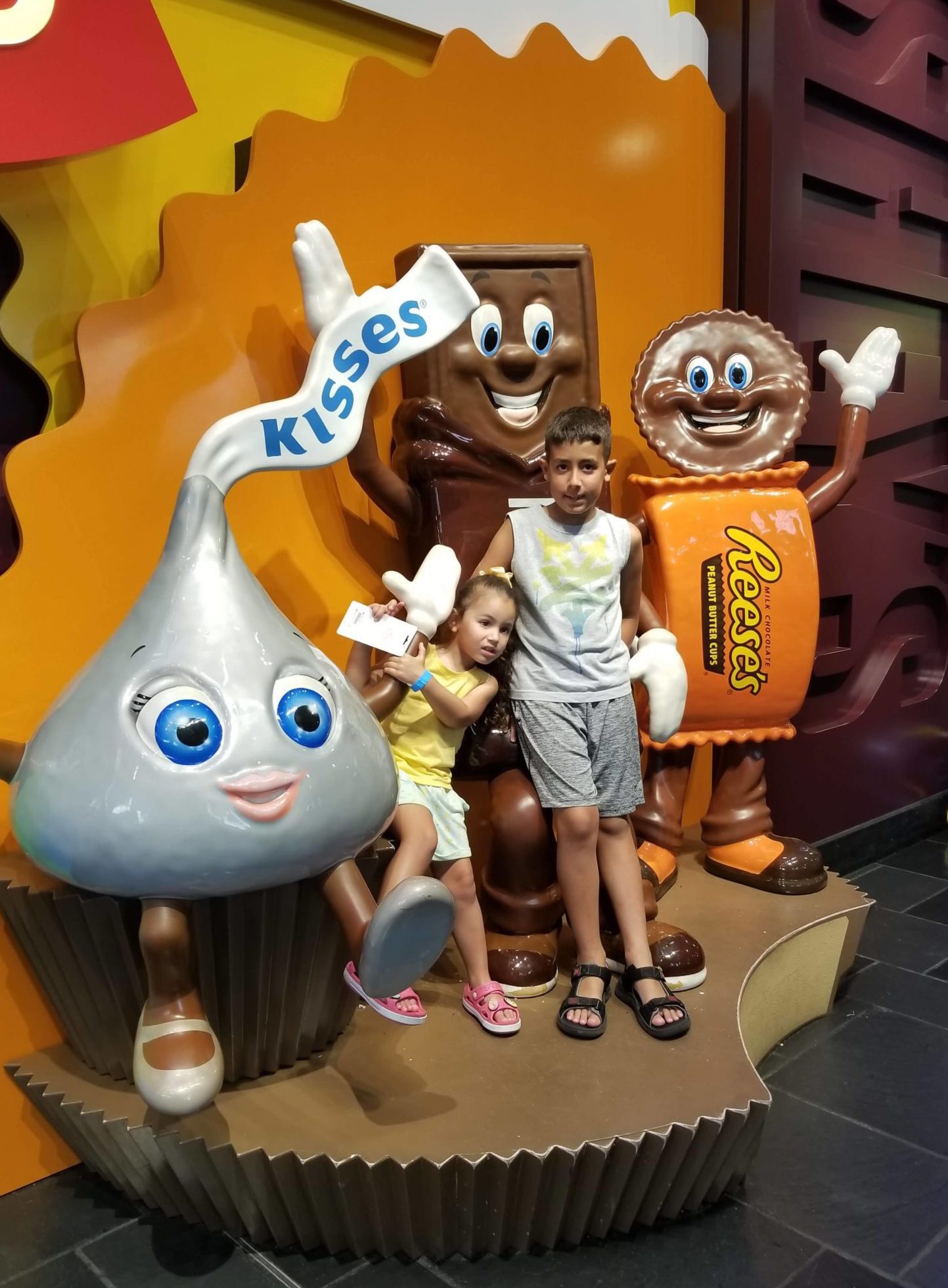 Chevy Ride and Drive Event
On our way into the park with made a little pit stop at Chevrolet's Ride and Drive event. On select days Chevy celebrates their drivers by bringing out their fleet of vehicles and setting up free test drive opportunities in a nearby parking lot at the entrance to Hershey Park. This was a great opportunity for us to test drive some really cool Chevy vehicles and I was so glad that our friends at Chevy invited us to this event.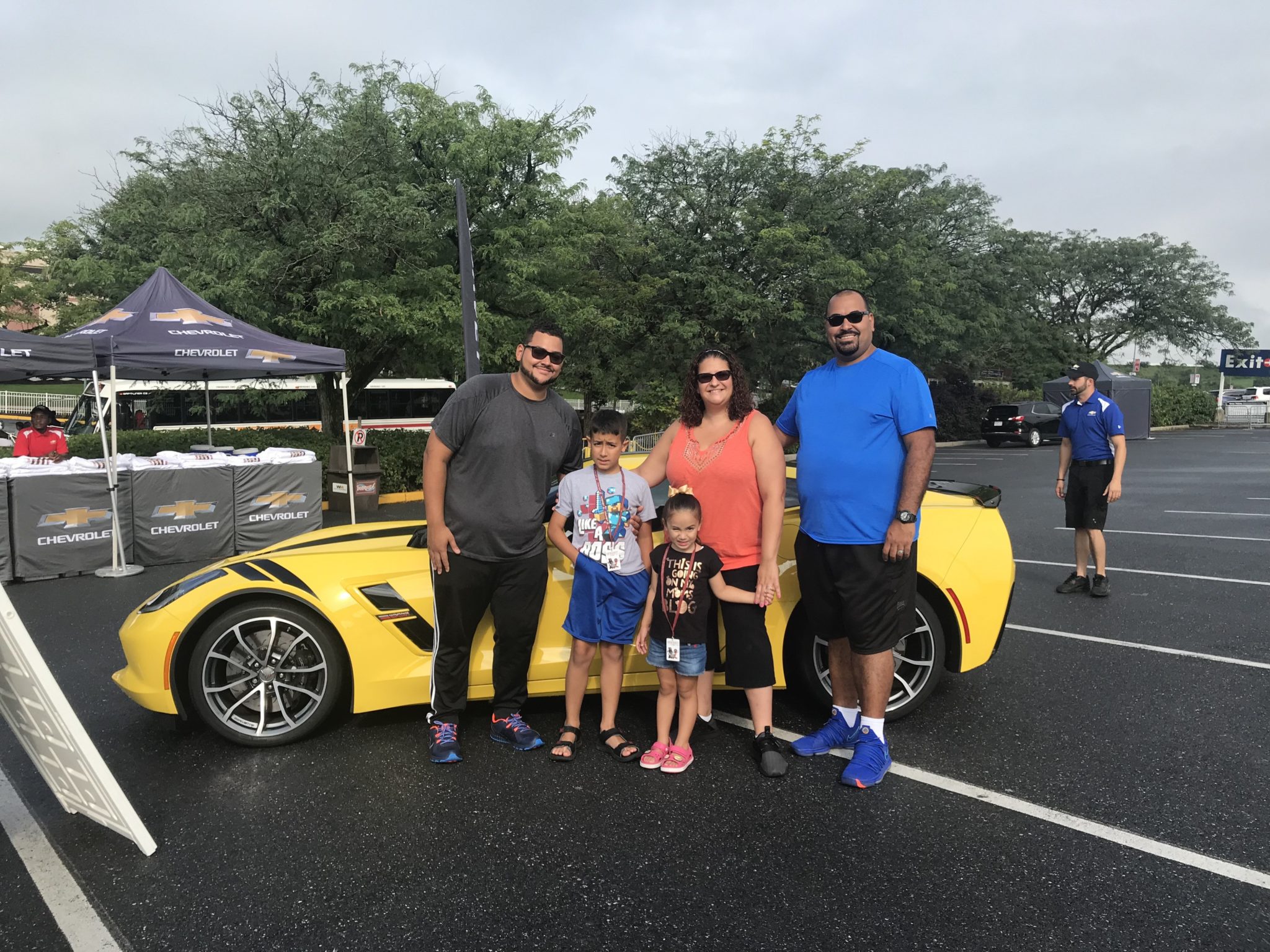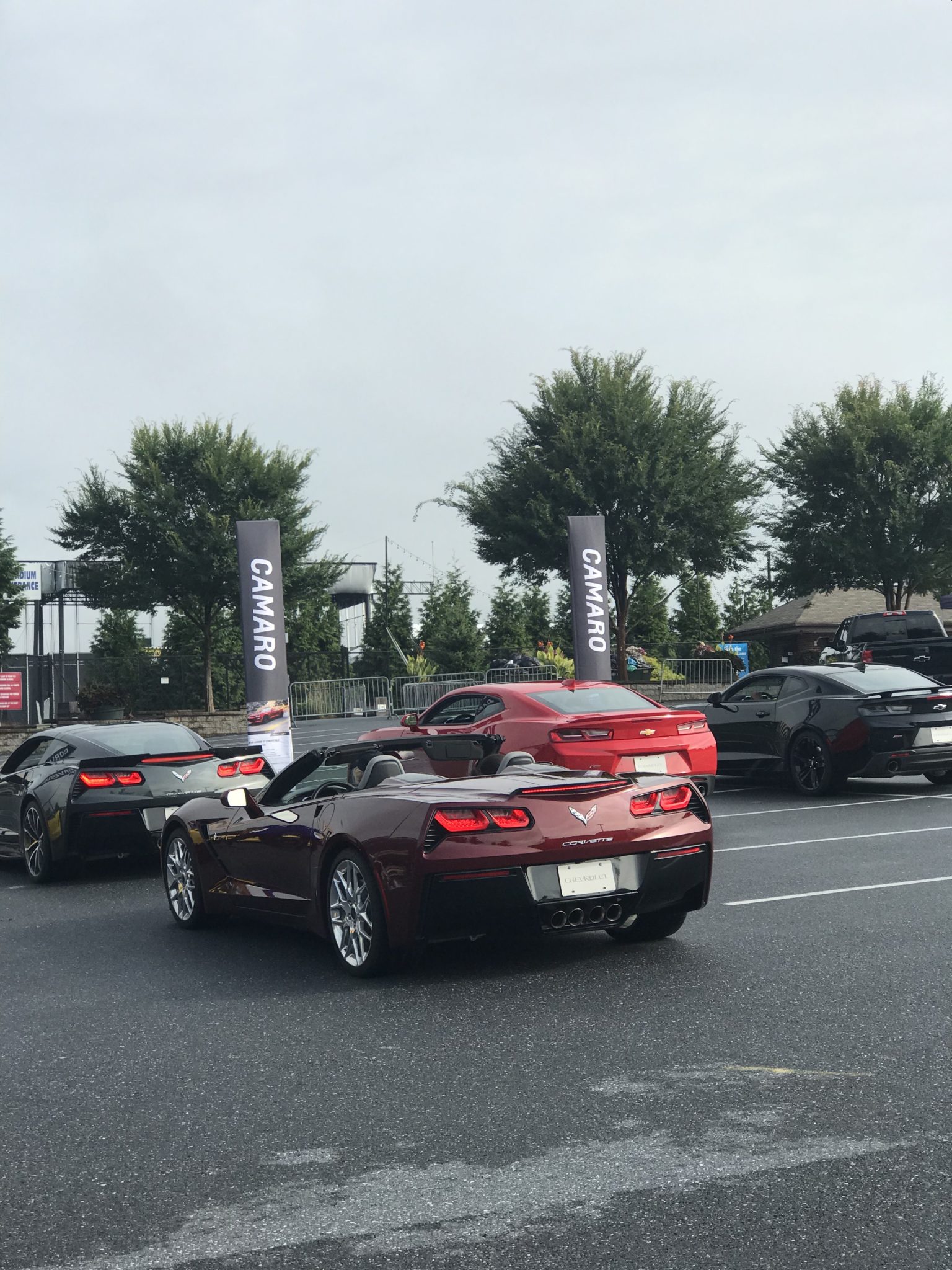 My husband was the driver and a knowledgable Chevy representative took the passenger seat as we test drove a few vehicles. I grabbed a back seat and enjoyed the ride! First we drove the Chevy Bolt Electric Vehicle and I was really impressed! Not only by how roomy it was but by the simple fact that it is a fully electrical vehicle. I had no idea that you could drive up to 238 miles on just one full charge! That means that the Chevy Bolt can take you anywhere, making it a great road trip vehicle in my opinion. You know I love a good road trip! Unfortunately, I didn't grab a pic of us in the Chevy Bolt but trust me it was a sweet ride!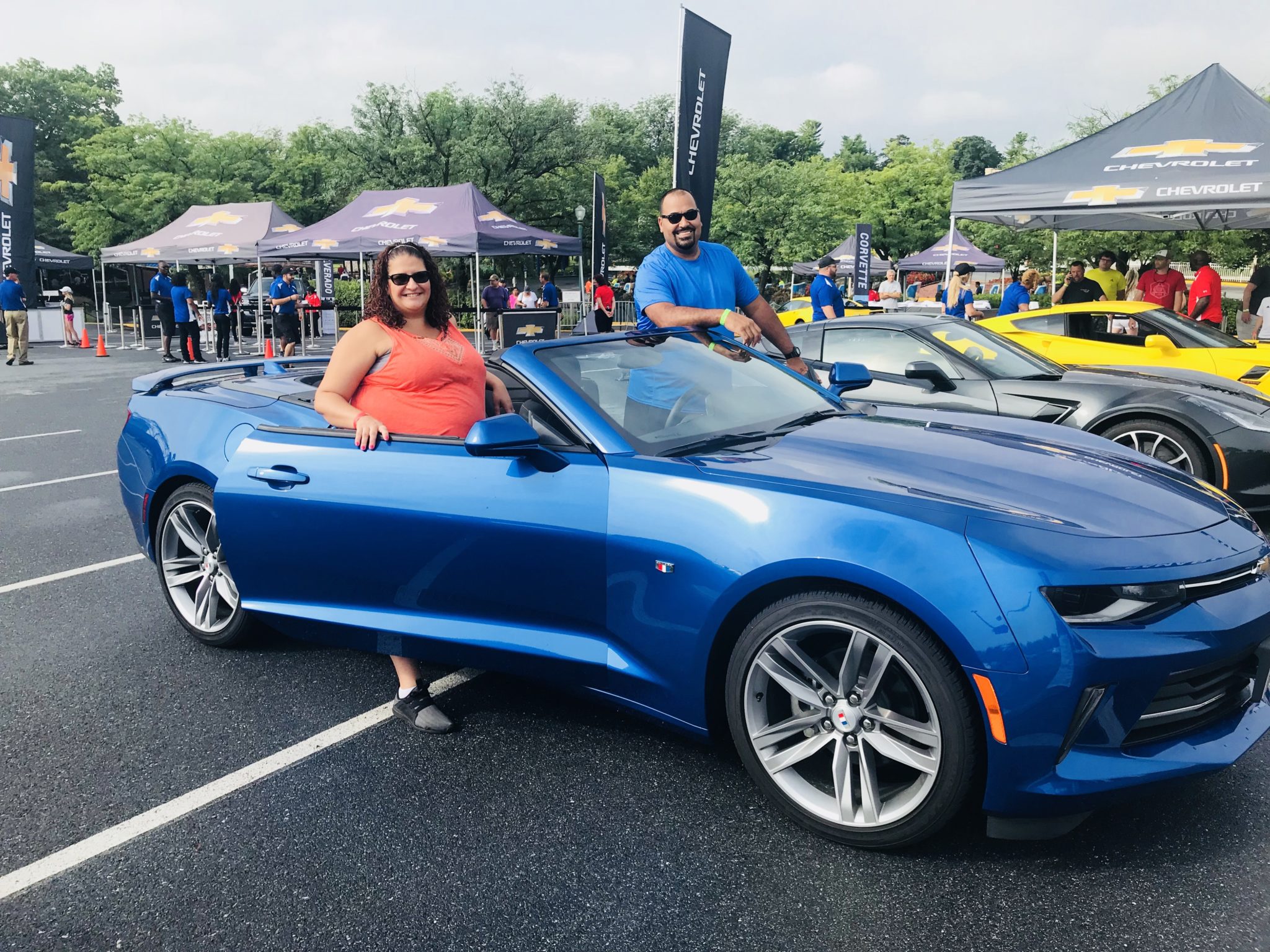 We also had the opportunity to test drive some Chevy performance vehicles. Not really family-friendly cars but a girl can always dream. Right? Driving the Camaro was really fun! I've always wanted to ride in one. And in my favorite color! It was awesome!
The Boardwalk at Hershey Park
After our test drives we finally headed into Hershey Park. The day was starting to heat up so we decided that the waterpark should be our first stop. We headed to the Boardwalk at Hershey Park.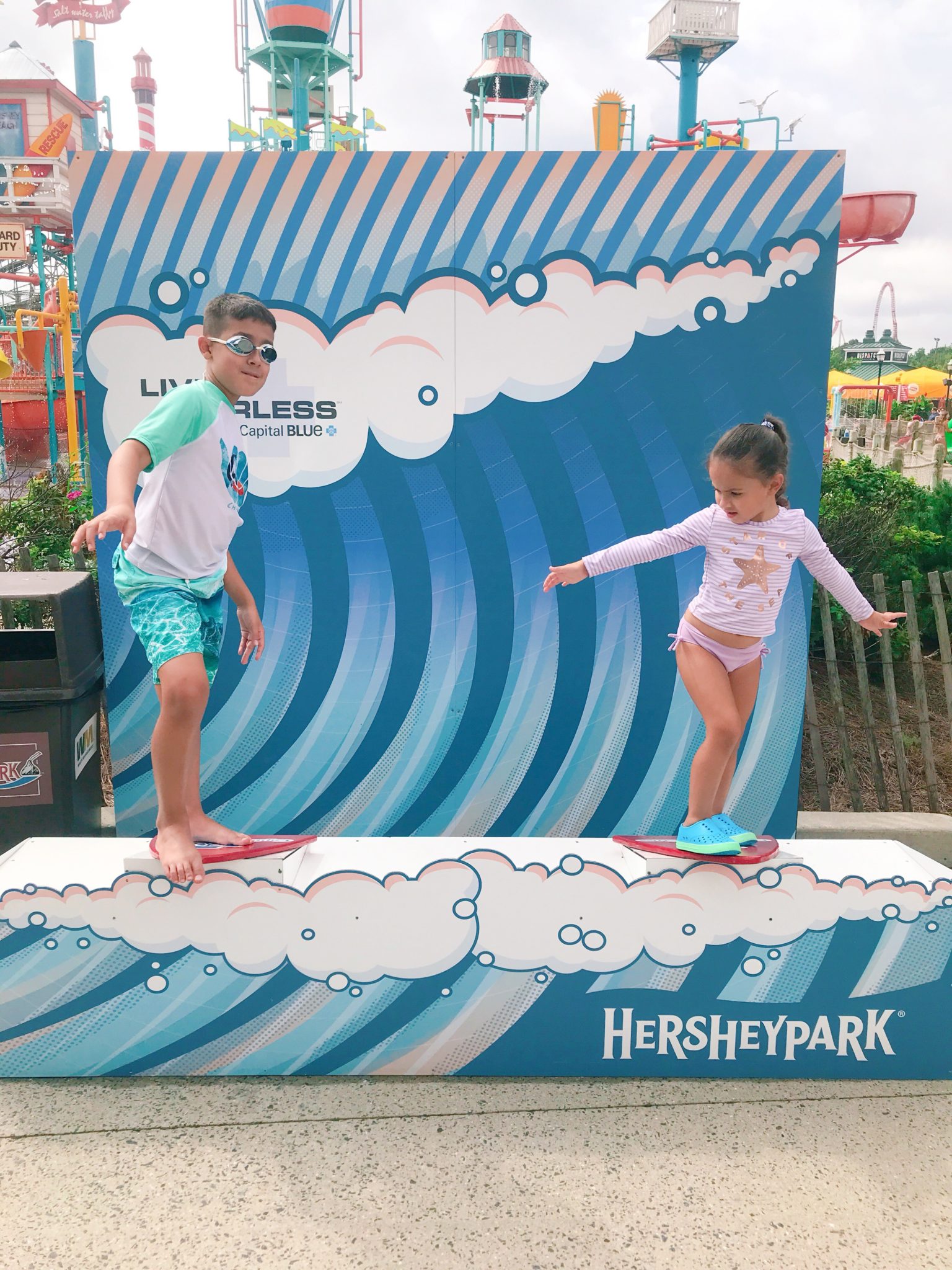 There's nothing more fun than spending a hot summer day splashing around at a water park! We all had a really fun time. We enjoyed the wave pool, took ride after ride down the lazy river, and just enjoyed cooling off!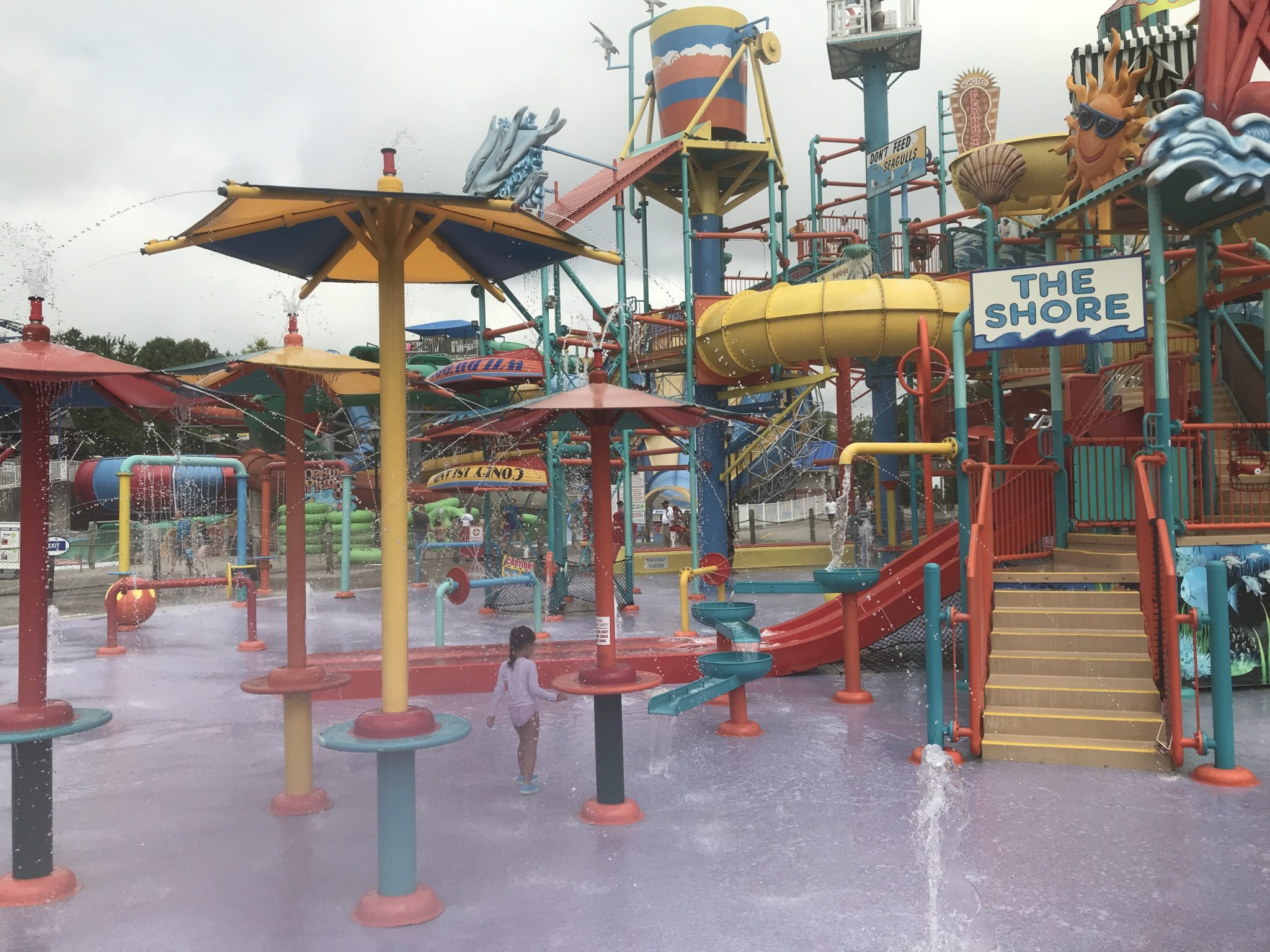 The kids even spotted their favorite Chevy vehicle all decked out in Lifeguard gear and requested a photo. I think they remembered us driving the Chevy Suburban not too long ago and all the fun we had!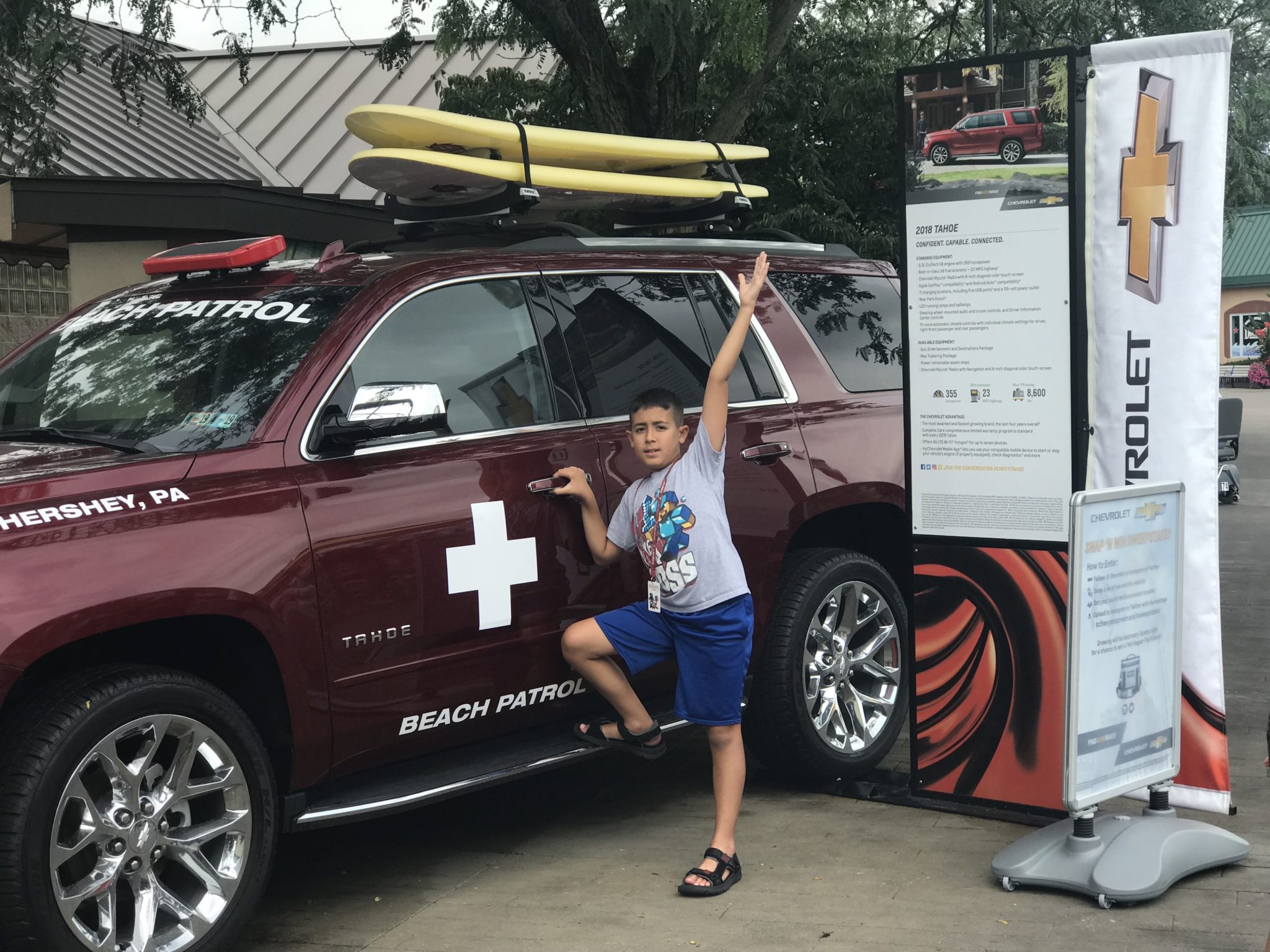 As a Hershey Park partner, Chevy offers park guests the opportunity to check out a variety of their vehicles which are scattered across the park. We had fun checking out other Chevy vehicles as we explored the rest of the park later in the day.
Since it was a really hot summer day, we spent most of our day enjoying the water and sun at the Boardwalk at Hershey Park. We even enjoyed a yummy hot-dog lunch from Nathan's which made us feel like we were right back home on Coney Island. Walking around this beach themed waterpark one can really get into the shore feel of the place.
After all the water fun we were ready to hit the amusement park rides so we headed to the changing rooms and got ready to go. At the waterpark you'll find changing rooms and showers that make it really convenient to change out of your wet swimsuit and freshen up before hitting the rides.
The Sweetest Place on Earth
Once we headed out into the amusement park side of Hershey Park we were immediately greeted with the sweetness of this place. My little one immediately spotted the cotton candy and I gave in and got her some. And that tee – cute right? I couldn't help but snap that pic!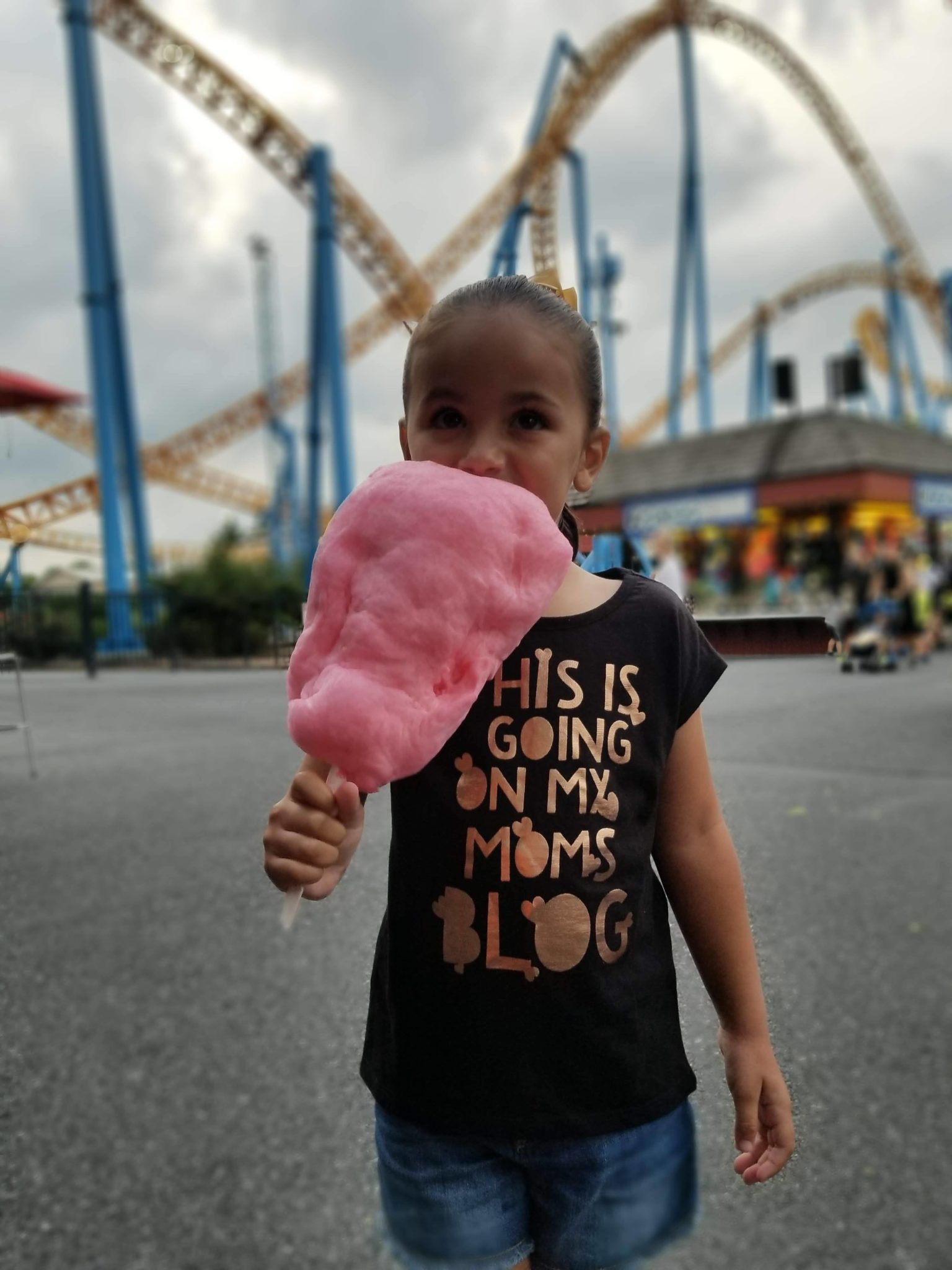 The kids went on several rides. The adults joined in the fun too!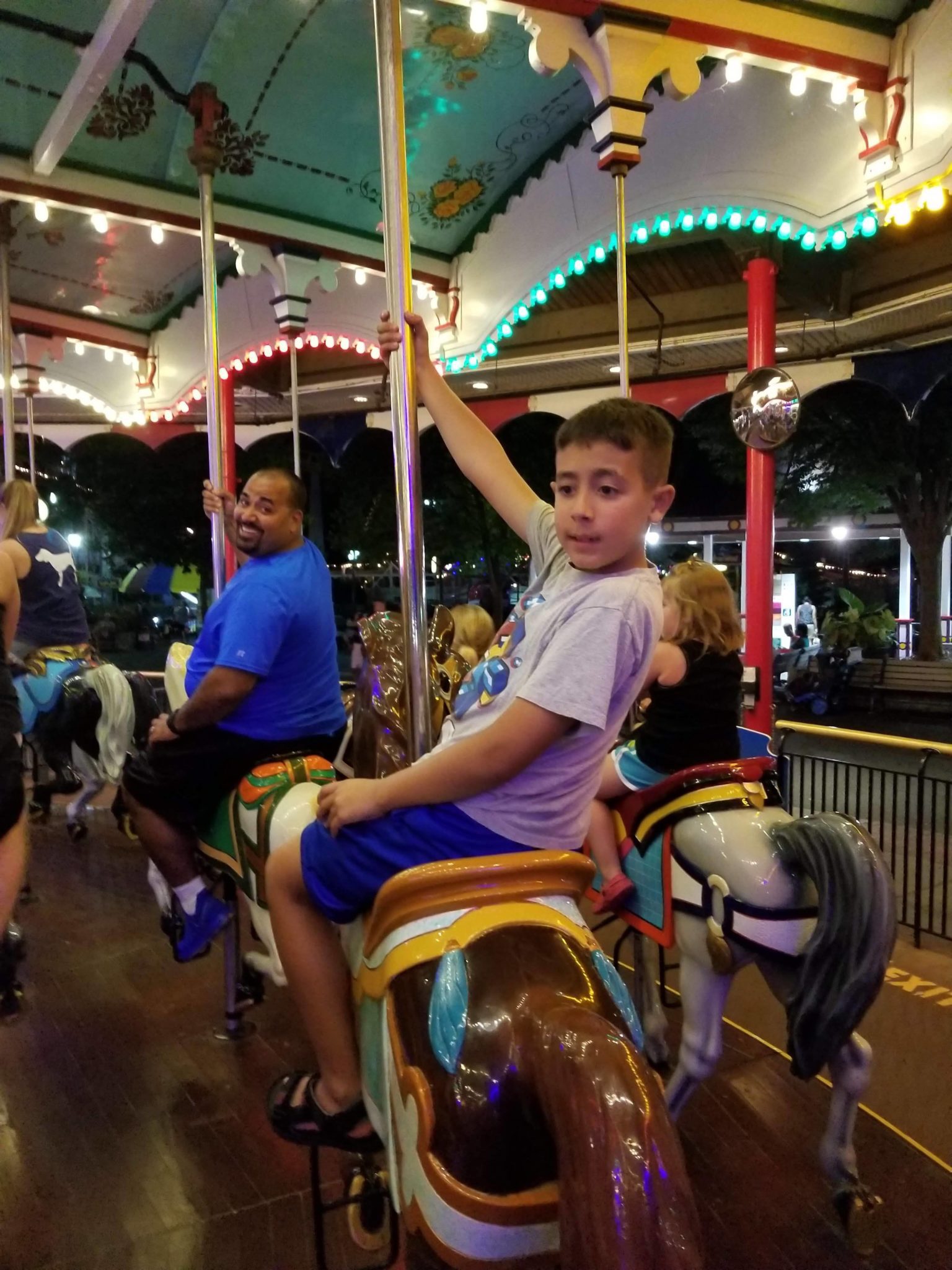 We even got to meet some sweet friends  and I can tell you that meeting your favorite candy bar is the sweetest way to end your day at Hershey Park!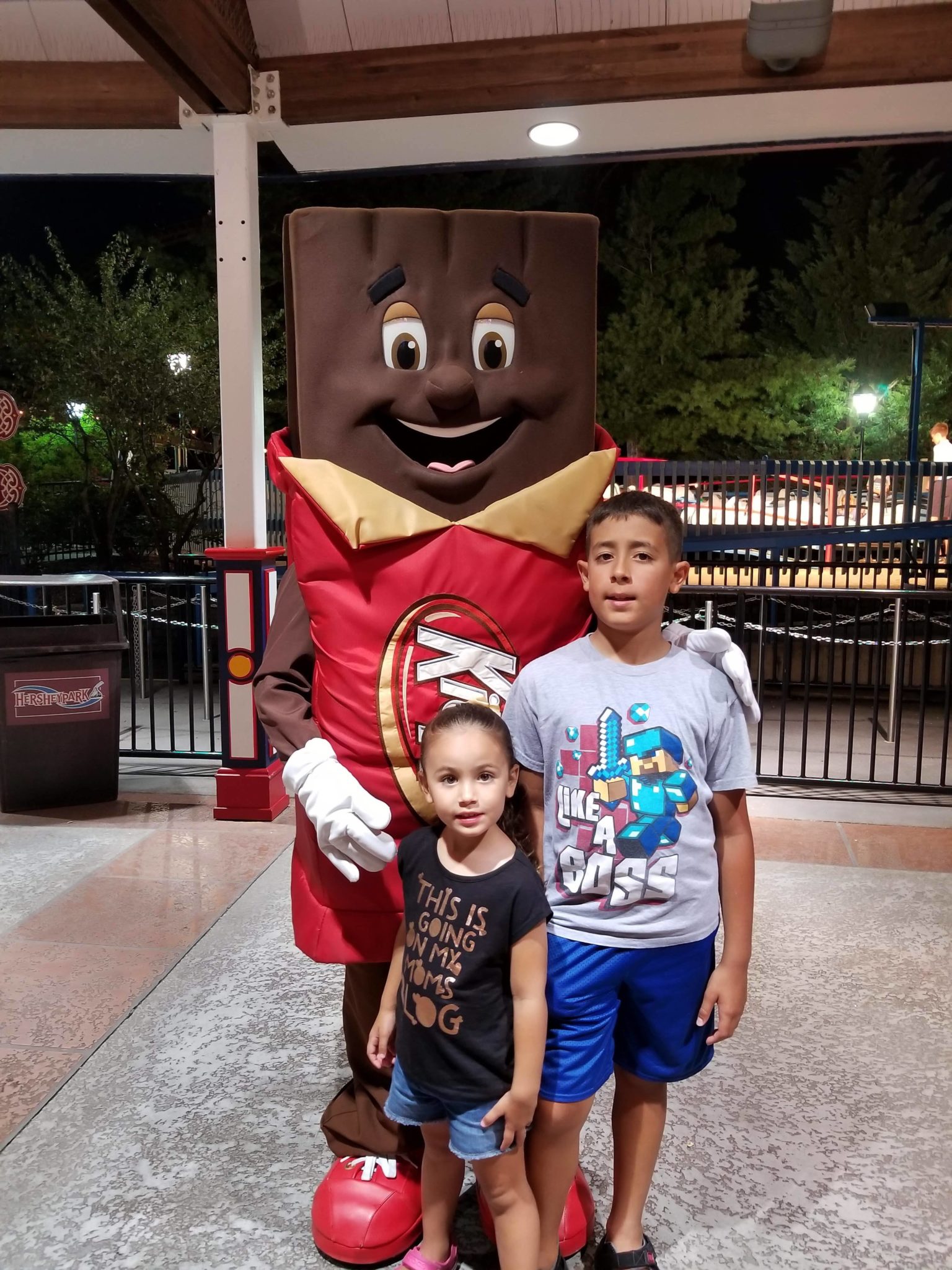 Family Fun at Hershey Lodge
On the third day of our Hershey stay we decided to enjoy all the recreation and fun that comes included with a Hershey's Lodge stay. Since we were a bit tired from the long fun-filled day before, we started our day with a late breakfast at the Hershey Grill. They offer breakfast until 11:30, a bit later than the rest of the on site restaurants which stop serving breakfast at 11AM.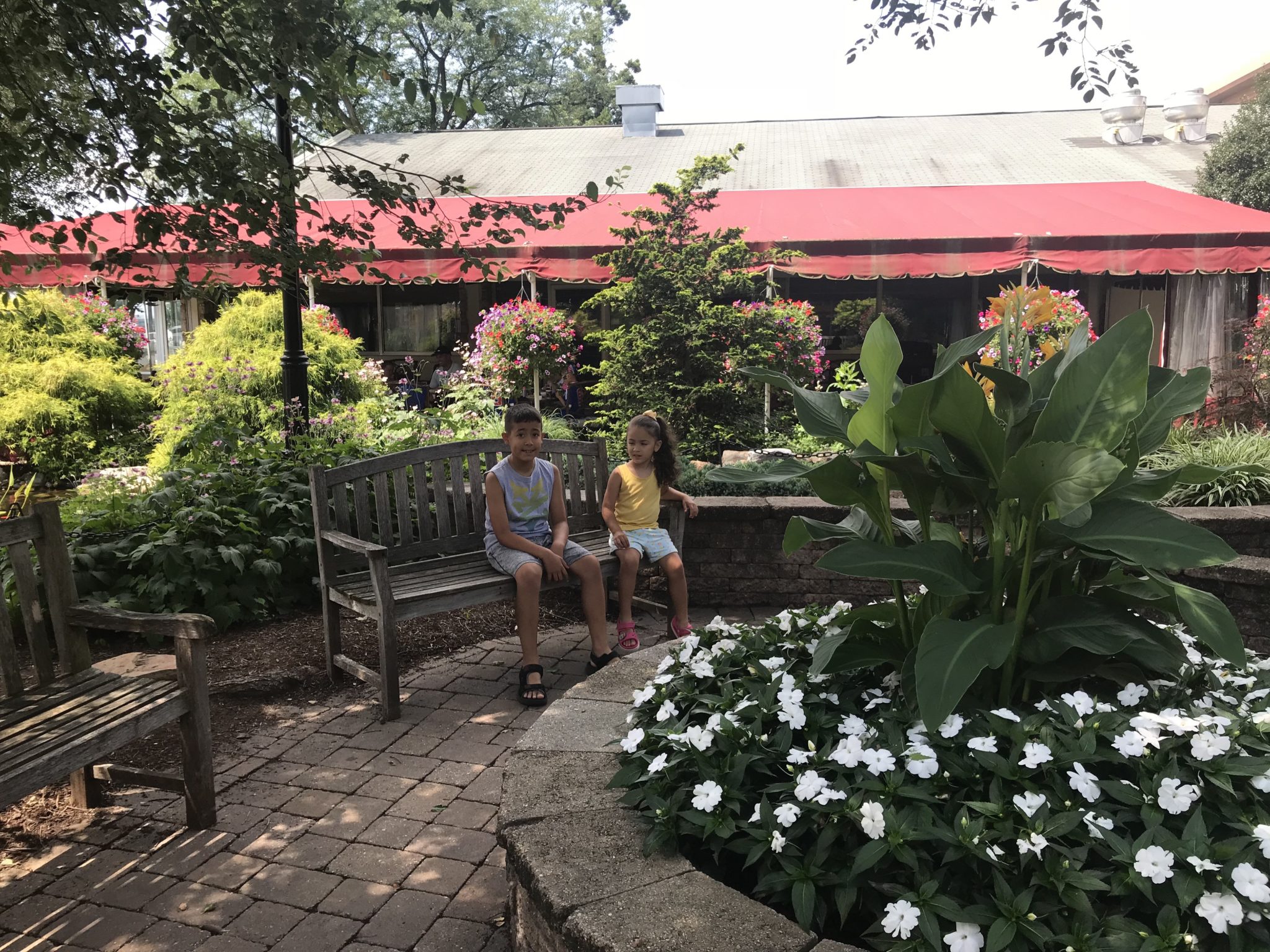 Breakfast at Hershey Grill
Hershey Grill is a casual dinning spot that boasts a beautiful outdoor patio overlooking a beautifully manicured coy fish pond. However, since the morning was a bit warm we decided against a table outside and chose a comfortable (and air-conditioned) table inside.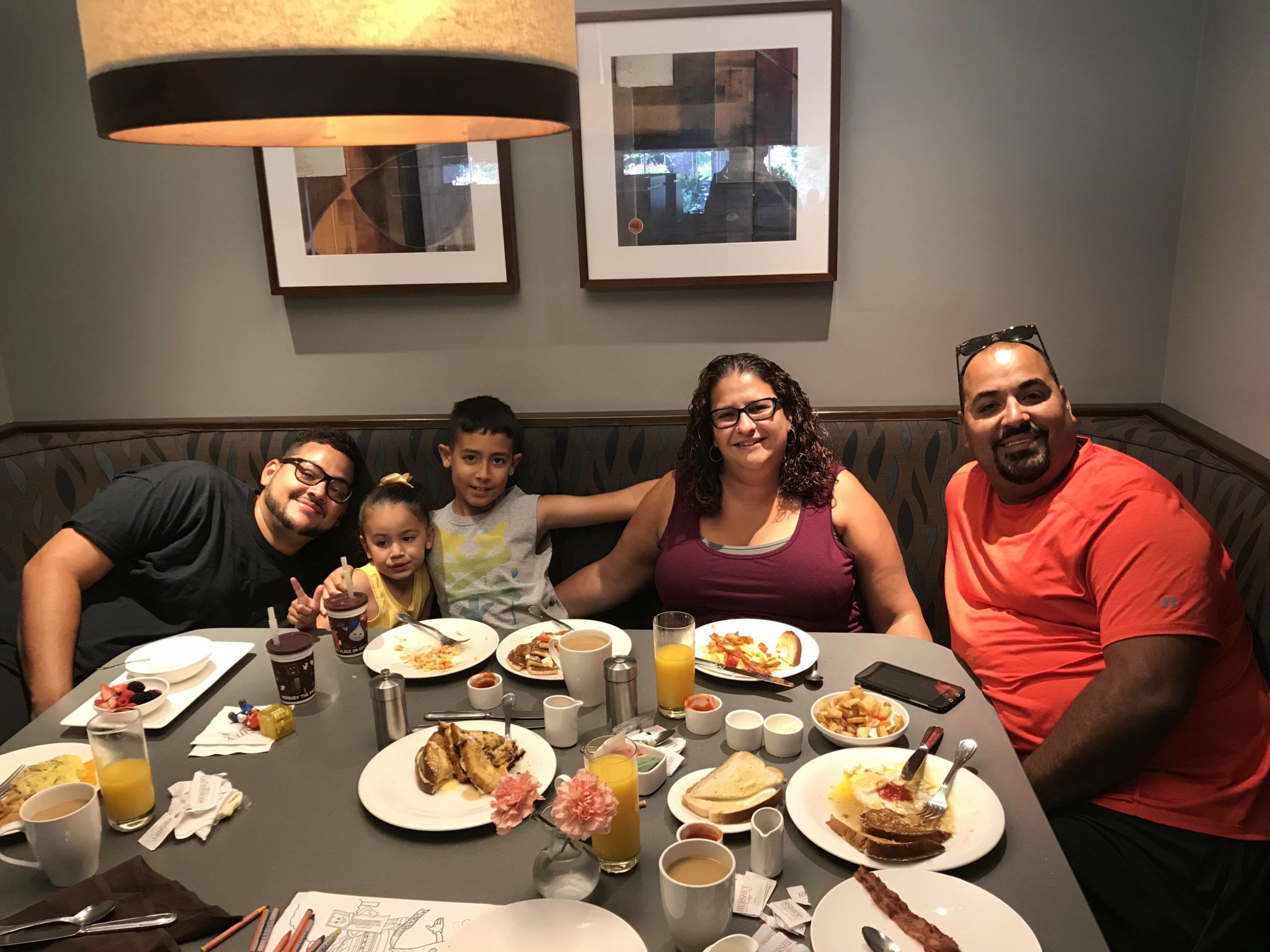 The food was delicious and the prices were reasonable. The kids ordered breakfast items from the kids menu. We shared a delicious plate of S'Mores French Toast, which I highly recommend. It was so yummy!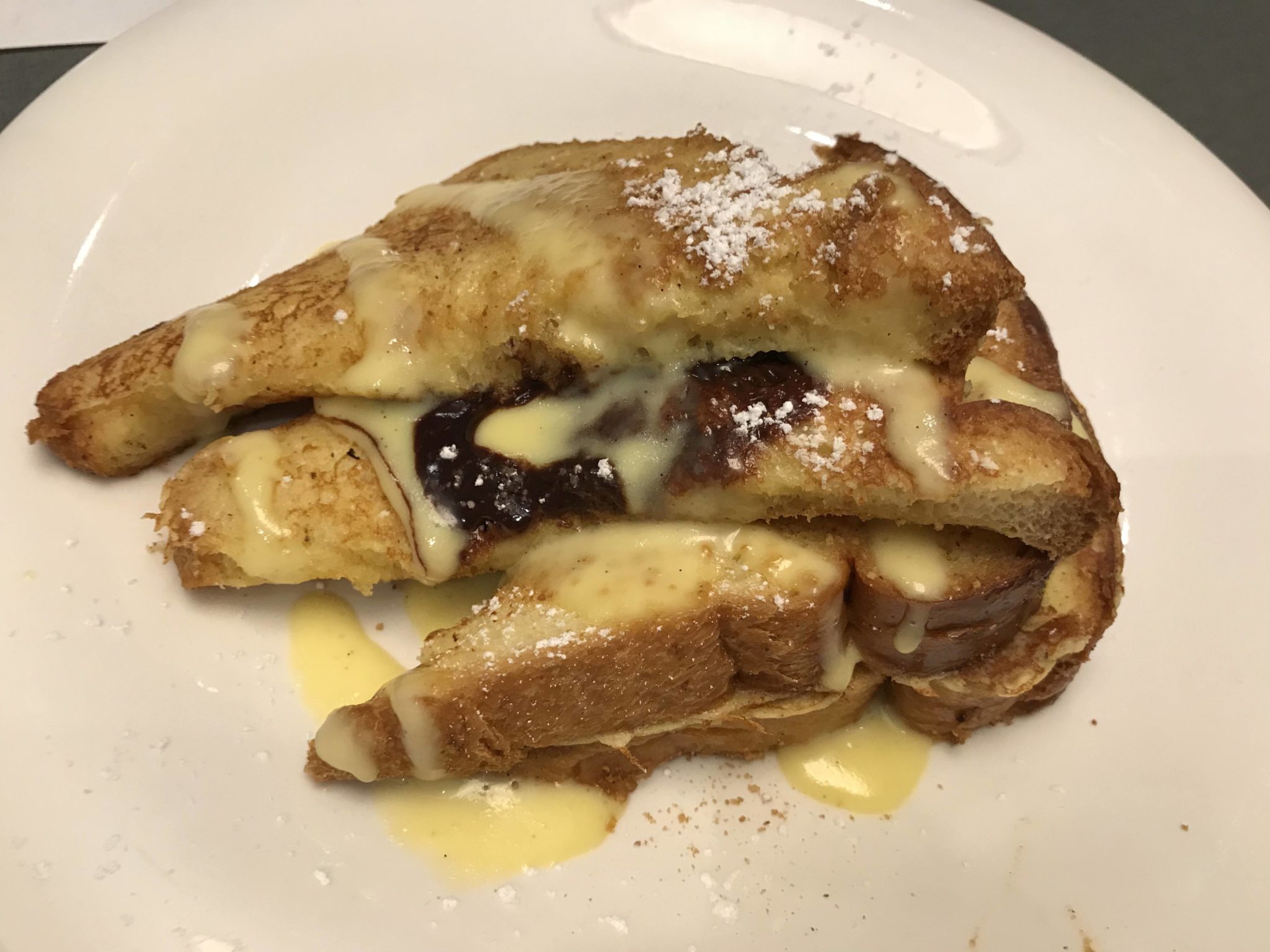 Mini Golf at Hershey Lodge
After breakfast we were ready to explore the rest of this family-friendly resort. We went off to enjoy some mini-golf. It's free for hotel guests so I couldn't say no when the kids insisted we play. There's also a great outdoor pool adjacent to the mini-golf area but we didn't take a dip this time.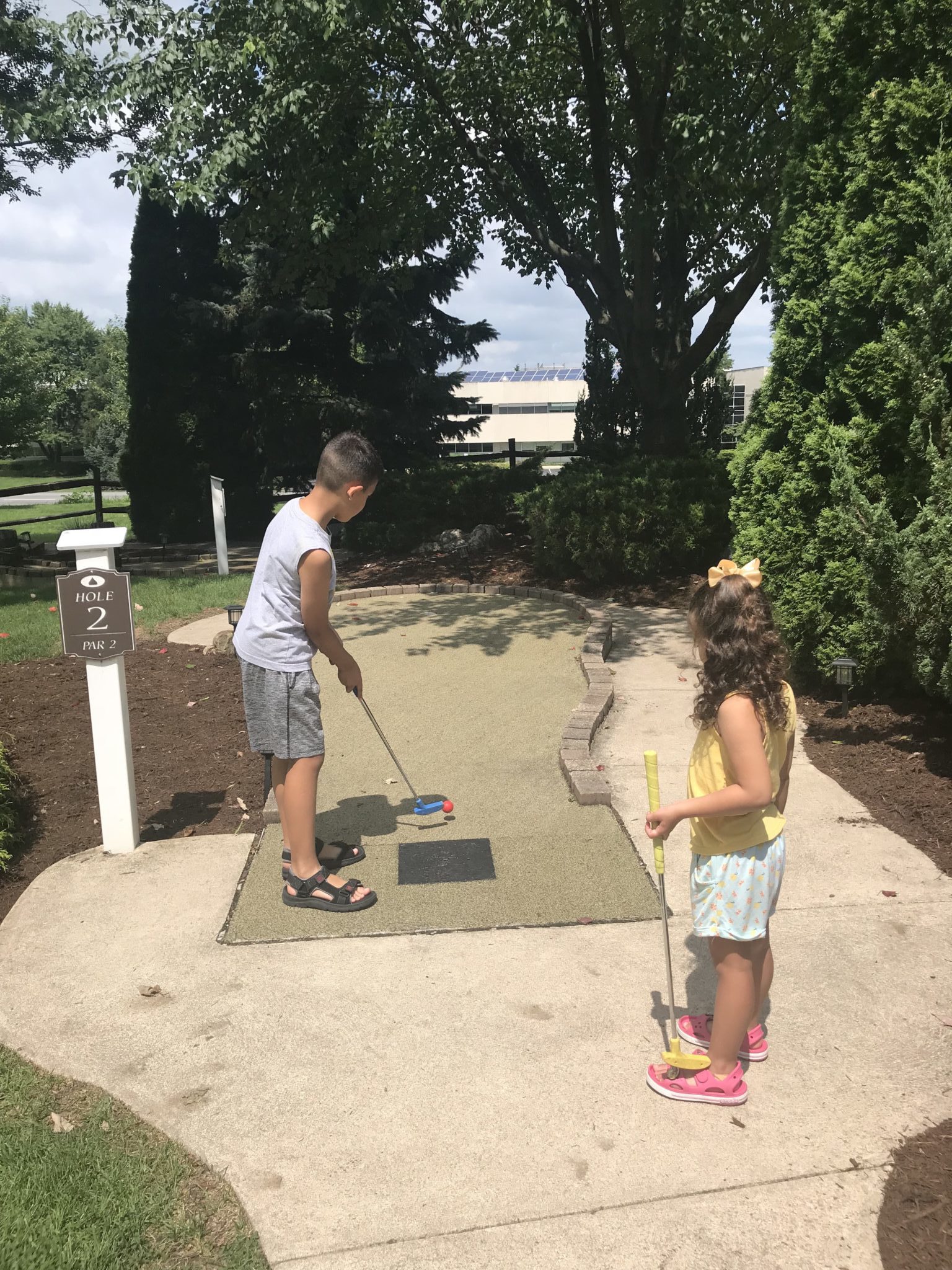 Instead we spent a couple of hours splashing around at Hershey's Waterworks, the hotel's fun indoor waterpark. The kids loved it!
Hershey's Water Works at Hershey Lodge
This family-friendly indoor pool area is filled with sweet water play spaces for the kids. They'll enjoy 30,000 square feet of splashing good times including the fun Twizzlers Twists water slides and the Reese's Water Walk! Plus, there's fun interactive water features that include a zero entry pool, a sand castle spray zone, basketball hoops, and more! There's also a sizable hot tub for the adults to enjoy and an outdoor splash pad that the littlest ones will love.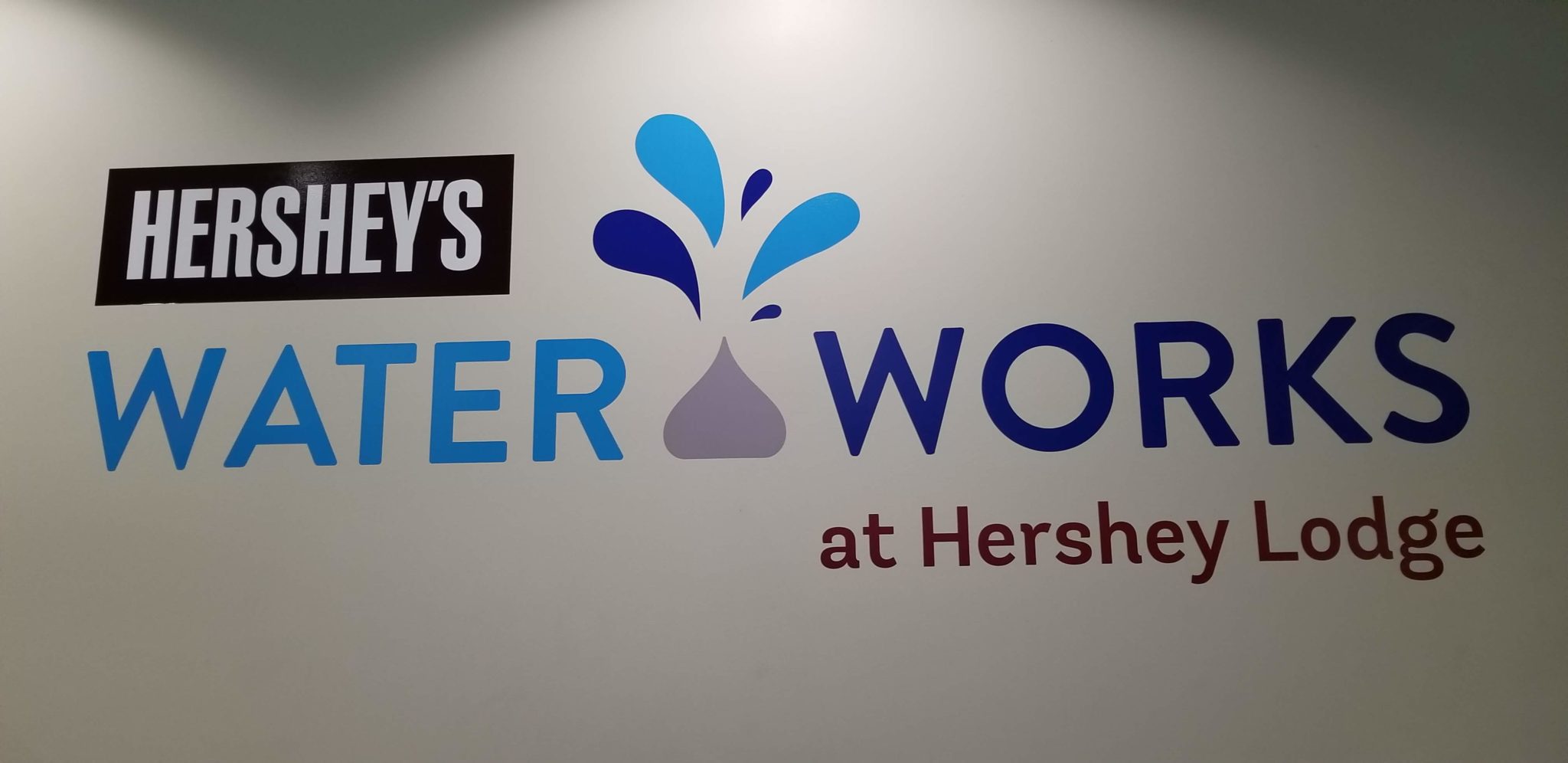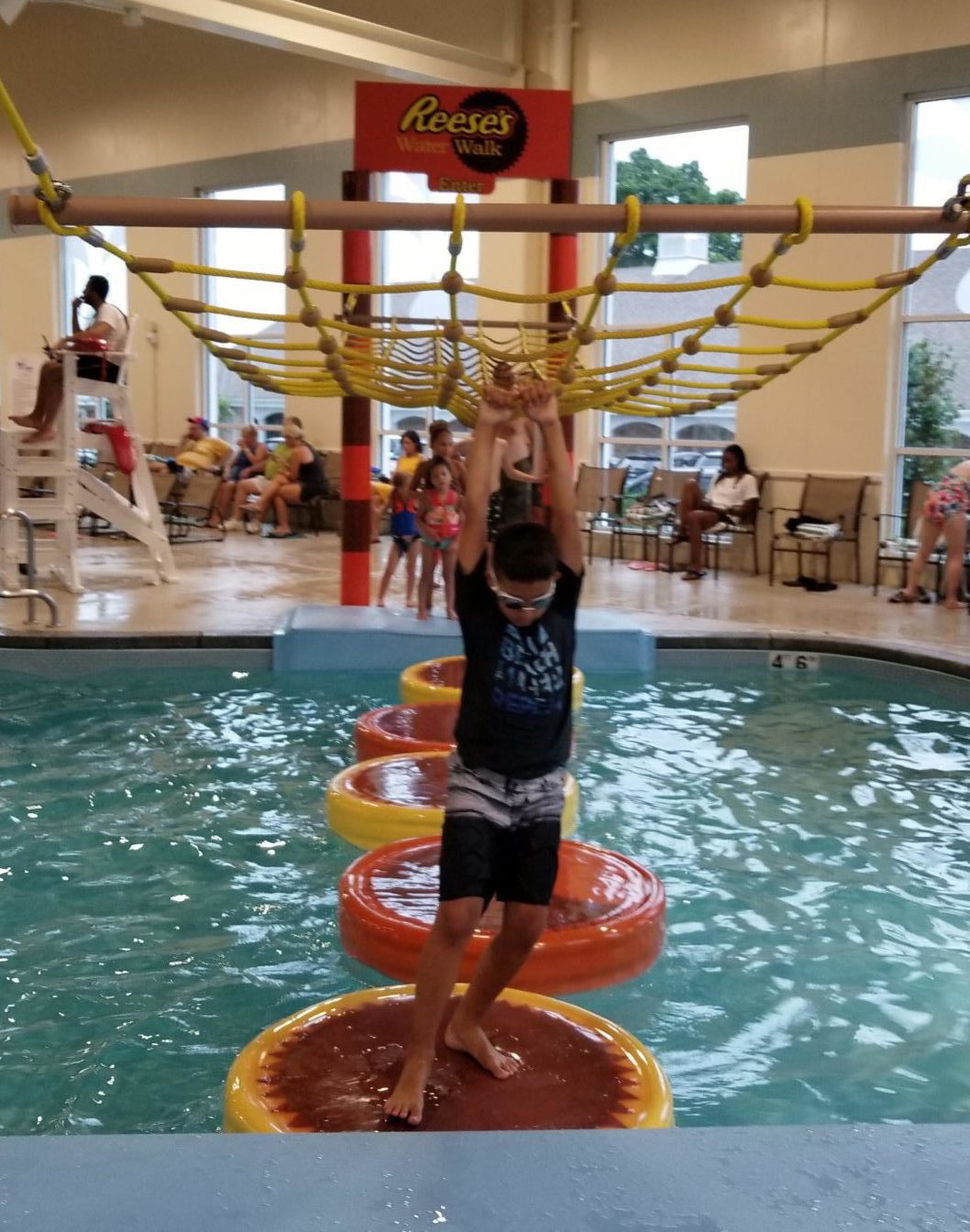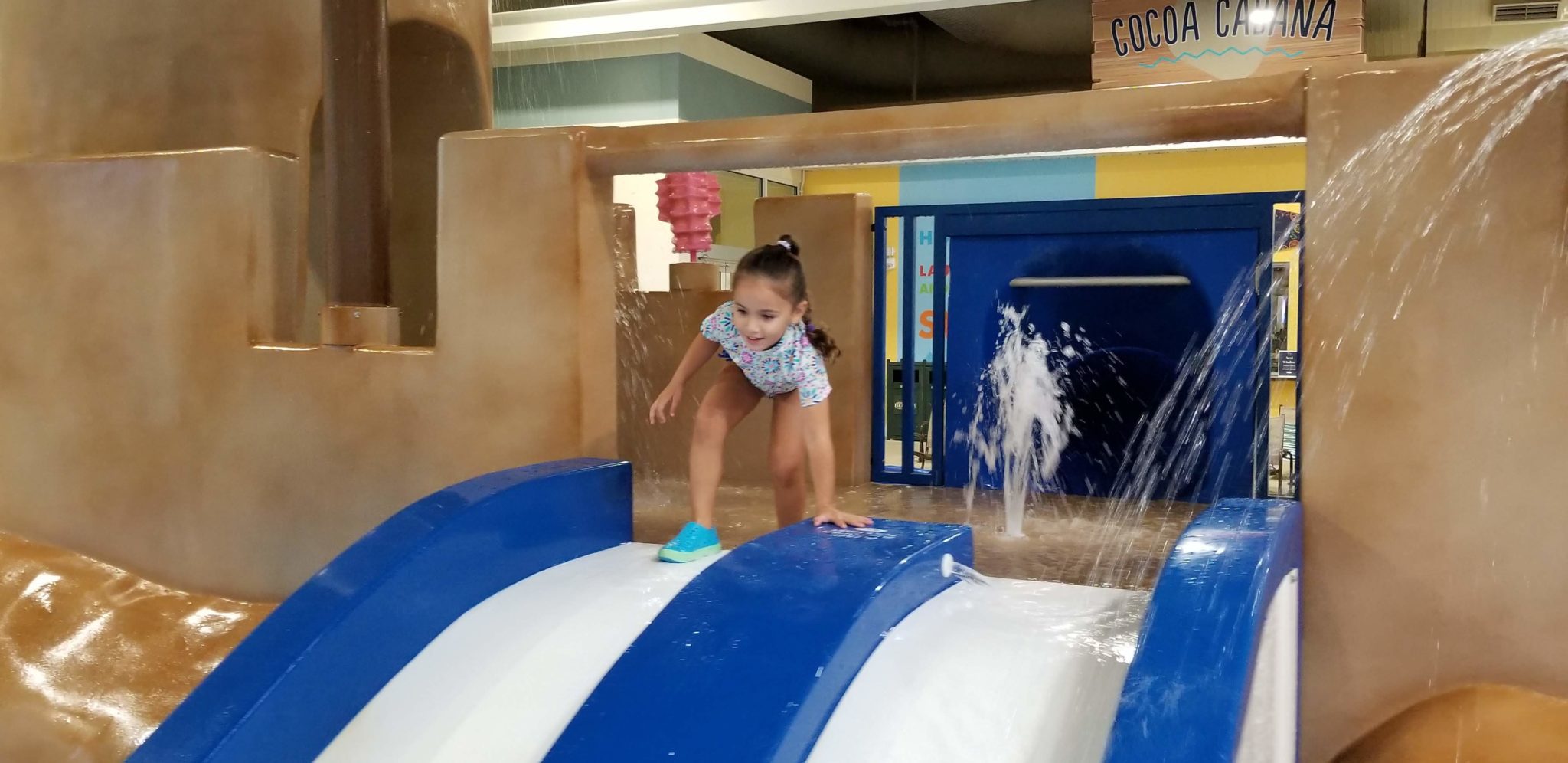 After drying off we decided to take advantage of some of the other perks for overnight guests at Hershey Lodge.
A Visit to Hershey Gardens
Every Hershey Lodge stay includes free tickets to visit Hershey Gardens so we made sure to take advantage of that. I am so glad we did because the entire family loved taking in the beauty of Hershey Gardens.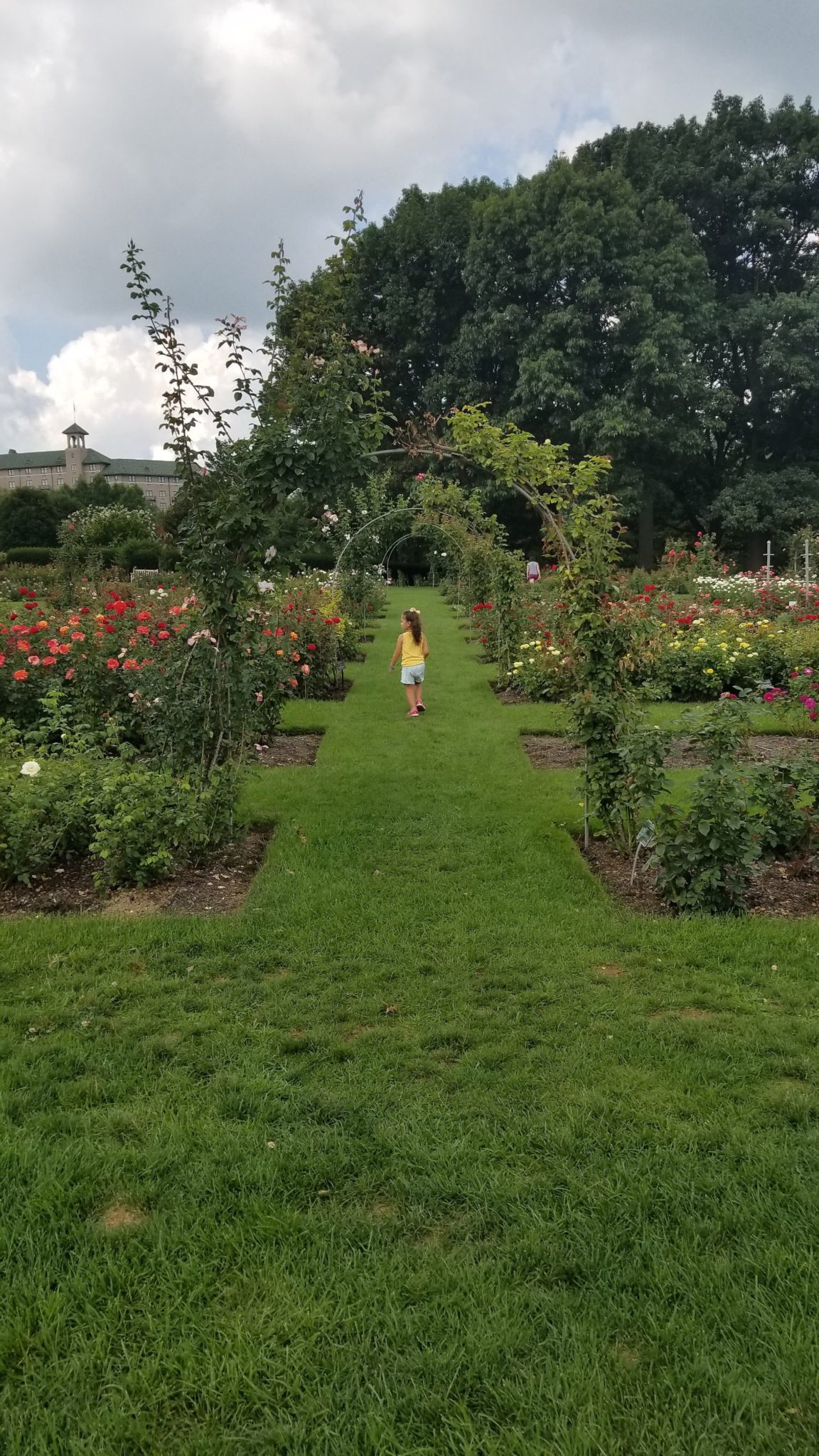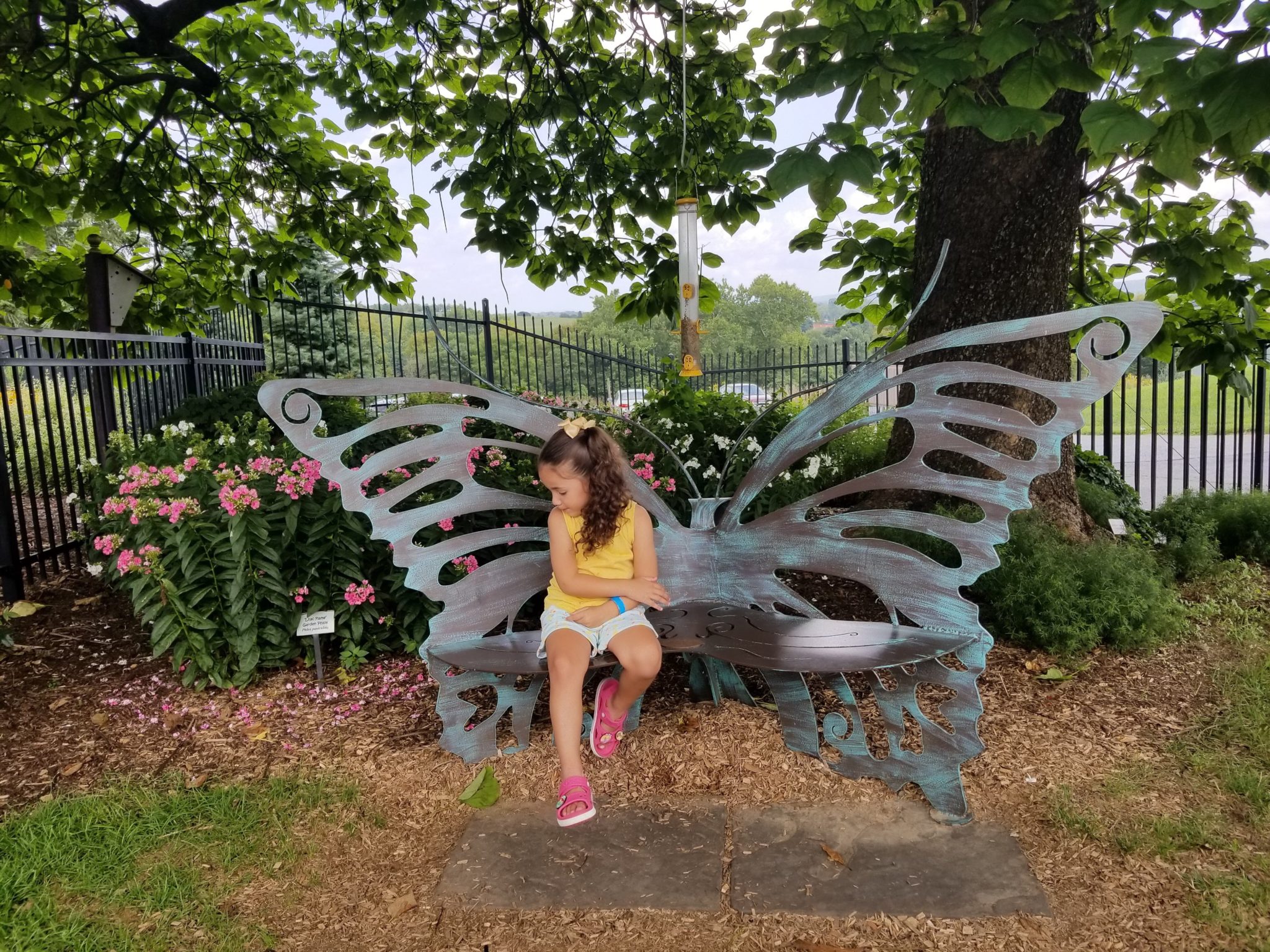 The Butterfly Atrium at Hershey Gardens
Our favorite was probably the Butterfly Atrium at Hershey Gardens. We got up close and personal with some real beauties and it was also a fun learning experience for the kids.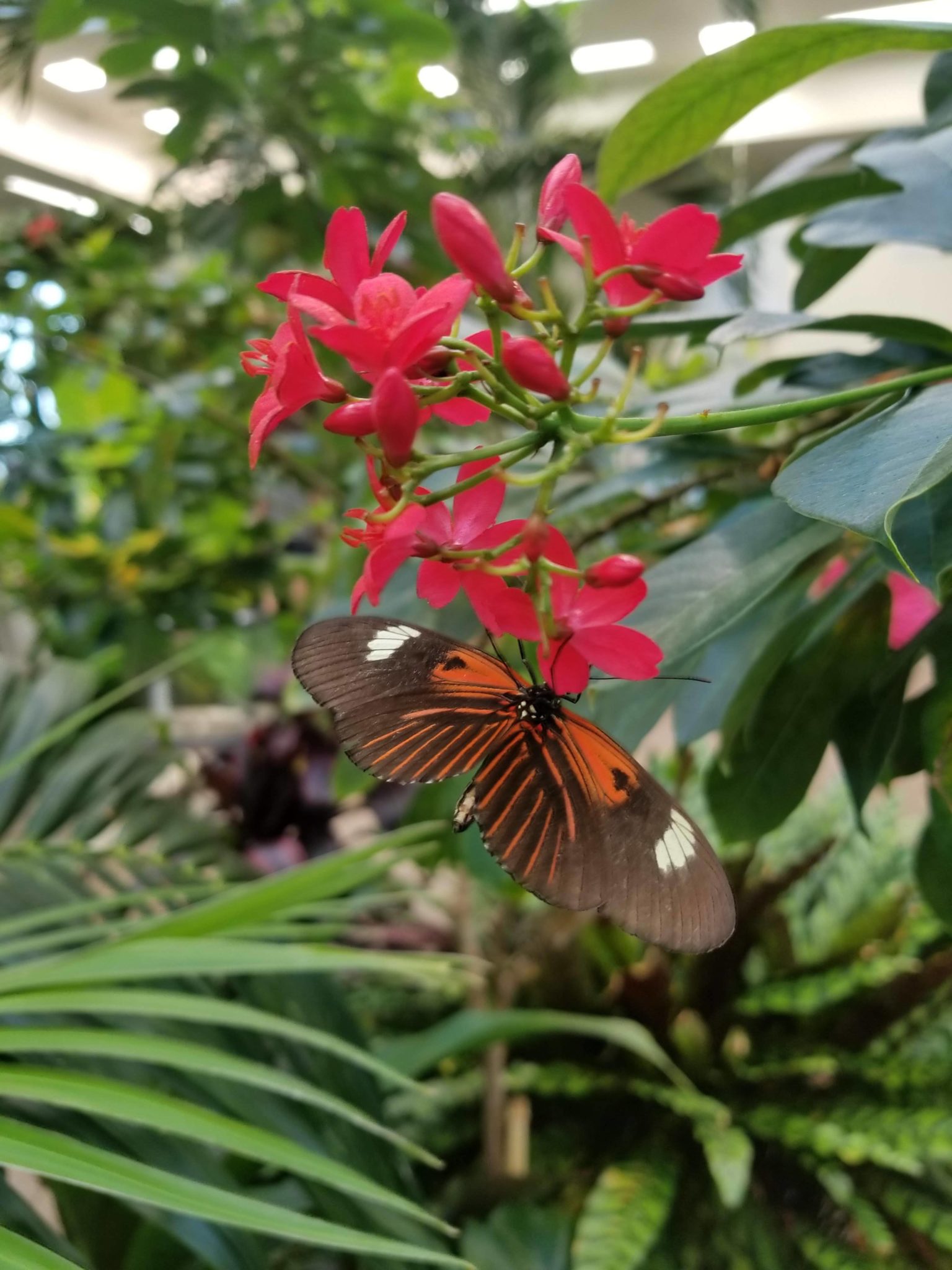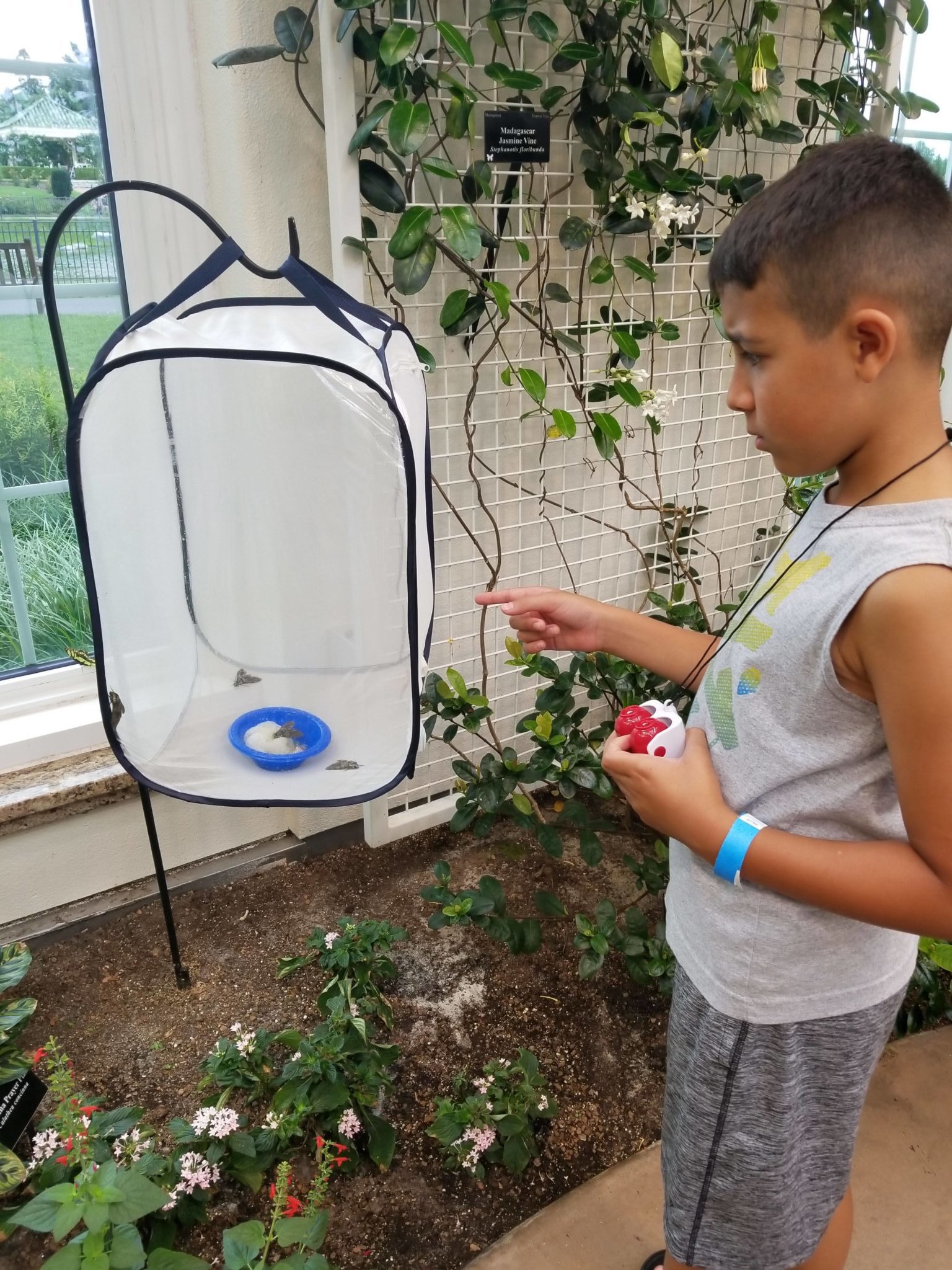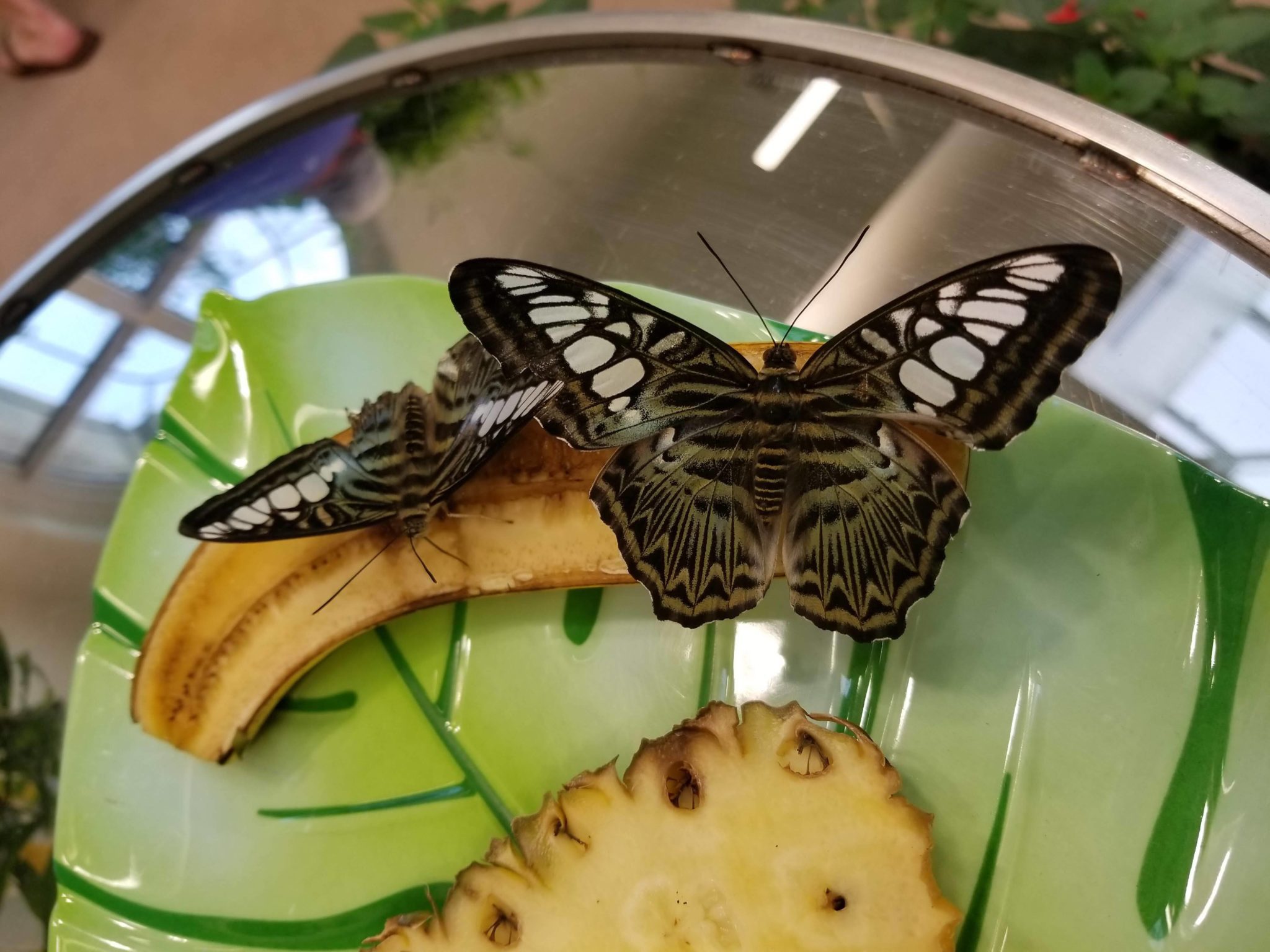 The Children's Garden at Hershey Gardens
Hershey Gardens also includes a hands-on Children's Garden. Walking through the whimsical entrance of The Children's Garden is like entering a world of enchantment. Meandering pathways guide kids through the 32 themed gardens that make up this unique children's place. A visit here is a true journey of hands-on activity, discovery and fun and my kids loved it!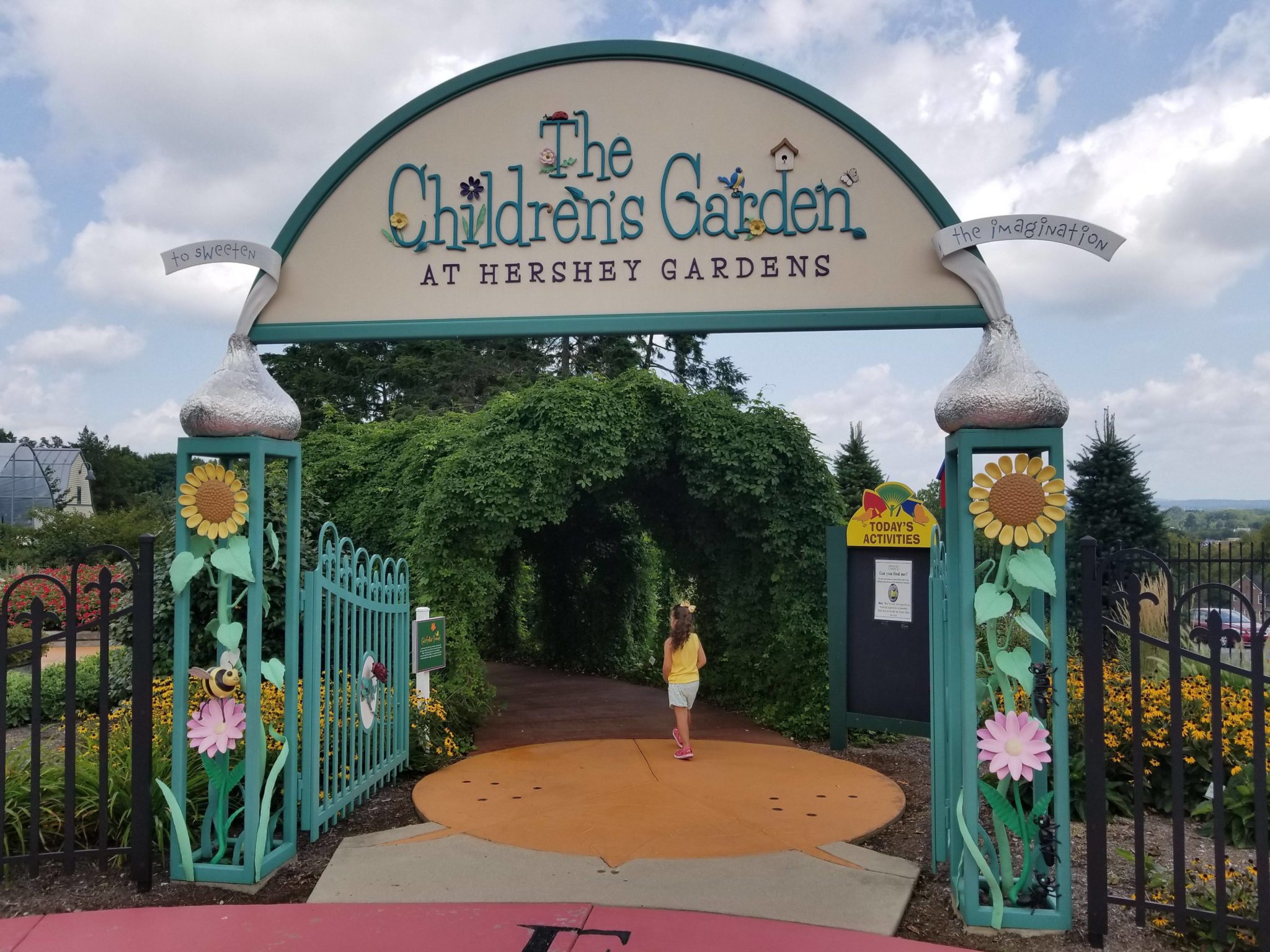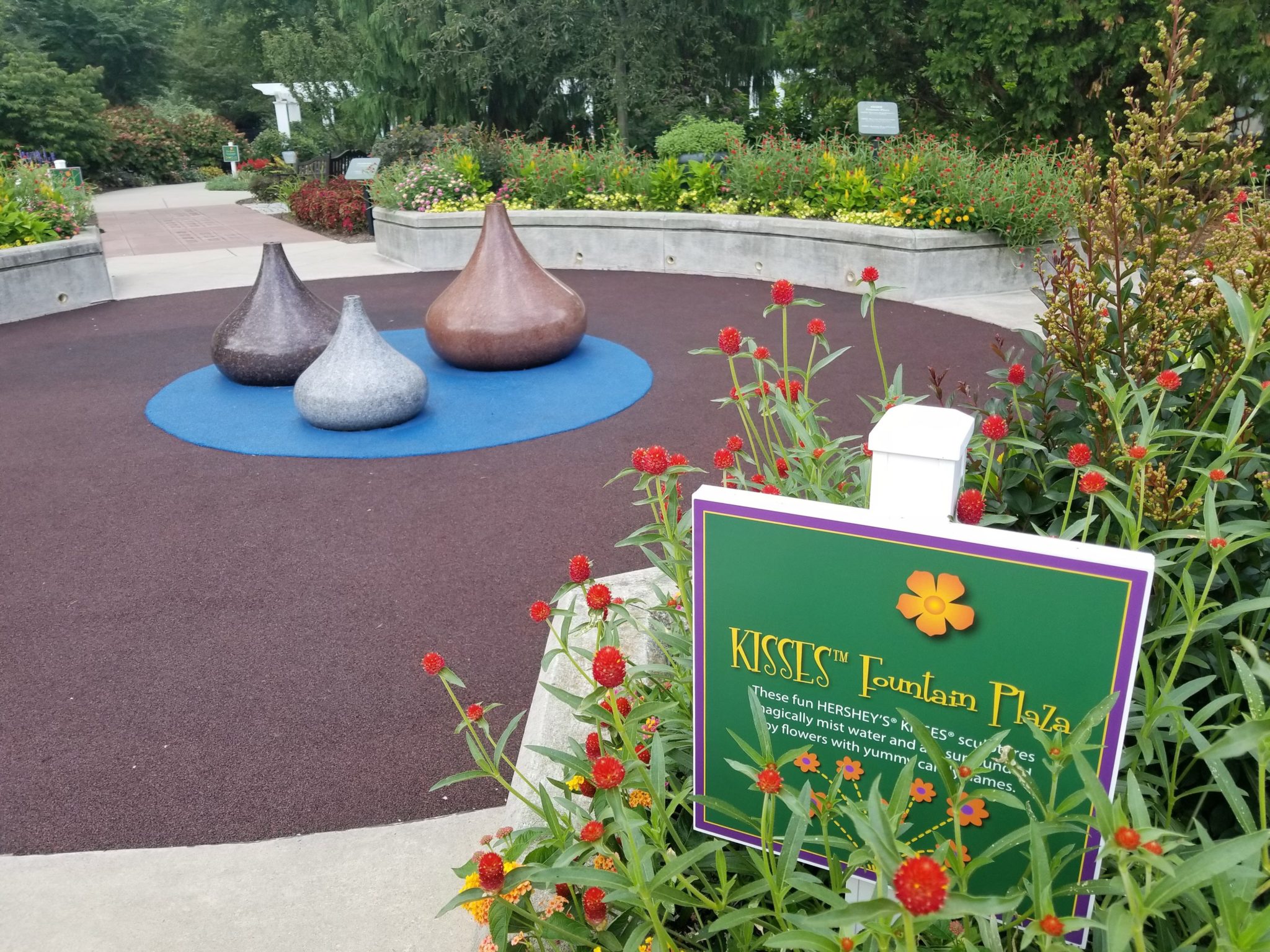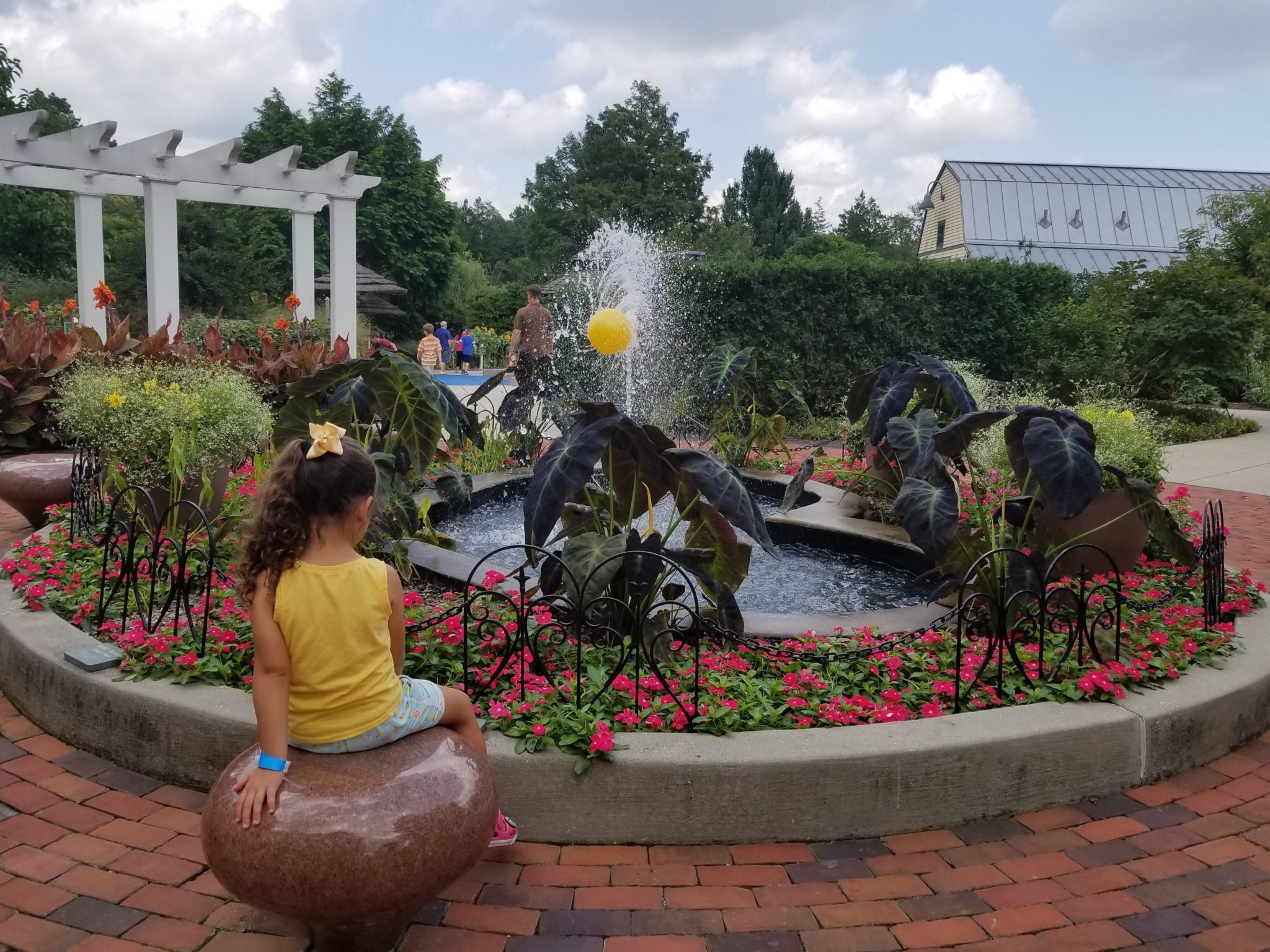 After enjoying the beautiful 23 acres of botanical beauty at Hershey Gardens we were ready for a sweet treat. We hopped back into the Chevy Equinox and drove over to Chocolate World, located nearby and right outside of the Hershey Park entrance.
Surround Vision in the 2018 Chevy Equinox Makes Parking a Breeze
I've always really appreciated all the great safety features included in Chevrolet vehicles. There's really nothing more important to me than my family's safety. The Equinox offers a wide variety of safety technologies that help detect and prevent potential hazards on the road but the included surround vision feature in the 2018 Chevy Equinox was probably my favorite. Also the handiest feature as we parked in parking lot after parking lot. It's a feature that my own Chevy vehicle doesn't have so I was really interested in experiencing it first hand.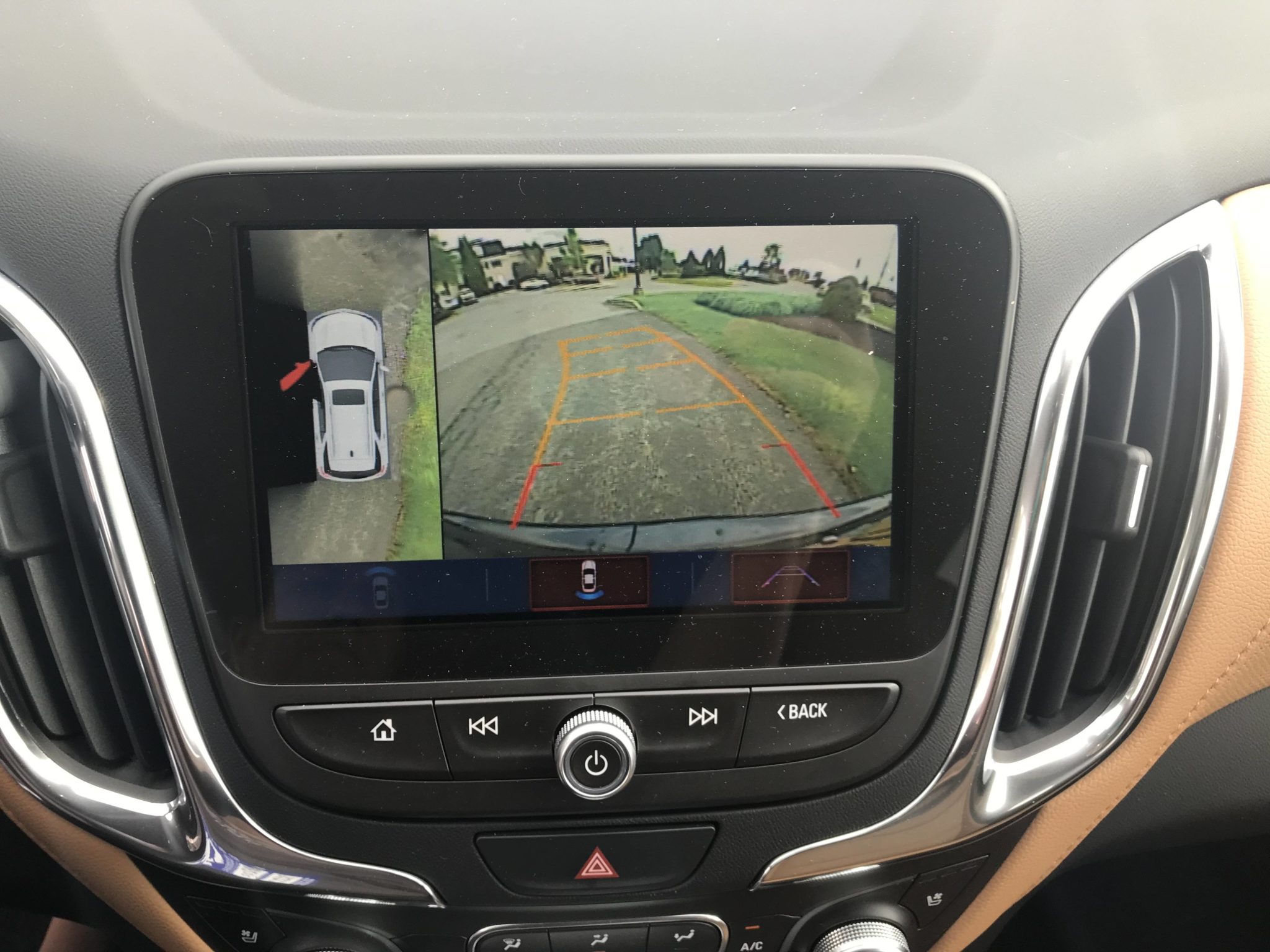 This available feature gives you a virtual bird's-eye view of your vehicle right on the dashboard's touch-screen. It's as if you're standing over your vehicle looking down at it. You can also compare it to having an extra set of eyes that will help you see anything that may be around the vehicle. This cool system is made up of cameras positioned at key points around the vehicle giving the driver a 360 degree view. This takes away the guess work out of parking in tight spaces and means that you are always aware of your surroundings. You never have to worry about missing something or someone in front or behind your vehicle. It gives you piece of mind as a driver and and as a parent and I love that!
We drove into the parking lot at Chocolate World, parked our Chevy Equinox and were ready to take in all the sweetness!
Hershey's Chocolate World
We discovered that Chocolate World carries every type of Hershey's chocolate and candy known to man, in every flavor, and in every size. I'm not kidding!
If you follow us on Instagram you saw us dancing with giant chocolate bars in our stories and peeped our cartful of Hershey favorites! We ran around for a bit gathering ALL the sweet treats to bring back home. We also indulged in a super sweet Jolly Rancher slushy! What's your favorite flavor? I had the blue raspberry!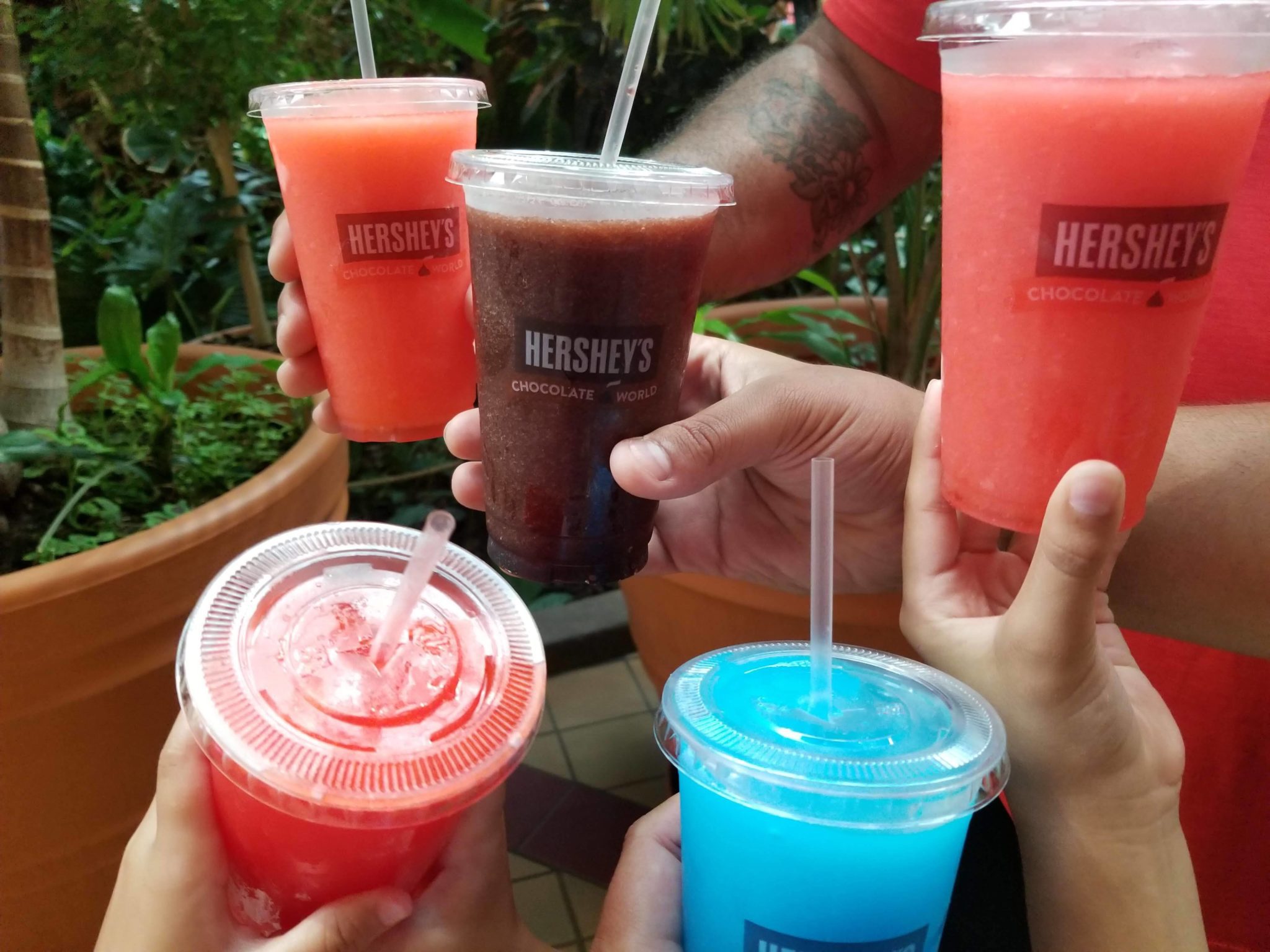 Hershey's Chocolate World Attraction is full of sweet and fun ways to explore, taste, create, and enjoy everything Hershey. Here you can see how chocolate is made on a free tour ride, create your own chocolate bar, shop for one-of-a-kind souvenirs, and stop in at the food court for tasty meals and sweet snacks. We didn't get a chance to do it all since it was late in the day but we surely had our fix of sweet.
Next we headed over to check out The Hershey Story. This was our last stop on our last day at Hershey. Tickets for this museum were also included in our Hershey Lodge stay.
The Hershey Story
The Hershey Story is one of Hershey Pennsylvania's most inspiring attractions! At this informative museum we learned all about the life of Milton S. Hershey and the town that bears his name. For well over 100 years, "Hershey" has been synonymous with the Great American Chocolate Bar but we quickly discovered that there's so much history behind the chocolate. Milton S. Hershey's story is a real inspiration and I found it so interesting to learn about his dedication, his kindness and his life's legacy.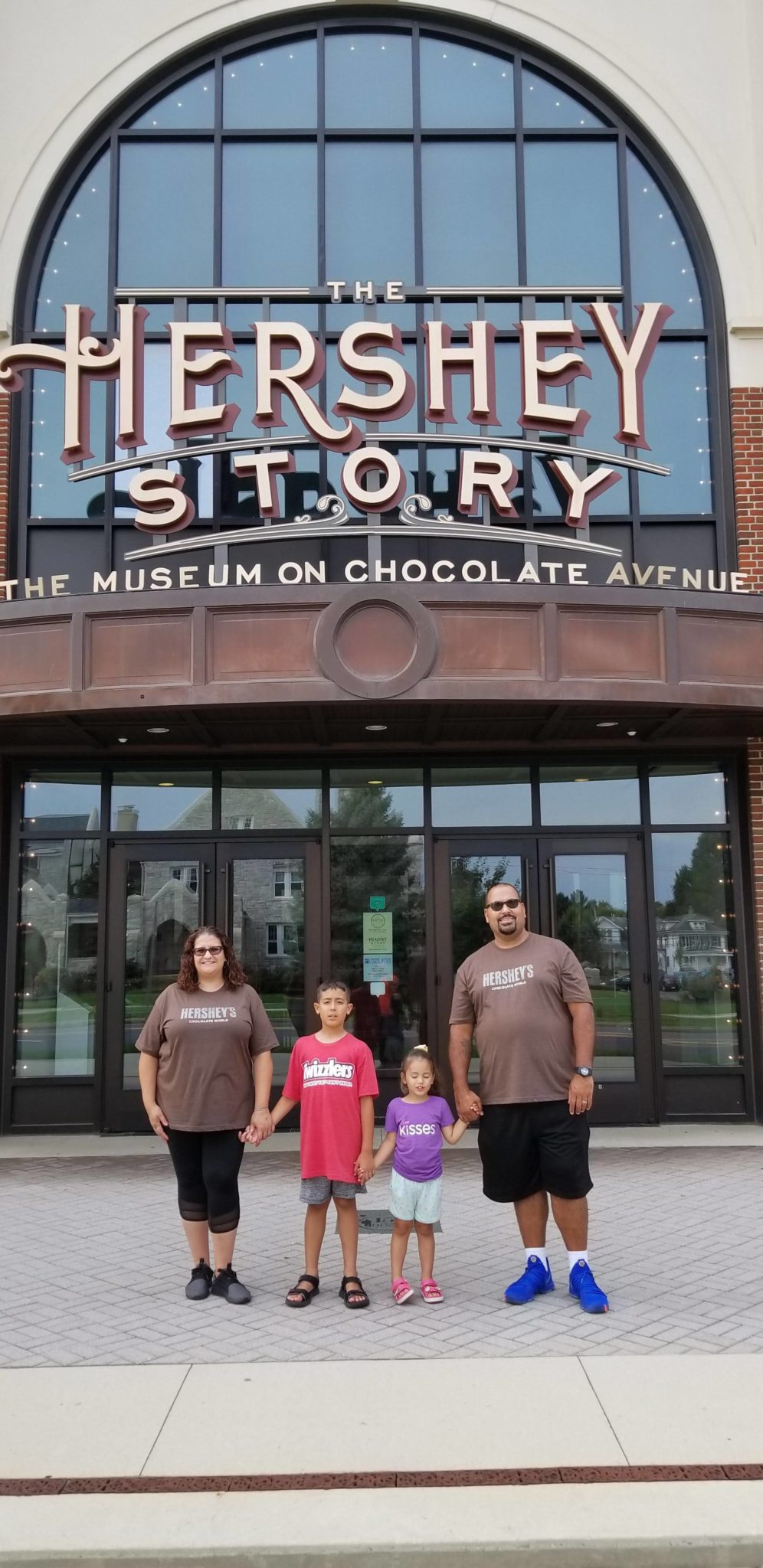 If you're ever visiting the town of Hershey, make sure to stop by The Hershey Story museum. You'll walk away with a deeper appreciation of all that this sweet town really means. Trust me, Hershey is so much more than just a chocolate bar!
Our Family Road Trip Continues
After a long weekend at Hershey we were ready to say good-bye to the sweetest place on Earth. Thanks Chevy for hosting our family road trip to Hershey Park. It's a family road trip we won't soon forget!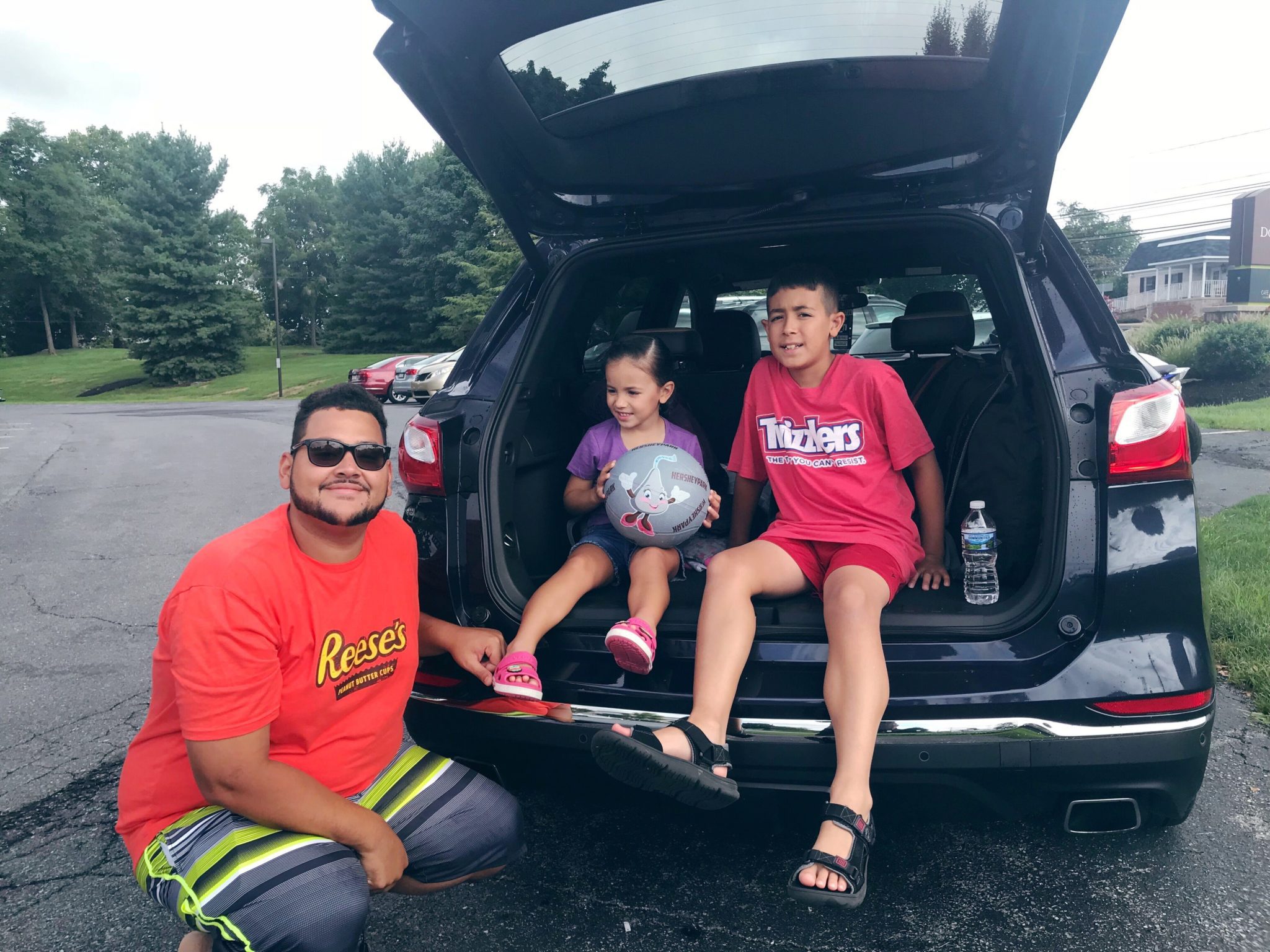 But our family road trip wasn't over yet!
We pulled up details for our next destination and headed out! I was glad that convenient 4G LTE Wifi is included in all Chevy Vehicles. It's a feature that I also have in my own Chevy and honestly I can't live without it. As a connected family, it's such a necessity when we're on the road! Both the husband and I were happy that we were able to work from the car as we continued our family travels in the Chevy Equinox. Which means we didn't have to worry about being away from home for so long because we could still get everything done, even when on the road. Plus it's always nice when you can avoid meltdowns on long trips and allow the kids to use their devices as entertainment.
Since we still had a few more days with the Chevy Equinox we decided to enjoy it to the max and continued our family road trip across Pennsylvania. We headed to Lancaster next. There we visited another amusement park and checked out some pretty cool trains, but that's for an entirely different post!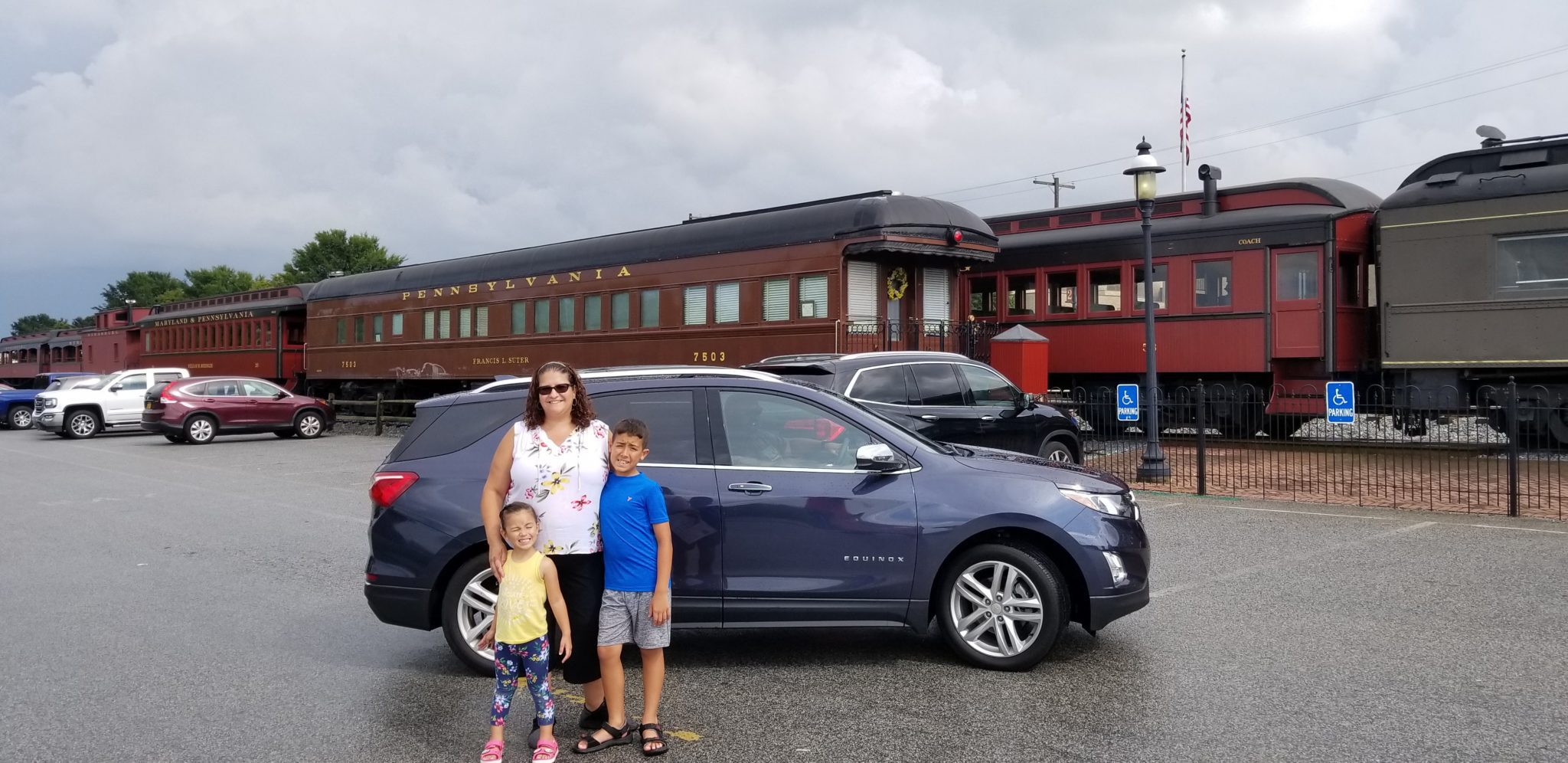 What's the best family road trip you've ever taken? We're already making plans for next summer! Give us some suggestions in the comments section.
Happy travels!
---
Disclosure: We were given the Chevy Equinox to test drive for one week, free of charge. We also received complimentary lodging and tickets to Hershey Park courtesy of Chevrolet. All thoughts and opinions are my own.
You May Also Like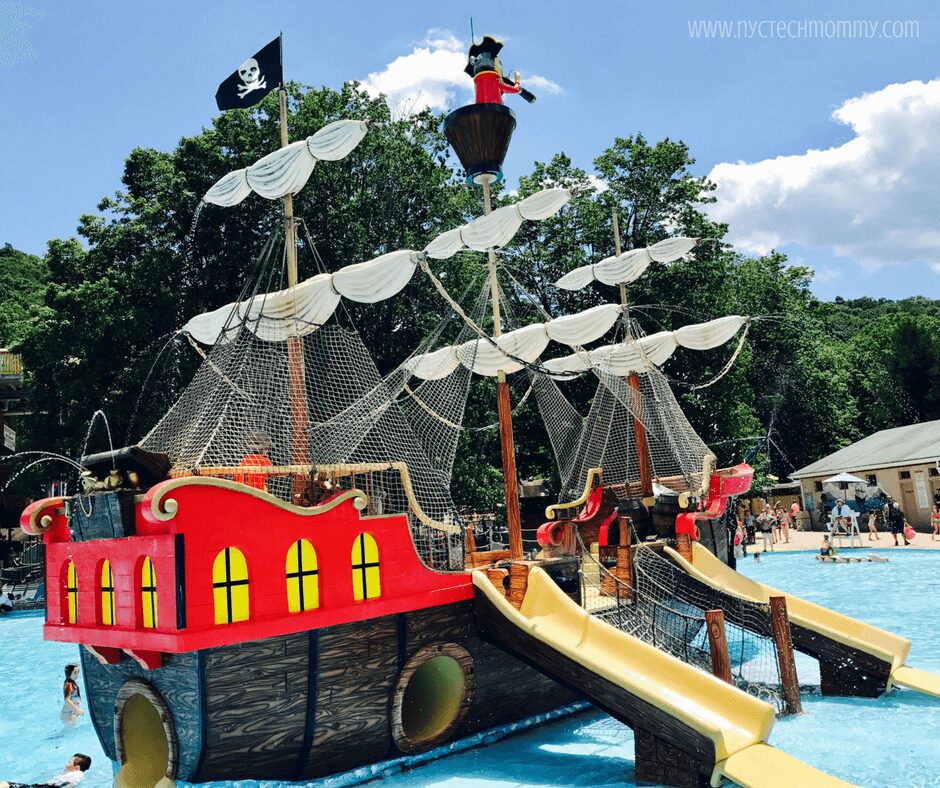 September 1, 2017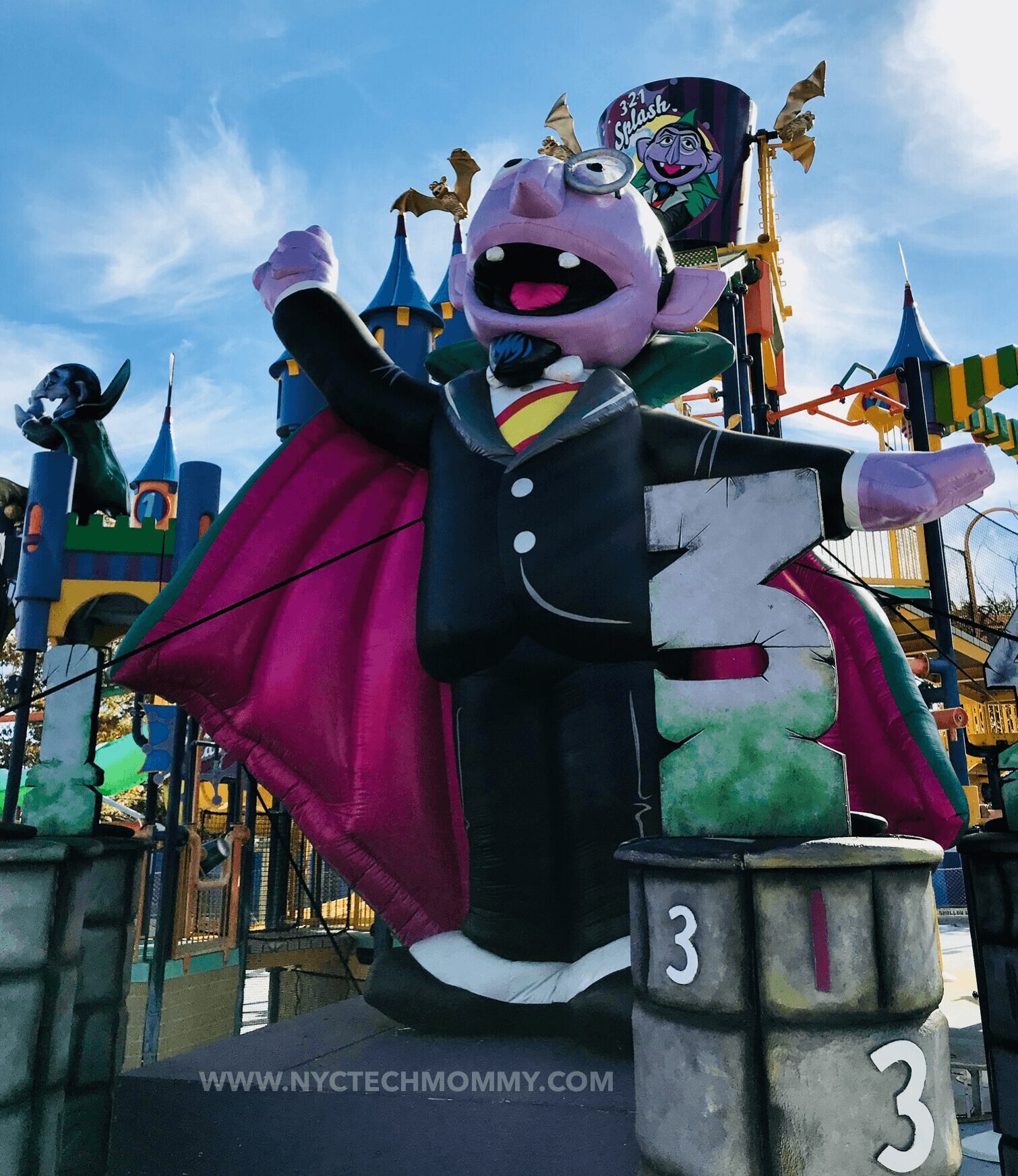 October 31, 2017