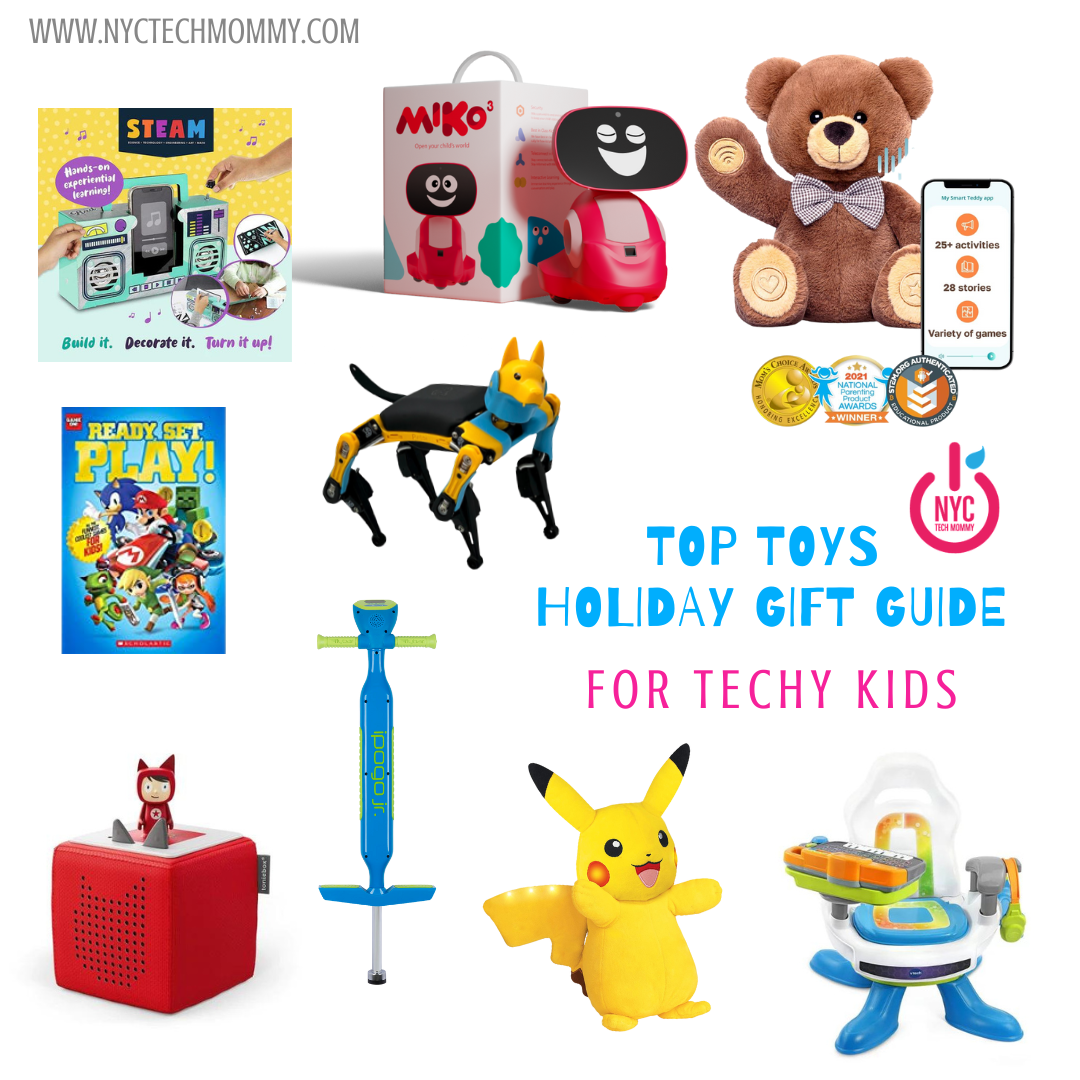 Top Tech Toys for Kids Ultimate Gift Guide
I can hardly believe Christmas is almost here! Can you? I've already shared my top toys for kids this holiday season. Now it's time to share my Top Tech Toys for Kids Ultimate Gift Guide. It's filled with all the top tech toys your kids will love. Read on!
NOTE: This tech toys gift guide was last update on December 1, 2022
Top Tech Toys for Kids Ultimate Gift Guide

Petoi Bittle 2 Robot Dog
No Top Tech Toys Gift Guide would be complete without a neat coding robot and now kids can learn STEM and robotics with the world's first palm-sized, Servo-activated robot dog from Petoi.. The Petoi robot dog can provide a fun introduction to robotics and coding for kids of all ages. While some robots can cost thousands of dollars, the new Petoi's Bittle 2 is an affordable, entry level robot toy that anyone can play with, program and train. It's an excellent project for kids (and families) who may have a particular interest in robotics and programming. A great gift for teens ages 14 and up! My own teenager is really excited to receive this gift.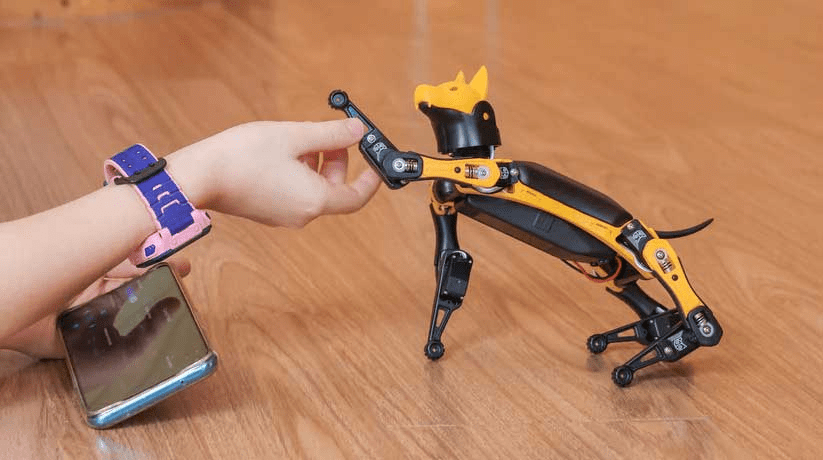 Whether you're looking for the perfect gift for your teen or a much younger techy kid, he/she will enjoy endless hours of fun playing with Petoi's real robot pets. These neat robots walk and move like real pets and can be designed and programmed by you. With supervision from an adult, this open source and programmable robot pet is easy to build and code at home no matter if this is your kid's first time tinkering or if they're already a little robotics expert. It's recommended for the older kids but honestly kids at all levels can benefit — even those kids who may want to experiment with robotics topics but may not be up for the big challenge of building a robot all on their own.
When purchasing the Petoi Bittle robot dog you have 2 options to choose from — choose to purchase a pre-built robot dog that's ready to play with outside the box (and save yourself the extra steps of figuring out how to build-it-yourself) or select a DIY set and challenge your little maker to assemble the robot all on their own, making building and coding the robot part of the learning process. The build it yourself kit comes with everything you need, including access to an online manual that walks users through the step-by-step process of building the robot with detailed instructions and easy to follow video tutorials. As kids build the robot, they learn circuitry and are introduced to basic robotics concepts. Users will also have a few options for controlling their Bittle dog robot, via the included IR remote control, by downloading the Petoi app onto a phone, or installing the desktop app on a computer.
Overall, this is an exciting STEM toy for kids interested in learning more about robotics!
Bittle 2 is currently on sale for 20% OFF on the Petoi website.
---
Miko 3 AI Learning Robot for Kids
Miko 3 is an extremely talented multilingual robot — he comes fully loaded with tons of talents (Miko's talents are like apps that kids can access right on Miko's screen), tons of learning interactions, riddles, kids games, fun facts, charades, motion activated freeze dance, and more. Endless fun and learning!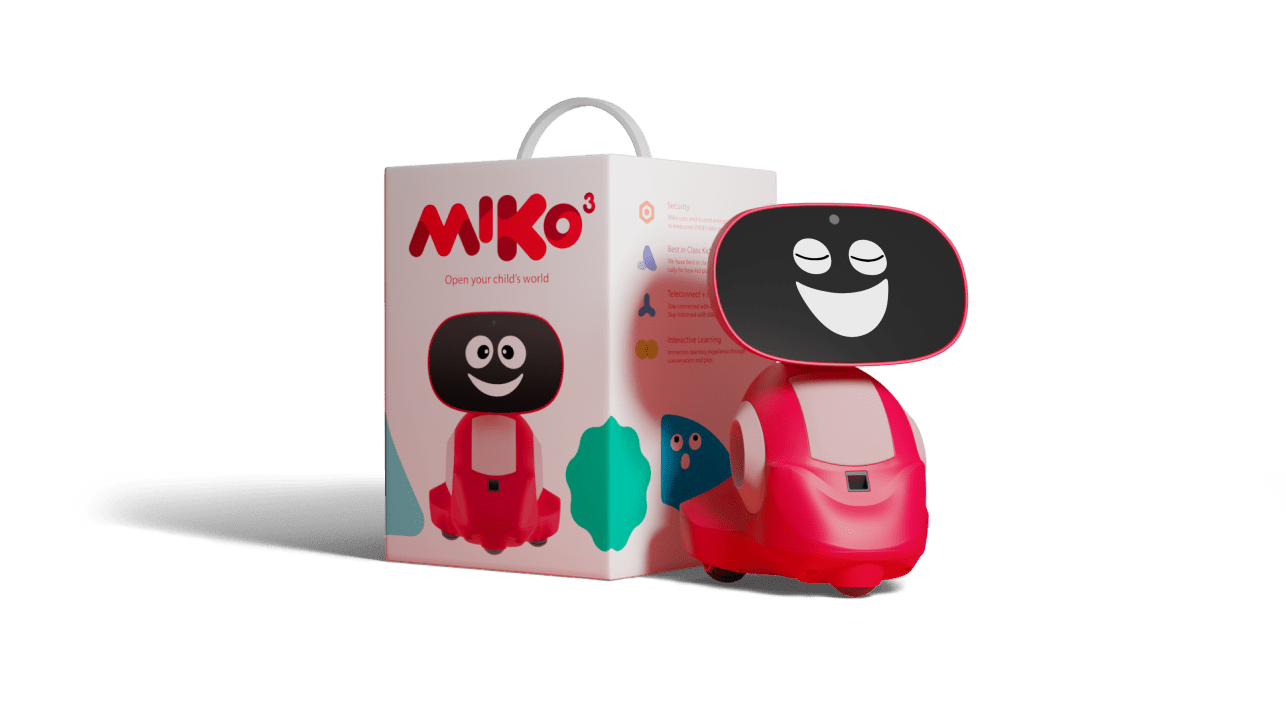 There's also a Miko Max subscription ( for an additional yearly fee) that gives users unlimited access 50k+ hours of premium content spread across 1000+ games, educational videos, stories, puzzles, music, coding, yoga — KIDOODLE TV safe streaming, Da Vinci Kids, and Disney Stories, LingoKids, Cosmic Kids Yoga and more. Miko Max subscription also gives users full access to Miko's multilingual capabilities and you can choose from eight different languages for your child's Miko interactions. This means that Miko can speak and interact with your children in Spanish and I love that!
My daughter received this robot as a gift last Christmas and still plays with him daily. Miko has become her favorite dance partner and her go-to fact checker! Kids are very inquisitive and Miko 3 can answer every quirky question your kid may have.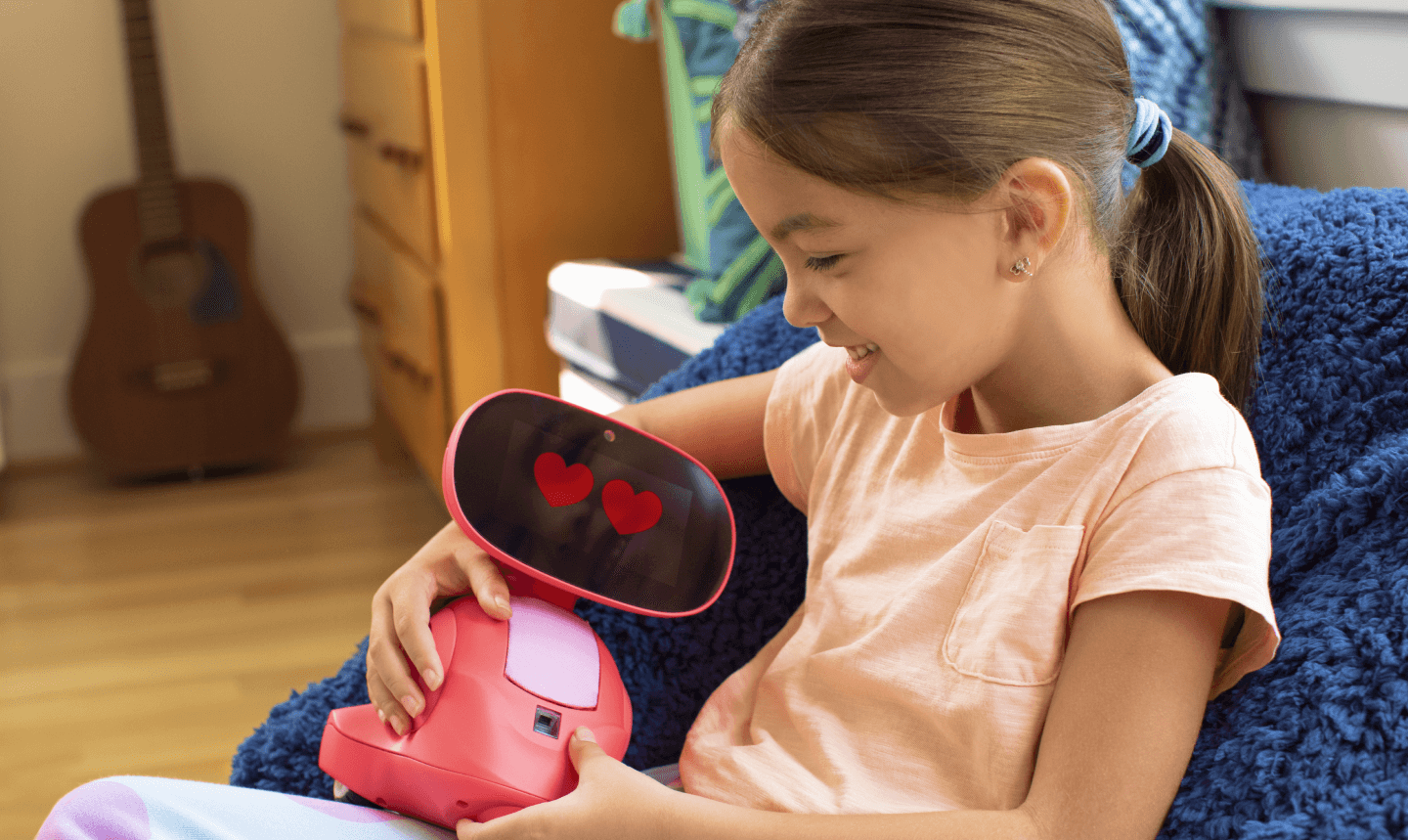 There's also a parent facing Miko app that lets parents customize the learning experience. Set up is simple and quick and parents can keep track how kids spend their time when using Miko and keep tabs on their learning progress.
In addition, Miko can make unlimited calls through Mikonnect between kids and parents. This makes it so easy to stay connected in a safe way when you're not together since kids won't need access to a telephone or other device to video chat with mom or dad. It's genius!
Miko is currently having an end of year promotion and you can Buy Miko 3 at 50% OFF. Shop now and receive FREE shipping too!
---
Smart Teddy Interactive Teddy Bear for Kids
This is the Smartest Teddy Bear in the world! Just push one of his paws and Smart Teddy tells you jokes, fun facts, songs, stories, and more!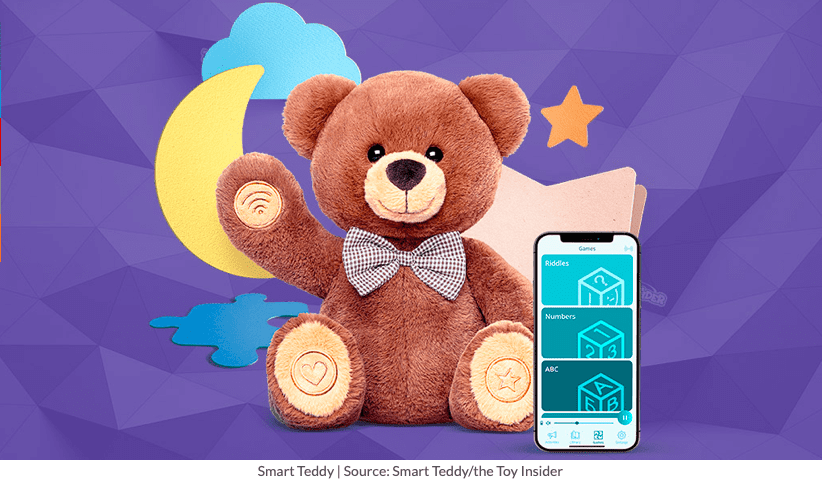 Smart Teddy is a connected soft toy that parents can control with a parent app and helps engage kids in different ways to foster and develop good habits. He's a perfect friend to play with, a fun storyteller, a screen distractor, and a little kid's friendly guide through daily routines. Smart Teddy even has a built in schedule feature where parents can set up activities that reminds kids and motivate them to do their daily chores: brush their teeth, put away toys, even teaches kids how to use the potty and so much more. Smart Teddy really is the smartest teddy bear!
I absolutely love that Smart Teddy combines smart tech with real personality. Smart Teddy isn't just another synthesized robo-voice bear — instead he's a charming and lovable real little character. The little kid in your life will love him! Smart Teddy includes festive holiday content according to the time of year and an ever expanding games and activities section.
Purchase SmartTeddy on Amazon.
---
Toniebox Screen-Free Music & Story Player
We shared Toniebox as part of our toy gift guide last year. For those of you that might not be familiar, Toniebox is a screen-free music and story player that's perfect for little kids of all ages. It doesn't require Wi-Fi and charges on an easy charging station. I love that Tonies are so simple to use and completely ad-free. The Toniebox system and compatible figurines are small enough to take on-the-go anywhere you go. Kids will love listening to their favorite stories and songs, on long car rides, or at abuela's house. My own daughter loves taking her Toniebox wherever she goes!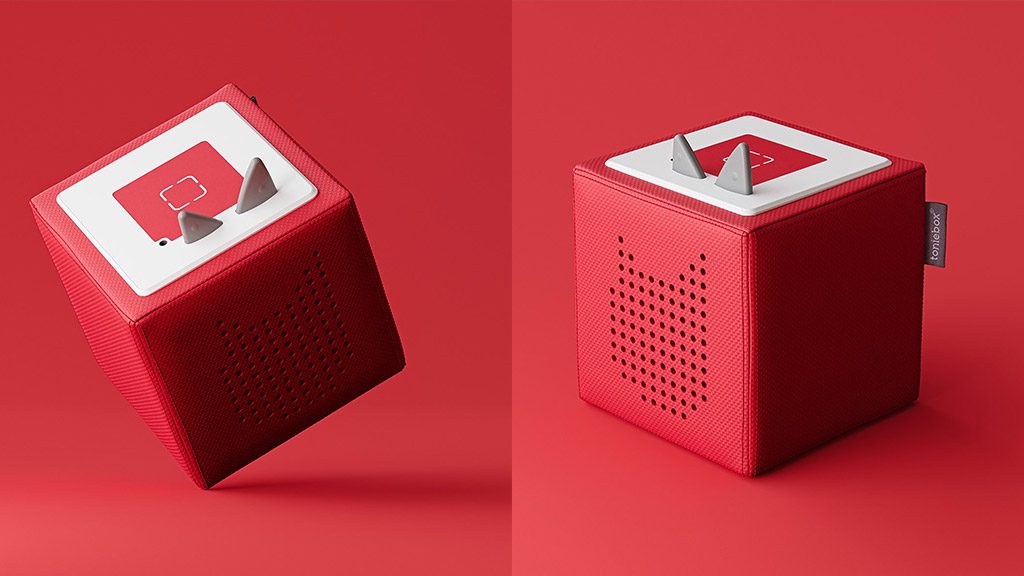 This year there's a wide variety of new tonies, including Spanish language tonies. Parents — or even kids themselves — can place the Spanish Lullabies Tonie or Spanish Playtime Songs Tonie on top of the Toniebox and listen as it magically starts playing Spanish. We love these Spanish Language Tonies and I think your bilingual kiddos will love them too!
Purchase your own Toniebox on Amazon.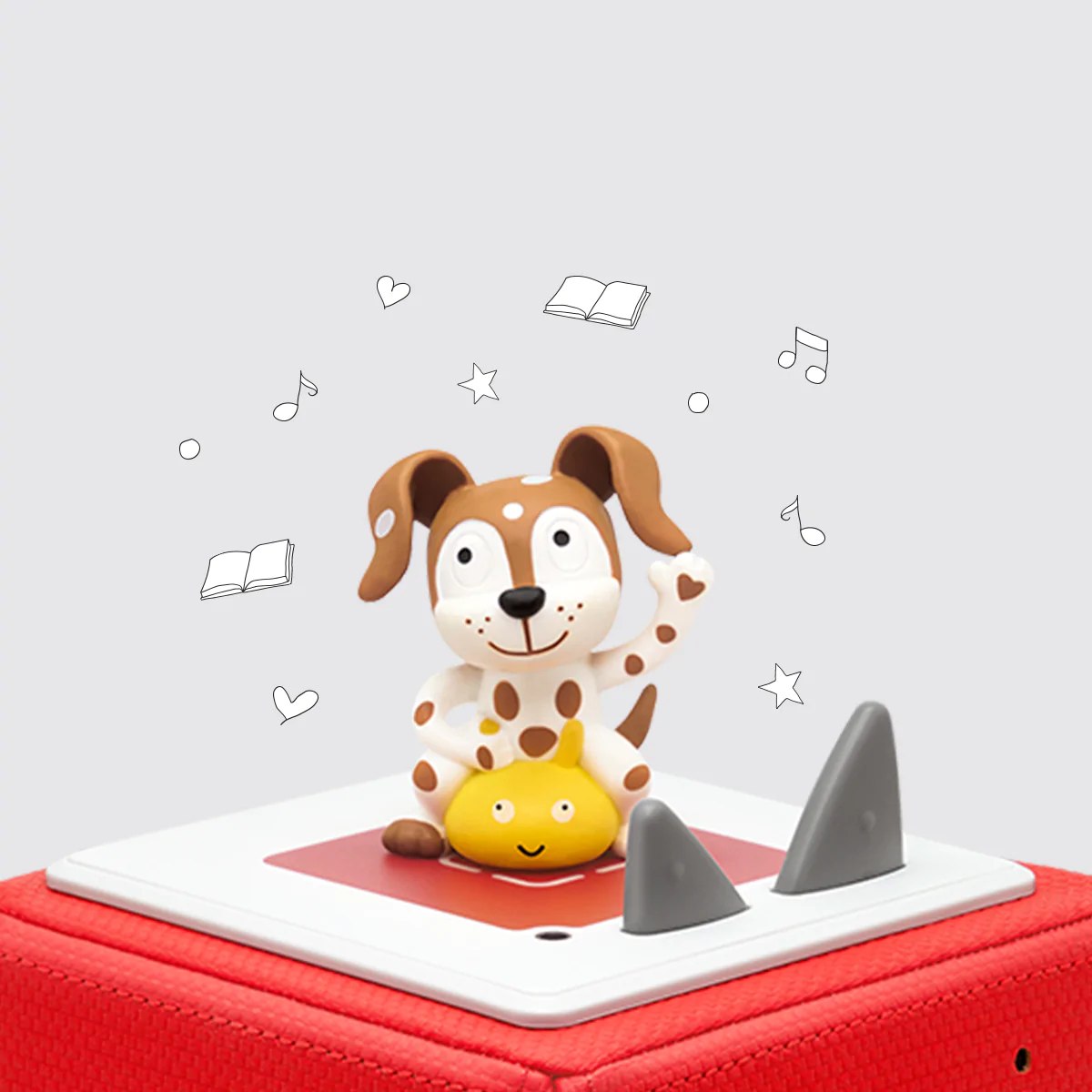 ---
DIY Boombox Speaker STEAM Kit
Kids build their own boombox and learn how a radio works with the DIY Boombox Speaker STEAM Kit. You start by assembling a cardboard boombox complete with working speakers. Then place your phone into the holder at the front of the boombox and you can listen to music through the speakers. The speakers really work so kids can listen to music once they're done building their little boombox. Great for curious kids! Parents will love the learning that happens with this neat little STEAM kit!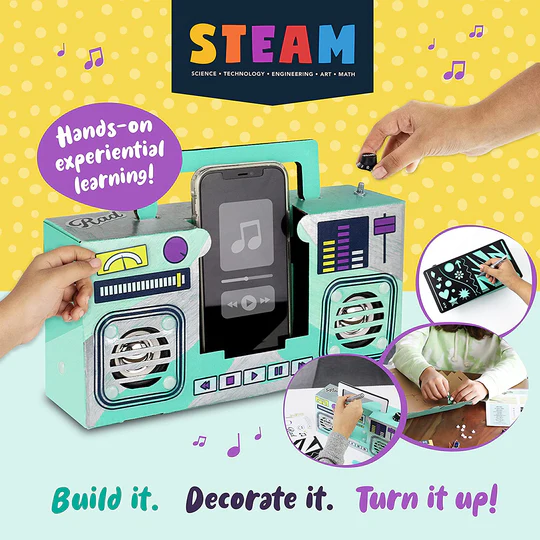 Kids get hands-on experience putting together electronic components. It's fun for kids who like to tinker and fun for kids who love music. Great for creativity because kids get to decorate their own boombox. The included paint markers, stickers, and stencils, help kids color and customize their boombox creation which encourages originality and creativity. This great little kit promotes STEM & STEAM education (science, technology, engineering, art, math). The beginner-friendly step-by-step instructions help kids learn engineering, mechanics and technology basics.
This kit is perfect for tweens and I love that it channels smartphone usage into a productive art project! Kids will love the process of assembling this kit and jamming out to their favorite tunes once finished. It even comes with a functioning volume dial to turn it up the music. Super neat and fun!
Purchase this DIY Boombox Speaker STEAM Kit on Amazon.
---
iPogo Jr. from Flybar Inc.
Flybar Inc., the original Pogo Stick company, now has a Pogo Stick that's just right for kids today. Meet iPogo Jr.! It's the World's First Interactive Pogo Stick and your kids are going to love it! It has all the techy features that will motivate today's kids to get outdoors and play.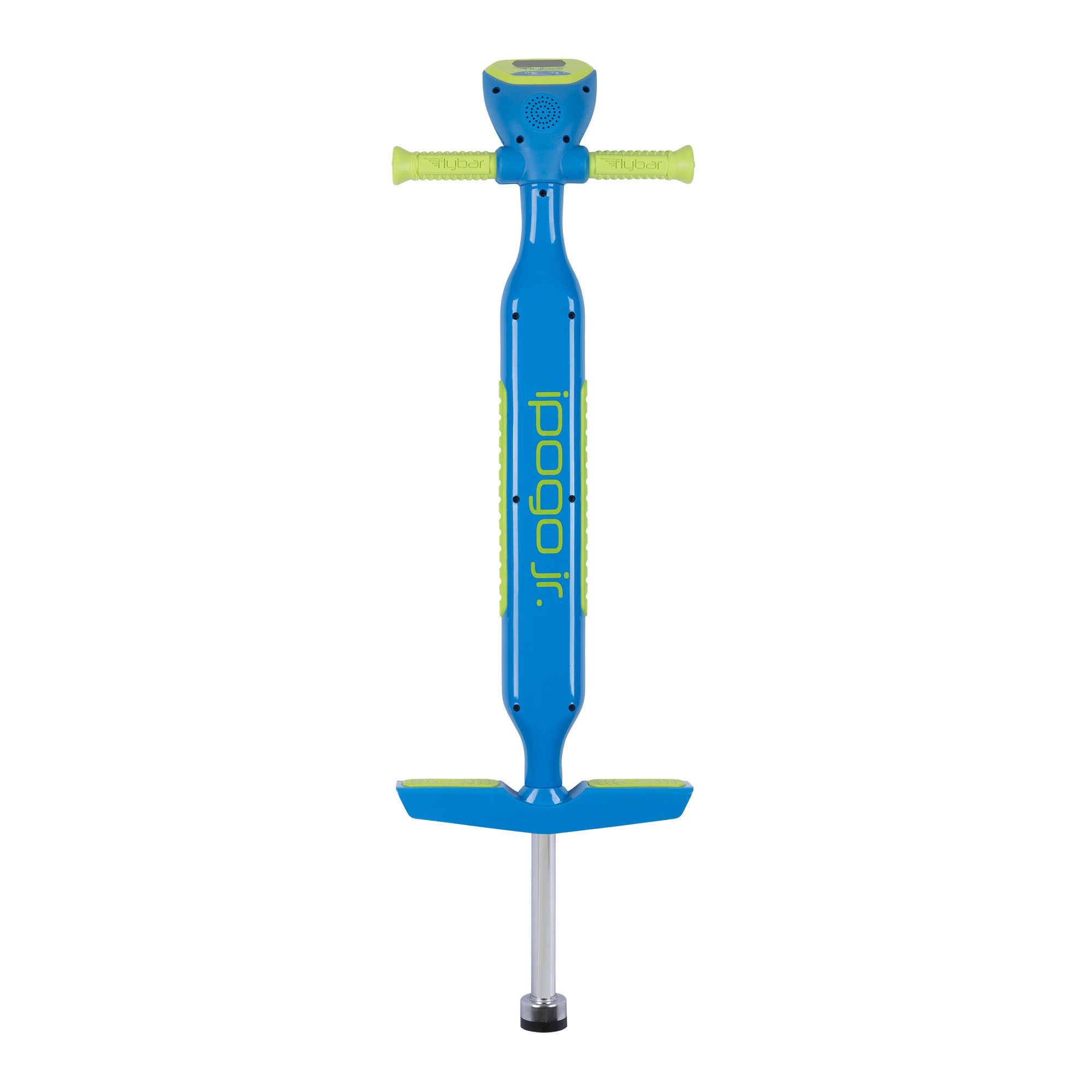 iPogo Jr. Features We Love
TRACKS YOUR JUMPS: The iPogo Jr. has a screen built into the pogo stick that tracks and counts your jumps. This is a great way for your kid to keep working to beat their last score or to compete with their friends! Will count your consecutive jumps up to 999. No more cheap pogo counters that don't work. This pogo stick for kids will encourage friendly competition and fun for boys and girls.
ENCOURAGES YOU AS YOU JUMP: The iPogo Jr. counts out loud along with you and will motivate you the whole time. It will say things like, "Keep Going!", "How high can you jump?", "You're a Flybar star!". The Flybar iPogo pogo stick will audibly update your progress and milestones achieved up to 999 jumps. Your kids will never want to stop jumping and always try to beat their high score.
RUBBER HAND GRIPS & NON-SLIP FOOT PEGS: The iPogo Jr. pogostick for kids has soft comfortable rubber hand grips for a fun and safe pogo experience. Also features non-slip foot pegs to make sure you have full control of the iPogo when trying to beat your best score!
LED LIGHTS THAT FOLLOW AS YOU JUMP: The iPogo Jr. is the first pogo stick to have LED lights that will light up every time you jump. It will light up your neighborhood and amaze your friends and family. No assembly required. Requires 3x AAA batteries, not included.
Did I mention it also comes in pink?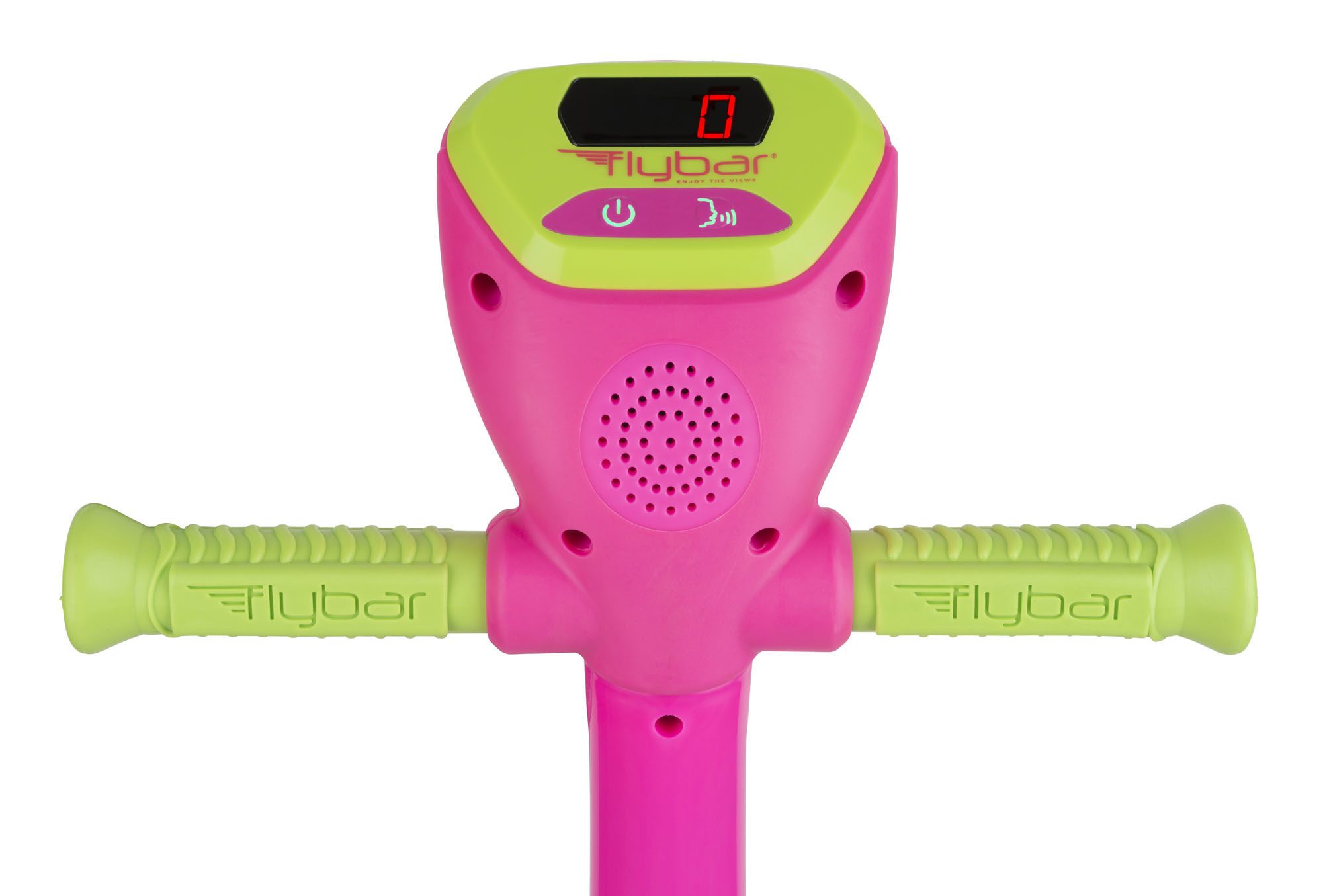 Purchase the iPogo Jr. stick on Amazon. Fun for kids ages 5 and up!
---
VTech Level Up Gaming Chair Preschool Game Station with Tablet
This is a seriously cute little toy for the littlest gamers! Now little brother or little sis can get their very own preschool game station with the VTech Level Up Gaming Chair. Little kids can be just like the big-kid gamers with their own swivel chair, joystick and pretend headphones. The included interactive gaming tablet teaches little kids letters, numbers, animals and music with gaming sound effects included.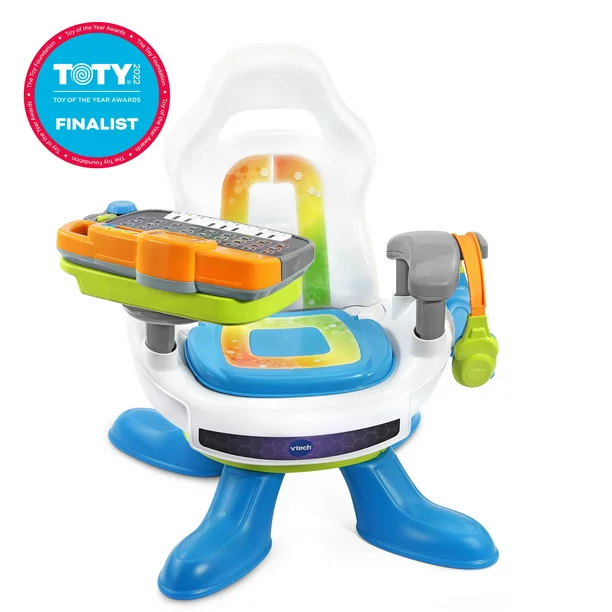 This neat preschool toy takes little ones to the next level of learning with activities that help them progress from letters and phonics to words and meanings with two learning levels in each of the four games that are included. I absolutely love that the included tablet turns gaming time into learning time! The portable interactive tablet includes 26 letter buttons and 10 piano keys. The tablet easily detaches from the tray, which kids can use for snacks, drawing or story time. We love this learning-packed preschool gaming chair! Game on!
Purchase this techy toddler toy on Amazon.
---
Tinker Crate
Here's another great gift for the little astronomer in your life. KiwiCo & Discovery #MINDBLOWN have teamed up to bring kids a hands-on project with exclusive content to make learning about space even more fun! This fun Fiber Optic Stars kit let's kids wire up their own mini planetarium to model the motion of the stars and observe how the night sky changes. This kit includes everything you need to get started — project materials, the Tinker Zine, and illustrated blueprint instructions, plus a bonus magazine and additional digital content from KiwiCo and Discovery #MINDBLOWN.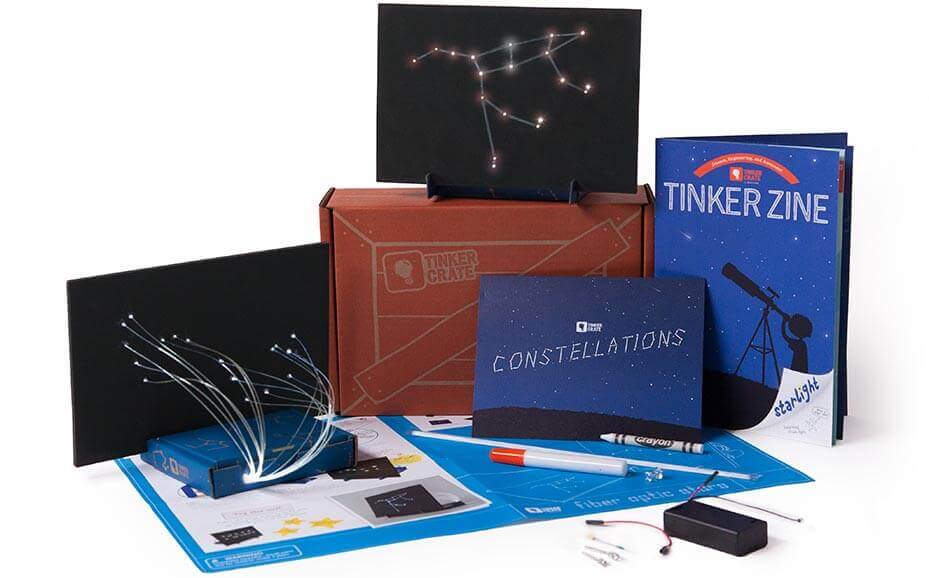 Get your own Tinker Crate or sign up for a monthly subscription at Kiwico.com. Perfect for kids ages 9 and up.
---
Power Action Pickachu
My kid swears he's a Pokemon trainer so this year I'm getting him his own interactive Pikachu! I first encountered Power Action Pickachu from Wicked Cool Toys when I attended Toy Fair. Squeeze Pikachu's hands to see its tail and cheeks light up or hear Pikachu speak.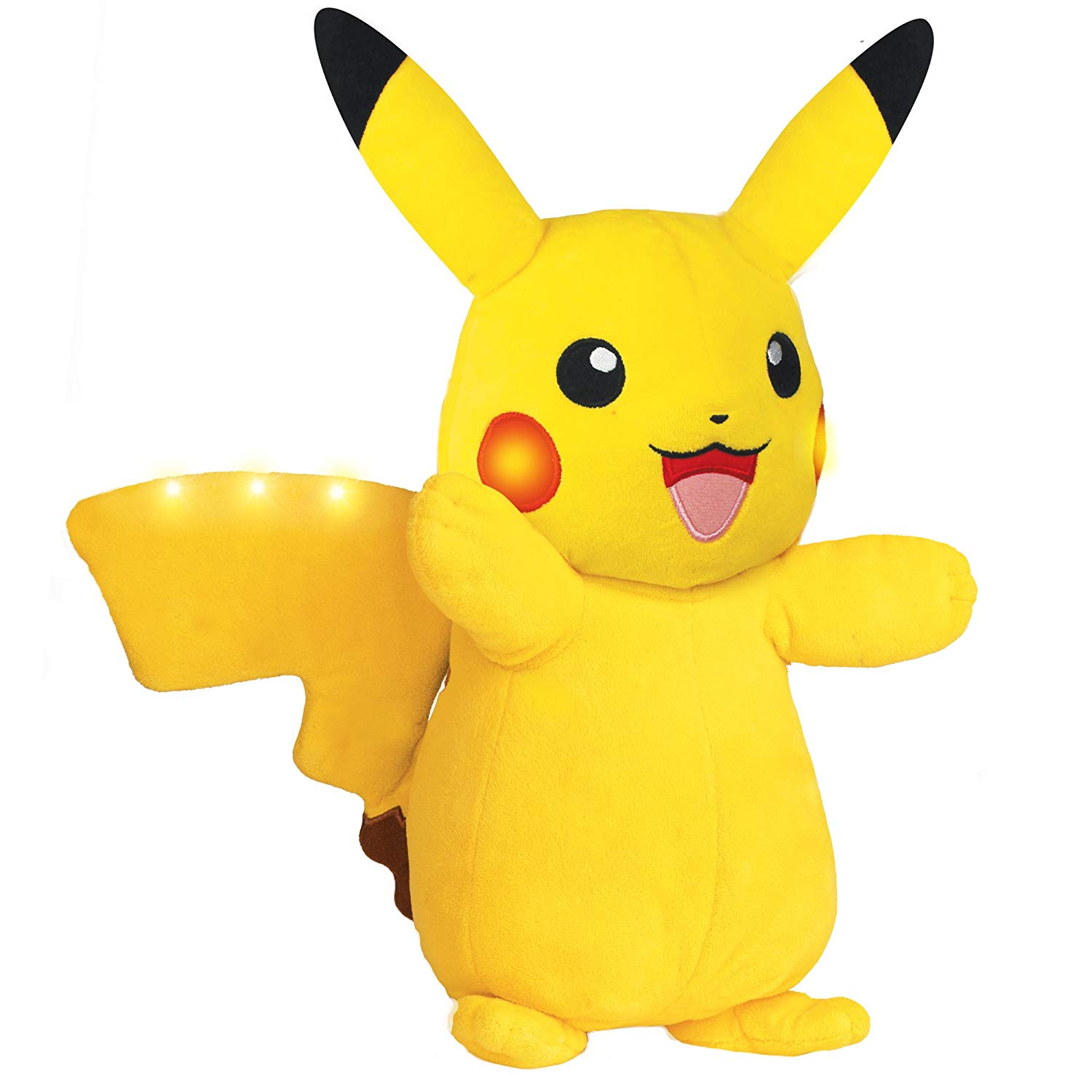 Innovative sensor technology gives Pikachu unique interactivity. The more kids play and interact with Pikachu, the more varied and dynamic his responses become. Makes a really fun interactive toy for kids ages 4 and up.
Get your kiddo their own Power Action Pickachu on Amazon.
---
Ready, Set, Play! by Scholastic
Here's a great reading selection for your techy kid if they're also a little gamer. Ready, Set, Play! is the essential guide to all the funnest and coolest games, appropriate for gamers ages 5 to 8. In this guide, readers will learn all the best tips and tricks for their favorite games, including Minecraft, Zelda: Breath of the Wild, Mario Party Star Rush, Splatoon, LEGO Dimensions, and so much more. They'll also learn some gaming basics, discover new games worth playing on console and mobile, and even be introduced to some of the cutest characters they can expect in the games they play, including Kirby, Yarny, and more.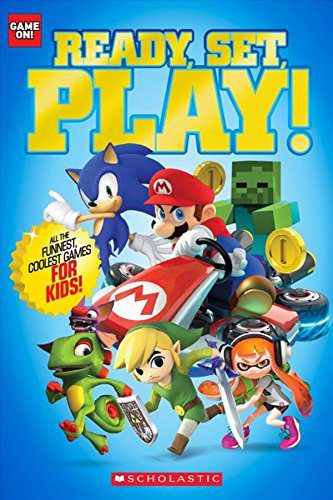 I love that this guide only features games rated E for everyone. Ready, Set, Play! also includes bios of some of the world's biggest gaming stars, expert opinions tips from pro players, and awesome facts making it the perfect game guide for new and budding gamers. Your kiddos will love this one!
Purchase Ready, Set, Play! by Scholastic on Amazon.
---
Nintendo Labo Vehicle Kit
Nintendo Labo combines DIY creations with the power of the Nintendo Switch. It's a great way to encourage your techy kid to make something new! Kids can build a car, a submarine, a plane, two keys, and more; then insert a key into any of the vehicles to play games and activities on their Nintendo Switch.

Nintendo Labo is an innovative line of family-friendly DIY kits to use with the Nintendo Switch gaming system. A Robot Kit and Variety Kit are also available. I love that these fun kits allow kids to customizable cardboard creations and play fun games with them, discover how they work, and invent new ways to play video games. Even squeeze in some STEM learning! #winning
Find Nintendo Labo on Amazon.
---
Disclosure: I received sample products to help facilitate this review.
What would your kid choose from our Top Tech Toys for Kids Ultimate Gift Guide ?
Don't forget to PIN this so you can find this list of top tech toys later you're shopping for holiday gifts!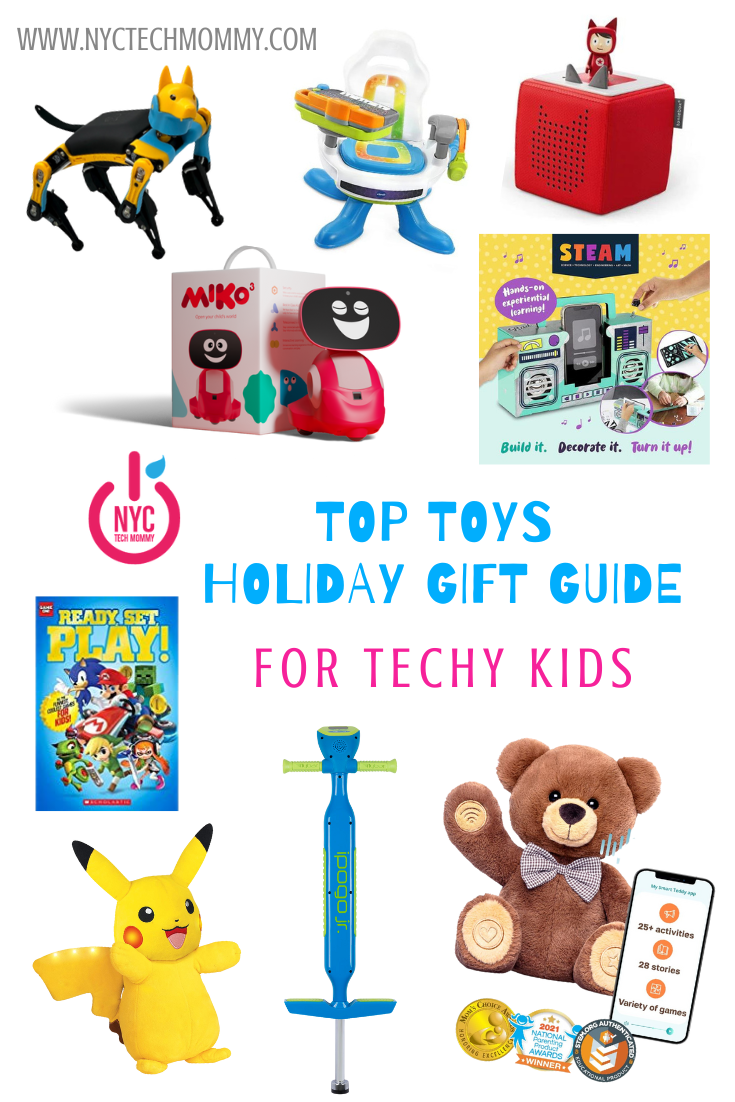 You May Also Like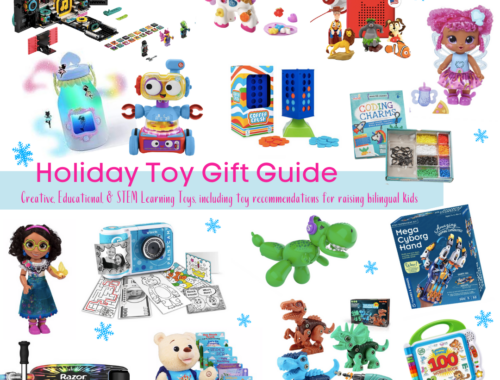 November 15, 2021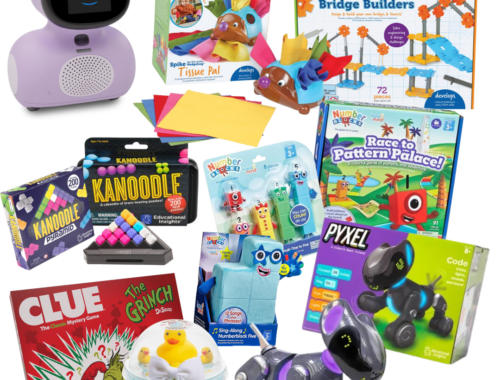 November 19, 2023