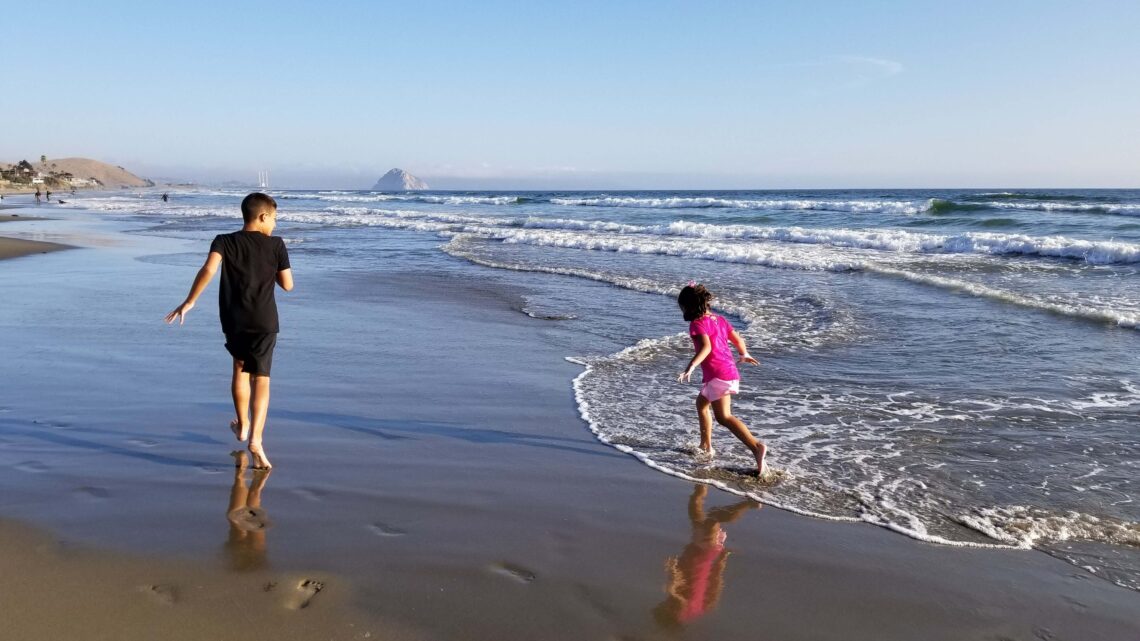 California Road Trip Itinerary: Driving LA to San Francisco & Central Coast Stops Not to Miss
November 25, 2019
Today I'm finally sharing our California Road Trip Itinerary. Remember that EPIC family road trip we took this past summer? I recently told you about arriving in Las Vegas with kids and our drive from Vegas to LA and driving Route 66. Today I'm continuing our #EpicFamilyRoadTrip story and giving you ALL the details of our road trip from LA to San Francisco. Plus, all the Central Coast stops not to miss! This was the part of our trip that we were most looking forward to — 14 days exploring California's Central Coast and arriving in San Francisco with kids. Read on!
This post is truly jam-packed with everything you need to plan your very own and most EPIC California family road trip with kids. Hit the road my friends!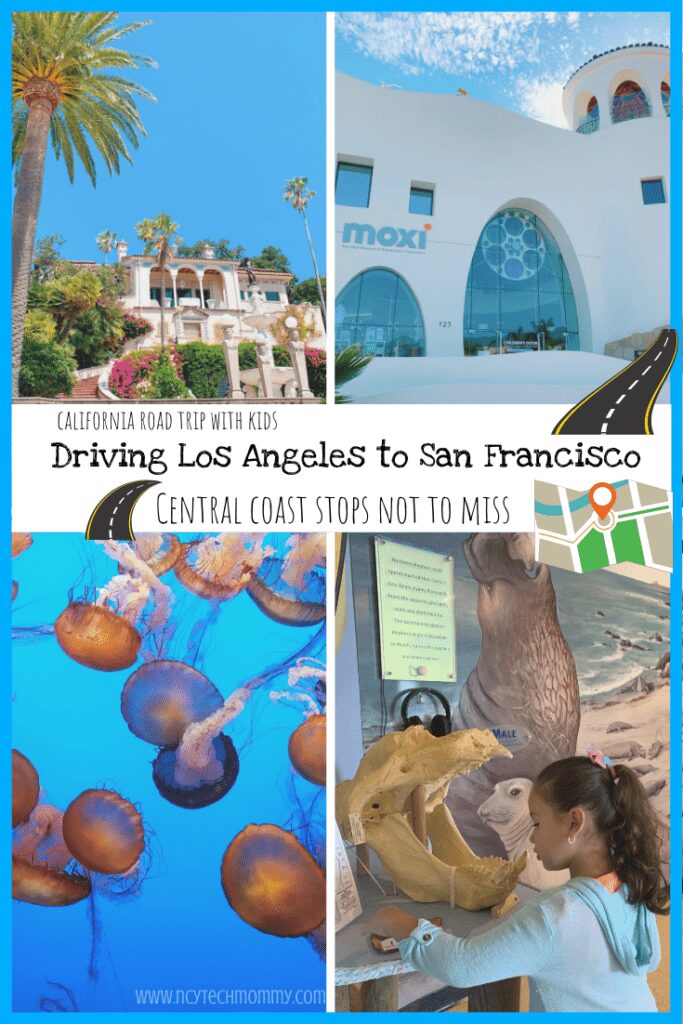 Thank you to our great Central Coast Tourism partners for helping us plan our #EpicFamilyRoadTrip and hosting us during our travels. In order to facilitate this travel guide, we received complimentary and reduced rate accommodations, complimentary meals and tickets for many local attractions. As always, I only share what I love and know you will too! All thoughts and opinions are my own.
For me driving up California's Central Coast has always been #goals! After all, this is The Original Road Trip! An incredible opportunity to explore 350 miles of the world's most beautiful coastlines. For our family, it was also a dream come true to enjoy so many memorable experiences together and make loads of new family memories. Isn't that what big family road trips are all about?! And let me tell you, this Central Coast road trip did not disappoint! California's Central Coast region stretches from Ventura just north of Los Angeles to Santa Clara south of San Francisco. There's so much to explore! Each stop along the way felt like a true California vacation, complete with breathtaking Pacific Ocean views, gorgeous sunsets, fun to explore places of interest, and so many classic beach towns to get acquainted with. #TheOriginalRoadTrip
You can request a California Central Coast Visitors Map here if you're planning a California road trip of your own. This was the very first thing I did as I started planning out our California Road Trip Itinerary.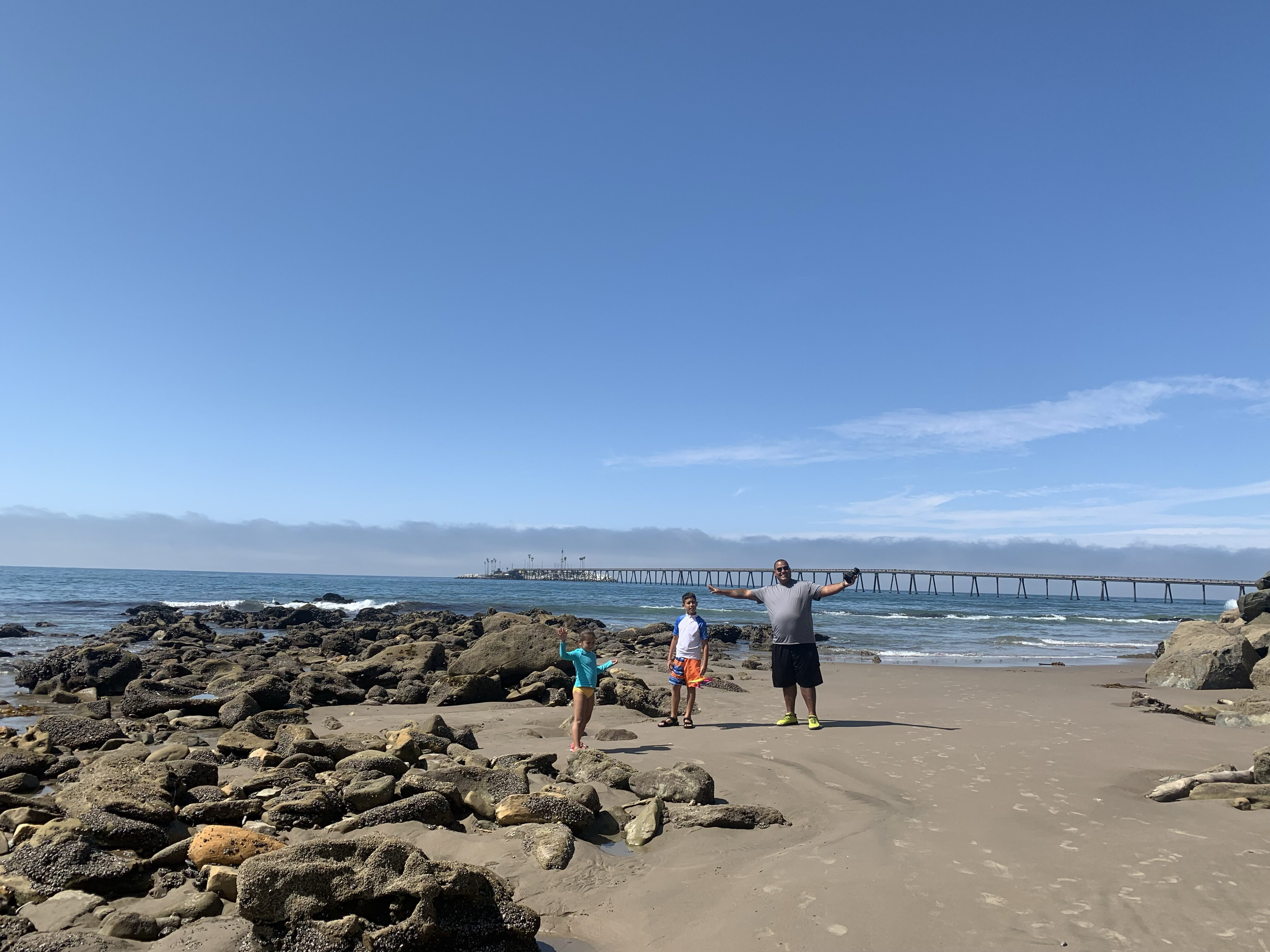 Welcome to California
We spent a few days in Los Angeles before heading out on our road trip up California's Central Coast. We ended our California road trip in San Francisco before taking our flight back to NYC. Along the way we saw so much and made so many new memories. I couldn't possibly share all of it in just one blog post — although this one is pretty long! Probably the longest I've ever written! Then again, this has also been the longest trip we've ever taken. And there's still so much more I want to tell you about!
Our new California Road Trip Series will include several follow-up posts detailing specific regions and other destinations we visited in California, including all the family-friendly hotels we stayed at. Today's post simply round ups ALL of our stops along the way. These are all the destinations you should have on your radar. No matter if you've already started planning your own #EpicFamilyRoadTrip or if you're just California dreaming' for now. Here are all the details and tips to help you enjoy it all!
This is our family's experience driving from Los Angeles to San Francisco.
California Road Trip Itinerary
When first planning our #EpicFamilyRoadTrip there were certain places I mapped out and made sure to fit into our itinerary. Below I'm sharing our complete itinerary with you. Many of you requested for us to share it after watching our California family road trip stories on Instagram this summer. So here it is!
This extensive itinerary introduces you to many of California's iconic destinations – family-friendly experiences, stops not to miss, beach towns to visit and more. Activities listed here can range from family-friendly adventures to relaxing days on the beach. All great options for any family driving up California's Central Coast with kids.
Below I'm giving you an even more detailed glimpse into how we traveled and what we did and saw during our #EpicFamilyRoadTrip. You can also visit the Central Coast website to explore many other itinerary options. Each of the Original Road Trip itineraries listed can easily help you plan your family's next epic road trip!
To give you a better idea, here are just a few of our highlights from the trip. They're just a few of the destinations and activities we enjoyed the most on this California road trip with kids.
Highlights of our #EpicFamilyRoadTrip
Family fun at Santa Monica Pier
Kayaking at Ventura Harbor Village
Exploring Santa Barbara on a 4-person Surrey
Learning how to grow a Luffa in Santa Maria Valley
Playing at a Viking themed playground in Solvang
Surfer watching at Pismo Pier
Visiting a Castle in San Luis Obispo
Collecting sand dollars in Cayucos
Observing Elephant Seals in San Simeon
Playing in Gilroy Gardens
Learning about the Kelp Forest in Monterrey Bay
Family fun at Santa Cruz Beach Boardwalk
Exploring Angel Island and learning about the Ellis Island of the West Coast
Relaxing in Tiburon by the Bay
Driving over the Golden Gate Bridge
Overview
We explored California's beautiful coastline, most specifically Los Angeles (and surrounding cities), California's Central Coast, and San Francisco Bay during this two-week long itinerary. Our journey started in Los Angeles where we drove to Laguna Hills and made that our home base for a few nights. From there we took off driving up California's Central Coast, exploring SLO CAL, driving through Big Sur, and ending in San Francisco. If you're taking this coastal road trip, you can rent a car near the LAX airport and return it at the airport in San Francisco like we did.
As I mentioned already, most destinations in this itinerary focus on family-friendly attractions since we were traveling with our two kids, ages 11 and 4 (at the time). Other than breathtaking scenery, this road trip also included several more adventurous activities, like kayaking in Ventura Harbor. There is so much to do at each of these destinations that you can customized your activities to best fit your own family, including younger travelers. This itinerary includes suggested activities based off what we did and what our family enjoyed the most. Anyone who follows this road trip itinerary will be able to enjoy iconic sights while also experiencing the laidback beach vibes that California is famous for. #TheOriginalRoadTrip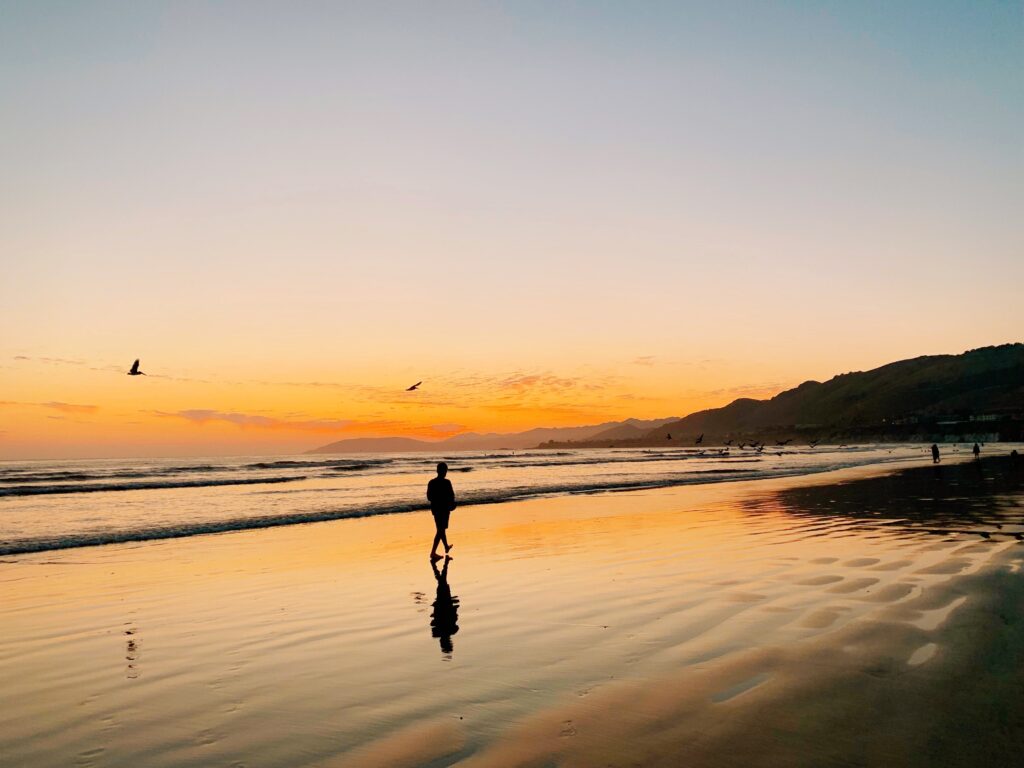 California Road Trip – Detailed Itinerary
Let's hit the road! Originally, we had planned to drive just California's Central Coast but decided to extend our drive a bit. We planned to arrive at Los Angele's LAX airport but later decided to extend our road trip, flying into Las Vegas instead and driving Route 66 to Los Angeles. By the time we arrived in California we were ready to rest up a bit and unwind after the long drive. We stayed in Laguna Hills for a few nights, visiting friends and family that live in LA, kicking back at Laguna Beach, and taking a few days to experience some of the must-see family-friendly attractions in the Los Angeles area.
Family-Fun in Los Angeles Area
Technically not part of California's Central Coast but if you're starting your road trip in Los Angeles, there are many family-friendly stops you don't want to miss before making your way up California's Central Coast. Here are just a couple of our favorite spots. For example, we spent an afternoon in Santa Monica and it was the perfect way to kick off our California vacation.
Santa Monica Pier
This is the End of the Trail — where the iconic Route 66 ends at the sea. We drove here from Las Vegas and it was the perfect start to our California road trip. As soon as you arrive at the pier you can find a small shop dedicated to Route 66. Stop in for some souvenirs or a brief history lesson!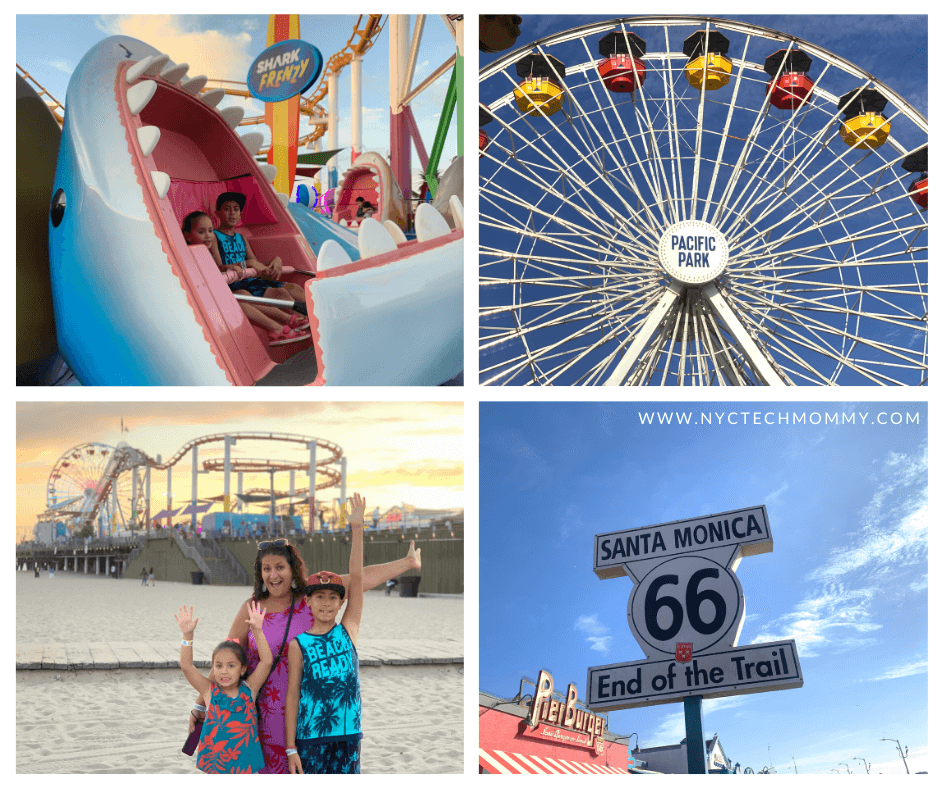 We were even more excited about visiting Santa Monica Pier with it's huge ferris wheel and roller-coaster sitting atop. But that's just the beginning, the Pacific Park amusement park located at Santa Monica Pier is packed with all kinds of rides, games, food and tons of family fun. We spent an entire afternoon enjoying it all — including the most gorgeous sunset!
LEGOLAND
If you have little LEGO fans in your family, you'll want to make a little time for LEGOLAND. Just under 2 hours drive from LA to Carlsbad and totally worth it! We spent a fun filled day exploring the LEGOLAND theme park, the LEGOLAND Water Park, the SEA LIFE Aquarium, and even ended our day by popping into their new LEGOLAND Castle Hotel to enjoy a fun family dinner at their Dragon's Den themed restaurant. Everything is definitely awesome at LEGOLAND!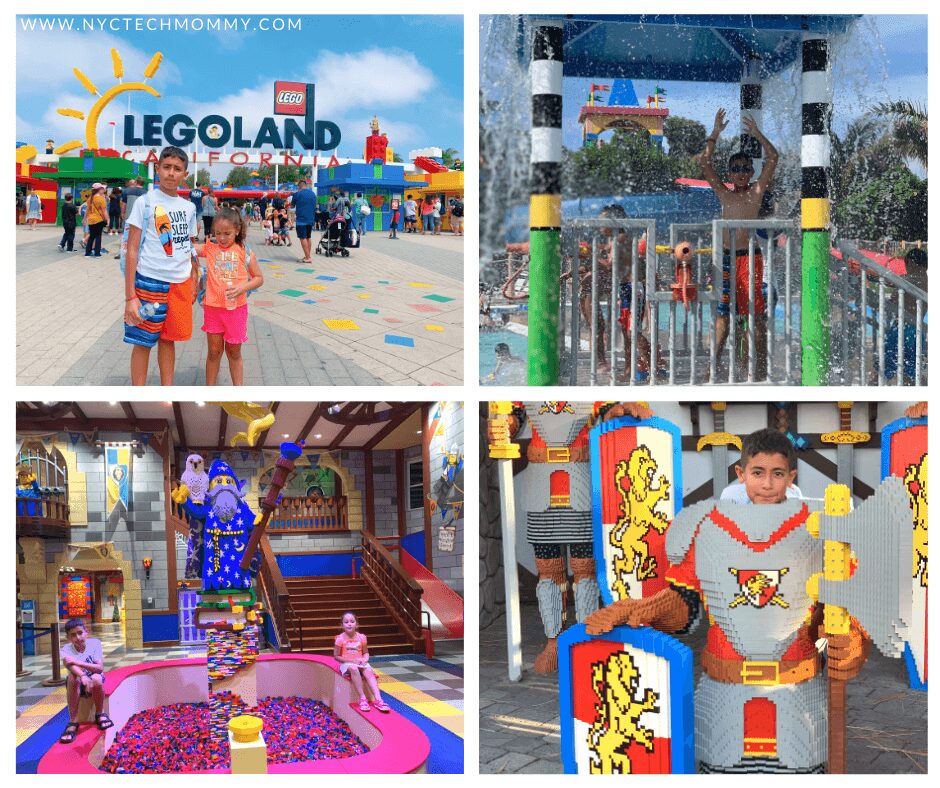 And if you're a family of STAR WARS fans, just thought I'd thought I'd also let you know that LEGO Star Wars Miniland won't be around much longer. Sad, I know! If you have a trip planned in the next couple of months make sure to stop in and check it out. The LEGO Star Wars Miniland model displays are leaving LEGOLAND Parks on January 6th 2020 so be sure to catch it before it's off to a galaxy far, far away!
But if you miss it, don't worry! There's more fun on it's way. Opening in the Spring of 2020 is LEGO Movie World, based on the blockbuster films The LEGO Movie and The LEGO Movie 2: The Second Part. This new land at LEGOLAND will fully immerse guests into the LEGO Movie Universe and place them on the streets of Bricksburg. I told you everything was awesome at LEGOLAND!
Laguna Beach
Anytime I'm in California I need to catch a sunset at Laguna Beach. Beautiful views, white sands and sparkling clear waters, famous art galleries and shops, the vibrant coastal town of Laguna Beach has it all! During our trip we spent a late afternoon playing at the Laguna Main Beach Park Playground (which my kids love) right on the boardwalk as we waited for the sun to go down. It's always a breathtaking view from here! This beachfront playground is a must-play stop on any trip to Laguna Beach with kids. Families often choose to visit this beach, because the location offers amenities for both kids and adults.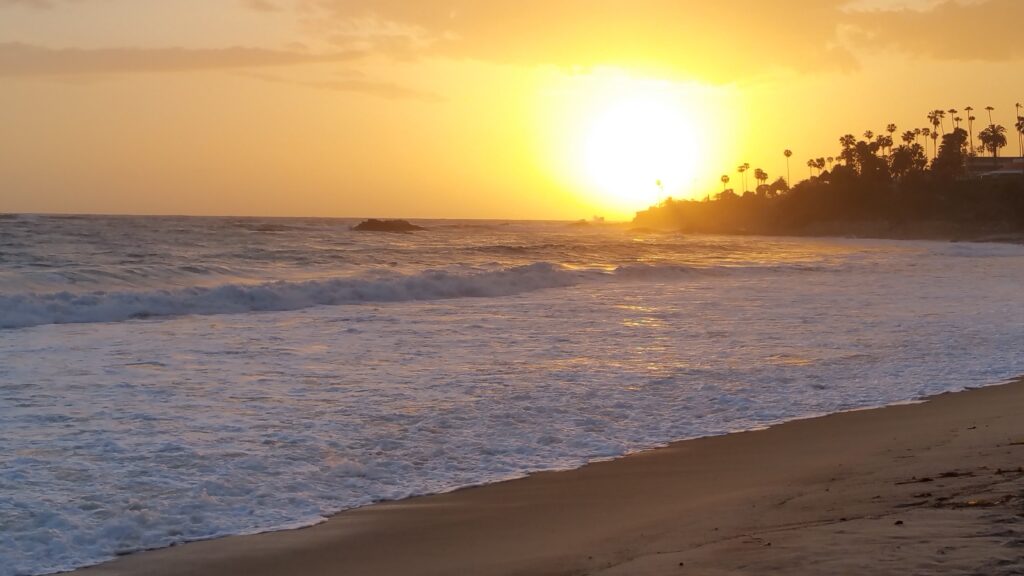 Afterwards we walked across the street and enjoyed dinner at BJ's Restaurant and Brewhouse, our favorite family-friendly restaurant at Laguna Beach. We've been here a few times during past trips and the food is always excellent. The deep dish pizza is delish but they also offer a full menu with many other delicious options. The prices are great too!
Central Coast Stops Not to Miss
After a few days of slow traveling and relaxing in the Los Angeles area we turned it up a notch (or two) and set out on our #EpicFamilyRoadTrip drive up California's Central Coast. With so many places to visit and so much to see we knew we had to travel much faster during this portion of the road trip. Looking back now, I wish we would have had a few extra days, but we made it work.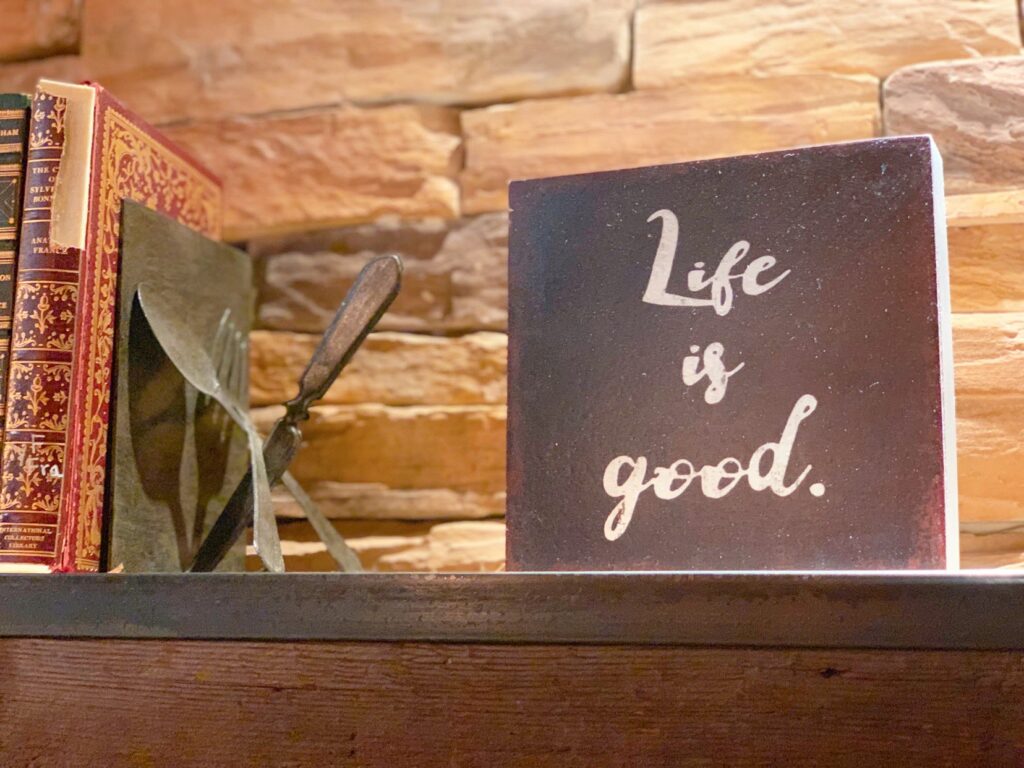 In the end we saw a lot and made tons of unforgettable memories! However, I would recommend traveling a bit slower if you're on this road trip with younger kids. After all, who wants to feel rushed while on vacation. Also, your little kids might not be as willing to move on when it's time to leave that fun place they're not completely done exploring. My own kids were pretty good with keeping things moving along but I know that's not always easy when traveling with kids. Especially on a long road trip like this. Adjust your time accordingly to fit your family best. Take it all in, enjoy, and don't miss these family-friendly Central Coast stops along the way!
Ronald Reagan Presidential Library
Once we started our drive up California's Central Coast, our very first stop was about 45 miles from Los Angeles at the Ronald Reagan Presidential Library and Museum in Simi Valley.
I might not be a registered Republican (and nowhere near a fan of the Reagan years) but I couldn't pass up the opportunity to visit this presidential library. After all, it's not every day that you drive past a place like this. And what a fantastic opportunity to share an incredible hands-on history lesson with our kids!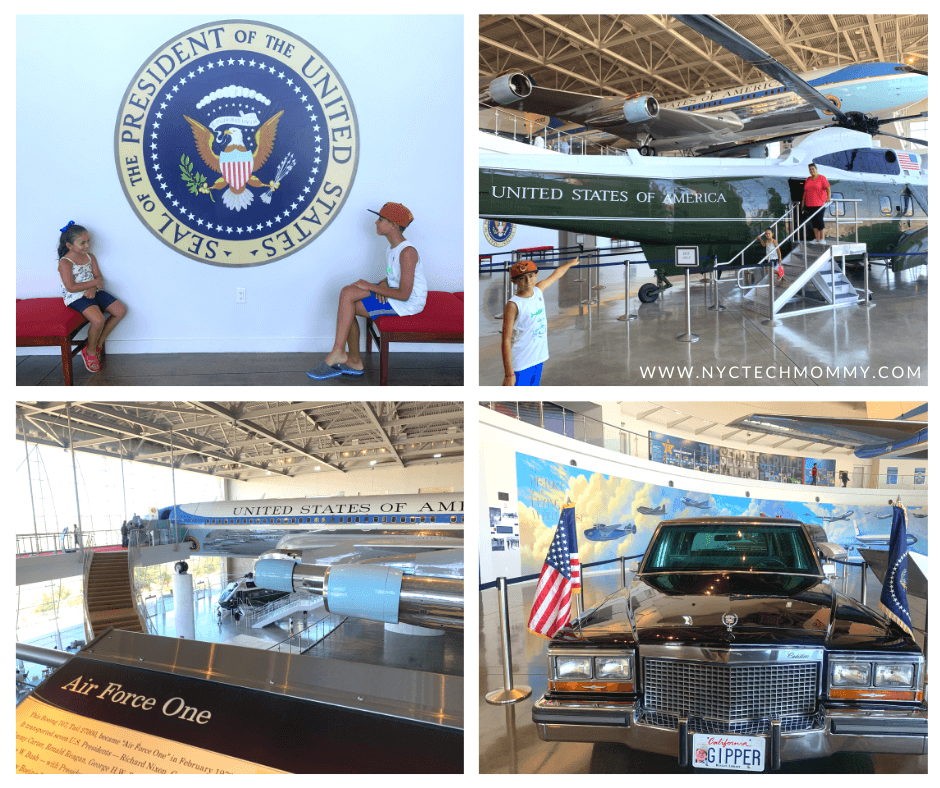 To learn more, read our post about Our Visit to the Ronald Reagan Presidential Library & Air Force One Pavilion.
VENTURA HARBOR VILLAGE
Located on scenic Highway 101, Ventura Harbor Village is just 30 minutes South of Santa Barbara and one-hour North of Los Angeles. This was our next stop on our California road trip. Here we found a picturesque harbor village and working fishing marina with charming little shops, galleries, restaurants, and tons of waterfront activities that are fun for the entire family! #VisitVentura #VenturaHarbor
Kayaking with Ventura Boat Rentals
We had a "sea-sational" time at Ventura Harbor Village thanks to the awesome people at Ventura Boat Rentals who challenged us to get in the water and step out of our comfort zone. I hadn't been on a kayak in over 20 years. This was the kids first time ever and they were a little scared but they did it! We had so much fun exploring the harbor by kayak and now can't wait to do it again!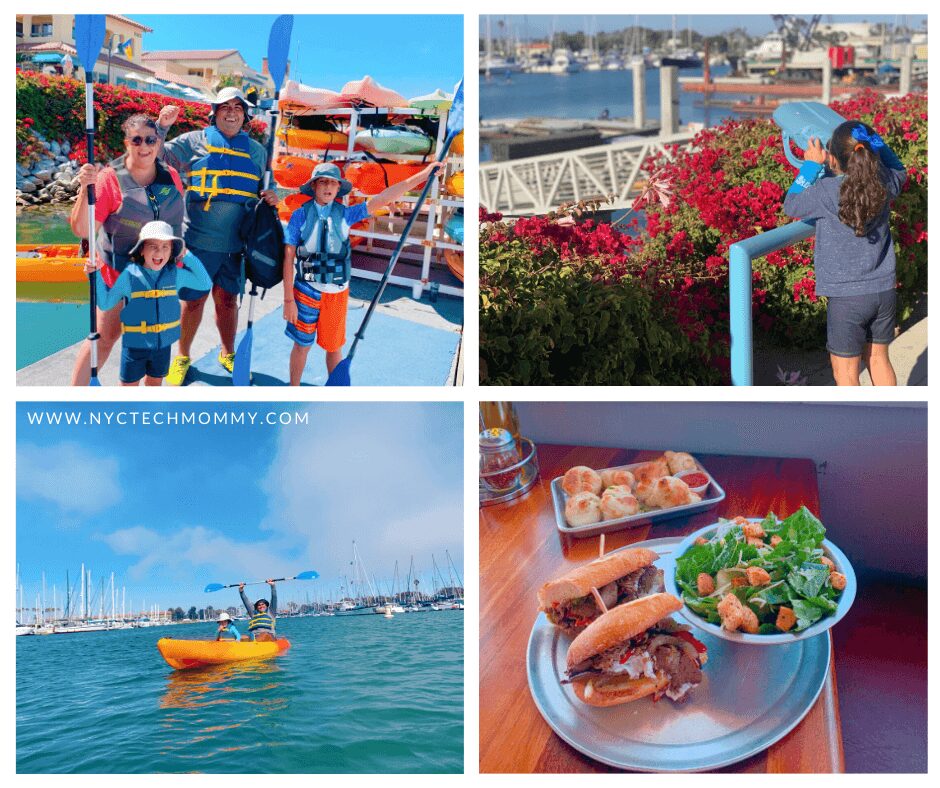 Lunch at Fratellis Pizza & Brew
We worked up an appetite and after all the fun on the water it was time for lunch. We enjoyed the excellent food and amazing views of the harbor at Fratellis Pizza & Brew. Family friendly and everything on their menu is delicious! Besides the pizza, make sure to order the garlic knots which were so yummy. The Cheese Steak Sandwich was delicious and they offer a kids menu that includes pasta with butter and parmesan. Chicken tenders are on the kids menu too.
Costal Cone for Ice-Cream
Of course, after lunch we needed a sweet treat so we headed over to Costal Cone for some ice cream. With 40+ flavors of soft serve ice cream, the greatest selection on the west coast, Costal Cone has a flavor for everyone. Not to mention that you're sure to score an instagrammable worthy pic!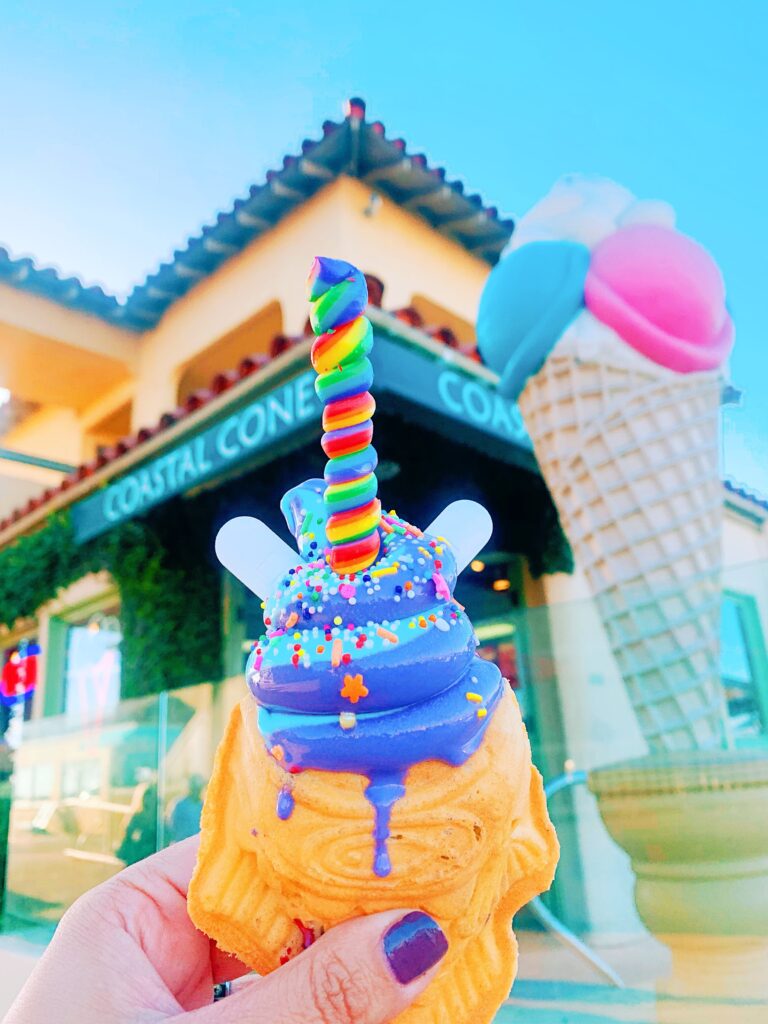 Surfer's Knoll Beach
Don't skip the beach on your stop at Ventura Harbor Village. Located on Spinnaker Drive, right across the street from the Ventura Harbor Village parking lot, you'll find amazing views of the coastline and Channel Islands at surfer's Knoll Beach. It's a beautiful place to take a waterside stroll, hunt for sea glass, or take in a gorgeous sunset. Swimming here is not ideal due to riptides but the views are breathtaking. We enjoyed a little time here in the late afternoon before heading to our hotel for the night.
SANTA BARBARA
You could easily spend a couple of days or a week in Santa Barbara. I regret that we didn't but I'm happy we squeezed in as much fun as we possibly could into the 4 hours we were there. We spent early part of one day in Santa Barbara and got to see tons. Although there is so much more I would have loved to experience — the Santa Barbara Maritime Museum, the FisHouse restaurant located near the waterfront, the Grand Gardens, and Montecito (home of Oprah and many other well known celebrities). I guess we'll have to go back to Santa Barbara one day! #seesb
City Tour with Santa Barbara Trolley Company
How do you see all of Santa Barbara when you don't have a lot of time? You hop on the Santa Barbara Trolley Tour! We enjoyed a 90-minute narrated trolley tour of the city with highlights including Old Mission Santa Barbara, the Santa Barbara County Courthouse, the Moreton Bay Fig Tree, Butterfly Beach, Stearns Wharf and the Dolphin Fountain, Museum of Natural History, Santa Barbara Zoo, the Funk Zone and more.
MOXI, The Wolf Museum of Exploration + Innovation
The MOXI — The Wolf Museum of Exploration + Innovation — is the perfect place to visit in Santa Barbara with kids! This family-friendly contemporary museum is devoted to science, technology and the arts, with a focus on interactive exhibits. My kids absolutely loved it! And it's not a huge overwhelming place — perfect for even the youngest kids. We ran through it in just one hour but of course you can take a little more time if you aren't rushing through Santa Barbara as we did. Visit the MOXI website to learn more and plan your visit!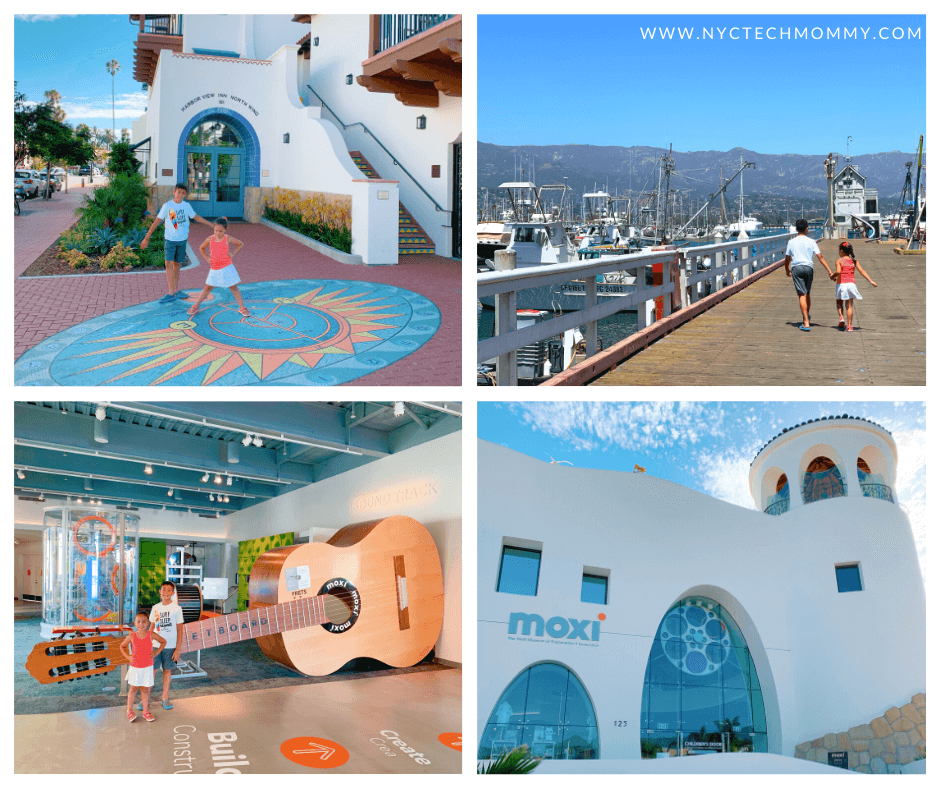 Family-Fun Tip: If you have a membership to your local science museum, chances are that you can use that membership to receive free admission at this museum (if you live more than 90 miles away). Most science museums participate in the ASTC Travel Passport Program which grants members benefits such as FREE general admission when you travel outside of your local area. For more info or to see which science centers and museums participate in the reciprocal free admission program search here. And don't forget to take your local science museum membership card with you when traveling with kids!
Explore Even More of Santa Barbara by Bike
Another great way to see a lot of Santa Barbara in a short time is to explore it on a bicycle surrey. We headed over to Wheel Fun Rentals of Santa Barbara and hoped on a 4-seater bicycle surrey for a one hour rental. It was such a fun way to see Santa Barbara and explore the ocean front. We followed the 3-mile Cabrillo Bike Path. Along this path, visitors can enjoy attractions such as East Beach, West Beach, Leadbetter Beach, Skater's Point, Stearns Warf, and the Santa Barbara Harbor.
SOLVANG
When traveling California's central coast, do not miss Solvang! It's located in the Santa Ynez Valley. We arrived in Solvang in the late afternoon and almost everything was closed. Still, I'm glad we strolled its picturesque streets and took in a bit of the Danish charm of this place. Most shops and restaurants seem to close by 5 P.M. so if you're visiting, arrive early in the day. It's a unique destination and a fun place dedicated to Danish culture and heritage. Here you'll find old-world Danish architecture (including a windmill), delicious Danish bakeries, cute shops and boutiques, and a variety of restaurants and international cuisine. I'm so glad we made a stop, even if most of this town was already closed for the day.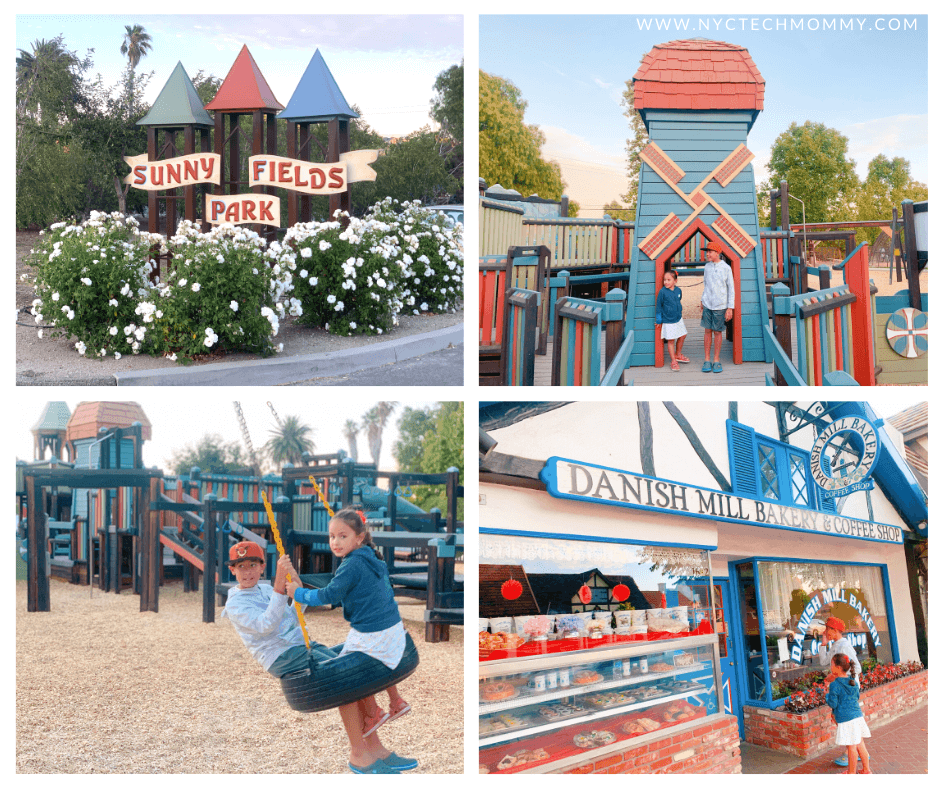 Sunny Fields Park – Viking-themed Playground
The cute town of Solvang might have been closed but this playground wasn't. We enjoyed a late afternoon playing and running around at Sunny Fields Park — a fun Viking-themed playground that's just down the road and a few minutes drive from town. This charming playground seems like something out a storybook, built of wood and painted pale shades of blue, green and red. I originally heard about this cute playground from a fellow blogger friend who recommended that we stop there when she heard we were driving to Solvang. I'm glad I followed her recommendation because the kids loved it!
SANTA MARIA VALLEY
Santa Maria Valley is the perfect family-friendly destination along California's Central Coast. With beautiful beaches, sand dunes, and museums to excite and engage everyone in your crew, Santa Maria Valley is a great destinations for families. During our time here we felt like we were venturing off the beaten path. It was great! #SantaMariaStyle
We didn't get to see it all but I imagine we'll be back one day. If you're planning your own family road trip through California's Central Coast I highly recommend spending at least a day, or more here. You can view more ideas of things to do and places to visit by checking out this Santa Maria Valley Family Time Itinerary and events schedule.
The Luffa Farm
I'm sure you've used a luffa sponge before. But do you know how a luffa is grown? I didn't have a clue. Which is why when we heard about The Luffa Farm in Santa Maria Valley we knew we had to visit and learn more. What we discovered during this off the beaten path adventure was mind-blowing. We learned so much we did not know! #MindBlown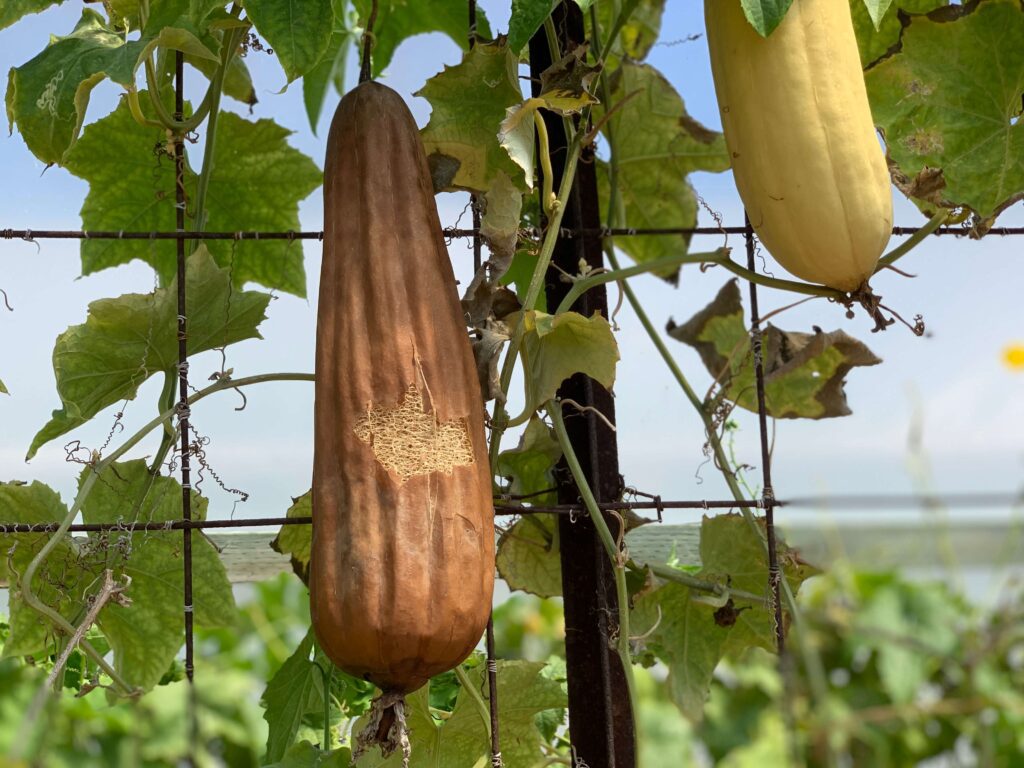 Deanne, the owner of The Luffa Farm, started growing luffas as a hobby over 30 years ago. In 1999, she decided to start a family-owned business growing and selling luffas and handcrafted bath and herbal products to retail outlets. Nestled in the small-town of Nipomo, California Mesa, The Luffa Farm quickly became a local curiosity for adventurous knowledge-seekers (like ourselves). And I can see why! My entire family enjoyed learning about luffas, exploring the unique gardens here and visiting the cute little shop at The Luffa Farm. And of course we came home with a bagful of luffas and yummy herbal soaps that the kids picked out. You can see snippets from our visit to The Luffa Farm in our Instagram stories here.
The Luffa Farm grows Heirloom Luffas without any of those harsh treatments like store bought luffas. The result is a soft, washable, non-abrasive plant-based sponge. We learned all about how they grow luffas here and it was such a surprising treat. Did you know that a luffa comes from a dried gourd? I had no idea!
The Luffa Farm is open to the public and offers free tours to anyone who stops by – no reservations needed! Tours usually last anywhere from 15 to 30 minutes. You can visit The Luffa Farm website to learn more. It's an off the beaten path destination that I highly recommend during your travels through California's Central Coast.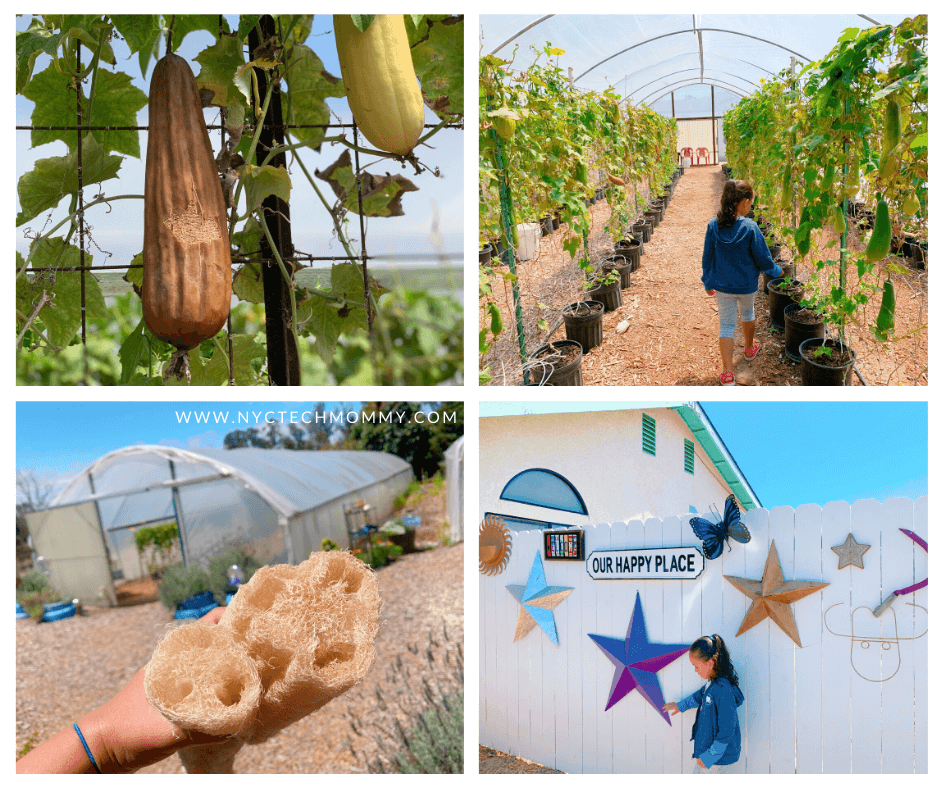 Lunch at Willow Bar & Grill
Once we were done visiting The Luffa Farm, we drove down the road for lunch at Willow Bar & Grill. Another great treat in the Santa Maria Valley! This family-friendly restaurant offers great indoor and outdoor seating and the food was excellent. I highly recommend trying the Prime Rip Dip Sandwich or the Short Rib Mesa Quesadillas, and the Truffle Fries. So good! Willow offers a delicious menu and great options for kids too. Of course my kids ordered their usual favorites, hamburger and french fries (for my boy) and pizza (for my girl). Best part is that they ate the entire thing, it was that good! You can view the full menu here if you're planning to stop in for a bite to eat as you travel through Santa Maria Valley.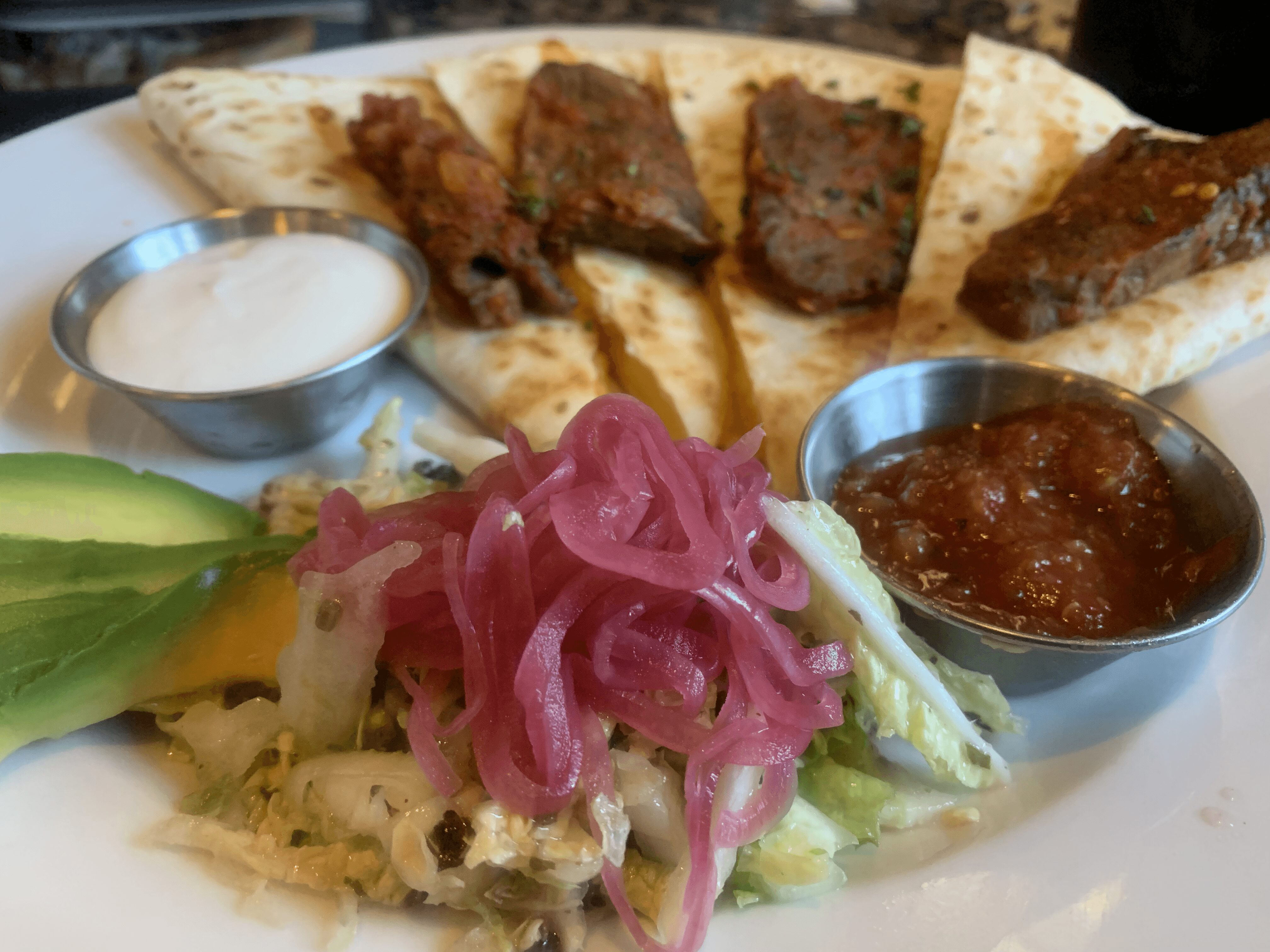 Family-Fun Tip: Once you are done with your meal, step outside and into the little red barn located right off the Willow parking lot. They sell the yummiest, juiciest, freshest organic California strawberries I've ever tasted! And at fantastic prices too! My kids LOVE strawberries so you know we drove off with a huge bunch.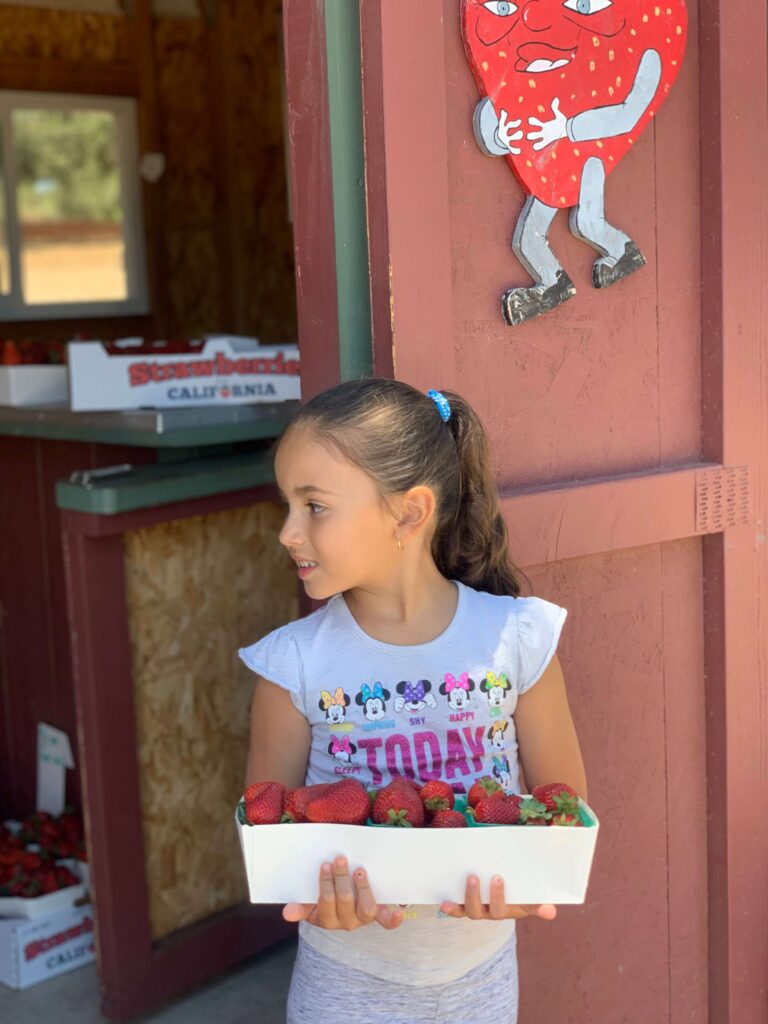 SAN LUIS OBISPO
Located midway between San Francisco and Los Angeles, SLO CAL was our favorite place to explore along the way. As a family, we've come to the conclusion that this is our happy place! Here we discovered adventures abound and the things that bring us most joy (like walking along the beach) pretty much dictated our pace as we arrived in SLO CAL. The SLO CAL vibe has a way of doing that! This place invites you to walk, not run through it. Here we found so much peace among winding hiking trails, tide pools, and California wildflowers. The sunny days just seemed to melt effortlessly into star-studded nights. Whatever you do during your time visiting SLO CAL, make sure to slow down and take it all in, find your natural rhythm, and enjoy life at a slower pace. It was just what my family needed as we traveled through California's Central Coast! #SLOCAL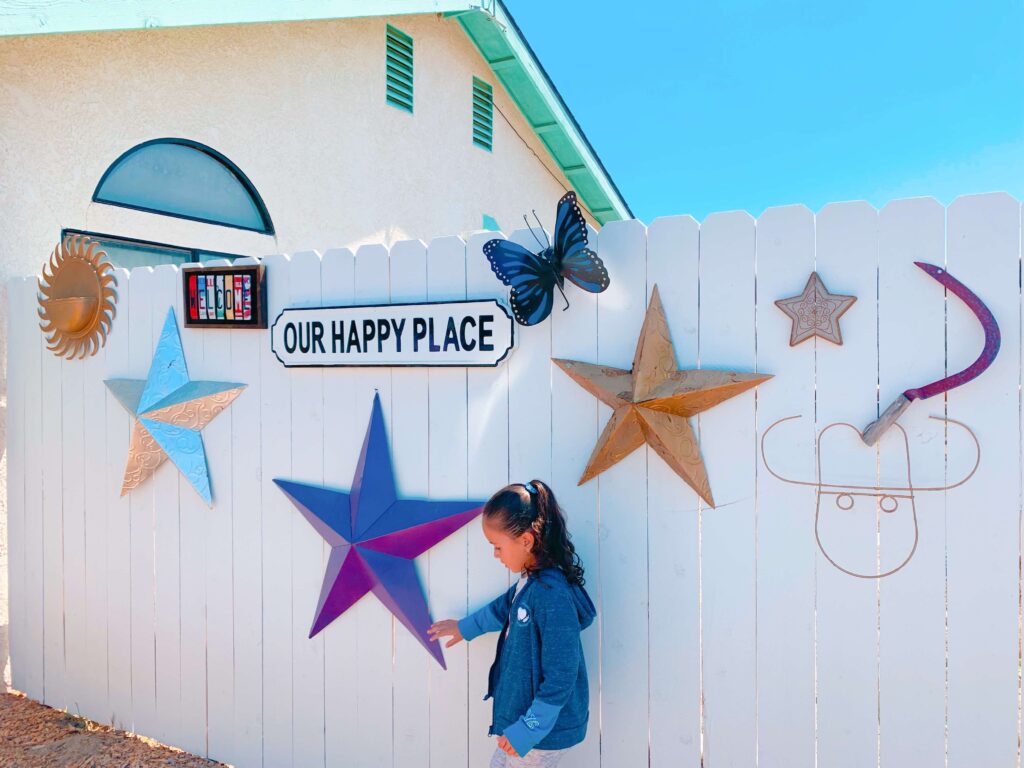 Below I'm detailing all the fun adventures we had in SLO CAL but there are still so many more we ran out of time for. Here's a quick list of few other fun family activities we wish we would have had time for. We're adding these to our list of things to do next time we're in SLO CAL so I thought I'd share them with you too. Maybe you'll add them to your own California road trip itinerary if you have the time!
PISMO
We fell in love with Pismo Beach! If you're traveling through SLO CAL you have to make this a must-stop on your itinerary. Pismo Beach offers year-round fun in the sun! Spend the day, stay a night, or more and make sure to stroll down the recently renovated Pismo Pier for incredible views of the ocean and watch the waves roll by. From here you can watch surfers catch a wave or relax on a bench on the pier while you soak it all in or stop by one of the blue spy glasses to peer closer at the ocean and the beach. And make sure to stay long enough to catch a gorgeous Central Coast sunset here. Just magical! We did not want to leave this place!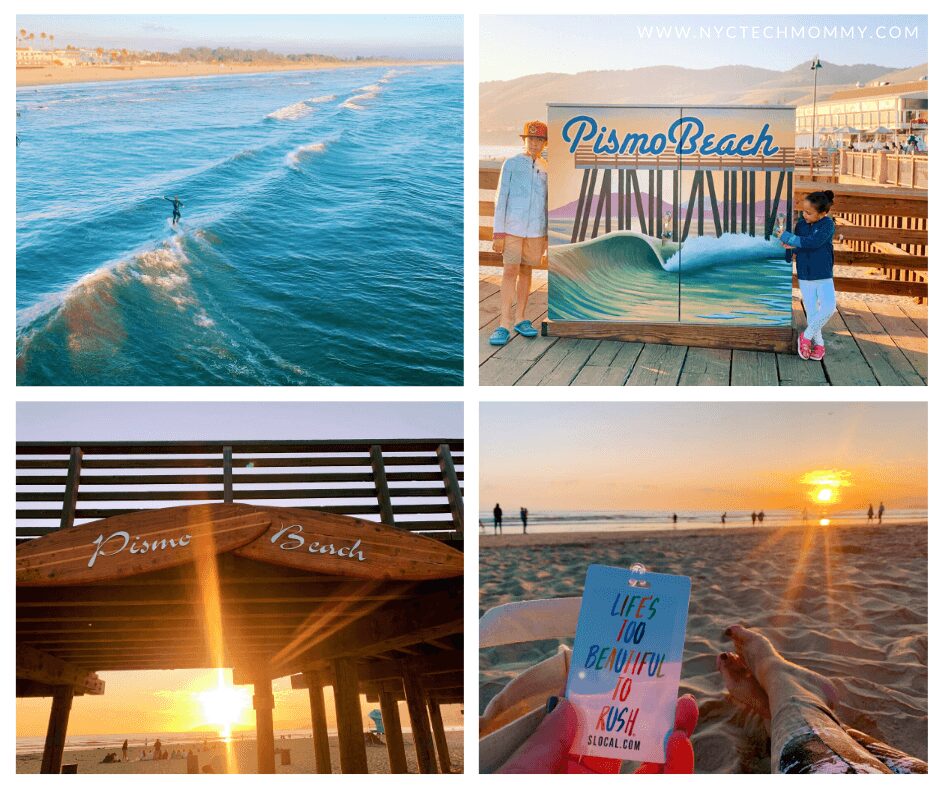 Dinner at Cool Cat Cafe
Once you've worked up an appetite after that long stroll along Pismo Pier, walk on over to Cool Cat Cafe and take a trip back in time. Step into this 1950's decorated diner and bite into a juicy hamburger with hot fries. This classic burger joint offers a variety of dinner options ranging from seafood to tasty sandwiches, burgers (including a burger of the month) and milkshakes. So yummy and the perfect spot for a laid-back family dinner. I enjoyed the Porky Pig shredded pork BBQ sandwich. The hubs went with Baby Back Ribs which were delish! And try the Hula Sticks — chicken and juicy pineapple, smothered in sweet Hawaiian sauce. So yum! Their Chili Cheese Fries and Loaded Baked Potato were really good too! Cool Cat Cafe also offers a great kids menu — Fish and Chips, Burgers, Grilled Cheese, Chicken Strips, and Hot Dogs — and lists these on a fun printout that kept my kids busy — crayons provided! See full menu options on the Cool Cat Cafe website.
And once you're done eating, make sure to visit the restroom, and not necessarily because the little ones have to go potty, but because you don't want to miss the nostalgic memorabilia that adorns the walls — old-time soda pop adds and Marilyn and Elvis pin-ups. I must confess, I love the 50's, Rock and Roll, and Elvis!
AVILA BEACH
Avila Beach made famous in the film "California Dreaming", the community of Avila Beach is uniquely sheltered from the winds, offering beachgoers a warmer destination to stretch their toes in the sand. It's located just off Highway 1 on California's Central Coast. After driving through a lush oak valley you'll encounter beautiful Avila Beach. The uniquely sunny and warm microclimate make Avila Beach a breath of fresh salt air. Spend an afternoon, a full day, or two and plan on being enchanted by small beach town charm. Avila Beach City Beach is the large wide sandy beach that takes up the entire waterfront of the town of Avila Beach, CA. The picturesque wooden Avila Pier sticks out over 1600 feet into San Luis Bay from the center of City Beach. At the time of this post only half of the pier is accessible due to ongoing repairs. We spent an afternoon exploring this picturesque little waterfront town and had so much family-fun!
Central Coast Aquarium
The Central Coast Aquarium is the perfect place to explore life under the sea, located at the north end of the waterfront right across the street from Avila Beach City Beach. My kids had the best time making friends with the 75 different species of local SLO CAL marine life at the Central Coast Aquarium. They enjoyed checking out the sea stars, decorator crabs, swell sharks, moon jellies and even a Giant Pacific Octopus. This small but super kid-friendly local aquarium offers great hands-on experiences. The Exhibit Hall's touch tanks offers close encounters with various sea creatures, including swell sharks, which the kids actually get to touch! Make sure to stop in and visit because I'm sure your kids will also have a splashing good time here!
Family-Fun Tip: Before you venture off across the street for some sun and fun at the beach, I'm sure your kids will spot the Avila Park seaside pirate themed playground right outside the Central Coast Aquarium. Spend a little time having fun here. Surrounded by grass, this is the perfect spot to throw down a blanket and enjoy a family picnic while the kids explore a pirate ship fort, and other fun play structures. There are a few picnic tables, soda vending machines and restrooms nearby.
Avila Valley Barn
Say hello to farm animals at Avila Valley Barn and make sure to stay for lunch! I've heard that a smile forms on the face of locals whenever Avila Valley Barn is mentioned and now I know why. If I lived here, this would easily be my favorite spot to stop off and buy the freshest fruit and vegetables grown locally. Not only that, but you can also stroll through Avila Valley Barn and visit with friendly farm animals. For a minimal charge you can buy a bag of lettuce and feed the animals yourself. My kids loved this! They got to hang out with goats, sheep and chickens, while I shopped for baked goods, jams and other goodies to snack on during our road trip. There are also fun tractor-pulled hayrides. And the BBQ lunches! Did someone say BBQ? I'm still dreaming about how good that was!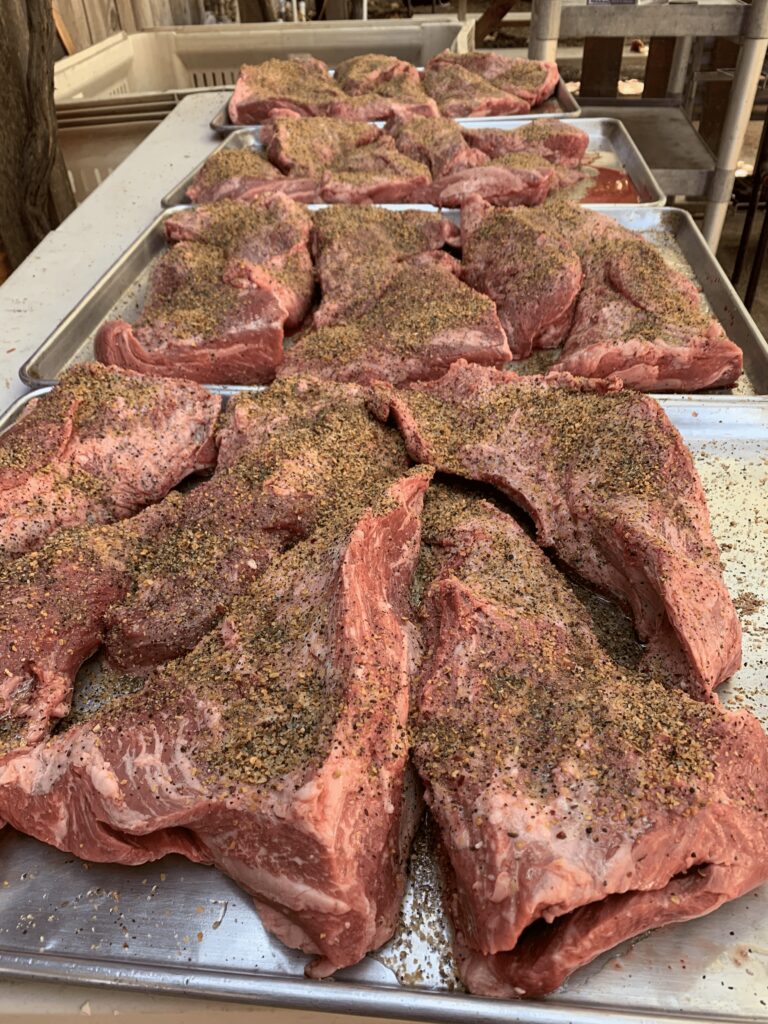 We arrived at Avila Valley Barn early enough to watch Chef Jesse Smith masterfully season rows and rows of brisket laid out on long tables right next to his smoker. It was a mouth watering moment! And we made sure to stick around long enough for him to smoke 'em so we could order up and enjoy some most delicious grub. The Tri Tip Sandwich was delicious! We also enjoyed the Smoked Pulled Pork Sandwich and some deliciously cheesy Mac n Cheese (even comes topped with smoked pulled pork). YUM!
Highly recommend exploring Avila Valley Barn for some family-fun in Central Coast California and please don't skip the lunch here! You're welcome.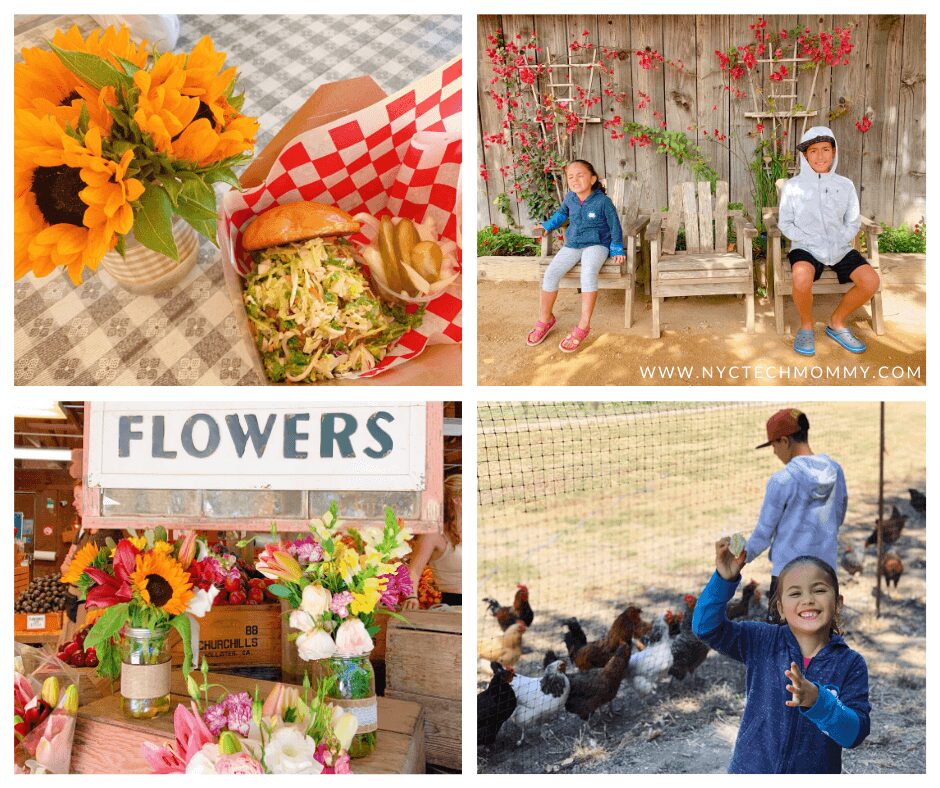 CAYUCOS
The Kitesurfers zipping back and forth just offshore caught our eye and we just had to pull over at the beach when driving by Cayucos. There's more to explore here than just the beautiful beaches but we ran out of time. You can learn more here if you're planning your own California road trip and want to spend some time kicking back at this destination.
Morro Strand State Beach
North of Morro Bay and right off Highway 1, this is the perfect stop to take in the Pacific Ocean and catch great views of Morro Rock. We spent a couple of hours just walking along the shore at North Beach at Morro Strand State Beach, a wide sandy beach in the southern part of Cayucos.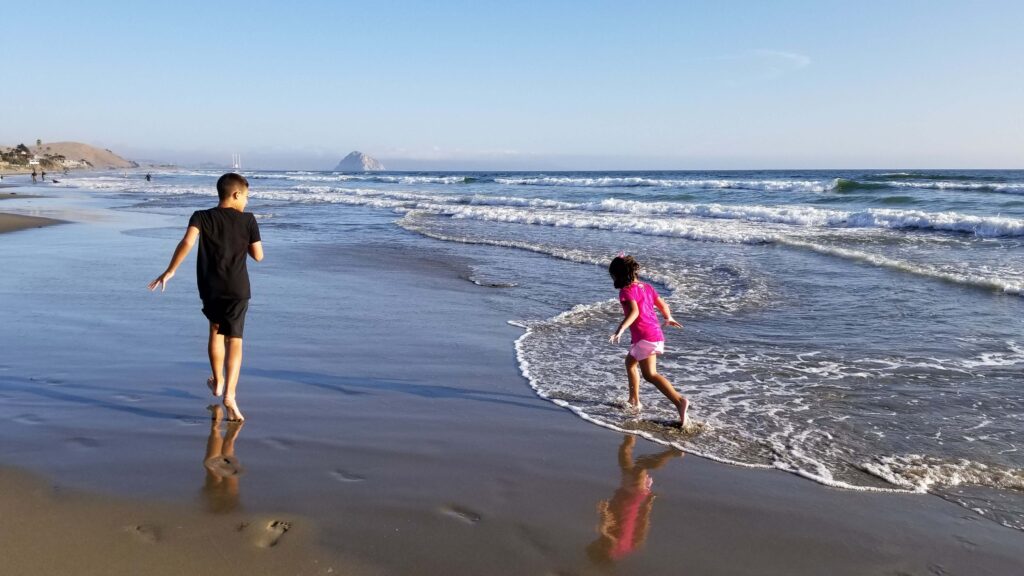 You should know that Morro Strand State Beach has two sections, north and south, separated by a long stretch of non-state-owned beach properties. And btw, I dream of owning one of those beautiful beach homes someday so let me go ahead and put that out into the universe. North Morro Beach has two parking areas. One is at Pacific Avenue and 24th Street (restrooms at this lot) and the other is nearby just off Highway 1 at Studio Drive (this where we stopped). Next to the parking lot is a wide stretch of beach with no homes. From here you can walk along the sand all the way north to the pier at Cayucos State Beach (except at high tide) or take a long walk south to Morro Rock.
We walked towards Morro Rock and along the way found tons of beautiful sand dollars just sitting along the shoreline. My New York City kids had never seen a sand dollar before. They were fascinated and had so much fun combing the beach in search of these little beach treasures. They just had to find the perfect one to take home as a souvenir. I'm so glad we pulled over! This is a fun family moment that you must experience for yourself when driving California's Central Coast!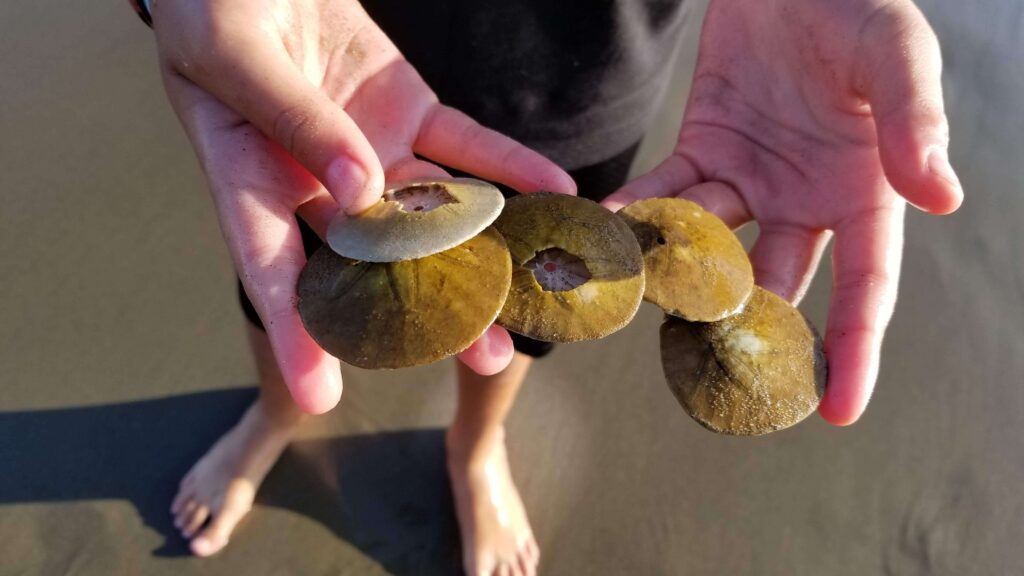 Family-Fun Tip: Bring a zip-lock baggie or other type of small container with you when stopping off at this beach. Your kids will be fascinated by the amount of sand dollars they'll find along the shoreline and will surely want to take a small collection home with them. It's illegal to collect sand dollars that are alive. But don't worry, the ones you'll find here have been washed to shore because they're dead. Dead sand dollars are fine to take. You can find out how to tell if a sand dollar is dead or alive here.
SAN SIMEON
San Simeon is a town located along the Pacific Coast of San Luis Obispo County. It's centrally located along Highway 1 and is about Halfway between Los Angeles and San Francisco. The perfect family-friendly destination offering a wide variety of activities that the entire family will enjoy, great places to stay — will be sharing more about that in a future post — and some of the most beautiful destinations along California's Central Coast. We loved spending time here with our family. There are so many things to do in San Simeon so make sure not to miss these stops if you're driving along the Pacific Coast on your California road trip! #VisitSanSimeon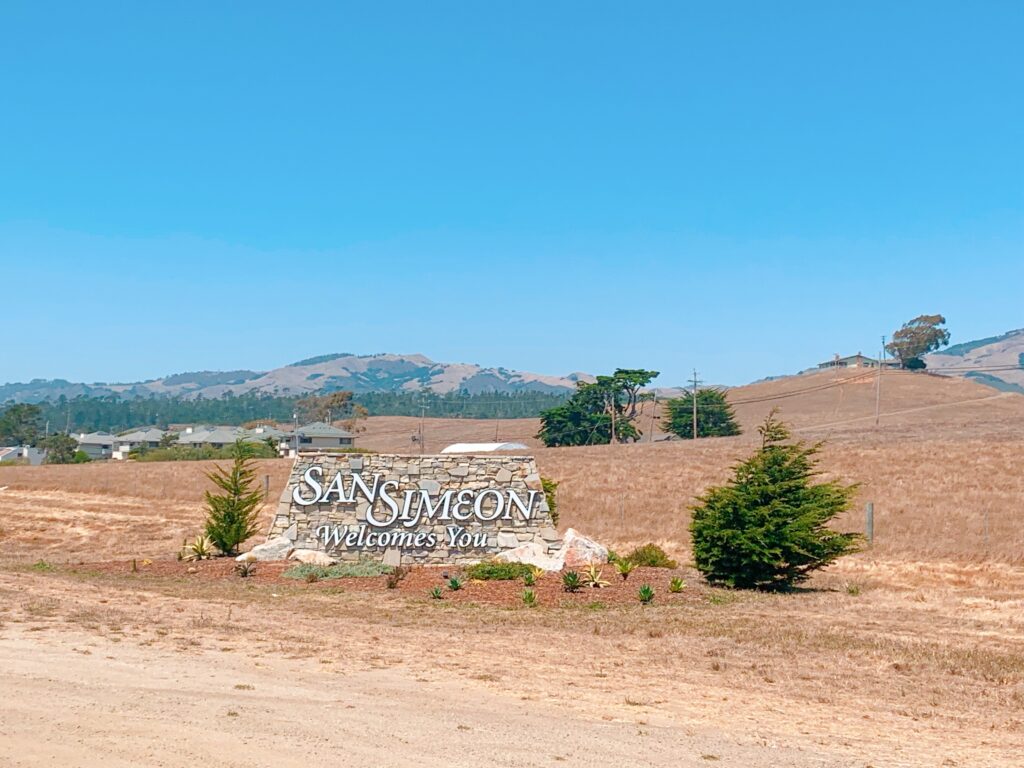 Hearst Castle
Hearst Castle is located in San Simeon. It was the lavish estate of publishing tycoon William Randolph Hearst. Built on a sprawling hilltop and designed by renowned American architect and engineer Julia Morgan, this Mediterranean Revival estate is filled with art and antiques from Hearst's vast collection. Today it's a landmark, museum, and California State Park offering breathtaking views of the Pacific Ocean. Take a tour to explore the beauty and history of this enchanted place! It's something you must see for yourself!

We made a stop at Hearst Castle during our time in San Simeon and oh my geez! This place was breathtaking, fascinating, elaborate, historic, and like nothing I've ever seen before! A must-see! Hearst Castle offers many different tours that allow you to view this vast estate. We took the Grand Rooms Tour and traveled back in time to experience what it was like to be a guest at The Enchanted Hill. This is a great tour for first-time visitors as it is a great overview of Hearst Castle and offers an itinerary through the main building called Casa Grande. This narrated tour lasts about 60 minutes. Tour highlights include the Assembly Room, Refectory, Billiard Room, Theater, Gardens, Neptune Pool, and Roman Pool. A great way to learn a little history and experience world-class art!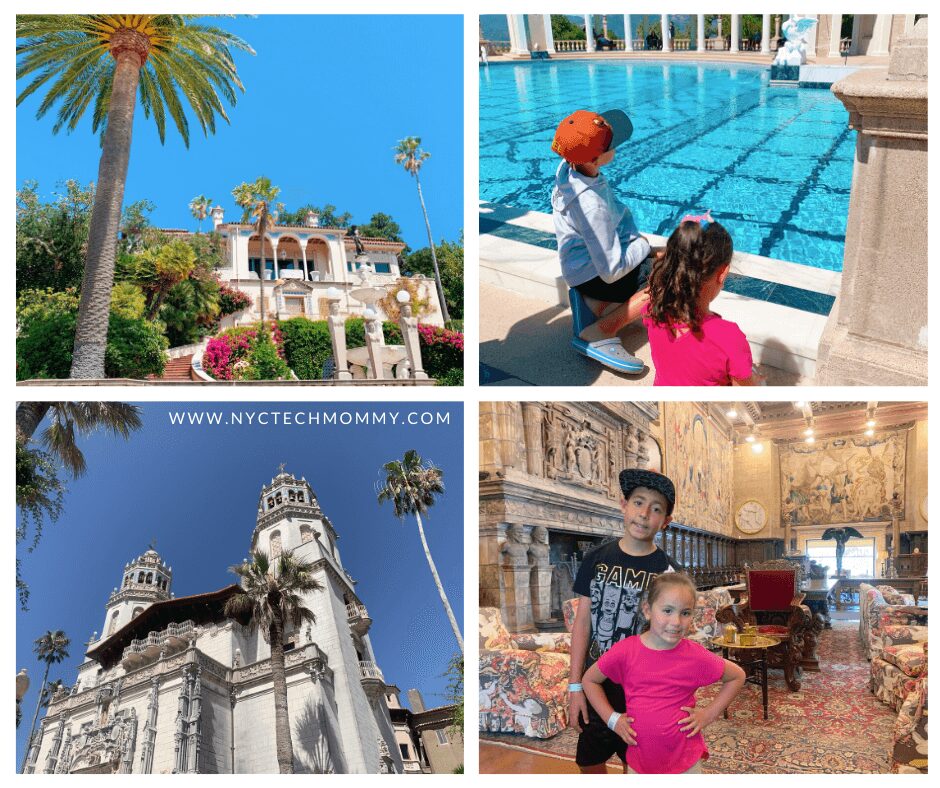 Highway 1 Zebra Viewing
Driving up Highway 1 we spotted some animals that would have looked more at home on an African savanna than grazing on the rolling hills of California's Central Coast. Zebras! Yes, Zebras.
While visiting Hearst Castle we had heard of Hearst's Zoo, once the world's largest private zoo which included polar bears, lions, African and Asian antelope, an elephant, and zebras. The zoo was dismantled way back in 1937 when Hearst began experiencing financial troubles. At that time many of the exotic animals were either sold or donated to public zoos. However, some animals were simple set free — among them the zebras. Since then a wild herd of zebras has been free-roaming on the hills below Hearst Castle. It is said that as many as 120+ zebras roam the hills today and tend to stay close to Highway 1. Wow! Although we had heard of the zebras we didn't really think we'd spot any. But I'm so glad we did!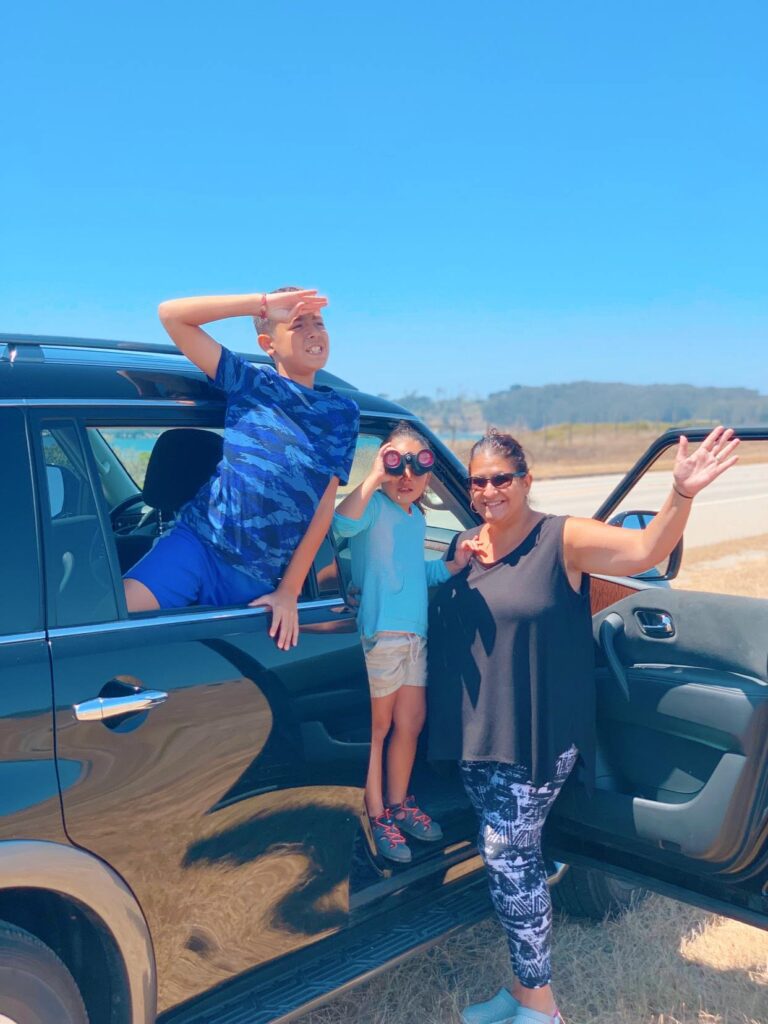 Family-Fun Tip: Bring binoculars! During our drive along Highway 1 we spotted what looked like horse grazing along the hills. Taking a closer look with our binoculars we quickly realized that they weren't horses at all. They were zebras! We probably would have missed this if we didn't have our binoculars so be on the look out when driving along Highway 1 and the hills directly below Hearst Castle.
Coastal Discovery Center
Located at William Randolph Hearst Memorial Beach, just across the entrance from Hearst Castle on Highway 1 and near the historic town of San Simeon, the Coastal Discovery Center is a fun place to visit with kids. This center provides a unique opportunity to learn about the history and wildlife of San Simeon, California State Parks and Monterey Bay National Marine Sanctuary. There are many hands-on experience, loads of artifacts and sea things for the kids to touch and explore. It's a small place with loads of opportunities to learn about tide pools, sea birds, northern elephant seals, watersheds, and also ways to help protect our land and seas. There's even a fascinating deep sea exploration exhibit (Delta Sub) where you'll learn about deep sea habitats and shipwrecks that are part of these habitats. A great adventures for kids of all ages! You can visit the Monterey Bay National Marine Sanctuary website to learn more.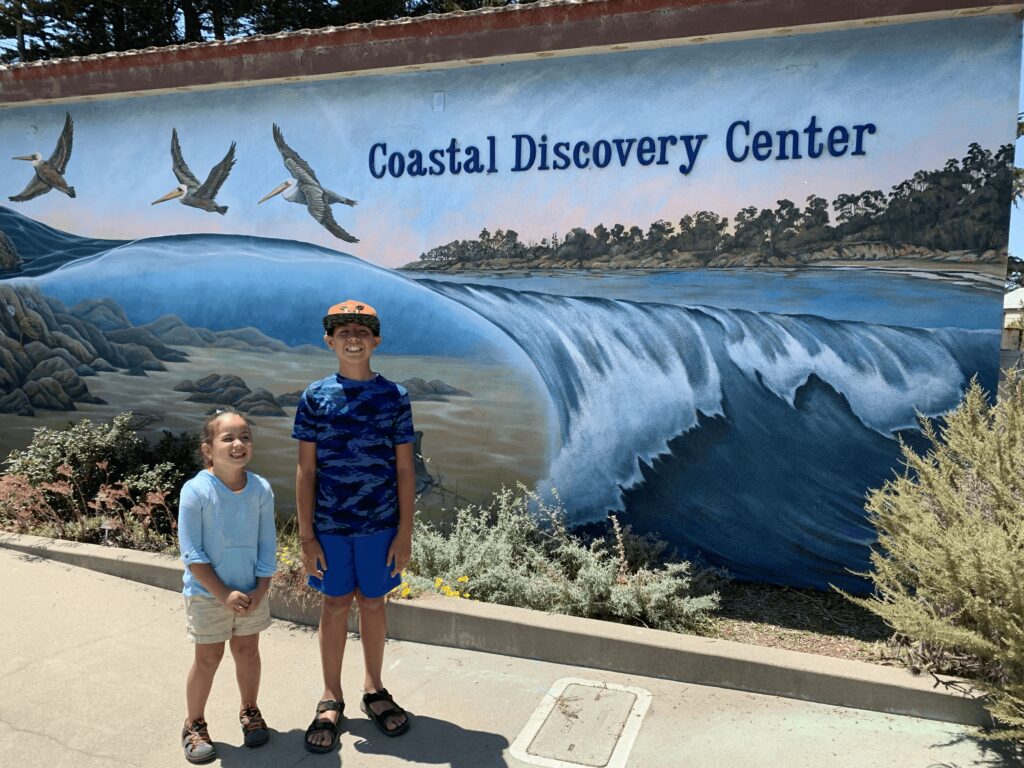 Elephant Seal Vista Point
This Piedras Blancas Rookery is the only elephant seal rookery in the world that is easily accessible, free, and open to the public all year long. Elephant Seal Vista Point is located just 5 miles north of the Coastal Discovery Center and parking is free. Make sure to plan a stop here! We found it fascinating to observe these huge aquatic mammals up close. We visited during male molting season and the shoreline was lined with enormous adult male elephant seals. It was truly incredible to watch them and hear the loud grunting and roaring sounds they make — among the loudest of mammal sounds. What's great about this stop is that kids will enjoy learning too! Knowledgable Docents (wearing blue jackets) are on hand to answer questions, talk about the life of elephant seals, show you pictures to help you learn more, and my kids even got to feel a piece of elephant seal fur as they were chatting with one of the friendly Docents. A great family-friendly learning experience for all!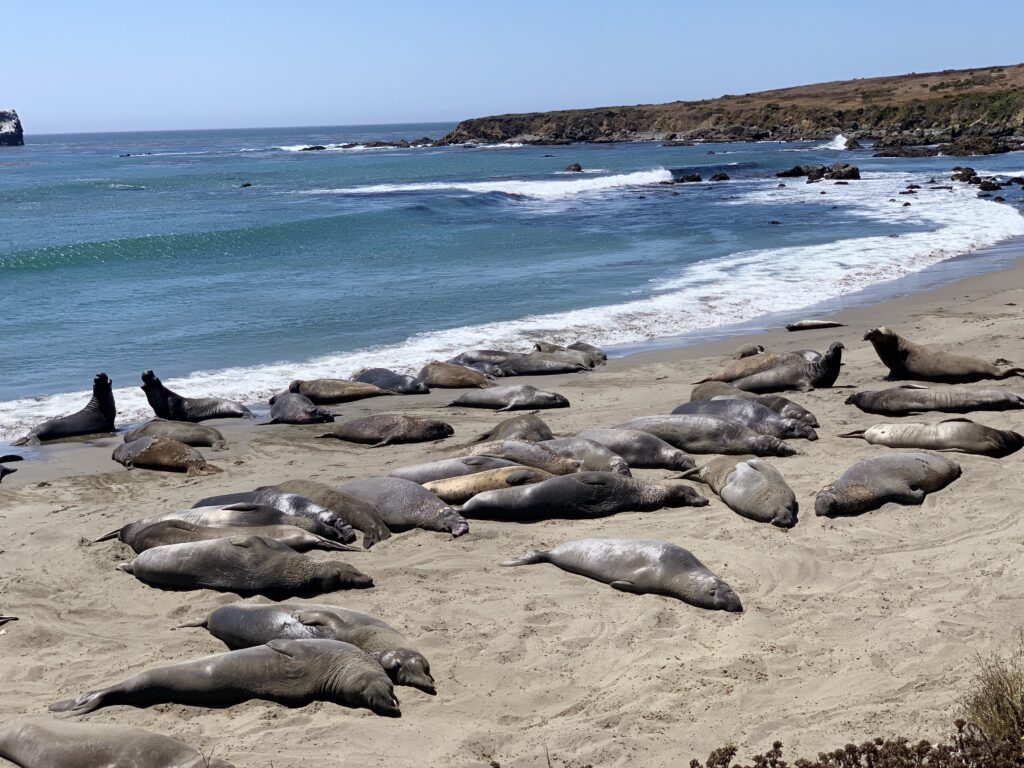 Gateway to Big Sur
We couldn't wait to see Big Sur! Known for it's unparalleled beauty and diverse landscapes, the narrow 90-mile winding stretch of Highway 1 that takes you to Monterey was what we were most excited about experiencing during this California family road trip. Rocky cliffs sitting high above the Pacific ocean, picturesque landscapes, and a seemingly endless drive — breathtaking views at every turn! For us the fact that we were about to embark on this drive was a huge dream come true!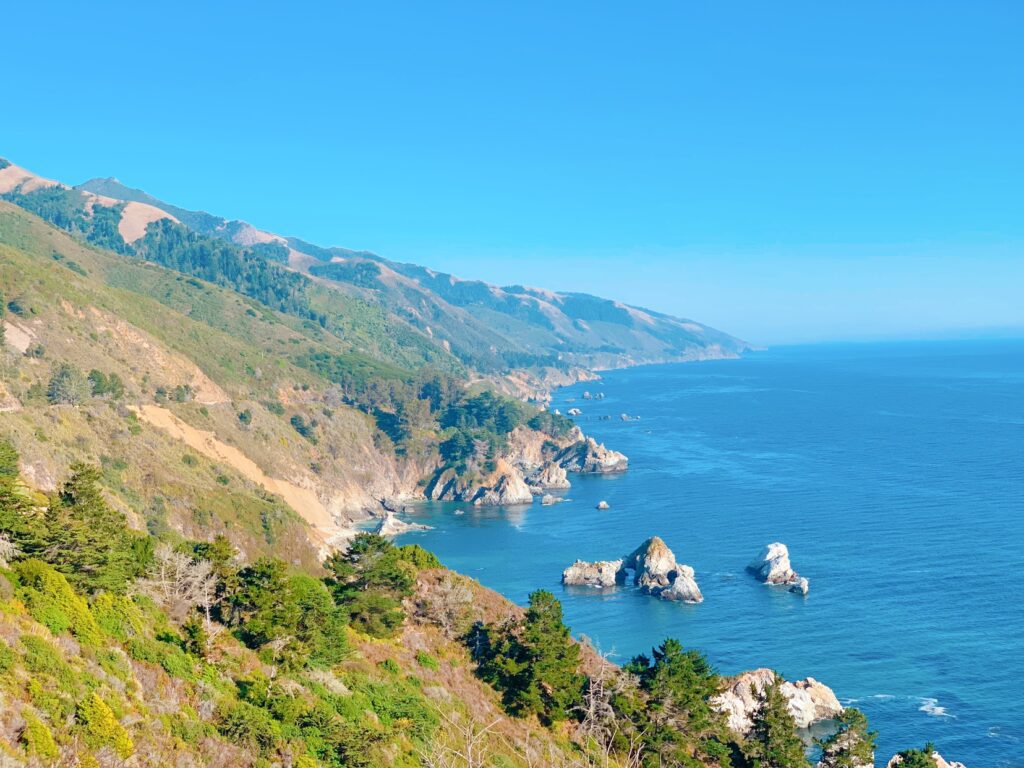 Portal to Big Sur
Making our way along the beautiful Big Sur coast, we stopped at Ragged Point Inn. We didn't spend the night here (wish we would have) but after being in the car for a bit we were ready to stretch our legs and grab a bite to eat. Ragged Point is a perfect stop along the way. Here you can fuel up, grab something to eat, explore cute little souvenir shops, and use their clean bathrooms. Parking is free and there's no fee to explore the grounds.
This is the Gateway to Big Sur. You could spend as little or as much time as you want here. Just don't forget to make your way over to the Sea Deck area for the most amazing photo ops and fantastic views of ragged cliffs and the ocean below. There's also access to a set of very steep steps and a nature trail that will take you down to the ocean below — if you're feeling super adventurous. And don't forget to snap that instagrammable moment in front of the Portal to Big Sur sculpture. We made sure to capture this one before hopping back in the car!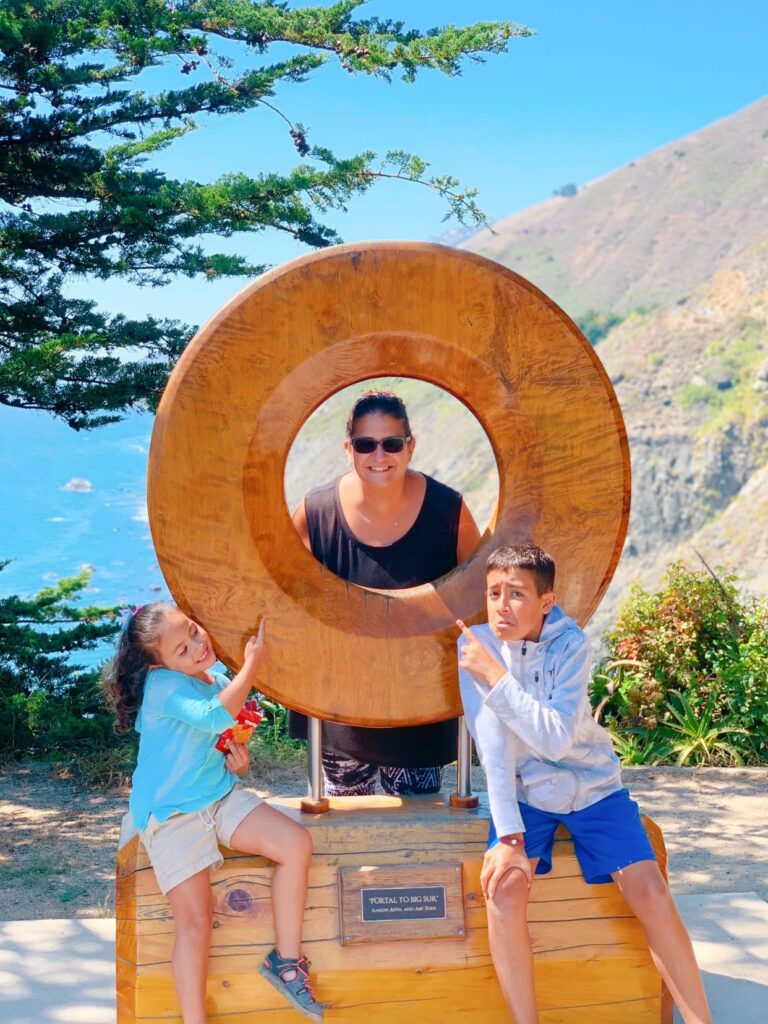 Bixby Bridge
There was on stop we could not miss when driving Big Sur to Monterey. Located on scenic Highway 1, about 18 miles north of Monterey and Carmel-by-the-Sea, the Bixby Bridge offers the most incredible views of Big Sur's rocky coastline. It's a must-see road trip spot and possibly the most Instagrammable spot along the Highway 1 coastline. There are numerous turnouts to pull over at and get amazing views. The Bixby Bridge has always been a favorite attraction for travelers and we loved seeing it for ourselves. Have your cameras ready!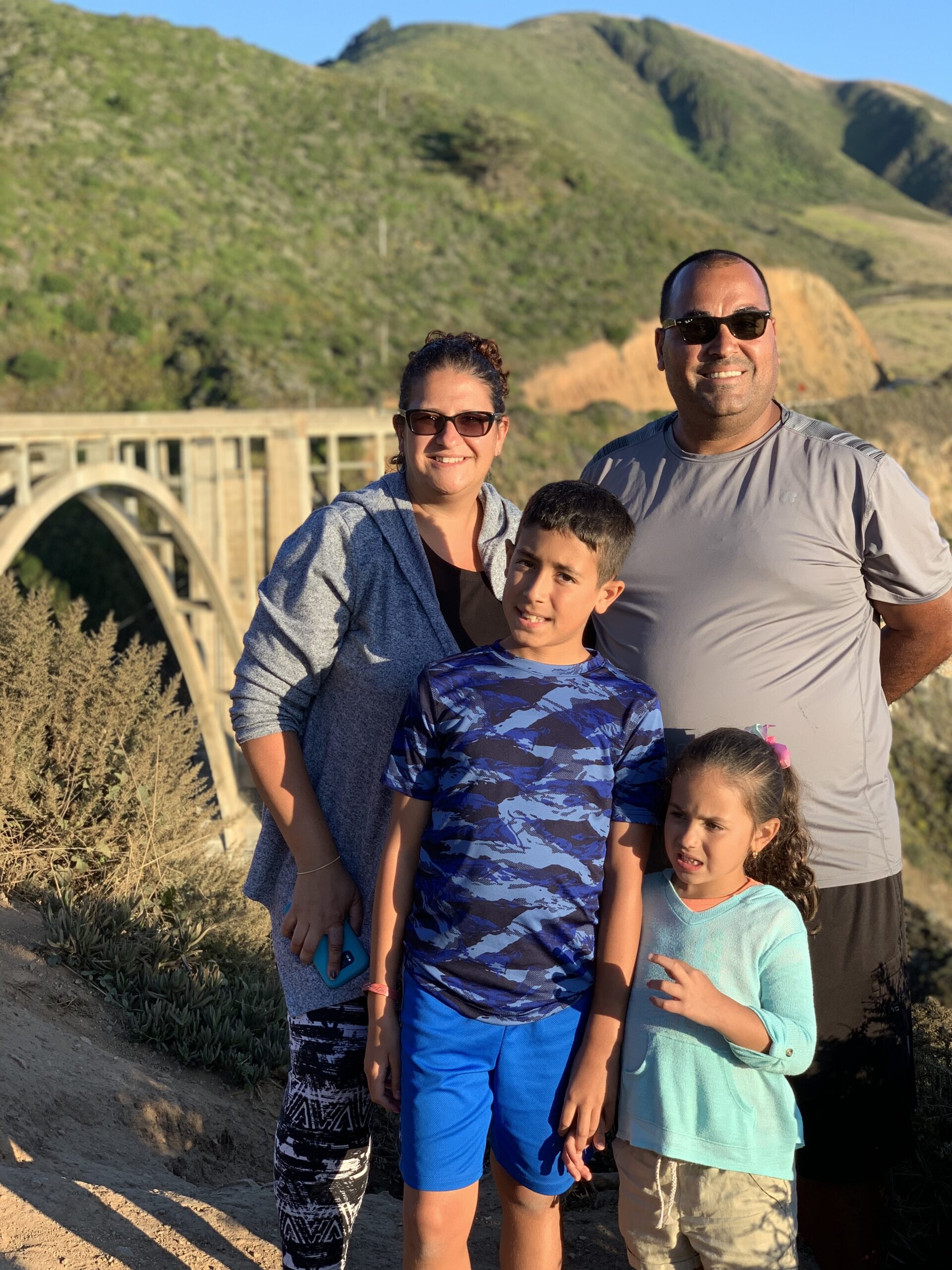 MONTEREY
Monterey is an iconic California experience. Wish we would have planned more time here. Make sure to take a little time to explore the shops and family-friendly attractions of iconic Cannery Row. We had fun walking through the area as we made our way to the aquarium. Afterwards we grabbed a quick lunch at a fun little pizza shop called located on Cannery Row, right down the block from the aquarium. They serve up personal pizzas and you get to choose all your own toppings. And they have tons of them!
Monterey Bay Aquarium
A visit to the Monterey Bay Aquarium is a must if you're traveling with kids! My own kids are huge fans of aquariums and love learning everything there is to know about sealife and marine habitats. During our drive up the California Central Coast we had already been talking a lot about California's kelp forest and it was so exciting for us to check out the living kelp forest exhibit at the Monterey Bay Aquarium.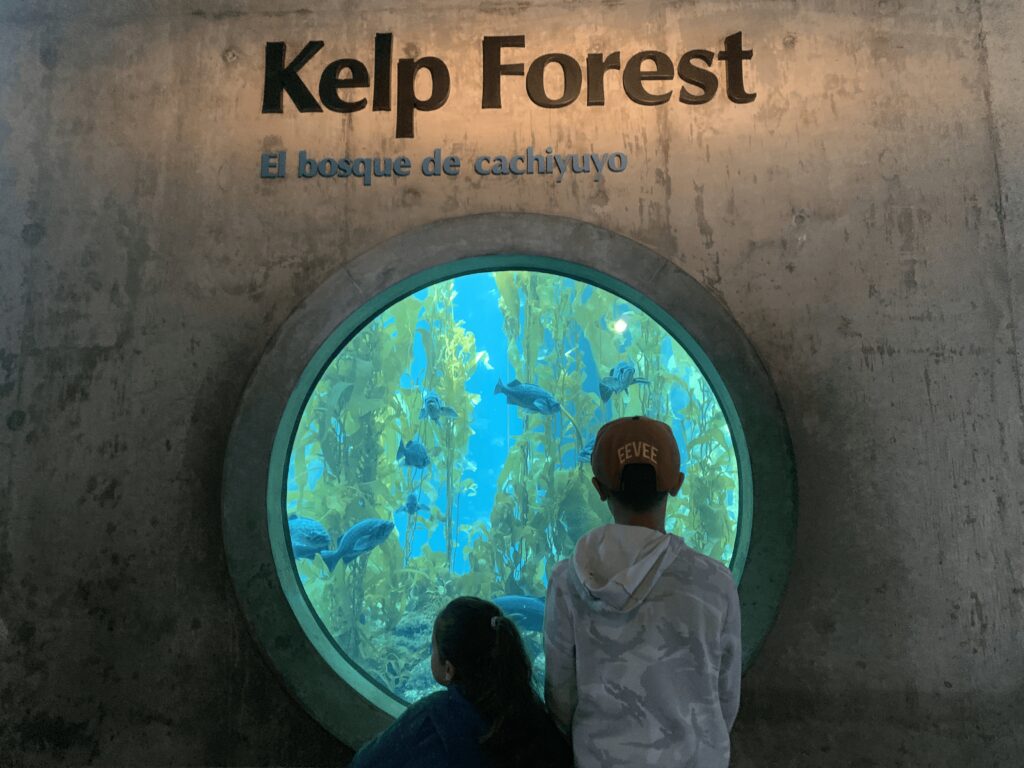 In the interest of time, we spent only half a day here. But there is so much to see and do at this huge aquarium! You could easily spend the entire day exploring it. It's just such a fantastic place to learn all about the marine habitats of Monterey Bay. We got to visit sea otters, see leopard sharks, California halibut, and learn all about the giant Pacific octopus. Plus so much more!
I highly recommend a stop at the Monterey Bay Aquarium if you're driving up the California Coast to San Francisco.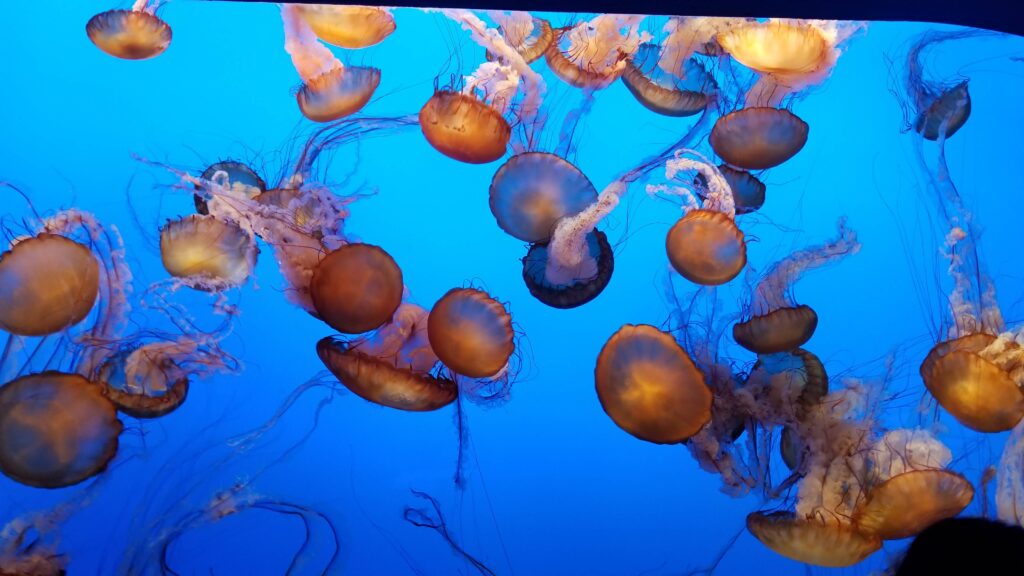 Family-Fun Tip: The Monterey Bay Aquarium offers many guided tours and other cool experiences. It wasn't until we got there that I wished I had booked a tour in advance. My son really wanted to try the Underwater Explorers Tour but they were already all booked up when we got there. I tried to get us tickets for the Family Tour or the Feed the Fish Tour but those were all sold out too. Don't be like me! Before you go, check out the Monterey Bay Aquarium Tours website and make your tour plans ahead of time.
GILROY
Gilroy is the "Garlic Capital of the World" and a fantastic place to visit with the kids when on a California road trip! You'll know you've arrived when you start smelling the garlic. I'm not kidding! You can smell it all the way from the highway before you've even made your way into town. Gilroy is well know for its garlic crop and annual Gilroy Garlic Festival. It's also home to Gilroy Gardens which we couldn't wait to visit!
Gilroy Gardens
Gilroy Gardens is like no place we've ever visited before! There's tons of family fun to be had here, amongst majestic gardens and thousands of trees — including the world-famous Circus Trees.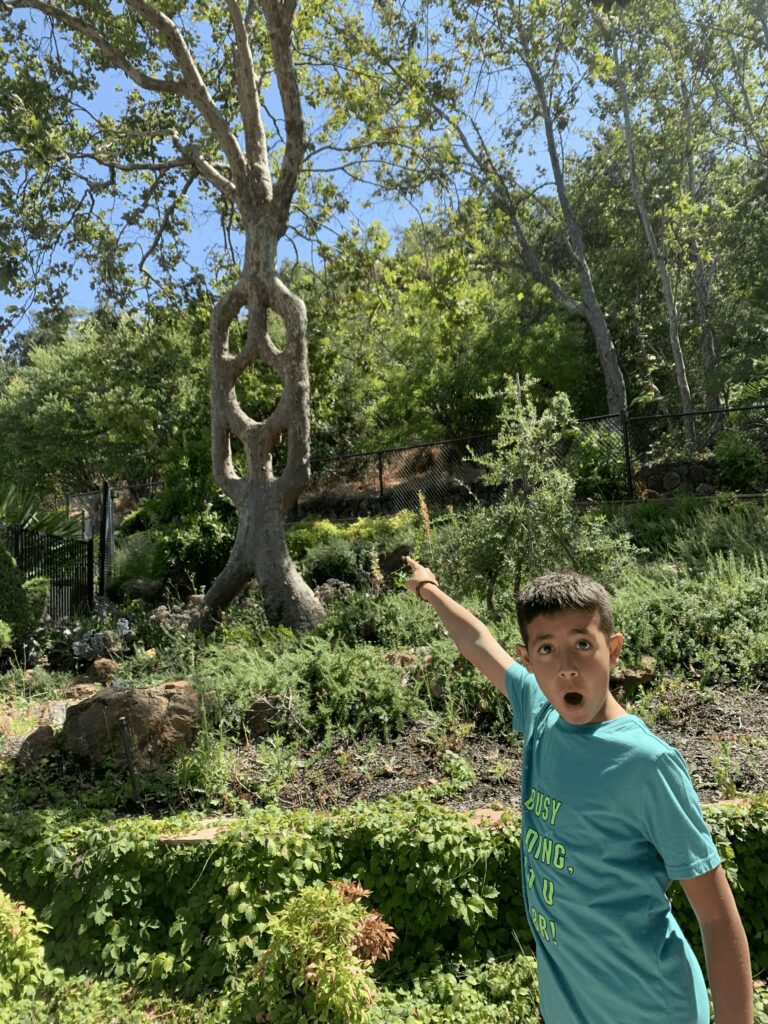 You must stop at Gilroy Gardens Family Theme Park when traveling along the California Coast. It's a fun-tastic place for kids of all ages! Many of the rides throughout the park were inspired by this region's agricultural and historic past, like the Garlic Twirl that my daughter loved and the Mushroom Swing that my son wanted to ride over and over again.
There are also many fun-filled water play areas where you can cool off during the summer months. We visited in August and had so much fun playing in the Water Oasis and splashing around in Bonfante's Splash Garden, where kids can climb up the towering Tree Top Sprayground — a replicated Circus Tree. So fun! The Bofante Falls are also really fun to explore and since they're open year round it doesn't matter when you visit, you'll still have some water fun. This interactive natural water feature allows you to walk behind waterfalls. Literally, very cool!
View our YouTube video below to see some of the fun we had at Gilroy Gardens!
The Monarch Garden is also not to be missed! Named after the butterflies that frequent this area, this garden is a semi-tropical greenhouse filled with hundreds of tropical and sub-tropical plants and greenery. And tons of butterflies, of course. My kids loved it!
We spent an entire day at Gilroy Gardens and had so much family-fun! These are the memories we won't soon forget and we can't wait to make it back to Gilroy one day. Hope you make this one of your stops on your California road trip! Visit the Gilroy Gardens website to start planning your visit.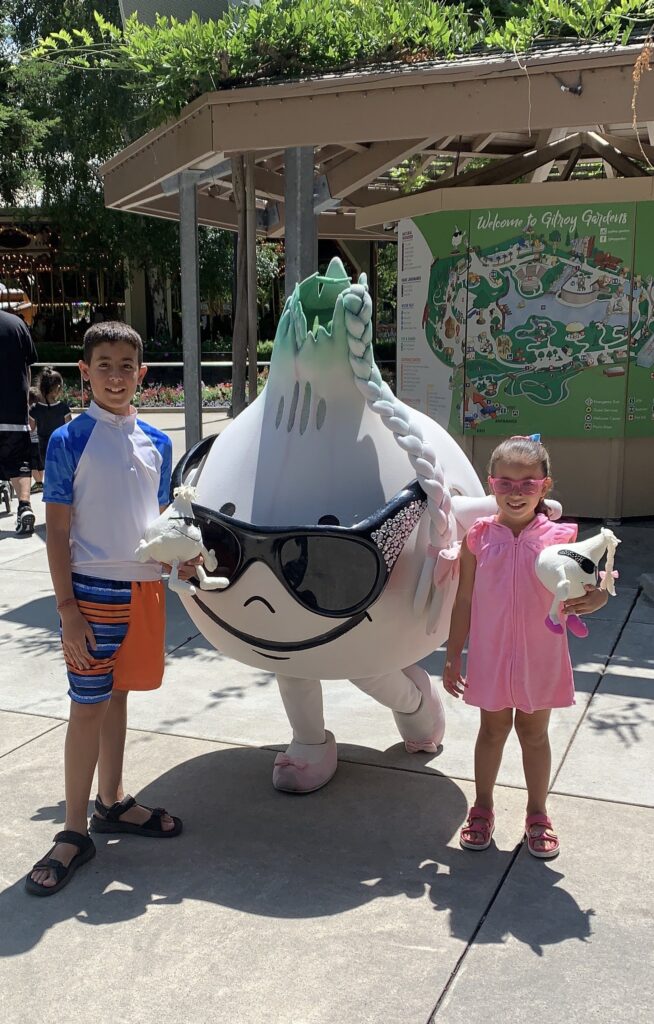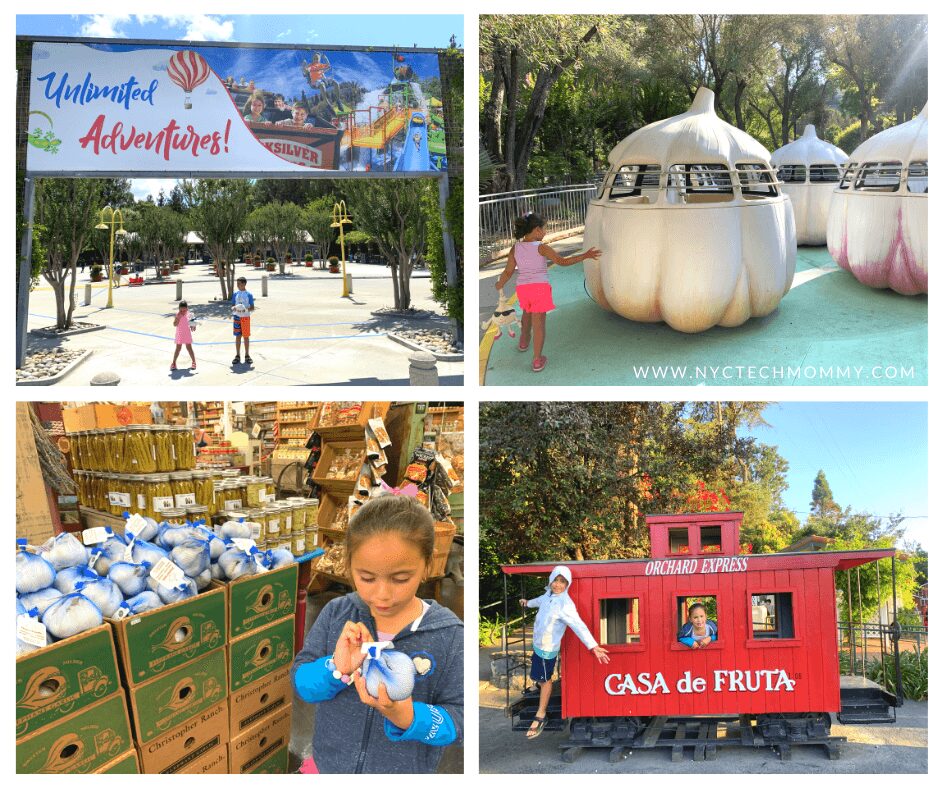 Casa de Frutas
CASA de FRUTA is another unique place to visit when in Gilroy. First started as a family orchard, today's it's turned into a thriving family owned business offering everything from lodging to amusement rides, restaurants and fruit stands. And a great family-friendly place to visit!
After our day at Gilroy Gardens, we spent a couple of hours exploring CASA de FRUTA. We rode the Choo Choo train, went for a ride on the Double Decker Venetian Carousel, and played in the playground that includes a duck pond, train engine, and caboose. When we were done we enjoyed dinner at CASA de RESTAURANT. Not only do they offer a great menu. They also offer a delicious selection of homemade baked goods — including delicious fruit and cream pies. Yum! And you should know that the restaurant is open 24 hours so it's a perfect food stop anytime of day.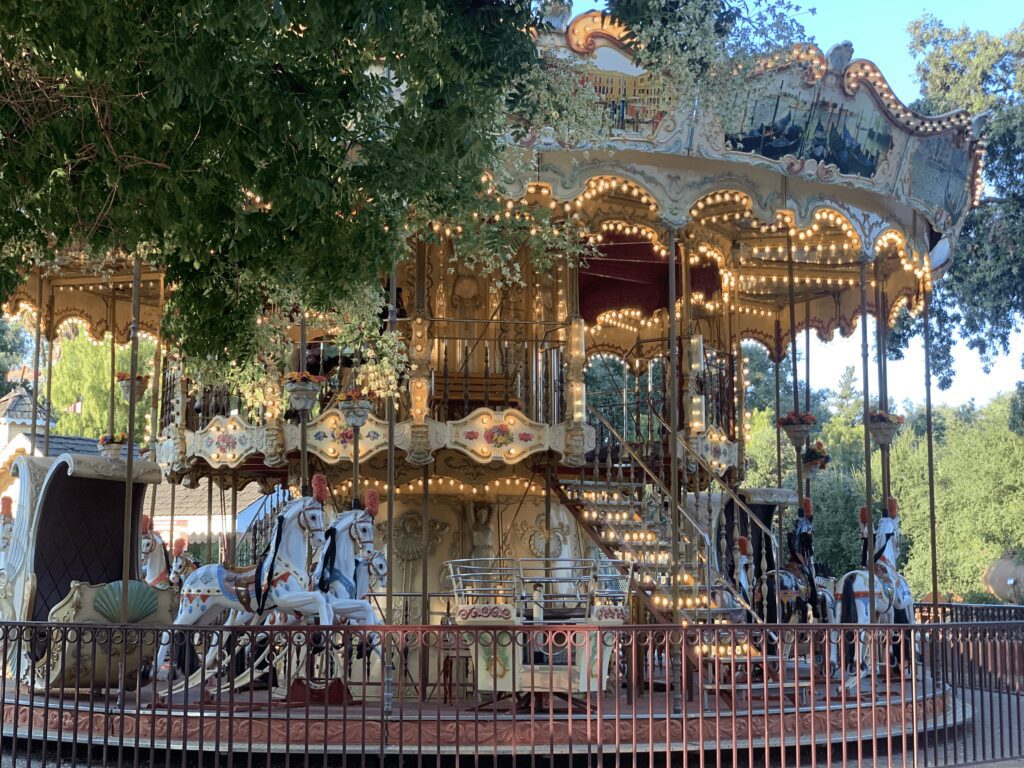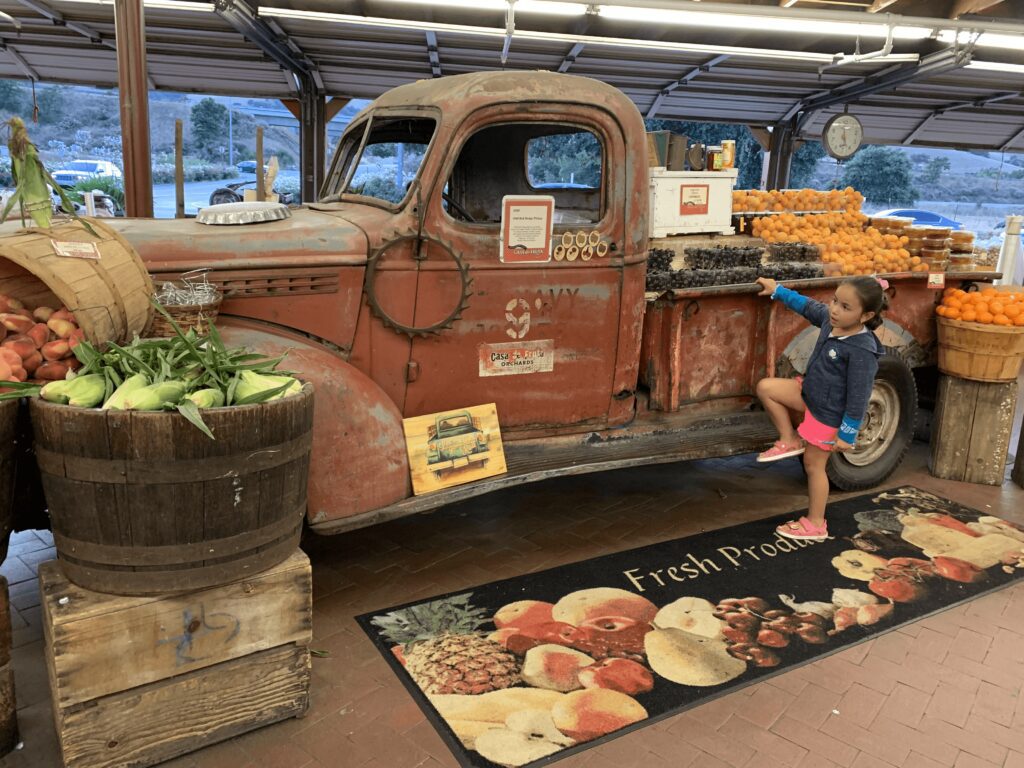 Visit the CASA de FRUTA website to learn even more because there is lots to do (and eat) here — much more that what we could cover in an hour or two!
Wings of History Museum
Our last stop in Gilroy was the Wings of History Museum. Here we discovered an extensive collection of small aircrafts, plane engines, and airplane models. This place is truly dedicated to aviation history. It's a fantastic off the beaten path destination to visit with kids. Not to be missed when traveling through Gilroy! There is a suggested donation admission fee and you can choose to explore the place on your own or join a tour led by a knowledgable aviation enthusiast. Learn about the making and restoration of wooden propellers, antique aircrafts, and even check out a life-size replica of the Wright Brothers' original Wright Flyer. There's even a fun little flight themed playground on site that the kids will really enjoy. Stop into the small gift shop to find many interesting and educational aviation items. My kids came home with small plane toys and a fun model for us to build together. Learn more by visiting the Wings of History website.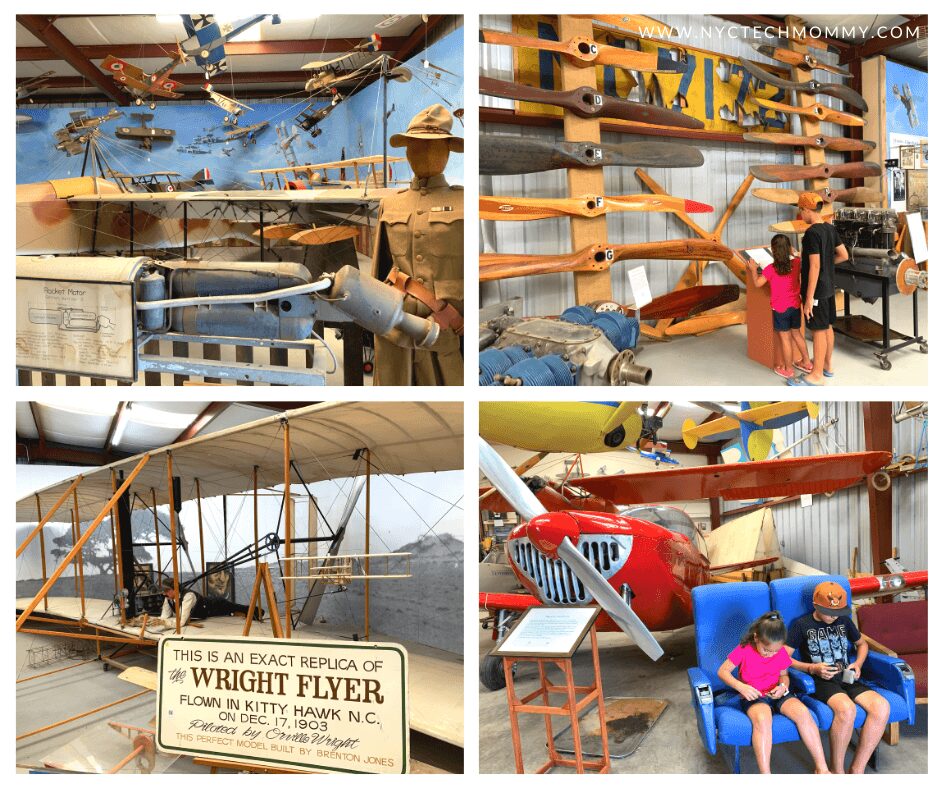 SANTA CRUZ
Santa Cruz is the quintessential California vacation spot for families. We were most excited about spending some family-fun time on the Santa Cruz Beach Boardwalk! When planning your trip, make sure to visit the Santa Cruz website to explore everything there is to do here before you go.
Santa Cruz Beach Boardwalk
We had so much fun exploring all the things to do on the Santa Cruz Beach Boardwalk! There are endless rides and tons of boardwalk attractions,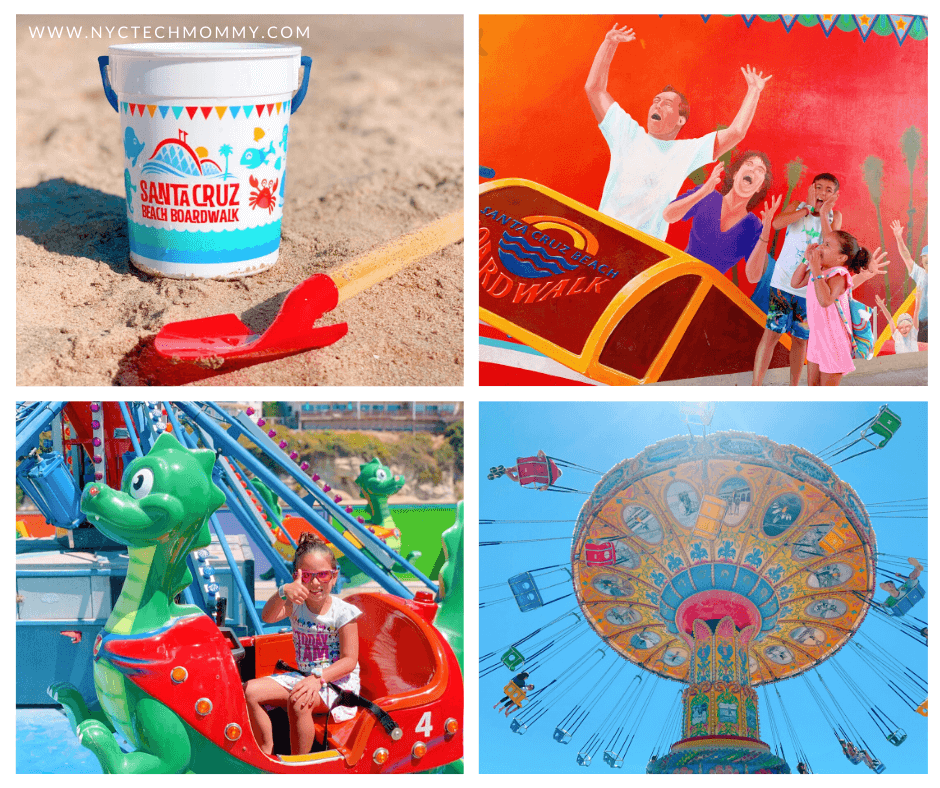 You can't beat all the family-fun at the Santa Cruz Beach Boardwalk! It's such a classic seaside amusement park, like the Coney Island of the West Coast. And did you know that this amusement park is also a California Historic Landmark? The Looff Carousel and Giant Dipper wooden roller coaster are even registered National Historic Landmarks on their own. It's a must-visit on any California road trip! In fact, it's such a popular place to visit that it was even named "Best Seaside Amusement Park" by Amusement Today magazine in 2018. The Santa Cruz Beach Boardwalk may be over 100 years old, but it's still an exciting place to visit, especially with kids!
There is no fee to explore the boardwalk but there are several ticket packages ranging from single ride tickets to unlimited all-day passes if you plan on going on the rides. My kids really enjoyed riding the Sea Serpent and flying high above on the Sea Swings. The Cave Train was probably their favorite! There's also a fun Sky Glider (chairlift type ride) that takes you high above the boardwalk so you can see it all without the crowds. Besides the fun rides, there are of course tons of boardwalk treats and delicious food options — all types of ice creams, deep fried cheesecake, giant donuts, salt water taffy, all kinds of potatoes and fries, tacos, nachos, corn dogs, Italian sausages, so much greasy fried food! But don't worry, there are also some smarter options — fruit cups, açaí Bowls and Gluten-free crepes too.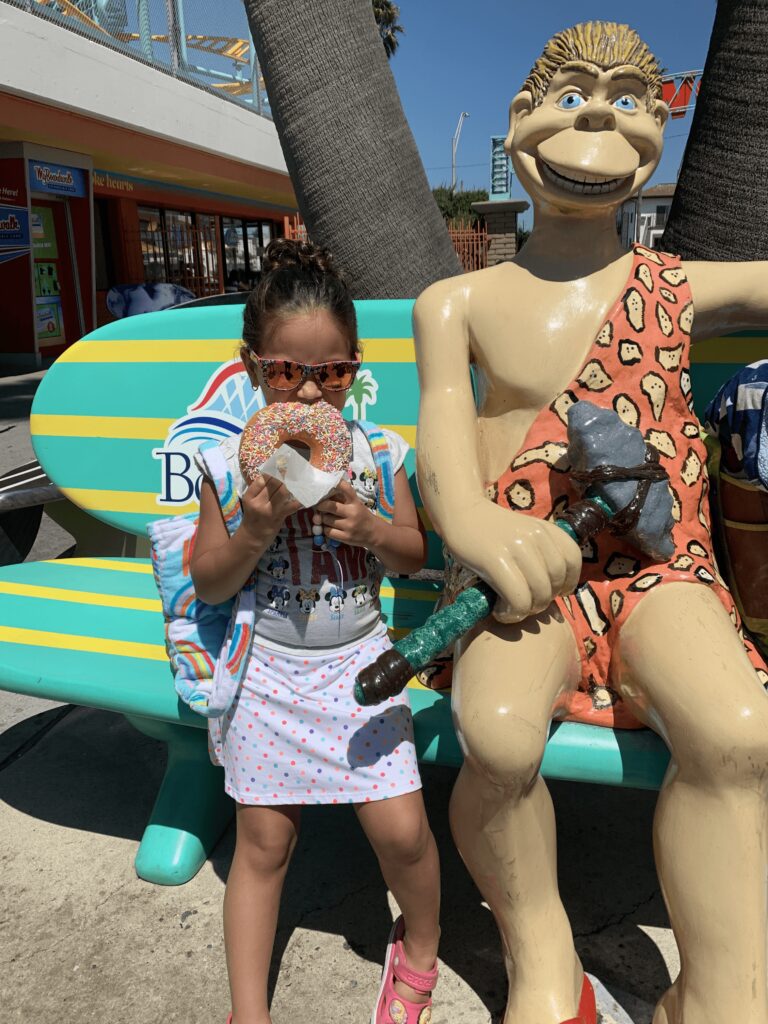 Family-Fun Tip: Once you're done exploring it all, make sure to run down to the beach for a little dip. We did! And even saw a sea lion swimming by us as we played along the waves. Really cool! So do take a little time to step off the boardwalk and get your toes wet. The water is pretty warm here!
Ending in SAN FRANCISCO, not really
After more than 14 days of driving, California's Central Coast was behind us and we were now ready to wind down. But we still weren't ready for our adventure to be entirely over. We'd been to San Francisco with kids before. This time we decided to take in a more laid back Bay Area experience and stayed in Tiburon by the Bay. We skipped the Golden Gate City altogether — except for when it was time to head to the airport. But if you're planning to explore San Francisco, Tiburon by the Bay is a great homebase. From here you can take a quick 30/40 minute drive into San Fran or hop on a short 20-minute ferry — probably your best option since parking in San Francisco can get complicated and expensive. #HelloTiburon
Tiburon by the Bay
Tiburon by the Bay is located on a peninsula that extends into San Francisco Bay and boasts killer views. This charming bayside town is also rich in history and provides great opportunities for outdoor fun. Here we found beautiful waterfront grassy areas perfect for a picnic and great walking paths along the shoreline, perfect for sailboat watching. A great place to relax! Downtown Tiburon, along Main Street, is lined with many unique boutiques and various little places to grab a bite to eat. Although I did find many of these restaurants along the water a bit pricey and not very kid-friendly, except for Waypoint Pizza.
There's also Ark Row – a shopping area made up of converted Victorian-era houseboats — worth exploring during an afternoon walk. This picturesque coastal town was ounce a gritty industrial enclave serving as a giant railyard and ferry depot. Today you can visit the Railroad & Ferry Depot Museum, located along Paradise Drive in Shoreline Park. We didn't get to visit but I've heard it's a great little place to explore with kids. For even more family-fun you can board a ferry to Angel Island from here. And that's exactly what we did!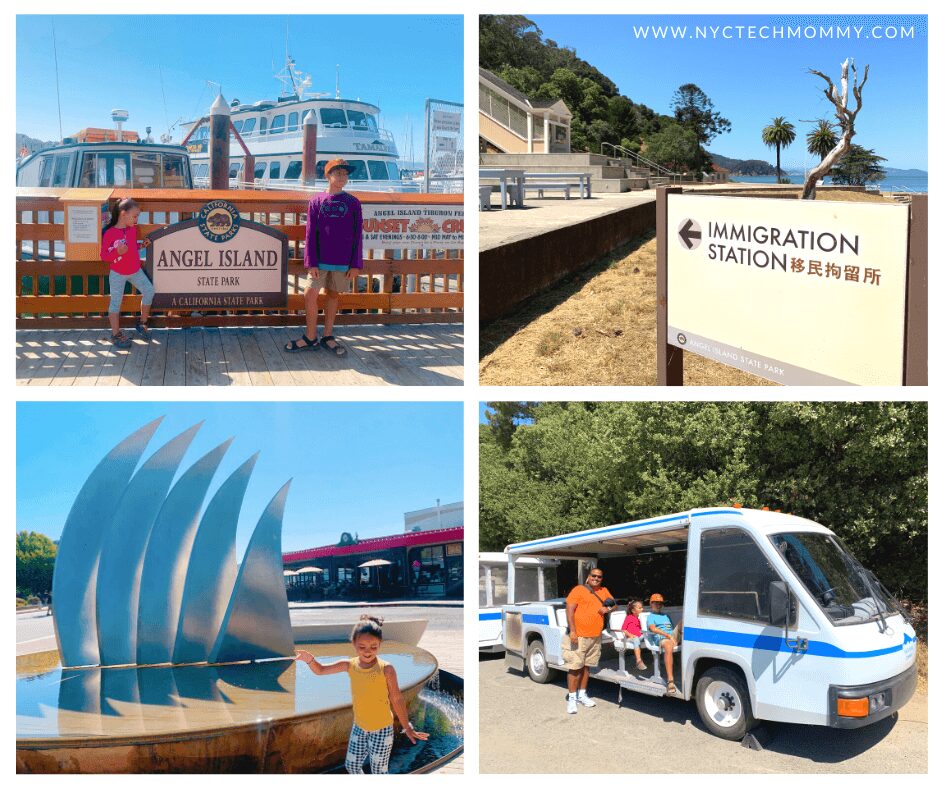 Angel Island
Angel Island State Park is just a short 10 minute ferry ride from the shores of Tiburon by the Bay and a perfect destination for a fun day trip with the kids. Angel Island is located in the San Francisco Bay and is an ideal place for a long hike, a bike ride around the island, a picnic, or even an afternoon spent laying on the beach. A fantastic place to take in great views and learn a little history too! Angel Island is easily one of the best things about Tiburon by the Bay!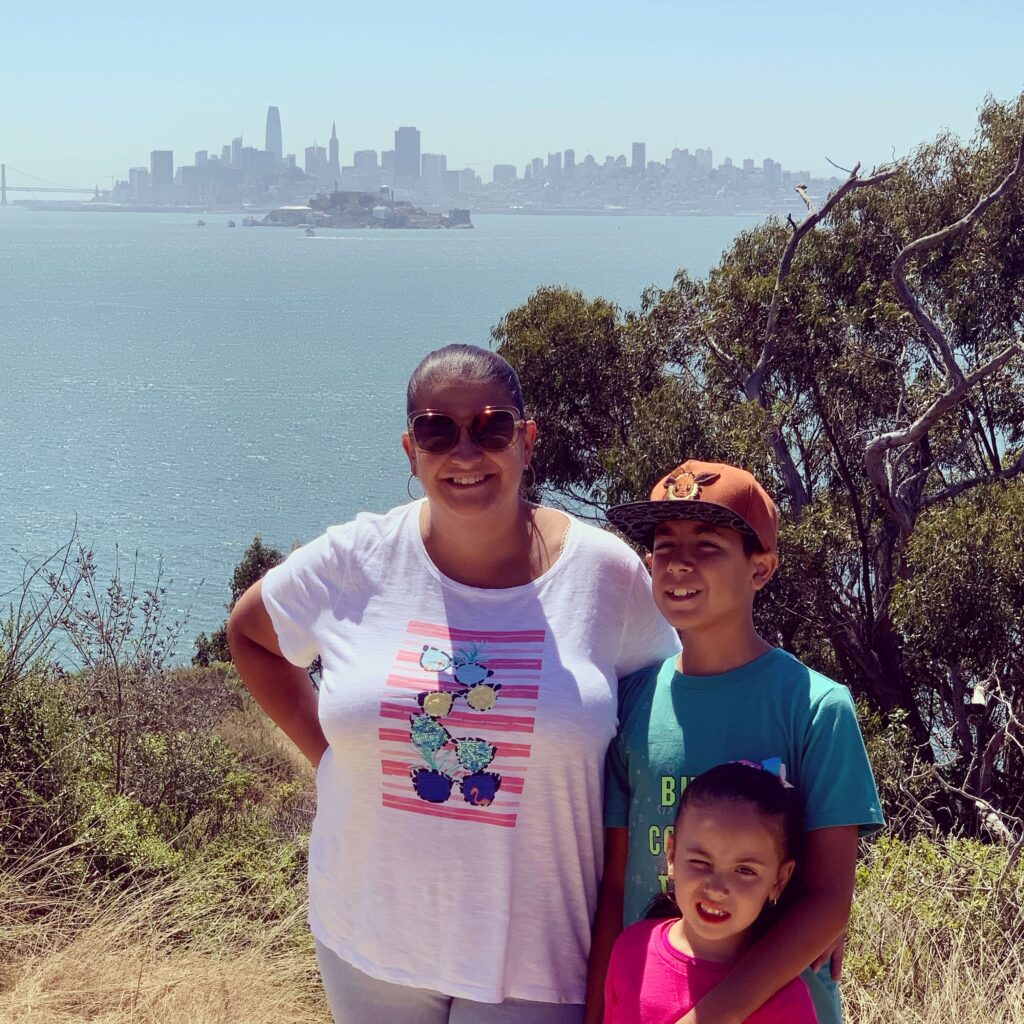 Did you know that Angel Island is home to an immigration station that operated from 1910 to 1940, often called the Ellis Island of the West Coast? It's a fascinating place to learn about. I'll be writing a much more detailed post about our visit to Angel Island shortly. Stay tuned!
Golden Gate Bridge
And just like that our Epic Family Road Trip was done! We had driven it all, explored as much as we could, and made countless new family memories. Sadly, it was now time to head home. But not before driving over the Golden Gate Bridge and pulling over one last time to take in a last breathtaking California view.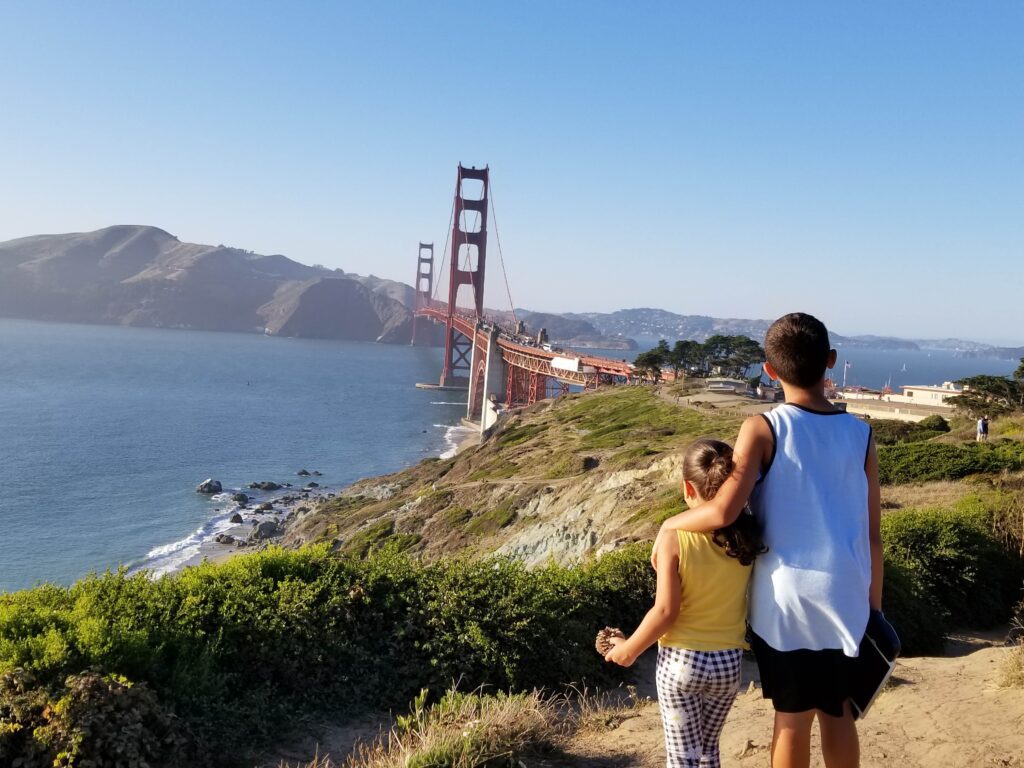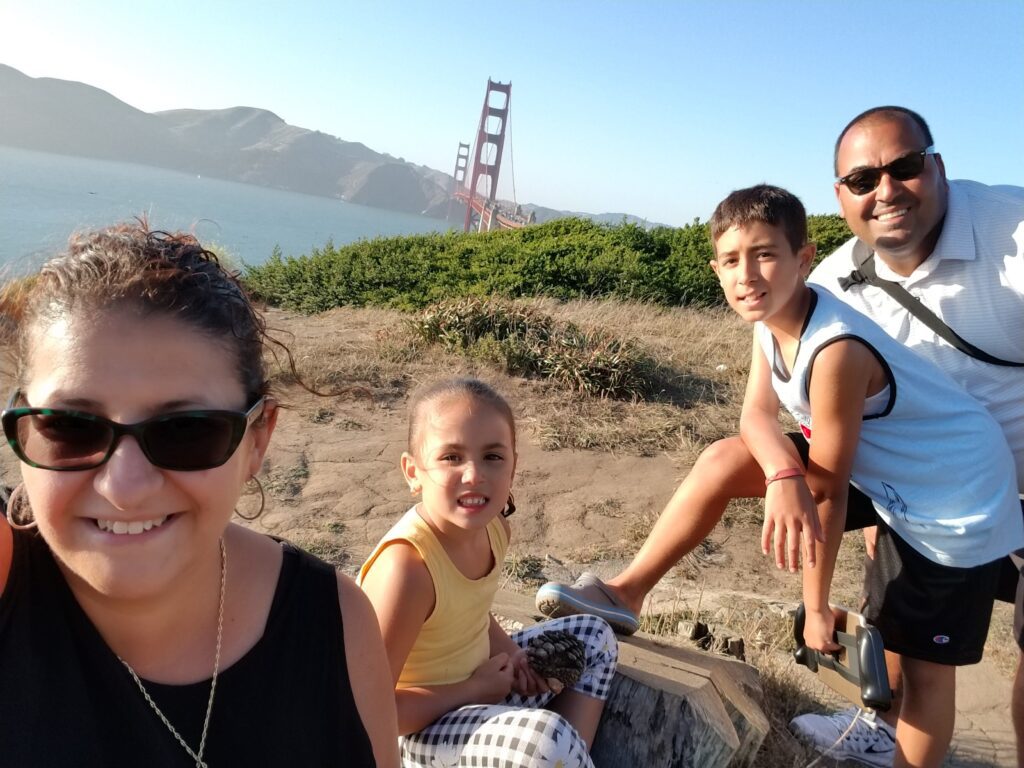 Thanks for reading my super long post! Hopefully you'll find the details included in this California Road Trip Itinerary helpful when planning your very own #EpicFamilyRoadTrip along California's Central Coast. Adventure awaits my friends!
Don't forget to "PIN" this so you can find it later!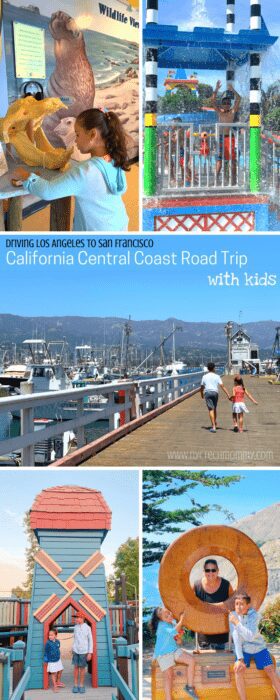 You May Also Like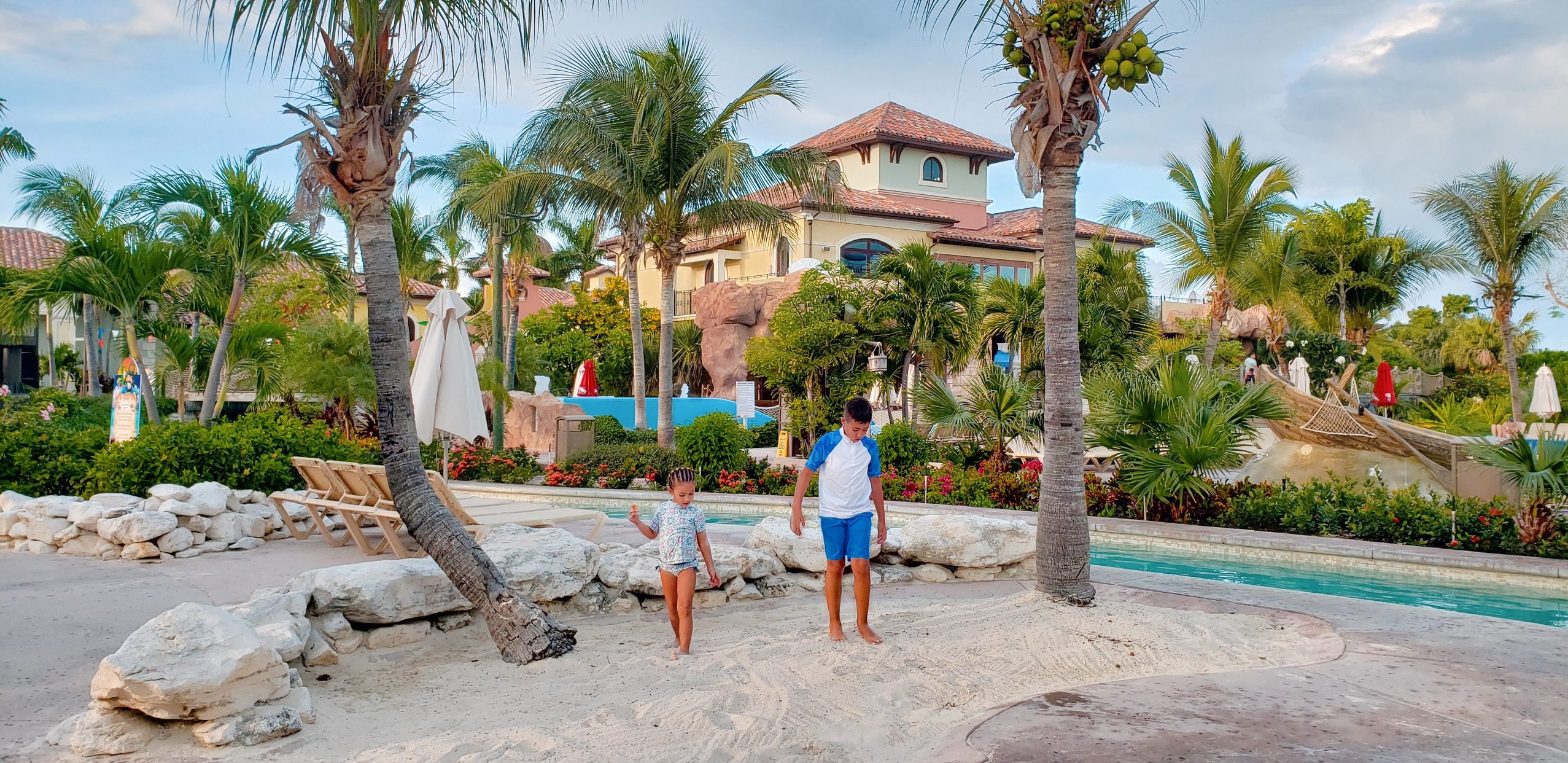 January 21, 2019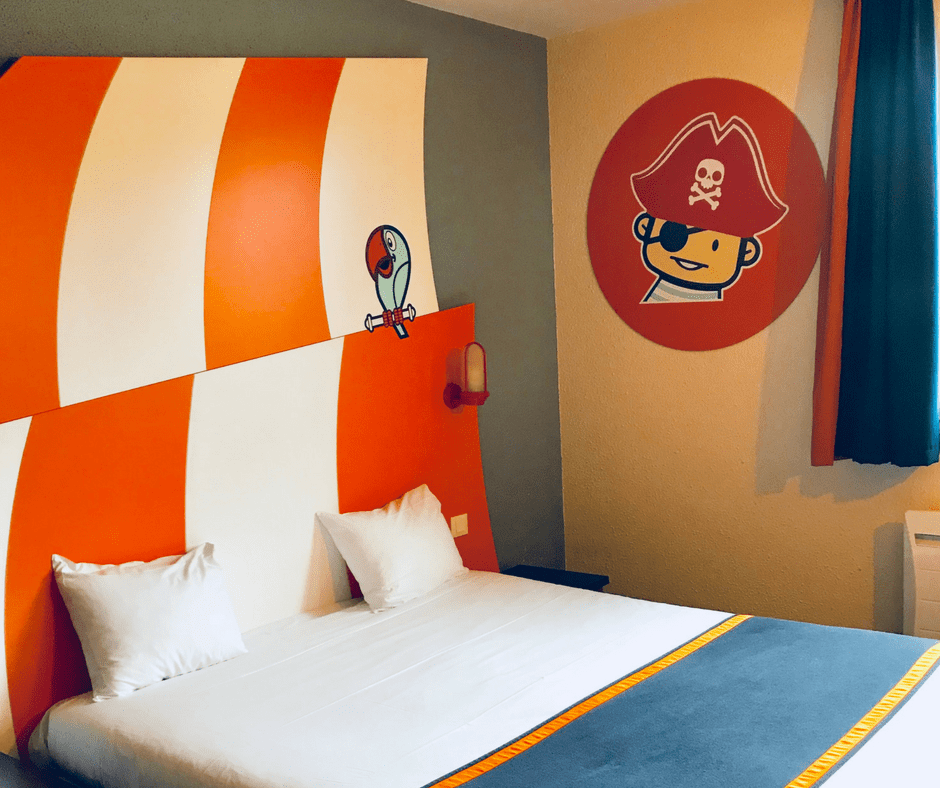 March 5, 2018