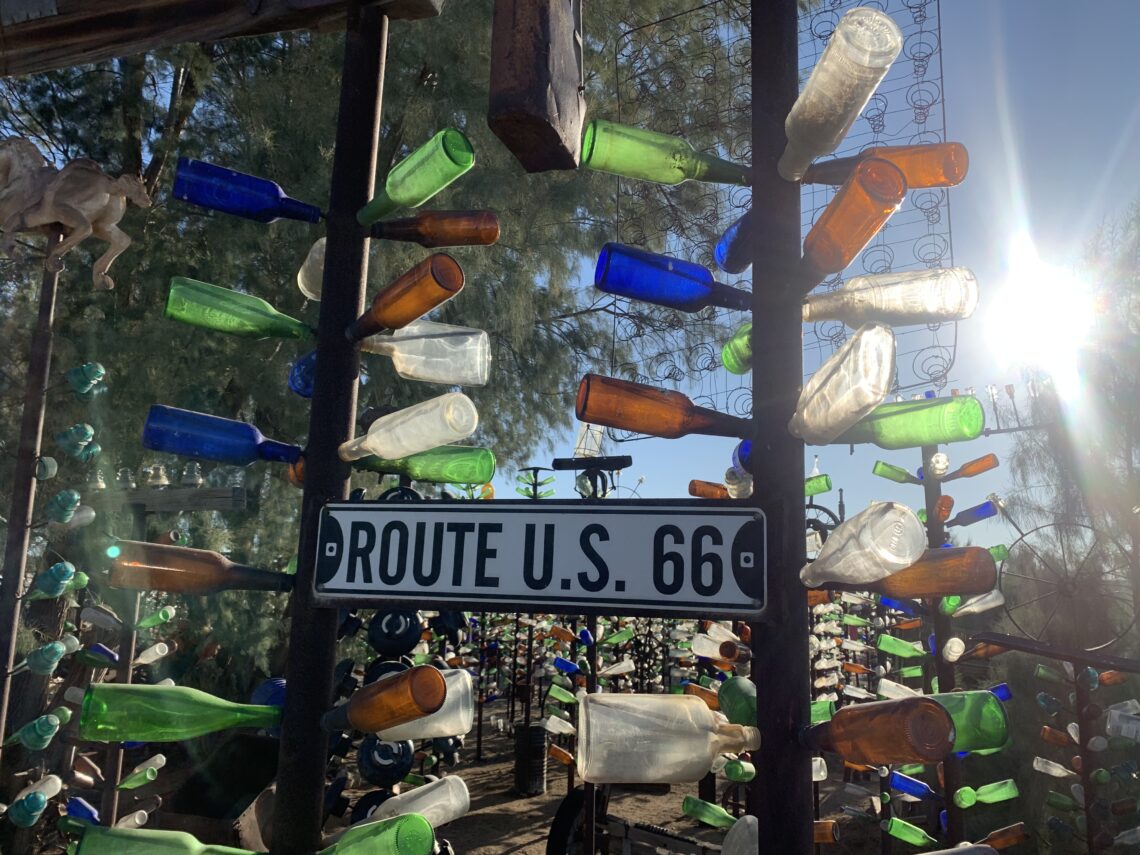 Driving Vegas to LA and Route 66 Stops Not to Miss
September 19, 2019
Nothing beats a good ol' family road trip! This summer we took an epic one that started with our trip to Las Vegas. From there we drove to Los Angeles and then continued up the California Coast to San Francisco. Today I'm sharing all the fun places to visit driving from Vegas to LA and Route 66. There are so many fun stops along the way! Of course we couldn't stop at all of them but here are just a few that are totally worth pulling over for. Read on!
Fun Places to Visit When Driving Vegas to LA and Route 66
Our #EpicFamilyRoadTrip started in Las Vegas and we drove to Los Angeles from there. We discovered tons of fun stops along the way — a huge roller coaster, the world's tallest thermometer, an old western ghost town, some good eats, a bottle tree ranch, and a one of a kind museum. Granted a trip that usually takes about 4 and a half hours from driving from Vegas to LA took us about 9 hours but it was totally worth every stop. We jumped on I-15 South from Las Vegas to Los Angeles and made some epic memories along the way!
My list below includes address that will make it easier for you to pop these into your GPS or other road tripping app to get to your next destination easily when driving from Vegas to LA. Happy road trippin' 😉 
Buffalo Bill's Resort & Casino
Our first stop was the Buffalo Bill's Resort and Casino, just 40 miles southwest of Las Vegas. We hadn't planned on this stop but as we drove by and caught a glimpse of a huge rollercoaster I knew we had to pull over. A quick google search gave me some background knowledge on this western-themed hotel and casino in Prime, Nevada, at the California state line.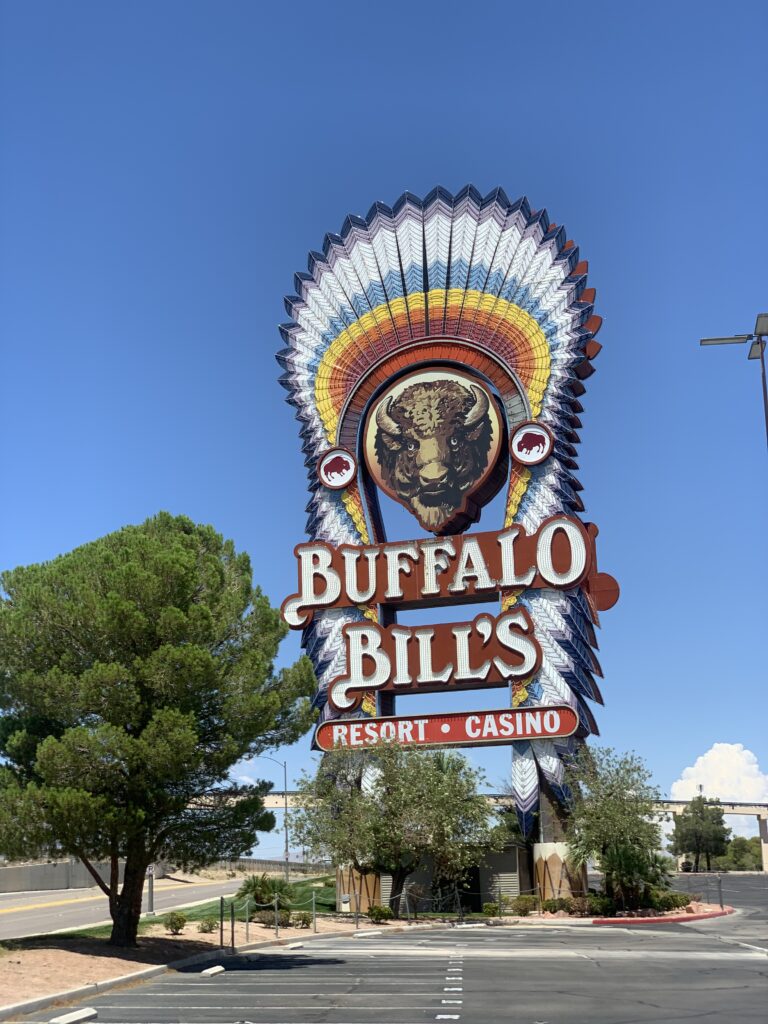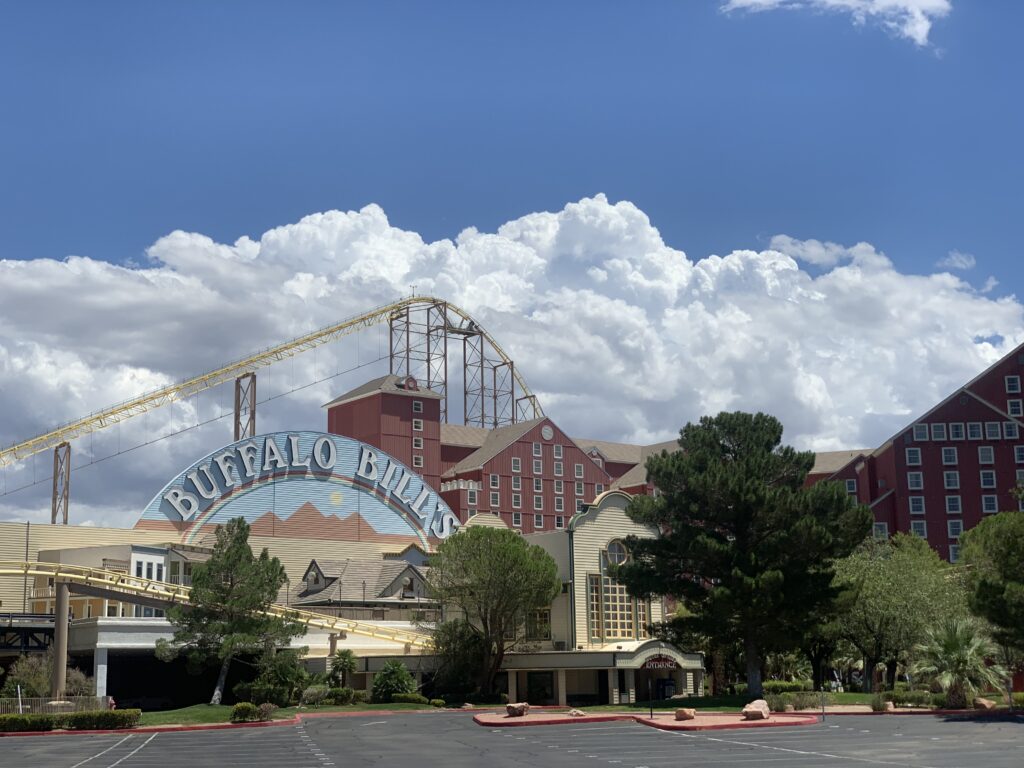 I discovered that this hotel is home to the Desperado roller coaster, a hypercoaster that goes as hight as 209 feet above the dessert floor at top speeds of 80 mph. It was one of the tallest and fastest roller coasters in the world when it opened back in 1994. The ride lasts a bit over 2 minutes and portion of the rides through the interior of the hotel and today it ranks among the top 10 roller coasters in the country. How cool! We love roller coasters so of course we had to see this one for ourselves. Unfortunately, this coaster seems to only run on weekends and we visited on a Thursday. Bummer! We didn't get to ride or see it in action. But still, this was a pretty cool stop!
Since the kids were already in need of a bathroom break we parked in the free parking lot and ventured into the hotel. This place had a bit of a ghost town feel to it as it was pretty empty when we visited, which gave this place an even bigger wild-west vibe and made me want to explore even further. We ended up on the casino floor exploring some of the fun western-themed decor.
Here we also found a small food court and the kids made sure to request a couple of Happy Meals to take on the road. We made a quick bathroom stop and were on our way.
I later discovered that this place includes even more amusement park attractions, including a the Adventure Canyon Log Fume Ride, which lumens 170 feet at 45 mph and winds through the resort's main casino floor and an arcade filled with video games and pinball machines. Although only a 2-star hotel, this wild-west themed destination seems like an ideal place for those who haven't quite reached the gambling age and seems to offer lots of weekend family-fun.
Buffalo Bill's Resort and Casino – 31700 S Las Vegas Blvd, Primm, NV 89019
The World's Largest Thermometer
You can't miss it! Just adjacent to Interstate 15 in Southern California's Mojave Desert you'll spot this landmark on the right as you drive along the highway. I hear there's also a souvenir store located at the base of the thermometer but we didn't pull over for this. It was way too hot to get out of the car. The temperature outside read over 110 degrees on the huge thermometer. Talk about desert weather! We made sure to stay cool and comfortable inside our air-conditioned vehicle. Drive on!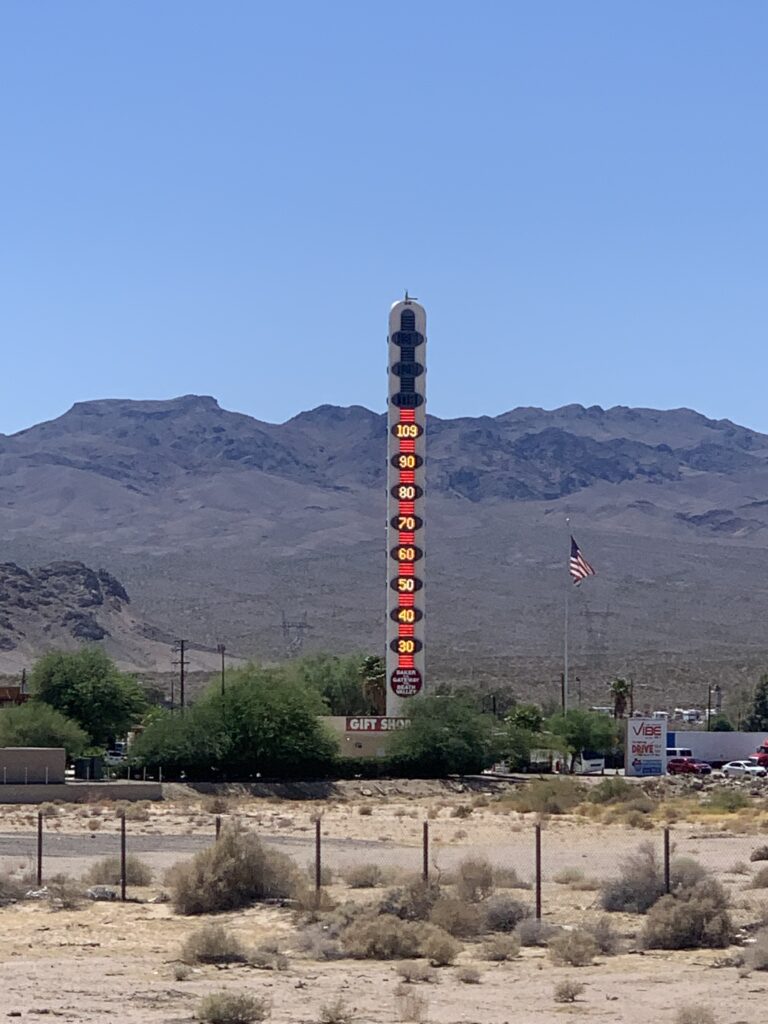 World's Largest Thermometer– 72157 Baker Blvd, Baker, CA 92309
Calico Ghost Town
Have you ever visited a ghost town? During our drive from Las Vegas to Los Angeles we took a little break to stretch our legs at a great little road trip stop pitstop — Calico Ghost Town in Yermo, California. Actually this wasn't much of a ghost town as it seems to be a very popular and touristy attraction. However, there are rumors of ghosts at this old mining town. You should also know that the largest silver strike in California took place here in 1881 and the City of Calico was born. Over $20 million in silver was mined here back in those days. But then silver lost its value a couple of years later and townspeople left this place in search of other opportunities.
Then in the 1950's Walter Knott (of Knott's Berry Farm fame) bought the town of Calico and restored many of the buildings back to their original glory. This was a really fun place to visit a place and I really enjoyed it's old west charm.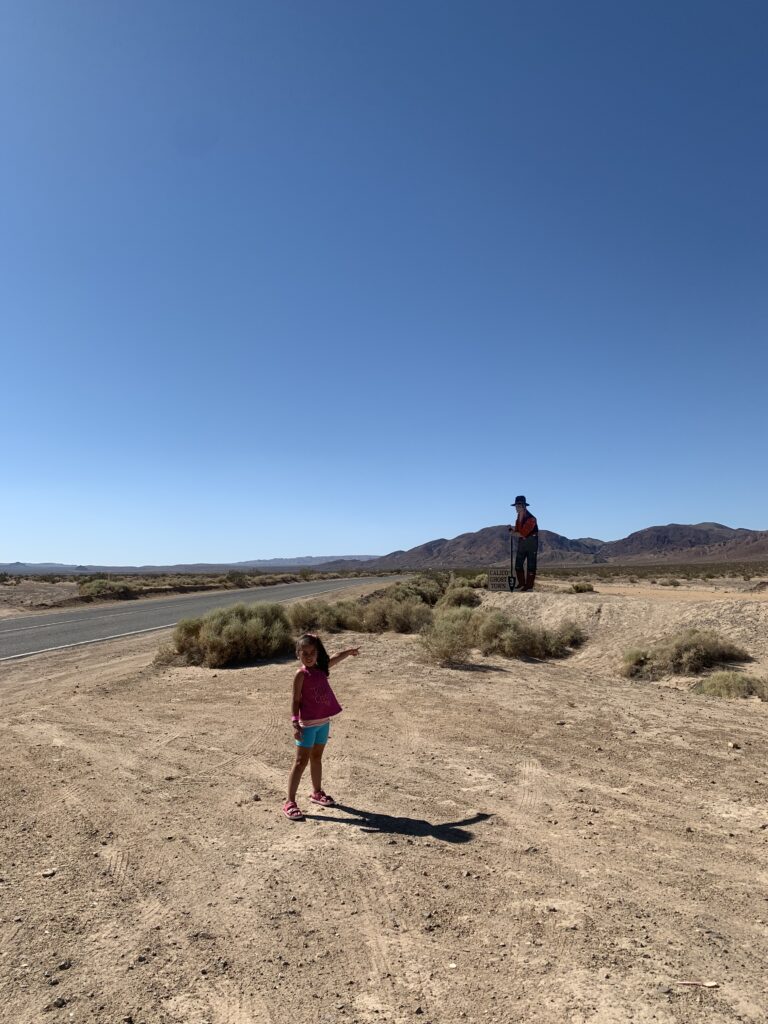 To get here, just follow the signs and take the Ghost Town Road Exit off I-15. We've heard there's an entrance fee to pay once you arrive at the parking lot. However, we arrived in the late afternoon and didn't see anyone collecting a fee (maybe because it was about 3 oclock and near closing time). We drove right into the parking lot fee-free and went off exploring. Still thought I should mention the fee in case you get charged one on the day you visit. Don't say I didn't tell you.
Also note that this place closes promptly at 5PM and that's when it really turns into a ghost town! We took our time walking around and realized it must be 5 o'clock when we noticed all stores suddenly close and all visitors vanished. We were the only one's left on Main Street by 5:10 P.M.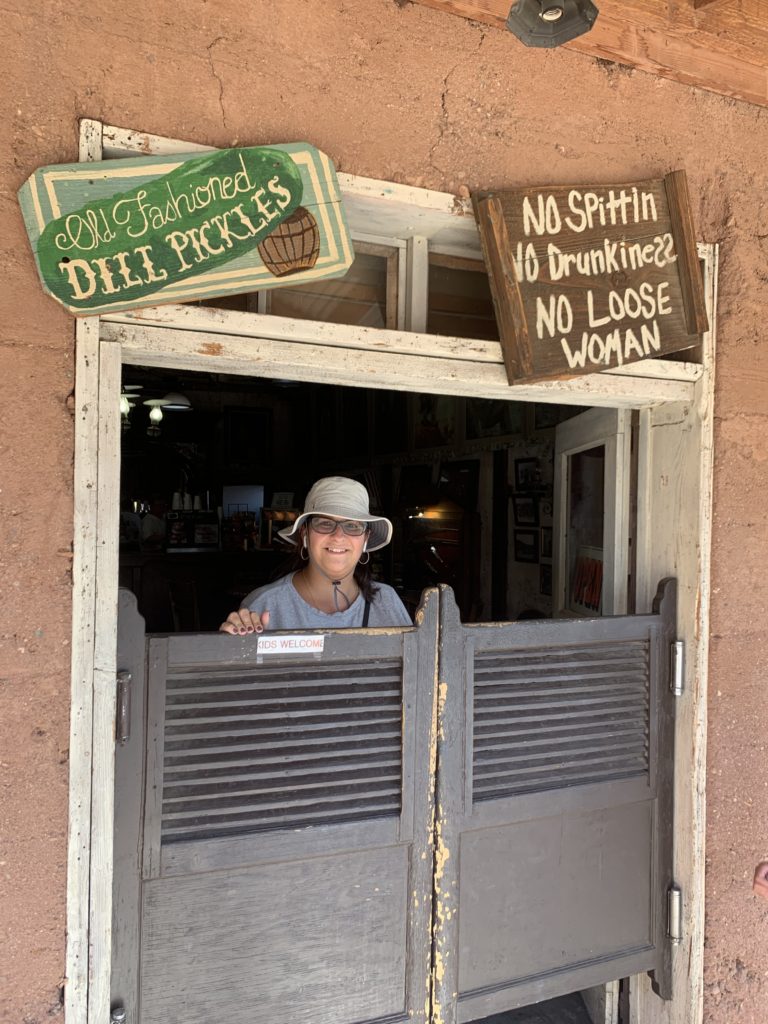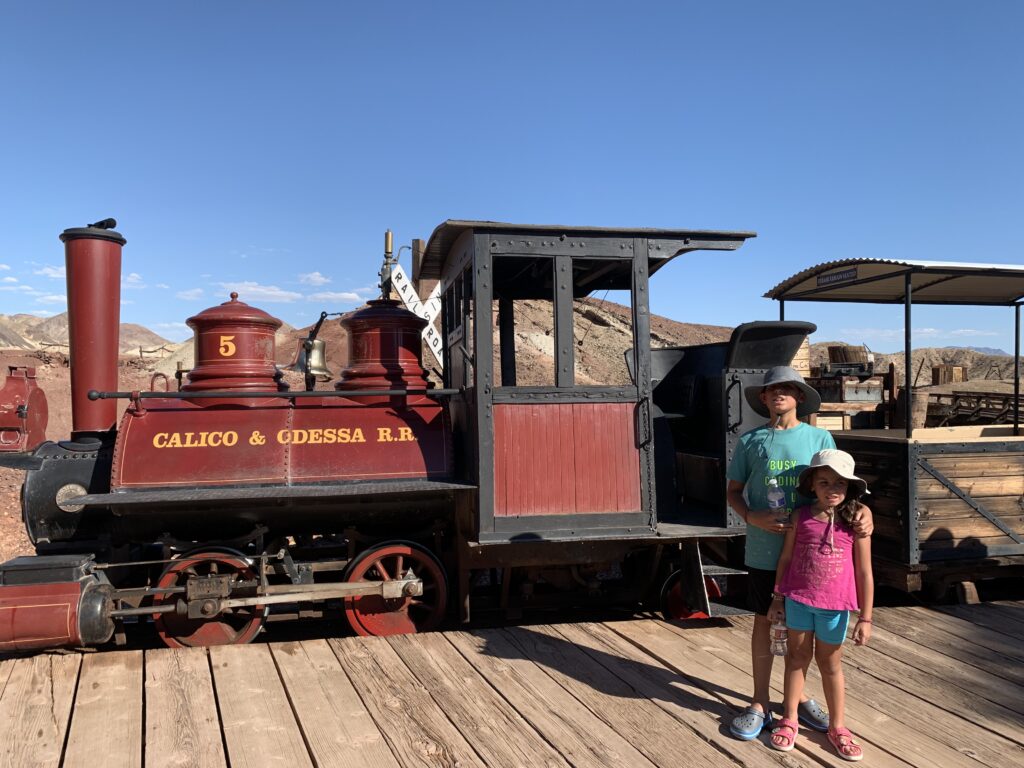 The town itself isn't huge but there is plenty to do here — great little old west-themed shops, a variety of food and snacks, a small self-guided museum, tons of old west artifacts, mining tours, a train ride, and picturesque buildings recreated as close to the original as possible. A ton of history here! You'll get a glimpse into what a working town in the wild west might have been like! Totally worth a stop when driving from Las Vegas to LA.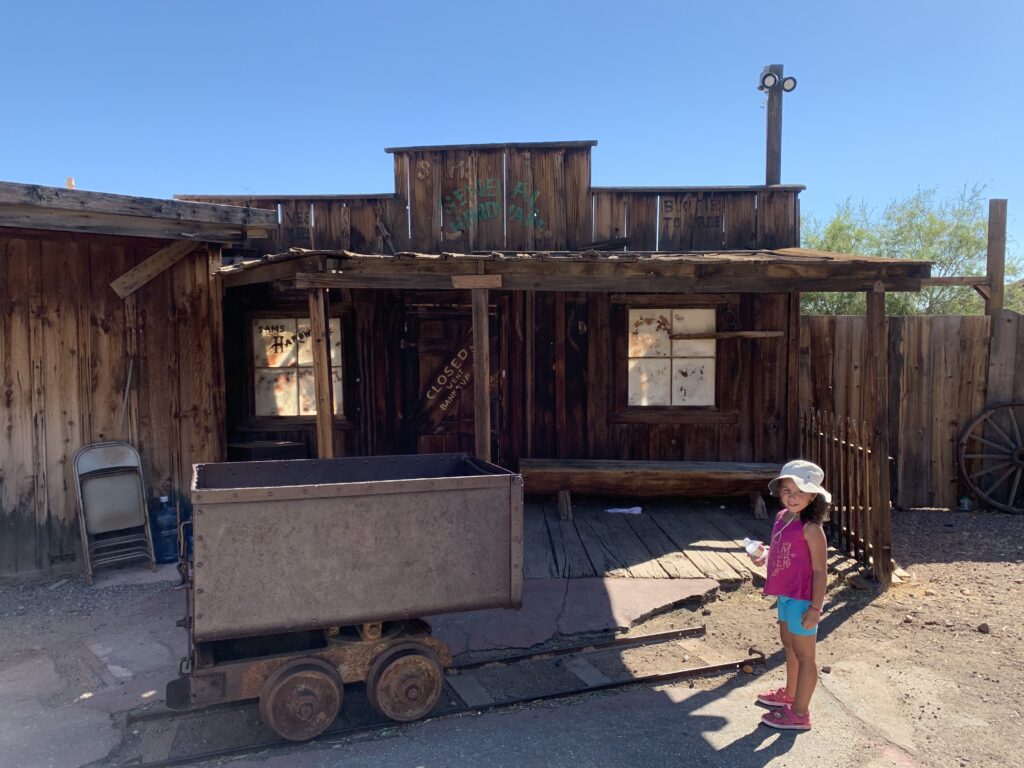 Calico is also a great place to stop for food and a quick bathroom break when on a road trip with kids. There are picnic tables near the parking lot and restrooms located towards the beginning of the town, close to the parking lot, in case you don't plan on venturing too far. Once you walk into the town you can pick up snacks and other quick grab and go stuff to eat — popcorn, hotdogs and that kind of thing.
If you're looking for more of a sit-down type meal, you can also check out the Old Miners Cafe. Their food looked delicious and they offer a great patio overlooking Main Street. Nice to sit back on one of their rocking chairs and pretend to be a local living here back in the day. We lingered around town a bit too long and by the time we got back to the restaurant on our way out of town, they were already closed. Guess there's always next time!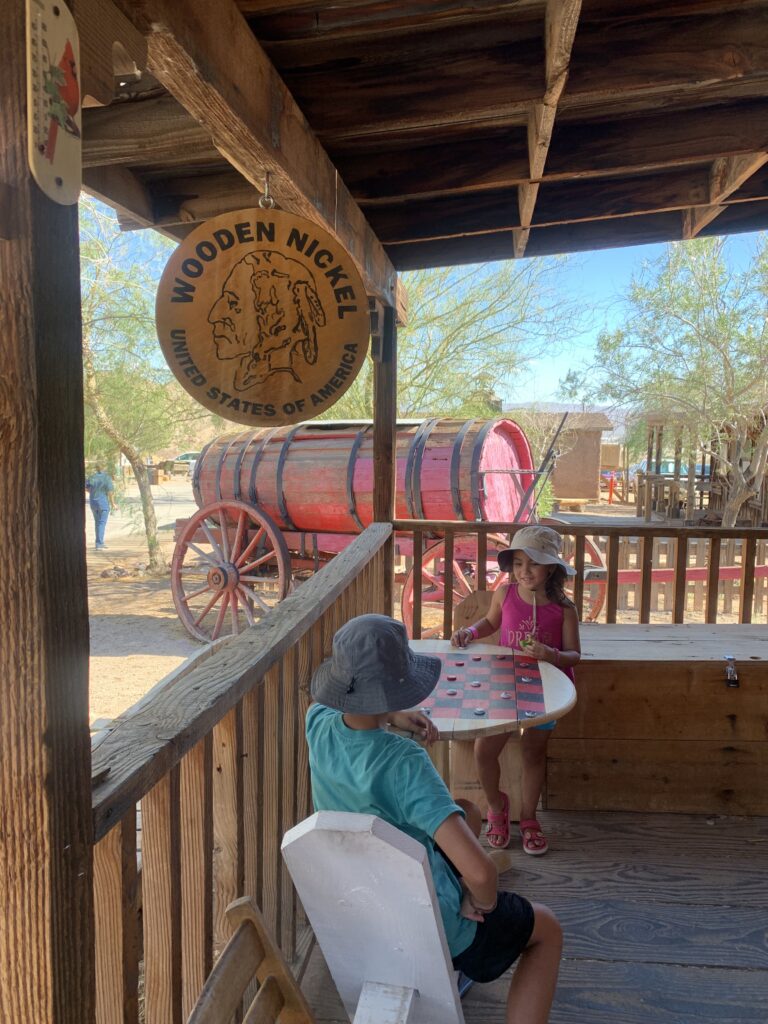 I highly recommend a stop at Calico Ghost Town if you're driving from Las Vegas to Los Angeles. My entire family enjoyed this fun little stop. Just be warned that you might spend more time here than you anticipated. Our quick stop turned into a 2 hour adventure. There was so much to see and do here! Some activities do require a fee — like the train ride and mining tour. But totally worth it. This gem is located just about 10 minutes off the freeway and it's great family fun!
Calico Ghost Town – 36600 Ghost Town Rd, Yermo, CA 92398
EddieWorld
On our way back to the highway we spotted EddieWorld. The prefect place to refuel before hitting the road again — there's a gas station here and lots more! A great place to grab a bite to eat and pick up some (or all) the road trip snacks!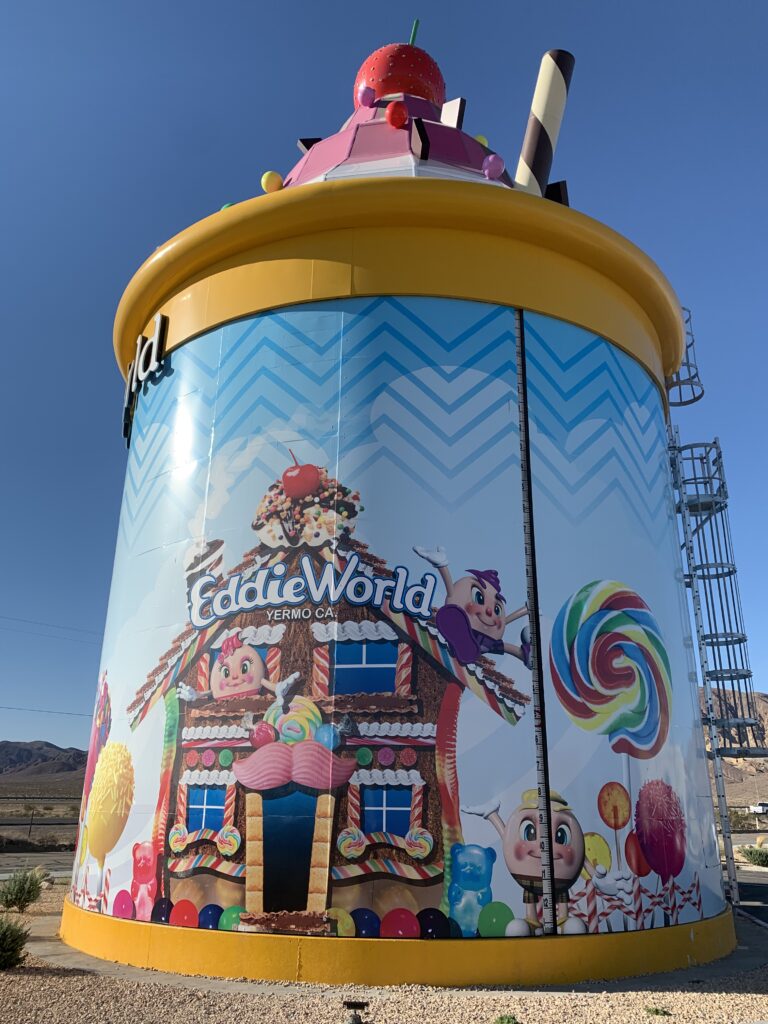 EddieWorld is like a one-stop-shop between Las Vegas and Los Angeles — in the heart of the Mojave and just 12 miles north of Barstow. Here you'll find clean restrooms, the lowest price on gas (I checked and the prices get much higher once you get past this point), Tesla supper charging stations (in case that's the kind of car you're driving), freshly prepared food (everything from pizza to burgers, salads and sushi), the yummiest homemade ice-cream, and snacks and candies — all the chocolate, candies, and sweets your little sweet tooth could ever dream of! Definitely worth a quick stop when making your way back onto the I-15.
EddieWorld– 36017 Calico Road Yermo, California, United States
Iconic Route 66 – Driving Vegas to LA
If you're planning this road trip from Las Vegas to Los Angeles, I also highly recommend exploring old Route 66 from Barstow to Victorville. It's about a 32.5 mile drive along I-15 highway. From here you can exit the highway to drive parts of old Route 66. We ran out of time and didn't stop at all the places we wished we could have stopped at. I hear there's a great Route 66 "Mother Road" Museum in Barstow and another California Route 66 Musuem in Victorville.
Bastow usually serves as a midway point for drivers traveling between Las Vegas, Nevada and Los Angeles, California. You never know what you'll come across along the way — an old 50's diner, an ostrich farm, antique shops, a steel truss bridge, a Bottle Tree Farm. It's a fun drive! Here are some of the must-see places we visited during our drive along old Route 66.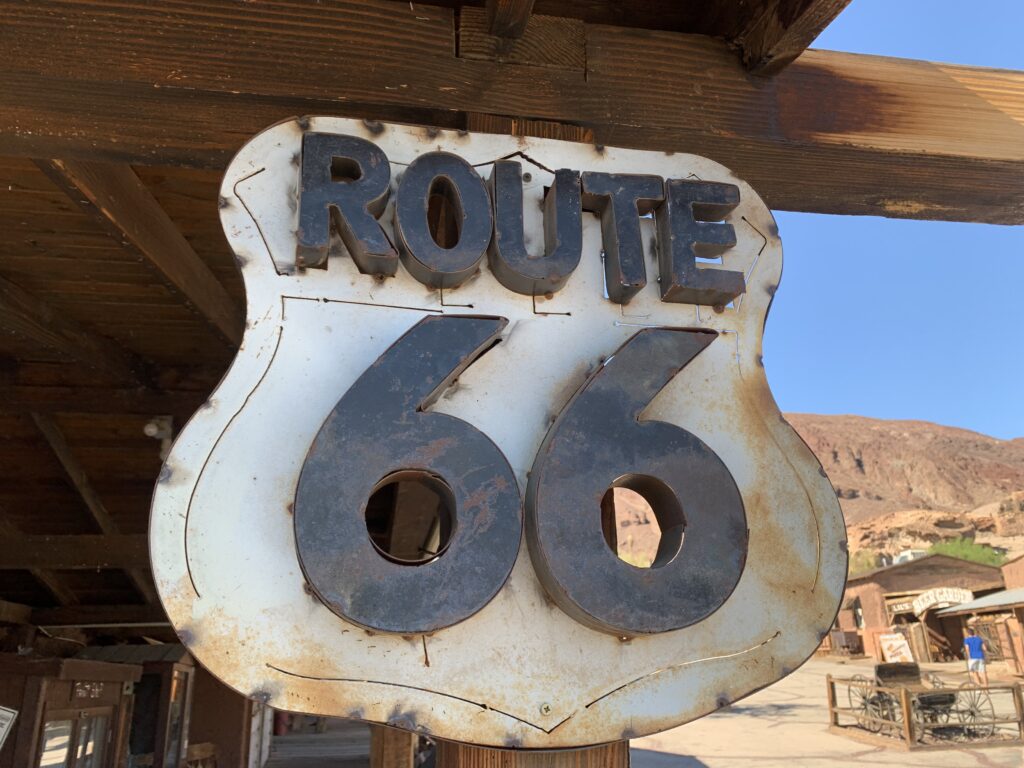 Oro Grande & Cross Eyed Cow Pizza
You MUST STOP at the antique shops and funky pizza store at Oro Grande when driving from Las Vegas to Los Angeles! It's located in the Mojave Desert in San Bernardino County, California and right on old Route 66 (also known as National Old Trails Highway, a road which was projected to link NY and LA in the early 1900s) near Interstate 15. This is one of the cutest little roadside stops I've ever seen. Tiny town but so picturesque! Like something from an old postcard or something.
We didn't get here until the late afternoon so the antique shops were already closed for the day (good thing because I was ready to browse Oro Grand's Antique Station and bring home all the things).
I was so happy that the pizza shop here was still open because we were starving! We popped into the Cross Eyed Cow Pizza shop for a little sit-down family dinner and I'm so glad we did. It was the perfect family-friendly spot! Great menu and the food was excellent! Not to mention the decor and service. Amazing!
Cross Eyed Cow Pizza – 19248 National Trails Hwy, Oro Grande, CA 92368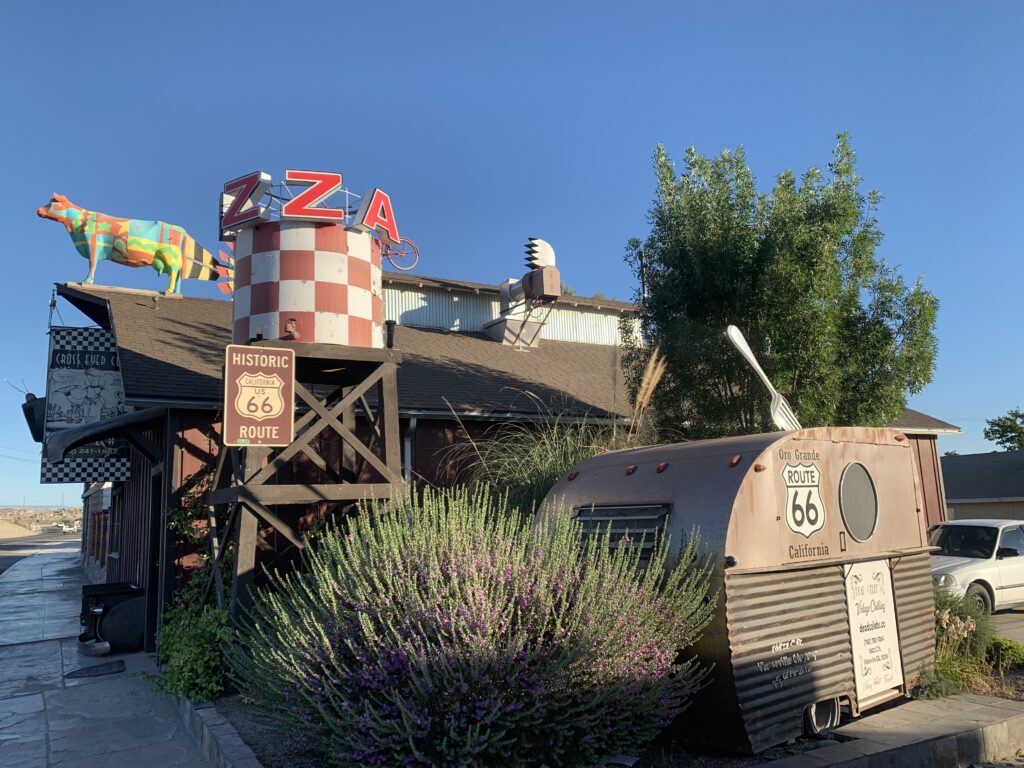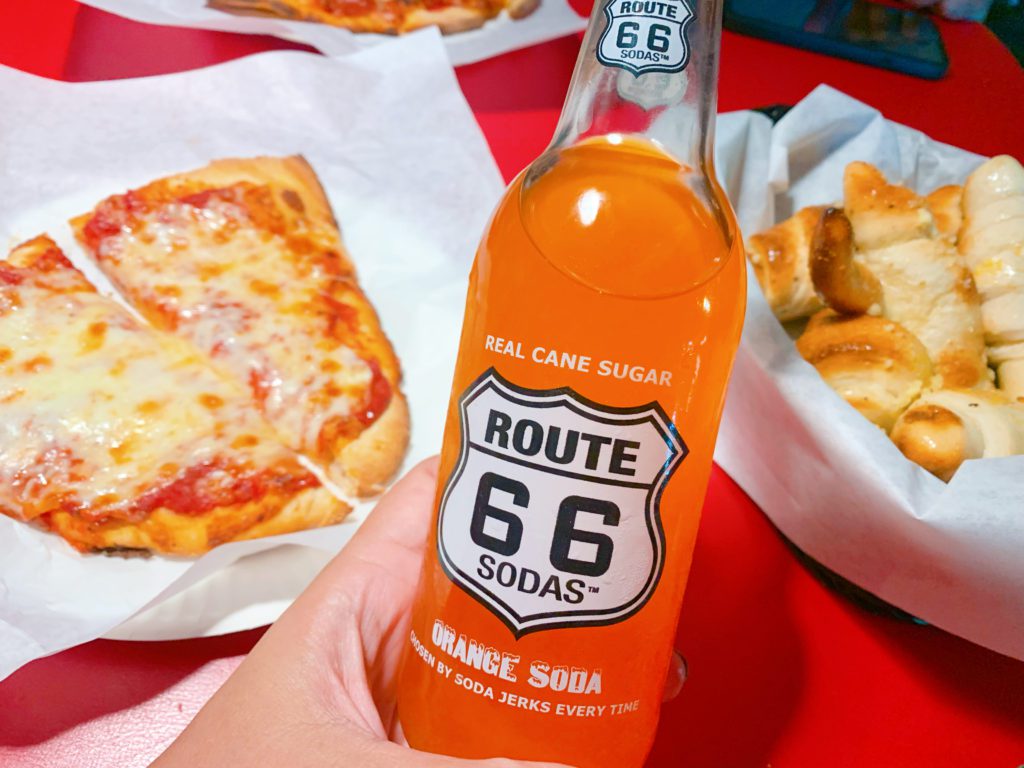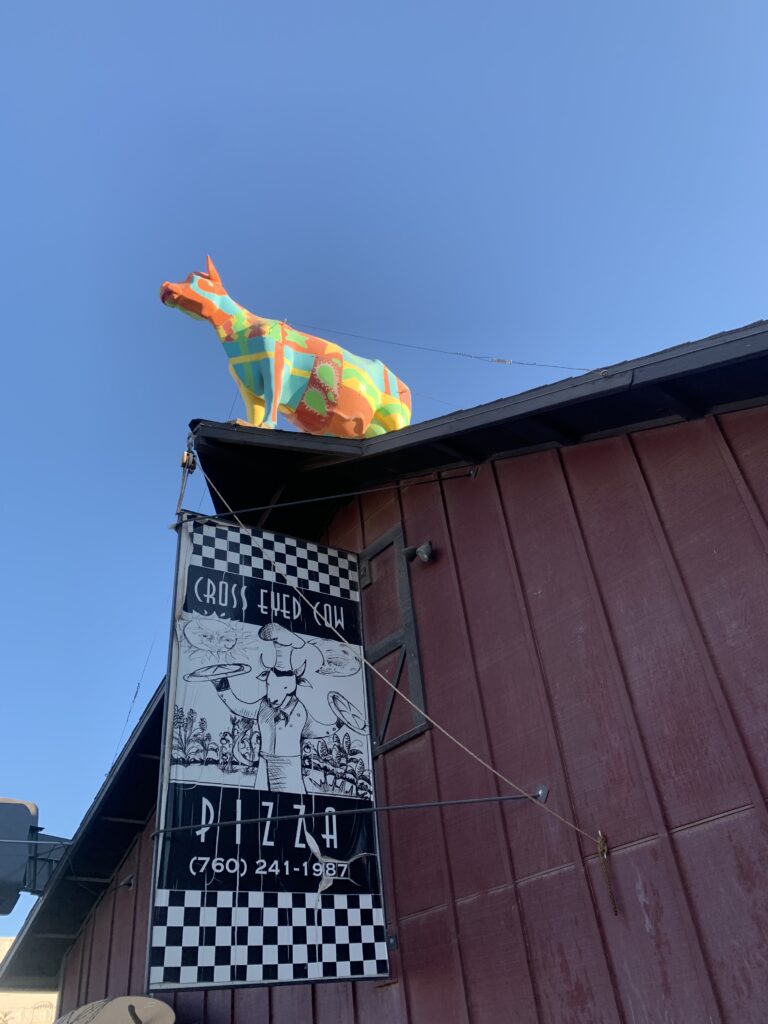 Oro Grande Bridge
We were happy to be met with the Oro Grande Bridge (also known as the Mojave River Bridge) just a short drive down the road. Build in the 1930s to carry U.S. highway 66 traffic across the Mojave River, this steel truss bridge was super fun to drive across. Make sure to pull over for some pics and drive on! Although I totally missed this photo opp but you might have spotted my little video over on our Instagram stories.
Oro Grande Bridge – 17930 National Trails Hwy, Oro Grande, CA 92368
Bottle Tree Ranch
A bit further down the road and just north of Cross Eyed Cow Pizza we came upon another gem of a place. This is one stop we had really been looking forward to! The Bottle Tree Ranch is a well known stop along old Route 66 and boasts over 200 bottle tree installations that make one man's trash look like a work of art. We arrived right before sunset and the rays of light making their way through the field of glass bottles was just beautiful! However, we were saddened when we pulled up to the gate and found a sign explaining that they were closed and wouldn't be open again for a few weeks. The area was fenced in so we were happy that we were able to walk around the perimeter and explore a bit, snap some pretty cool pics, and appreciate a bit of this folk-artish type masterpiece.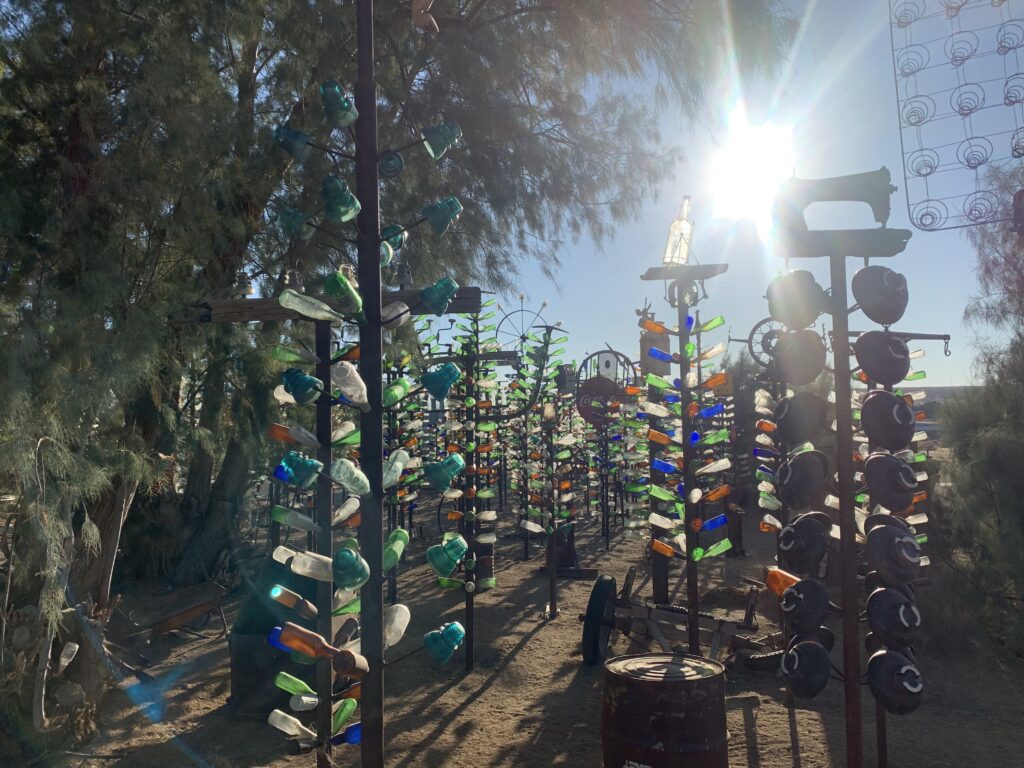 However, one of the things I was most looking forward to was meeting the genius behind this unique Bottle Tree Ranch. I'd heard of Elmer Long — the friendly and famously bearded old man whose fathers' incredible collection of glass bottles inspired the birth of this place. Sadly, the sign on the gate also read R.I.P Elmer. Turns out Elmer Long passed away just a few weeks before our trip. Reason why Elmer's Bottle Tree Ranch was currently closed. I was sad!
I did later find out that his family is working to revamp the place (after a couple of break-ins) and plan to keep Elmer's legacy alive. Imagine collecting glass bottles since childhood and then turning them into this beautiful glass gallery! I want to say that the collection here (and it's now departed curator) are something like a U.S. treasure. Glad that this unique spot will live on!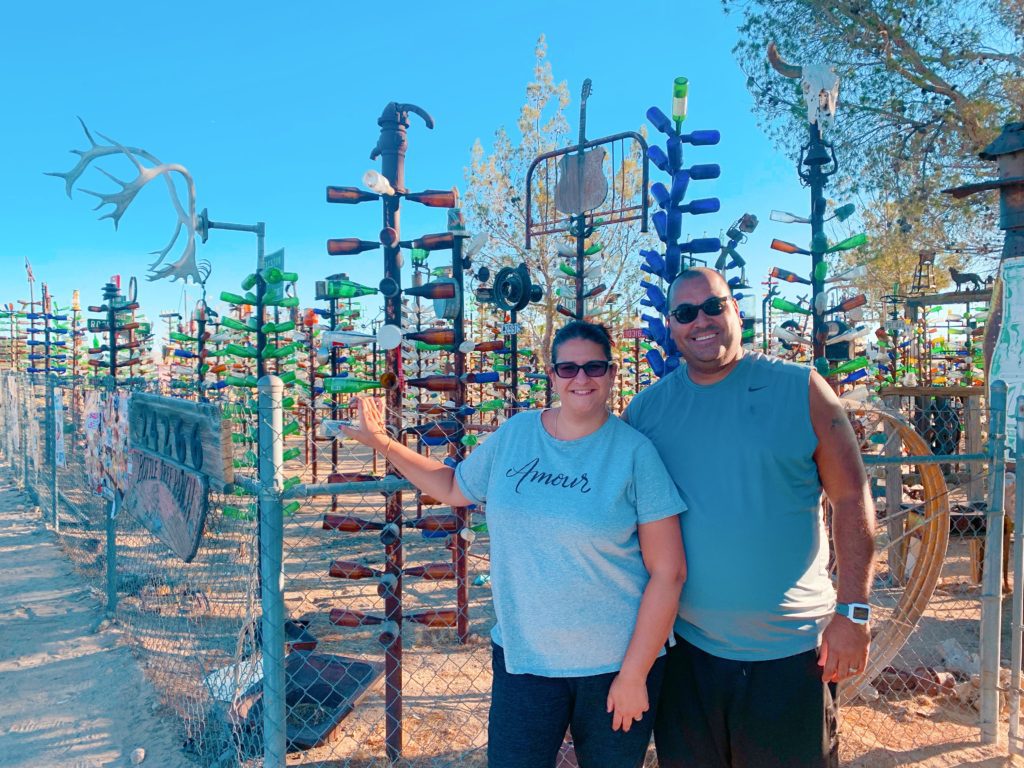 Here is the Bottle Tree Ranch website you can check for updates. I believe it's already back up and running but just check before you go. And if you want to learn even about the history of this place from Elmer himself, here's the video of Elmer Long that first put this gem of a place on my radar. But there areother great videos worth watching too. Just fascinating!
Do stop by and check out the Bottle Tree Ranch if you're driving old Route 66 from Las Vegas to Barstow. It's a must see for any traveler making their way across the Mojave! Plus, not only is it a sight to see. It's also a sight to hear. The hollow bottles seem to make a sweet tunes as wind passes through them. It's a special treat if you're visiting on a windy day. I tell you, this really is a magical place you have to see and hear for yourself!
Elmer's Bottle Tree Ranch – 24266 National Trails Hwy, Oro Grande, CA 92368
Original McDonald's Museum in San Bernardino
Back on the road, we eventually made our way to San Bernardino. By now you may have figured out that I love history and nothing gives me a bigger thrill that exploring places that tell the unique story of a time long gone. Reason why this Route 66 attraction was probably the most anticipated pitstop for me during our road trip from Vegas to LA.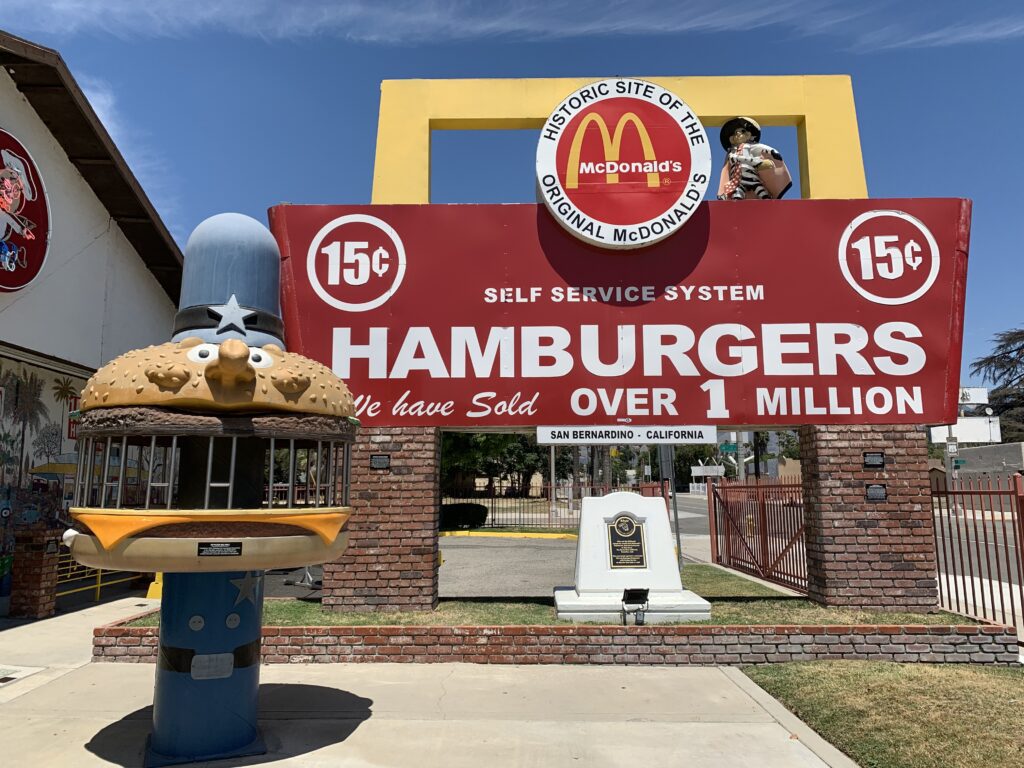 This is the birthplace of the very first McDonald's, opened way back in 1940. Growing up, who didn't look forward to mom buying you a Happy Meal? I remember begging for mom to get me one every time we passed our local McDonald's. Now it's my kids doing the begging. And say what you want about fast food, I'm still okay with them having the occasional happy meal. Also, I must admit that I'm still pretty obsessed with Happy Meal toys so I can't wait to see what surprise awaits. But I promise I do it for the kids! 😉
Little unknown fact about me — I've been collecting Happy Meal toys for years! Maybe one day I'll make my own donation to the unofficial Original McDonald's Museum.
This place is so unique and full of history! All the memorabilia you can (and can't imagine) from all around the world is here on display! No matter if you're a McDonald's fan or not, it's totally worth a stop. This free-to-the-public "museum" is open to explore 7 days a week. You could easily spend over an hour here!
We first explored the outdoor space around the museum and parking lot and found some old friends you might recognize.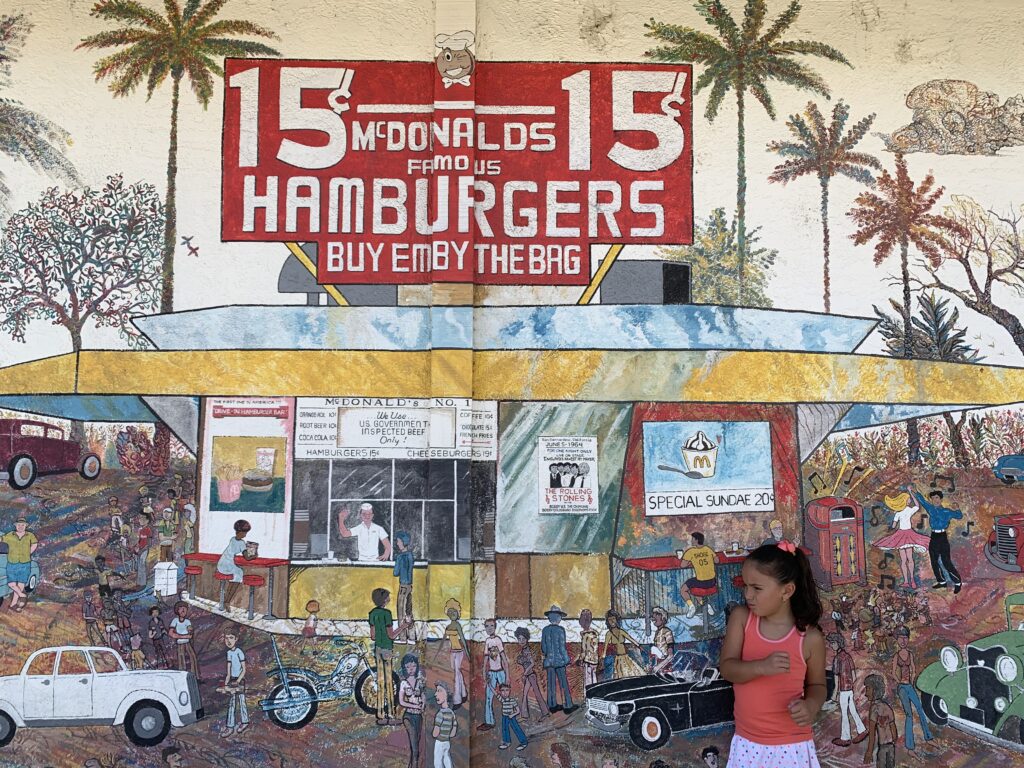 As soon as we entered the museum we were greeted by a McDonald's historian who shared loads of details about this historical place and how this McDonald's Museum came to be. I won't go into tons of details about the history of this place (although I might later come back to write a post specifically dedicated to this fascinating place).
This site is the original birthplace of McDonald's. Although it's not a location that's particularly recognized by the McDonald's corporation, started by Ray Kroc, a milkshake machine salesman from Illinois who bought the rights to the McDonald's franchise from Mac and Dick McDonald, the original creators of McDonald's and this location is where their very first McDonald's restaurant stood. If you're intrigued by the story (as I am) and want to learn a bit more of the backstory, watch The Founder. It's a movie that tells the story of how the McDonald's that we all know and love today actually came to be.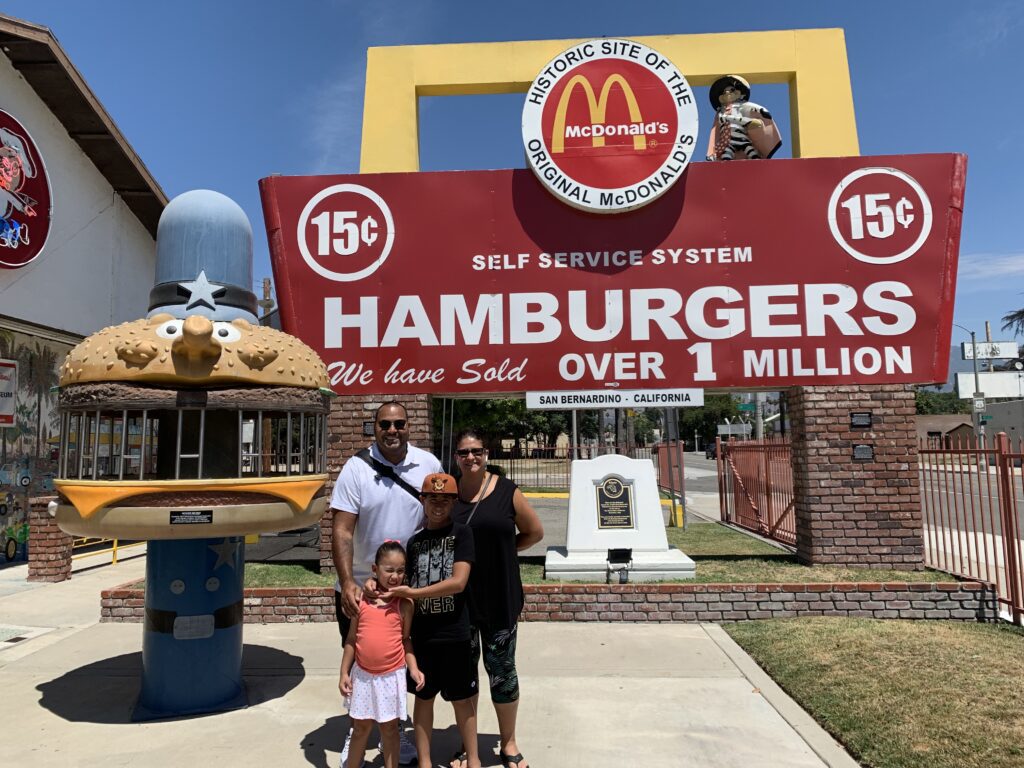 What's even more fascinating about this unofficial McDonald's Museum is that it was created by a McDonald's fan who took on the responsibility of preserving the early history of the most successful fast food restaurant chain in the world when he decided to buy this property in order to avoid it from being demolished. Recognizing that this location was a piece of history, Albert Okura opened this McDonald's Museum in 1998, which also happened to be the 50 year anniversary date of the original McDonald's.
Everything you see within the walls of this museum was donated by McDonald's fans and collectors (like myself). We spotted infinite Happy Meal toy collections from all places around the world — Europe, Asia, South America. People donate to keep the history alive! And there's so much to see, even beyond the toys — old collectable plates, glasses, cookie jars, Ronald McDonald, Grimace, the Hamburglar. Everyone is here! My inner child was jumping for joy at every turn and just grinning from ear to ear the entire time. I was also super excited to share this little piece of history with my young kids. It was so cool that they got to experience a bit of what McDonald's was like for mommy and daddy when we were kids growing up in the 80's. Yeah, they didn't even know that McDonald's had a mascot, or two! #MindBlown
Also cool is all the old Route 66 history here. Make sure to grab some pics of historical signs and road out front before you drive away!
Unofficial McDonald's Museum in San Bernardino:1398 North E Street at West 14th Street in San Bernardino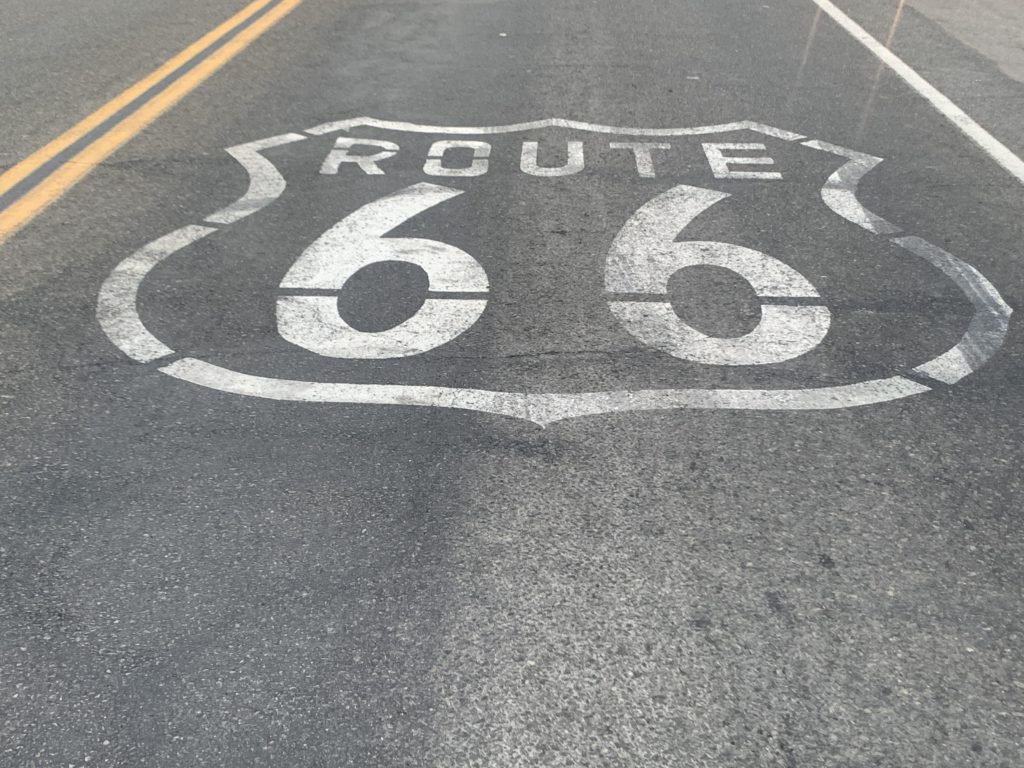 Make This Your Last Stop – Driving Vegas to LA
Santa Monica Pier in Los Angeles, California
From San Bernardino we finally made it to Los Angeles. And although we didn't go straight to the Santa Monica Pier (we visited later on in the week), it's worth mentioning that this is the last stop on Route 66. This is where Route 66 ends. You can spot a historical marker right on the pier symbolizing the western end of the iconic U.S. highway. This is the point where Route 66 reaches the Ocean! If you're into learning more, go here to learn about the history of Santa Monica and Route 66!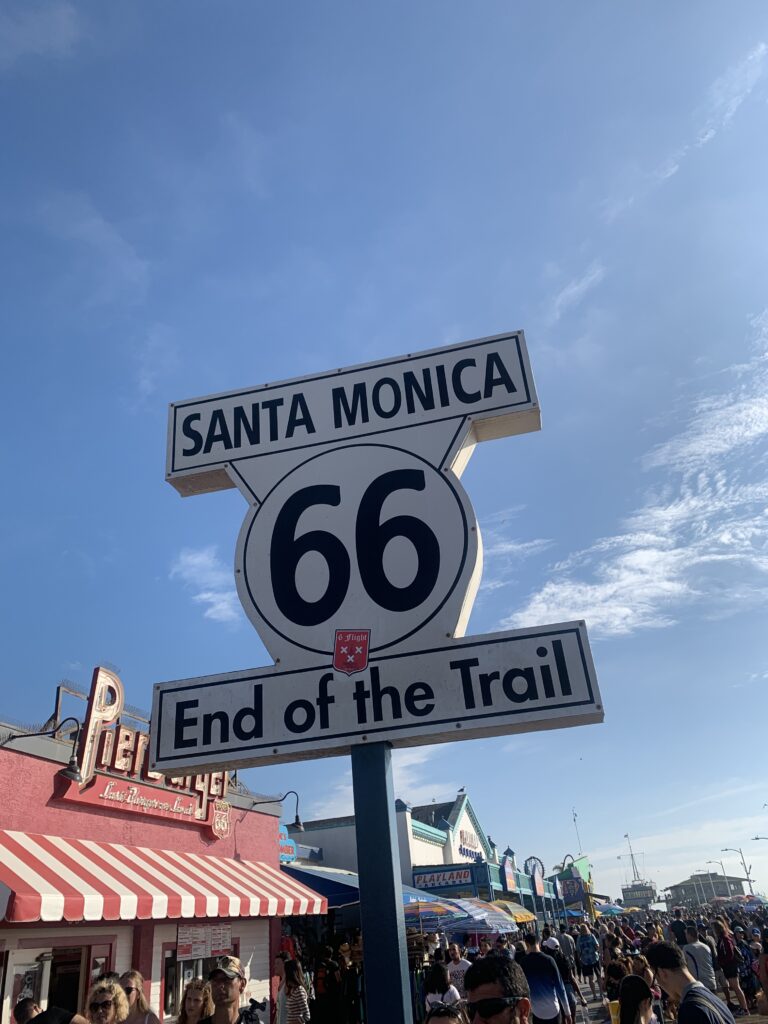 There's so much to explore along the Santa Monica Pier. It's an idea destination for a family-fun day! I have a follow up blog post coming soon with each and every detail you'll want to know about visiting this iconic fun family playground.
That being said, make sure to get your kicks on Route 66 and stop in at the Santa Monica Visitor Information Center to hear the full Route 66 story, even obtain a certificate of completion!
Also make sure to pop into the Route 66 Kiosk right as you walk onto the Santa Monica Pier. Speak to Ian who's a wealth of information on all things Route 66. Here you can also grab a Route 66 souvenir to bring home — everything from maps to T-shirts, license plates, post cards, and keychains marked with the iconic Route 66 sign. It will make this an EPIC FAMILY ROAD TRIP you won't soon forget!
Santa Monica Pier & Route 66 End of the Trail– 330 Santa Monica Pier, Santa Monica, CA 90401
Make sure to come back next week when I tell you all about the fun things we did during our stay in Los Angeles. After that, I'll be sharing all the details about our #EpicFamilyRoadTrip up the California Coast from Los Angeles to San Francisco — so much to see and do along the way! Stay tuned!
Don't forget to "pin" this for later & keep my tips when planning your very own trip driving from Vegas to LA!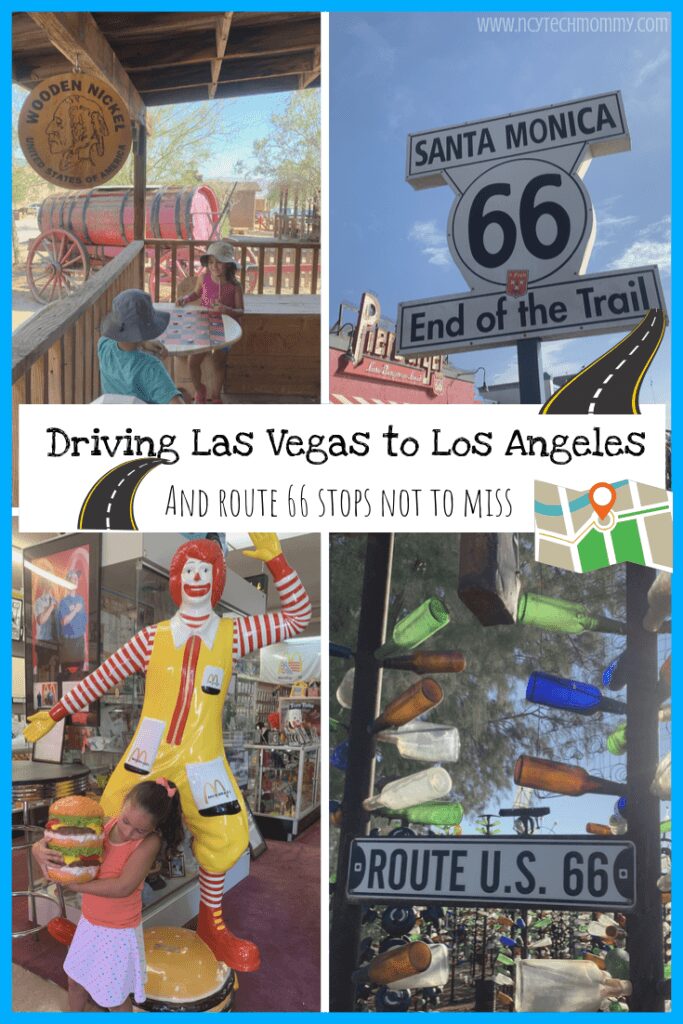 You May Also Like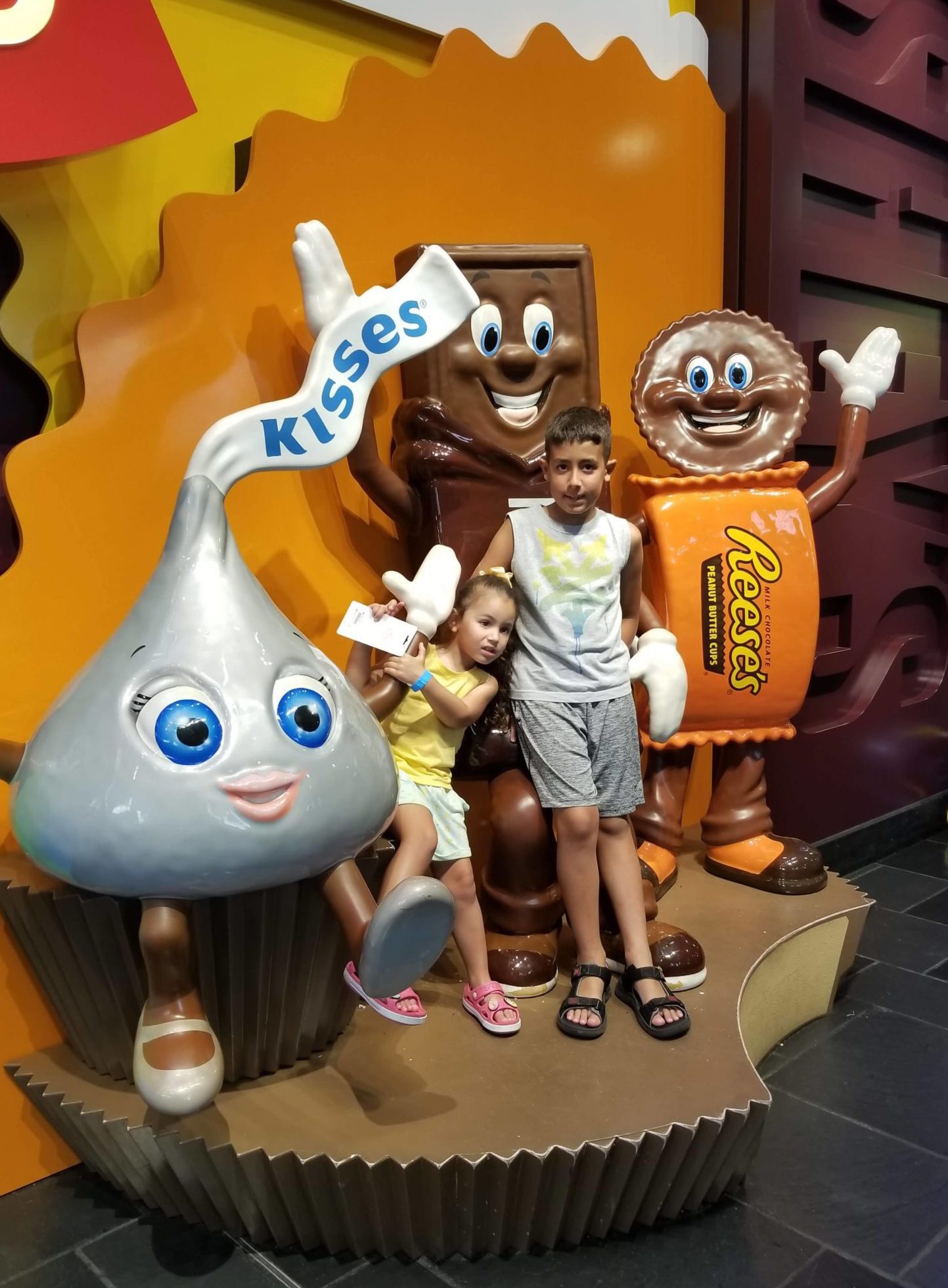 August 31, 2018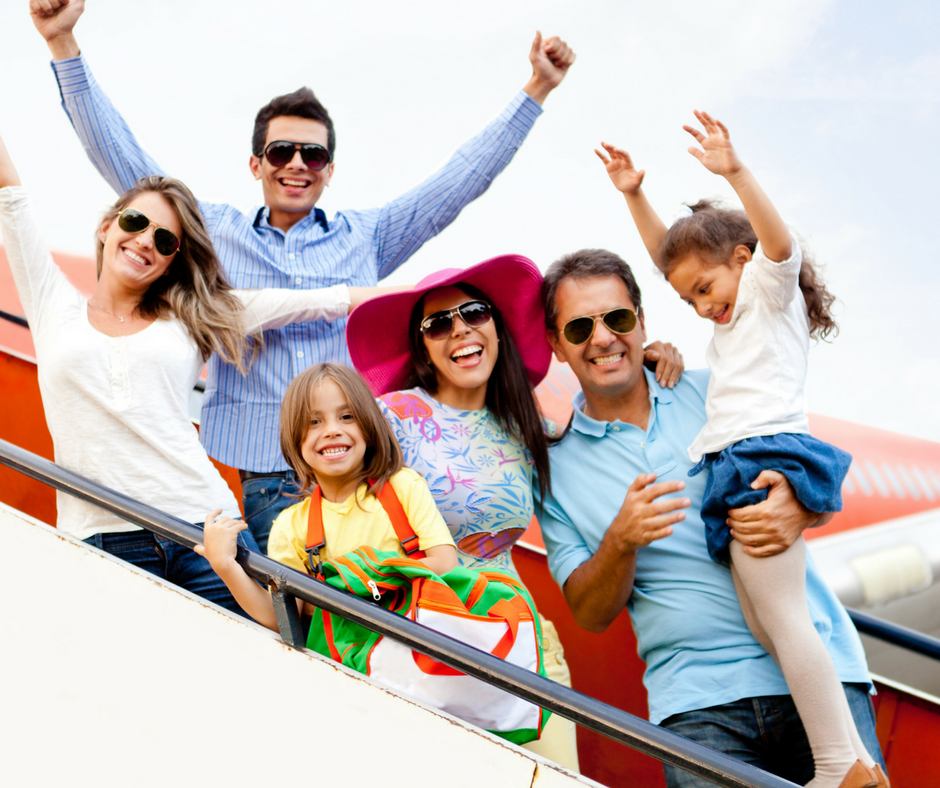 December 20, 2017