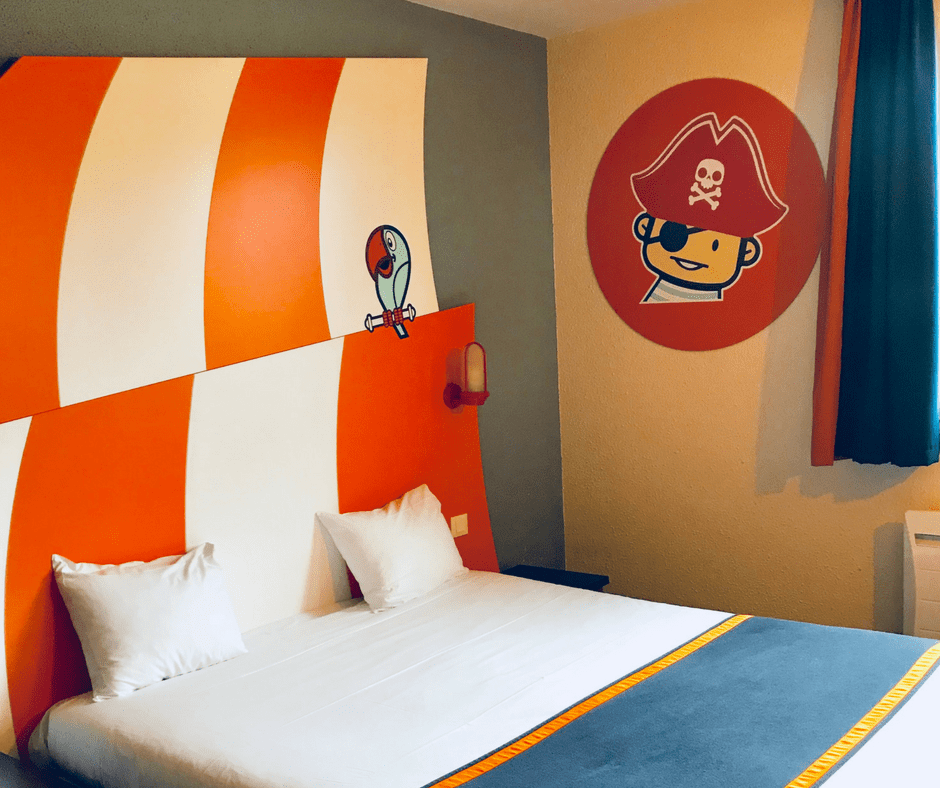 Paris with Kids: Best Hotel to Stay in Disneyland Paris
March 5, 2018
If you've been following along you already know that we recently traveled to Paris with kids. During our trip we visited Disneyland Paris and decided to stay at a nearby hotel. Today I want to tell you all about Explorers Hotel and why I think it's the best hotel to stay in Disneyland Paris.
Explorers Hotel is a magical place filled with pirates, mermaids and other mysterious characters! Kids imaginations are free to run wild here! Choosing this hotel helped make our stay at Disneyland an experience our family will never forget. My kids absolutely loved it here and are already asking to go back! And I can't blame them — this hotel includes a water park, indoor playgrounds, kid-friendly restaurants and so much more!
Check out this video to see all the fun we had during our stay at Explorers Hotel!
Plus, not only is Explorers Hotel conveniently located near Disneyland Paris, just minutes from the TGV/RER Station of Marne-la-Vallée Chessy. It also offers free shuttle service to and from the Disneyland Paris parks — just a short 10 minute ride away — and free parking at the hotel and at Disneyland (an Explorers Hotel exclusive advantage). Also convenient is the fact that Disneyland tickets are sold on site and there's even a small Disney store at the hotel. I am really happy that we chose this hotel for our stay at Disneyland! Read on to learn all the reasons why this is the best hotel to stay in Disneyland Paris. #DisneylandParis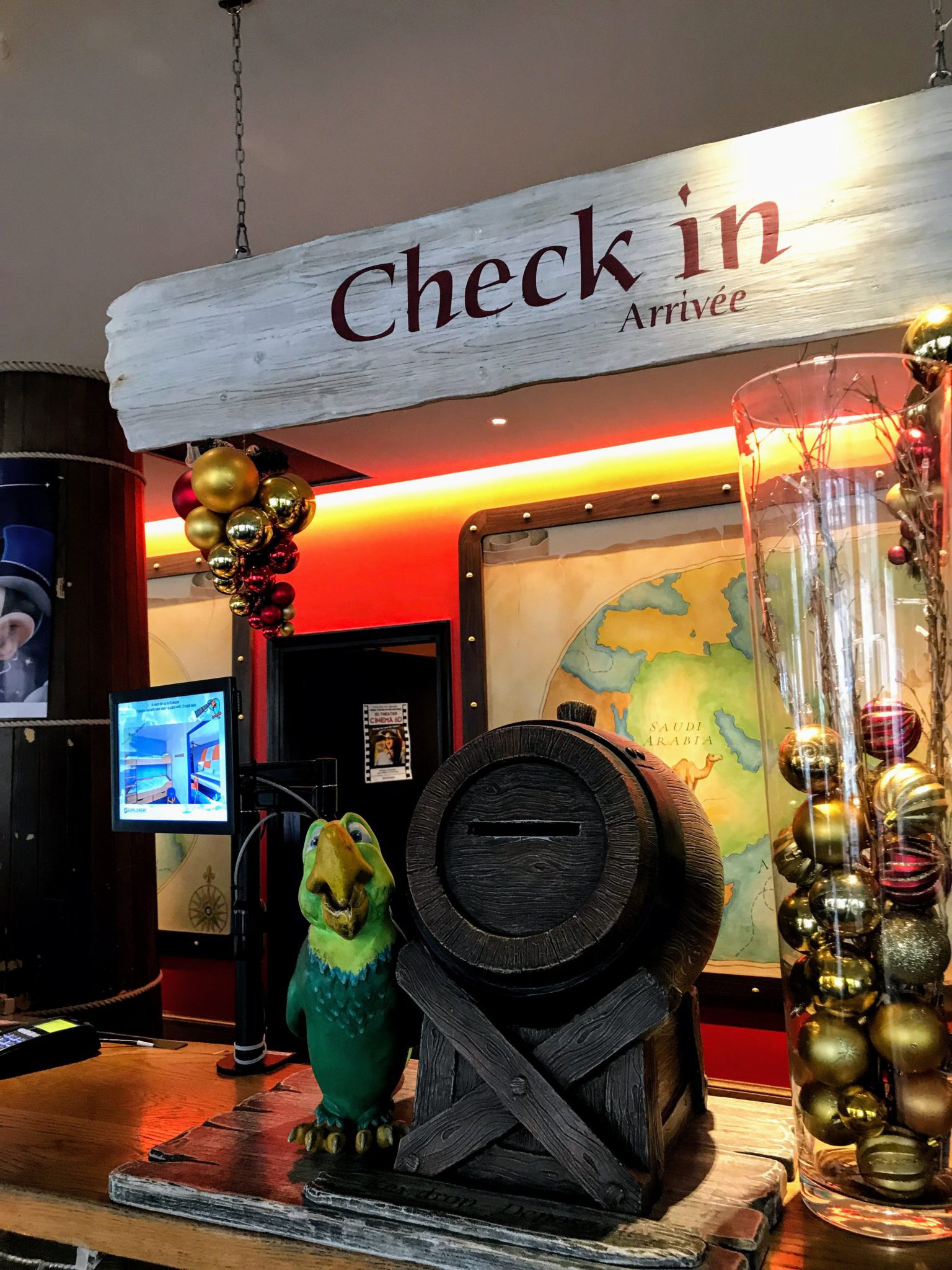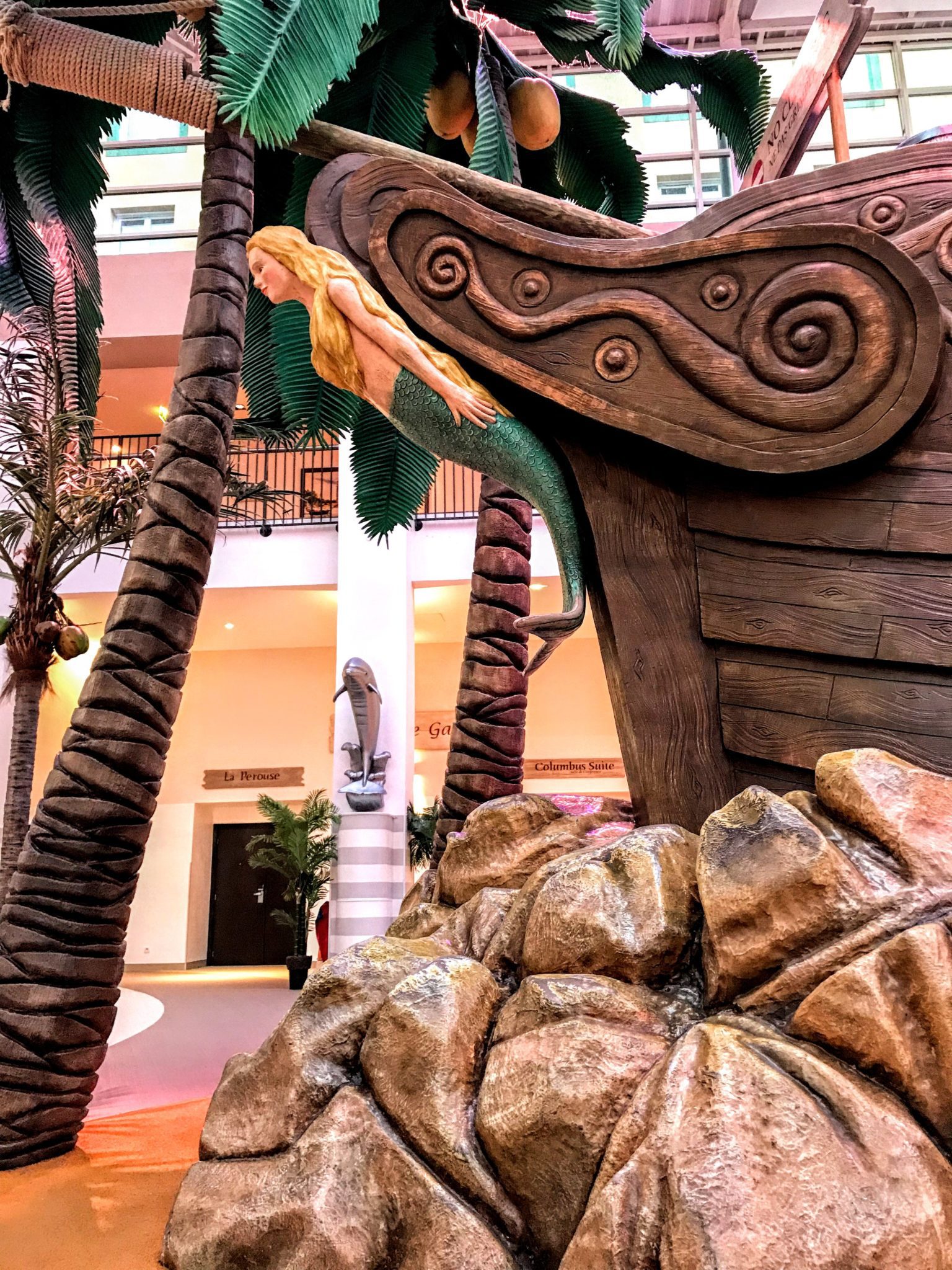 Explorers Hotel is the Best Hotel to Stay in Disneyland Paris
Family-Friendly Accommodations
I think what I loved most about his family-friendly hotel where the accommodations! Explorers Hotel offer rooms that can accommodate entire families, no matter how small or large. With adjoining room options, it's easy to accommodate anywhere from 4 to 10 family members.
Family Rooms
We stayed in a family room that accommodated even more than we needed for our family of 4. We chose the family room with an added room — configured to sleep 6, it has a double bed and a set of bunk beds, plus an adjoining room with an additional set of bunk beds. We liked having the additional room for the kids, plus a little privacy for mom and dad.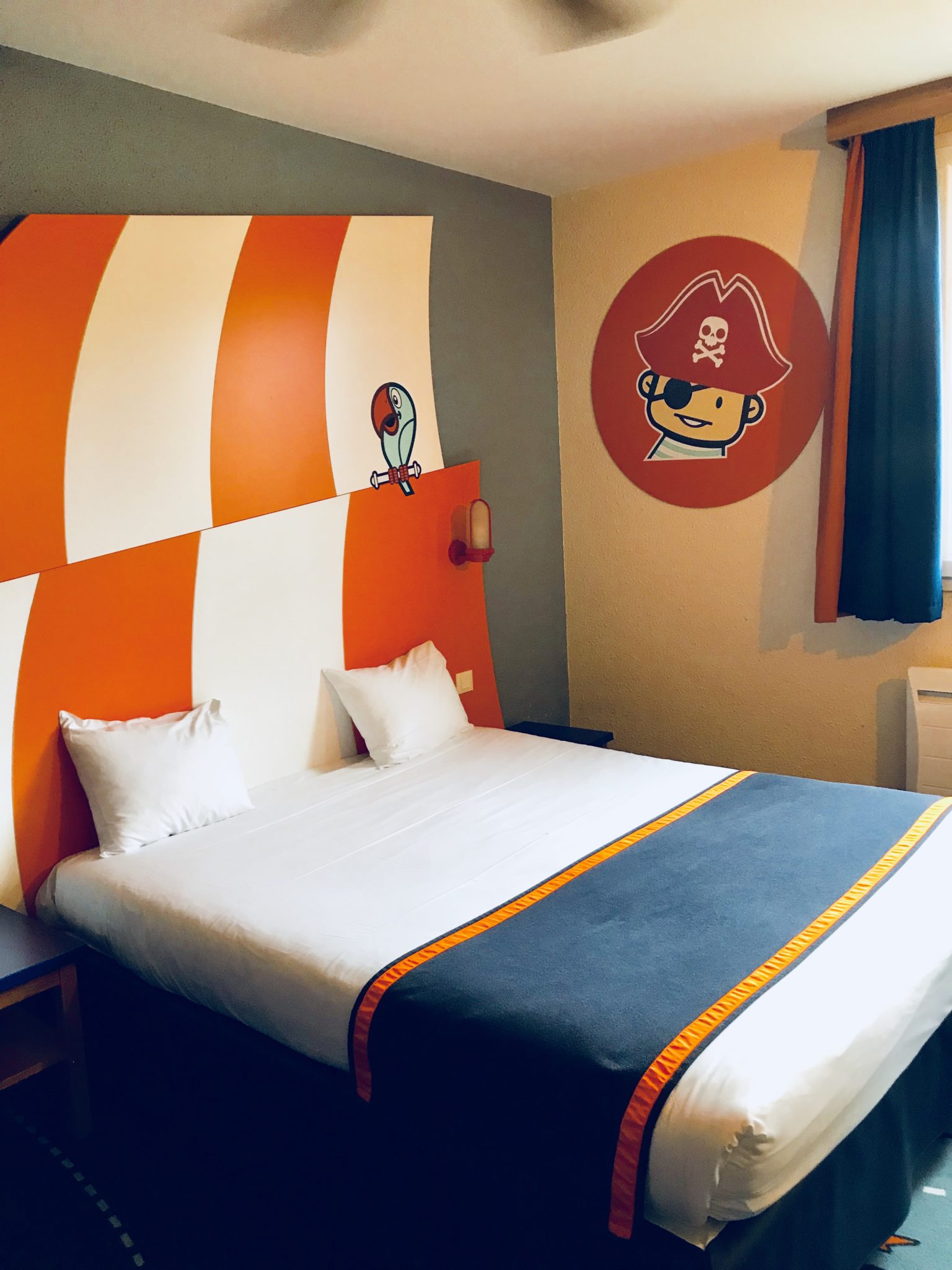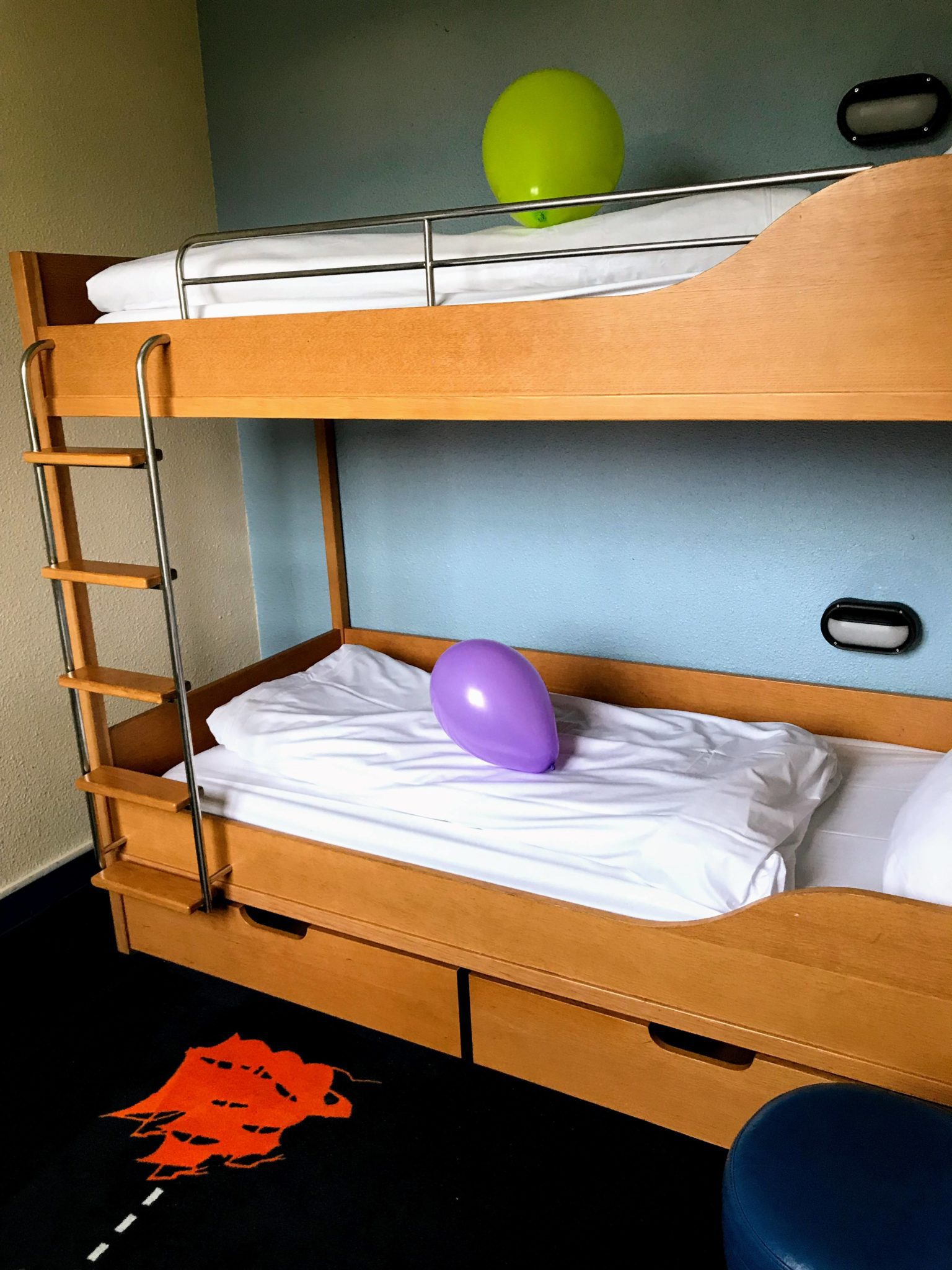 We found the family room option at Explorers Hotel to be exceptionally clean, economical, comfy, and beautifully decorated. Standard family rooms, like the one we stayed in, come with colorful Hotel Explorers themed decor. Little explorers will get a kick out of the treasure map type rug that lines the floors. My own kids loved staying here!
Explorers Hotel offers a variety of other family-friendly accommodations.
Many Room Options Make it the Best Hotel to Stay in Disneyland Paris
Adapted Rooms – designed for the needs of people with restricted mobility. Accommodates up to 4 guests.
Double/Executive Rooms – accommodate up to 2 guest. Perfect if you are travelling as a couple or with friends.
Knight and Princess Suites – magical themed suite that transforms your kids into knights or princesses! Accommodates up to 6 guests. The suites consist of three areas: A parental room with a double bed, a lounge with a sofa bed for 2 people and a room with bunk bunk beds. For even more comfort, these suites include two bathrooms.
Original Suites – choose from 3 themed options: the Planet Hollywood suite for cinema fans, the Jungle Suite for budding Tarzans, and the Sweet Suite for gourmets and candy lovers. Accommodates up to 6 people. The three original suites consist of three areas: A parental room with a double bed, a lounge with a sofa bed for 2 people and a room with bunk beds. For even more comfort, the suites include two bath rooms.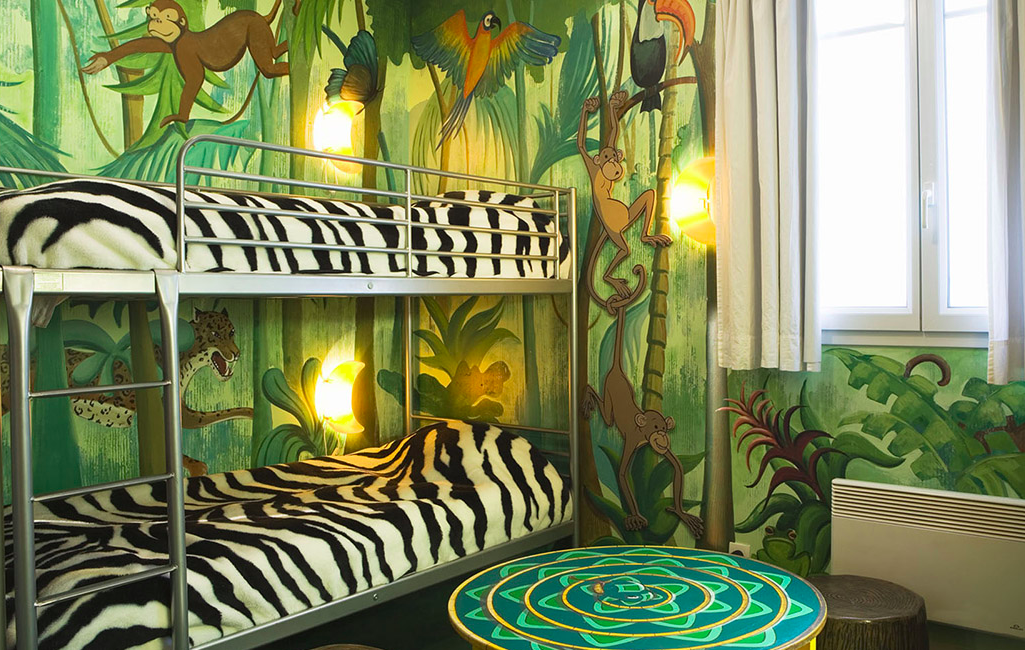 The Secret Lagoon Indoor Water Park
This is the central attraction and in my opinion the most exciting attraction at this hotel! With its three water slides and a large pirate ship themed water play area, it offers lots of fun for the entire family! It's open from 8AM to 11PM making this a great option for relaxing and having a little water fun before and after any visit to the nearby Disney parks. What's also nice is that you can access the water park on your arrival day and on your departure day too. My kids loved this place and I'm so glad we chose this hotel with such a family-friendly pool option!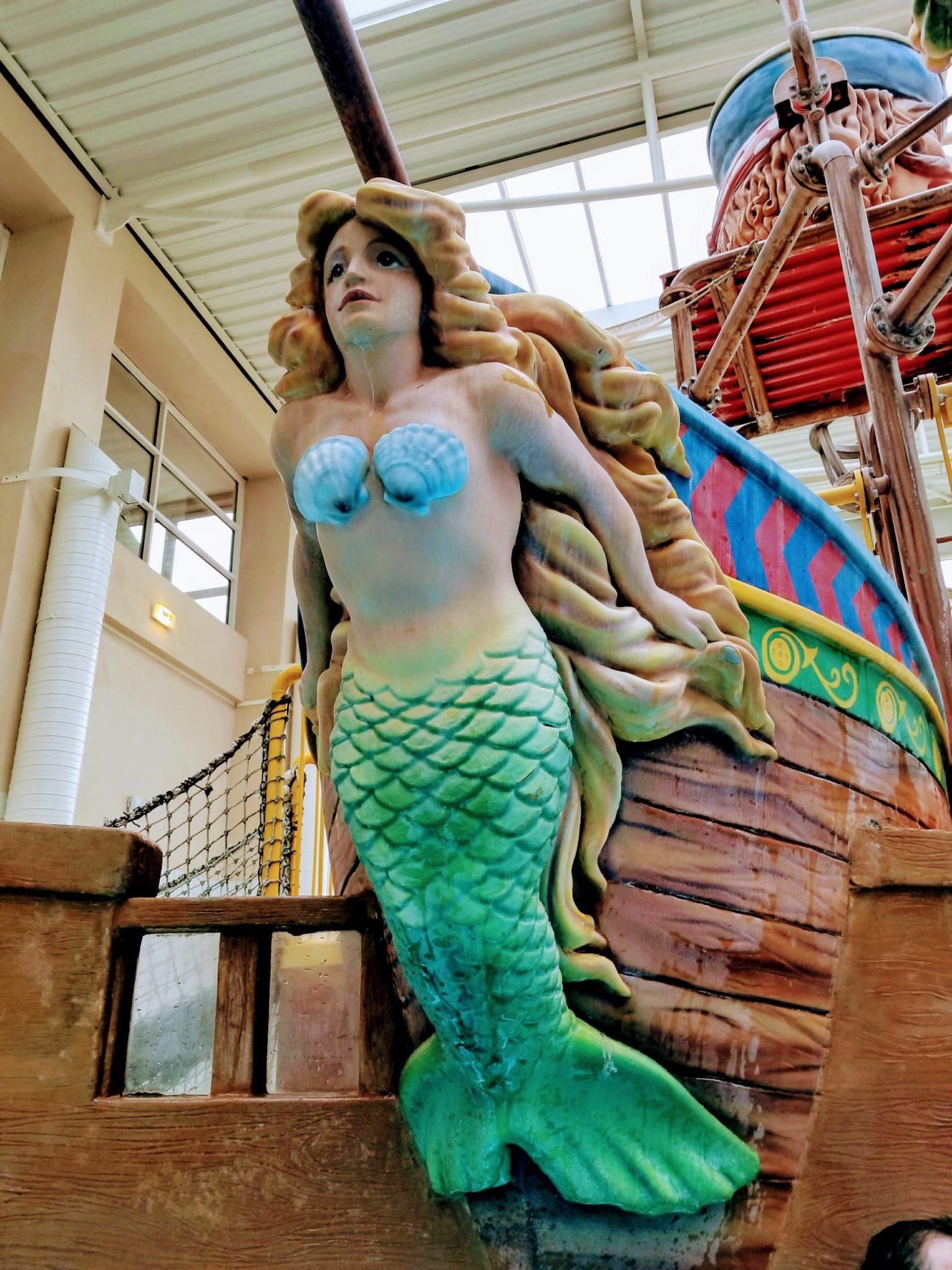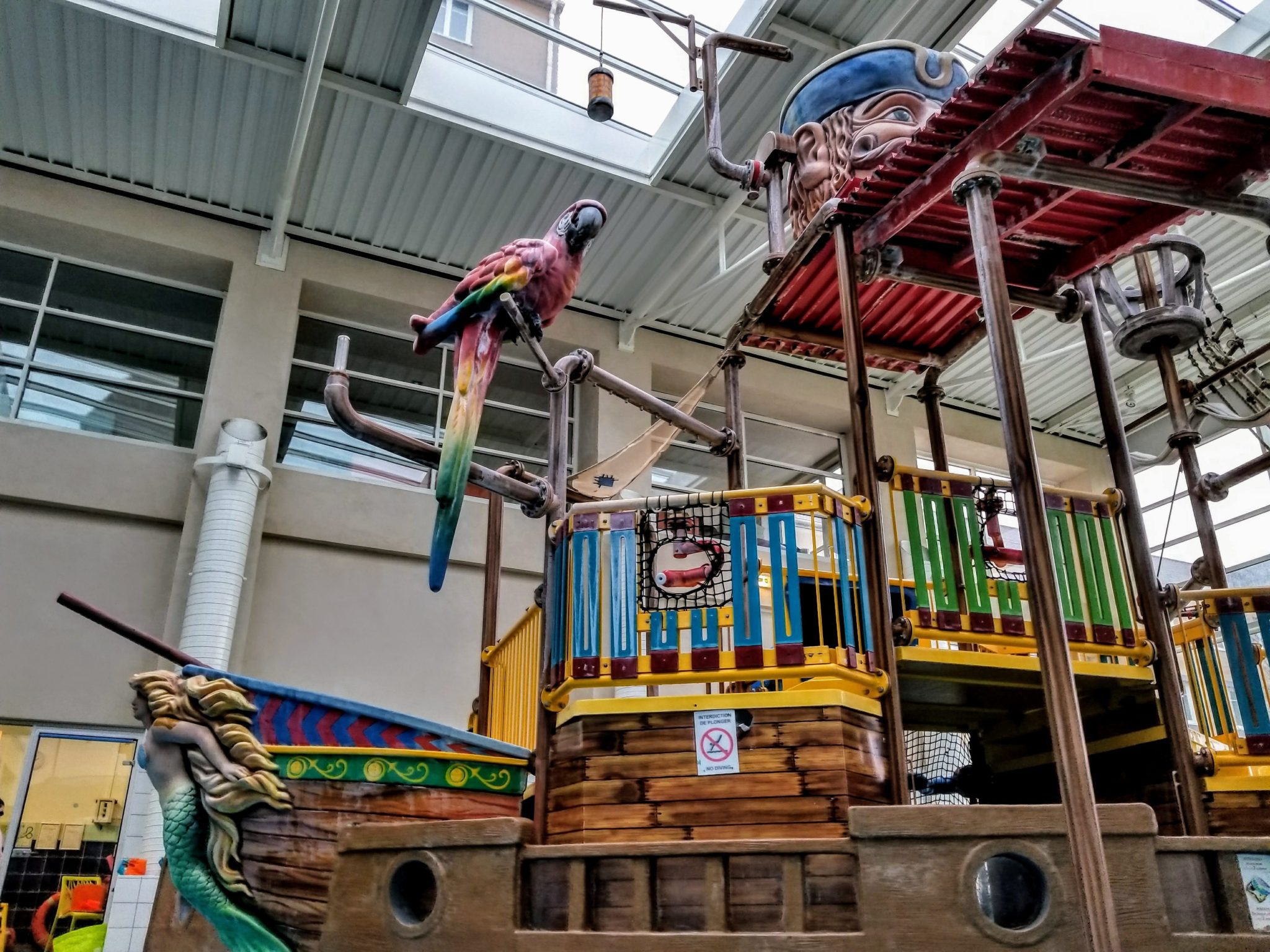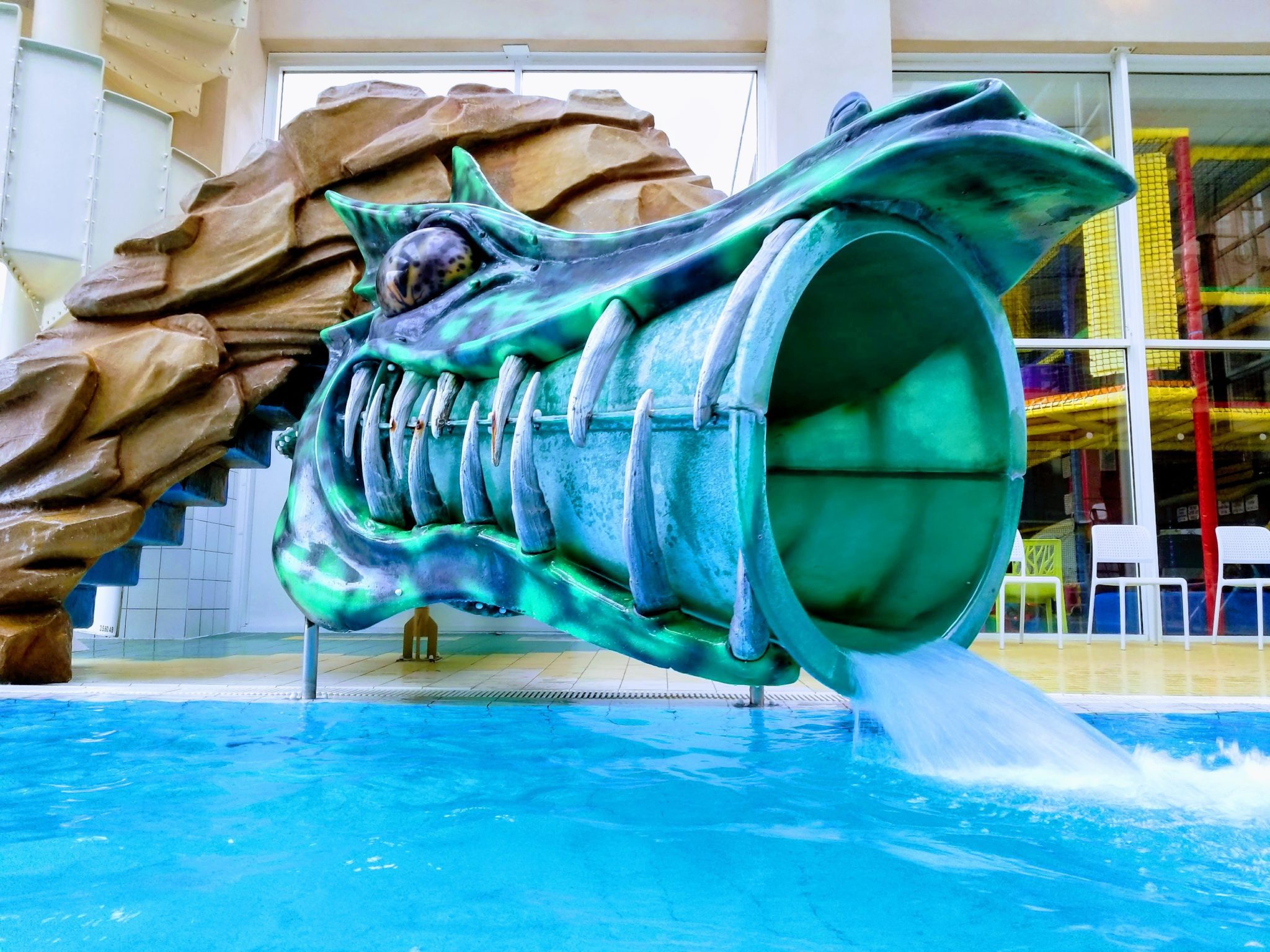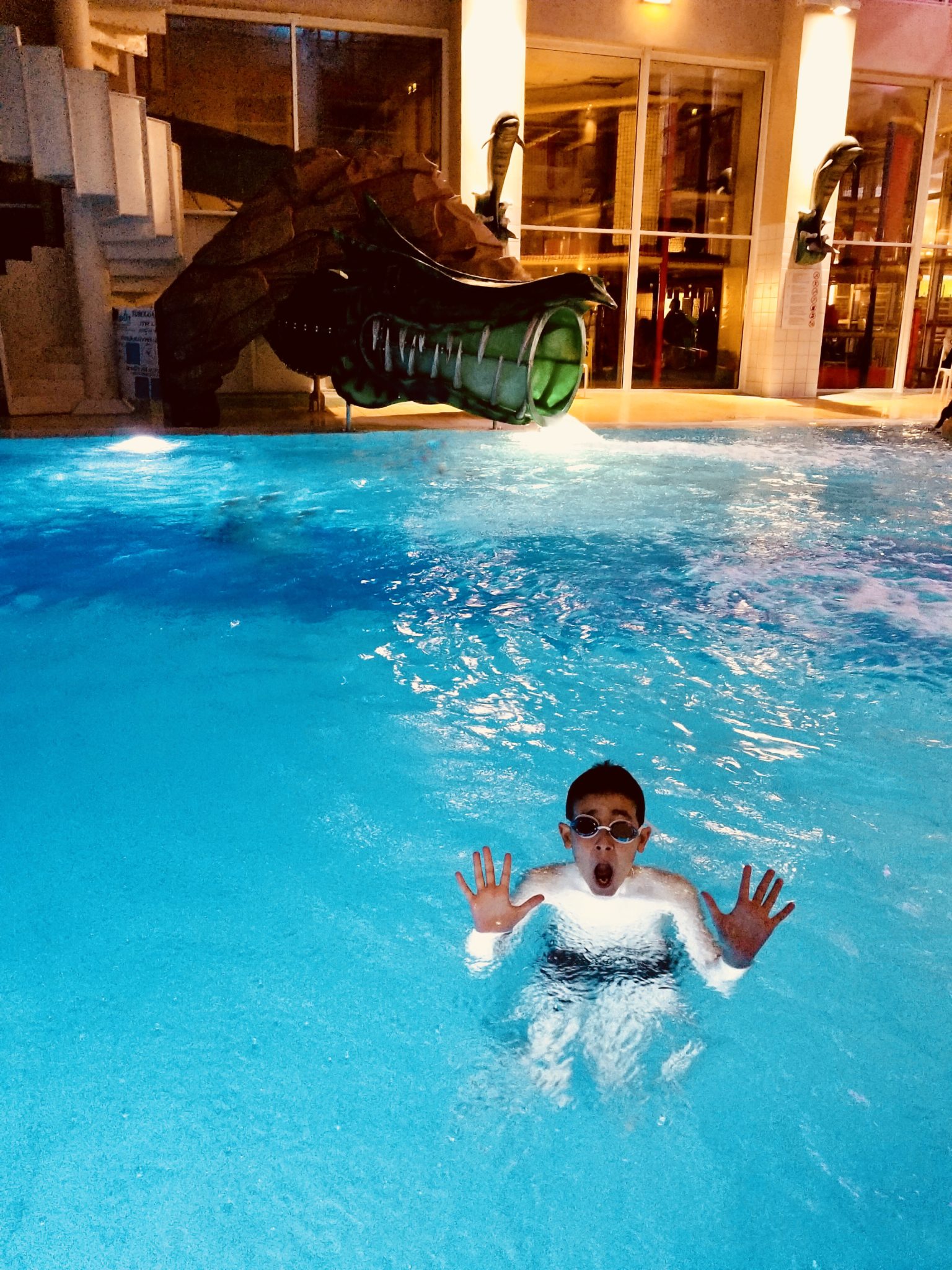 Some useful information to know before you go:
Speedos (or lycra type swimwear) are required for all men and young explorers. For safety and hygiene reasons, no baggy swim shorts allowed. But don't worry if you forgot your Speedos at home (or don't own a pair — my husband and son didn't) you can purchase a pair from the vending machine located in the changing/locker room. They offer a variety of sizes including Plus sizes for men. Women's one piece bathing suits and swim goggles are also available from the vending machines, in case you forgot yours at home.
Bring your own pool towels. But if you prefer to travel light, pool towels can be borrowed directly from the waterpark reception for about 2€ per towel for the length of your stay.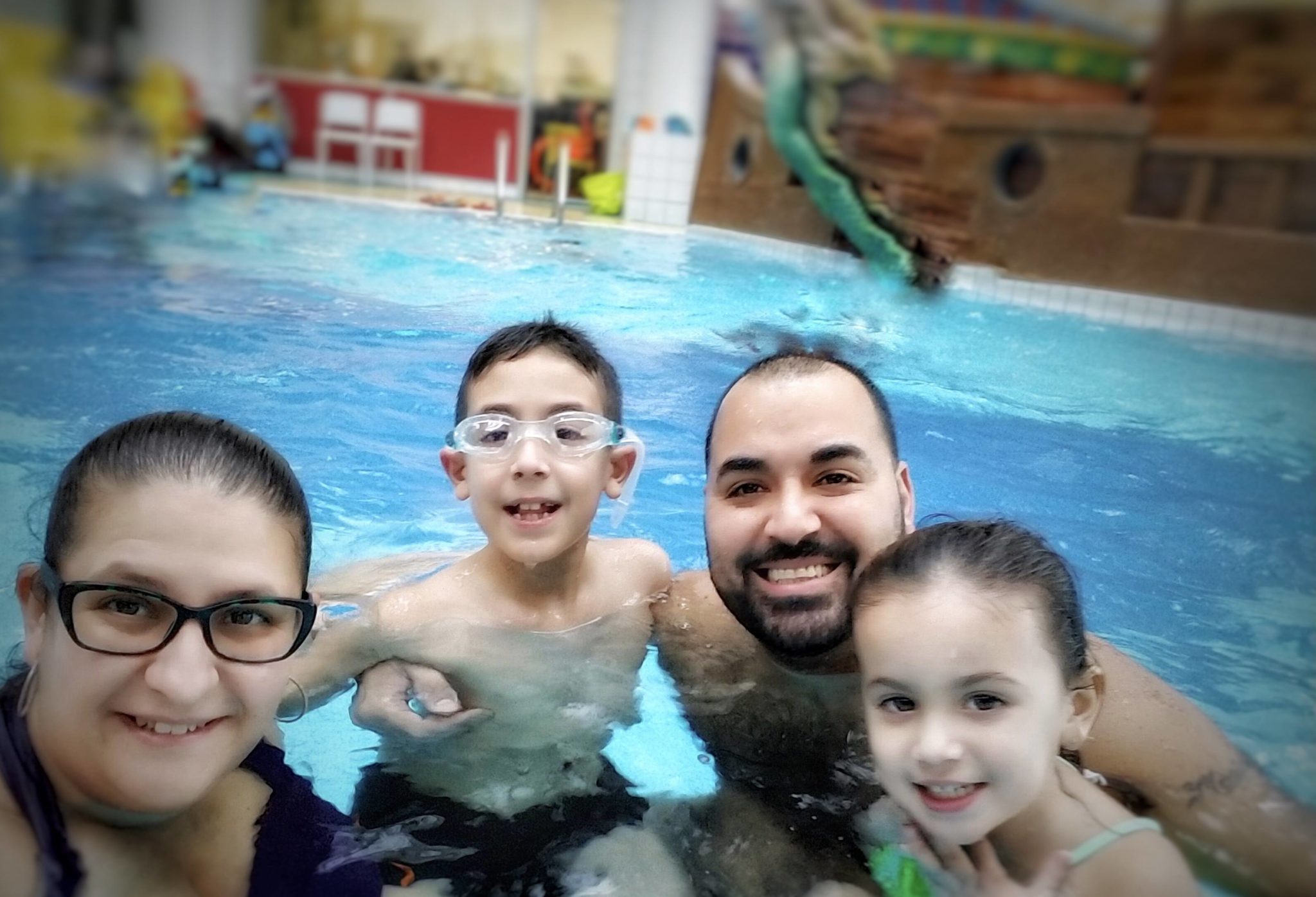 Scally Wagg's Jungle Adventure – Indoor Playground
This was another kid favorite! It also further proved that this hotel is an ideal option for families staying near Disneyland Paris. I loved that this hotel offered so many leisure activities, including an indoor playground. With two levels of fun, slides, ball pits and more, this indoor play space is like paradise for kids — and parents too!  The kids will enjoy the free play while mom and dad sit on the sidelines, kick up their feet, and enjoy some much needed down time!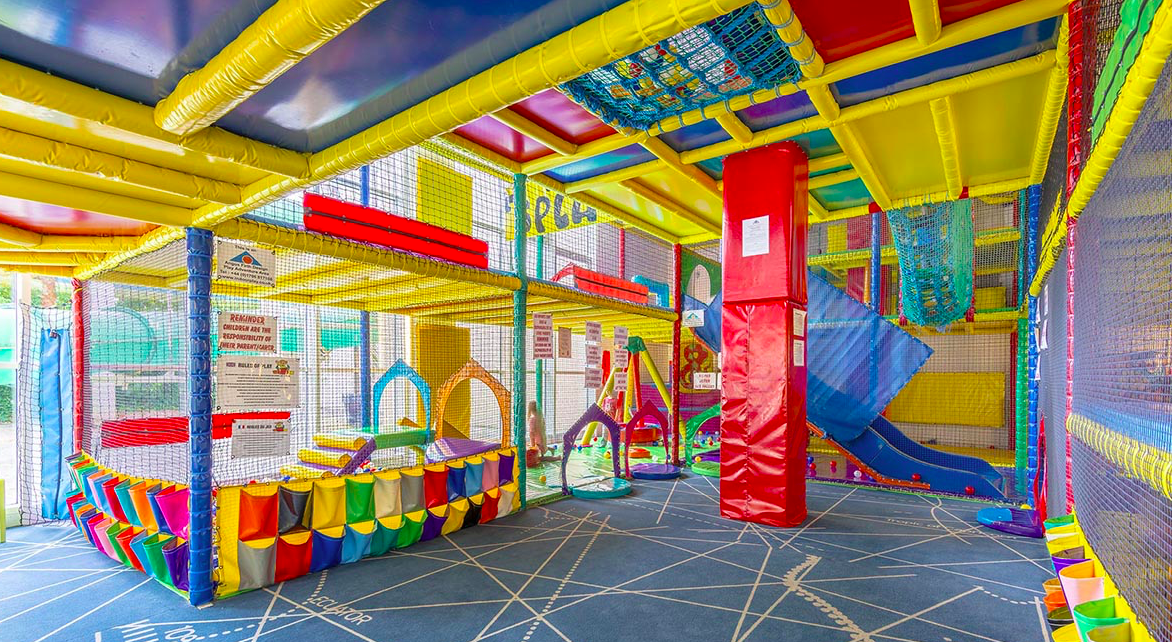 The wreck of THE SEVEN SEAS CRIMINAL – Indoor Pirate Ship Play Area
This is another great indoor play option — the vessel of one of the most fearsome pirates in the world has become grounded at the heart of this hotel! Here kids can run and play, let their imaginations run free as they steer this magical ship and battle wild pirates. All while mom and dad enjoy the comfortable atmosphere at the center of this hotel — a large open space lined with table and chairs and conveniently located at the center of the food court area, next to the pirate ship play area and right outside the indoor playground. So go ahead! Grab a bite to eat or enjoy a much needed drink while your little pirates seek out buried treasure of their own. Arrgh!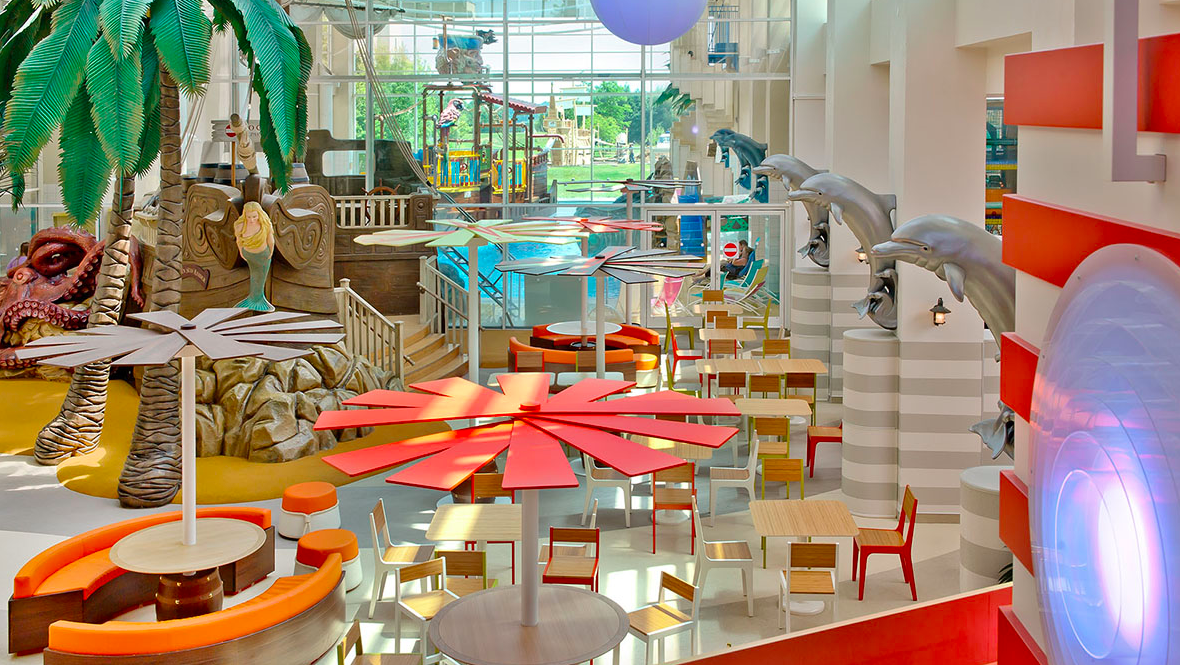 Even More Family Fun Options at Explorers Hotel
Our two night stay wasn't long enough for us to explore ALL the family fun options available at this hotel. Hopefully we'll be able to travel back one day to experience it all for ourselves. Till then, I thought it helpful to list even more options here in case you enjoy a longer stay and want to take advantage of everything Explorers has to offer.
The Dragon -Sir Archibald defeated the mighty dragon that now welcomes guests into the hotel lobby. He still growls and sometimes even breathes out smoke through his nostrils so make sure to stop by and say hello to this harmless beast!
6D Cinema – Thrill seekers wanted at the hotel's 6D cinema! Yet another fun attraction to try out at this hotel. This experience goes beyond the traditional movie theater — 3D images, moving seats, special wind and lighting effects, and sound effects to the rhythm of the film! Unfortunately, this theater was closed for repairs when we stayed at the hotel. Hopefully we'll be able to check it out next time!
Sir Achibald's Ship – My kids were sad that they didn't get to experience this outdoor playground for themselves. We traveled in winter and it rained during our time at the hotel. Nonetheless, we did see the playground from our hotel room window and it seemed like loads of outdoor fun. Since this hotel revolves around exploration and pirates, it seemed fitting that there would be a large pirate ship outside for kids to hop aboard and explore!
Children's Fitness Suite – This is another great option that we missed! How cool does a Children's Fitness Suite sound? This area is for children aged between 4 and 12 and is fully equipped with a variety of fitness equipment where children can exercise in a space that's just for them.
Video Arcade – No family friendly hotel would be complete without one! Video games enthusiasts have their own area for fun and games at Hotel Explorers. The arcade room offers fun activities to enjoy with family or friends: Air Hockey, video games, and more! Fees do apply.
[Tweet "Family-friendly options make @HotelExplorers the best hotel to stay at #DisneylandParis"]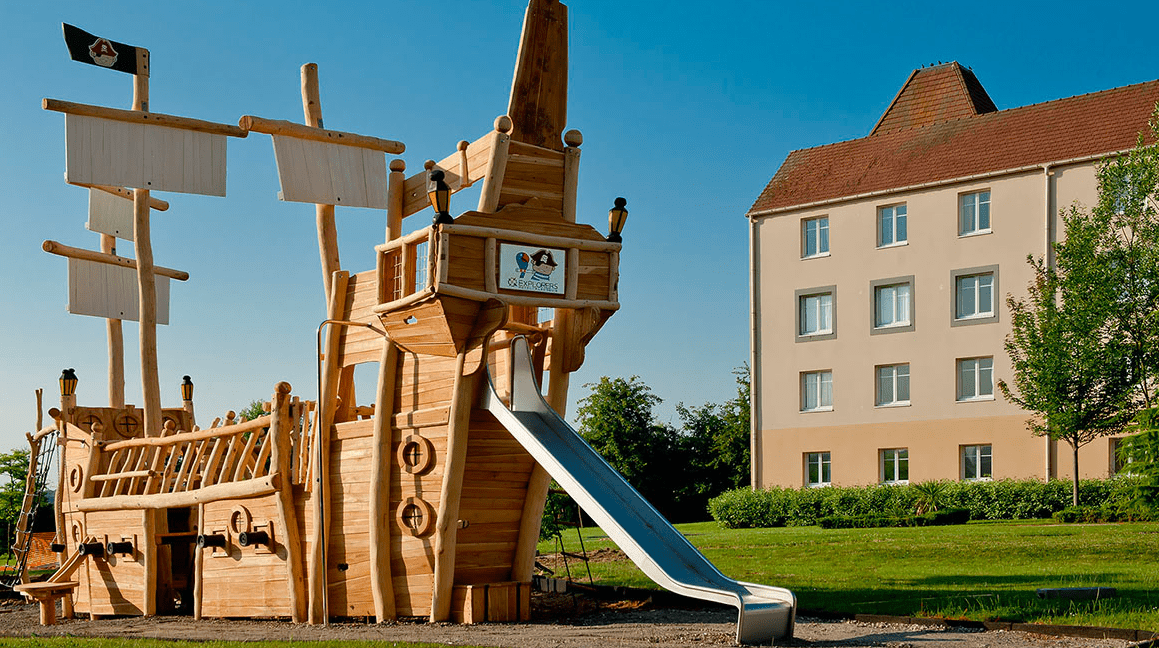 On-Site Restaurants with Many Options
Hotel Explorers offers three restaurants, two snack bars and a bar. I really appreciated the fact that we didn't have to put much thought into what to eat each day since we could eat right at the hotel. It was so convenient to fuel up before heading to Disneyland, step out of our room when we wanted to grab a bite to eat, or even take a break from pool time to grab a quick snack. Having several on-site food options always scores extra points with this mama when traveling with kids. Hotel Explorers offers great options for breakfast, lunch, and dinner so you can spend more time having fun and less time worrying about what, when, and where to feed the family. In my opinion, the variety of food options also help make this the best hotel to stay in Disneyland Paris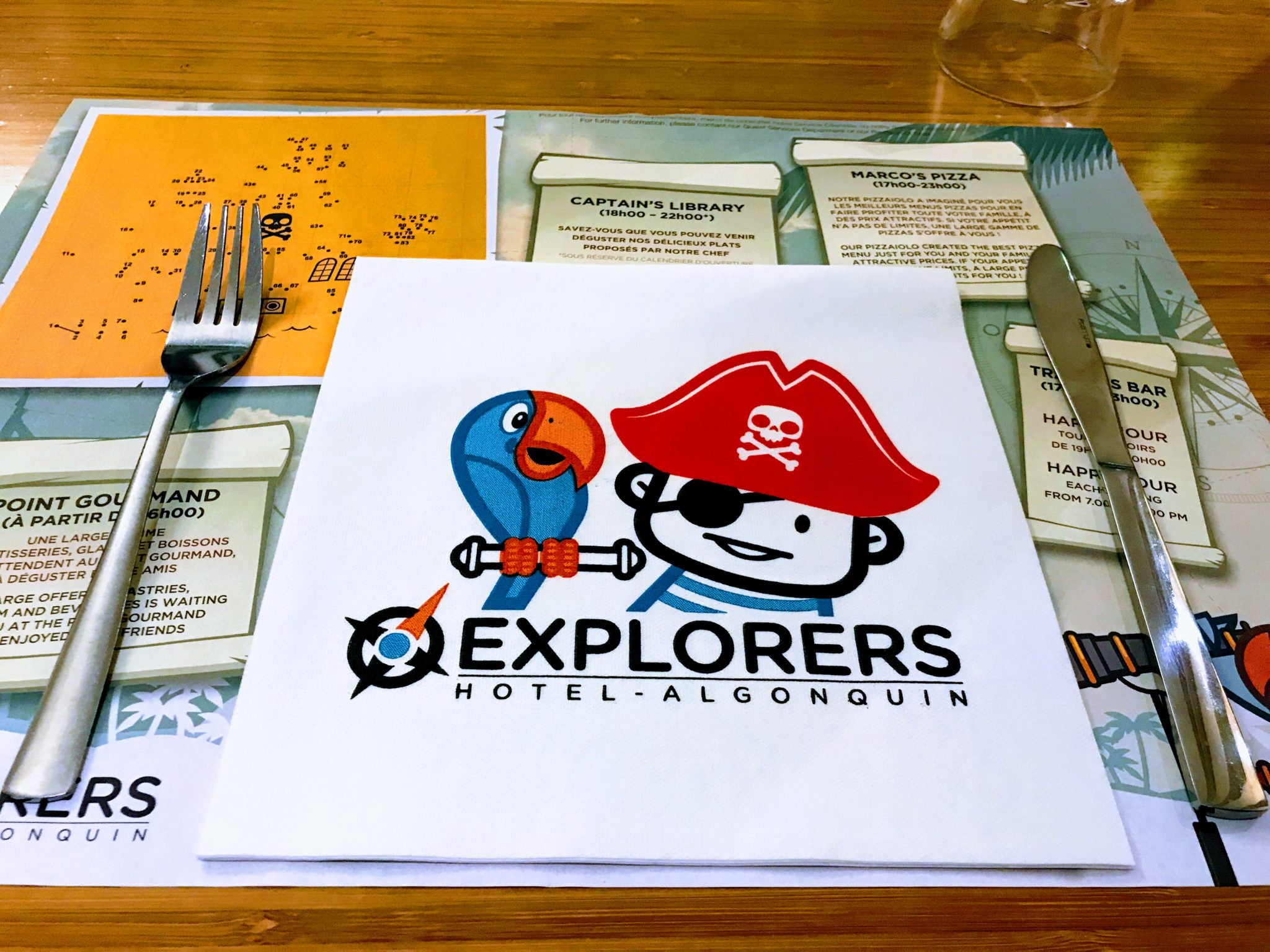 Buffet Restaurant La Plantation
Buffet-style continental breakfast is included for all guests at the Hotel Explorers! This is a big bonus for traveling families — pastries, bread, cereals, fresh fruit, milk products and hot and cold drinks will satisfy the whole family. Egg omelettes are also available on request and for an extra charge of about 2€. We found it super convenient to enjoy a nice breakfast before heading out to have fun at Disneyland!
This buffet restaurant also serves dinner. Families can choose from meat, fish and vegetarian dishes. A salad bar is also available, as well as a self-serve gelato cart with a variety of flavors to choose from. Reasonably priced, we found this to be a convenient dinner option for our family.
The Captain's Library
Treat yourself to a gourmet meal during your stay at Disneyland Paris and climb aboard Sir Archibald's vessel! The Captain's Library is an à la carte restaurant. Here you can enjoy a family meal or a romantic dinner for two in the cozy atmosphere of a themed restaurant.
Menu options include a variety of salads and main dishes. Enjoy a cheeseburger or choose other options like grilled rib steak, sausage, chicken skewers, grilled prawns, or roasted salmon. A children's menu is available for little explorers, as well as a dessert menu.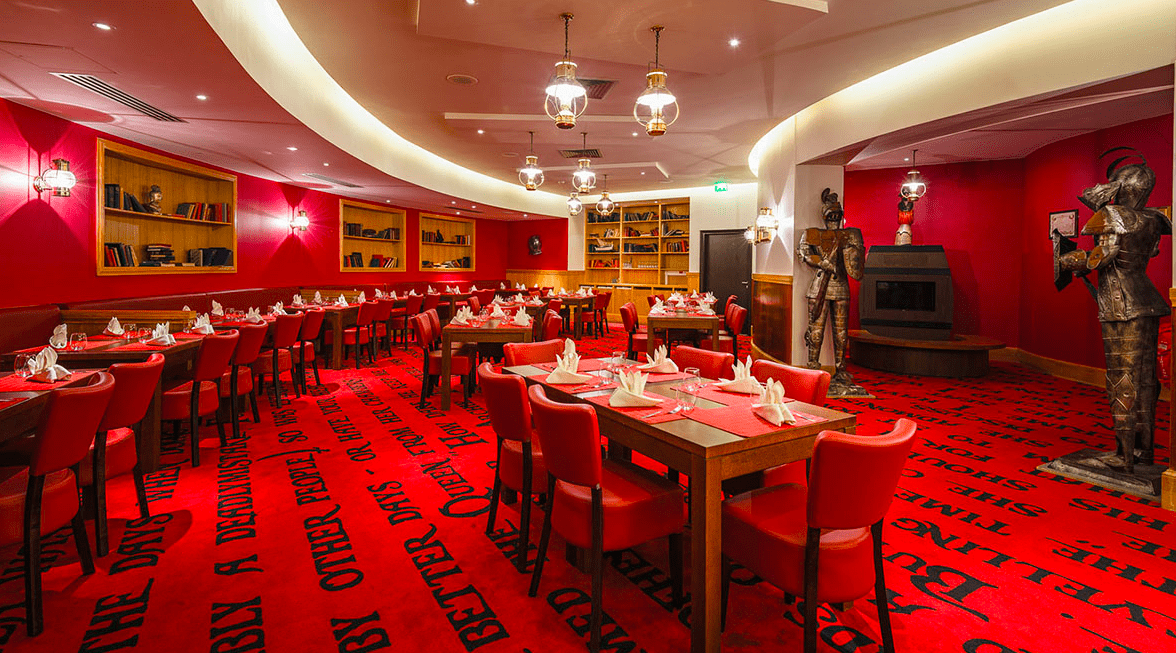 Marco's Pizza
This fast food option is located right in the heart of the hotel and what's nice is that you can enjoy your pizza while keeping an eye on your kids playing nearby. Just grab a table at the center of the hotel's food court area and enjoyed a relaxed lunch or dinner. Besides pizza, the menu also includes French fries, salads, desserts and a variety of soft drinks.
We loved this option and actually preferred it over all the others. The pizza was fresh and made to order. The kids didn't protest when it was time to take a break from playing to enjoy some food, then went right back to play. Plus who doesn't love pizza?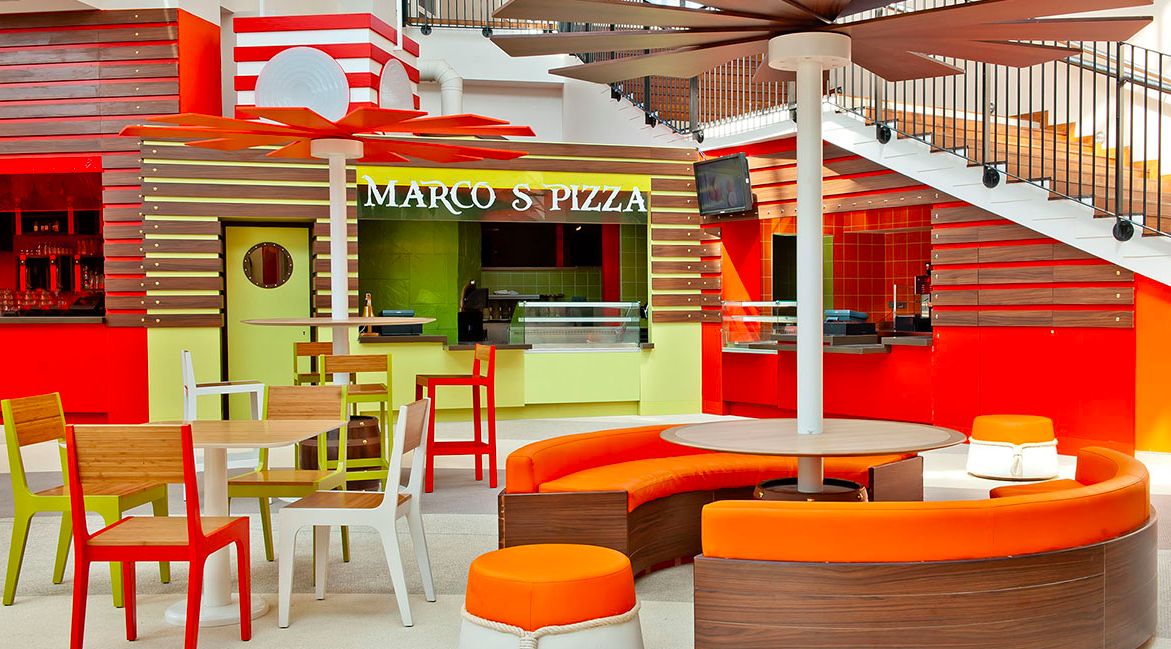 Snack Bar Point Gourmand
This is another great quick food option. Perfect for a little break and little snacks when bellies get hungry during play. The Point Gourmand offers a wide selection of pastries and other French delicacies, as well as hot and cold drinks: cookies, doughnuts, cheesecakes, tarts and muffins are served to enjoy with a cappuccino or hot chocolate.
Trader's Bar
After a visit to the Disney parks, before or after an evening meal, there is nothing better than relaxing with a glass of wine or a cocktail in the Trader's Bar. Located right in the heart of the hotel's food court, you can enjoy a nice adult drink while keeping an eye on the kids as they play in the nearby playgrounds. Really doesn't get much better than that!
Sandwiches La Brioche Dorée
This is a great lunchtime option —  enjoy a fresh sandwich, panini or salad. La Brioche Dorée also serves a wide variety of pastries, desserts and hot and cold drinks that the entire family to enjoy!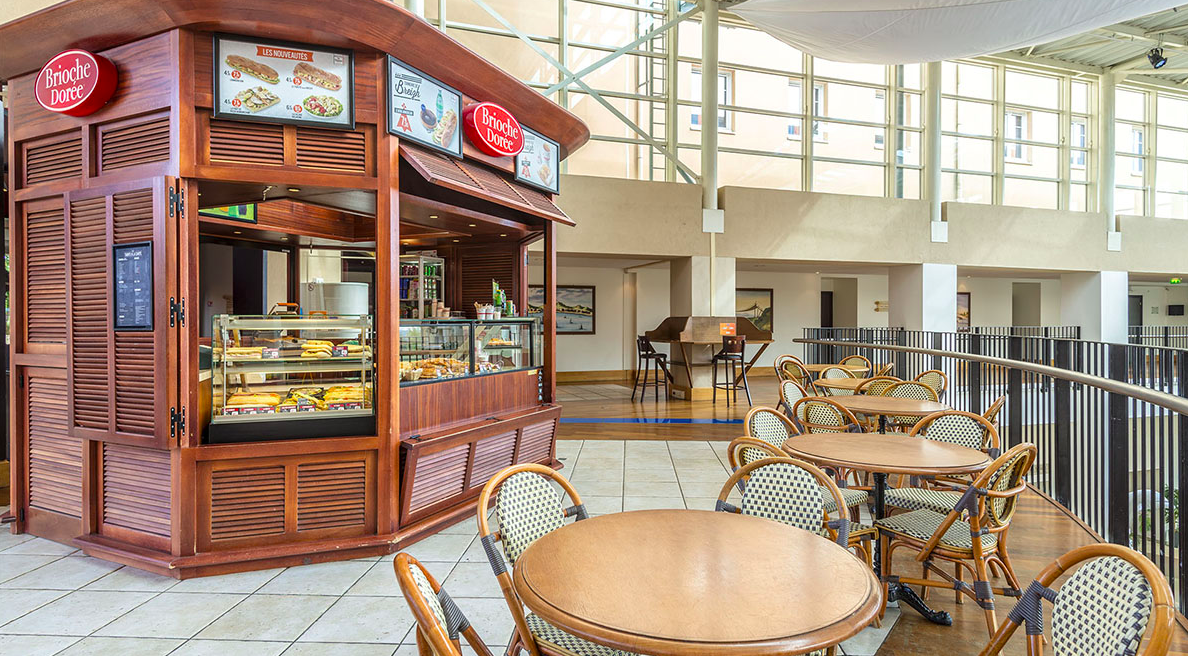 The only downside to our Disneyland trip was that we couldn't stay longer! Explorers Hotel was the perfect choice for our family and it helped make our Disneyland visit even more magical. We hope to be back one day and wouldn't think of staying anywhere else. Explorers Hotel really is the best hotel to stay in Disneyland Paris. I know your family will agree!
Don't forget to "Pin" this for later!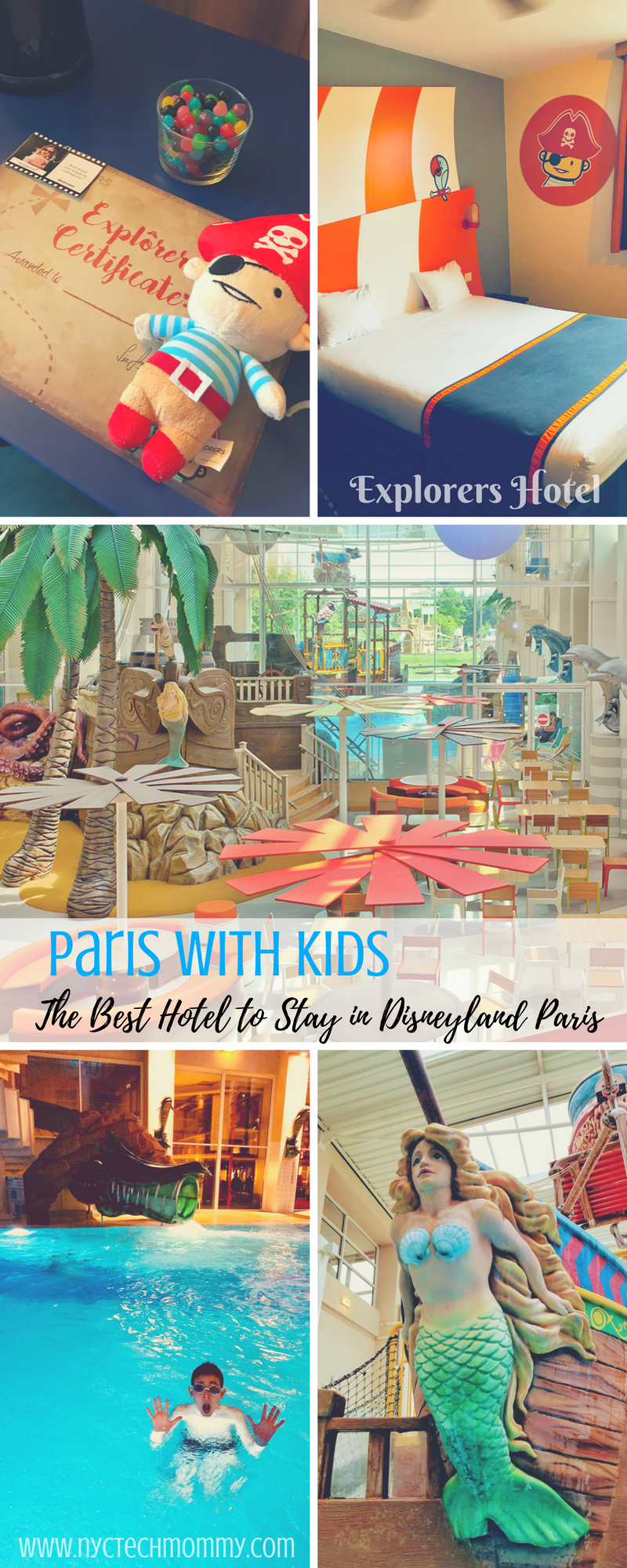 Have you ever stayed at Explorers Hotel? Which of their offerings do you think your family would appreciate the most? Let me know in the comments section below.
Disclosure: We received a welcome gift from Explorers Hotel (including pirate and parrot plushies, sweets, and 6D theater tickets). All thoughts and opinions are my own and as always I only share what I love and think you will too!
You May Also Like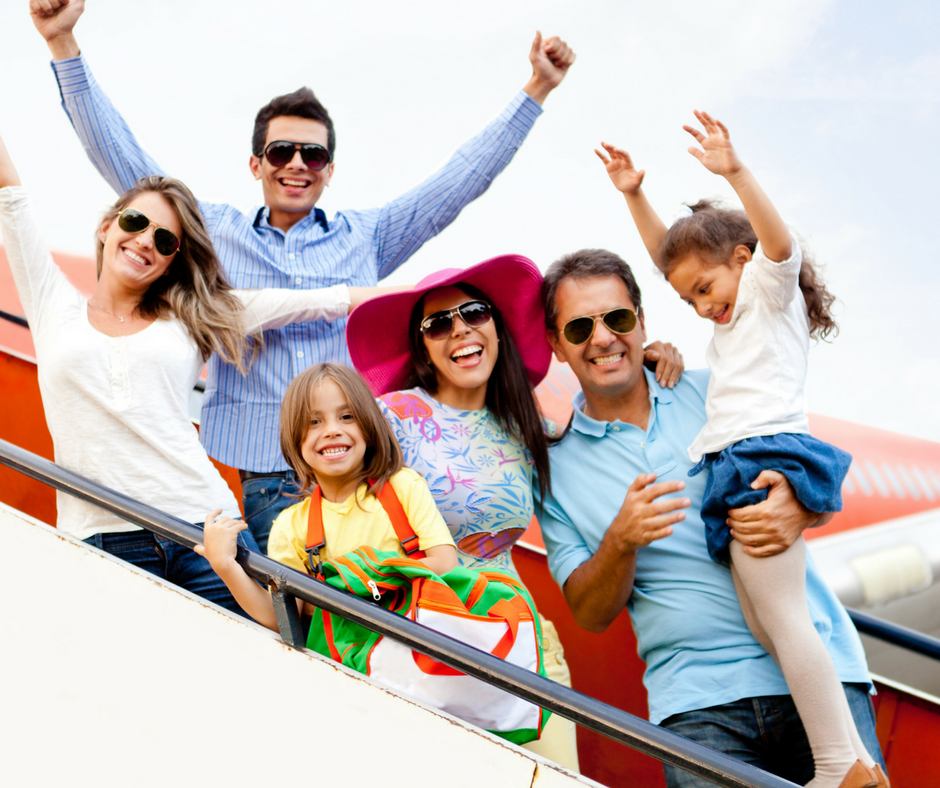 December 20, 2017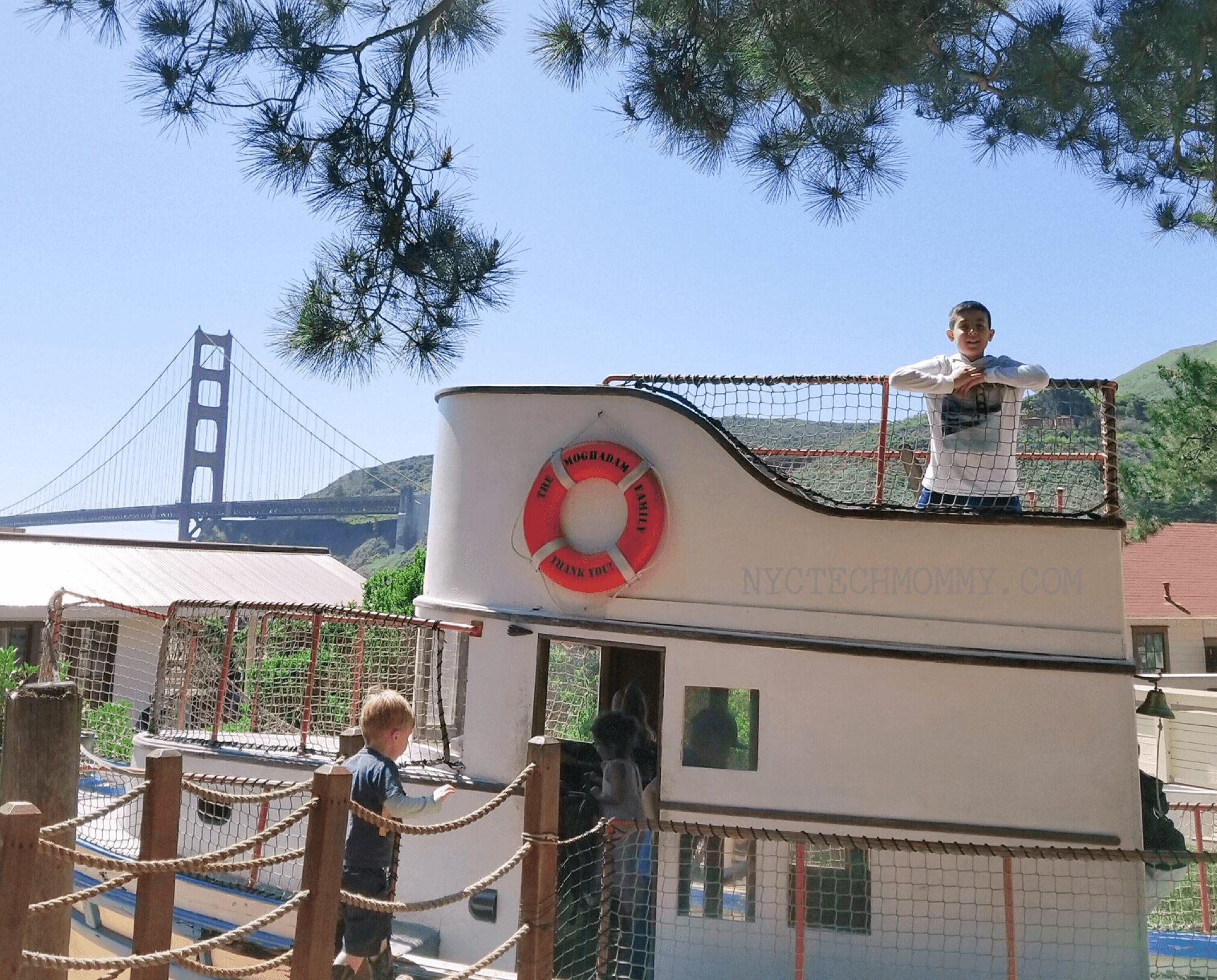 May 21, 2018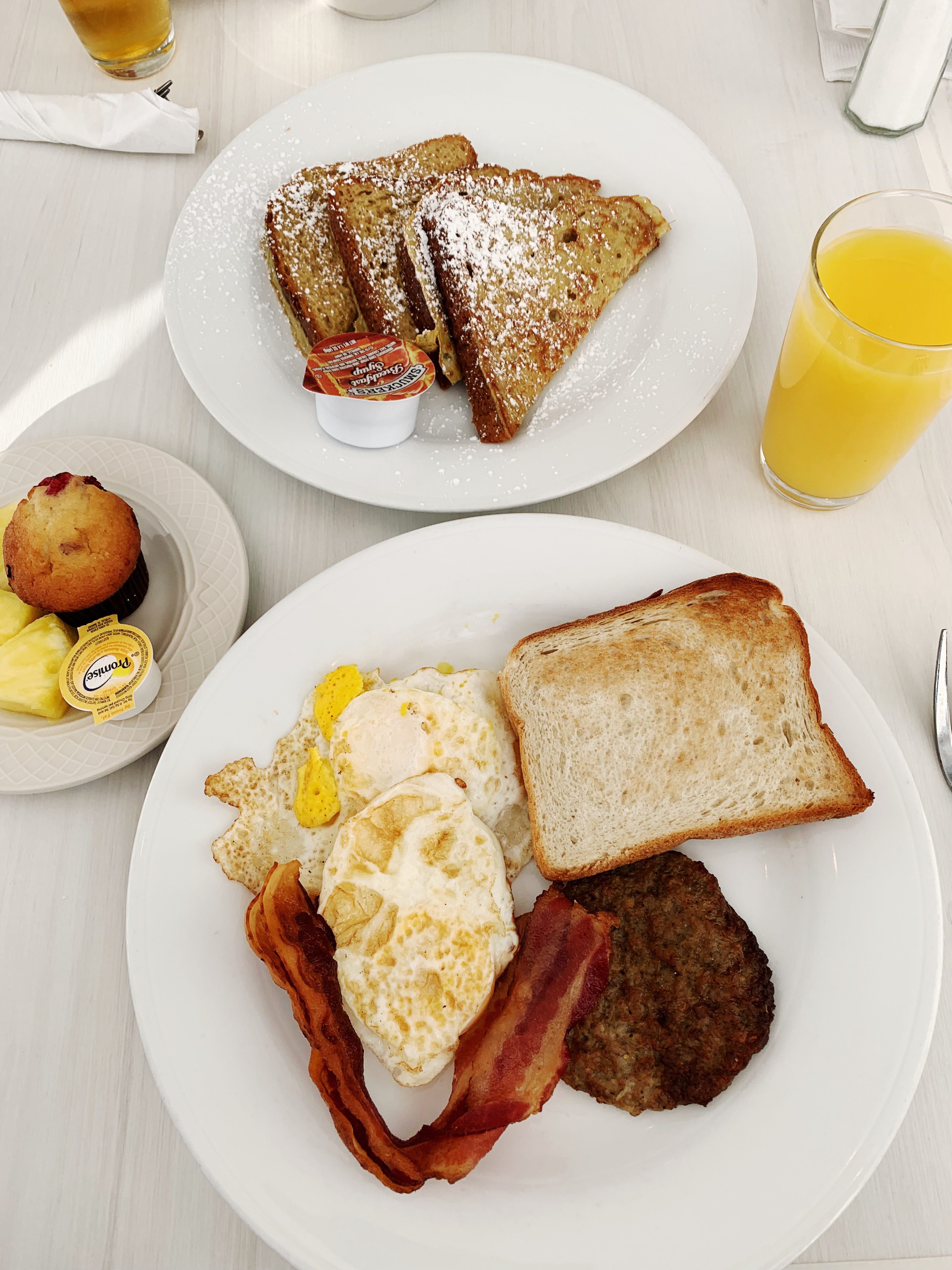 January 21, 2019