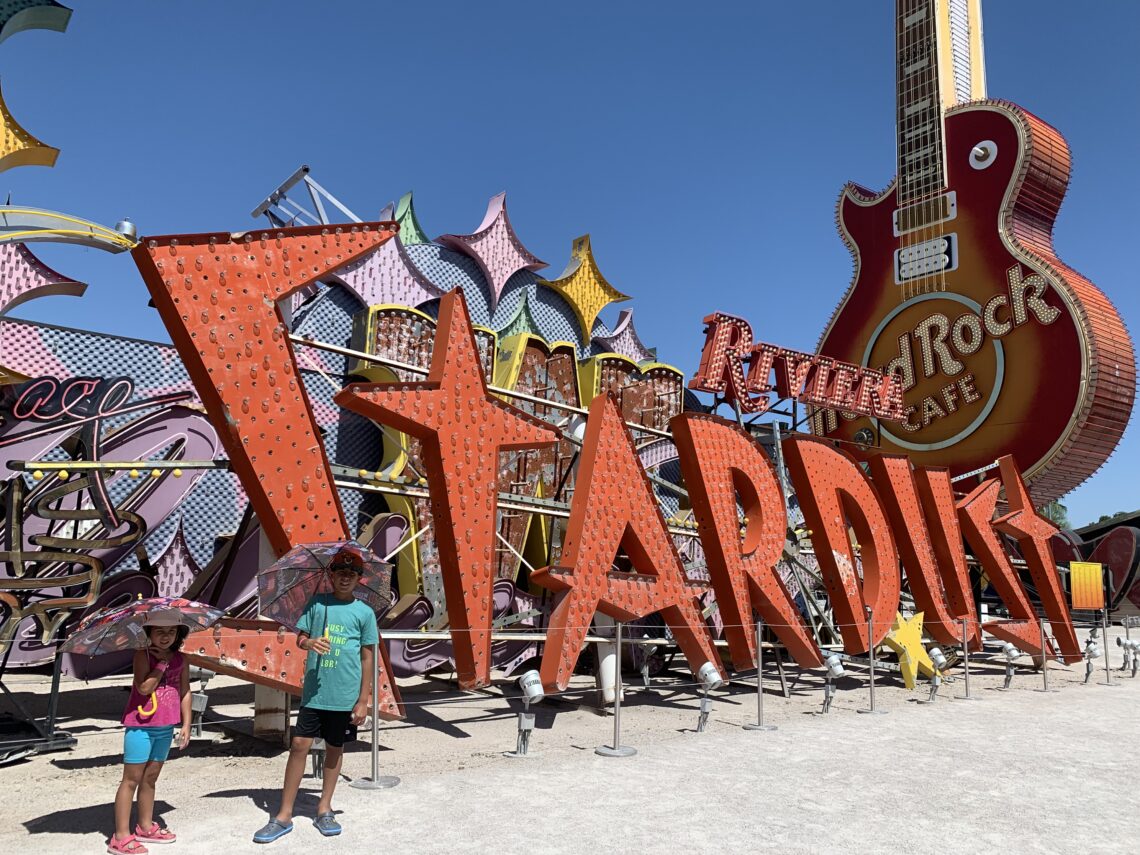 Take the Kids to Vegas? Never thought we'd do that but we did!
Viva Las Vegas – with kids! I'd never thought I'd take the kids to Vegas but we recently did and it was one of our best family travel experiences ever. I can't believe we didn't do it sooner! If you've been thinking about taking the kids to Las Vegas, do it! Here is a little recap of our own trip, where we stayed, what we did with kids in Las Vegas, and why you should totally take the kids next time you plan a trip to Vegas. Read on!

I've been to Vegas a ton of times and never even considered taking the kids. Until this past January when I was in Vegas attending CES and realized that the Las Vegas Strip on Las Vegas Boulevard was fully congested with traveling families, tons of little kids and parents pushing strollers. Why were they here? Most often we think of Las Vegas as an adult's only experience. But Las Vegas has changed a lot since the 90's when it originally started attracting families and began transforming itself into the great family-friendly destination that it is today.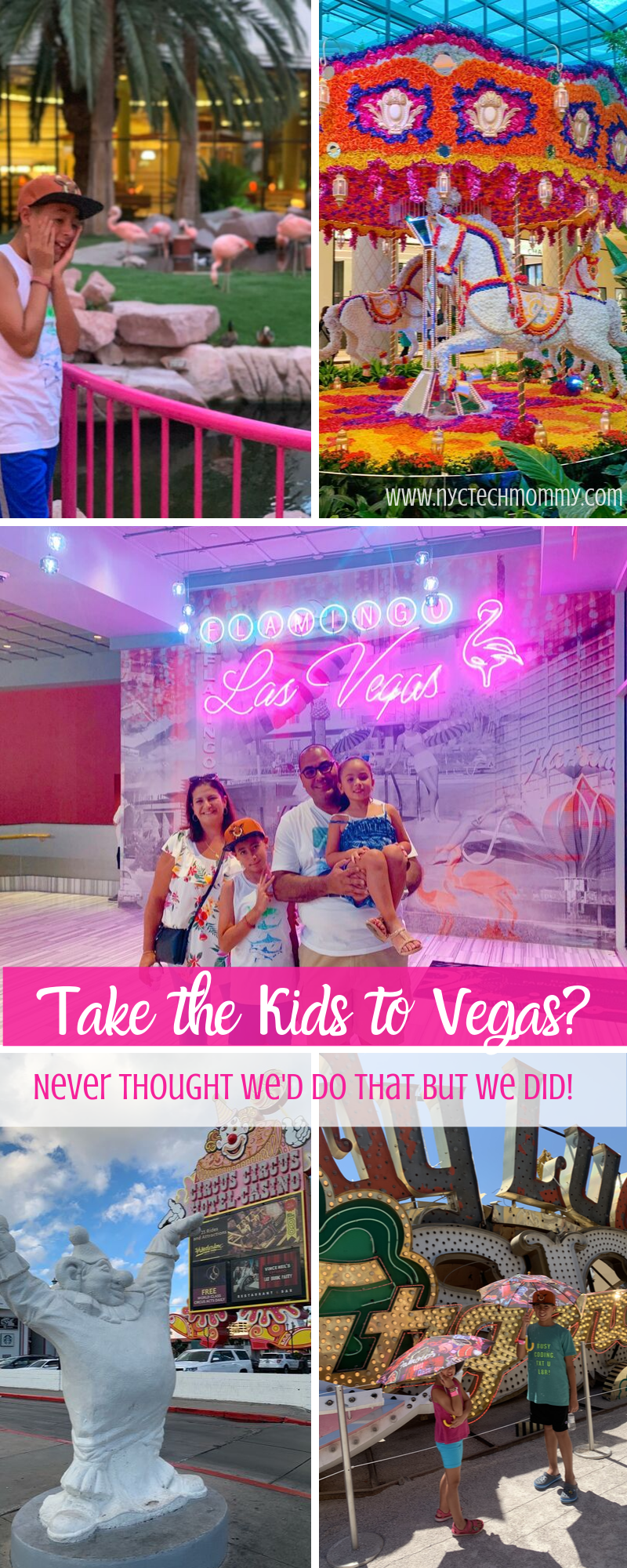 As we started planning our Epic Family Road Trip this summer, (I've been sharing all the details over on Instagram so hope you've been following along there) I searched and searched for the best travel deals to get us to California. Las Vegas just happened to pop up in one of my search results. The husband and I have taken the road trip from Las Vegas to California before and loved it. We thought it would be fun to do it with the kids this time. We were excited to kick off our big summer road trip in Vegas. Plus flying into Las Vegas was way cheaper than flying into Los Angeles. I was sold!
Las Vegas here we come, with kids!
Where to Stay in Las Vegas with Kids
I knew we needed to choose family-friendly accommodations so that everyone would be comfortable and enjoy a little down time before hitting the road for 2+ weeks on our next big adventure in California. Las Vegas is known for their fantastic hotels and resorts. Many at great prices too! I've stayed at several and have my favorites. But I wasn't sure that I wanted to stay at any of them during our first time in Vegas with kids.
When traveling with the kids I always prefer to choose like-home accommodations. Anytime I can find a place that offers a kitchen, multiple bedrooms, bunk beds, or just some added space that I know will make everyone more comfortable, I'm on it. So when I discovered that the Hilton Grand Vacations property on the Las Vegas Strip offered efficiency accommodations (like an apartment), I knew that's where we had to stay.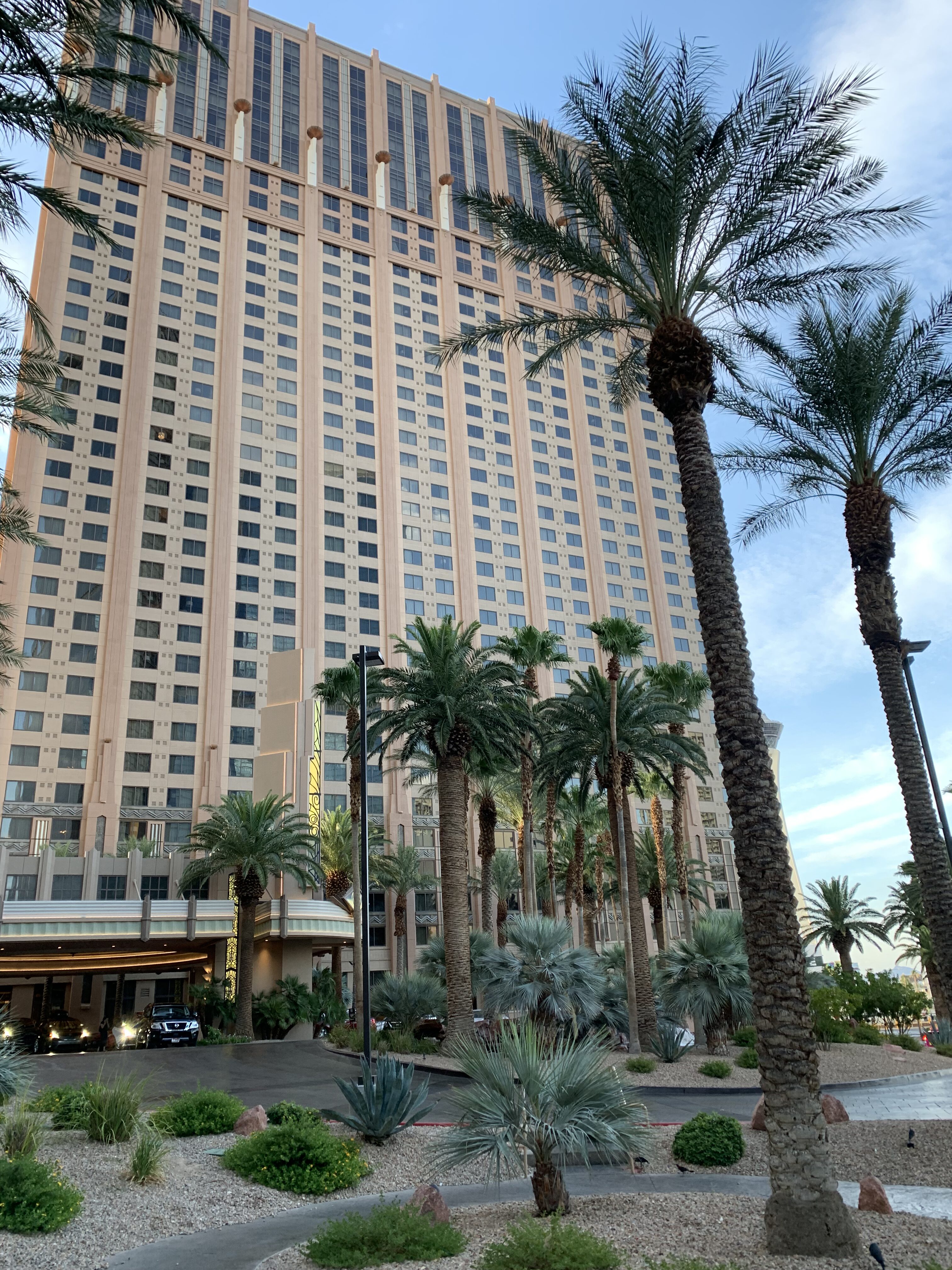 Hilton Grand Vacations is a vacation-ownership company. They offer time-shares and accommodations of that sort. However, you can still book with them even if you don't own with them. A quick online search helped me find just the accommodations I was looking for and I secured it at a great price. You can find everything from accommodations to discounted show tickets on Vegas.com. Click below to book now!
We stayed in a one-bedroom apartment. You might have seen our hotel walkthrough over on Instagram. The accommodations were super spacious. I was impressed! The husband and I had our own King size bedroom. The kids had a comfortable pull out couch in the living room. We enjoyed the convenience of making breakfast each morning and prepping quick snacks and meals throughout the day. As you can imagine, this always saves us tons of money when traveling with picky eaters.
That's not to say that there aren't other great family-friendly options when visiting Las Vegas with kids. I recently discovered that The LINQ and Flamingo now offer bunk bed rooms. So as you can see, Las Vegas is really trying to accommodate families these days! You are sure to find a great place to stay if you take the kids to Vegas.
Things to Do in Las Vegas with Kids
Do All The FREE!
As soon as we arrived in Las Vegas with kids, I knew we had to take advantage of all the free things to do here. There are endless amounts of fun and FREE experiences to be had in Las Vegas with kids. I mean, just take a long walk down the Las Vegas strip and that alone can fill your days with entertainment that's FREE and fun for the entire family.
Visit the Flamingos at the Flamingo Las Vegas Hotel and Casino
One of our first stops in Las Vegas with kids was the Flamingo Las Vegas Hotel & Casino. For one, it's one of my favorite retro hotels in Las Vegas, full of pink vintage charm. This historic hotel is smack-dab in the middle of the Las Vegas Strip and it's all about the pink flamingos. And who doesn't love a gracious flamingo? My kids are obsessed with them!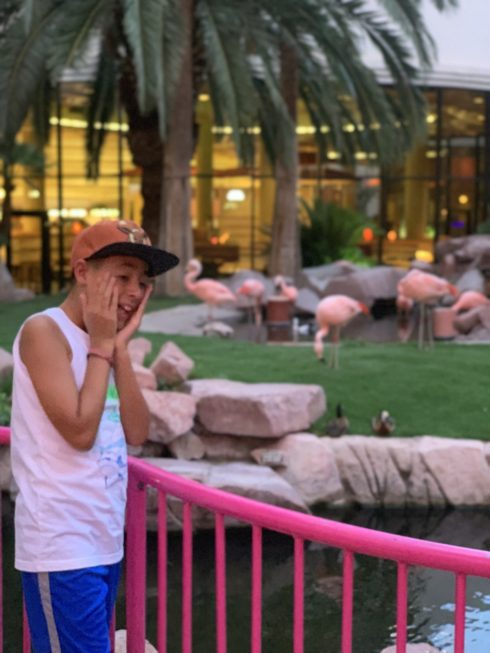 The Flamingo Wildlife Habitat at this hotel, a lush 15-acre habitat for exotic birds and more, is totally free to visit and home to a beautiful flock of Chilean flamingos. Here you can also see a colorful collection of other feathered friends. There are even two brown pelicans and other cool animals to check out — swans, ducks, parrots, koi fish, turtles. It's open daily from dawn to dusk and for even more fun you can stop in during one of their pelican feedings (at 8:30 a.m. and 2 p.m. daily). There are even photo ops with the resident parrots!
We stopped in on a late afternoon so we missed the pelican feedings and parrots but had lots of fun just observing the flamingos and snapping photos.
After making friends with the cool pink birds we went on to explore some of the shops inside the Flamingo Las Vegas Hotel and Casino and found so many adorable flamingo themed items for purchase. From cute notebooks to flamingo themed Christmas trees. You name it, they had it in flamingo. Of course, my kids coned me into buying them a cute fuzzy flamingo to bring back home as a "souvenir".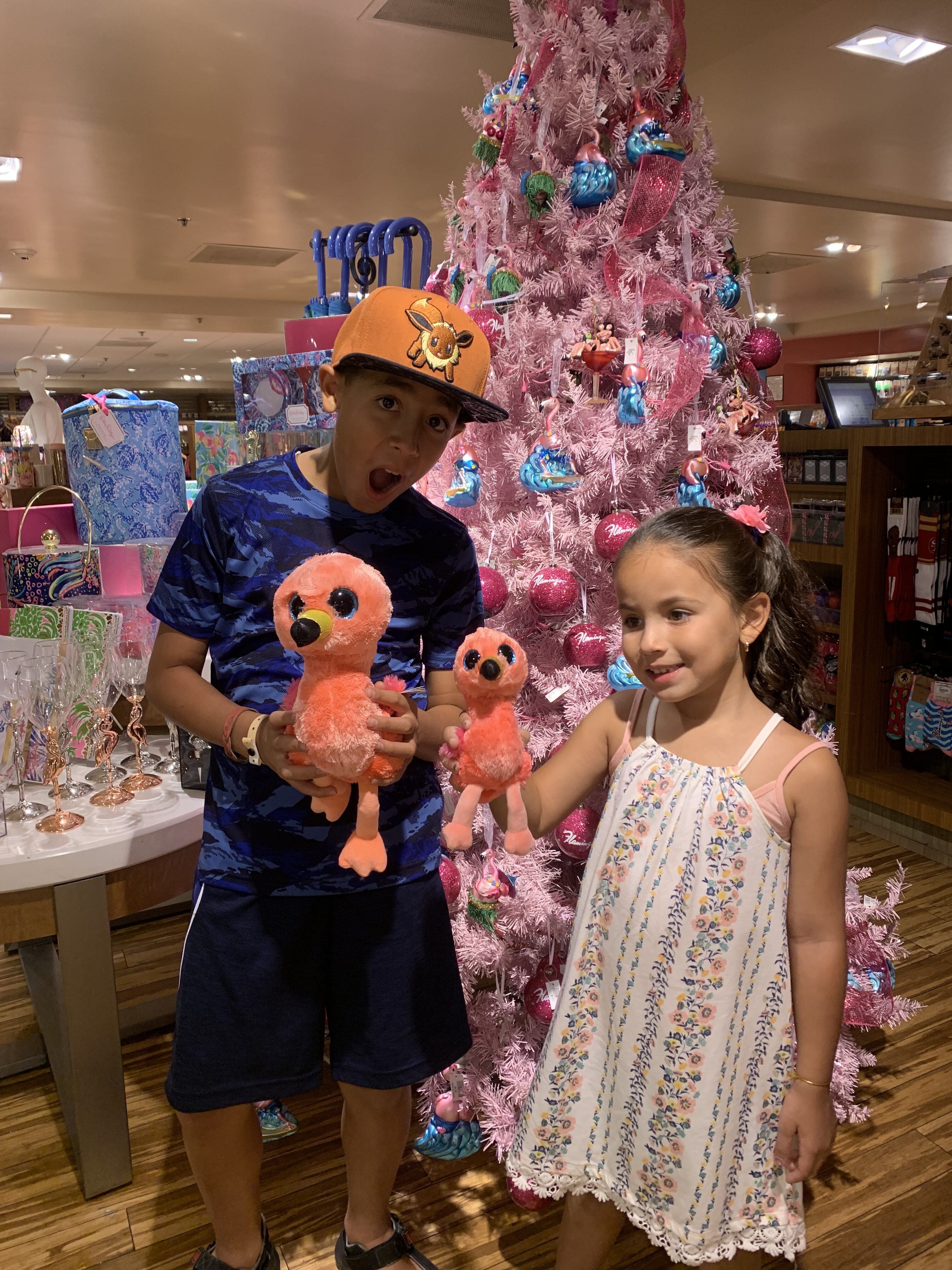 Visit the LINQ Promenade
Once we were done making friends with cool birds, we stepped right outside and walked into The LINQ Promenade which sits right between the Flamingo Las Vegas and The LINQ Hotel Las Vegas. The LINQ Promenade is a great place to explore with the family. I can't guarantee that you won't spend money here but it is totally free to walk around and take in the sights.
The LINQ Promenade is lined with great restaurants and quick bites to eat. We always make sure to stop in for a bite at In-N-Out Burger. Here you'll also find cool shops and attractions like the Fantasy Dome and the High Roller Observation Wheel (more on that a little later in this post). There's also the FLY LINQ zipline and the Jimmy Kimmel's Comedy Club.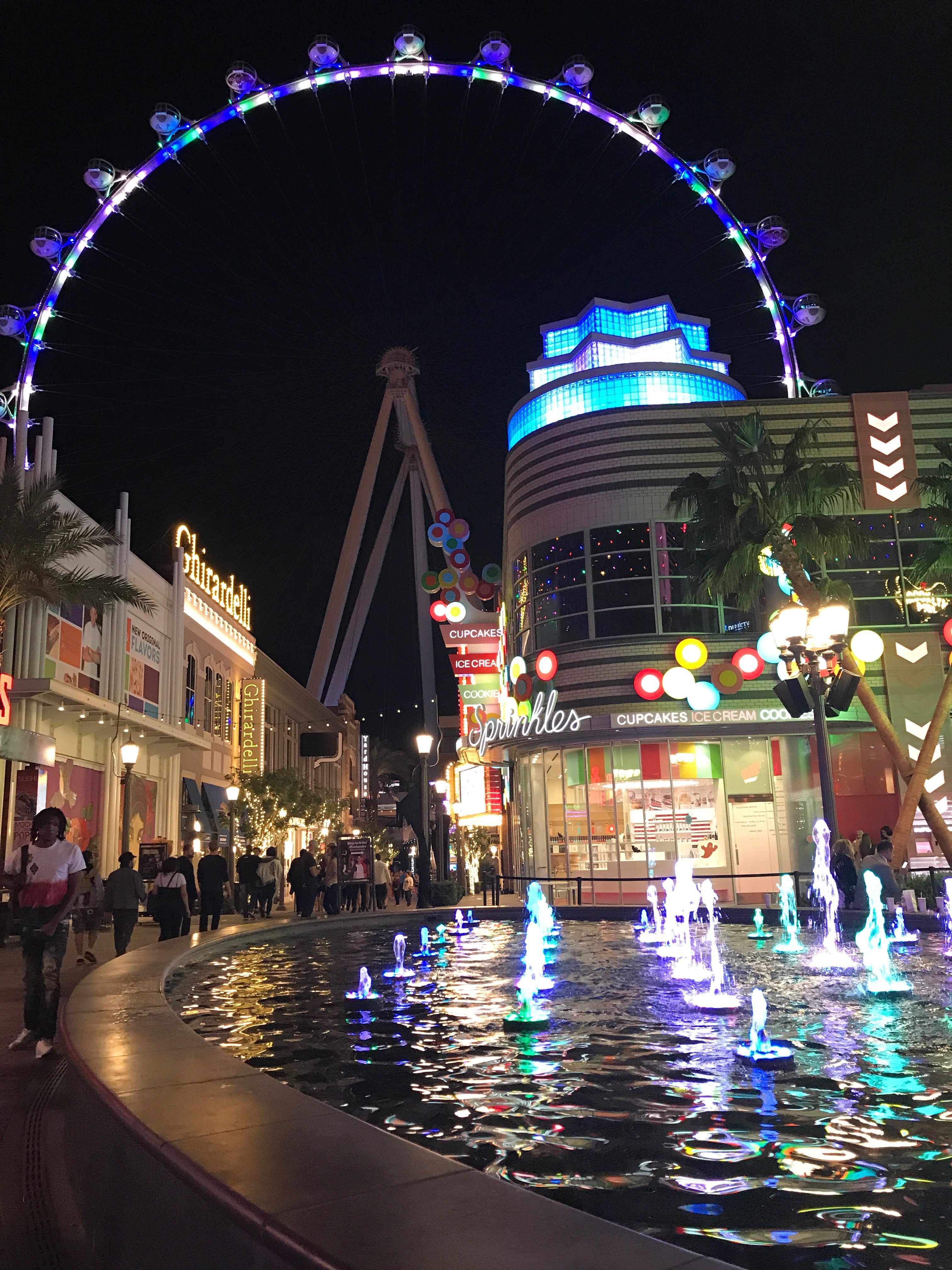 And the Las Vegas Strip is the place of water fountains so of course you'll find one here. We sat at the water fountain and enjoyed the colorful dancing water display as we chowed down on our In-N-Out burgers. It's a must when visiting Vegas with kids!
Check Out the Fountains of Bellagio Water Show
Las Vegas is famous for it's over the top hotels and attractions and there is no shortage of sidewalk entertainment here — including dancing water fountains. Like I said before, the Las Vegas Strip is the place of water fountains! Here you'll find many but there's none more majestic than the water fountains outside the Bellagio Hotel and Casino.
There's nothing like seeing the iconic Bellagio water fountains in person. This is one of the most popular free Las Vegas attractions on the Las Vegas Strip. Daily shows that happens every 30 minutes from 3pm to 8pm Monday through Friday and every 15 minutes from 8pm to midnight. Weekend hours are different and vary on Saturdays and Sundays. You can see the full dates and times here.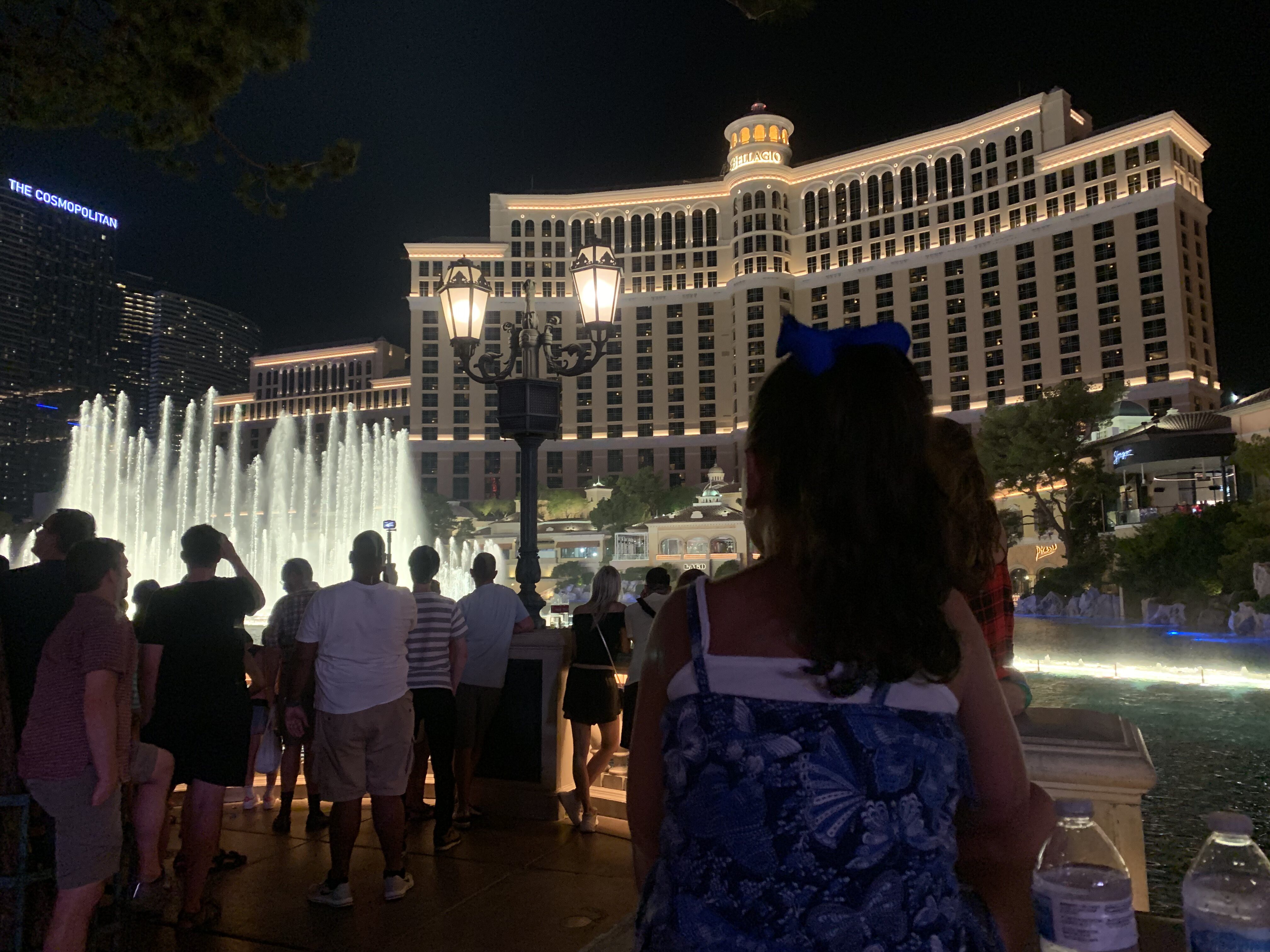 What's great is that each show or performance is unique so no matter how many times you see it, it's always a totally new experience. The fountains dance to a wide array of tunes each time — opera, classical, Broadway and pop tunes. My favorite is when they perform to My Heart will Go On by Celine Dion.
My kids loved this! We viewed the Bellagio water fountain show more that once and from different angles too. One day we found a nice spot right in front of the fountain and took it all in. Another day we caught the show from a window inside the Bellagio as we picked up some Starbucks. We even watched it from above as we took a ride on the High Roller (more on that further on in this post). So amazing!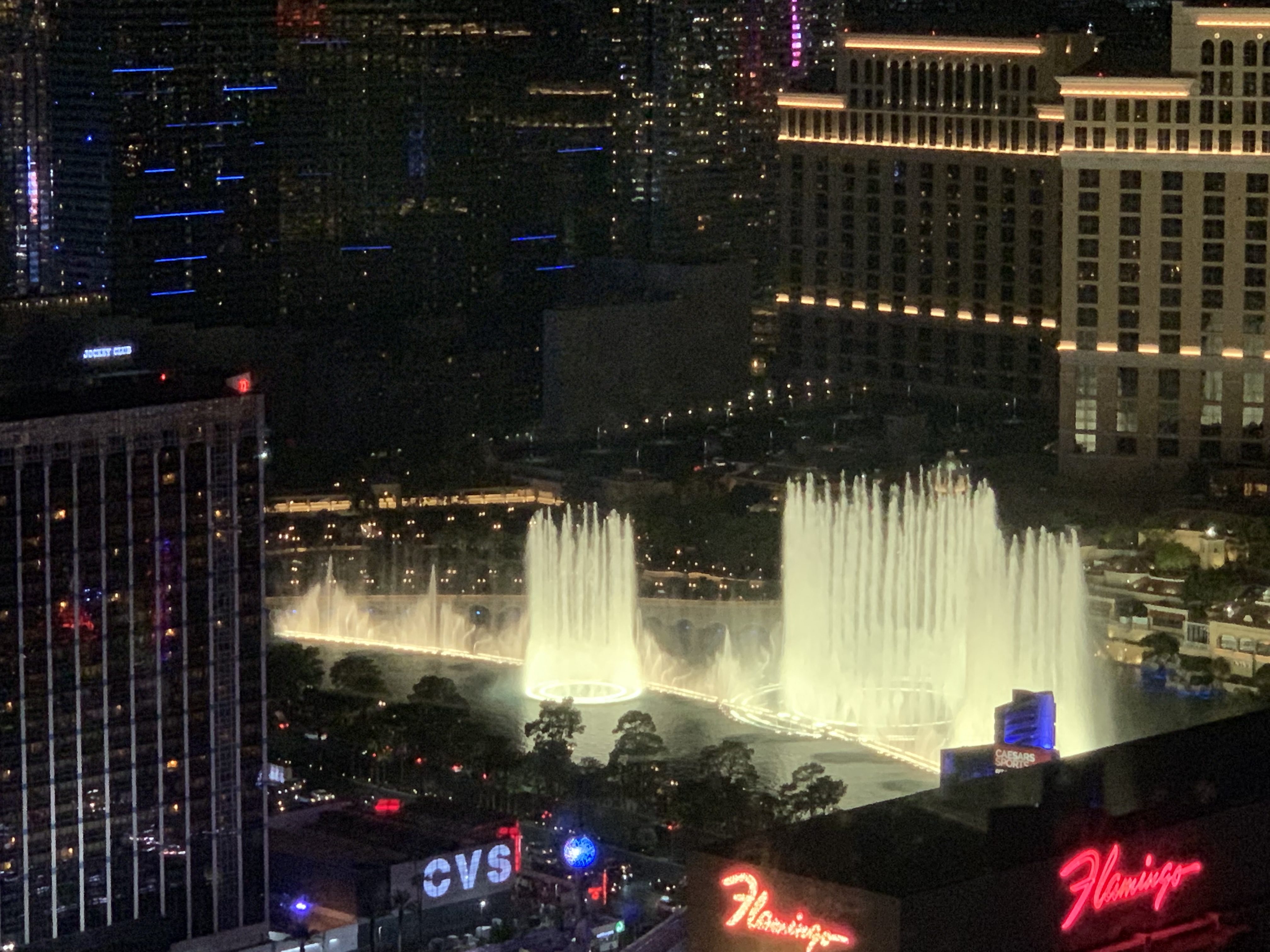 Take in the Wynn Fountains
Another fountain that I love is the dancing fountain that sits right outside the Wynn Esplanade at the Wynn Las Vegas. It's also totally free but unlike the Bellagio fountains it doesn't take 15-minute breaks. This means you can walk by at anytime and take in an amazing show. My kids loved it!
I also love that these fountains light up when the sun goes down. Not only do you get to experience a great water show, you also take in a great light show. The fountains dance to the music as they go from one song to the next. I love that they dance to great tunes too! On our last visit we saw it dancing to "Be Our Guest" and the kids really enjoyed that. During past trips I've also heard jazzy tunes, hits by Fran Sinatra, and more! These fountains aren't as big as the majestic Bellagio fountains but totally worth a stop if you are exploring the sights of the Las Vegas strip.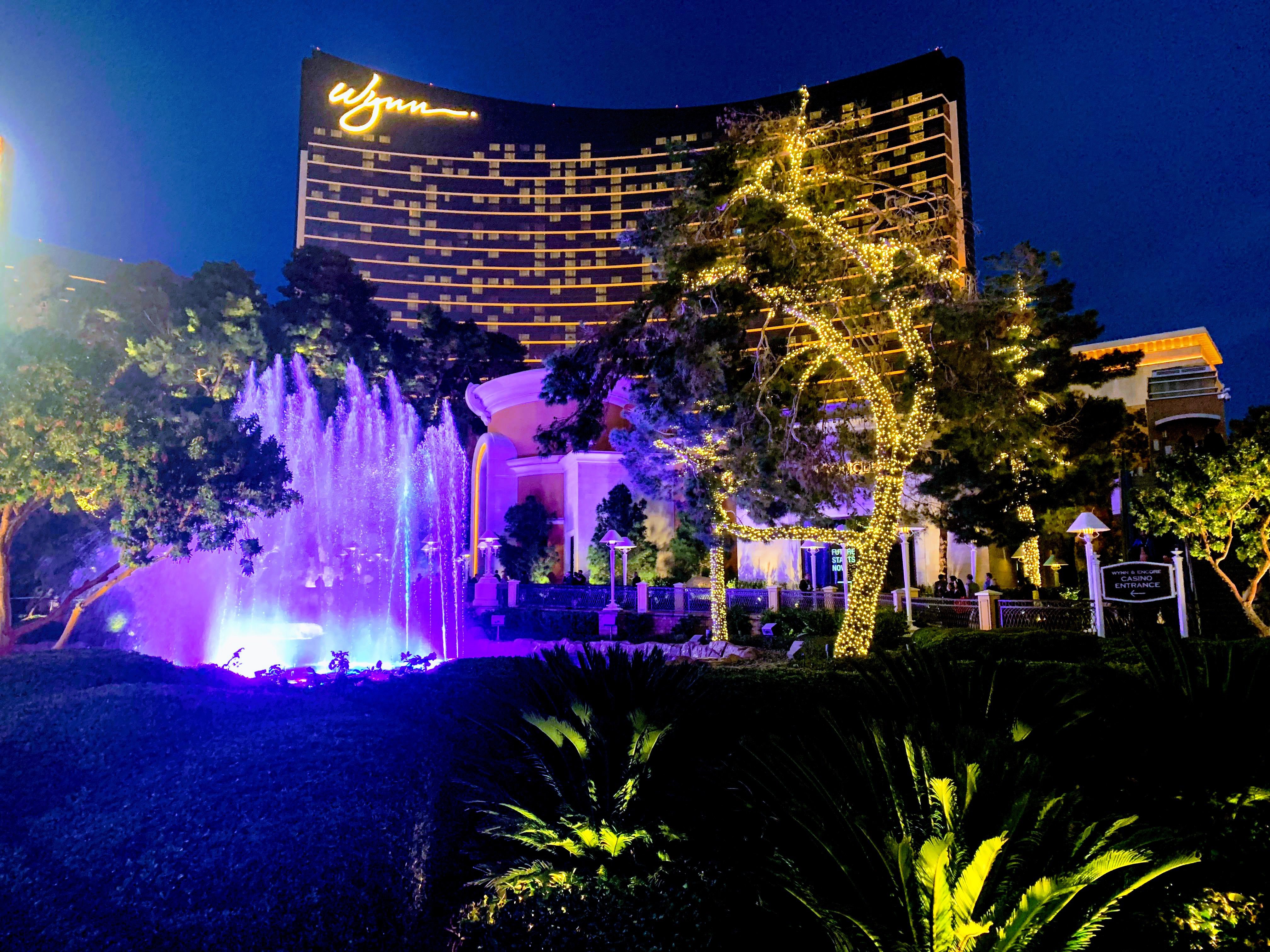 And much more!
But don't leave the Wynn without exploring a bit further. Right outside the Wynn Las Vegas you'll also find a beautiful waterfall.
Step inside the hotel and take in the Lake of Dreams Show. It's free but fully enclosed and visible only to viewers within the Wynn Las Vegas. Lake of Dreams is a magical production of music and imagery, stunning hologriphics and puppetry. Take the circular escalator down from Parasol Up at Wynn and you can see this dazzling show take place right in front of the 40-foot waterfall. You can grab a seat on the show terrace for a water's edge view or take in the show while grabbing a bite to eat at one of their two open-front restaurants, Lakeside or SW Steakhouse. This dazzling water show starts at 8pm nightly and runs every half hour. It's fantastic!
Also you'll want to make sure to stop in and explore the beautiful eye-catching indoor garden displays. We ran out of time during this trip and didn't get to explore this with the kids. However, last time I was in Vegas I loved checking out the carousel and hot air balloon completely made out of flowers. Impressive!
See a Free Circus Act at Circus Circus Las Vegas
The Circus Circus Las Vegas Hotel & Casino is home to the world's largest permanent circus. A wide variety of circus acts take center stage daily at the Carnival Midway. Best of all, it's FREE! Performances start daily at 11:30 a.m.
Kids of all ages will love the High Flying Trapeze acts, wild and wacky Circus Circus Clowns, numerous juggling acts, Acrobats of China, and the fantastic feat of balance and skill using a ladder and the German wheel from Russia. It's a fun time for all and we really enjoyed these free performances!
Stop in and Smell the Flowers at the Bellagio Conservatory & Botanical Gardens
Las Vegas is also home to gorgeous, over the top gardens and floral displays. None is bigger and prettier than the seasonal floral displays at the Bellagio Conservatory and Botanical Gardens. Each season this 14,000 square-foot indoor garden is transformed into a breath-taking masterpiece of distinctive sights and colors to match the current season.
We visited during summer and found a beautiful display of fragrant flowers, majestic swans, and sunny skies. It's a huge space and super popular with tourists so make sure to have your cameras ready when you visit!
Cool Off & Go For a Swim
Las Vegas is located in the middle of the Nevada dessert so it gets really REALLY hot here, especially during the summer months. If I had to do anything different when planning our next Vegas trip with kids I would choose to skip going during summer. During our trip the temperatures got up as hight as 110 degrees. CRAZY HOT!
Luckily, Las Vegas is also known for it's amazing hotel pools and many are family-friendly. We stayed at the Hilton Grand Vacations property and I was happy that they had a great big family-friendly pool on site. We spent most of the day splashing around. It really was way too hot to do much else during sunlight hours.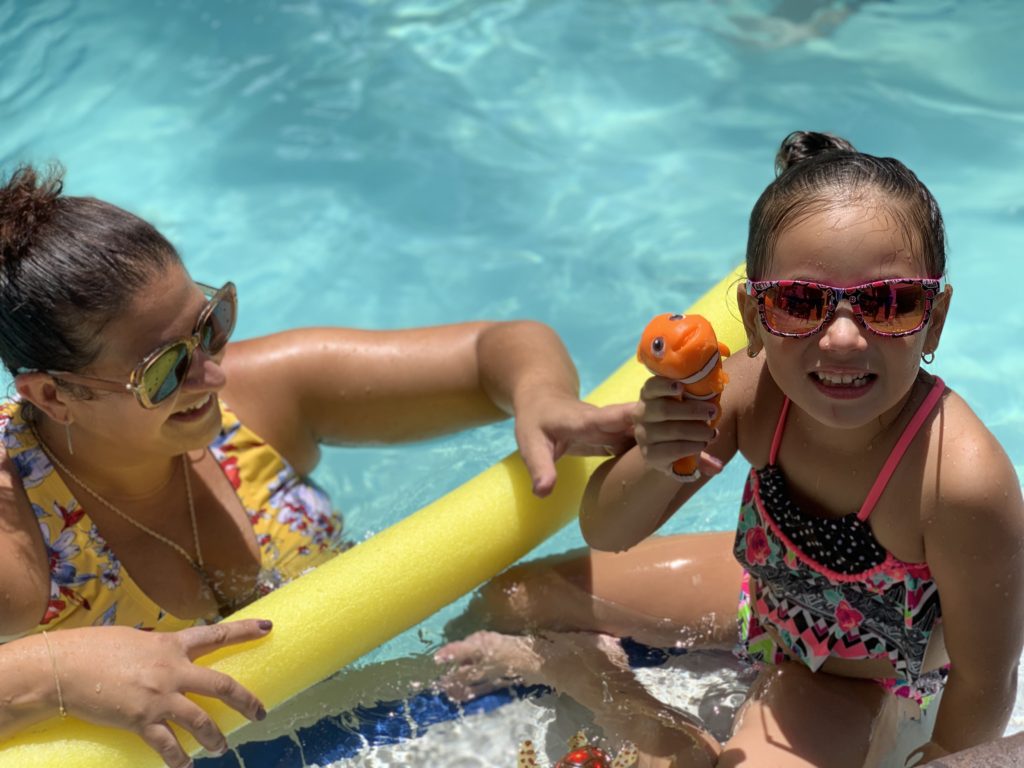 Most hotels in Las Vegas offer great pools. Here are some of the best family-friendly pools in Las Vegas. My personal favorite are probably the Beach Club Pool at Flamingo Las Vegas with water slides and lounge chairs set among beautiful tropical decor, the Mandalay Bay pool with it's huge wave pool and lazy river, and the Circus Circus Las Vegas pool featuring exciting waterslides and a Splash Pad water play area complete with waterfalls and splash buckets. I've personally stayed at these hotels in the past and know that my kids would love these fun Las Vegas pools. I'm sure your kids would too!
Family-Friendly Things to Do in Las Vegas
As you can see from the list above, there's tons of FREE fun to be had in Las Vegas. Beyond the free, there are also some other great family-friendly experiences that I highly recommend. These will require a fee but they're not over the top and totally worth it. Tickets for some of these can even be found on GroupOn if you search Las Vegas attractions and that will save you a few bucks. We enjoyed exploring these attractions and I'm sure you and your kiddos will too when you visit Las Vegas.
Family-Fun at the Adventuredome Indoor Theme Park at Circus Circus Las Vegas
Circus Circus Las Vegas offers loads of family-friendly fun! Besides the free circus acts I mentioned earlier, here you can also find a fun indoor amusement park called Adventuredome. It's a fun way to spend the day with kids in Las Vegas, and the perfect option when you are looking to avoid the desert heat or find something fun to do on a rainy day.
Ride-all-day wristband prices start at $19.95 for kids under 48″ and anyone over 48″ pays $33.95. Here you'll find 2 roller coasters, everything from bumper cars to a carousel, lots of little kids rides, and a bunch of family-friends rides too. There's also and Angry Birds Ride and a SpongeBob SquarePants 4-D experience included in the wrist band price. In addition, there are tons of Midway Games and arcades you can play, mini golf, mini bowling, a roller skating rink, and more. However, these are additional and not included in the ride-all-day wristband price but still budget-friendly if you decide to spend an entire day here.
Circus Circus Las Vegas also has a Carnival Midway area, separate from the Adventuredome. This is where you'll find the free circus acts and its also filled with tons of carnival-type games and arcades that are loads of fun. We ran out of time and didn't get to play this time with our kids but the husband and I have spent many nights here (not really acting our age) during past trips to Las Vegas. I'm sure the kids will love this if you go!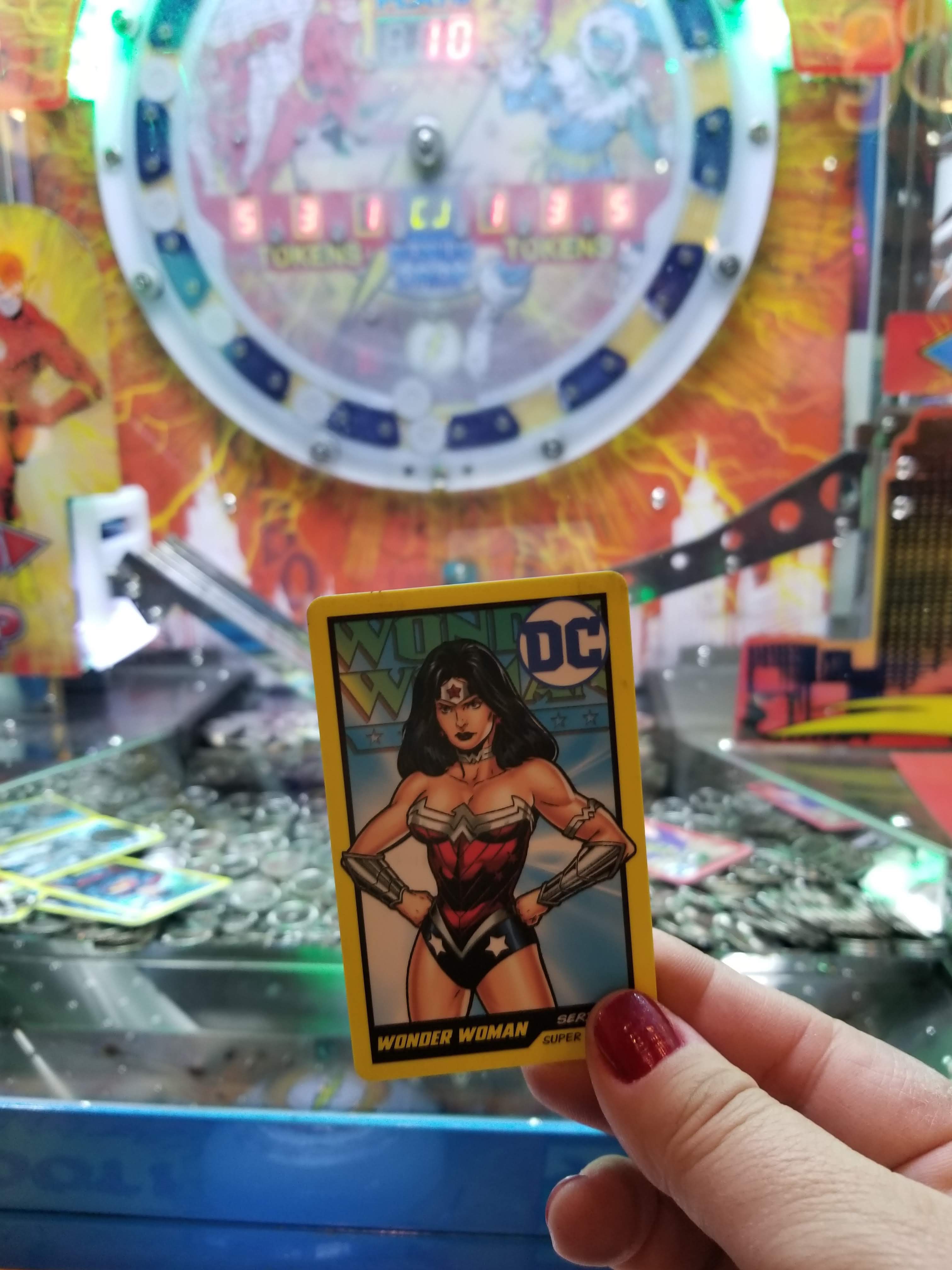 Ride the High Roller Observation Wheel
Not to be missed is a ride on the High Roller Las Vegas Observation Wheel! At 550 feet above the center of the Las Vegas Strip, it's the world's tallest observation wheel. From here you can catch amazing 360-degree views of the Las Vegas Valley and The Strip.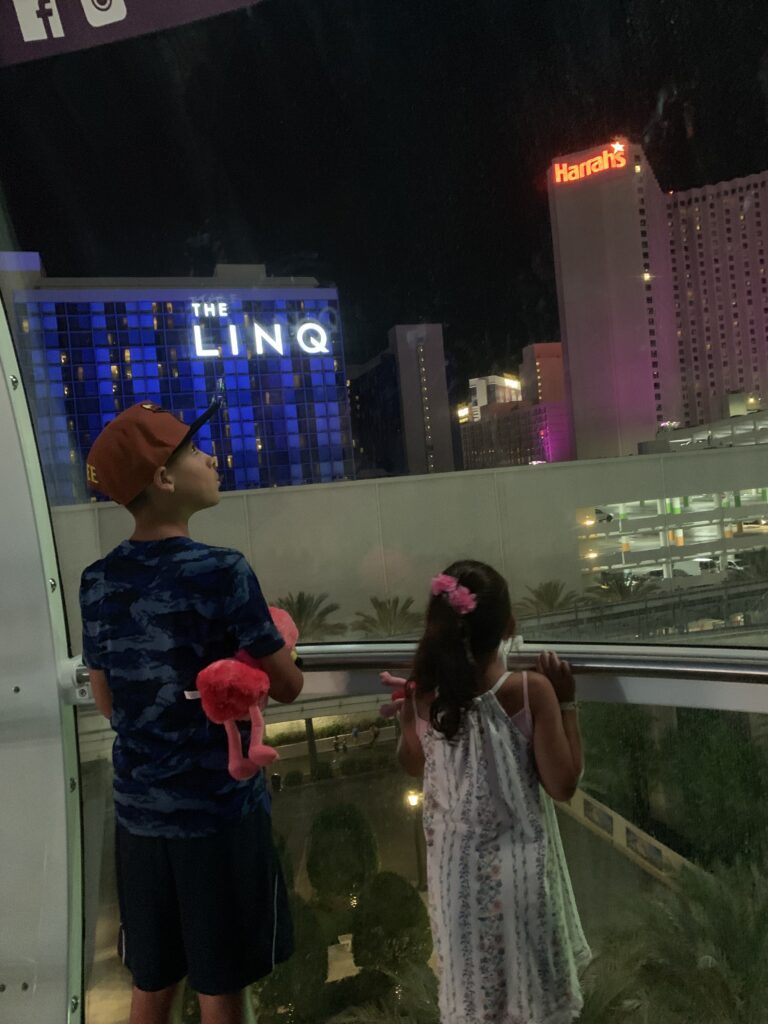 We took the kids for a ride during the evening so we got to see Las Vegas with all it's flashy neon lights from above. The wheel takes 30 minutes to complete one rotation and each cabin is spacious enough for you to walk around and take in the views from different angles.
In the past, the husband and I have also taken this ride during the day. It's a completely different experience during the day and it's a fantastic way to view the desert and majestic mountain terrains that circle the Las Vegas Valley. If you're looking to snap some great views from above, daytime is best. Well worth the money! But if you're looking to save a little, grab your tickets on GroupOn. That's what we did prior to checking out this must-see Las Vegas attraction.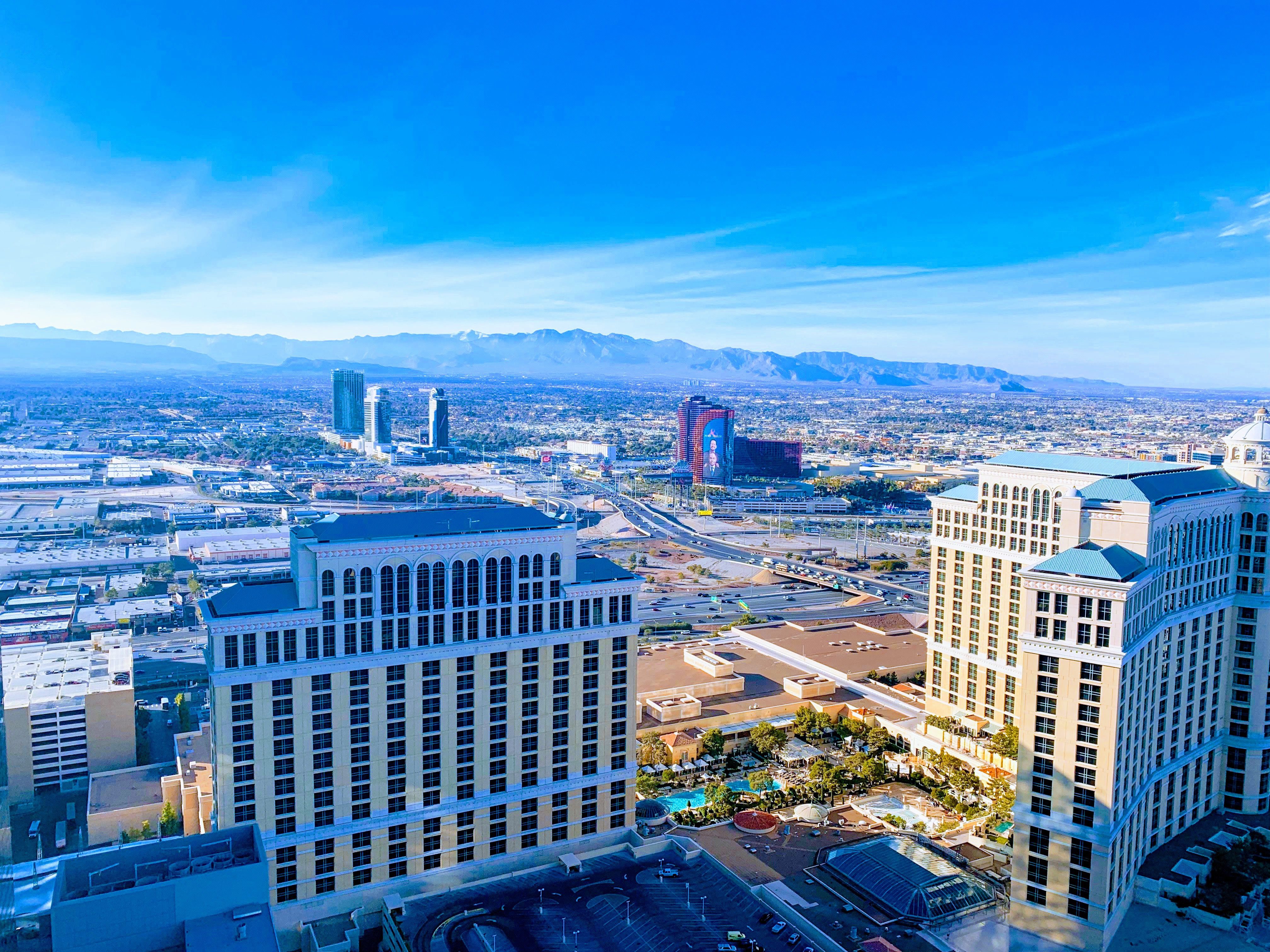 Learn a Little Vegas History at the Neon Museum Las Vegas
No better way to take in a little Las Vegas history than through neon! The Neon Museum is a super fun place to visit. This place is dedicated to collecting, preserving, studying, and exhibiting iconic Las Vegas signs for educational, historic, arts and cultural enrichment. Viva Las Vegas!
More than 200 unrestored neon signs make up the main collection that is housed at the Neon Boneyard — from iconic old Las Vegas hotels to bygone eateries and roadside signs. All are marvelous to look at and so interesting to learn about. We loved this experience!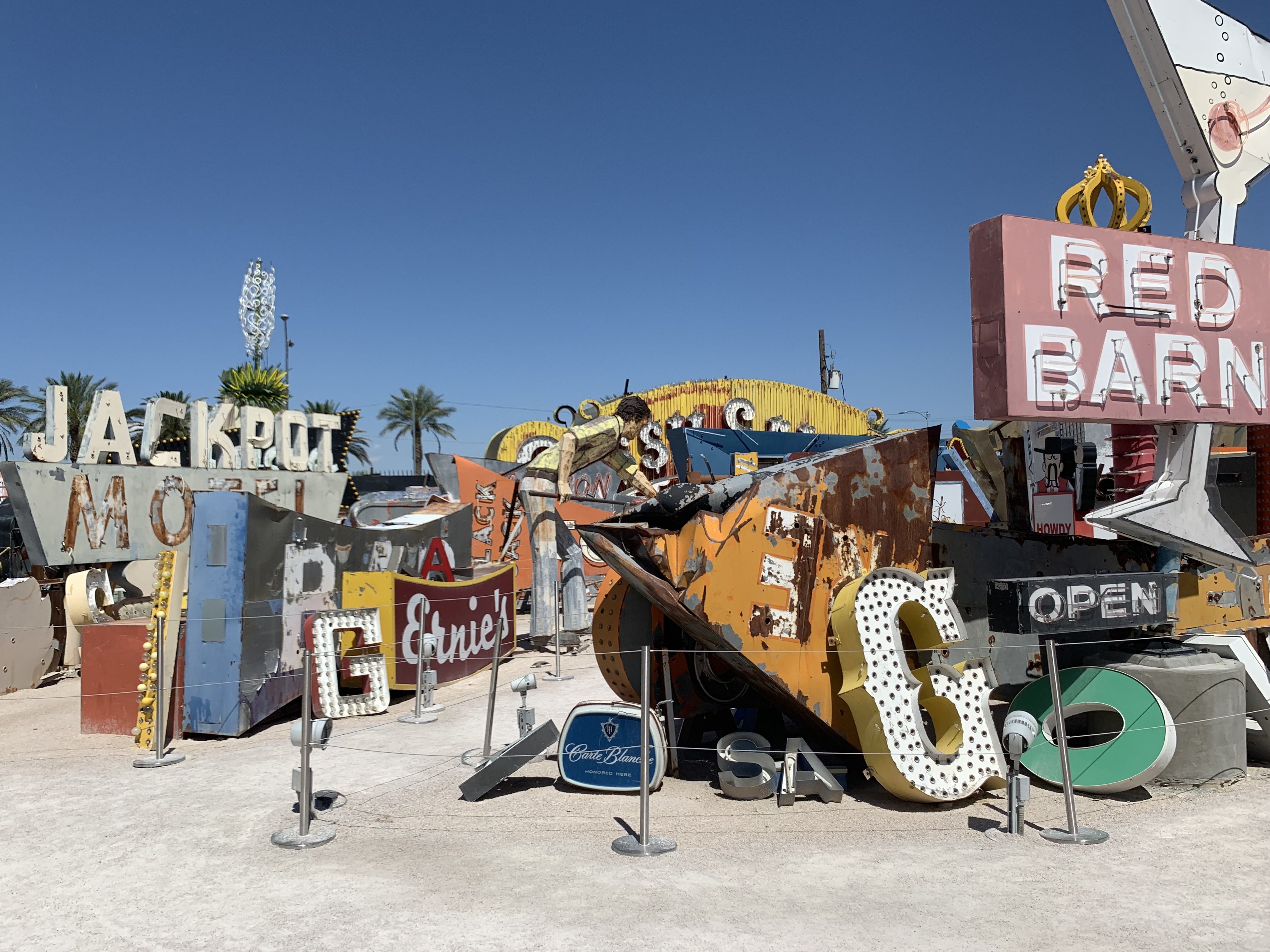 And if you're wondering why we're walking around with these cute little umbrellas. We visited as soon as the museum opened at about 10 a.m. and temperatures were already in the high 90's. The museum offers convenient umbrellas for visitors to shade themselves from the burning sun. And I was so thankful for that 'cause it was a scorcher out here!
Boneyard General admission costs $22 but you can save 2 bucks if you purchase your tickets in advanced through the Neon Museum website. An app is available for you to download for a self-guided tour and provides tons of interesting details and information about each neon sign displayed. Other experiences are also available for an additional fee — for example, a one-hour Boneyard Guided tour and a 25-minute experience called Brilliant! that uses light projection to illuminate unrestored signs and more.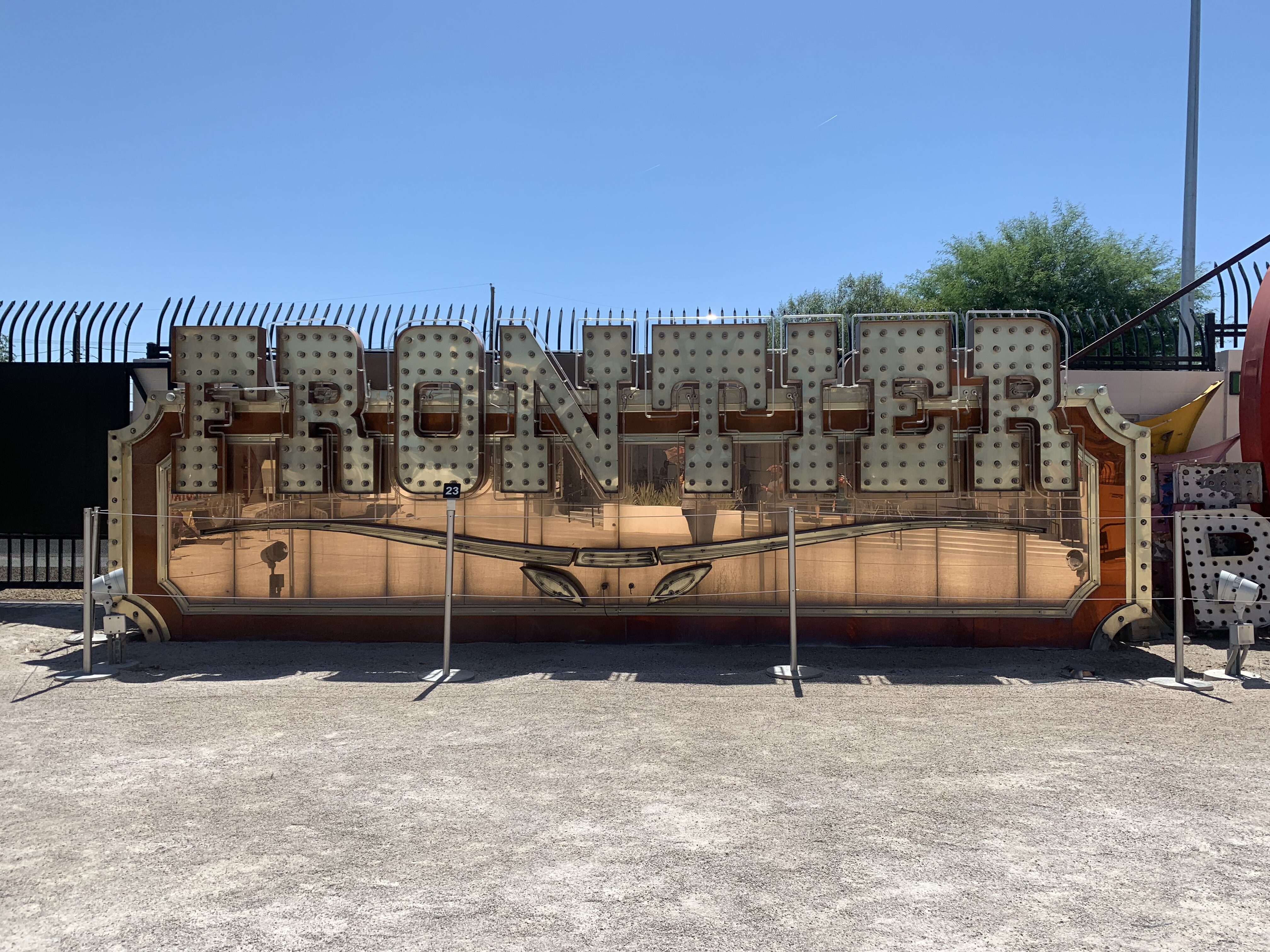 Also important to note is that the displays within The Neon Museum are copyrighted works. This means that you can only take personal still snapshots with your phone. No video recording or cameras are allowed.
There's So Much to do in Las Vegas with Kids
We spent just 3 days exploring Las Vegas with kids and I quickly realized that there was so much more to do than what we could have possible packed into our schedule. That's why we can't wait to go back (maybe during cooler weather though). There's so much more that we didn't get to see and do!
Thinking back on other trip to Las Vegas that the husband and I have taken, sans kids, several other things pop into my mind that would fall under the family-friendly Las Vegas attractions. I've gone ahead and written about those over on our NEW family travel blog (have you checked it out yet? You should). So just incase you are still looking for even more great ideas for your next Las Vegas trip with kids. I've got you covered! Read about 10 Things to do in Las Vegas with kids.

Go ahead! Take the kids to Las Vegas. I can surely promise that you won't regret it!
Happy travels! And Viva Las Vegas — with kids!
Don't forget to "PIN" this so you can return to it later when planning your Las Vegas trip with kids!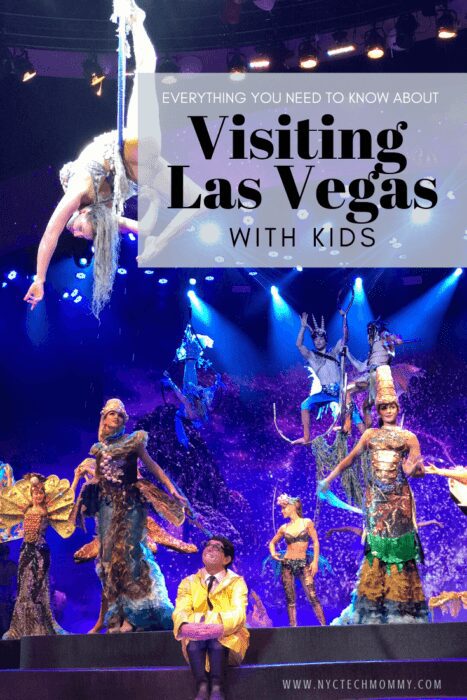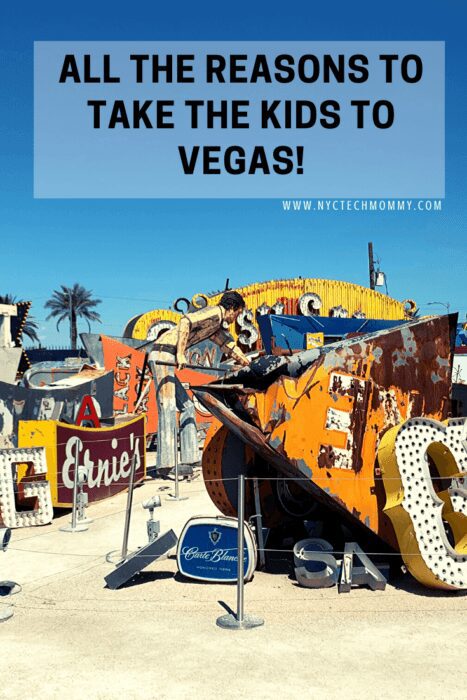 You May Also Like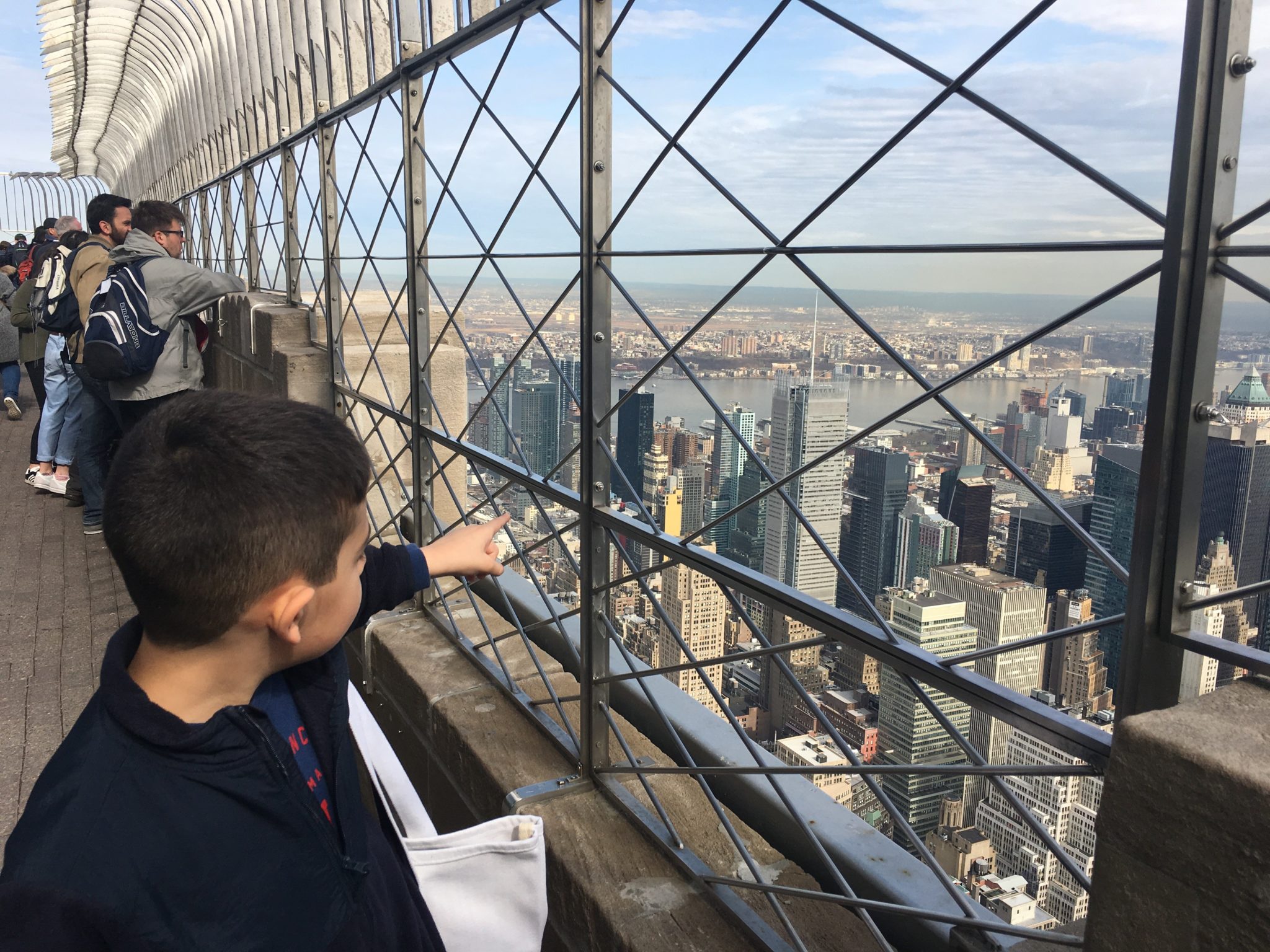 September 29, 2017