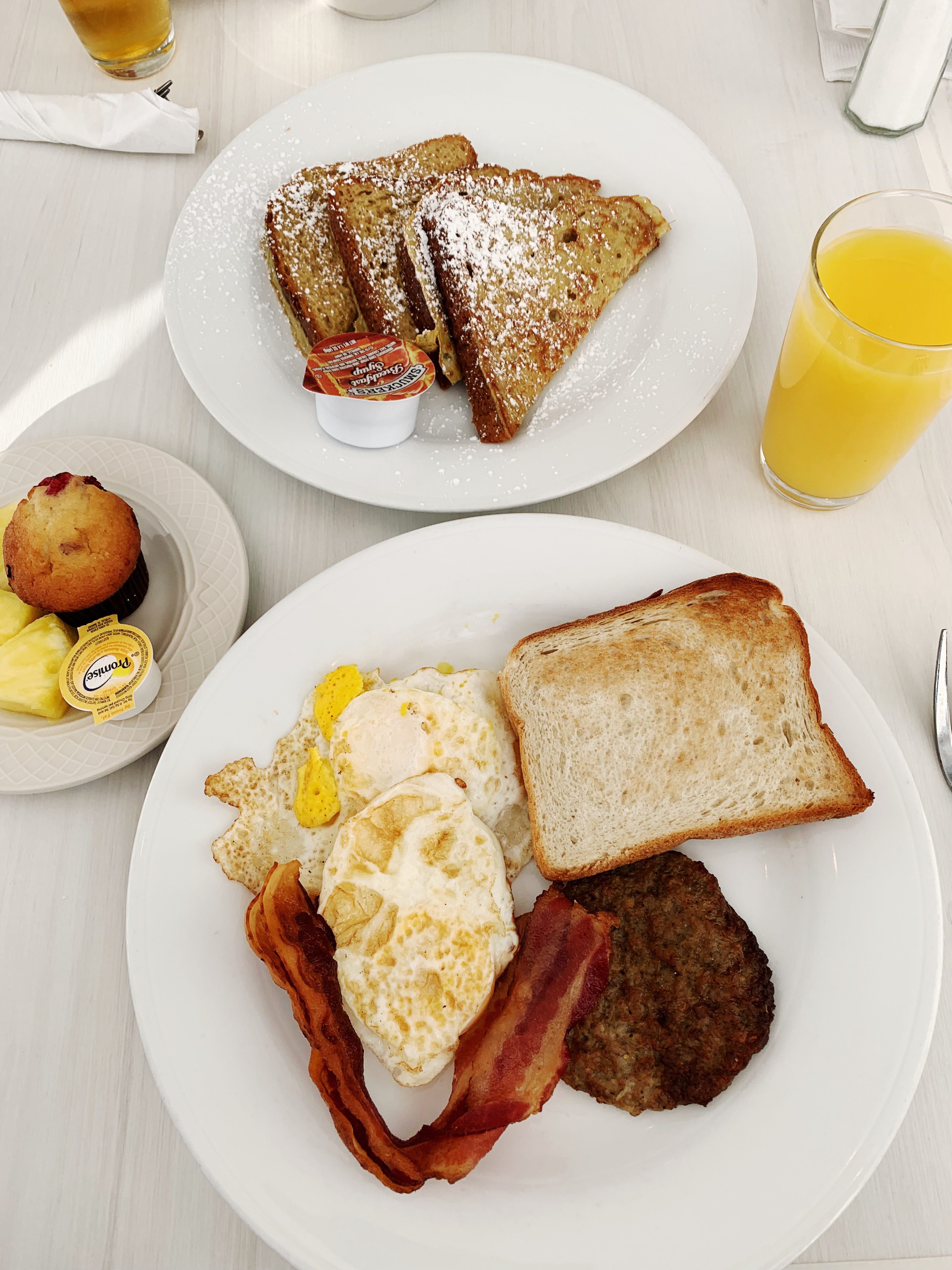 Our Staycation at Hilton Garden Inn Ridgefield Park
January 21, 2019
A few weeks ago, my family was invited to stay at the Hilton Garden Inn Ridgefield Park. We love to travel far away but lots of times all we need is just a little R&R! Reason why I thought a staycation would be the perfect way to escape our daily routine and relax without traveling too far. A staycation at Hilton Garden Inn Ridgefield Park was just what we needed!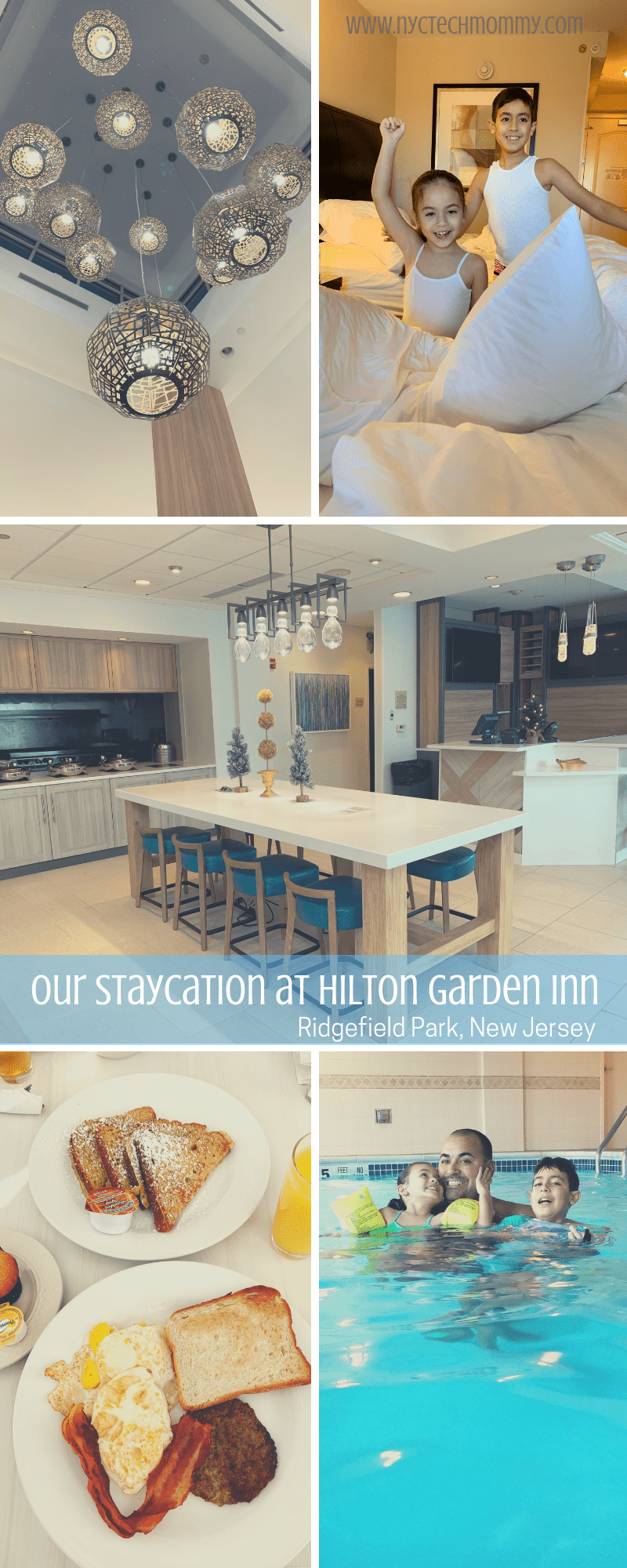 Our Staycation at Hilton Garden Inn Ridgefield Park
The Hilton Garden Inn Ridgefield Park recently celebrated their Grand Re-Opening and invited us to check out their newly renovated hotel. We were in for such a treat!
Disclosure: We received a complimentary stay in order to facilitate our honest review. As always, our thoughts and opinions are our own.
We were impressed the moment we walked through the doors — as you can see in the video below.
I loved the lobby the lobby's decor and all the comfortable common spaces — perfectly designed to accommodate families and large groups. the kids made themselves at home immediately.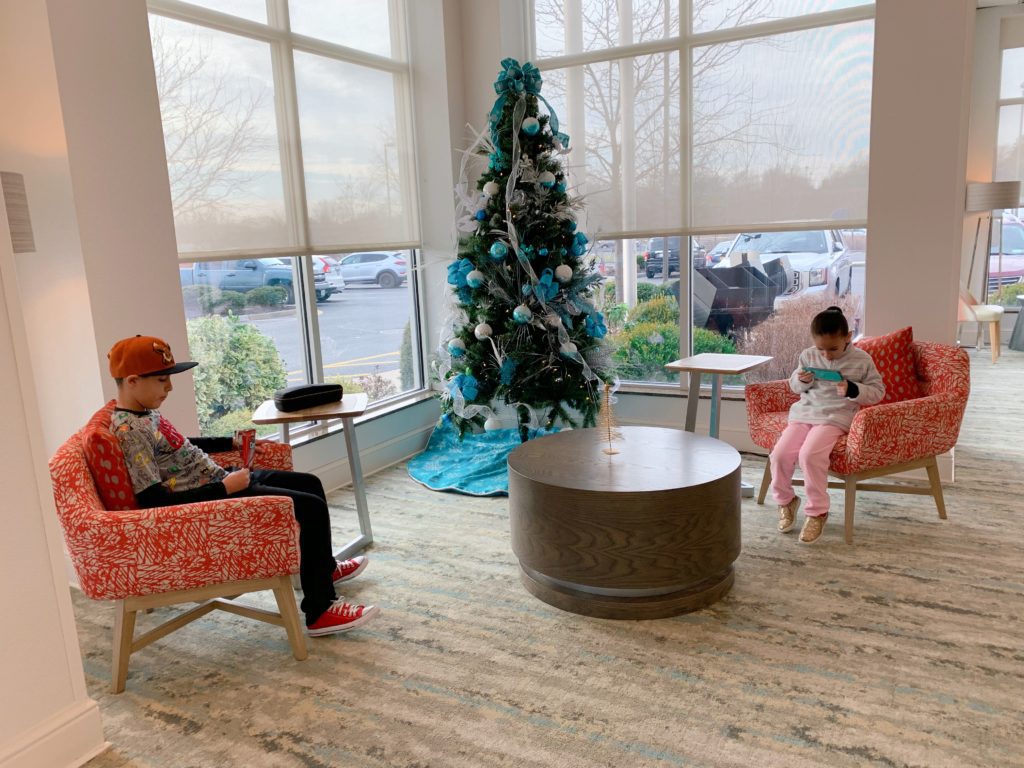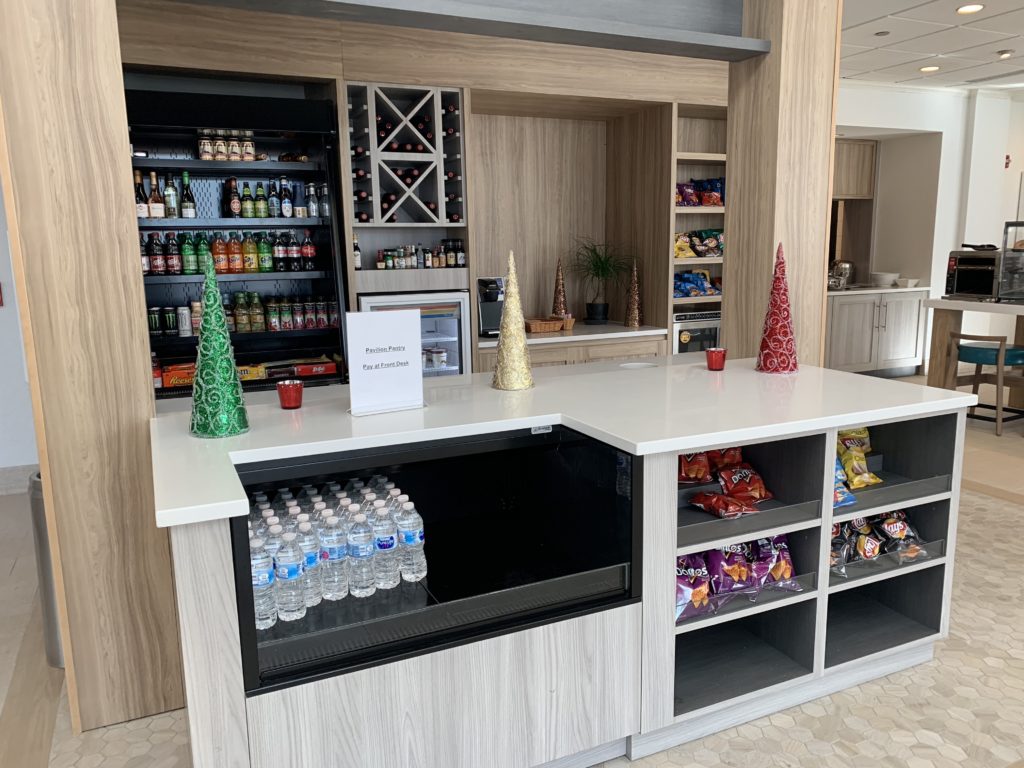 The lobby also includes an on-site restaurant and bar. Plus a pantry where you can pick up small snacks and drinks any time of day. There was also a complimentary coffee bar in the lobby. Fruit infused water always available — which my kids couldn't get enough of! We even grabbed some yummy oatmeal cookies from the lobby on our way up to our room.
Great Rooms
Our room was spacious with two double beds, a small seating area and a desk. I also loved that each room includes a coffee bar area with small fridge and microwave. Perfect for a family stay!
The room was very clean and the beds were super comfy! Even my early bird kids didn't want to get up in the morning.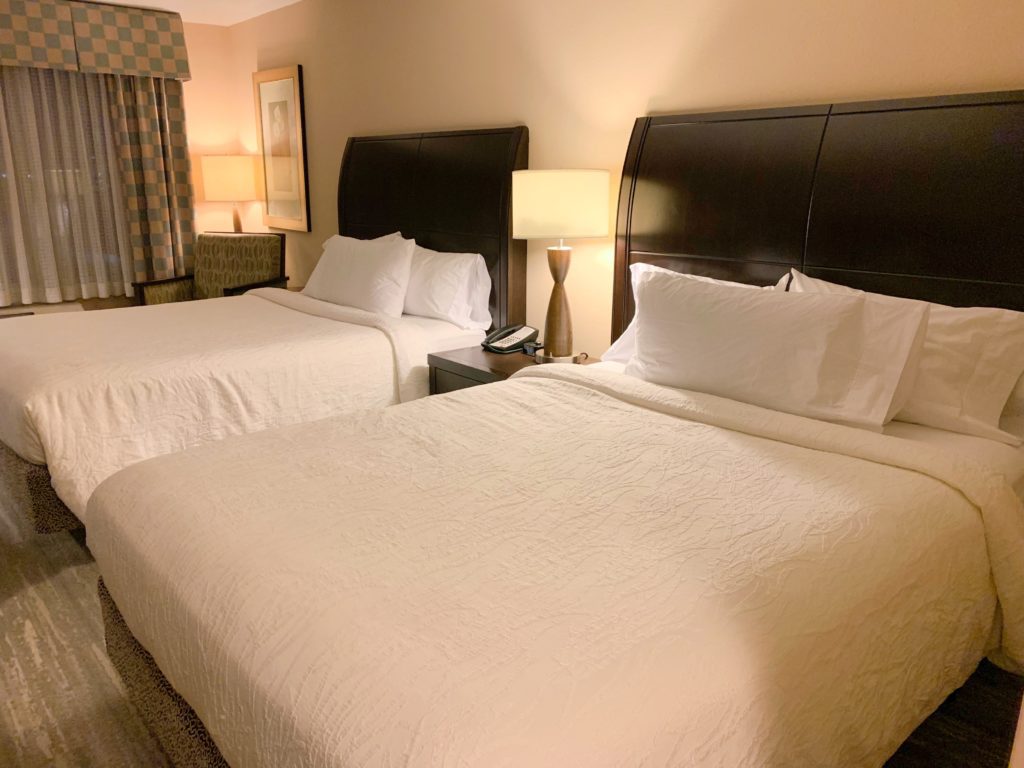 What's also nice is that the Hilton Garden Inn Ridgefield Park offers connecting rooms. This was a MommyBloggersConnect trip for us and we stayed in the room next door to my blogging sister Iveth from fortheloveto. It was nice to open the door between the two rooms and let the kids play together till bedtime.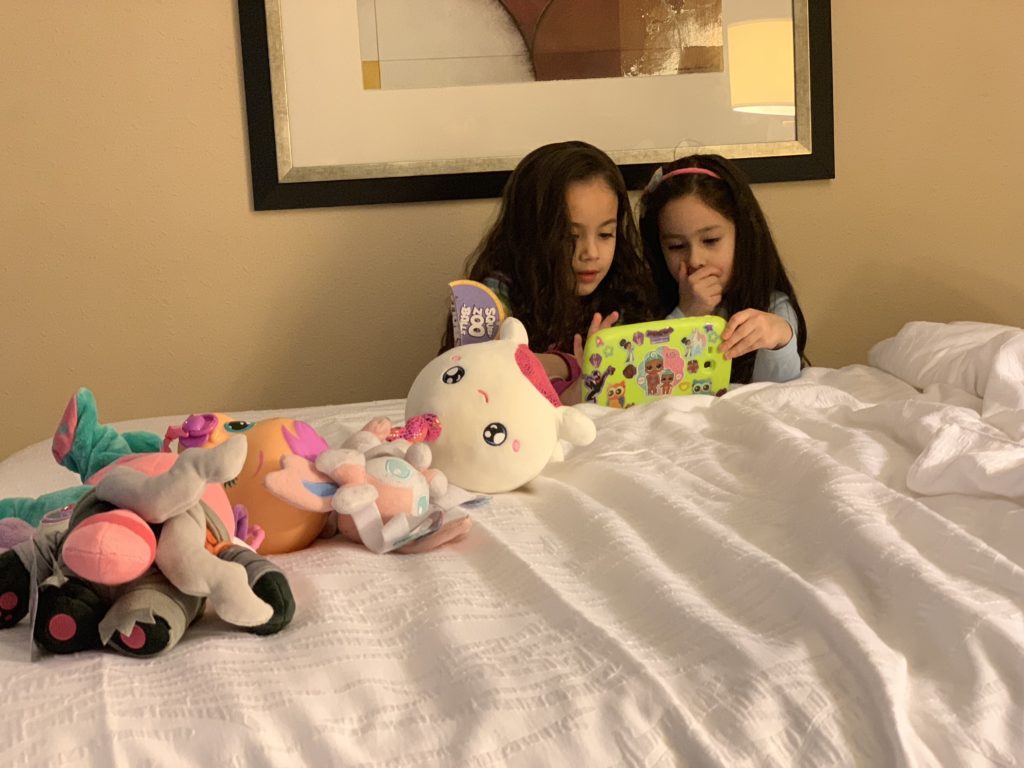 These connecting rooms are great when you need to accommodate a large family during your travels. What I really liked was that one of the rooms was super large (Iveth got lucky with that room). The connecting room is a smaller version of that larger room. Almost as if one room is the master suite (even includes double sinks in the bathroom) perfect for parents. The connecting room is ideal for the kids.

Family-Friendly Amenities
The Hilton Garden Inn Ridgefield Park includes a heated indoor swimming pool and whirlpool hot tub which are perfect for a staycation — and pretty much any vacation with kids. My kids (and the adults too) had a blast splashing around! I relaxed and enjoyed my time in the hot tub.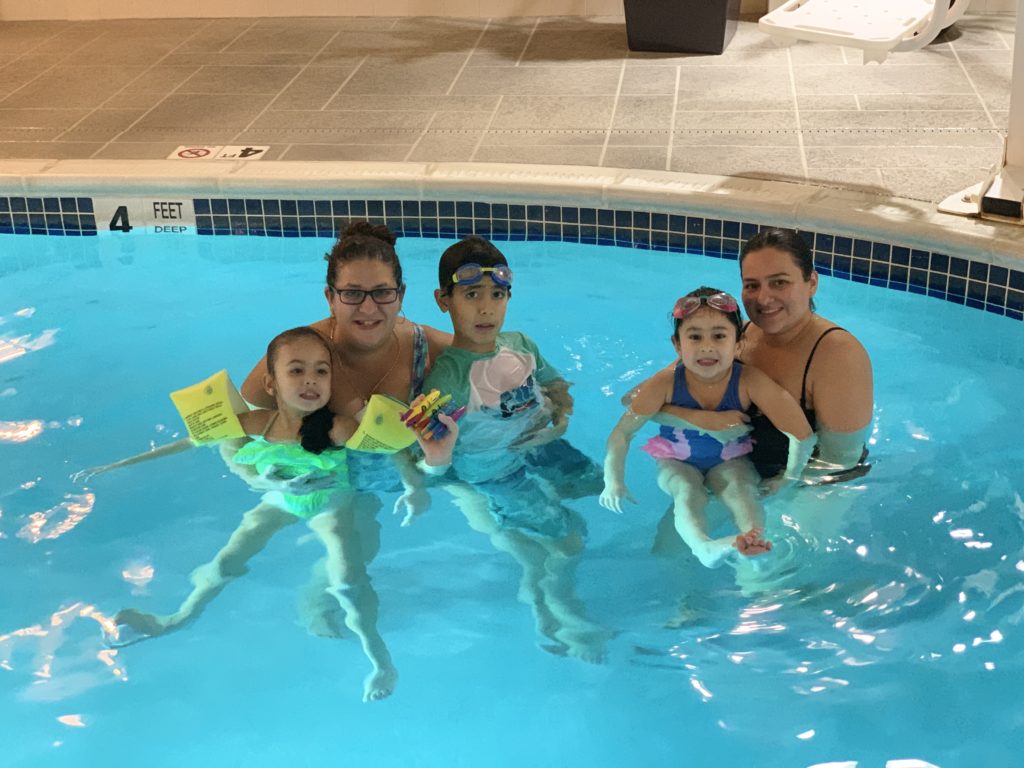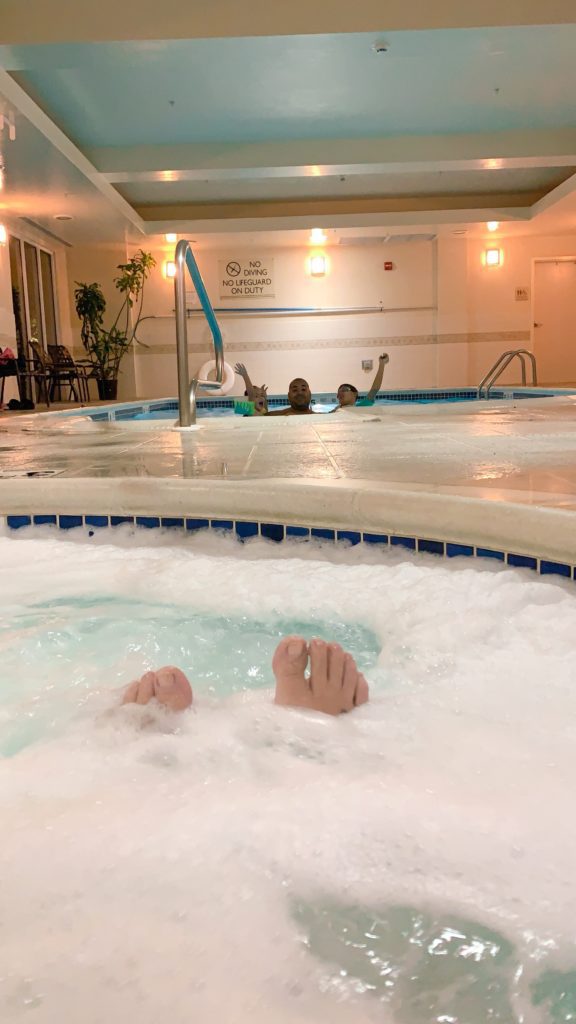 There is also a fully equipped, complimentary fitness center adjacent to the pool.
What I probably appreciated the most was that they have a restaurant on site. The Great American Grill Restaurant can be found in the lobby of the hotel. It includes a bar for a casual drink (or two).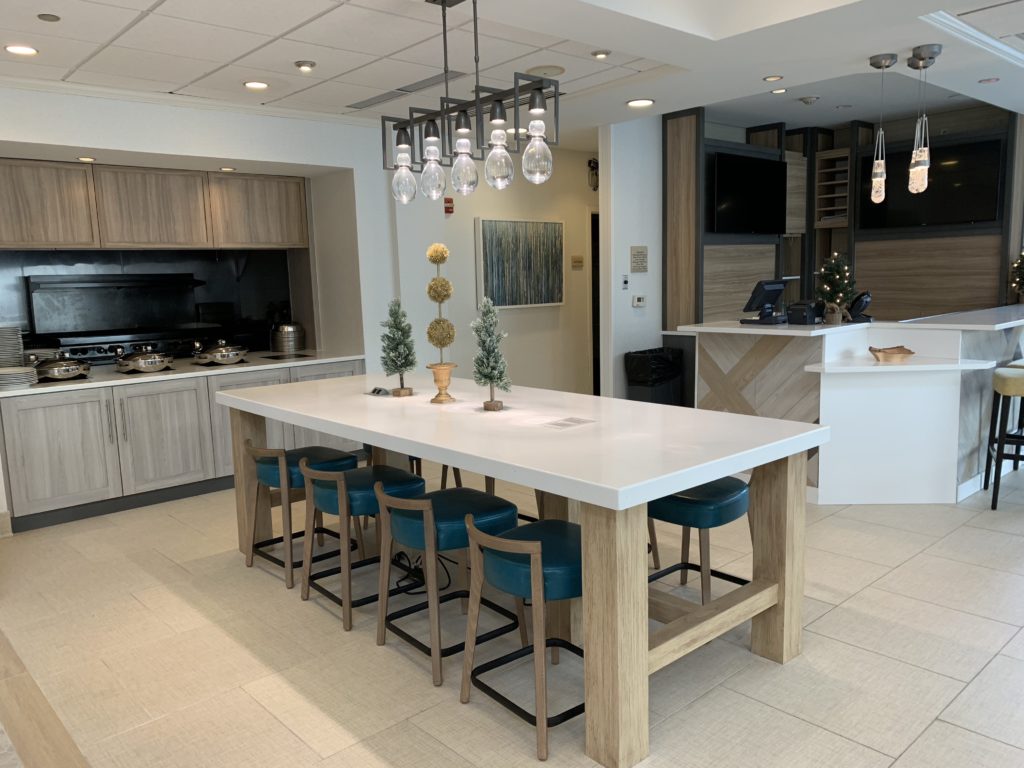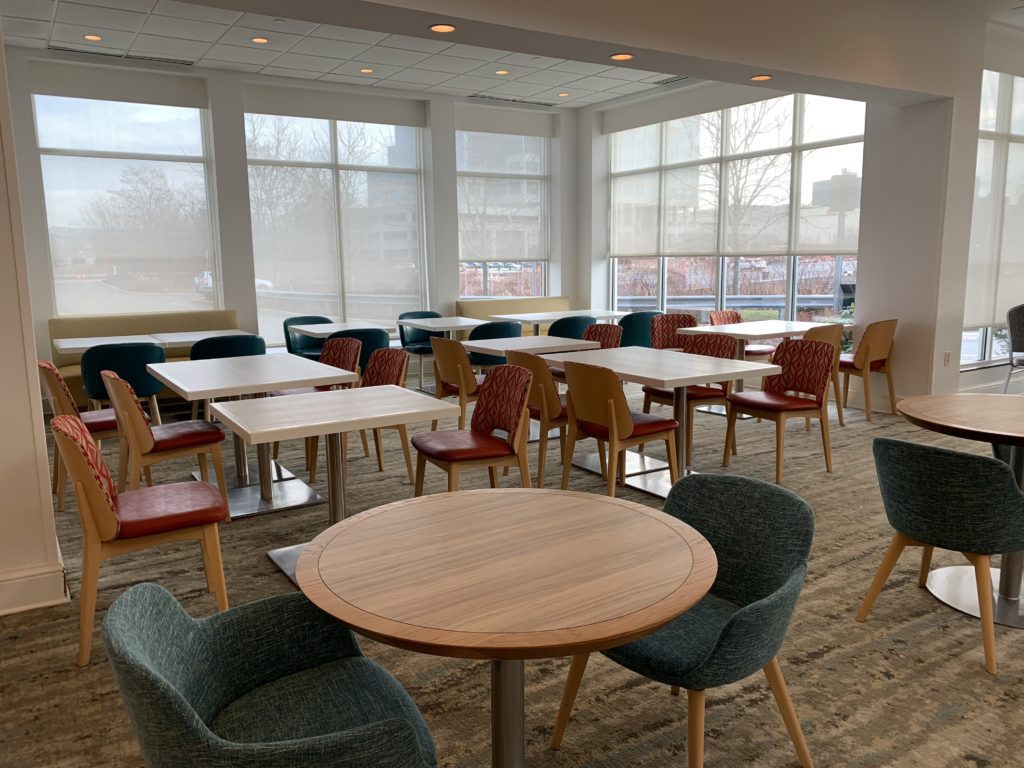 Room service is also available at the Hilton Garden Inn Ridgefield Park. This was great since we didn't want to step outside after our fun-filled day spent splashing around. And the food was delicious! Also reasonably priced.
Breakfast
I always find it so convenient when a hotel has breakfast options on site. We usually just roll out of bed and hit the breakfast buffet in our PJs! Always a great way to start the day and avoid the "hangry" moments that can ensue when we have to get everyone ready and out the door before we can grab a bite to eat.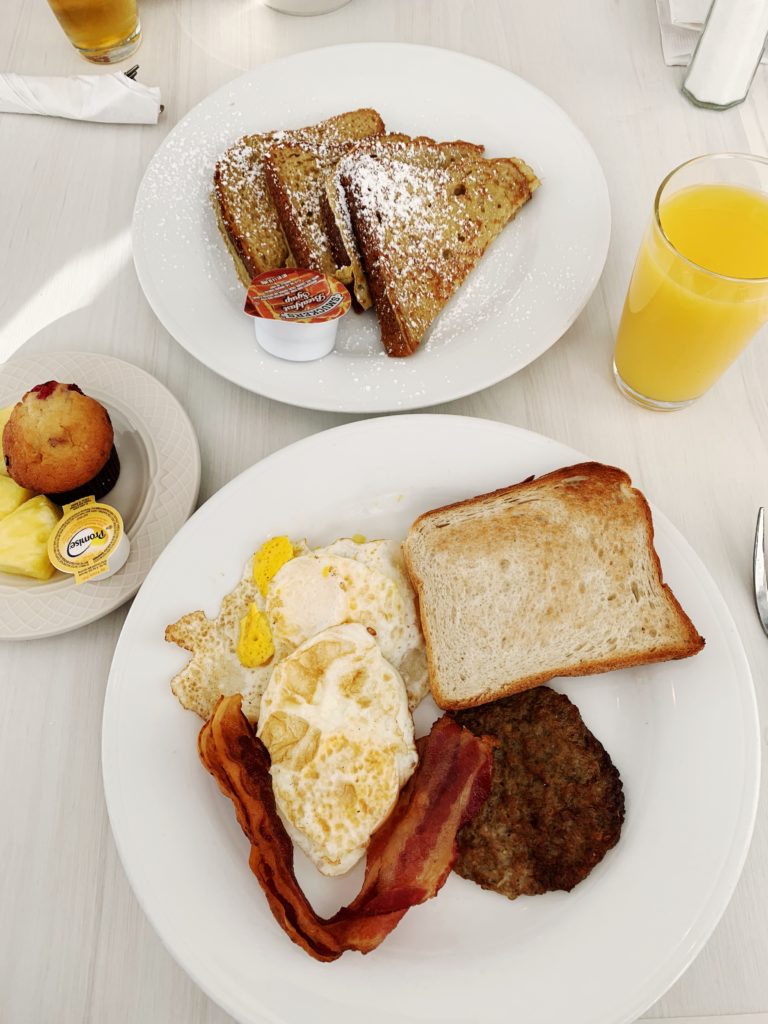 A full American Breakfast is offered at a reasonable fee (especially when compared to NYC prices) and includes some great cooked to order options. The breakfast buffet includes a wide array of serve yourself items –scrambled eggs, breakfast meats, potatoes, fruits, cereal, yogurt, pastries and baked goods, even a waffle making station. In addition, included in the $12.95 price you can order made to order eggs, an omelet of your choice, some fresh pancakes or French toast.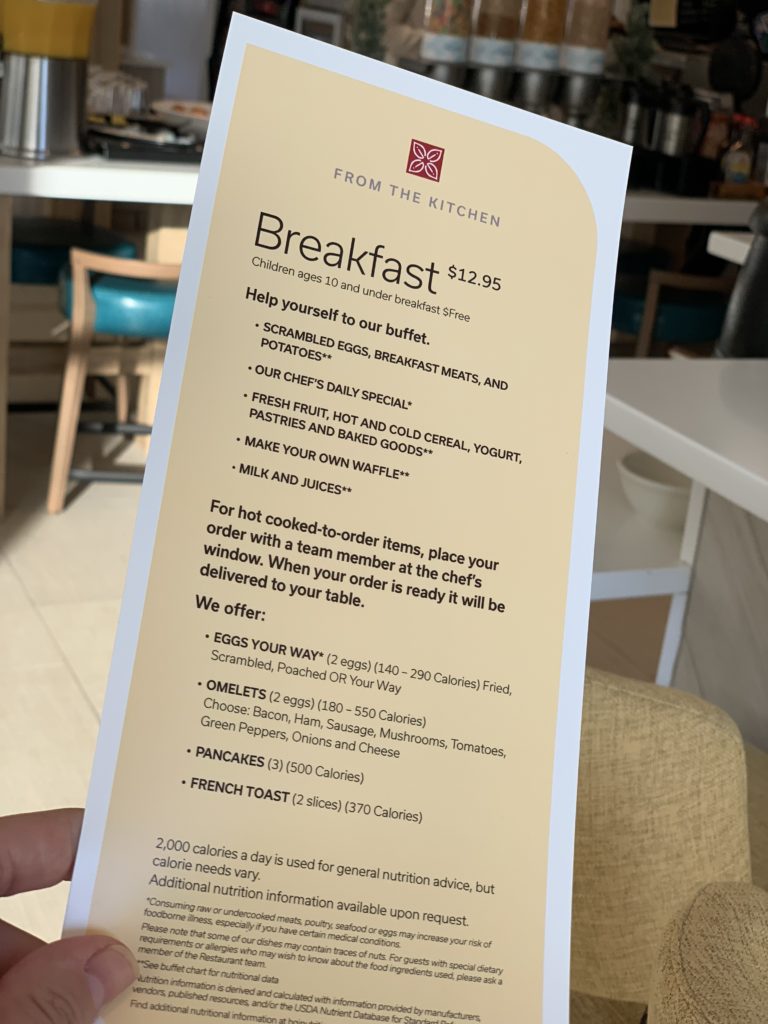 I loved that we could enjoy a hot meal to start our day. I also loved that there were many kid-friendly choices offered. My youngest always goes for the cereal and yogurt with fruit. While my oldest ordered pancakes. Best part, kids ages 10 and under eat FREE!
Location
Location, location, location! This New Jersey hotel is conveniently located just seven minutes from NYC. A public bus to midtown Manhattan stops right outside the hotel. This is such a great choice for families visiting NYC since you have access to city attractions without the hustle and bustle of NYC. Also you can avoid those ridiculously high NYC hotel prices. A great way to save when traveling to NYC as a tourist. Plus this hotel is a short drive from Newark International Airport (EWR). That's convenient!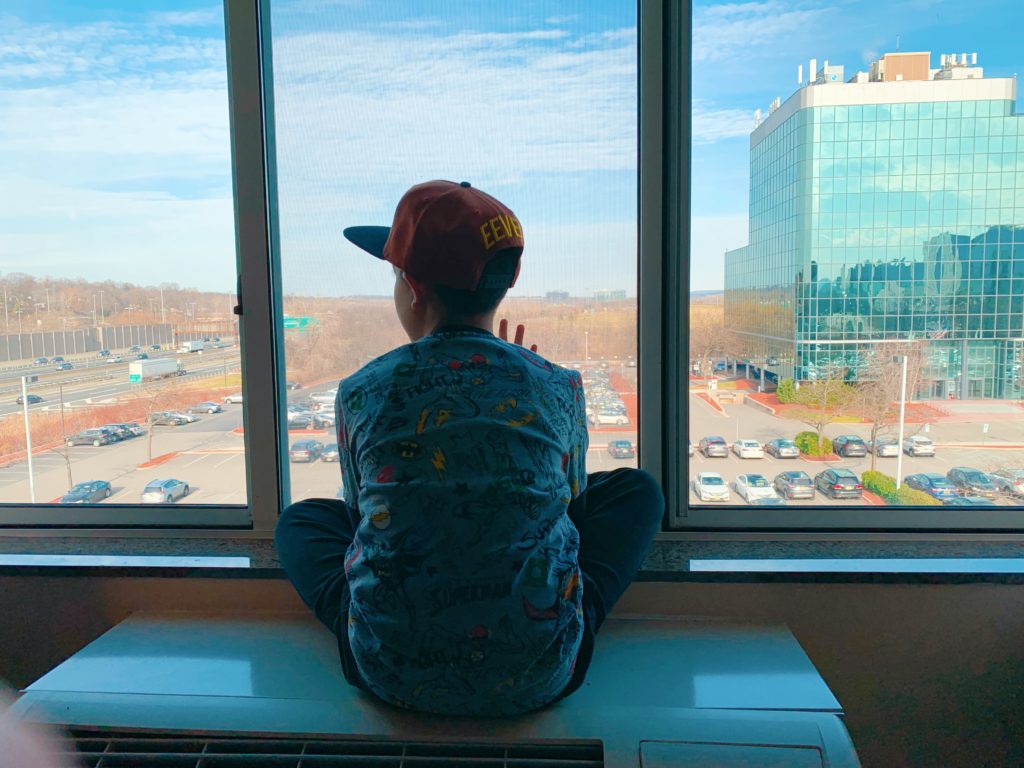 Also offered is a great NYC Park, Ride & Cruise program. Guests can take advantage of FREE onsite car parking, breakfast and transportation to the Manhattan Cruise Port when staying at the Hilton Garden Inn Ridgefield Park. Perfect for families heading out on a cruise vacation out of NYC!
If you're looking to make your stay a true staycation there is also a large AMC Starplex Movie Theater with reclining seats right across the road. I'm sure that the entire family can enjoy that!
Final thoughts
We enjoyed a great family staycation at the Hilton Garden Inn Ridgefield Park. It was just the perfect escape from our daily routine! And the kids didn't want to go home. I can't blame them. This hotel was beautiful and so comfortable. Of course, they probably loved the pool the most — something that NYC hotels rarely have.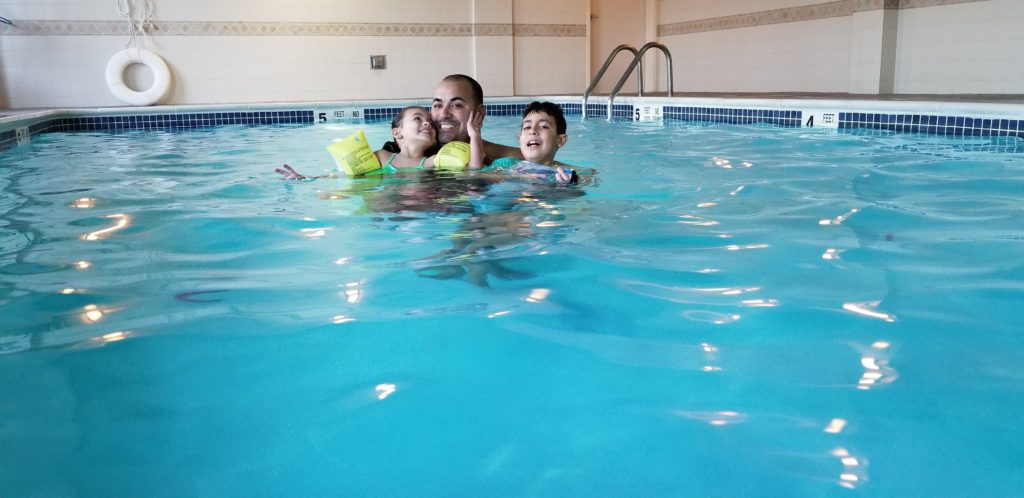 Thanks to our friends at Hilton Garden Inn Ridgefield Park for making our family's stay so great! Every single staff member we encountered was super friendly, very helpful and accommodating. We would definitely recommend this hotel to traveling friends. Can't wait to visit again!
You May Also Like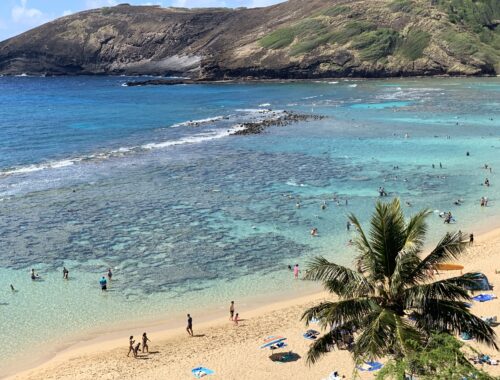 May 10, 2019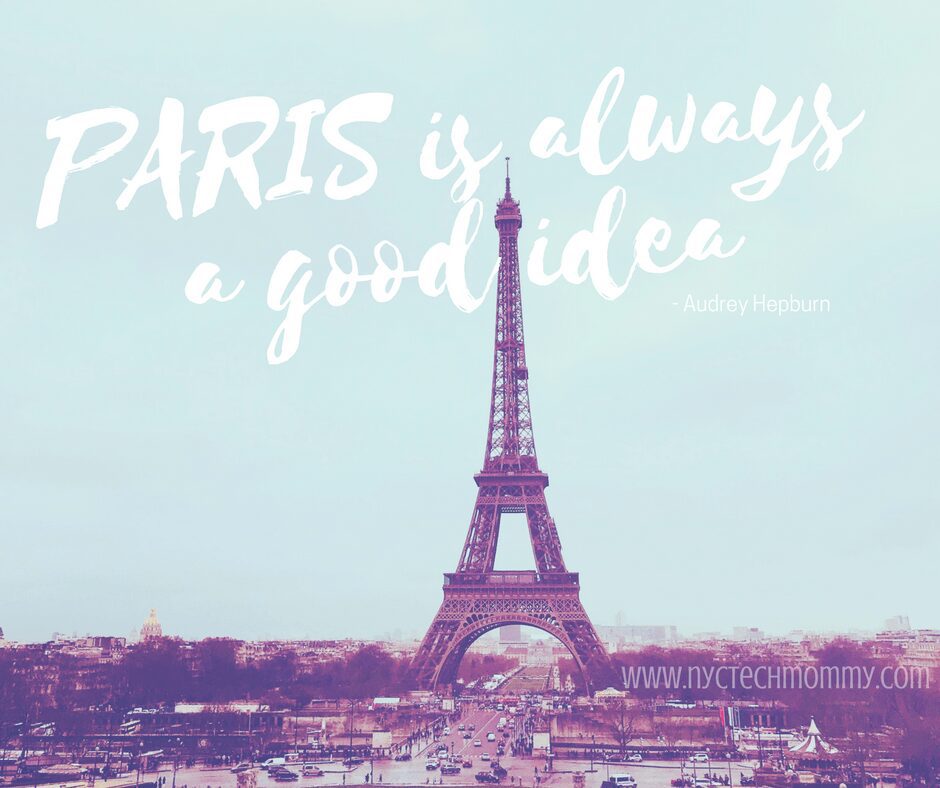 February 5, 2018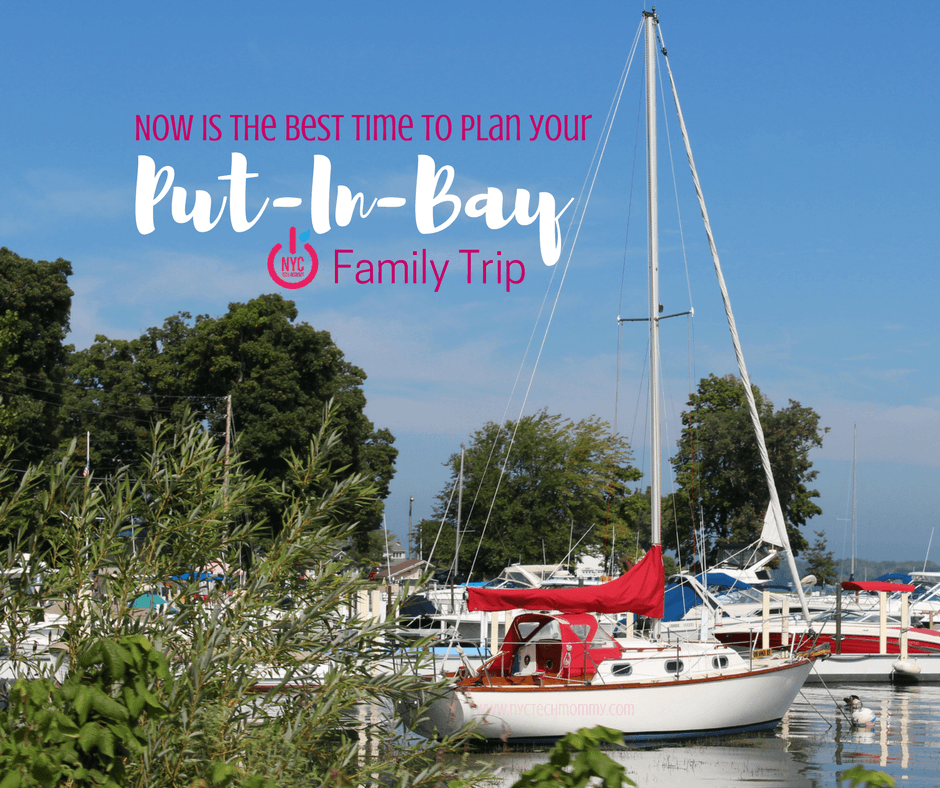 November 18, 2016