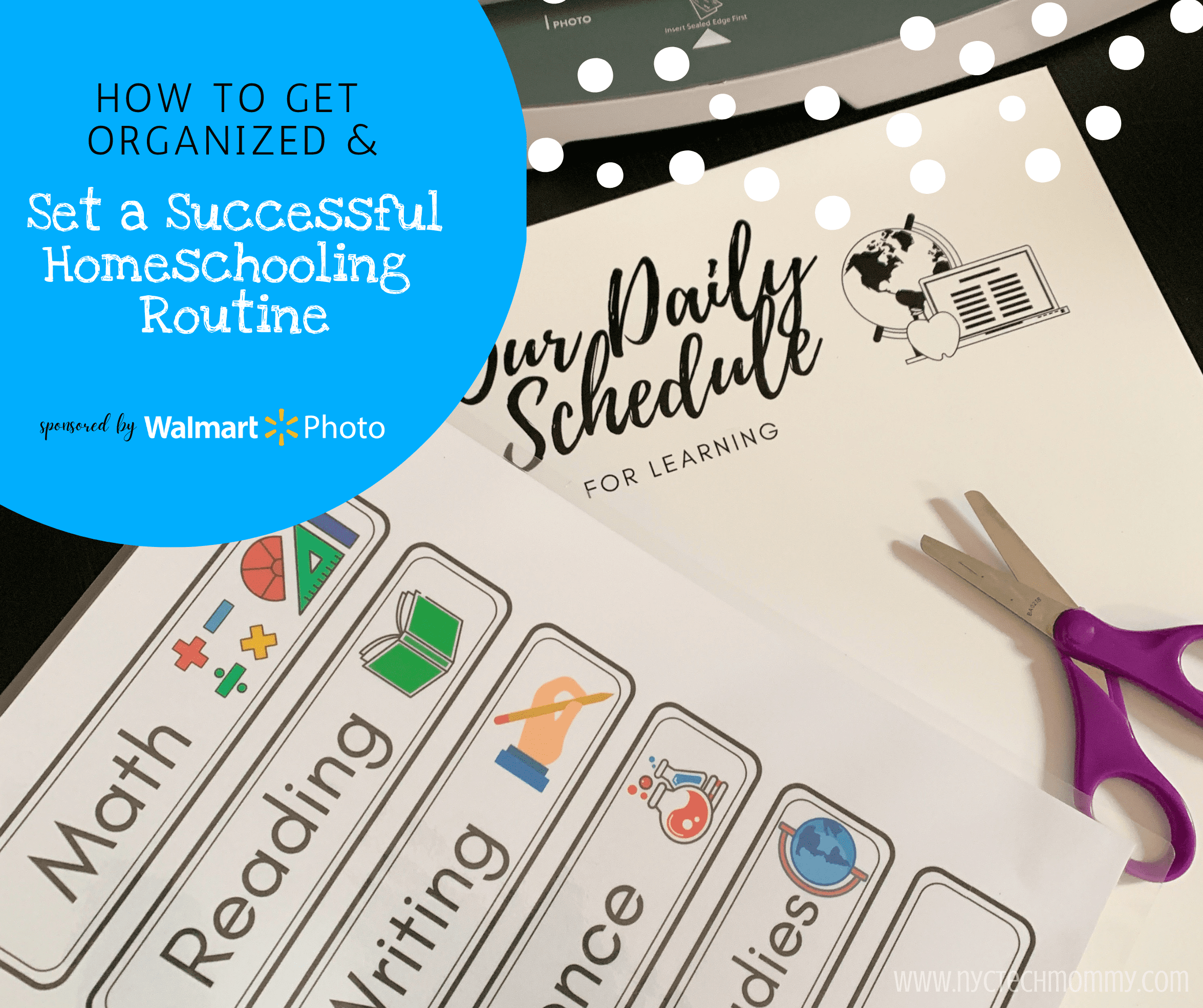 How to Get Organized & Set Up a Successful At-Home Learning Routine
How's the school year going so far? If your kids are learning at home, I recently shared tips to set up your learning space at home. Today I want to share with you some simple tips to help you set up a successful at-home learning routine. No matter if your kids are remote learning, virtual schooling, or full-on homeschooling, these tips are sure to make your learning days at home a little bit easier. Plus, I'm also sharing the FREE PRINTABLES I'm using during home learning with my own kids. Read on!
This post is sponsored by Walmart Photo.
Why You Should Set a Home Learning Routine
Daily routines can be great for everyone's mental and physical health, as well as a kid's concentration and learning. Being at home during these uncertain times can be so stressful, even frustrating. In big part, because we are out of our normal routine. Personally, I'm thankful that school is back in session because that means we can get back into a daily routine at my house. Having a routine in place actually helps me better cope with being home. The same might be true for you!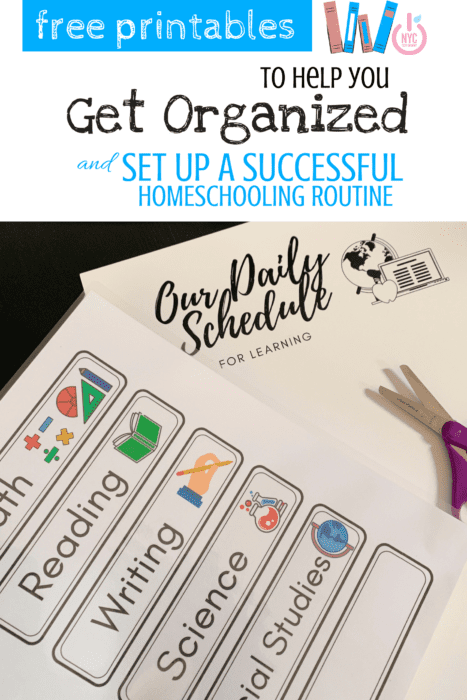 How to Set Up a Successful At-Home Learning Routine
Start by thinking about what you wanted your school day to look like at home. This can look very different for each family, depending on your kid's grade level and workload. Just make sure to set realistic expectations and create routines that make sense for your family. Then take it from there!
When I started thinking about learning routines that made sense for my kids, I knew I wanted to find ways to add some structure to their days but also keep things playful and fun for all of us! So far, things have been going well and I'm happy to report that it's been a smooth transition back to school.
Below I'm sharing a few things I did to get organized and set up a successful school year for my kids. These are great ideas to use at home and teachers may find them helpful in their virtual or in-person classrooms too!
Set Expectations for Success
I want to empower my kids to make every day a great learning day at home, so I created a fun piece of inspirational wall art to remind them of how great they can be each time they enter our classroom — previously known as our dining room. To do this, I uploaded my printable design to the Walmart Photo website and ordered a Canvas Print. It was ready for pick up within hours!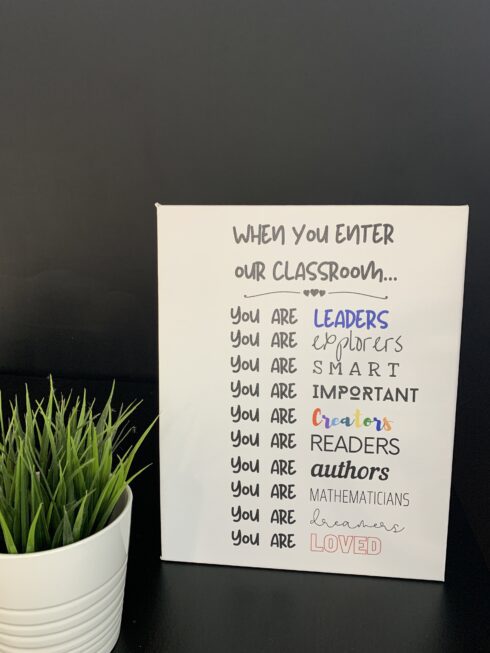 I love how my When You Enter Our Classroom Canvas Print from Walmart Photo turned out! Each day, we read these lines together as a fun way to kickstart our day and affirm that we can do this home learning thing. I love that these simple lines, printed on a canvas, not only empower my kids to make it a great learning day but also remind them that they can be anything they set their minds to!
Click to download my When You Enter Our Classroom FREE PRINTABLE!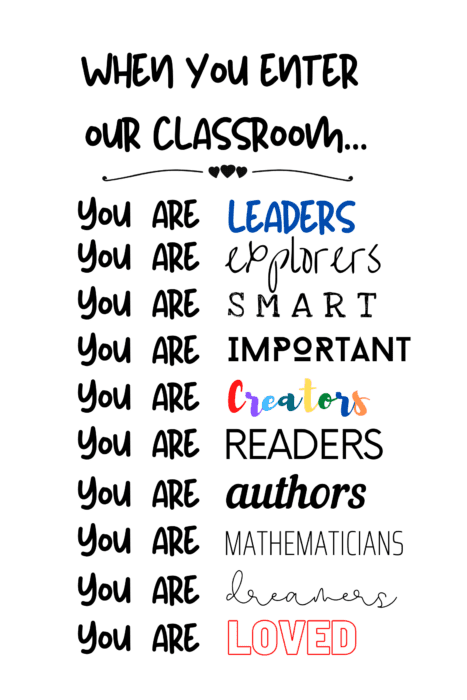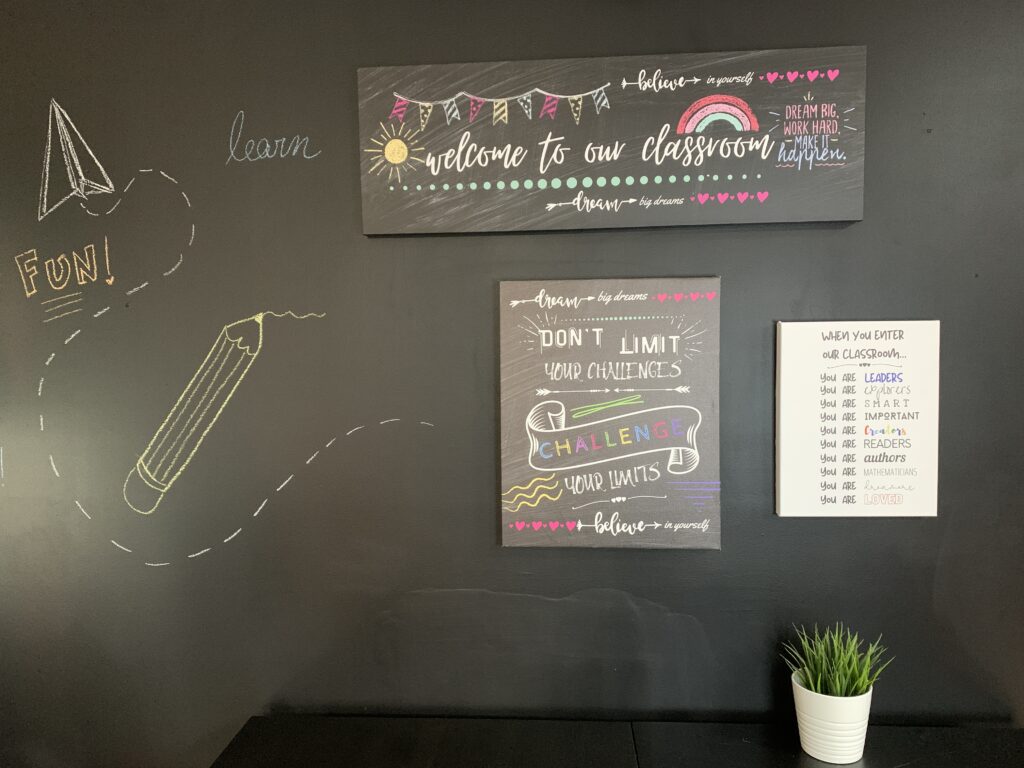 RELATED CONTENT: Take a Tour of Our Homeschool Room
Create a Daily Schedule to Help Set a Rhythm and Routine
Our brains thrive on predictable patterns, but so much in our lives may be unpredictable right now. That's why I knew that setting up a daily learning schedule would help my kids get a sense of normalcy back. Our schedule doesn't have to be set in stone since we still have to stay flexible during these uncertain times, but having a general schedule that we strive for each day makes my kids feel like they know what's coming next. I strongly believe that a schedule can help put kids back into a comfortable rhythm and everyone will be much happier when completing learning assignments at home. Trust me!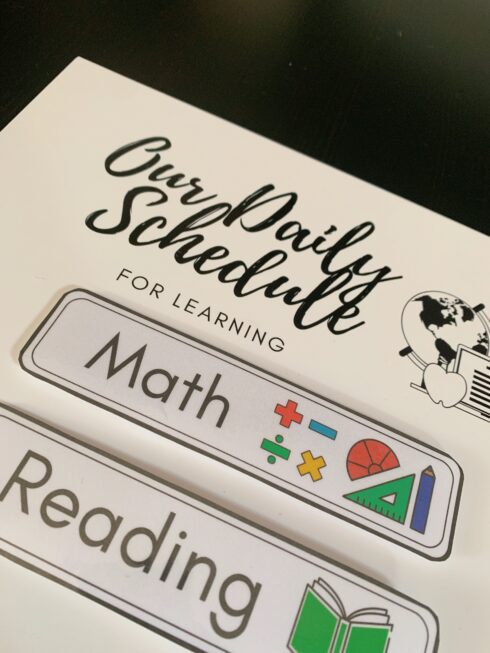 Create a Flow for Your Day
When scheduling your learning day at home, start by thinking about the learning tasks you want your kids to complete each day. You might consider specific times when they have to check in with teachers, have video calls, or whatever their learning day calls for. I kept it very simple when creating our own daily schedule because my kids are enrolled in a Cyber School and follow asynchronous learning. Since we have no required times, I just created a flow of the day schedule to remind us of the order in which my kids will complete each subject on any given day.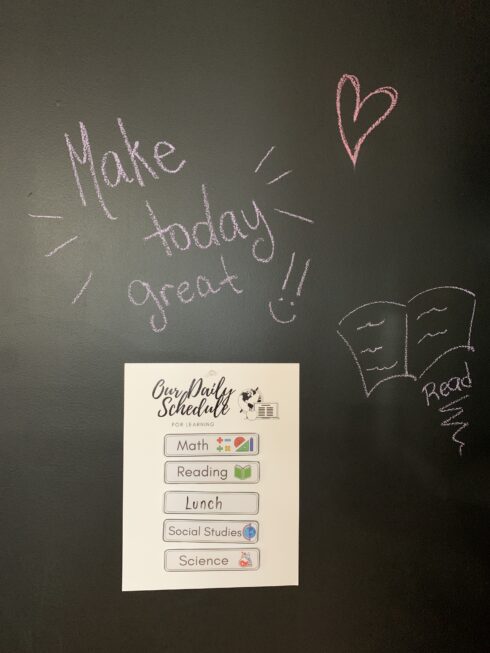 To create this simple flow of the day schedule, I again used an 11×14 Board Print from Walmart Photo. To go with this board, I printed and laminated a set of subject cards. I added velcro to the board print and to the back of each subject card. This makes it very easy to move things around and create a different flow of the day based on daily needs. I even included a few blank cards so my kids can add in extras like lunch, art, music, and anything else we might want to tackle on any given day.
Using a simple flow of the day schedule like this allows us to move subject cards around and customize the order in which my kids want to learn each day. I always find that things run smoother and my kids are more willing to cooperate when I give them choices and allow them to take ownership of their schedule.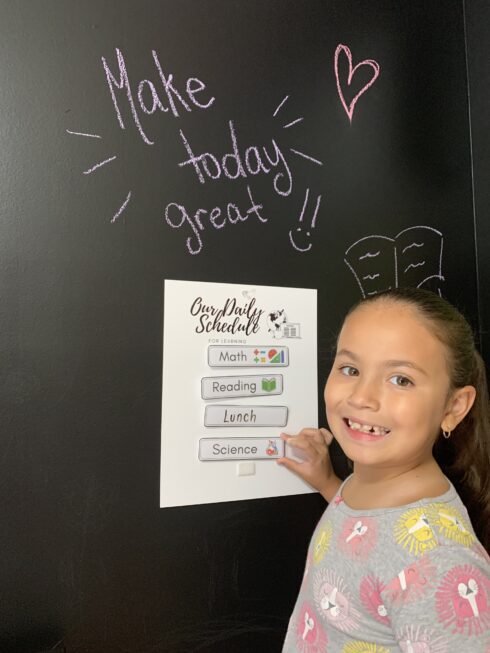 You can click to download Our Daily Schedule for Learning FREE PRINTABLE and subject cards!
Take a Brain Break
These days, we all need a break! This is especially true for our kids. When setting learning routines, please don't forget to include Brain Breaks! A Brain Break is exactly what it sounds like — a break from whatever your kid's brain is currently focusing on. Short breaks (5 to 10 minutes) can help reduce frustration and stress, and increase attention and productivity. Whether kids are working on a computer or in a workbook, the key to keeping them engaged is to take breaks before distraction or lack of focus set in. Little breaks here and there will make things run so much smoother! Brain Breaks can include movement or music, outdoor time, or a quick indoor art activity. I suggest tapping into things that your kids already love so that this becomes something they look forward to. I promise they'll get back to work with more energy and focus and you'll be able to count this as a #parentingwin!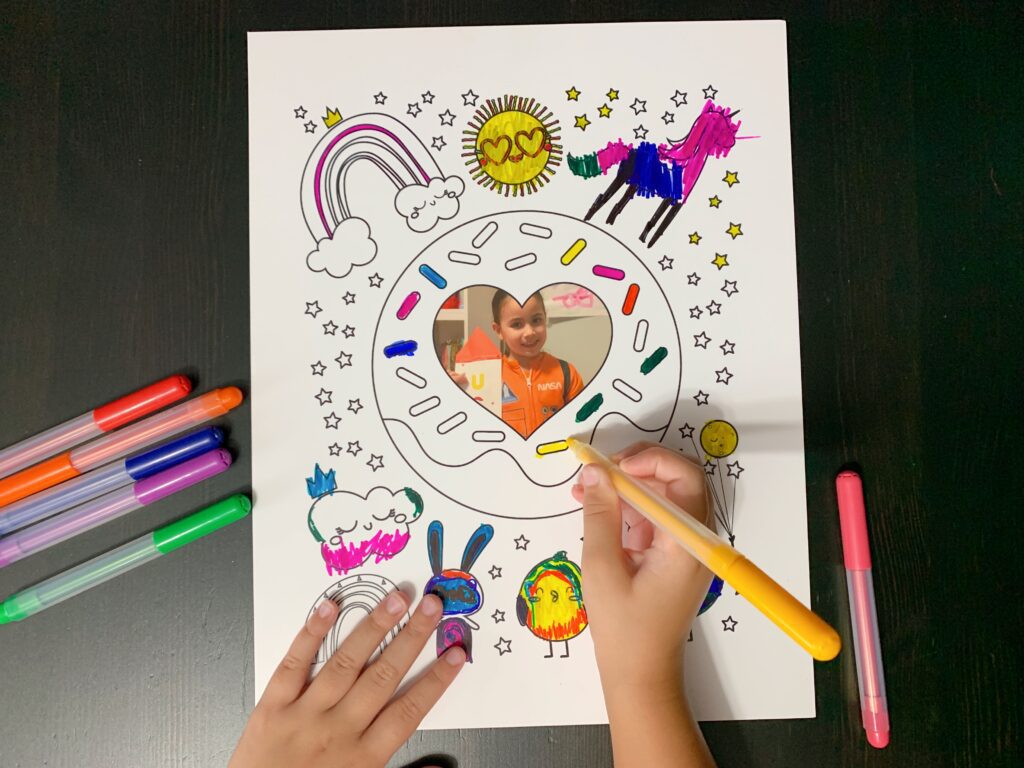 In my daughter's case, she loves art! Besides allowing her time to draw all over our chalkboard walls, I also created something special for her to work on any time she needs a little Brain Break. This time, I created a customized Color in Rainbow Board Print using one of the ready to use templates on the Walmart Photo website. Now anytime my little one needs a Brain Break she can color and then refocus without meltdowns. It's a nice break for her and makes a great piece of kid art to display in our at-home classroom!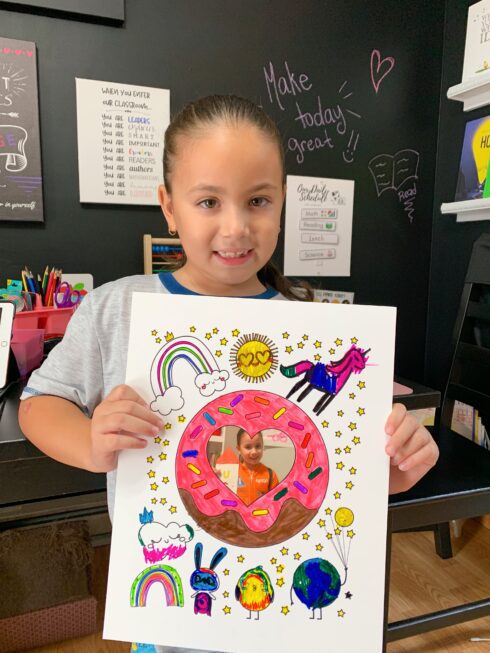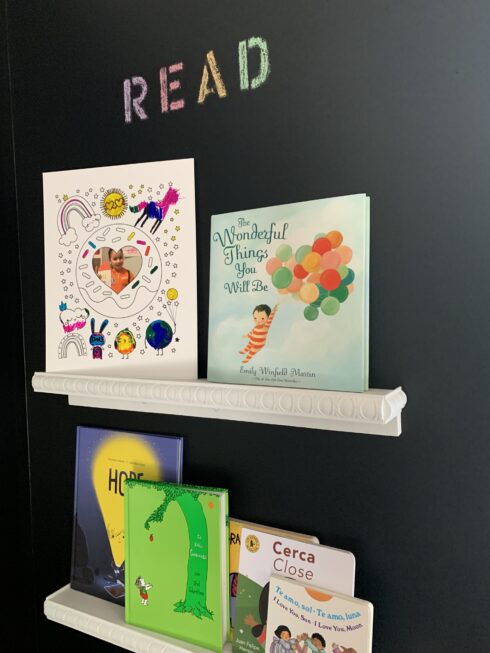 Build Reading Stamina
Now that the kids are mostly learning online, it's important that we don't forget the value of reading books. Reading is like brain food for our kids! That's why it's so important for us to continue fostering good reading habits and challenge our kids to read every day!
As a 1st grader, my youngest is still developing her reading abilities. So this year I want to really focus on helping her build her reading stamina. Having stamina means being able to stick with something for a period of time. Reading stamina is a child's ability to focus and read independently without distractions. Because little kids often have difficulty sitting with a book for longer periods of time, I want to give my daughter a fun way to build her stamina and work her way up to reading for a longer time. I also want to be able to easily track her progress and celebrate her achievements every step of the way.
That's why I created a fun Build Your Reading Stamina Chart. I simply uploaded my custom printable to the Walmart Photo website and had it printed on an 11×14 Board Print. It was super easy to do and was ready for me to pick up the same day!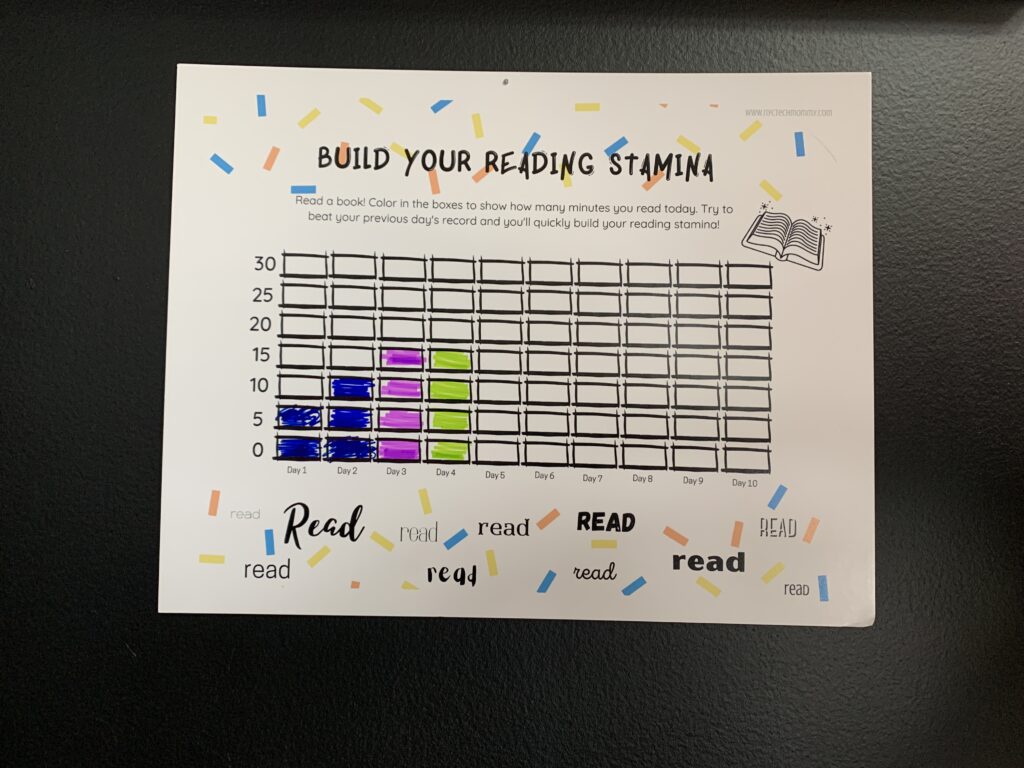 Now every time my little one reads she can easily chart her progress. The goal is for her to eventually sit and read independently for 25 minutes. Each day I challenge her to read a few more minutes and she colors in the boxes to show how many minutes she reads daily. She's currently working her way up there and seeing her progress on our Reading Stamina Chart makes her feel good and keeps her motivated to read a bit more each day!
Click to download my Build Your Reading Stamina FREE PRINTABLE!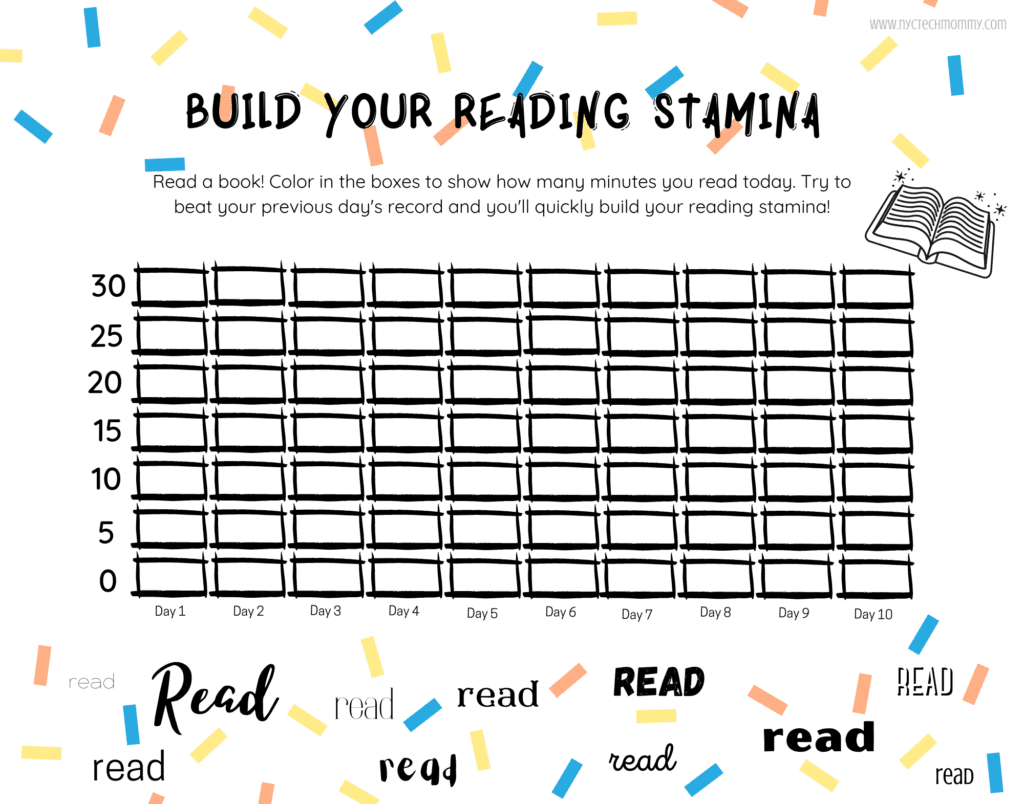 ---
What are some ways you're working to get organized and set a successful at-home learning routine this year? If you found my tips helpful, I'd love to see how you're using my free printables. Please tag me @nyctechmommy on IG, Twitter, and FB so I can see your new home learning routine in action!
Wishing you and your kiddos a successful school year at home!
Also, please don't forget to PIN this so you can come back to these home learning routine tips later.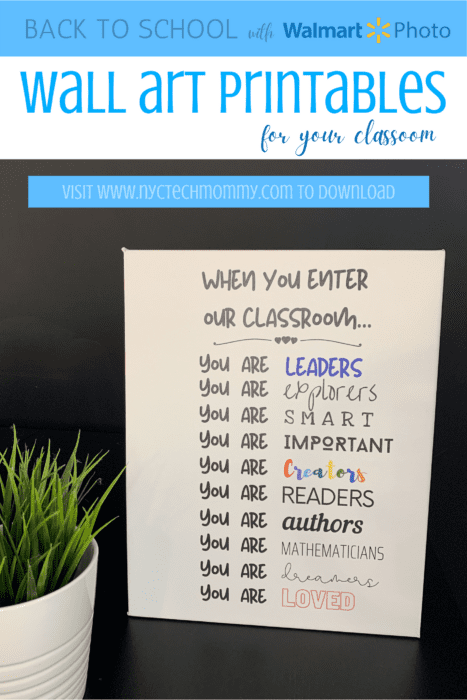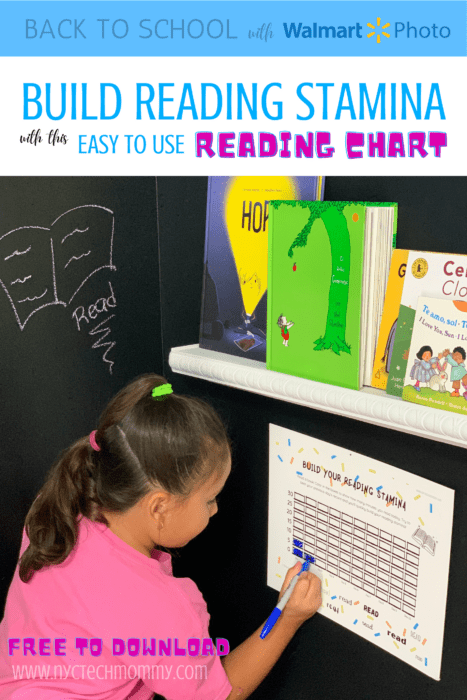 Do you have any of your own home school routine tips to share? Let me know in the comments section below.
You May Also Like