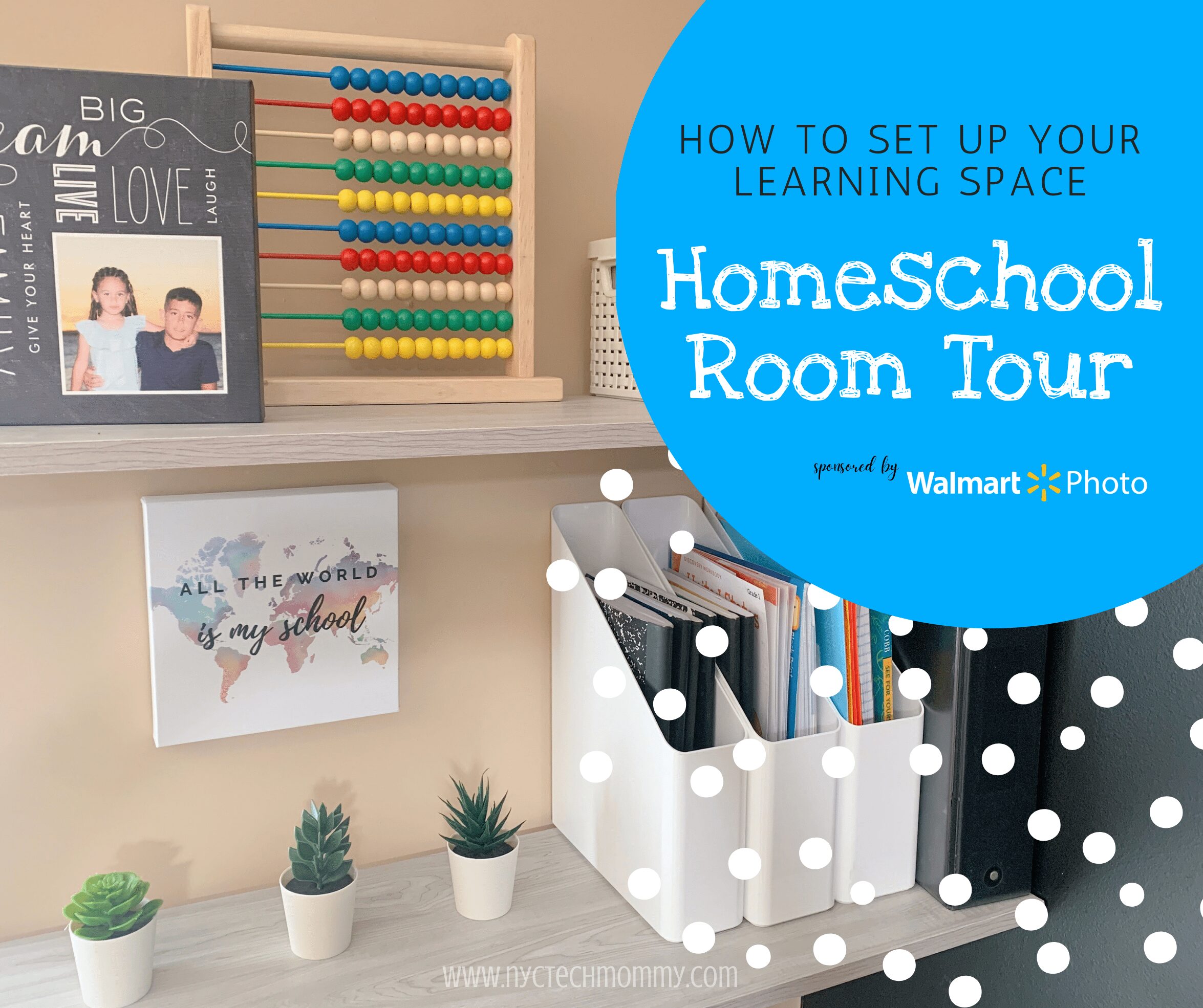 Homeschool Room Tour + How to Set Up a Learning Space at Home
Today, I'm super excited to share with you our homeschool room tour + easy to follow tips on how to set up a learning space at home.
This post is sponsored by Walmart Photo.
This year, back to school will look noticeably different for many of us. No matter if your kids are remote learning, going back to school, or you've decided to homeschool, I'm sure many of you are wondering how you'll tackle learning at home. My own kids will be virtual schooling. To start, I thought it would be a good idea to set up a designated learning area at home to help them focus and get ready to learn.
This post also includes some FREE PRINTABLES I thought you might like. I used these printables to easily create fun wall art, printed with Walmart Photo. Each piece turned out AMAZING and I can't wait for you to see how great each piece fit into our new homeschool room. Read on to get some great ideas that will help you set up your own at-home learning space!
Why Set Up a Learning Space at Home
As a former classroom teacher, never did I expect to one day have to set up a classroom in my own home. Since my kids will be home, I feel it's important to have a dedicated space where they can sit down to complete their daily learning tasks. A huge space isn't needed. Instead, what's most important is to create a functional space that will make kids feel comfortable and motivated to learn. Last spring my own kids struggled to come to terms with remote learning (as we all did). By creating a special learning space for them at home, I hope to make this a much smoother transition for them this time around!
How to Set Up Your Learning Space
Any space in your home can become a functional learning space. Get creative! I've seen people turn tiny closets into well organized learning spaces for kids. Any small corner can be turned into a cute learning nook. Start thinking of what makes most sense for you! What space are you willing to give up? Is there a room or corner of the house that you rarely use?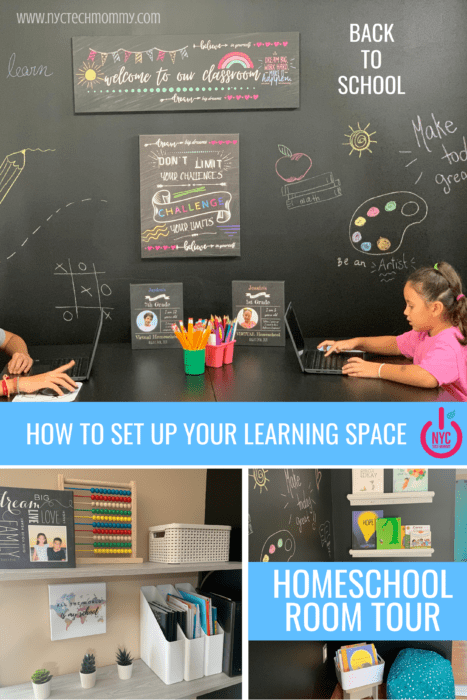 In our case we decided to turn our dining room into our homeschool room. Honestly, it's the space that made the most sense for us. We rarely use our dining room table — we prefer to sit at our kitchen's island for most meals.
Once you've pinpointed that exact spot in your home, it's time to start thinking about the things you'll need to put into that space to make it functional for learning. Don't let yourself get too overwhelmed! Keep things simple. Especially at the beginning of the school year. You can always add more to your home learning space later!
RELATED CONTENT – Tips to Set Up Successful At-Home Learning Routines + Free Printables to help you get started!
Wall Space
Depending on where you're planning to set up your homeschool space, you might have loads of wall space or very little. Whatever the case may be, I suggest you take full advantage of any wall space you do have. In our case, I decided to turn our wall into a giant blackboard. It was super easy to do with chalkboard paint and I was able to turn an ordinary wall into a super functional area. The kids can now write and draw to their little heart's content!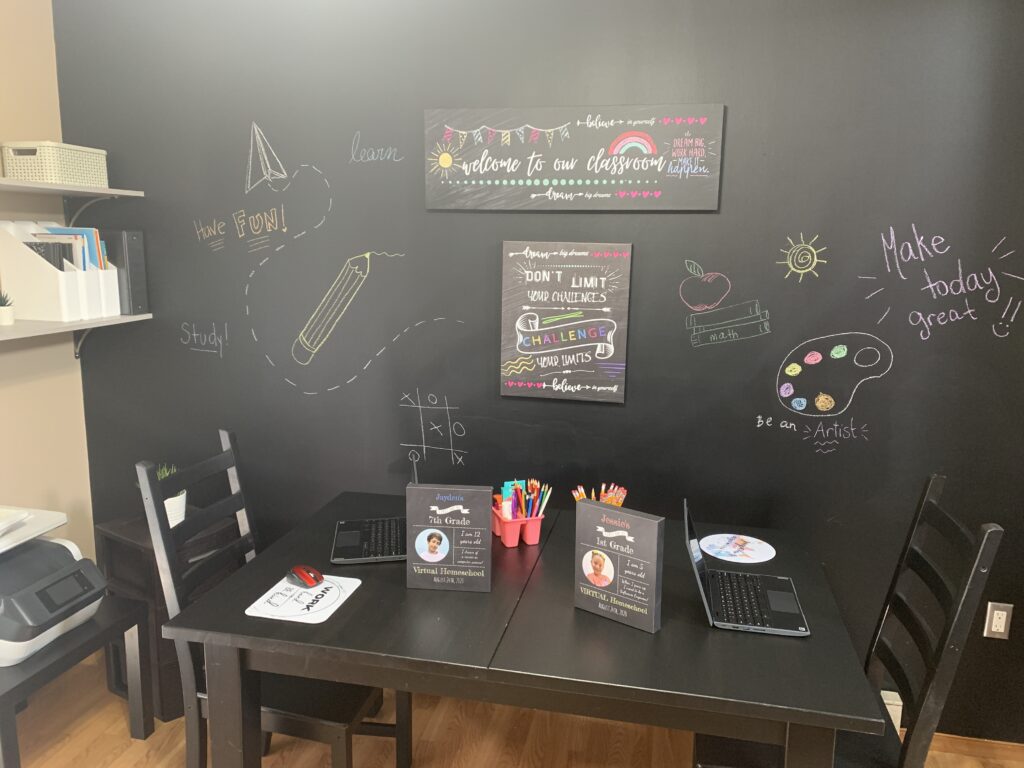 Wall Art
While we're on the topic of walls, adding wall art to any learning space can make it feel more welcoming and fun! To do this, I used Walmart Photo Same Day products and easily created custom wall art to add inspirational quotes to our homeschool room. I turned an inspirational quote into a beautiful 16×20 Canvas Print and picked it up at my local Walmart on the same day. I also ordered some additional prints for delivery — a 12×36 Canvas Print for our classroom welcome sign and an 8×8 Canvas Print to remind us that the world truly is our classroom (since my little traveling family really misses adventuring right now). I absolutely love how each piece turned out!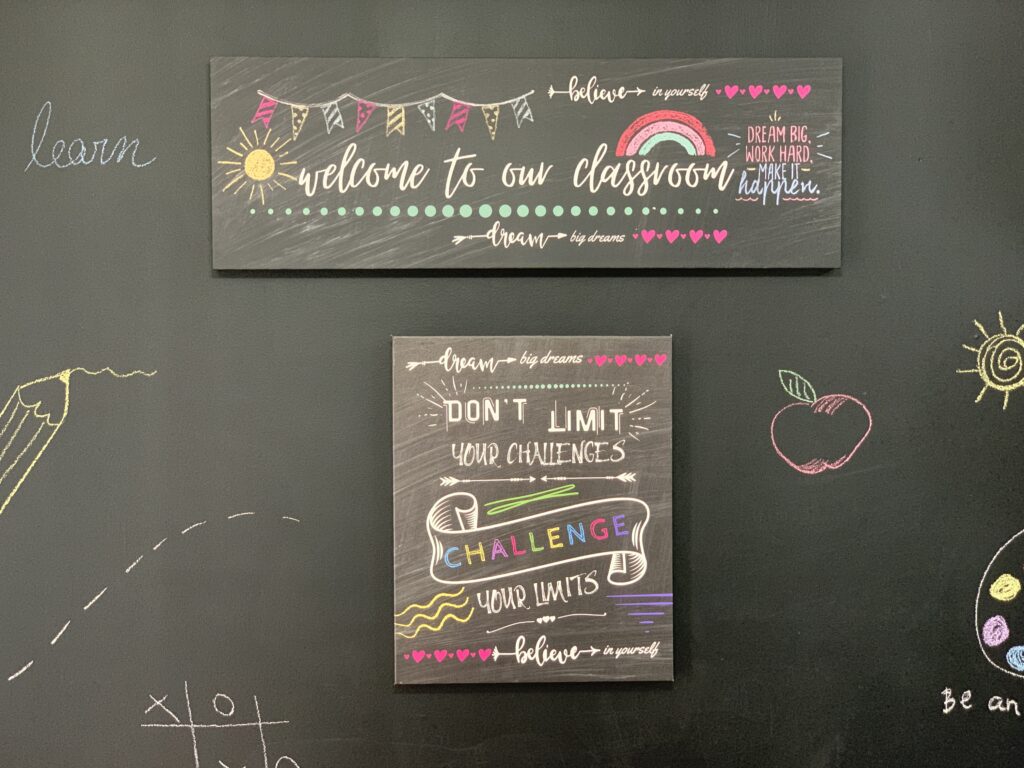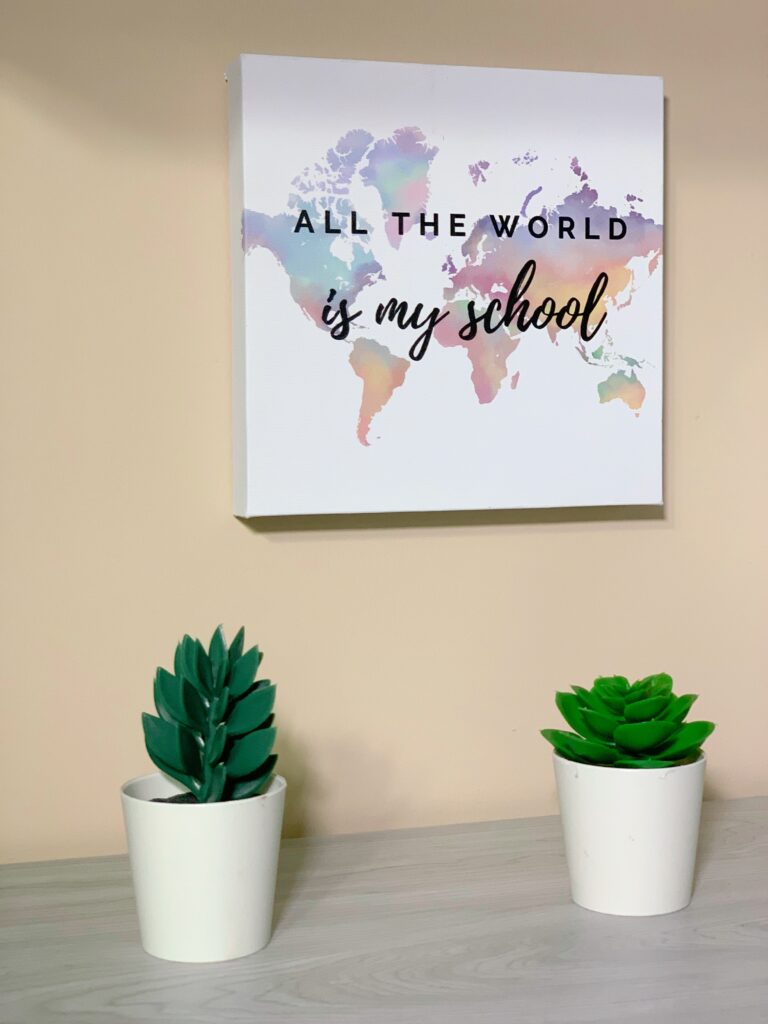 The Walmart Photo website offers great options to easily create a wide variety of wall art, posters, banners, mounted photos, and so much more! You can upload your own photos or files to customize your creations or choose one of their many pre-made templates to create something beautiful with just a few clicks.
FREE PRINTABLES
I thought you might want to recreate some of these great pieces for your own learning area. Teachers could use these to spruce up their virtual or in-person classrooms too! To download, just click a printable from the list below. If you're going to get these printed at Walmart Photo, like I did, I've added a link to each of the Walmart Photo products I used so you can easily place your order.
Welcome to Our Classroom – Print using 12×36 Photo Canvas from Walmart Photo
Don't Limit Your Challenges – Print using 16×20 Photo Canvas from Walmart Photo
All the World is My Classroom – Print using 8×8 Photo Canvas from Walmart Photo
Work Space
You don't need to run out and buy special desks or chairs for your kiddos. I simply used what I already had on hand. It's easy to repurpose any old table. Pull an old desk out from a different room. Even borrow some used furniture from a friend. Since I decided to turn our dining room into our new homeschool room, I just used our existing dining room table. I simply removed a few chairs and pushed the table against the wall. I then assigned each of my two kids opposite ends of the table (so they don't get distracted by each other).
Since my kids will be using their computers a lot, I also added a special mouse pad to each of their individual work areas.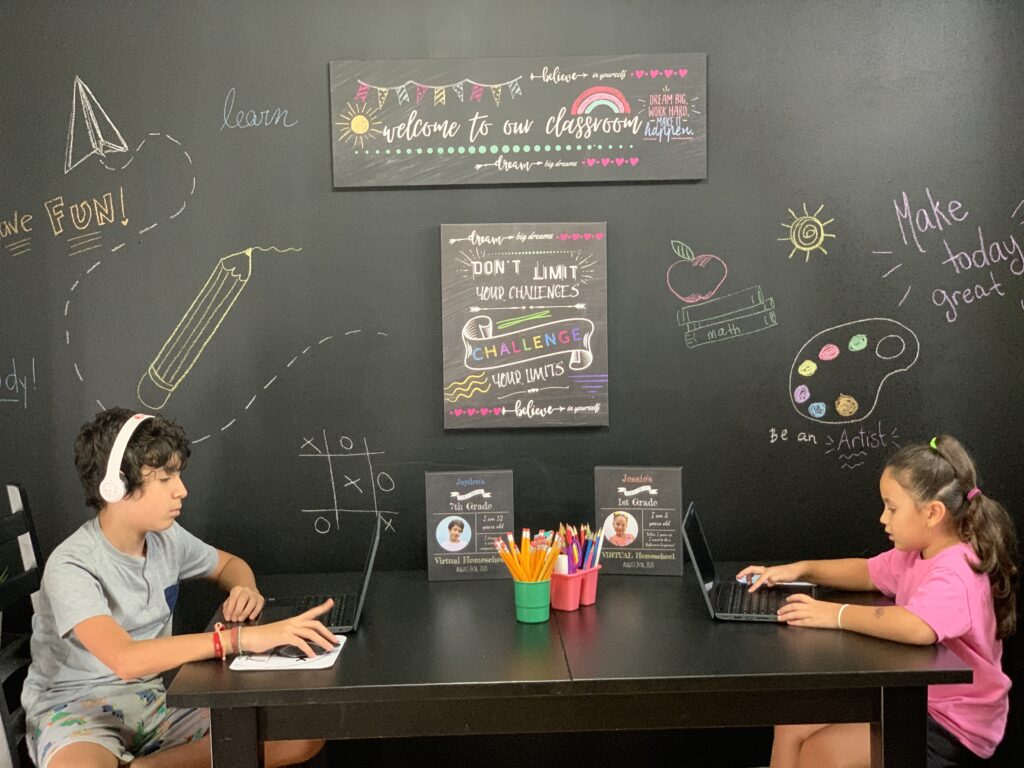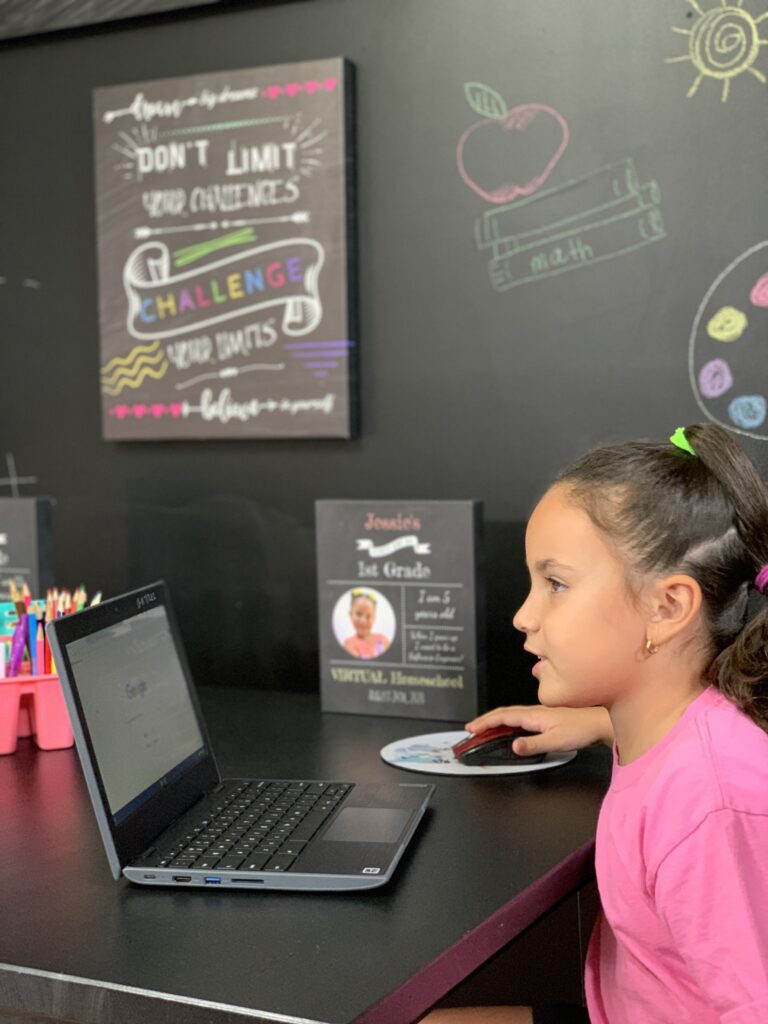 I created each of these cute mouse pads using the Walmart Photo website and then had them printed and delivered as a special back to school surprise for each of my kiddos. I ordered a round mouse pad for my daughter and a rectangular mouse pad for my son. Inexpensive and my kids loved them!
Below are the free downloads in case you want to recreate these cute mouse pads for yourself! These cute designs look great on a mouse pad, but you could also play around with how you use them in your own home or classroom and create matching Poster Prints or Canvas Prints from Walmart Photo. Just click to download!
All the World is My Classroom – Print using Round Mouse Pad from Walmart Photo
Work Hard | Be Kind – Print using Rectangular Mouse Pad from Walmart Photo
Storage
To keep materials handy and well organized, you'll need a designated storage area for books, school supplies, and any other materials needed for learning at home. The good news is you don't have to go crazy building big cabinets or expensive cubbies to use as storage. There are so many easy ways to create storage that doesn't take up loads of time, space, or money.
For example, I purchased a 3-Drawer Weave Tower set of stackable storage drawers for under $15 and use it to store our workbooks, printer paper, and other learning supplies.
Shelves
Remember how I told you to take full advantage of your walls? Wall shelves are a great way to add extra storage to your homeschool room. Shelves come in such a wide variety of sizes that I'm sure you can find just the right one to meet your specific needs.
Shelves are also a great place to store things you might want to keep away from curious little fingers. Stack labeled plastic bins full of school supplies on shelves to keep them hidden from the little kids. You can also add a few book bins or a pair of bookends and easily turn any shelf into a homeschool library. The possibilities are endless!
For our little reading nook, I repurposed a couple of old floating shelves by giving them a fresh coat of paint. Then added a few favorite books and TADA! We have a functional spot to hold and display books for daily reading!
Other Essentials to Consider
There are some additional essentials you might want to consider when creating a functional learning space at home. For example, setting up your child's workspace next to a window for natural light or adding a lamp to ensure there's enough light for reading and writing. Good lighting is important since it will make it easier for your kids to focus and will keep them from straining their eyes.
Some other must-haves I like to have on hand include pencil holders or large cups that can be used to keep pencils and crayons handy. Having a power safety strip on hand is also essential. Especially, since devices will have to be recharged often. Keep a power strip handy or place one near your child's work station for easy use.
In addition, consider adding some personal touches. This can make your learning space feel extra special for your kids. Add a plant for your kids to care for or a few family pictures that will make them smile!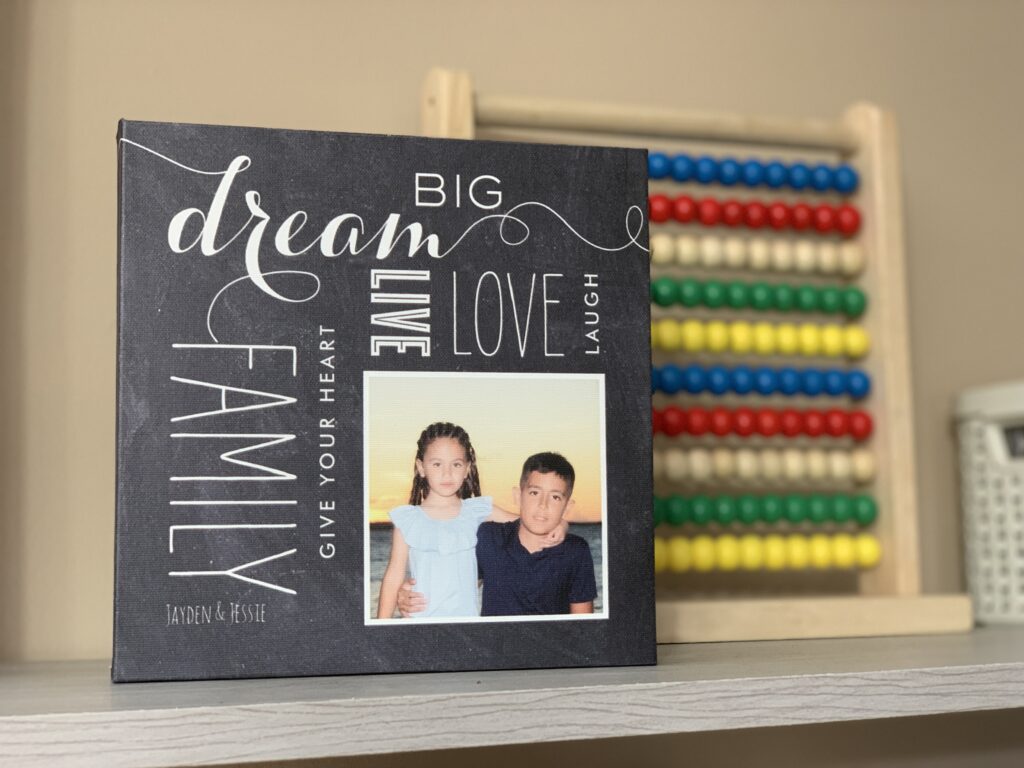 I created this beautiful Dream Big Canvas by including a sweet photo of my kids. You might even want to consider creating a First Day of School Canvas, like the ones I ordered for my kids. I think it'll be fun to look back at these years from now. Especially since my kids weren't very happy about remote learning last spring, but are now feeling excited to be learning at home. Having a learning space to call their own has given them something to look forward to this school year. Plus, I'm sure this will be a school year none of us will soon forget!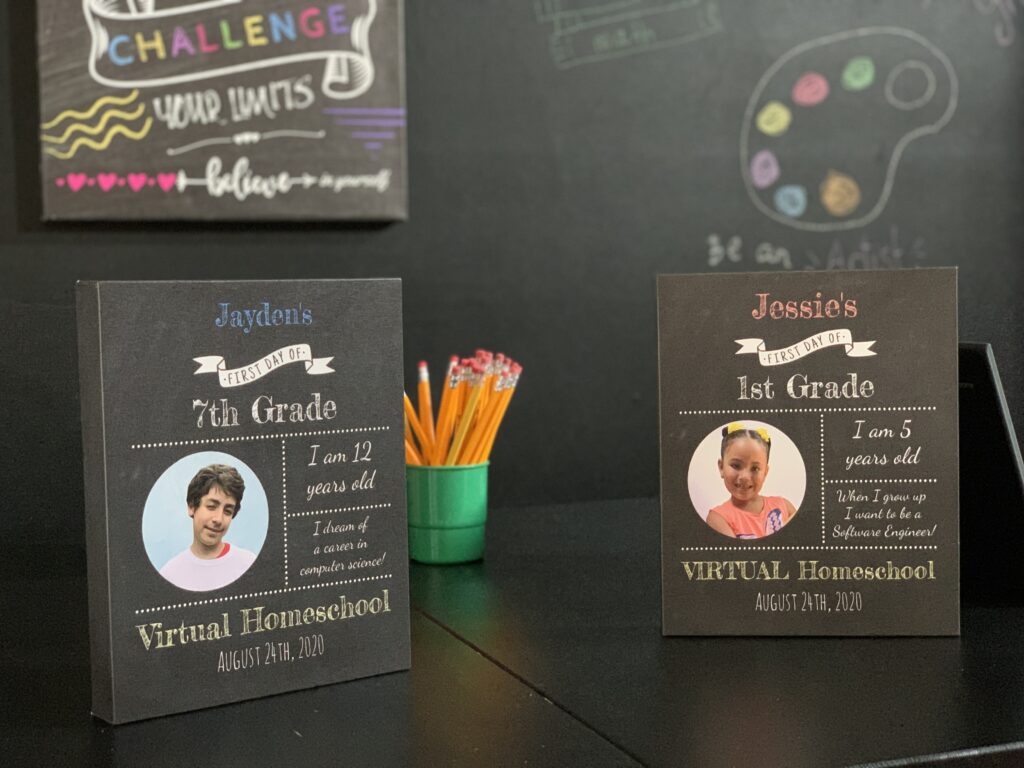 ---
Wishing you a successful school year at home!
You've got this and remember that we're all in this together! 😉
Come back later this week when I'll share some useful tips to help you create successful learning routines to easily guide your learning at home.
Don't forget to PIN this so you can easily reference all my tips on how to set up your learning space later!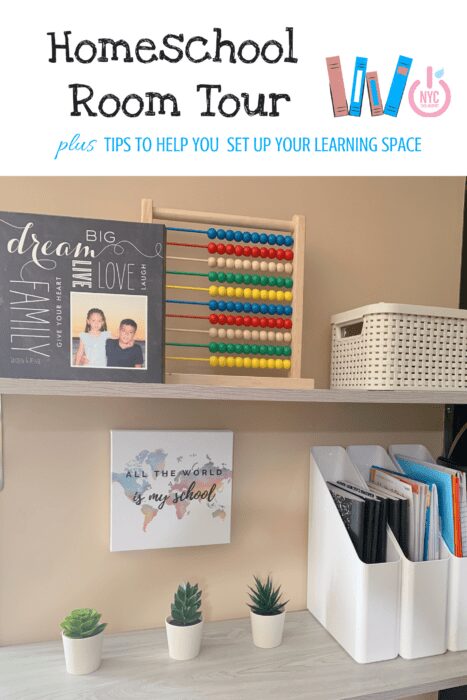 Did you enjoy these tips on how to set up your learning space at home? Have any questions or some of your own tips to share? Feel free to let me know in the comments section below.
You May Also Like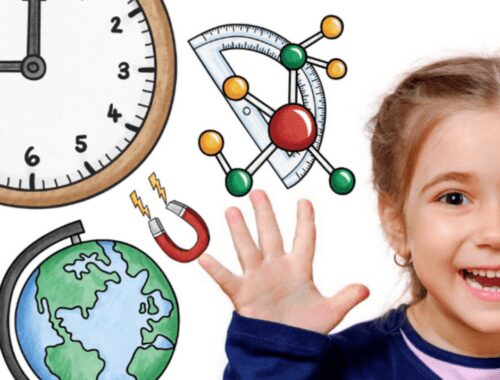 April 23, 2020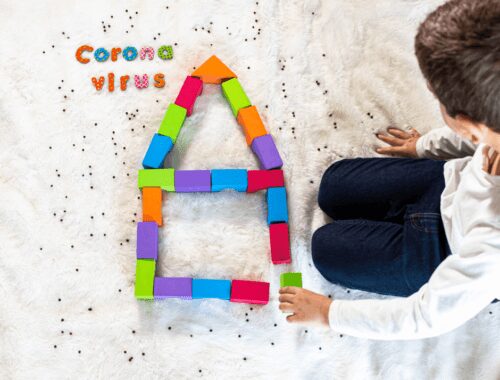 March 21, 2020