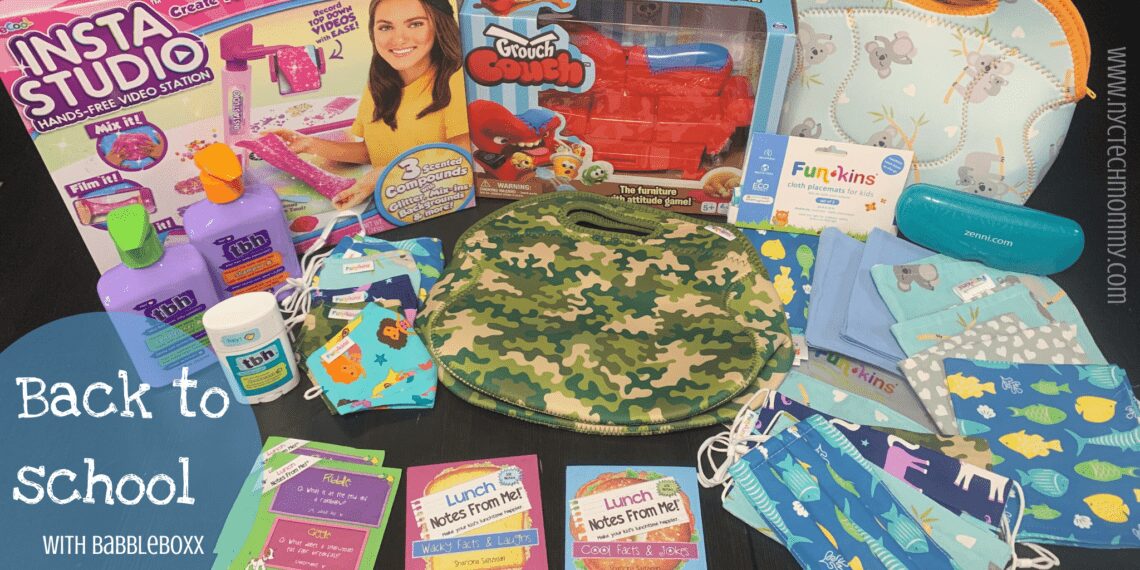 Back to School Must-Haves for Kids Health, Learning and Play + Discount Codes
Do you have your school supplies ready to go? Today I want to share with you some great Back to School Must-Haves for kids health, learning and play. I'm sure you'll want to add these to your back to school shopping list this year! Plus, I've included some great discount codes and links for all products below. Read on!
I know that juggling all the Back to School things can be so overwhelming. Especially as we consider new back to school routines and scramble to gather all the needed school supplies for what will probably be a challenging school year. Lucky for you (and thanks to BabbleBoxx) I have the inside scoop on some of the best kid's health, learning and play products you'll want to have on hand this school year. I'm calling these my family's Back to School Must-Haves and I think you'll love them!
Just so you know, BabbleBoxx is not a monthly subscription box. Instead, it's a box sent out to bloggers and influencers that includes the latest and coolest products for us to test out and share with all of you. I'm super excited to have recently received BabbleBoxx's Kids Health, Learning and Play themed box. Honestly, I can tell you that all of these great products have quickly become kid-favorites at our house. Add these to your shopping list!
Here's what we received inside our BabbleBoxx…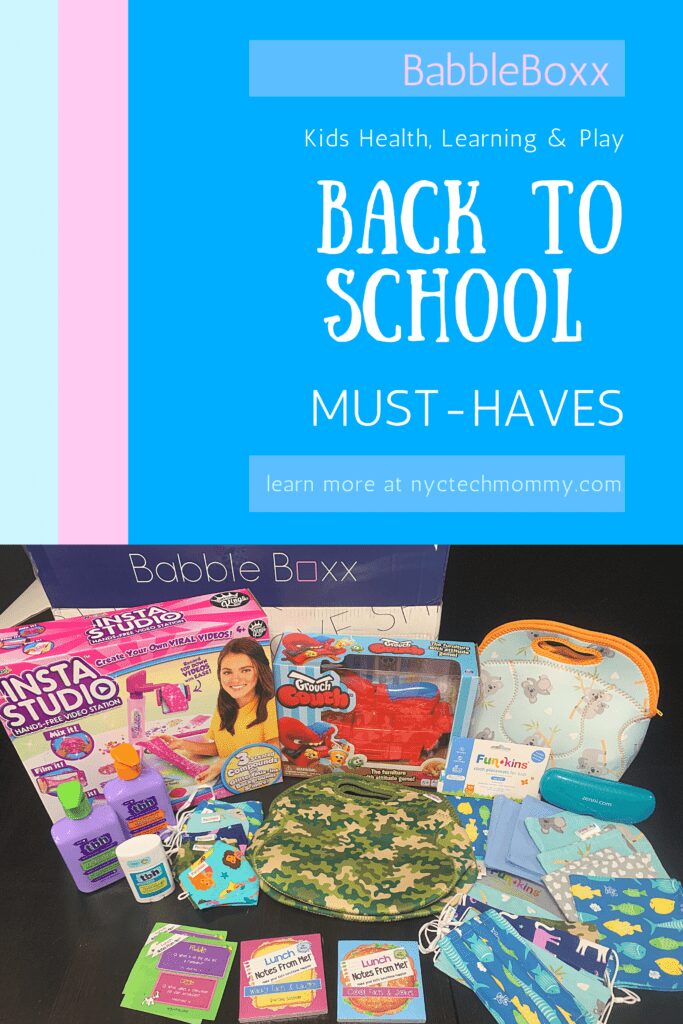 This post is sponsored by BabbleBoxx.
BabbleBoxx: Back to School Must-Haves
Funkins Lunch Bags
I love FUN and functional lunch boxes! And I think Funkins Lunch Bags are the perfect lunch boxes for kids on the go!
Funkins bags are insulating, ultra-durable and machine washable making them super easy to clean. They're also soft and include soft handles and easy zippers for little ones to unpack and repack easily. I love the patterns (perfect for little kids and big kids too). There's even a cute little inside pocket that's perfect for storing small snacks or utensils — a great place for small lunch notes (more about lunch notes later in this post).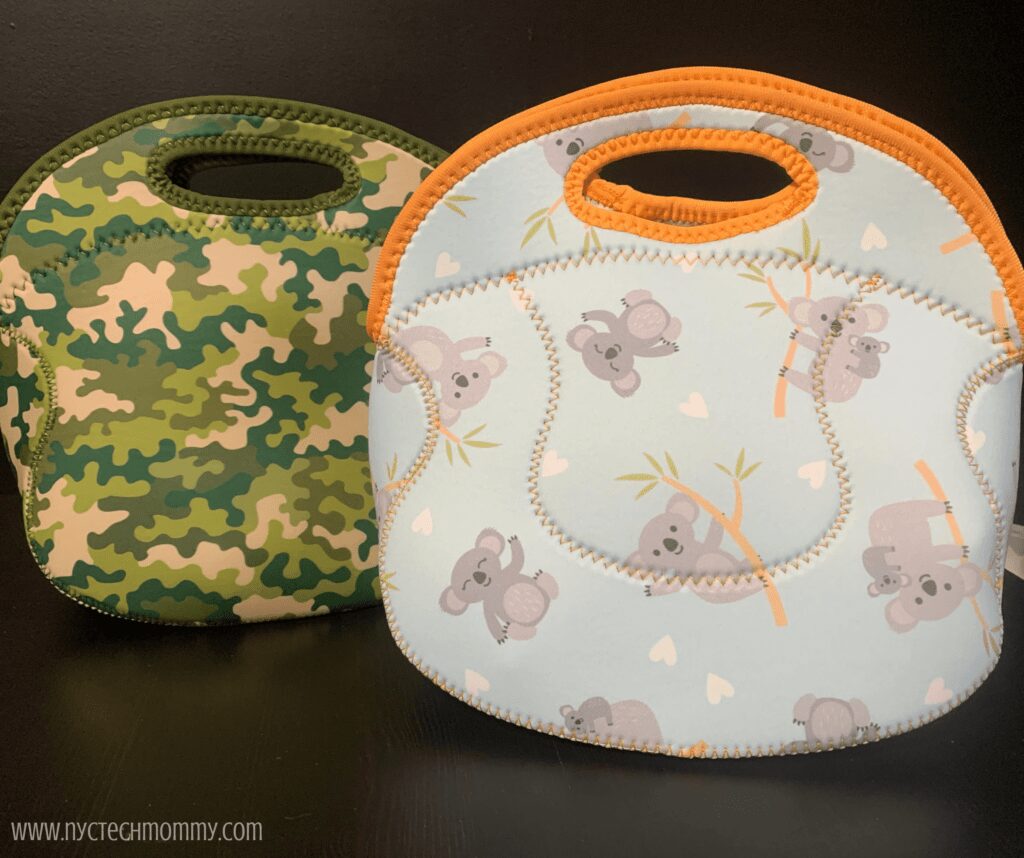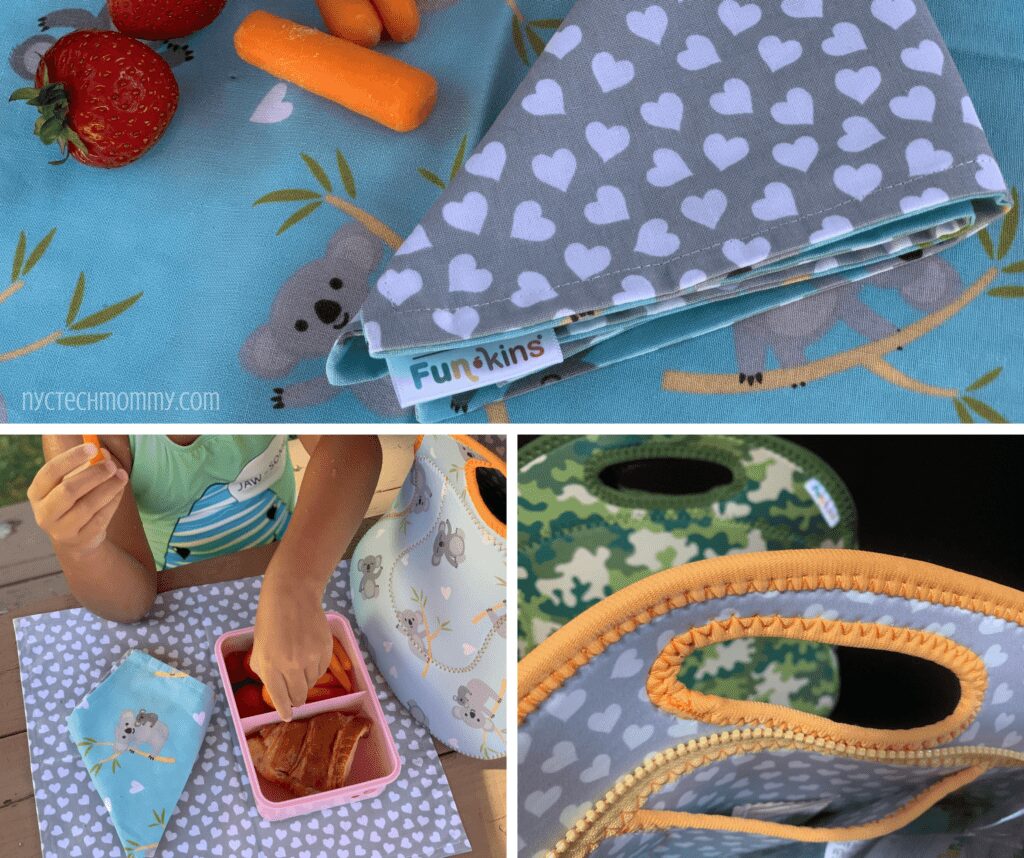 Funkins Reusable Cloth Napkins & Placemats
I'm all about keeping it green! And Funkins Reusable Cloth Napkins and Placemats are sure to make mealtime not only cleaner, but also greener. I love that Funkins cloth napkins and placemats are reusable and eco-friendly and can be washed and used for years to come. Perfect for keeping mealtime messes contained! They're thick and absorbent with two layers of soft and fun cotton fabric to keep little ones and mealtime clean. Plus, they come in a wide variety of fun and colorful patterns and they're reversible. A great eco-fun solution for waste-free school lunches, meals at home, and on-the-go too!
Head on over to the Funkins website to check out their full line of products.
Funkins Family Face Masks
Mask up! This is the new normal, my friends!
I was so happy to learn that in response to the current pandemic, Funkins is now making face masks for kids and parents. What's even cooler is that these cute face masks for kids are made from the same bright and cheerful patterns as Funkins reusable cloth napkins so you can easily mix and match Funkins items to easily create your own fun matchy-matchy back to school style!
Plus, a cute and comfortable face mask is definitely a back to school must-have this school year!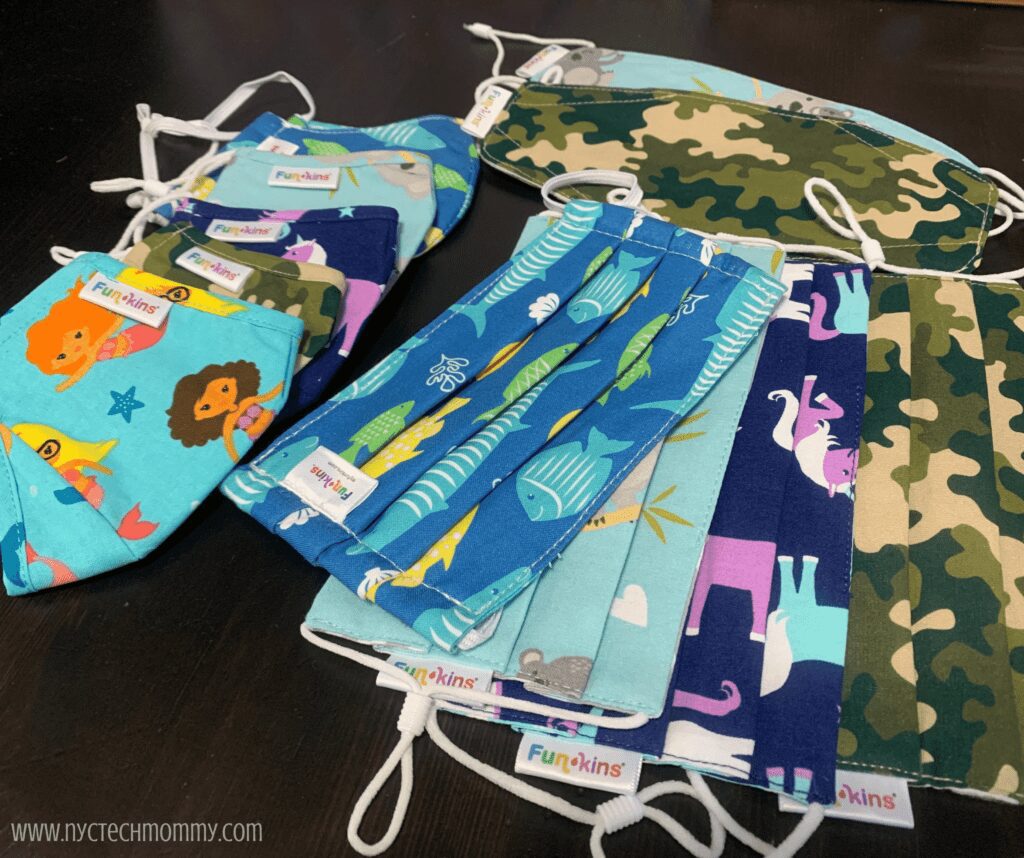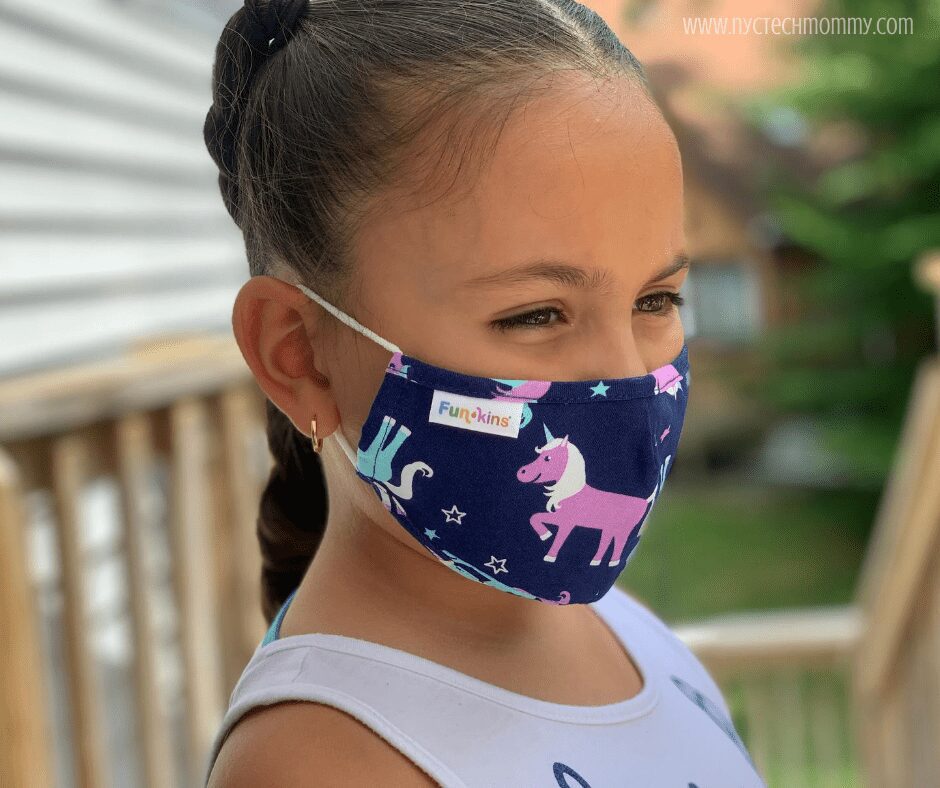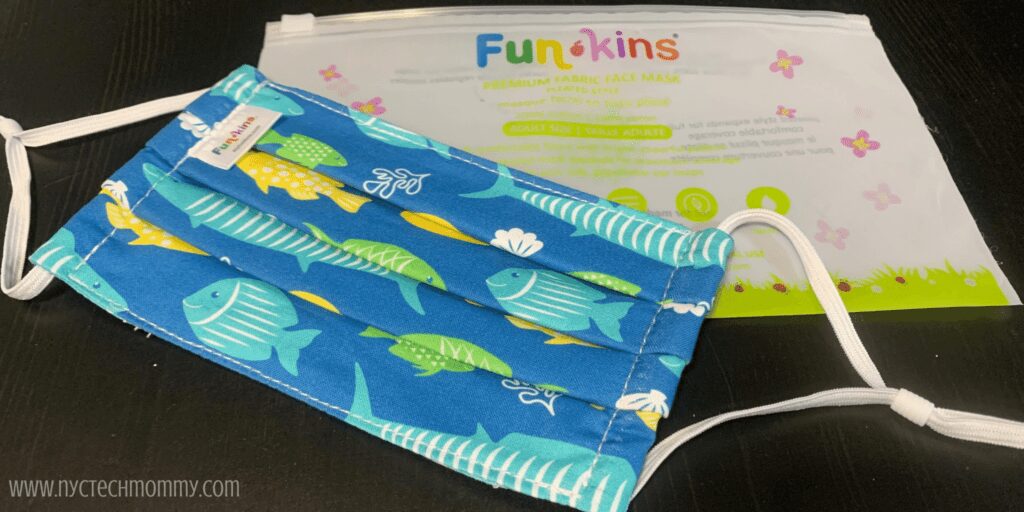 Funkins face masks for kids and adults are soft and comfortable. Everyone in our family absolutely loved these and since Funkins masks come in kids sizes and adult sizes too, I was super happy that we were each able to find the perfect fit and style to best suit each of us. No matter the mask, each was a comfortable snug fit and we even had fun twinning!
You should also know that Funkins masks are reusable and made with two layers of woven cotton and include adjustable ear loops and a nose-bridge wire in some designs which makes them so much easier to wear and adjust for a perfect fit. Also eco-friendly since they can be washed and reused for daily wear. Just keep in mind that these are NON-MEDICAL grade masks, for personal use, not for using in a medical setting.
---
Lunch Notes from Me! series Tear-Off Lunch Notes Books from MyWish4U
I don't know about you but I usually include little lunch notes with my little kid's lunch. I've been handwriting notes which is a lot of work (and sometimes I forget). Here's where these cool tear-off notes from MyWish4U come in and why I think we all need to add them to our list of back to school must-haves. I truly consider these a game-changer! No more note writing for me! I now have ready to go lunch notes on the daily. Yasss!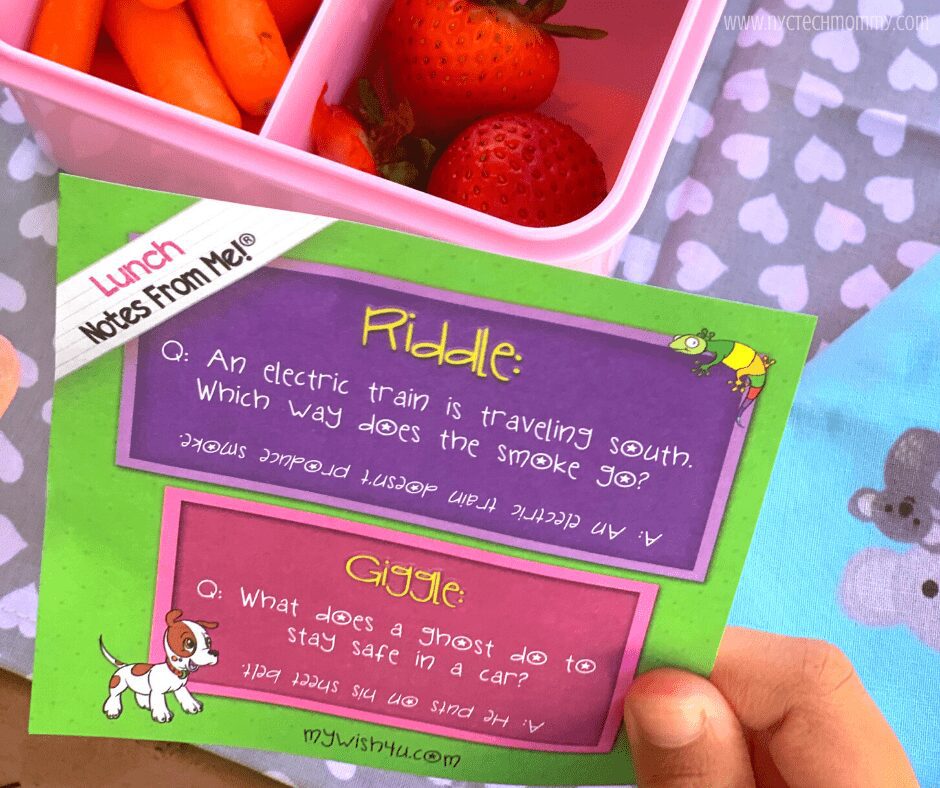 Simply tear off and place a Mywish4U Lunch Note in your kid's lunchbox! Use them at mealtime, playtime or downtime. Anytime is the right time! These thoughtful little notes from MyWish4U Lunch Notes are sure to brighten up your kid's days and lets them know you're thinking about them. My kids now look forward to these little lunch notes each day! Yes, even when they're eating lunch at home. They make great conversation starters around the dining room table. Plus they're educational and fun too! My kids have enjoyed learning new jokes and things about their world every day!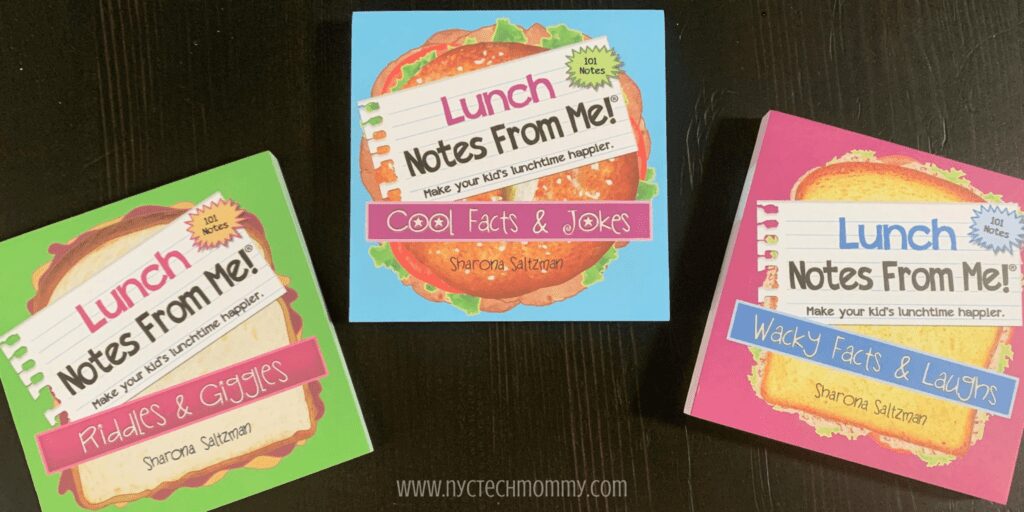 The 3 books of tear-off notes we received included:
Cool Facts & Jokes – Each note includes super interesting facts and funny jokes for laughs galore!
Riddles & Giggles – These notes include clever, funny, easy to understand riddles and funny jokes that make them a favorite for kids! Did you know that riddles help kids learn to reason and think differently? The giggles add to the fun!
Wacky Facts & Laughs – Included on each note are wild and fascinating facts to learn about our world and funny jokes to make kids laugh, too!
The Lunch Notes for Me! series Tear-Off Lunch Notes Books form MyWish4U are perfect for parents, grandparents, caregivers, and teachers too! Each set includes 101 colorful, unique, single-sided printed MyWish4U lunch notes with a blank backside. That's perfect for adding a personal message or fun doodle. These fun little notes make fun boredom busters. And can even be turned into cool summer activities for summer fun (since we still have a few more days left of summer).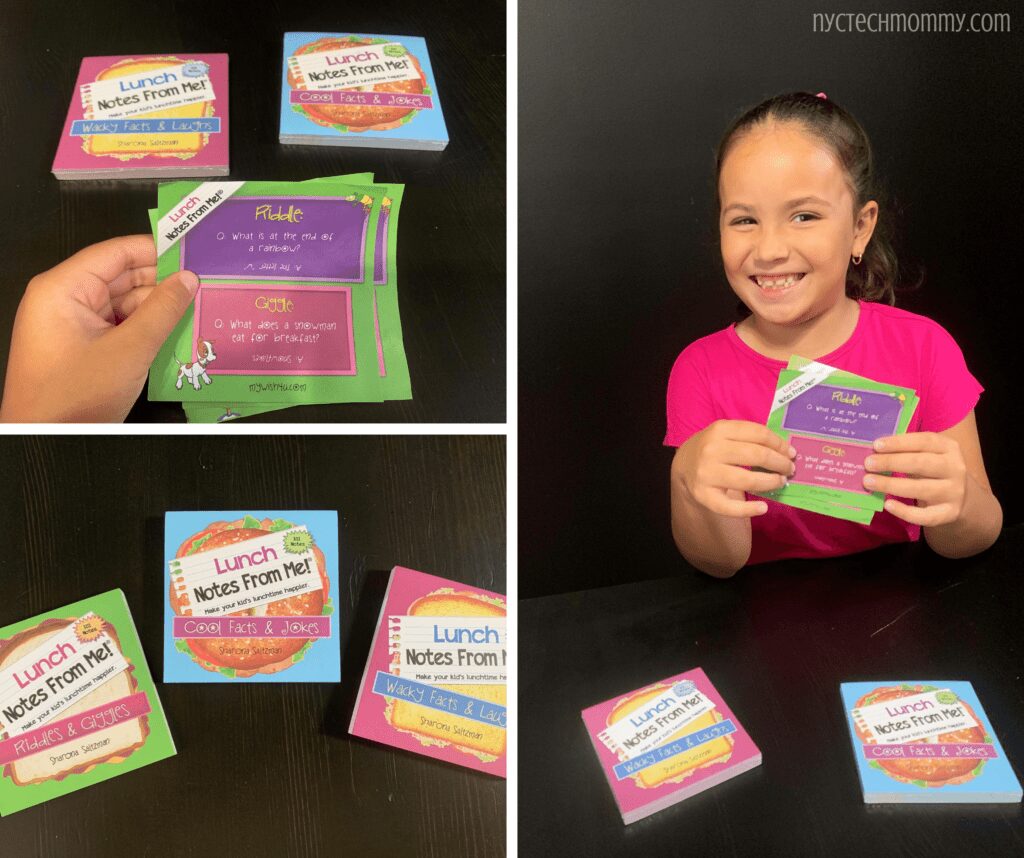 Visit the MyWish4U website or shop at Target to grab these fun and easy-to-use little lunch notes. You can find the Lunch Notes from Me! series Tear-Off Lunch Notes Books from My Wish4U at all Target stores right now (July – August) in the Back-to-School section. They're inexpensive at only $4.99 for 101 unique MyWish4U Lunch Notes in each book. Yay!
---
Blue Light Glasses for Kids from Zenni
Let's face it! Our kids will probably use their screens a lot more this school year. Why not help protect their vision and send them back to school with Zenni's fashionable eyewear for kids! It makes sense to add these to your own back to school must-haves list! Personally, I've been considering blue light glasses for the kids for some time now. Reason why I was really happy to find these in our BabbleBoxx. My kiddo enjoyed testing these out and they fit her perfectly. She found them to be very comfortable.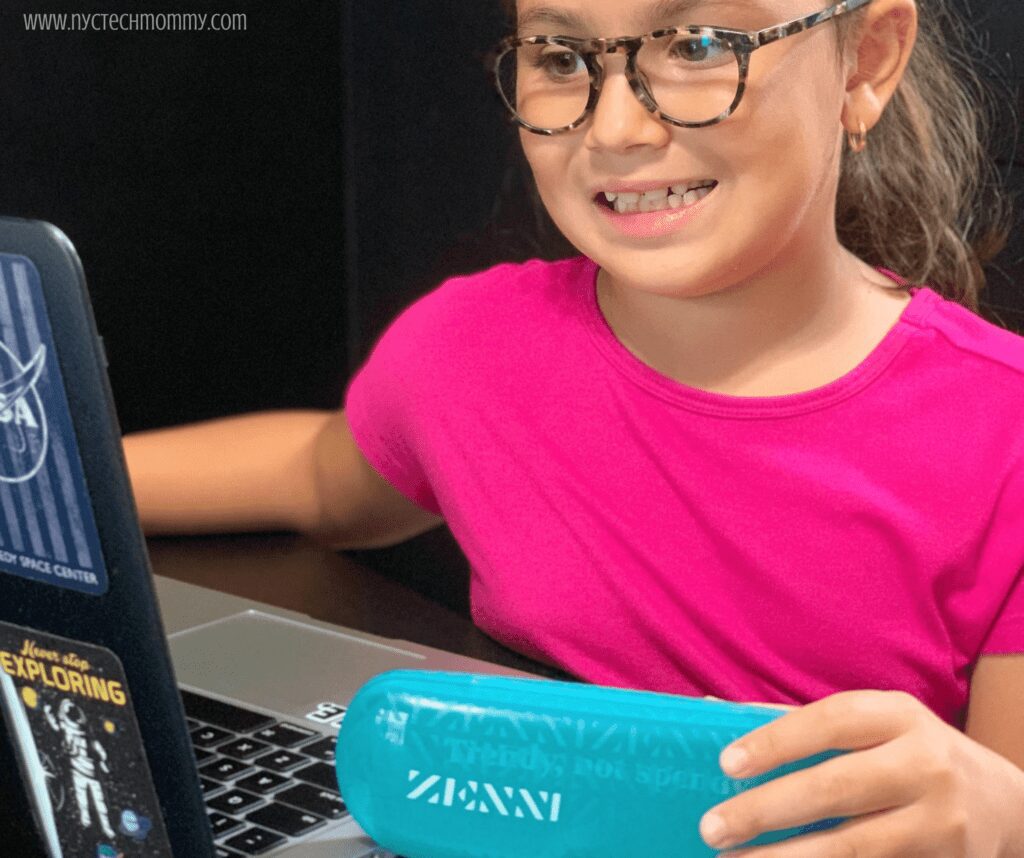 Zenni's eyewear for kids is made of high-quality acetate and available in small, medium, and large sized for ages 4-15. They're designed for comfort and these frames include adjustable temple tips for easy at home adjustments; soft and flexible temple tips that won't squeeze behind the ears; and extended nose pads to sit comfortable on all nose bridges. They also come in a wide variety of styles and colors; Round Tortoiseshell, Cat-Eye, Clear Round, Rectangle, and Eggplant Cat-Eye.
We received the Round Tortoiseshell style. These dream round glasses are part of Zenni's Style Squad line of fashionable eyewear for kids. They're made with lightweight, hand-polished acetate, and this bold style features spring hinges and flexible temple tips for all day comfort.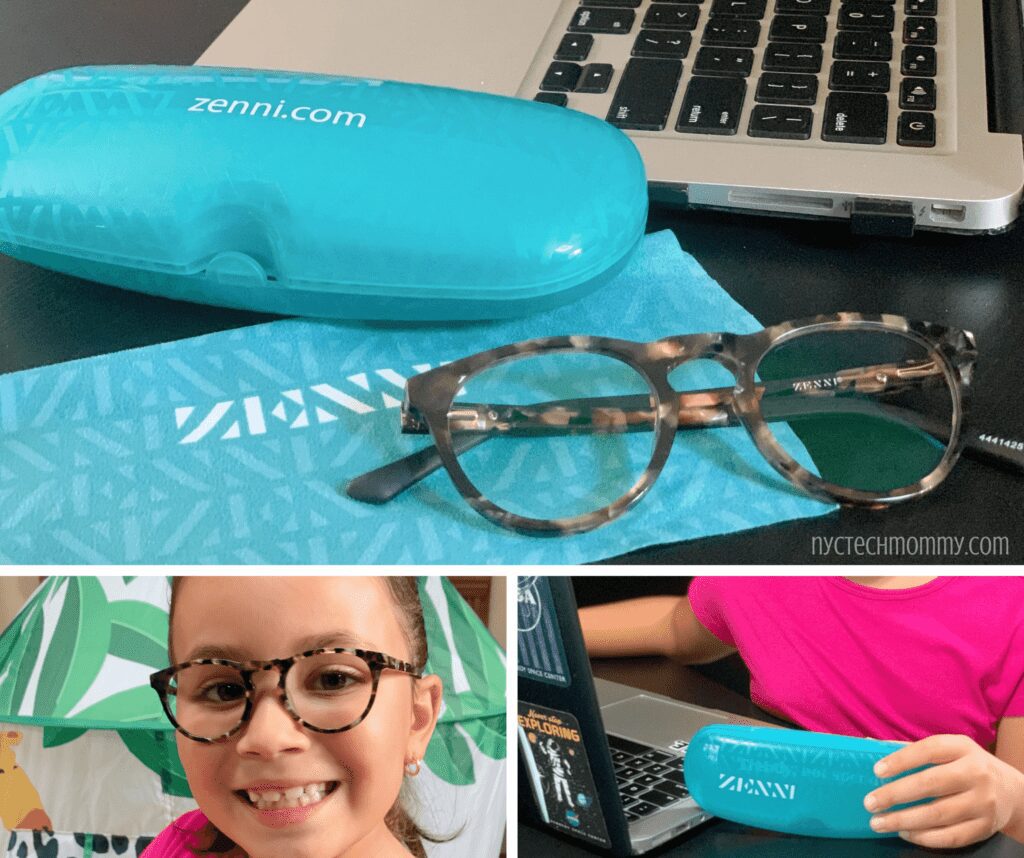 My daughter doesn't currently wear kids prescription eyewear. However, she's already very aware of the strain that extra screen time can cause on her eyes. Plus, she thought these were a great fit!
You can check out the full line of Zenni's eyewear for kids on the Zenni Optical website. Each frame includes Zenni's Blokz lenses, designed to block harmful UV and blue light to help protect young eyes from digital eye strain, blurred vision, and disrupted sleep.
---
Deodorant, Shampoo and Conditioner from TBH Kids
Raising a tween boy has recently made me very aware of the need to seek-out quality personal care products specifically made for tweens and teens. Puberty stinks (literally) so I was so glad to find products from the TBH Kids collection included in our BabbleBoxx. No matter if your kids are returning to school or homeschooling, these are back to school must-haves you need to have on hand!
TBH Kids products are formulated with natural ingredients that encourage clear, hydrated skin and clean, oil free hair. A huge plus is also that TBH Kids teaches kids and parents that good habits start early as bodies change and kids grow up. My kids were very excited to test out these personal care products made just for them. They loved the smell of them and were drawn to the colorful and playful packaging. Emoji and text bubbles? Yes, please! 😉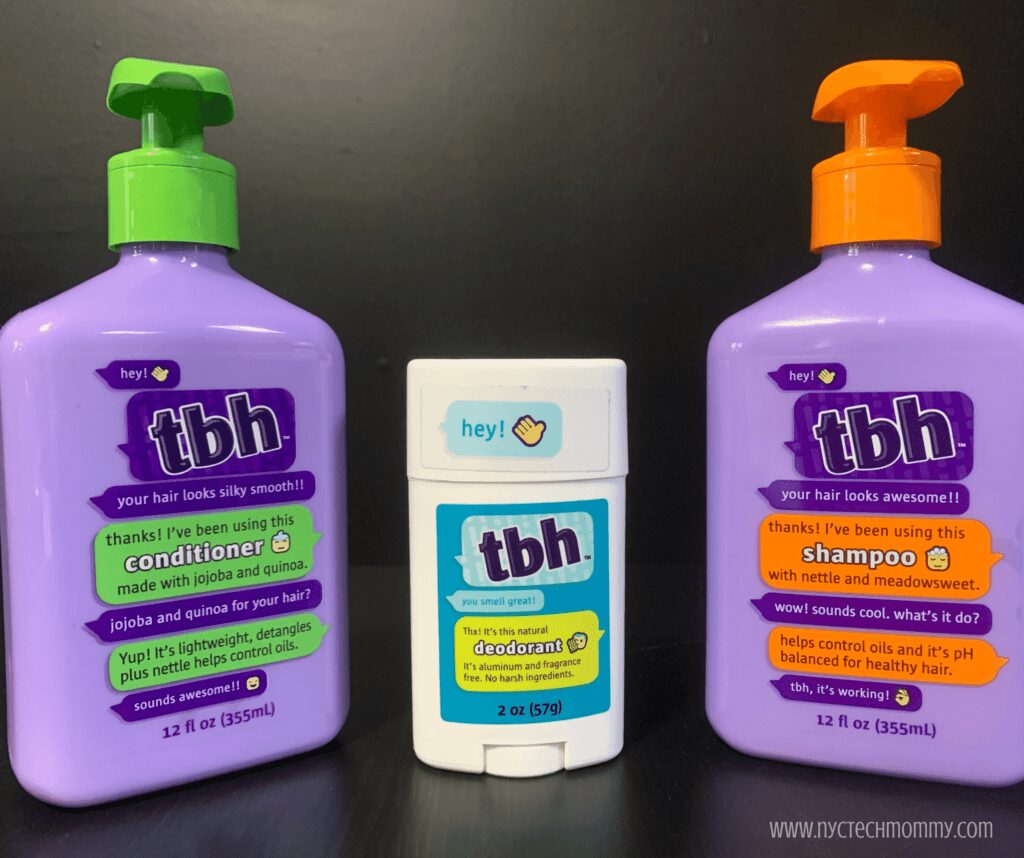 Our BabbleBoxx included the following TBH Kids products:
TBH Kids Deodorant
Made for tweens and teens with a blend of natural ingredients like charcoal, coconut oil, arrowroot powder, sodium bicarbonate, and witch hazel to help neutralize odors and absorb wetness without harsh chemicals, parabens and phthalates. Key natural ingredients like Charcoal absorbs wetness and draws toxins out from underarms. Coconut oil neutralizes body odor by getting rid of the odor-causing bacteria. It also soothes irritation and hydrates skin. The arrowroot powder helps absorb moisture without causing dry skin or irritations. TBH deodorant is also aluminum free! A great deodorant for kids! Perfect for both boys and girls and fragrance free — made with just good-for-you ingredients!
TBH Kids Shampoo
Made for kids and teens, this kids shampoo provides a gentle formula that cleanses and nourishes hair with natural ingredients like nettle, cedar bark and sage that work to help control oil levels on the hair, while maintaining pH balance. Nettle controls oil in hair without stripping natural oils. This natural ingredient treats hair loss and helps in hair growth. Also included is Meadowsweet, a soothing herb with natural astringent that helps control oils while hydrating hair. A great kids shampoo for oily hair! This shampoo also includes Quinoa which moisturizes and repairs damaged hair while preventing hair breakage. Quinoa has vegetable protein to gently cleanse and nourish hair with a healthy shine.
TBH Kids Conditioner
The TBH Conditioner for kids and teens is a lightweight formula that detangles, moisturizes and adds shine to hair without leaving any build up. This conditioner includes natural ingredients like jojoba, nettle and quinoa along with Vitamins B & E to help control oils and condition hair. The included jojoba is rich in vitamins and minerals that nourish and strengthen hair. It moisturizes the scalp and soothes dryness. The Vitamin B and Vitamin E help carry nutrients to the scalp, which aids in hair growth, also adding moisture and shine to hair. The Quinoa repairs and hydrates hair and also helps retain moisture in hair and provides extra nutrients. This allergy-free conditioner is also free of sulfates and parabens.
Check out the entire line of TBH Kids line of personal care products for kids and teens on the TBH Kids website.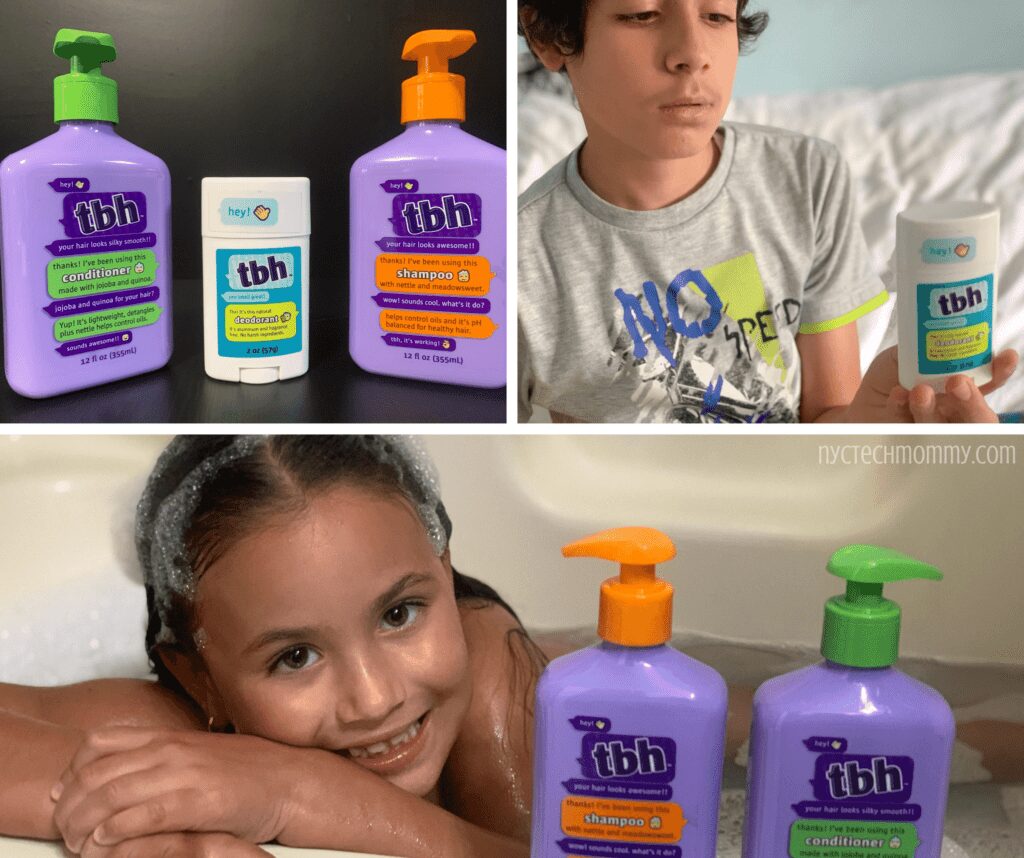 ---
Grouch Couch from Spin Master
Grouch Couch from Spin Master is an entertaining, fast-feeding, surprise-spewing game that includes a grouchy couch full of humor (and burps). It's surprise-spewing and delight play pattern will have kids laughing with excitement!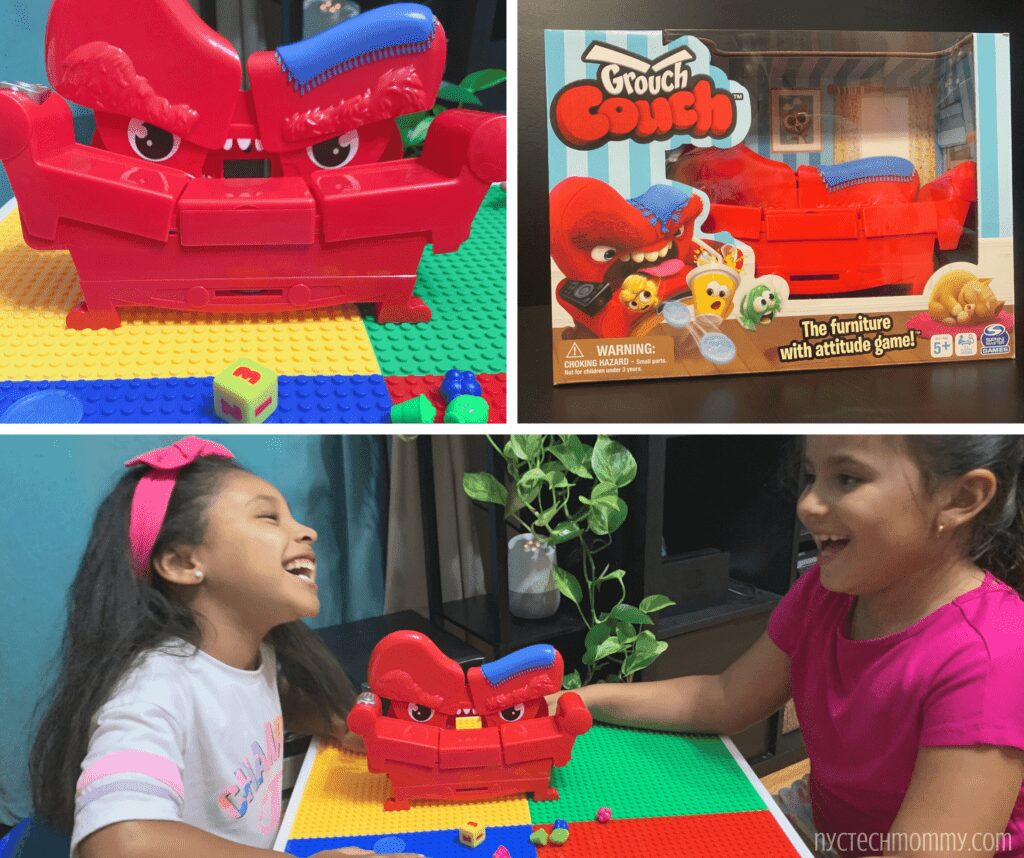 How many times have you lost something down the back of a couch and wondered if you'd ever see it again? Now with Grouch Couch you can find out! Feed Grouch Couch to make him come to life, then watch him grumble, chomp, burp and eat until he finally spits out your lost goodies (coins that show images of socks, underwear, even a cat, lol)! Collect your missing toy from Grouch Couch and be the player with the most tokens to win the game. It's so fun!
You guys know I'm all about fun! And what better way to bring a little fun to this school year than with an entertaining new game for kids to play anytime — during a little downtime from their home studies or after a long day at school. Grouch Couch is also a great board game addition to any family-game night!
Get your own Grouch Couch online at Walmart or Target!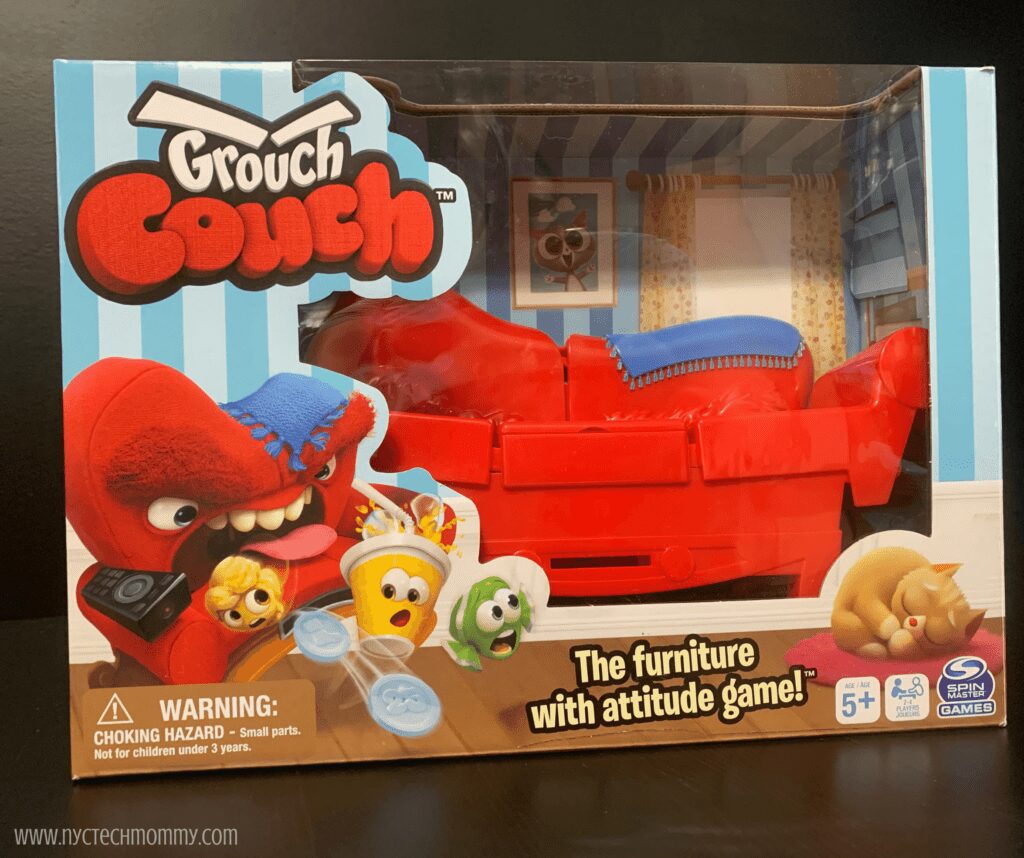 ---
InstaStudio Hands-Free Video Station from WeCool Toys/Compound Kings
In keeping things fun this school year, I was also really happy to find the InstaStudio by WeCool Toys inside our BabbleBoxx. What a fun way to bring some creativity into the mix! Literally, kids get to mix up their own slime creations! Each InstaStudio comes with 3 compounds (pre-made slime so no mess), a variety of foam beads and mix-ins, a mixing tool, fun backgrounds and a background diffuser, all to help kids create beautifully styled videos of their slime creations. FUN! My little one loved this!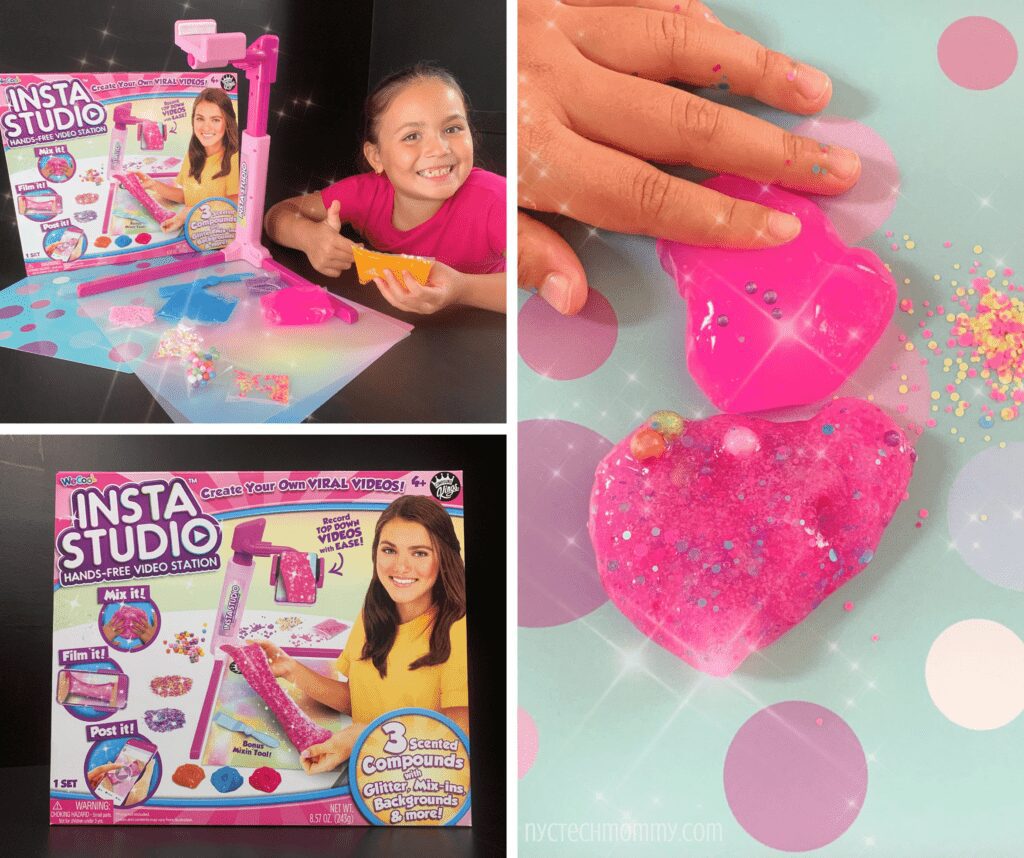 Besides fun, you guys know I'm also all about learning through play and empowering my kids to be content creators! I found InstaStudio to be the ultimate hands-free video recording set up that allows kids to tap into the power of play and become their own content creators. It's easy to use for kids and super fun! My daughter was able to use it independently and was entertained for hours. I really think this will make a great addition to have on hand on days when we can't go outside to play or just need a creative outlet during this school year!
The InstaStudio by WeCool Toys has everything kids need to shoot their very own viral videos. You can shop online at Target to grab yours!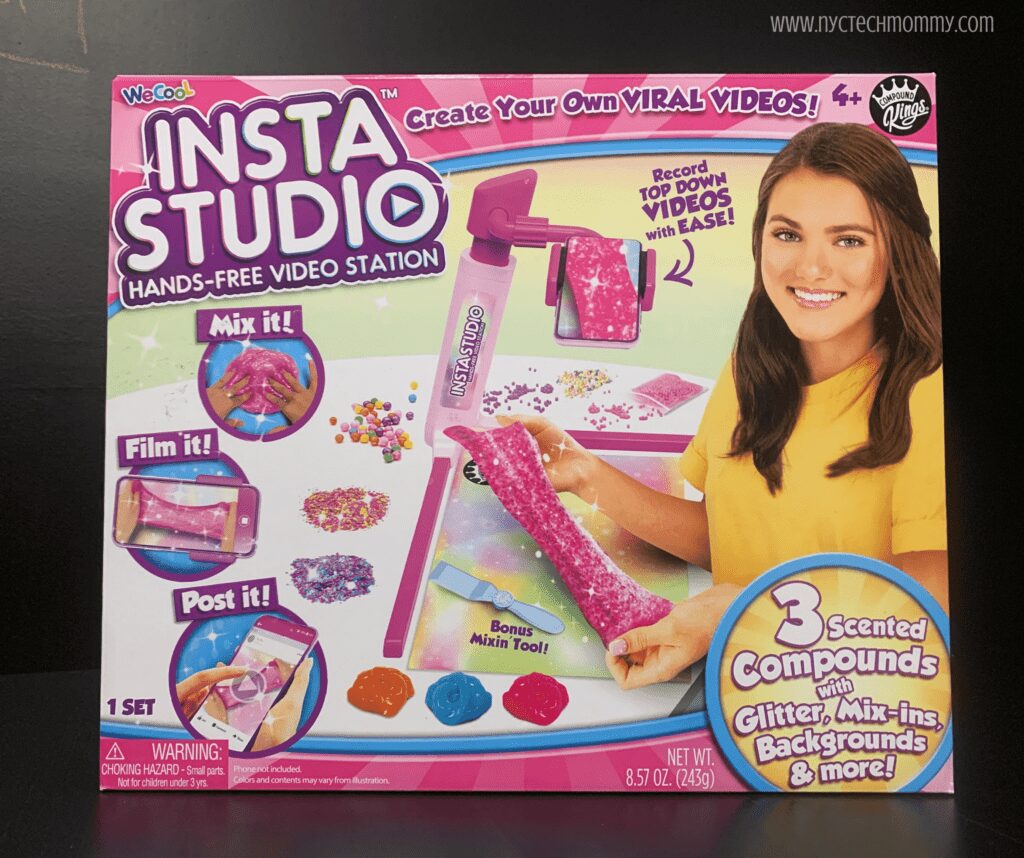 ---
Wishing you all a successful school year! Good luck with all your Back to School shopping and hope you enjoy the special discounts and links I shared for Back to School Must-Haves for Kids Health, Learning and Play!
Don't forget to PIN this so you can come back to this list of Back to School Must-Haves at any time during the upcoming school year!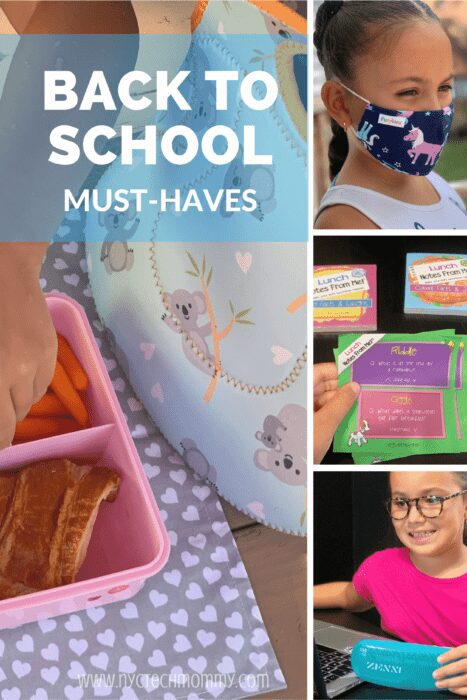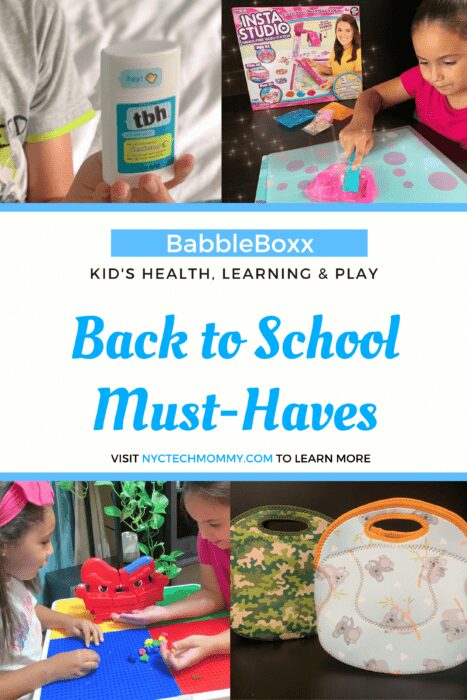 Thanks for checking out our list of Back-to-School Must-Haves!
You May Also Like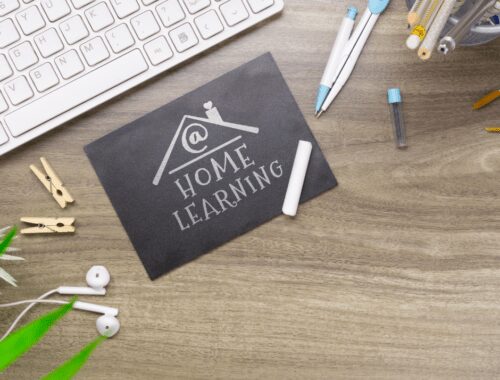 September 28, 2020