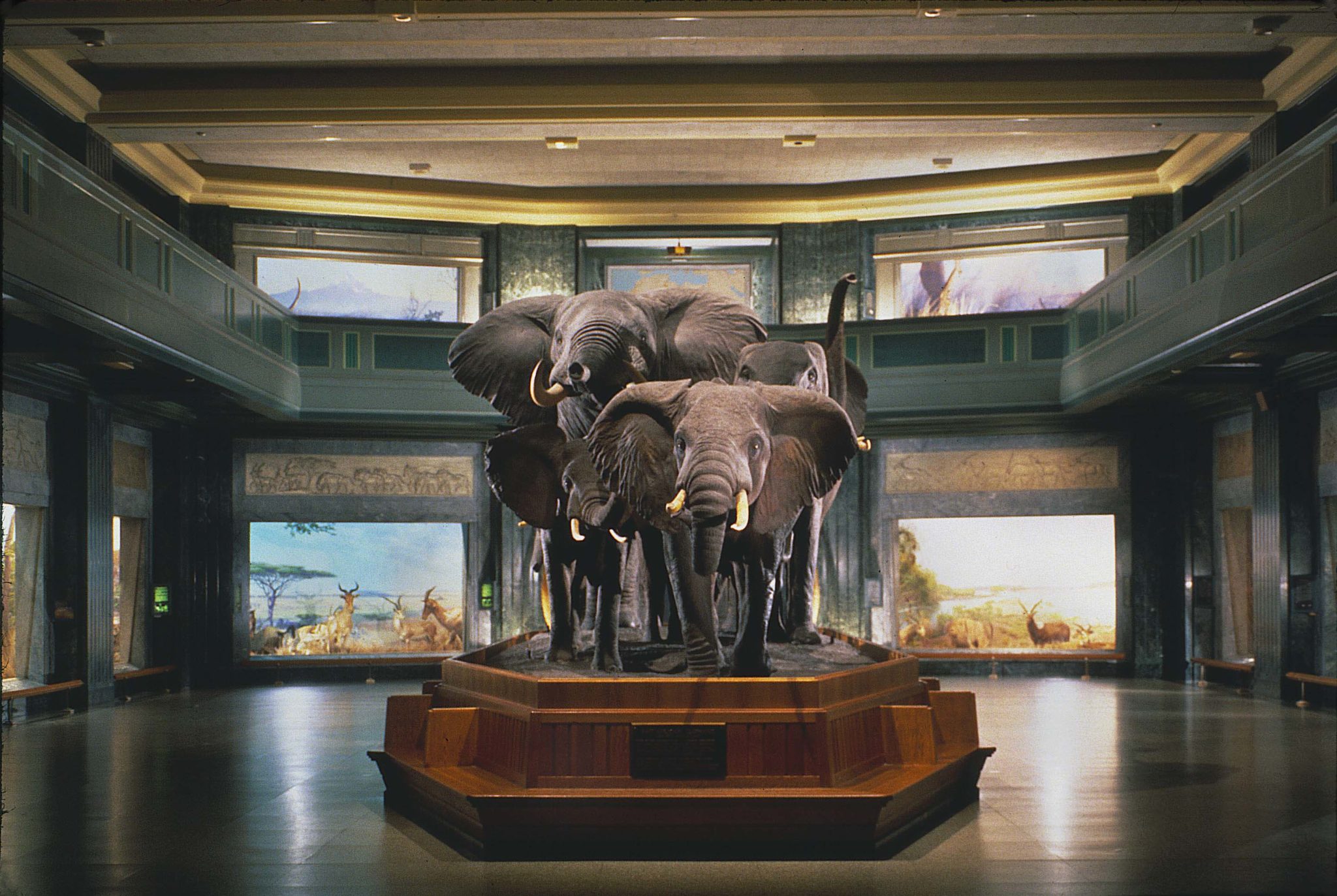 A Family Visit to the American Museum of Natural History
February 24, 2018
NYC is filled with wonderful places to visit with the family. One of our favorite NYC places to visit is the American Museum of Natural History. You might recognize it as the setting for the Night at the Museum movies. I'll admit that this is one of the reasons why my entire family was excited to visit this world-renowned museum. Let me tell you about our recent family visit to the American Museum of Natural History.
A few weeks ago we had family visiting us from out of town and they were super excited to see all the NYC sights. The American Museum of Natural History was at the top of their list — thanks to those popular movies. By the way, if you family is really into that there's even a Night at the Museum Tour to go on (although we didn't take the tour this time).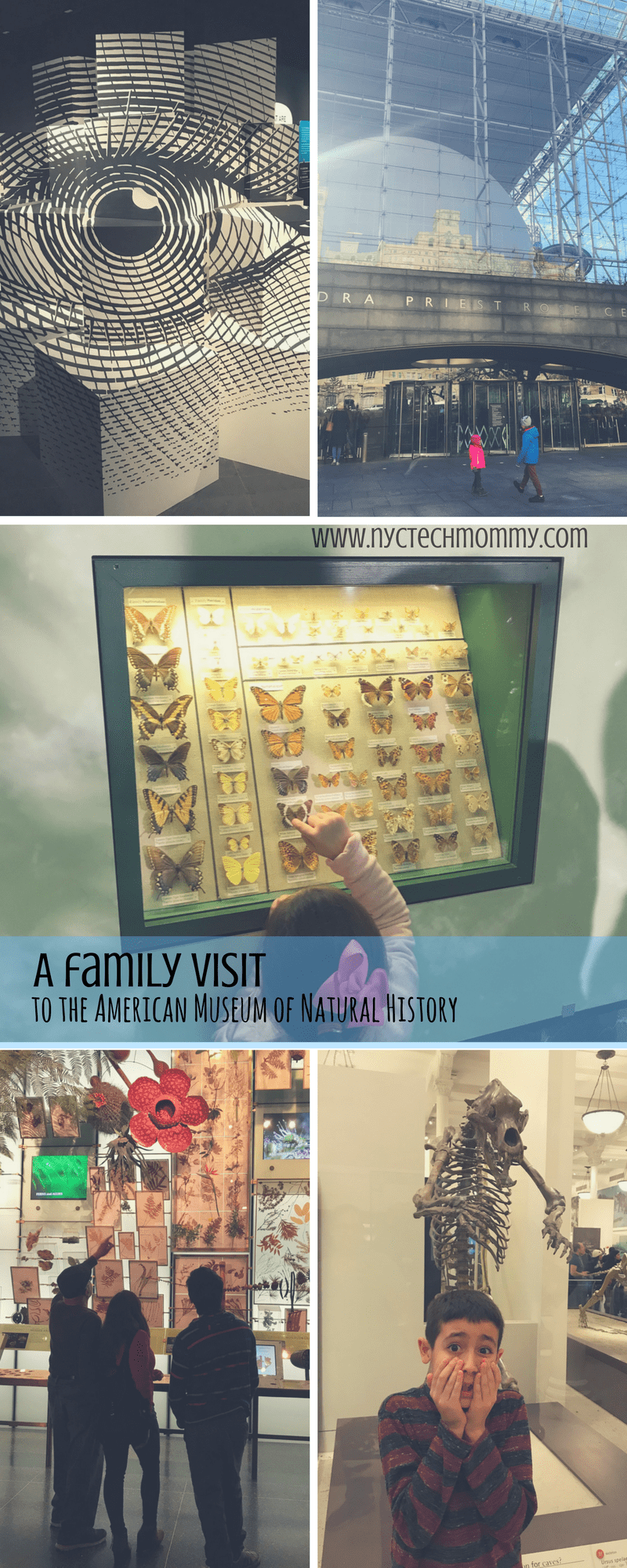 With over 40 permanent exhibit halls to explore, plus the Rose Center for Earth and Space, this place is HUGE and there is always so much to see! You could spend days at the AMNH exploring every exhibit. However, I don't recommend you see it all in one day — your family will probably succumb to museum fatigue within a few hours. My advice is pick and choose what to see at this museum. Read on to hear my recommendations and learn all about how we spent our recent family visit to the American Museum of Natural History.
Mommy Tip: Check out the museum's website before you go to plot your family's priority attractions.
Big Thanks to the American Museum of Natural History for hosting our family during this visit and providing us with complimentary tickets to the Museum.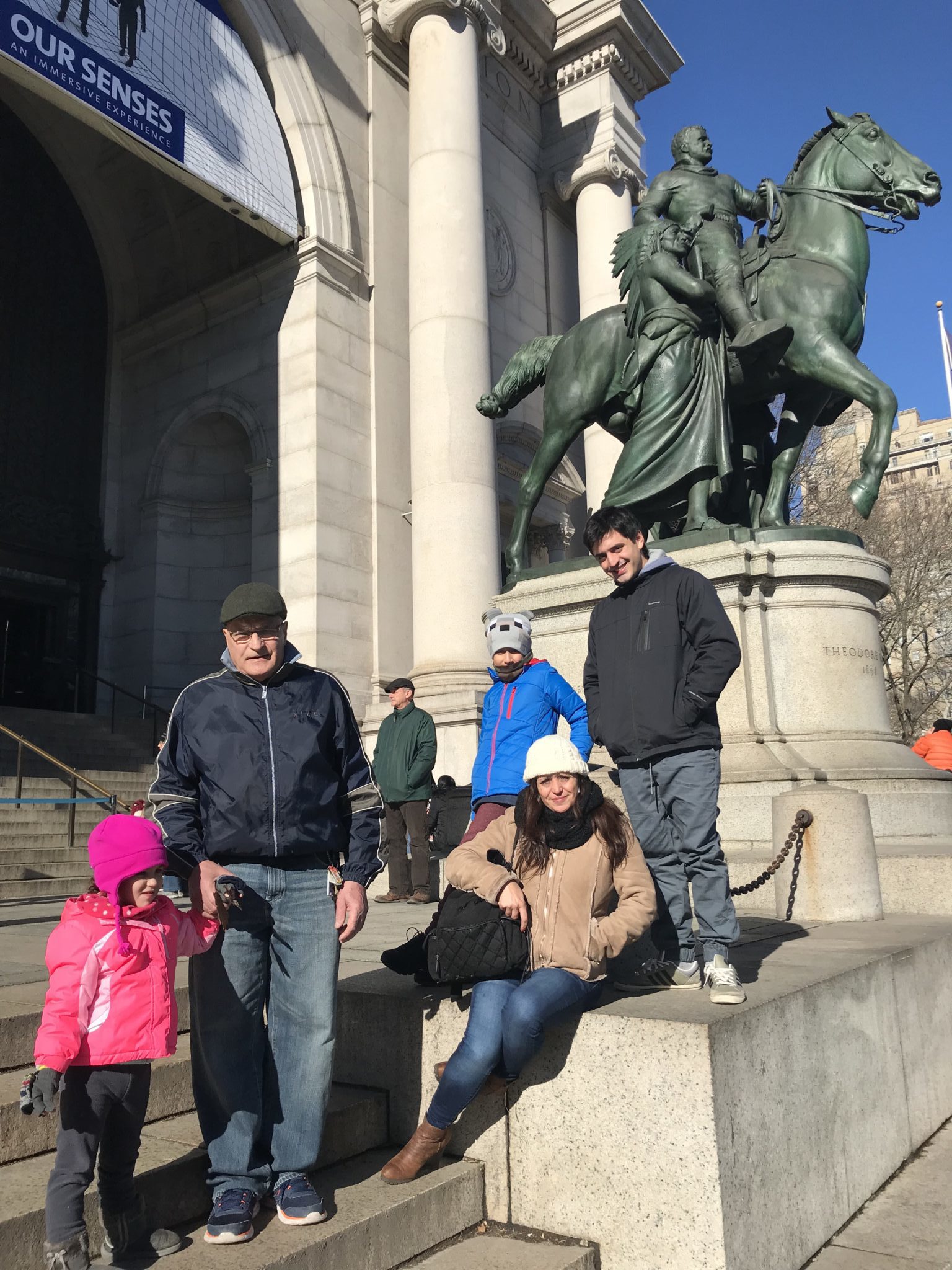 A Family Visit to the American Museum of Natural History
Here are all the reasons to visit the American Museum of Natural History + some tips to know before you go. No matter if you're a New Yorker or visiting from out of town, if they're 4 or 74,  the entire family will love going on this fun NYC adventure!
Elephants, Tigers, AND THE WORLD'S LARGEST DINOSAURS, Oh My!
We arrived early, just after opening on a Saturday morning. Since our tickets included General Admission + all special exhibits, giant-screen film, and space show, we knew we couldn't see it all. We had to plan wisely! At check-in we requested timed tickets to the Space Show, Butterfly Conservatory, and Our Senses. Since we entered on 81st Street at the Hayden Planetarium entrance we made the Space Show our first visit. We then worked around all the other show times and made our way straight for the dinosaurs at the top floor of the museum and then worked our way down.
Tons of Dinosaurs and More
Gather your dino-lovers and head on up to the fourth floor. The best part about visiting the AMNH is exploring the world-famous fossil halls at this museum. Stop by the Hall of Ornithischian Dinosaurs and don't miss Tyrannosaurus Rex at the Hall of Saurischian Dinosaurs. You could probably spend an entire day learning about all the dinosaurs showcased here. However, there's so much to see that you shouldn't spend too much time in just one place.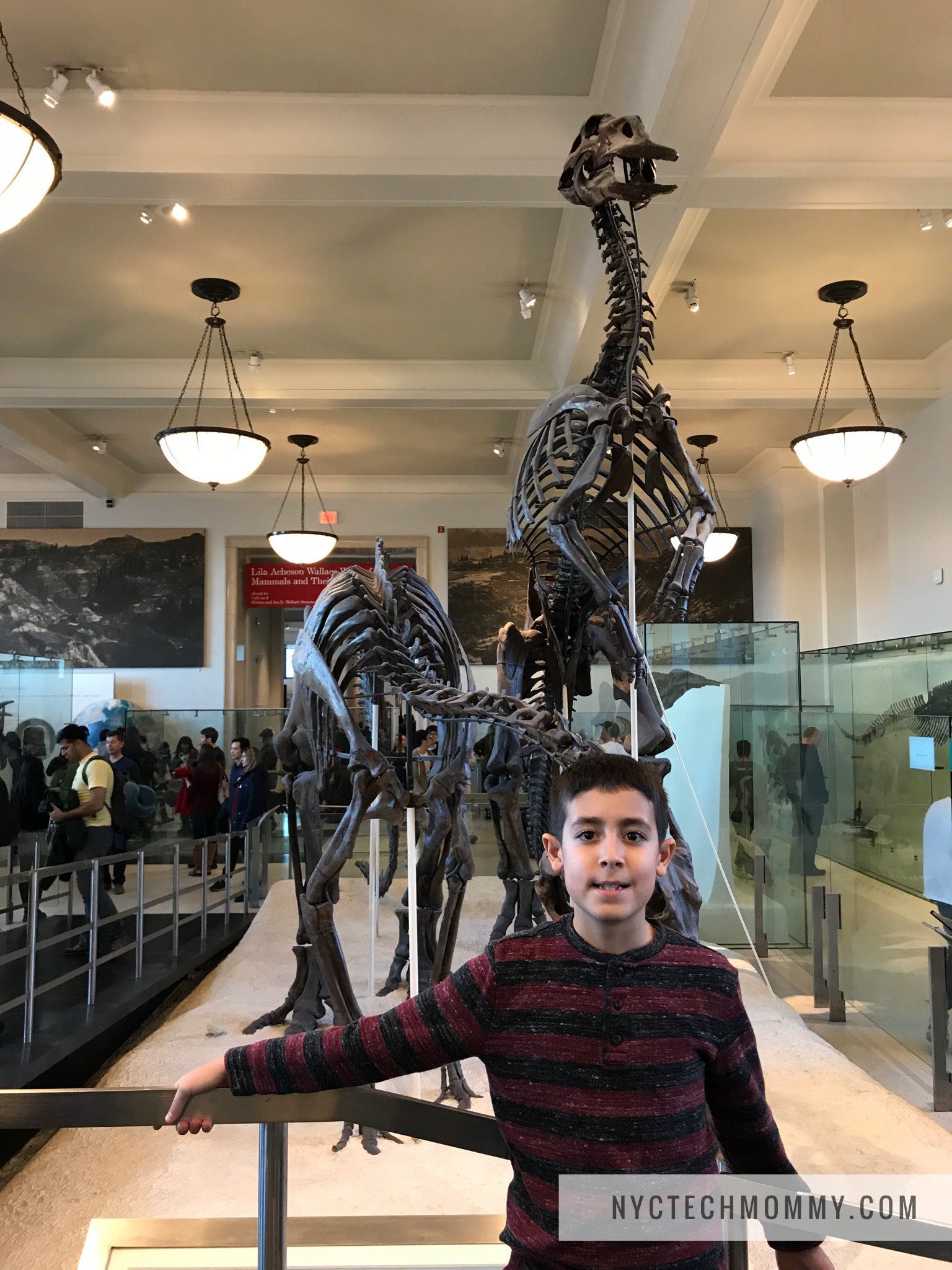 Besides dinosaurs, you'll also find a wide variety of prehistoric mammals on the fourth floor. The Primitive Mammals and the Milstein Hall of Advance Mammals shouldn't be overlooked as they showcase interesting examples of prehistoric creatures.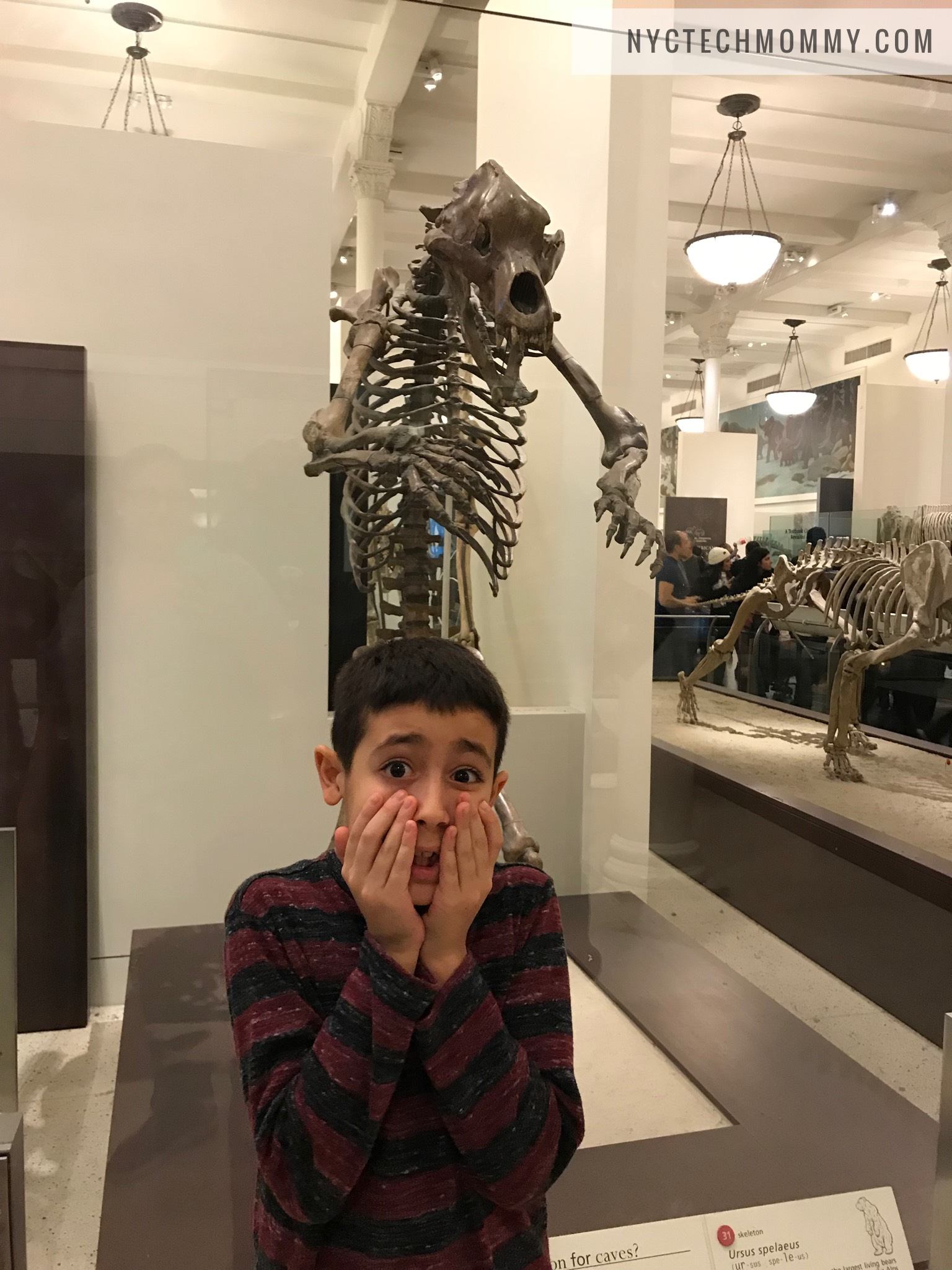 But what's likely to stir most excitement in dino-lovers of all ages is the world's largest dinosaur at the Titanosaur exhibit. This was probably everyone's favorite during our family visit!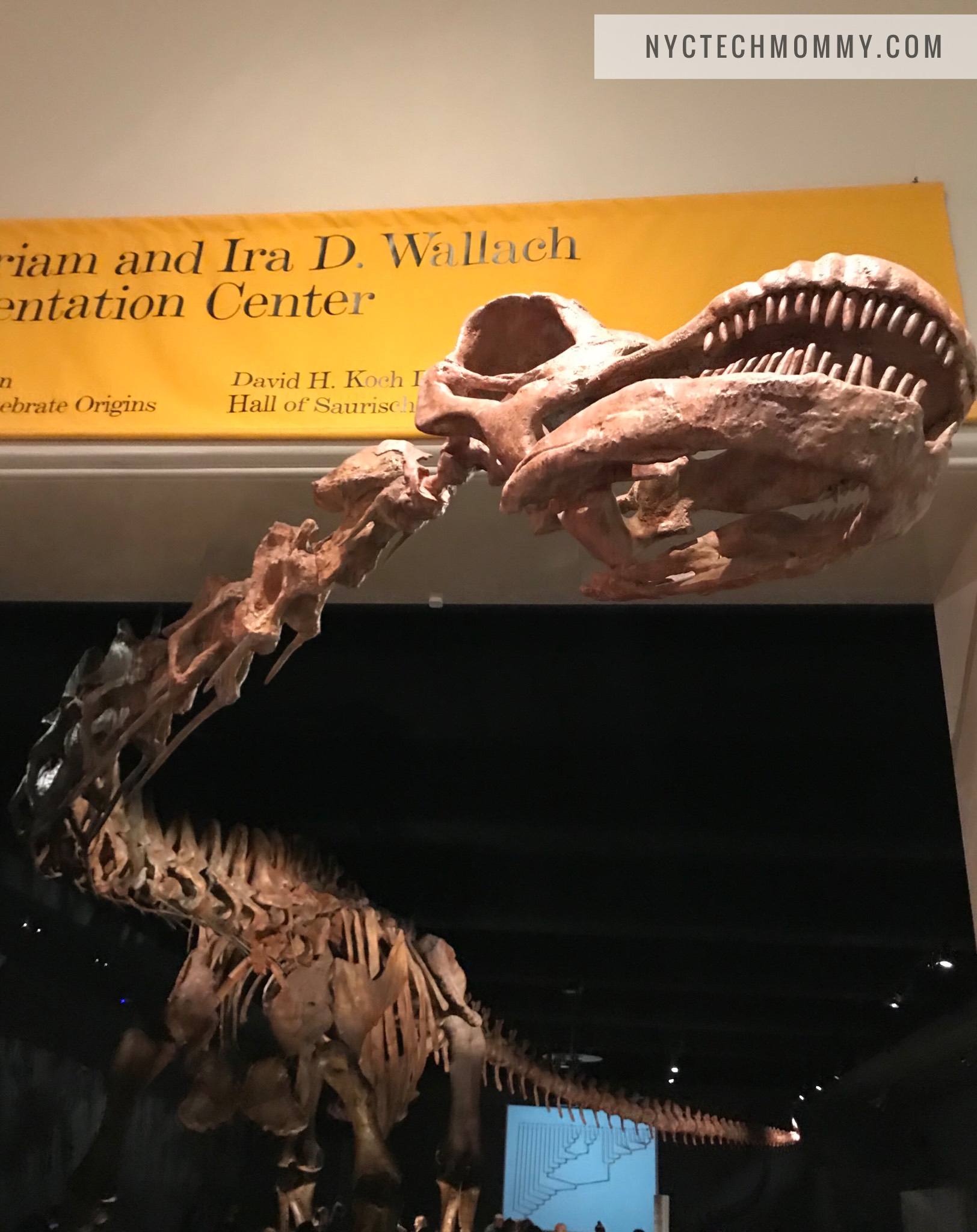 Titanosaur: The World's Largest Dinosaur
At the Wallach Orientation Center you'll find a 122-foot long dinosaur fossil peaking his head out a giant door, as if inviting you into the exhibit hall. The fact that this dinosaur fossil is just too long for his home here at the museum makes you realize just how massive he was in life. This giant herbivore weighted about 70 tons. He lived in the forests of today's Patagonia about 100 to 95 million years ago, during the Late Cretaceous period. He's one of the largest dinosaurs ever discovered and was added to the museum in 2016.
As you walk around this exhibit you can learn all about how he was discovered. Also how paleontologists excavated his remains and transported him here from the Patagonia desert region in Argentina. Our entire dino-loving family was fascinated by this giant's story!
Akeley Hall of African Mammals
The elephants that greet you at the Akeley Hall, posed as if to charge, are always a big favorite whenever we visit the American Museum of Natural History. You'll find them on the second floor of the musuem. Take your time walking around and check out the 28 habitat dioramas that line the walls of this great hall. They showcase large mammals of Africa. My kids love wandering around from window to window checking out everything from Gorillas to Giraffes. They're also always in awe of how big the ostrich eggs are.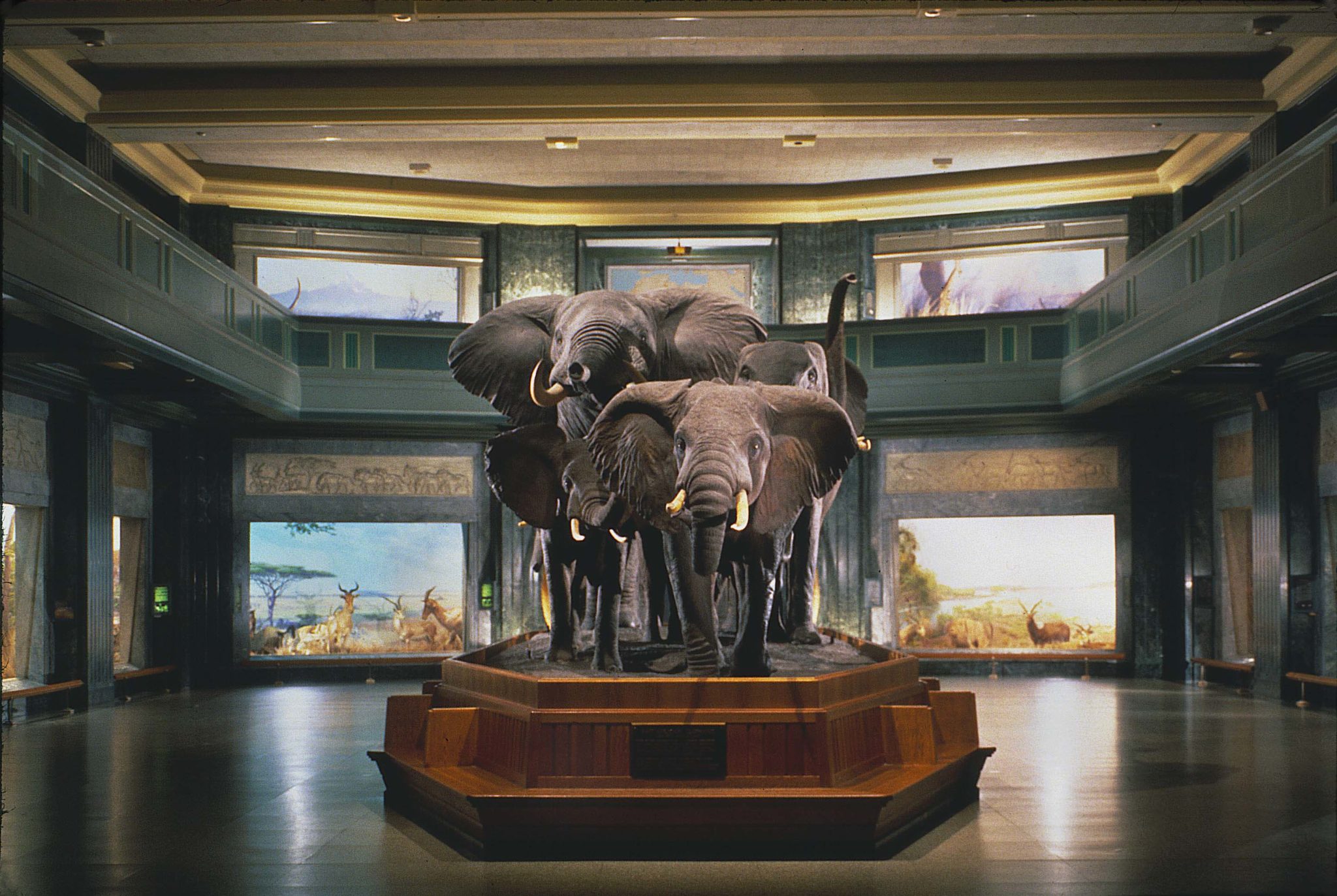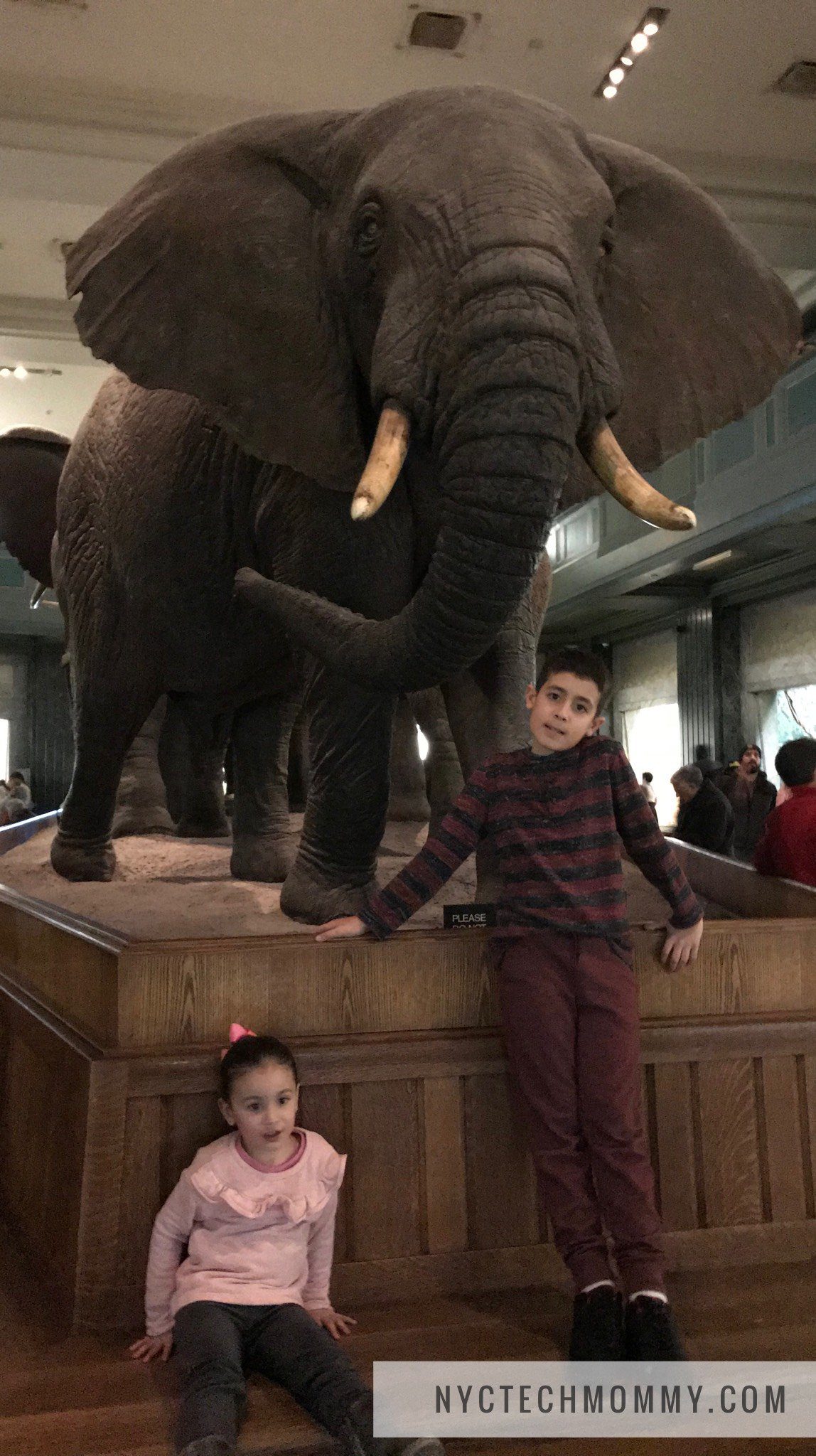 Hall of Biodiversity
We also had tons of fun visiting the Hall of Biodiversity. You'll find it on the first floor of the museum right outside the Milstein Hall of Ocean Life — you know, the hall with the majestic Giant Blue Whale hanging from the ceiling.
Mommy Tip: Visit the Hall of Ocean Life before checking out the Hall of Biodiversity. We didn't get to visit the Hall of Ocean Life during this visit because we left it for last. By then it was too late in the afternoon and it was closed off — they were setting up for a sleep over.  I was really bummed that we didn't get to wander around under the Giant Blue Whale.
The Hall of Biodiversity exhibits a vivid portrait of the beauty and abundance of life on our planet. The exhibits here highlight both biodiversity and the factors that threaten it. And don't forget to look up to find a giant squid and other fascinating creatures hanging from the ceilings. The center display case features examples of extinct and threatened species. My kids are always fascinated by the the long-extinct Dodo bird and the threatened Siberian tiger.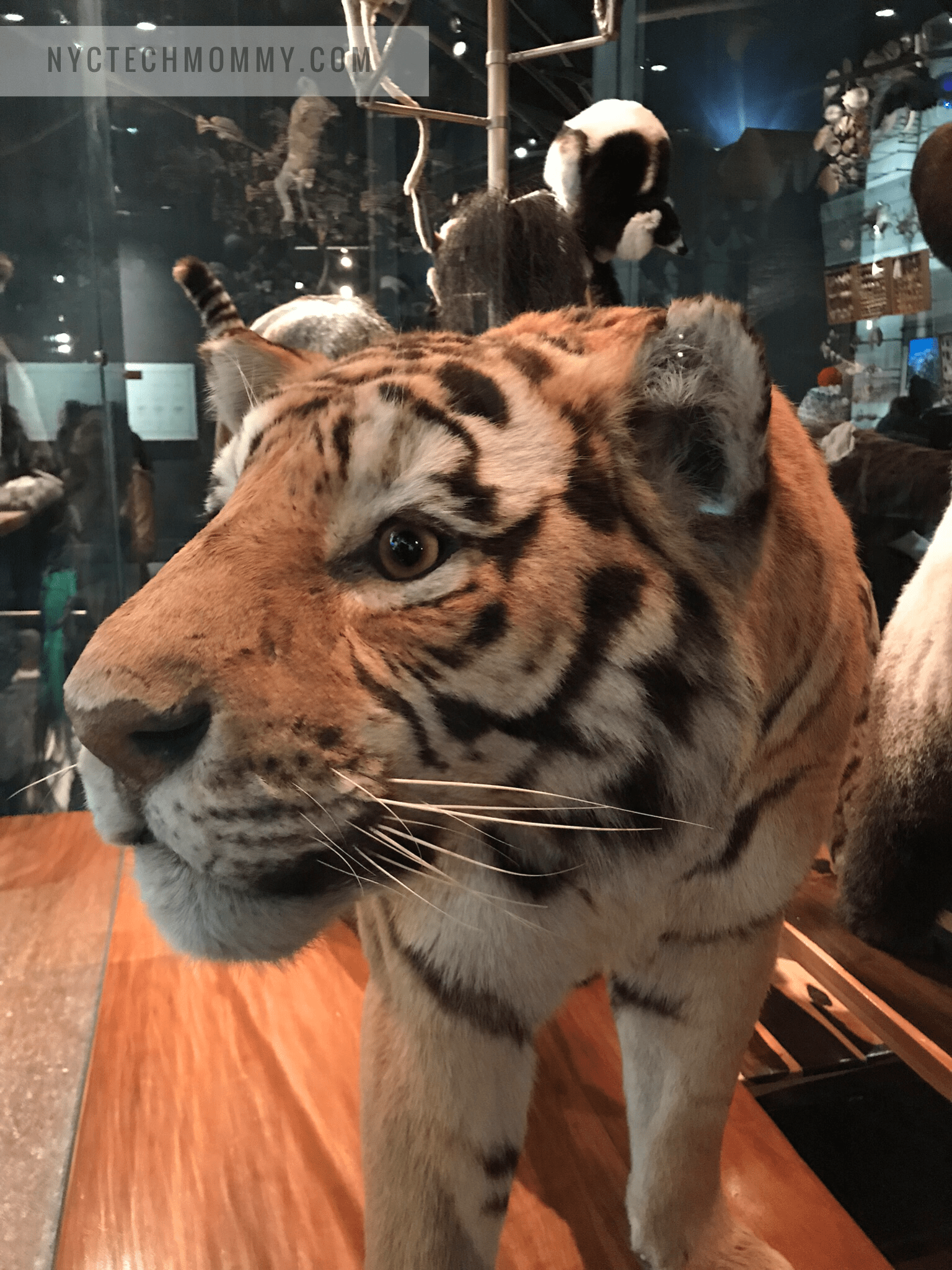 Make sure to take a stroll through the 2,500-square-foot walk-through diorama that depicts part of the Dzanga-Sangha rain forest, one of Earth's most diverse ecosystems. Also take some time to examine this hall's Spectrum of Life exhibit showcasing the diversity of life resulting from 3.5 billion years of evolution. On display are more than 1,500 specimens and models, from microorganisms to terrestrial and aquatic giants. All organized into 28 groups along a 100-foot-long wall. There's so much to see and all will enjoy it no matter their age!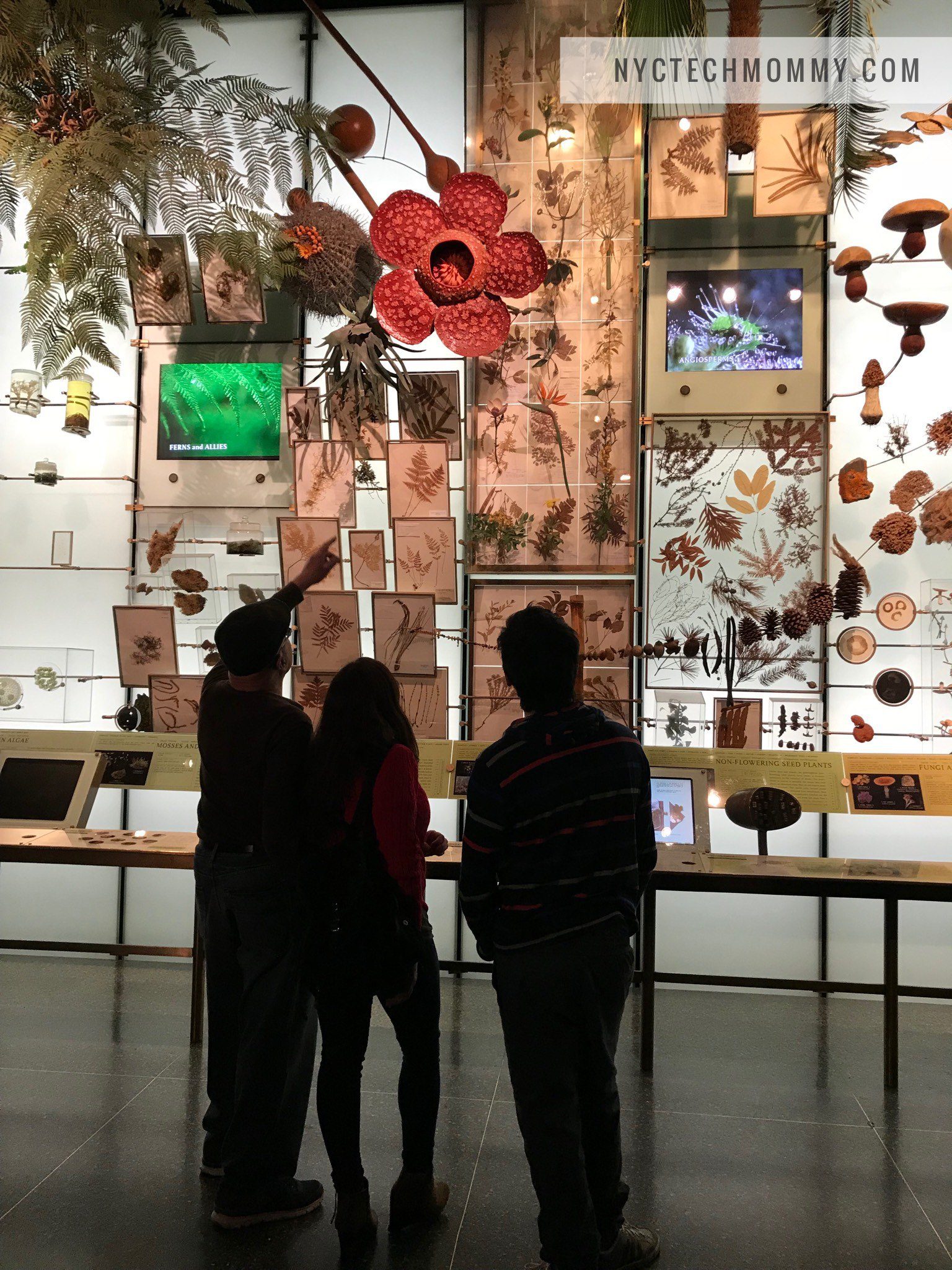 Special Exhibits and One Out of This World Show
Besides the 40+ permanent exhibit halls, the AMNH offers a great selection of new and often limited time only exhibits. These are worth a visit as they offer unique opportunities to explore a variety of science topics you may not experience elsewhere.
Make New Friends at the Butterfly Conservatory
The Butterfly Conservatory is one of museums' most popular annual seasonal exhibits. It's no surprise! This is a must visit during your time at the AMNH! I mean where else can you walk among hundreds of live butterflies?
Between October and May visitors can experience this incredible live exhibit. It's located within the Whitney Hall of Oceanic Birds on the second floor. This conservatory features hundreds of live butterflies in a variety of species. You'll find swallowtails, morphos, longwings, and many others. It's just a beautiful experience for the entire family!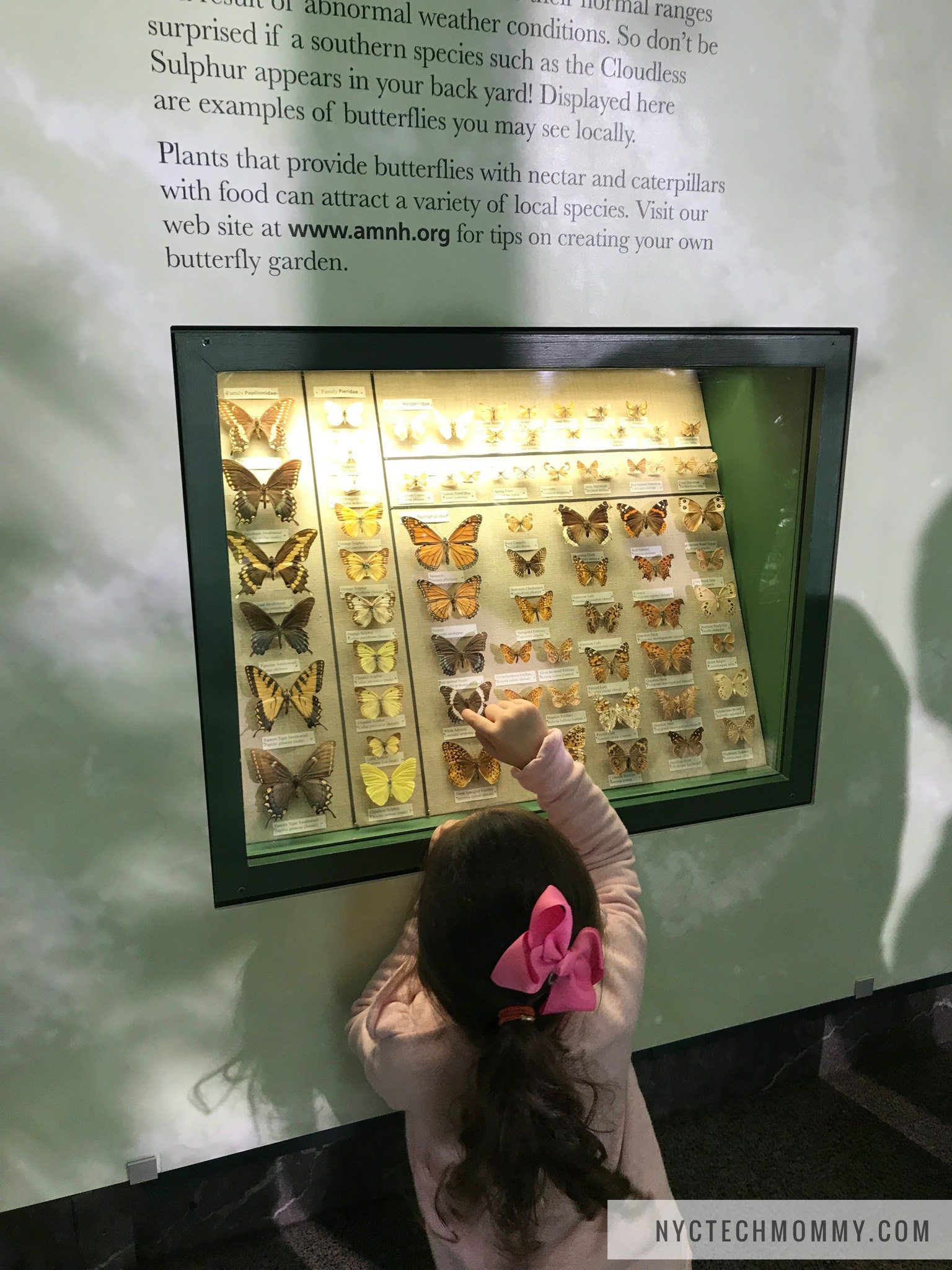 During our visit we had so much fun making new butterfly friends! These beauties will fly all around you, land on you, and even try to hitch hike a ride out of there if you're not careful. Remember to check that you have no butterflies attached to you before exiting this exhibit!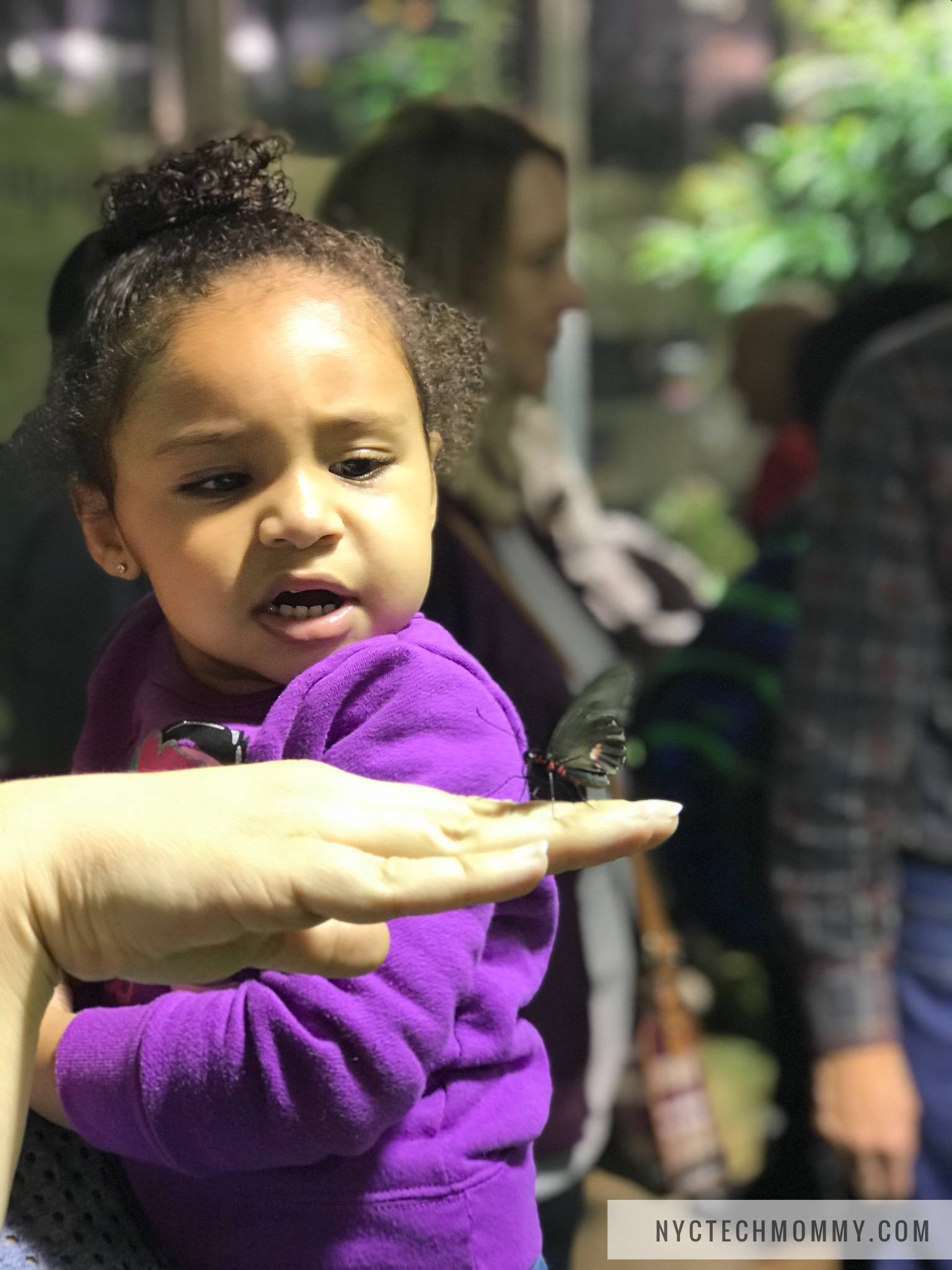 Explore Your Senses and Learn How They Really Work
Another great family experience worth checking out is the current Our Senses exhibition. This experiential exhibition invites visitors to explore 11 funhouse-like spaces. Each dares you to trust your senses and then shows you how what we humans perceive as "reality" isn't ever exactly what it seems.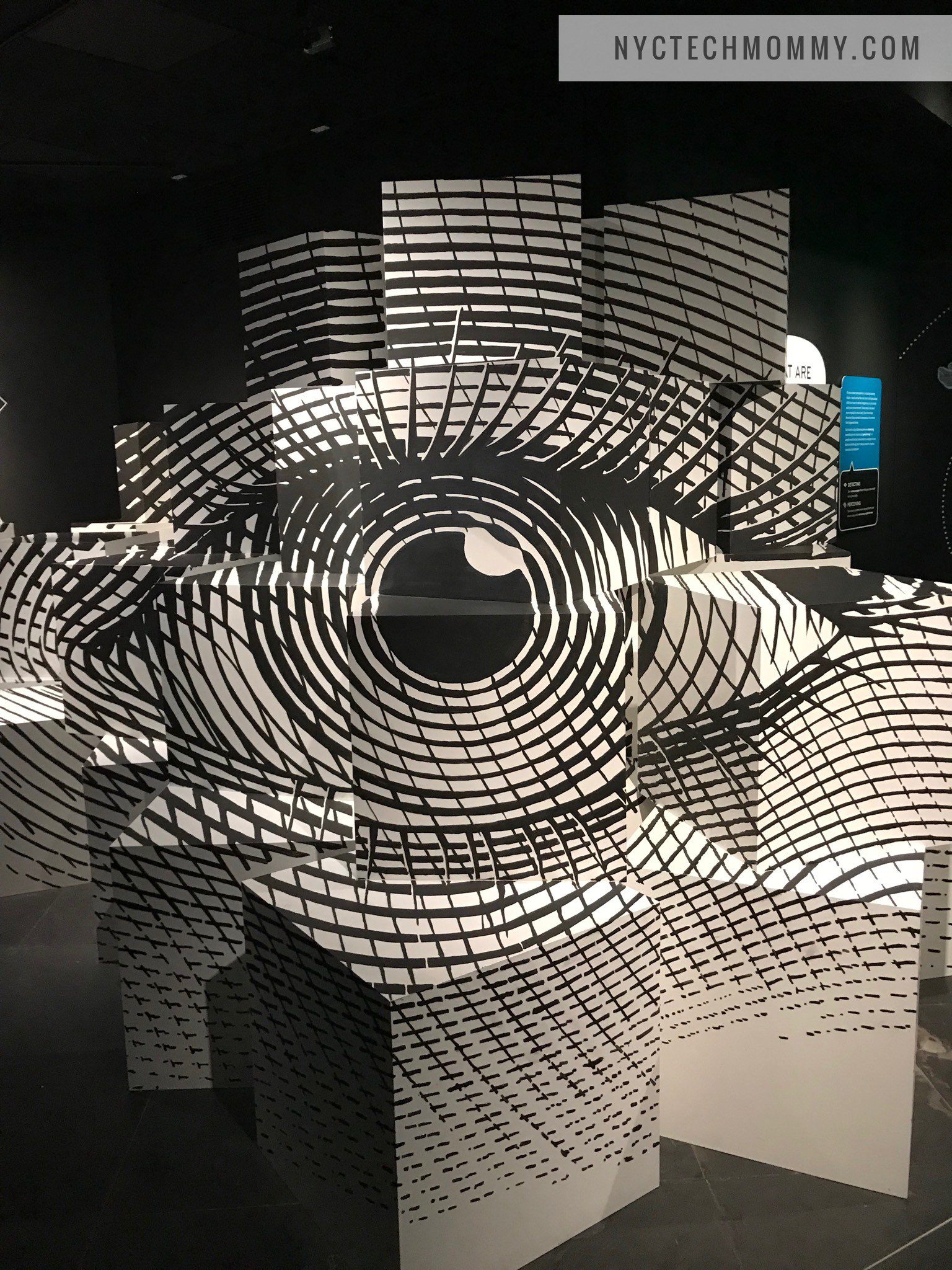 This one of a kind experience invites you to explore the world around you. Use your senses — including sight, small, hearing, touch, balance, and taste. Learn how what we perceive isn't always really there but instead a product of our brains. What's great about this exhibition is that it literally helps you make sense of your senses! It's like sensory overload as your senses, and especially your brain are put to the test.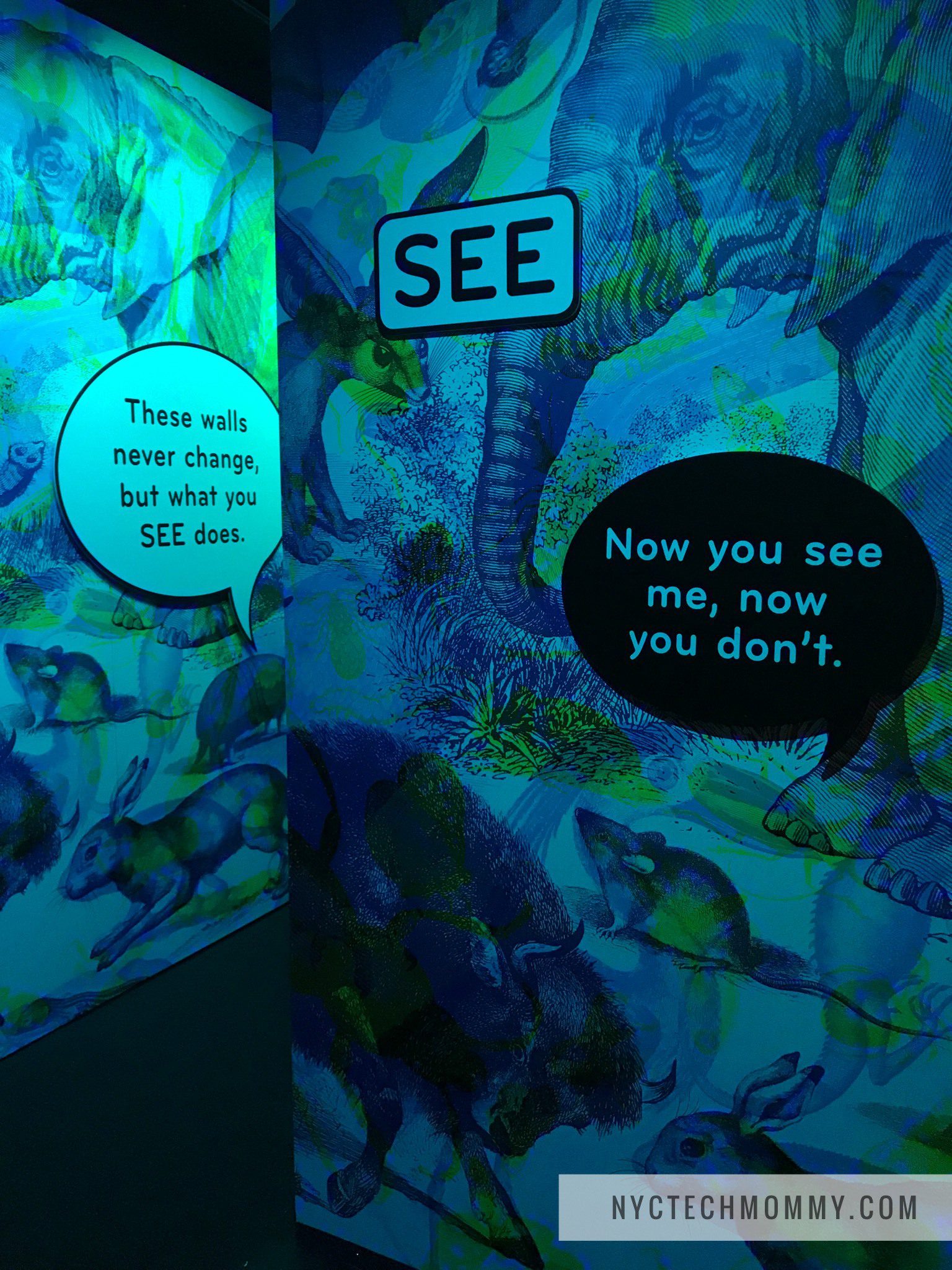 Here you'll be able to see a flower, for example and see how we perceive it compared to how a nectar-seeking bee might perceive it. You'll also be able to compare the human senses to those of other animals. It was great for the kids to discover why we have senses and learn what's unique about how humans perceive the world around them.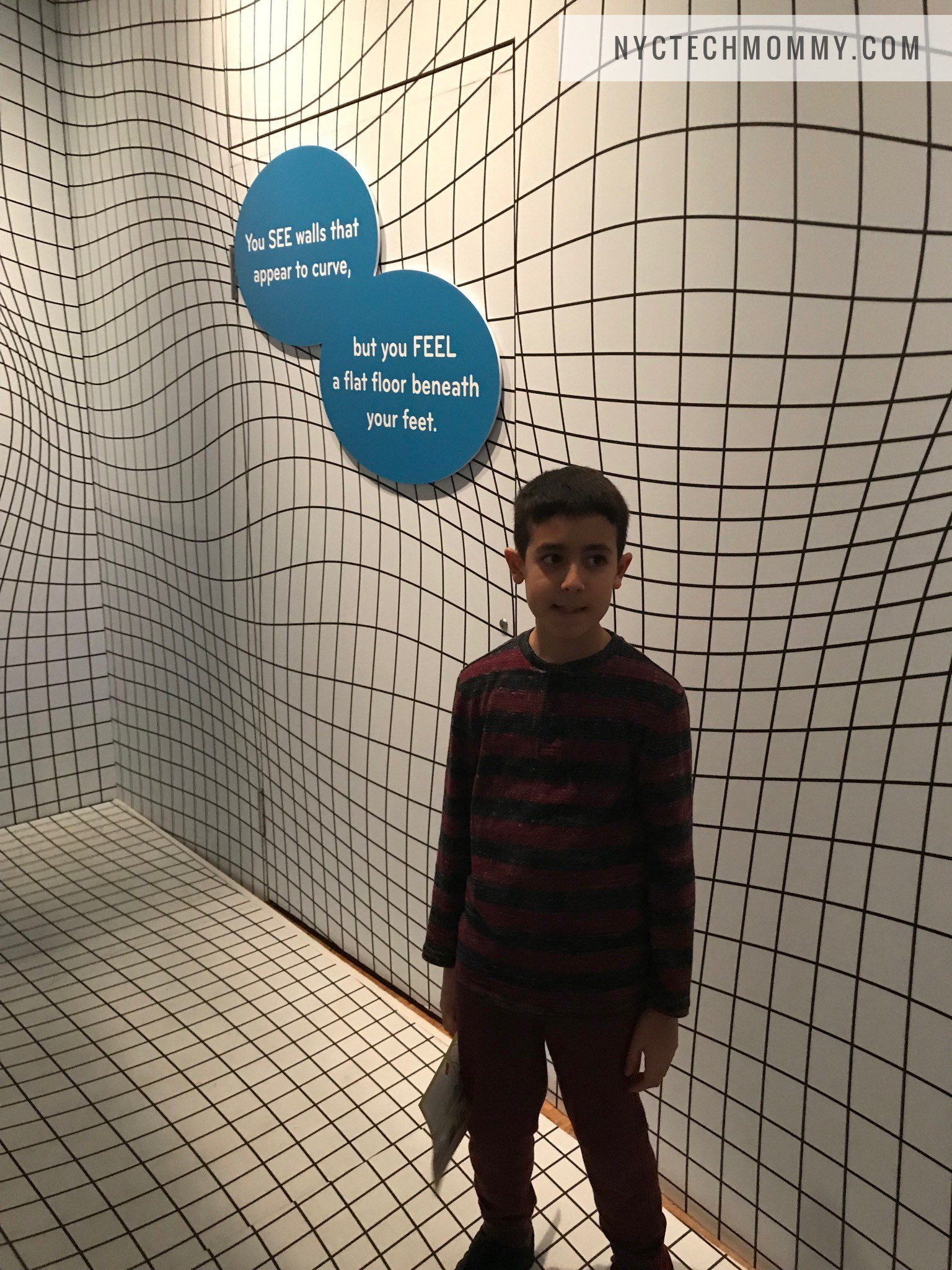 Travel Into Our Dark Universe
The AMNH is also home to the Hayden Planetarium. At the heart of the Rose Center for Earth and Space is an 87-foot-diameter sphere that appears to float inside a glass cube. Its upper half constitutes the Hayden Planetarium. The Hayden Planetarium is an "immersive environment," in which you feel as if you're part of the action taking place on screen. The journey may seem like science fiction, but it's not — it's all based on authentic scientific observations, data, and models.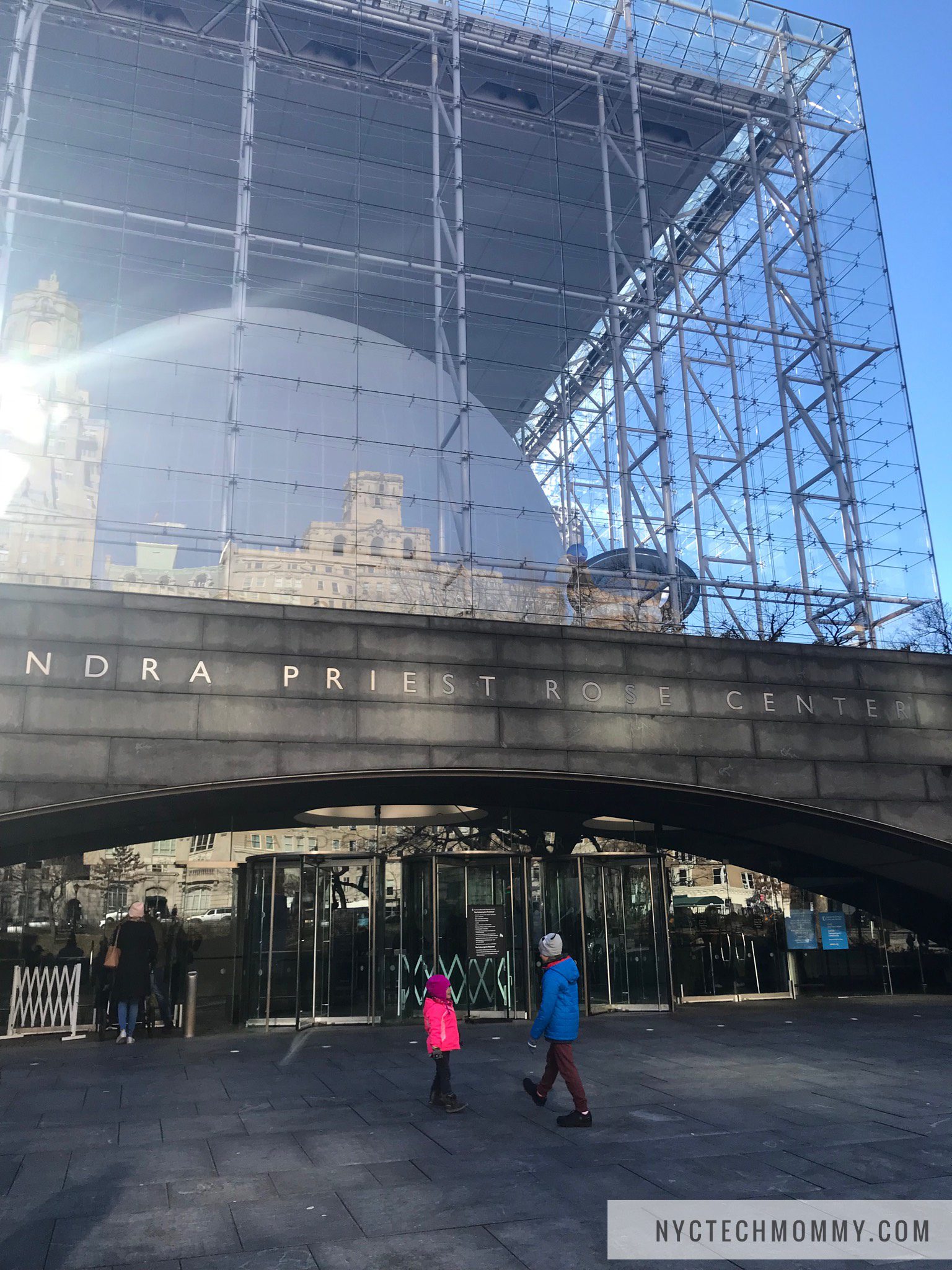 A visit to the Hayden Planetarium Space Theater is a must during your visit to the AMNH. A digital video system projects across the theater's 67-foot-wide hemispheric dome, and every seat has an amazing view. During our recent visit we stopped off at the 429-seat Space Theater to check out their current space show, Dark Universe.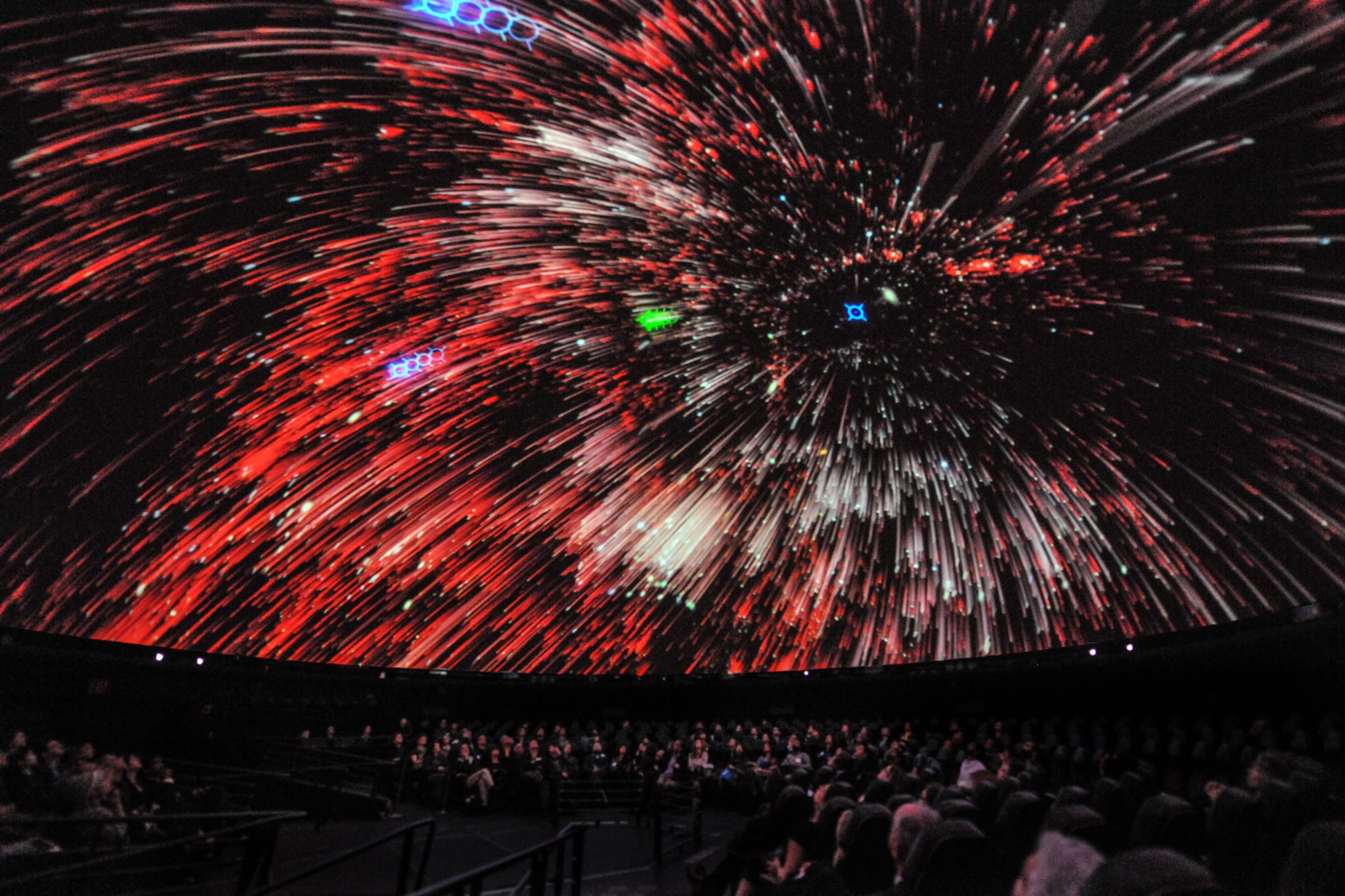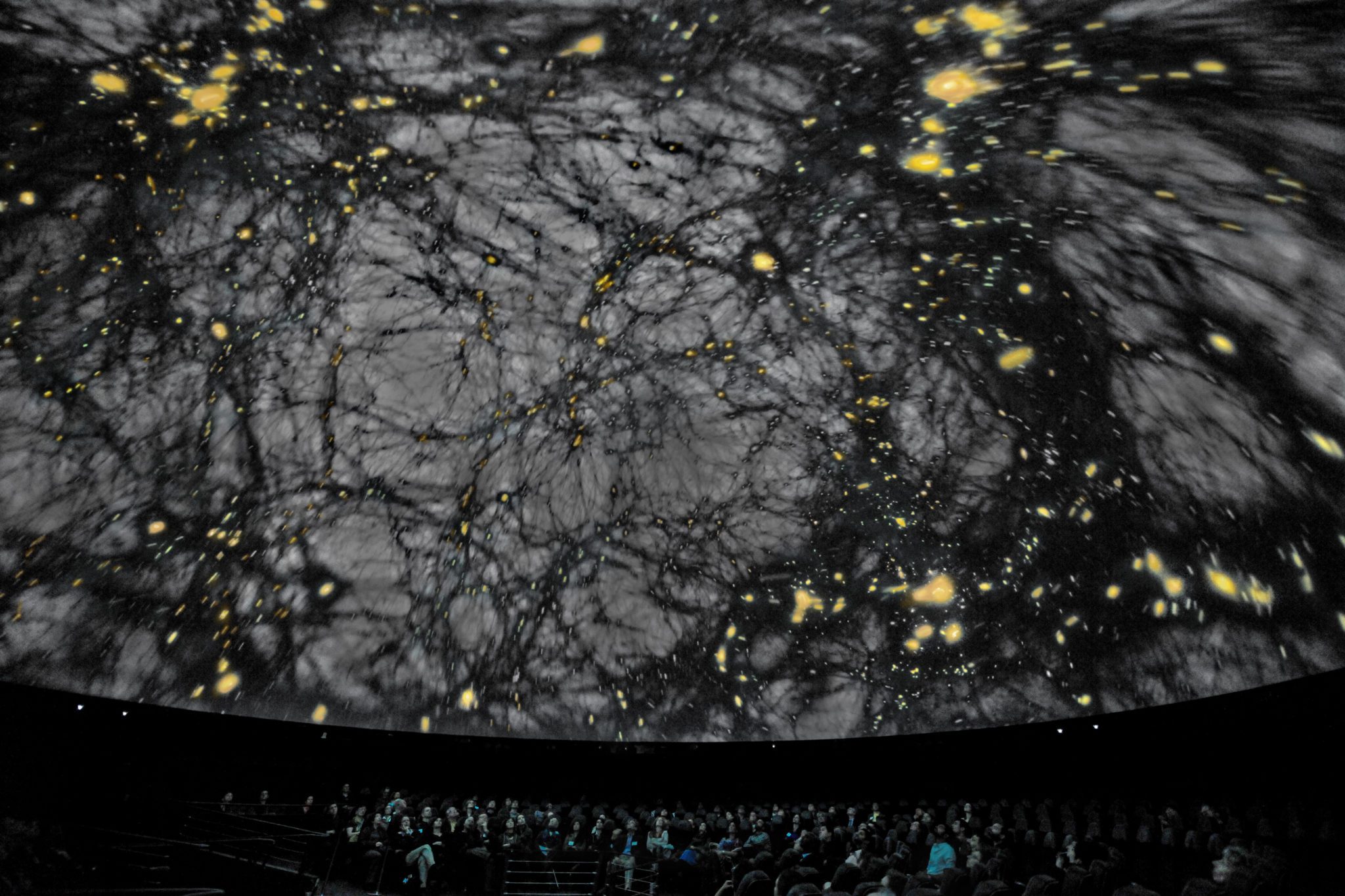 Dark Universe celebrates the pivotal discoveries that have led us to greater knowledge of the structure and history of the universe and our place in it—and to new frontiers for exploration. Its a fun awe-filled experience for the entire family and happens every half hour — check specific days and times.
Mommy Tip: If visiting with family members that prefer a language other than English, make sure to pick up a translation device before entering the theater so that they too can enjoy this narrated space adventure.
It's Family Fun for All including the Littlest Family Members!
If you're visiting the museum with school-age kiddos make sure to leave a little time to visit the Discovery Room. It's a place just for the kids and  although it's especially geared towards kids ages 5 to 12, the younger ones will enjoy a visit too. My toddler can't get enough of this place!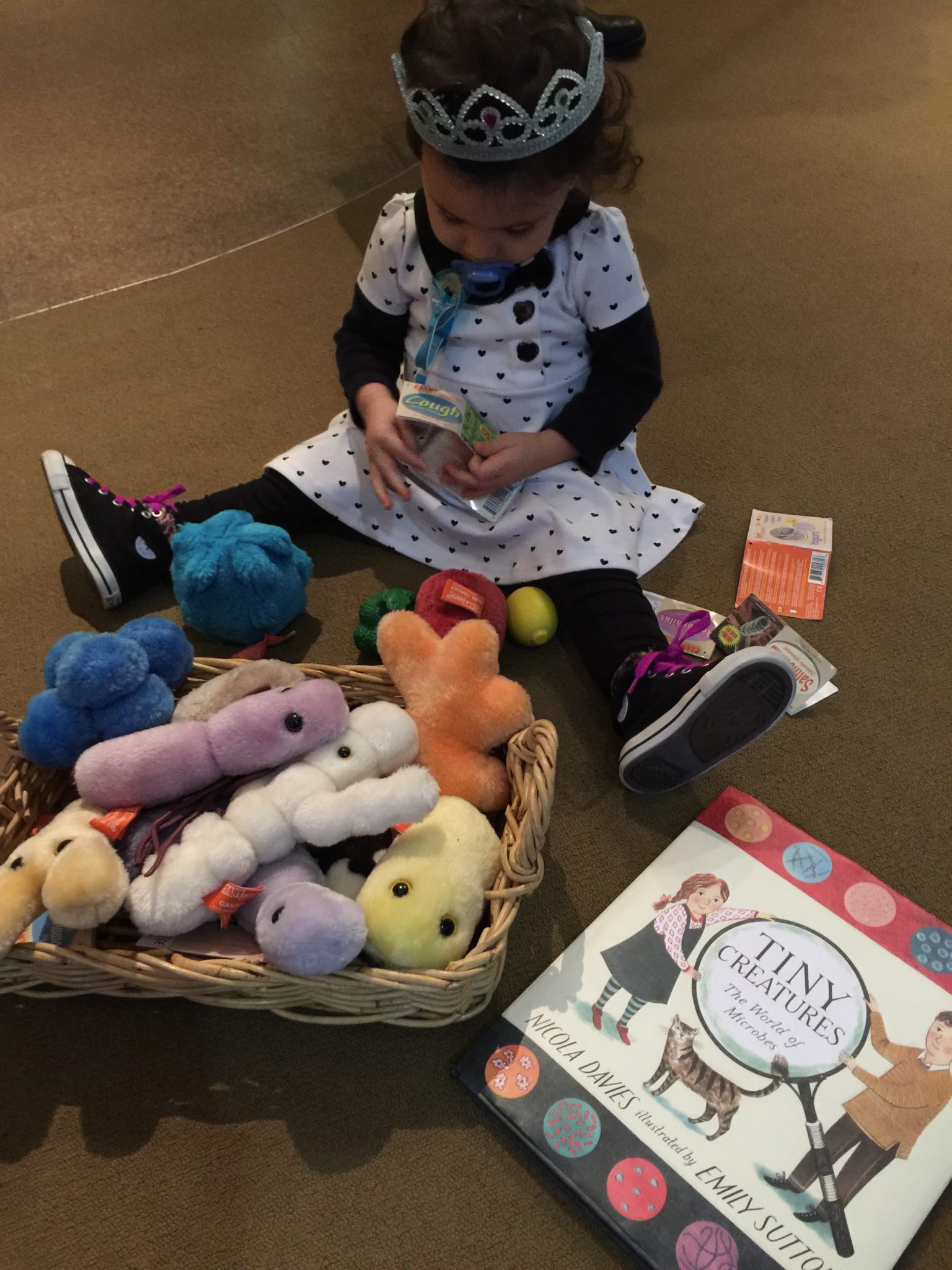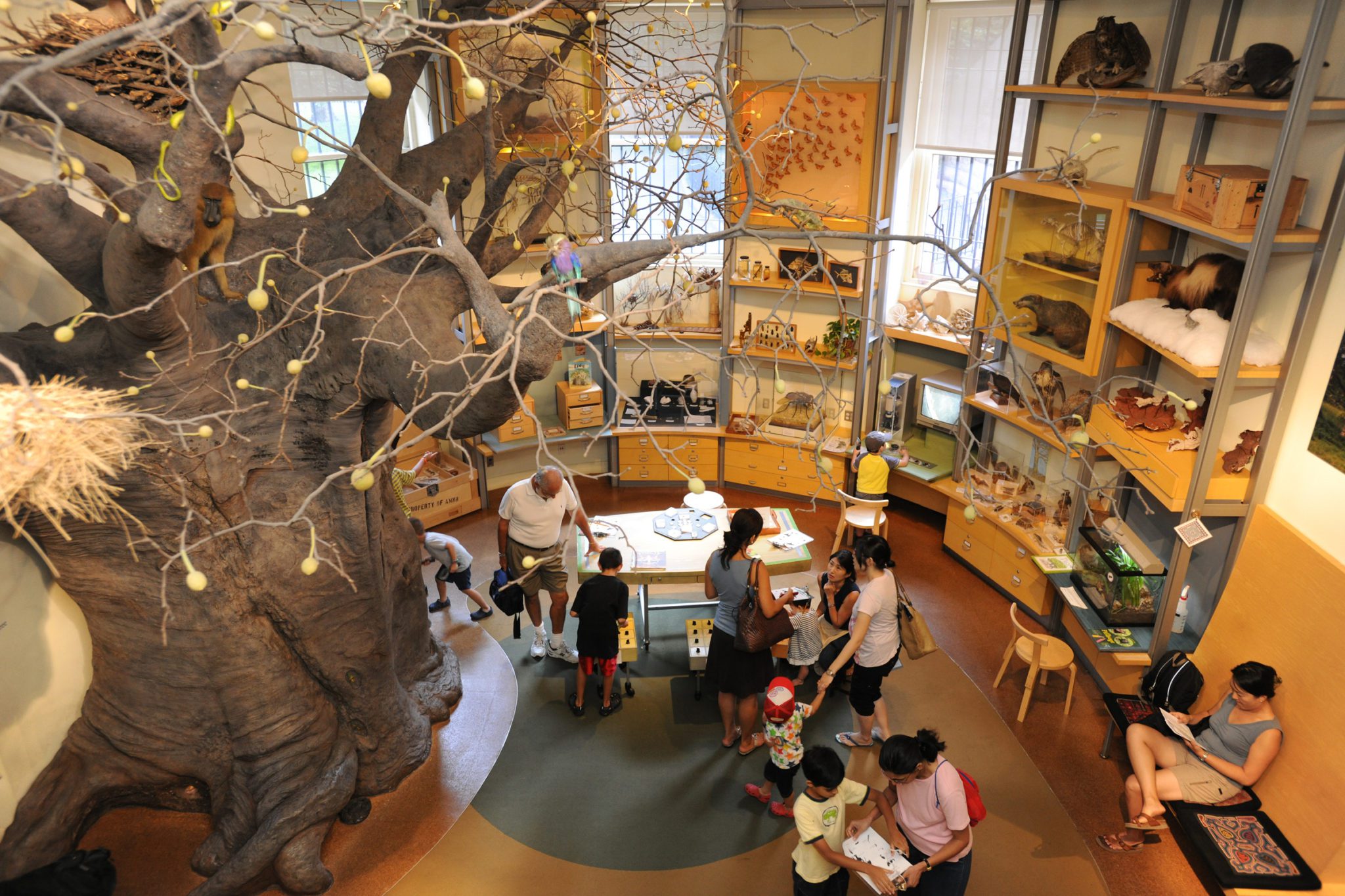 The Discovery Room
The Discovery Room is located on the 1st floor between the Grand Gallery and the Warburgh Hall of New York State Environment and near the 77th Street Entrance. It offers an interactive and hands-on, behind the scenes look at the wonders of the museum. Here the kids can learn about every major field of Museum science and research, from anthropology to zoology. Kids explore an array of artifacts and specimens, go on scavenger hunts, solve puzzles and are challenged to think like scientists. They even get to dig fossils and check out some really cool live crawling critters!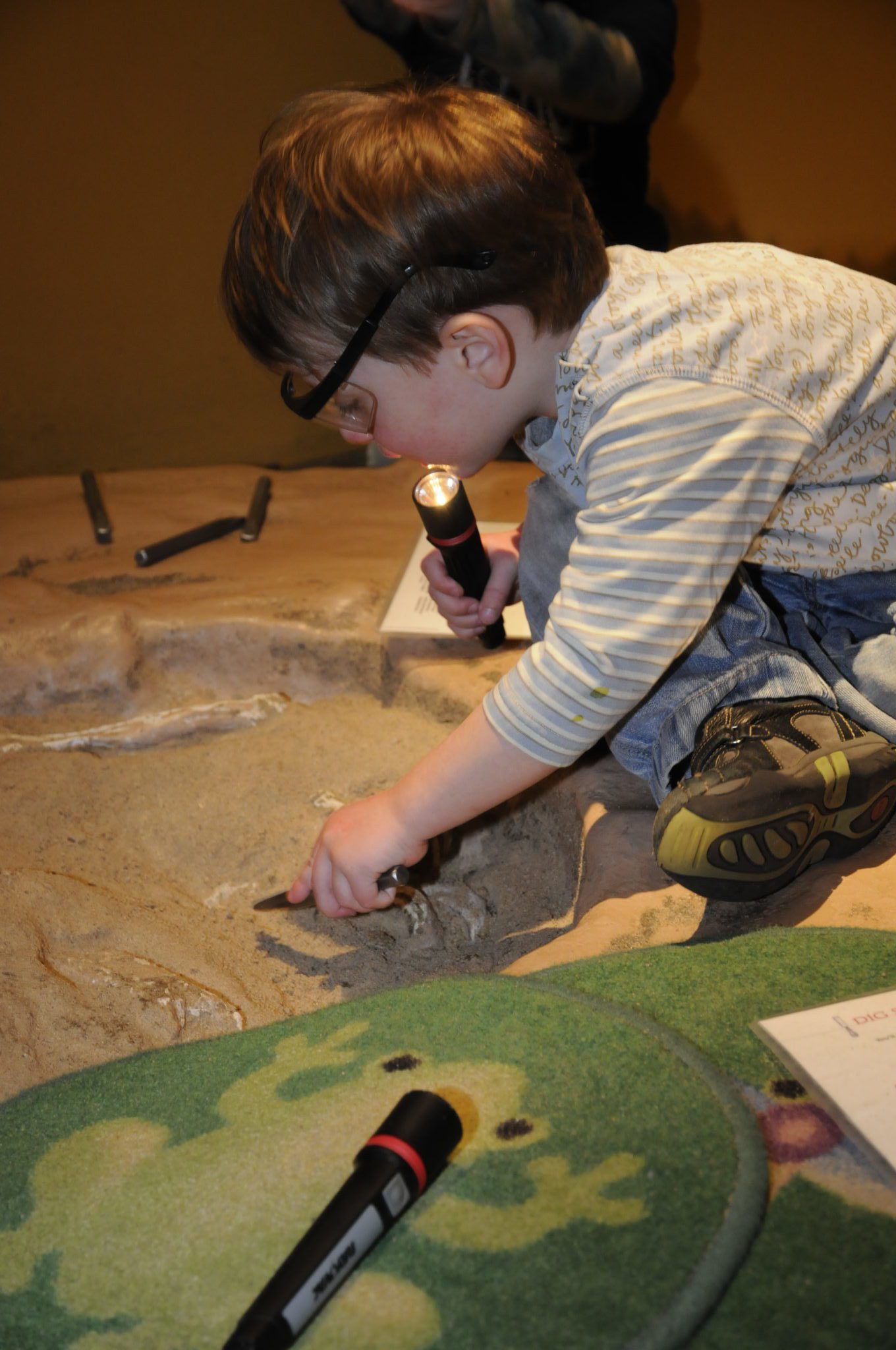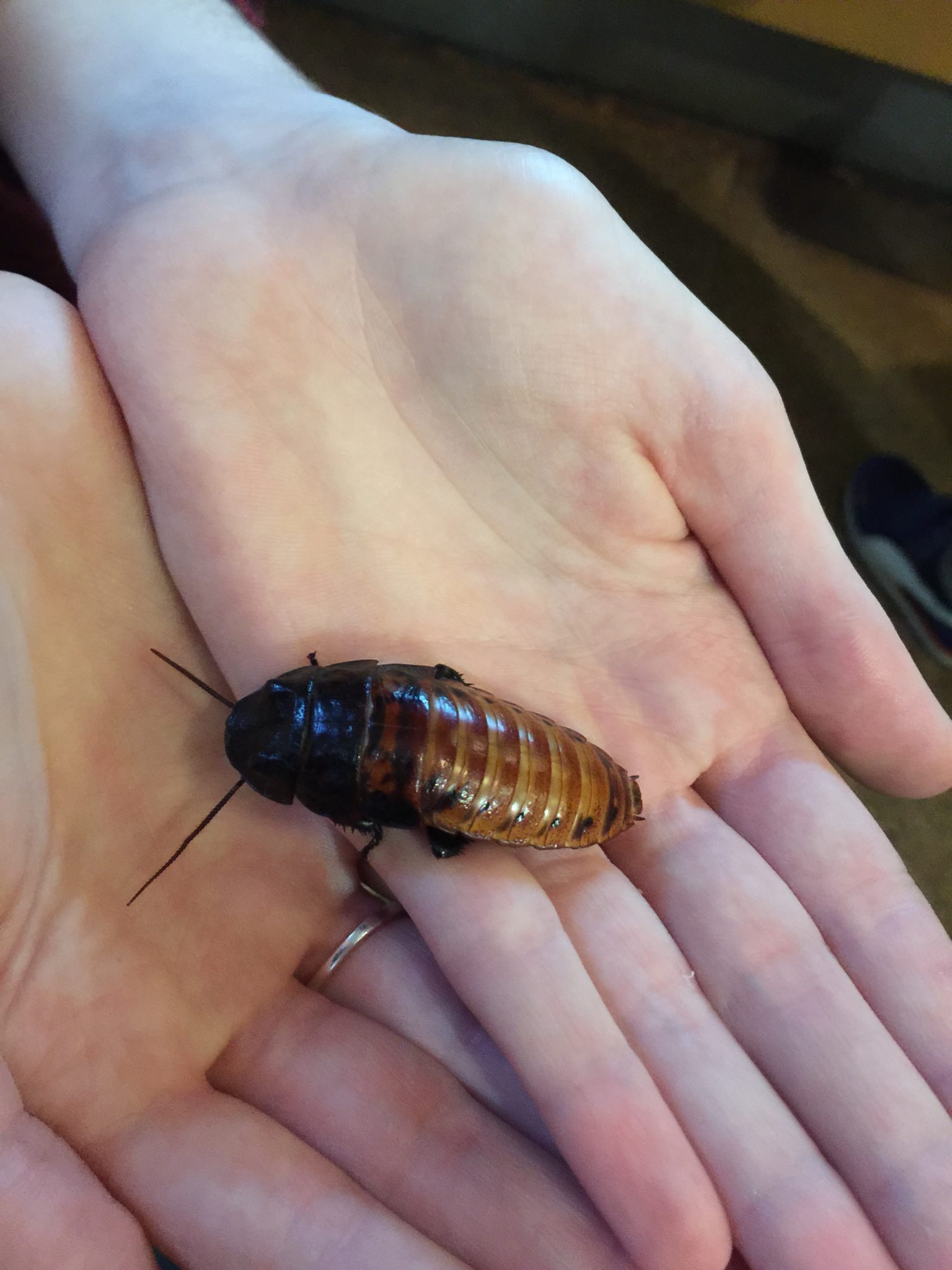 It's definitely worth spending a little time exploring and enjoying all the hands-on learning fun! There is no additional fee to visit the Discovery Room but you will need a pass to get in.
Mommy Tip: Free passes for 40-minute timed sessions are available at the Discovery Room entrance so I suggest stopping by to pick one up on your way into the museum. You'll want to do this because sessions are limited to a certain number of participants and fill up quickly.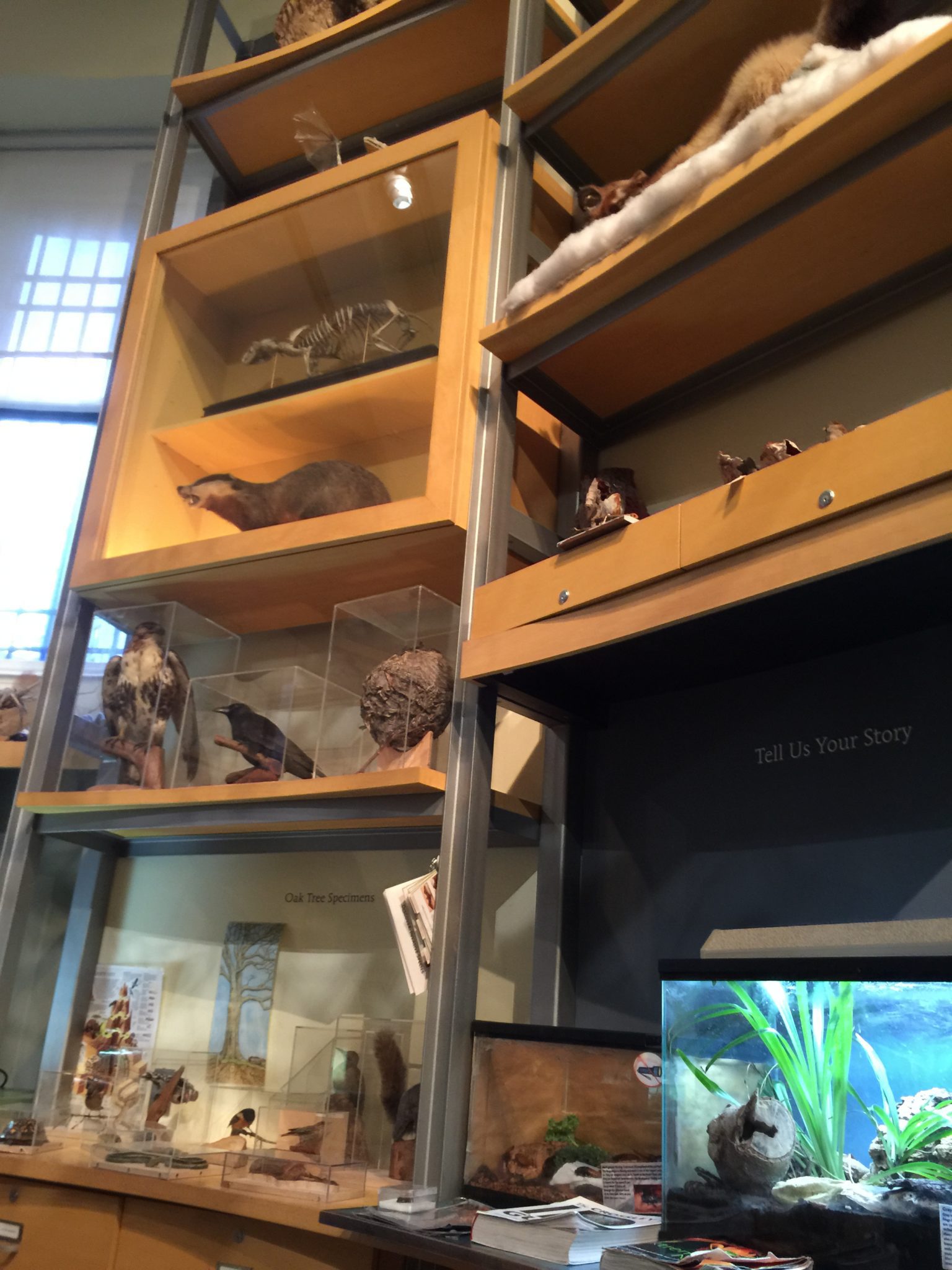 A Few Other Things for Families to Know Before They Go
A family visit to the American Museum of Natural History is a great way to spend your day enjoying quality family time. However there are a few things you might want to know as you plan your visit. Keeping these things in mind will help you plan a day that is enjoyable for all!
How Much Does it Cost?
The museum asks a suggested admission of $23, but allows you to "pay what you can," giving all families and kids the opportunity to explore this great museum at a price they can afford. You will however have to pay for the add-ons if you plan on visiting special exhibits (as we did).
Is There a Coat Check?
There is a coat check available for a minimal fee and it's worth it if you're traveling with heavier jackets, bags, and strollers (although you might not want to check that in if visiting with very small children). You can use your stroller throughout the museum, but be aware you'll encounter many staircases and the elevators tend to be slow and sometimes crowded. Certain exhibit areas will also require you to leave your stroller at the door so If your kid is old enough and able to walk, you may want to consider leaving the stroller behind.
Are Photos Allowed?
Photography is allowed unless signs say otherwise, but tripods are not.
What About Food?
The museum doesn't allow outside food to be brought in. We did however bring along a couple of small water bottles and small snacks to get the kids through the day. You'll find a large food court on the lower level and several cafes are found on different floors of the museum. While the eats are yummy, they're also predictable and can be a bit pricey when feeding an entire family. My advice is having a bite to eat before heading into the museum.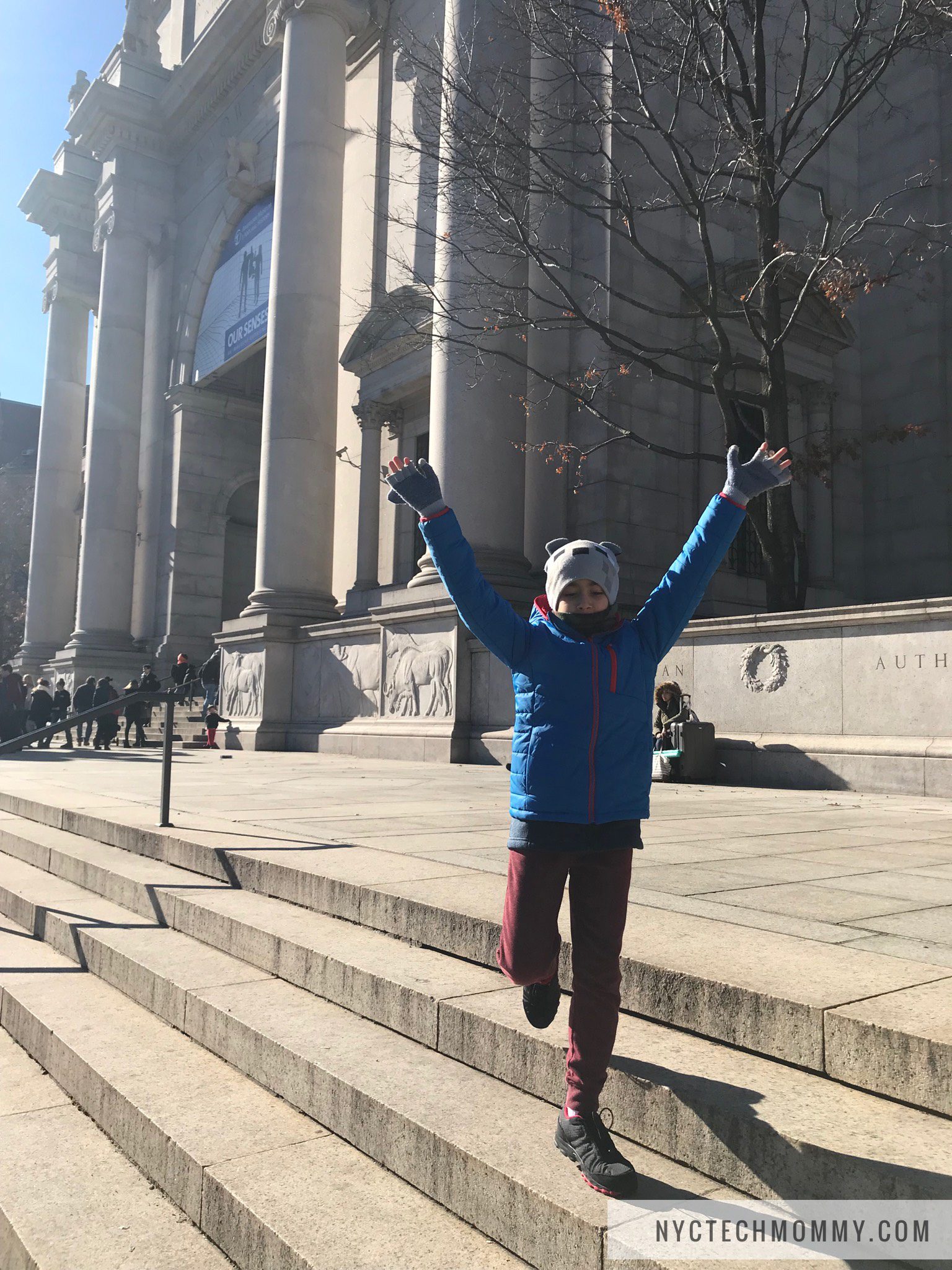 In the end there are so many reasons for a family visit to the American Museum of Natural History! It's family fun for everyone and there's something for everyone, no matter the age. Hope my recommendations and tips help make your next visit a more enjoyable family adventure!
Have you visited the AMNH in NYC before? What was your favorite exhibit? Let us know in the comments section below.
And don't forget to "PIN THIS" to easily access these tips when planning your next family visit!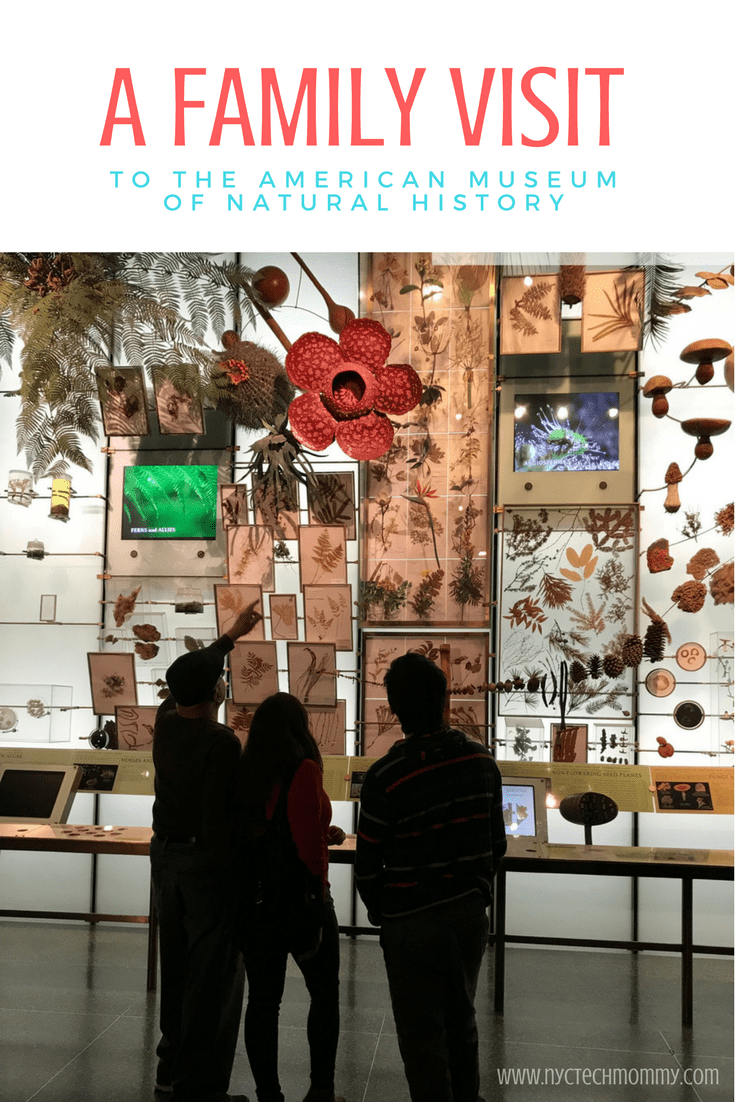 You May Also Like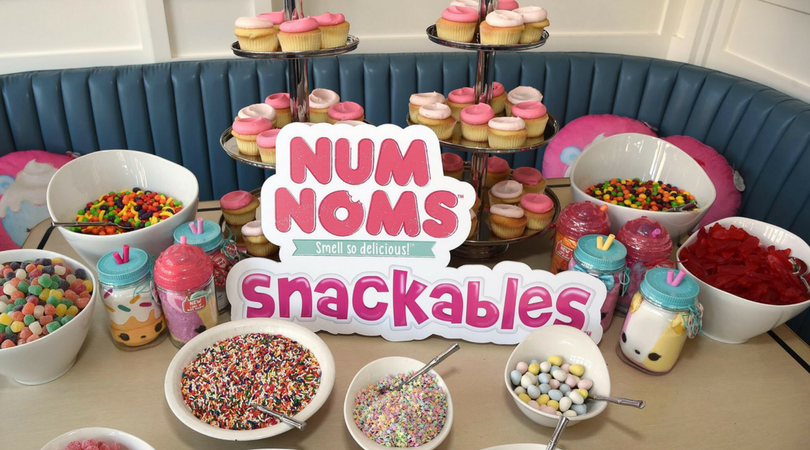 March 14, 2018