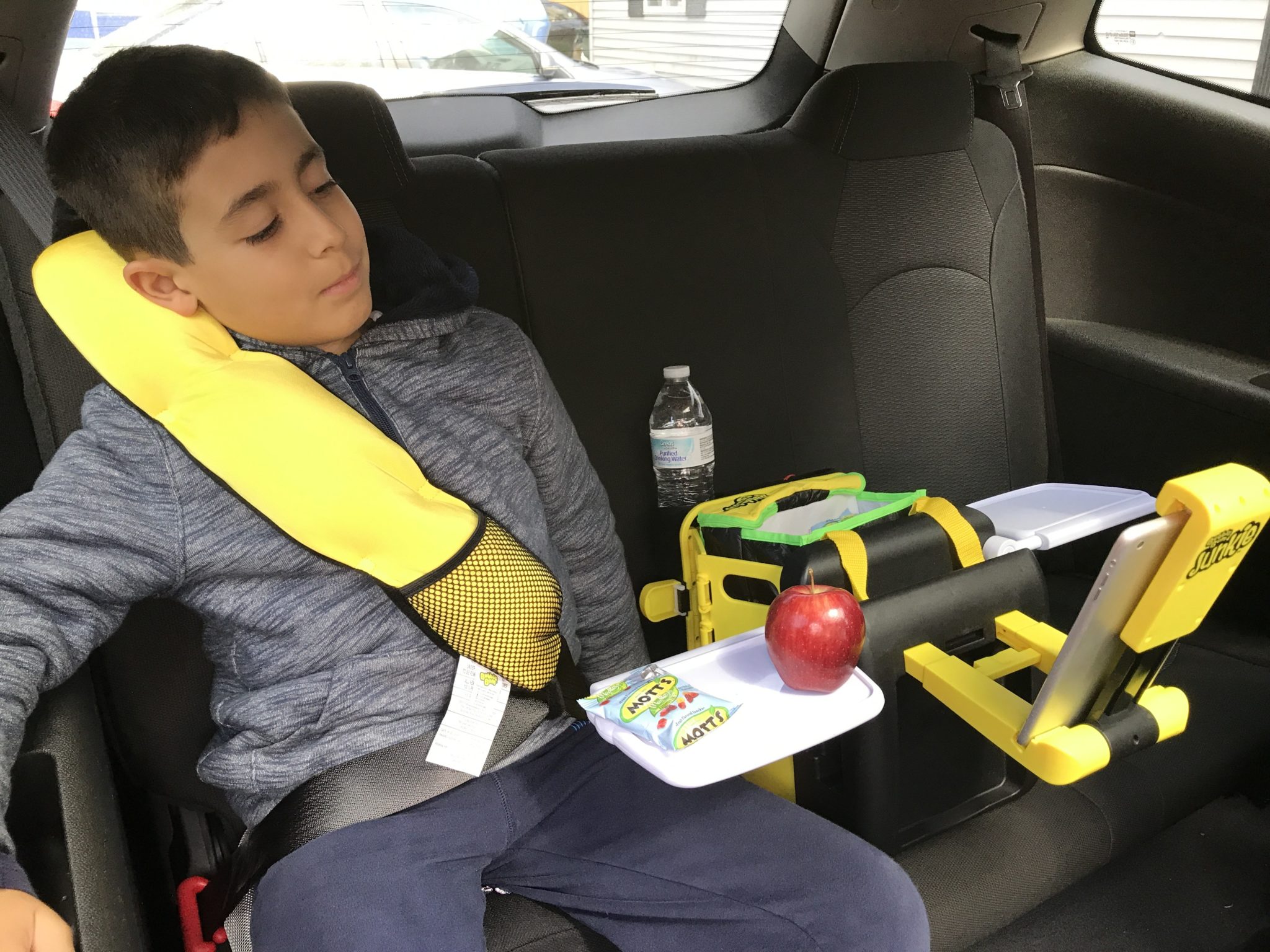 BubbleBum: How to Keep the Kids Safe and Happy on Your Next Road Trip
Are you like me? Always looking for new products to keep the kids safe and happy on your next road trip?
Are you a road trip loving family like we are? Family road tips can be fun but they aren't always easy!
As much as I love a good family road trip, after a few hours in it's usually me who's ripping her hair out and whining "are we there yet?" Sometimes the shenanigans that go on in the back seat of our car can drive this mom a bit batty. Can you relate?
That's why when I heard about BubbleBum products I knew we had to give them a try — always looking for ways to make our family road trips a bit easier. Plus when the kids are safe and happy this mom is much more relaxed and ready to enjoy the ride.
Read on to learn more about how BubbleBum can keep the kids safe and happy on your next road trip!

Thank you BubbleBum for providing us free products to test out during a recent family road trip! Also for sponsoring this fun giveaway for NYCTM readers. Read on for your chance to enter to win your very own BubbleBum products at the end of this post and keep the kids safe and happy on your next road trip!
Keep the Kids Safe and Happy on Your Next Road Trip with BubbleBum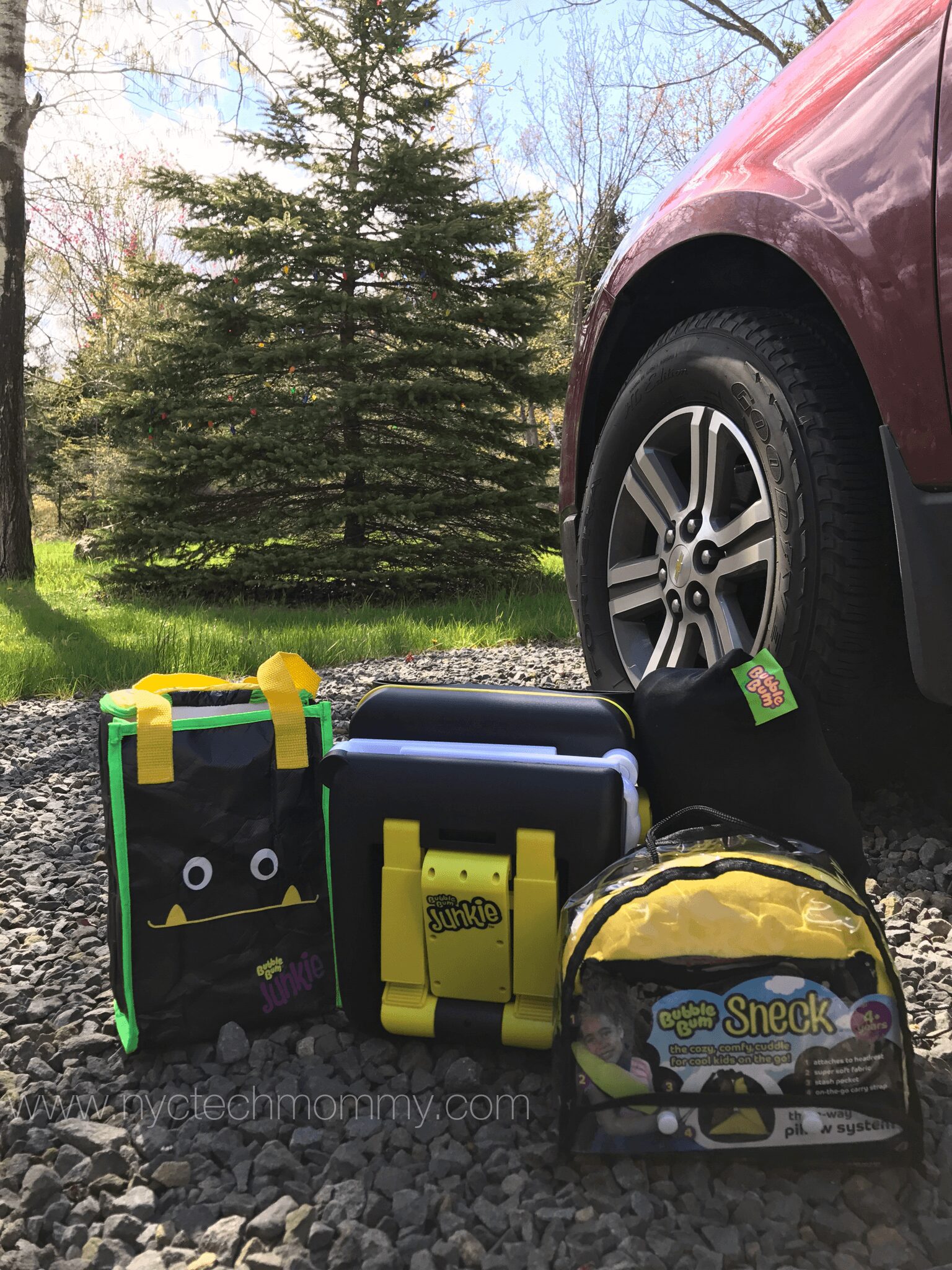 Keep the Kids Safe and Happy with the BubbleBum Inflatable Car Booster Seat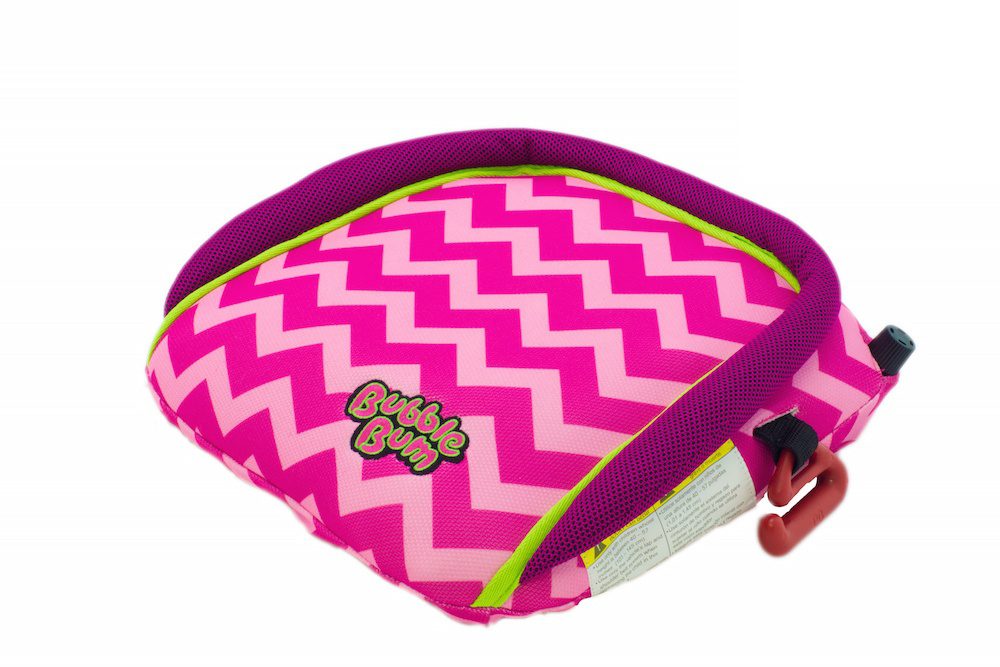 You'll love this inflatable car booster seat by BubbleBum! It's a parent favorite because it's portable and lightweight (less than 1lb), deflates easily and folds for easy storage. Even comes with its own drawstring bag that makes it easy to pack away and take along. Perfect for vacations, school trips, carpooling, taxi rides, and wherever your kids go.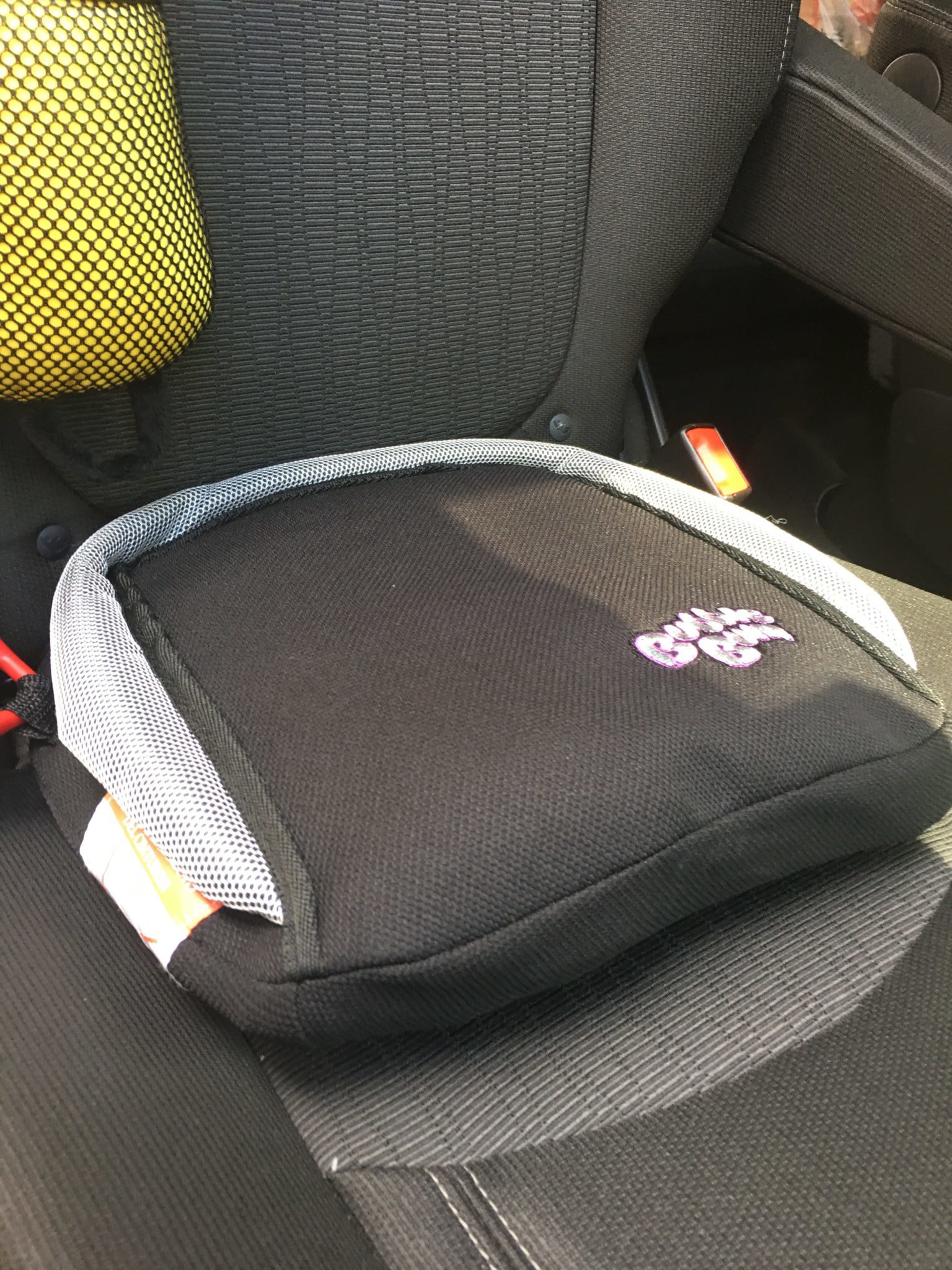 BubbleBum's Inflatable Car Booster Seat is ideal for children ages 4 through 11, 40 to 100 lbs. It's easy to clean and effortless to inflate and deflate.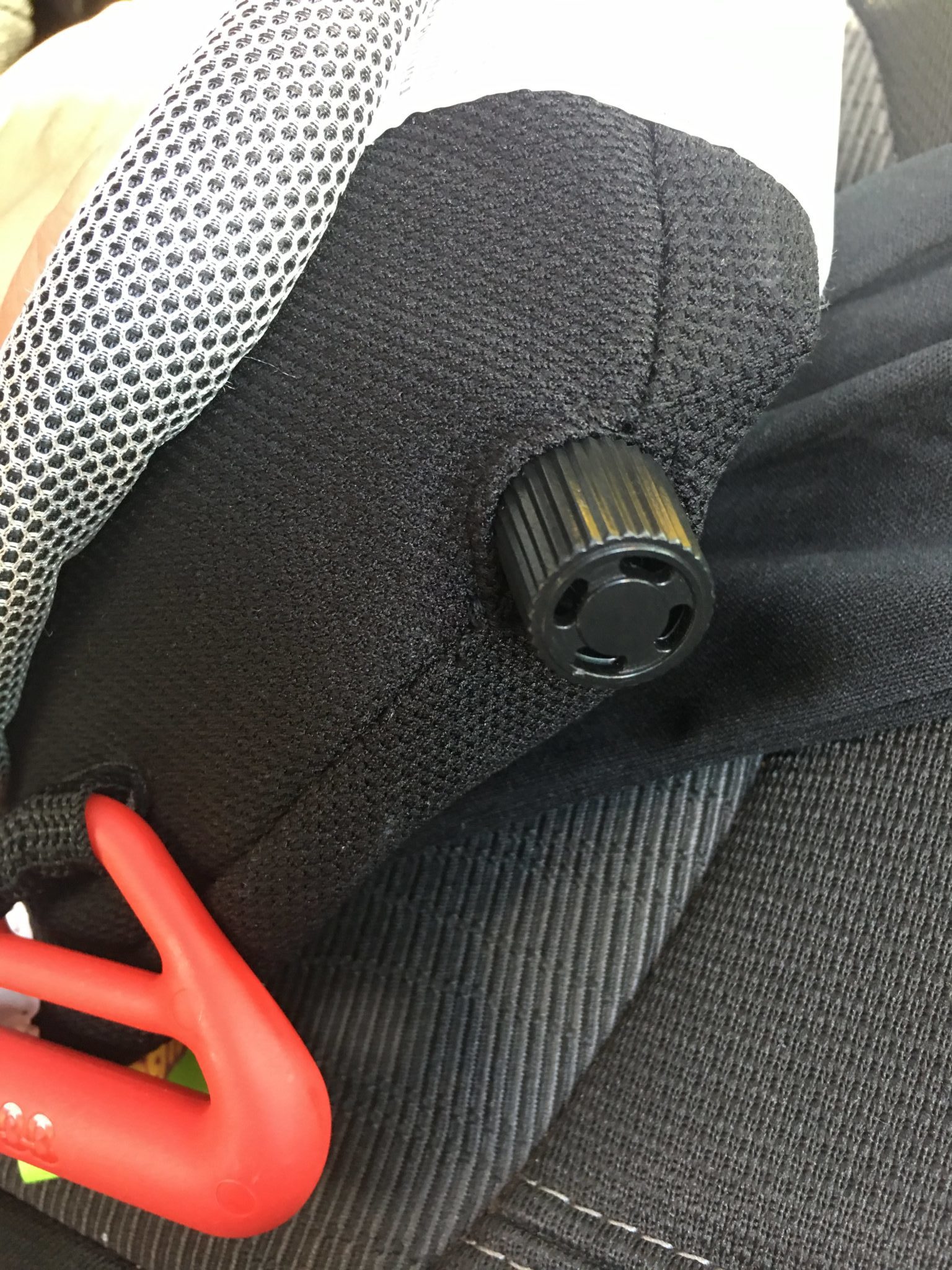 I also loved the ease with which I was able to install this booster seat myself! And my kid loved how comfy and secure he felt sitting on it!
You can see how easy it is to install yourself in this video.
BubbleBum includes belt positioning clips in place of arm rests, so it's possible to fit three boosters across the back seat of a car, minivan, or SUV.
Did you know that it's been proven that car booster seats improve a child's safety in the car by 59%! It's crucial that all kids aged 4-11 use a car booster seat to ensure their safety while on the road.
Another fascinating fact is that the majority of us adults don't know the true purpose of a child car booster seat? It's true! Out of 500 adults ages 25-55 surveyed by BubbleBum via Google Consumer Surveys, only 15.9% knew that car booster seats are specifically made to keep the lap belt from rising up into the abdomen. Did you know that?
That's why it's no surprise that over 32% of parents have been in a position where their child had to travel without a booster seat.
Confession — I've been one of them.
However, I'm happy to say that from now on the BubbleBum Inflatable Car Booster Seat will be going with us wherever we go! It's the perfect way to keep the kids safe and happy on your next road trip. Plus with a retail price of only $29.99 there's no excuse not to have one.
Keep the Kids Organized and Happy with the BubbleBum Junkie Back Seat Car Organizer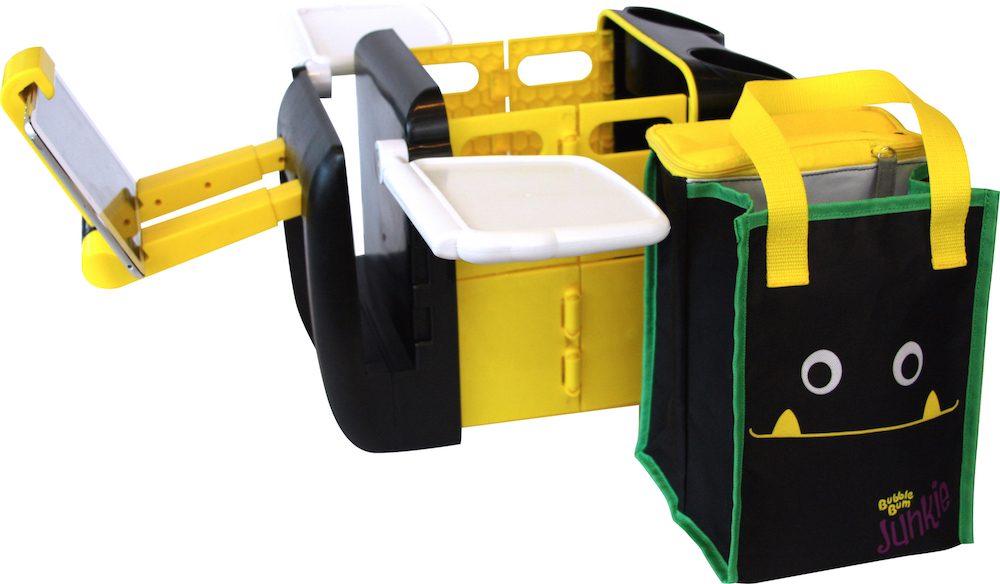 No more junk all over your back seat! The BubbleBum Junkie transforms your backseat, organizes all the kids' junk and keeps them entertained too! I love the included 'tech mount' because it lets kids share one device. Great for watching their favorite videos or playing their favorite game together.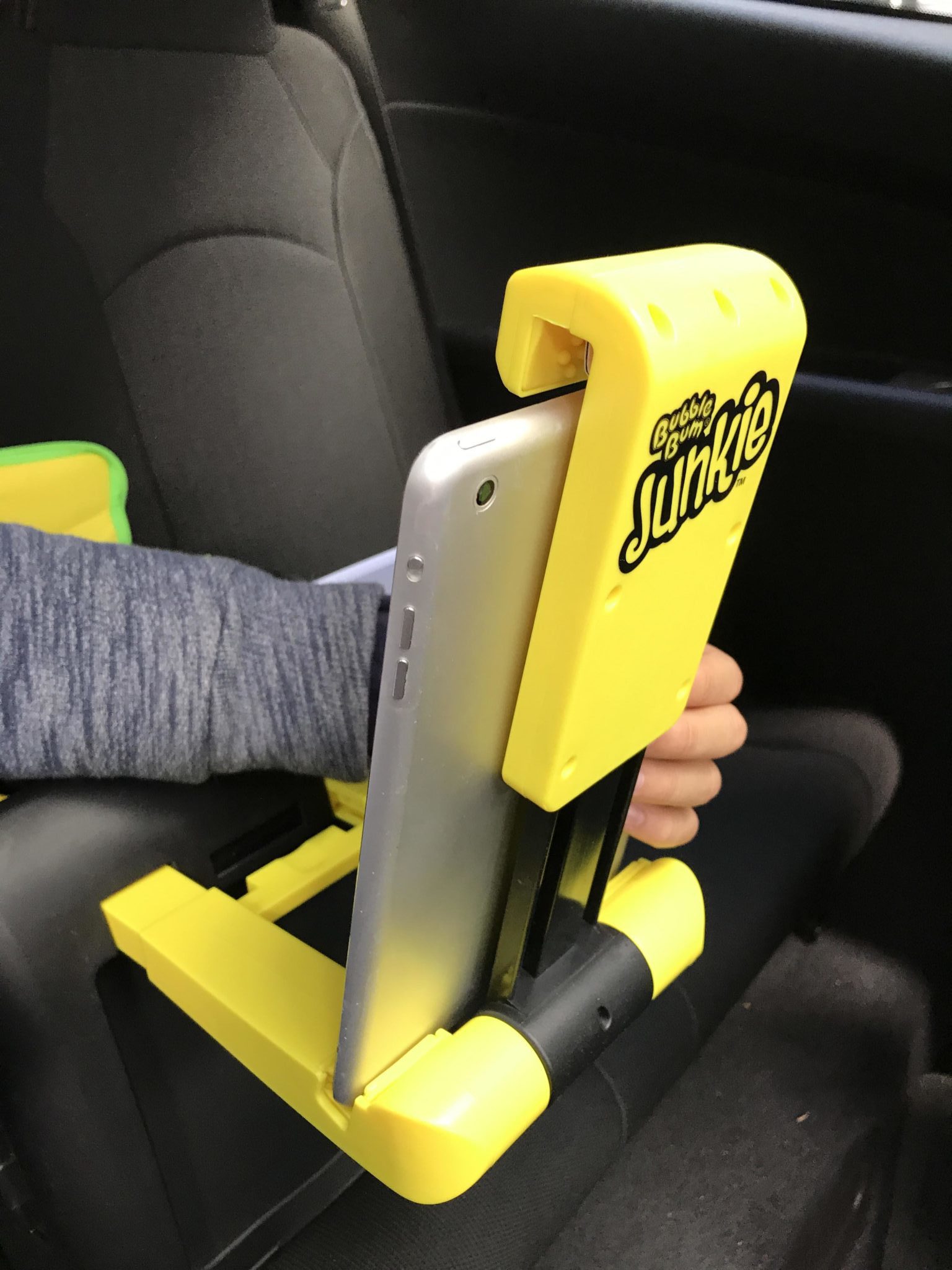 The Junkie also comes equipped with two compact, retractable, activity trays that are perfect for snacking, drawing, or playing. Two cup holders also make it super easy for kids to keep their favorite drink on hand during a long trip.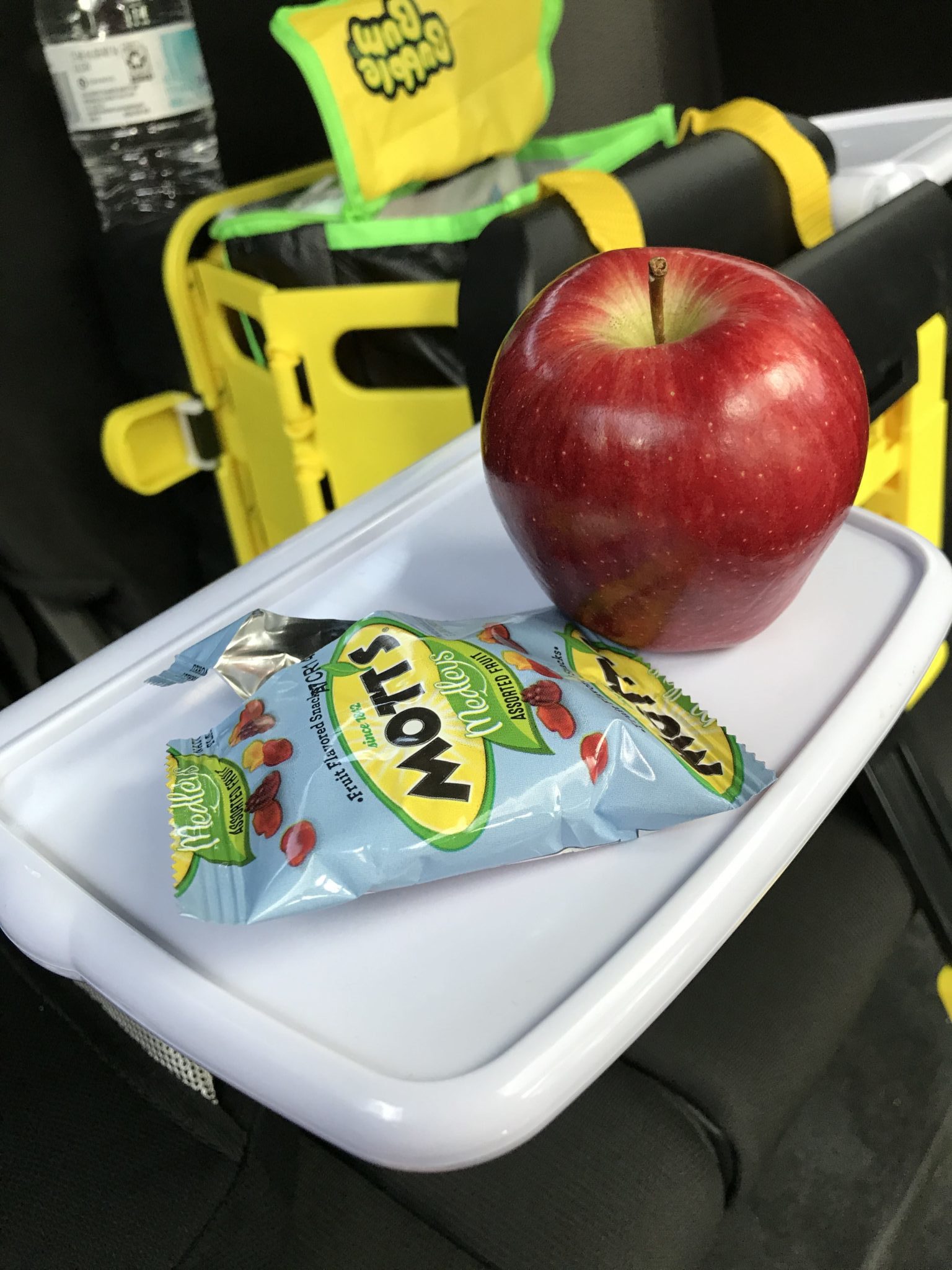 I particularly love the expanding compartment in the middle of the Junkie because it fits a reusable, refillable tote bag with an insulated zippered pocket. It's perfect for filling with kids' favorite snacks. Throw an ice pack into the insulated compartment and keep snacks cool on a warm day.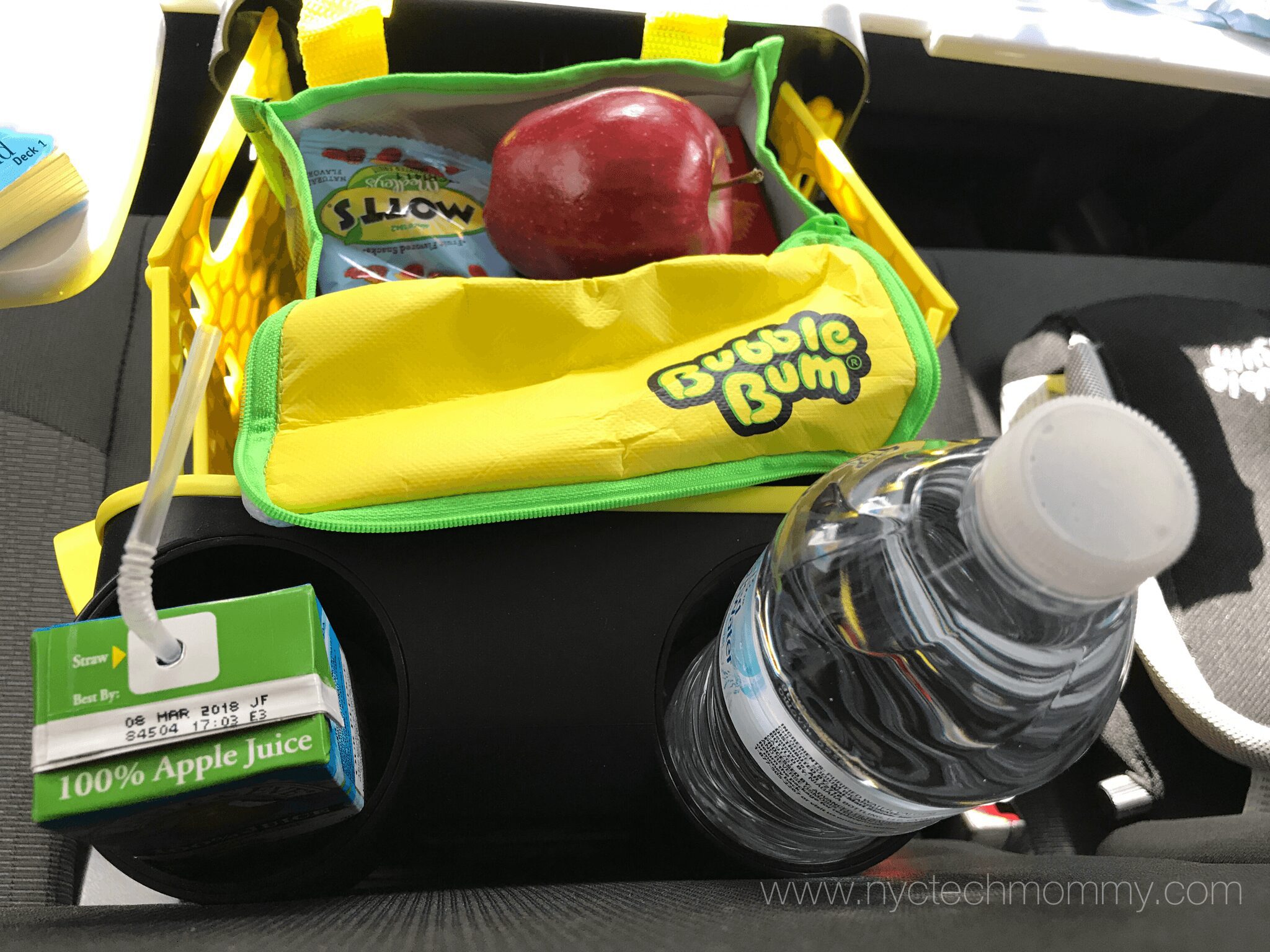 Also great is that the tote bag is removable. Just perfect for transporting snacks from home to car and from car to anywhere else you go. Plus it's a super cute kid friendly little tote!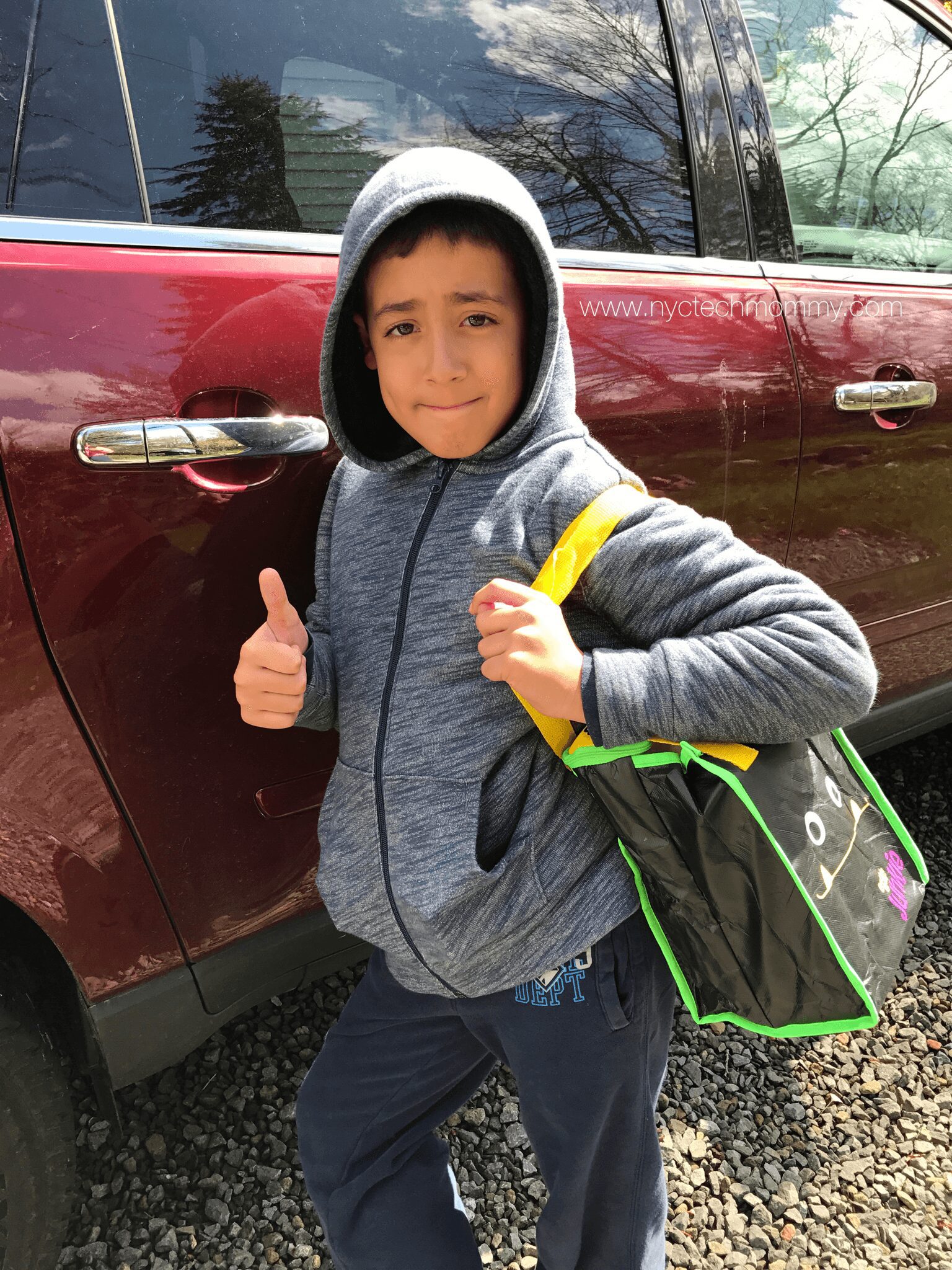 But what I love most is that my kids now have total control of the backseat, they can grab their own snacks, and keep entertained. No more nagging me to pass the snacks or scrambling to find a place to put it all while in the car! #momwin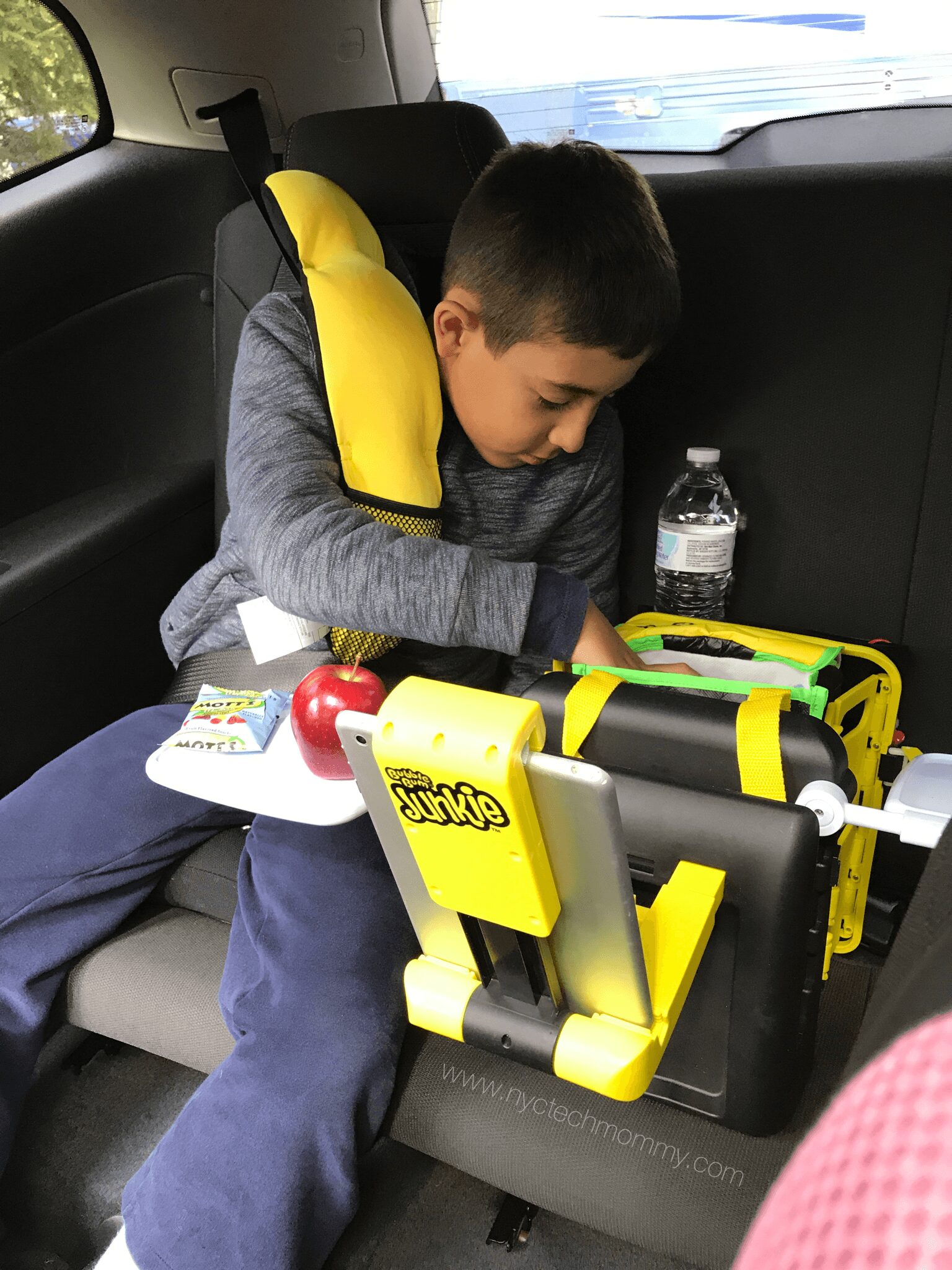 The BubbleBum Junkie retails for $39.99 and is the perfect back seat organizer for any family vehicle. Ideal for keeping the kids organized and happy on your next road trip!
Keep the Kids Comfortable and Happy with the BubbleBum Sneck Travel Pillow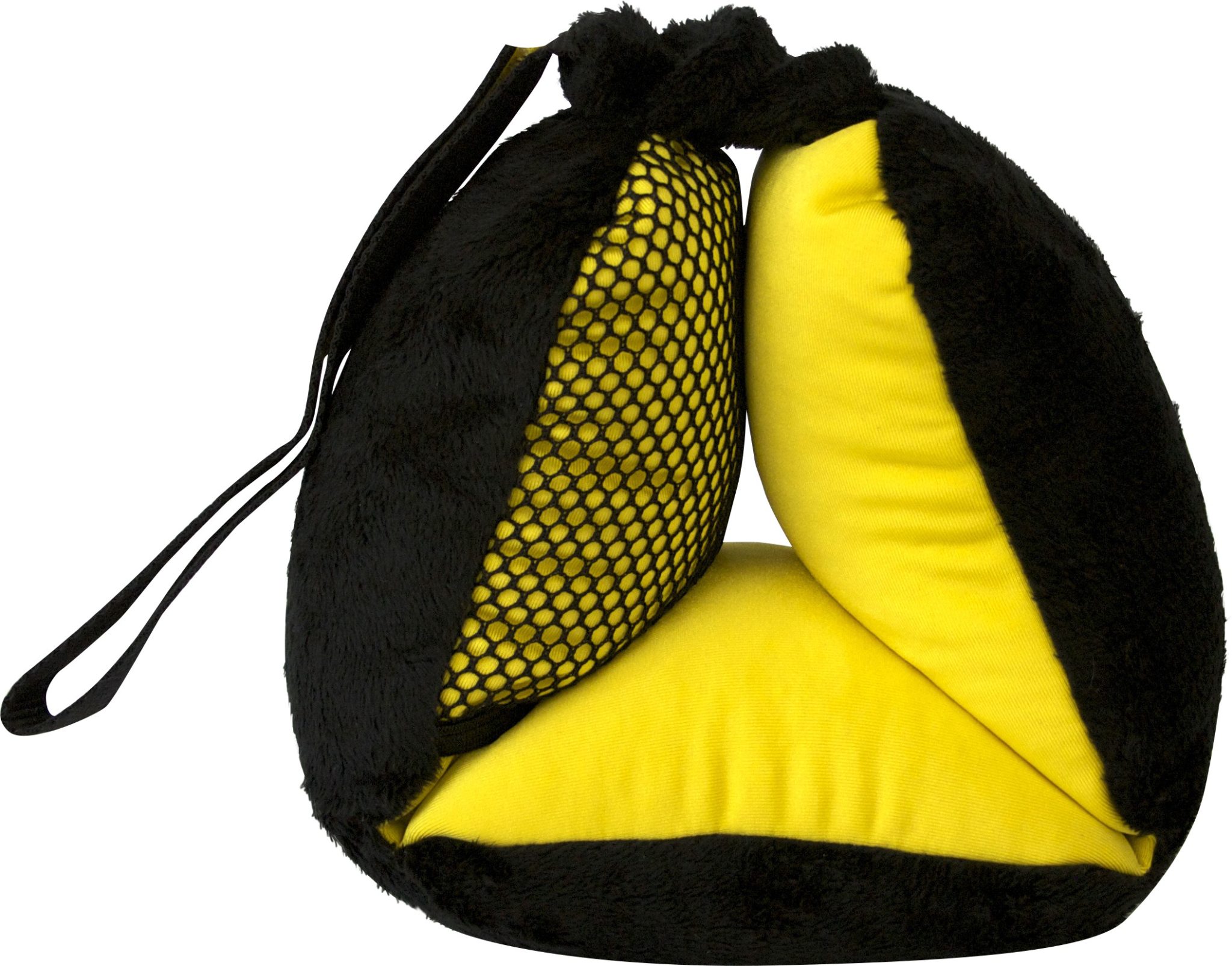 Until our BubbleBum Sneck arrived we had been keeping a set of standard pillows in our back seat. The kids tend to fall asleep whenever we hit the road.
That's why I'm so excited that we now have a Sneck in our backseat instead! Looks like I'm not the only one that's excited about that. 😉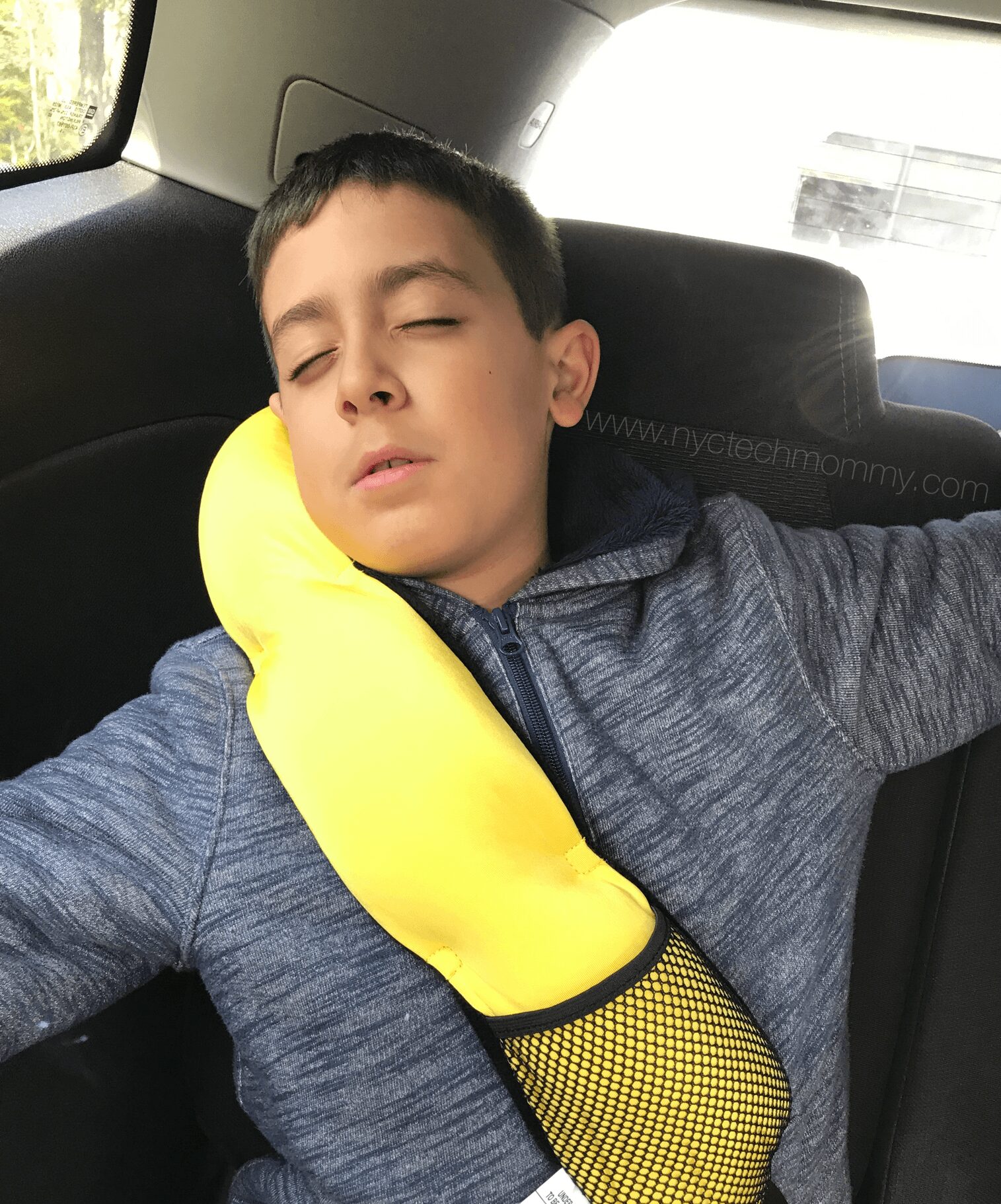 The BubbleBum Sneck is a comfy travel pillow filled with micro-beads that make it cozy for kids to fall asleep on during a car ride. It provide great head and neck support and is also perfect for bus rides or flights.
The Sneak easily attaches to the headrest with a velcro strap that keeps it in place. What's also great is that this cool pillow comes with a mesh stash pocket where kids can keep small toys or small handheld devices like an MP3 player or Smartphone.
The Sneck pillow system (travel pillow) retails for $14.99 and has a three-way design that allows kids to manipulate the position for optimal comfort. Just perfect for keeping kids comfy and happy on your next road trip!
More reasons to Love the BubbleBum Brand – Invented by Mom
BubbleBum is a family-owned company founded by Irish mom of two, Grainne Kelly. Grainne was frustrated having to transport bulky, hard booster seats on planes and car rental companies not providing booster seats for her children, so she designed her own portable booster seat. Now just a few years later, BubbleBum has paved the way for inflatable car seats and is one of the safest booster seats on the market. Way to go Mom!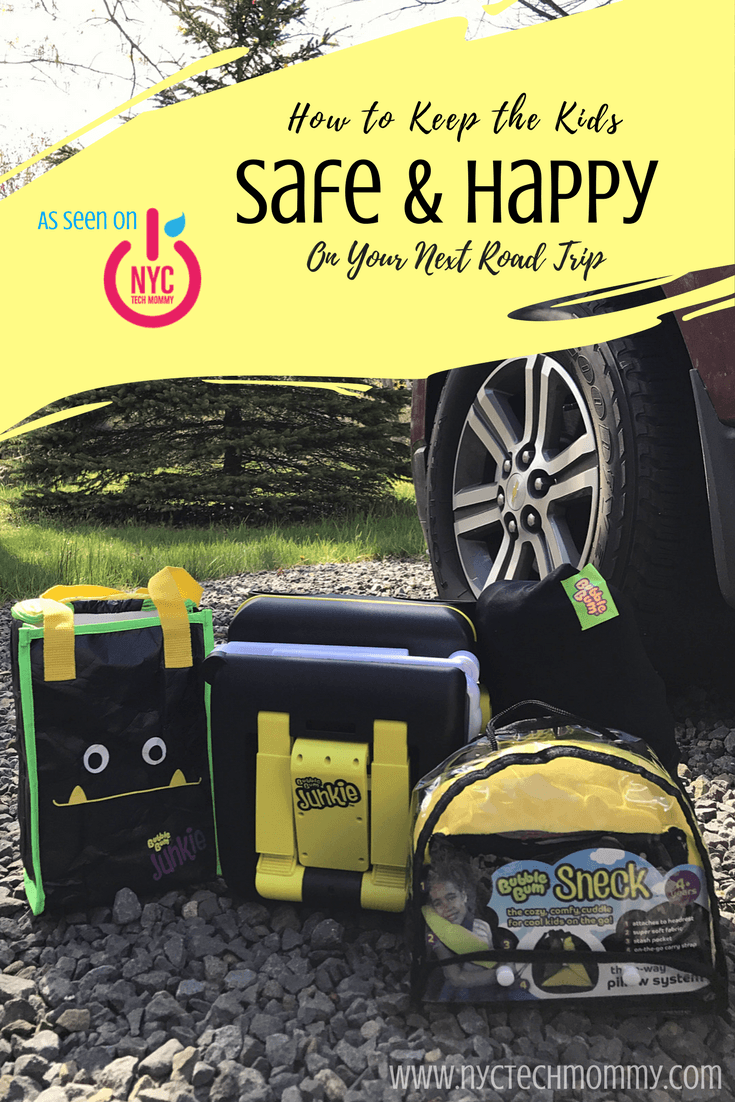 Don't forget to PIN THIS and share it with other parents so they too can keep the kids safe and happy on their next road trip!
[Tweet "Learn How to keep kids safe & happy on ur next road trip + @BubbleBumUSA #Giveaway "]
BubbleBum Giveaway – Keep Your Kids Safe and Happy on Your Next Road Trip!
Now as promised, here's your chance to enter to win your very own BubbleBum products. As soon as we tried these products for ourselves, I knew you would also love having these along for the ride to keep the kids safe and happy on your next road trip!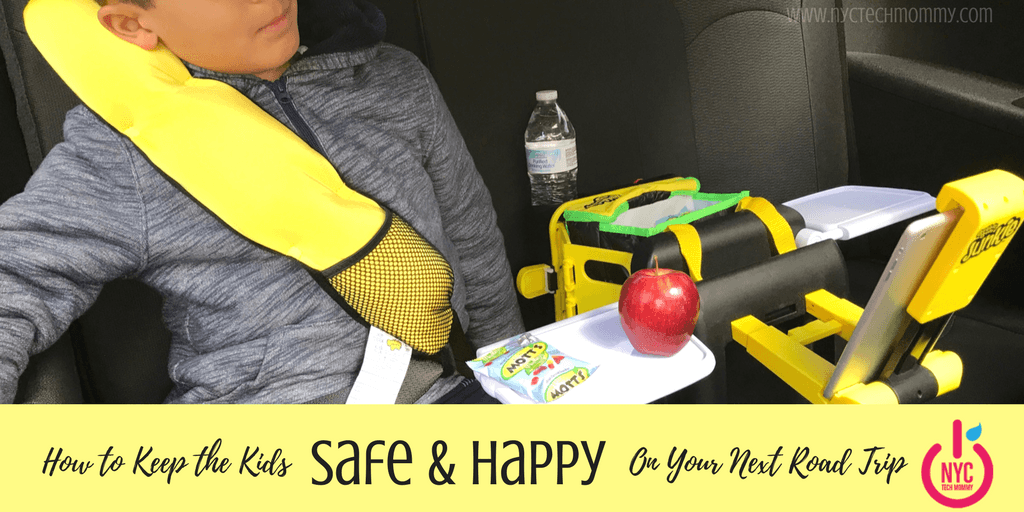 How to Enter to Win – BubbleBum Inflatable Car Booster Seat, BubbleBum Junkie, and BubbleBum Sneck Giveaway
Leave a comment at the bottom of this page and let me know why you would love to win your own BubbleBum products! Comment must be completed before other entry options are counted. NOTE that this giveaway is for (1) BubbleBum Inflatable Car Booster Seat, (1) BubbleBum Junkie, and (1) BubbleBum Sneck. This giveaway starts May 19th at midnight EST and ends June 9th at midnight EST. Entrants must be USA residents and at least 18 years old. One winner will be randomly selected by rafflecopter.com from all qualifying entries and contacted via the email they provide. The email will come from [email protected]. The winner has 48 hours to respond or a new winner will be chosen. Good Luck!
By entering a giveaway on the NYCTM website you agree to be added to our mailing list. See complete Official Contest Rules for NYCTM giveaways by clicking here.
---
Shop products we love through our Amazon affiliate links and we may receive a small commission through your purchase, without it affecting the price you pay. Thanks for supporting NYCTM! ????
Related articles across the web
You May Also Like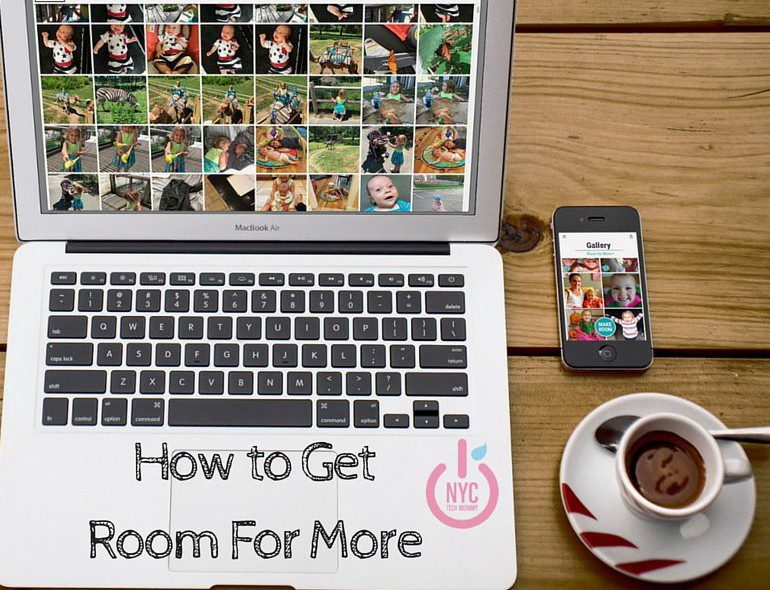 February 13, 2016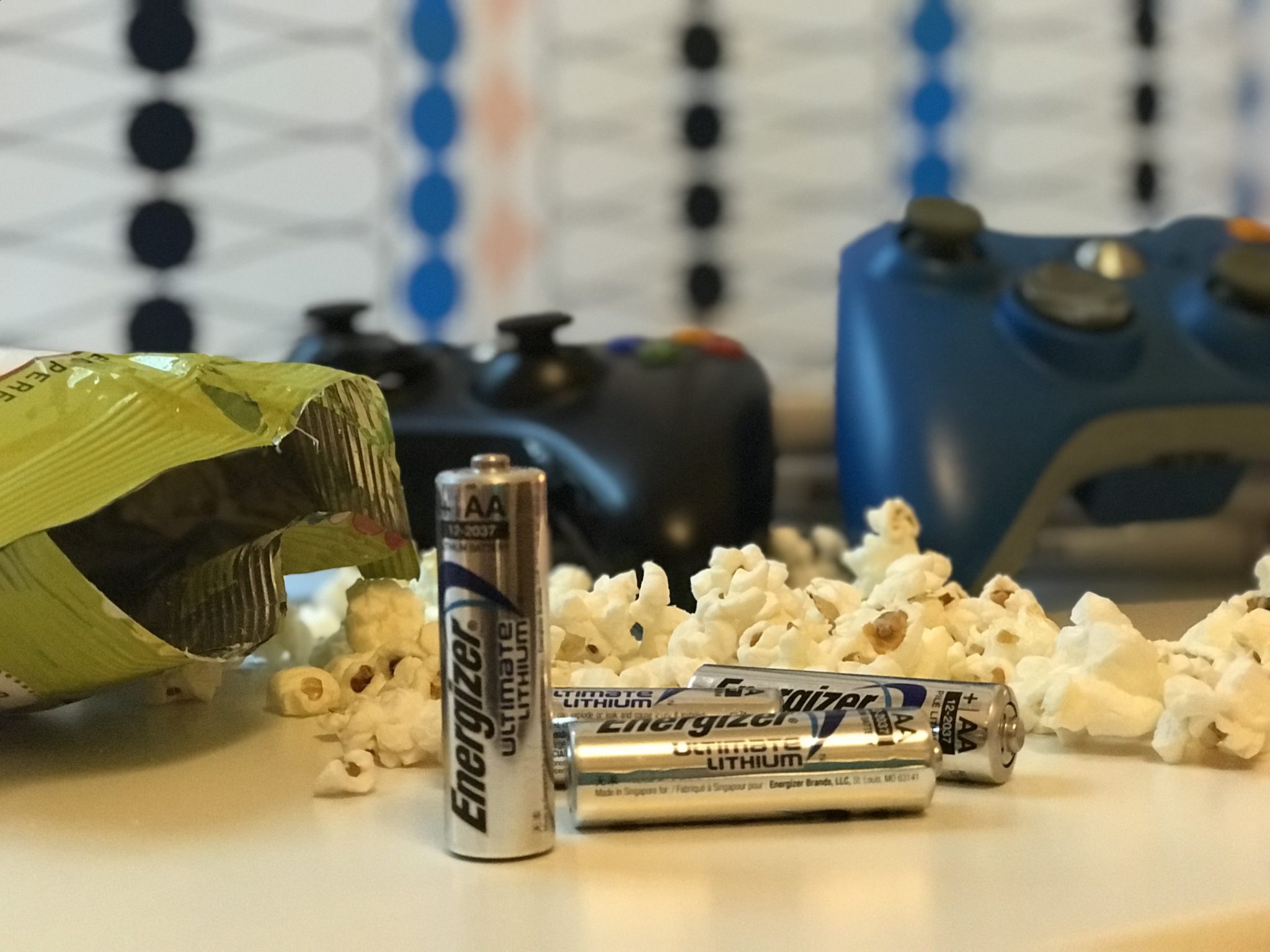 November 29, 2017