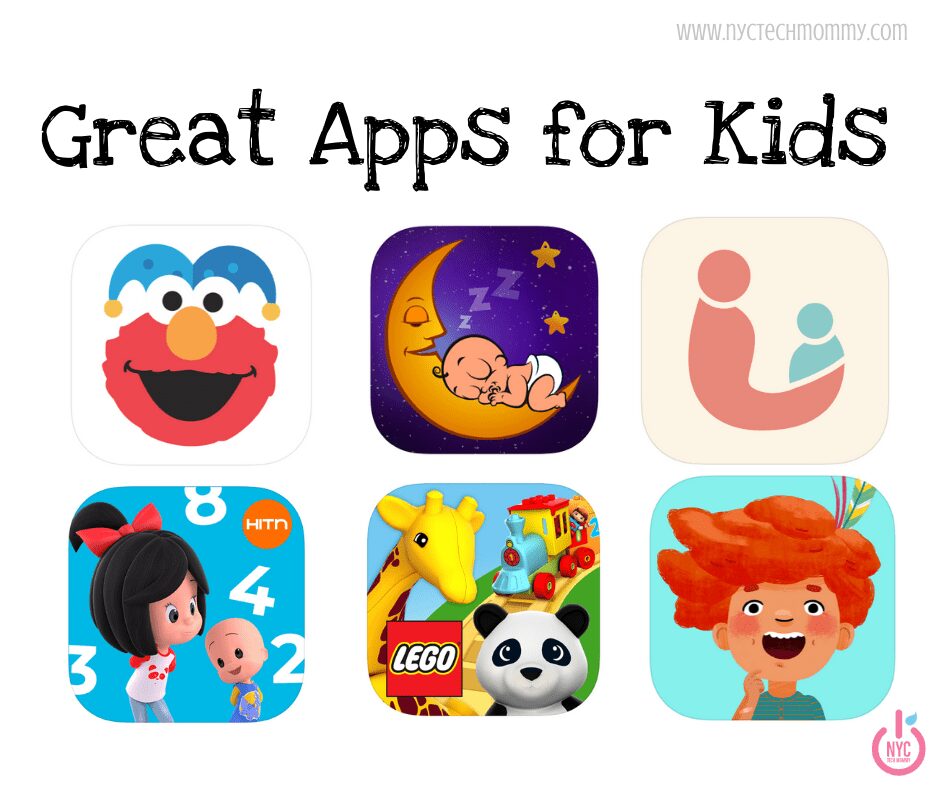 6 Great Apps for Kids
December 4, 2019
As parents, we're always looking for new ways to entertain our kids and help them learn. Some of us turn to screens. Many of us run away from them! After all, preschool age kids shouldn't have more than one hour of screen time a day, according to the American Academy of Pediatrics. And we don't want them turning into screen-obsessed zombies. They're not learning anything by sitting in front of that screen. Right? WRONG! I'm one of those parents that actually turns to screens — no shame here! I strongly believe that screens and apps can actually be a valuable tool for developing kids minds if used correctly. Plus, a well-made kids app can be a very useful resource for parents who may be struggling to find appropriate learning activities or can't seem to interest kids in learning. That's why today I'm sharing with you a set of GREAT APPS FOR KIDS! These are apps I'm using with my own little one and I think you'll find great value in them too. Read on!
Great Apps for Kids
The best mobile apps for little kids — pre-schoolers and kindergartners — should cover a full spectrum of entertainment and add educational value. At this age, our kids also need to experience socialization and creativity — and believe it or not there are some great apps that can help with that. When choosing great apps for kids, we must make sure to go beyond just the popular arcade type games. Although those can be lots of fun they don't help our kids express their feelings or unleash their creativity much. But how do you know if an app is right for kids, or even educational? There are great resources out there that can give you valuable insights into how to choose the best apps for your kids. However, today I'm taking the guess work out of it for you! I've chosen some of the best new apps that I know you will find value in — your kids will have fun and express their creativity, explore some of the things they already love, connect with family and friends, and all while learning. Add these to your tool kit! And remember, a well-made kids app can be a useful resource when used adequately! Go on, download these great kids apps!
Related: Growing Up With iPads: Should I Limit My Child's Time With Tech?
Sesame Street Yourself
Join the happy celebration of Sesame Street's 50th birthday! The new Sesame Street Yourself app lets little kids play games and sing along with their favorite Sesame Street friends! Also a great way to bring together family with fun-filled interactive experiences you can do together. The Sesame Street Yourself app includes easy-to-use Augmented Reality play: see yourself in your home as your Sesame Street friends, catching cookies and dressing up. This app is FREE to try and includes Dress-up play + 1 interactive game + 2 songs PLUS masks of 3 Sesame Street friends. Additional packs featuring even more Sesame Street favorites are available for in-app purchase and include high-interest kid topics, like Alphabet and Silly Songs at a cost of $1.99 per pack.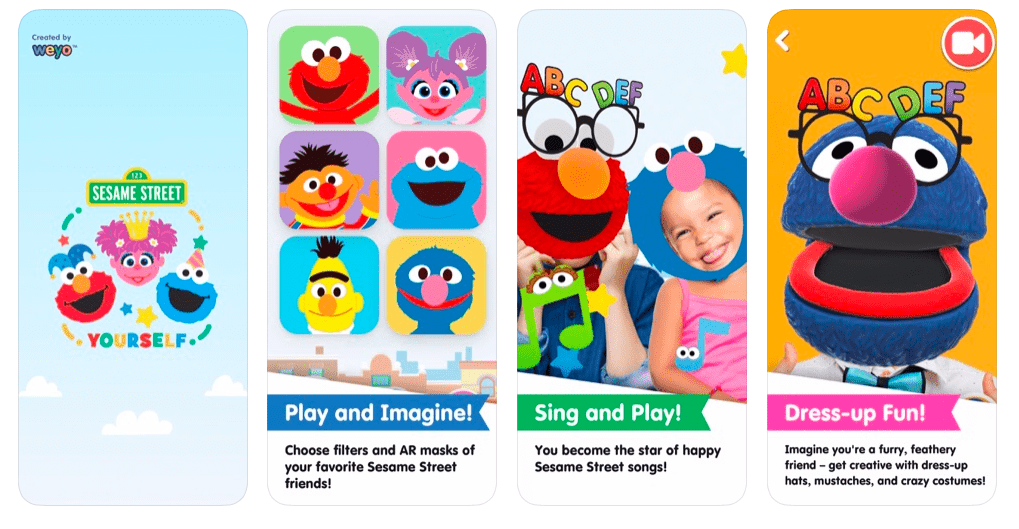 What's great is that Sesame Street Yourself ignites imaginations with the friendly, furry faces that kids and parents love… and with real innovation too!
Little kids will love dressing-up as beloved Sesame Street characters in a host of character filters, playful masks and dress-up costumes. Be as magical as Abby, eat cookies as you nosh like Cookie Monster… and giggle along to silly songs while you pretend to be Elmo! It's so fun to star in your own music videos with fun filters and sing along with favorite Sesame Street characters. Then save those videos directly to your device to share with family and friends later. Choose whichever friendly character mask lets you express your Sesame Street self! So FUN! Even Bake with Cookie Monster and bring Cookie Monster into your kitchen with Apple's latest rear-facing AR technology and help Cookie Monster find the ingredients to bake his cookies. My own kid is obsessed with this! And best part, kids aren't just sitting in front of a screen. Instead they're moving, playing, and using their imaginations!
Available for iOS. Learn more about the Sesame Street Yourself app by visiting weyo.app. Also find them on Facebook.
GoodNight Babies
The GoodNight Babies app brings family and friends together! This innovative and thoughtful smartphone app is designed to create a personalized GoodNight video storybook for your child. The creators of GoodNight Babies have created a GoodNight experience like no other! Family and friends play an important part in your child's life and it's often difficult to bring all these special people together to say GoodNight to your little one, especially when family and friends live far away. The GoodNight Babies App allows a parent or caregiver to invite family and friends to bestow a GoodNight video message to your child and compiles those messages into a beautiful video STORYBOOK that you and your child will cherish night after night.
To get started parents simply complete a free and easy registration, creating a profile for the child and uploading his or her photo. A text message invitation then goes out to friends and family and includes a link that will allow them to record a video GoodNight message and send it back to you with ease. Once received, parents can arrange the order of the video messages in the 'STORYBOARD' section.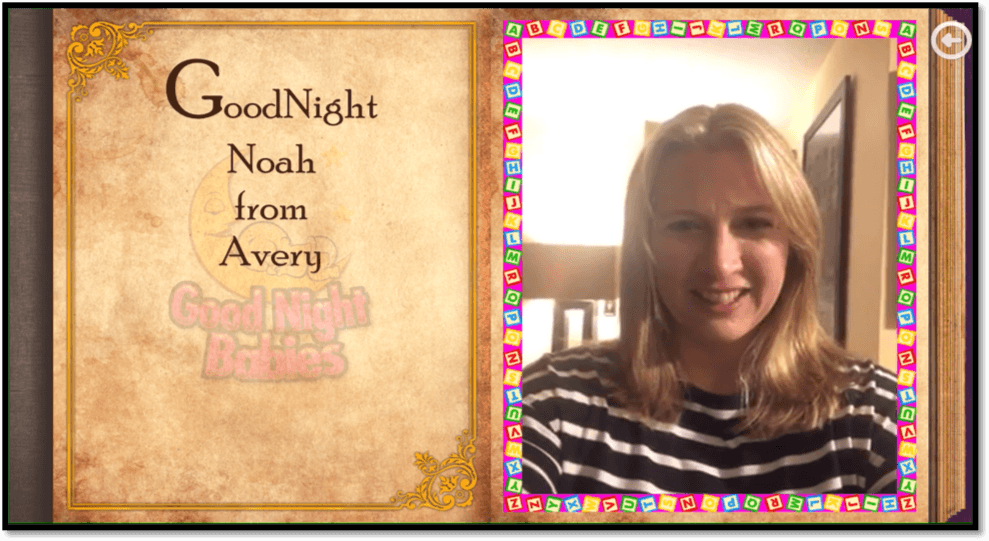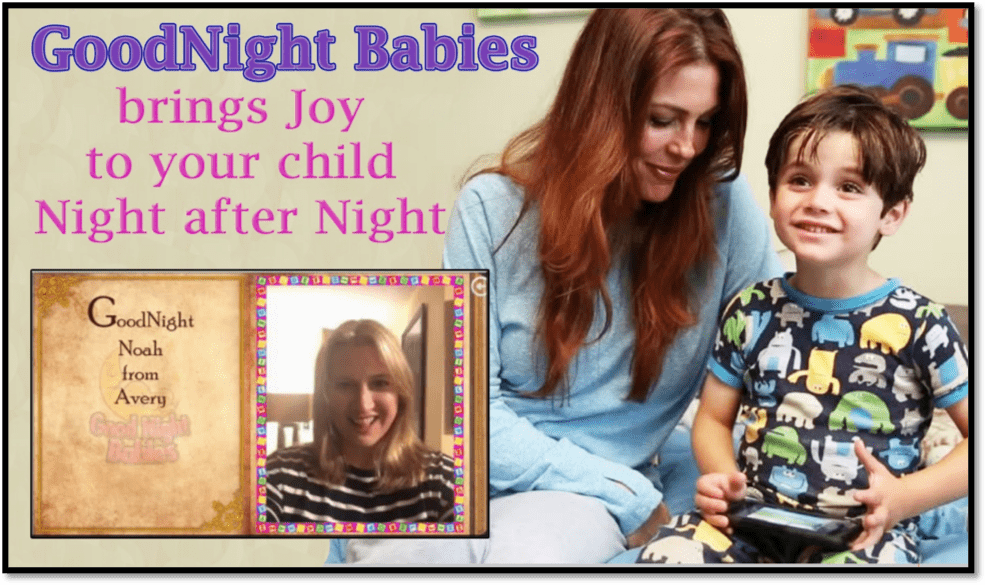 Choose from multiple book borders to personalize your GoodNight video STORYBOOK and select an instrumental lullaby that will play in the background as friends and family saying GoodNight to your child. Once completed, the GoodNight videos, Lullabies and book boarders are automatically merged together to create an animated STORYBOOK that your child will be charmed by. Once the GoodNight Babies Video STORYBOOK is complete, downloaded to your device and show your child all the wonderful people saying GoodNight to him before he goes to sleep. The GoodNight Babies STORYBOOK video will allow your child to learn and connect with multiple loved ones who are near or far all in one video. It's as simple as pressing the play button. You must pay to download the created STORYBOOK but it's well worth it at just $0.99 per storybook download.
Available for iOS and Android. For more information about the GoodNightBabies app visit goodnightbabies.com. Also find them on Facebook.
Abound Parenting
Abound Parenting was designed for parents and caregivers of young children. This Abound app empowers parents as they build all the crucial early reading skills little kids (between the ages of 3-6) need to become successful readers and critical thinkers. No more guessing as to whether your child is learning. The Abound app gives you quick, engaging, and research-backed conversations, activities, and learning moments, that build both early skills and connections. Everything you need is at your fingertips!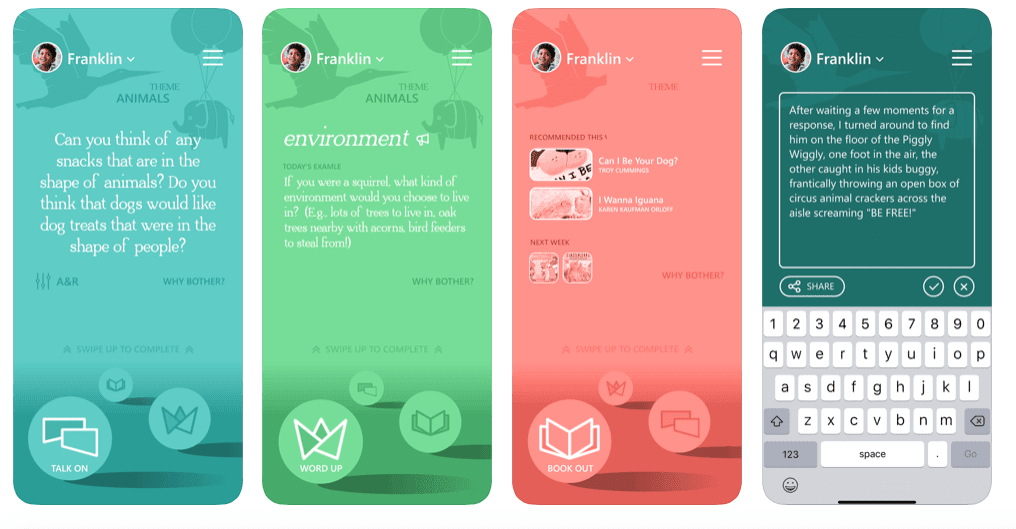 Activities, and conversations are written by experts to encourage the learning of crucial early letters and sounds, vocabulary and knowledge, and awareness and regulation skills over time. Meanwhile, this content is carefully designed, so that it's easy and simple for you to integrate into your busy day. The Abound app is currently FREE and you can read our full review of this great app for kids here — it's a parent's complete guide to teaching kids to read! It delivers lifelong benefits with just a few minutes of use each day.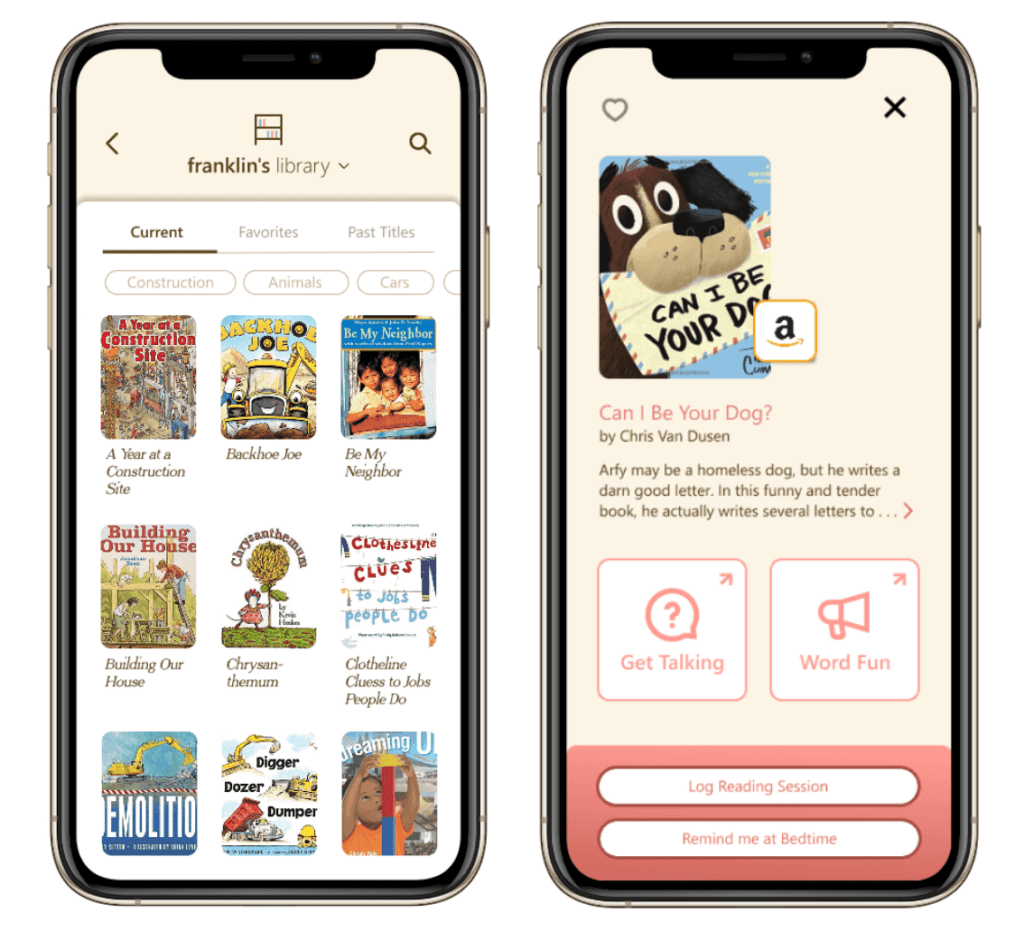 Available for iOS. You can learn more about the Abound app by visiting aboundparenting.com. Also find them on Facebook.

Cleo & Cuquin: Explore + Learn
Cleo & Cuquin: Explore + Learn helps preschoolers learn essential math skills through fun bilingual, English/Spanish educational games and activities. It's free to try and the FREE version includes a Treehouse section filled with fun learning activities and games — the Notebook teaches little kids about flat shapes, Cleo's Shape Runner with two levels for little kids to master while learning about shapes, the AR Explorer Augmented Reality feature where grown-ups can print an AR target that makes images come to life so little kids can explore shapes in Augmented Reality, and the Video Theater that includes 5 fun music videos featuring the beloved protagonists from the popular Cleo & Cuquin series. With this fun app kids learn pre-k and kindergarten math concepts — counting and sorting 2D and 3D shapes through 60+ math activities in total! However, you'll have to make in-app purchases if you want full access.

Three in-app purchases are available — Counting, Sorting, and 3D Shapes — each at $1.99 to download. It's also worth mentioning that there are companion Cleo & Cuquin Family Fun! Math kits available for purchase. These math kits are a nice addition if you're willing to spend the extra $24.95 per kit. But the Cleo & Cuqin: Explore + Learn app can be used independently from the available companion math kits. You can learn more by reading my full Common Sense Media app review.
Available for iOS and Android. Learn more about the Cleo & Cuquin: Explore + Learn app by visiting hitnlearning.org. Also find them on Facebook.
LEGO DUPLO WORLD
LEGO DUPLO WORLD is a new interactive app designed for little kids ages 2 to 5 and intended to support preschooler development. Developed with input from child development experts, educators, and parents, this fun app aligns with the Headstart Early Learning Outcomes Framework and supports creative skills, from building to exploring, role-playing through stories, and developmental skills, including spatial awareness, working memory and early math. What's nice is that this app includes a dedicated Parent Center that explains learning goals for each game and suggests meaningful co-play activities. A great way to kickstart your young child's early learning goals, while bringing to life a magical world based on the iconic LEGO DUPLO toys your preschooler already loves. For even more fun, multi-touch enables families to play together.
The FREE version of LEGO DUPLO WORLD includes access to Number Train, one of three activity packs. Kids will learn to count in order from 1 to 10, practice fine motor skills, sort LEGO DUPLO bricks by color, and cultivate imagination and creativity through pretend play. Colorful LEGO characters help kids fix their own mistakes before continuing on to the next activity — for example if numbered bricks are placed out of order the LEGO characters remove them and kids get another try. You can unlock the other two activity packs by an in-app purchases of $3.99 each per pack or as a bundle for $7.99.
Playing with LEGOs offers great learning opportunities and this app is a great on-the go alternative when it's not possible to play with physical LEGO bricks. Available for iOS and Android. Visit storytoys.com to learn more.
Look, I'm Making It Up!
Look, I'm Making it Up! is a paid app that includes a magical story introducing children to the concept of improvisation and develops their creativity and curiosity. At a price tag of just $2.99, it's worth downloading this interactive storybook that explores a variety of ways in which kids can improvise and be creative. A free-spirited young boy named Camilo likes to do things in his own original way. Camilo loves to play music, dance, build, bake and paint. When Camilo hears distant sounds of jazz music coming from the park, his mom takes him there to listen. Camilo learns a new word from the musicians, IMPROVISATION. He quickly realizes that he has been an improviser all along!

In the age of technology, with robots and AI on the rise, creativity stands out as a key component for future generations to succeed with, both personally and professionally. Early development of open mindedness, imagination and the ability to improvise can set our kids on a road to success in tomorrow's world. The goal of "Look, I'm Making it Up!" is to bring these important concepts to kids in a clear, enjoyable, and interactive way.
Each page of the story includes text at the bottom of the screen and is read out loud by a narrator. All pages include interactive elements that users can tap on to make things happen — for example, set a toy train in motion, pop balloons, make music, add ingredients to a bowl, and much more — and there are three games embedded into the story — dress up, play the piano, decorate cookies. The tree games are also accessible from the home screen, separate from the story. Beautifully designed, the rich colors and beautiful illustrations alone will capture your kids imagination!
Available for iOS. Visit themelodybook.com website to learn more. Also find The Melody Book apps on Facebook.
---
Disclosure: I received complementary redeem codes for some of these apps in order to facilitate my review. All thoughts and opinions are my own.
---
Don't forget to "Pin" this for later!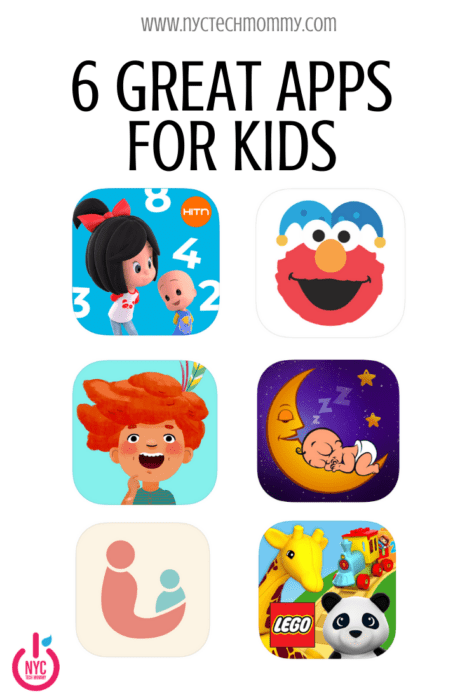 Other Great Apps for Kids Resources
You May Also Like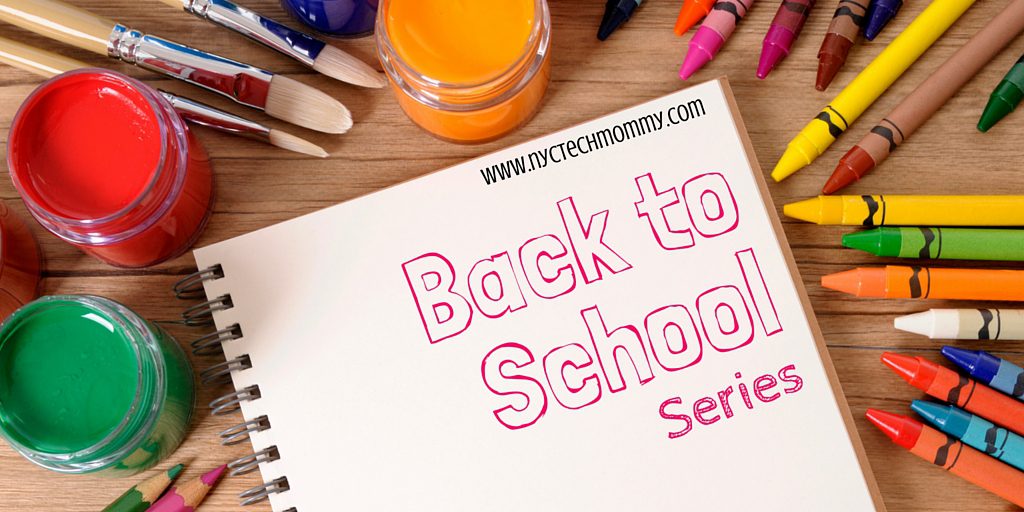 September 4, 2015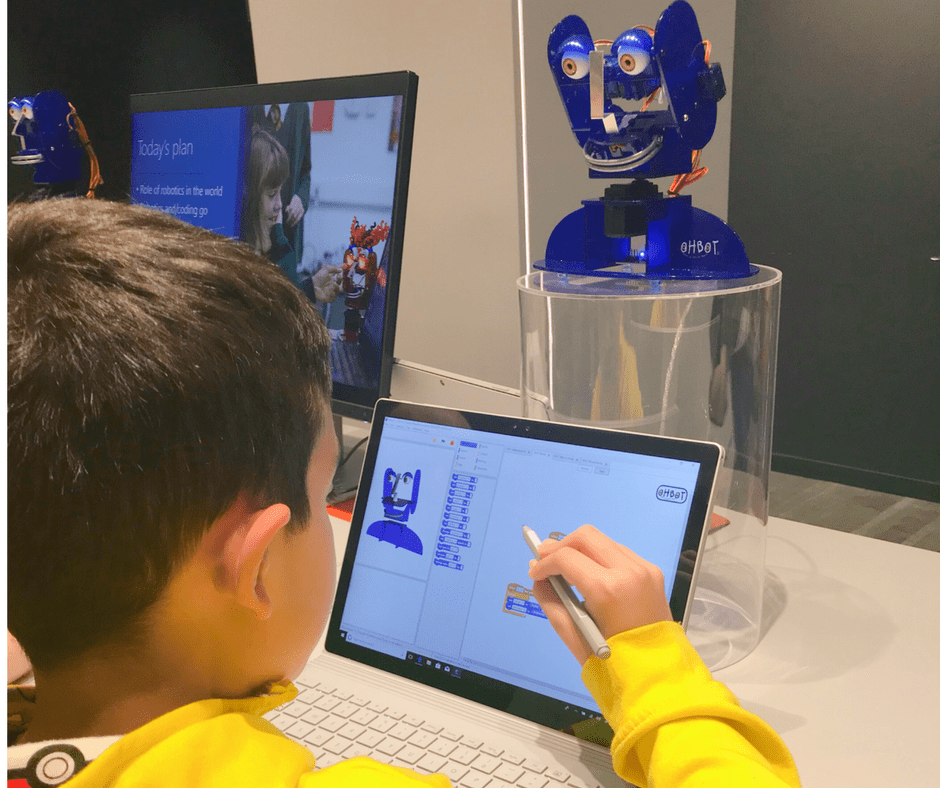 April 23, 2018