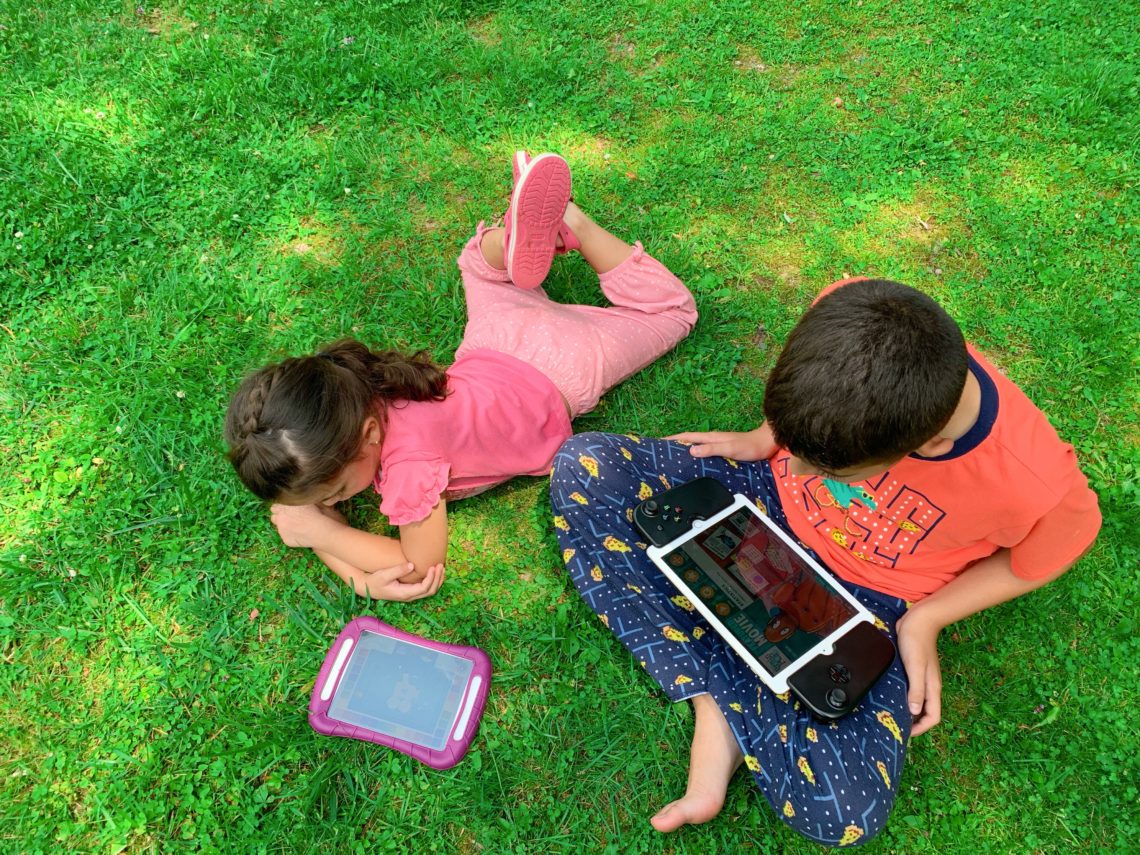 9 Educational Apps for Summer Learning
July 8, 2019
Summer is well on it's way and if you're anything like me you're already running out of ways to keep the kids engaged this summer. There's no denying that summer days can drag on and the kids need things to keep them busy. One great way you can engage the kids is through online education. Kids love technology. They're so tech-savvy too! So why not go ahead and engage them in learning through fun educational apps for summer learning?
The apps I'm about to share with you today are not only guaranteed to keep kids engaged in learning this summer, they'll also make summer a bit more FUN! My kids currently use and love each of these apps.
Why Summer Learning?
As excited as we all are about the carefree days of summer, it's still important to remember that learning cannot cease to exist once school lets out. It would be a huge disservice to our kids! They've worked so hard to hit new academic milestones during the school year. We want to make sure they keep moving ahead. For that reason, it's important that we start thinking about how we'll engage our little ones in learning this summer.
Studies have shown that students exhibit an academic regression, known as the "summer slide" during the summer months when they're not in school. Did you know that during the summer months, students can fall back or regress the equivalent of one month's worth of school-year learning (or more)?
Studies have also shown that there are ways to fight the summer slide and that it is less likely to happen when kids are engage in summer learning. Summer learning makes kids more likely to retain the academic progress made during the previous school year. This is exactly why it's so important that as parents we take a little time to find educational resources that will help our kids remain engaged in learning through the summer.
Great Resouces for Summer Learning
Now don't worry! I know you already have loads on your plate this summer. That's why I'm here to share some great resources with you. As a parent, I think you'll find my list of educational apps useful in supporting your child's learning throughout the summer, and beyond. Just remember that learning isn't over once schools out! Make it FUN and your kids will never even realize that you're helping them prepare for the coming school year.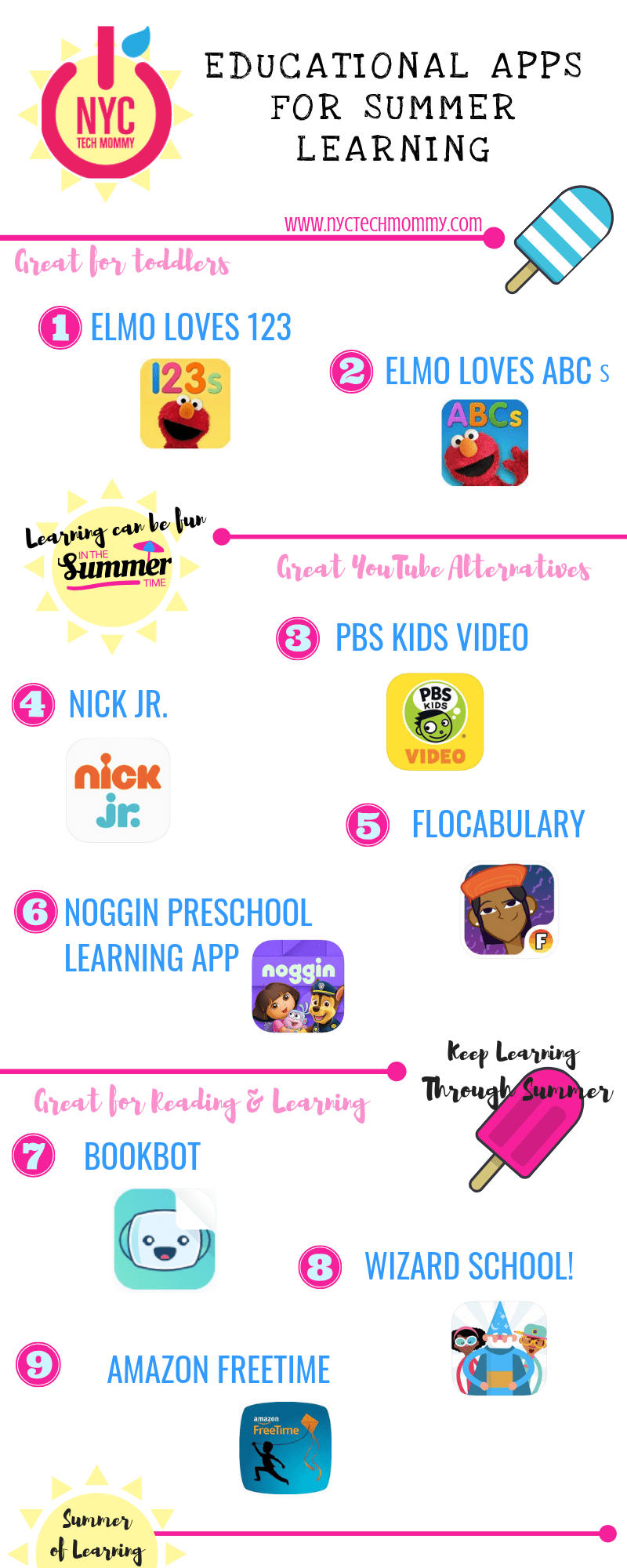 9 Educational Apps for Summer Learning
Hey, did you remember to pin the infographic above to your favorite educational Pinterest board? That way you'll have this list of educational apps handy to download and use all summer! Then read on to learn more details about each of our favorite educational apps for summer learning FUN.
Great Educational Apps For Toddlers
We love Elmo and everything Sesame Street — don't you? But these two apps in particular are our faves. My eleven year old was obsessed with these when he was a toddler and now my 4 year old has been using them to get ready for kindergarten. She's quickly becoming a pro at counting and ABCs thanks to ELMO! She'll definitely be ready for Kindergarten this fall!
Learn about numbers with everyones favorite red furry monster, ELMO! This is an interactive app full of games, activities, and videos, which will help teach your child about numbers and counting.
Your little Elmo-obsessed kiddo will love this app! It includes loads of songs and videos about letters. There are also letter tracing activities and great coloring pages and games about letters. Kids learn all the letters from A to Z! Elmo even made a new alphabet song for it.
Great YouTube Alternatives
It's hard to pull the kids away from YouTube. I know. What kid (and adult for that matter) doesn't love YouTube? Still, when it comes to the kids there are so many other great YouTube alternatives out there. I mean, don't get me wrong. YouTube isn't all bad. Especially if you choose to tap into the curated kid content on YouTube Kids. Here's a Parent's Guide to YouTube Kids that can help you navigate it all safely. Still the three apps listed below are pretty neat and include loads of educational content that my kids and I both love to watch and interact with, away from YouTube.
This neat little app is a great way for kids to access PBS KIDS 24/7 on the go and for free (no subscription or login required). Tap the "LIVE TV" button to watch what's airing on your local PBS station right now. I love that the app provides a safe, child-friendly viewing experience for all ages — plus kids get to take their favorite cartoon characters along no matter where they go! Besides the "LIVE TV", there's a huge collection of favorite shows to choose from. To complement this, you might also want to download the PBS Kids Games app. FUN!
This is the home of PAW Patrol, Shimmer & Shine, Blaze and the Monster Machines, Nella the Princess Knight, Peppa Pig, Dora the Explorer, Bubble Guppies, and all your preschooler's favorite Nick Jr. shows! Kids can watch full episodes of their favorite shows, play educational games, and even learn the alphabet. Fun alphabet buttons teach letters and words in a fun and sometimes-silly way. Your kids will not only love watching their favorite shows, they'll also love the creative coloring and drawing activities. I just love how interactive this little app is for little ones!
Flocabulary is a fantastic app for kids of all ages because it uses music and storytelling to engage them. I love this app because it helps kids expand their vocabularies and learn about school subjects in a fun and exciting way. The Flocabulary app offers over 900 lessons and educational videos that teach all the school subjects — Language Arts, Math, Science, Social Studies, News and Current Events + more! I love the kid-friendly interface of this app and your kids will have so much fun rapping along with the videos and completing challenge activities where they match definitions to correct words. It comes with a cost of $1.99 per month to subscribe but I think it's totally worth it!
There's also a great Flocabulary Educational Hip-Hop website you might want to check out if your kids are spending time on a laptop or desktop this summer.
Great Apps for Reading and Learning
When planning a summer of learning it's important to fit in loads of reading. After all, your kids have already made so much progress in reading during the school year. Right? It would be horrible for them to regress. You can keep them moving ahead in their reading progress by ensuring that they read at least 20 minutes each day. And reading on a tablet or other device totally counts!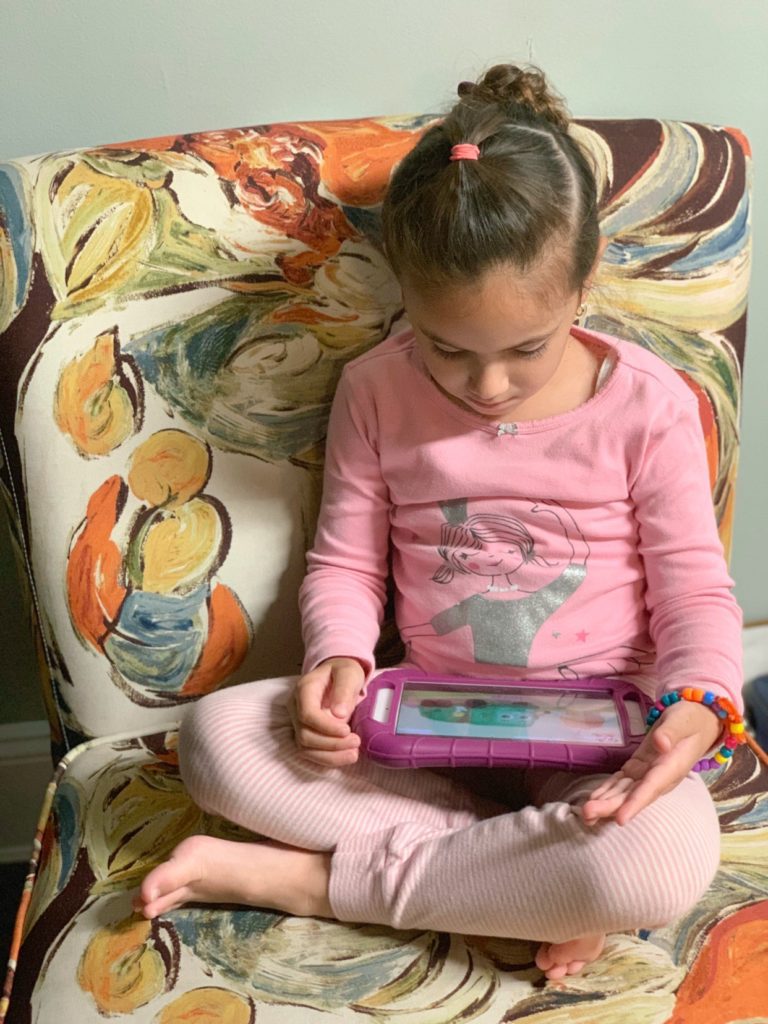 Reading (and learning) on a device works great for families like mine, especially when traveling and out and about during the summer months. My kids love reading digital books while on a plane, in the car, and even at grandma's house when they forgot to bring a paper book along.
The three apps listed below are excellent choices for reading and also learning. Not only do these apps include excellent book selections at many reading levels, but they also provide colorful interactive books and other great content that your kids will love to explore. These apps give us a great way to squeeze in reading no matter where we go, while also learning about many topics of interest. Go on! Get your kids ready for the school year ahead. Happy reading!
Bookbot is a great book reading app for practicing readers. What I love about this kids reading app is that it includes access to a virtual reading assistant that will listen to your child read out loud and help them as they go along. The virtual reading assistant, named Bookbot (an adorable little bot that interacts with your kid) will actually listen as kids read, highlighting words and stopping when kids make a mistake. I love how this gives emerging readers a great opportunity to have another try at reading the new word correctly or if they prefer they can listen to the word being read to them by Bookbot. This app was initially inspired by children with dyslexia but I love how it builds reading confidence and strengthens reading abilities for any child.
I must tell you that this is a subscription based app but thanks to generous donors Bookbot does offer a selection of free books that any child can read. Visit the BookBot website to learn more about how you can access these free books. Click on FREE CHILDREN'S BOOKS and follow the directions. They'll send you a download link for you to enjoy their free book selections.
Wizard School is 100% FREE, with no in-app purchases or advertisements. You gotta love that! Plus, there are so many fun ways to play! Kids get to explore fascinating topics of interest, such as science, geography, sports, languages, and more! There are more that 3,000 videos to choose from and all content is created and curated by educators. It also includes maps and fun stickers. Fun challenges inspire kids to design, think and build. And what's most fun is that creations can all be shared with family and friends through safe private messages, monitored by parents. There's enough here to keep the kids engaged in fun learning all summer long!
Amazon FreeTime Unlimited is an all-in-one subscription for kids that offers unlimited access to over 10,000 kids' books, movies, and TV shows for children ages 3 to 12. You start out with a FREE month trial and it's $9.99 per month after that. It may sound pricey but in my opinion it's totally worth paying for at least for a month or two during the summer months. This fun and educational app is filled with great content from Disney, Nickelodeon, Sesame Street, PBS Kids, National Geographic and Amazon Originals for Kids. One subscription will allow you to set up four kids accounts across devices.
What I probably love most about this app is that it includes an Amazon Parent Dashboard so that you can easily keep track of the books and videos that kids are viewing. It also includes content in Spanish, which I absolutely love! Great for bilingual kids or for those wanting to learn a new language. All the content your kids already love is right here!
Happy Summer of Learning!
You May Also Like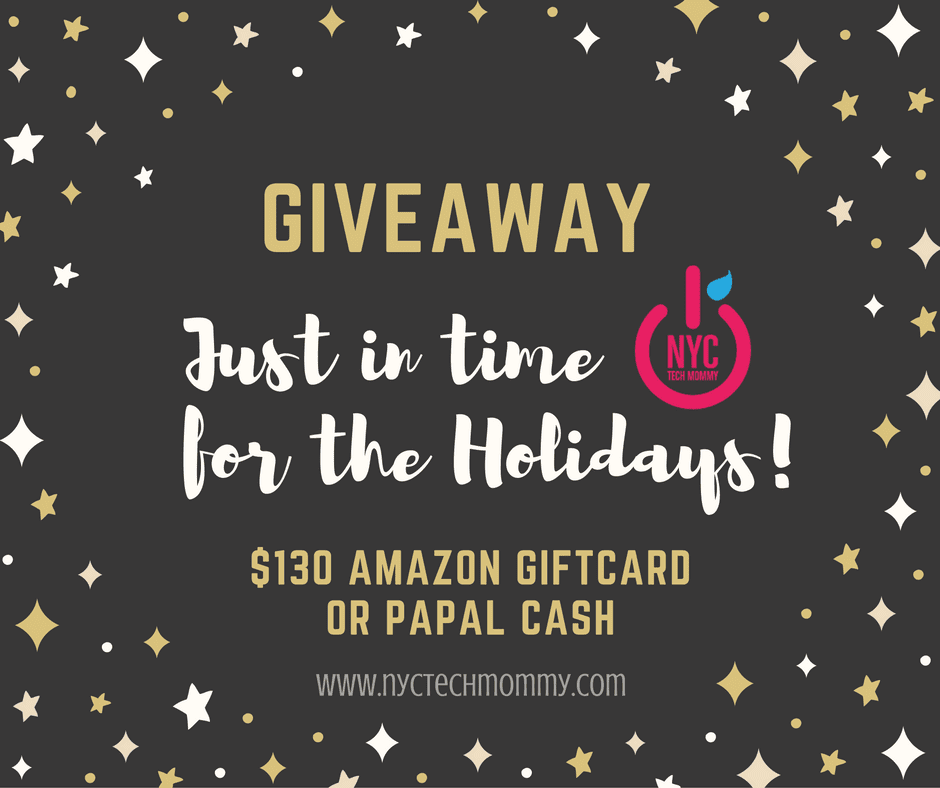 November 10, 2016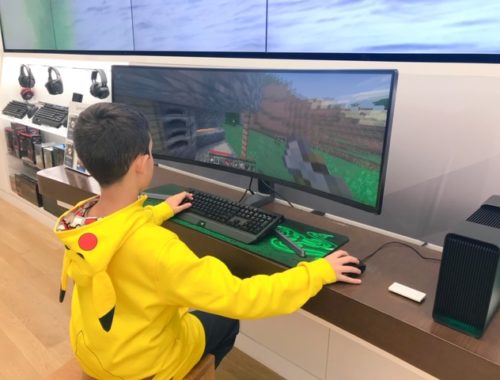 April 9, 2019