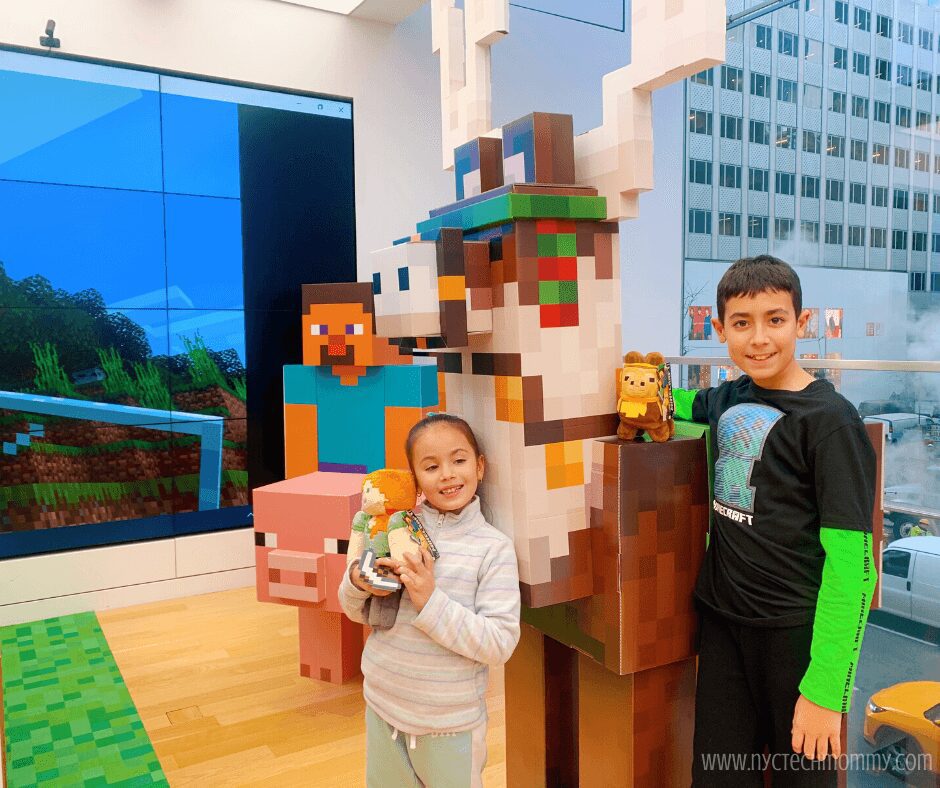 Experience Minecraft Earth at Microsoft Store this Holiday and More!
December 10, 2019
This holiday, head on over to the Microsoft Store and be one of the first to get a selfie with the Jolly Llama, the newest Minecraft Earth character. Move over Santa – this year's best holiday photo might just be a selfie with the Jolly Llama. My kids loved this! They were super excited when we were recently invited to experience Minecraft Earth at Microsoft Store. If your kids are obsessed with Minecraft (like mine are) the Microsoft Store is the best place to experience Minecraft, with Minecraft coding workshops, build challenges, giveaways and more exciting ways to immerse yourself in all things Minecraft. And not just Minecraft, there are so many other exclusive gaming opportunities and events happening at the Microsoft Store for families to experience this holiday season when the kids are on their break from school. Read on to learn more!
As I mentioned, we were recently invited to experience a fun Minecraft Earth demo — available now in all Microsoft stores. The NEW Minecraft Earth lets you build a world on your phone using the world around you. Have your kids played yet? Now you can be one of the first to play the latest game from Minecraft in augmented reality by experiencing this exclusive Minecraft Earth demo. See what it's like to bring Minecraft into the real world, build something incredible together with friends, and then interact with your creation in augmented reality — all at the Microsoft Store! Kids must be 13 and over to try out the VR experience but don't worry if your kids aren't old enough. You can still try it out yourself (and win some cool mom/dad points) or take in one of the many other family-friendly offerings happening this holiday season over at the Microsoft Store. Visit the NYC Flagship Store full list of upcoming events to learn more and experience Minecraft Earth at Microsoft Store!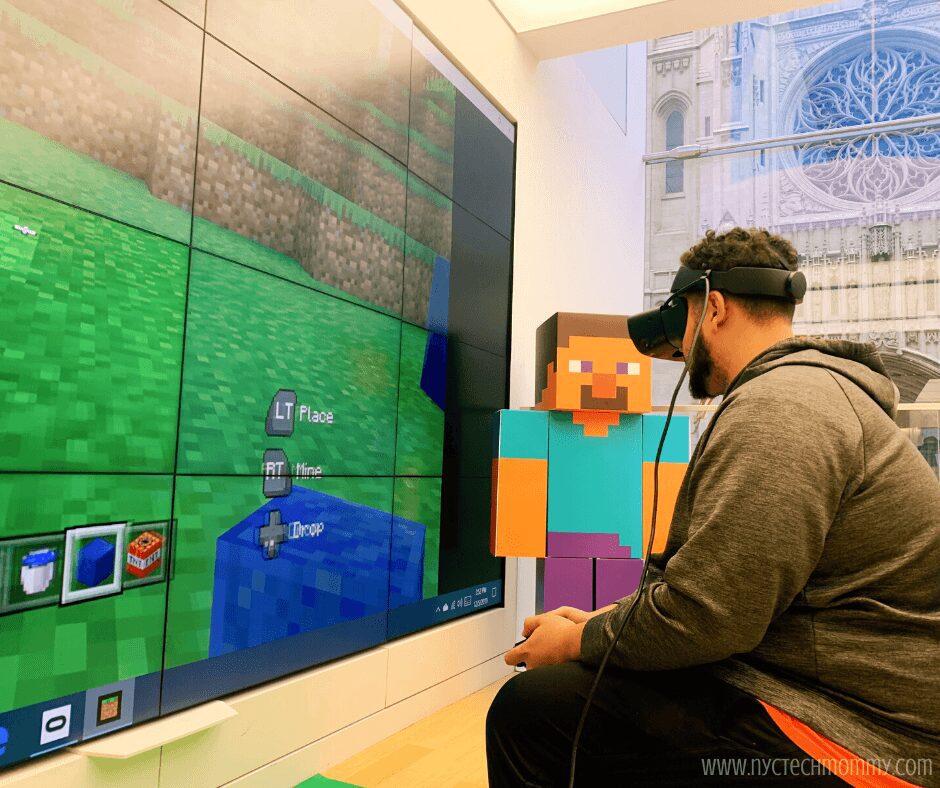 Experience Minecraft at Microsoft Store and MORE!
Did you know that the Microsoft Store offer over 200,000 hours of fun and free digital skills and STEM workshops across all their Microsoft Stores each year? Below are a list of events happening at NYC Flagship Store, but many of these events are also offered on various dates in Stores across the country. In fact, this week you can learn new coding skills and Celebrate Computer Science Week with free coding workshops in-store. RSVP for one or all workshops, including an App Workshop, the MakeCode NFL Workshop, and new Minecraft Hour of Code.
RELATED CONTENT: Resources to Help You Celebrate Computer Science Week
Workshops and Coding Events at the Microsoft Store
Ongoing Offerings:

Free field trips: Students can schedule a field trip to the Microsoft Store for a fun, free and immersive educational workshop. Students can get the latest skills in 3D design, robotics, accessibility tools for those with custom needs and more. Contact your local store to arrange a custom field trip.
Minecraft Wednesdays: Join the fun for a Minecraft Build Challenge at your local Microsoft Store. Players will put their creativity, teamwork, and Minecraft skills to the test in this fun open play event.

Note: In other Microsoft Store locations, this is sometimes offered on Minecraft Mondays instead.

Create a robot less ordinary at Ohbot: Free 2-hour STEM workshop where students eight and older will learn coding and robotics inspired by the unique passions of different NFL players. Students will explore their creativity with the Ohbot robot and the Ohbot app for Windows 10.
Free workshop for students at OneNote workshop: High school students are invited to this free two-hour workshop to see how the—also free—OneNote app's tools and features help keep you on top of things all school year long.
Harry Potter Creative Coding Workshops: Register students 6 and up or 8 and up for free foundational computer science and coding workshops using the Harry Potter Kano Coding Kit.
STEM Saturdays: Your local Microsoft Store invites parents and students to participate in hands-on STEM learning experiences every Saturday. Projects are designed for 11- to 14-year-olds, and also cater to younger students with parental support.
Microsoft Store + Girl Scouts: Earn Girl Scout badges – Build skills and earn badges in four new workshops: Computer Expert (Brownies), Digital Photographer (Juniors), Digital Moviemaker (Cadettes), and Robotics (Daisies and Brownies) and Alumni skill building (alumni workshops including Fundamentals of Office, LinkedIn Series, Resume Building "Jump-Start Your Job Search," Start Your Own Business, Productivity Hacks, and OneNote Series. You can read our previous post to learn even more about Microsoft's partnership with Girl Scouts.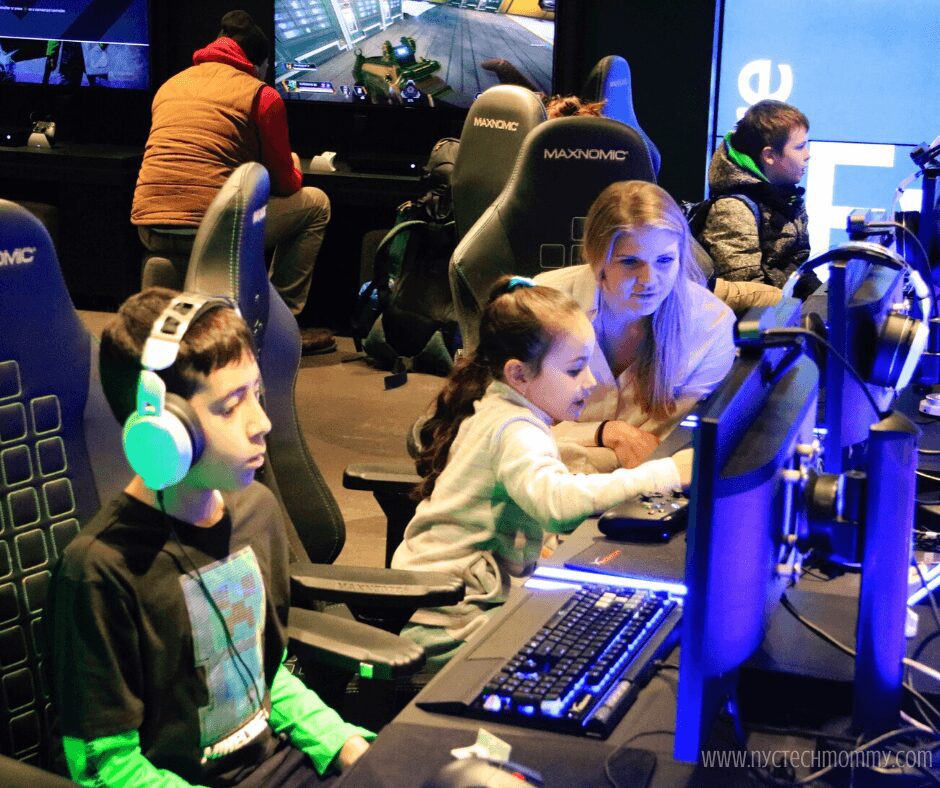 Upcoming Scheduled Events at NYC Flagship Microsoft Store
We visited the flagship NYC Microsoft Store for a full tour of the place and had a chance to truly immerse ourselves in all things Minecraft and gaming. A visit to the Microsoft Store (check your local store for specific offerings) is a great way to spend some quality time bonding over something that your kids love. Also something fun to do during the holiday break when the kids are off from school! A full list of upcoming events is available here. Head on over and experience Minecraft Earth at Microsoft Store and so much more!
December 17 – 6:00-8:00pm

Changemakers Workshop: Visit the Microsoft Store for The Science of Positive Failure Changemakers Workshop, with Jalen James Acosta, motivational speaker and artrepreneuer. Jalen went from being homeless to a CEO traveling the world with award winning artists. He'll talk through the failures that have inspired him and how he has turned perceived negative moments into positive experiences, both in life and his career. You'll laugh, be inspired and leave with tools, lessons and resources to better equip ourselves to deal with the challenges of positive failure.

December 23 – 31; 3:00-5:00pm

Minecraft Build Challenge: During Winter School break head over to your local Microsoft Store for several editions of the Minecraft Build Challenge. Players will be putting their creativity, teamwork, and Minecraft skills to the test in these fun 90min events. Attendees will be given imaginative topics and placed into teams where they must quickly assign roles, plan their project, and race against the clock to build their structure. Teams will also have the opportunity to present, explain, and share their work at the end of each challenge. Microsoft will host a number of these challenges, where students will be tasked with building a Gingerbread House, a Sled, an Igloo, a Snow Globe, and a Holiday Tree.

December 23 – 31

Mini Makers Series: Disney Frozen 2 Coding Kit Workshop 6+: During winter break, Microsoft Store will offer this free 1 hour workshop at various dates/times throughout the week introducing students ages 6+ to the foundational concepts of coding. See the code behind any creation, then tweak it to make snowflakes, create blizzards, conjure an ice palace. Participants will follow simple steps with drag-and-drop code blocks and discover new powers. By the end of the workshop, students will be able to:

Define basic coding concepts
Use their imagination to customize their own coding projects
Explain the relationship between hardware and software in coding
Microsoft Store Holiday Events and Dates
Throughout the holiday season, Microsoft Store is offering free and fun experiences for the family along with deals for some great holiday gifts this season, including discounts on Surface and Xbox devices. Check out more on microsoft.com or visit your local Microsoft Store location.
Holiday Events
Dec. 13-15:

Make Your Own Wrapping Paper: Chose a festive pattern, write a message, add a photo, and then print out a sheet of your own custom paper to wrap a gift for someone special.

Dec. 20-22:

Gift Box Vending Machine: Visit the NYC Flagship Microsoft Store and upload a photo to your social media using #MicrosoftNYC and #contest to claim a prize from our vending machine. Every day, the store will give away a variety of prizes, including an Xbox One S All Digital and a Surface Go.
Holiday Gift Ideas for Kids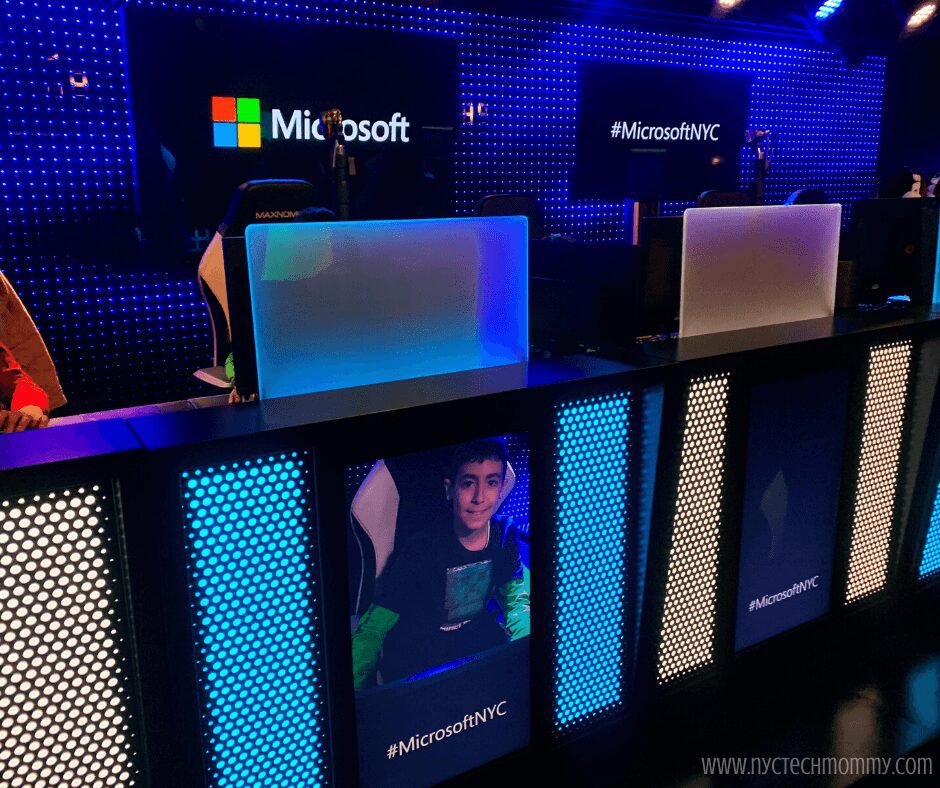 Take a Microsoft Store Tour
Also, did you know that the flagship Microsoft Store New York City on Fifth Avenue in Manhattan is comprised of seven floors? They offer full store tours every hour on the hour? Take a Microsoft Store tour the next time you visit so you can experience it all!
During our store tour we were particularly surprised to discover that there is an entire state-of-the-art gaming floor open to the general public. In other words, anyone can come in and use this space to play the latest games. My kids absolutely loved the experience and it was hard to get them to leave. We'll be back though, so do not be surprised if you walk in there and see one of my little gamers living their best life! This space is every gamers dream!
Check out this video to see our experience at Microsoft Store. As you'll see, my little gamer was speechless! Also visit the Microsoft Store NYC Flagship Facebook page to take your own virtual tour of the place and learn more!
Thank you to our friends at Microsoft for inviting us to experience Minecraft Earth and providing us with a gift card and other special treats to celebrate this holiday season!
Don't forget to "PIN" this for later so you can experience Minecraft Earth at Microsoft Store too!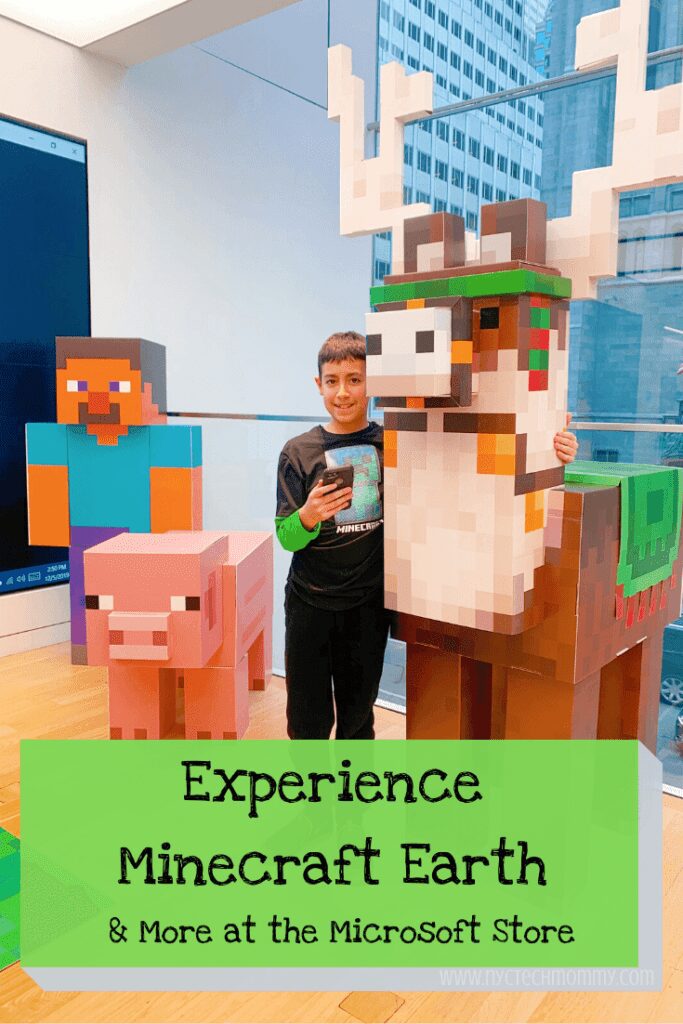 You May Also Like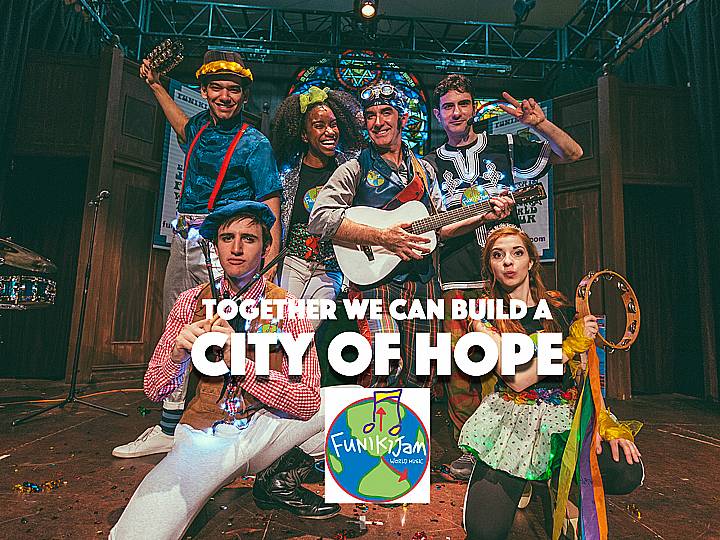 February 4, 2018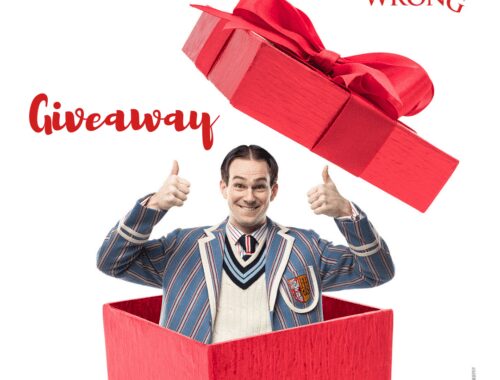 January 27, 2020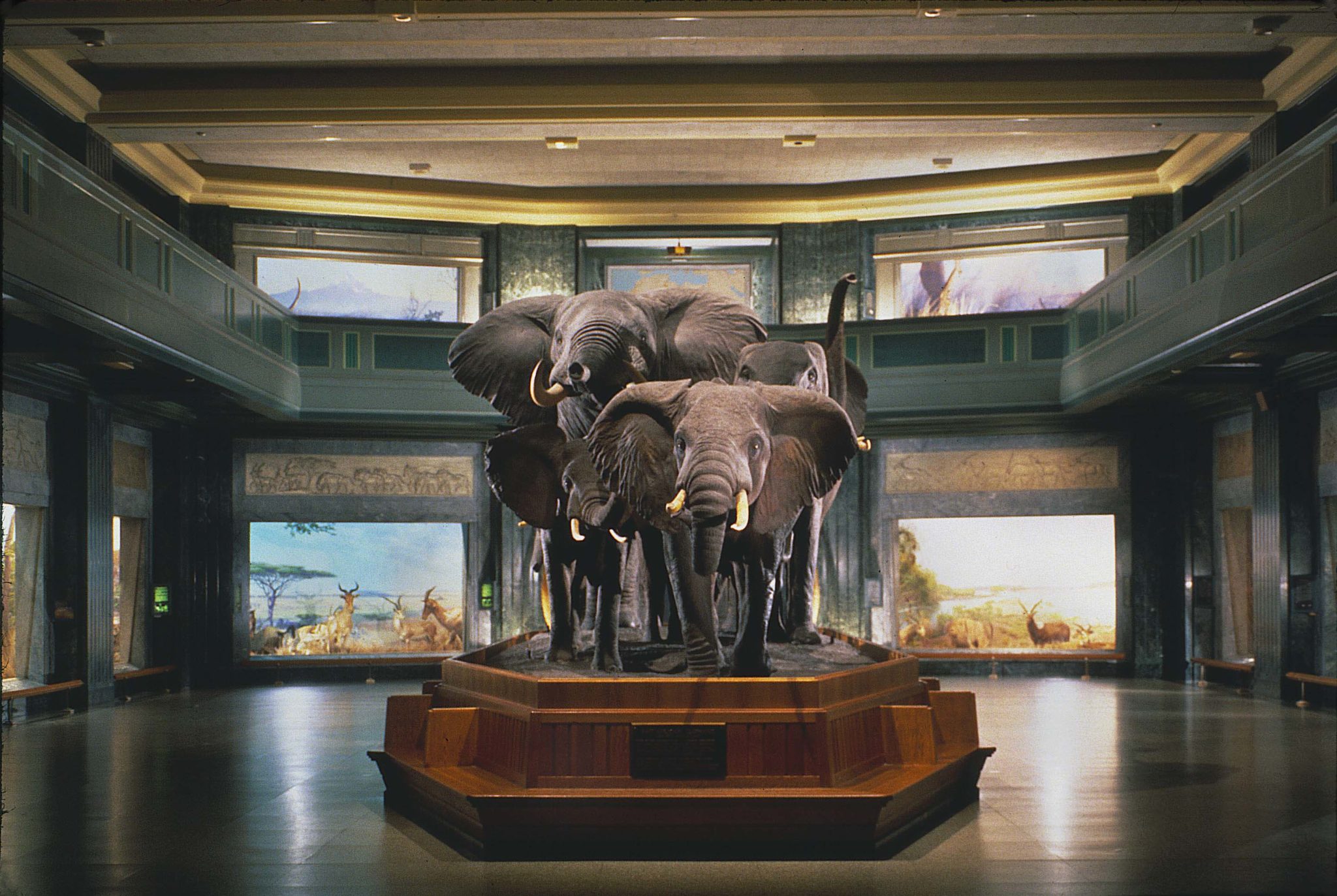 February 24, 2018