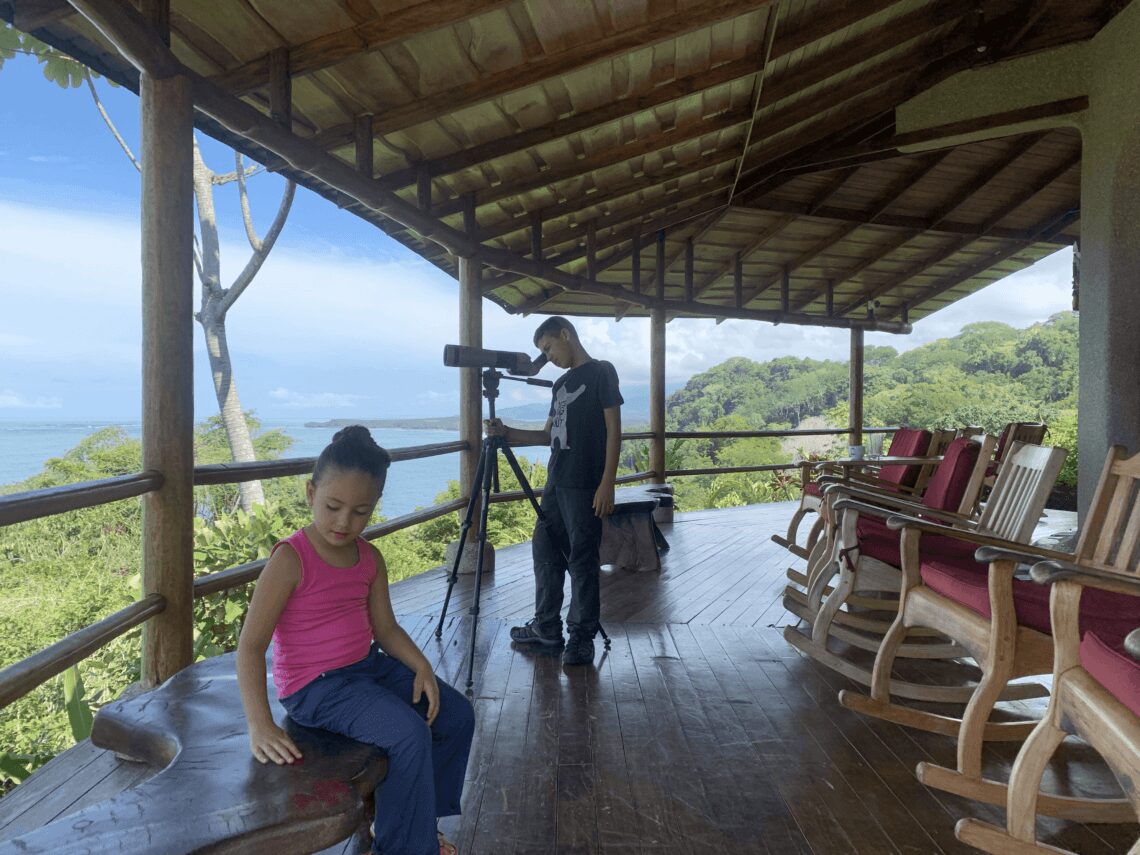 5 Family-Friendly Hotels in Costa Rica That Will Let You See It All & Won't Break The Bank
When visiting Costa Rica you'll want to explore as much of this beautiful country as possible! I suggest you split up your time and visit as many different parts of the country as you can to get the most out of your trip. Also keep in mind that the types of accommodations you'll find and the scenic backdrop you encounter will all depend on which parts of the country you visit. From three different kinds of Rain Forests to six active volcanos (and another 61 dormant or extinct ones), to whale watching in Bahia Ballena, to discovering giant crocodiles along the Tarcoles River, there's just so much to see and do in Costa Rica. And trust me you'll want to experience all of it! That's why today I want to share with you five family-friendly hotels in Costa Rica that will let you see it all. Each one of these is a perfect option when traveling to Costa Rica in search of your family's next adventure!
We recently traveled to Costa Rica as guests of Costa Rica Family Holidays and IL VIAGGIO TRAVEL and stayed at each one of these family-friendly resorts. All thoughts and opinions are my own. As always, I only share and recommend to you destinations I truly love. Each of these hotels was super comfortable and offered a very different experience from the next. I loved that we got to experience a variety of family-friendly accommodations because that gave us a good and true taste of Costa Rica and we were able to see and experience so much of it. Of course, you can't expect to see all of Costa Rica in one week but we sure did try!
Even more amazing is the fact that these family-friendly hotels in Costa Rica aren't pricey at all! Totally worth a stay! Even easier on the pocket if you're traveling during off peak season or "rainy season" when high season vacationers have already returned home. Dry season or peak season in Costa Rica happens from January to April. No surprise since this time also coincides with North American and European winters and everyone wants to escape to warmer climate. Off season or rainy season happens from May through December. We traveled to Costa Rica at the end of August and it was perfect! Rainy season isn't really that rainy so don't let that stop you from going. I think it only rained one day out of the eight that we were in Costa Rica. Also rain will vary by region so worth keeping that in mind when planning your Costa Rica family vacation.
5 Family-Friendly Hotels in Costa Rica
Our travel itinerary included a one or two night stay at each of these hotels. However we could have easily enjoyed a week at each. It was hard to leave after such a brief stay since each stay was fantastic. So stay one night or more, each of these accommodations I'm about to share with you is an excellent option when traveling through Costa Rica with kids! We found each of these hotels to be super family-friendly and conveniently located so that we could see more of Costa Rica. From fully furnished apartments and family villas in San Jose, to beautifully appointed rooms in a colonial plantation outside the charming little town of Turrialba in the Cartago Province, to more rustic but comfortable glamping accommodations in an echo-lodge overlooking the ocean on the South Pacific Coast of Costa Rica. Each of these hotels offers a unique experience you won't soon forget! Oh and one more thing — breakfast was also included with each stay. That makes mornings so much easier when traveling as a family. Read on!
Vacation comforts just like at home! Located in Escazu, right outside the Costa Rica Country Club in San Jose, Apartotel & Suites Villas del Rio is centrally located in the business district and connected to a shopping center. There are many shops and restaurants of all types at walking distance from here. This hotel offers 2 and 3 bedroom family suites with fully stocked kitchens that include fridge, microwave, and dishwasher. Along with two outdoor pools, and rooftop terrace. Free buffet breakfast and free WiFi is also provided. My kids also loved the kiddie playground area they discovered right near the pool. Popular attractions are easy to get to from here — Parque Naciona, Sabana Park, Spirogyra Butterfly Garden, Ojo de Agua Spa Park, and Refugio Herpetologico de Costa Rica.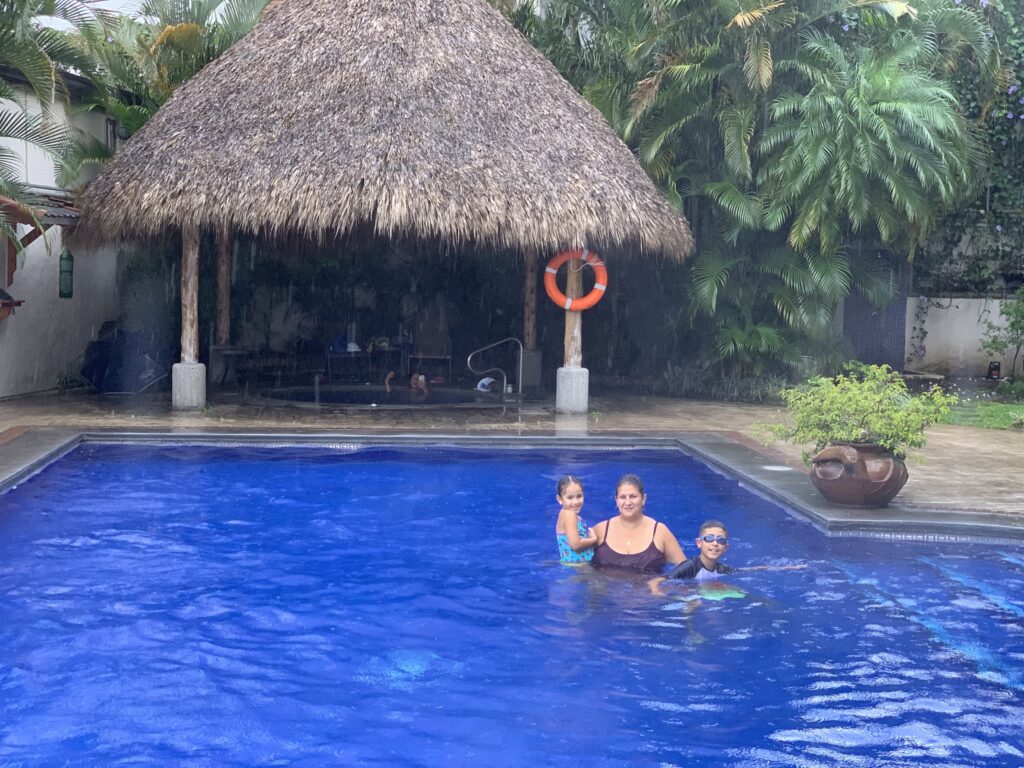 Located just 2 hours from San Jose, Selva Verde offers easy access to the wonders of the rainforest. Here you can explore Selva Verde's 500 acres of vibrant tropical nature right in the heart of Costa Rica's Sarapiquí county. A great place for adventure seekers and nature lovers, including adventurous families! This is a great eco lodge that offers comfortable double rooms with ceiling fans (sorry no AC), large bathrooms (but no tub), balconies with rocking chairs and hammocks, and easy access to an entire rain forest right outside your hotel room door. If traveling with little kids, keep in mind that rooms are located on a platform-type second level and you will have to go up a flight of stairs before reaching your room (no elevator). Free WiFi is available although I highly recommend you just disconnect! We loved taking morning nature walks here along their many trails. There are also plenty of family fun activities that you can book onsite, including nighttime tropical rainforest hikes and boat rides on the Sarapiquí River.
This eco lodge also offers an outdoor pool — take a refreshing dip to escape from the muggy rainforest heat! It's like an oasis where you can cool down and relax while watching wildlife nearby. We spotted many birds, frogs, and tons of butterflies as we splashed around in the pool. In addition, Selva Verde offers two restaurants — a buffet dinning hall with fresh food prepared three times a day, buffet breakfast included daily. Also a Pizzeria Restaurant with river-view patio seating that is open for dinner and offers a variety of pasta and pizza dishes — perfect for families and picky eaters!
RELATED CONTENT: Family Travel: The Secrets of Long Distance Journey with Kids
As you approach this beautiful place you'll feel as if you're being transported back in time to a long gone colonial era. A gorgeous plantation home, set in the heart of lush green landscapes surrounded by the beautiful mountains of Turrialba, a majestic palm tree lined road greets you — like something out of an old movie scene. I was pleasantly surprised to find this gorgeous four star hotel situated in such a rural location. They offer spacious double rooms with gorgeous balconies overlooking rich green landscapes and a beautiful pool setting (including jacuzzi). Free WiFi is available although you'll probably be too busy taking it all in to even bother!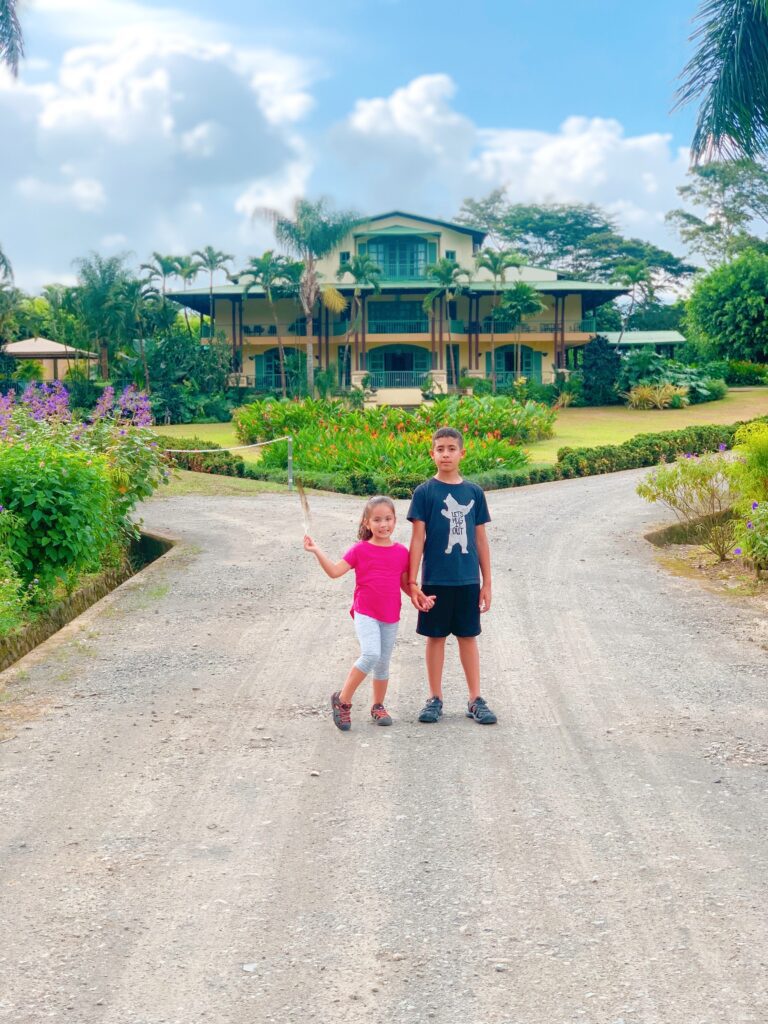 Casa Turire also offers poolside fine-dinning and a beautiful restaurant that serves breakfast, lunch, and dinner daily — delicious a la carte breakfast is included with your stay. They also offer a great kid's menu which kept everyone happy. Beautiful family-friendly common spaces are also part of this hotel. My kids loved playing a game of pool or foosball every time we had a little down time or once they were done with dinner.
Located on the water along the Angostura Lagoon (perfect for kayaking), this place also offers beautiful gardens and trails that you can explore on your own. Bike rentals are available as well as horseback riding tours. Take a walk over to their small farm just up the road and visit goats, horses, and explore their Eco Huerta or garden. My kids loved this and Casa Turire was one of our favorite places to stay during our Costa Rica family vacation!
RELATED CONTENT: How Not To Look Like a Tourist
Located on the Southern Pacific coast of Costa Rica in Uvita, Puntarenas Province. This gorgeous Eco Lodge offers breathtaking views of the Pacific Ocean and some of the most gorgeous sunsets I have ever seen. This hotel offers comfortable ocean view cabins with double beds (no bathtub), surrounded by tropical rainforests and gorgeous deserted beaches where freshwater waterfalls reach the Pacific Ocean. And free WiFi but you'll probably be too busy to even log on. This is one of the most beautiful tropical areas in the world and this was our #1 favorite place to stay during our trip to Costa Rica.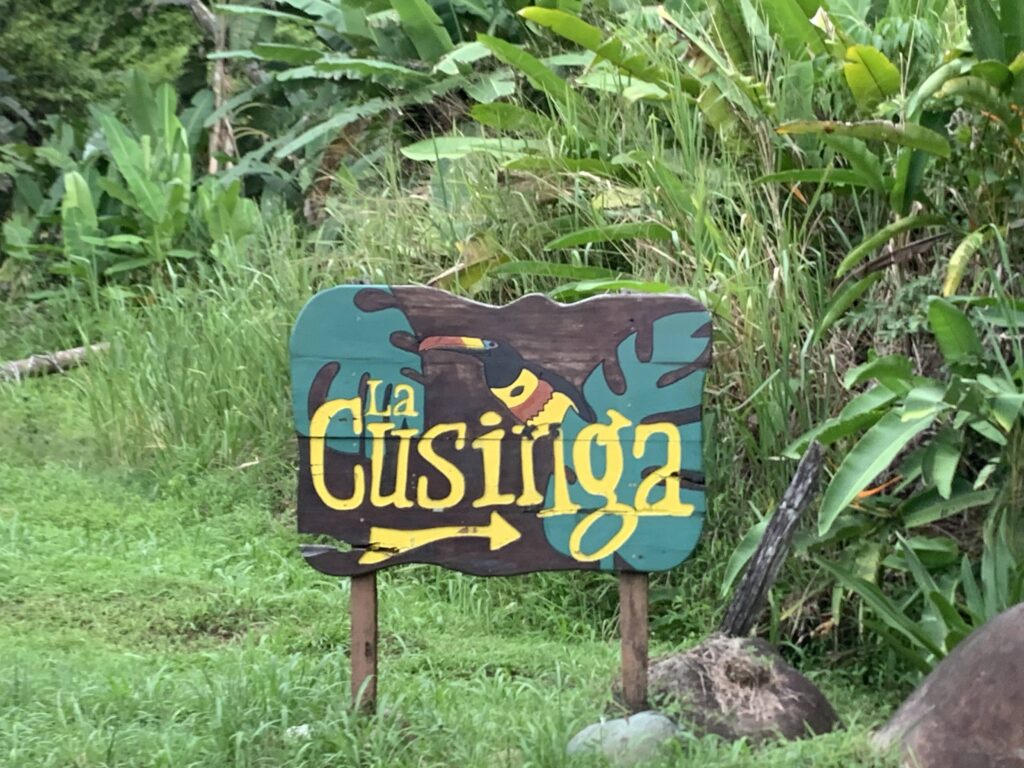 This location is literally right in the middle of the jungle. Be prepared to rise early to the loud howls of howler monkeys right outside your cabin door. Also make sure to bring your binoculars to spot toucans and other exotic birds flying by. Spend an early morning or late afternoon taking in the beautiful landscape from a rocking chair a top a mountain — they have a beautiful mountain top common area complete with comfortable seating and a telescope so you can catch beautiful views and maybe even spot a humpback whale swimming by along the Pacific shoreline. We spotted many while we were here! Also, Bahia Ballena (famous for it's whale tail shaped beach) and Marino Ballena National Park (where all the whale watching tours depart from) are just a short drive away.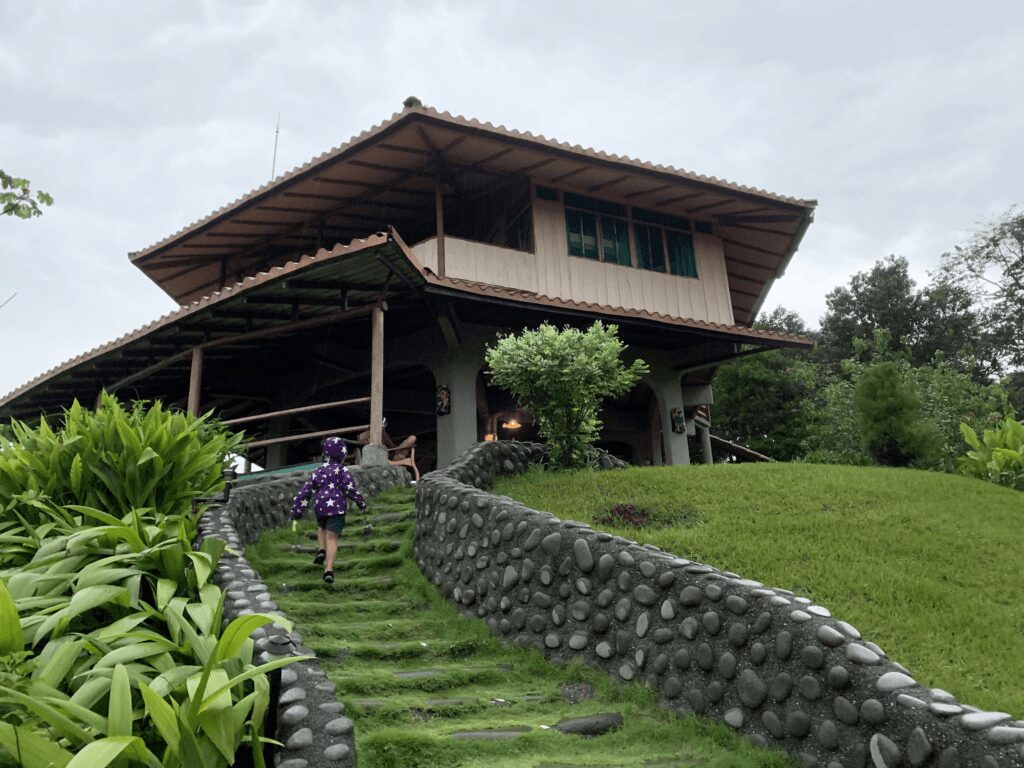 Another favorite at La Cusinga Lodge was their fantastic ocean-view restaurant. Small but just perfect for a family meal. They offer free full breakfast daily included with your stay. Lunch and dinner is also served. The food here was absolutely excellent as was the service! Even the pricing was just right. Every single person in our family looked forward to eating here daily. Their menu isn't huge but every single dish we tried was delicious!
La Cusinga Lodge is an Eco Lodge and therefore offers lots of great opportunities for guests to explore and take in all the beauty that nature has to offer. There isn't an actual pool at this hotel — although I was told by the hotel manager that one is currently being built. However, there is a poza or fresh water swimming hole on site. Completely worth the hike to see! We loved swimming here but make sure to keep little kids at bay along the rocks as this is a very deep swimming hole fed by a cascading water fall and currents can get a bit strong if you are not a strong swimmer. Still a beautiful and refreshing spot worth checking out during your stay at La Cusinga Lodge!
Recently renovated to recall its original rustic charm, the polished decor at this beautiful hotel in Alejuela does not disappoint. Our only regret was that we didn't stay longer — we were only here for one night.
We stayed in a 2 bedroom villa which was super cozy and included a large bathroom with both tub and stand in shower, free Wifi, and just perfect for our family of four. There was a nice big fire pit right outside our room, an ideal spot for family members to gather around for Costa Rican Smores in the evenings. The hotel grounds here are just beautiful and the 7 acres that surround the hotel are perfect for exploring and bird watching — tanagers, parrots, woodpeckers, hummingbirds and more can be found here.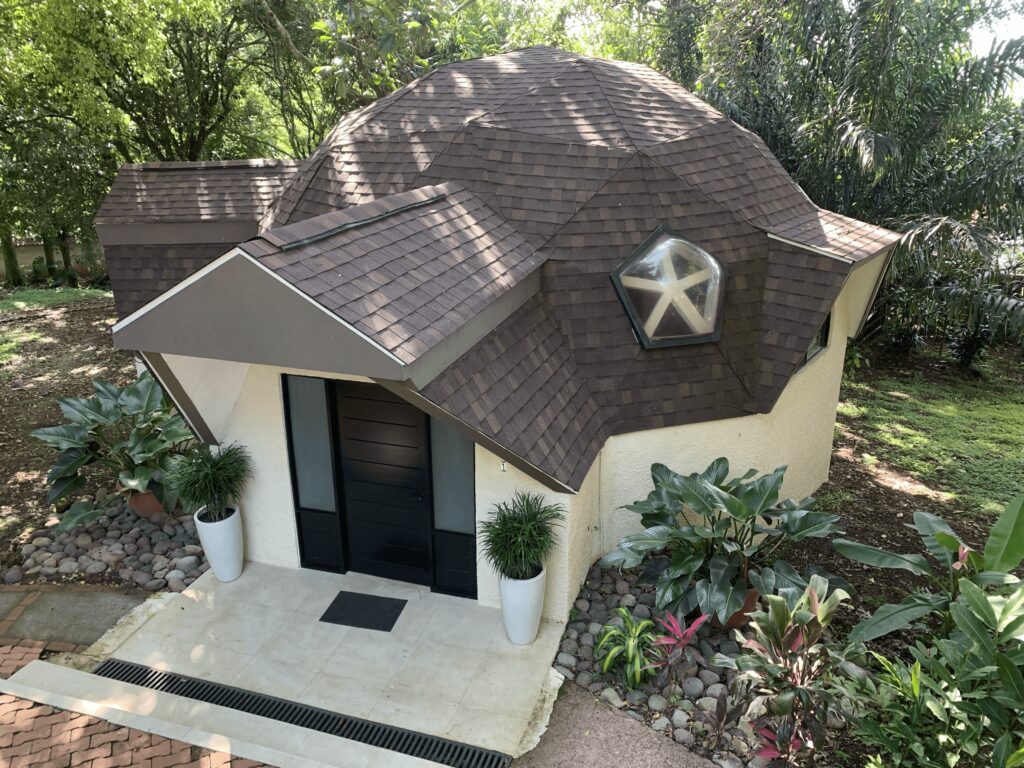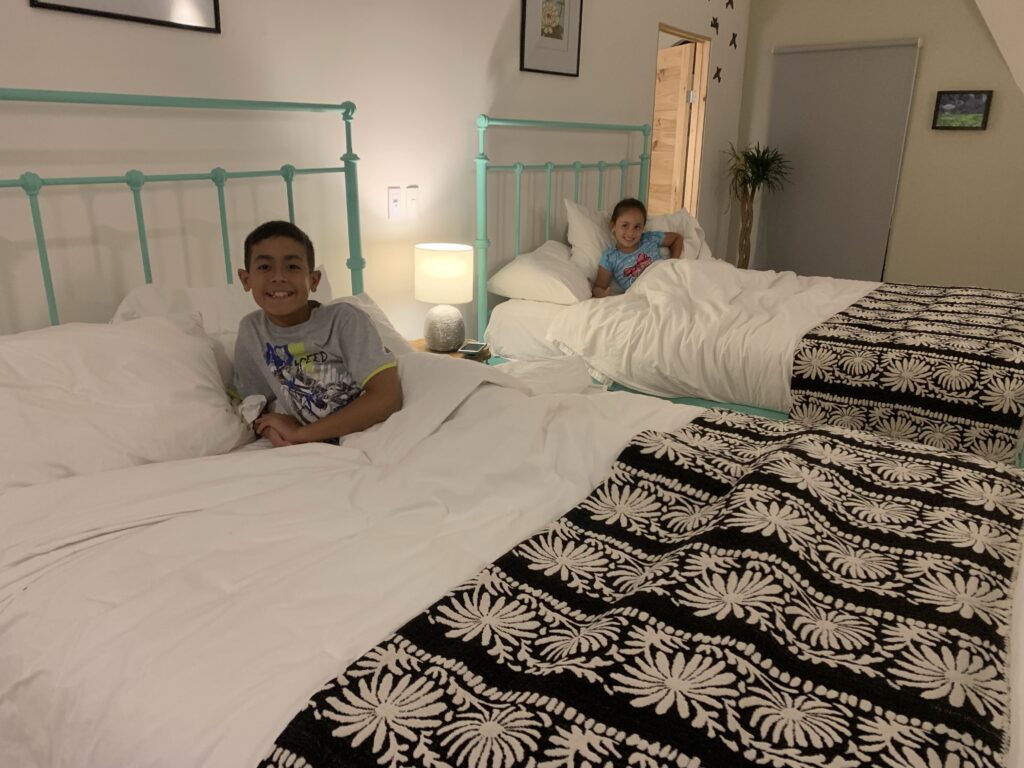 This hotel also offers a beautiful pool — which we didn't get to really enjoy since we were here for such a short stay on our last night in Costa Rica. There's also a nice restaurant — we only experienced their yummy breakfast, which by the way is included in your stay. The common spaces at this hotel were also great. The kids spent the entire morning just playing Jenga and other board games in the comfortable sitting area right off the lobby. There's also a large common space on the second floor above the lobby with comfy couches and a great little balcony overlooking the pool. In addition, this hotel is centrally located to many family-friendly attractions — Poas Volcano, Zoo Ave, Los Chorros Waterfall Park, and La Paz Waterfall Gardens.
Are you planning your next family vacation in Costa Rica?
Don't forget to "PIN" this so you can reference these family-friendly hotels in Costa Rica later!
Thanks to our wonderful travel partners at IL VIAGGIO TRAVEL for making our trip to Costa Rica so memorable and fun!
You May Also Like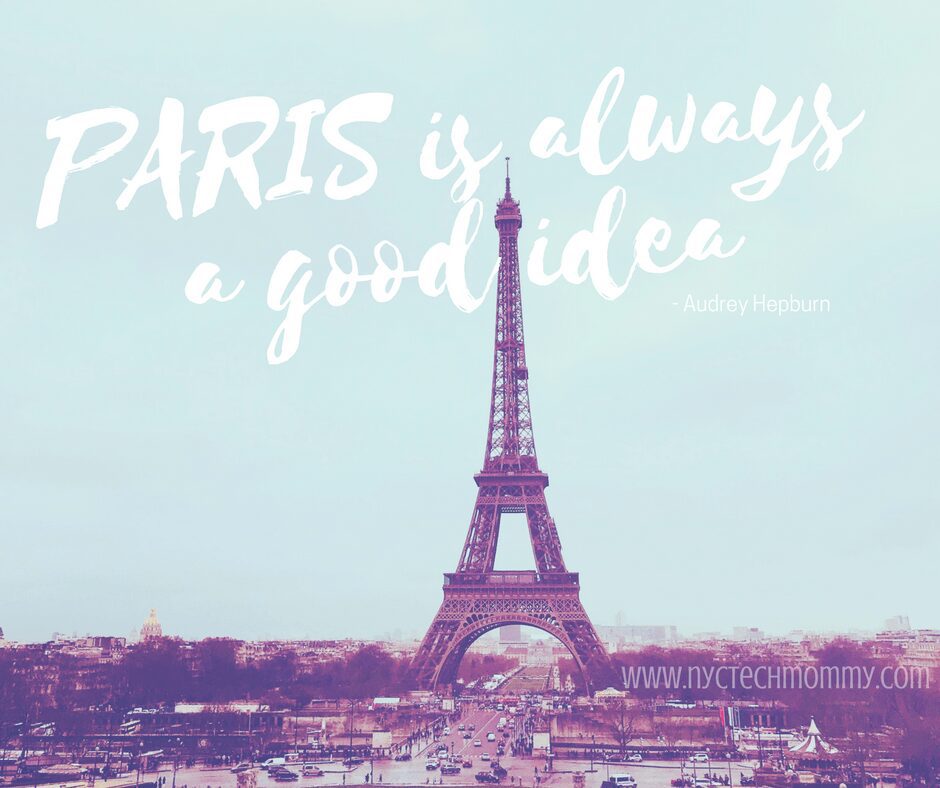 February 5, 2018