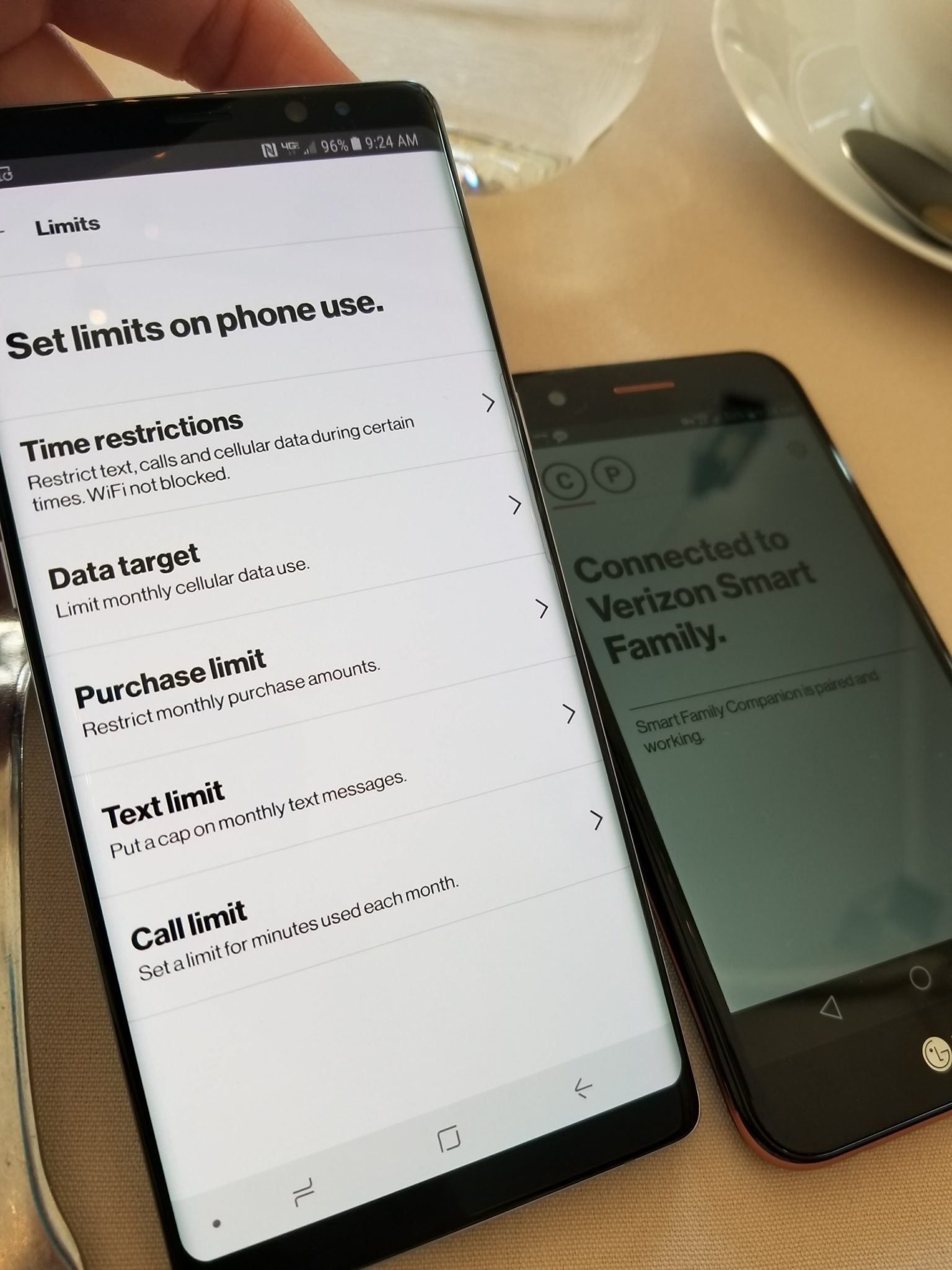 Top Tips for Parenting in the Digital Age with Verizon Smart Family
Parenting in the digital age can be challenging, to say the least! Excessive screen time, viewing of inappropriate content and other risky online behaviors are all major concerns we have as parents. The mobile parenting tools and top tips for parenting in the digital age that I'm about to share with you today can help make it all a bit easier.
Make sure to read on to the end of this post so you don't miss top tips for parenting in the digital age!
Disclosure: I was invited to attend this event as a media contributor and received a gift bag for attending. As always, all thoughts and opinions are my own.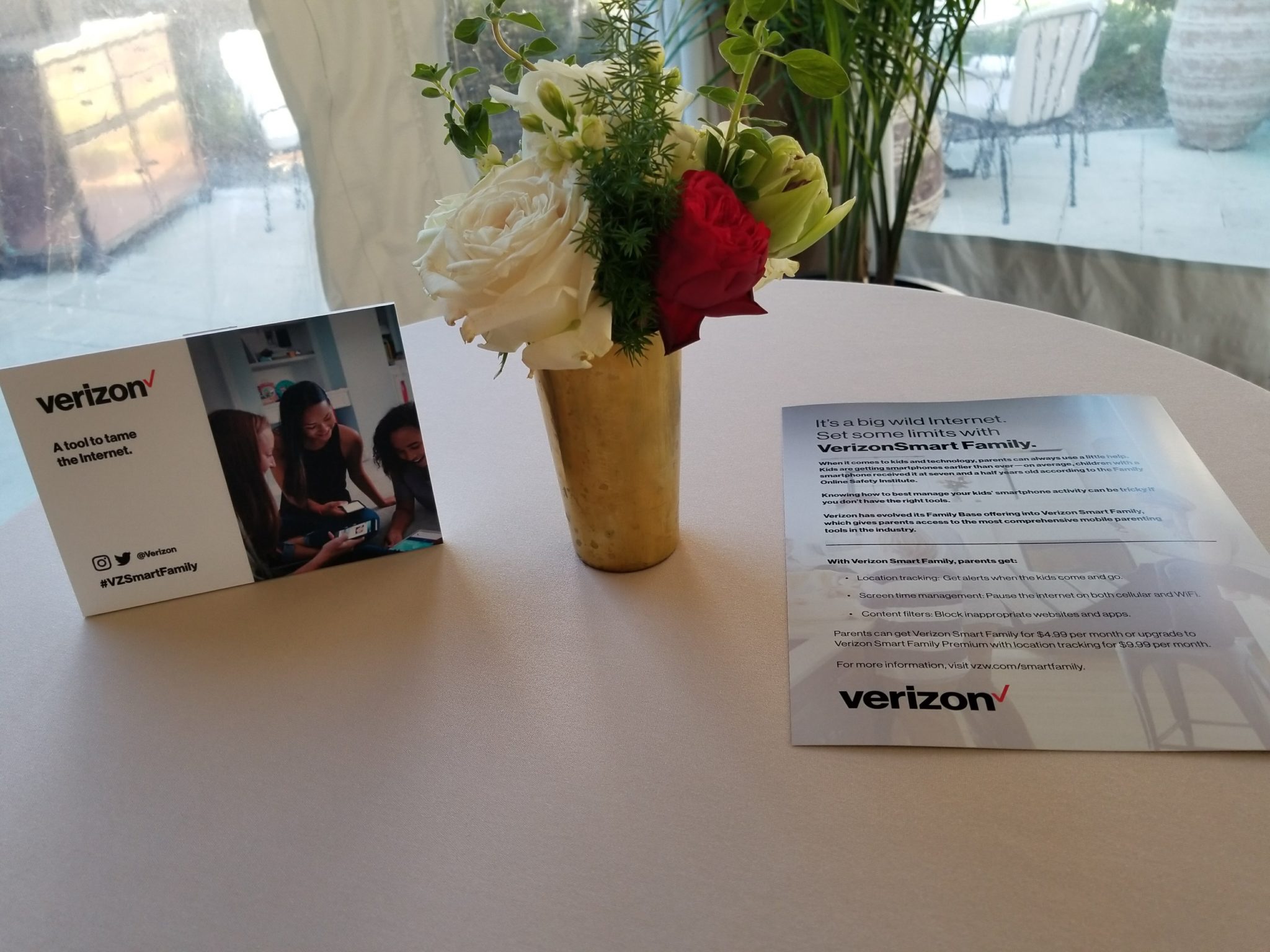 Recently I had the pleasure of attending an exclusive "Parenting in the Digital Age" media breakfast hosted by Verizon. During this intimate event I was given the opportunity to learn all about Verizon's redesigned FamilyBase program, now renamed Verizon Smart Family. New key features keep track of the kids, limit screen time and block inappropriate content taking much of the guesswork out of parenting in the digital age.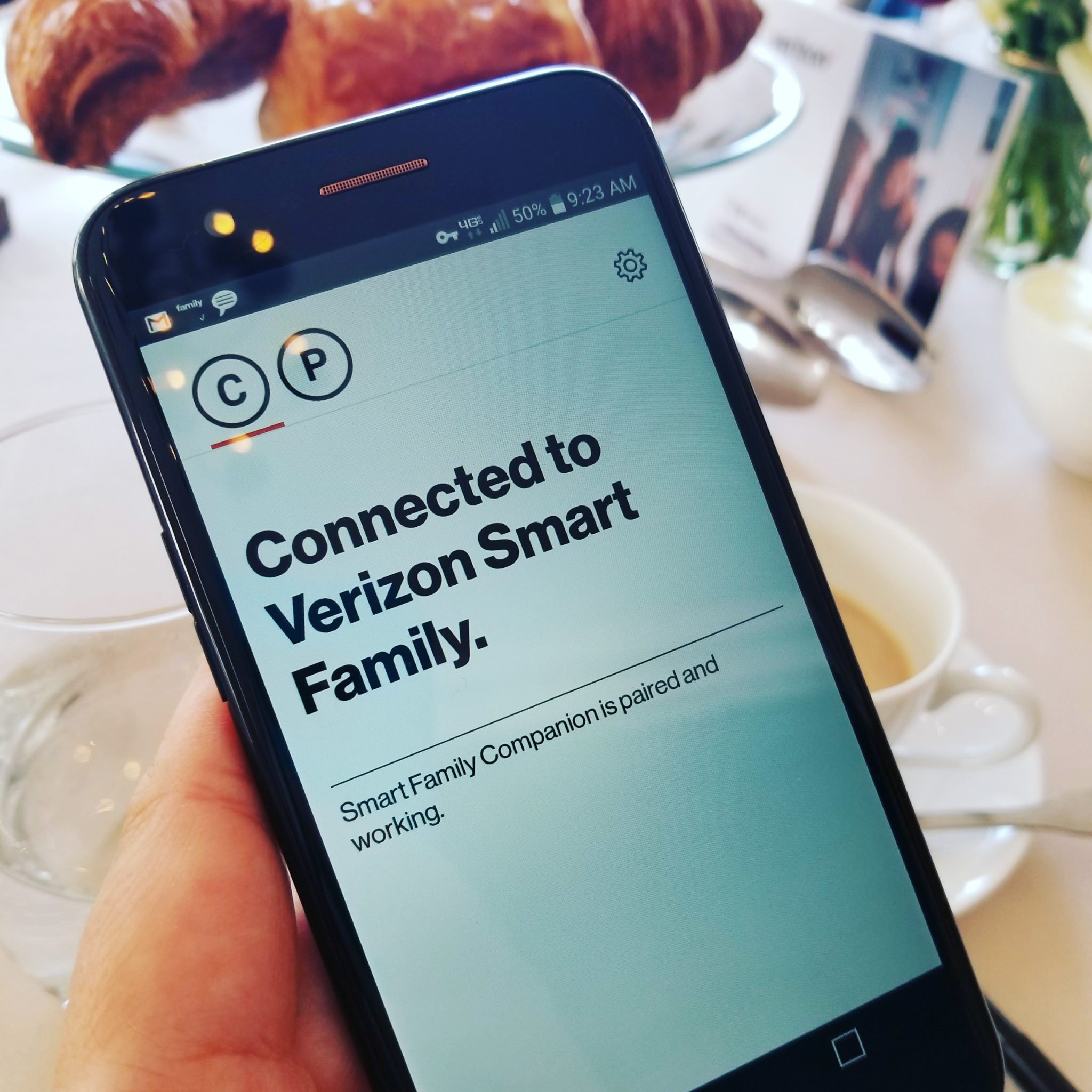 Verizon Smart Family's new parental control app makes it super easy for parents to manage, and even control, how their kids use their smartphones and tablets. Because let's be honest, in today's digital age it's becoming increasingly rare for teens, even tweens, to not have their own devices.
Did you know that (according to the Family Online Safety Institute) on average kids as young as seven and a half years old have their own smartphone?

It seems that kids are getting smartphones earlier than ever. Does your own kid own one already?
My nine year old doesn't have his own phone just yet but has been asking for one. Deciding when to give your kid their own phone is a tough decision. One of the main reasons I haven't given in is that I worry about how I'll be able to keep track of his phone use when he's away from me. I have concerns about online safety and excessive screen time when he should be focused on other things. Will he abuse his phone privileges? How do I make sure that he's following the rules and not taking part in risking online behaviors? Those are all valid (and pretty scary) concerns to have as a parent. Do you worry about these type of things too?
Easier Parenting in the Digital Age with Verizon Smart Family
During my time at the Verizon event I got an in-depth look at Verizon's latest app. I took the new Verizon Smart Family app for a little test run and I must tell you that I was very impressed. It's exactly what I had been looking for! It's probably even the most useful parental control tool I've come across and I'll surely be using it when the time comes to manage my own son's phone usage.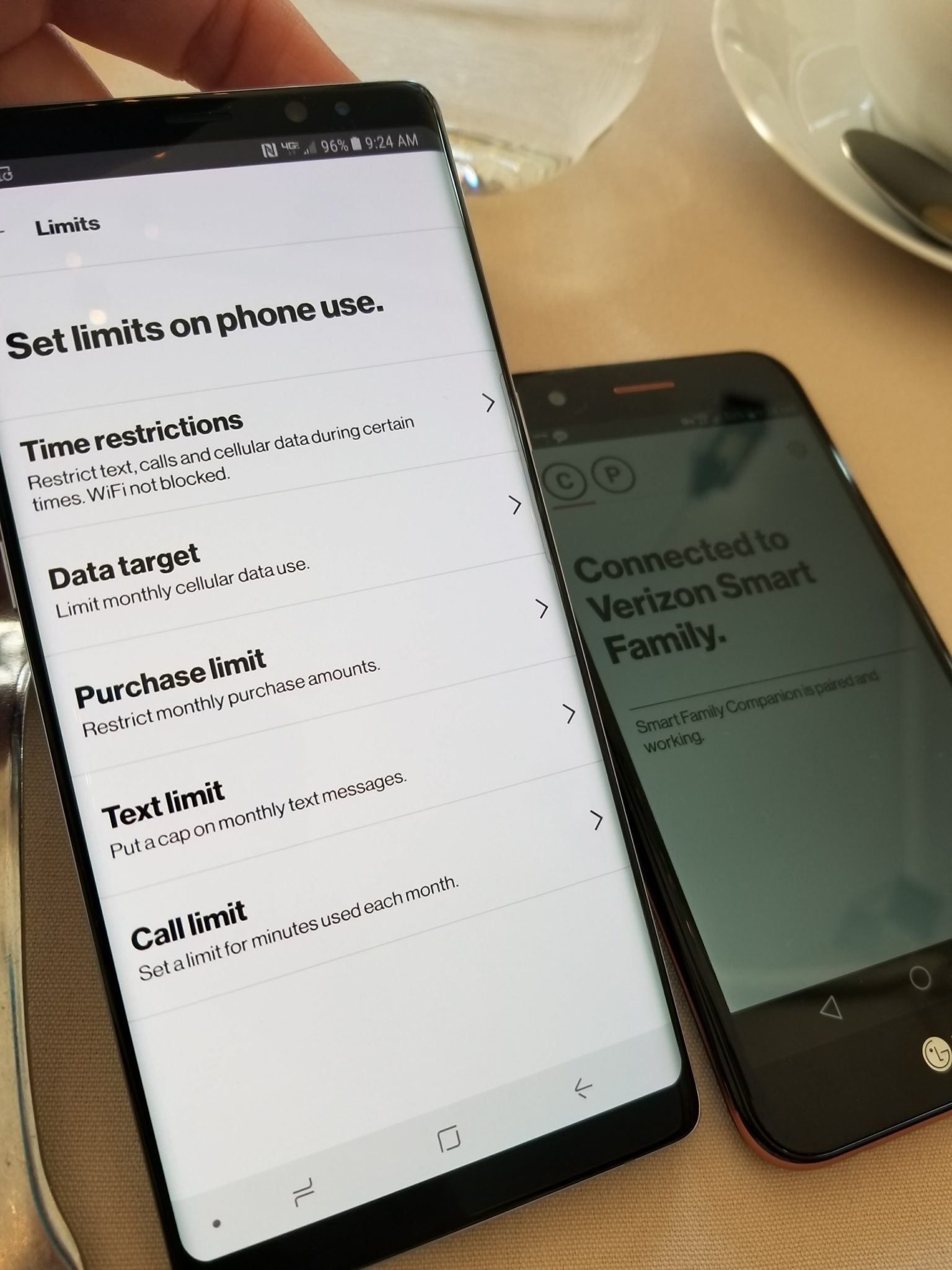 Verizon Smart Family App
The newly redesigned Verizon Smart Family app includes an easy to use interface and intuitive controls that offer parents a great deal of customization options.
Screen Time Management Made Easy
Screen time management options are included. With Verizon Smart Family parents have total control of when and for how long kids can use their devices. These are features that I'm sure as a parent you'lll appreciate. Easily limit screen time — set time limits and turn off the internet during a specific block of time. For example, you can choose to turn off the internet during school hours or at bedtime. No more fighting when you're trying to implement device-free dinnertime and you won't have to repeat yourself a million times when it's time to get off the phone and go to bed.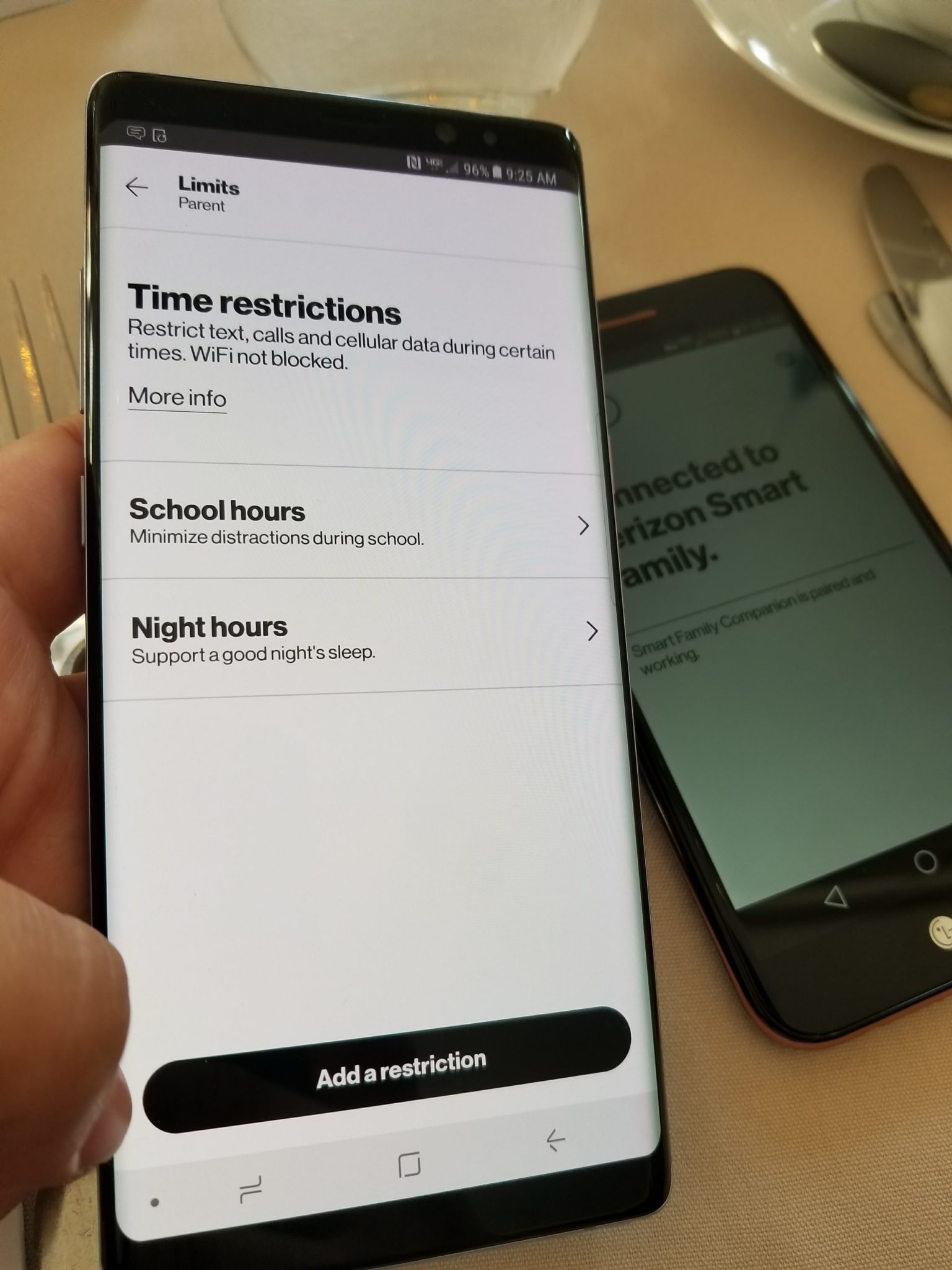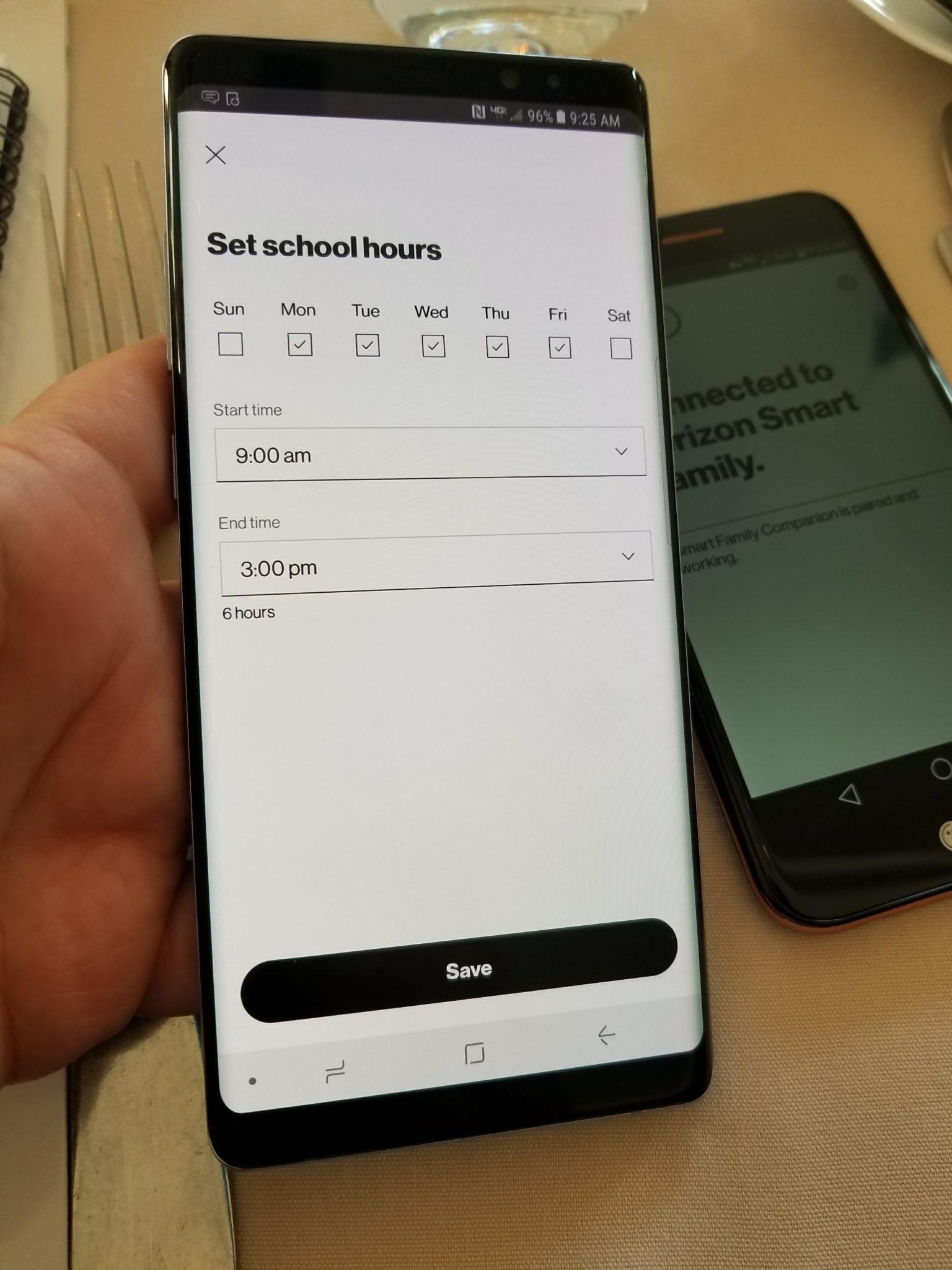 What's nice is that Verizon Smart Family even gives you the option to set how much data your kids use on their specific devices. That way you'll avoid overage charges and they'll be no more surprises next time your bill arrives. Plus, it further limits kids' screen time and makes it easier for you to manage how much time they can actually spend online.
Set Content Filters and So Much More Right From Your Phone
Included content filters give parents the ability to block specific sites and apps keeping kids safe from inappropriate content. Parents can even monitor their kids' social media activity, call logs and text messages, and block unwanted contacts. Also set purchase limits.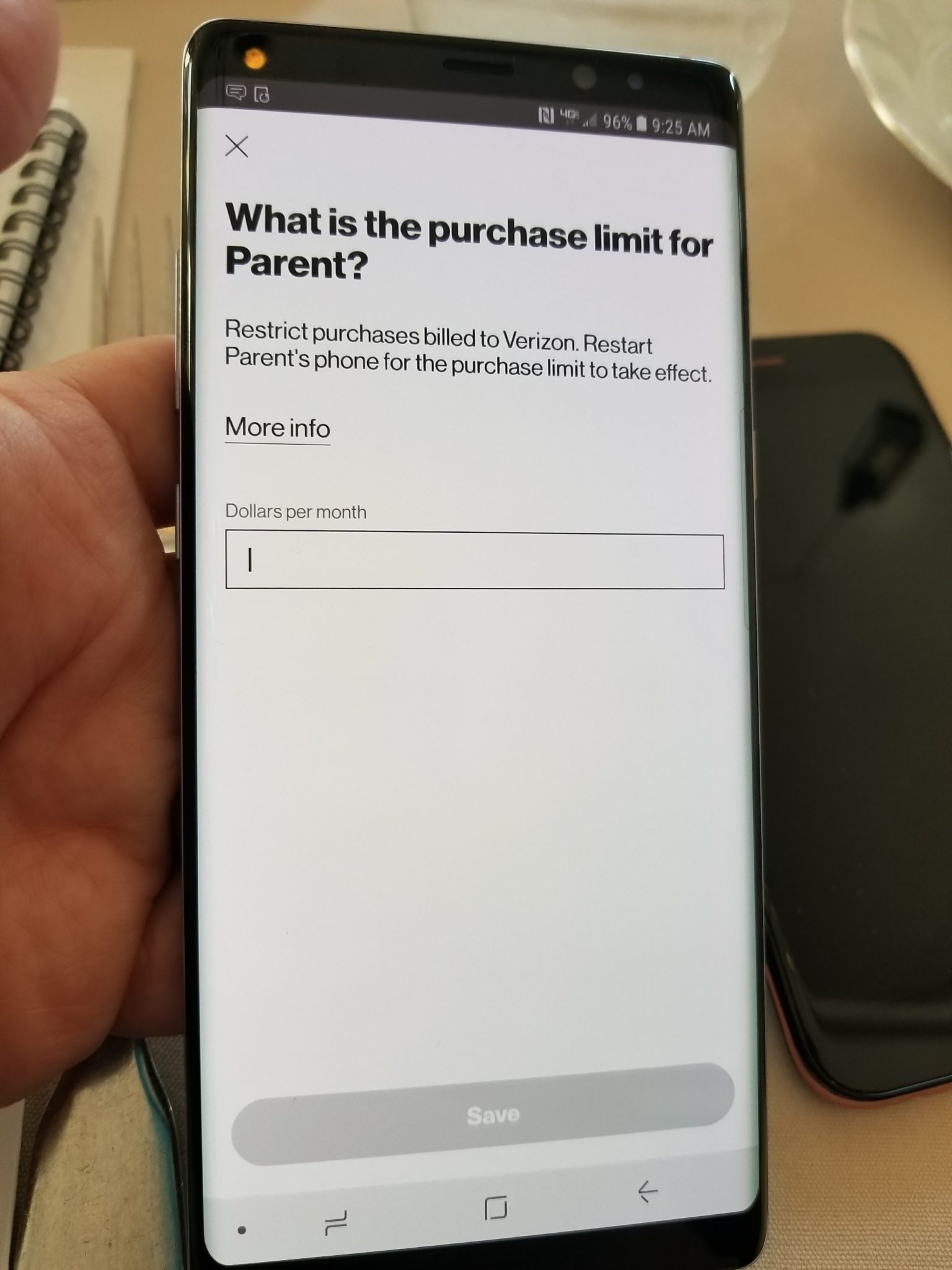 Location Tracking
For added safety, location tracking gives parents peace of mind. As a parent we may sometimes worry that kids are not really telling us about their whereabouts. Especially as they hit those challenging teen years. Are they really at their friends house completing a homework assignment? Are they in school? Did they make it home on time? Location tracking features via Verizon Smart Family let you know where your kid is at all times. Even notifies you when the kids come and go.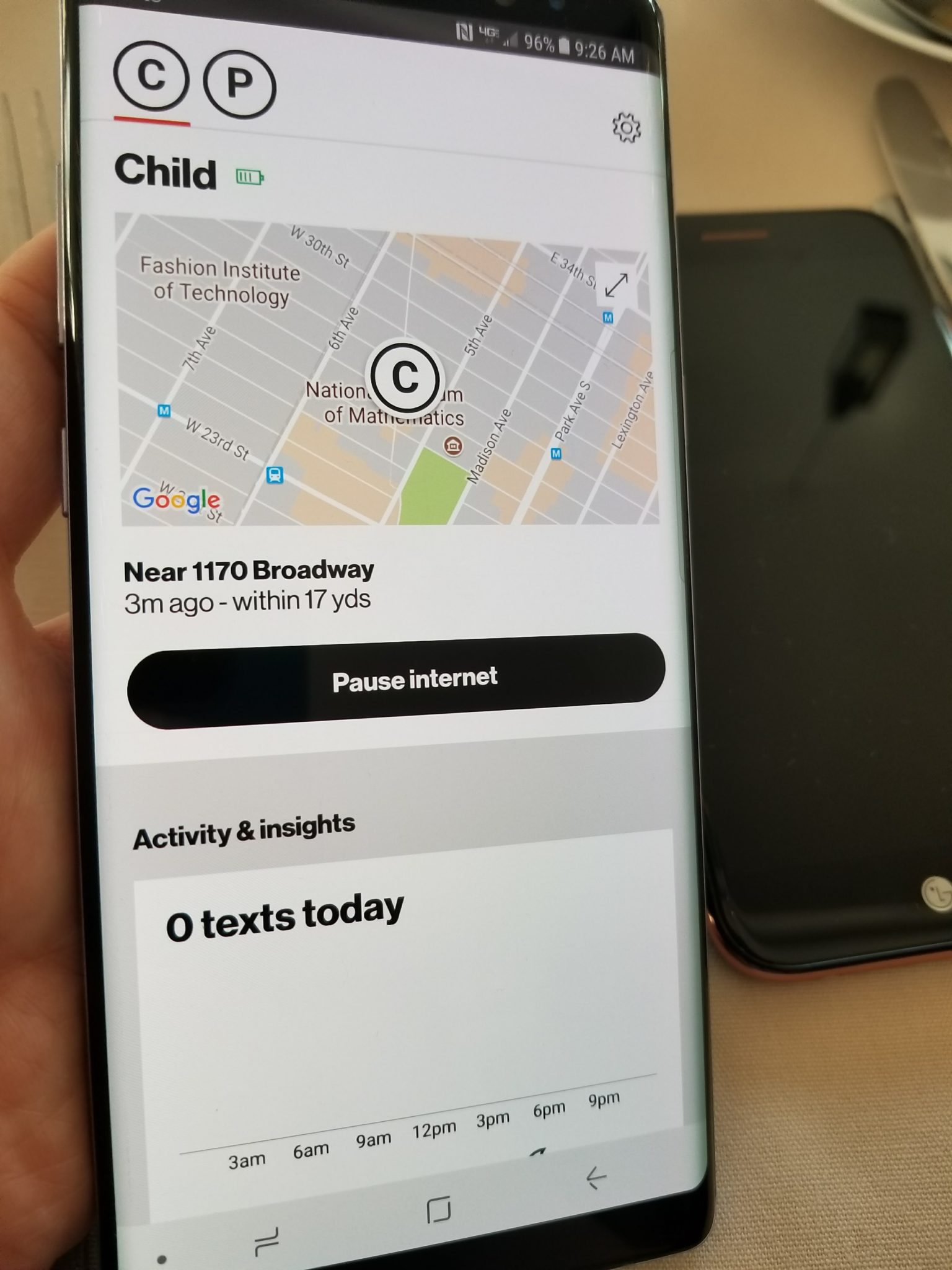 I know you're probably wondering how much does this all cost?
Basic or Premium Pricing
For only $4.99 per month, Verizon Smart Family service makes it so easy for families to manage phone use and set restrictions. A higher fee of $9.99 for premium service includes location tracking.
If you're already a Verizon customer, you just simply add Verizon Smart Family to your existing Verizon cellphone plan and up to 10 family members can take full advantage of this service. That's priceless when parenting in the digital age!
Top Tips for Parenting in the Digital Age
During this "Parenting in the Digital Age" event, we also had the privilege of talking about parenting and technology with expert Stephen Balkman who shared top tips for parenting in the digital age. Stephen is the founder and CEO of the Family Online Safety Institute (FOSI) and had some great resources to share with us to help parents and kids work together to stay safe online.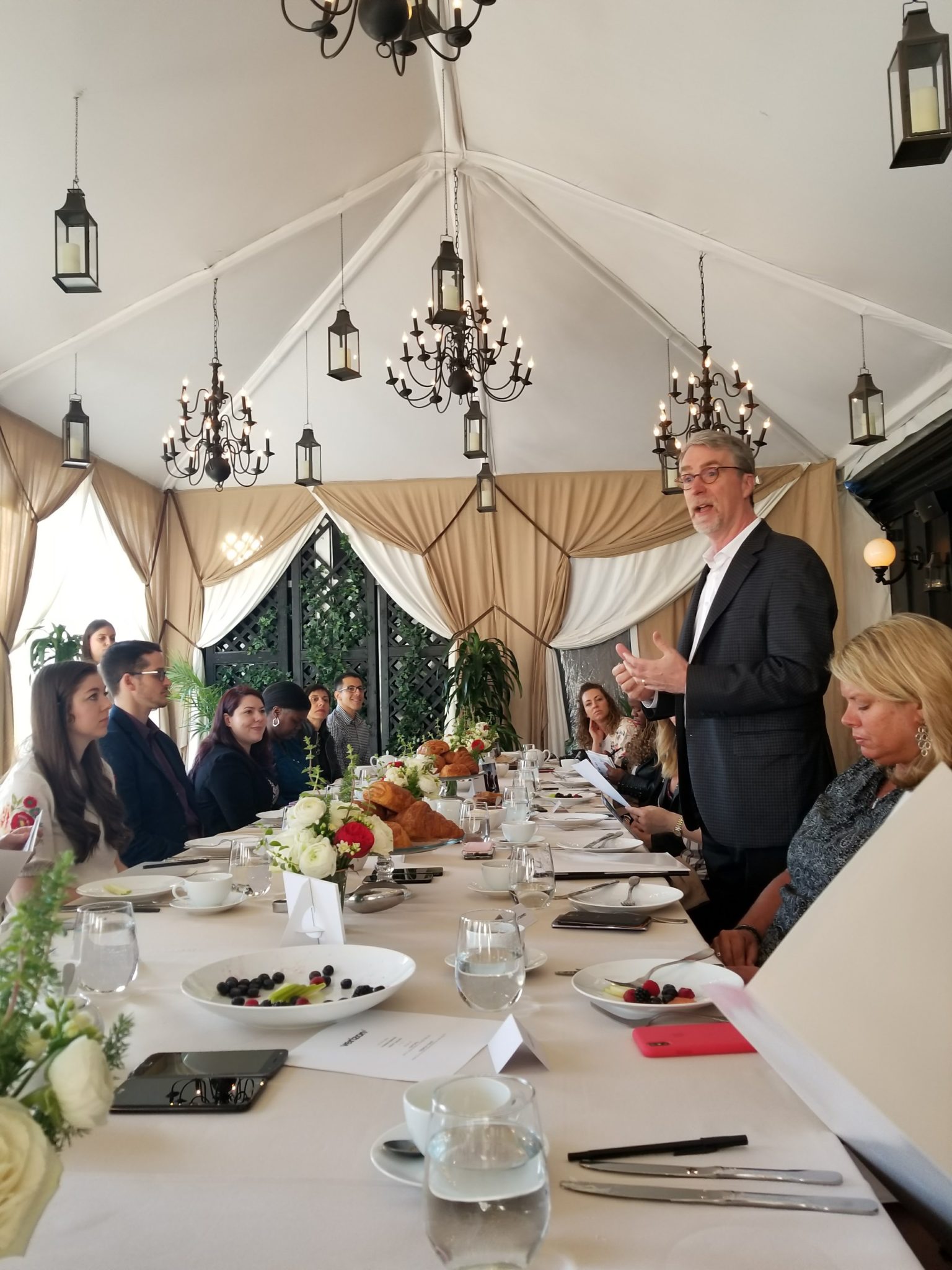 Stephen shared the following 7 Tips to Good Digital Parenting. You can also access more information on the FOSI website to learn even more specific suggestions on how you can achieve each of these seven steps to good digital parenting.
Sign a Family Safety Contract
Stephen also suggested using a Family Safety Contract to help set rules and expectations for your kids' internet use. This becomes vital when setting those ground rules and applying sanctions as noted in tip #4 listed above.
Keep Your Digital Footprint In-Check!
He also suggested some specific steps that parents can take in order to ensure they are leading healthy digital lives themselves. As parents, we must always lead by example. Right?
For our kids, it's important for them to understand how to stay safe online and to realize that their online actions can bring about negative consequences. As role model for our kids, we too need to have our digital lives in oder and keep our digital footprint in-check. In today's connected world, it's never to early for kids to understand that they're the creators of their own digital footprint and that how we interact online today can have lasting effects on our future. Remember to model those behaviors that you want your kids to walk away with.
Stephen suggests following this checklist to help you get started cleaning-up your digital footprint.
---
I hope that the information shared here proves to be valuable as you navigate today's connected world and guide your kids in making the right choices as digital citizens. I know that parenting in the digital age isn't easy but the right tools and resources can help!
Don't forget to 'pin this' so you can easily access these top tips for parenting in the digital age!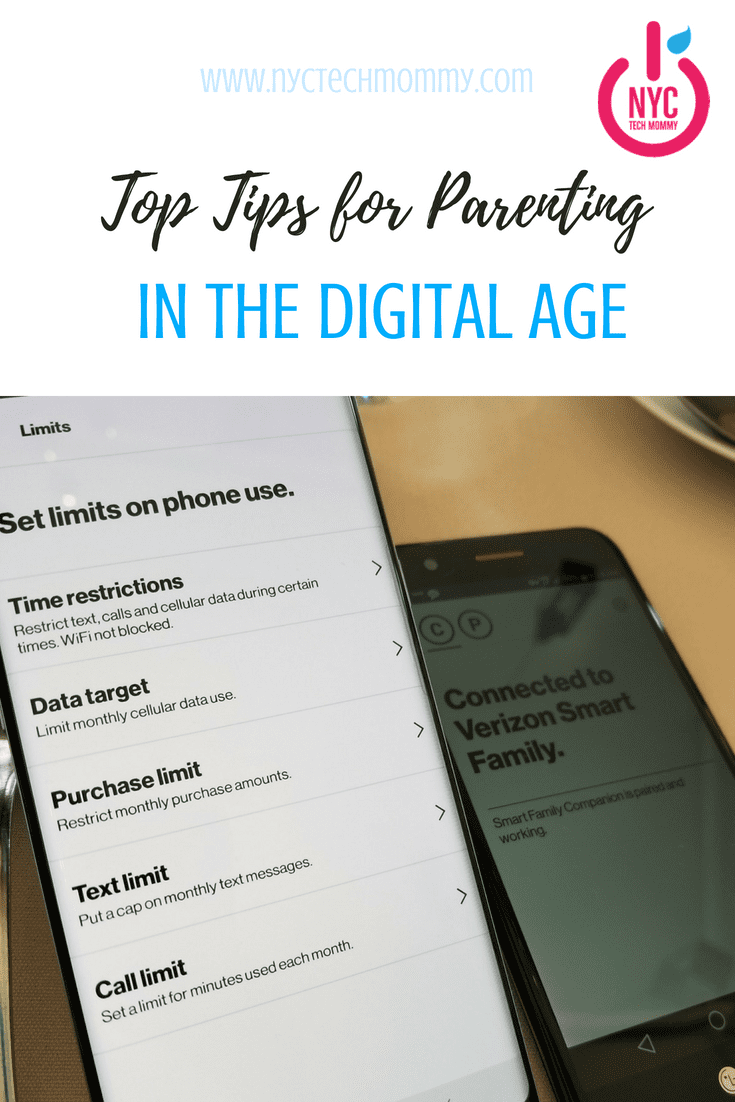 I hope that today's top tips for parenting in the digital age will be useful to you!
What do you find most challenging about parenting in the digital age?
Let me know in the comments section below.
You May Also Like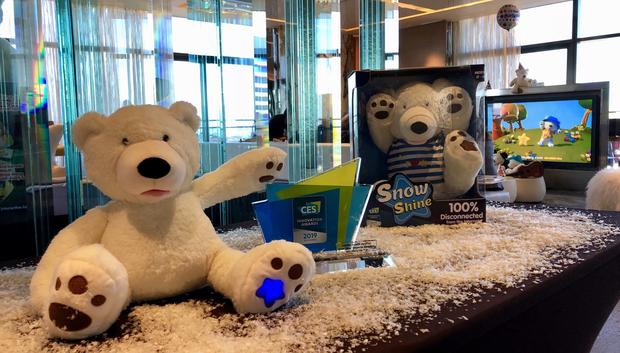 January 14, 2019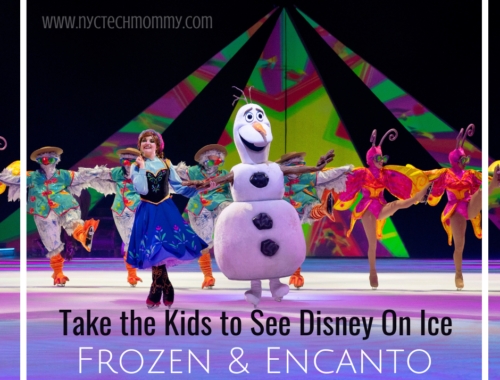 November 17, 2022