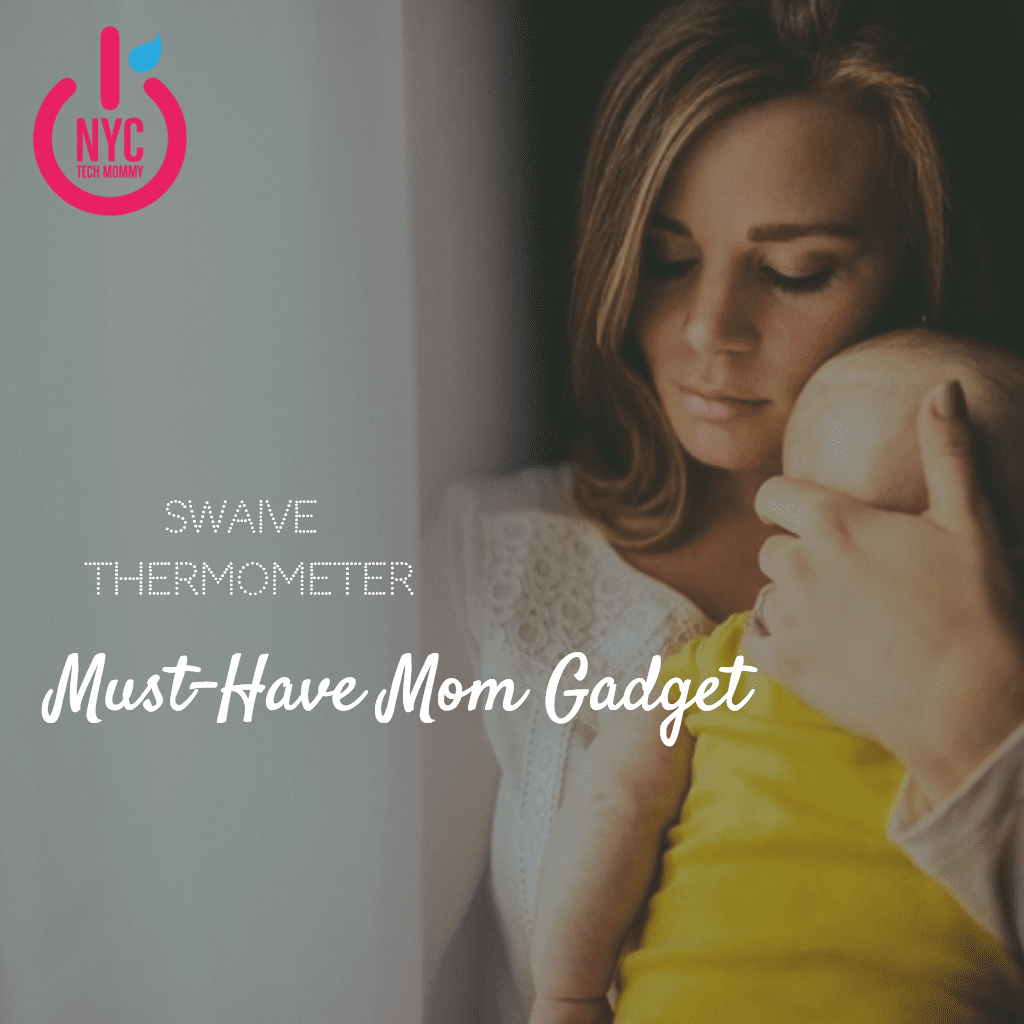 Swaive Thermometer – Must-Have Mom Gadget
If you're a parent, there's nothing scarier than when your little one is running a high temperature. Right? I know I've lost many sleepless nights running into the nursery, checking the temperature over and over and worrying about not waking up baby. Then hoping that I'd remember what the temperature was so I could compare it to the next reading. Well, I'm here to tell you that the Swaive Thermometer, the world's most intelligent ear thermometer, is a must-have for alleviating such a stressful kind of mommy moment.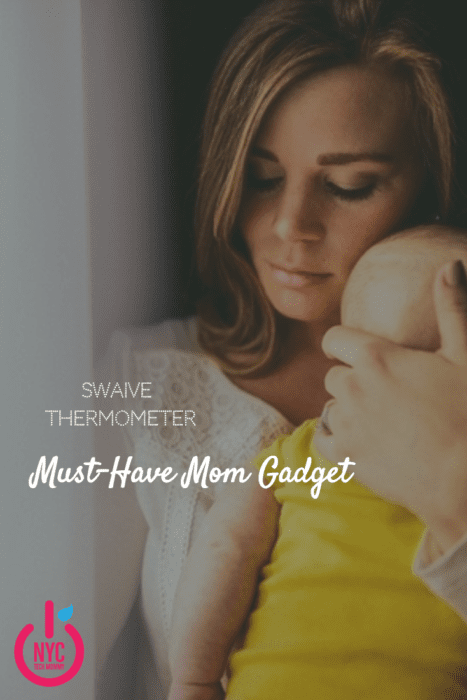 I recently partnered with Swaive to try out their sleek, easy to use, simply reliable, intelligent Swaive Thermometer and was truly impressed. This is definitely nothing like the glass and mercury kind of thermometer you probably remember from your own childhood. Not only will the Swaive thermometer take an accurate reading of your little one's temperature, it will keep track of those readings for you. Because let's be serious, how many times did you forget what the last temperature was or maybe you wrote it down so you wouldn't forget but then lost that darn piece of paper. Plus, it lets you share those readings with other caregivers or medical professionals. And guess what? There's an app for that! Now, You know how much I love apps! The Swaive thermometer is super simple to use, and all around just one of the coolest gadgets every mom needs to have in their mommy toolkit!
Make sure to read on because I will also tell you how you can get one TODAY at a deeply (I mean 40% deep) discounted rate. 🙂 This offer has ended.
So if you follow along you know that we just returned from our family vacation and that the kiddos were sick right before we headed out. That craziness prompted a visit to the doctor. Why? Because I just could not get their fevers under control. Now, if only I would have had that trusty Swaive thermometer…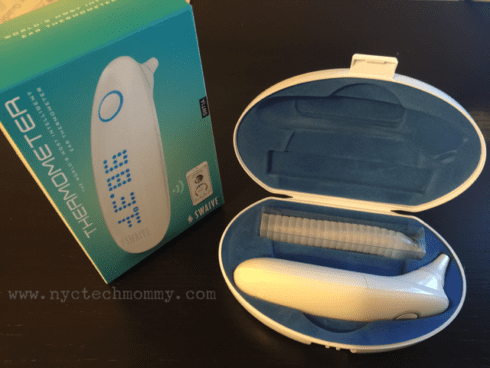 I was super excited when my Swaive thermometer arrived! I practically ripped open that box and immediately started testing it out on the kids. Yeah, they thought I was crazy and the Big Boy was quick to point out that he felt perfectly fine. "See, aaaaah", he said sticking out his tongue lol! He had strep, last time I took his temperature. Poor kid!
After giving it a test run on my 'perfectly fine' kids (and now I'm so prepared next time these little ones run a fever) below you'll find all the reasons why I'm so glad I now have the Swaive thermometer as part of my mommy tool-kit.
Big thanks to Swaive for sending this very cool mommy must-have gadget my way! 🙂
Why the Swaive Thermometer is a Must-Have Mom Gadget
There's an App for that!
The Swaive Thermometer comes with a companion app available for iOS and Android. The Swaive Thermometer will automatically connect to the Swaive Thermometer app and data will be transferred via Bluetooth. Just remember to have Bluetooth enabled on your device. The app will track readings on a neat chart so you can identify temperature trends hourly, daily or weekly. You can even share these results with other caregivers or medical professionals right from the app. Once on the app, you can even choose to sync data to Apple's Health app and also use it with your Apple Watch. Pretty cool! Of course, you can also choose to use the Swaive Thermometer without a smart device or the app.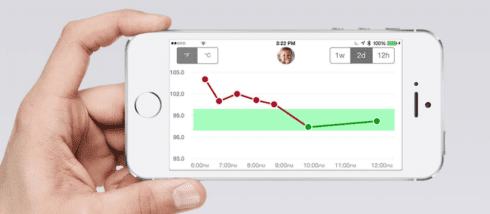 Simple to Use
This is the easiest thermometer I've every used! I've tried a bunch of different ones before, from the ones that look like a pacifier to the ones that go you know where (my least favorite kind, for sure) and none of them were ever this easy to use.  The Swaive Thermometer, on the other hand, is so easy to use. Just put it in the ear, press the button once, and get an instant reading on the thermometer and on the app.
Easy to Read
The HUGE blue LED display makes it so easy to read, even in the dark. I think this might be one of my favorite features. I hate squinting trying to catch the reading before it disappears. Well, not anymore!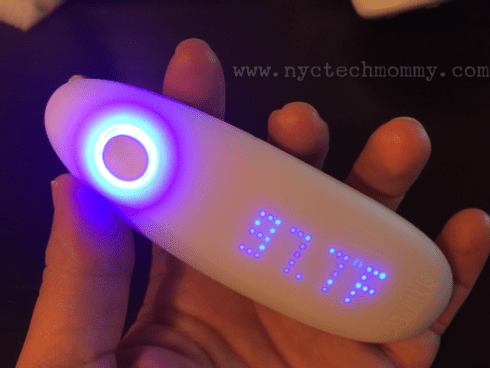 Easy to Use at Night
Equipped with a flashlight that makes it even easier to use in the dark, the Swaive Thermometer lets you take a temperature quickly and quietly without disturbing baby, even in the dark! No need to wake up baby by turning on the lights. You have to love that!
Adapts to Each Family Members Age
This is a pretty unique and useful feature! We all know that temperatures can vary greatly from infants to adults. An infant can have a higher normal body temperature than an adult. And body temperatures can fluctuate throughout the day, generally being lower in the morning and higher in the evening. The Swaive Thermometer adapts to individual family members depending on their age. Add as many family members as you want through the Swaive Thermometer app and take the guesswork out of temperature readings!
Just like the Professionals
The Swaive Thermometer comes equipped with enhanced digital technology that provides medical grade accuracy. What this means is that you are getting a temperature reading as accurate as the one you would get at a doctor's office or hospital. Accuracy is so important when trying to get a fever under control!
Now that you've heard all about the fantastic features of the world's most intelligent ear thermometer, I'm sure you want a Swaive thermometer yourself! As promised, here's your chance! Check out the deets below but don't wait because this Amazon lightning deal is only available TODAY. Happy shopping! I know you'll be happy you added this one to your mommy tool-kit! 😉 This offer has ended.
Where to Find it: Click the link to Amazon or the pic below
Disclosure: I was provided with a free product to facilitate this review. This post contains affiliate links, What this means is that I receive a small commission anytime you make a purchase (without it affecting the price you pay). Thanks for supporting NYCTM 🙂
You May Also Like