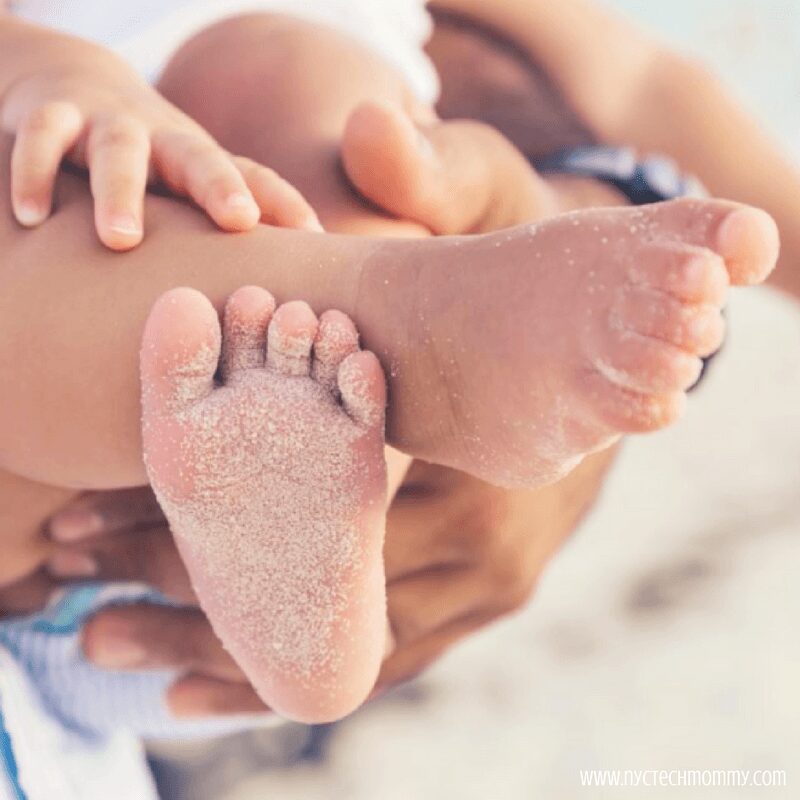 Toddler Girl on Spring Break – You'll Be Happy You Packed This!
March 17, 2017
Are you taking your toddler girl on Spring Break this year? I am!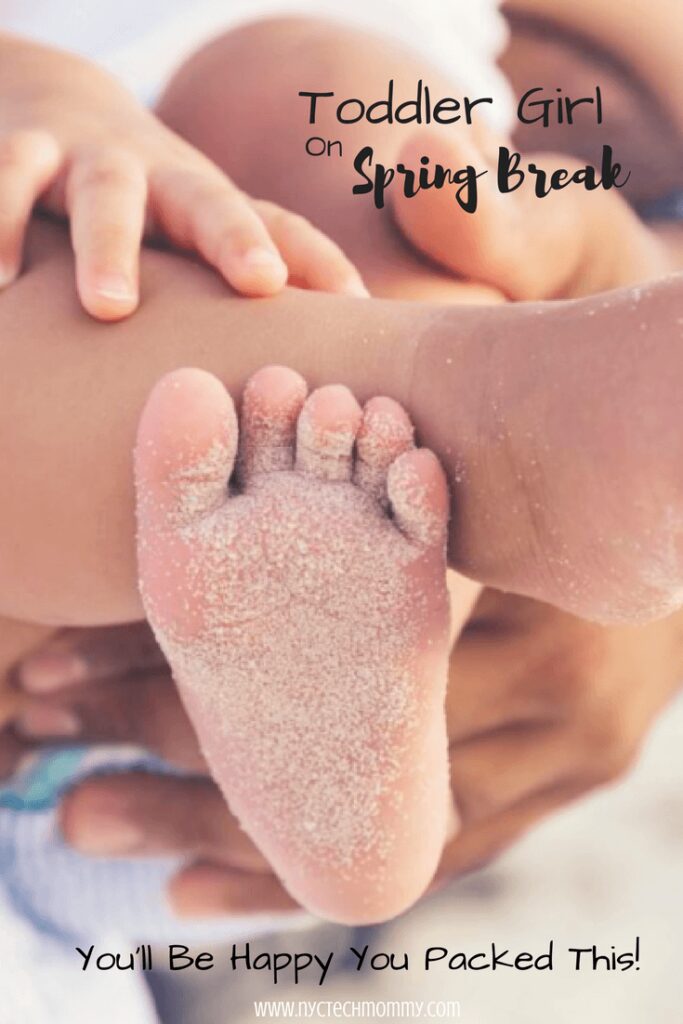 I am so excited to be heading out with the family on Spring Break vacation in just a few weeks! And Baby Girl, she loves the beach just like her mama. 🙂
Needless to say, packing for an entire family isn't always easy, especially when traveling with little ones. This year we're traveling to the Caribbean and I'm really trying to keep it very simple with toddler girl on Spring Break.
Maybe you're heading out to a warm destination too? That's why I thought I'd share with you what I'm packing for Baby Girl. These are some of my must-pack items for toddler girl on Spring Break. These ideas come from experience since this will be Baby Girl's third vacation. I've learned a few lessons on what to pack (and not to pack) from our two previous trips.
Don't forget to pin this so you can refer to it when packing for your own Toddler Girl on Spring Break!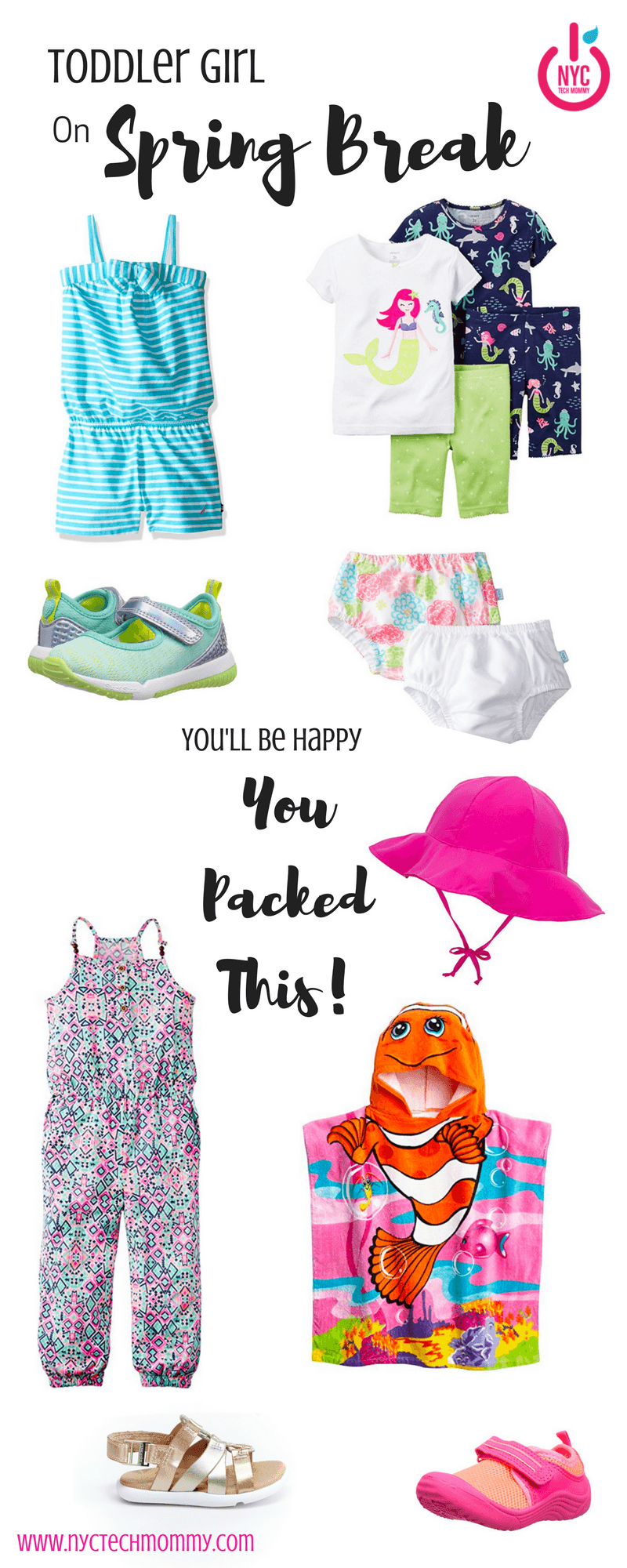 This post may include affiliate links. You can learn more about our affiliate policy here.
This year I'll be ready with clothing essentials that I know I'll be happy I packed for toddler girl on Spring Break!
You'll Be Happy You Packed This for Toddler Girl on Spring Break!
Let's start with footwear because I think this is where I've failed most miserably in the past. On our previous vacations, I went for the cutest, most adorable little shoes I could find, without really giving comfort a thought. I felt horrible about it later! Both times Baby Girl ended up with sweaty, marked little (blistered) feet, and I'm sure that was no fun for her, poor baby! This year I'm taking a completely different approach.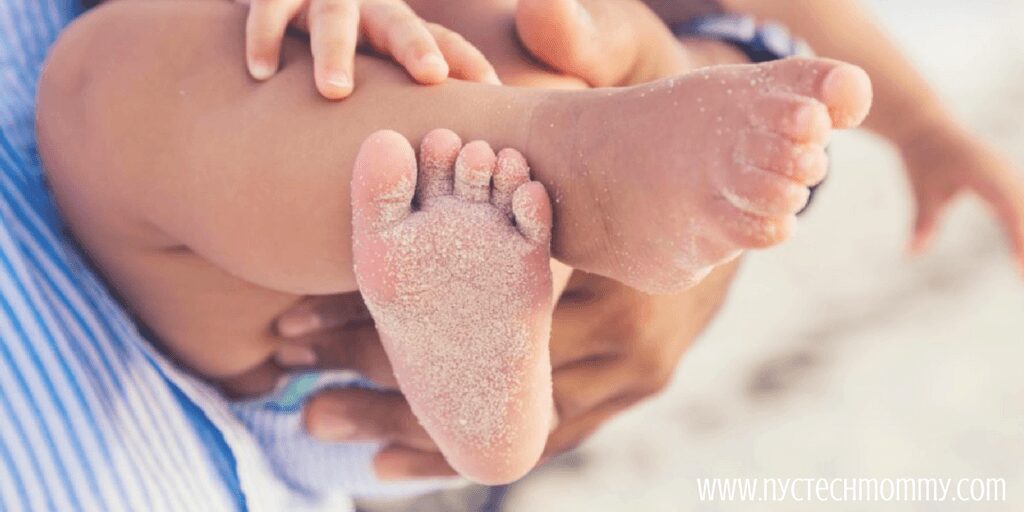 Comfortable Shoes all the way!
Comfortable shoes are a must! I learned this one the hard way.
I'm happy that this year I discovered Step & Stride Shoes. Besides offering adorable styles for little ones, every pair of their shoes is designed for comfort. Step & Stride claims that their shoes are made with magic and I believe them!
Thanks to Step & Stride for providing us with an entire collection of shoes for Baby Girl. As always, opinions are my own and I only share what I love and think you will too!
Each Step & Stride style of shoe has its own unique features but all are designed for comfort. Their Magic Flex outsoles and Magic Cushioning dual density inner cushioning make these shoes uniquely flexible and provide all day comfort — just perfect for active little kids. They're also made with Ortholite insole technology that includes moisture wicking and antimicrobial materials inside the shoe to help fight odor and keep little feet dry.
As if that wasn't all magical enough, these great little kids shoes also include removable insoles that provide extra room for wider little feet. I also love that they include adjustable buckles with velcro straps which make them the perfect shoes for growing little feet. I can't tell you how many times I've struggled to properly adjust buckles and uncomfortable straps on a new pair of shoes only to give up because the straps were just too tight over Baby Girl's chubby little feet.
Must-Pack Comfy Breathable Sneakers
Because we'll be on the go a lot during our Spring Break vacay, I decided to pack a pair of comfy breathable sneaker-like shoes. I went with the Innes casual mary jane style from Step & Stride. They're so cute and I love the mint color (they also come in pink). They include a sparkly silver strap that makes them so easy to adjust and they're made from a light breathable mesh material that will make them comfortable even in the warmest weather. They're also completely machine washable so no worry about getting them all messy. Just throw them in the wash when we get back home after vacay.
Trendy Comfortable Sandals for the Win
I'm still all about the cutest, most adorable little shoes for Baby Girl — as long as they're comfortable. I love pairing cute shoes with her outfits so I was very excited to find that Step & Stride has great styles for little ones. I chose the multi-color Ashton sandals. These look so trendy with their cute lace detailing — just like little gladiator shoes but with a sporty little twist. They also include a super easy to fasten velcro strap and a that lace detailing makes them stretchable so chubby little feet feel comfy in them.
Cute and Comfy Closed Toes are a Must
I always make it a point of packing a pair of closed toe sandals for vacay. You never know what kind of adventures we'll encounter and sometimes little toes need a little extra protection. I'm packing the Delvine sandals from Step & Stride because they're not only adorably stylish with soft metallic hues and cute star-shaped little accents, but they're also super comfy and flexible to walk in.
Step & Stride carries a great line of little girls and little boys shoes. You can browse their catalog here.
Easy On – Easy Off Outfits Keep Everyone Happy
I've discovered that the outfits I pack for Baby Girl also have to be very comfortable — easy to slip on and off. When on vacation, we're always on the go. Getting the entire family dressed and out the door can get complicated so the easier an outfit is to slip on the faster we can get out and back to the fun, which keeps everyone happy!
Jumpers are Everything
This year I'm all about the jumpers! Not only are these adorable pieces but they're so easy to slip on and off. They also won't take much room in a suitcase or bag when traveling. Carter's carries some adorable jumpers and I snatched up two versions: shorts for hot days and a pair of long ones for cooler evenings.

It Doesn't Get Easier Than Slip On Dresses
I'm also going with a few easy to slip on cotton dresses. These are great because you can dress them up for a nice outing or just throw them over a bathing suit when on the go. I found a few nice ones at Old Navy. These were on sale so I snatched them up quickly!
Fun in the Sun Beach Essentials
As I said, Baby Girl loves the beach as much as her mama does! To keep her comfortable and happy on the beach there are a few must-have items I'll be packing this year.

Sweet Vacation Dreams Are Made of These
Last but not least, let's not forget sleepwear! I love picking out vacation themed sleepwear. PJs printed with mermaids or little sea creatures are perfect to wear during a Caribbean getaway. I always pack two sets of PJs and usually purchase sets that actually come as a set of two that you can mix and match — that way you can actually get four sets of PJs out of it. I find short and t-shirt sets to be the easiest.
I've also been known to use these type of PJs as beach lounge wear for toddler girl on Spring Break. Little sets like this make it so easy to get little ones out of their wet bathing suits and into something comfy they can wear as they run around along the shoreline.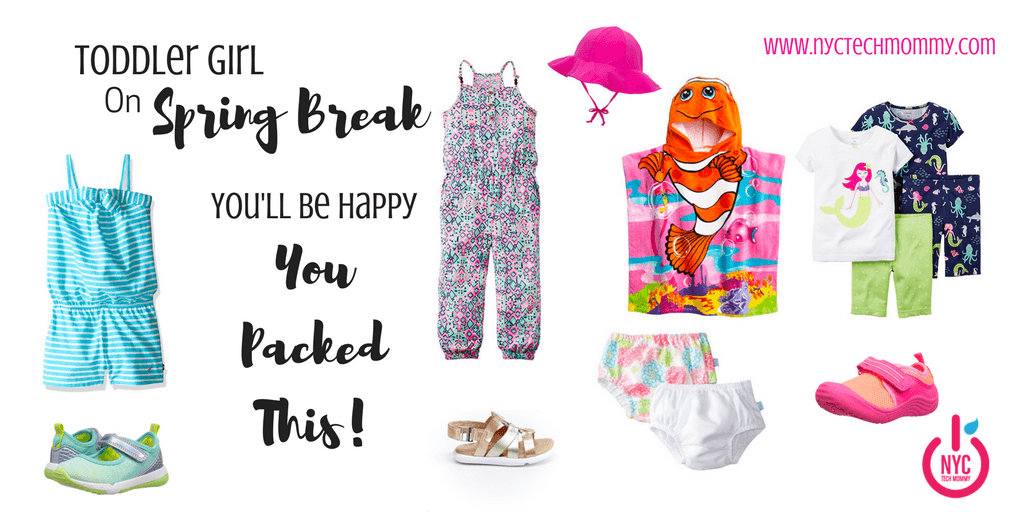 All Packed and Ready to Go!
I hope I've inspired you to keep it simple and comfy when heading out with toddler girl on Spring Break! And please, please, please, don't make the same mistake I made — remember to pack the comfy shoes! 🙂
What are some of your must-pack items for toddler girl on Spring Break? Did I forget something? Let me know in the comments section below. Happy Spring Break!
You May Also Like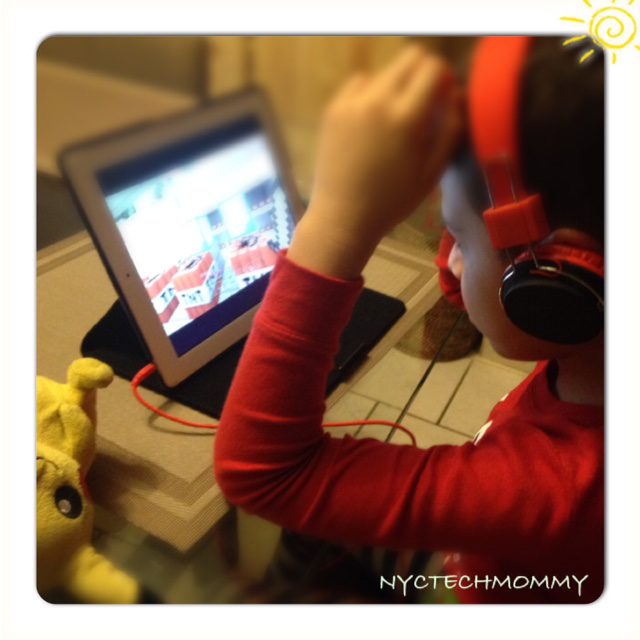 April 20, 2015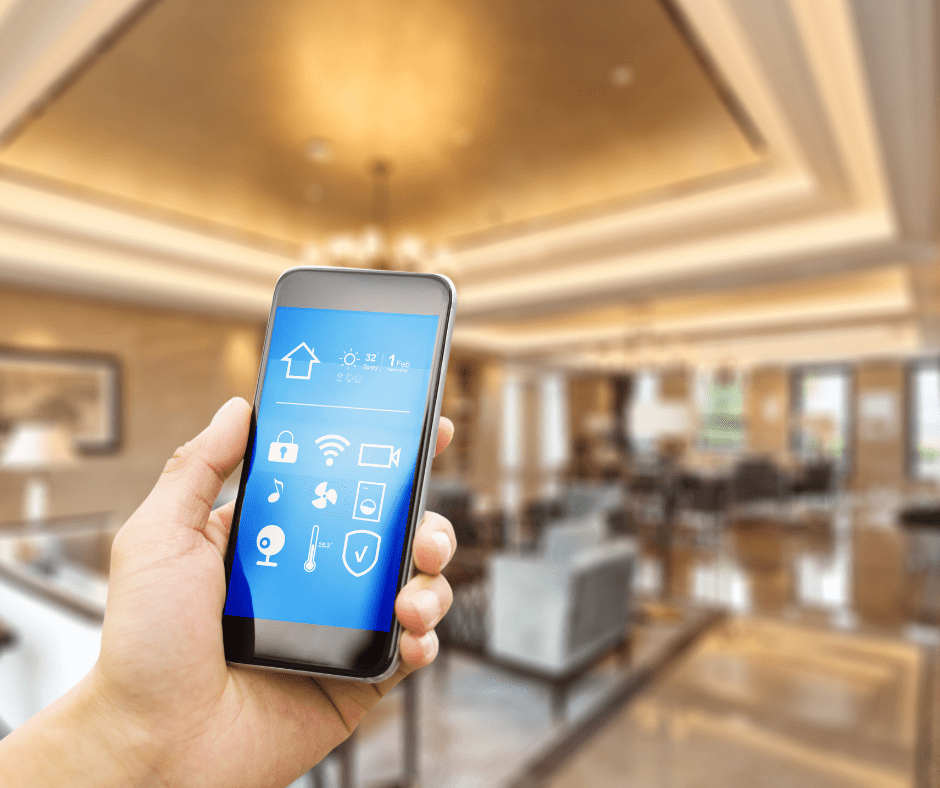 January 30, 2019