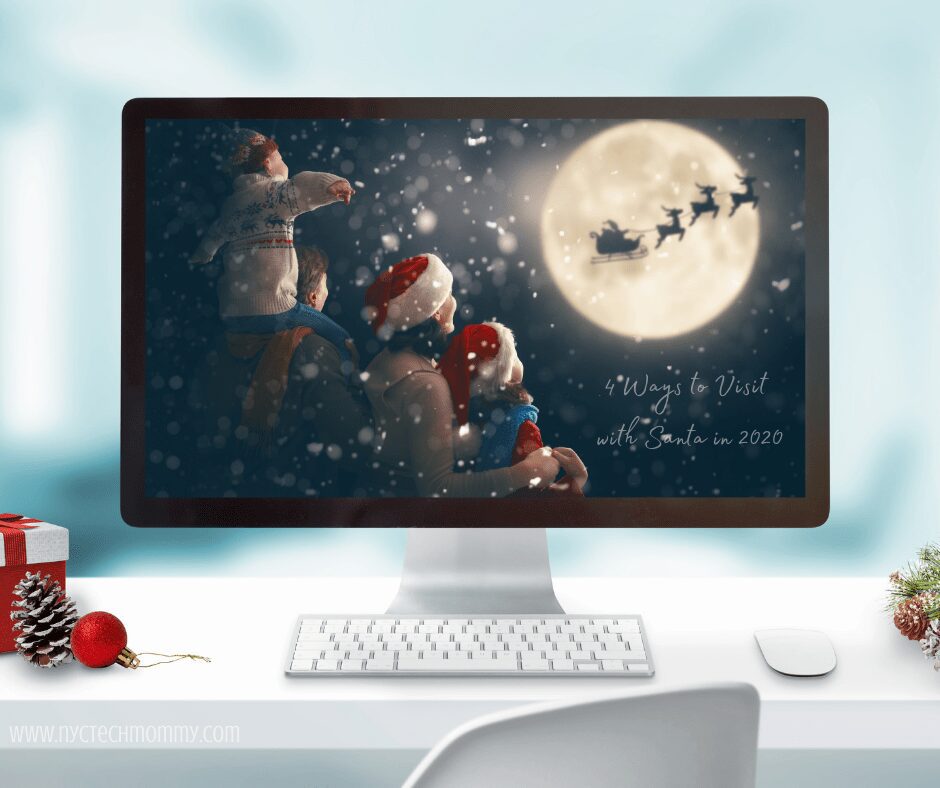 Christmas Isn't Cancelled! 4 Ways to Visit with Santa in 2020
December 18, 2020
Christmas traditions might look a bit different this year in order to keep our families safe and healthy but there are still plenty of ways you can keep your annual Visit with Santa tradition alive in 2020! There are still some safe ways to visit with Santa, some with help from a little bit of Christmas magic (aka technology).
Things may be different in light of this pandemic but the good news is that your family's visit with Father Christmas can still go on! So how do you make that happen? Below you'll find four different experiences that allow kids to visit with Santa this year — video chat with Santa, take family pics together, and even keep tabs of the old jolly fellow on Christmas Eve! Some of these are even free of charge. So go on and spread a little holiday joy this season and keep the Christmas traditions going in 2020! Remember, Christmas isn't cancelled!
Merry Christmas!
Portable North Pole
Circumstances might be unusual this year, but Portable North Pole will make sure that your family will have a safe and EXTRA MAGICAL Christmas! PNP is one of my favorite apps to use during the holidays, year after year!! Portable North Pole or PNP, lets you create, watch and send videos and calls from Santa right on your mobile device. Not only does the look and feel of this app make you feel all Christmas-y, the Santa featured on this app looks like the real deal. His elves, reindeer, and Mrs. Claus (along with their surroundings) are so realistic that they've even got me believing they exist. Don't believe me! See for yourself in the video below.
Check out the Portable North Pole video below to hear all about the 2020 updates to PNP. It's magical!
I love that the PNP app is controlled by a password protected Parents Corner that kiddos won't have access to. In other words, your kiddo won't see what's happening behind the scenes as you create magical videos and calls from Santa to share with them. In the Parents Corner, you'll be selecting when and how messages come in (see it as doing your elfish duty to keep the magic alive). You can personalize videos with photos, select types of calls and much more!
What's nice about this app is that it also comes with an exclusive kid-friendly section with fun games, videos, and activities. From there, kids will be able to view Santa's messages (the ones you created in the parent corner). It's free to download but you will have to pay for in-app purchases if you want to take full advantage of all the personalized phone call and video options. This app is updated yearly and personally I choose to pay for the in-app purchases every single year because the excitement on my kid's face makes it so worth it.
When creating your PNP videos and calls from Santa, use my link to PNP to receive a 10% discount applied right to your cart when accessing any of the PNP Premium content. You're welcome!
Macy's Santaland
Say cheese! You still get to snap your holiday photo with Santa in 2020, virtually at Macy's Santaland at Home! This year the New York City-based department store isn't doing in-person meet and greets with Santa but I love that they found a way to bring the magic online. This year Macy's has set up a completely immersive online experience that begins on November 27. Your kids can meet Santa's elves, play Christmas games, and even take a selfie with St. Nick. In addition, they've set up a free pre-recorded interactive video with Santa Claus himself. The kids will love this!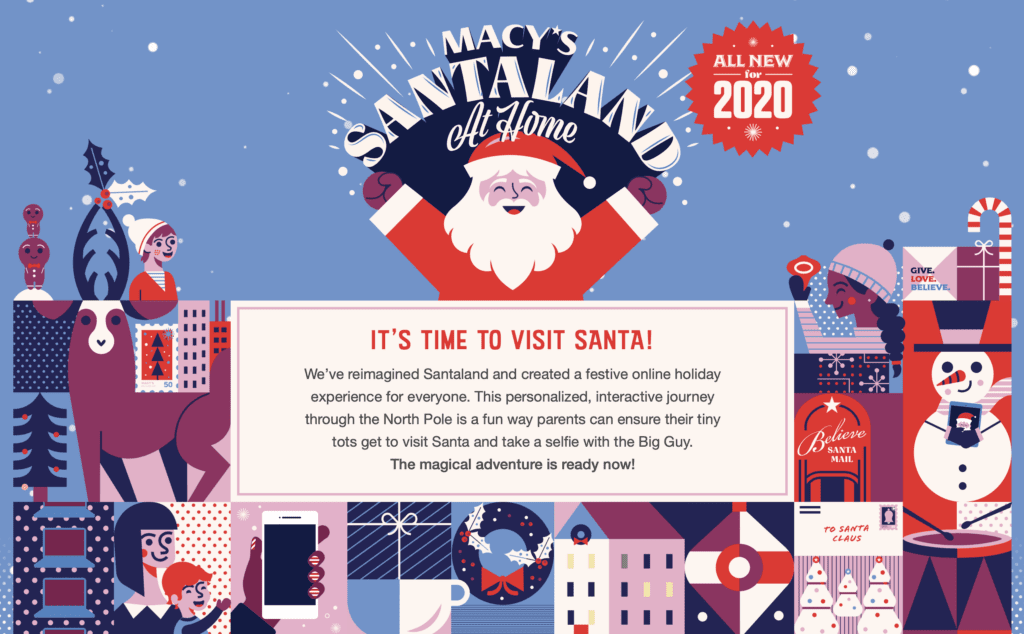 Our own family has been visiting Macy's Santaland for the past 10 years and I'm so glad that this year we don' t have to completely miss our yearly Santaland family photo tradition! Yay Christmas and yay Santaland!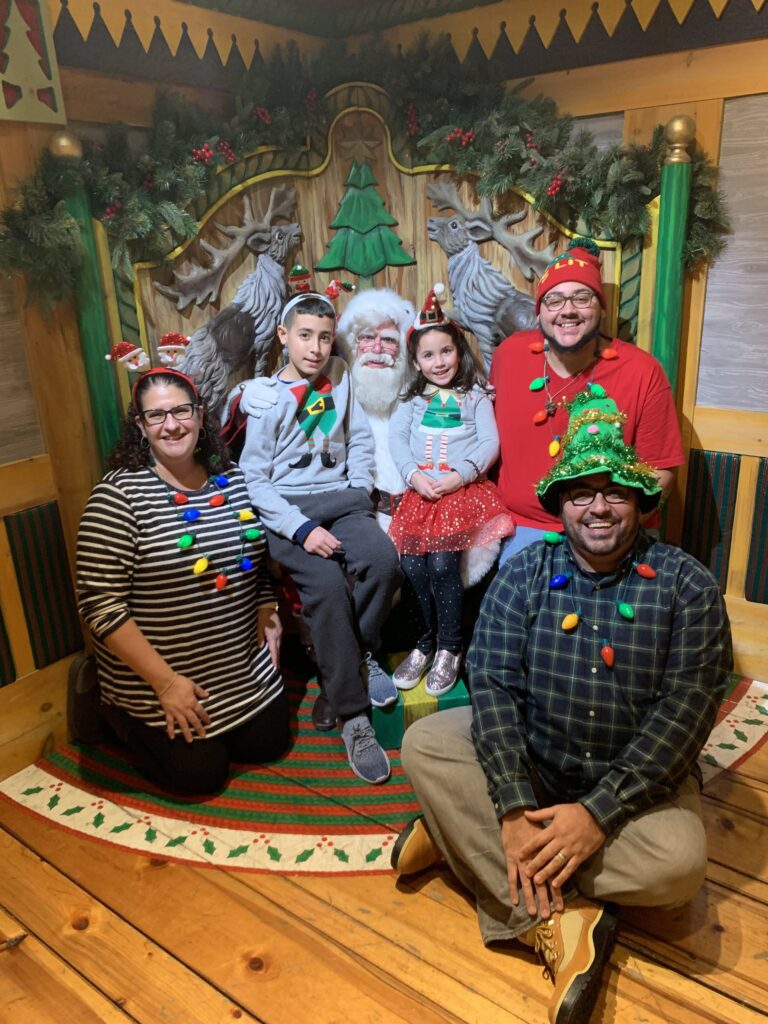 Bryant Park Skate +Santa
If you're local to NYC, this year you can Skate with Santa at Bank of America Winter Village at Bryant Park since Skate + Santa returns to Bank of America Winter Village at Bryant Park on Thursday, December 17 through Wednesday, December 23, where families have the opportunity to safely meet Santa and get a photo from a safe social distance! It's free to sign up HERE  and reservations are open daily from 12:24PM-1:05PM.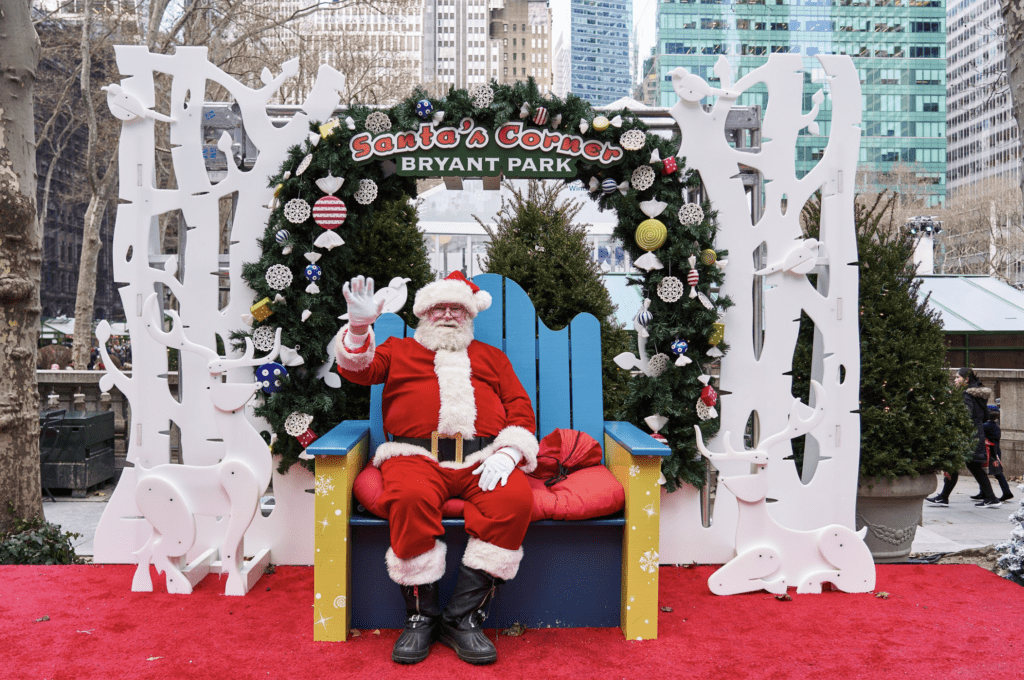 Visitors can begin with skating and then make their way to the Christmas Tree-O to be greeted with hand sanitizer and take their photo with Santa! There are two ways to snap a photo with Santa; families can bring their own camera or cell phone, or the Christmas elves will take a photo that can be downloaded from the Santa's Corner at Bank of America Winter Village at Bryant Park Flickr page.  
NORAD
On Dec. 24, NORAD will again launch its beloved Santa Tracker, revealing up-to-the second whereabouts of Saint Nick and his reindeer as they circle the planet. Anyone can follow the route via NORAD's website, maintained by Microsoft engineers and hosted on Microsoft Azure. This year, NORAD will also launch a new chatbot for curious kids who need to know more than the ETA of Father Christmas. Deployed through  Azure Bot Service, the chatbot can respond to each child's important and timely questions.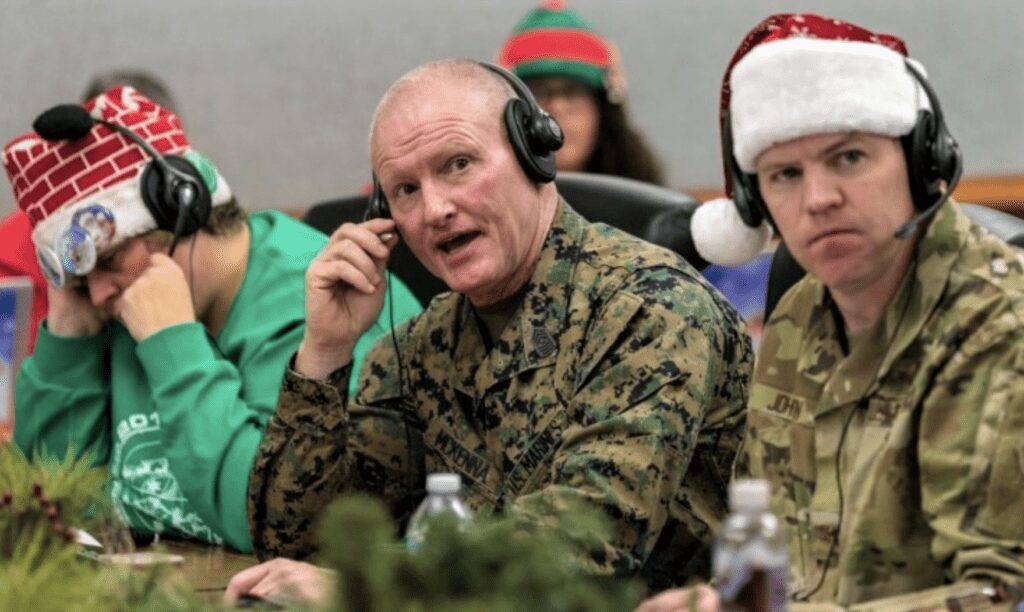 FUN FACT: Did you know that more than 25 Microsoft engineers have worked throughout the year to support the NORAD Santa Tracker? They maintain the special, high-volume Santa Tracker website for NORAD hosted on Microsoft Azure. Last year, the site saw 15 million page views.  They also built the site's new chatbot RADAR with Azure Bot Service. RADAR leverages an increased familiarity with virtual services and adds an interactive element to the NORAD Tracks Santa website. 
How will you visit with Santa this year? 
---
Want more holiday inspiration? Click one of our other holiday posts below!
You May Also Like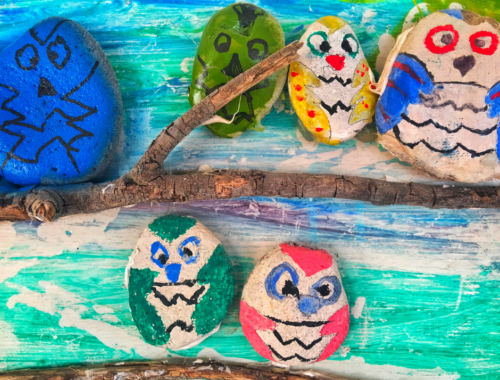 July 5, 2021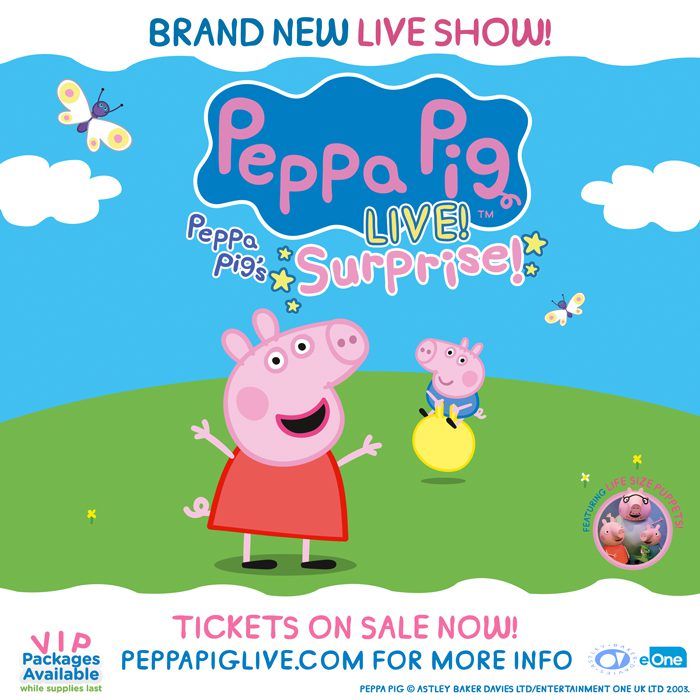 September 4, 2018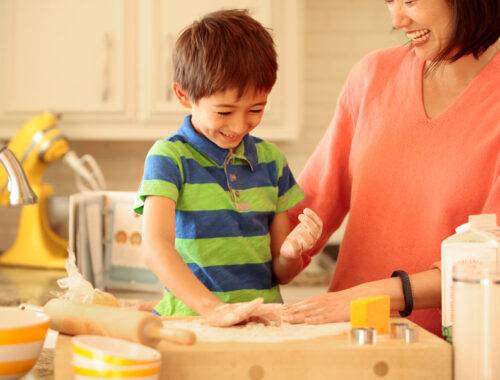 December 14, 2022